Changing People's Attitude Quotes & Sayings
Enjoy reading and share 12 famous quotes about Changing People's Attitude with everyone.
Top Changing People's Attitude Quotes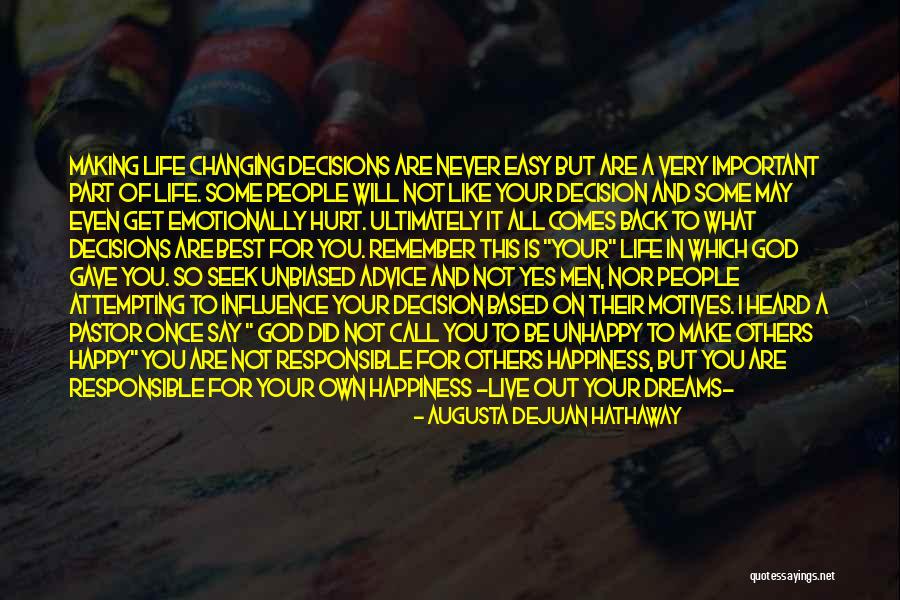 Making life changing decisions are never easy but are a very important part of life. Some people will not like your decision and some may even get emotionally hurt. Ultimately it all comes back to what decisions are best for you. Remember this is "Your" life in which God gave you. So seek unbiased advice and not yes men, nor people attempting to influence your decision based on their motives. I heard a pastor once say " God did not call you to be unhappy to make others happy" you are not responsible for others happiness, but you are responsible for your own happiness -Live out your Dreams- — Augusta DeJuan Hathaway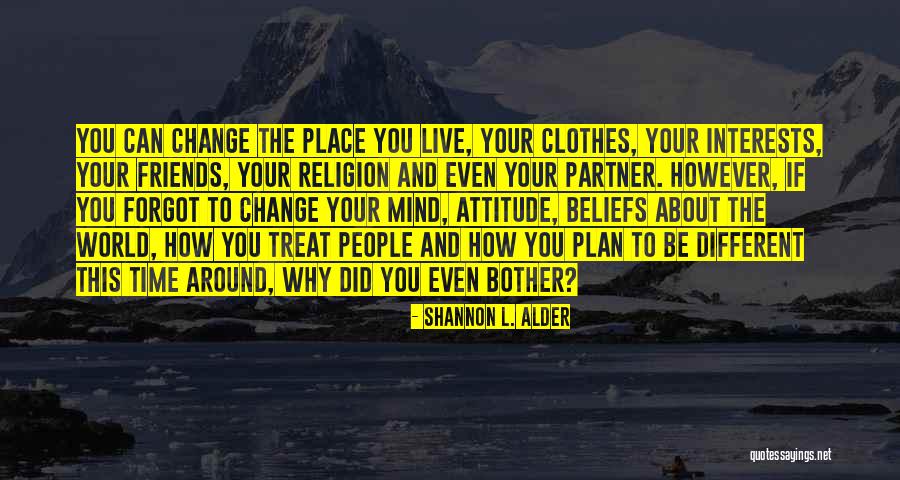 You can change the place you live, your clothes, your interests, your friends, your religion and even your partner. However, if you forgot to change your mind, attitude, beliefs about the world, how you treat people and how you plan to be different this time around, why did you even bother? — Shannon L. Alder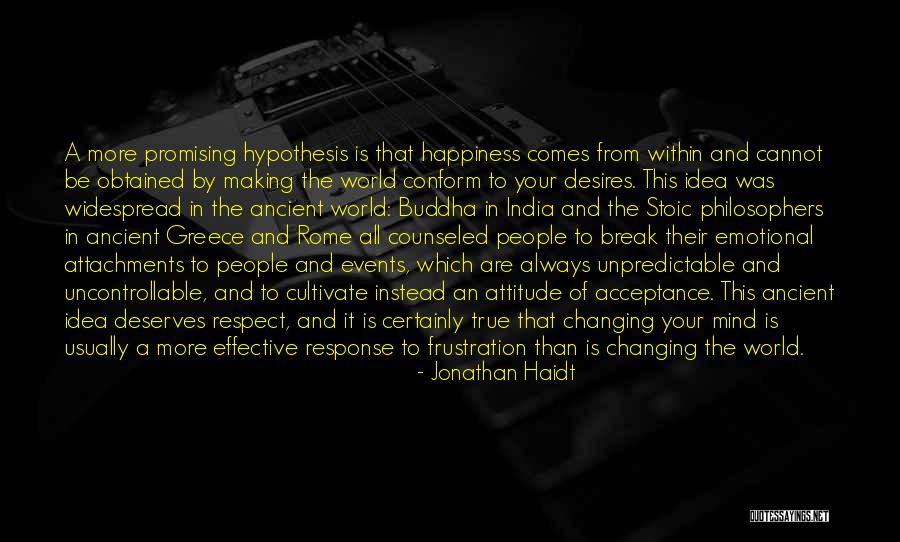 A more promising hypothesis is that happiness comes from within and cannot be obtained by making the world conform to your desires. This idea was widespread in the ancient world: Buddha in India and the Stoic philosophers in ancient Greece and Rome all counseled people to break their emotional attachments to people and events, which are always unpredictable and uncontrollable, and to cultivate instead an attitude of acceptance. This ancient idea deserves respect, and it is certainly true that changing your mind is usually a more effective response to frustration than is changing the world. — Jonathan Haidt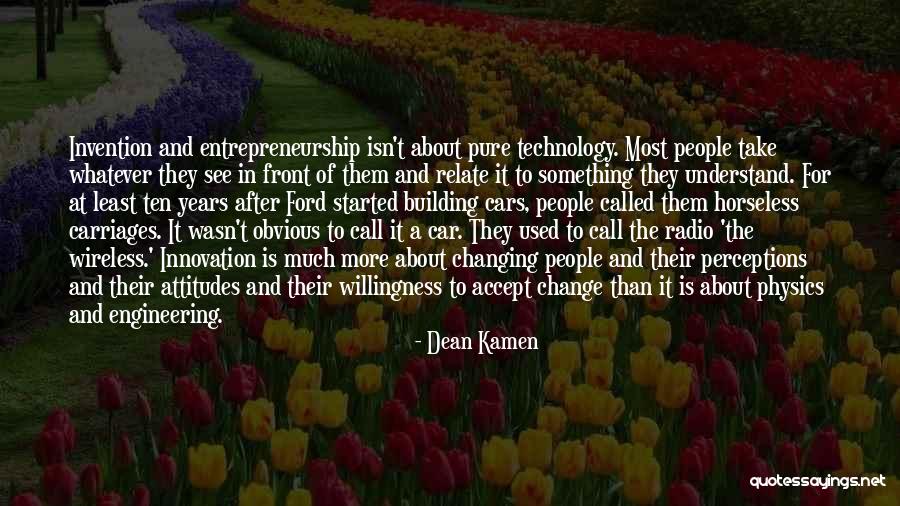 Invention and entrepreneurship isn't about pure technology. Most people take whatever they see in front of them and relate it to something they understand. For at least ten years after Ford started building cars, people called them horseless carriages. It wasn't obvious to call it a car. They used to call the radio 'the wireless.' Innovation is much more about changing people and their perceptions and their attitudes and their willingness to accept change than it is about physics and engineering. — Dean Kamen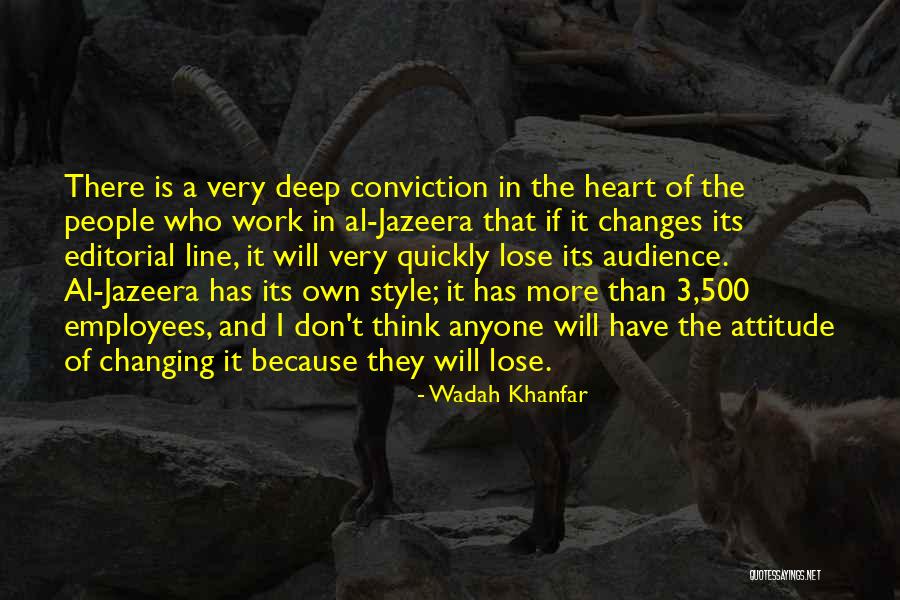 There is a very deep conviction in the heart of the people who work in al-Jazeera that if it changes its editorial line, it will very quickly lose its audience. Al-Jazeera has its own style; it has more than 3,500 employees, and I don't think anyone will have the attitude of changing it because they will lose. — Wadah Khanfar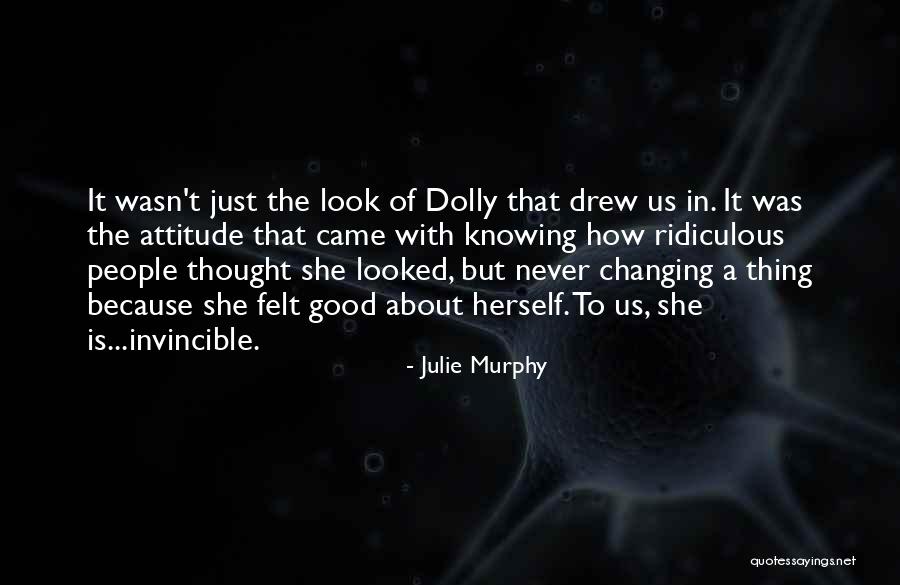 It wasn't just the look of Dolly that drew us in. It was the attitude that came with knowing how ridiculous people thought she looked, but never changing a thing because she felt good about herself. To us, she is...invincible. — Julie Murphy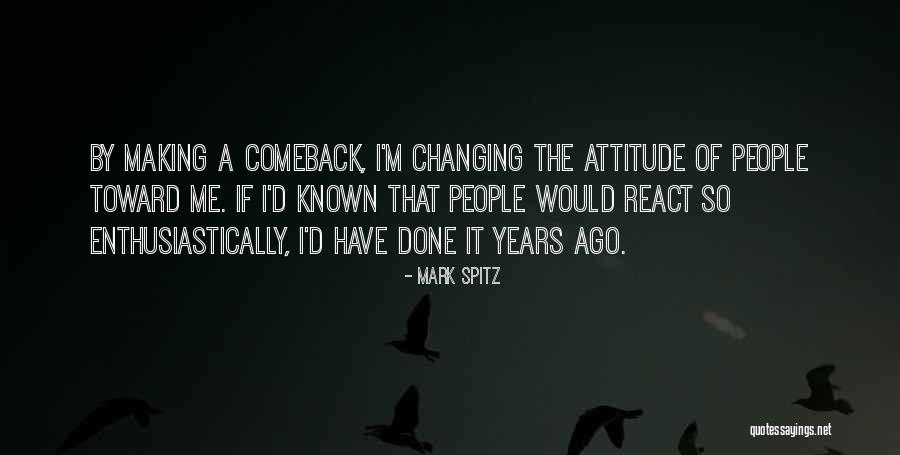 By making a comeback, I'm changing the attitude of people toward me. If I'd known that people would react so enthusiastically, I'd have done it years ago. — Mark Spitz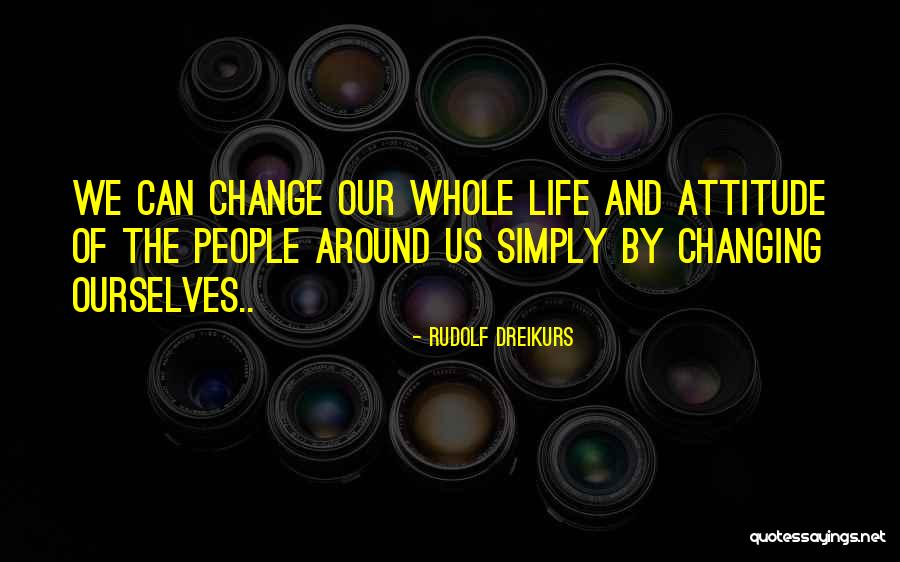 We can change our whole life and attitude of the people around us simply by changing ourselves.. — Rudolf Dreikurs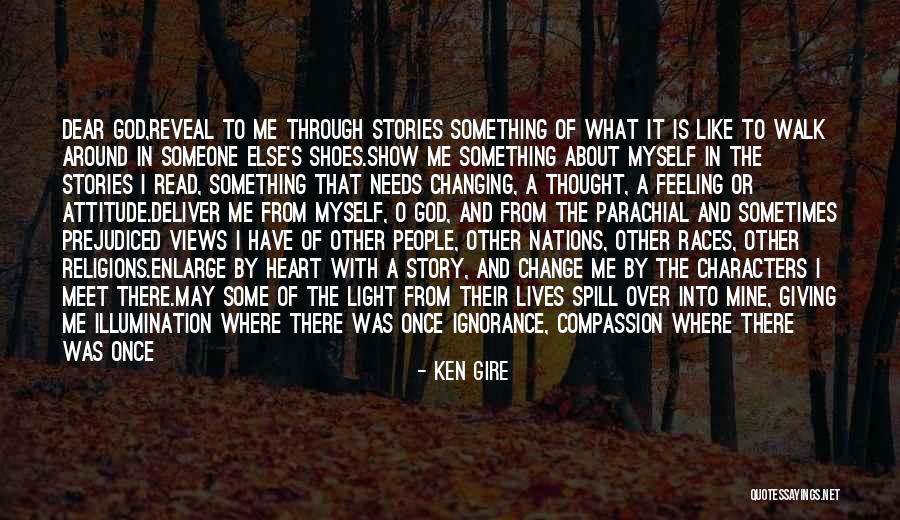 Dear God,
Reveal to me through stories something of what it is like to walk around in someone else's shoes.
Show me something about myself in the stories I read, something that needs changing, a thought, a feeling or attitude.
Deliver me from myself, O God, and from the parachial and sometimes prejudiced views I have of other people, other nations, other races, other religions.
Enlarge by heart with a story, and change me by the characters I meet there.
May some of the light from their lives spill over into mine, giving me illumination where there was once ignorance, compassion where there was once contempt. — Ken Gire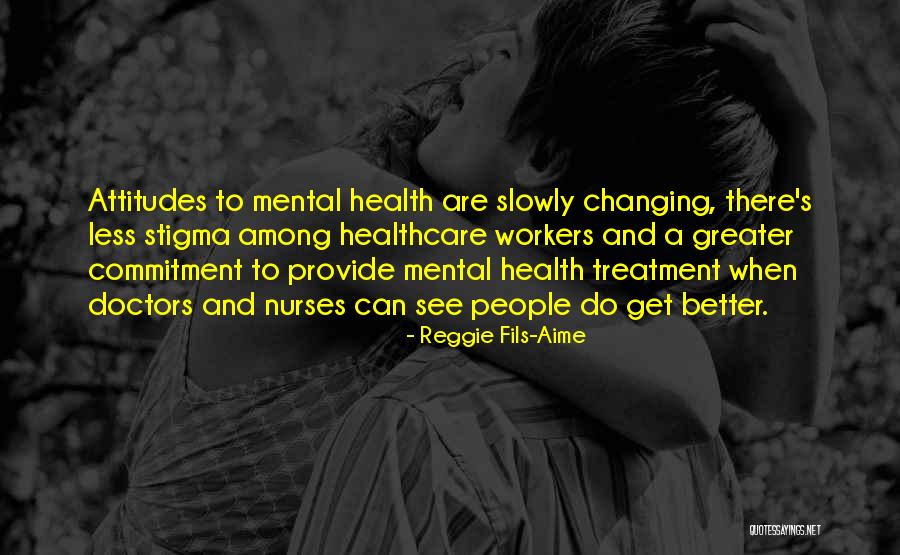 Attitudes to mental health are slowly changing, there's less stigma among healthcare workers and a greater commitment to provide mental health treatment when doctors and nurses can see people do get better. — Reggie Fils-Aime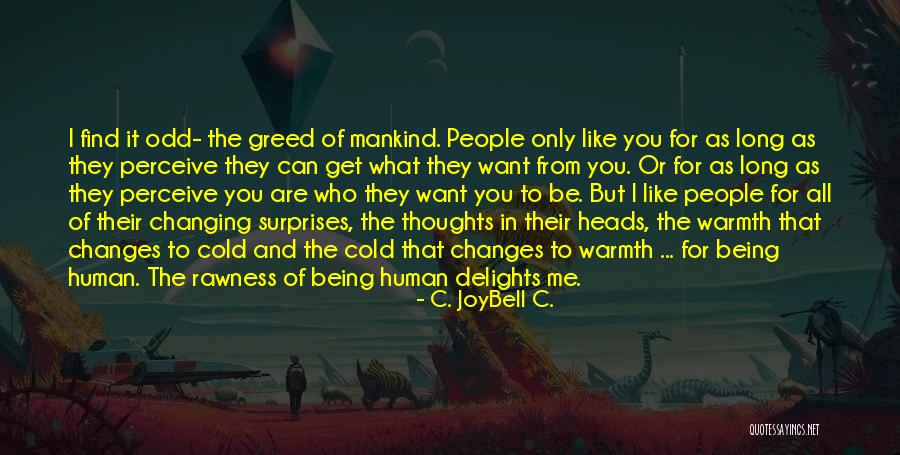 I find it odd- the greed of mankind. People only like you for as long as they perceive they can get what they want from you. Or for as long as they perceive you are who they want you to be. But I like people for all of their changing surprises, the thoughts in their heads, the warmth that changes to cold and the cold that changes to warmth ... for being human. The rawness of being human delights me. — C. JoyBell C.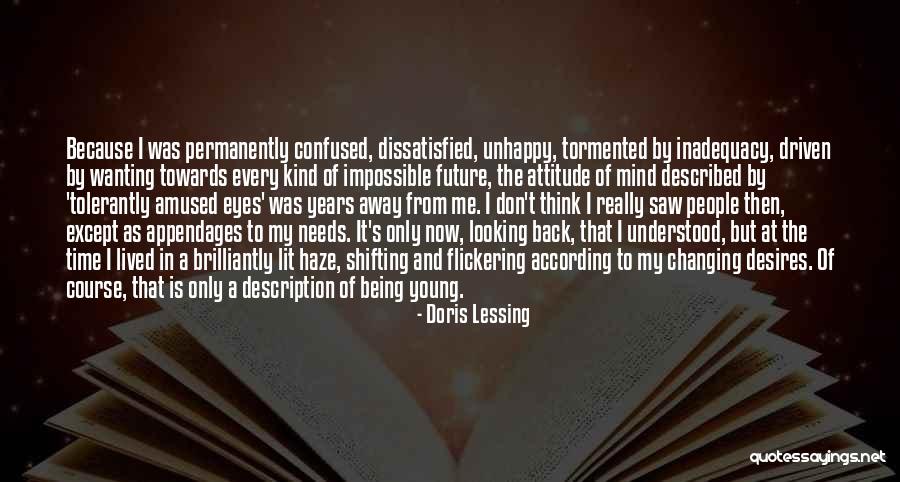 Because I was permanently confused, dissatisfied, unhappy, tormented by inadequacy, driven by wanting towards every kind of impossible future, the attitude of mind described by 'tolerantly amused eyes' was years away from me. I don't think I really saw people then, except as appendages to my needs. It's only now, looking back, that I understood, but at the time I lived in a brilliantly lit haze, shifting and flickering according to my changing desires. Of course, that is only a description of being young. — Doris Lessing