Change Of Command Quotes & Sayings
Enjoy reading and share 28 famous quotes about Change Of Command with everyone.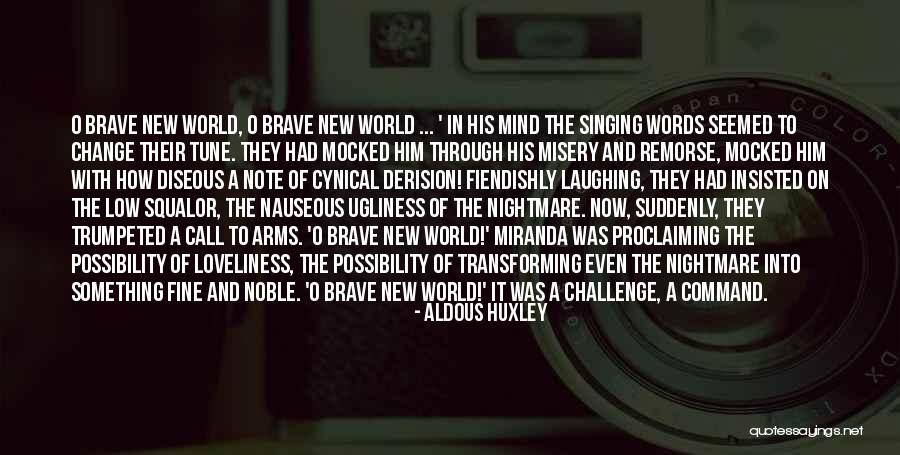 O brave new world, O brave new world ... ' In his mind the singing words seemed to change their tune. They had mocked him through his misery and remorse, mocked him with how diseous a note of cynical derision! Fiendishly laughing, they had insisted on the low squalor, the nauseous ugliness of the nightmare. Now, suddenly, they trumpeted a call to arms. 'O brave new world!' Miranda was proclaiming the possibility of loveliness, the possibility of transforming even the nightmare into something fine and noble. 'O brave new world!' It was a challenge, a command. — Aldous Huxley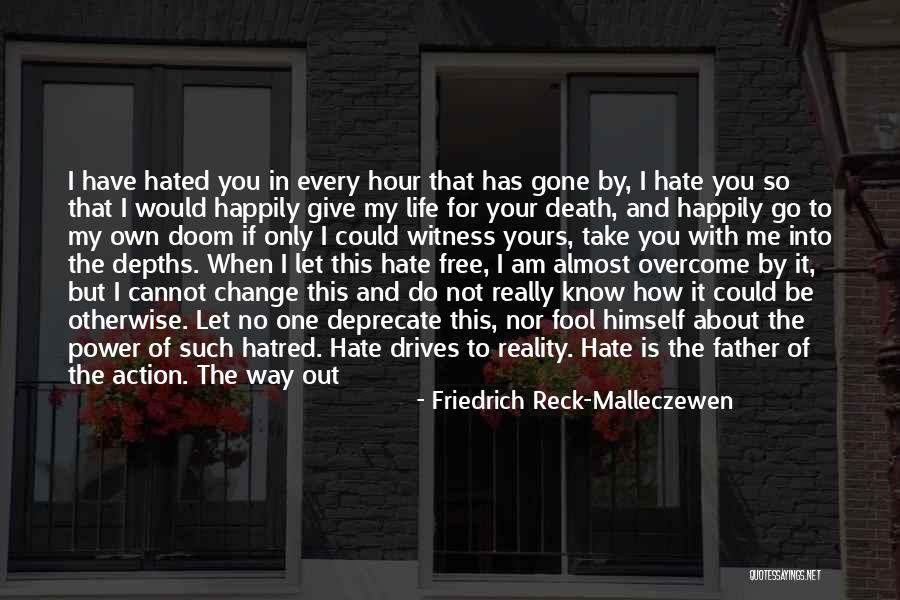 I have hated you in every hour that has gone by, I hate you so that I would happily give my life for your death, and happily go to my own doom if only I could witness yours, take you with me into the depths. When I let this hate free, I am almost overcome by it, but I cannot change this and do not really know how it could be otherwise. Let no one deprecate this, nor fool himself about the power of such hatred. Hate drives to reality. Hate is the father of the action. The way out of our defiled and desecrated house is through the command to hate Satan. Only so will be earn the right to search in the darkness for the way of love.
In our hatred, we are like bees who must pay with their lives for the use of their stingers. — Friedrich Reck-Malleczewen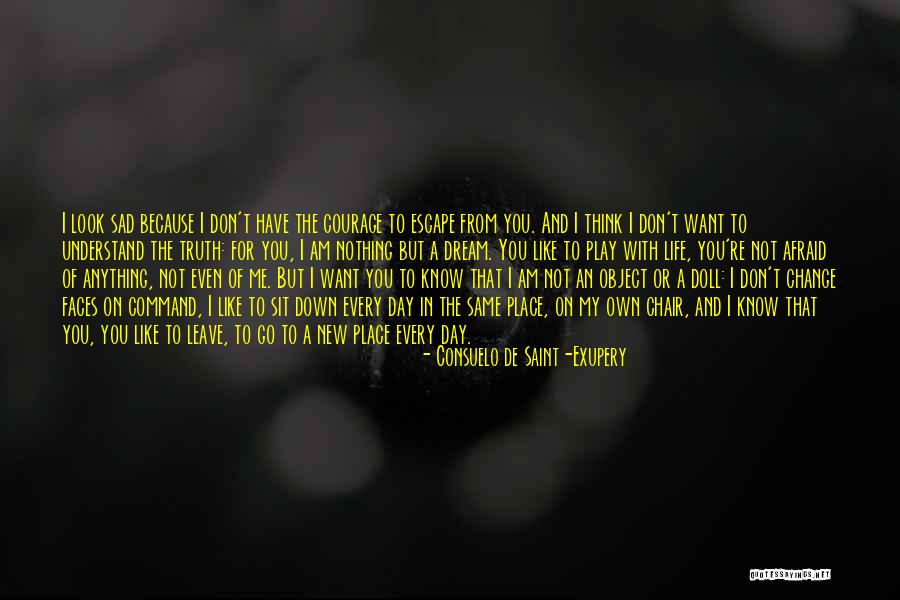 I look sad because I don't have the courage to escape from you. And I think I don't want to understand the truth: for you, I am nothing but a dream. You like to play with life, you're not afraid of anything, not even of me. But I want you to know that I am not an object or a doll: I don't change faces on command, I like to sit down every day in the same place, on my own chair, and I know that you, you like to leave, to go to a new place every day. — Consuelo De Saint-Exupery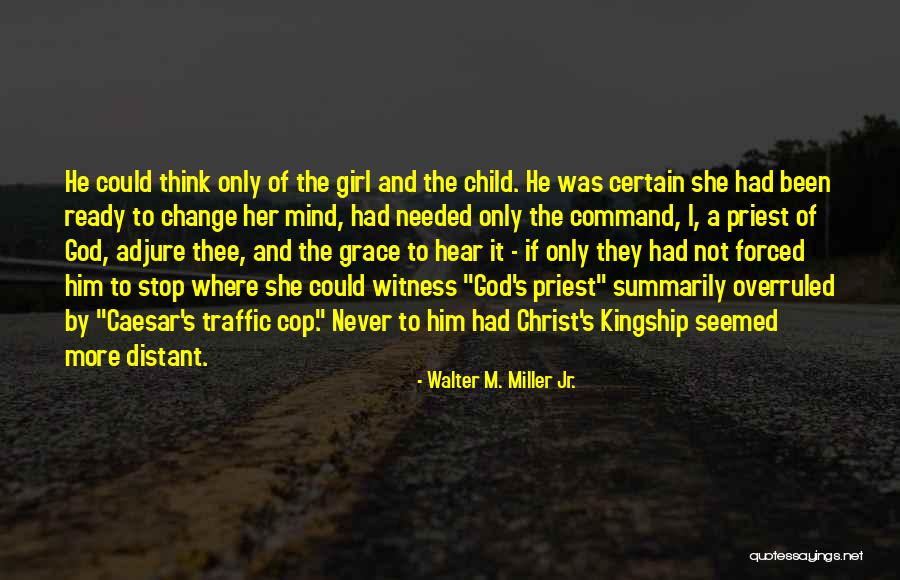 He could think only of the girl and the child. He was certain she had been ready to change her mind, had needed only the command, I, a priest of God, adjure thee, and the grace to hear it - if only they had not forced him to stop where she could witness "God's priest" summarily overruled by "Caesar's traffic cop." Never to him had Christ's Kingship seemed more distant. — Walter M. Miller Jr.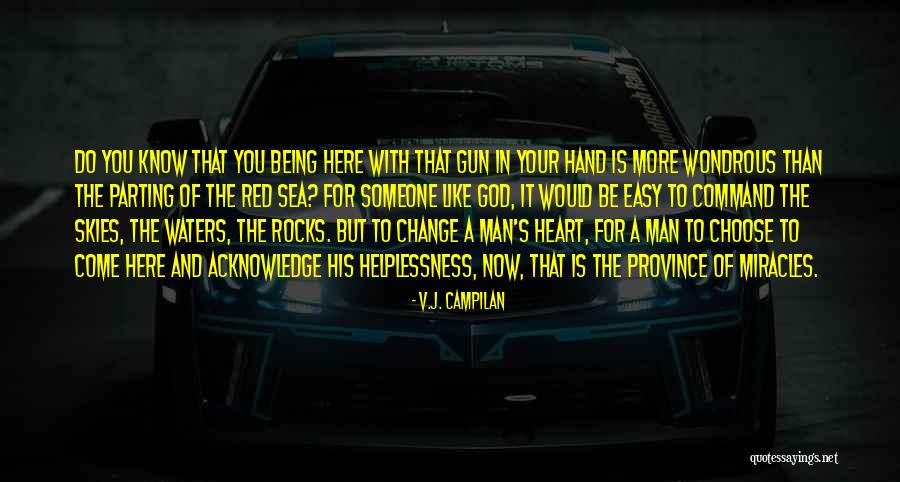 Do you know that you being here with that gun in your hand is more wondrous than the parting of the Red Sea? For someone like God, it would be easy to command the skies, the waters, the rocks. But to change a man's heart, for a man to choose to come here and acknowledge his helplessness, now, that is the province of miracles. — V.J. Campilan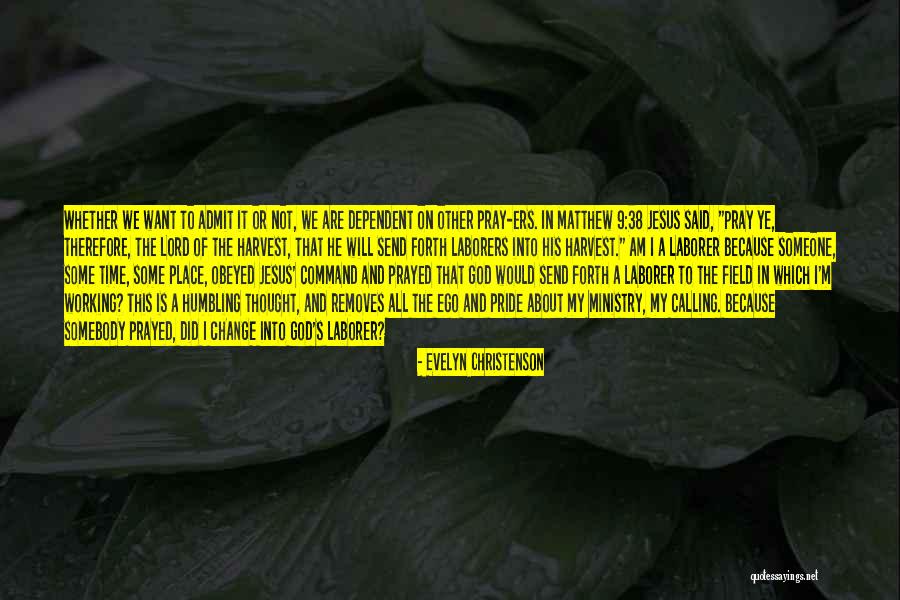 Whether we want to admit it or not, we are dependent on other pray-ers. In Matthew 9:38 Jesus said, "Pray ye, therefore, the Lord of the harvest, that He will send forth laborers into His harvest." Am I a laborer because someone, some time, some place, obeyed Jesus' command and prayed that God would send forth a laborer to the field in which I'm working? This is a humbling thought, and removes all the ego and pride about my ministry, my calling. Because somebody prayed, did I CHANGE into God's laborer? — Evelyn Christenson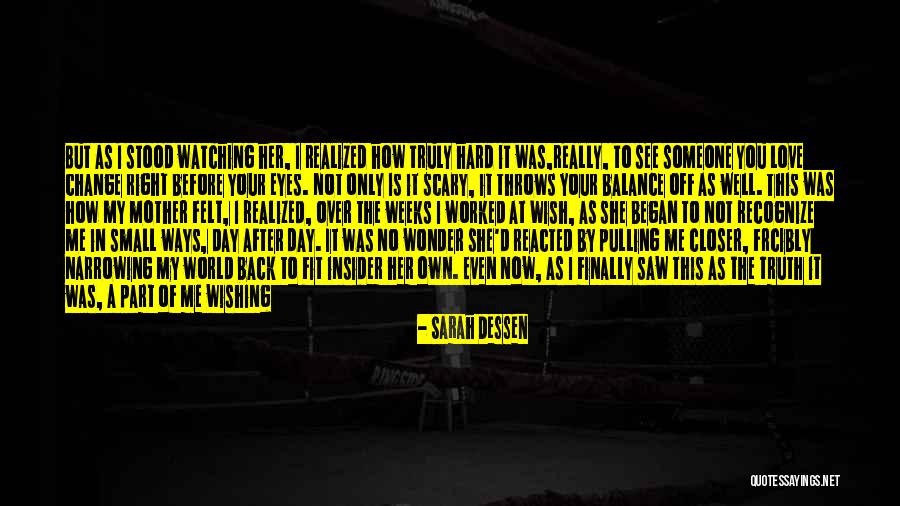 But as I stood watching her, I realized how truly hard it was,really, to see someone you love change right before your eyes. Not only is it scary, it throws your balance off as well. This was how my mother felt, I realized, over the weeks I worked at Wish, as she began to not recognize me in small ways, day after day. It was no wonder she'd reacted by pulling me closer, frcibly narrowing my world back to fit insider her own. Even now, as I finally saw this as the truth it was, a part of me wishing my mother would stand up straight, take command, be back in control. But all I'd wanted when she was tugging me closer was to be able to prove to her that the changes in me were good ones, ones she'd understand if she only gave them a chance. I had that chance now. While it was scary, I was gong to take it.
~Macy, pgs 351 and 352 — Sarah Dessen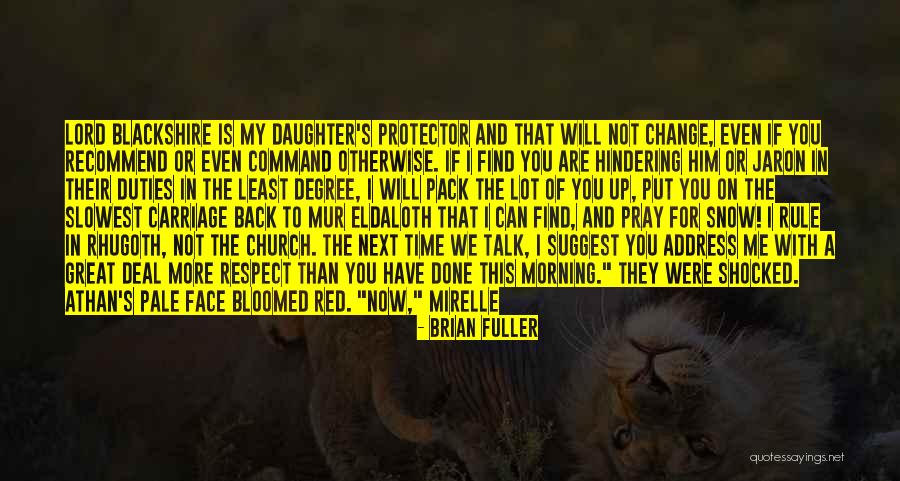 Lord Blackshire is my daughter's Protector and that will not change, even if you recommend or even command otherwise. If I find you are hindering him or Jaron in their duties in the least degree, I will pack the lot of you up, put you on the slowest carriage back to Mur Eldaloth that I can find, and pray for snow! I rule in Rhugoth, not the Church. The next time we talk, I suggest you address me with a great deal more respect than you have done this morning." They were shocked. Athan's pale face bloomed red. "Now," Mirelle said as she stood, voice calm, even flippant, "enjoy your wine. Ethris will be with you shortly. — Brian Fuller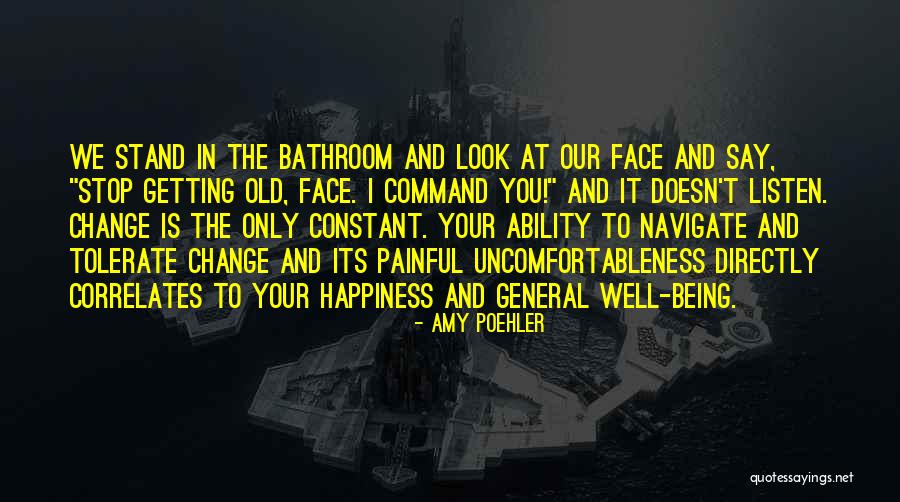 We stand in the bathroom and look at our face and say, "Stop getting old, face. I command you!" and it doesn't listen. Change is the only constant. Your ability to navigate and tolerate change and its painful uncomfortableness directly correlates to your happiness and general well-being. — Amy Poehler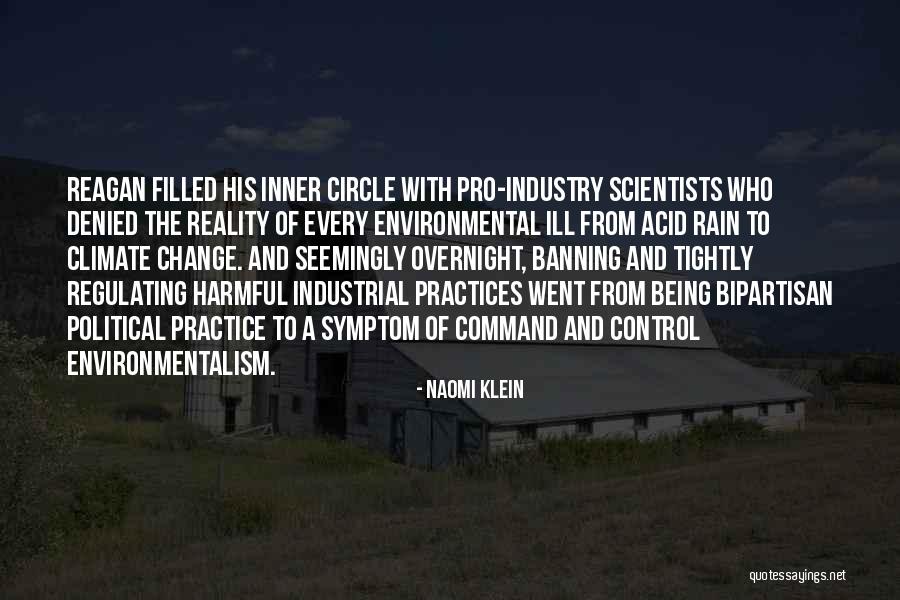 Reagan filled his inner circle with pro-industry scientists who denied the reality of every environmental ill from acid rain to climate change. And seemingly overnight, banning and tightly regulating harmful industrial practices went from being bipartisan political practice to a symptom of command and control environmentalism. — Naomi Klein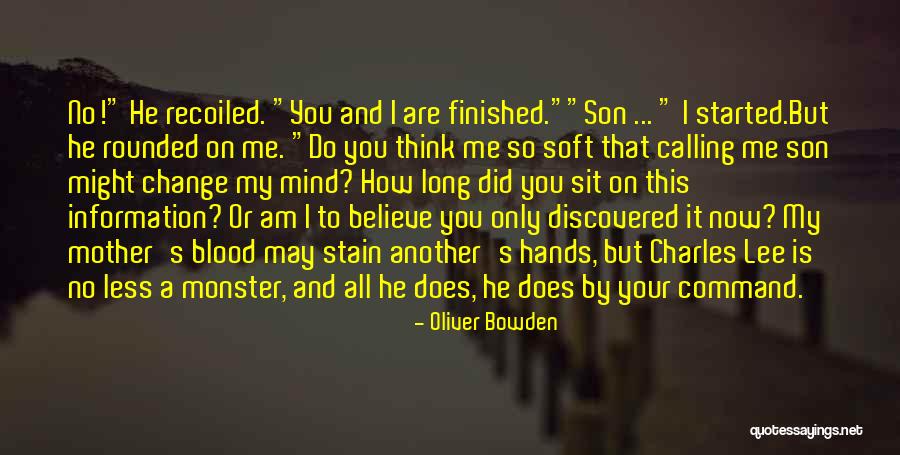 No!" He recoiled. "You and I are finished."
"Son ... " I started.
But he rounded on me. "Do you think me so soft that calling me son might change my mind? How long did you sit on this information? Or am I to believe you only discovered it now? My mother's blood may stain another's hands, but Charles Lee is no less a monster, and all he does, he does by your command. — Oliver Bowden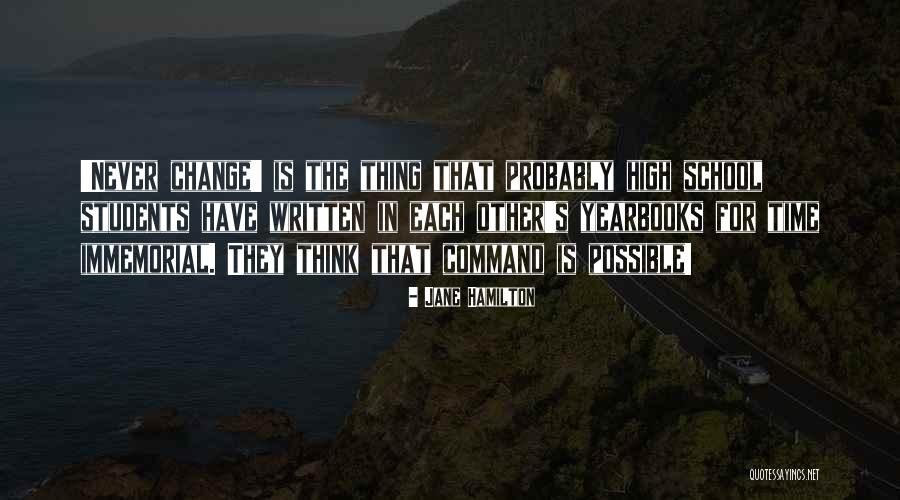 'Never change' is the thing that probably high school students have written in each other's yearbooks for time immemorial. They think that command is possible! — Jane Hamilton
Whether happiness or unhappiness, freedom or slavery, in short whether good or evil results from an improved environment depends largely upon how the change has been brought about, upon the methods by which the physical results have been reached, and in what spirit and for what purpose the fruits of that change are used. Because a higher standard of living, a greater productiveness and a command over nature are not good in and of themselves does not mean that we cannot make good of them, that they cannot be a source of inner strength. — David Lilienthal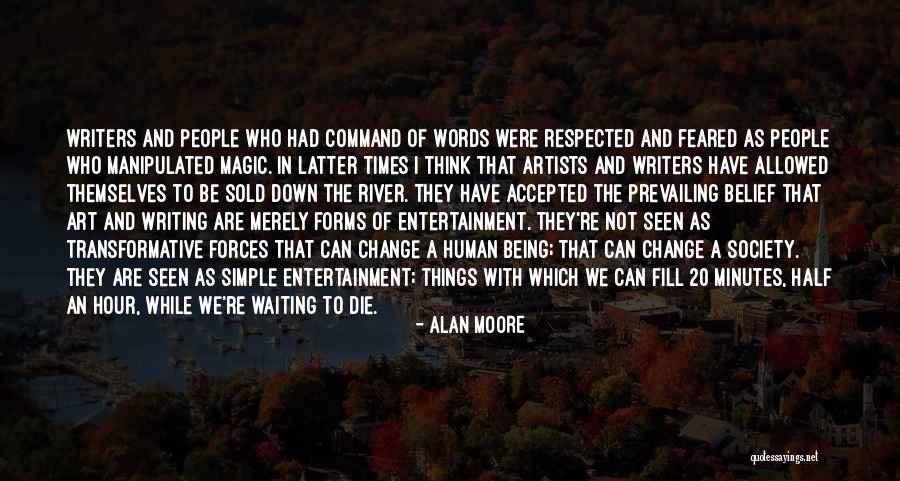 Writers and people who had command of words were respected and feared as people who manipulated magic. In latter times I think that artists and writers have allowed themselves to be sold down the river. They have accepted the prevailing belief that art and writing are merely forms of entertainment. They're not seen as transformative forces that can change a human being; that can change a society. They are seen as simple entertainment; things with which we can fill 20 minutes, half an hour, while we're waiting to die. — Alan Moore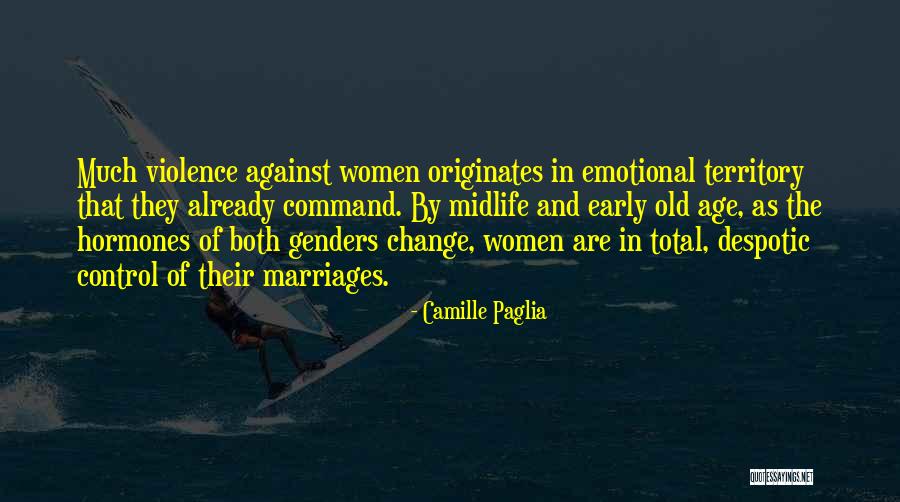 Much violence against women originates in emotional territory that they already command. By midlife and early old age, as the hormones of both genders change, women are in total, despotic control of their marriages. — Camille Paglia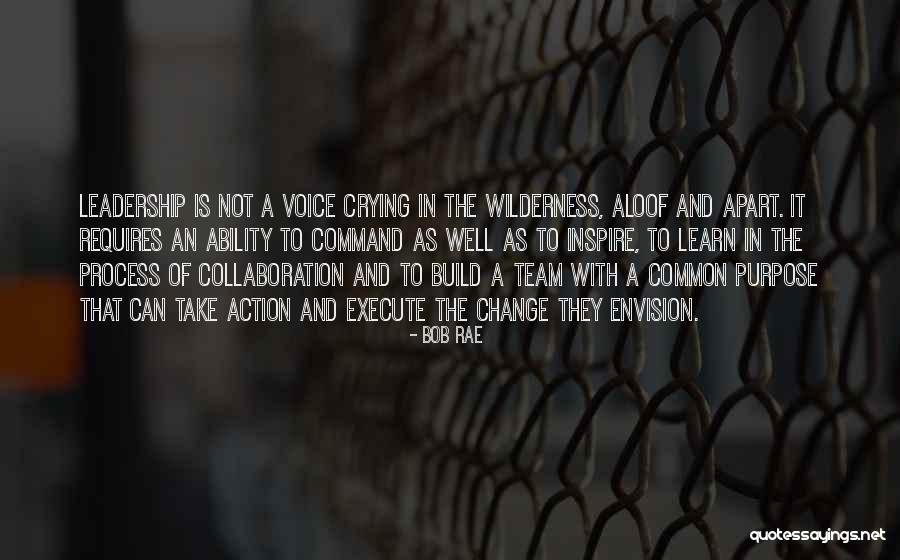 Leadership is not a voice crying in the wilderness, aloof and apart. It requires an ability to command as well as to inspire, to learn in the process of collaboration and to build a team with a common purpose that can take action and execute the change they envision. — Bob Rae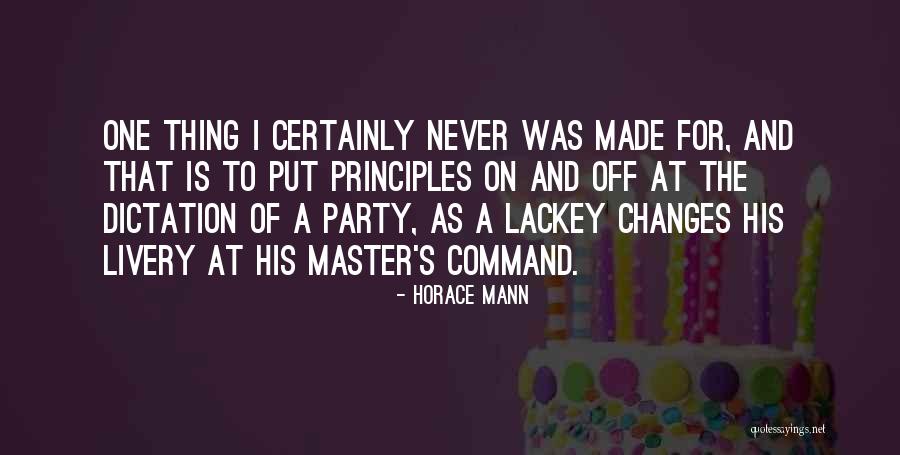 One thing I certainly never was made for, and that is to put principles on and off at the dictation of a party, as a lackey changes his livery at his master's command. — Horace Mann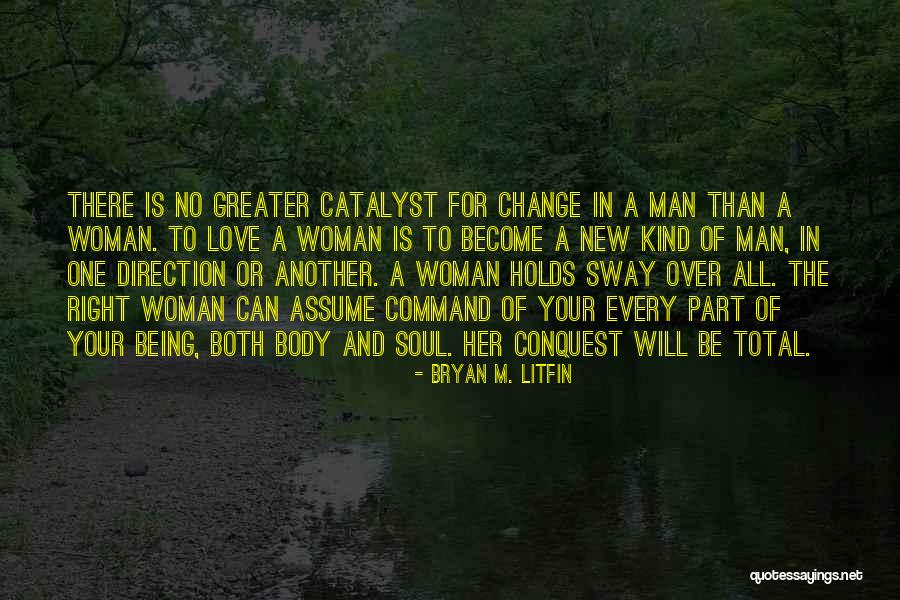 There is no greater catalyst for change in a man than a woman. To love a woman is to become a new kind of man, in one direction or another. A woman holds sway over all. The right woman can assume command of your every part of your being, both body and soul. Her conquest will be total. — Bryan M. Litfin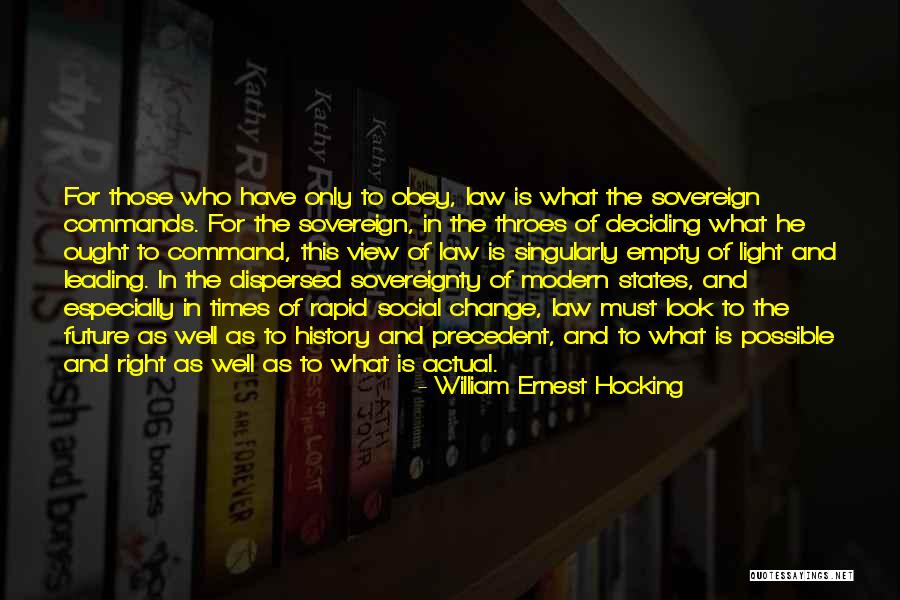 For those who have only to obey, law is what the sovereign commands. For the sovereign, in the throes of deciding what he ought to command, this view of law is singularly empty of light and leading. In the dispersed sovereignty of modern states, and especially in times of rapid social change, law must look to the future as well as to history and precedent, and to what is possible and right as well as to what is actual. — William Ernest Hocking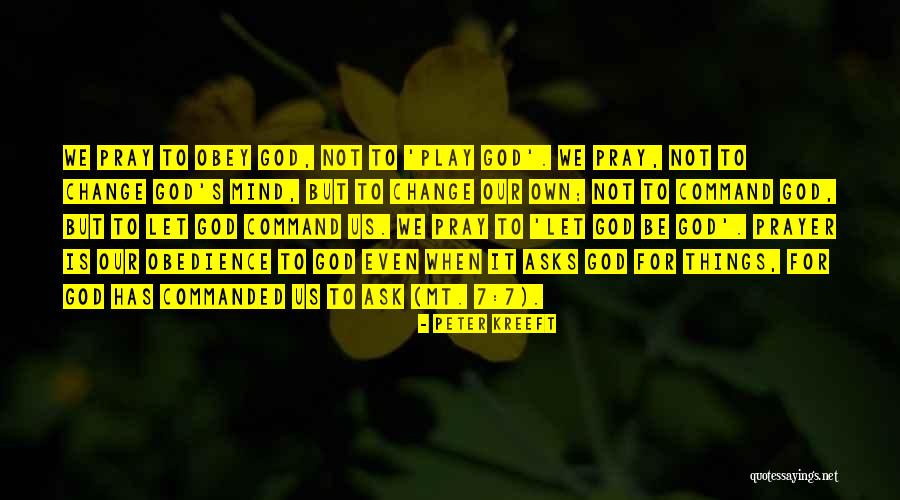 We pray to obey God, not to 'play God'. We pray, not to change God's mind, but to change our own; not to command God, but to let God command us. We pray to 'let God be God'. Prayer is our obedience to God even when it asks God for things, for God has commanded us to ask (Mt. 7:7). — Peter Kreeft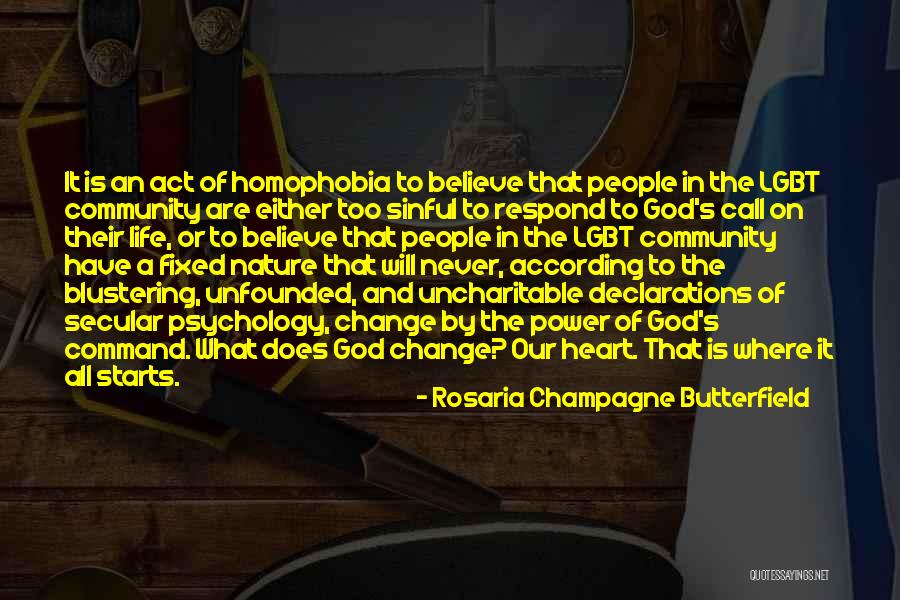 It is an act of homophobia to believe that people in the LGBT community are either too sinful to respond to God's call on their life, or to believe that people in the LGBT community have a fixed nature that will never, according to the blustering, unfounded, and uncharitable declarations of secular psychology, change by the power of God's command. What does God change? Our heart. That is where it all starts. — Rosaria Champagne Butterfield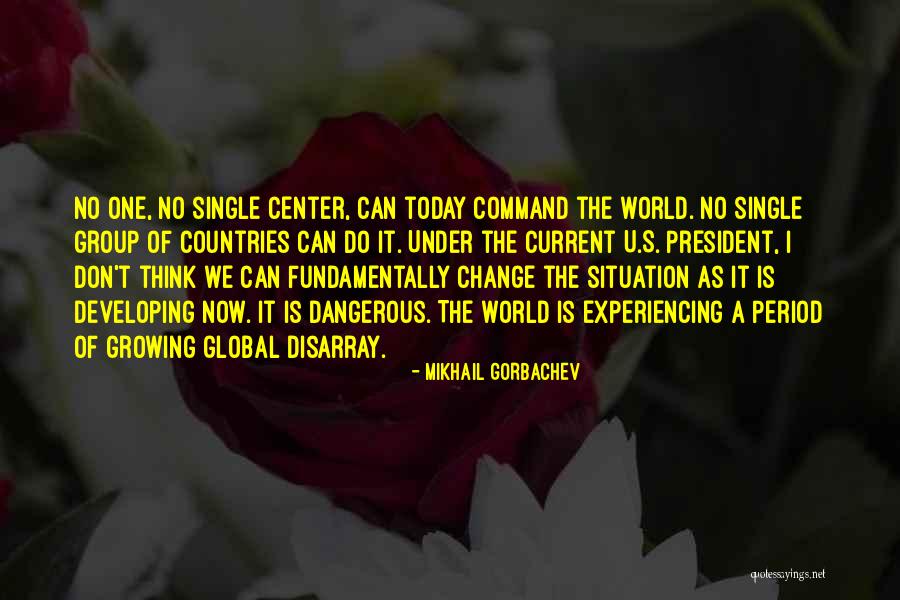 No one, no single center, can today command the world. No single group of countries can do it. Under the current U.S. president, I don't think we can fundamentally change the situation as it is developing now. It is dangerous. The world is experiencing a period of growing global disarray. — Mikhail Gorbachev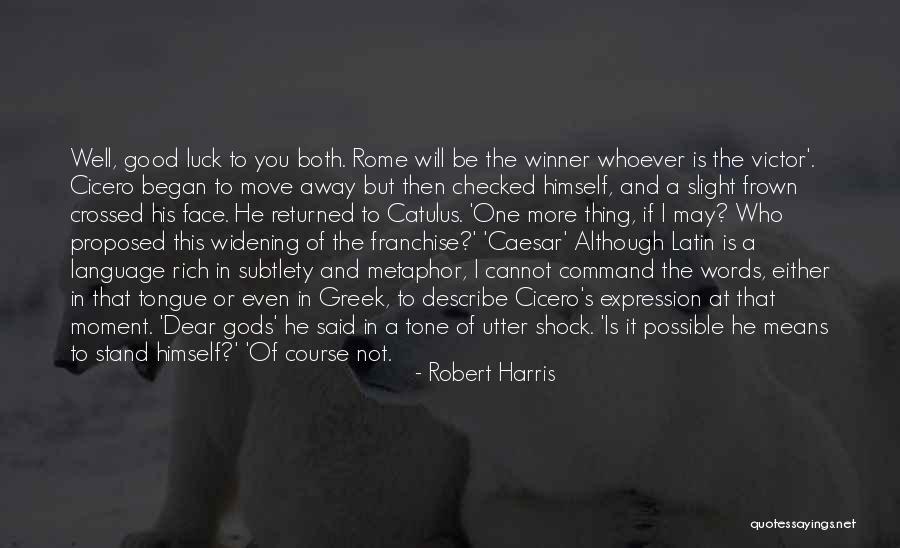 Well, good luck to you both. Rome will be the winner whoever is the victor'. Cicero began to move away but then checked himself, and a slight frown crossed his face. He returned to Catulus. 'One more thing, if I may? Who proposed this widening of the franchise?' 'Caesar' Although Latin is a language rich in subtlety and metaphor, I cannot command the words, either in that tongue or even in Greek, to describe Cicero's expression at that moment. 'Dear gods' he said in a tone of utter shock. 'Is it possible he means to stand himself?' 'Of course not. That would be ridiculous. He's far too young. He's thirty-six. He's not yet even been elected praetor' 'Yes, but even so, in my opinion, you would be well advised to reconvene your college as quickly as possible and go back to the existing method of selection.' 'That is impossible' 'Why?' 'The bill to change the franchise was laid before the people this morning' 'By whom?' 'Labienus' 'Ah!' Cicero clapped his hand to his forehead. — Robert Harris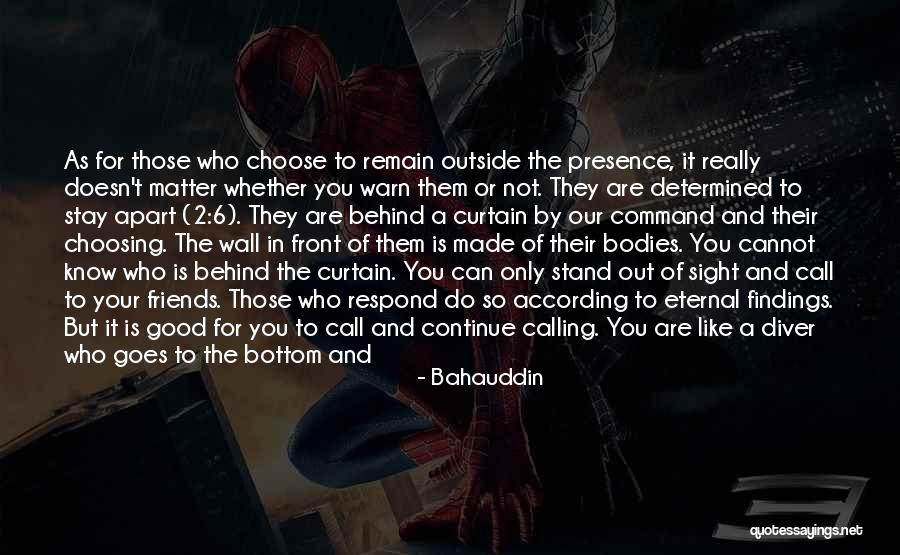 As for those who choose to remain outside the presence, it really doesn't matter whether you warn them or not. They are determined to stay apart (2:6). They are behind a curtain by our command and their choosing. The wall in front of them is made of their bodies. You cannot know who is behind the curtain. You can only stand out of sight and call to your friends. Those who respond do so according to eternal findings. But it is good for you to call and continue calling. You are like a diver who goes to the bottom and brings up sometimes a pure gem, sometimes an ordinary stone. Your diving does not change one into the other. — Bahauddin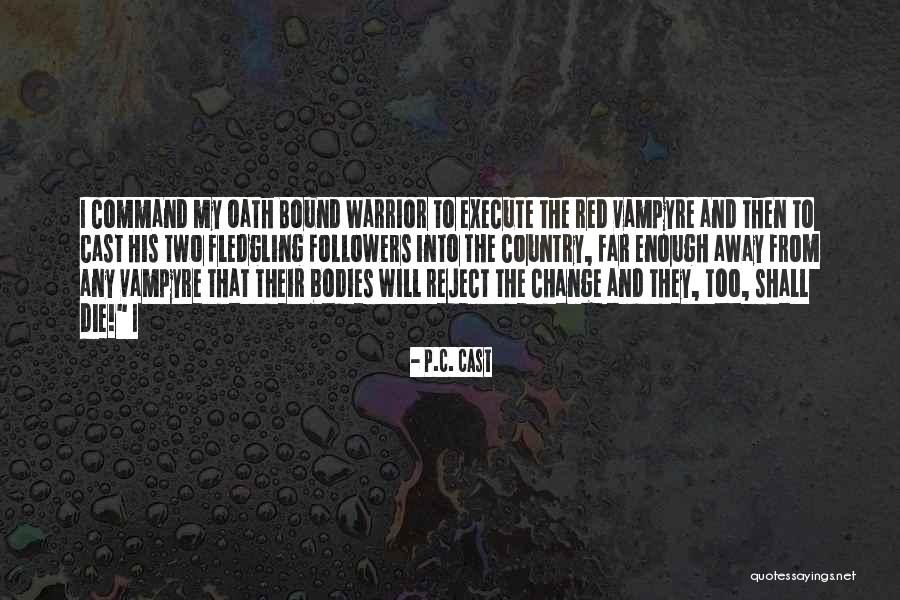 I command my Oath Bound Warrior to execute the red vampyre and then to cast his two fledgling followers into the country, far enough away from any vampyre that their bodies will reject the Change and they, too, shall die!" I — P.C. Cast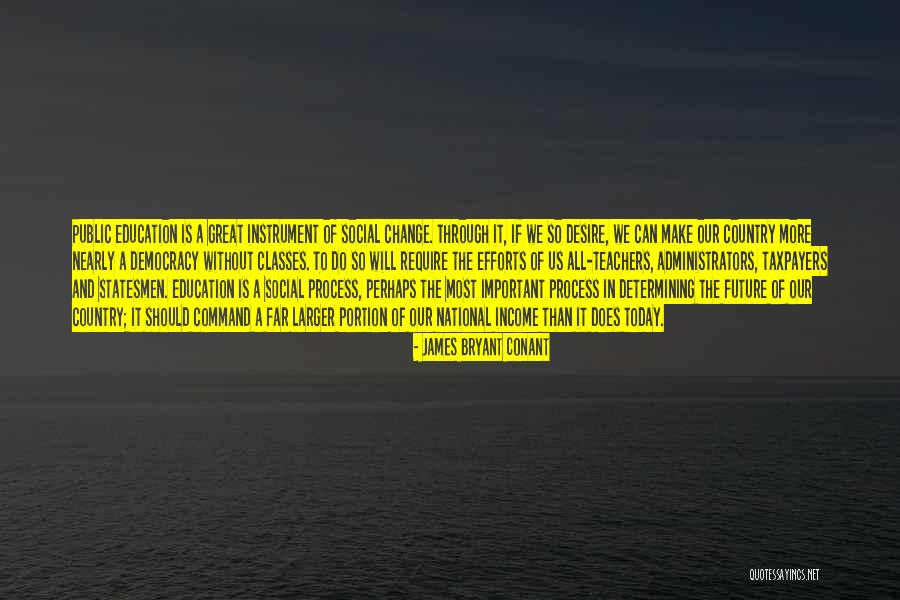 Public education is a great instrument of social change. Through it, if we so desire, we can make our country more nearly a democracy without classes. To do so will require the efforts of us all-teachers, administrators, taxpayers and statesmen. Education is a social process, perhaps the most important process in determining the future of our country; it should command a far larger portion of our national income than it does today. — James Bryant Conant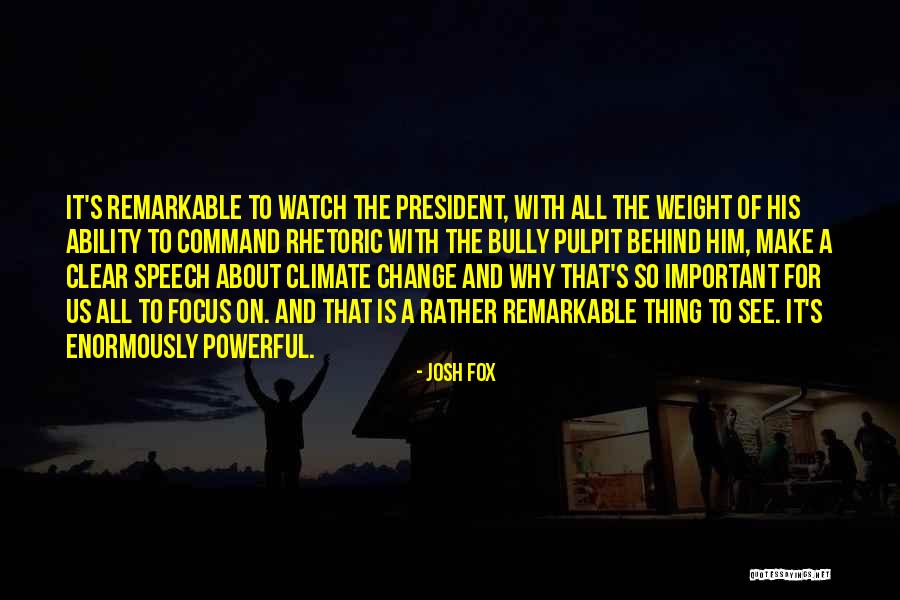 It's remarkable to watch the president, with all the weight of his ability to command rhetoric with the bully pulpit behind him, make a clear speech about climate change and why that's so important for us all to focus on. And that is a rather remarkable thing to see. It's enormously powerful. — Josh Fox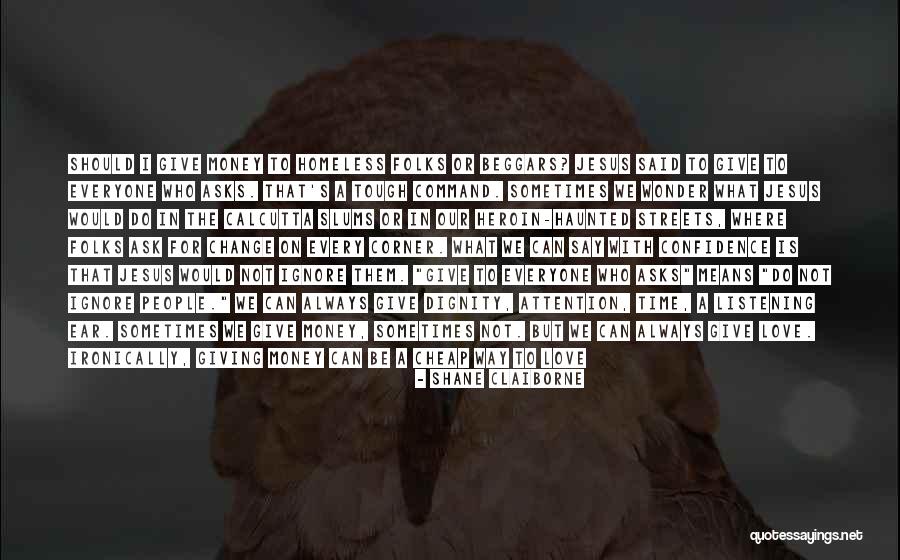 Should I give money to homeless folks or beggars? Jesus said to give to everyone who asks. That's a tough command. Sometimes we wonder what Jesus would do in the Calcutta slums or in our heroin-haunted streets, where folks ask for change on every corner. What we can say with confidence is that Jesus would not ignore them. "Give to everyone who asks" means "do not ignore people." We can always give dignity, attention, time, a listening ear. Sometimes we give money, sometimes not. But we can always give love. Ironically, giving money can be a cheap way to love someone. Many folks give money because they don't want to have an interaction; they just want to get someone off their back. There are times when giving money can even be a way to avoid the responsibility that a real relationship might demand. So I want to suggest, sure, give money, but give more than money . . . give yourself. — Shane Claiborne