Quotes & Sayings About Chances And Choices
Enjoy reading and share 37 famous quotes about Chances And Choices with everyone.
Top Chances And Choices Quotes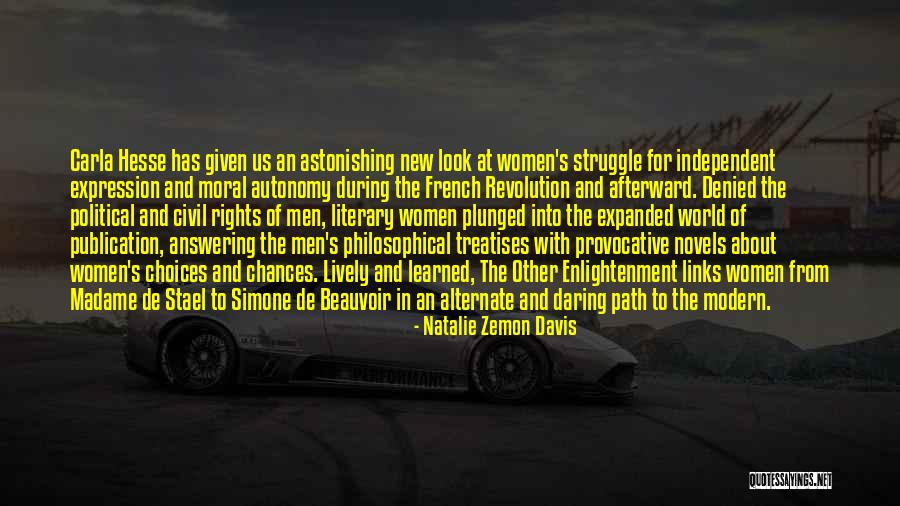 Carla Hesse has given us an astonishing new look at women's struggle for independent expression and moral autonomy during the French Revolution and afterward. Denied the political and civil rights of men, literary women plunged into the expanded world of publication, answering the men's philosophical treatises with provocative novels about women's choices and chances. Lively and learned, The Other Enlightenment links women from Madame de Stael to Simone de Beauvoir in an alternate and daring path to the modern. — Natalie Zemon Davis
Never let your fear of the unknown and things being too difficult make your choices for you in life. One of the saddest lessons in life is finding out that your fear made the situation worse than what it was and a braver person stole the dream you gave up on. — Shannon L. Alder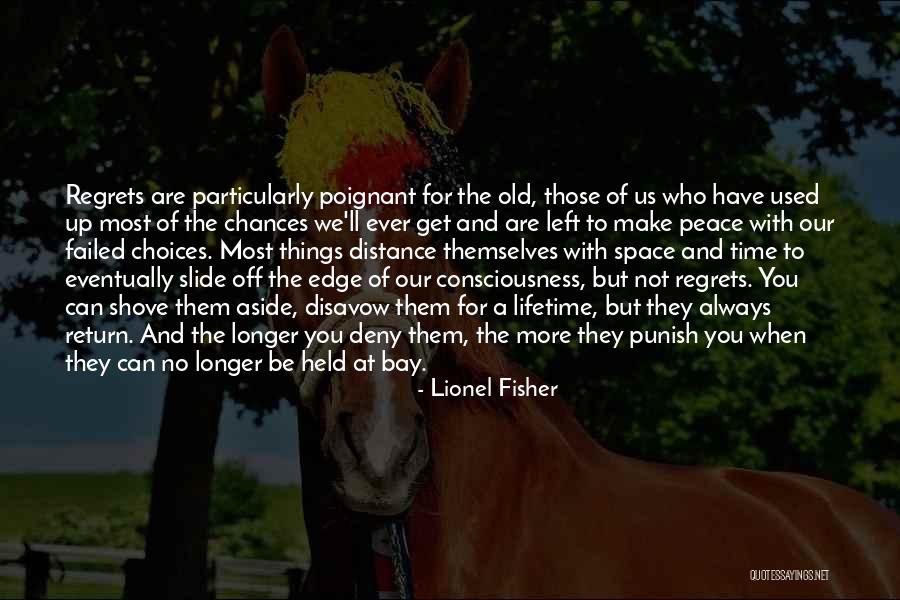 Regrets are particularly poignant for the old, those of us who have used up most of the chances we'll ever get and are left to make peace with our failed choices. Most things distance themselves with space and time to eventually slide off the edge of our consciousness, but not regrets. You can shove them aside, disavow them for a lifetime, but they always return. And the longer you deny them, the more they punish you when they can no longer be held at bay. — Lionel Fisher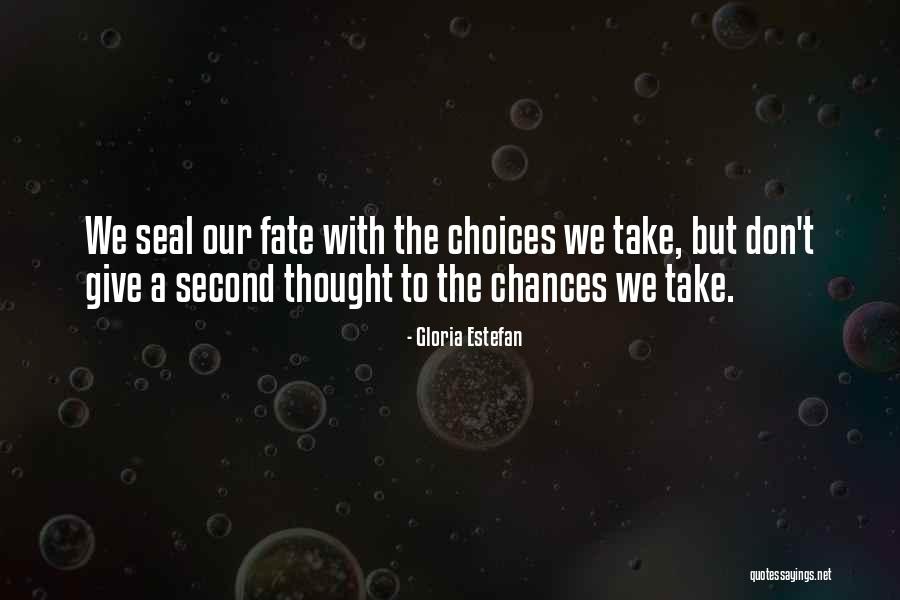 We seal our fate with the choices we take, but don't give a second thought to the chances we take. — Gloria Estefan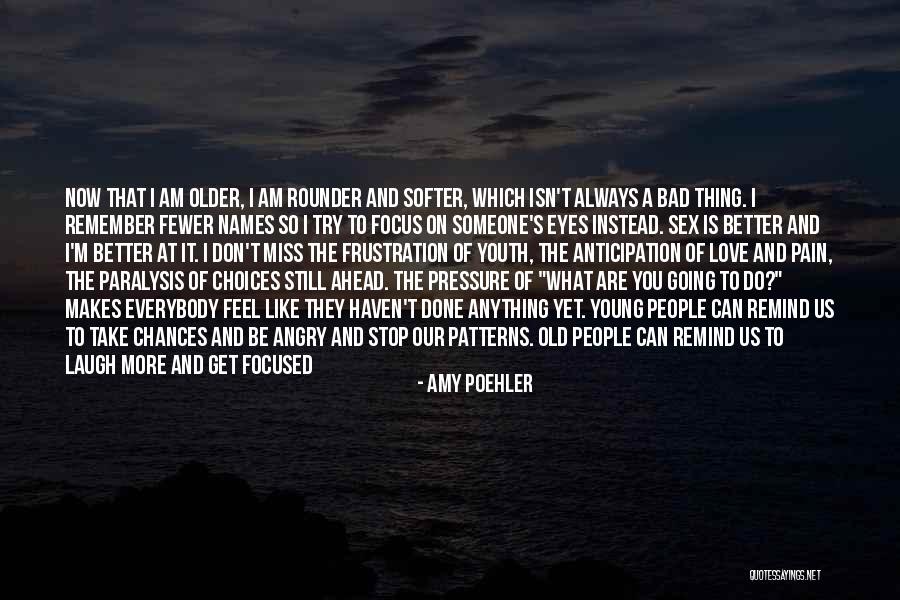 Now that I am older, I am rounder and softer, which isn't always a bad thing. I remember fewer names so I try to focus on someone's eyes instead. Sex is better and I'm better at it. I don't miss the frustration of youth, the anticipation of love and pain, the paralysis of choices still ahead. The pressure of "What are you going to do?" makes everybody feel like they haven't done anything yet. Young people can remind us to take chances and be angry and stop our patterns. Old people can remind us to laugh more and get focused and make friends with our patterns. Young and old need to relax in the moment and live where they are. Be Here Now, — Amy Poehler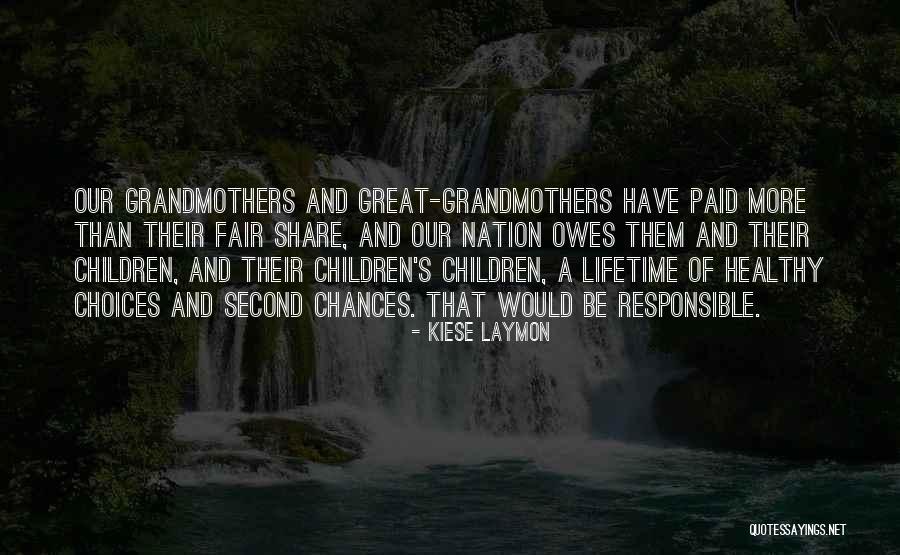 Our grandmothers and great-grandmothers have paid more than their fair share, and our nation owes them and their children, and their children's children, a lifetime of healthy choices and second chances. That would be responsible. — Kiese Laymon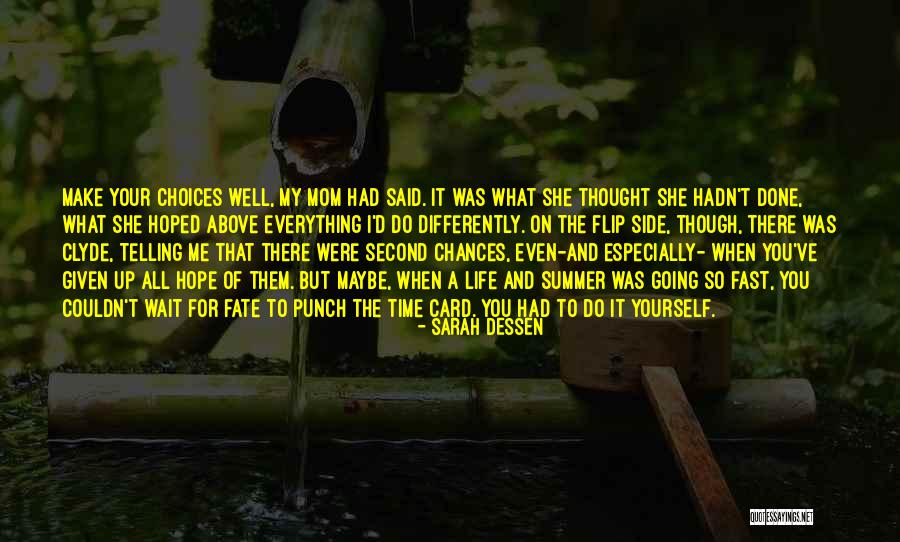 Make your choices well, my mom had said. It was what she thought she hadn't done, what she hoped above everything I'd do differently. On the flip side, though, there was Clyde, telling me that there were second chances, even-and especially- when you've given up all hope of them. But maybe, when a life and summer was going so fast, you couldn't wait for fate to punch the time card. You had to do it yourself. — Sarah Dessen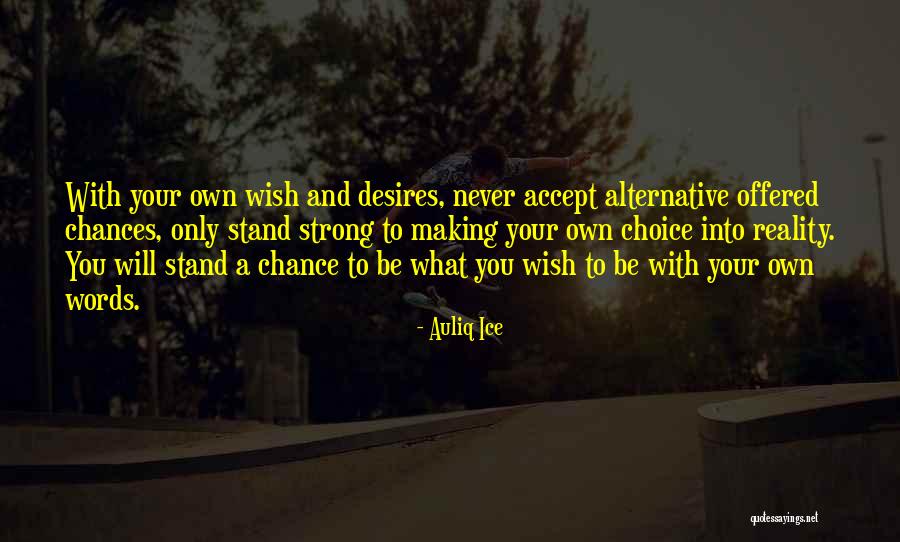 With your own wish and desires, never accept alternative offered chances, only stand strong to making your own choice into reality. You will stand a chance to be what you wish to be with your own words. — Auliq Ice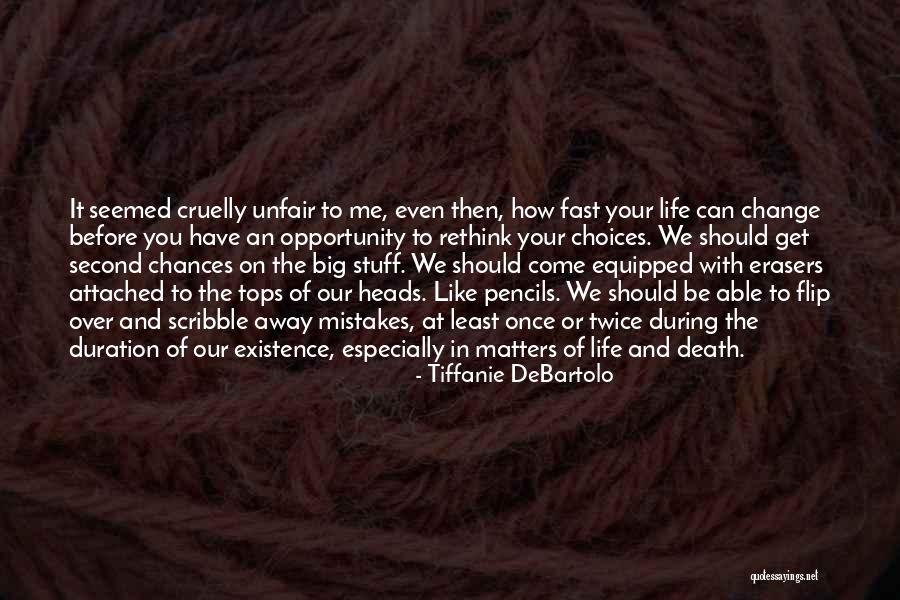 It seemed cruelly unfair to me, even then, how fast your life can change before you have an opportunity to rethink your choices. We should get second chances on the big stuff. We should come equipped with erasers attached to the tops of our heads. Like pencils. We should be able to flip over and scribble away mistakes, at least once or twice during the duration of our existence, especially in matters of life and death. — Tiffanie DeBartolo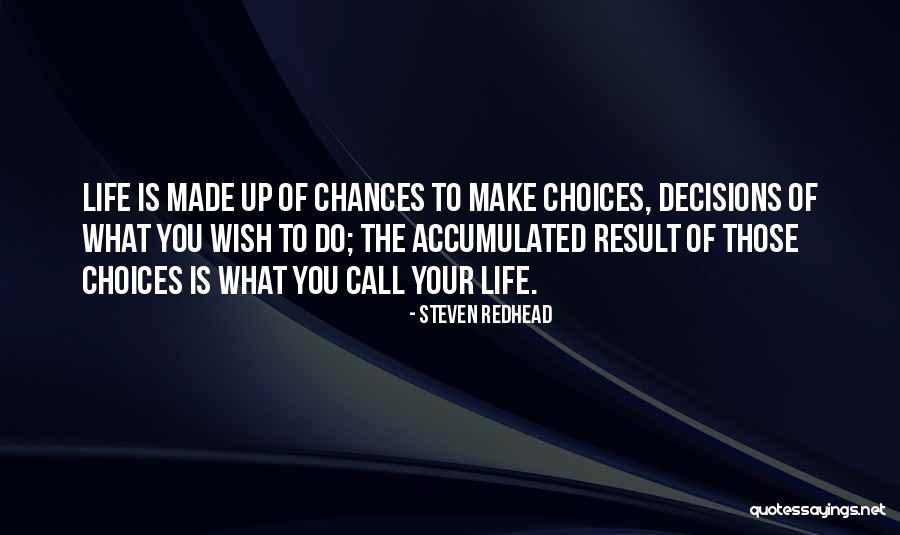 Life is made up of chances to make choices, decisions of what you wish to do; the accumulated result of those choices is what you call your life. — Steven Redhead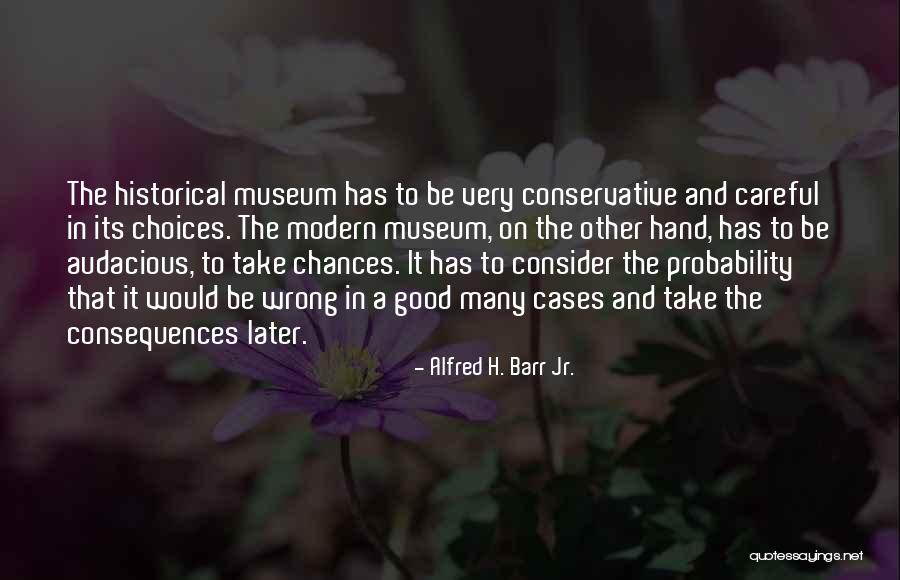 The historical museum has to be very conservative and careful in its choices. The modern museum, on the other hand, has to be audacious, to take chances. It has to consider the probability that it would be wrong in a good many cases and take the consequences later. — Alfred H. Barr Jr.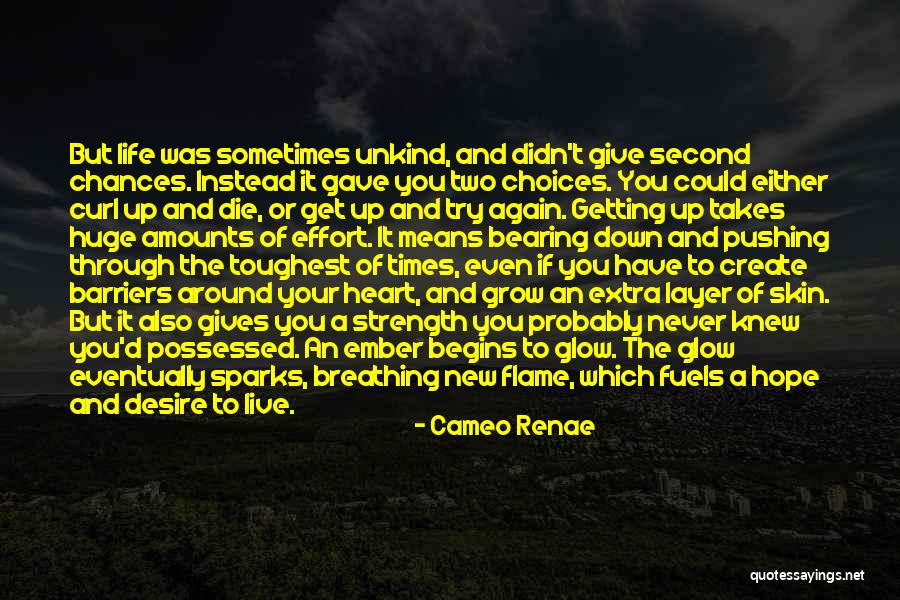 But life was sometimes unkind, and didn't give second chances. Instead it gave you two choices. You could either curl up and die, or get up and try again. Getting up takes huge amounts of effort. It means bearing down and pushing through the toughest of times, even if you have to create barriers around your heart, and grow an extra layer of skin. But it also gives you a strength you probably never knew you'd possessed. An ember begins to glow. The glow eventually sparks, breathing new flame, which fuels a hope and desire to live. — Cameo Renae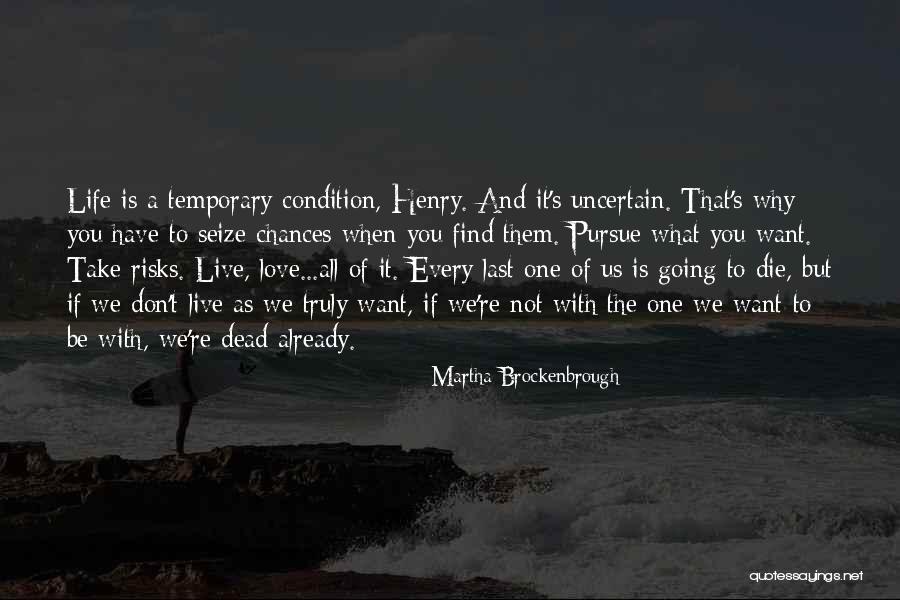 Life is a temporary condition, Henry. And it's uncertain. That's why you have to seize chances when you find them. Pursue what you want. Take risks. Live, love...all of it. Every last one of us is going to die, but if we don't live as we truly want, if we're not with the one we want to be with, we're dead already. — Martha Brockenbrough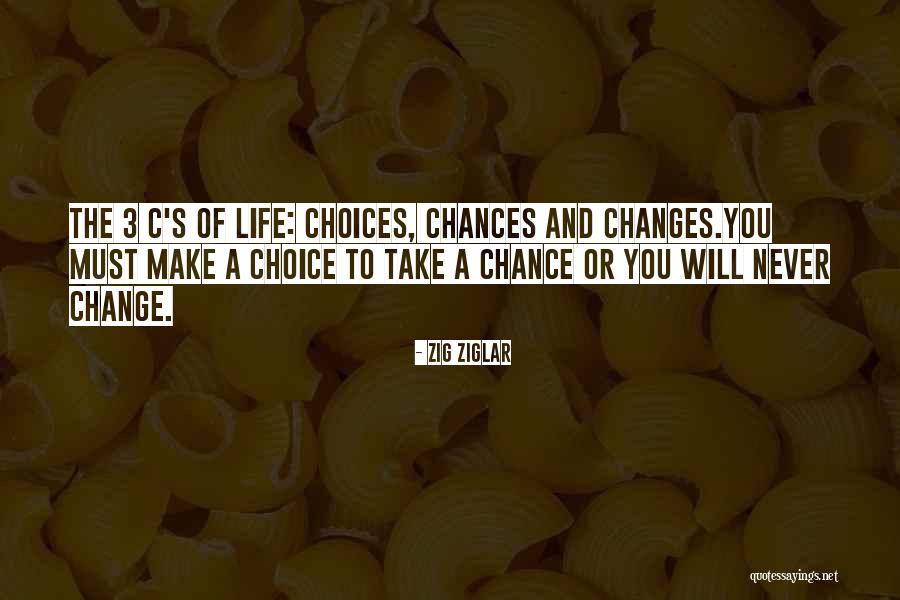 The 3 C's of Life: Choices, Chances and Changes.You must make a choice to take a chance or you will never change. — Zig Ziglar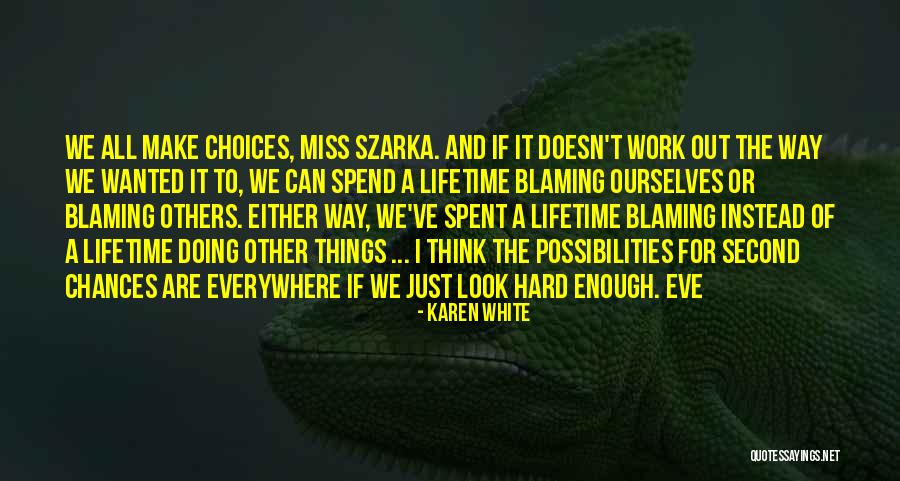 We all make choices, Miss Szarka. And if it doesn't work out the way we wanted it to, we can spend a lifetime blaming ourselves or blaming others. Either way, we've spent a lifetime blaming instead of a lifetime doing other things ... I think the possibilities for second chances are everywhere if we just look hard enough. Eve — Karen White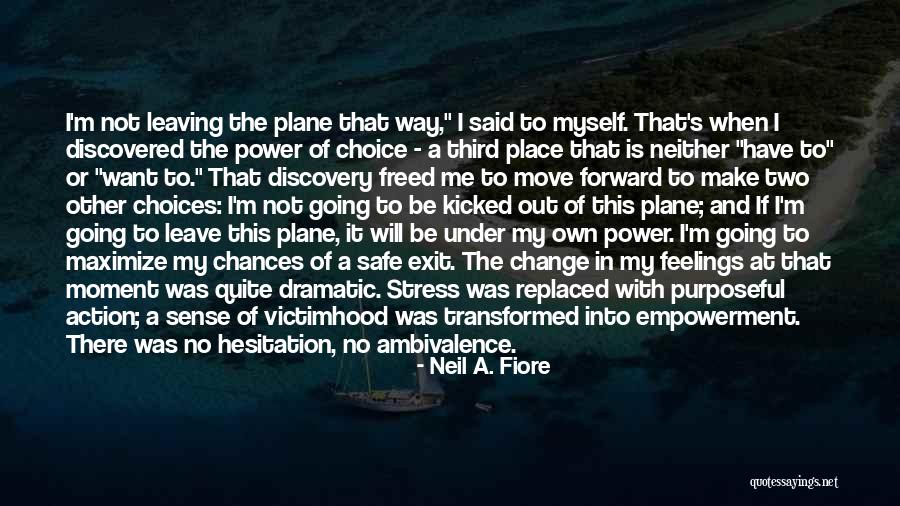 I'm not leaving the plane that way," I said to myself. That's when I discovered the power of choice - a third place that is neither "have to" or "want to." That discovery freed me to move forward to make two other choices: I'm not going to be kicked out of this plane; and If I'm going to leave this plane, it will be under my own power. I'm going to maximize my chances of a safe exit. The change in my feelings at that moment was quite dramatic. Stress was replaced with purposeful action; a sense of victimhood was transformed into empowerment. There was no hesitation, no ambivalence. — Neil A. Fiore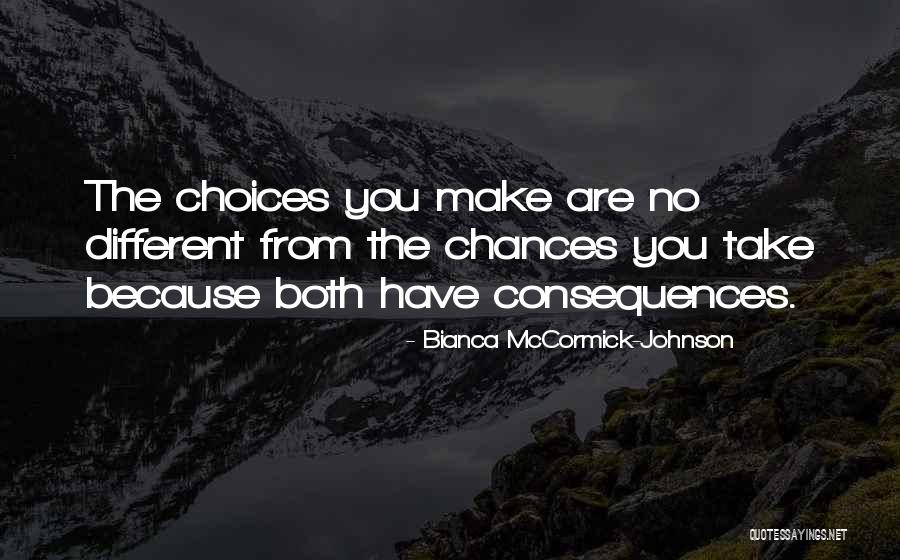 The choices you make are no different from the chances you take because both have consequences. — Bianca McCormick-Johnson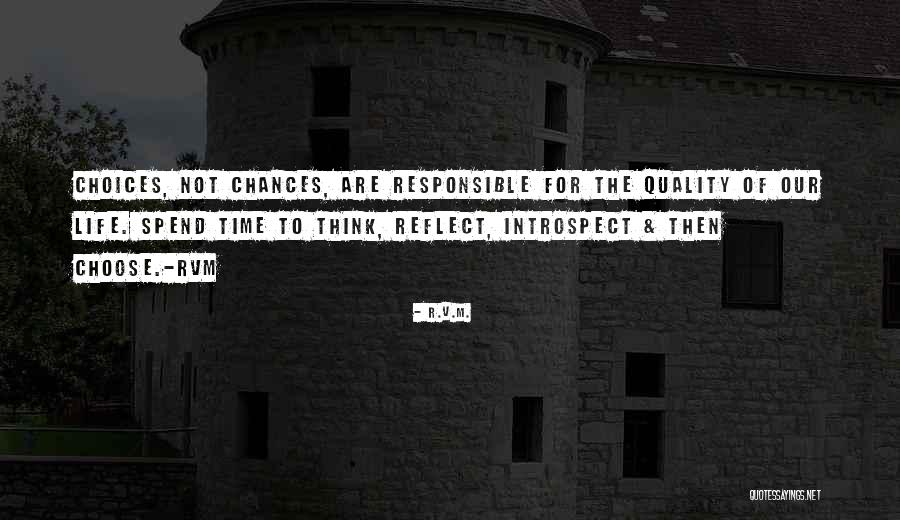 Choices, not Chances, are responsible for the quality of our Life. Spend time to Think, Reflect, Introspect & then Choose.-RVM — R.v.m.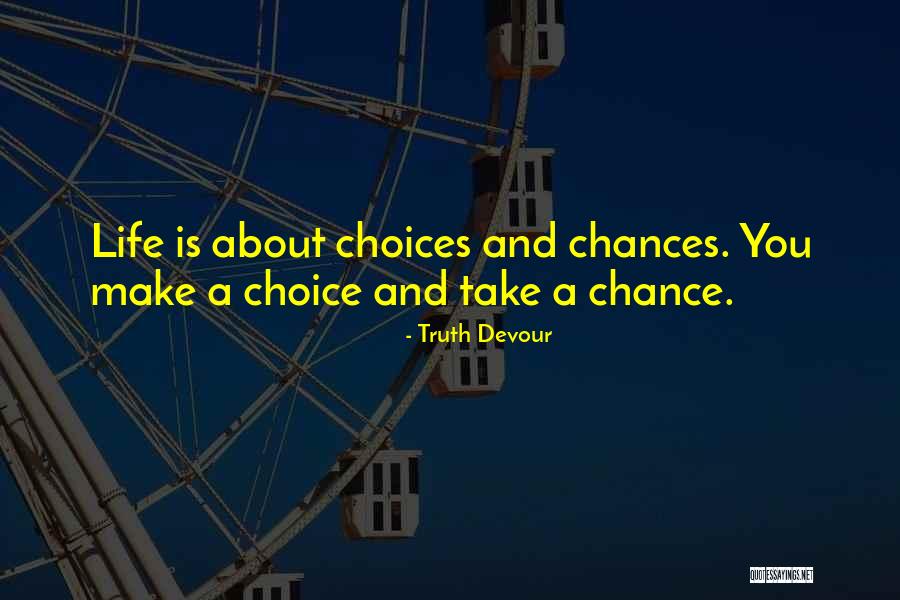 Life is about choices and chances. You make a choice and take a chance. — Truth Devour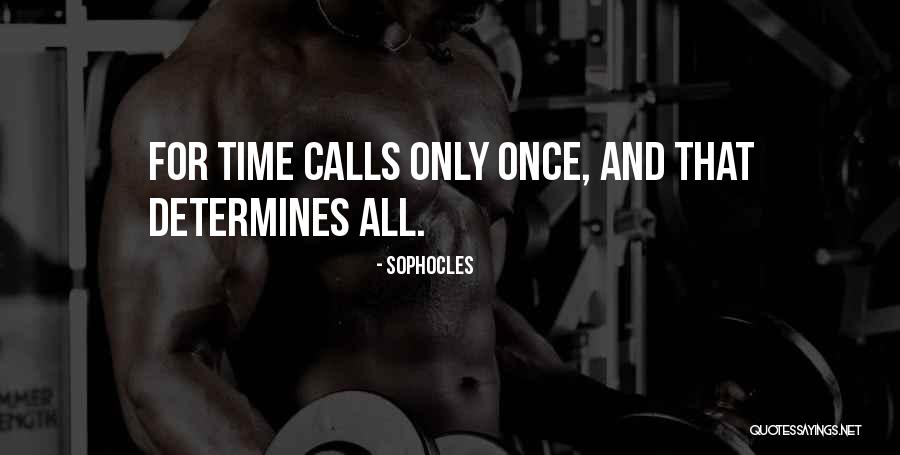 For Time calls only once, and that determines all. — Sophocles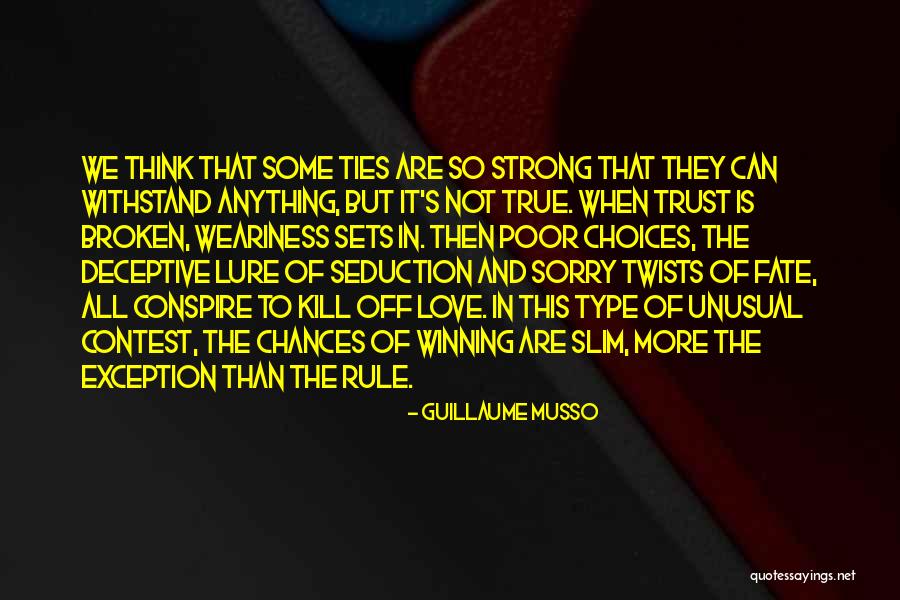 We think that some ties are so strong that they can withstand anything, but it's not true. When trust is broken, weariness sets in. Then poor choices, the deceptive lure of seduction and sorry twists of fate, all conspire to kill off love. In this type of unusual contest, the chances of winning are slim, more the exception than the rule. — Guillaume Musso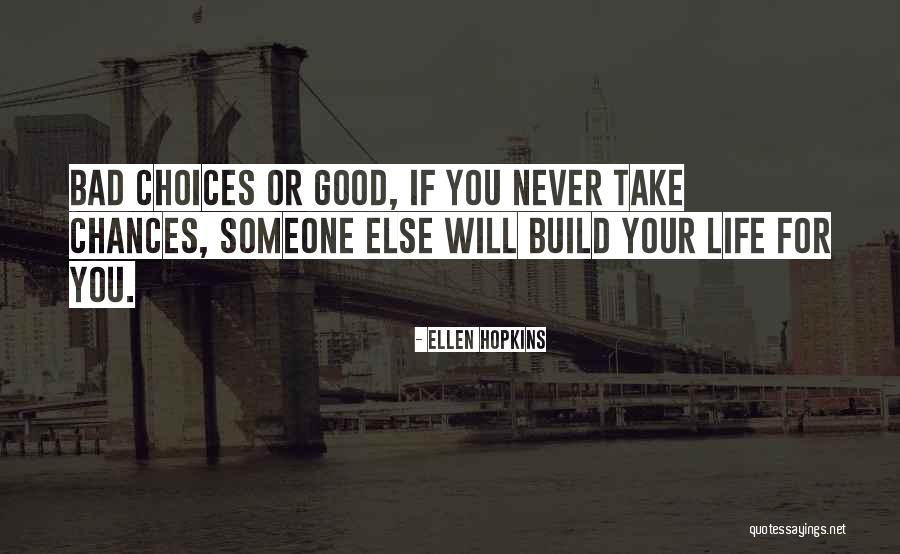 Bad choices or good, if you never take chances, someone else will build your life for you. — Ellen Hopkins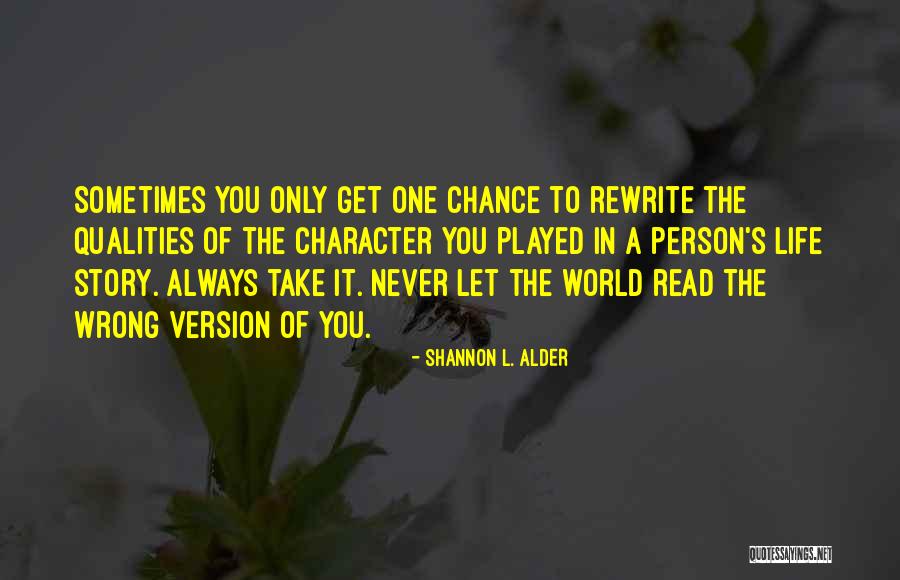 Sometimes you only get one chance to rewrite the qualities of the character you played in a person's life story. Always take it. Never let the world read the wrong version of you. — Shannon L. Alder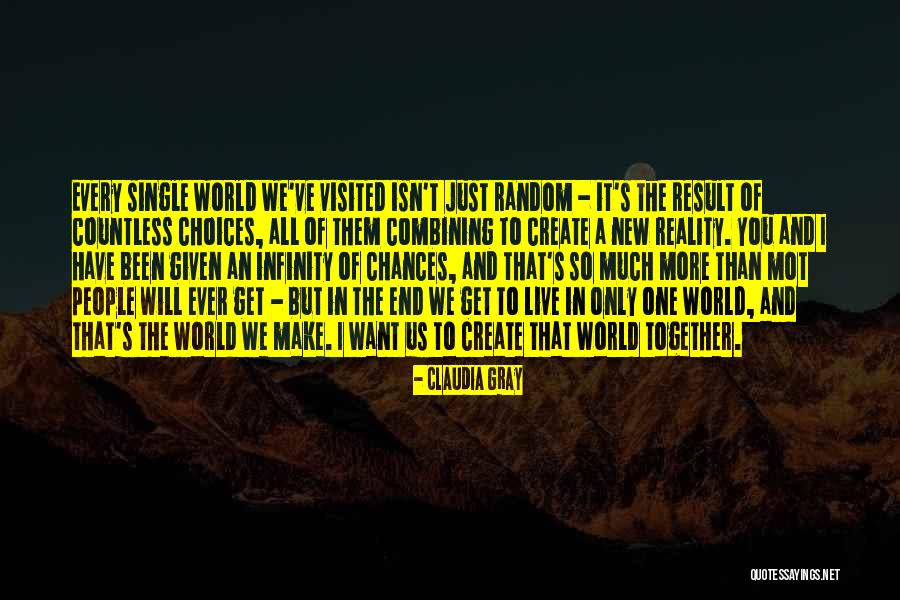 Every single world we've visited isn't just random - it's the result of countless choices, all of them combining to create a new reality. You and I have been given an infinity of chances, and that's so much more than mot people will ever get - but in the end we get to live in only one world, and that's the world we make. I want us to create that world together. — Claudia Gray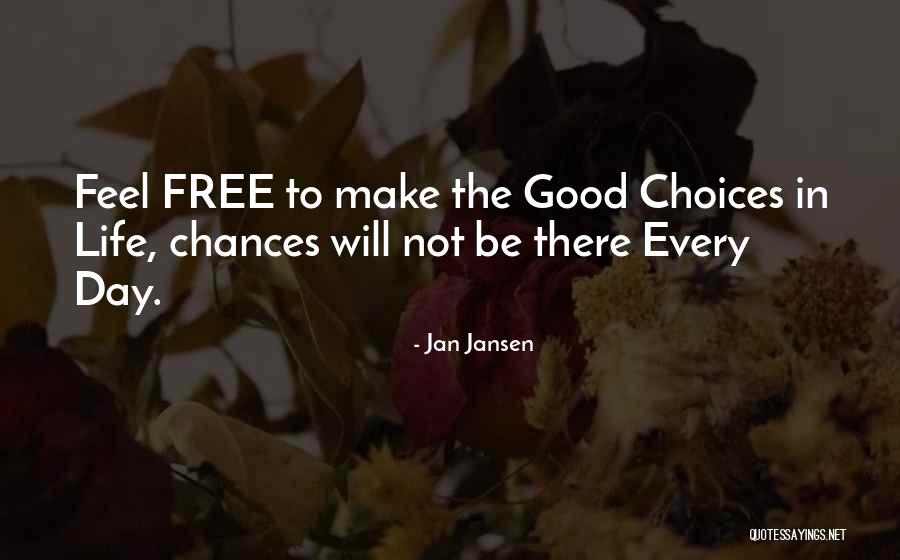 Feel FREE to make the Good Choices in Life, chances will not be there Every Day. — Jan Jansen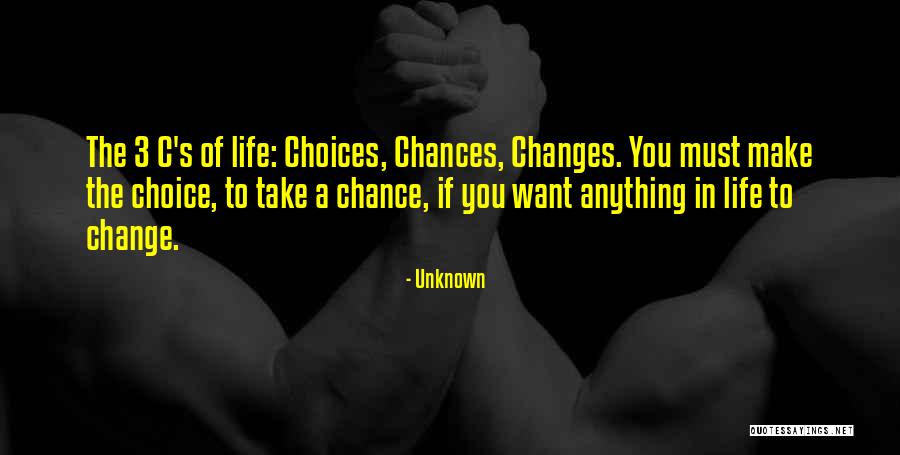 The 3 C's of life:
Choices, Chances, Changes.
You must make the choice, to take a chance, if you want anything in life to change. — Unknown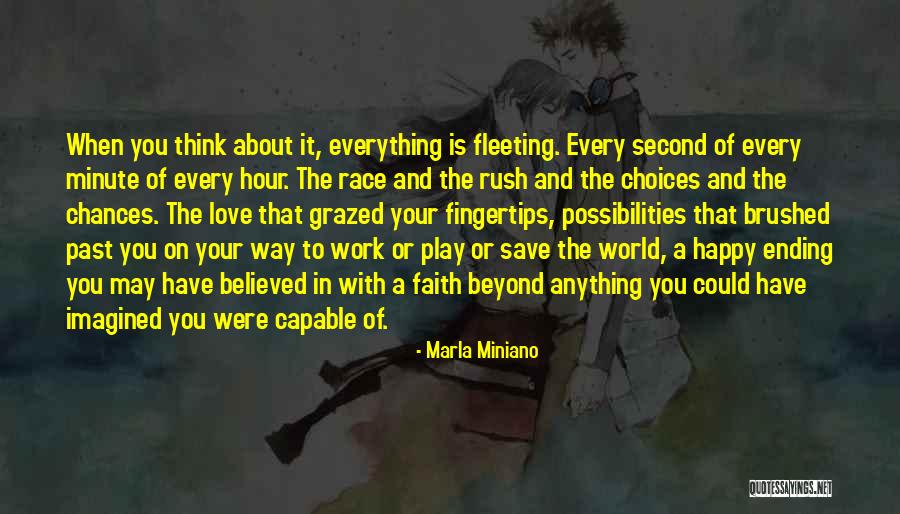 When you think about it, everything is fleeting. Every second of every minute of every hour. The race and the rush and the choices and the chances. The love that grazed your fingertips, possibilities that brushed past you on your way to work or play or save the world, a happy ending you may have believed in with a faith beyond anything you could have imagined you were capable of. — Marla Miniano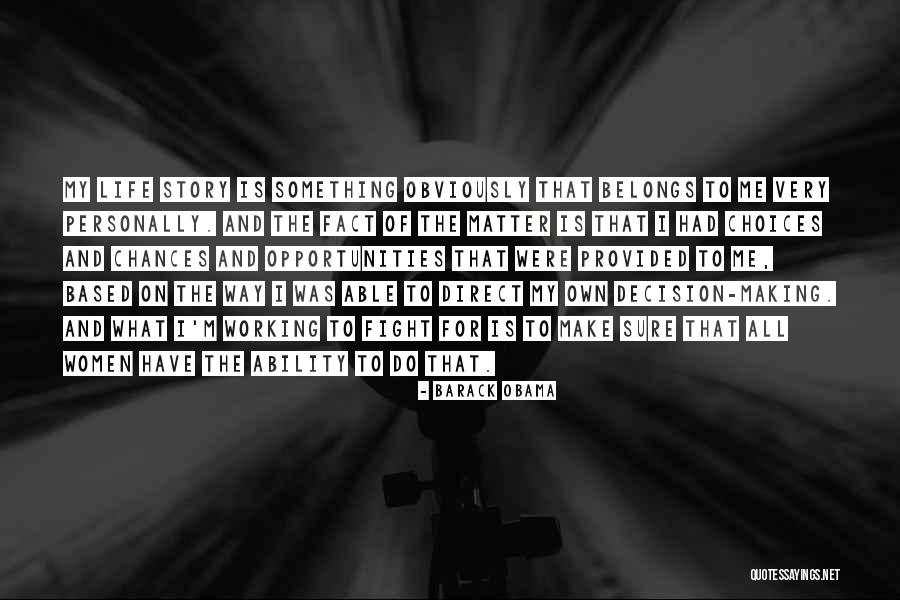 My life story is something obviously that belongs to me very personally. And the fact of the matter is that I had choices and chances and opportunities that were provided to me, based on the way I was able to direct my own decision-making. And what I'm working to fight for is to make sure that all women have the ability to do that. — Barack Obama
My father, George, has also affected the choices in my life regarding films. I like films that take chances or say something different or experiment. Growing up with him, I was surrounded by different artists - not just actors or film-makers but cartoonists, poets, writers. — Leonardo DiCaprio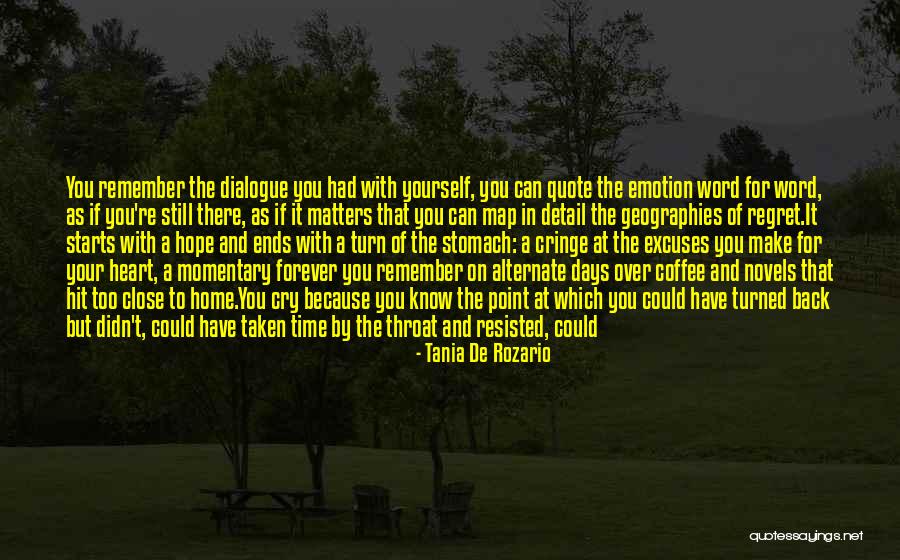 You remember the dialogue you had with yourself, you can quote the emotion word for word, as if you're still there, as if it matters that you can map in detail the geographies of regret.

It starts with a hope and ends with a turn of the stomach: a cringe at the excuses you make for your heart, a momentary forever you remember on alternate days over coffee and novels that hit too close to home.

You cry because you know the point at which you could have turned back but didn't, could have taken time by the throat and resisted, could have ignored the phone, answered that message, said no, said yes, said nothing, smiled - whatever it is that you didn't do. But by the time that moment ends, it is over and you are in too deep, wondering why there exists no rewind button for the soul, no second chance for the petty player, no backup plan for those who risk everything on nothing, all at once. — Tania De Rozario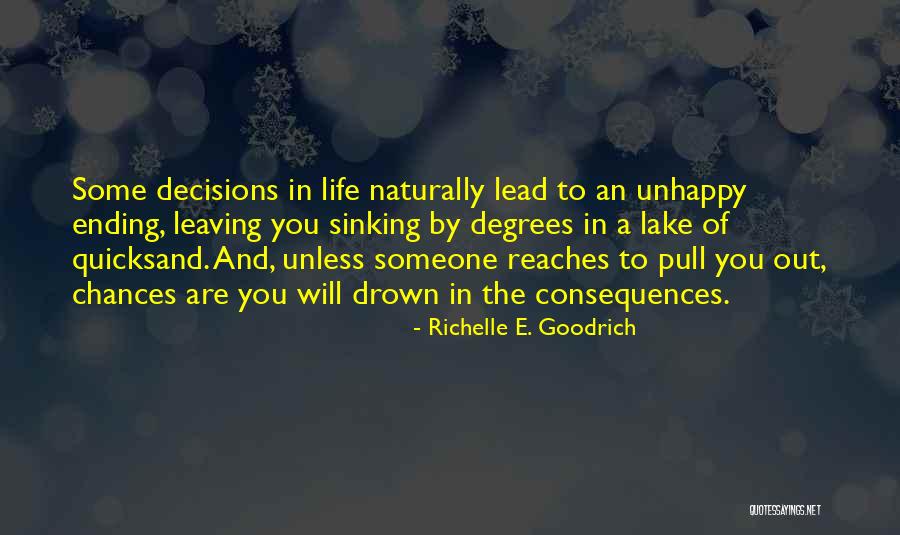 Some decisions in life naturally lead to an unhappy ending, leaving you sinking by degrees in a lake of quicksand. And, unless someone reaches to pull you out, chances are you will drown in the consequences. — Richelle E. Goodrich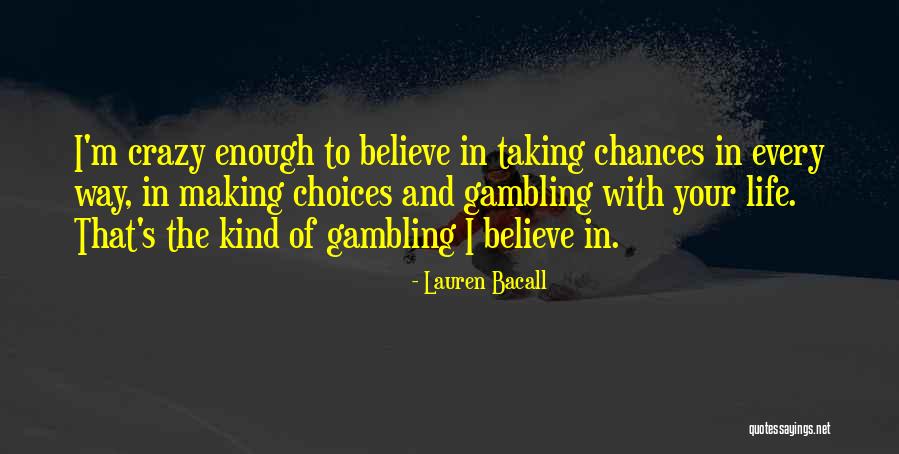 I'm crazy enough to believe in taking chances in every way, in making choices and gambling with your life. That's the kind of gambling I believe in. — Lauren Bacall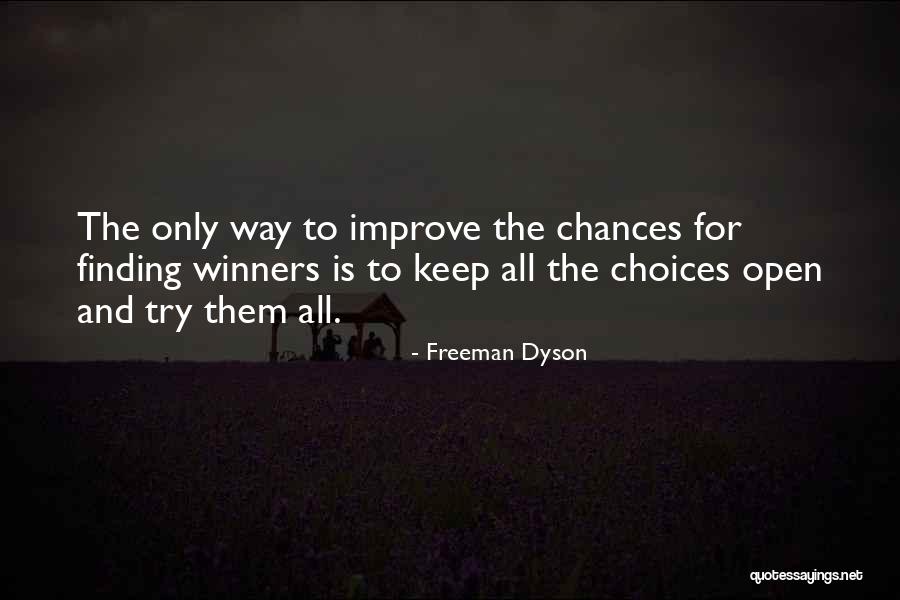 The only way to improve the chances for finding winners is to keep all the choices open and try them all. — Freeman Dyson
Losers take chances; winners make choices. — Denis Waitley