Quotes & Sayings About Challenging Ourselves
Enjoy reading and share 32 famous quotes about Challenging Ourselves with everyone.
Top Challenging Ourselves Quotes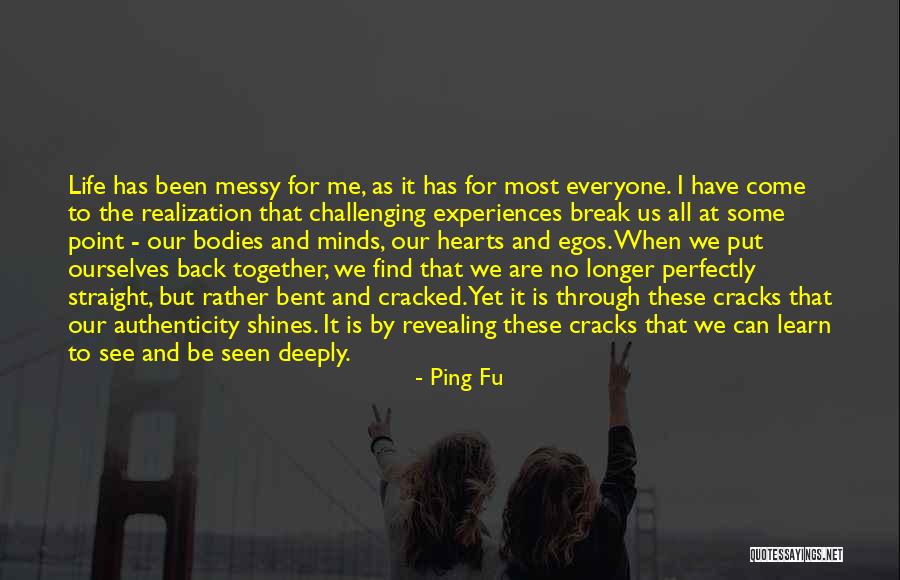 Life has been messy for me, as it has for most everyone. I have come to the realization that challenging experiences break us all at some point - our bodies and minds, our hearts and egos. When we put ourselves back together, we find that we are no longer perfectly straight, but rather bent and cracked. Yet it is through these cracks that our authenticity shines. It is by revealing these cracks that we can learn to see and be seen deeply. — Ping Fu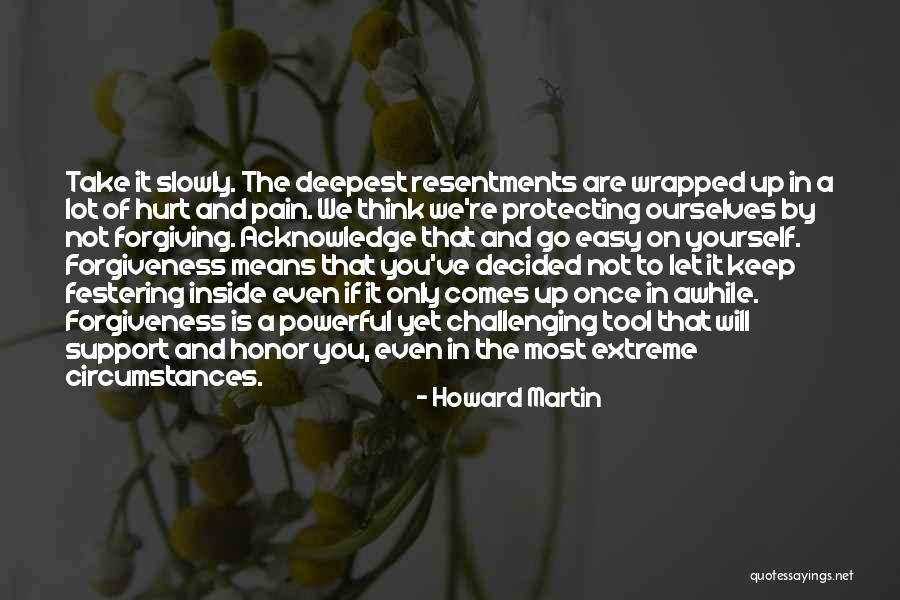 Take it slowly. The deepest resentments are wrapped up in a lot of hurt and pain. We think we're protecting ourselves by not forgiving. Acknowledge that and go easy on yourself. Forgiveness means that you've decided not to let it keep festering inside even if it only comes up once in awhile. Forgiveness is a powerful yet challenging tool that will support and honor you, even in the most extreme circumstances. — Howard Martin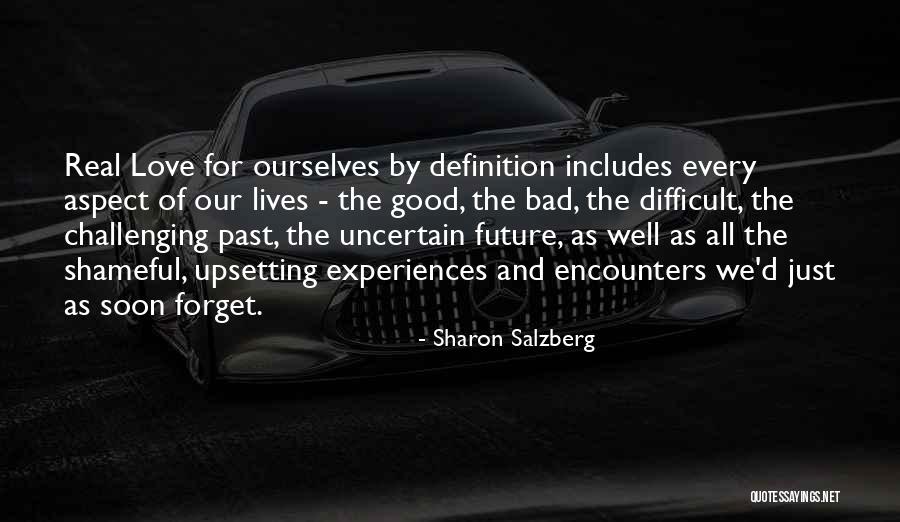 Real Love for ourselves by definition includes every aspect of our lives - the good, the bad, the difficult, the challenging past, the uncertain future, as well as all the shameful, upsetting experiences and encounters we'd just as soon forget. — Sharon Salzberg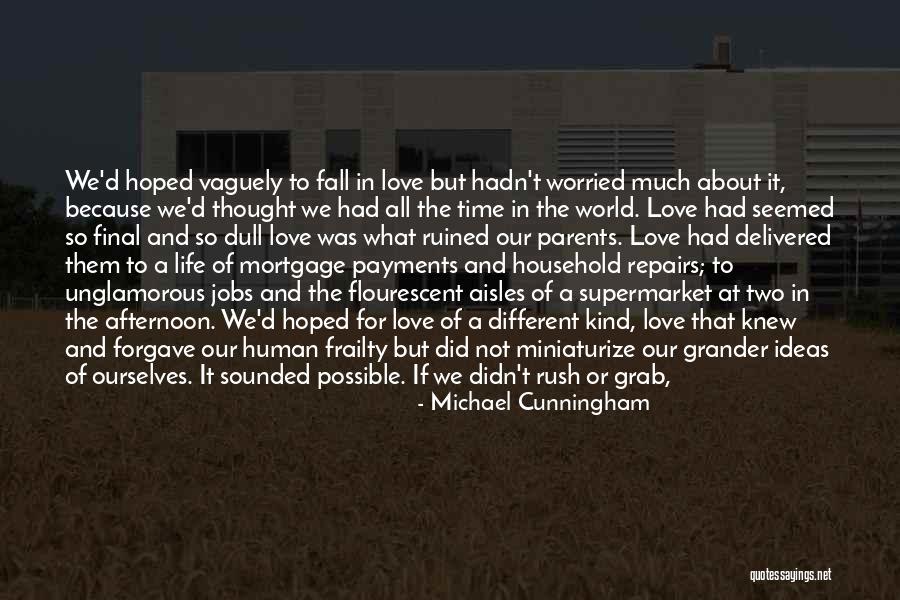 We'd hoped vaguely to fall in love but hadn't worried much about it, because we'd thought we had all the time in the world. Love had seemed so final and so dull
love was what ruined our parents. Love had delivered them to a life of mortgage payments and household repairs; to unglamorous jobs and the flourescent aisles of a supermarket at two in the afternoon. We'd hoped for love of a different kind, love that knew and forgave our human frailty but did not miniaturize our grander ideas of ourselves. It sounded possible. If we didn't rush or grab, if we didn't panic, a love both challenging and nurturing might appear. If the person was imaginable, then the person could exist. — Michael Cunningham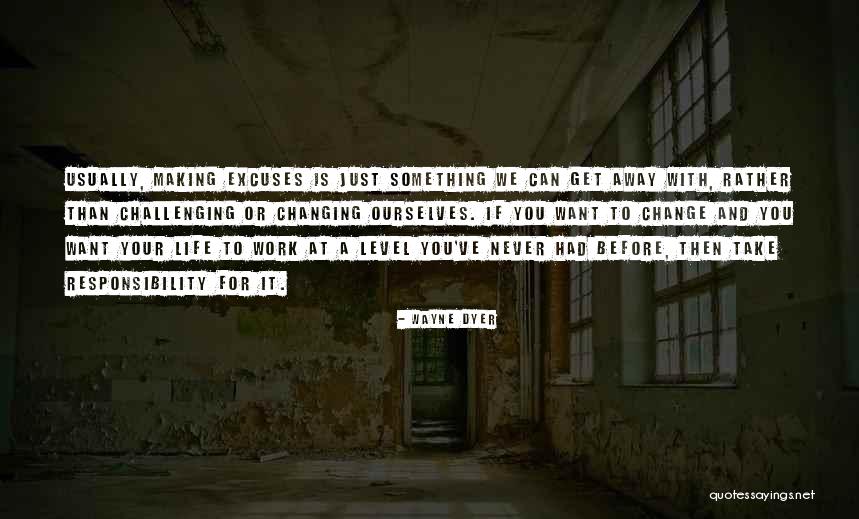 Usually, making excuses is just something we can get away with, rather than challenging or changing ourselves. If you want to change and you want your life to work at a level you've never had before, then take responsibility for it. — Wayne Dyer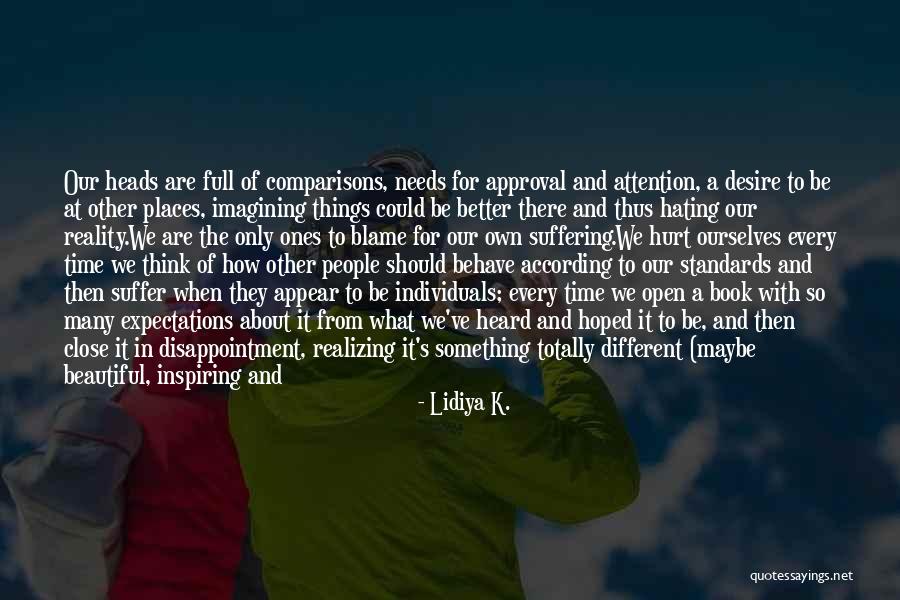 Our heads are full of comparisons, needs for approval and attention, a desire to be at other places, imagining things could be better there and thus hating our reality.
We are the only ones to blame for our own suffering.
We hurt ourselves every time we think of how other people should behave according to our standards and then suffer when they appear to be individuals; every time we open a book with so many expectations about it from what we've heard and hoped it to be, and then close it in disappointment, realizing it's something totally different (maybe beautiful, inspiring and challenging, but nothing that met our expectations). — Lidiya K.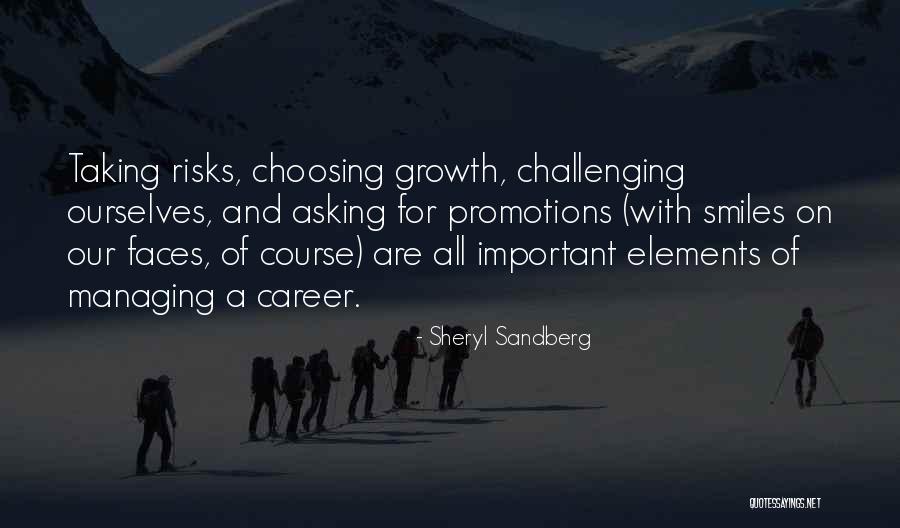 Taking risks, choosing growth, challenging ourselves, and asking for promotions (with smiles on our faces, of course) are all important elements of managing a career. — Sheryl Sandberg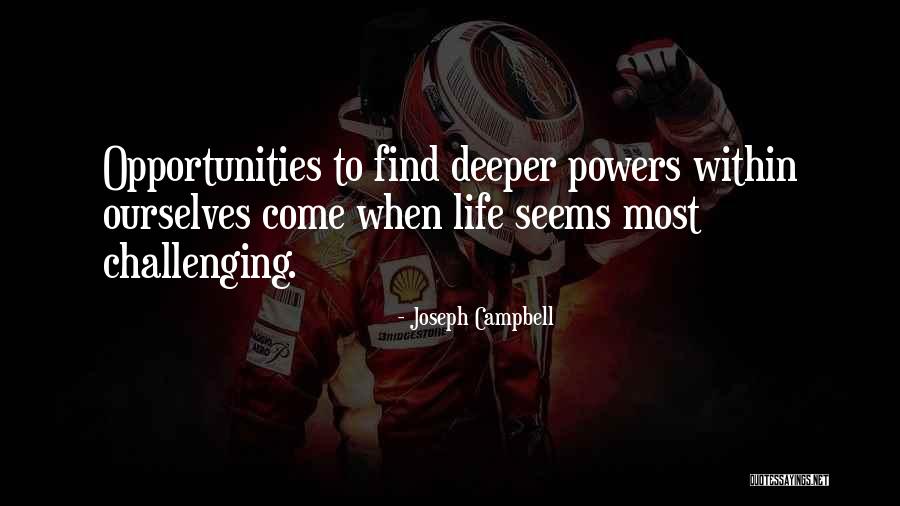 Opportunities to find deeper powers within ourselves come when life seems most challenging. — Joseph Campbell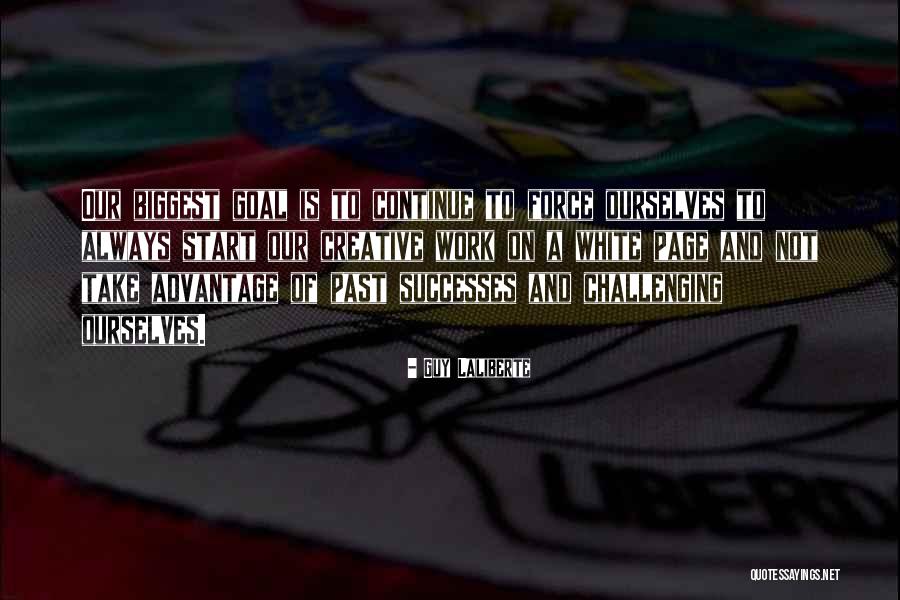 Our biggest goal is to continue to force ourselves to always start our creative work on a white page and not take advantage of past successes and challenging ourselves. — Guy Laliberte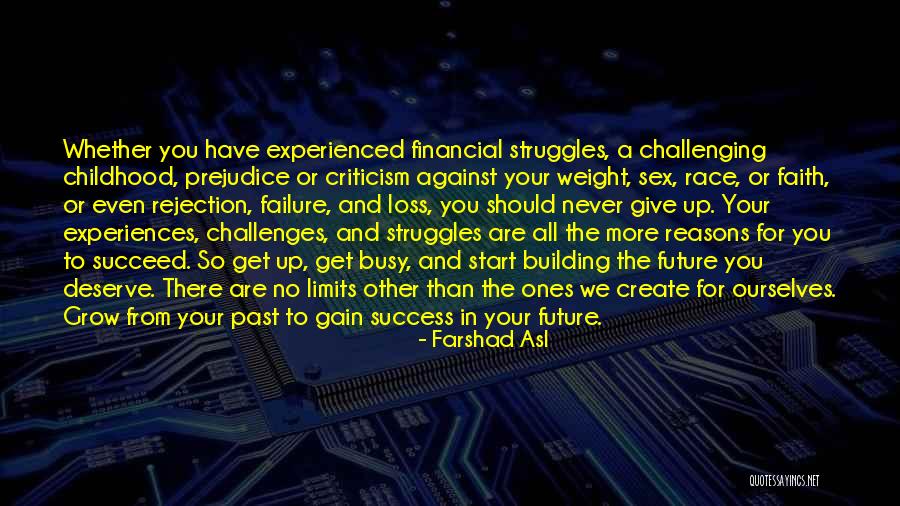 Whether you have experienced financial struggles, a challenging childhood, prejudice or criticism against your weight, sex, race, or faith, or even rejection, failure, and loss, you should never give up. Your experiences, challenges, and struggles are all the more reasons for you to succeed. So get up, get busy, and start building the future you deserve. There are no limits other than the ones we create for ourselves. Grow from your past to gain success in your future. — Farshad Asl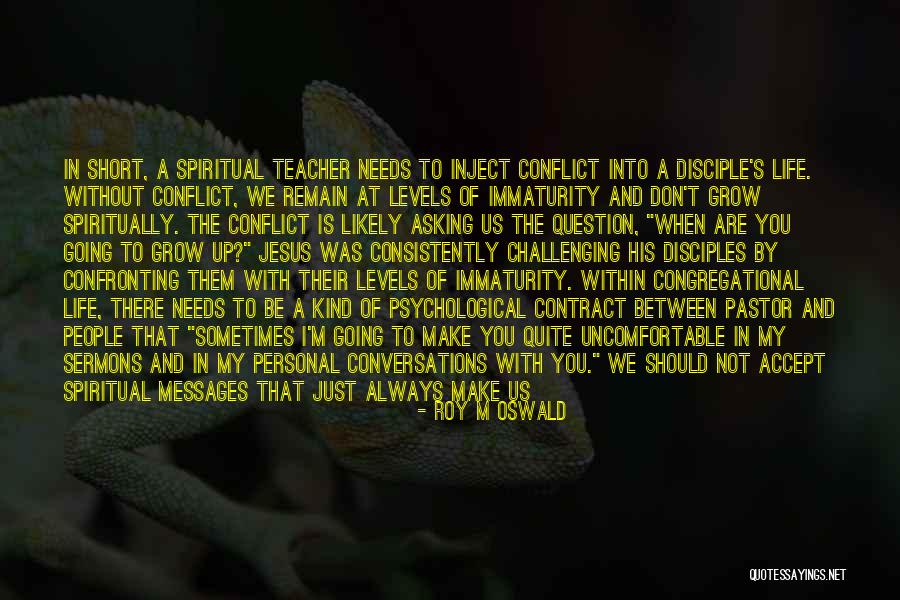 In short, a spiritual teacher needs to inject conflict into a disciple's life. Without conflict, we remain at levels of immaturity and don't grow spiritually. The conflict is likely asking us the question, "When are you going to grow up?" Jesus was consistently challenging his disciples by confronting them with their levels of immaturity. Within congregational life, there needs to be a kind of psychological contract between pastor and people that "sometimes I'm going to make you quite uncomfortable in my sermons and in my personal conversations with you." We should not accept spiritual messages that just always make us feel good about ourselves - a feel-good gospel. That is going to keep us stuck at immature levels of self-insight. In order for congregations to grow, both numerically and spiritually, we will need to experience conflict at all levels of congregational life. — Roy M Oswald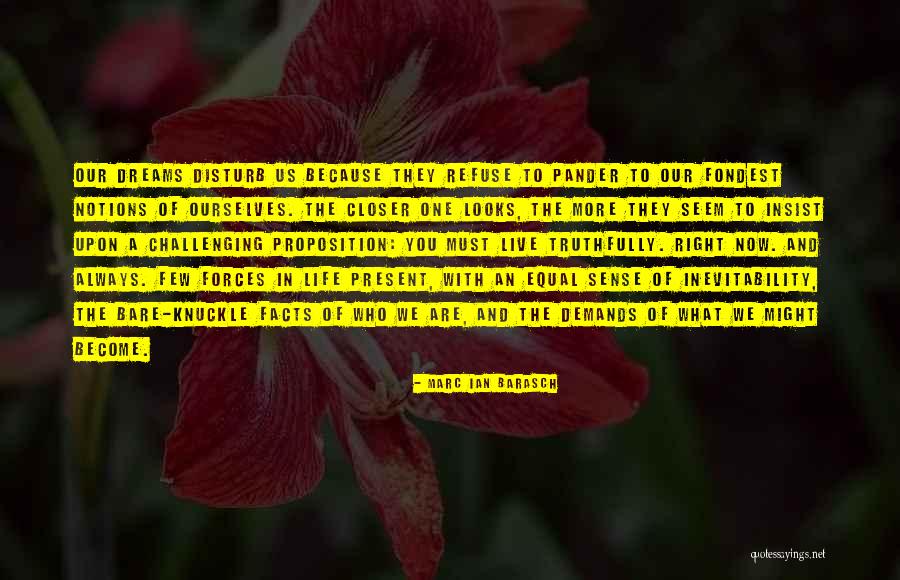 Our dreams disturb us because they refuse to pander to our fondest notions of ourselves. The closer one looks, the more they seem to insist upon a challenging proposition: You must live truthfully. Right now. And always. Few forces in life present, with an equal sense of inevitability, the bare-knuckle facts of who we are, and the demands of what we might become. — Marc Ian Barasch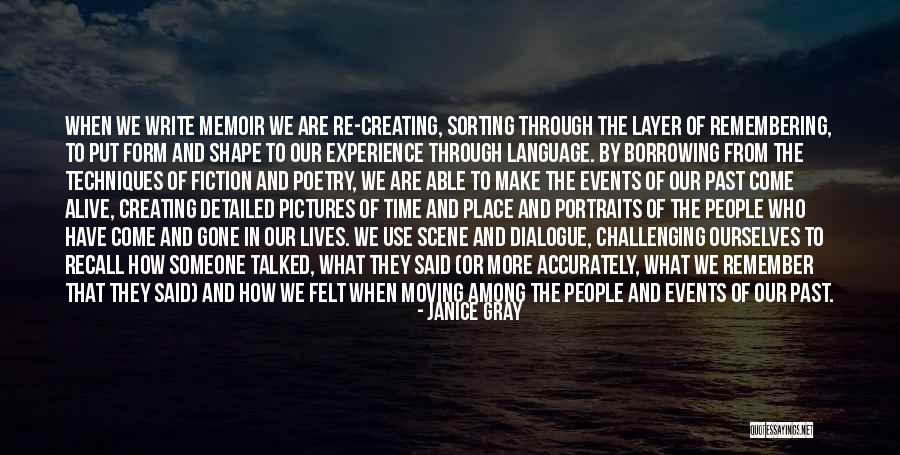 When we write memoir we are re-creating, sorting through the layer of remembering, to put form and shape to our experience through language. By borrowing from the techniques of fiction and poetry, we are able to make the events of our past come alive, creating detailed pictures of time and place and portraits of the people who have come and gone in our lives. We use scene and dialogue, challenging ourselves to recall how someone talked, what they said (or more accurately, what we remember that they said) and how we felt when moving among the people and events of our past. — Janice Gray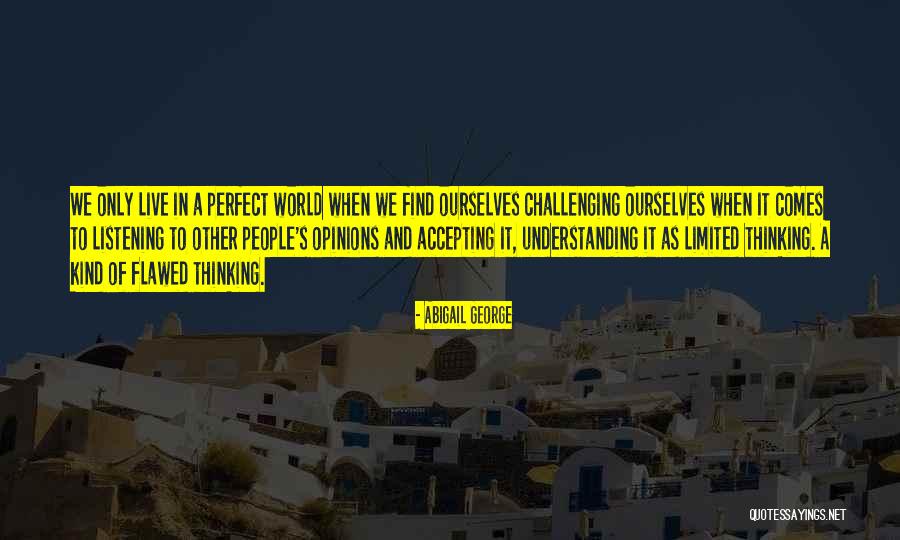 We only live in a perfect world when we find ourselves challenging ourselves when it comes to listening to other people's opinions and accepting it, understanding it as limited thinking. A kind of flawed thinking. — Abigail George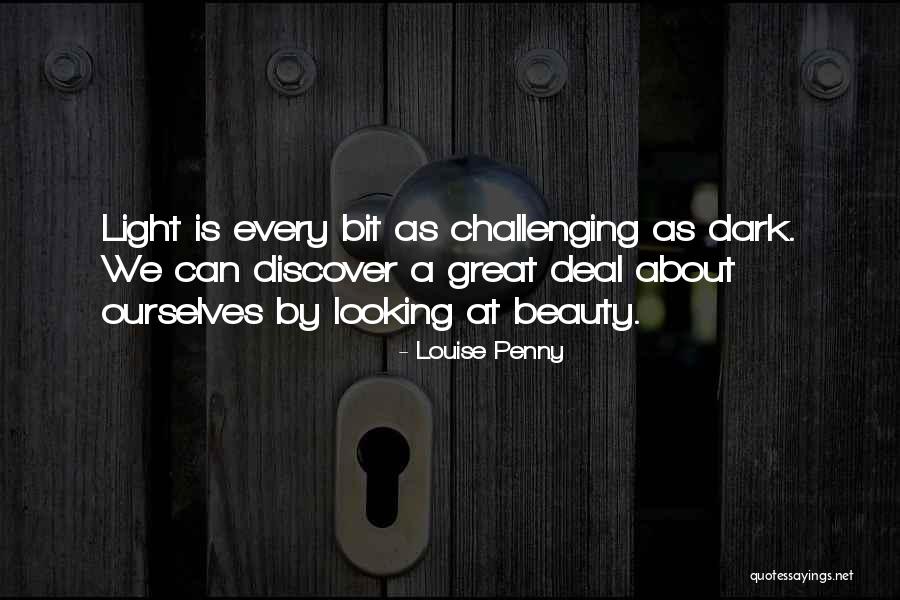 Light is every bit as challenging as dark. We can discover a great deal about ourselves by looking at beauty. — Louise Penny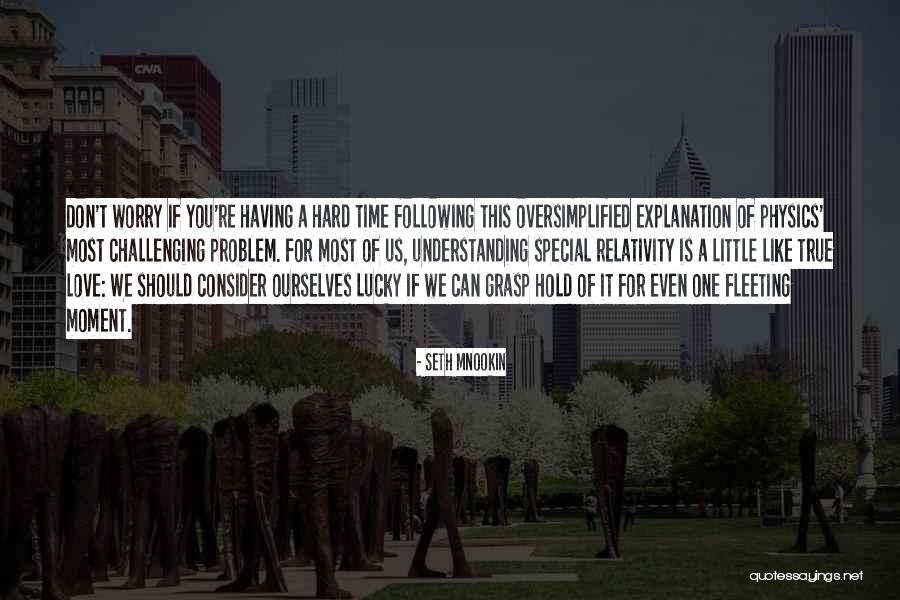 Don't worry if you're having a hard time following this oversimplified explanation of physics' most challenging problem. For most of us, understanding special relativity is a little like true love: We should consider ourselves lucky if we can grasp hold of it for even one fleeting moment. — Seth Mnookin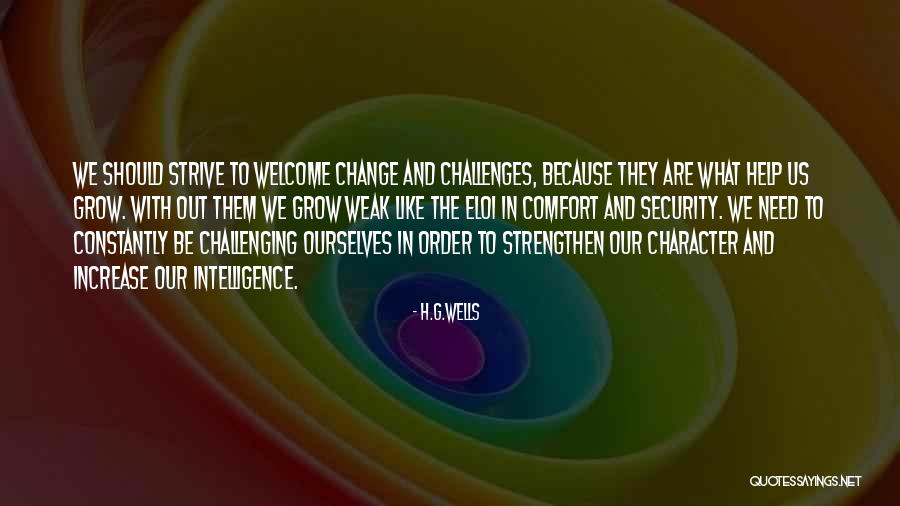 We should strive to welcome change and challenges, because they are what help us grow. With out them we grow weak like the Eloi in comfort and security. We need to constantly be challenging ourselves in order to strengthen our character and increase our intelligence. — H.G.Wells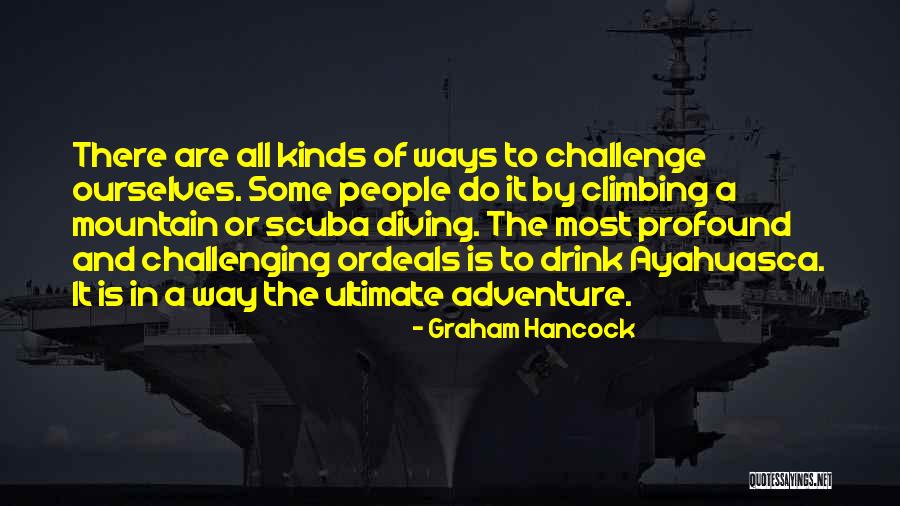 There are all kinds of ways to challenge ourselves. Some people do it by climbing a mountain or scuba diving. The most profound and challenging ordeals is to drink Ayahuasca. It is in a way the ultimate adventure. — Graham Hancock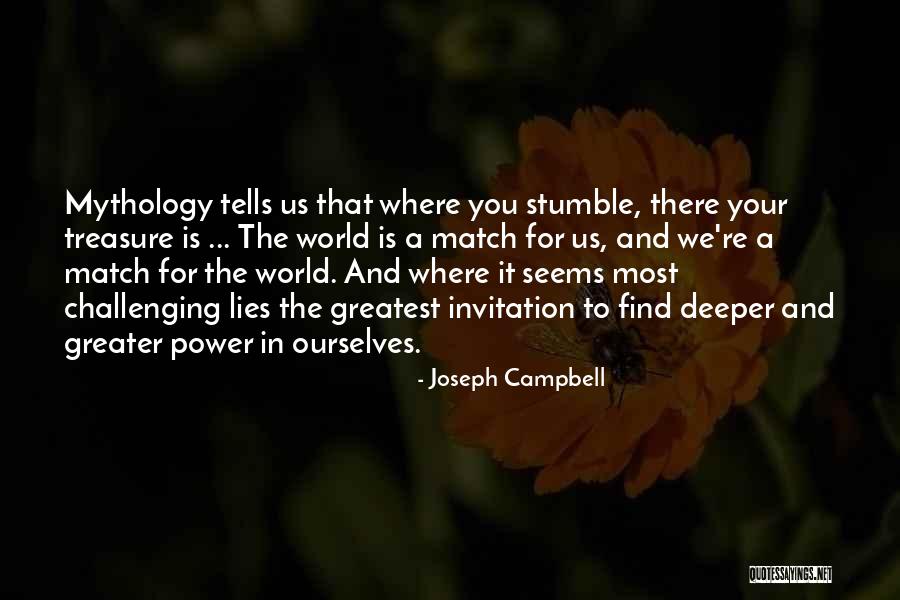 Mythology tells us that where you stumble, there your treasure is ... The world is a match for us, and we're a match for the world. And where it seems most challenging lies the greatest invitation to find deeper and greater power in ourselves. — Joseph Campbell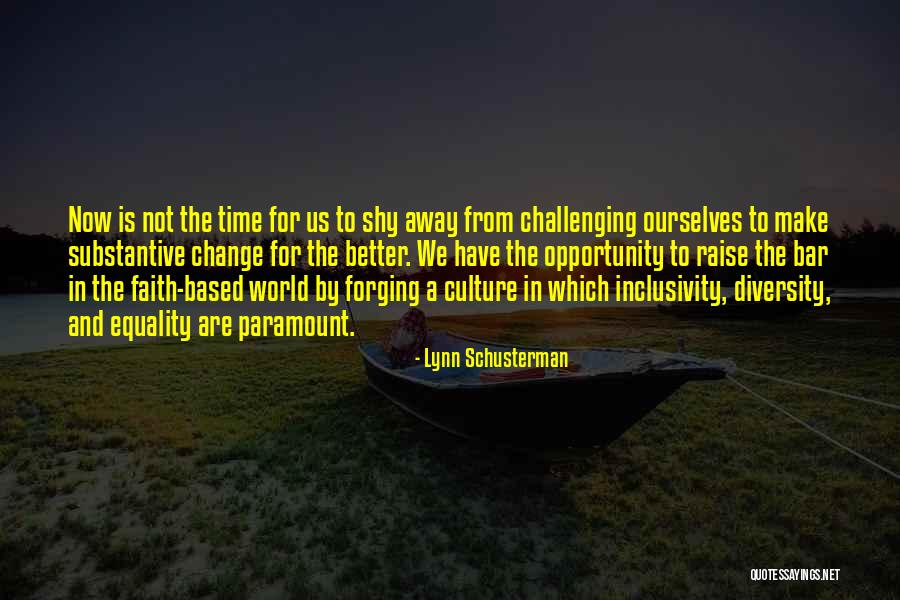 Now is not the time for us to shy away from challenging ourselves to make substantive change for the better. We have the opportunity to raise the bar in the faith-based world by forging a culture in which inclusivity, diversity, and equality are paramount. — Lynn Schusterman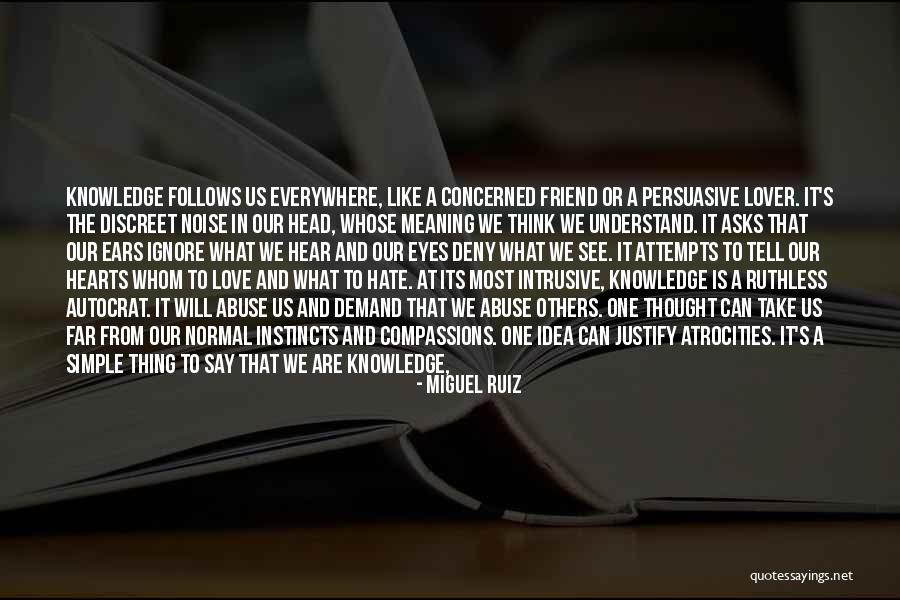 Knowledge follows us everywhere, like a concerned friend or a persuasive lover. It's the discreet noise in our head, whose meaning we think we understand. It asks that our ears ignore what we hear and our eyes deny what we see. It attempts to tell our hearts whom to love and what to hate. At its most intrusive, knowledge is a ruthless autocrat. It will abuse us and demand that we abuse others. One thought can take us far from our normal instincts and compassions. One idea can justify atrocities. It's a simple thing to say that we are knowledge, swept from our own authenticity by words and meanings, but not so simple a thing to grasp, and to change. It's challenging, of course, but faith in ourselves makes it possible, even inevitable. — Miguel Ruiz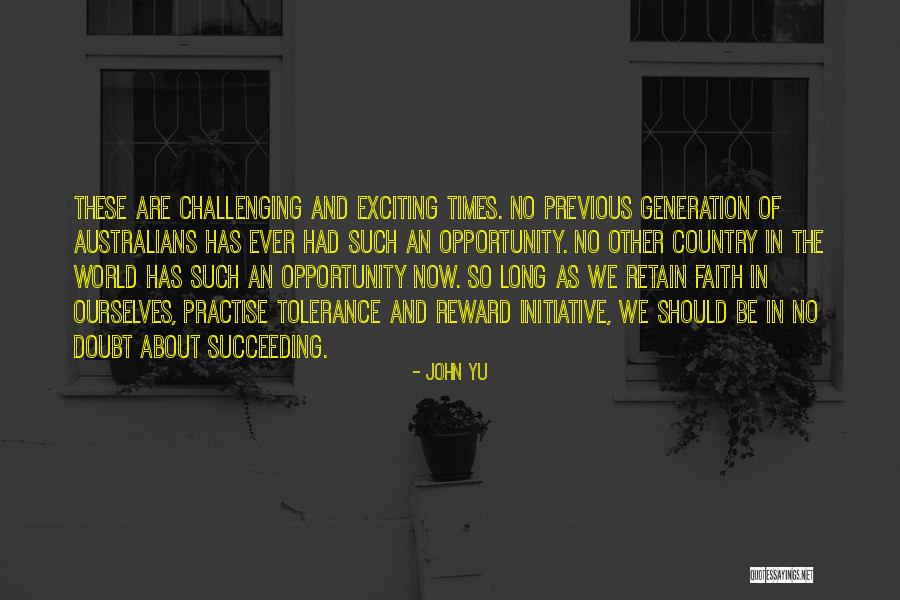 These are challenging and exciting times. No previous generation of Australians has ever had such an opportunity. No other country in the world has such an opportunity now. So long as we retain faith in ourselves, practise tolerance and reward initiative, we should be in no doubt about succeeding. — John Yu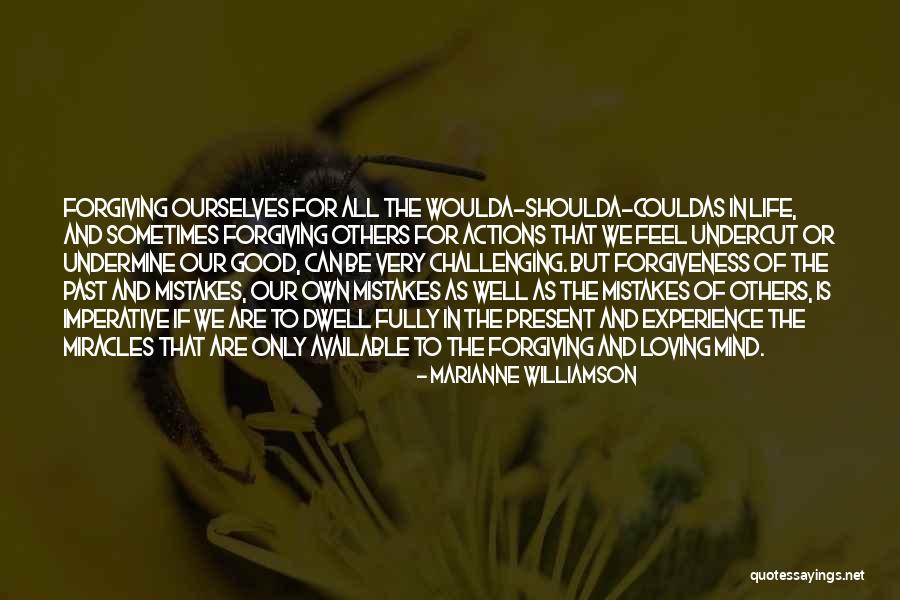 Forgiving ourselves for all the woulda-shoulda-couldas in life, and sometimes forgiving others for actions that we feel undercut or undermine our good, can be very challenging. But forgiveness of the past and mistakes, our own mistakes as well as the mistakes of others, is imperative if we are to dwell fully in the present and experience the miracles that are only available to the forgiving and loving mind. — Marianne Williamson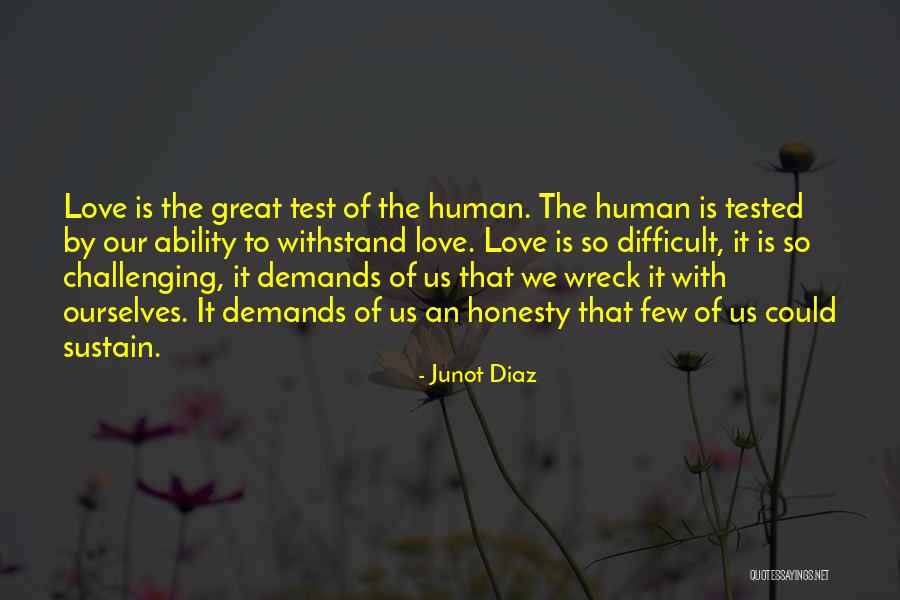 Love is the great test of the human. The human is tested by our ability to withstand love. Love is so difficult, it is so challenging, it demands of us that we wreck it with ourselves. It demands of us an honesty that few of us could sustain. — Junot Diaz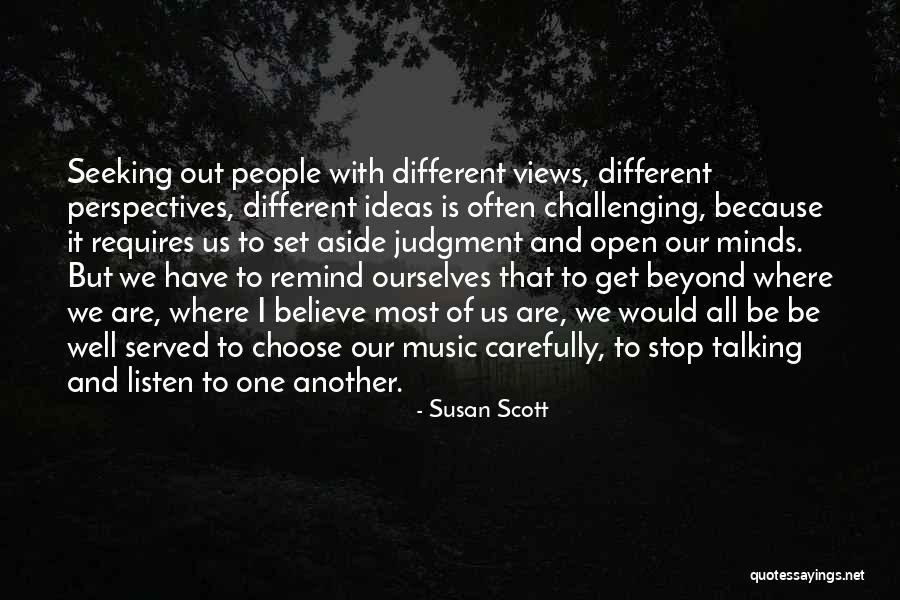 Seeking out people with different views, different perspectives, different ideas is often challenging, because it requires us to set aside judgment and open our minds. But we have to remind ourselves that to get beyond where we are, where I believe most of us are, we would all be be well served to choose our music carefully, to stop talking and listen to one another. — Susan Scott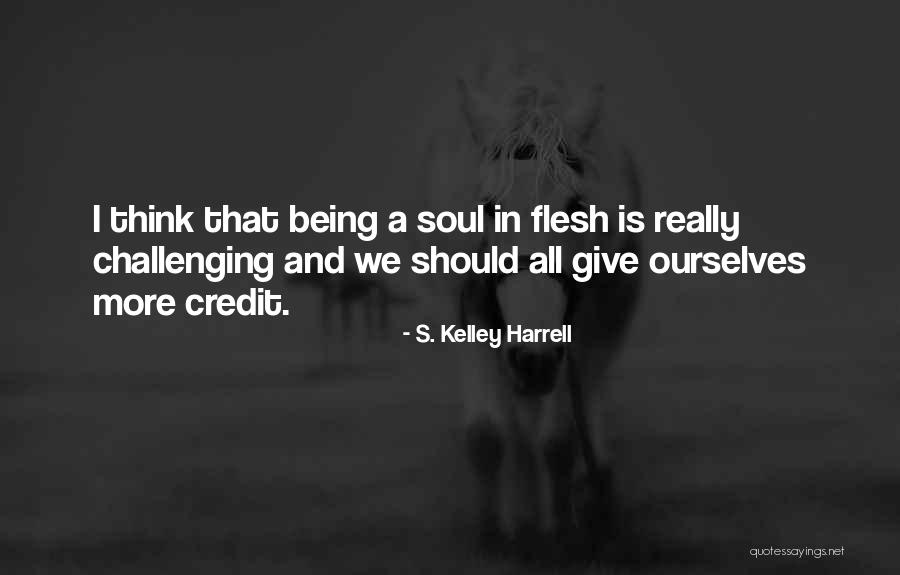 I think that being a soul in flesh is really challenging and we should all give ourselves more credit. — S. Kelley Harrell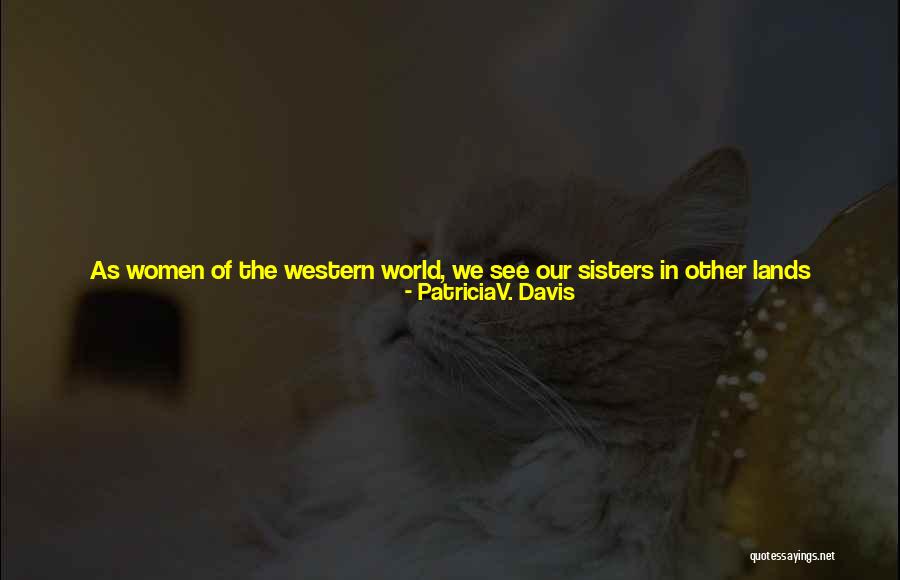 As women of the western world, we see our sisters in other lands being raped, maimed and even executed simply for trying to exercise the most basic freedoms, such as taking a bus alone or wearing a bright red sweater. And when we look at our own world, we see that it too still lacks equality for the sexes.
It's a terrible thing to go through one's entire lifetime not getting to do all the things we dream of doing just because others say we're not permitted to do them, and to know that they will hurt us if we try.
But far, far worse than that is when there's not a thing or a person outside that's stopping us from living exactly as we wish, but we stop ourselves; internally we do not give ourselves permission, simply because we're too scared of what will happen if we dare. — PatriciaV. Davis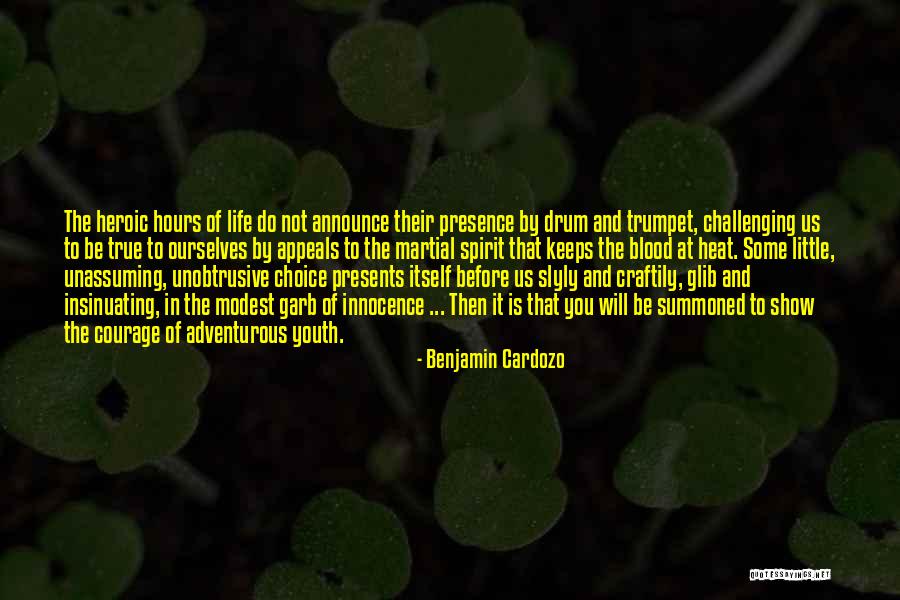 The heroic hours of life do not announce their presence by drum and trumpet, challenging us to be true to ourselves by appeals to the martial spirit that keeps the blood at heat. Some little, unassuming, unobtrusive choice presents itself before us slyly and craftily, glib and insinuating, in the modest garb of innocence ... Then it is that you will be summoned to show the courage of adventurous youth. — Benjamin Cardozo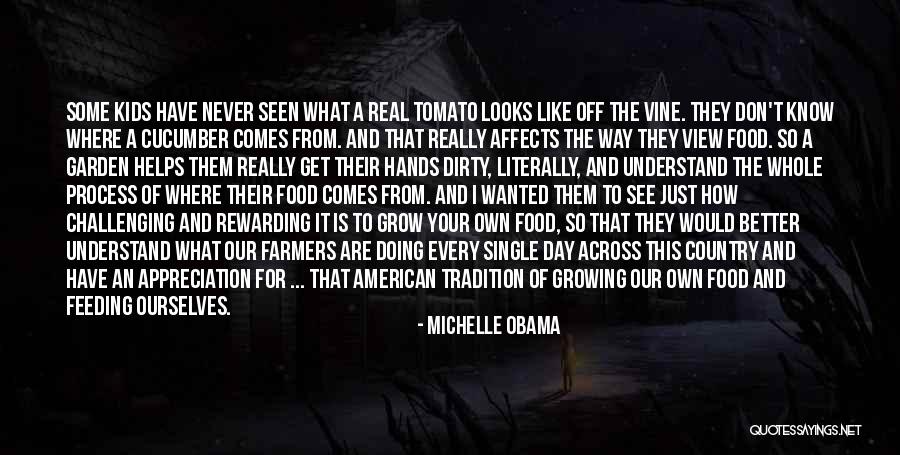 Some kids have never seen what a real tomato looks like off the vine. They don't know where a cucumber comes from. And that really affects the way they view food. So a garden helps them really get their hands dirty, literally, and understand the whole process of where their food comes from. And I wanted them to see just how challenging and rewarding it is to grow your own food, so that they would better understand what our farmers are doing every single day across this country and have an appreciation for ... that American tradition of growing our own food and feeding ourselves. — Michelle Obama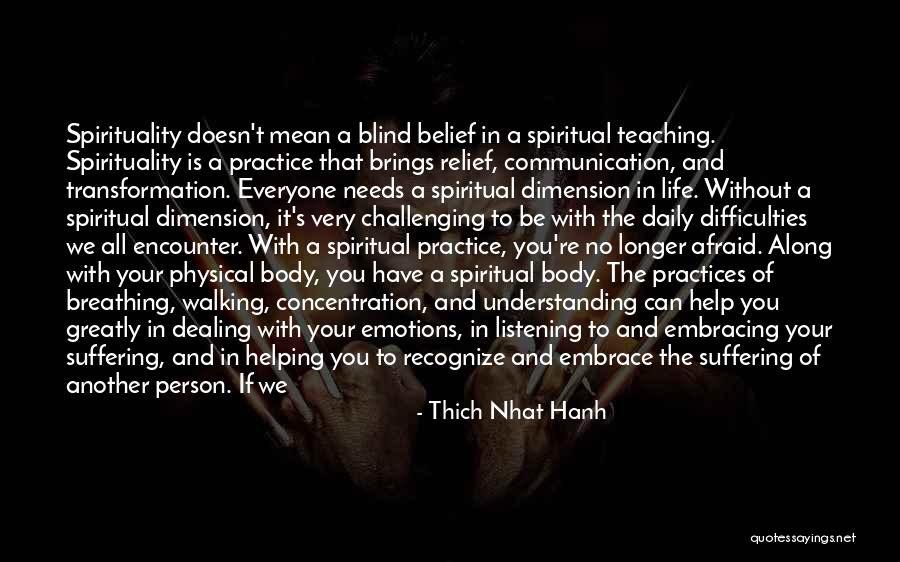 Spirituality doesn't mean a blind belief in a spiritual teaching. Spirituality is a practice that brings relief, communication, and transformation. Everyone needs a spiritual dimension in life. Without a spiritual dimension, it's very challenging to be with the daily difficulties we all encounter. With a spiritual practice, you're no longer afraid. Along with your physical body, you have a spiritual body. The practices of breathing, walking, concentration, and understanding can help you greatly in dealing with your emotions, in listening to and embracing your suffering, and in helping you to recognize and embrace the suffering of another person. If we have this capacity, then we can develop a real and lasting spiritual intimacy with ourselves and with others. — Thich Nhat Hanh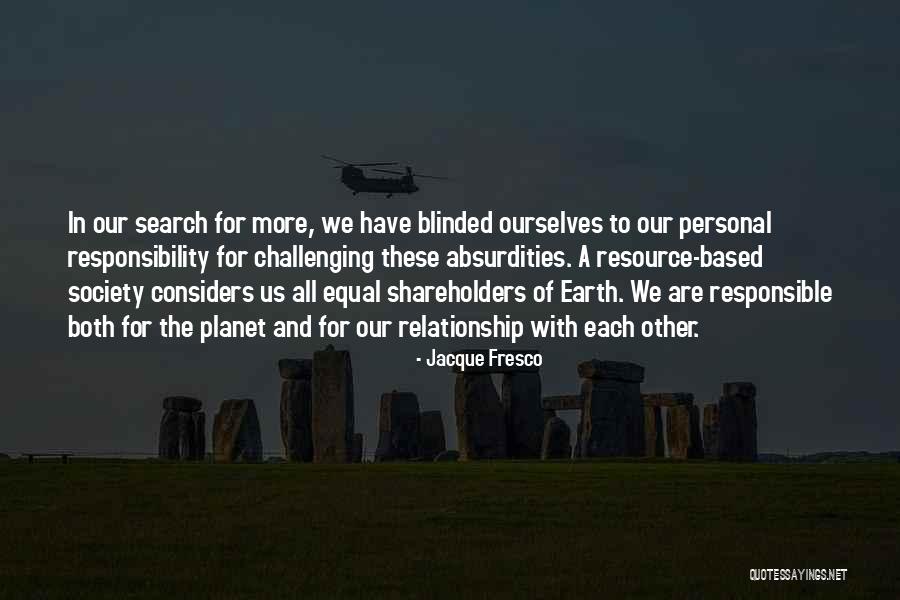 In our search for more, we have blinded ourselves to our personal responsibility for challenging these absurdities. A resource-based society considers us all equal shareholders of Earth. We are responsible both for the planet and for our relationship with each other. — Jacque Fresco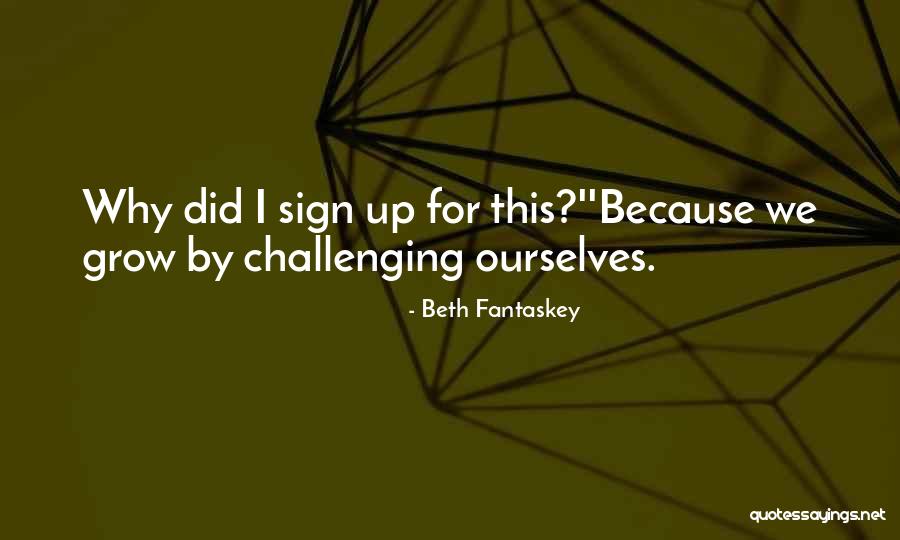 Why did I sign up for this?'
'Because we grow by challenging ourselves. — Beth Fantaskey