Challenge Achieved Quotes & Sayings
Enjoy reading and share 20 famous quotes about Challenge Achieved with everyone.
Top Challenge Achieved Quotes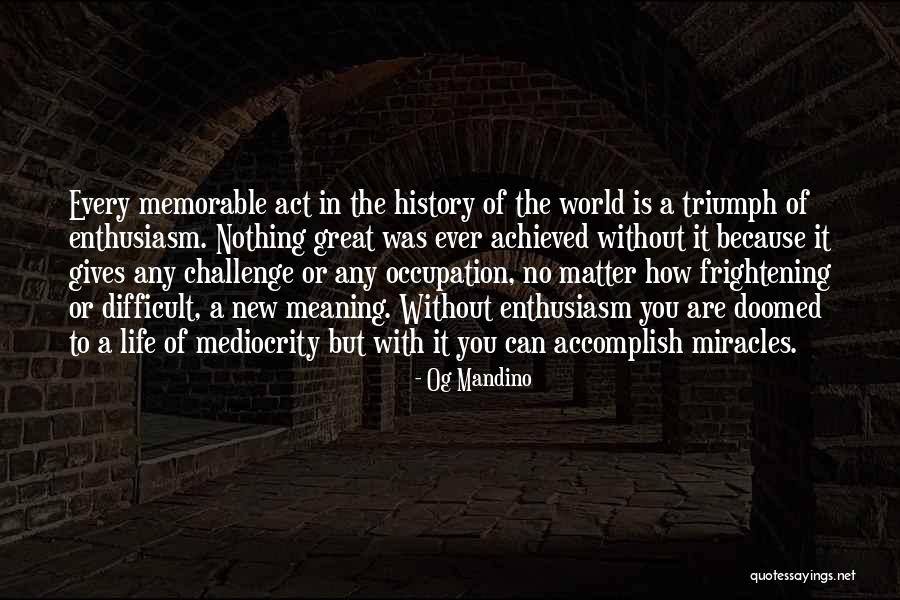 Every memorable act in the history of the world is a triumph of enthusiasm. Nothing great was ever achieved without it because it gives any challenge or any occupation, no matter how frightening or difficult, a new meaning. Without enthusiasm you are doomed to a life of mediocrity but with it you can accomplish miracles. — Og Mandino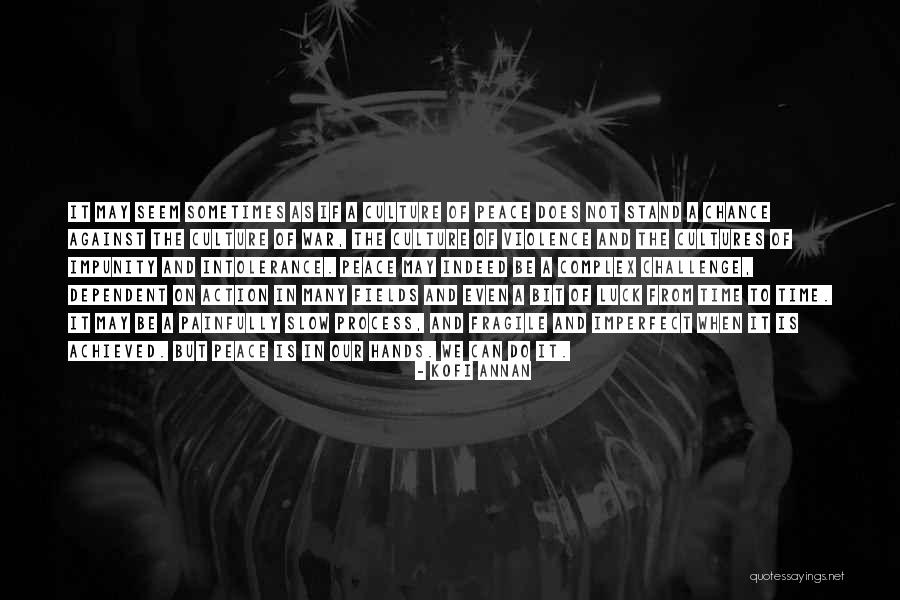 It may seem sometimes as if a culture of peace does not stand a chance against the culture of war, the culture of violence and the cultures of impunity and intolerance. Peace may indeed be a complex challenge, dependent on action in many fields and even a bit of luck from time to time. It may be a painfully slow process, and fragile and imperfect when it is achieved. But peace is in our hands. We can do it. — Kofi Annan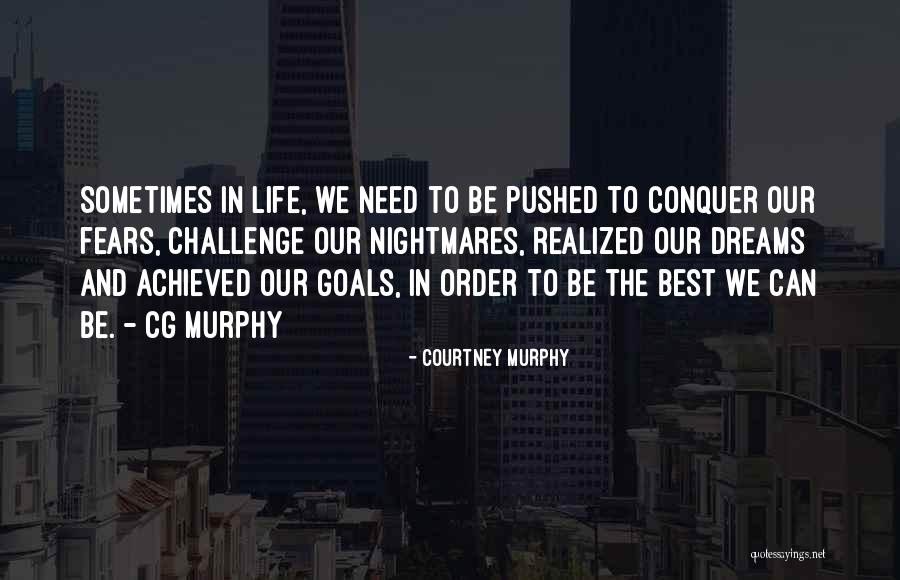 Sometimes in life, we need to be pushed to conquer our fears, challenge our nightmares, realized our dreams and achieved our goals, in order to be the best we can be. - CG Murphy — Courtney Murphy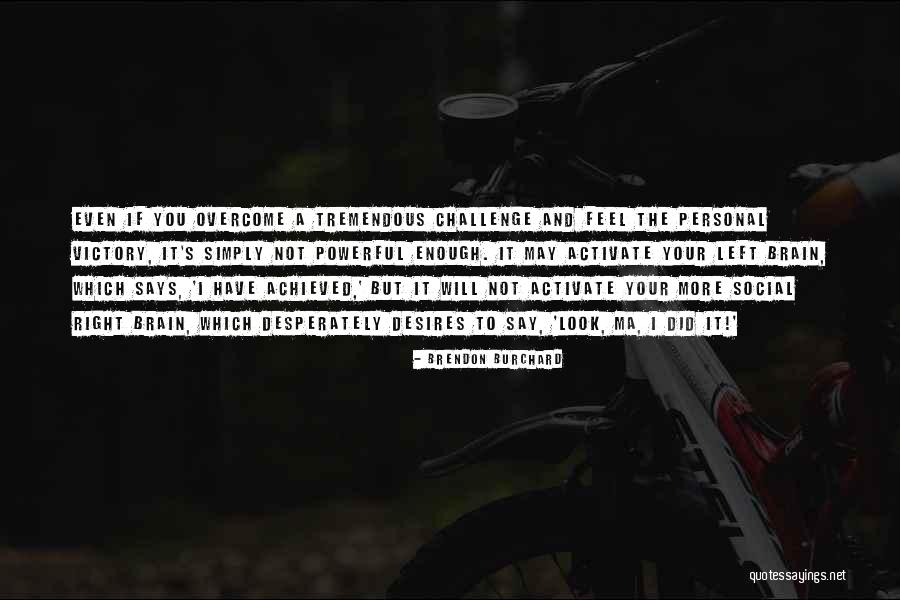 Even if you overcome a tremendous challenge and feel the personal victory, it's simply not powerful enough. It may activate your left brain, which says, 'I have achieved,' but it will not activate your more social right brain, which desperately desires to say, 'Look, Ma, I did it!' — Brendon Burchard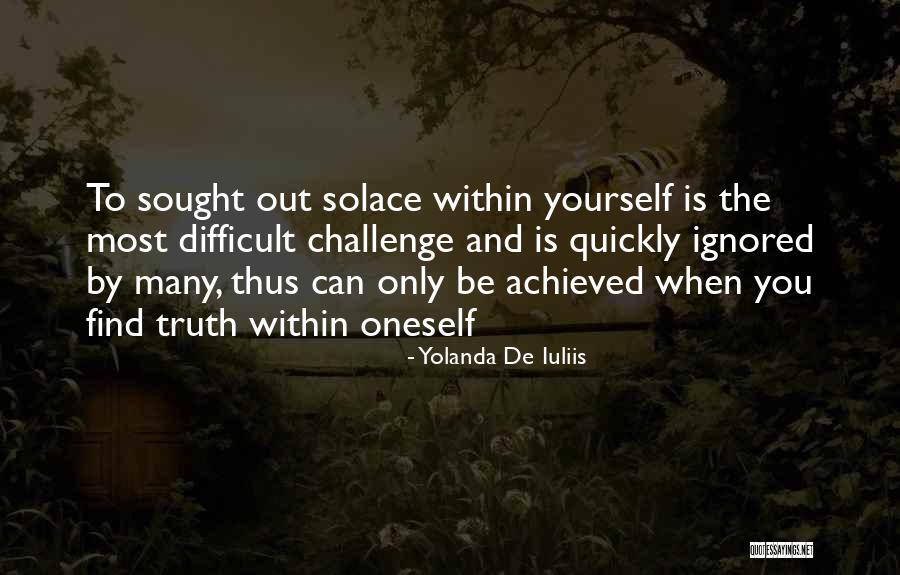 To sought out solace within yourself is the most difficult challenge and is quickly ignored by many, thus can only be achieved when you find truth within oneself — Yolanda De Iuliis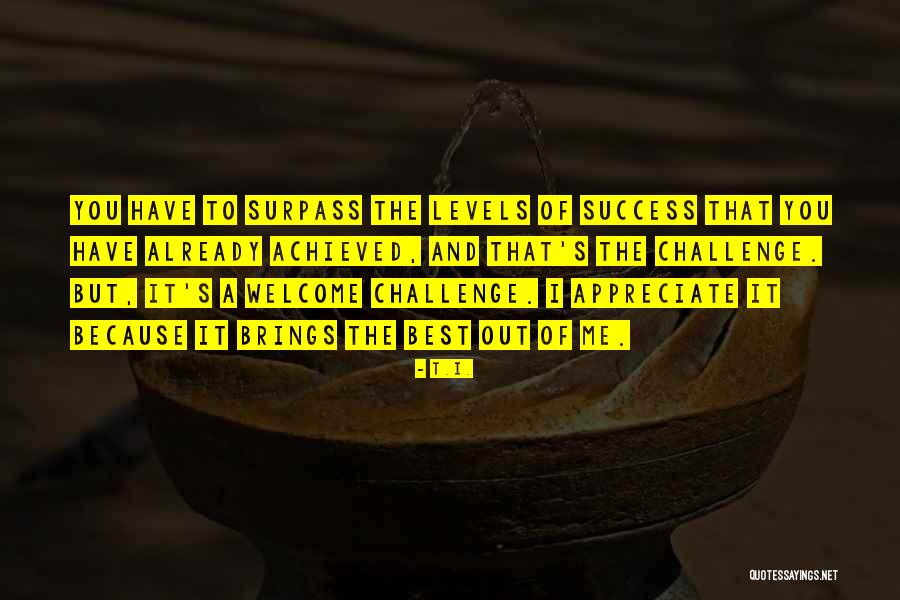 You have to surpass the levels of success that you have already achieved, and that's the challenge. But, it's a welcome challenge. I appreciate it because it brings the best out of me. — T.I.
Progress both in the United States and other nations was only ever achieved through the ability to challenge power and orthodoxies and to pioneer new ways of thinking and living. — Glenn Greenwald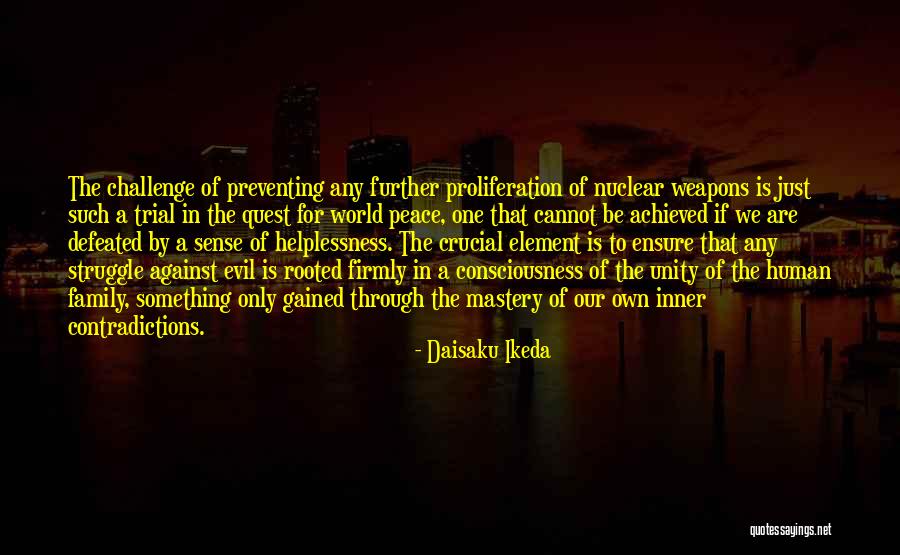 The challenge of preventing any further proliferation of nuclear weapons is just such a trial in the quest for world peace, one that cannot be achieved if we are defeated by a sense of helplessness. The crucial element is to ensure that any struggle against evil is rooted firmly in a consciousness of the unity of the human family, something only gained through the mastery of our own inner contradictions. — Daisaku Ikeda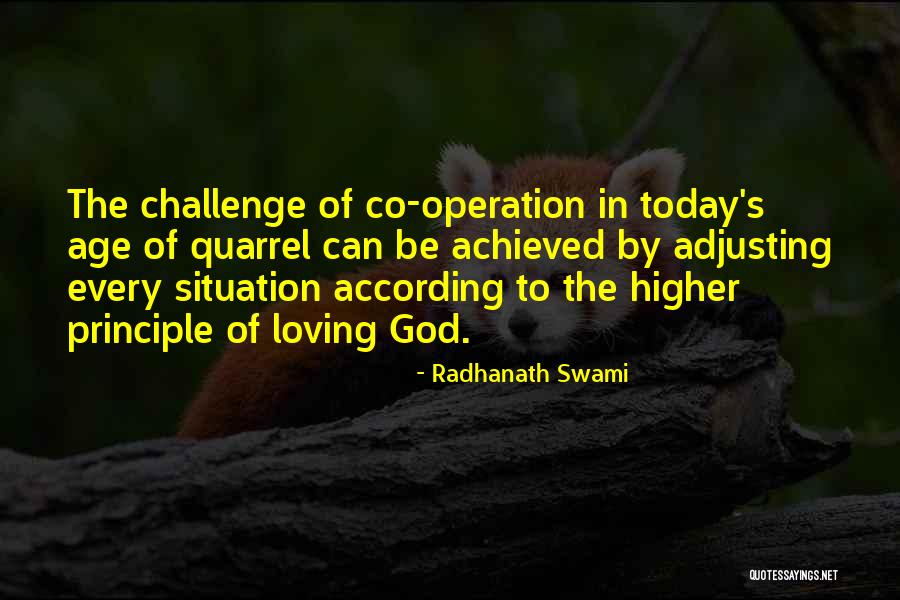 The challenge of co-operation in today's age of quarrel can be achieved by adjusting every situation according to the higher principle of loving God. — Radhanath Swami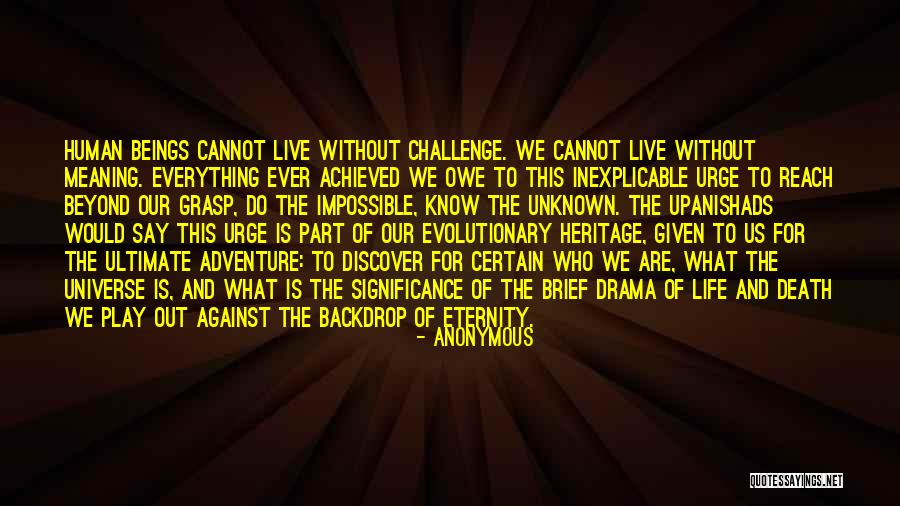 Human beings cannot live without challenge. We cannot live without meaning. Everything ever achieved we owe to this inexplicable urge to reach beyond our grasp, do the impossible, know the unknown. The Upanishads would say this urge is part of our evolutionary heritage, given to us for the ultimate adventure: to discover for certain who we are, what the universe is, and what is the significance of the brief drama of life and death we play out against the backdrop of eternity. — Anonymous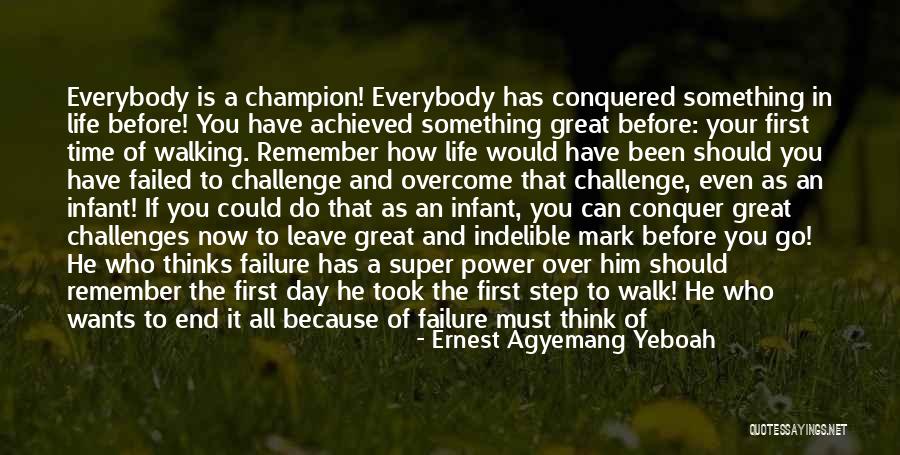 Everybody is a champion! Everybody has conquered something in life before! You have achieved something great before: your first time of walking. Remember how life would have been should you have failed to challenge and overcome that challenge, even as an infant! If you could do that as an infant, you can conquer great challenges now to leave great and indelible mark before you go! He who thinks failure has a super power over him should remember the first day he took the first step to walk! He who wants to end it all because of failure must think of why he never ended the journey of life just because he tried walking the first time ever and fell, but stood up and tried over and over until he could walk without a fall! Take your courage and be a champion! Dare to conquer life! — Ernest Agyemang Yeboah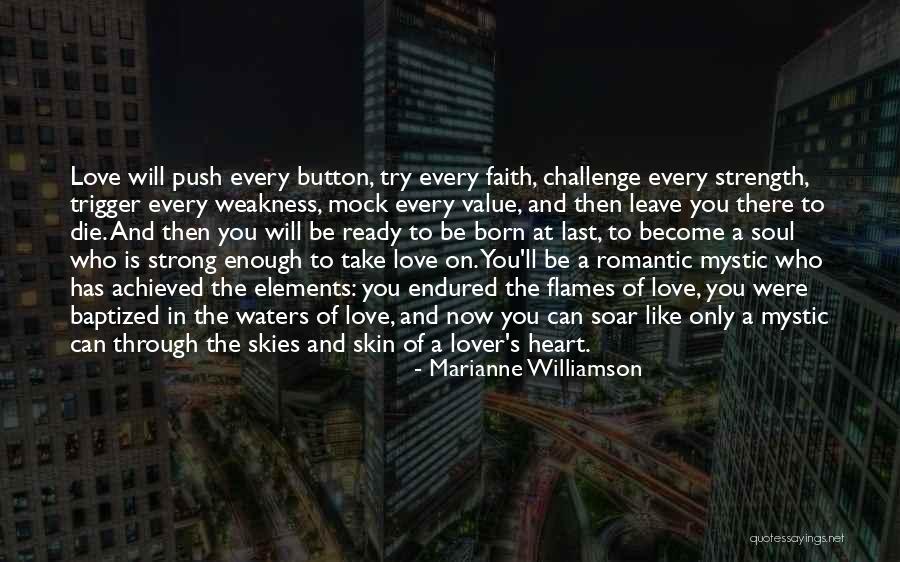 Love will push every button, try every faith, challenge every strength, trigger every weakness, mock every value, and then leave you there to die. And then you will be ready to be born at last, to become a soul who is strong enough to take love on. You'll be a romantic mystic who has achieved the elements: you endured the flames of love, you were baptized in the waters of love, and now you can soar like only a mystic can through the skies and skin of a lover's heart. — Marianne Williamson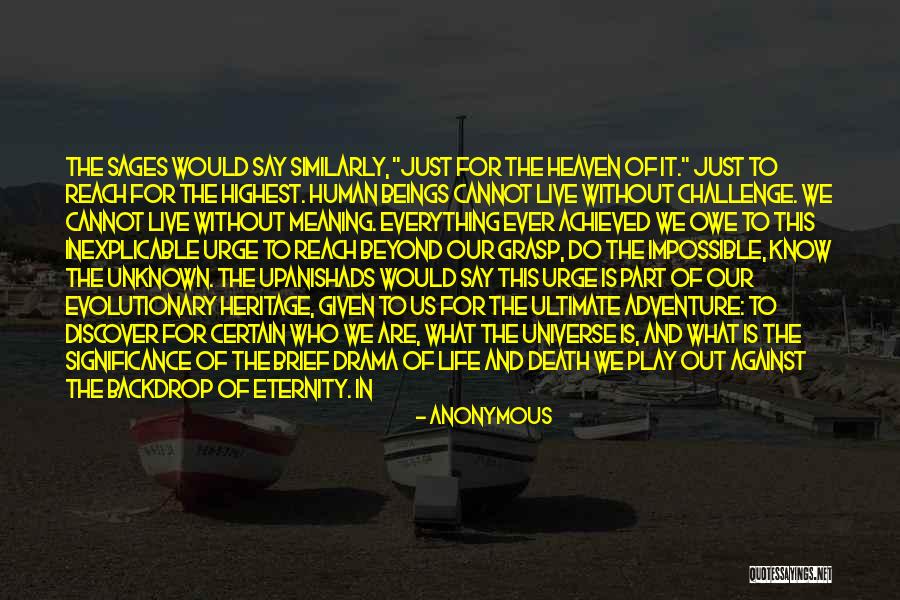 The sages would say similarly, "Just for the heaven of it." Just to reach for the highest. Human beings cannot live without challenge. We cannot live without meaning. Everything ever achieved we owe to this inexplicable urge to reach beyond our grasp, do the impossible, know the unknown. The Upanishads would say this urge is part of our evolutionary heritage, given to us for the ultimate adventure: to discover for certain who we are, what the universe is, and what is the significance of the brief drama of life and death we play out against the backdrop of eternity. In haunting words, the Brihadaranyaka declares: You are what your deep, driving desire is. As your desire is, so is your will. As your will is, so is your deed. As your deed is, so is your destiny. — Anonymous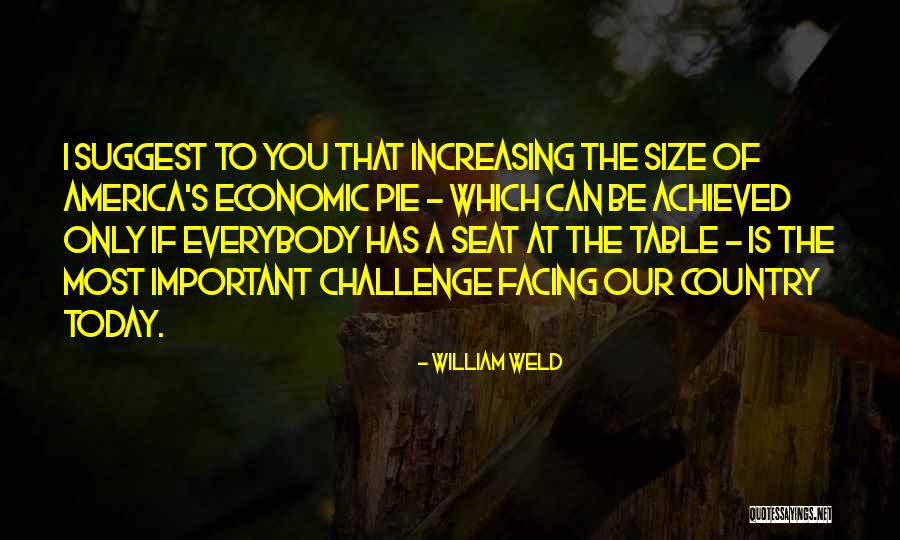 I suggest to you that increasing the size of America's economic pie - which can be achieved only if everybody has a seat at the table - is the most important challenge facing our country today. — William Weld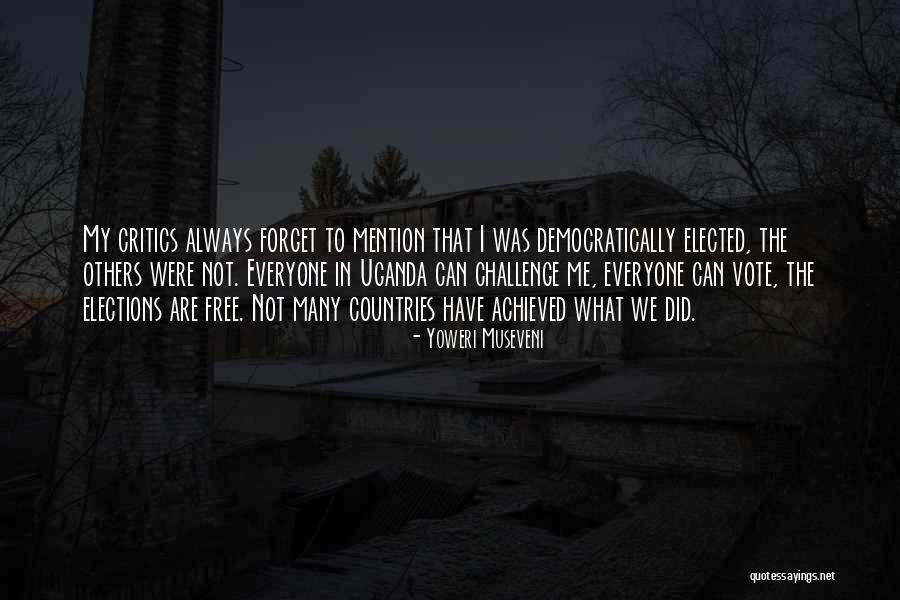 My critics always forget to mention that I was democratically elected, the others were not. Everyone in Uganda can challenge me, everyone can vote, the elections are free. Not many countries have achieved what we did. — Yoweri Museveni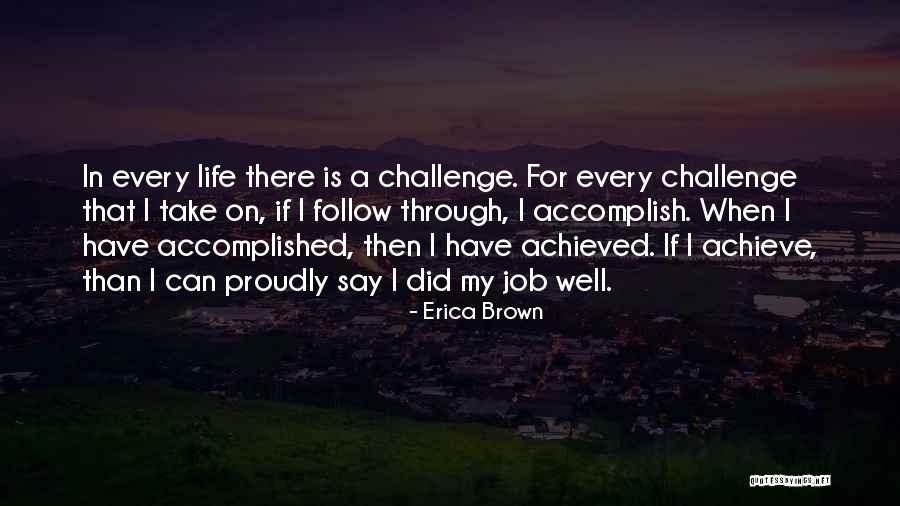 In every life there is a challenge. For every challenge that I take on, if I follow through, I accomplish. When I have accomplished, then I have achieved. If I achieve, than I can proudly say I did my job well. — Erica Brown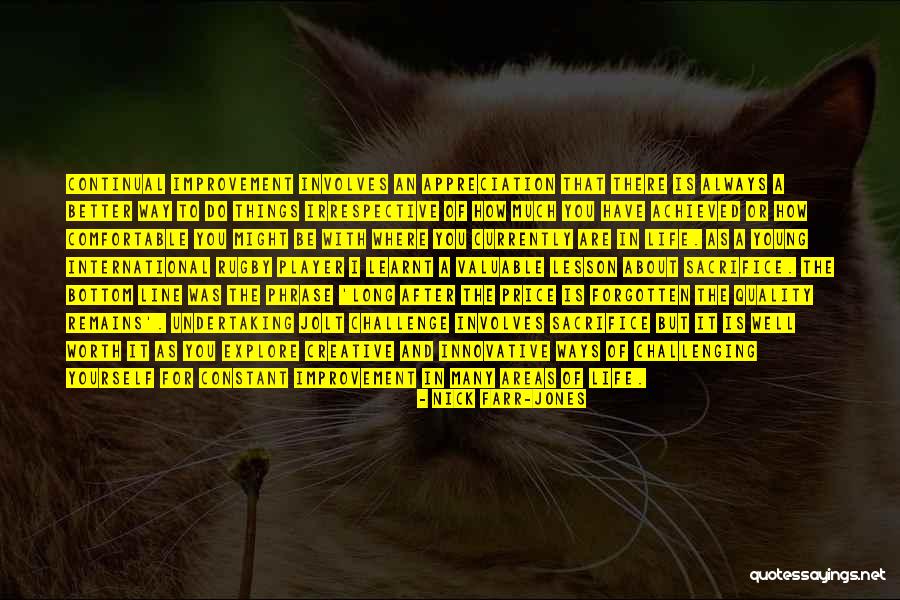 Continual improvement involves an appreciation that there is always a better way to do things irrespective of how much you have achieved or how comfortable you might be with where you currently are in life. As a young international rugby player I learnt a valuable lesson about sacrifice. The bottom line was the phrase 'long after the price is forgotten the quality remains'. Undertaking JOLT Challenge involves sacrifice but it is well worth it as you explore creative and innovative ways of challenging yourself for constant improvement in many areas of life. — Nick Farr-Jones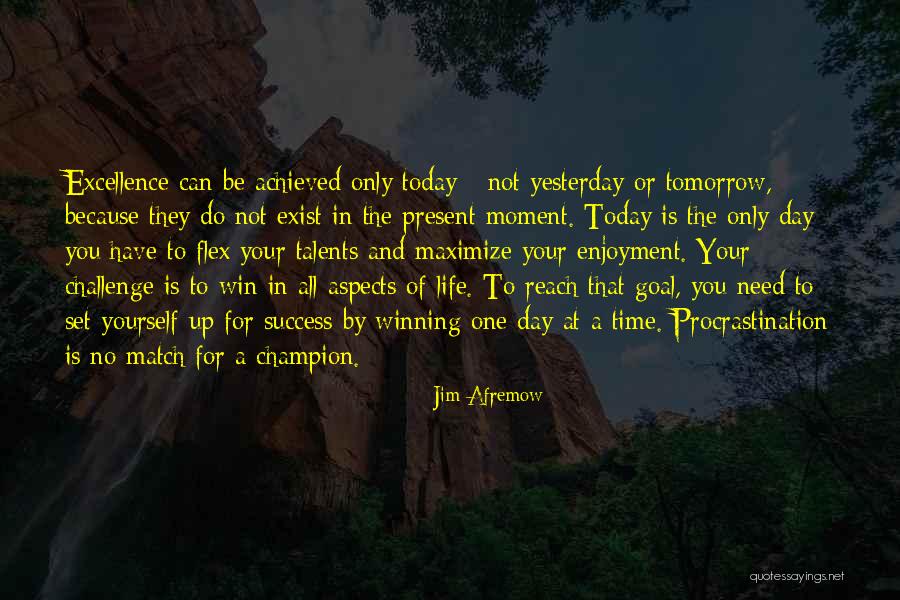 Excellence can be achieved only today - not yesterday or tomorrow, because they do not exist in the present moment. Today is the only day you have to flex your talents and maximize your enjoyment. Your challenge is to win in all aspects of life. To reach that goal, you need to set yourself up for success by winning one day at a time. Procrastination is no match for a champion. — Jim Afremow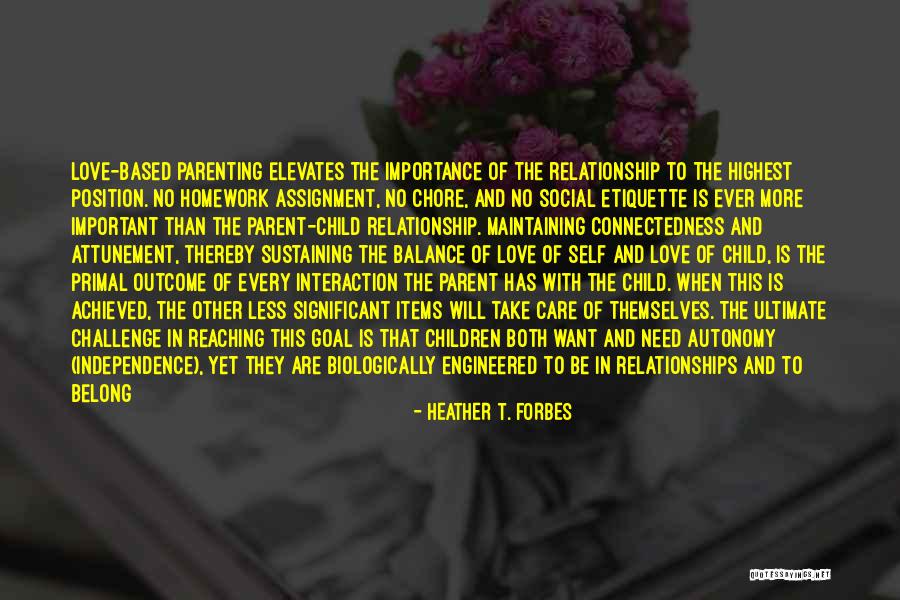 Love-based parenting elevates the importance of the relationship to the highest position. No homework assignment, no chore, and no social etiquette is ever more important than the parent-child relationship. Maintaining connectedness and attunement, thereby sustaining the balance of love of self and love of child, is the primal outcome of every interaction the parent has with the child. When this is achieved, the other less significant items will take care of themselves. The ultimate challenge in reaching this goal is that children both want and need autonomy (independence), yet they are biologically engineered to be in relationships and to belong (dependence). This clash between the two is compounded by American culture where there is a powerful emphasis on the individual rather than — Heather T. Forbes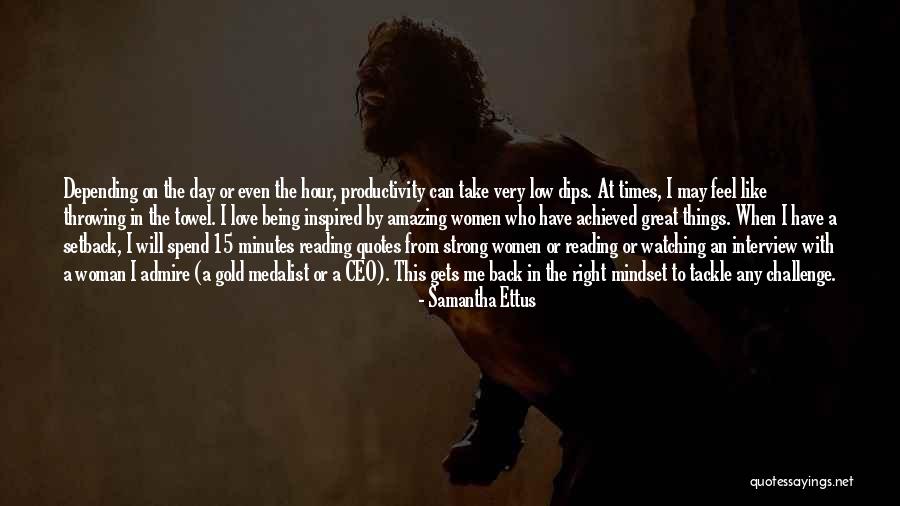 Depending on the day or even the hour, productivity can take very low dips. At times, I may feel like throwing in the towel. I love being inspired by amazing women who have achieved great things. When I have a setback, I will spend 15 minutes reading quotes from strong women or reading or watching an interview with a woman I admire (a gold medalist or a CEO). This gets me back in the right mindset to tackle any challenge. — Samantha Ettus