Careless Relationship Quotes & Sayings
Enjoy reading and share 5 famous quotes about Careless Relationship with everyone.
Top Careless Relationship Quotes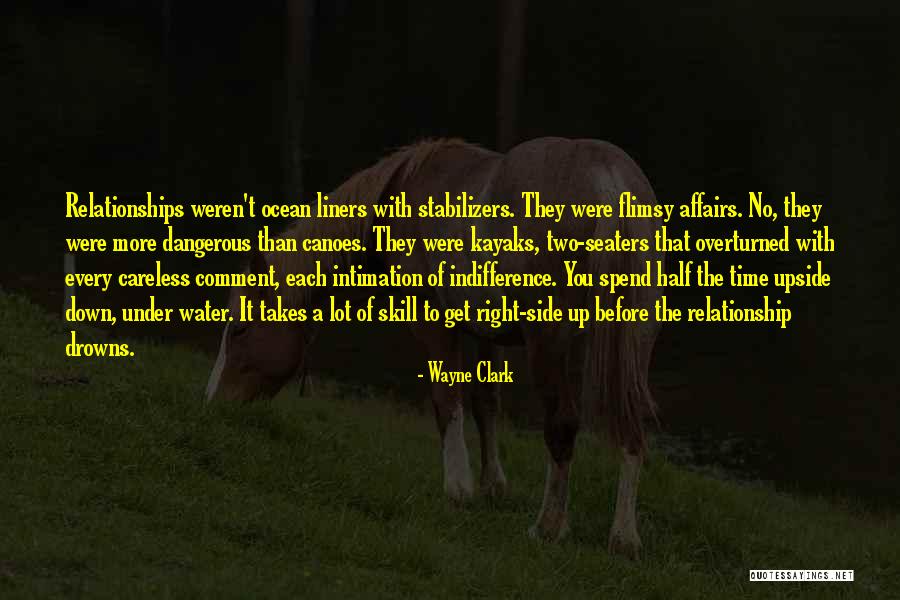 Relationships weren't ocean liners with stabilizers. They were flimsy affairs. No, they were more dangerous than canoes. They were kayaks, two-seaters that overturned with every careless comment, each intimation of indifference. You spend half the time upside down, under water. It takes a lot of skill to get right-side up before the relationship drowns. — Wayne Clark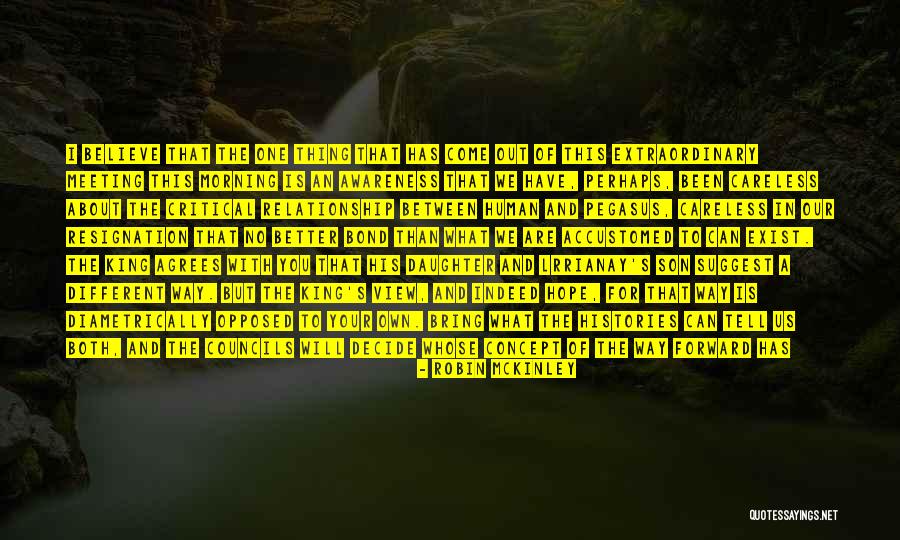 I believe that the one thing that has come out of this
extraordinary
meeting this morning is an awareness that we have, perhaps, been careless about the critical relationship between human and pegasus, careless in our resignation that no better bond than what we are accustomed to can exist. The king agrees with you that his daughter and Lrrianay's son suggest a different way. But the king's view, and indeed hope, for that way is diametrically opposed to your own. Bring what the histories can tell us both, and the councils will decide whose concept of the way forward has more merit.
The king is prepared to consider the possibility that your outburst arose from a dedication to the well-being of our country too profound for restraint; but he is only barely prepared so to consider it. You may leave us. Now. — Robin McKinley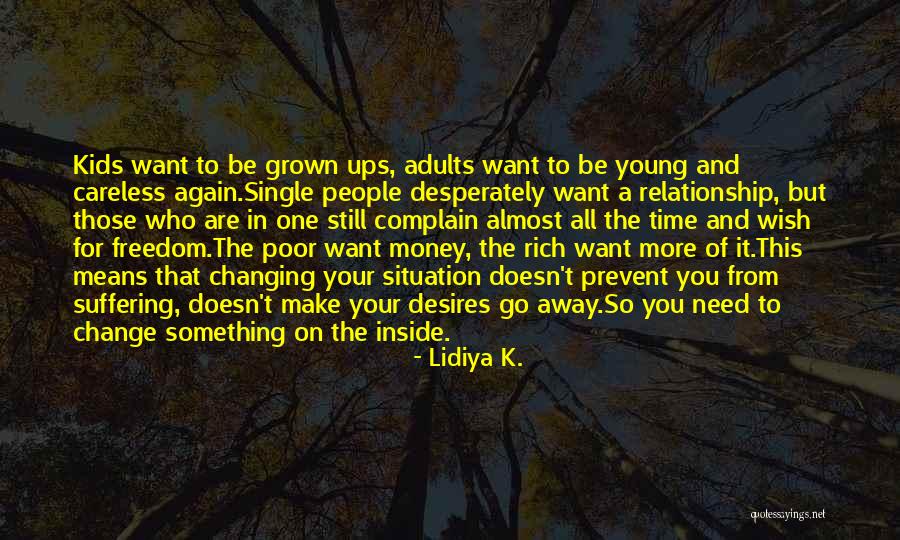 Kids want to be grown ups, adults want to be young and careless again.
Single people desperately want a relationship, but those who are in one still complain almost all the time and wish for freedom.
The poor want money, the rich want more of it.
This means that changing your situation doesn't prevent you from suffering, doesn't make your desires go away.
So you need to change something on the inside. — Lidiya K.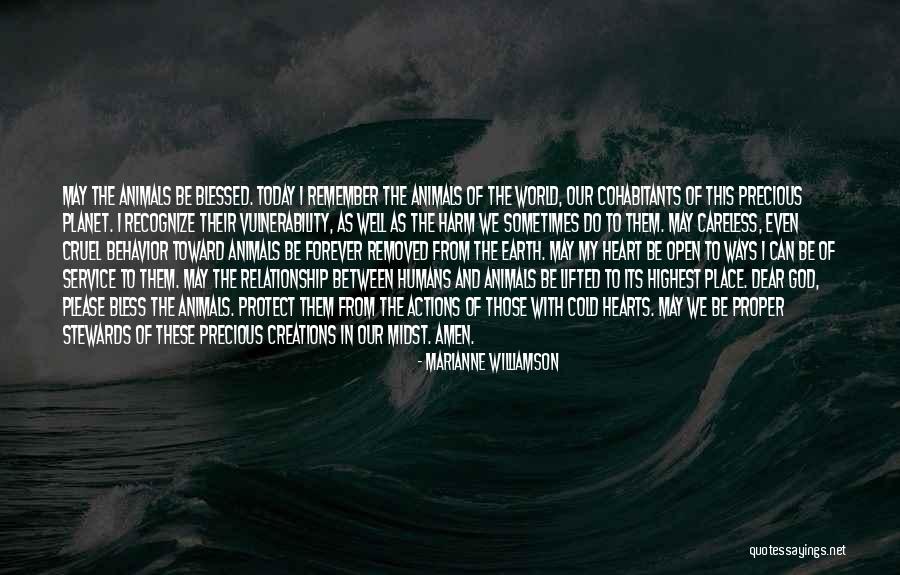 May the animals be blessed. Today I remember the animals of the world, our cohabitants of this precious planet. I recognize their vulnerability, as well as the harm we sometimes do to them. May careless, even cruel behavior toward animals be forever removed from the earth. May my heart be open to ways I can be of service to them. May the relationship between humans and animals be lifted to its highest place. Dear God, Please bless the animals. Protect them From the actions of those with cold hearts. May we be proper stewards Of these precious creations in our midst. Amen. — Marianne Williamson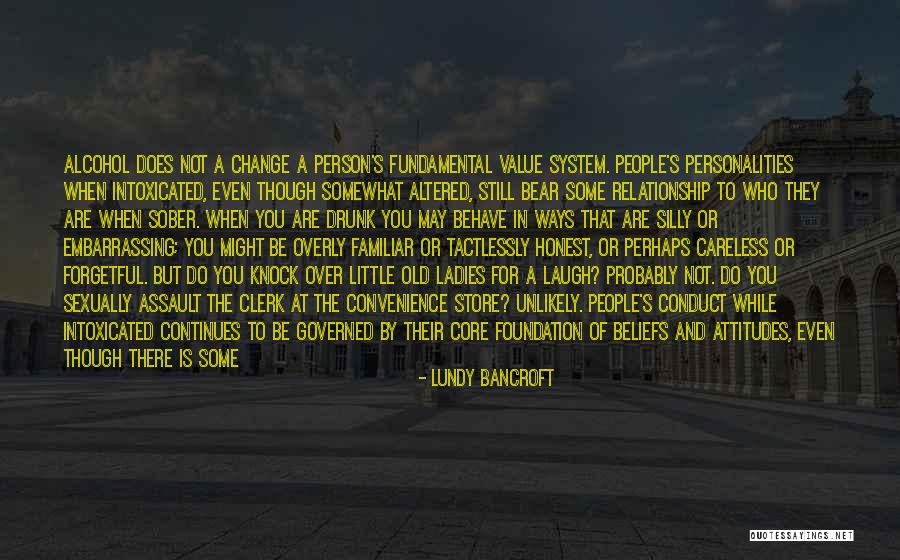 Alcohol does not a change a person's fundamental value system. People's personalities when intoxicated, even though somewhat altered, still bear some relationship to who they are when sober. When you are drunk you may behave in ways that are silly or embarrassing; you might be overly familiar or tactlessly honest, or perhaps careless or forgetful. But do you knock over little old ladies for a laugh? Probably not. Do you sexually assault the clerk at the convenience store? Unlikely. People's conduct while intoxicated continues to be governed by their core foundation of beliefs and attitudes, even though there is some loosening of the structure. Alcohol encourages people to let loose what they have simmering below the surface.
ABUSERS MAKE CONSCIOUS CHOICES EVEN WHILE INTOXICATED — Lundy Bancroft