Call To Worship Quotes & Sayings
Enjoy reading and share 55 famous quotes about Call To Worship with everyone.
Top Call To Worship Quotes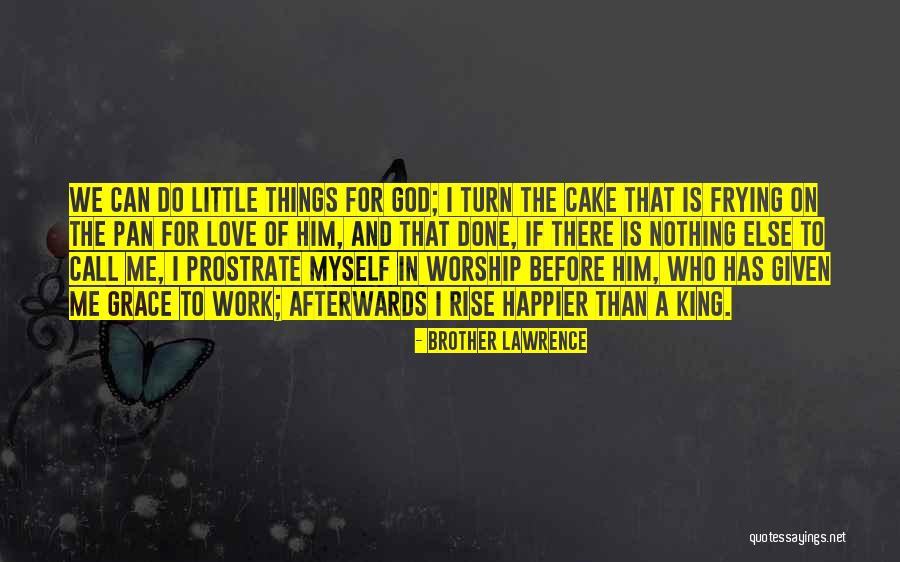 We can do little things for God; I turn the cake that is frying on the pan for love of him, and that done, if there is nothing else to call me, I prostrate myself in worship before him, who has given me grace to work; afterwards I rise happier than a king. — Brother Lawrence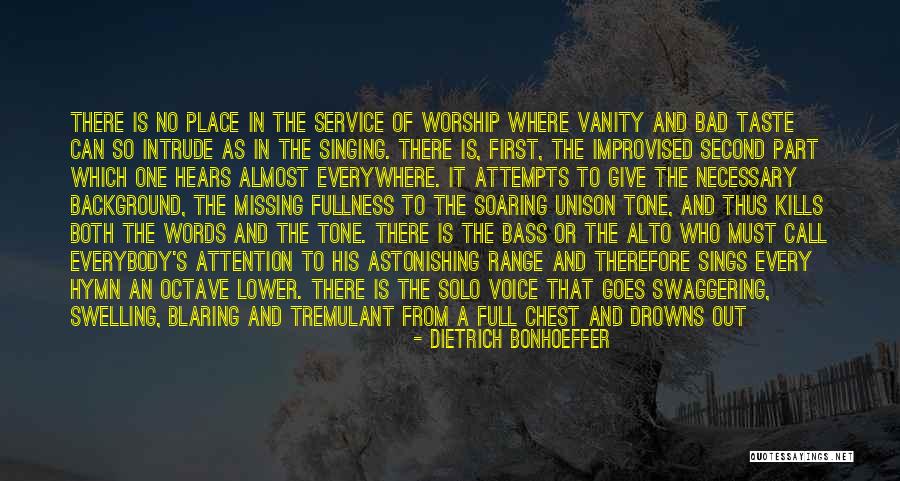 There is no place in the service of worship where vanity and bad taste can so intrude as in the singing. There is, first, the improvised second part which one hears almost everywhere. It attempts to give the necessary background, the missing fullness to the soaring unison tone, and thus kills both the words and the tone. There is the bass or the alto who must call everybody's attention to his astonishing range and therefore sings every hymn an octave lower. There is the solo voice that goes swaggering, swelling, blaring and tremulant from a full chest and drowns out everything else to the glory of its own fine organ. There are the less dangerous foes of congregational singing, the 'unmusical' who cannot sing, of whom there are far fewer than we are led to believe, and finally, there are often those also who because of some mood will not join in the singing and thus disturb the fellowship. — Dietrich Bonhoeffer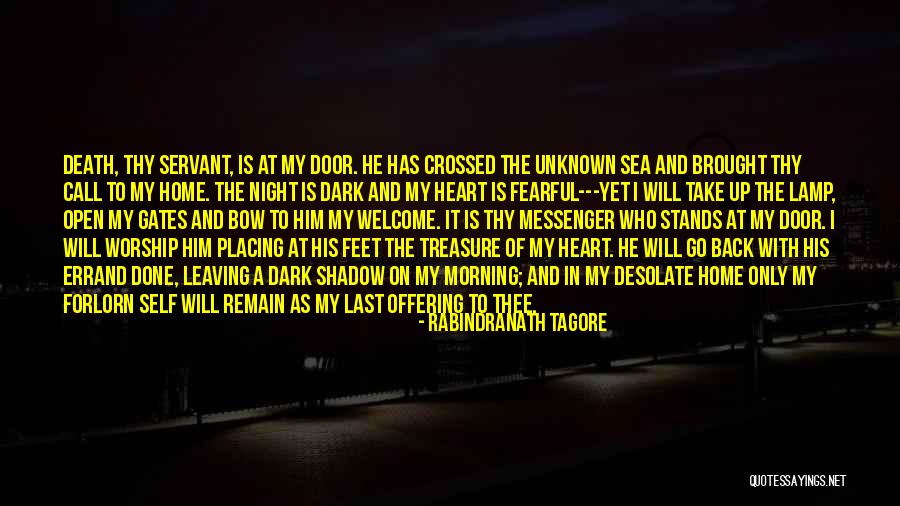 Death, thy servant, is at my door. He has crossed the unknown sea and brought thy call to my home.

The night is dark and my heart is fearful---yet I will take up the lamp, open my gates and bow to him my welcome. It is thy messenger who stands at my door.

I will worship him placing at his feet the treasure of my heart.

He will go back with his errand done, leaving a dark shadow on my morning; and in my desolate home only my forlorn self will remain as my last offering to thee. — Rabindranath Tagore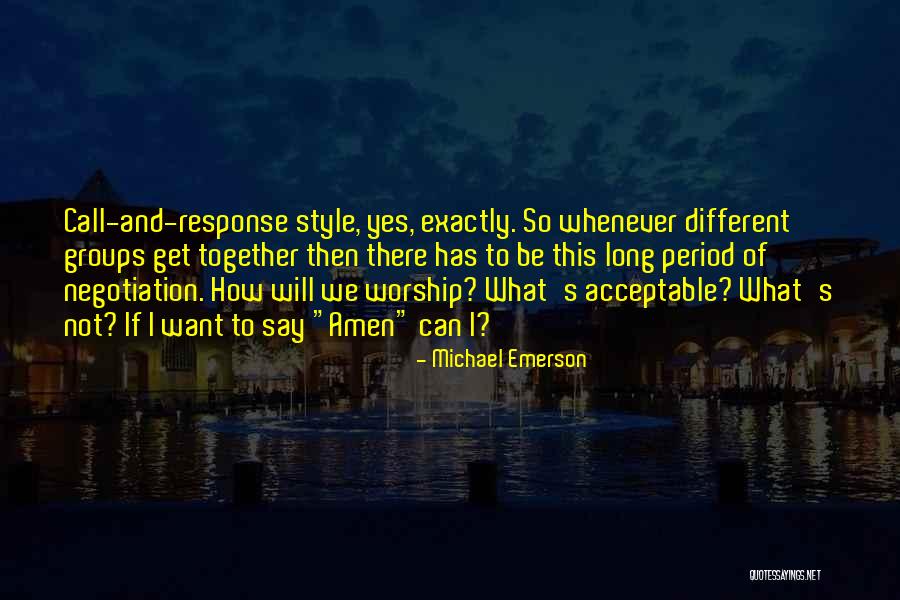 Call-and-response style, yes, exactly. So whenever different groups get together then there has to be this long period of negotiation. How will we worship? What's acceptable? What's not? If I want to say "Amen" can I? — Michael Emerson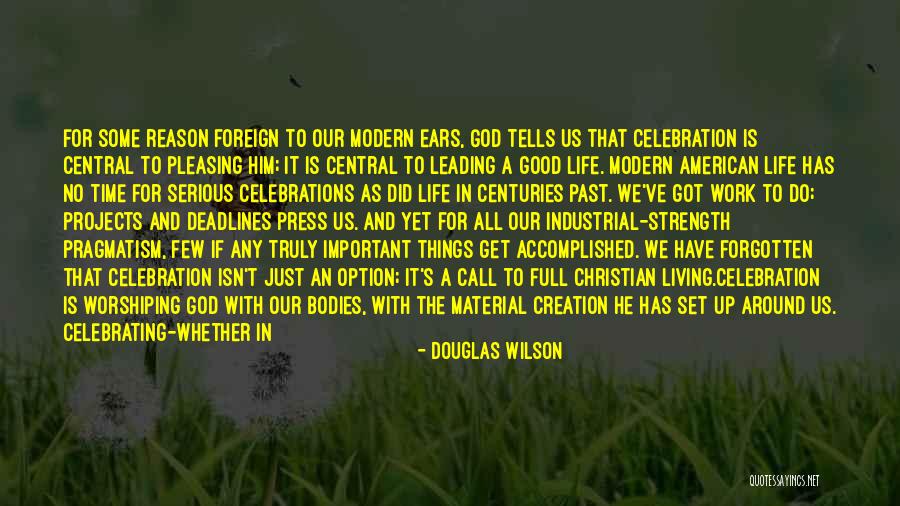 For some reason foreign to our modern ears, God tells us that celebration is central to pleasing Him; it is central to leading a good life. Modern American life has no time for serious celebrations as did life in centuries past. We've got work to do; projects and deadlines press us. And yet for all our industrial-strength pragmatism, few if any truly important things get accomplished. We have forgotten that celebration isn't just an option; it's a call to full Christian living.
Celebration is worshiping God with our bodies, with the material creation He has set up around us. Celebrating-whether in feasts, ceremonies, holidays, formal worship, or lovemaking-are all part of obeying God's command to "love the Lord thy God with all thine heart,
with all thy soul, and with all thy strength" (Deut. 6:5; Mk. 12:30). We are to show our love for God not just with one portion of our being (the spiritual aspect); we are to love God with our whole body, heart and strength and legs and lips. — Douglas Wilson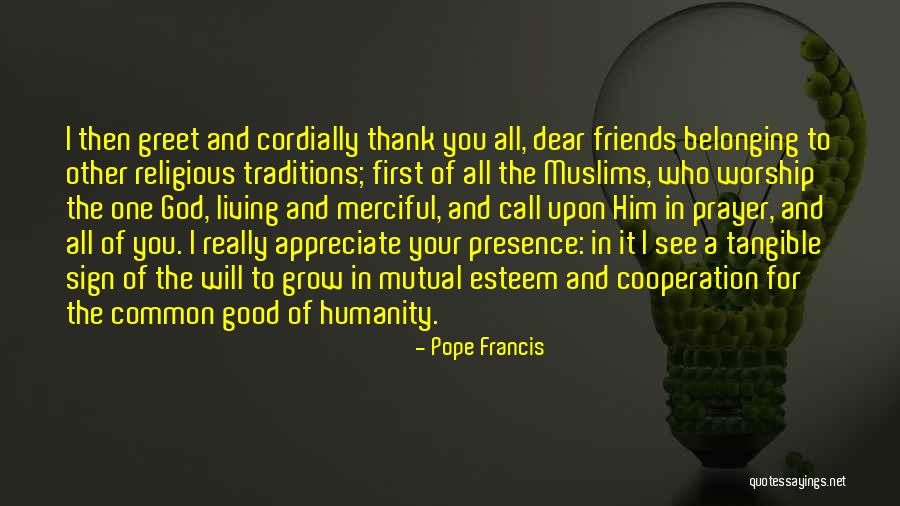 I then greet and cordially thank you all, dear friends belonging to other religious traditions; first of all the Muslims, who worship the one God, living and merciful, and call upon Him in prayer, and all of you. I really appreciate your presence: in it I see a tangible sign of the will to grow in mutual esteem and cooperation for the common good of humanity. — Pope Francis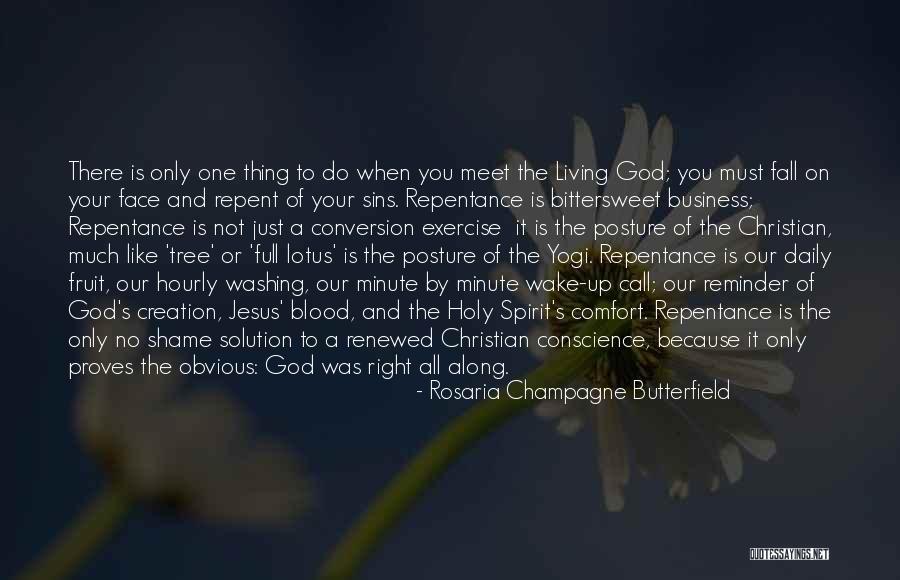 There is only one thing to do when you meet the Living God; you must fall on your face and repent of your sins. Repentance is bittersweet business; Repentance is not just a conversion exercise
it is the posture of the Christian, much like 'tree' or 'full lotus' is the posture of the Yogi. Repentance is our daily fruit, our hourly washing, our minute by minute wake-up call; our reminder of God's creation, Jesus' blood, and the Holy Spirit's comfort. Repentance is the only no shame solution to a renewed Christian conscience, because it only proves the obvious: God was right all along. — Rosaria Champagne Butterfield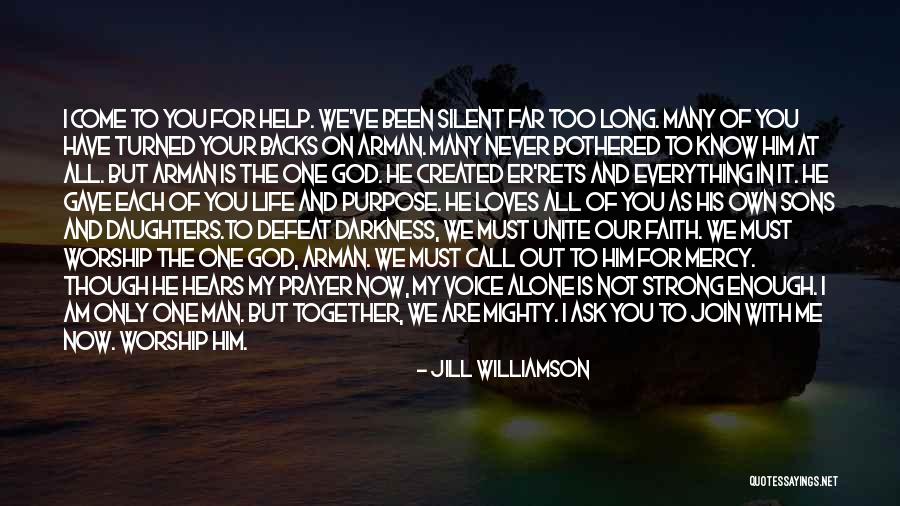 I come to you for help. We've been silent far too long. Many of you have turned your backs on Arman. Many never bothered to know Him at all. But Arman is the One God. He created Er'Rets and everything in it. He gave each of you life and purpose. He loves all of you as His own sons and daughters.
To defeat Darkness, we must unite our faith. We must worship the One God, Arman. We must call out to Him for mercy. Though He hears my prayer now, my voice alone is not strong enough. I am only one man. But together, we are mighty. I ask you to join with me now. Worship Him. — Jill Williamson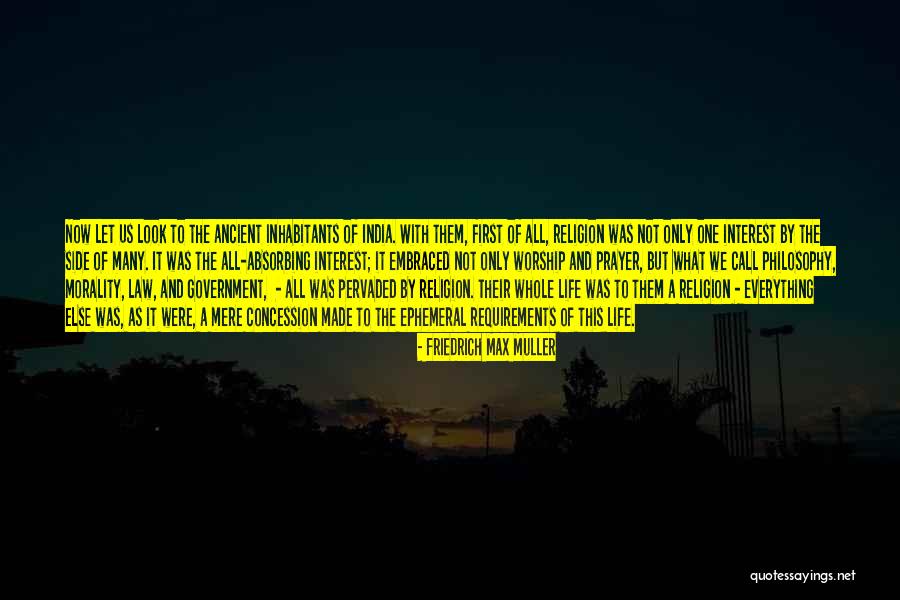 Now let us look to the ancient inhabitants of India. With them, first of all, religion was not only one interest by the side of many. It was the all-absorbing interest; it embraced not only worship and prayer, but what we call philosophy, morality, law, and government, - all was pervaded by religion. Their whole life was to them a religion - everything else was, as it were, a mere concession made to the ephemeral requirements of this life. — Friedrich Max Muller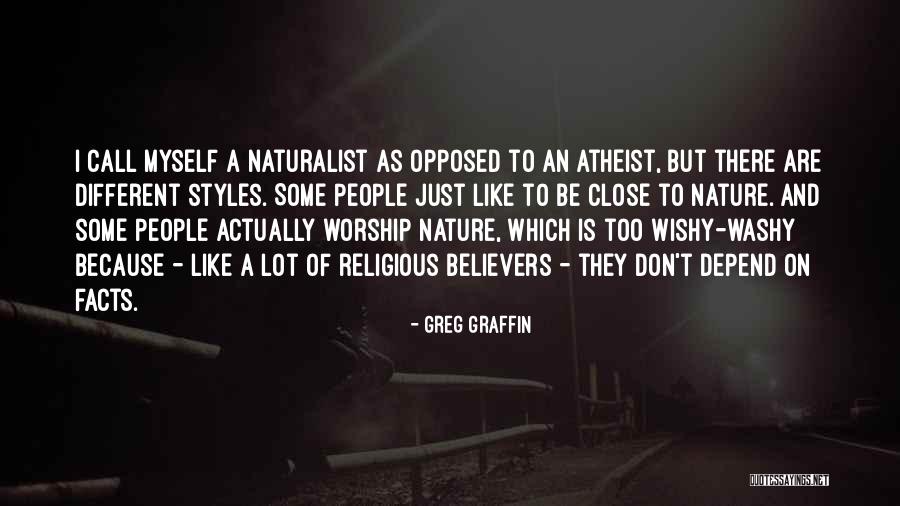 I call myself a naturalist as opposed to an atheist, but there are different styles. Some people just like to be close to nature. And some people actually worship nature, which is too wishy-washy because - like a lot of religious believers - they don't depend on facts. — Greg Graffin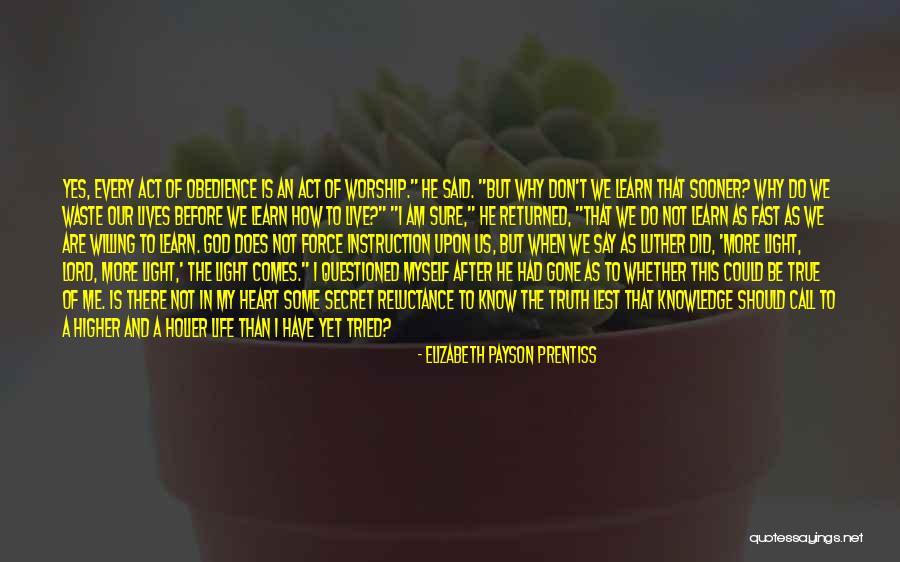 Yes, every act of obedience is an act of worship." he said. "But why don't we learn that sooner? Why do we waste our lives before we learn how to live?" "I am sure," he returned, "that we do not learn as fast as we are willing to learn. God does not force instruction upon us, but when we say as Luther did, 'More light, Lord, more light,' the light comes." I questioned myself after he had gone as to whether this could be true of me. Is there not in my heart some secret reluctance to know the truth lest that knowledge should call to a higher and a holier life than I have yet tried? — Elizabeth Payson Prentiss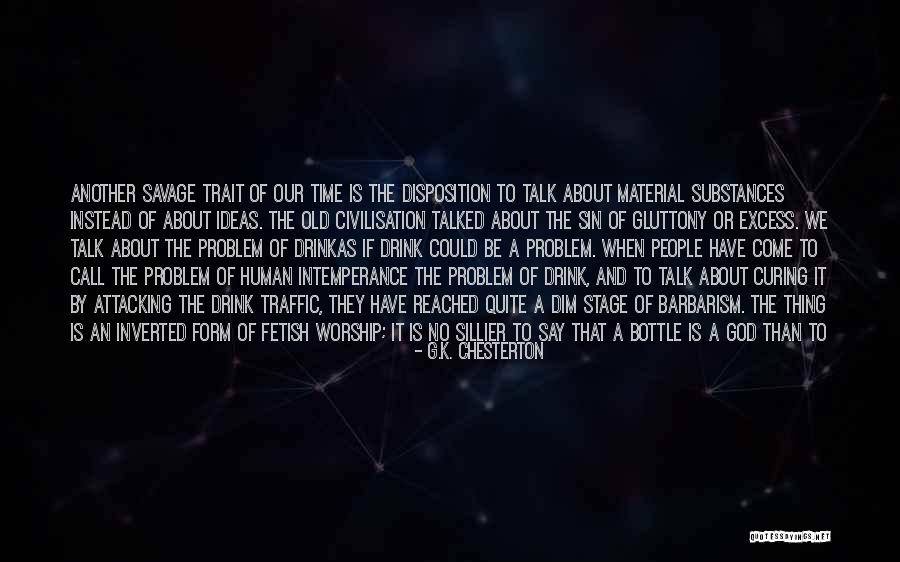 Another savage trait of our time is the disposition to talk about material substances instead of about ideas. The old civilisation talked about the sin of gluttony or excess. We talk about the Problem of Drink
as if drink could be a problem. When people have come to call the problem of human intemperance the Problem of Drink, and to talk about curing it by attacking the drink traffic, they have reached quite a dim stage of barbarism. The thing is an inverted form of fetish worship; it is no sillier to say that a bottle is a god than to say that a bottle is a devil. The people who talk about the curse of drink will probably progress down that dark hill. In a little while we shall have them calling the practice of wife-beating the Problem of Pokers; the habit of housebreaking will be called the Problem of the Skeleton-Key Trade; and for all I know they may try to prevent forgery by shutting up all the stationers' shops by Act of Parliament. — G.K. Chesterton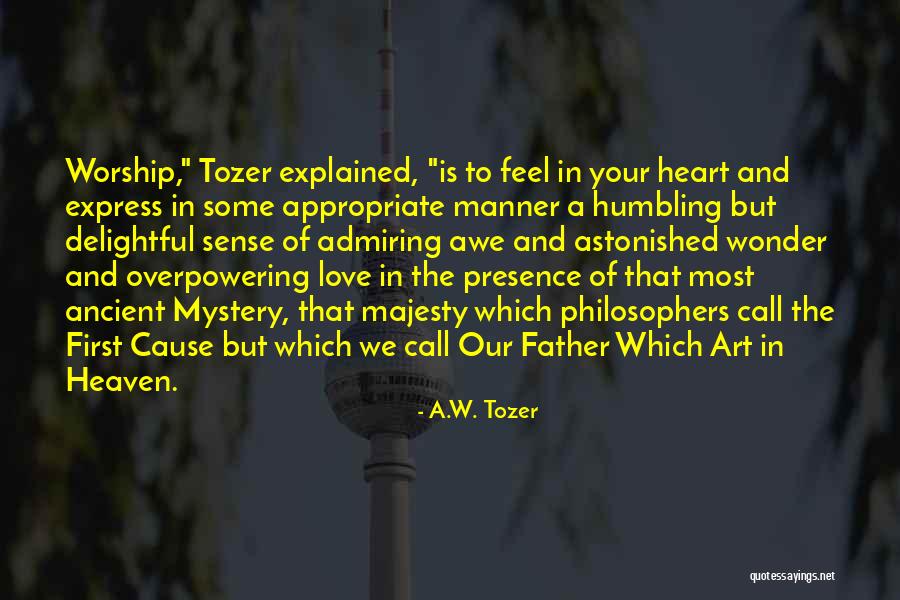 Worship," Tozer explained, "is to feel in your heart and express in some appropriate manner a humbling but delightful sense of admiring awe and astonished wonder and overpowering love in the presence of that most ancient Mystery, that majesty which philosophers call the First Cause but which we call Our Father Which Art in Heaven. — A.W. Tozer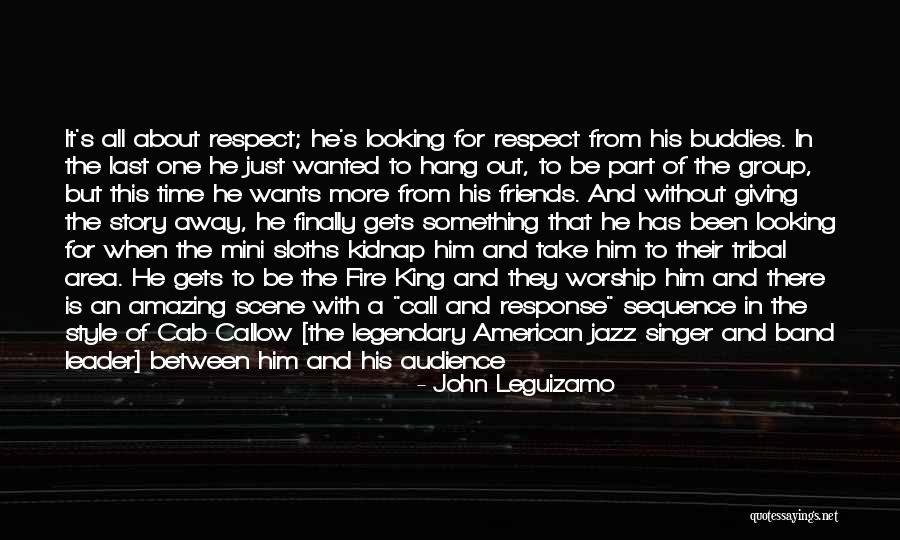 It's all about respect; he's looking for respect from his buddies. In the last one he just wanted to hang out, to be part of the group, but this time he wants more from his friends. And without giving the story away, he finally gets something that he has been looking for when the mini sloths kidnap him and take him to their tribal area. He gets to be the Fire King and they worship him and there is an amazing scene with a "call and response" sequence in the style of Cab Callow [the legendary American jazz singer and band leader] between him and his audience — John Leguizamo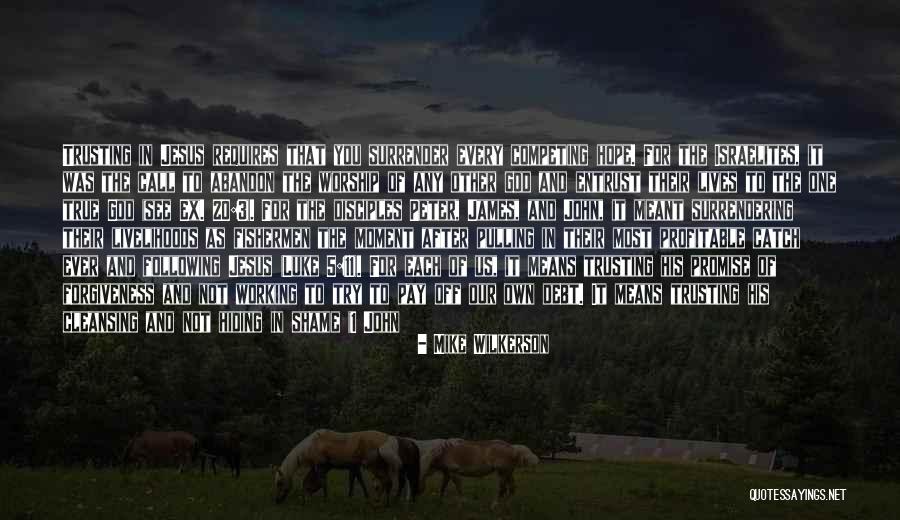 Trusting in Jesus requires that you surrender every competing hope. For the Israelites, it was the call to abandon the worship of any other god and entrust their lives to the one true God (see Ex. 20:3). For the disciples Peter, James, and John, it meant surrendering their livelihoods as fishermen the moment after pulling in their most profitable catch ever and following Jesus (Luke 5:11). For each of us, it means trusting his promise of forgiveness and not working to try to pay off our own debt. It means trusting his cleansing and not hiding in shame (1 John 1:9). It means clinging to God's steadfast love, his grace upon grace to us in Jesus Christ, as our only hope, the only true remedy against idolatry.40 — Mike Wilkerson
Either you're lying again or you're as stupid as you look. You ditch me first year for him when you were a girl. You ditch me second year for him when you were a boy. You lie and cheat and steal for him while he treats you like crap, and I help you and care for you and worship you like a queen while you treat me like crap! What does that guy have that I don't? What makes him so lovable and me so unworthy? Know how many times I've asked myself that question, Sophie? How many times I've studied him like a book or sat in the dark picturing every last shred of him, trying to understand why he's more of a person than me? Or why the moment he's gone, you take a ring from the School Master - or Raphael or Michelangelo or Donatello or whatever you want to call him to make yourself feel better - just because he looks like you want him to look and says what you want to hear? When you could have had someone who's honest and kind and real? — Soman Chainani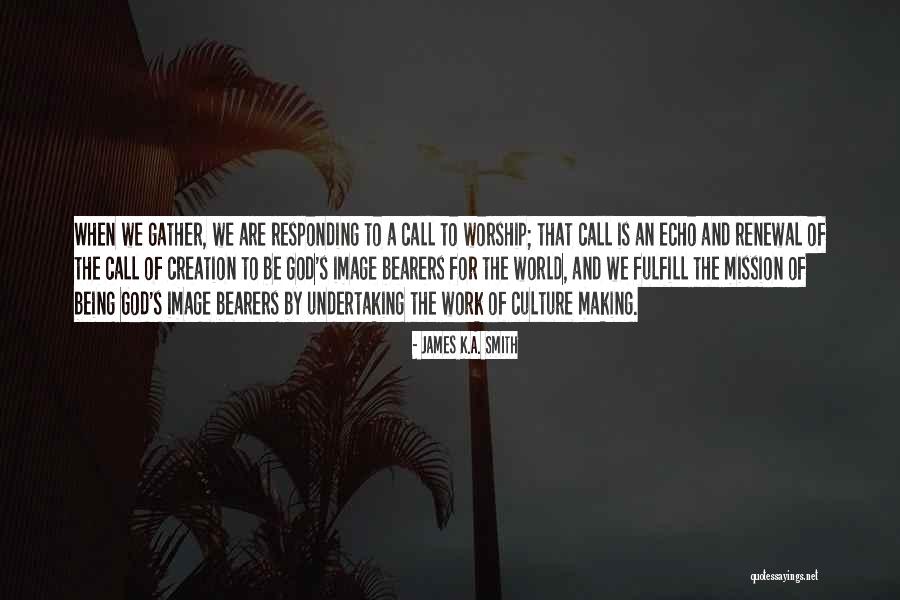 When we gather, we are responding to a call to worship; that call is an echo and renewal of the call of creation to be God's image bearers for the world, and we fulfill the mission of being God's image bearers by undertaking the work of culture making. — James K.A. Smith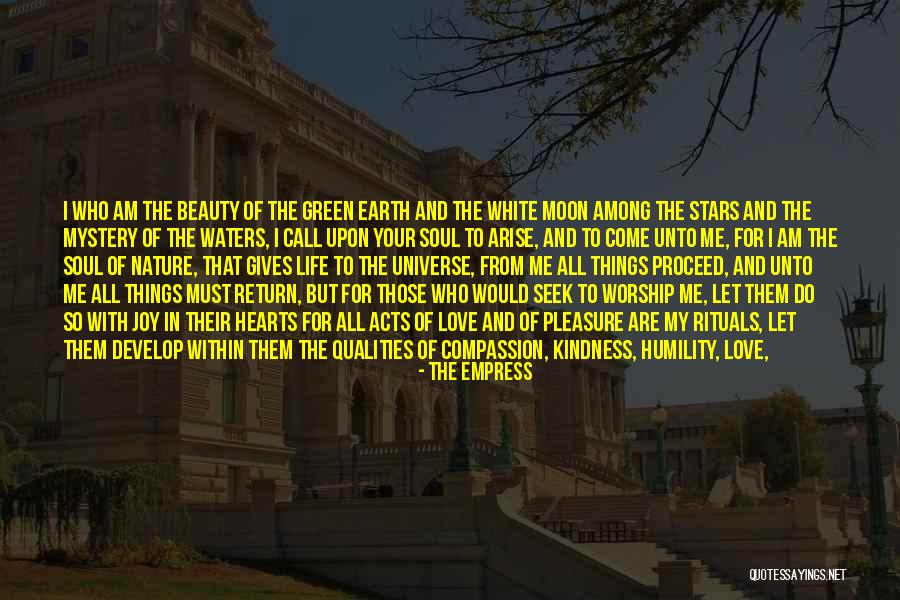 I who am the beauty of the green earth and the white moon among the stars and the mystery of the waters, I call upon your soul to arise, and to come unto me, for I am the soul of nature, that gives life to the universe, from me all things proceed, and unto me all things must return, but for those who would seek to worship me, let them do so with joy in their hearts for all acts of love and of pleasure are my rituals, let them develop within them the qualities of compassion, kindness, humility, love, understanding. But for those who seek to know me, let them know that if all they are seeking and they are yearning it will avail them not until they learn the great mystery that which you seek you find not within yourself you'll never find it without. For I am that which is attained at the end of all suffering. I am she of a thousand names. — The Empress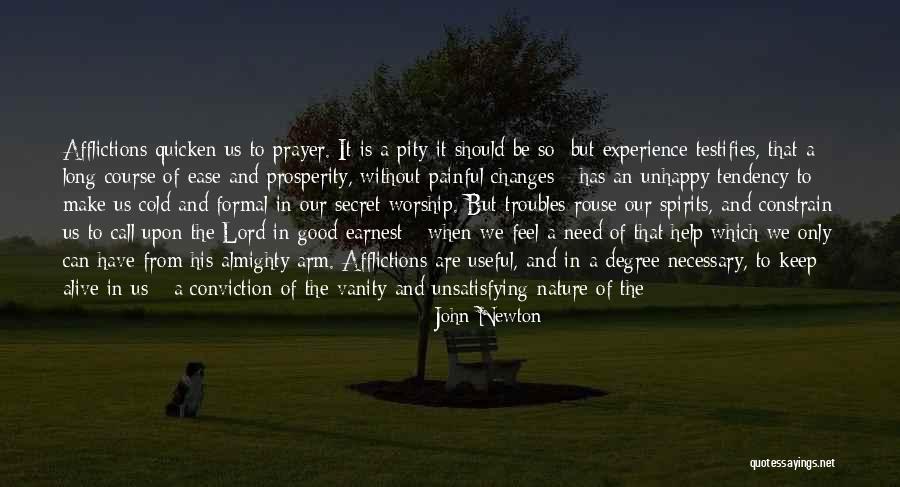 Afflictions quicken us to prayer. It is a pity it should be so; but experience testifies, that a long course of ease and prosperity, without painful changes - has an unhappy tendency to make us cold and formal in our secret worship. But troubles rouse our spirits, and constrain us to call upon the Lord in good earnest - when we feel a need of that help which we only can have from his almighty arm. Afflictions are useful, and in a degree necessary, to keep alive in us - a conviction of the vanity and unsatisfying nature of the present world, and all its enjoyments; to remind us that this world is not our rest, and to call our thoughts upwards, where our true treasure is, and where our heart ought to be. When things go on much to our wish, our hearts are too prone to say, It is good to be here! — John Newton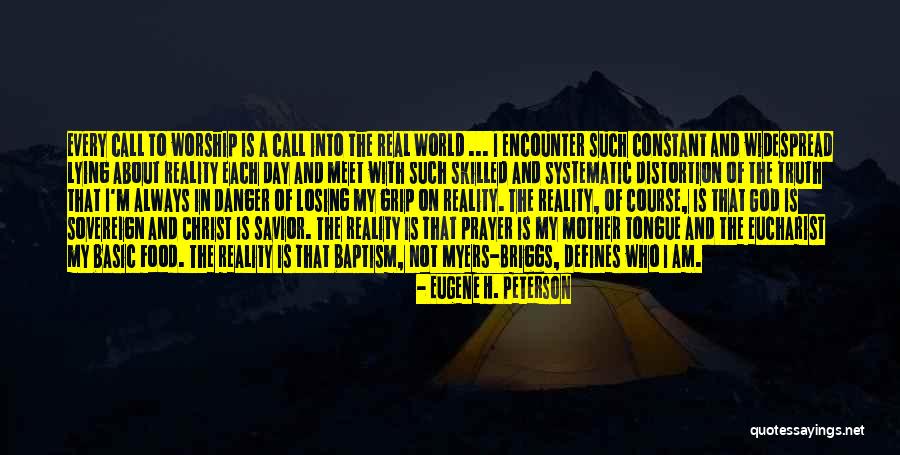 Every call to worship is a call into the Real World ... I encounter such constant and widespread lying about reality each day and meet with such skilled and systematic distortion of the truth that I'm always in danger of losing my grip on reality. The reality, of course, is that God is sovereign and Christ is savior. The reality is that prayer is my mother tongue and the eucharist my basic food. The reality is that baptism, not Myers-Briggs, defines who I am. — Eugene H. Peterson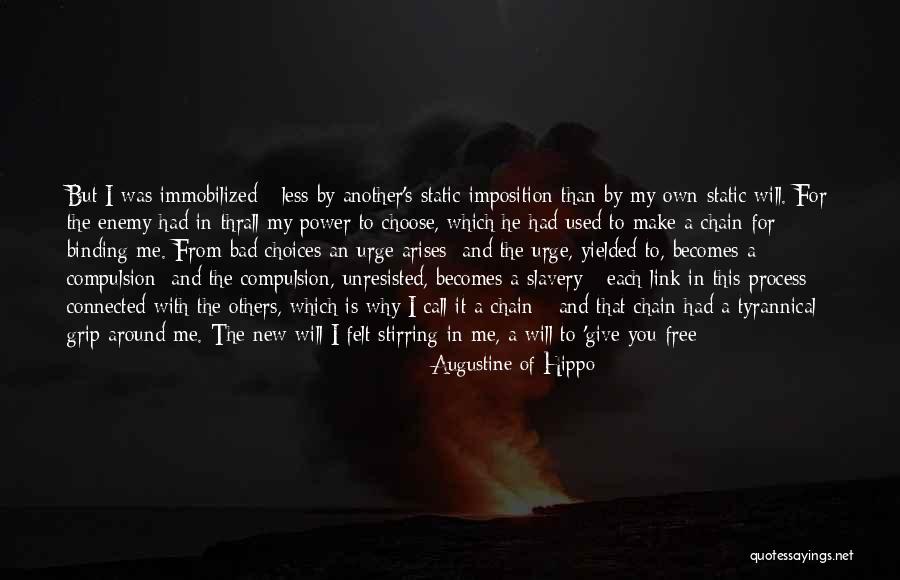 But I was immobilized - less by another's static imposition than by my own static will. For the enemy had in thrall my power to choose, which he had used to make a chain for binding me. From bad choices an urge arises; and the urge, yielded to, becomes a compulsion; and the compulsion, unresisted, becomes a slavery - each link in this process connected with the others, which is why I call it a chain - and that chain had a tyrannical grip around me. The new will I felt stirring in me, a will to 'give you free worship' and enjoy what I yearned for, my God, my only reliable happiness, could not break away from the will made strong by long dominance. Two wills were mine, old and new, of the flesh, of the spirit, each warring on the other, and between their dissonances was my soul disintegrating. — Augustine Of Hippo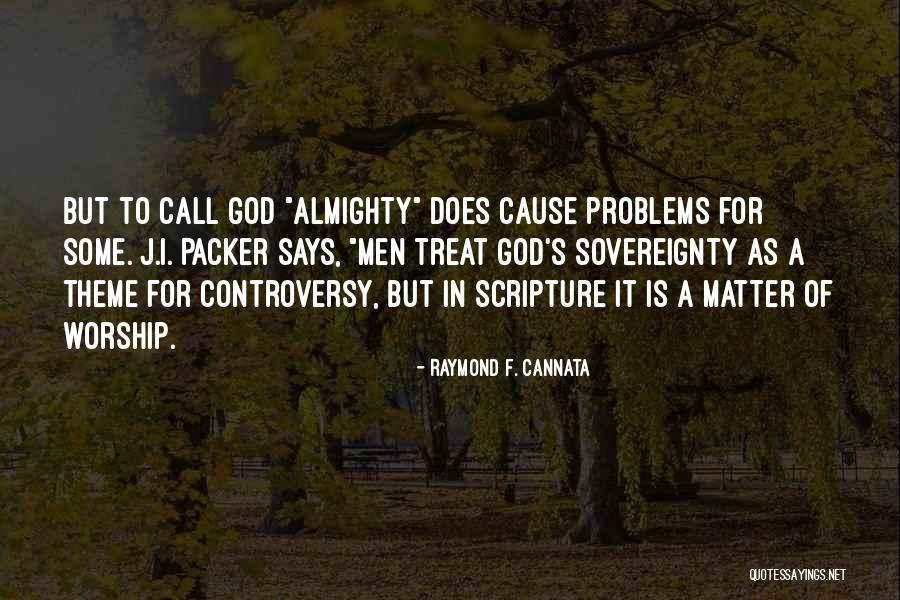 But to call God "almighty" does cause problems for some. J.I. Packer says, "Men treat God's sovereignty as a theme for controversy, but in Scripture it is a matter of worship. — Raymond F. Cannata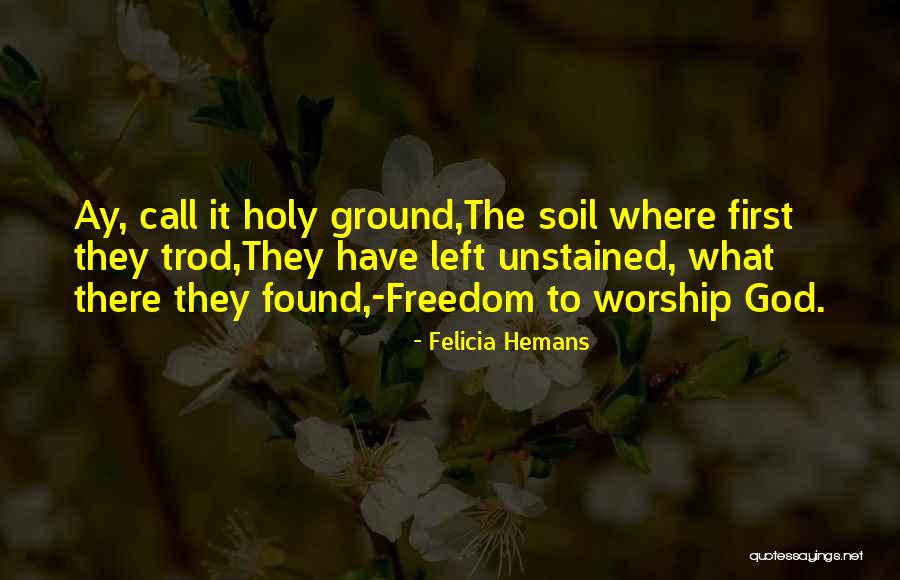 Ay, call it holy ground,
The soil where first they trod,
They have left unstained, what there they found,-
Freedom to worship God. — Felicia Hemans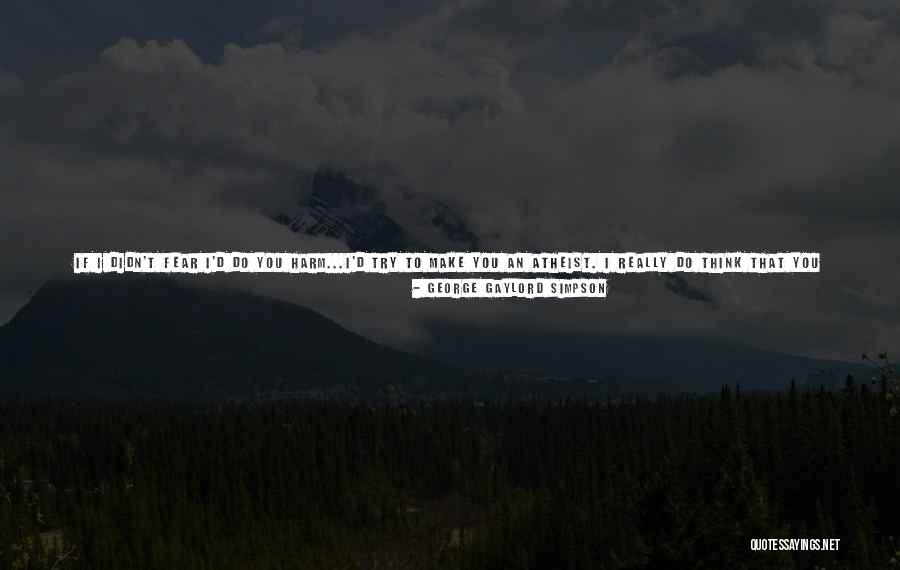 If I didn't fear I'd do you harm...I'd try to make you an atheist. I really do think that you are a deluded follower of mistaken and superstitious and cowardly theories. That's as far as I'll go....Everyone who worships a god worships a force back of all nature, no matter what they call him or it and even if they call his aspects by different names & have many "gods." If there really is such a force, then all people who worship any god or gods, worship the same god. I'd just as soon call him Ishtar or Baal or Jehovah. They're merely names for the same idea. (Letter from Simpson to Anne Roe, written ca. 1920-21, when Anne was briefly flirting with fundamentalist Christianity, American Philosophical Society archives.) — George Gaylord Simpson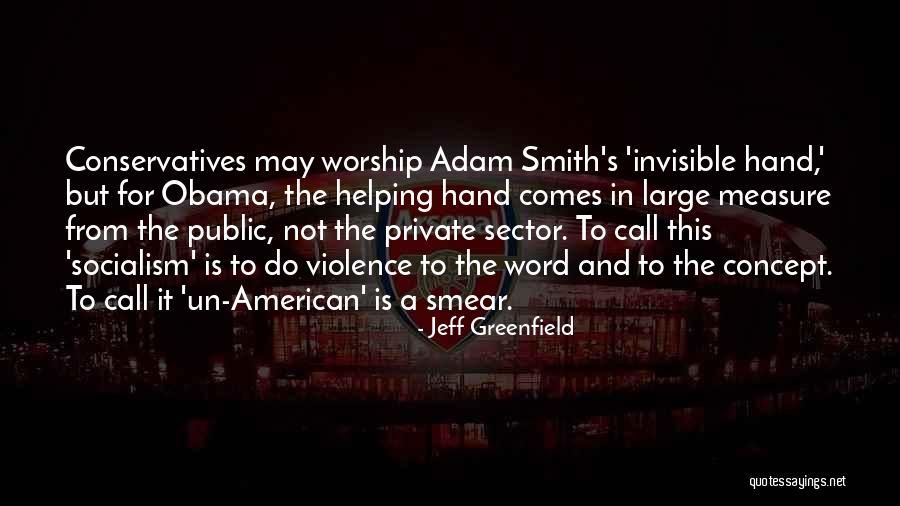 Conservatives may worship Adam Smith's 'invisible hand,' but for Obama, the helping hand comes in large measure from the public, not the private sector. To call this 'socialism' is to do violence to the word and to the concept. To call it 'un-American' is a smear. — Jeff Greenfield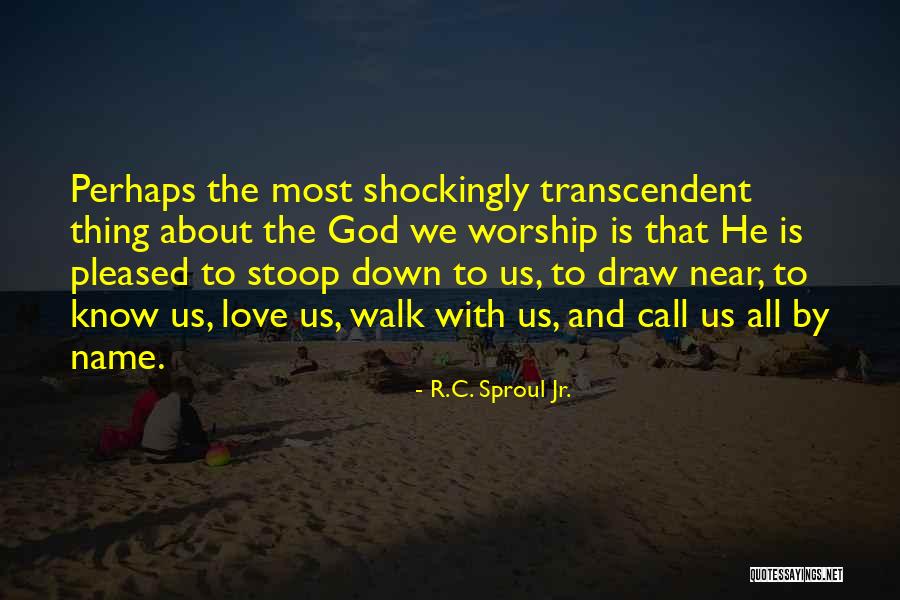 Perhaps the most shockingly transcendent thing about the God we worship is that He is pleased to stoop down to us, to draw near, to know us, love us, walk with us, and call us all by name. — R.C. Sproul Jr.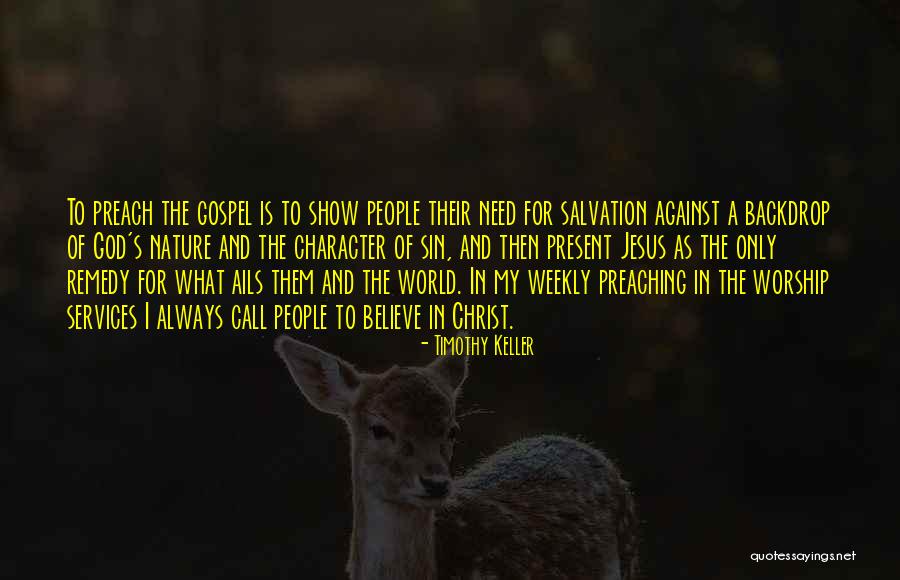 To preach the gospel is to show people their need for salvation against a backdrop of God's nature and the character of sin, and then present Jesus as the only remedy for what ails them and the world. In my weekly preaching in the worship services I always call people to believe in Christ. — Timothy Keller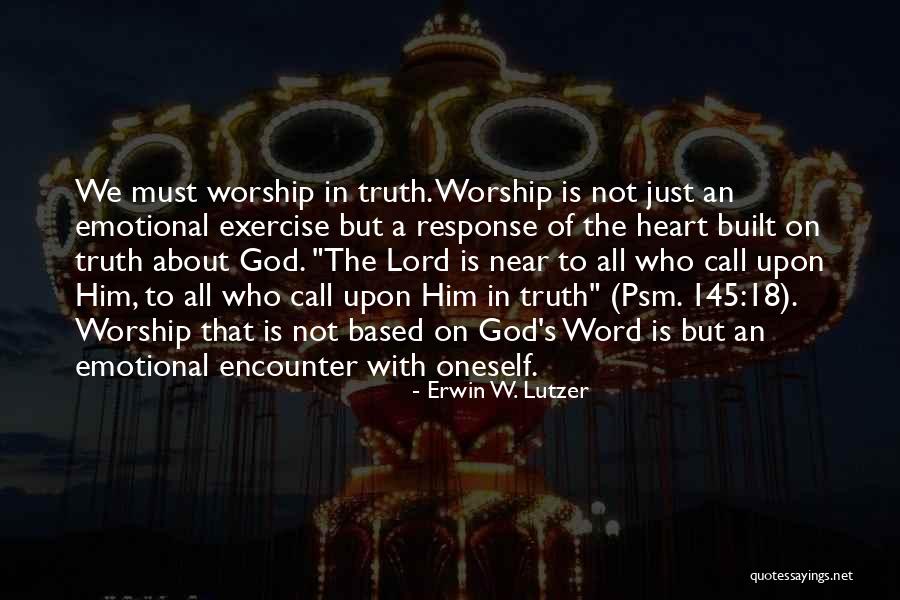 We must worship in truth. Worship is not just an emotional exercise but a response of the heart built on truth about God. "The Lord is near to all who call upon Him, to all who call upon Him in truth" (Psm. 145:18). Worship that is not based on God's Word is but an emotional encounter with oneself. — Erwin W. Lutzer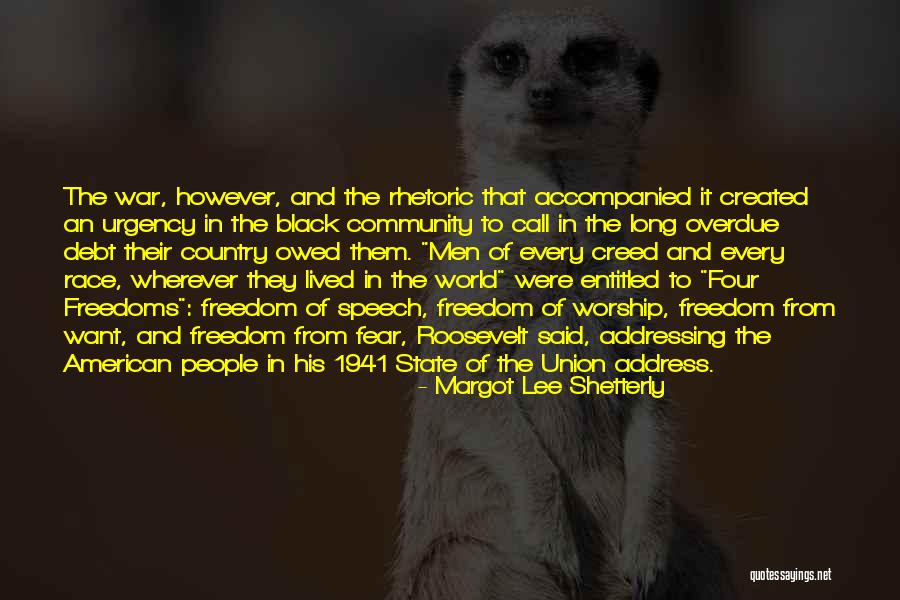 The war, however, and the rhetoric that accompanied it created an urgency in the black community to call in the long overdue debt their country owed them. "Men of every creed and every race, wherever they lived in the world" were entitled to "Four Freedoms": freedom of speech, freedom of worship, freedom from want, and freedom from fear, Roosevelt said, addressing the American people in his 1941 State of the Union address. — Margot Lee Shetterly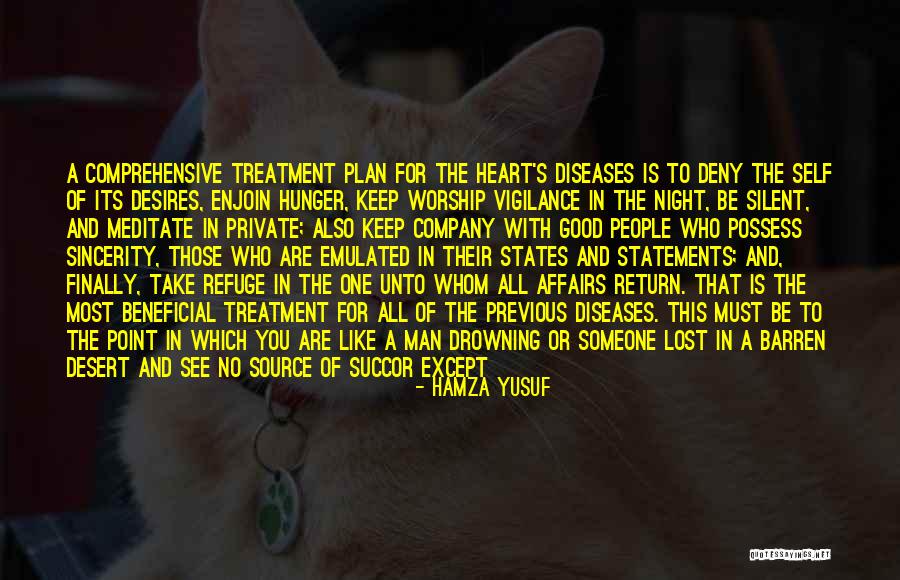 A comprehensive treatment plan for the heart's diseases is to deny the self of its desires, Enjoin hunger, keep worship vigilance in the night, be silent, and meditate in private; Also keep company with good people who possess sincerity, those who are emulated in their states and statements; And, finally, take refuge in the One unto whom all affairs return. That is the most beneficial treatment for all of the previous diseases. This must be to the point in which you are like a man drowning or someone lost in a barren desert and see no source of succor Except from the Guardian, possessor of the greatest power. He is the One who responds to the call of the distressed. — Hamza Yusuf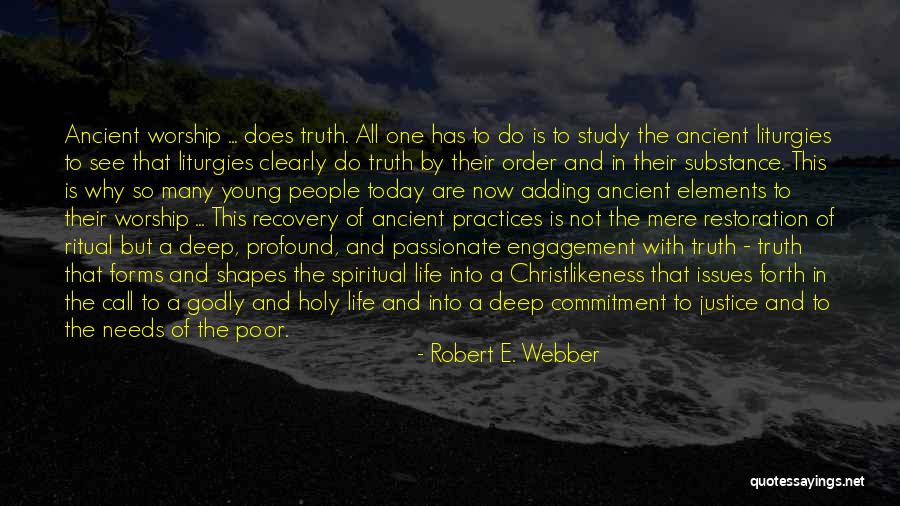 Ancient worship ... does truth. All one has to do is to study the ancient liturgies to see that liturgies clearly do truth by their order and in their substance. This is why so many young people today are now adding ancient elements to their worship ... This recovery of ancient practices is not the mere restoration of ritual but a deep, profound, and passionate engagement with truth - truth that forms and shapes the spiritual life into a Christlikeness that issues forth in the call to a godly and holy life and into a deep commitment to justice and to the needs of the poor. — Robert E. Webber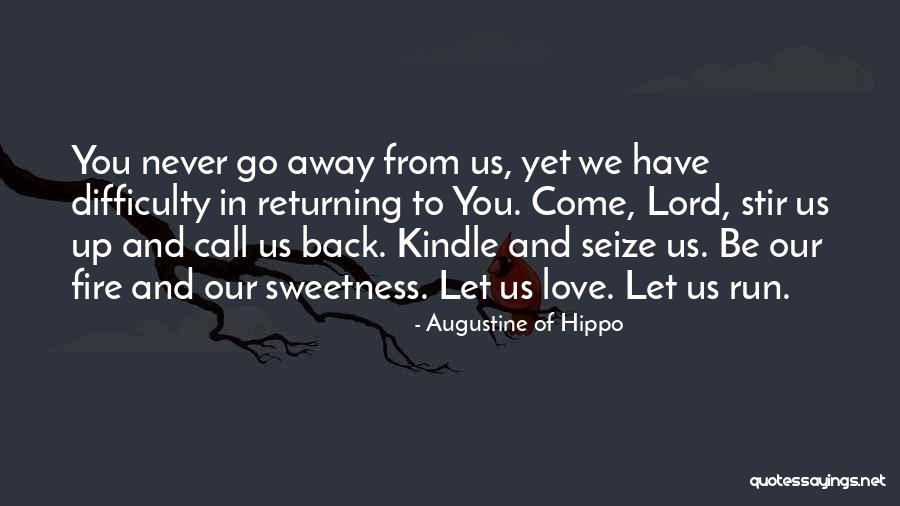 You never go away from us, yet we have difficulty in returning to You. Come, Lord, stir us up and call us back. Kindle and seize us. Be our fire and our sweetness. Let us love. Let us run. — Augustine Of Hippo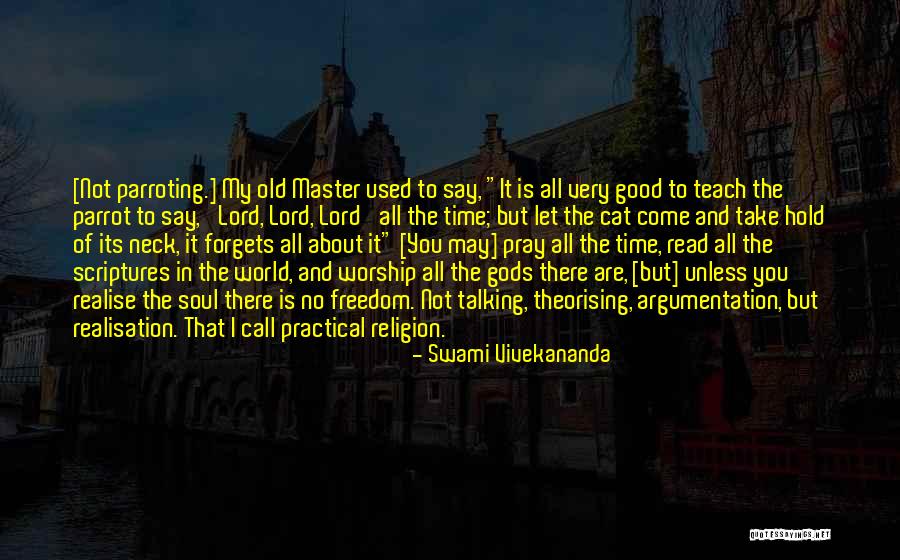 [Not parroting.] My old Master used to say, "It is all very good to teach the parrot to say, 'Lord, Lord, Lord' all the time; but let the cat come and take hold of its neck, it forgets all about it" [You may] pray all the time, read all the scriptures in the world, and worship all the gods there are, [but] unless you realise the soul there is no freedom. Not talking, theorising, argumentation, but realisation. That I call practical religion. — Swami Vivekananda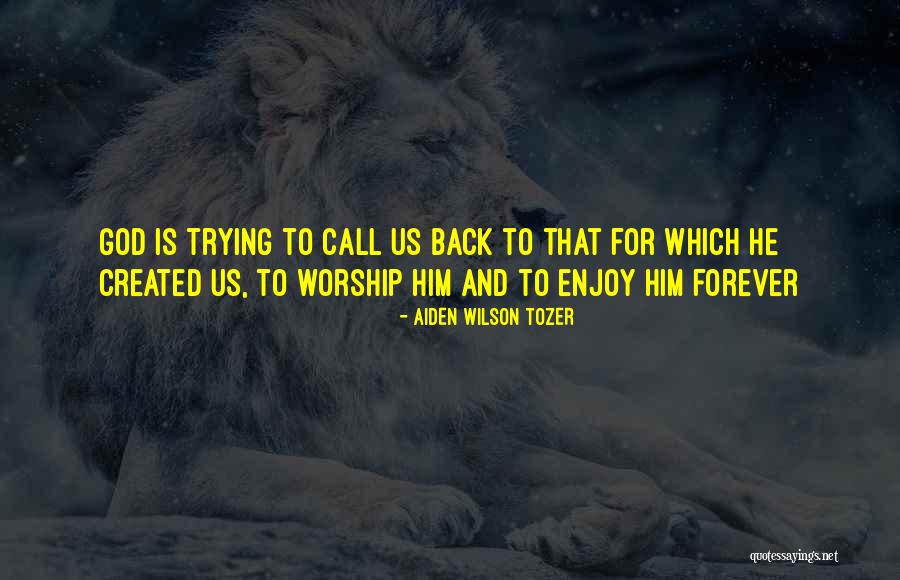 God is trying to call us back to that for which He created us, to worship Him and to enjoy Him forever — Aiden Wilson Tozer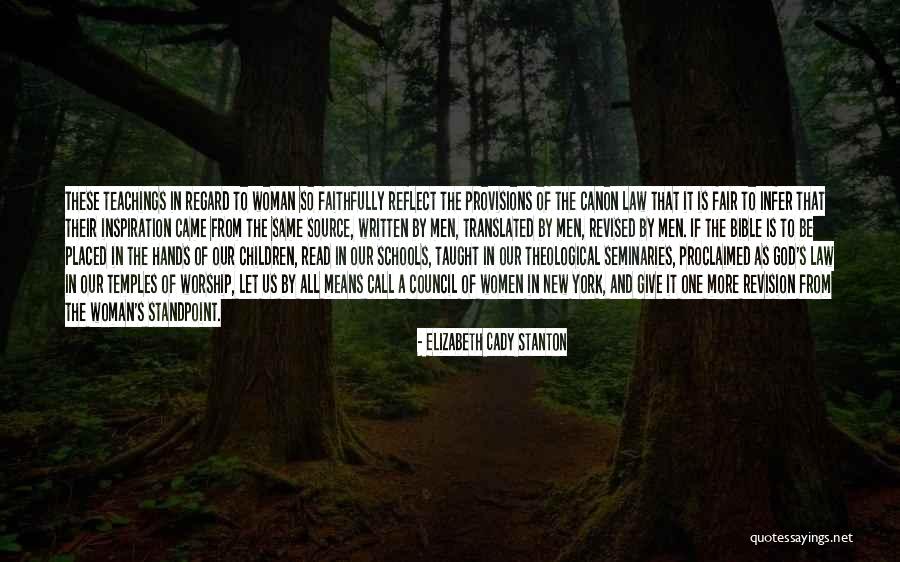 These teachings in regard to woman so faithfully reflect the provisions of the canon law that it is fair to infer that their inspiration came from the same source, written by men, translated by men, revised by men. If the Bible is to be placed in the hands of our children, read in our schools, taught in our theological seminaries, proclaimed as God's law in our temples of worship, let us by all means call a council of women in New York, and give it one more revision from the woman's standpoint. — Elizabeth Cady Stanton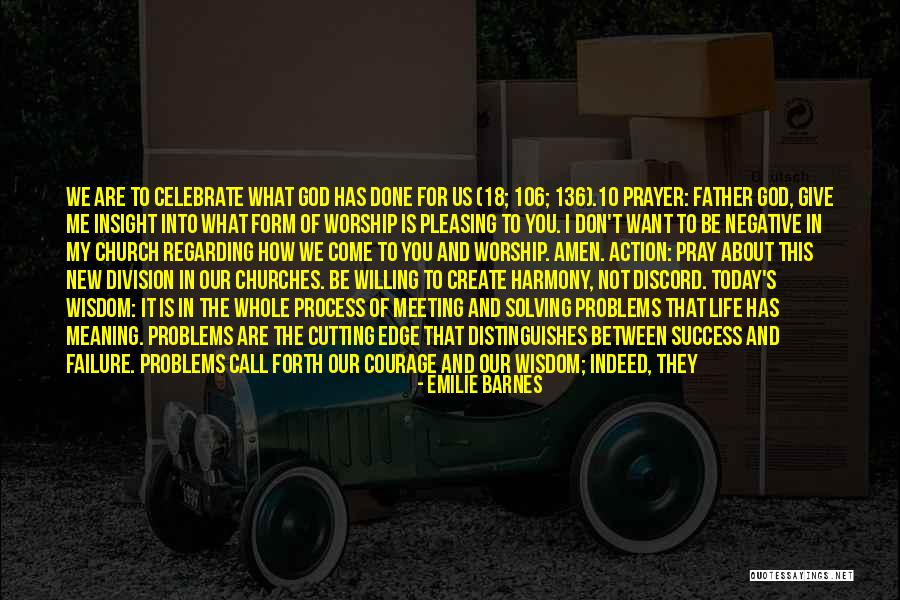 We are to celebrate what God has done for us (18; 106; 136).10 Prayer: Father God, give me insight into what form of worship is pleasing to You. I don't want to be negative in my church regarding how we come to You and worship. Amen. Action: Pray about this new division in our churches. Be willing to create harmony, not discord. Today's Wisdom: It is in the whole process of meeting and solving problems that life has meaning. Problems are the cutting edge that distinguishes between success and failure. Problems call forth our courage and our wisdom; indeed, they create our courage and our wisdom. It is only because of problems that we grow mentally and spiritually. It is through the pain of confronting and resolving problems that we learn. - M. SCOTT PECK — Emilie Barnes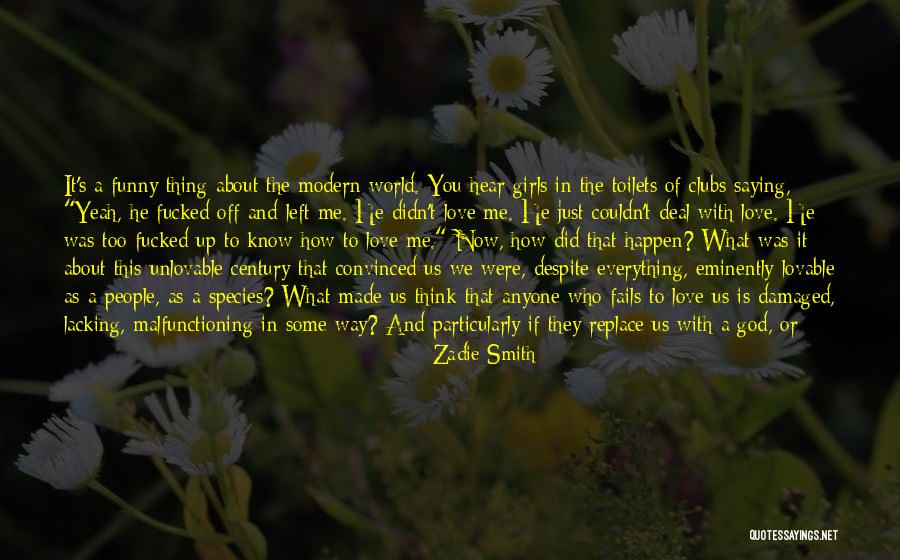 It's a funny thing about the modern world. You hear girls in the toilets of clubs saying, "Yeah, he fucked off and left me. He didn't love me. He just couldn't deal with love. He was too fucked up to know how to love me." Now, how did that happen? What was it about this unlovable century that convinced us we were, despite everything, eminently lovable as a people, as a species? What made us think that anyone who fails to love us is damaged, lacking, malfunctioning in some way? And particularly if they replace us with a god, or a weeping madonna, or the face of Christ in a ciabatta roll
then we call them crazy. Deluded. Regressive. We are so convinced of the goodness of ourselves, and the goodness of our love, we cannot bear to believe that there might be something more worthy of love than us, more worthy of worship. Greeting cards routinely tell us everybody deserves love. No. Everybody deserves clean water. Not everybody deserves love all the time. — Zadie Smith
All people who worship Allah, not each other, are equal before Him. We are entrusted to spread this message and to extend that call to all the people. — Osama Bin Laden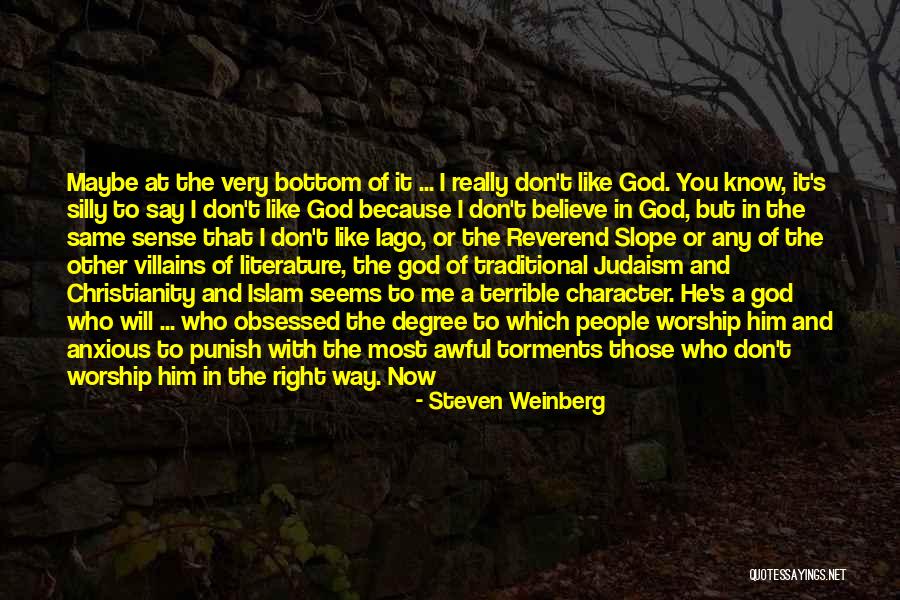 Maybe at the very bottom of it ... I really don't like God. You know, it's silly to say I don't like God because I don't believe in God, but in the same sense that I don't like Iago, or the Reverend Slope or any of the other villains of literature, the god of traditional Judaism and Christianity and Islam seems to me a terrible character. He's a god who will ... who obsessed the degree to which people worship him and anxious to punish with the most awful torments those who don't worship him in the right way. Now I realise that many people don't believe in that any more who call themselves Muslims or Jews or Christians, but that is the traditional God and he's a terrible character. I don't like him. — Steven Weinberg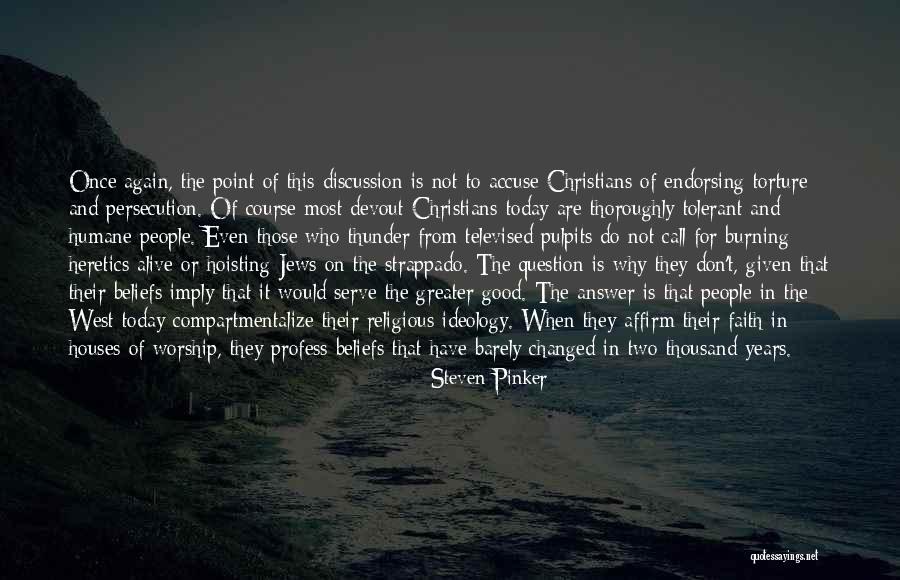 Once again, the point of this discussion is not to accuse Christians of endorsing torture and persecution. Of course most devout Christians today are thoroughly tolerant and humane people. Even those who thunder from televised pulpits do not call for burning heretics alive or hoisting Jews on the strappado. The question is why they don't, given that their beliefs imply that it would serve the greater good. The answer is that people in the West today compartmentalize their religious ideology. When they affirm their faith in houses of worship, they profess beliefs that have barely changed in two thousand years. But when it comes to their actions, they respect modern norms of nonviolence and toleration, a benevolent hypocrisy for which we should all be grateful. — Steven Pinker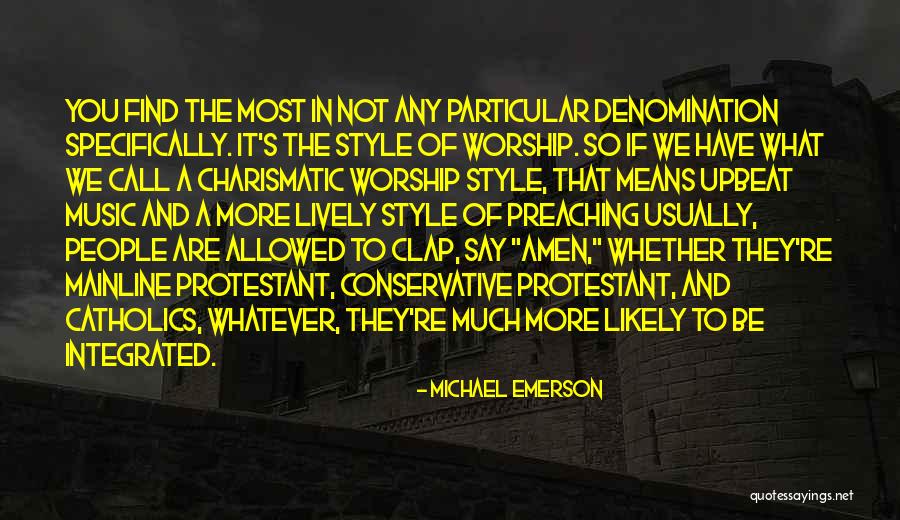 You find the most in not any particular denomination specifically. It's the style of worship. So if we have what we call a charismatic worship style, that means upbeat music and a more lively style of preaching usually, people are allowed to clap, say "Amen," whether they're mainline Protestant, conservative Protestant, and Catholics, whatever, they're much more likely to be integrated. — Michael Emerson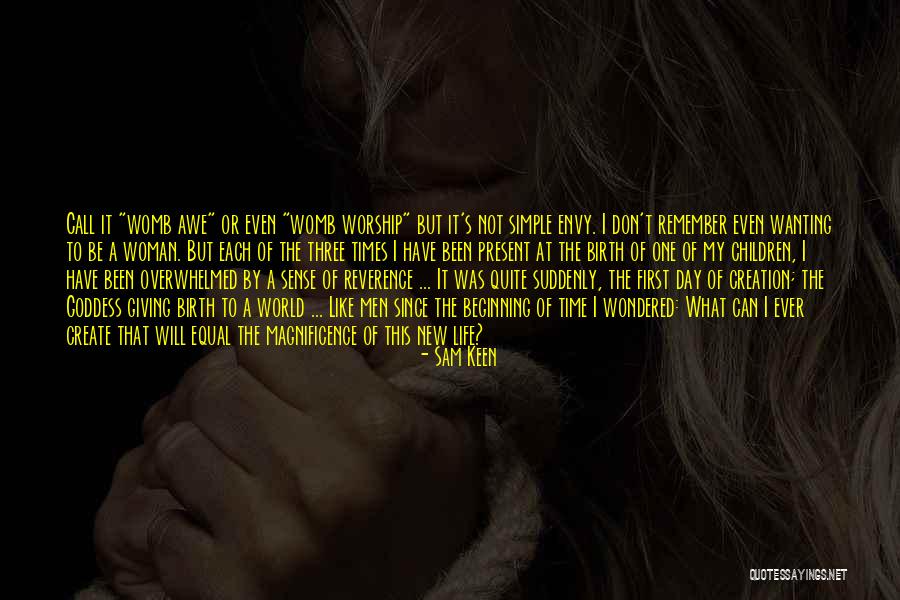 Call it "womb awe" or even "womb worship" but it's not simple envy. I don't remember even wanting to be a woman. But each of the three times I have been present at the birth of one of my children, I have been overwhelmed by a sense of reverence ... It was quite suddenly, the first day of creation; the Goddess giving birth to a world ... Like men since the beginning of time I wondered: What can I ever create that will equal the magnificence of this new life? — Sam Keen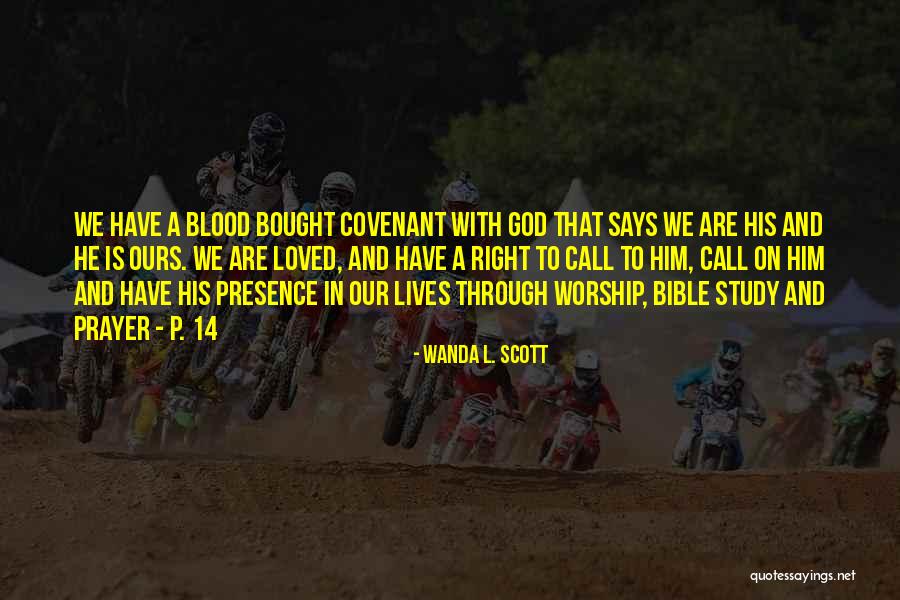 We have a blood bought covenant with God that says we are His and He is ours. We are loved, and have a right to call to Him, call on Him and have His presence in our lives through worship, bible study and prayer - p. 14 — Wanda L. Scott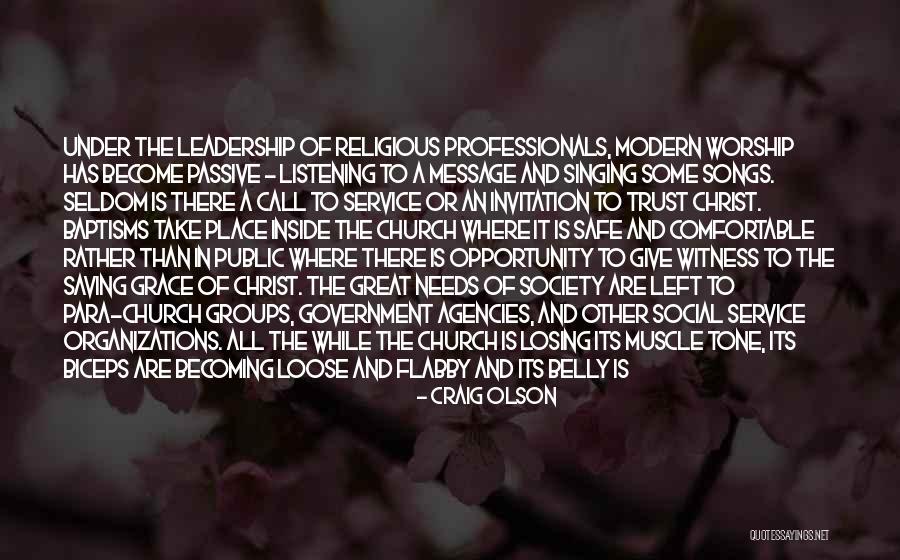 Under the leadership of religious professionals, modern worship has become passive - listening to a message and singing some songs. Seldom is there a call to service or an invitation to trust Christ. Baptisms take place inside the church where it is safe and comfortable rather than in public where there is opportunity to give witness to the saving grace of Christ. The great needs of society are left to para-church groups, government agencies, and other social service organizations. All the while the church is losing its muscle tone, its biceps are becoming loose and flabby and its belly is becoming round and soft. Not a pretty picture for one who once was toned and buff - a lean, mean fighting machine. — Craig Olson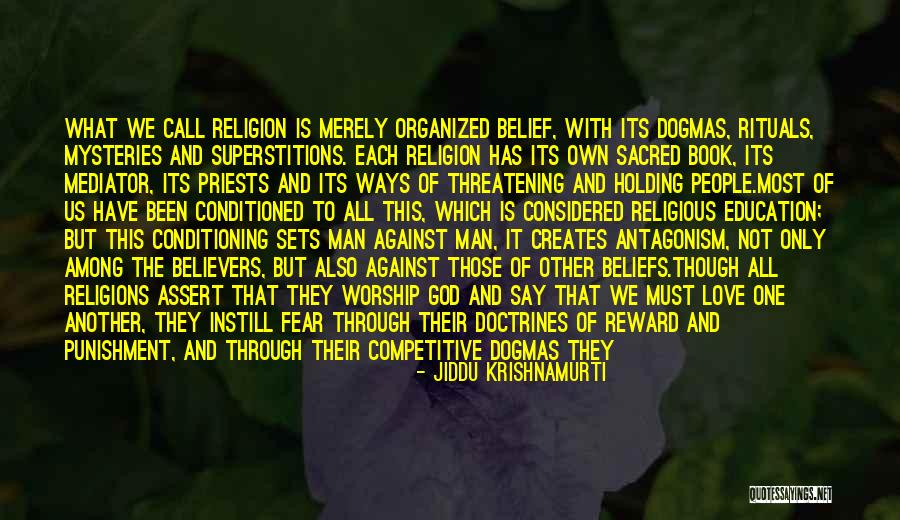 What we call religion is merely organized belief, with its dogmas, rituals, mysteries and superstitions. Each religion has its own sacred book, its mediator, its priests and its ways of threatening and holding people.
Most of us have been conditioned to all this, which is considered religious education; but this conditioning sets man against man, it creates antagonism, not only among the believers, but also against those of other beliefs.
Though all religions assert that they worship God and say that we must love one another, they instill fear through their doctrines of reward and punishment, and through their competitive dogmas they perpetuate suspicion and antagonism. — Jiddu Krishnamurti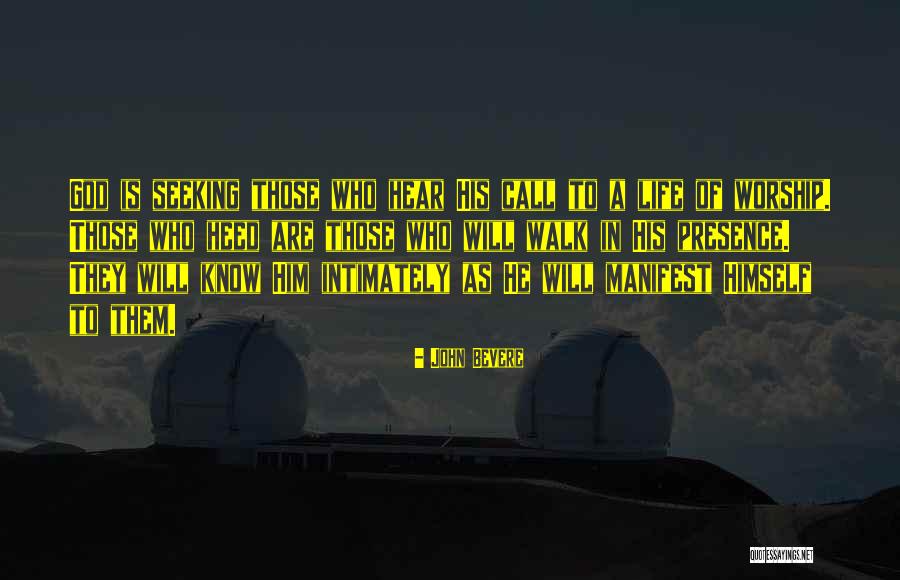 God is seeking those who hear His call to a life of worship. Those who heed are those who will walk in His presence. They will know Him intimately as He will manifest Himself to them. — John Bevere
Everything teaches, whether you intend it to or not. The songs teach people doctrine and proper affections for God. Your prayers (or lack of them) teach people how to pray themselves. The kinds of prayers you pray (or don't pray) teach people about the important differences between prayers of adoration, confession, thanksgiving, and supplication. The way you administer the ordinances teaches people about their meaning, and even the very meaning of the Gospel. Your preaching teaches people how to study and use the Bible appropriately. Everything from the call to worship to the benediction counts as teaching. Teaching is everything. — Mark Dever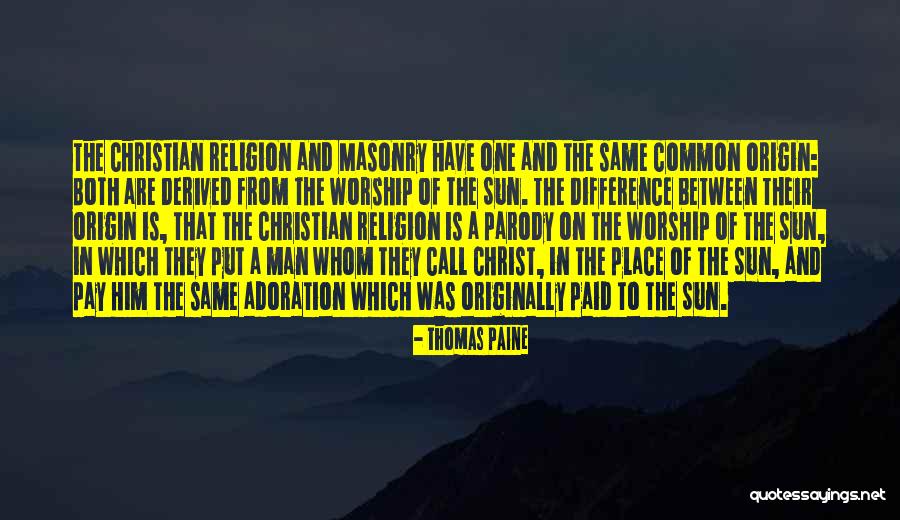 The Christian religion and Masonry have one and the same common origin: Both are derived from the worship of the Sun. The difference between their origin is, that the Christian religion is a parody on the worship of the Sun, in which they put a man whom they call Christ, in the place of the Sun, and pay him the same adoration which was originally paid to the Sun. — Thomas Paine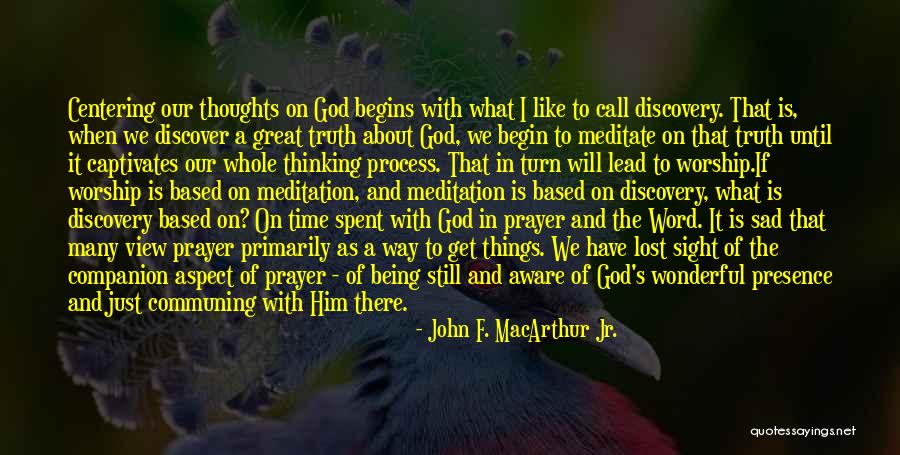 Centering our thoughts on God begins with what I like to call discovery. That is, when we discover a great truth about God, we begin to meditate on that truth until it captivates our whole thinking process. That in turn will lead to worship.
If worship is based on meditation, and meditation is based on discovery, what is discovery based on? On time spent with God in prayer and the Word. It is sad that many view prayer primarily as a way to get things. We have lost sight of the companion aspect of prayer - of being still and aware of God's wonderful presence and just communing with Him there. — John F. MacArthur Jr.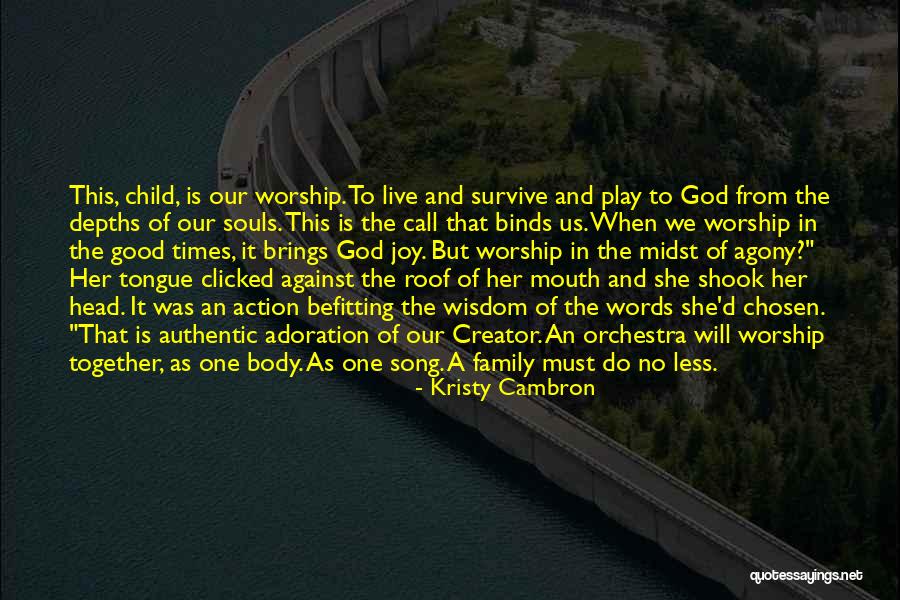 This, child, is our worship. To live and survive and play to God from the depths of our souls. This is the call that binds us. When we worship in the good times, it brings God joy. But worship in the midst of agony?" Her tongue clicked against the roof of her mouth and she shook her head. It was an action befitting the wisdom of the words she'd chosen. "That is authentic adoration of our Creator. An orchestra will worship together, as one body. As one song. A family must do no less. — Kristy Cambron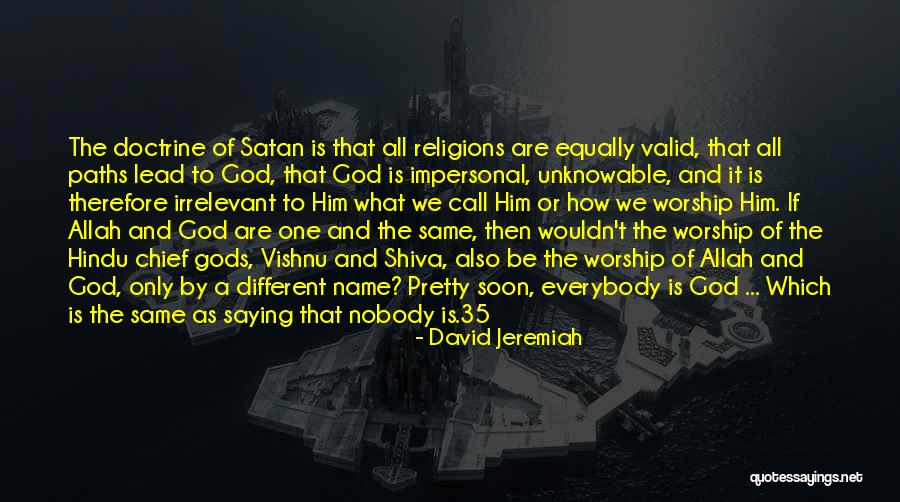 The doctrine of Satan is that all religions are equally valid, that all paths lead to God, that God is impersonal, unknowable, and it is therefore irrelevant to Him what we call Him or how we worship Him. If Allah and God are one and the same, then wouldn't the worship of the Hindu chief gods, Vishnu and Shiva, also be the worship of Allah and God, only by a different name? Pretty soon, everybody is God ... Which is the same as saying that nobody is.35 — David Jeremiah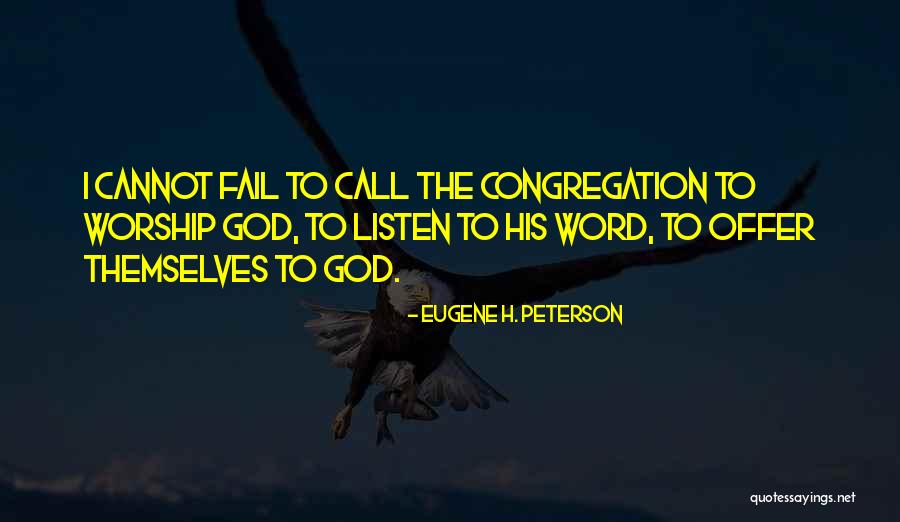 I cannot fail to call the congregation to worship God, to listen to his Word, to offer themselves to God. — Eugene H. Peterson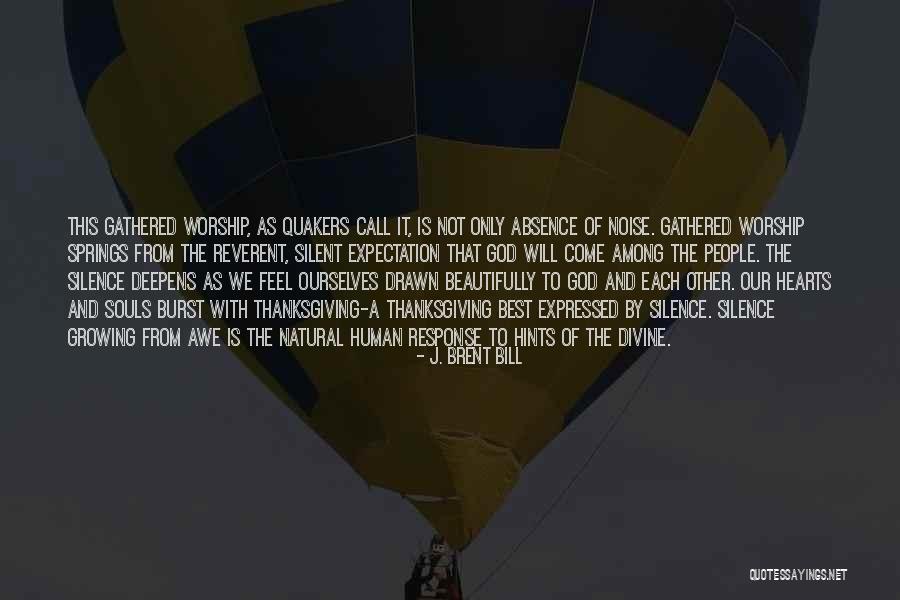 This gathered worship, as Quakers call it, is not only absence of noise. Gathered worship springs from the reverent, silent expectation that God will come among the people. The silence deepens as we feel ourselves drawn beautifully to God and each other. Our hearts and souls burst with thanksgiving-a thanksgiving best expressed by silence. Silence growing from awe is the natural human response to hints of the Divine. — J. Brent Bill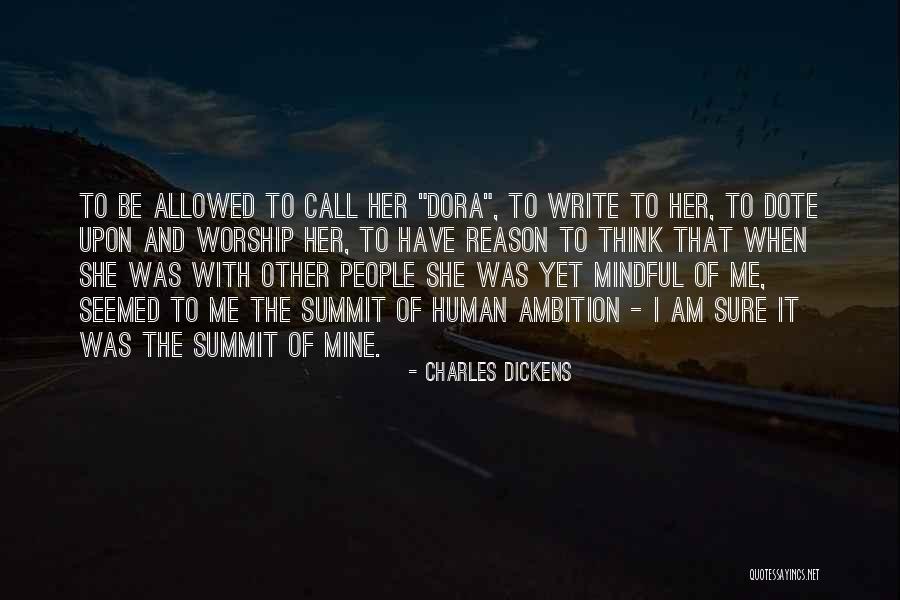 To be allowed to call her "Dora", to write to her, to dote upon and worship her, to have reason to think that when she was with other people she was yet mindful of me, seemed to me the summit of human ambition - I am sure it was the summit of mine. — Charles Dickens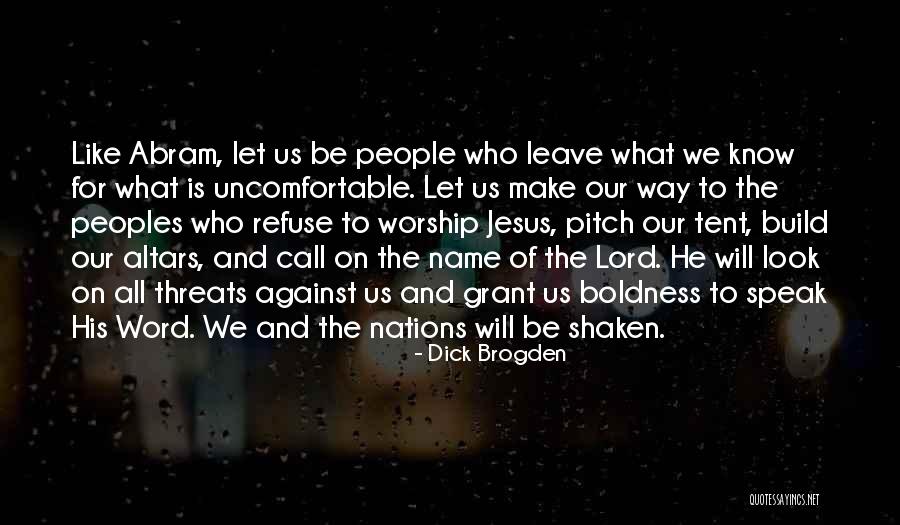 Like Abram, let us be people who leave what we know for what is uncomfortable. Let us make our way to the peoples who refuse to worship Jesus, pitch our tent, build our altars, and call on the name of the Lord. He will look on all threats against us and grant us boldness to speak His Word. We and the nations will be shaken. — Dick Brogden