Bubble Bursting Quotes & Sayings
Enjoy reading and share 14 famous quotes about Bubble Bursting with everyone.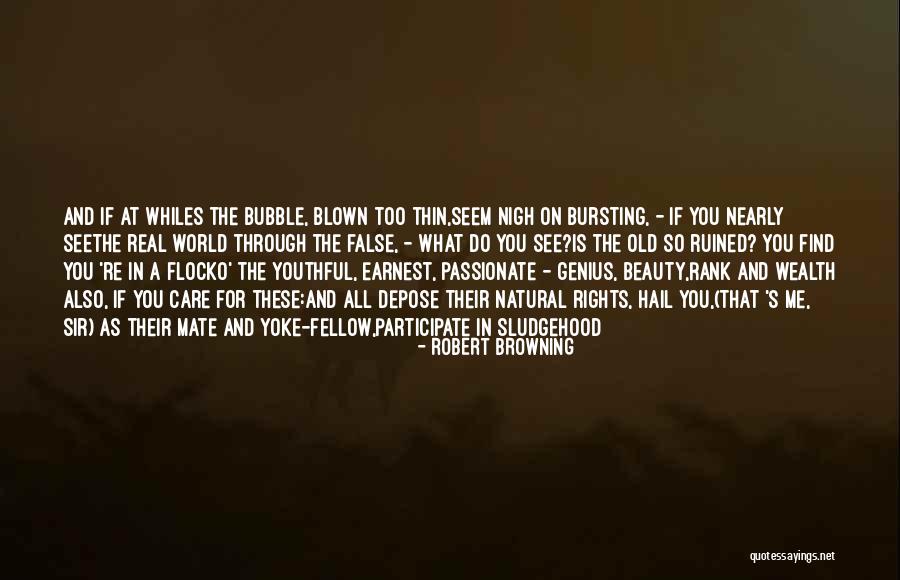 And if at whiles the bubble, blown too thin,
Seem nigh on bursting, - if you nearly see
The real world through the false, - what do you see?
Is the old so ruined? You find you 're in a flock
O' the youthful, earnest, passionate - genius, beauty,
Rank and wealth also, if you care for these:
And all depose their natural rights, hail you,
(That 's me, sir) as their mate and yoke-fellow,
Participate in Sludgehood — Robert Browning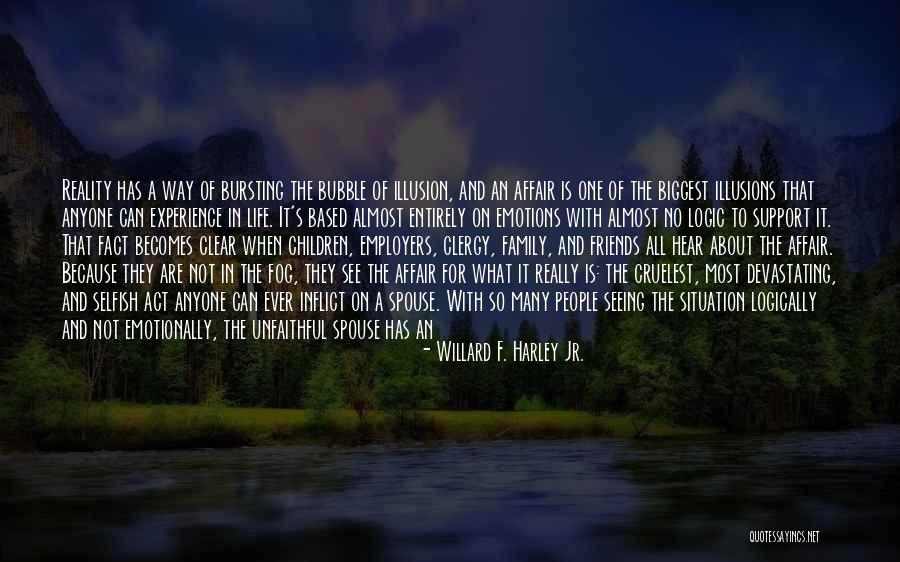 Reality has a way of bursting the bubble of illusion, and an affair is one of the biggest illusions that anyone can experience in life. It's based almost entirely on emotions with almost no logic to support it.

That fact becomes clear when children, employers, clergy, family, and friends all hear about the affair. Because they are not in the fog, they see the affair for what it really is: the cruelest, most devastating, and selfish act anyone can ever inflict on a spouse. With so many people seeing the situation logically and not emotionally, the unfaithful spouse has an opportunity to be advised and influenced by these people. Furthermore, the betrayed spouse gains support when he or she needs it the most. — Willard F. Harley Jr.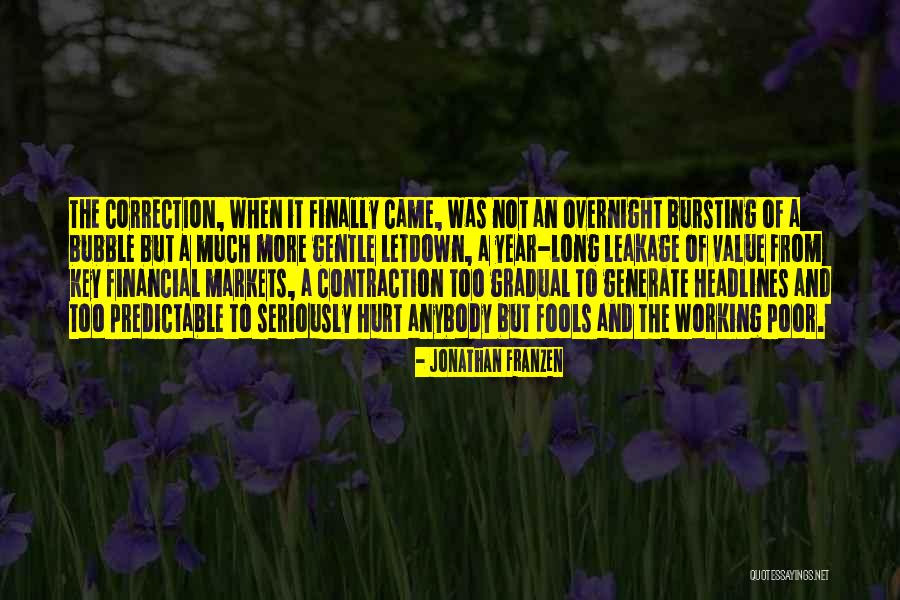 THE CORRECTION, when it finally came, was not an overnight bursting of a bubble but a much more gentle letdown, a year-long leakage of value from key financial markets, a contraction too gradual to generate headlines and too predictable to seriously hurt anybody but fools and the working poor. — Jonathan Franzen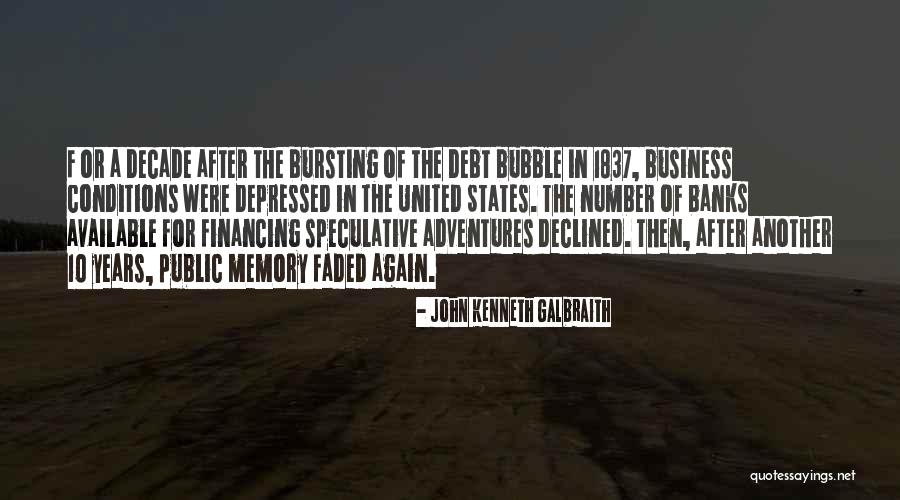 F or a decade after the bursting of the debt bubble in 1837, business conditions were depressed in the United States. The number of banks available for financing speculative adventures declined. Then, after another 10 years, public memory faded again. — John Kenneth Galbraith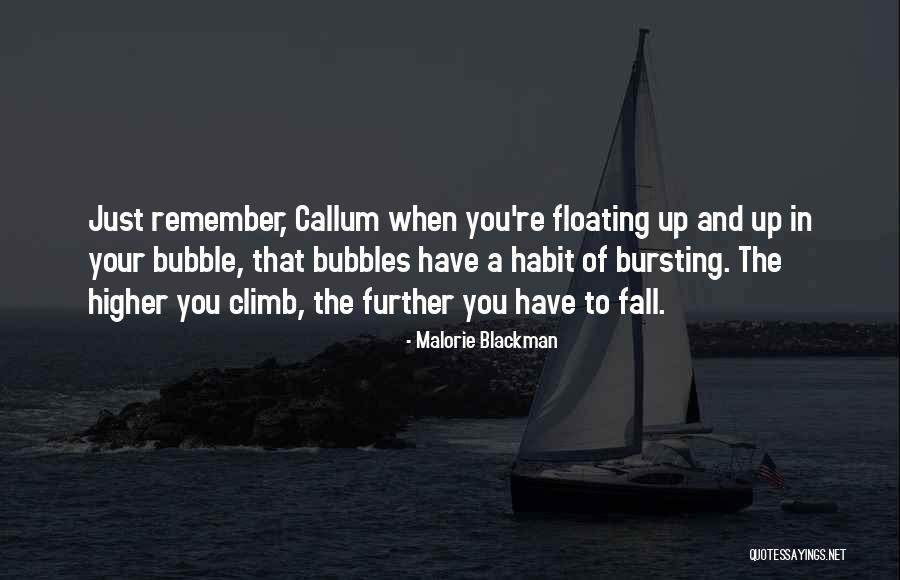 Just remember, Callum when you're floating up and up in your bubble, that bubbles have a habit of bursting. The higher you climb, the further you have to fall. — Malorie Blackman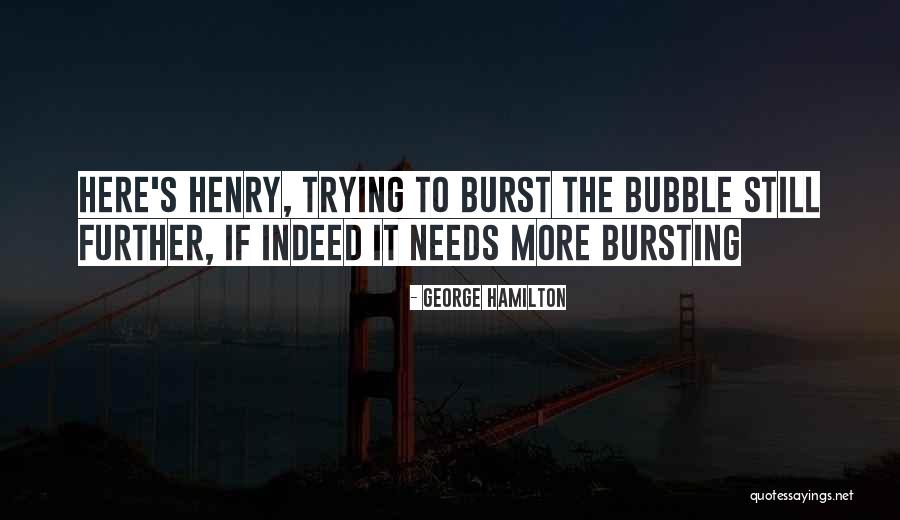 Here's Henry, trying to burst the bubble still further, if indeed it needs more bursting — George Hamilton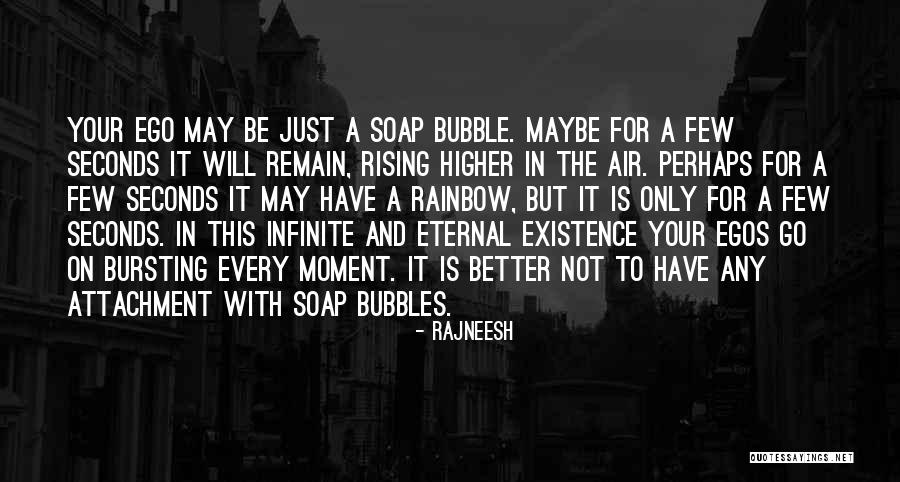 Your ego may be just a soap bubble. Maybe for a few seconds it will remain, rising higher in the air. Perhaps for a few seconds it may have a rainbow, but it is only for a few seconds. In this infinite and eternal existence your egos go on bursting every moment. It is better not to have any attachment with soap bubbles. — Rajneesh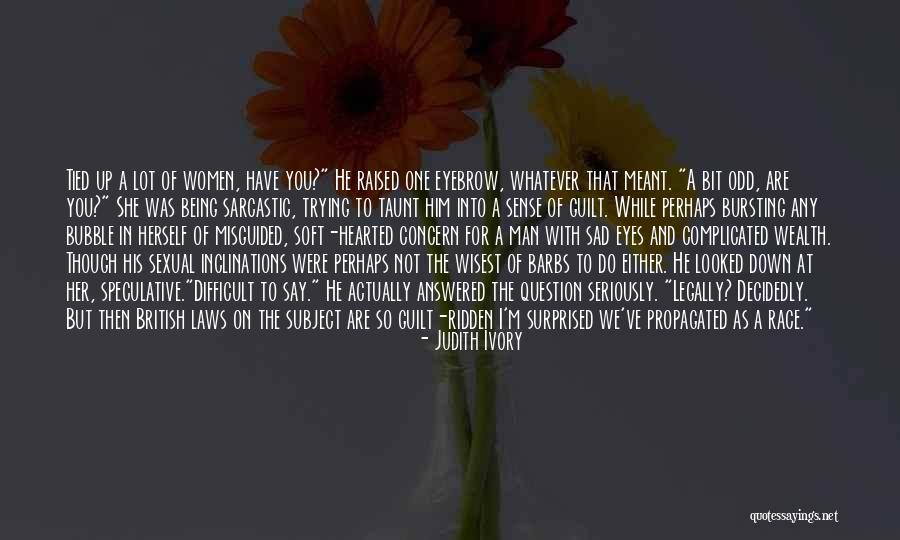 Tied up a lot of women, have you?" He raised one eyebrow, whatever that meant. "A bit odd, are you?" She was being sarcastic, trying to taunt him into a sense of guilt. While perhaps bursting any bubble in herself of misguided, soft-hearted concern for a man with sad eyes and complicated wealth. Though his sexual inclinations were perhaps not the wisest of barbs to do either. He looked down at her, speculative.
"Difficult to say." He actually answered the question seriously. "Legally? Decidedly. But then British laws on the subject are so guilt-ridden I'm surprised we've propagated as a race." He mad a small, grim smile. "How delightful we're having this conversation. And what is it you like? — Judith Ivory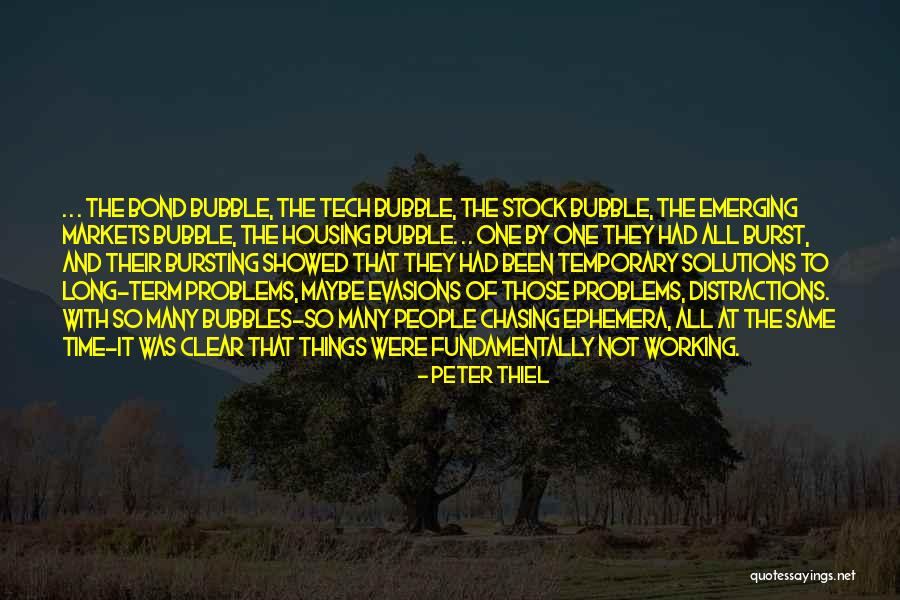 . . . the bond bubble, the tech bubble, the stock bubble, the emerging markets bubble, the housing bubble. . . One by one they had all burst, and their bursting showed that they had been temporary solutions to long-term problems, maybe evasions of those problems, distractions. With so many bubbles-so many people chasing ephemera, all at the same time-it was clear that things were fundamentally not working. — Peter Thiel
We escaped the last big bursting of a bubble - the dotcom bubble - with a relatively light U.S. recession. On that occasion, the world economy found its way back on track fairly quickly. — Evan Davis
It was as if I were carrying around all the places I'd ever lived, and nothing I was seeing was just what it was - it was all of the places, all smooshed together. My bubble was fairly bursting by the time I got home, what with all that stuff crammed in there. — Sharon Creech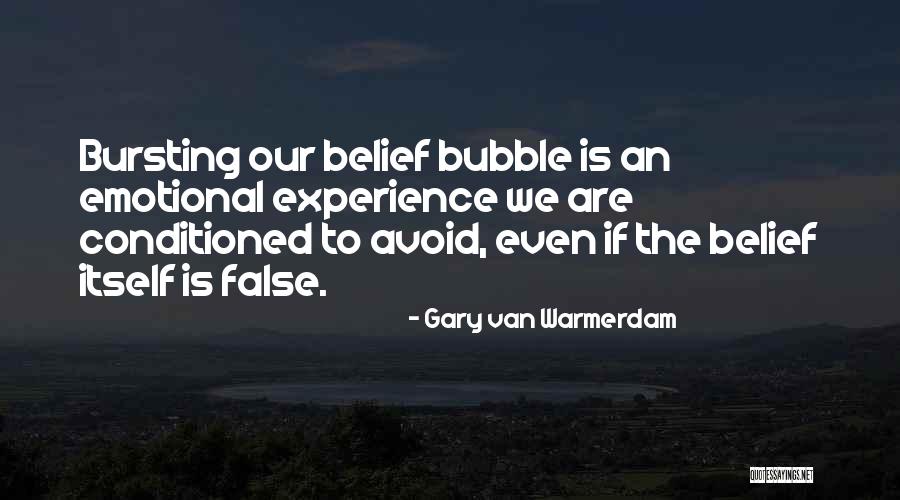 Bursting our belief bubble is an emotional experience we are conditioned to avoid, even if the belief itself is false. — Gary Van Warmerdam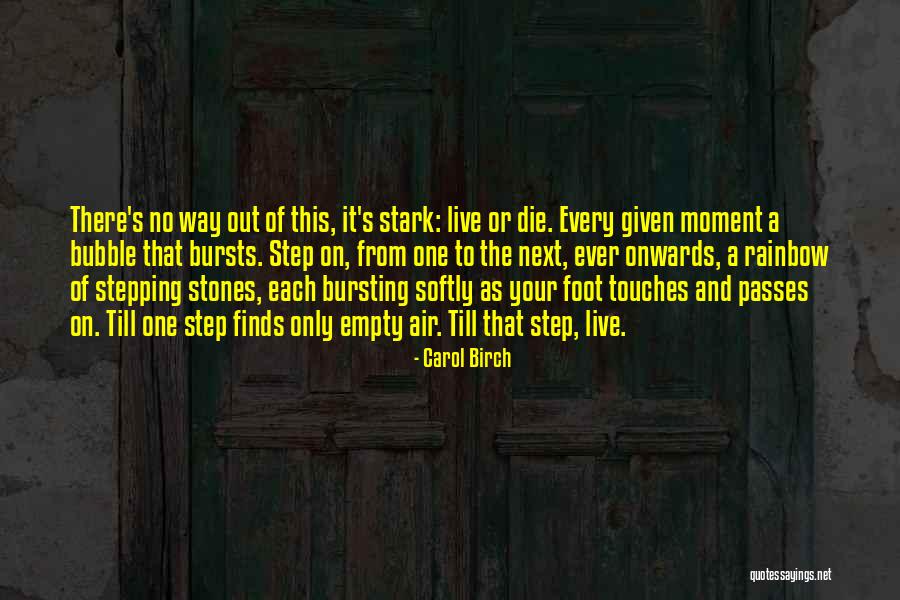 There's no way out of this, it's stark: live or die. Every given moment a bubble that bursts. Step on, from one to the next, ever onwards, a rainbow of stepping stones, each bursting softly as your foot touches and passes on. Till one step finds only empty air. Till that step, live. — Carol Birch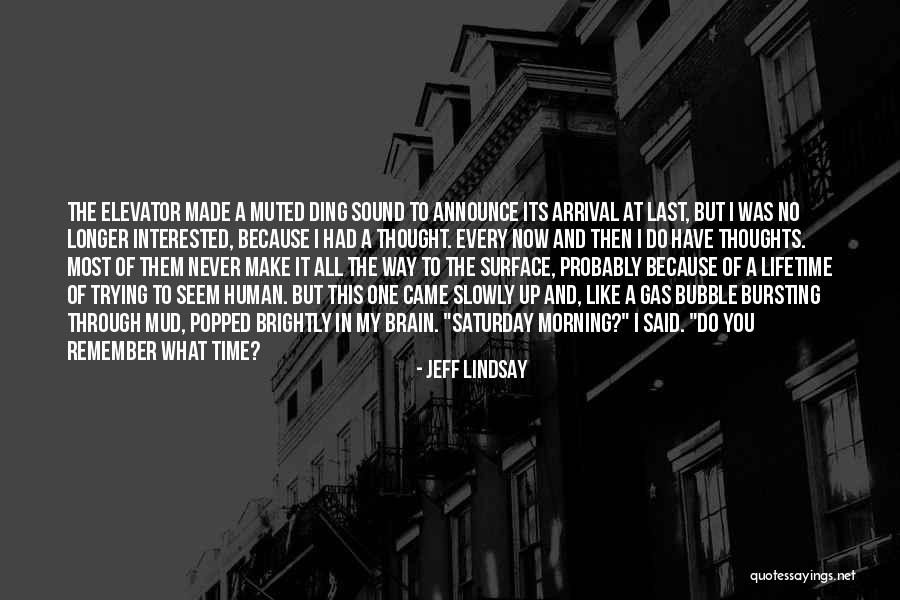 The elevator made a muted ding sound to announce its arrival at last, but I was no longer interested, because I had a thought. Every now and then I do have thoughts. Most of them never make it all the way to the surface, probably because of a lifetime of trying to seem human. But this one came slowly up and, like a gas bubble bursting through mud, popped brightly in my brain. "Saturday morning?" I said. "Do you remember what time? — Jeff Lindsay