Broken Married Life Quotes & Sayings
Enjoy reading and share 6 famous quotes about Broken Married Life with everyone.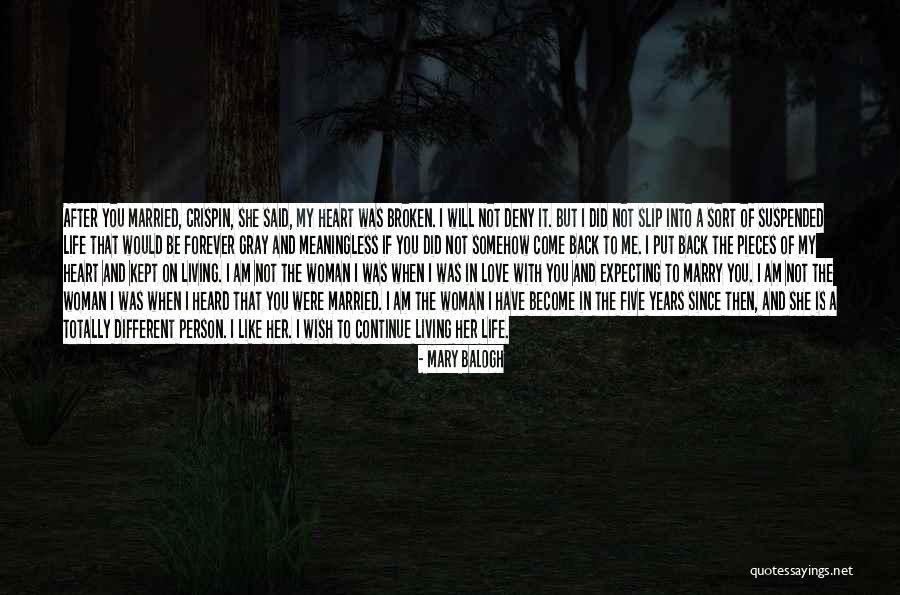 After you married, Crispin, she said, my heart was broken. I will not deny it. But I did not slip into a sort of suspended life that would be forever gray and meaningless if you did not somehow come back to me. I put back the pieces of my heart and kept on living. I am not the woman I was when I was in love with you and expecting to marry you. I am not the woman I was when I heard that you were married. I am the woman I have become in the five years since then, and she is a totally different person. I like her. I wish to continue living her life. — Mary Balogh
The empty, hollow sound of her laughter spoke of her despair. "I was raised that good girls get married and have kids. They do what their husbands say, make sure the meals are on the table." She wiped angrily at her uninjured eye. "I thought I was doing what I was supposed to. I thought that was what love was."

Her words hit Chris in the gut. How was what he was doing any different? He had this picture in his head of what love and a relationship were supposed to look like.

But looking at this broken and battered woman, she had the picture-perfect life. The ideal. And behind the scenes there was nothing idyllic about it. This woman would be better off alone. It was sad the things people were willing to accept trying to hold on to a dream. Hell, he didn't even know if the dream existed. — Lauren Fraser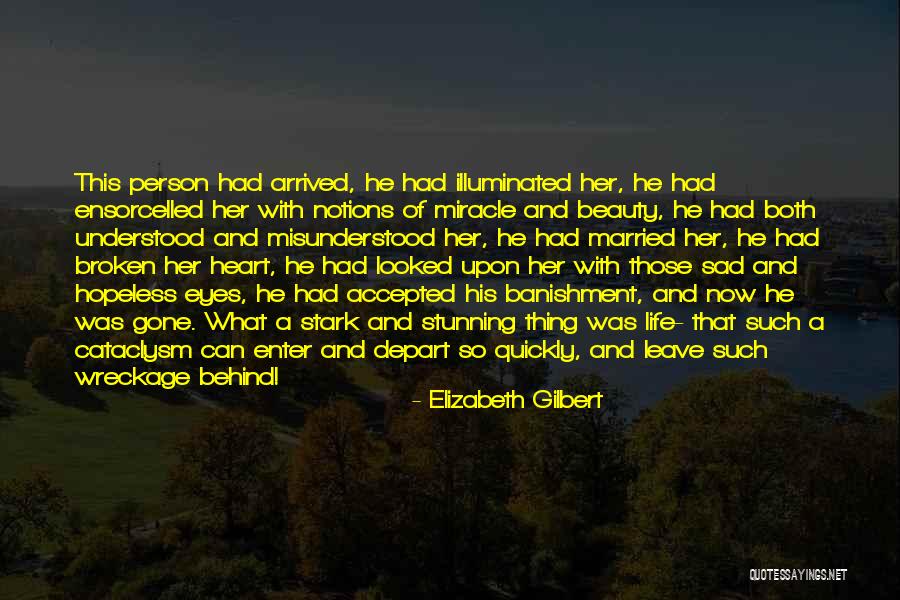 This person had arrived, he had illuminated her, he had ensorcelled her with notions of miracle and beauty, he had both understood and misunderstood her, he had married her, he had broken her heart, he had looked upon her with those sad and hopeless eyes, he had accepted his banishment, and now he was gone. What a stark and stunning thing was life- that such a cataclysm can enter and depart so quickly, and leave such wreckage behind! — Elizabeth Gilbert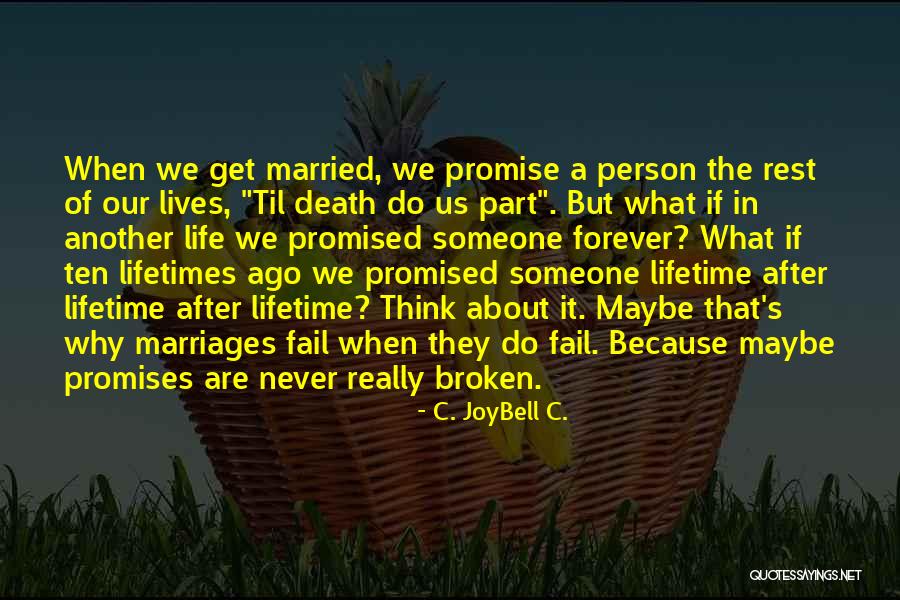 When we get married, we promise a person the rest of our lives, "Til death do us part". But what if in another life we promised someone forever? What if ten lifetimes ago we promised someone lifetime after lifetime after lifetime? Think about it. Maybe that's why marriages fail when they do fail. Because maybe promises are never really broken. — C. JoyBell C.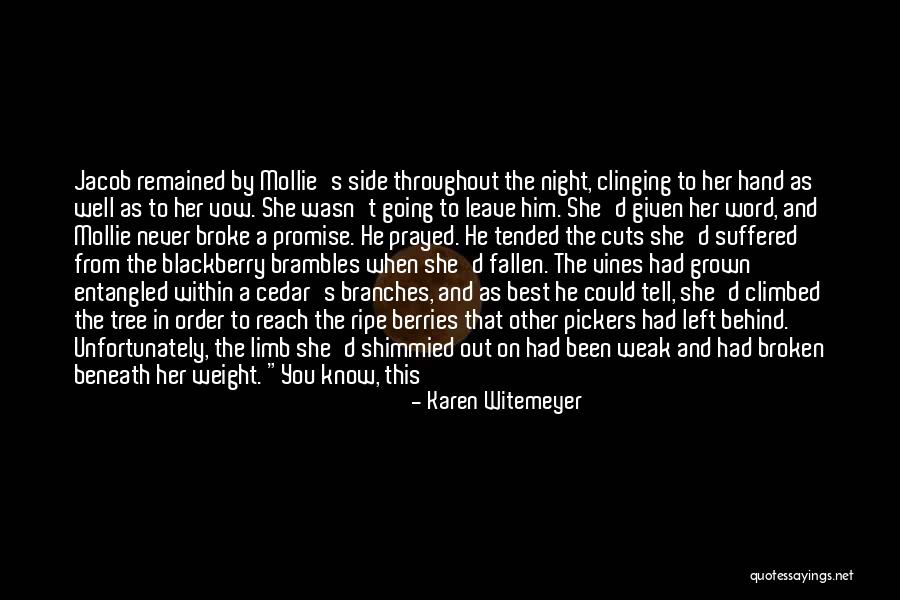 Jacob remained by Mollie's side throughout the night, clinging to her hand as well as to her vow. She wasn't going to leave him. She'd given her word, and Mollie never broke a promise. He prayed. He tended the cuts she'd suffered from the blackberry brambles when she'd fallen. The vines had grown entangled within a cedar's branches, and as best he could tell, she'd climbed the tree in order to reach the ripe berries that other pickers had left behind. Unfortunately, the limb she'd shimmied out on had been weak and had broken beneath her weight. "You know, this tree climbing and dropping through busted church floors is going to have to stop after we're married. My heart won't be able to take the stress." He smiled and ran the back of his finger down the smooth line of her cheek. "Not that I expect any dictate I give you to have much effect. My only hope is that you'll grow to care enough about me that you'll take pity on me and cease taking unnecessary risks with your life. — Karen Witemeyer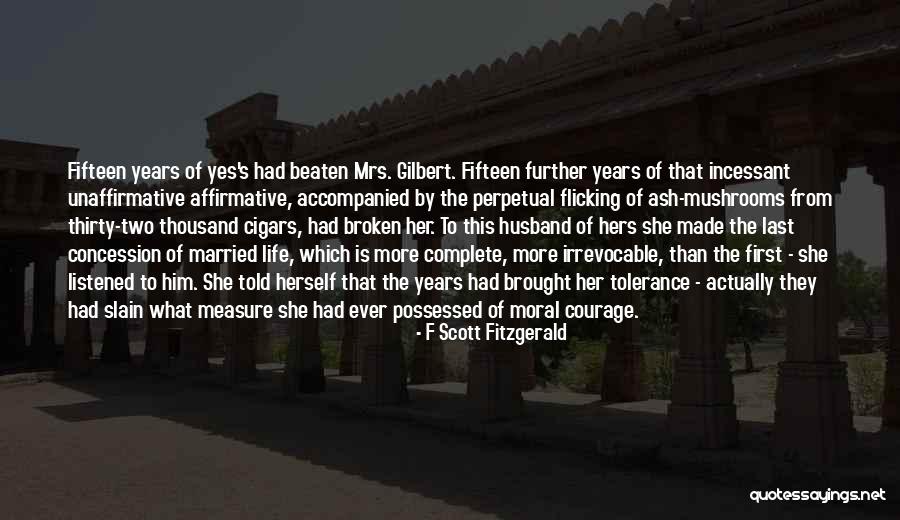 Fifteen years of yes's had beaten Mrs. Gilbert. Fifteen further years of that incessant unaffirmative affirmative, accompanied by the perpetual flicking of ash-mushrooms from thirty-two thousand cigars, had broken her. To this husband of hers she made the last concession of married life, which is more complete, more irrevocable, than the first - she listened to him. She told herself that the years had brought her tolerance - actually they had slain what measure she had ever possessed of moral courage. — F Scott Fitzgerald