Best Presumptuous Quotes & Sayings
Enjoy reading and share 44 famous quotes about Best Presumptuous with everyone.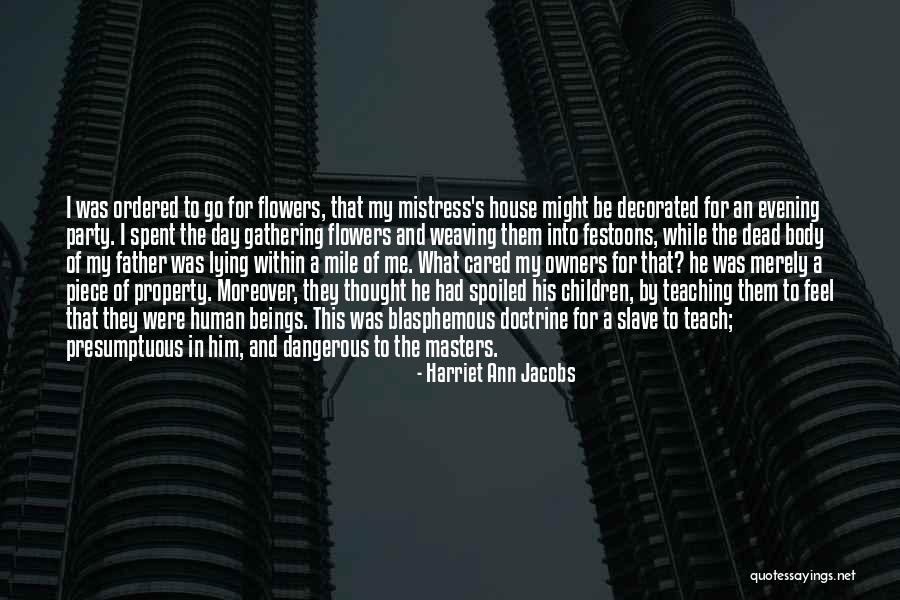 I was ordered to go for flowers, that my mistress's house might be decorated for an evening party. I spent the day gathering flowers and weaving them into festoons, while the dead body of my father was lying within a mile of me. What cared my owners for that? he was merely a piece of property. Moreover, they thought he had spoiled his children, by teaching them to feel that they were human beings. This was blasphemous doctrine for a slave to teach; presumptuous in him, and dangerous to the masters. — Harriet Ann Jacobs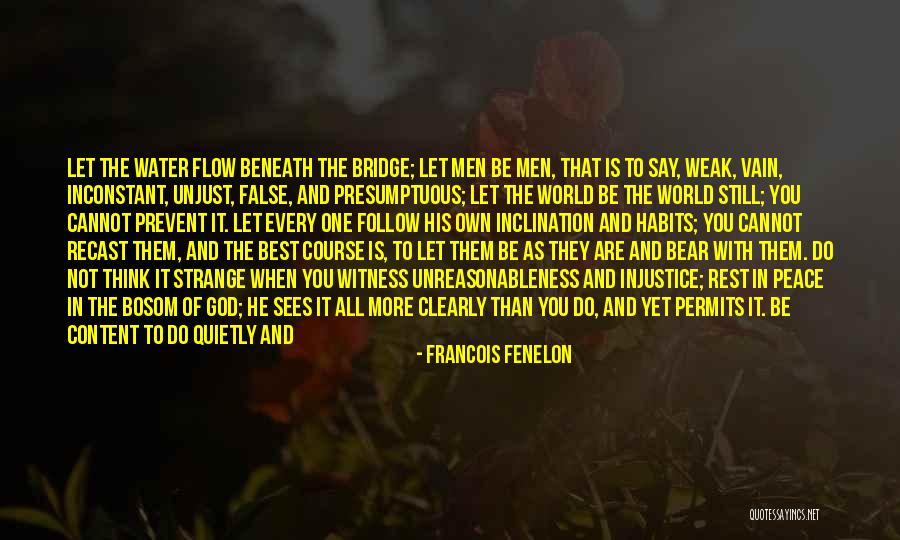 Let the water flow beneath the bridge; let men be men, that is to say, weak, vain, inconstant, unjust, false, and presumptuous; let the world be the world still; you cannot prevent it. Let every one follow his own inclination and habits; you cannot recast them, and the best course is, to let them be as they are and bear with them. Do not think it strange when you witness unreasonableness and injustice; rest in peace in the bosom of God; He sees it all more clearly than you do, and yet permits it. Be content to do quietly and gently what it becomes you to do, and let everything else be to you as though it were not. — Francois Fenelon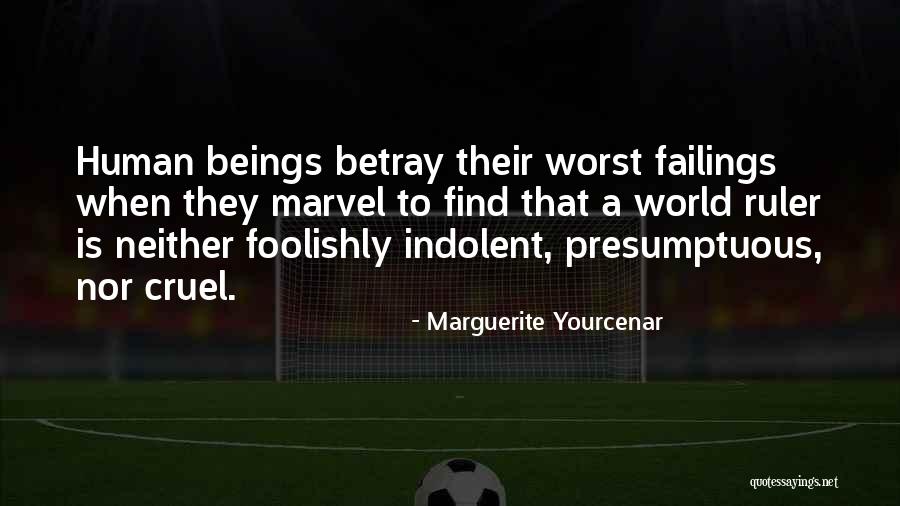 Human beings betray their worst failings when they marvel to find that a world ruler is neither foolishly indolent, presumptuous, nor cruel. — Marguerite Yourcenar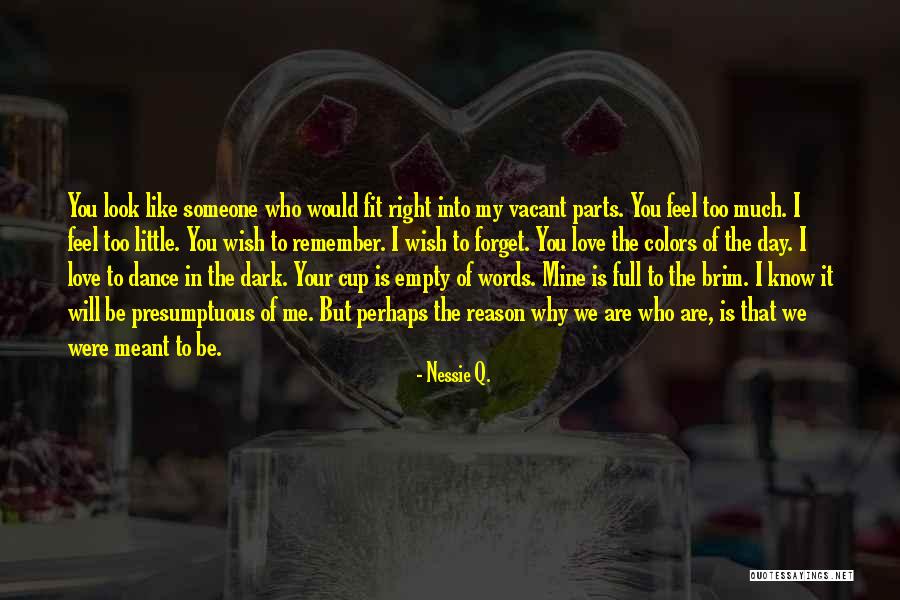 You look like someone who would fit right into my vacant parts. You feel too much. I feel too little. You wish to remember. I wish to forget. You love the colors of the day. I love to dance in the dark. Your cup is empty of words. Mine is full to the brim. I know it will be presumptuous of me. But perhaps the reason why we are who are, is that we were meant to be. — Nessie Q.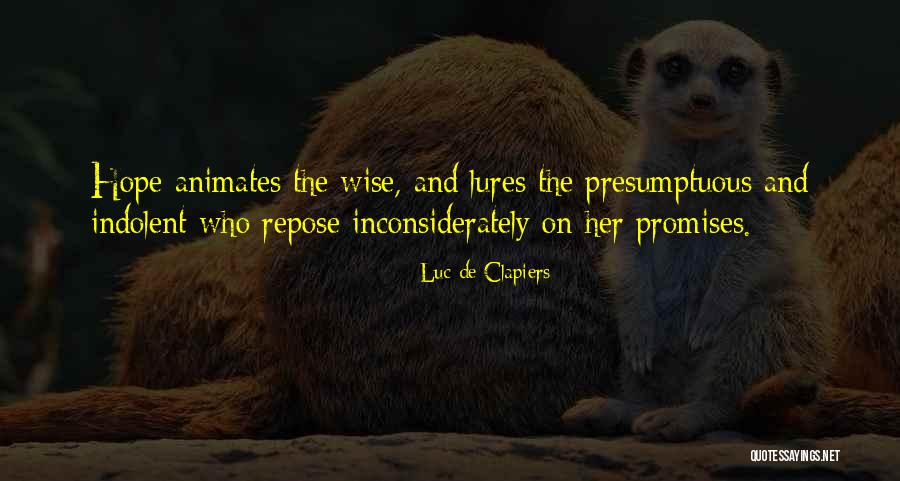 Hope animates the wise, and lures the presumptuous and indolent who repose inconsiderately on her promises. — Luc De Clapiers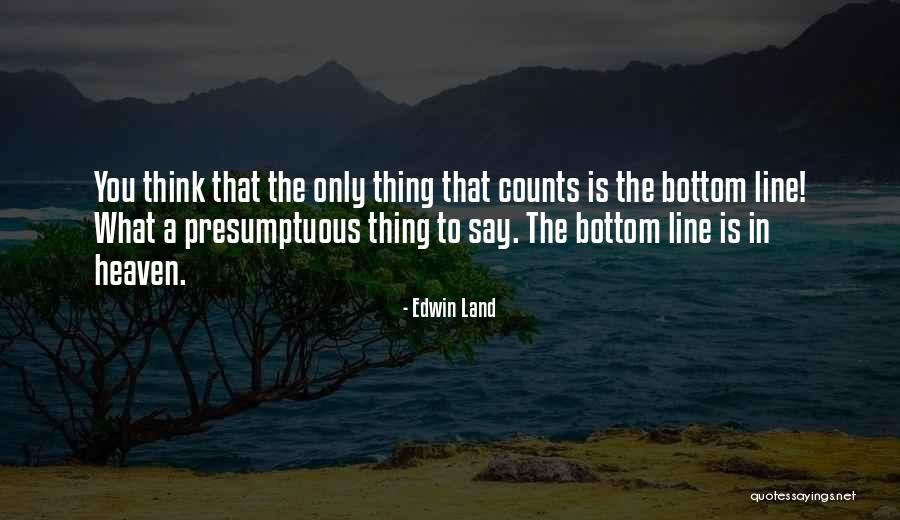 You think that the only thing that counts is the bottom line! What a presumptuous thing to say. The bottom line is in heaven. — Edwin Land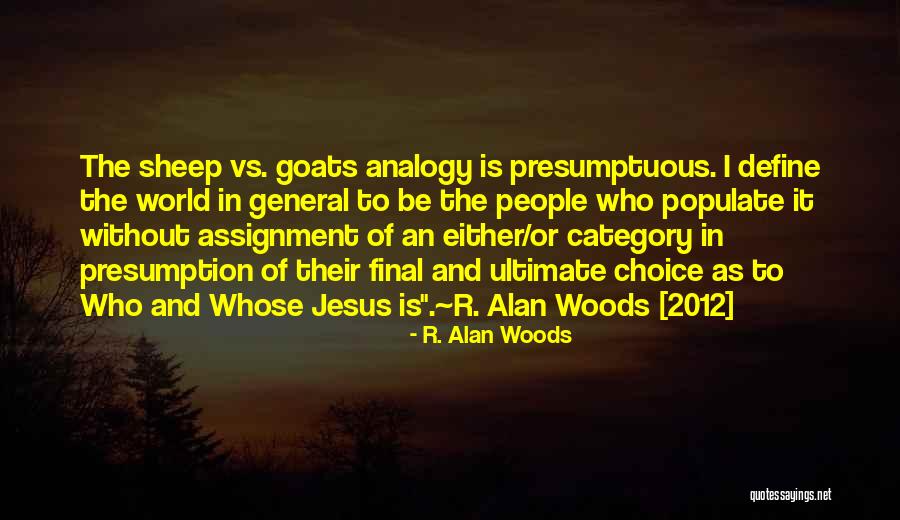 The sheep vs. goats analogy is presumptuous. I define the world in general to be the people who populate it without assignment of an either/or category in presumption of their final and ultimate choice as to Who and Whose Jesus is".

~R. Alan Woods [2012] — R. Alan Woods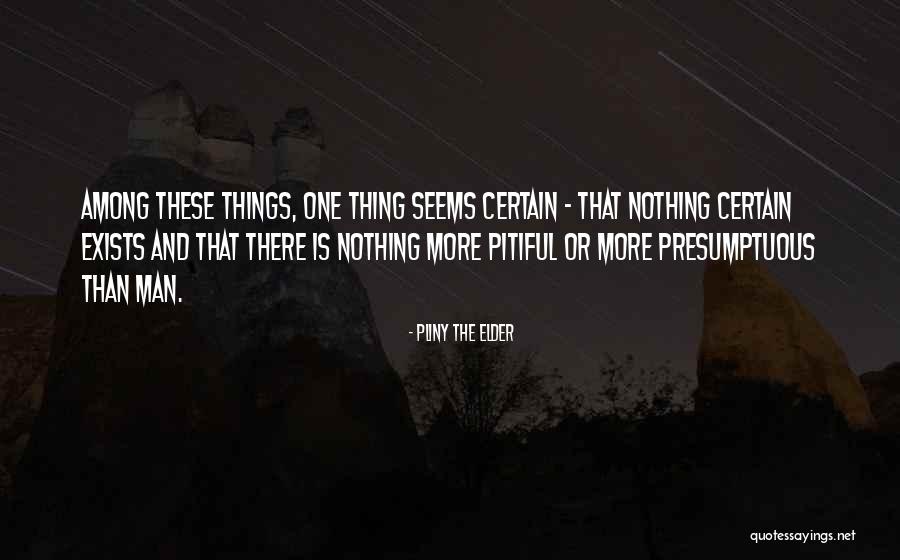 Among these things, one thing seems certain - that nothing certain exists and that there is nothing more pitiful or more presumptuous than man. — Pliny The Elder
The question may arise - how can credible Christian organizations justify and condone meditative practices that clearly resemble Eastern meditation? As pointed out earlier in this book, Christian terminology surrounds these practices. It only takes a few popular Christian leaders with national profiles to embrace a teaching that sounds Christian to bring about big changes in the church. Moreover, we have many trusting Christians who do not use the Scriptures to test the claims of others. Building an entire prayer method around an out-of-context verse or two is presumptuous, at best. Now more than ever, it is critical that Christians devote themselves to serious Bible study and discernment regarding this issue. — Ray Yungen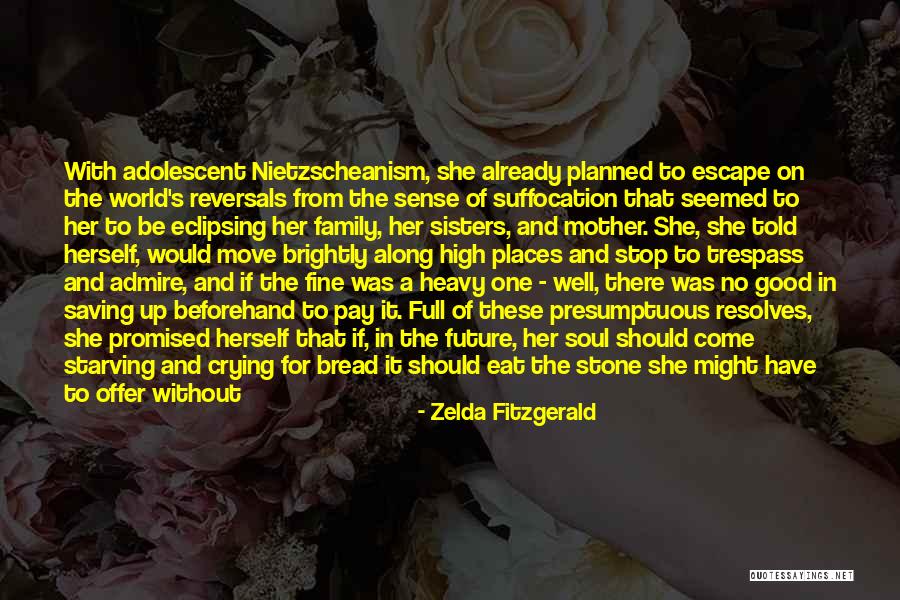 With adolescent Nietzscheanism, she already planned to escape on the world's reversals from the sense of suffocation that seemed to her to be eclipsing her family, her sisters, and mother. She, she told herself, would move brightly along high places and stop to trespass and admire, and if the fine was a heavy one - well, there was no good in saving up beforehand to pay it. Full of these presumptuous resolves, she promised herself that if, in the future, her soul should come starving and crying for bread it should eat the stone she might have to offer without complaint or remorse. Relentlessly she convinced herself that the only thing of any significance was to take what she wanted when she could. She did her best. — Zelda Fitzgerald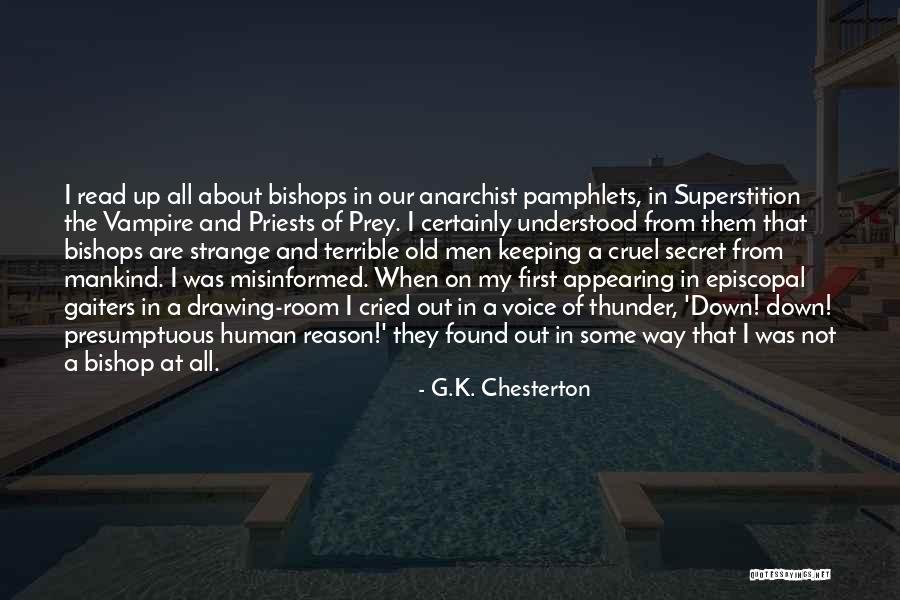 I read up all about bishops in our anarchist pamphlets, in Superstition the Vampire and Priests of Prey. I certainly understood from them that bishops are strange and terrible old men keeping a cruel secret from mankind. I was misinformed. When on my first appearing in episcopal gaiters in a drawing-room I cried out in a voice of thunder, 'Down! down! presumptuous human reason!' they found out in some way that I was not a bishop at all. — G.K. Chesterton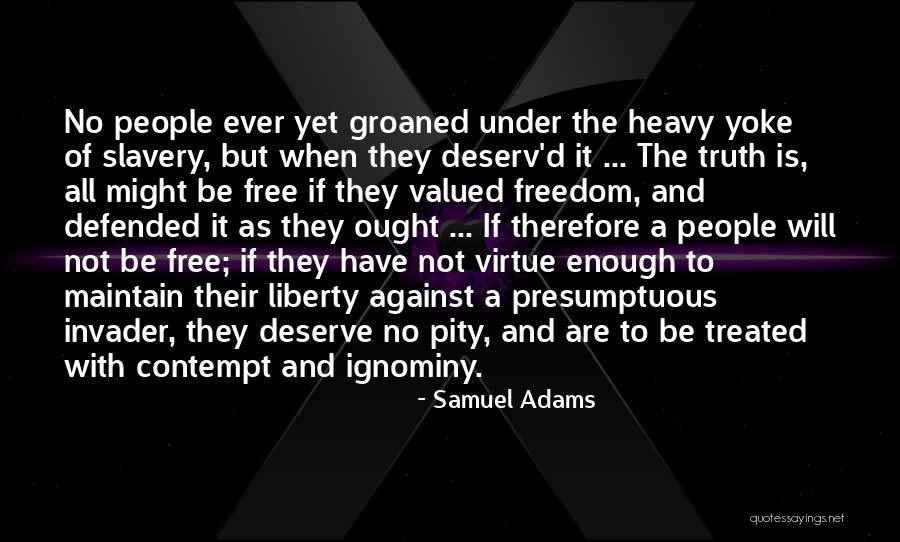 No people ever yet groaned under the heavy yoke of slavery, but when they deserv'd it ... The truth is, all might be free if they valued freedom, and defended it as they ought ... If therefore a people will not be free; if they have not virtue enough to maintain their liberty against a presumptuous invader, they deserve no pity, and are to be treated with contempt and ignominy. — Samuel Adams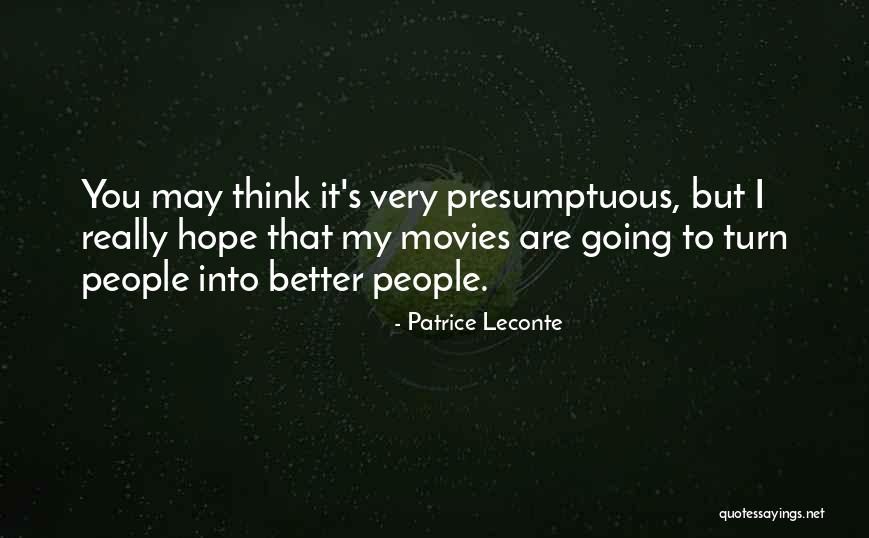 You may think it's very presumptuous, but I really hope that my movies are going to turn people into better people. — Patrice Leconte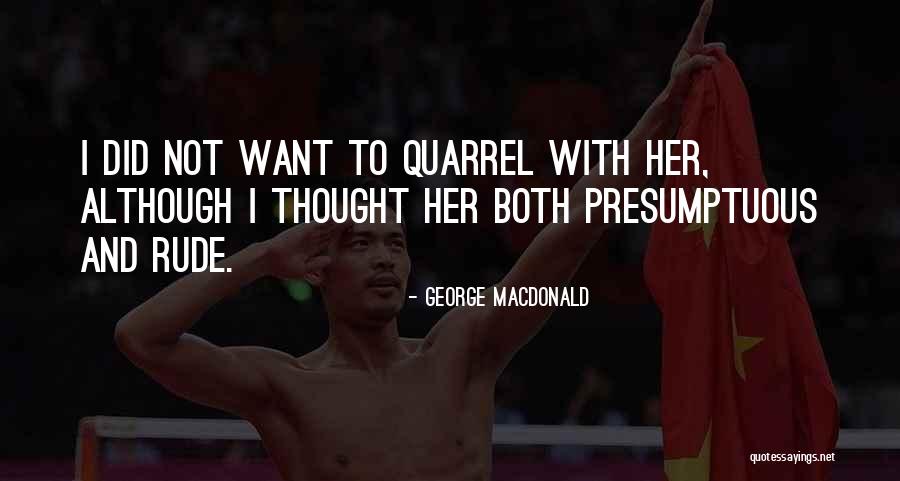 I did not want to quarrel with her, although I thought her both presumptuous and rude. — George MacDonald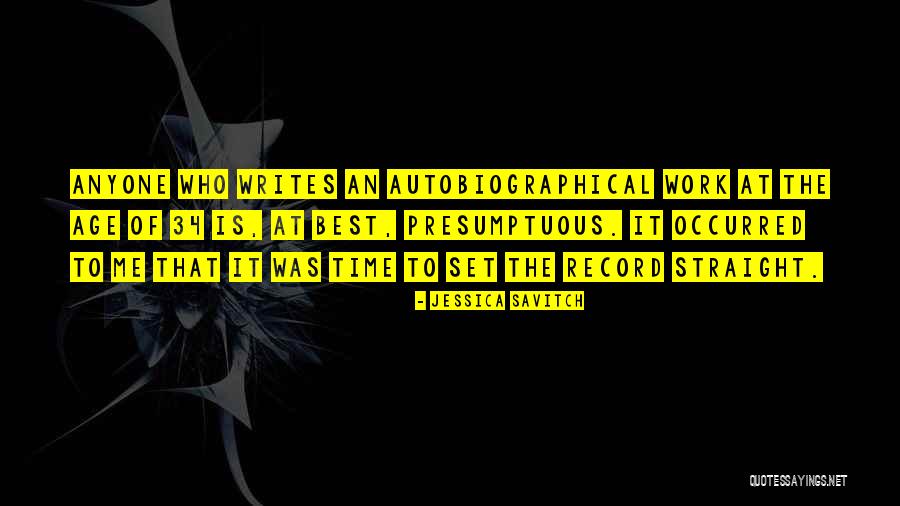 Anyone who writes an autobiographical work at the age of 34 is, at best, presumptuous. It occurred to me that it was time to set the record straight. — Jessica Savitch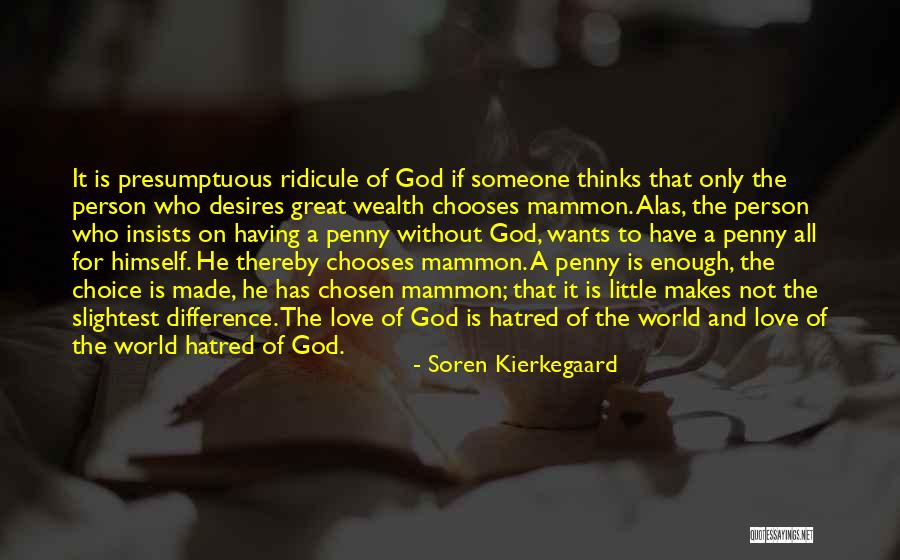 It is presumptuous ridicule of God if someone thinks that only the person who desires great wealth chooses mammon. Alas, the person who insists on having a penny without God, wants to have a penny all for himself. He thereby chooses mammon. A penny is enough, the choice is made, he has chosen mammon; that it is little makes not the slightest difference. The love of God is hatred of the world and love of the world hatred of God. — Soren Kierkegaard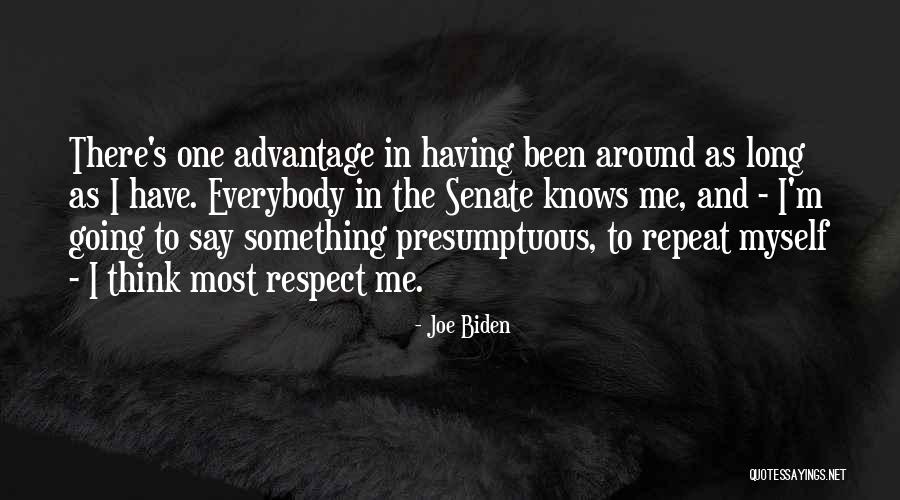 There's one advantage in having been around as long as I have. Everybody in the Senate knows me, and - I'm going to say something presumptuous, to repeat myself - I think most respect me. — Joe Biden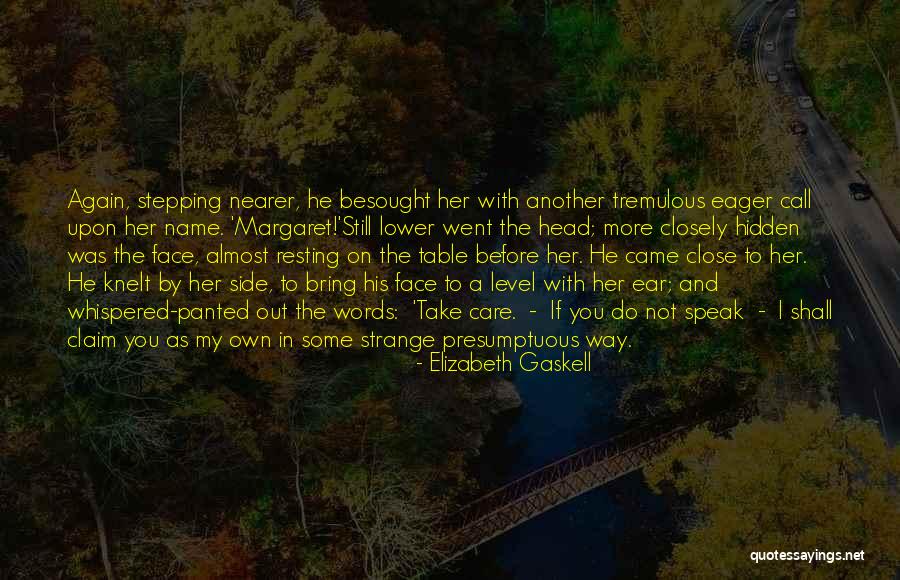 Again, stepping nearer, he besought her with another tremulous eager call upon her name.
'Margaret!'
Still lower went the head; more closely hidden was the face, almost resting on the table before her. He came close to her. He knelt by her side, to bring his face to a level with her ear; and whispered-panted out the words:
'Take care. - If you do not speak - I shall claim you as my own in some strange presumptuous way. — Elizabeth Gaskell
Since we are not yet fully comfortable with the idea that people from the next village are as human as ourselves, it is presumptuous in the extreme to suppose we could ever look at sociable, tool-making creatures who are from other evolutionary paths and see not beasts, but brothers, not rivals, but fellow pilgrims journeying to the shrine of intelligence ... The difference ... is not in the creature judged, but in the creature judging. — Demosthenes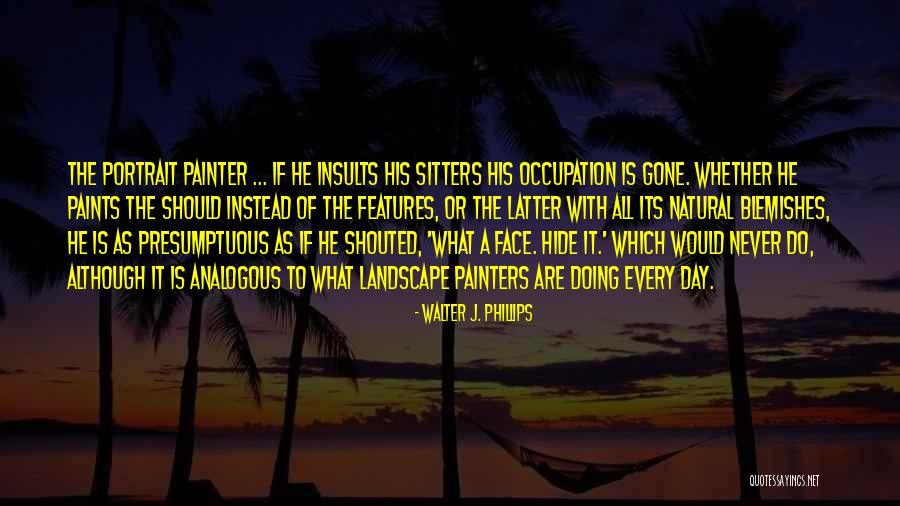 The portrait painter ... If he insults his sitters his occupation is gone. Whether he paints the should instead of the features, or the latter with all its natural blemishes, he is as presumptuous as if he shouted, 'What a face. Hide it.' which would never do, although it is analogous to what landscape painters are doing every day. — Walter J. Phillips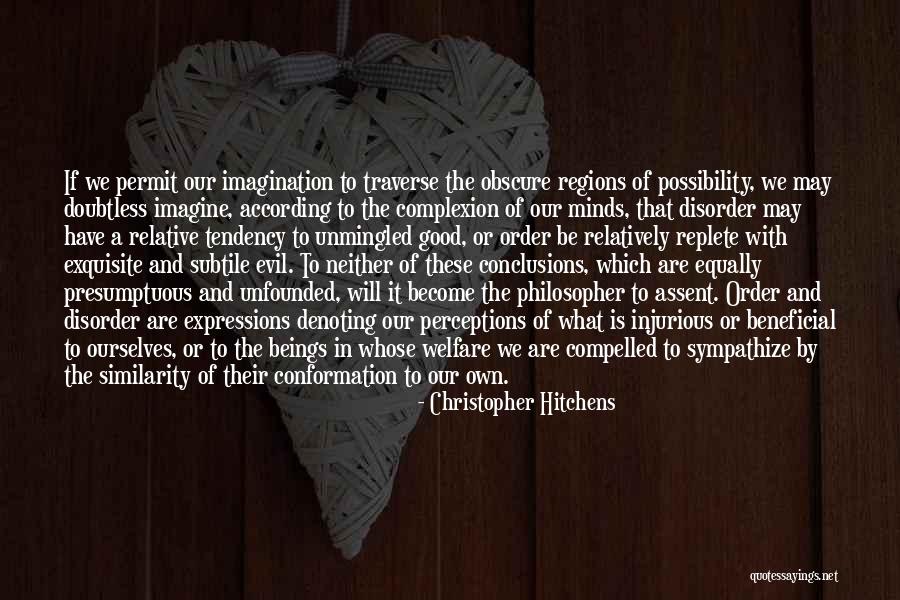 If we permit our imagination to traverse the obscure regions of possibility, we may doubtless imagine, according to the complexion of our minds, that disorder may have a relative tendency to unmingled good, or order be relatively replete with exquisite and subtile evil. To neither of these conclusions, which are equally presumptuous and unfounded, will it become the philosopher to assent. Order and disorder are expressions denoting our perceptions of what is injurious or beneficial to ourselves, or to the beings in whose welfare we are compelled to sympathize by the similarity of their conformation to our own. — Christopher Hitchens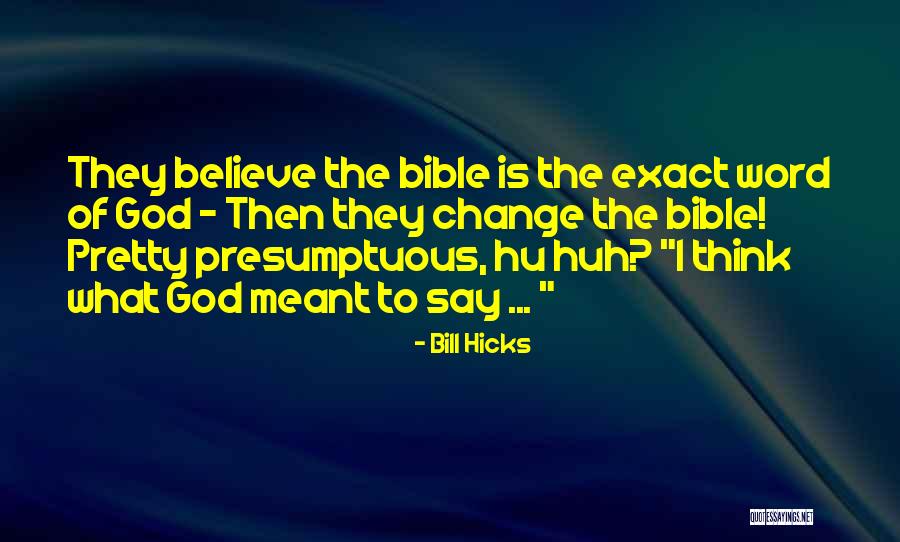 They believe the bible is the exact word of God - Then they change the bible! Pretty presumptuous, hu huh? "I think what God meant to say ... " — Bill Hicks
To say that I have found the answer to all riddles of the soul would be inaccurate and presumptuous. But in the knowledge I have developed there must lie the answers to that riddle, to that enigma, to that problem - the human soul - for under my hands and others, was seen the best in man rehabilitated. I discovered that a human being is not his body and demonstrated that through Scientology an individual can attain certainty of his identity apart from that of the body. We cannot deal in the realm of the human soul and ignore the fact. — L. Ron Hubbard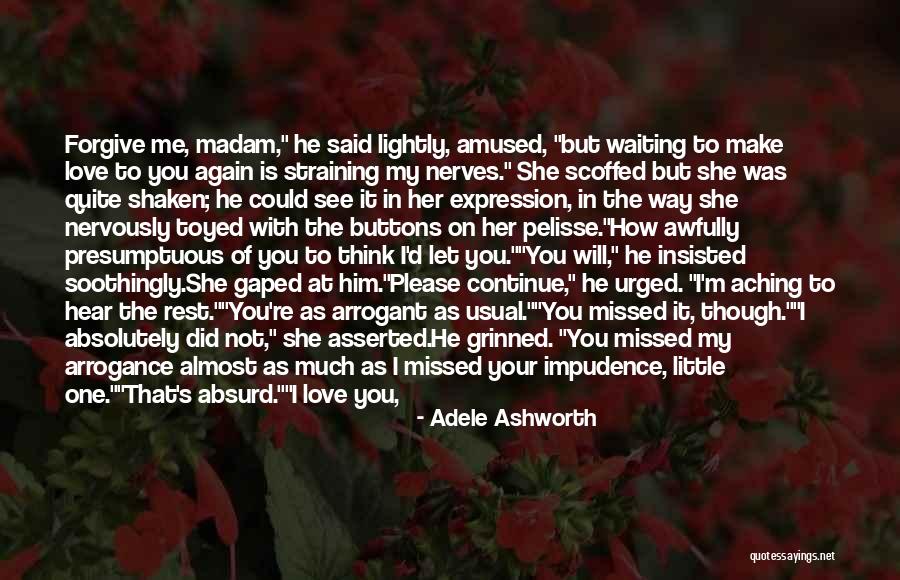 Forgive me, madam," he said lightly, amused, "but waiting to make love to you again is straining my nerves."
She scoffed but she was quite shaken; he could see it in her expression, in the way she nervously toyed with the buttons on her pelisse.
"How awfully presumptuous of you to think I'd let you."
"You will," he insisted soothingly.
She gaped at him.
"Please continue," he urged. "I'm aching to hear the rest."
"You're as arrogant as usual."
"You missed it, though."
"I absolutely did not," she asserted.
He grinned. "You missed my arrogance almost as much as I missed your impudence, little one."
"That's absurd."
"I love you, Caroline," he softly, quickly replied, catching her off guard with such tenderness. "Move on before I decide I'm finished with this conversation, rip off your clothes, and show you how much. — Adele Ashworth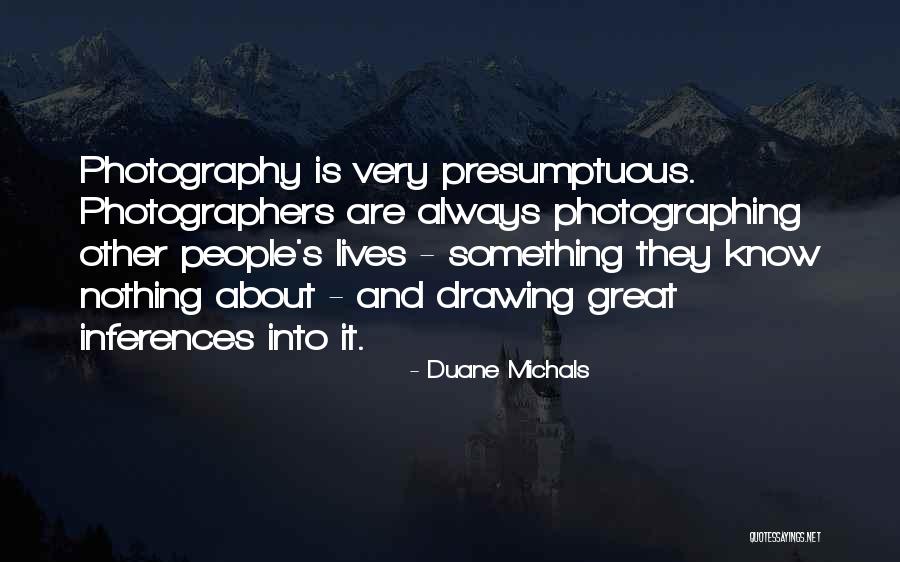 Photography is very presumptuous. Photographers are always photographing other people's lives - something they know nothing about - and drawing great inferences into it. — Duane Michals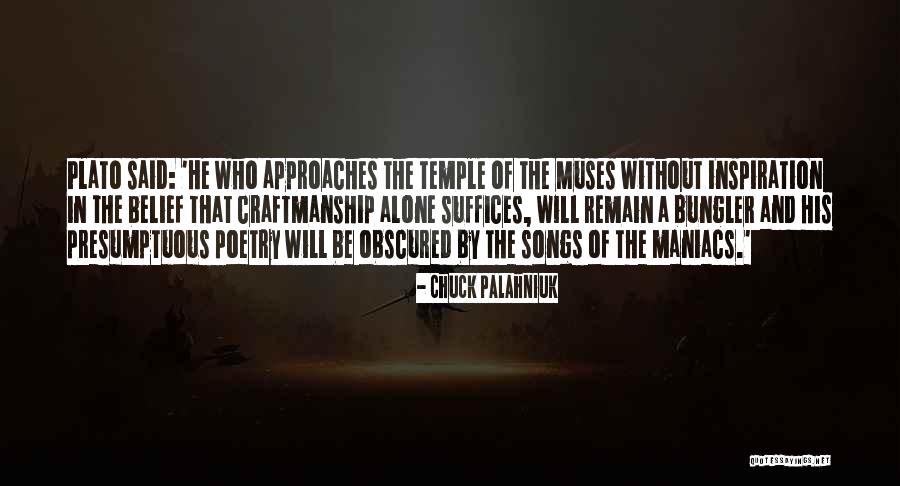 Plato said: 'He who approaches the temple of the Muses without inspiration in the belief that craftmanship alone suffices, will remain a bungler and his presumptuous poetry will be obscured by the songs of the maniacs.' — Chuck Palahniuk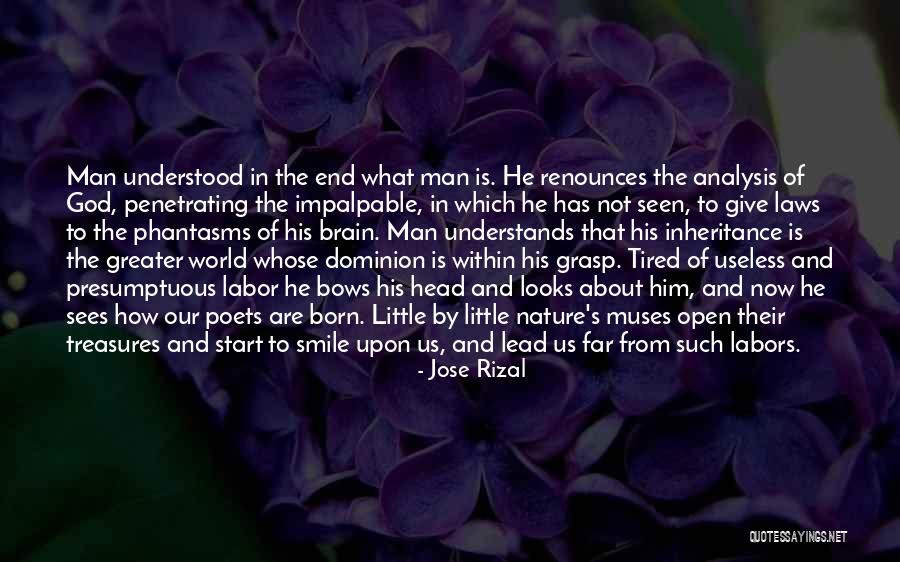 Man understood in the end what man is. He renounces the analysis of God, penetrating the impalpable, in which he has not seen, to give laws to the phantasms of his brain. Man understands that his inheritance is the greater world whose dominion is within his grasp. Tired of useless and presumptuous labor he bows his head and looks about him, and now he sees how our poets are born. Little by little nature's muses open their treasures and start to smile upon us, and lead us far from such labors. — Jose Rizal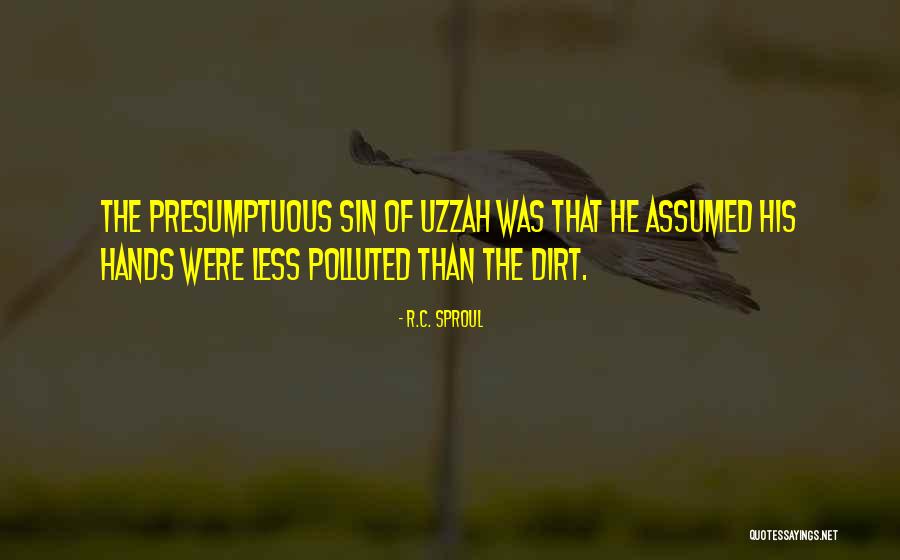 The presumptuous sin of Uzzah was that He assumed his hands were less polluted than the dirt. — R.C. Sproul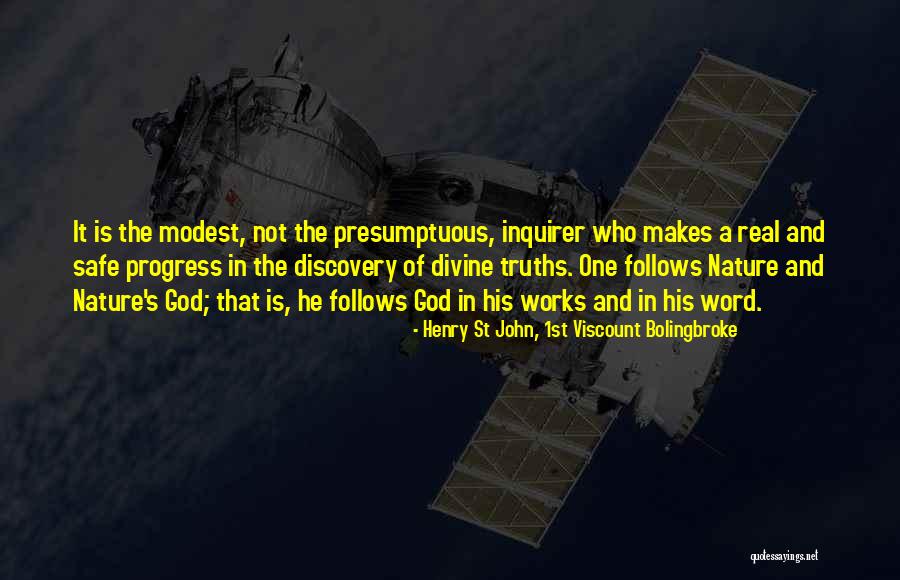 It is the modest, not the presumptuous, inquirer who makes a real and safe progress in the discovery of divine truths. One follows Nature and Nature's God; that is, he follows God in his works and in his word. — Henry St John, 1st Viscount Bolingbroke
Faith comes and goes. It rises and falls like the tides of an invisible ocean. If it is presumptuous to think that faith will stay with you forever, it is just as presumptuous to think that unbelief will. — Flannery O'Connor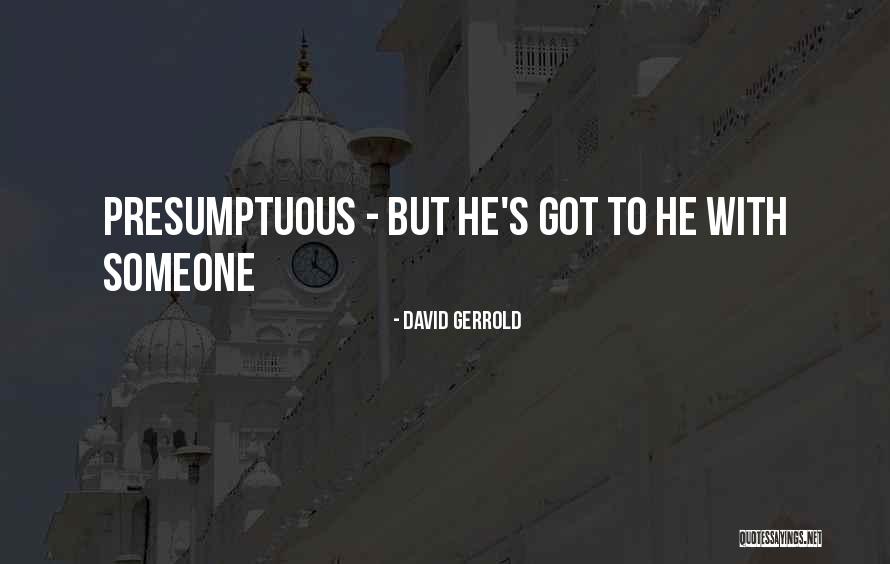 presumptuous - but he's got to he with someone — David Gerrold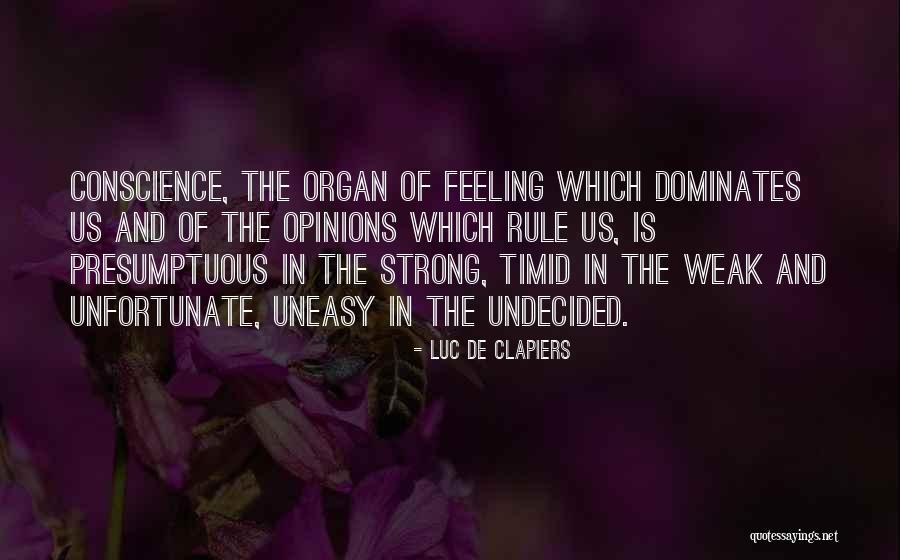 Conscience, the organ of feeling which dominates us and of the opinions which rule us, is presumptuous in the strong, timid in the weak and unfortunate, uneasy in the undecided. — Luc De Clapiers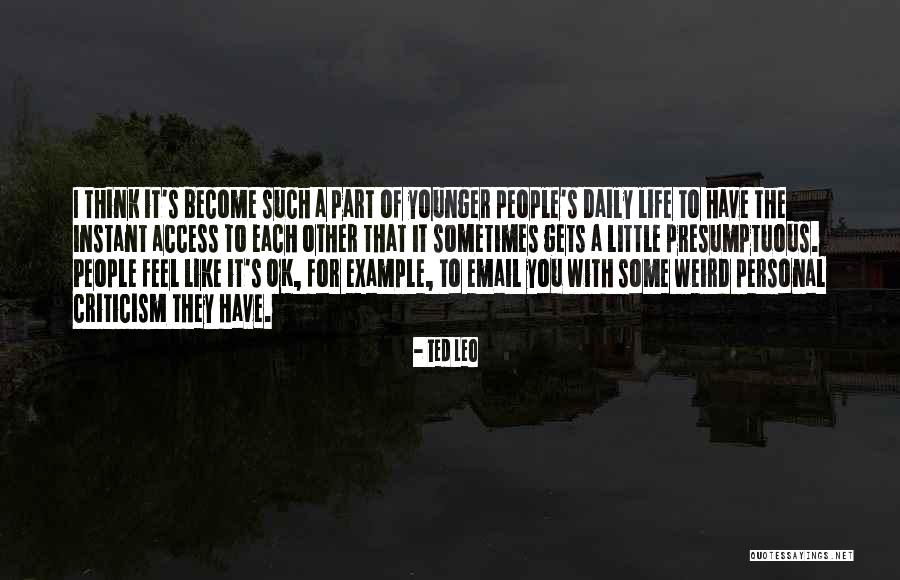 I think it's become such a part of younger people's daily life to have the instant access to each other that it sometimes gets a little presumptuous. People feel like it's OK, for example, to email you with some weird personal criticism they have. — Ted Leo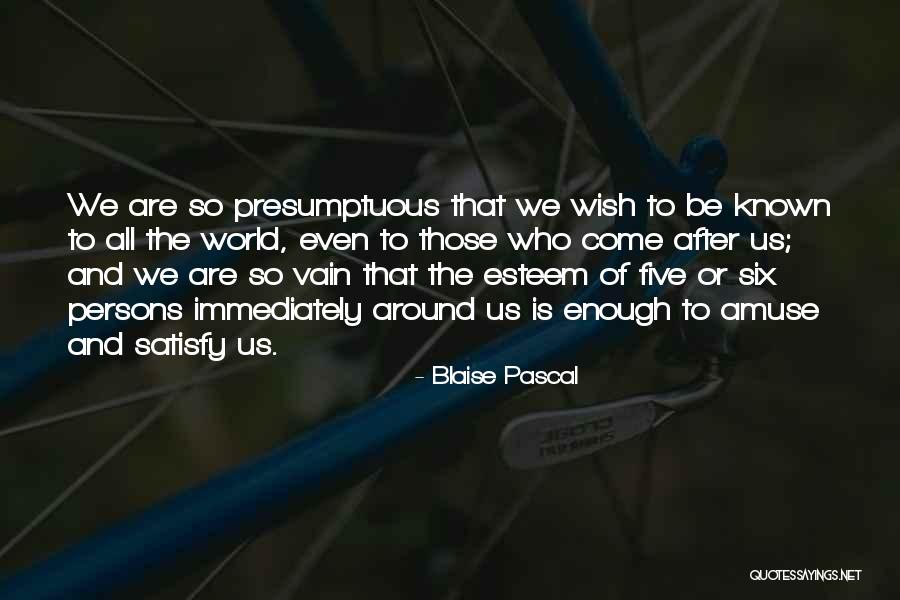 We are so presumptuous that we wish to be known to all the world, even to those who come after us; and we are so vain that the esteem of five or six persons immediately around us is enough to amuse and satisfy us. — Blaise Pascal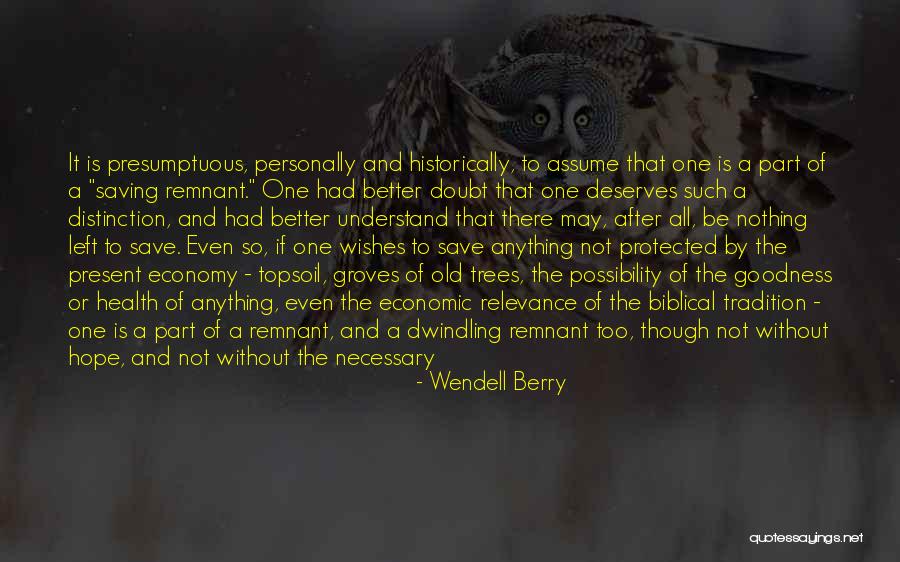 It is presumptuous, personally and historically, to assume that one is a part of a "saving remnant." One had better doubt that one deserves such a distinction, and had better understand that there may, after all, be nothing left to save. Even so, if one wishes to save anything not protected by the present economy - topsoil, groves of old trees, the possibility of the goodness or health of anything, even the economic relevance of the biblical tradition - one is a part of a remnant, and a dwindling remnant too, though not without hope, and not without the necessary instructions, the most pertinent of which, perhaps, is this, also from Revelation: "Be watchful, and strengthen the things which remain, that are ready to die. — Wendell Berry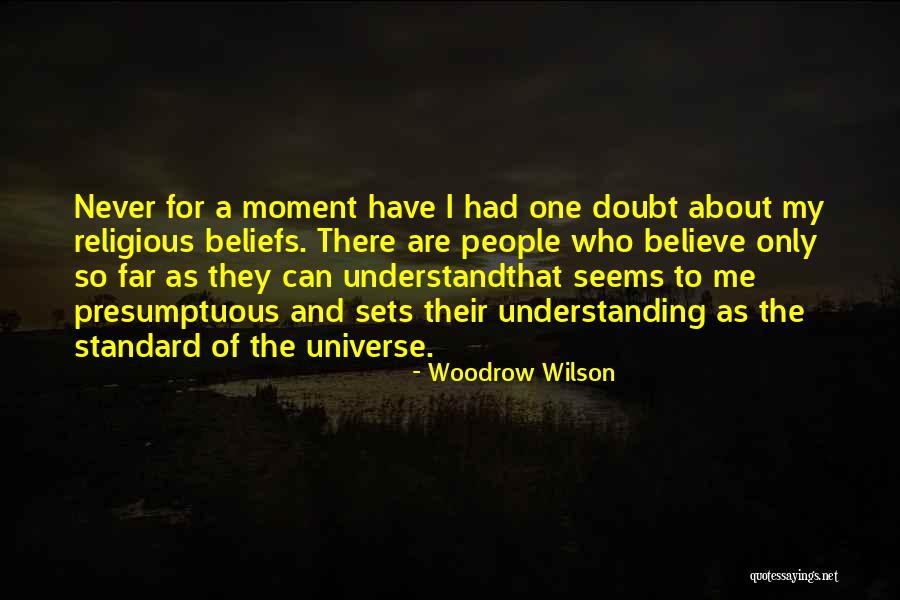 Never for a moment have I had one doubt about my religious beliefs. There are people who believe only so far as they can understand
that seems to me presumptuous and sets their understanding as the standard of the universe. — Woodrow Wilson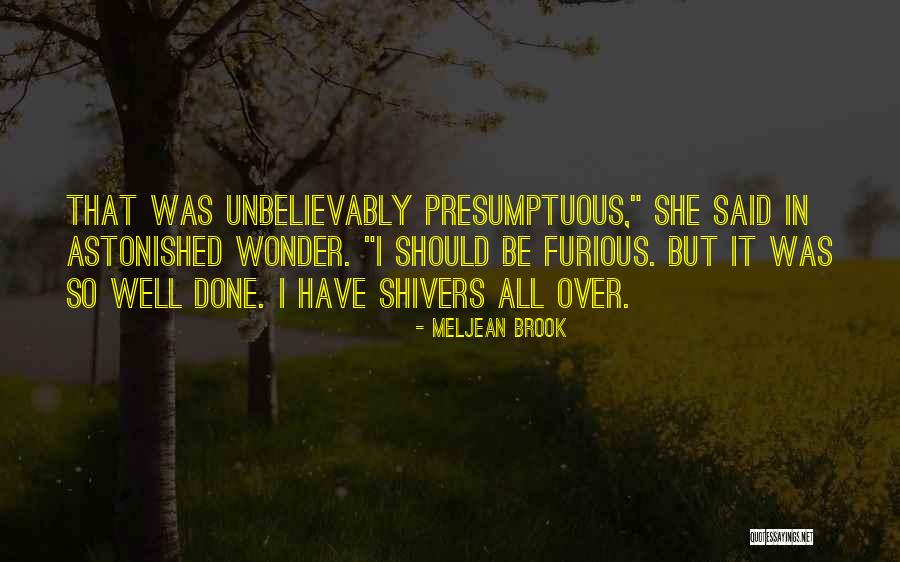 That was unbelievably presumptuous," she said in astonished wonder. "I should be furious. But it was so well done. I have shivers all over. — Meljean Brook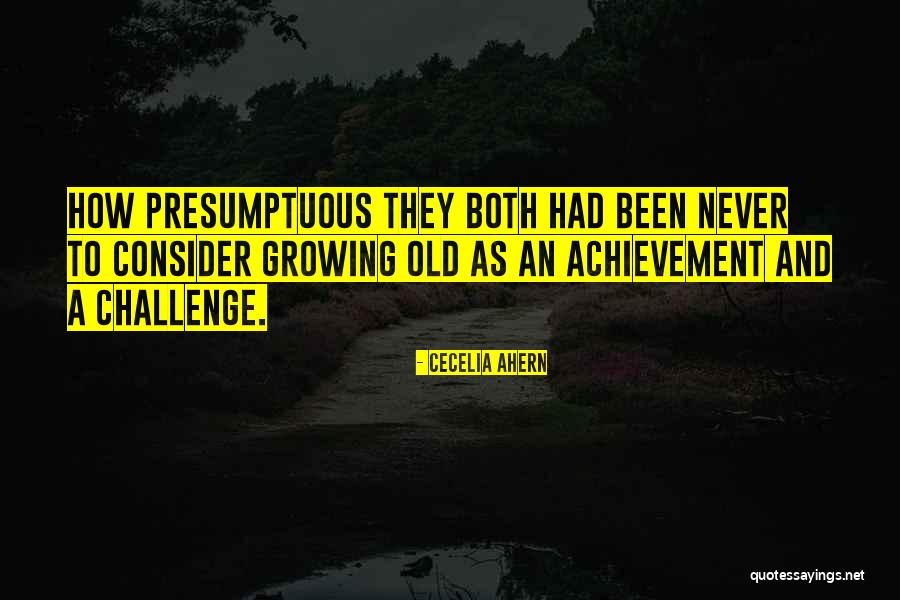 How presumptuous they both had been never to consider growing old as an achievement and a challenge. — Cecelia Ahern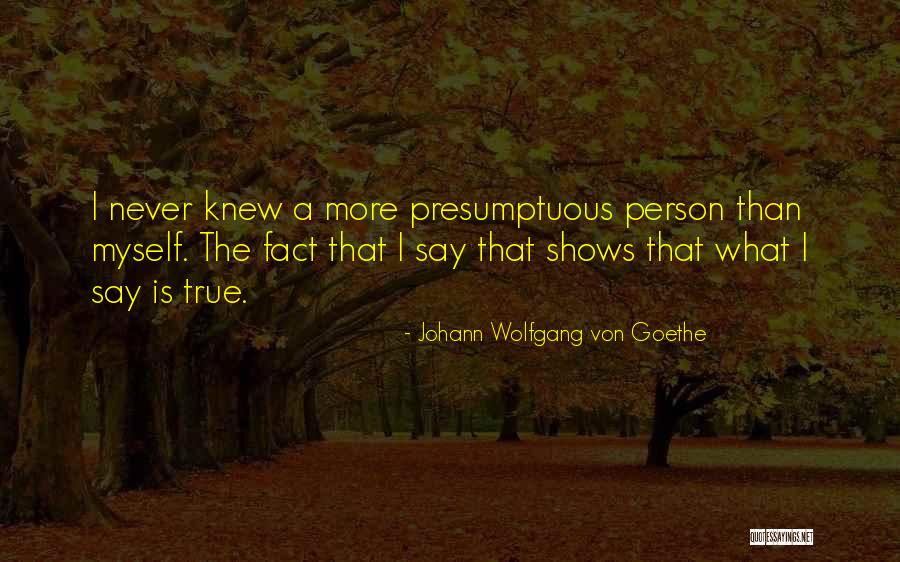 I never knew a more presumptuous person than myself. The fact that I say that shows that what I say is true. — Johann Wolfgang Von Goethe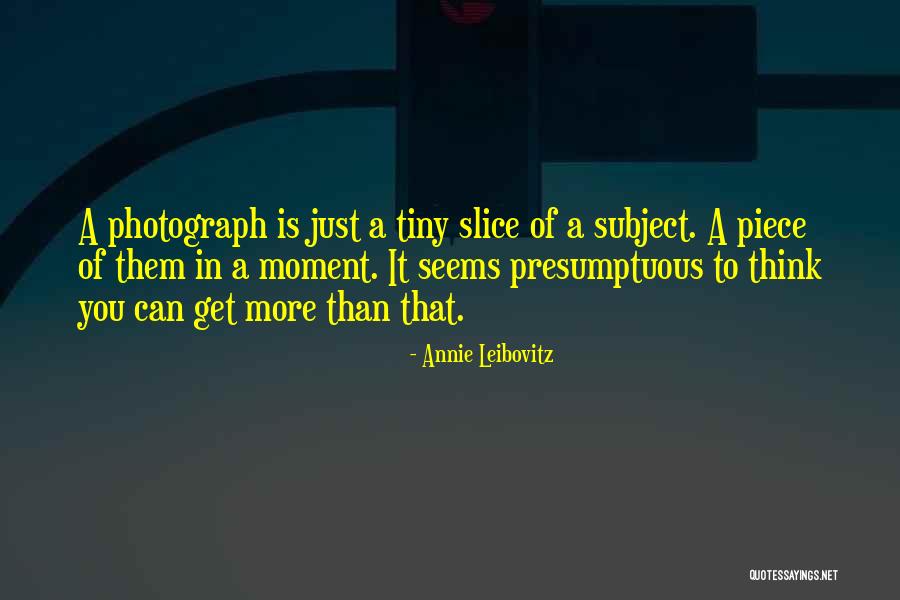 A photograph is just a tiny slice of a subject. A piece of them in a moment. It seems presumptuous to think you can get more than that. — Annie Leibovitz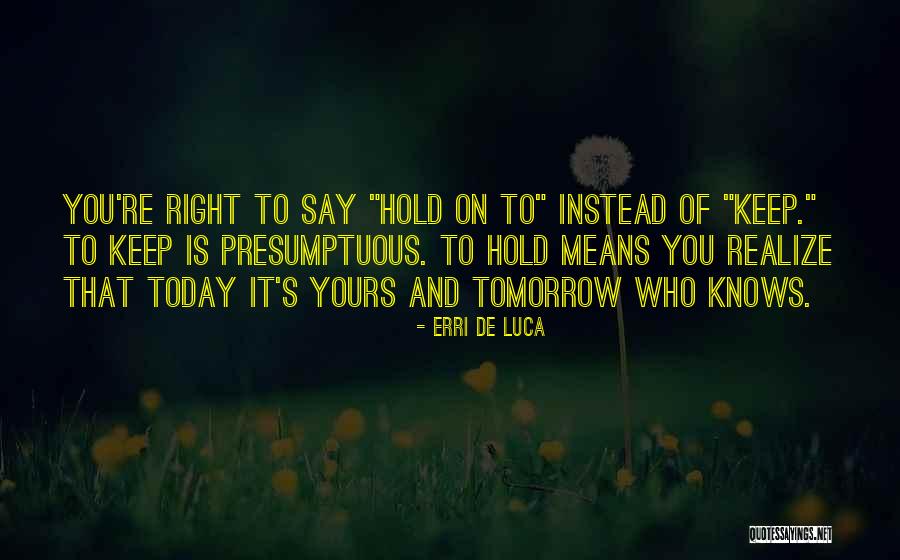 You're right to say "hold on to" instead of "keep." To keep is presumptuous. To hold means you realize that today it's yours and tomorrow who knows. — Erri De Luca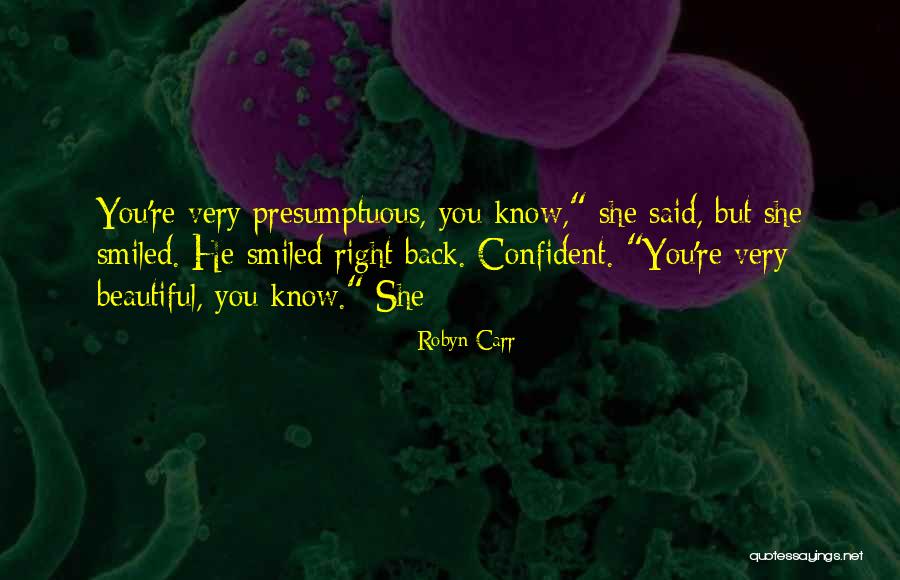 You're very presumptuous, you know," she said, but she smiled. He smiled right back. Confident. "You're very beautiful, you know." She — Robyn Carr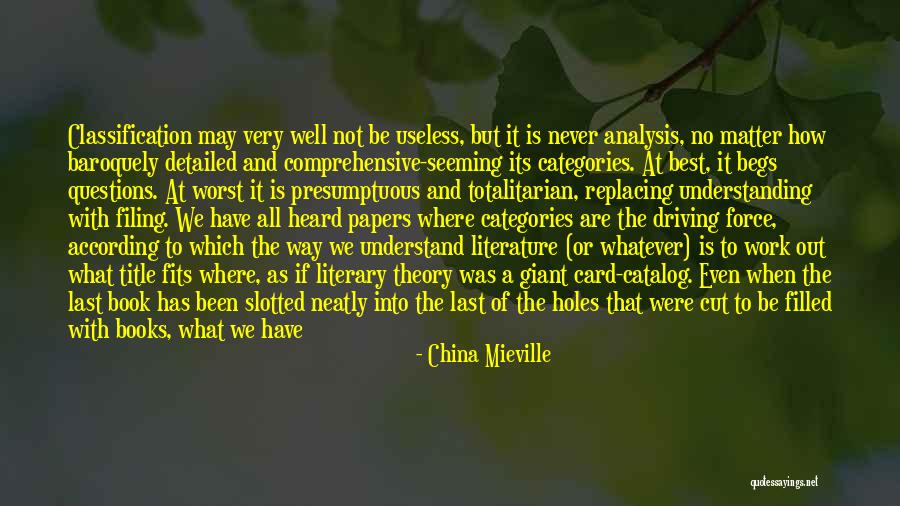 Classification may very well not be useless, but it is never analysis, no matter how baroquely detailed and comprehensive-seeming its categories. At best, it begs questions. At worst it is presumptuous and totalitarian, replacing understanding with filing. We have all heard papers where categories are the driving force, according to which the way we understand literature (or whatever) is to work out what title fits where, as if literary theory was a giant card-catalog. Even when the last book has been slotted neatly into the last of the holes that were cut to be filled with books, what we have are books in neat piles. Which is not nothing, but neither is it that much. — China Mieville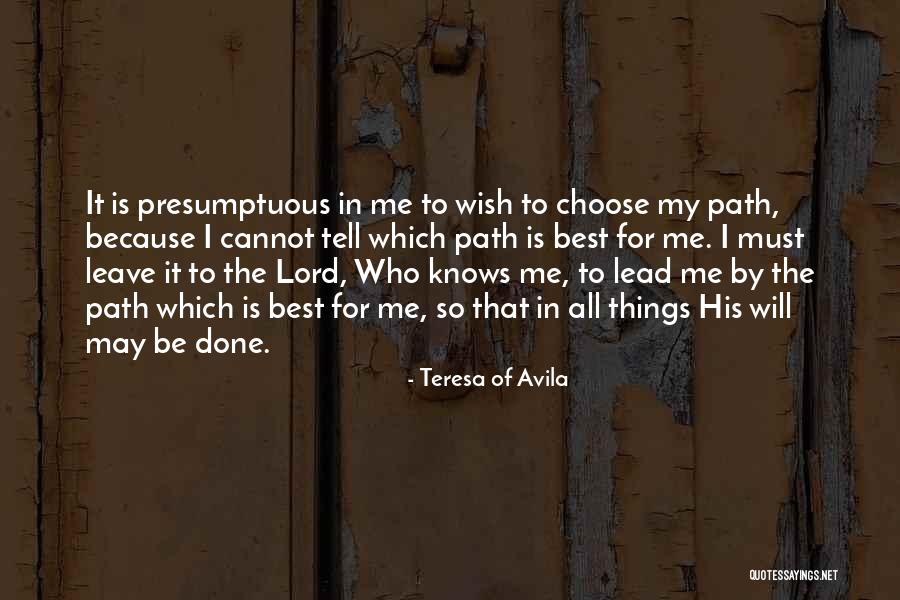 It is presumptuous in me to wish to choose my path, because I cannot tell which path is best for me. I must leave it to the Lord, Who knows me, to lead me by the path which is best for me, so that in all things His will may be done. — Teresa Of Avila