Best Moms Quotes & Sayings
Enjoy reading and share 68 famous quotes about Best Moms with everyone.
Top Best Moms Quotes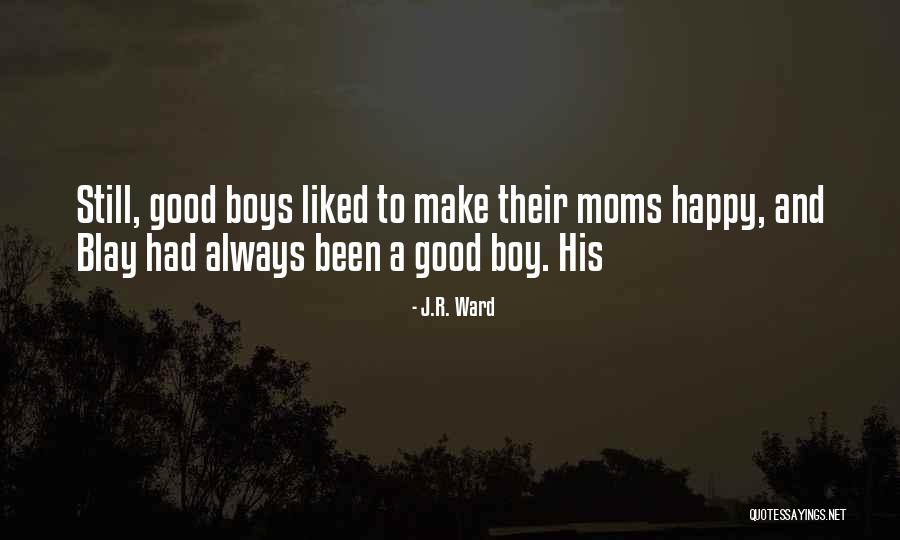 Still, good boys liked to make their moms happy, and Blay had always been a good boy. His — J.R. Ward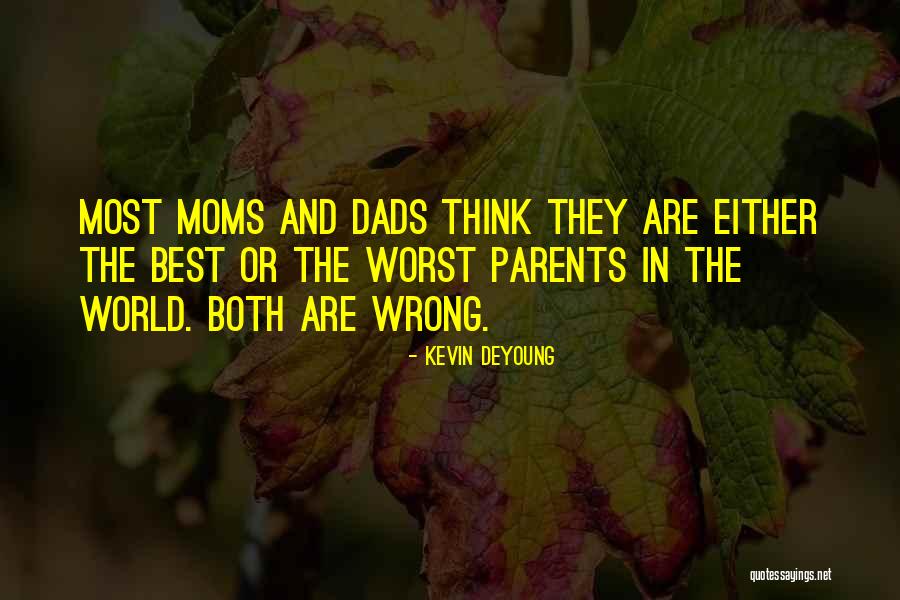 Most moms and dads think they are either the best or the worst parents in the world. Both are wrong. — Kevin DeYoung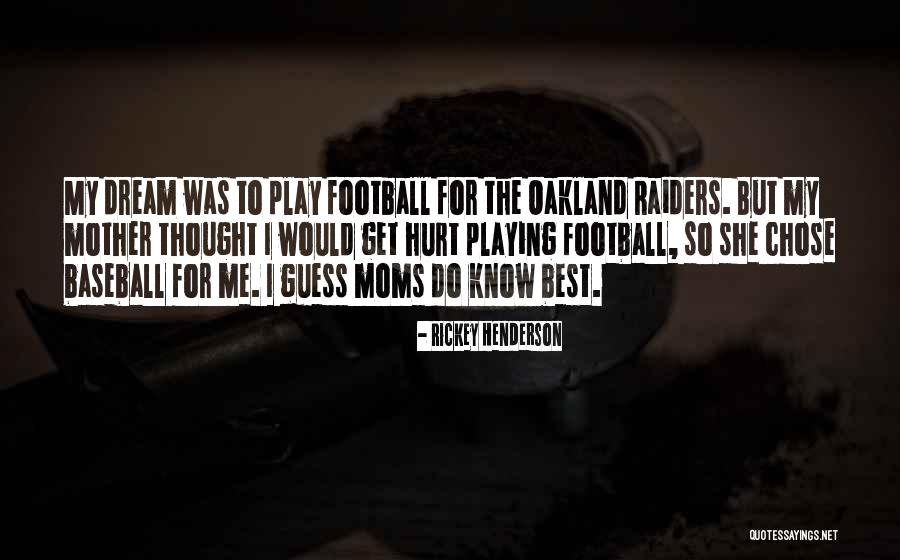 My dream was to play football for the Oakland Raiders. But my mother thought I would get hurt playing football, so she chose baseball for me. I guess moms do know best. — Rickey Henderson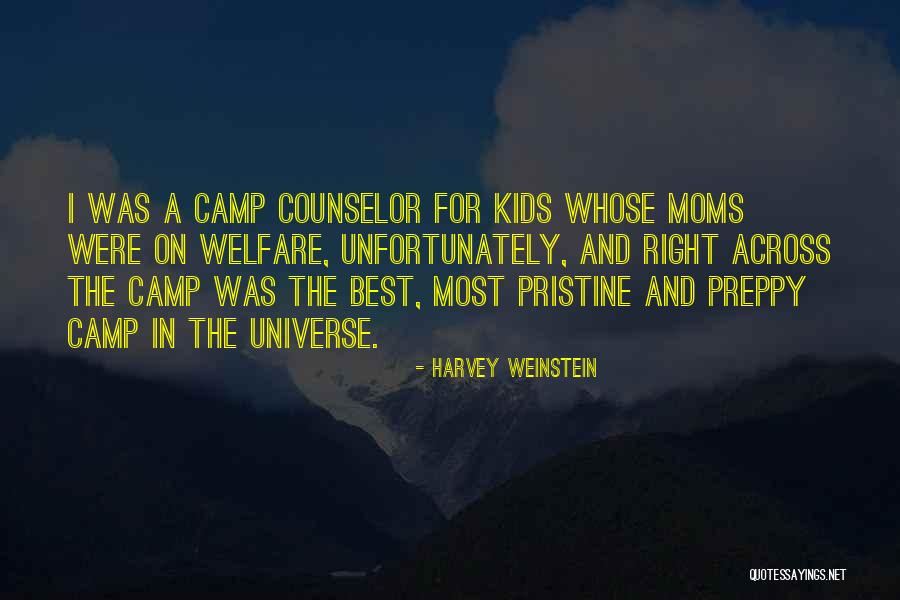 I was a camp counselor for kids whose moms were on welfare, unfortunately, and right across the camp was the best, most pristine and preppy camp in the universe. — Harvey Weinstein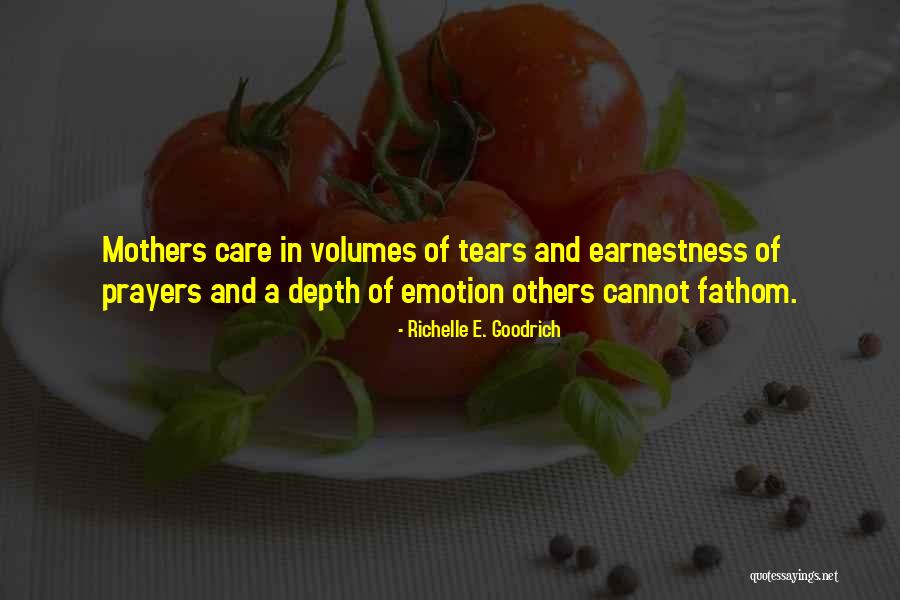 Mothers care in volumes of tears and earnestness of prayers and a depth of emotion others cannot fathom. — Richelle E. Goodrich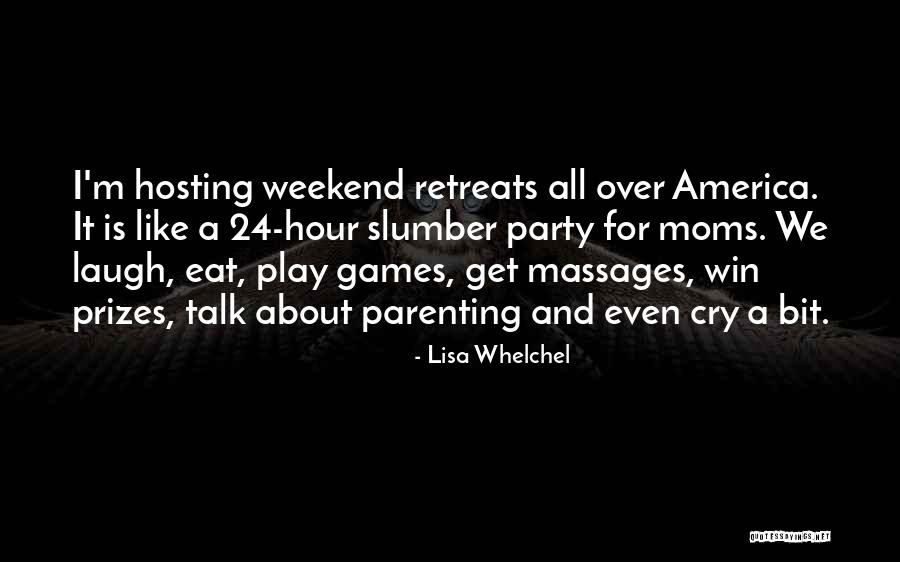 I'm hosting weekend retreats all over America. It is like a 24-hour slumber party for moms. We laugh, eat, play games, get massages, win prizes, talk about parenting and even cry a bit. — Lisa Whelchel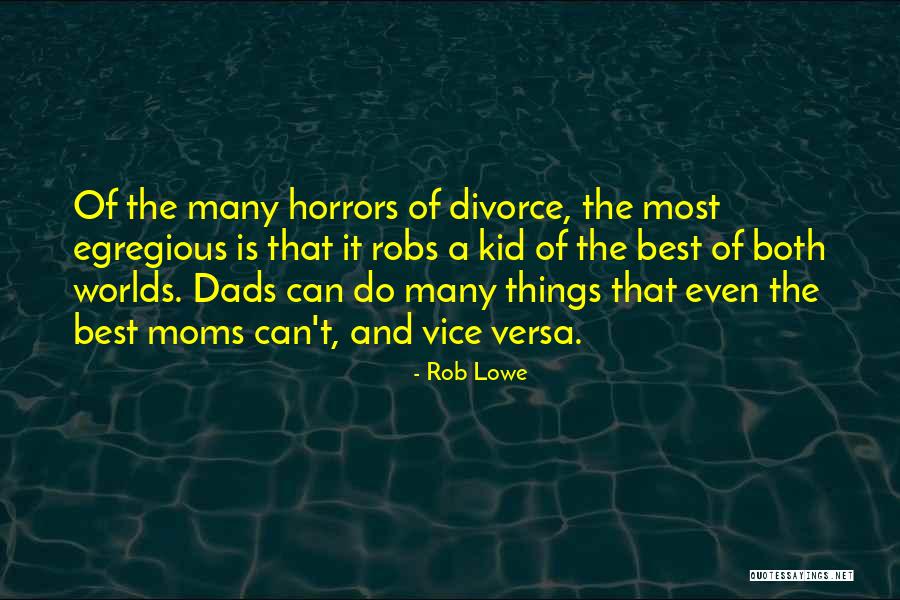 Of the many horrors of divorce, the most egregious is that it robs a kid of the best of both worlds. Dads can do many things that even the best moms can't, and vice versa. — Rob Lowe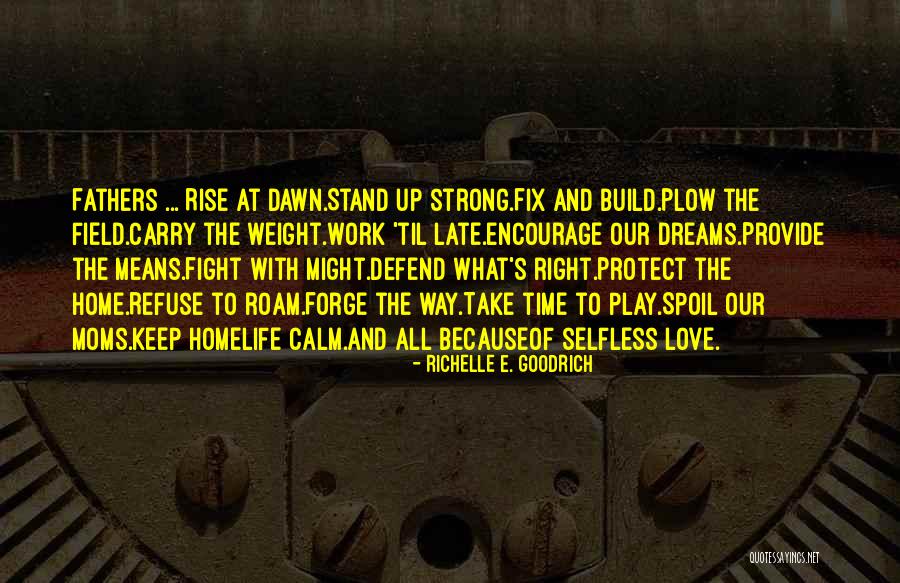 Fathers ...
Rise at dawn.
Stand up strong.
Fix and build.
Plow the field.
Carry the weight.
Work 'til late.
Encourage our dreams.
Provide the means.
Fight with might.
Defend what's right.
Protect the home.
Refuse to roam.
Forge the way.
Take time to play.
Spoil our moms.
Keep homelife calm.
And all because
of selfless love. — Richelle E. Goodrich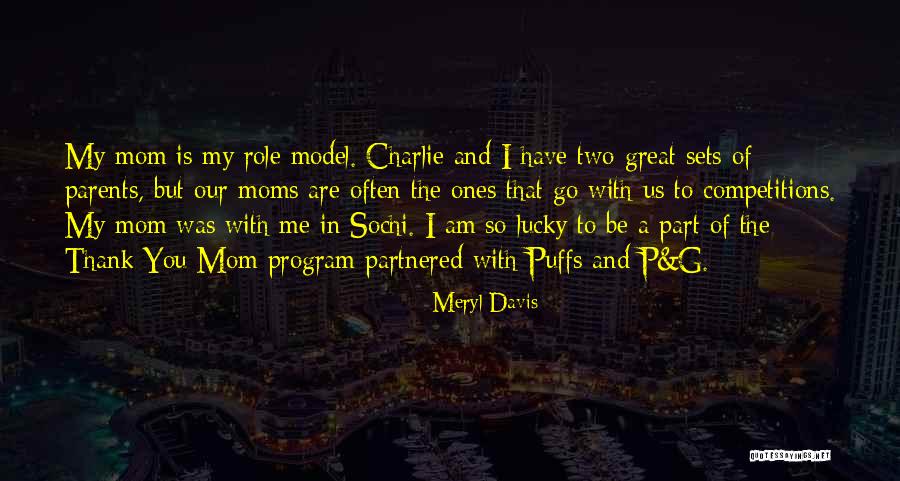 My mom is my role model. Charlie and I have two great sets of parents, but our moms are often the ones that go with us to competitions. My mom was with me in Sochi. I am so lucky to be a part of the Thank You Mom program partnered with Puffs and P&G. — Meryl Davis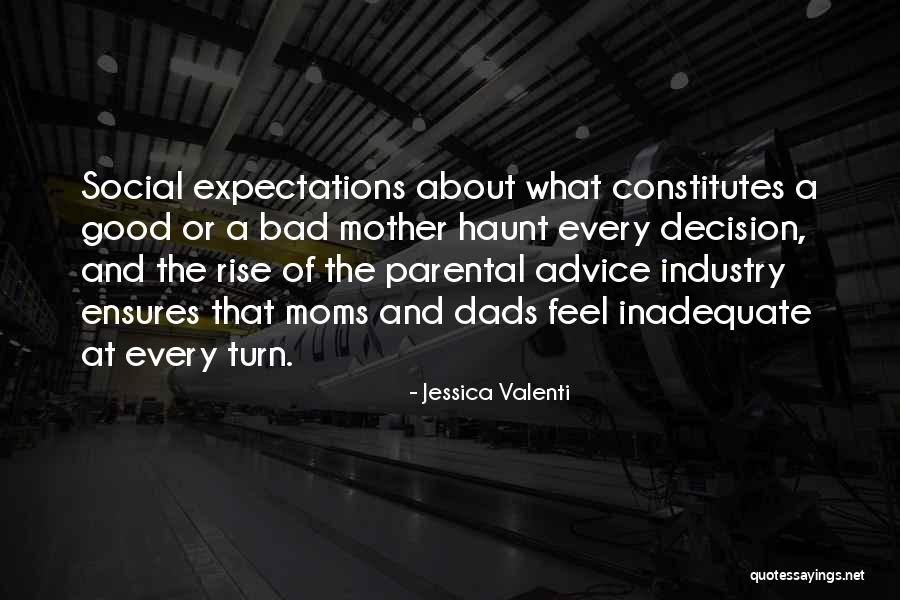 Social expectations about what constitutes a good or a bad mother haunt every decision, and the rise of the parental advice industry ensures that moms and dads feel inadequate at every turn. — Jessica Valenti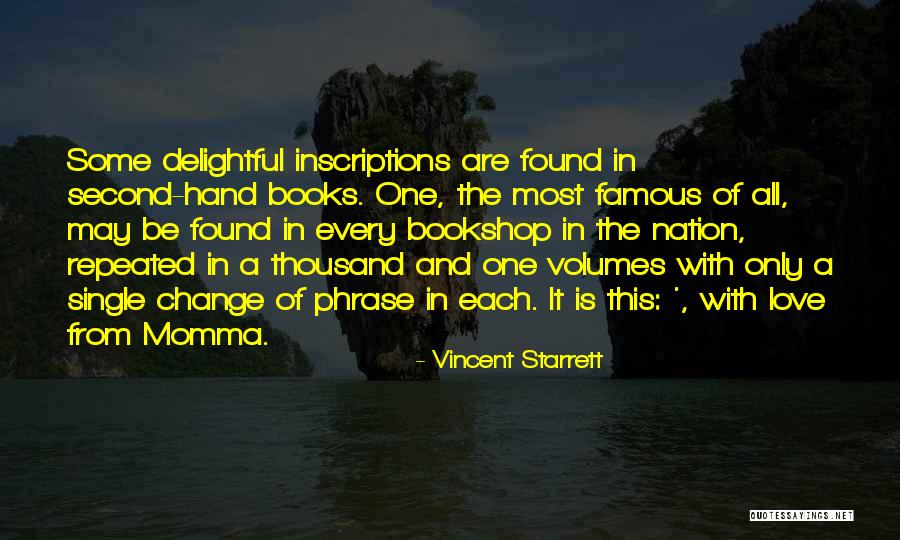 Some delightful inscriptions are found in second-hand books. One, the most famous of all, may be found in every bookshop in the nation, repeated in a thousand and one volumes with only a single change of phrase in each. It is this: ', with love from Momma. — Vincent Starrett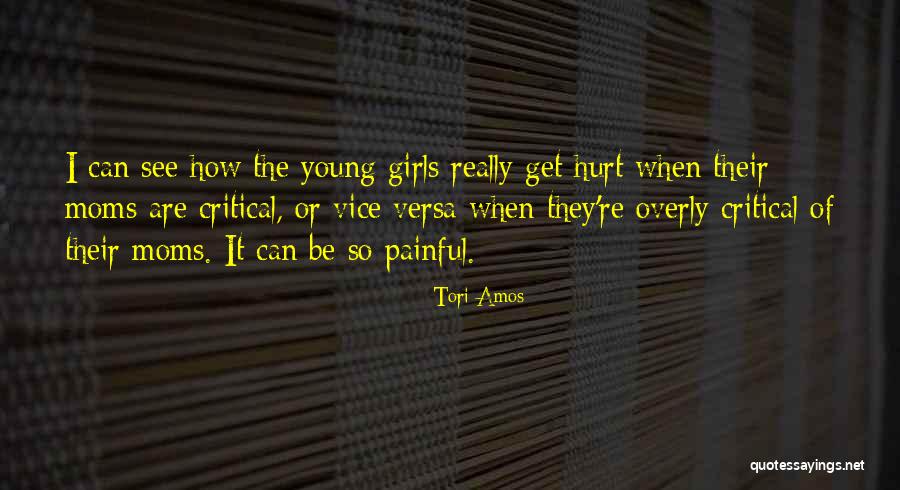 I can see how the young girls really get hurt when their moms are critical, or vice versa when they're overly critical of their moms. It can be so painful. — Tori Amos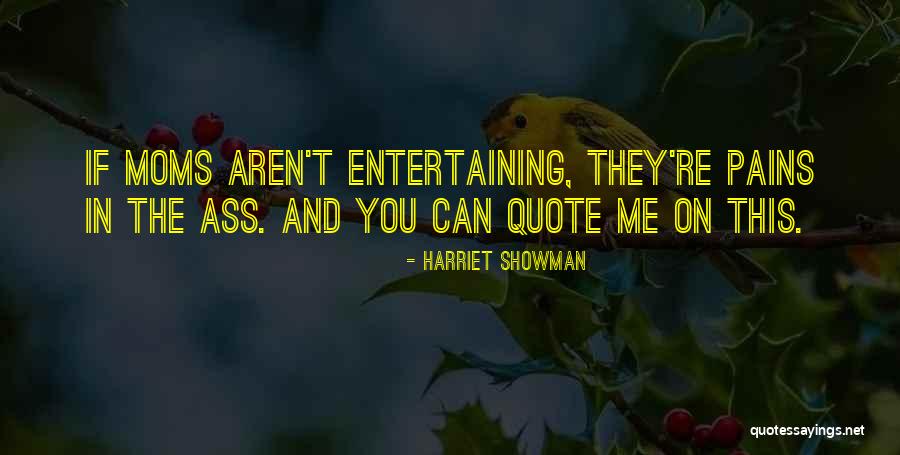 If moms aren't entertaining, they're pains in the ass. And you can quote me on this. — Harriet Showman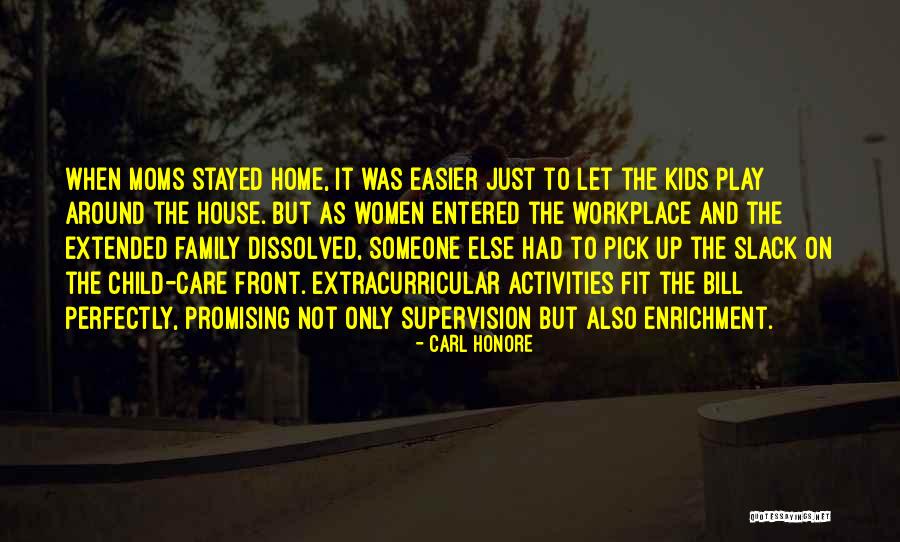 When moms stayed home, it was easier just to let the kids play around the house. But as women entered the workplace and the extended family dissolved, someone else had to pick up the slack on the child-care front. Extracurricular activities fit the bill perfectly, promising not only supervision but also enrichment. — Carl Honore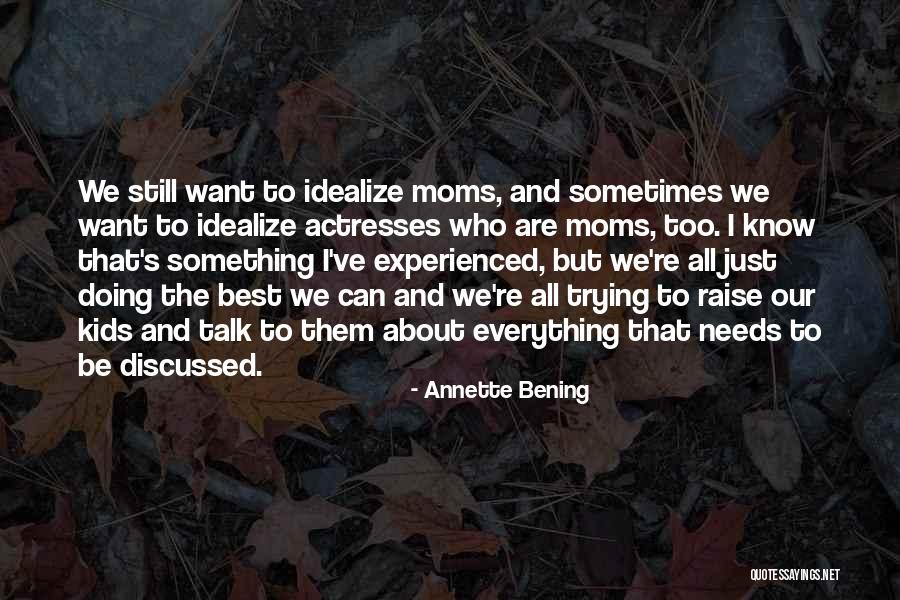 We still want to idealize moms, and sometimes we want to idealize actresses who are moms, too. I know that's something I've experienced, but we're all just doing the best we can and we're all trying to raise our kids and talk to them about everything that needs to be discussed. — Annette Bening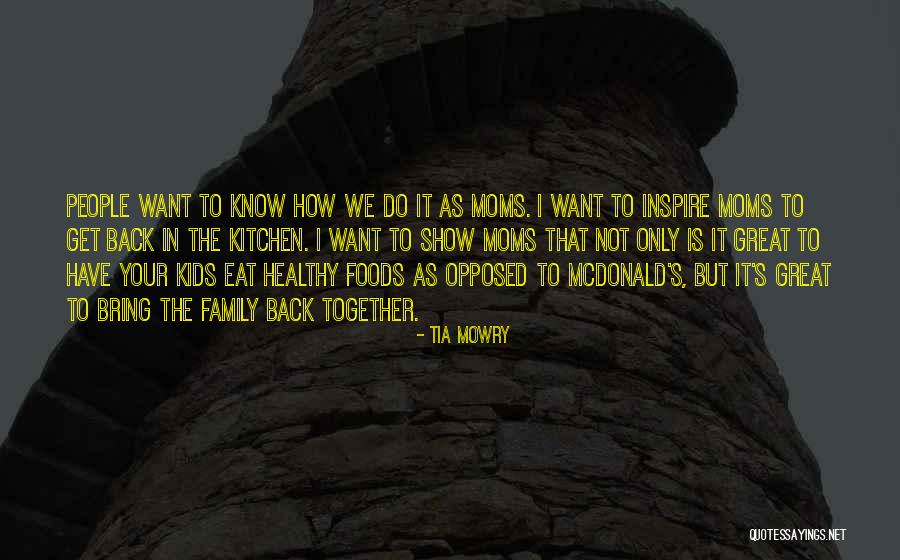 People want to know how we do it as moms. I want to inspire moms to get back in the kitchen. I want to show moms that not only is it great to have your kids eat healthy foods as opposed to McDonald's, but it's great to bring the family back together. — Tia Mowry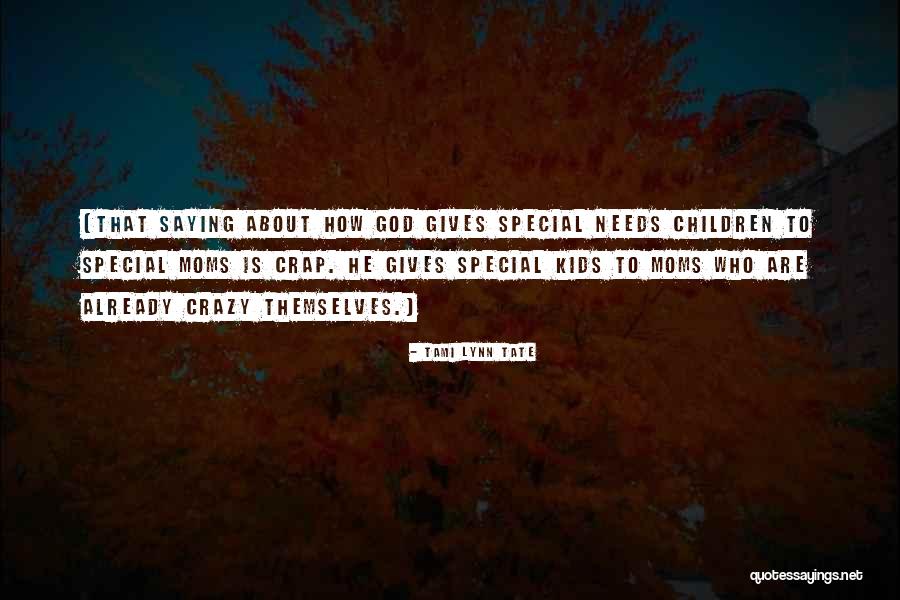 (That saying about how God gives special needs children to special moms is crap. He gives special kids to moms who are already crazy themselves.) — Tami Lynn Tate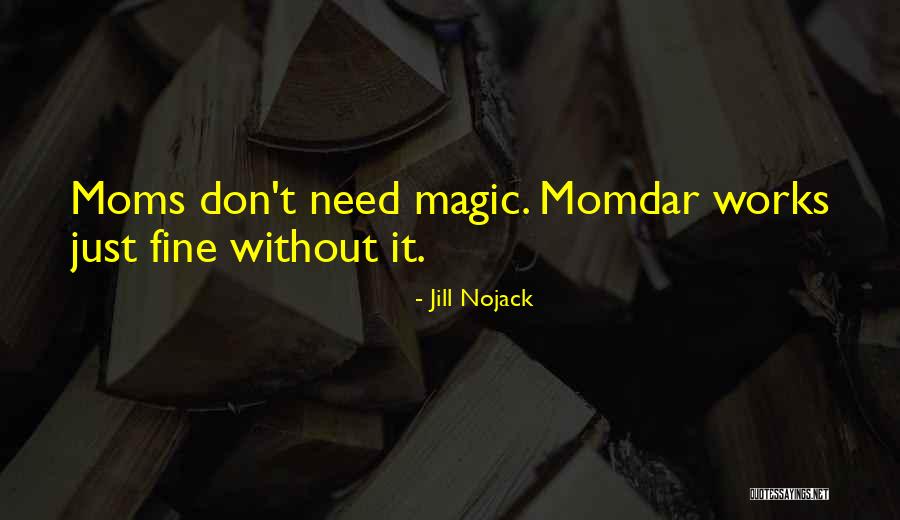 Moms don't need magic. Momdar works just fine without it. — Jill Nojack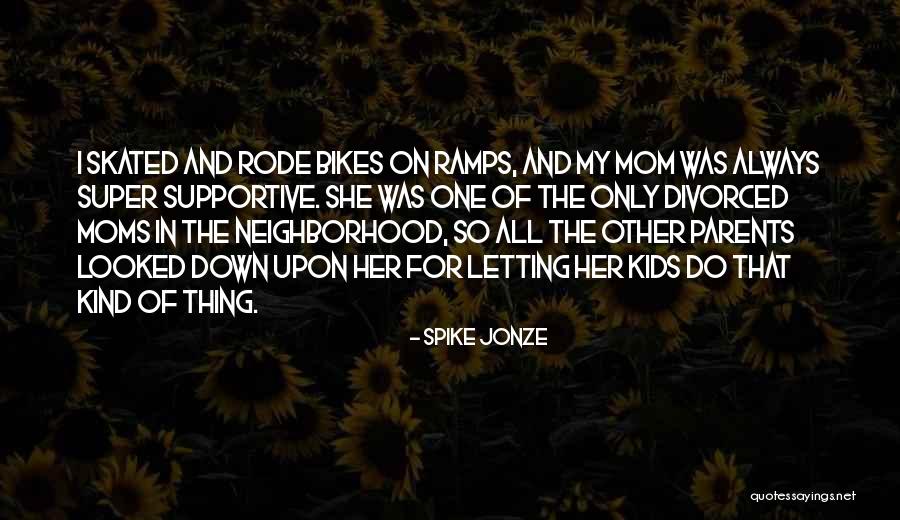 I skated and rode bikes on ramps, and my mom was always super supportive. She was one of the only divorced moms in the neighborhood, so all the other parents looked down upon her for letting her kids do that kind of thing. — Spike Jonze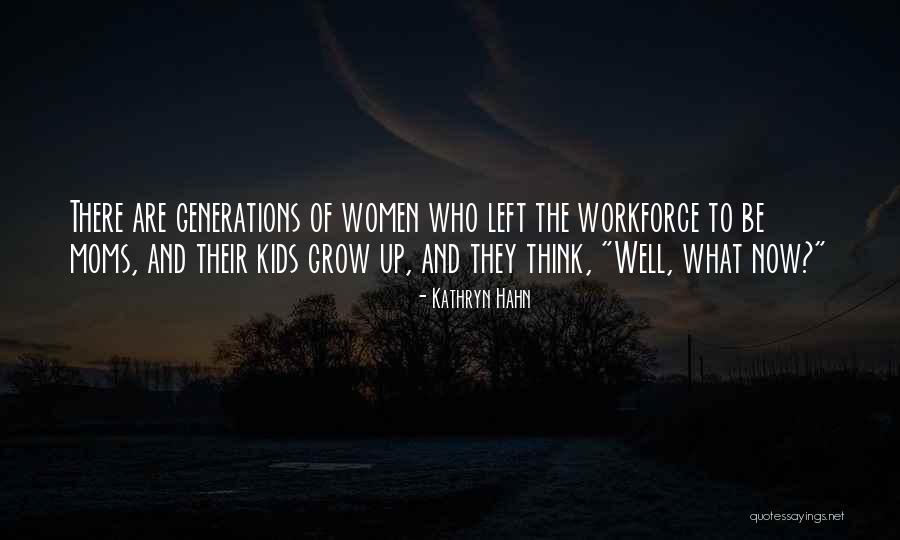 There are generations of women who left the workforce to be moms, and their kids grow up, and they think, "Well, what now?" — Kathryn Hahn
Just because you become a mother, doesn't mean you stop being a woman. — Nicole A. Walker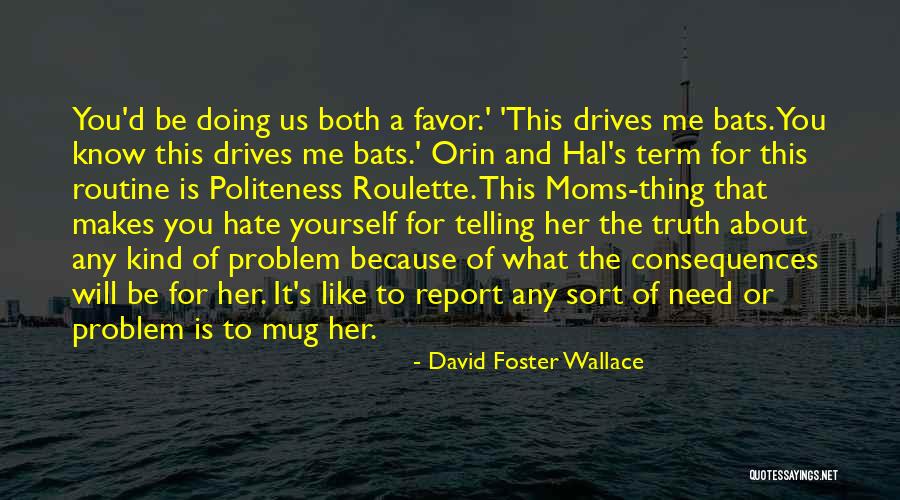 You'd be doing us both a favor.' 'This drives me bats. You know this drives me bats.' Orin and Hal's term for this routine is Politeness Roulette. This Moms-thing that makes you hate yourself for telling her the truth about any kind of problem because of what the consequences will be for her. It's like to report any sort of need or problem is to mug her. — David Foster Wallace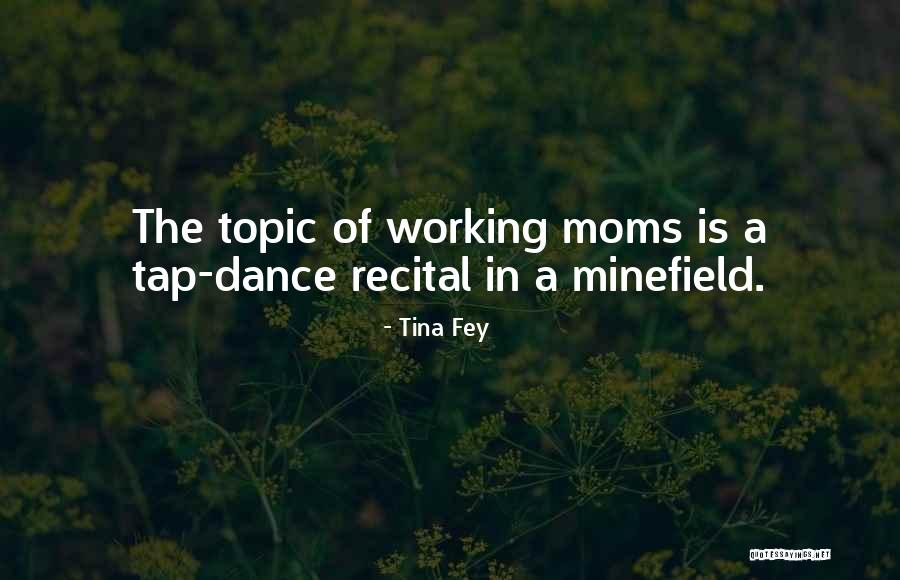 The topic of working moms is a tap-dance recital in a minefield. — Tina Fey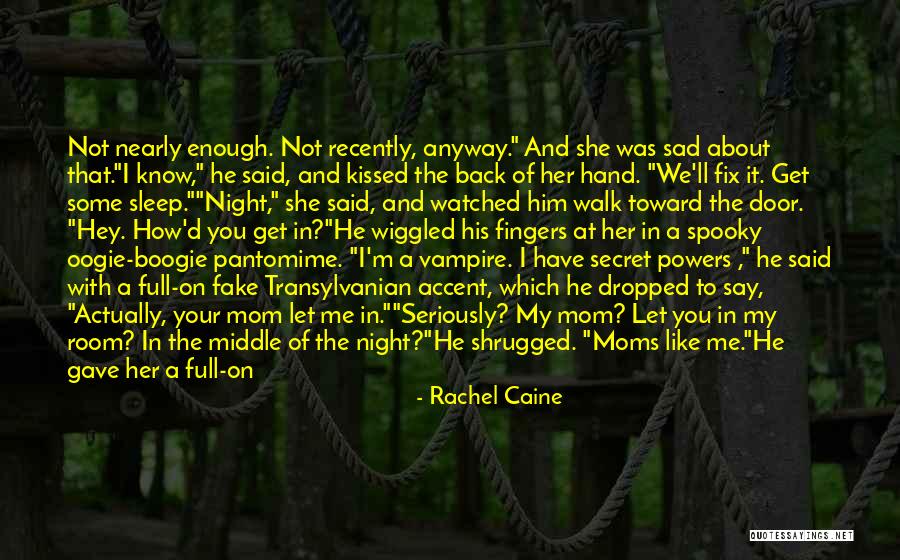 Not nearly enough. Not recently, anyway." And she was sad about that.
"I know," he said, and kissed the back of her hand. "We'll fix it. Get some sleep."
"Night," she said, and watched him walk toward the door. "Hey. How'd you get in?"
He wiggled his fingers at her in a spooky oogie-boogie pantomime. "I'm a vampire. I have secret powers ," he said with a full-on fake Transylvanian accent, which he dropped to say, "Actually, your mom let me in."
"Seriously? My mom? Let you in my room? In the middle of the night?"
He shrugged. "Moms like me."
He gave her a full-on Hollywood grin, and slipped out the door. — Rachel Caine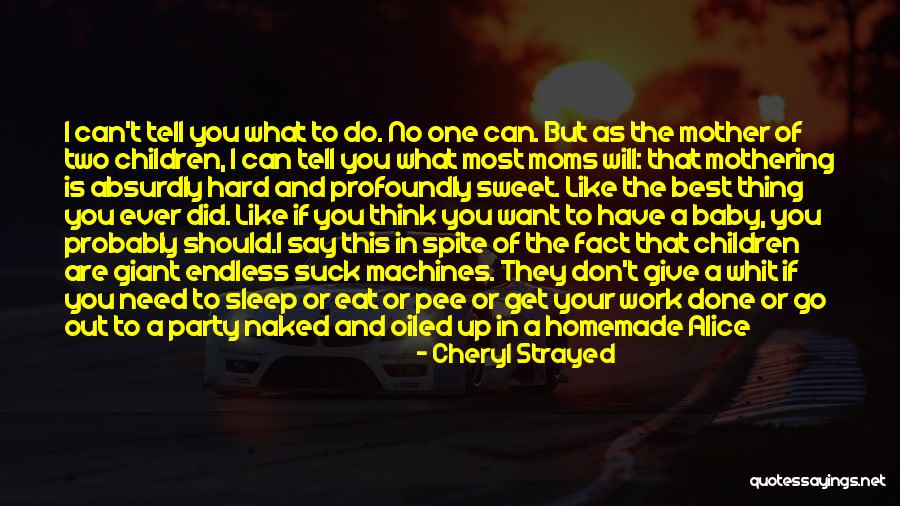 I can't tell you what to do. No one can. But as the mother of two children, I can tell you what most moms will: that mothering is absurdly hard and profoundly sweet. Like the best thing you ever did. Like if you think you want to have a baby, you probably should.
I say this in spite of the fact that children are giant endless suck machines. They don't give a whit if you need to sleep or eat or pee or get your work done or go out to a party naked and oiled up in a homemade Alice B. Toklas mask. They take everything. They will bring you the furthest edge of your personality and abso-fucking-lutely to your knees.
They will also give you everything back. Not just all they take, but many of the things you lost before they came along as well. — Cheryl Strayed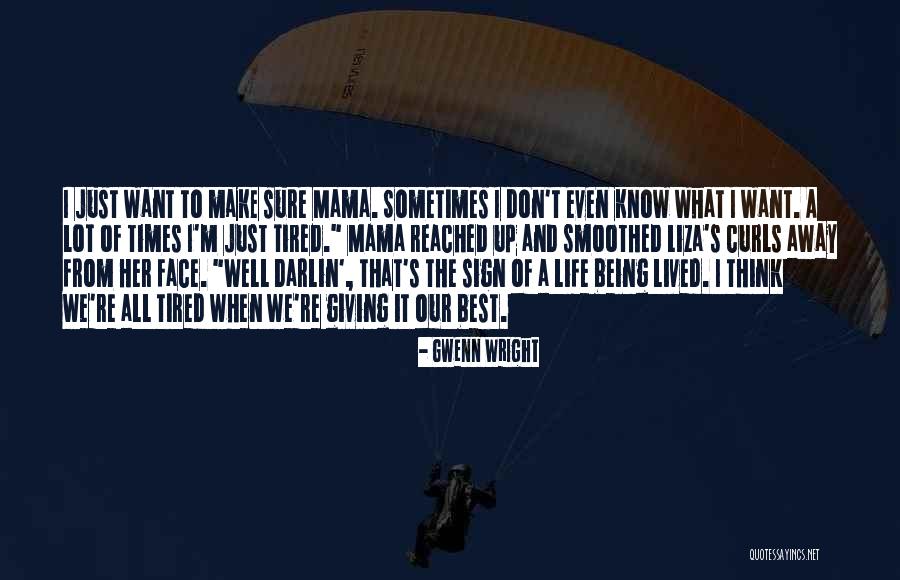 I just want to make sure Mama. Sometimes I don't even know what I want. A lot of times I'm just tired."
Mama reached up and smoothed Liza's curls away from her face. "Well darlin', that's the sign of a life being lived. I think we're all tired when we're giving it our best. — Gwenn Wright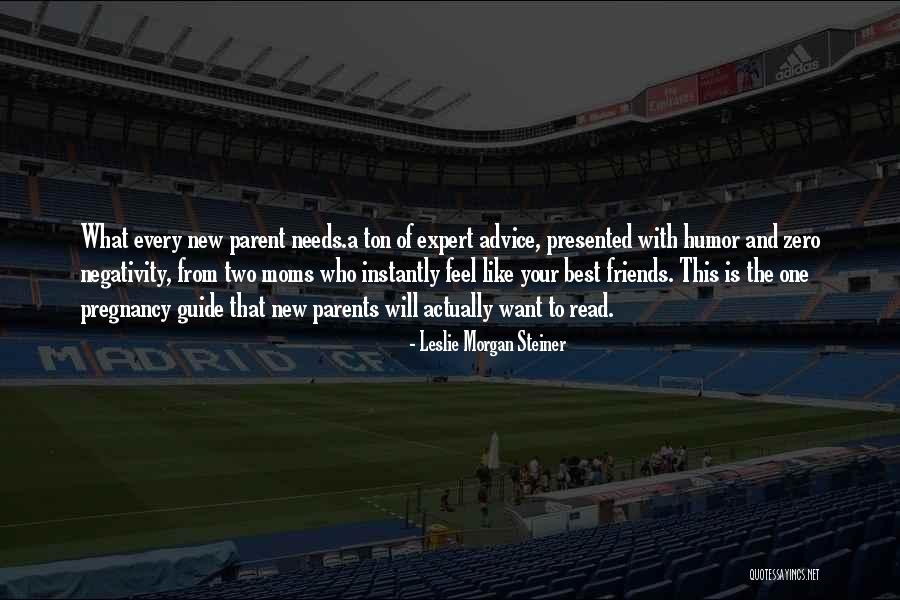 What every new parent needs.a ton of expert advice, presented with humor and zero negativity, from two moms who instantly feel like your best friends. This is the one pregnancy guide that new parents will actually want to read. — Leslie Morgan Steiner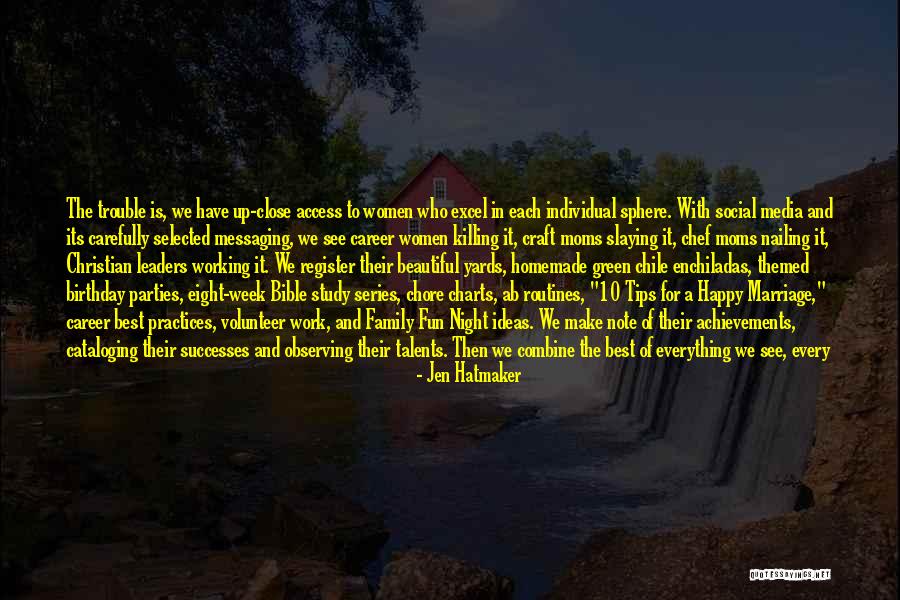 The trouble is, we have up-close access to women who excel in each individual sphere. With social media and its carefully selected messaging, we see career women killing it, craft moms slaying it, chef moms nailing it, Christian leaders working it. We register their beautiful yards, homemade green chile enchiladas, themed birthday parties, eight-week Bible study series, chore charts, ab routines, "10 Tips for a Happy Marriage," career best practices, volunteer work, and Family Fun Night ideas. We make note of their achievements, cataloging their successes and observing their talents. Then we combine the best of everything we see, every woman we admire in every genre, and conclude: I should be all of that. It is certifiably insane. — Jen Hatmaker
but I've found the best way to handle anyone difficult - rich worrywart moms, the famished Manhattan vegan ordering a late lunch - is to exude the bland calm of the heavily medicated and go about my business. — Julia Claiborne Johnson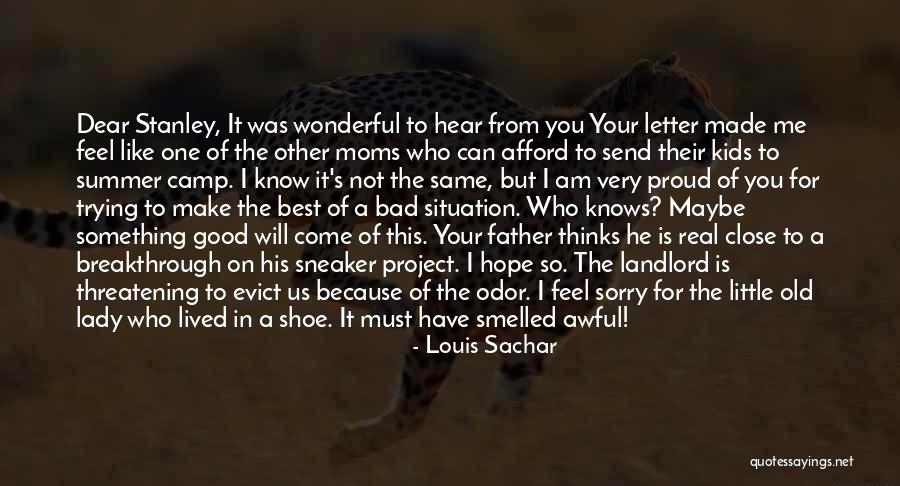 Dear Stanley, It was wonderful to hear from you Your letter made me feel like one of the other moms who can afford to send their kids to summer camp. I know it's not the same, but I am very proud of you for trying to make the best of a bad situation. Who knows? Maybe something good will come of this. Your father thinks he is real close to a breakthrough on his sneaker project. I hope so. The landlord is threatening to evict us because of the odor. I feel sorry for the little old lady who lived in a shoe. It must have smelled awful! — Louis Sachar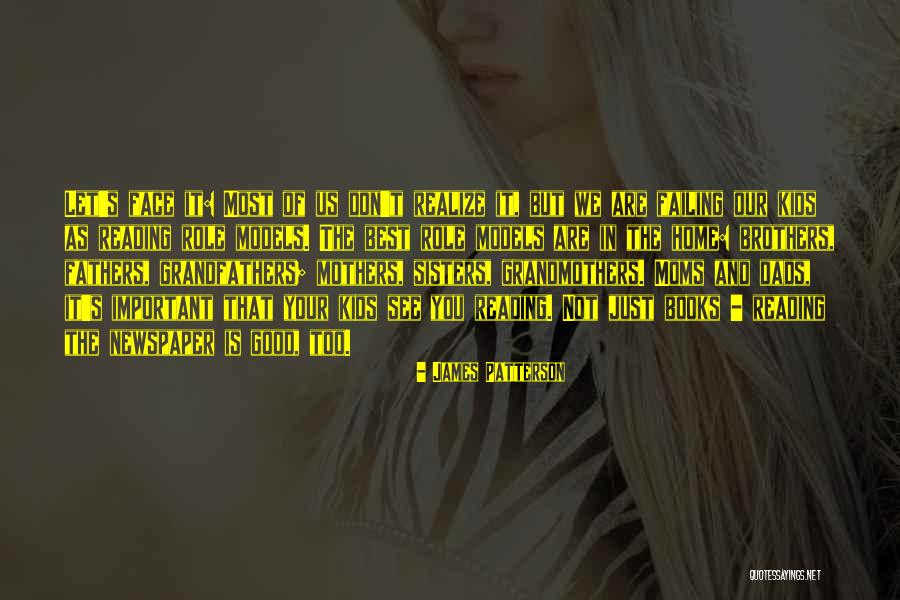 Let's face it: Most of us don't realize it, but we are failing our kids as reading role models. The best role models are in the home: brothers, fathers, grandfathers; mothers, sisters, grandmothers. Moms and dads, it's important that your kids see you reading. Not just books - reading the newspaper is good, too. — James Patterson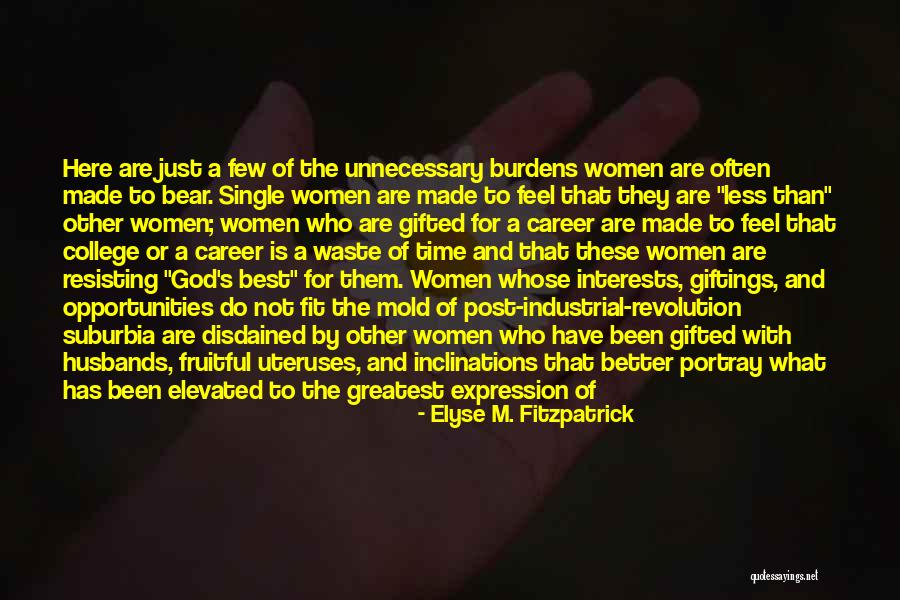 Here are just a few of the unnecessary burdens women are often made to bear. Single women are made to feel that they are "less than" other women; women who are gifted for a career are made to feel that college or a career is a waste of time and that these women are resisting "God's best" for them. Women whose interests, giftings, and opportunities do not fit the mold of post-industrial-revolution suburbia are disdained by other women who have been gifted with husbands, fruitful uteruses, and inclinations that better portray what has been elevated to the greatest expression of godliness for a woman: the stay-at-home mom. And stay-at-home moms are weighted with additional pressures: it's not enough to be home; they must also serve on every committee, live in a perfectly decorated (and always clean) house, and have perfectly behaved children. — Elyse M. Fitzpatrick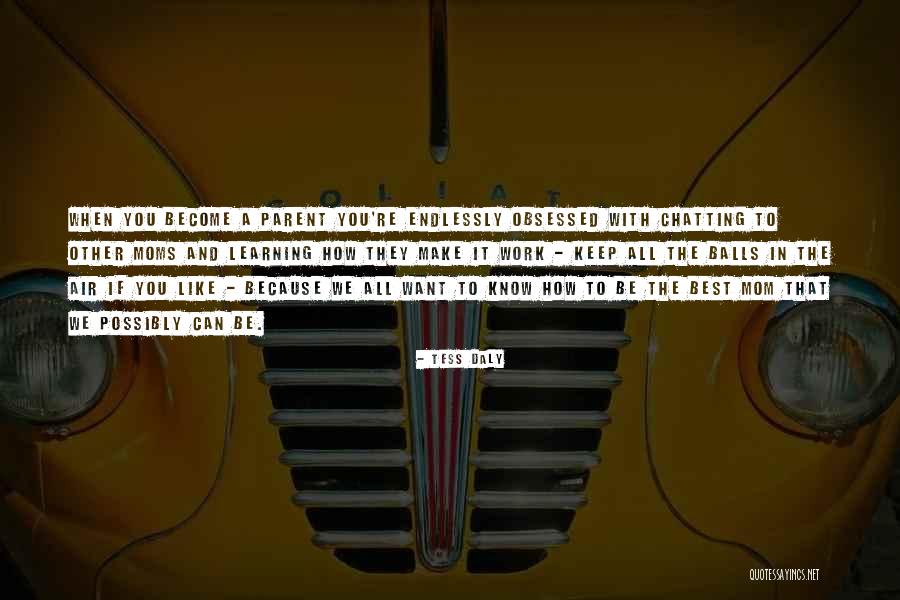 When you become a parent you're endlessly obsessed with chatting to other moms and learning how they make it work - keep all the balls in the air if you like - because we all want to know how to be the best mom that we possibly can be. — Tess Daly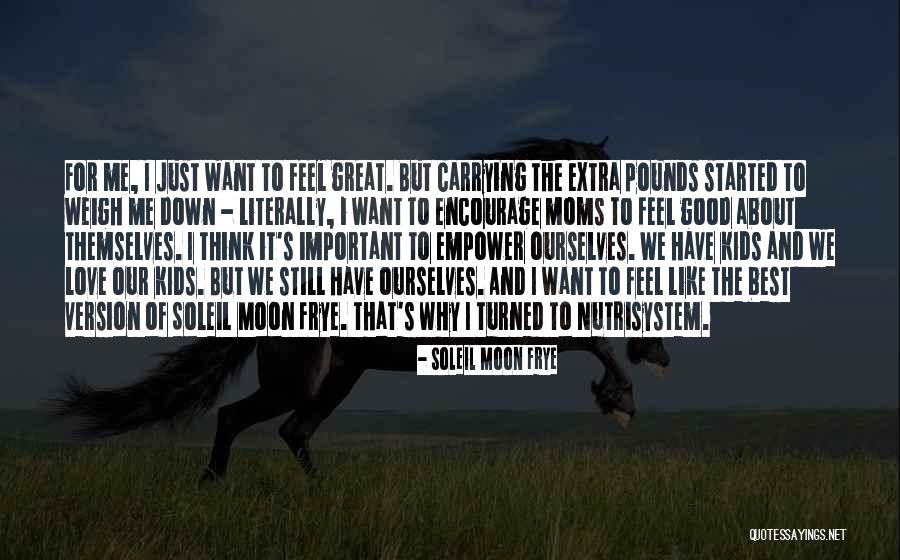 For me, I just want to feel great. But carrying the extra pounds started to weigh me down - literally, i want to encourage moms to feel good about themselves. I think it's important to empower ourselves. We have kids and we love our kids. But we still have ourselves. And I want to feel like the best version of Soleil Moon Frye. That's why I turned to Nutrisystem. — Soleil Moon Frye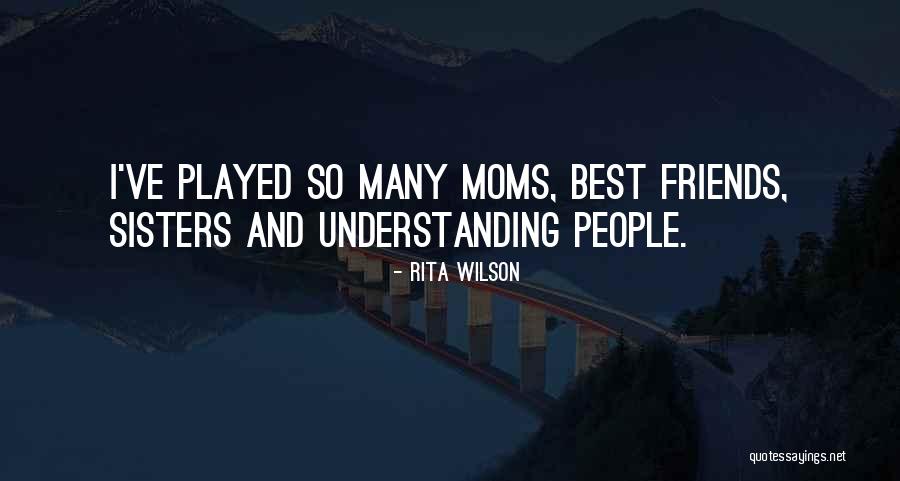 I've played so many moms, best friends, sisters and understanding people. — Rita Wilson
And I met your baby moms last night. We took a picture together, I hope she frames it. And I was drinking at the Palms last night. And ended up losing everything that I came with. — Drake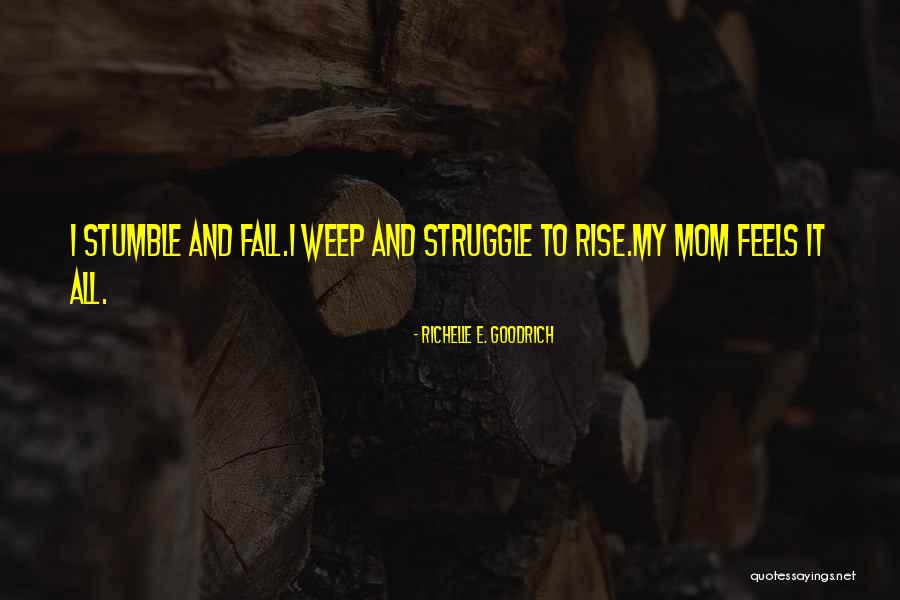 I stumble and fall.
I weep and struggle to rise.
My mom feels it all. — Richelle E. Goodrich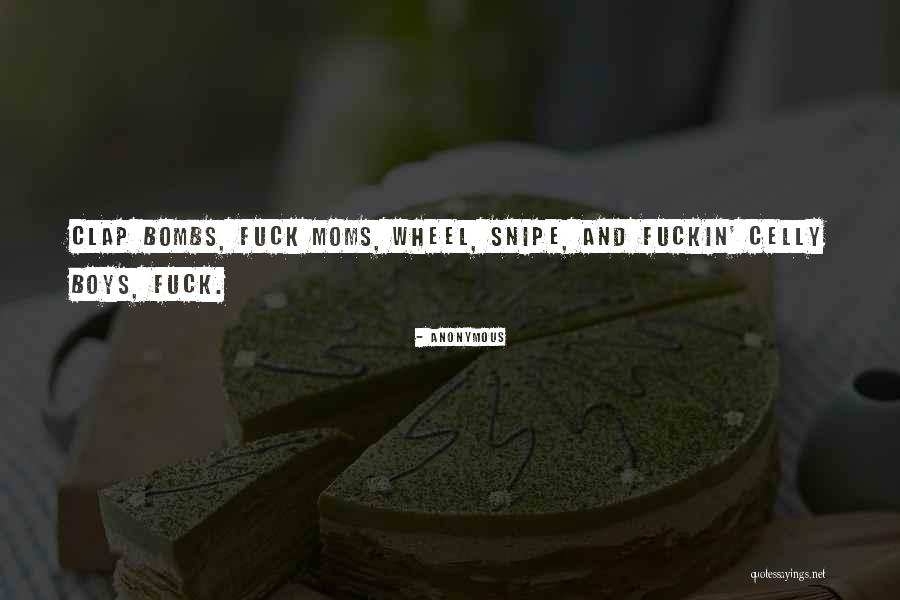 Clap bombs, fuck moms, wheel, snipe, and fuckin' celly boys, fuck. — Anonymous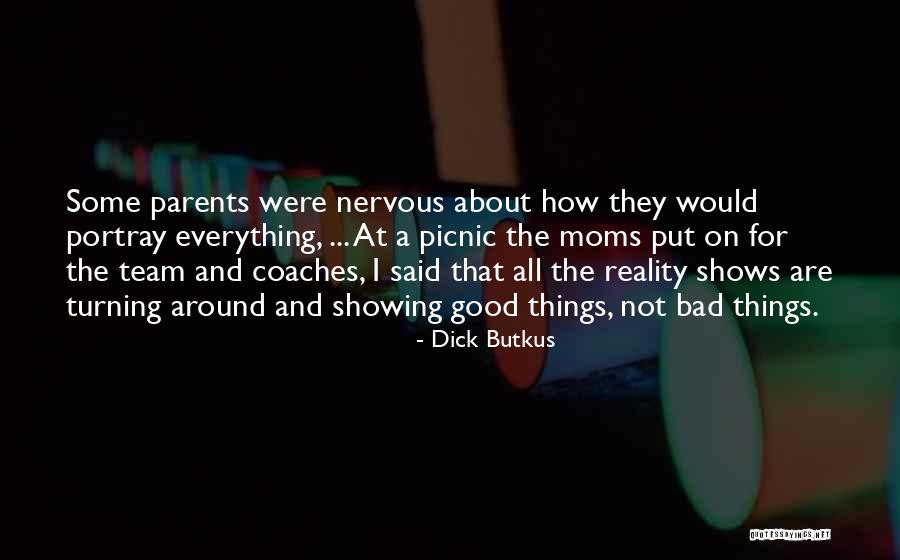 Some parents were nervous about how they would portray everything, ... At a picnic the moms put on for the team and coaches, I said that all the reality shows are turning around and showing good things, not bad things. — Dick Butkus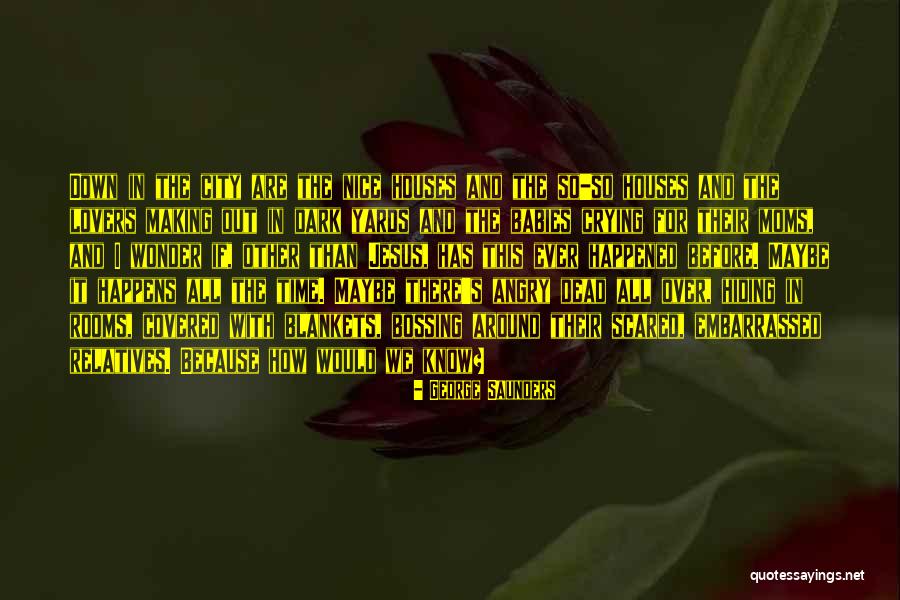 Down in the city are the nice houses and the so-so houses and the lovers making out in dark yards and the babies crying for their moms, and I wonder if, other than Jesus, has this ever happened before. Maybe it happens all the time. Maybe there's angry dead all over, hiding in rooms, covered with blankets, bossing around their scared, embarrassed relatives. Because how would we know? — George Saunders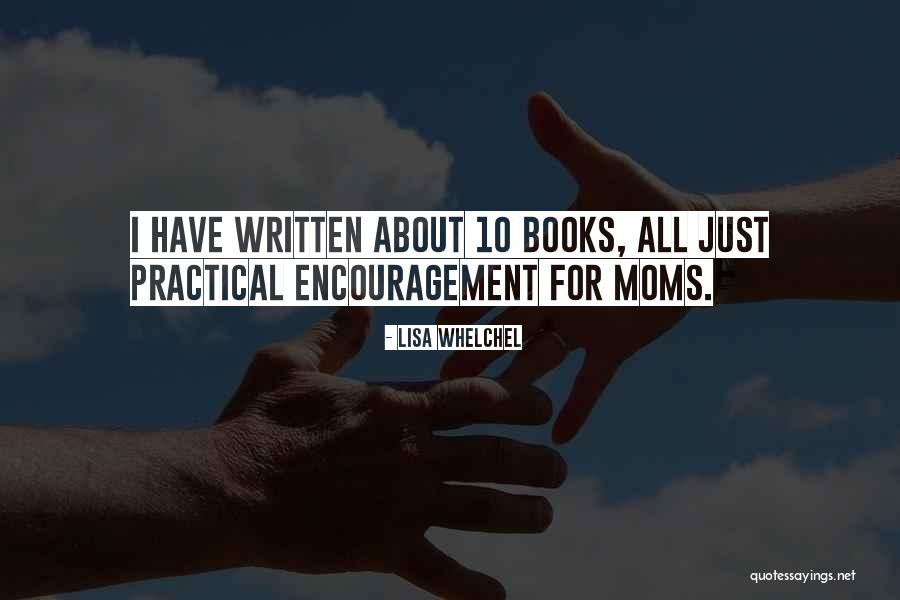 I have written about 10 books, all just practical encouragement for moms. — Lisa Whelchel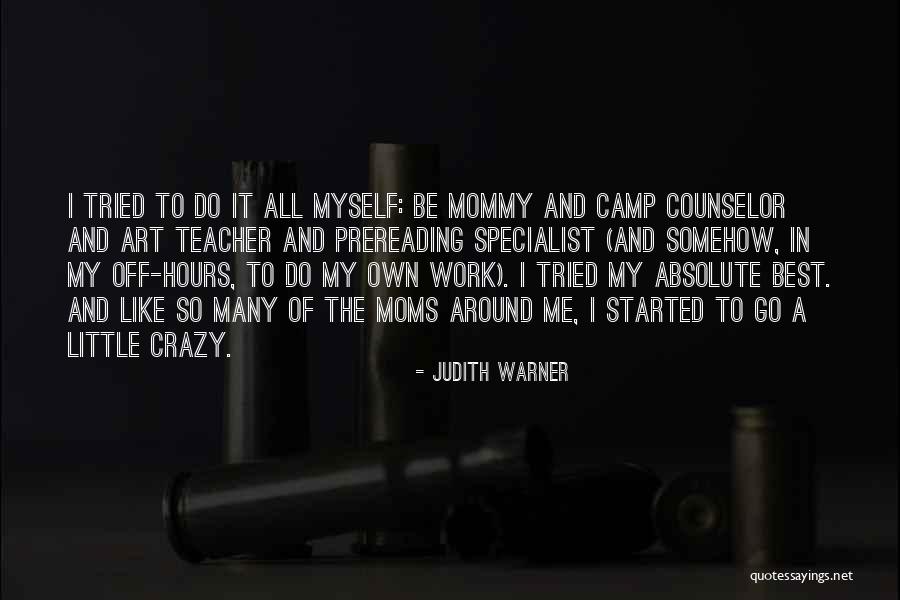 I tried to do it all myself: be mommy and camp counselor and art teacher and prereading specialist (and somehow, in my off-hours, to do my own work). I tried my absolute best. And like so many of the moms around me, I started to go a little crazy. — Judith Warner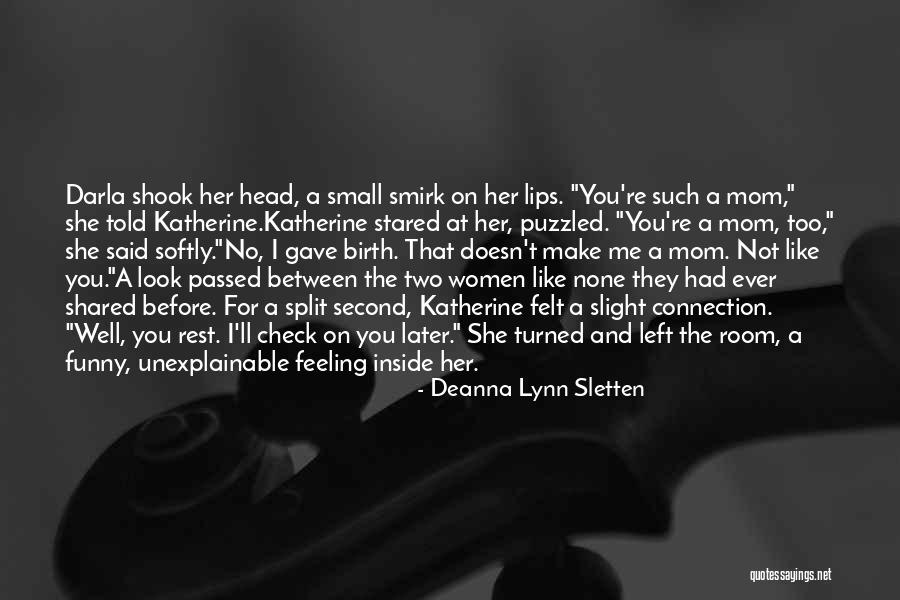 Darla shook her head, a small smirk on her lips. "You're such a mom," she told Katherine.
Katherine stared at her, puzzled. "You're a mom, too," she said softly.
"No, I gave birth. That doesn't make me a mom. Not like you."
A look passed between the two women like none they had ever shared before. For a split second, Katherine felt a slight connection. "Well, you rest. I'll check on you later." She turned and left the room, a funny, unexplainable feeling inside her. — Deanna Lynn Sletten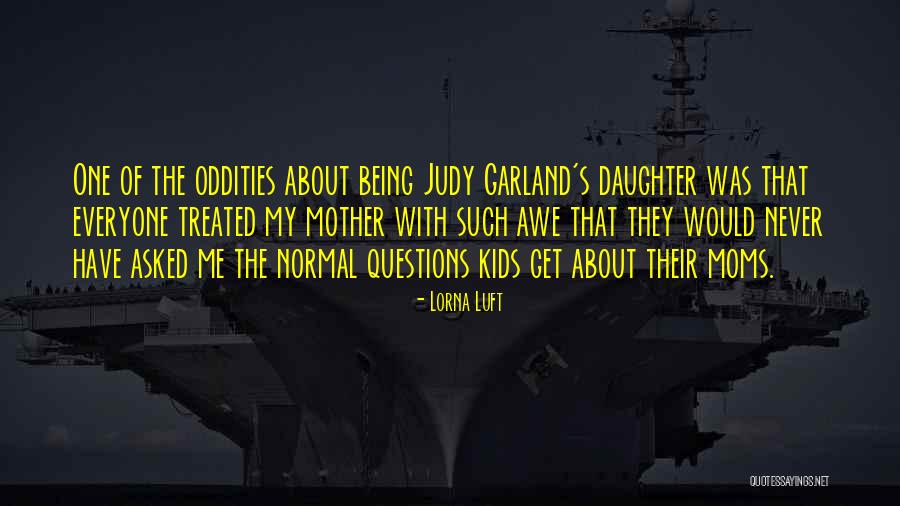 One of the oddities about being Judy Garland's daughter was that everyone treated my mother with such awe that they would never have asked me the normal questions kids get about their moms. — Lorna Luft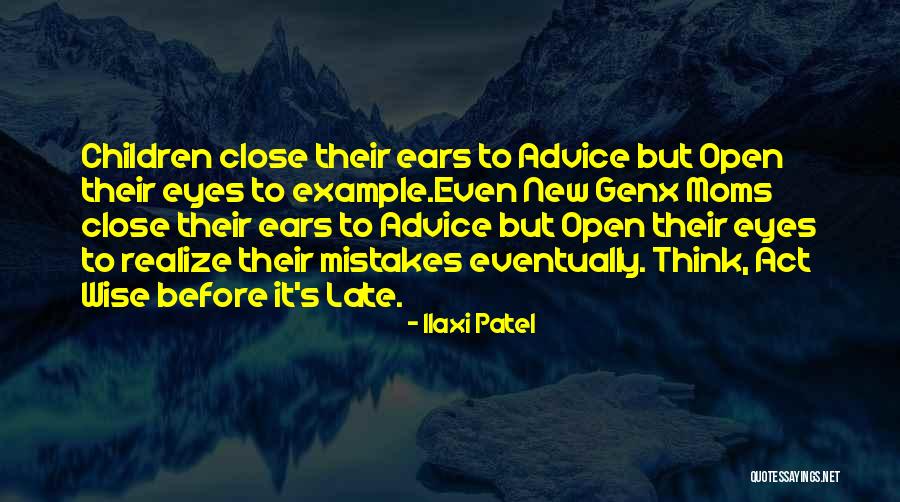 Children close their ears to Advice but Open their eyes to example.
Even New Genx Moms close their ears to Advice but Open their eyes to realize their mistakes eventually.
Think, Act Wise before it's Late. — Ilaxi Patel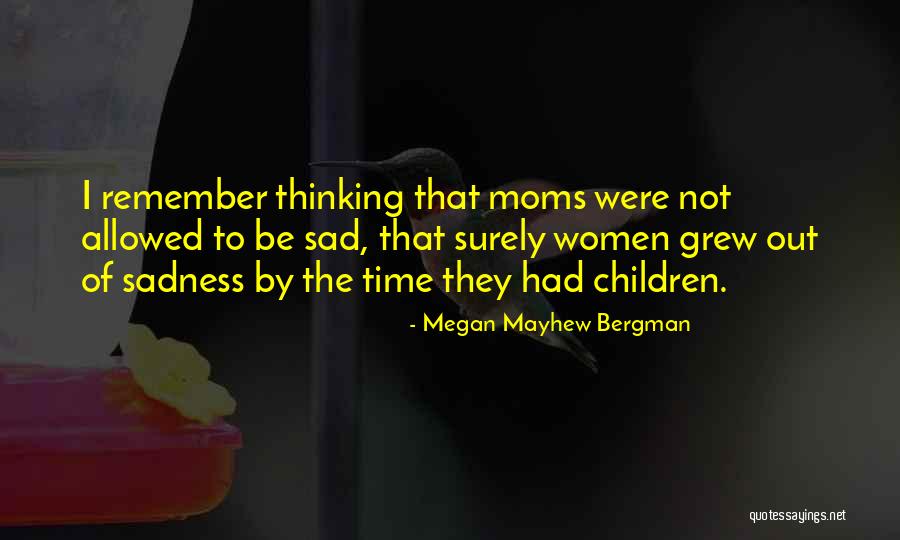 I remember thinking that moms were not allowed to be sad, that surely women grew out of sadness by the time they had children. — Megan Mayhew Bergman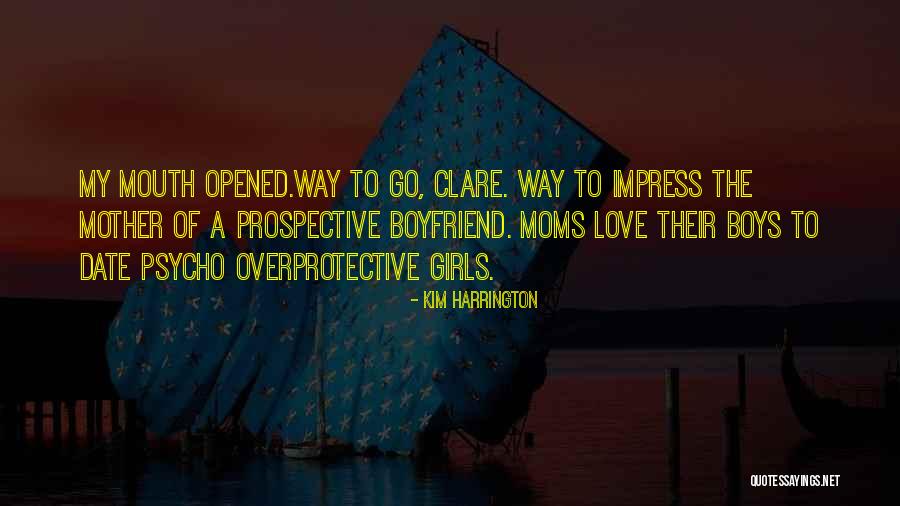 MY MOUTH OPENED.
Way to go, Clare. Way to impress the mother of a prospective boyfriend. Moms love their boys to date psycho overprotective girls. — Kim Harrington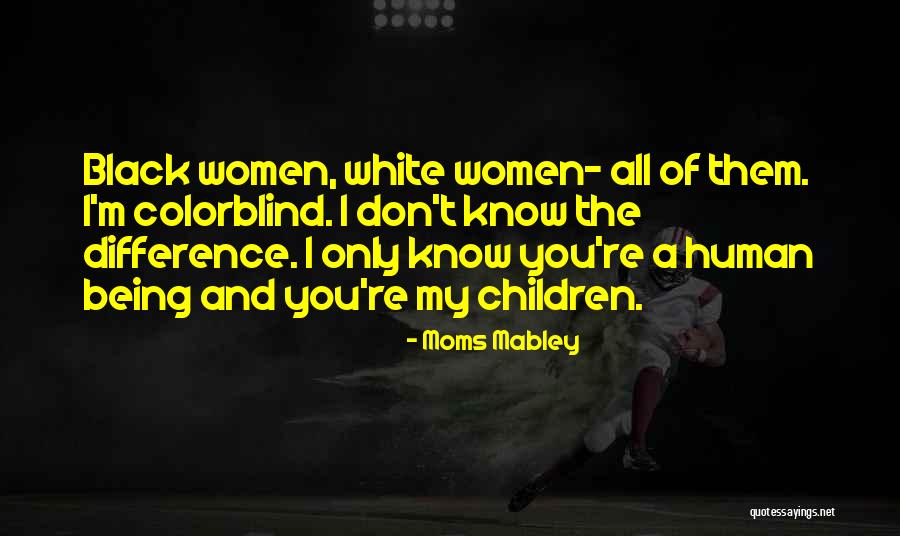 Black women, white women- all of them. I'm colorblind. I don't know the difference. I only know you're a human being and you're my children. — Moms Mabley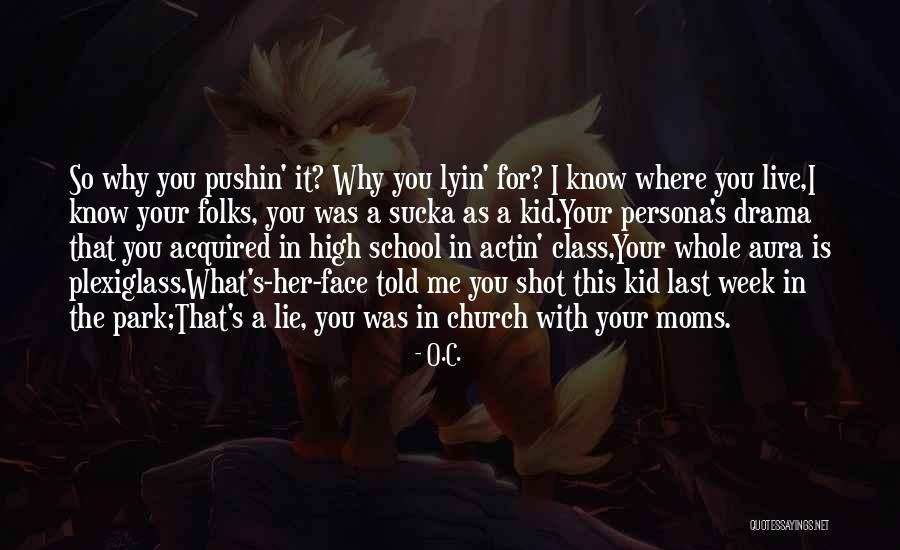 So why you pushin' it? Why you lyin' for? I know where you live,
I know your folks, you was a sucka as a kid.
Your persona's drama that you acquired in high school in actin' class,
Your whole aura is plexiglass.
What's-her-face told me you shot this kid last week in the park;
That's a lie, you was in church with your moms. — O.C.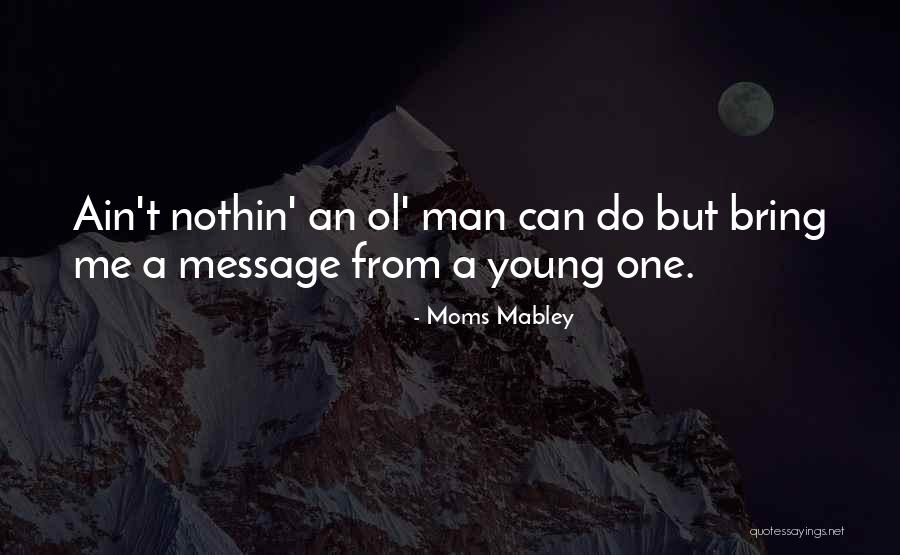 Ain't nothin' an ol' man can do but bring me a message from a young one. — Moms Mabley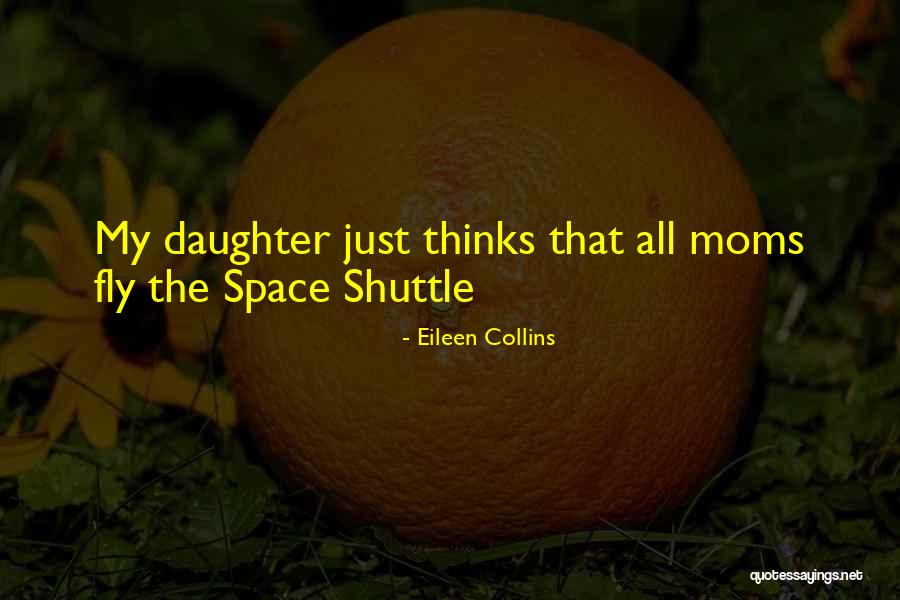 My daughter just thinks that all moms fly the Space Shuttle — Eileen Collins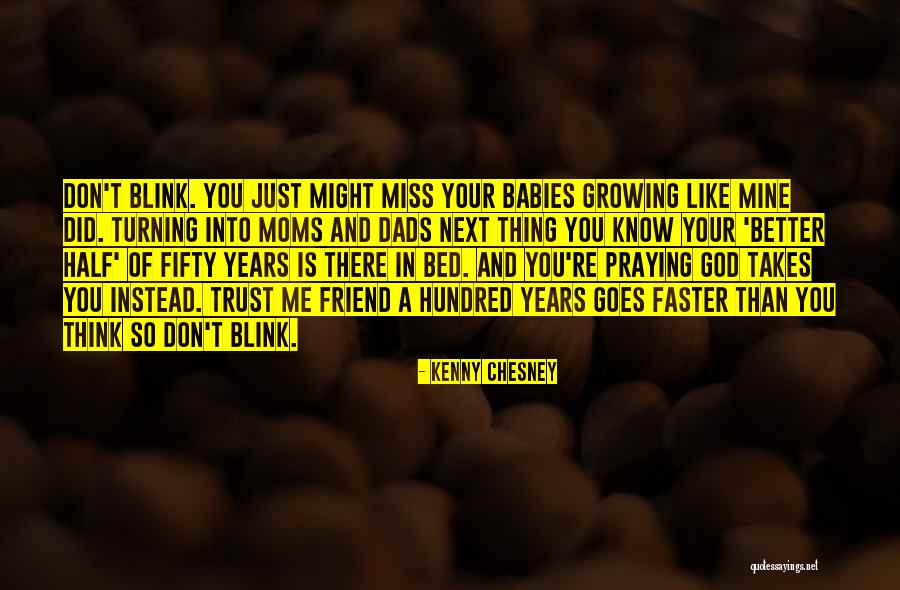 Don't blink. You just might miss your babies growing like mine did. Turning into moms and dads next thing you know your 'better half' Of fifty years is there in bed. And you're praying God takes you instead. Trust me friend a hundred years goes faster than you think So don't blink. — Kenny Chesney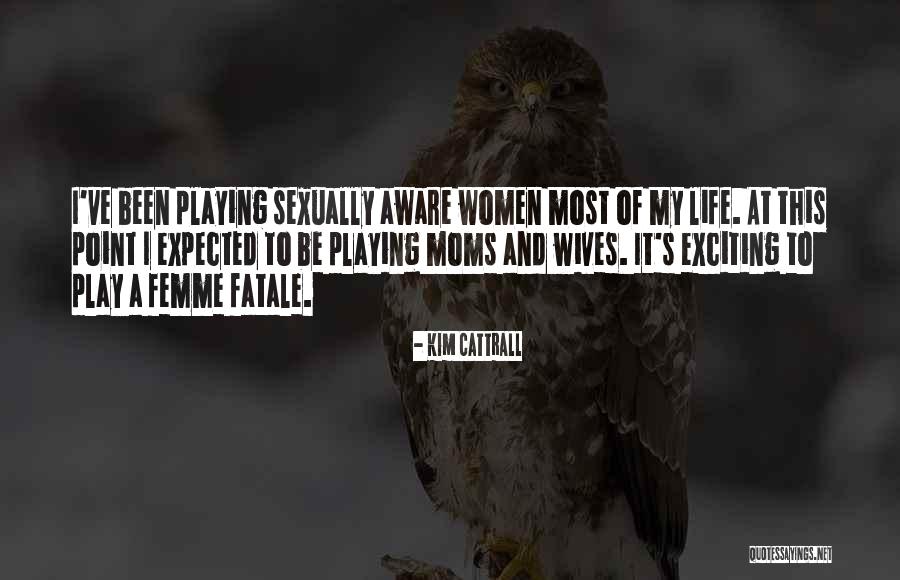 I've been playing sexually aware women most of my life. At this point I expected to be playing moms and wives. It's exciting to play a femme fatale. — Kim Cattrall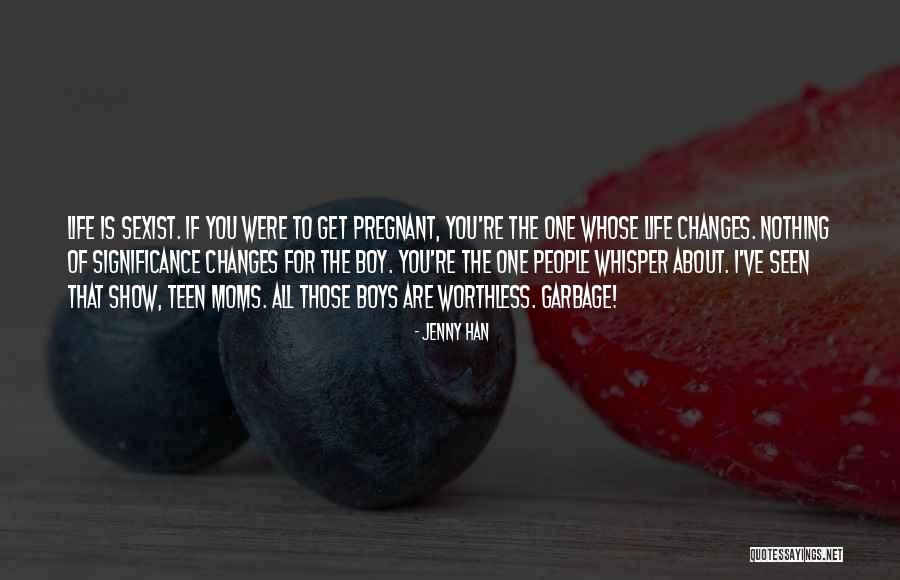 Life is sexist. If you were to get pregnant, you're the one whose life changes. Nothing of significance changes for the boy. You're the one people whisper about. I've seen that show, Teen Moms. All those boys are worthless. Garbage! — Jenny Han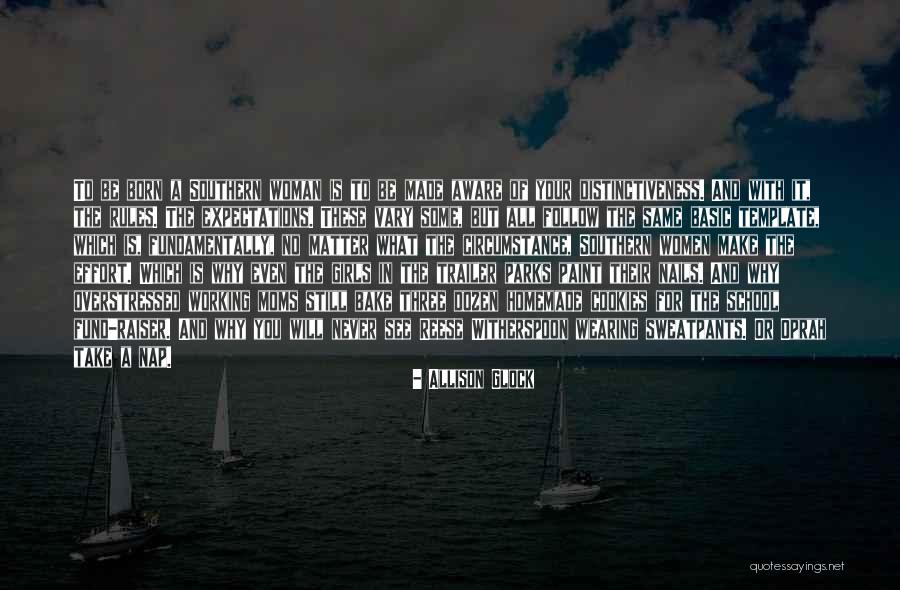 To be born a Southern woman is to be made aware of your distinctiveness. And with it, the rules. The expectations. These vary some, but all follow the same basic template, which is, fundamentally, no matter what the circumstance, Southern women make the effort. Which is why even the girls in the trailer parks paint their nails. And why overstressed working moms still bake three dozen homemade cookies for the school fund-raiser. And why you will never see Reese Witherspoon wearing sweatpants. Or Oprah take a nap. — Allison Glock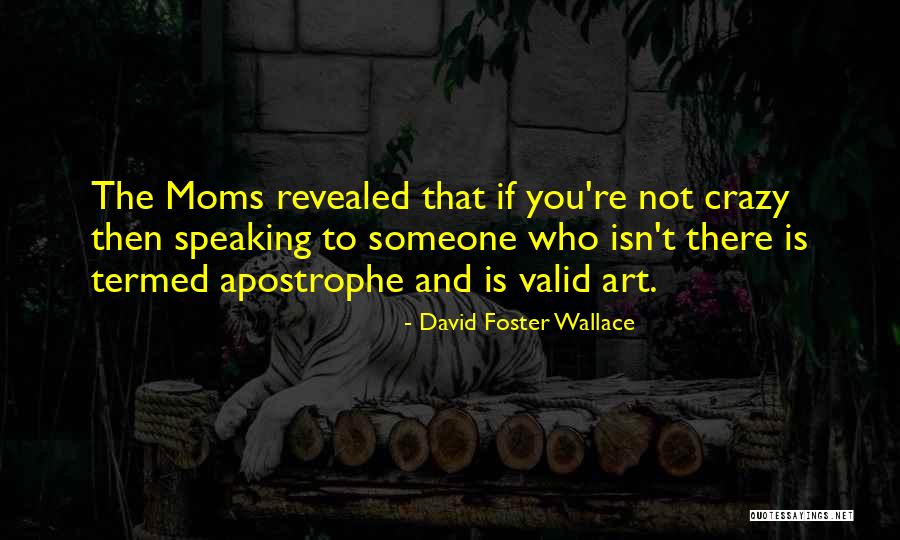 The Moms revealed that if you're not crazy then speaking to someone who isn't there is termed apostrophe and is valid art. — David Foster Wallace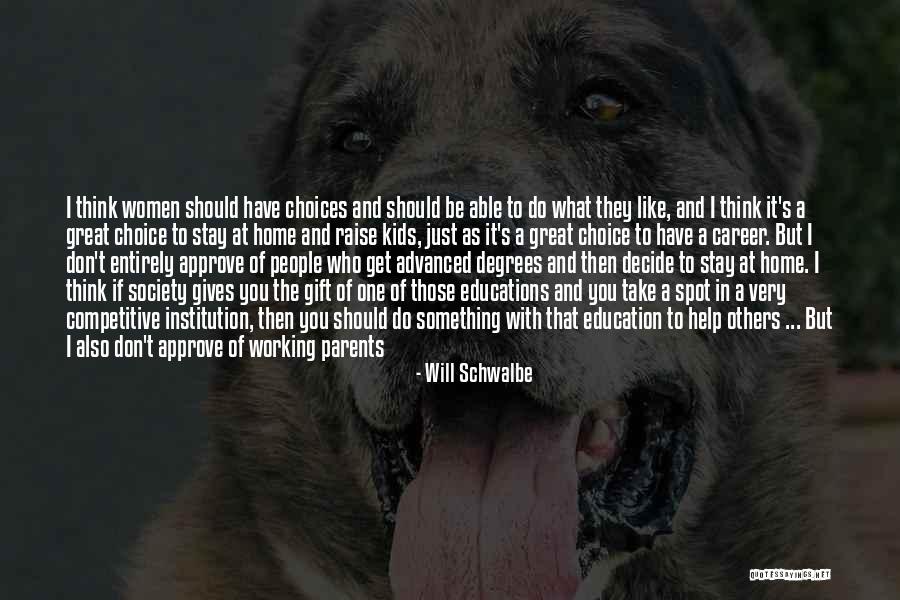 I think women should have choices and should be able to do what they like, and I think it's a great choice to stay at home and raise kids, just as it's a great choice to have a career. But I don't entirely approve of people who get advanced degrees and then decide to stay at home. I think if society gives you the gift of one of those educations and you take a spot in a very competitive institution, then you should do something with that education to help others ... But I also don't approve of working parents who look down on stay-at-home mothers and think they smother their children. Working parents are every bit as capable of spoiling children as ones who don't work - maybe even more so when they indulge their kids out of guilt. The best think anyone can teach their children is the obligation we all have toward each other - and no one has a monopoly on teaching that. — Will Schwalbe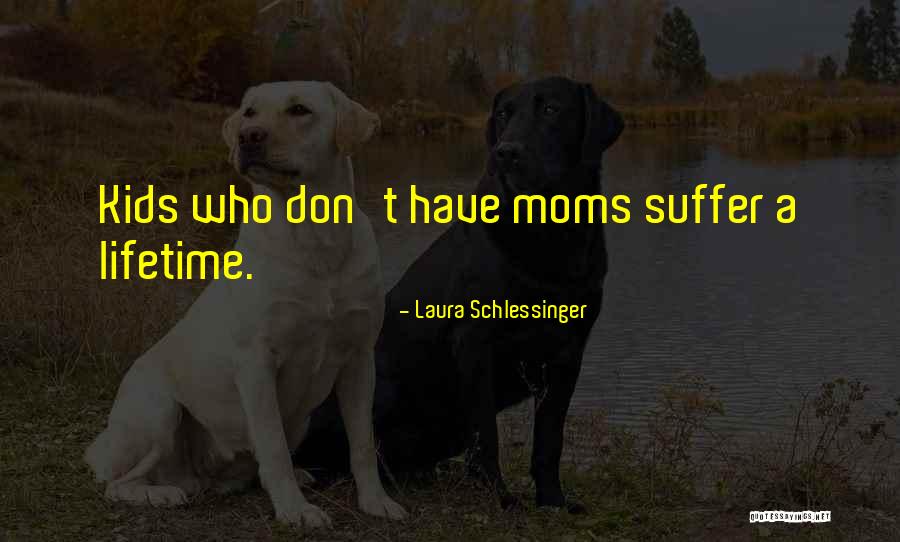 Kids who don't have moms suffer a lifetime. — Laura Schlessinger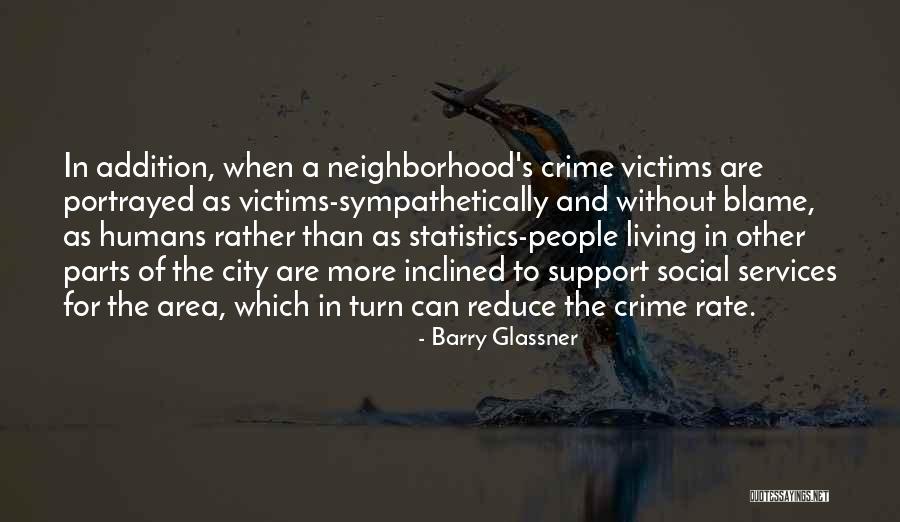 In addition, when a neighborhood's crime victims are portrayed as victims-sympathetically and without blame, as humans rather than as statistics-people living in other parts of the city are more inclined to support social services for the area, which in turn can reduce the crime rate. — Barry Glassner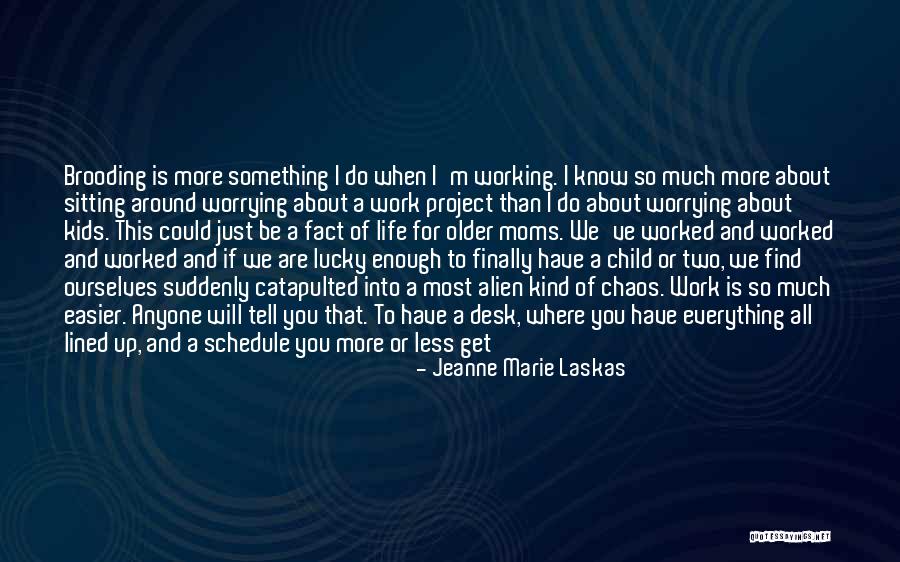 Brooding is more something I do when I'm working. I know so much more about sitting around worrying about a work project than I do about worrying about kids. This could just be a fact of life for older moms. We've worked and worked and worked and if we are lucky enough to finally have a child or two, we find ourselves suddenly catapulted into a most alien kind of chaos.
Work is so much easier. Anyone will tell you that. To have a desk, where you have everything all lined up, and a schedule you more or less get to agree to. Work. I am a worker. This is so funny because I never really think of my work as work. I certainly never though of myself as having a career. Writing, work, this is just who I am. I am a person who sits at a desk and makes phone calls and taps at a computer keyboard and sips coffee and calls her mom at five. That I am anything better or smaller than that has come as sudden news to me.
Brand new.
News. — Jeanne Marie Laskas
There are so many women out there who are single moms, really not by choice, and doing it and making it work every day. I think it's becoming much more a part of our culture and I hope that it will become more accepted and that those women are going to be more and more appreciated, respected and supported. — Connie Britton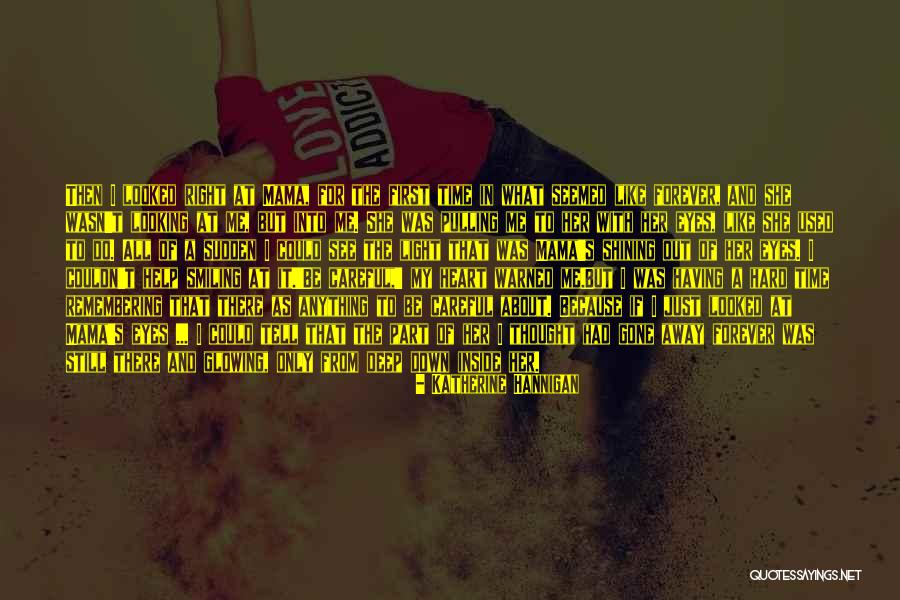 Then I looked right at Mama, for the first time in what seemed like forever, and she wasn't looking at me, but into me. She was pulling me to her with her eyes, like she used to do. All of a sudden I could see the light that was Mama's shining out of her eyes. I couldn't help smiling at it.
'Be careful,' my heart warned me.
But I was having a hard time remembering that there as anything to be careful about. Because if I just looked at Mama's eyes ... I could tell that the part of her I thought had gone away forever was still there and glowing, only from deep down inside her. — Katherine Hannigan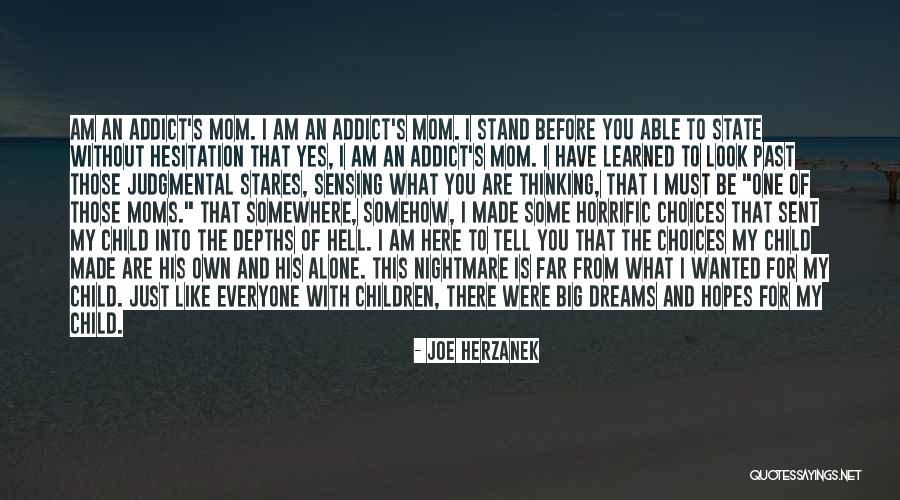 am an Addict's Mom. I am an Addict's Mom. I stand before you able to state without hesitation that Yes, I am an addict's mom. I have learned to look past those judgmental stares, sensing what you are thinking, that I must be "one of those Moms." That somewhere, somehow, I made some horrific choices that sent my child into the depths of hell. I am here to tell you that the choices my child made are his own and his alone. This nightmare is far from what I wanted for my child. Just like everyone with children, there were big dreams and hopes for my child. — Joe Herzanek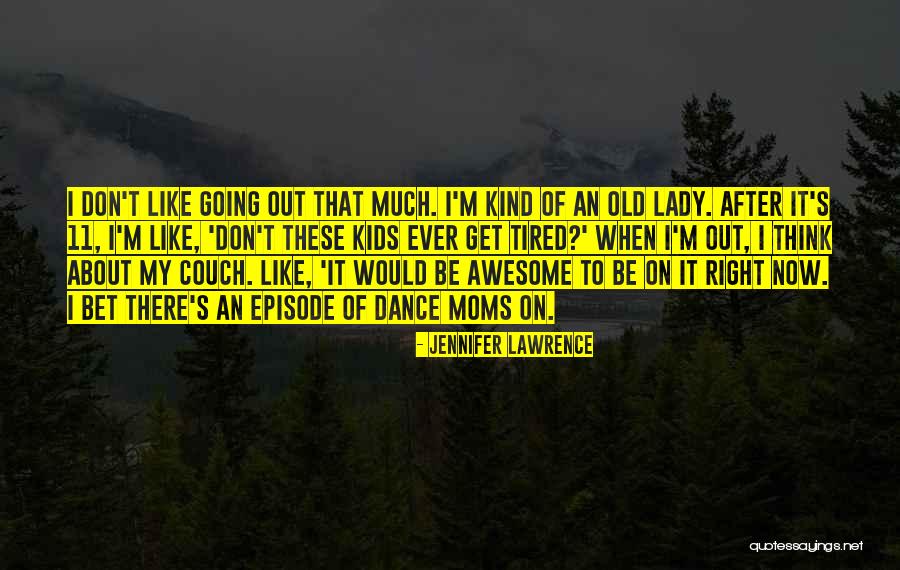 I don't like going out that much. I'm kind of an old lady. After it's 11, I'm like, 'Don't these kids ever get tired?' When I'm out, I think about my couch. Like, 'It would be awesome to be on it right now. I bet there's an episode of Dance Moms on. — Jennifer Lawrence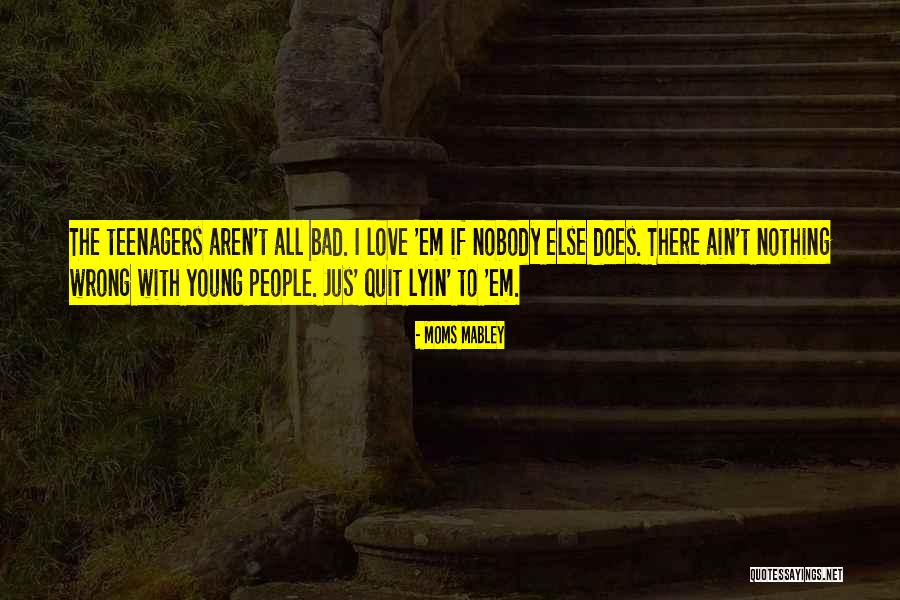 The teenagers aren't all bad. I love 'em if nobody else does. There ain't nothing wrong with young people. Jus' quit lyin' to 'em. — Moms Mabley