Best Companion Dogs Quotes & Sayings
Enjoy reading and share 24 famous quotes about Best Companion Dogs with everyone.
Top Best Companion Dogs Quotes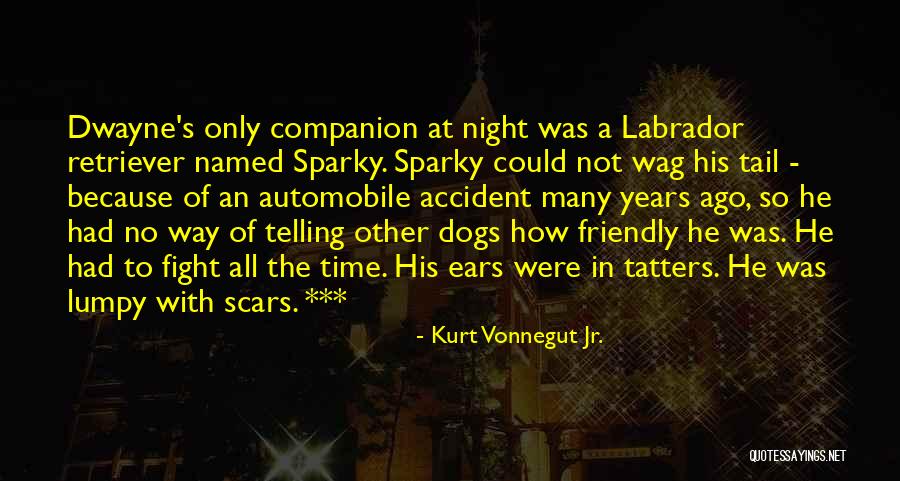 Dwayne's only companion at night was a Labrador retriever named Sparky. Sparky could not wag his tail - because of an automobile accident many years ago, so he had no way of telling other dogs how friendly he was. He had to fight all the time. His ears were in tatters. He was lumpy with scars. *** — Kurt Vonnegut Jr.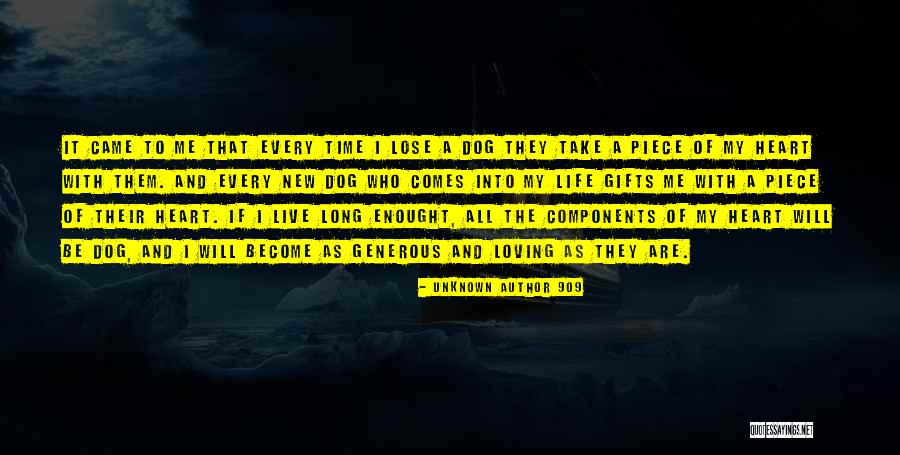 It came to me that every time I lose a dog they take a piece of my heart with them. And every new dog who comes into my life gifts me with a piece of their heart. If I live long enought, all the components of my heart will be dog, and I will become as generous and loving as they are. — Unknown Author 909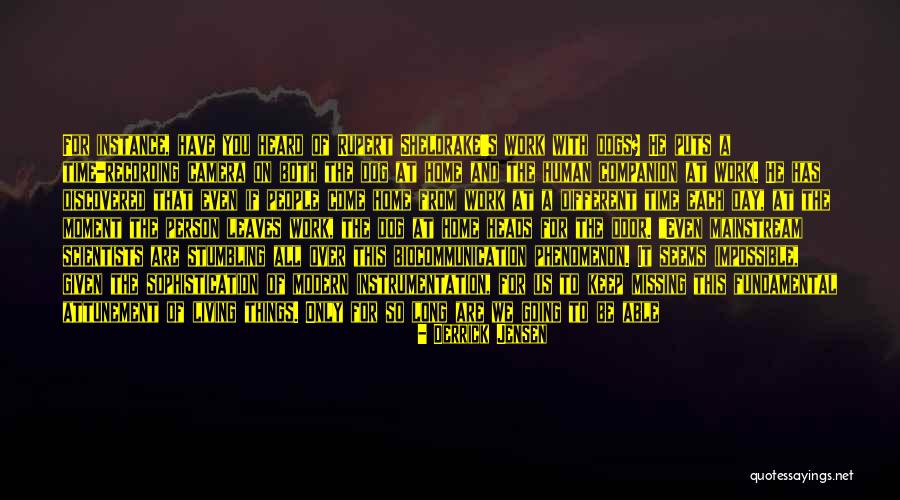 For instance, have you heard of Rupert Sheldrake's work with dogs? He puts a time-recording camera on both the dog at home and the human companion at work. He has discovered that even if people come home from work at a different time each day, at the moment the person leaves work, the dog at home heads for the door. "Even mainstream scientists are stumbling all over this biocommunication phenomenon. It seems impossible, given the sophistication of modern instrumentation, for us to keep missing this fundamental attunement of living things. Only for so long are we going to be able to pretend it's the result of 'loose wires.' We cannot forever deny that which is so clearly there. — Derrick Jensen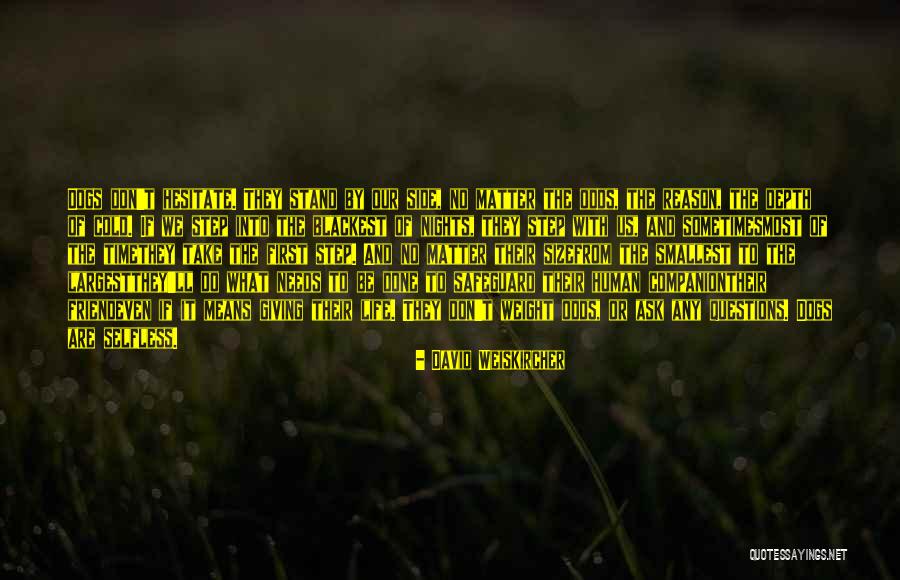 Dogs don't hesitate. They stand by our side, no matter the odds, the reason, the depth of cold.
If we step into the blackest of nights, they step with us, and sometimes
most of the time
they take the first step.
And no matter their size
from the smallest to the largest
they'll do what needs to be done to safeguard their human companion
their friend
even if it means giving their life.
They don't weight odds, or ask any questions. Dogs are selfless. — David Weiskircher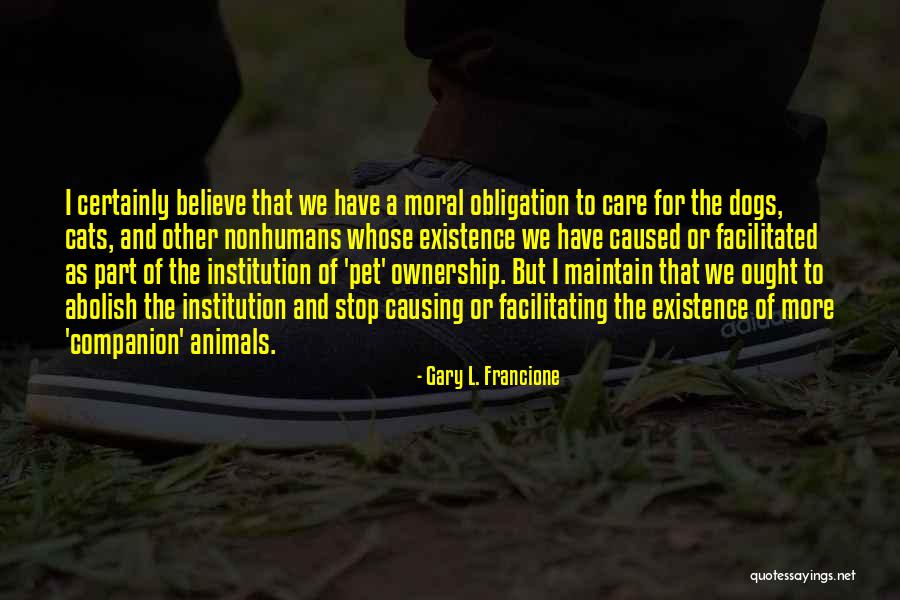 I certainly believe that we have a moral obligation to care for the dogs, cats, and other nonhumans whose existence we have caused or facilitated as part of the institution of 'pet' ownership. But I maintain that we ought to abolish the institution and stop causing or facilitating the existence of more 'companion' animals. — Gary L. Francione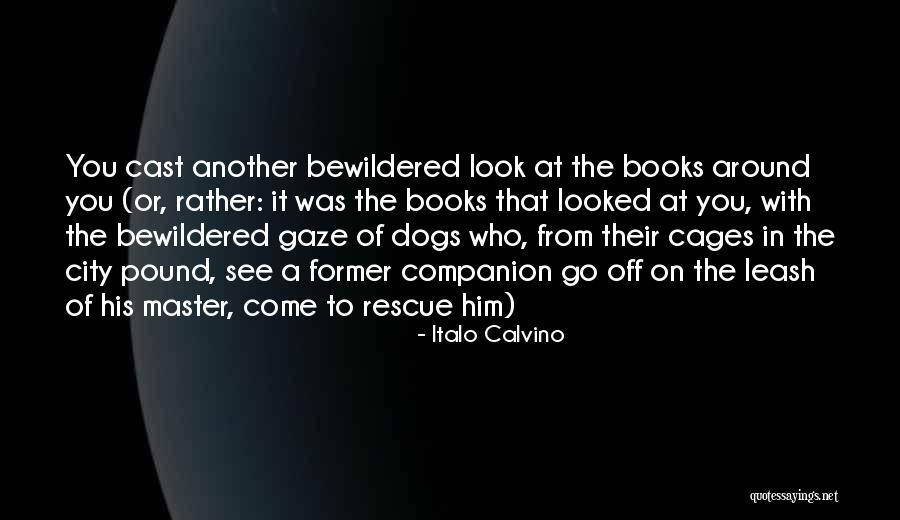 You cast another bewildered look at the books around you (or, rather: it was the books that looked at you, with the bewildered gaze of dogs who, from their cages in the city pound, see a former companion go off on the leash of his master, come to rescue him) — Italo Calvino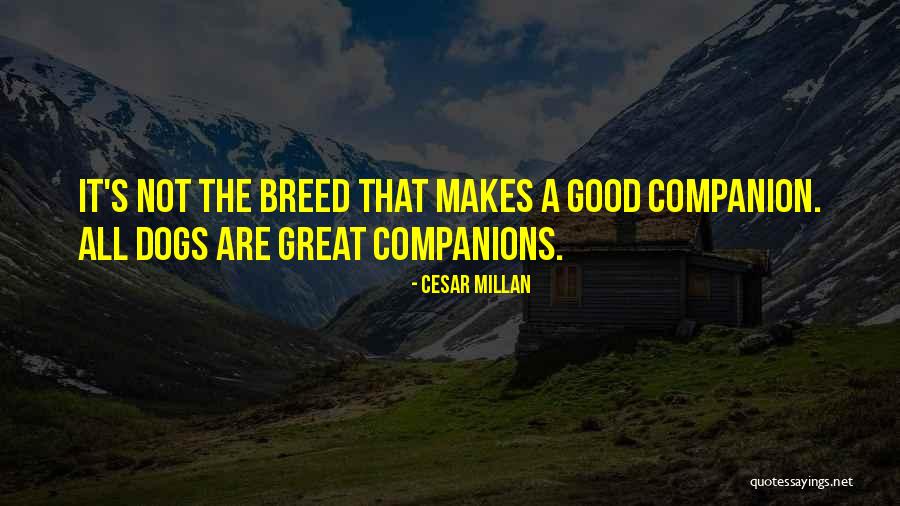 It's not the breed that makes a good companion. All dogs are great companions. — Cesar Millan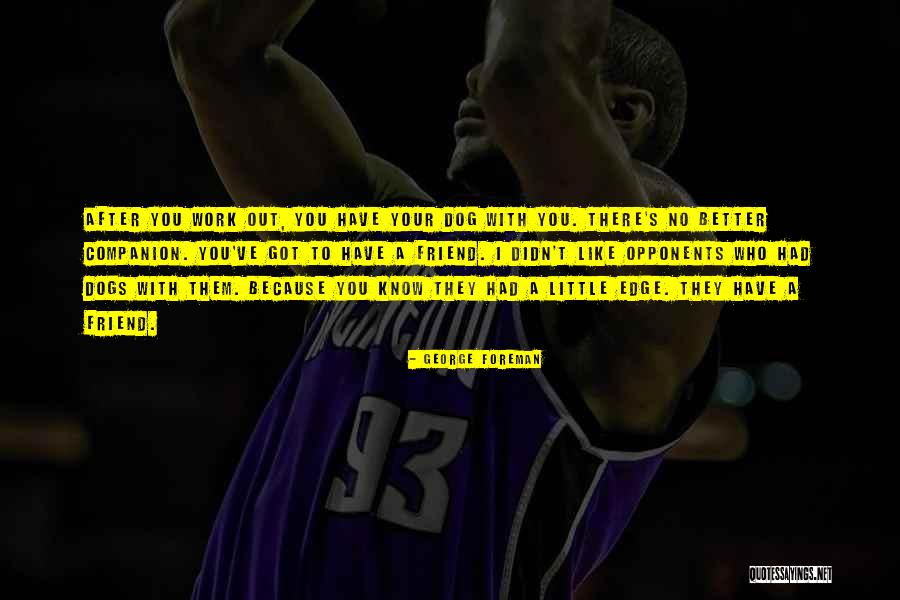 After you work out, you have your dog with you. There's no better companion. You've got to have a friend. I didn't like opponents who had dogs with them. Because you know they had a little edge. They have a friend. — George Foreman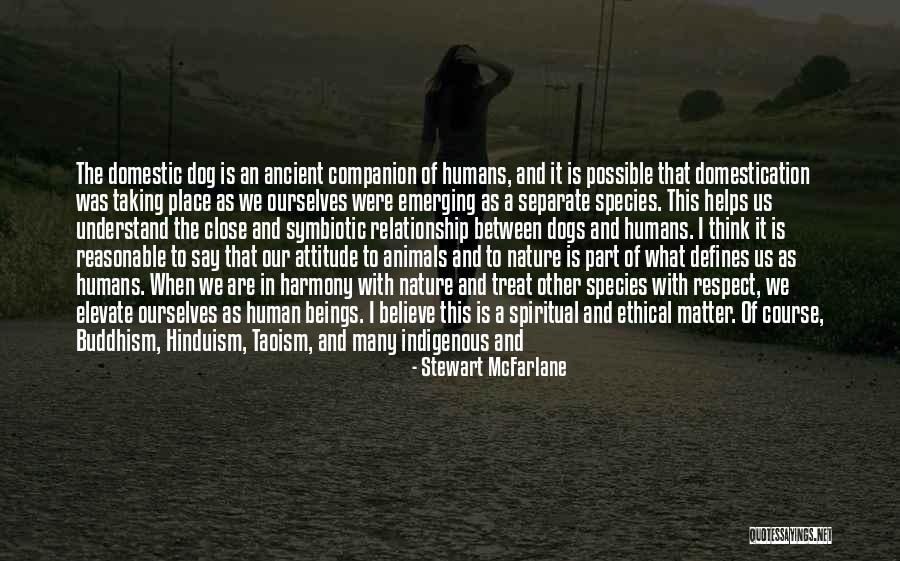 The domestic dog is an ancient companion of humans, and it is possible that domestication was taking place as we ourselves were emerging as a separate species. This helps us understand the close and symbiotic relationship between dogs and humans. I think it is reasonable to say that our attitude to animals and to nature is part of what defines us as humans. When we are in harmony with nature and treat other species with respect, we elevate ourselves as human beings. I believe this is a spiritual and ethical matter. Of course, Buddhism, Hinduism, Taoism, and many indigenous and ancient religions endorse this attitude, but I think it applies whatever your personal belief system. Respect for nature and kindness to animals are, I believe, fundamental human values, just as respect for and kindness to other people should be. I hope that the stories which follow help to illustrate that belief as it is actually lived, and hopefully, does so in an entertaining way. — Stewart McFarlane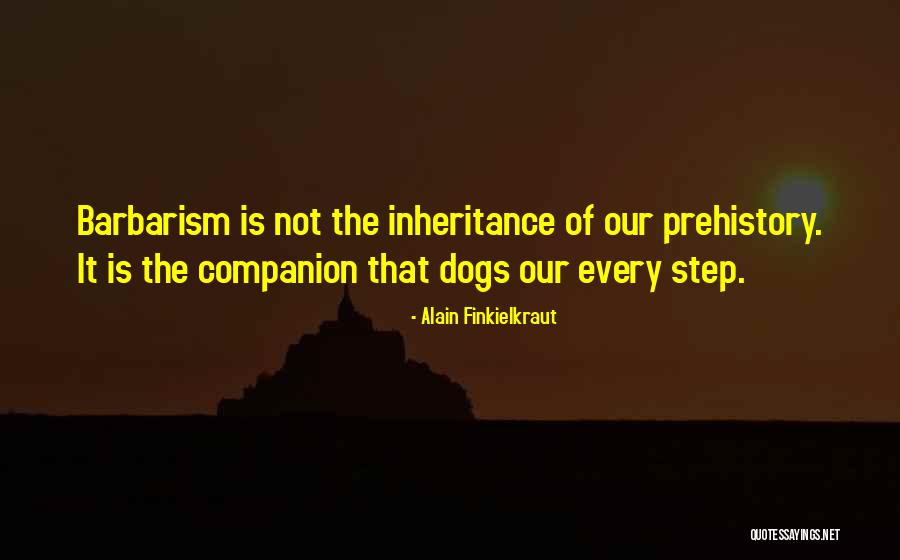 Barbarism is not the inheritance of our prehistory. It is the companion that dogs our every step. — Alain Finkielkraut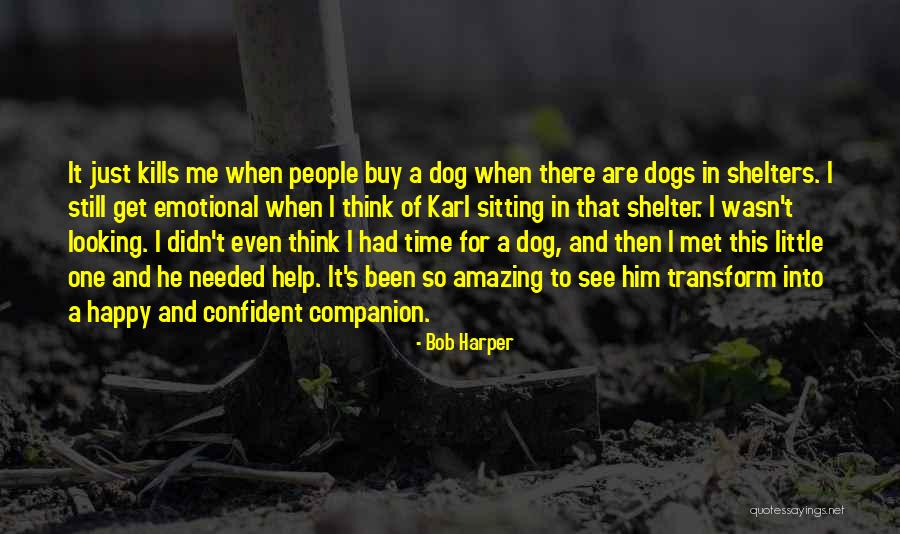 It just kills me when people buy a dog when there are dogs in shelters. I still get emotional when I think of Karl sitting in that shelter. I wasn't looking. I didn't even think I had time for a dog, and then I met this little one and he needed help. It's been so amazing to see him transform into a happy and confident companion. — Bob Harper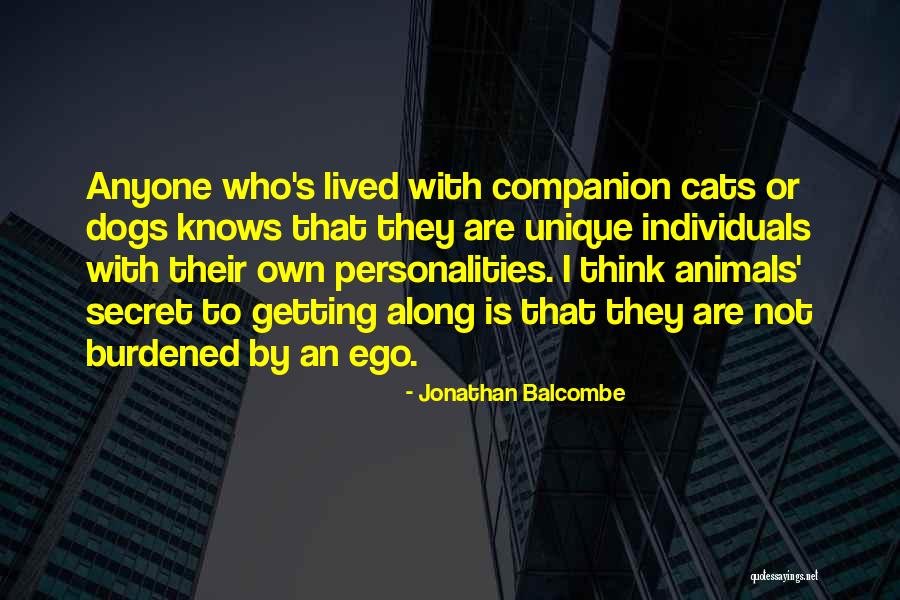 Anyone who's lived with companion cats or dogs knows that they are unique individuals with their own personalities. I think animals' secret to getting along is that they are not burdened by an ego. — Jonathan Balcombe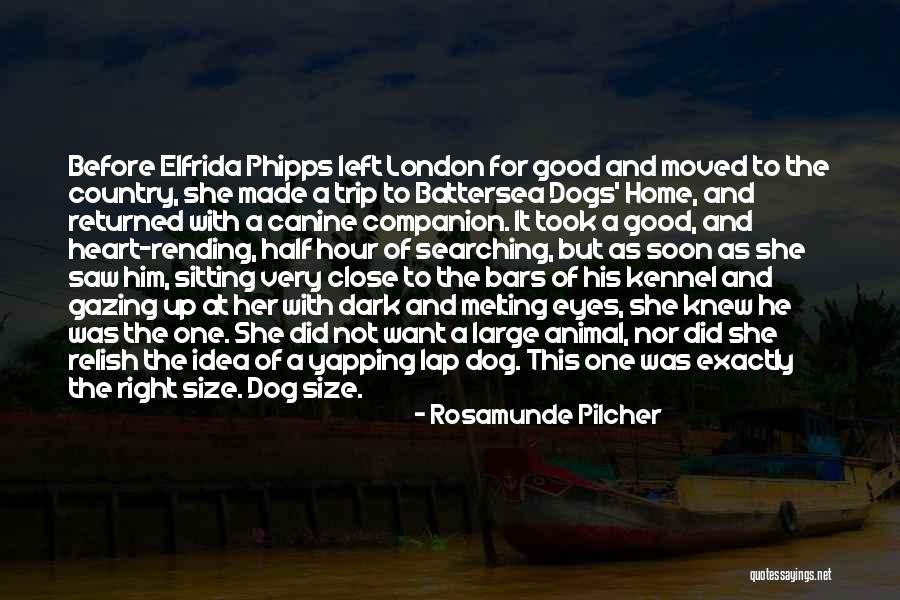 Before Elfrida Phipps left London for good and moved to the country, she made a trip to Battersea Dogs' Home, and returned with a canine companion. It took a good, and heart-rending, half hour of searching, but as soon as she saw him, sitting very close to the bars of his kennel and gazing up at her with dark and melting eyes, she knew he was the one. She did not want a large animal, nor did she relish the idea of a yapping lap dog. This one was exactly the right size. Dog size. — Rosamunde Pilcher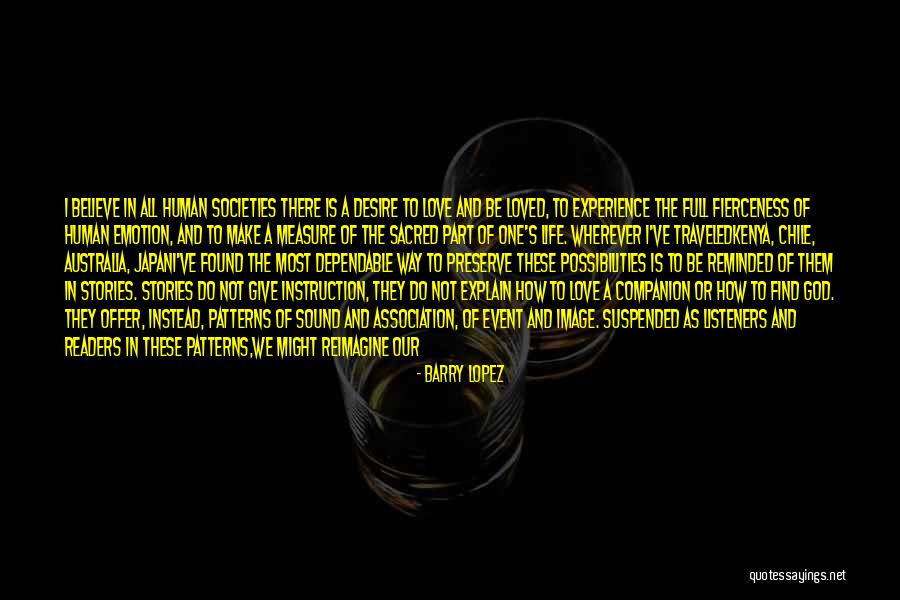 I believe in all human societies there is a desire to love and be loved, to experience the full fierceness of human emotion, and to make a measure of the sacred part of one's life. Wherever I've traveled
Kenya, Chile, Australia, Japan
I've found the most dependable way to preserve these possibilities is to be reminded of them in stories. Stories do not give instruction, they do not explain how to love a companion or how to find God. They offer, instead, patterns of sound and association, of event and image. Suspended as listeners and readers in these patterns,we might reimagine our lives. It is through story that we embrace the great breadth of memory, that we can distinguish what is true, and that we may glimpse, at least occasionally, how to live without despair in the midst of the horror that dogs and unhinges us. — Barry Lopez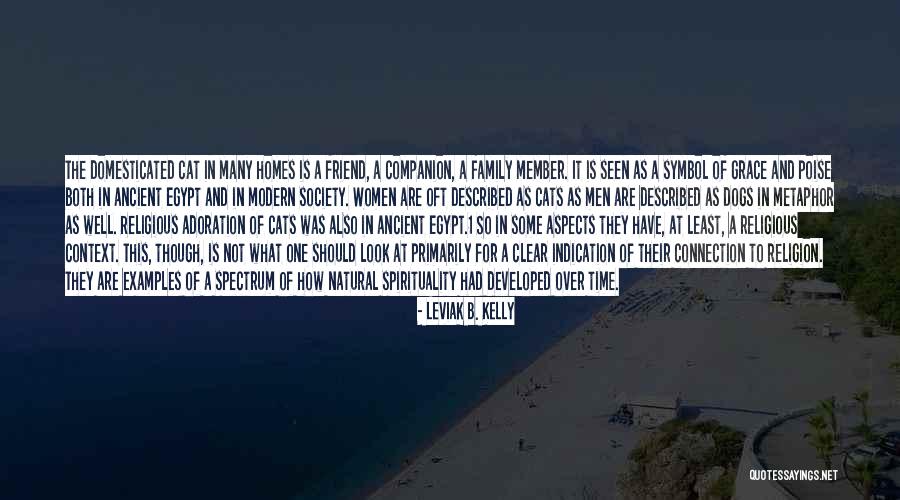 The domesticated cat in many homes is a friend, a companion, a family member. It is seen as a symbol of grace and poise both in ancient Egypt and in modern society. Women are oft described as cats as men are described as dogs in metaphor as well. Religious adoration of cats was also in ancient Egypt.1 So in some aspects they have, at least, a religious context. This, though, is not what one should look at primarily for a clear indication of their connection to religion. They are examples of a spectrum of how natural spirituality had developed over time. — Leviak B. Kelly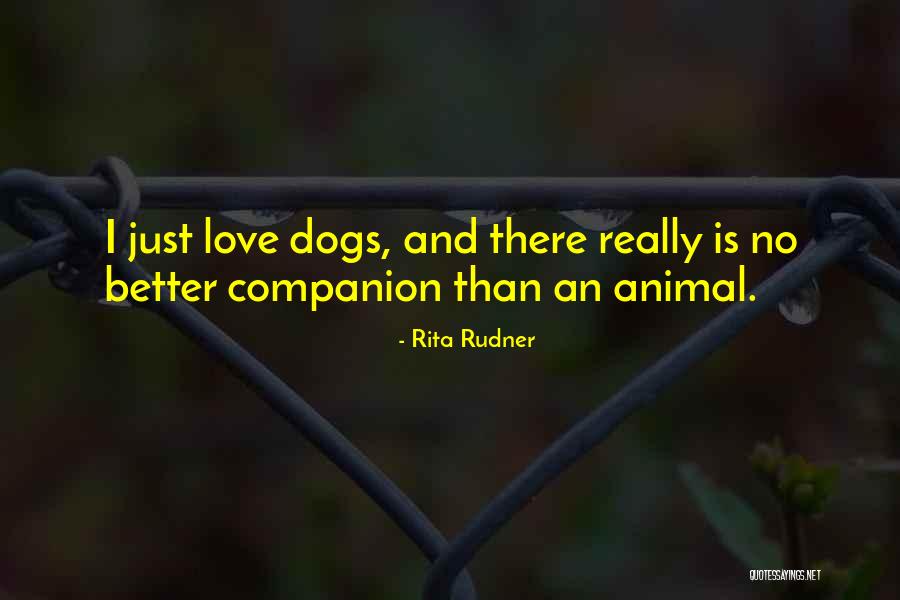 I just love dogs, and there really is no better companion than an animal. — Rita Rudner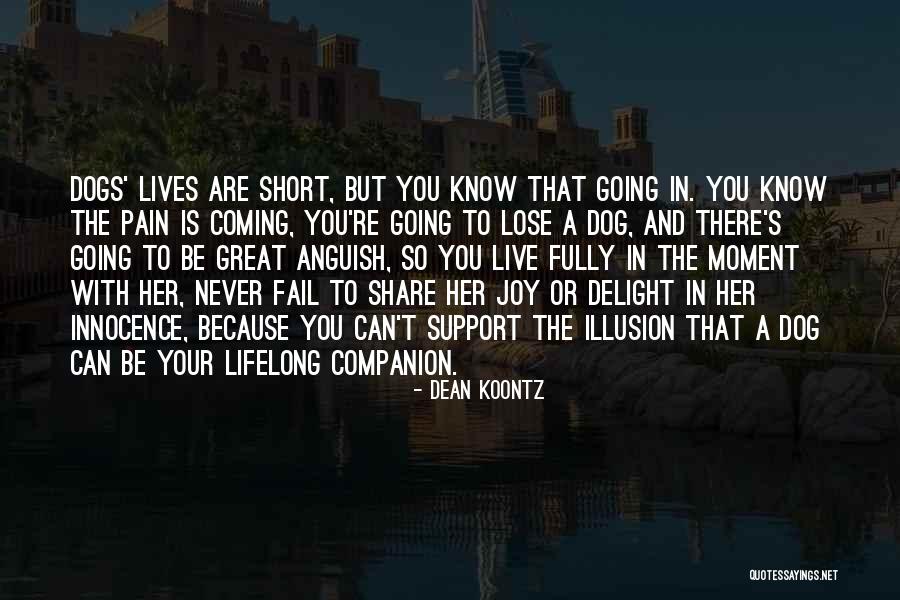 Dogs' lives are short, but you know that going in. You know the pain is coming, you're going to lose a dog, and there's going to be great anguish, so you live fully in the moment with her, never fail to share her joy or delight in her innocence, because you can't support the illusion that a dog can be your lifelong companion. — Dean Koontz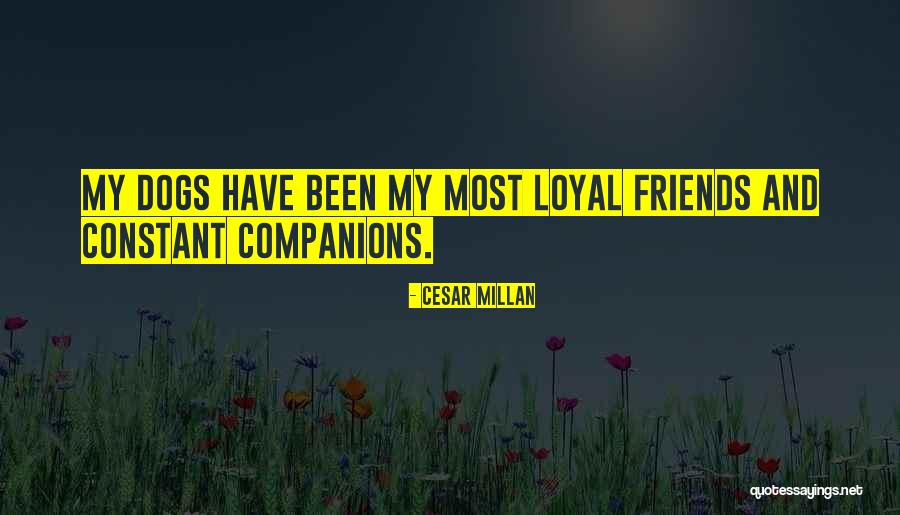 My dogs have been my most loyal friends and constant companions. — Cesar Millan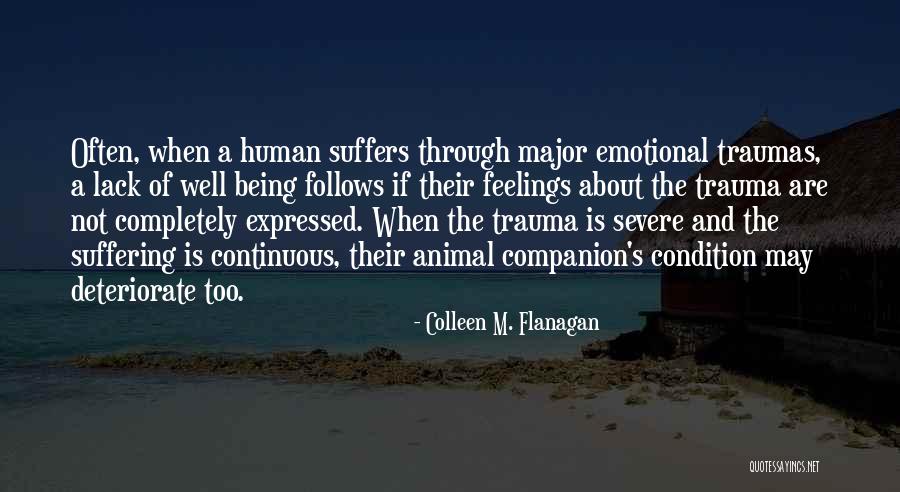 Often, when a human suffers through major emotional traumas, a lack of well being follows if their feelings about the trauma are not completely expressed. When the trauma is severe and the suffering is continuous, their animal companion's condition may deteriorate too. — Colleen M. Flanagan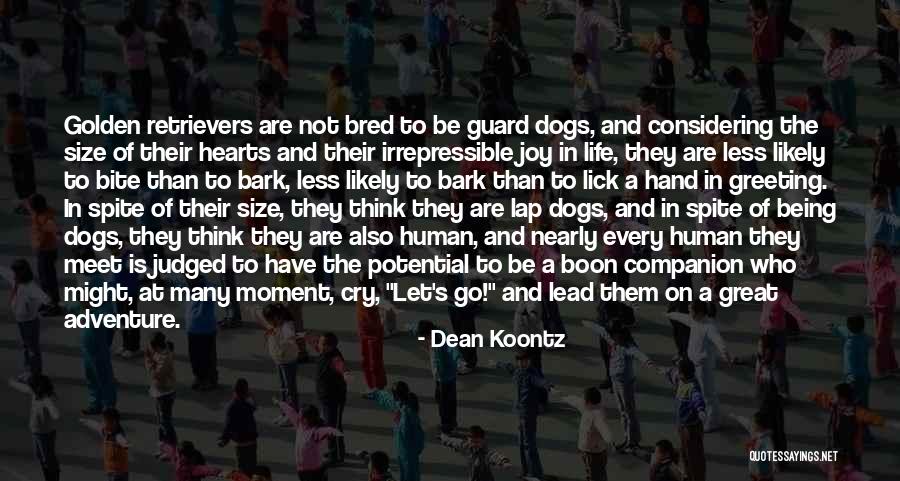 Golden retrievers are not bred to be guard dogs, and considering the size of their hearts and their irrepressible joy in life, they are less likely to bite than to bark, less likely to bark than to lick a hand in greeting. In spite of their size, they think they are lap dogs, and in spite of being dogs, they think they are also human, and nearly every human they meet is judged to have the potential to be a boon companion who might, at many moment, cry, "Let's go!" and lead them on a great adventure. — Dean Koontz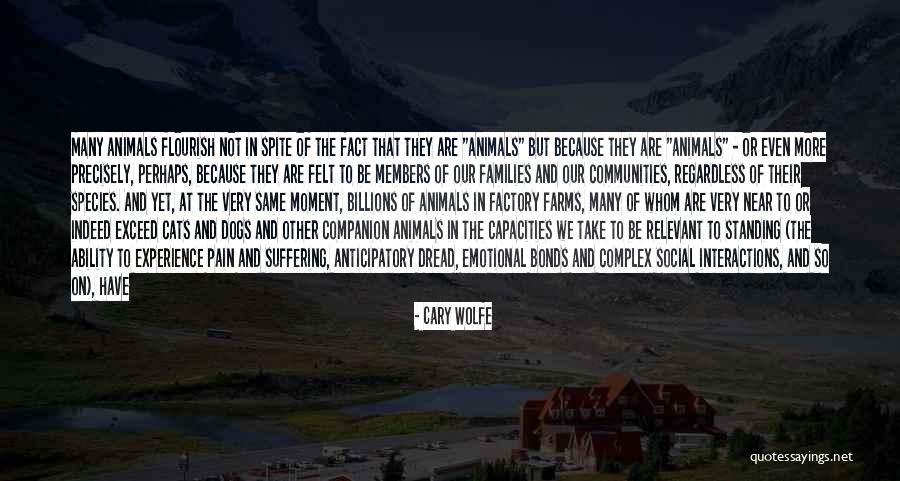 Many animals flourish not in spite of the fact that they are "animals" but because they are "animals" - or even more precisely, perhaps, because they are felt to be members of our families and our communities, regardless of their species. And yet, at the very same moment, billions of animals in factory farms, many of whom are very near to or indeed exceed cats and dogs and other companion animals in the capacities we take to be relevant to standing (the ability to experience pain and suffering, anticipatory dread, emotional bonds and complex social interactions, and so on), have as horrible a life as one could imagine, also because they are "animals."

Clearly, then, the question here is not simply of the "animal" as the abjected other of the "human" tout court, but rather something like a distinction between bios and zoe that obtains within the domain of domesticated animals itself. — Cary Wolfe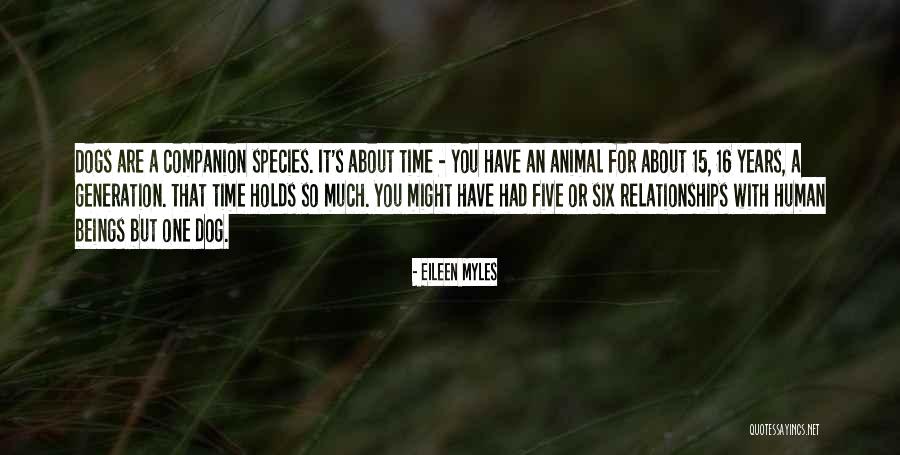 Dogs are a companion species. It's about time - you have an animal for about 15, 16 years, a generation. That time holds so much. You might have had five or six relationships with human beings but one dog. — Eileen Myles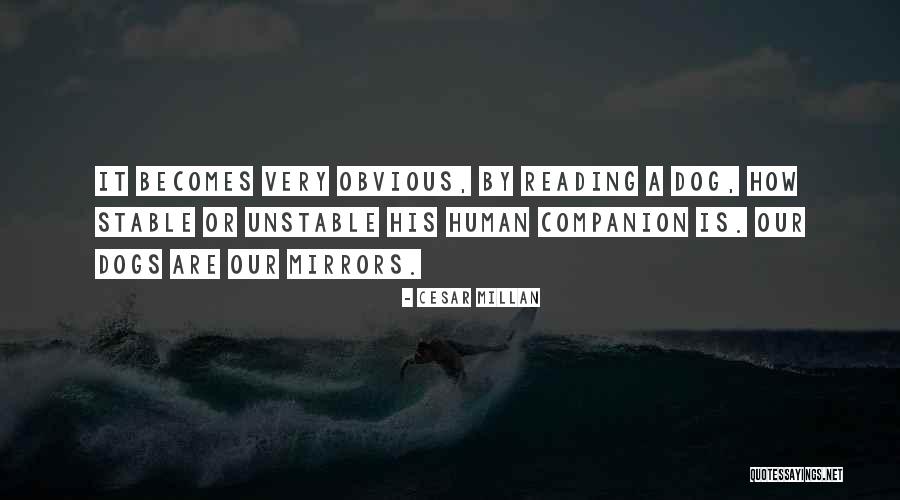 It becomes very obvious, by reading a dog, how stable or unstable his human companion is. Our dogs are our mirrors. — Cesar Millan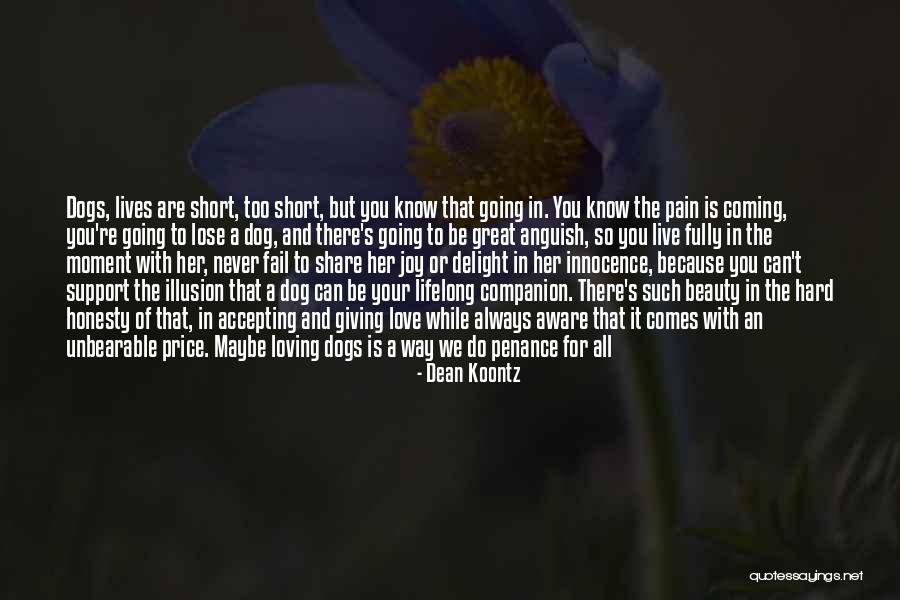 Dogs, lives are short, too short, but you know that going in. You know the pain is coming, you're going to lose a dog, and there's going to be great anguish, so you live fully in the moment with her, never fail to share her joy or delight in her innocence, because you can't support the illusion that a dog can be your lifelong companion. There's such beauty in the hard honesty of that, in accepting and giving love while always aware that it comes with an unbearable price. Maybe loving dogs is a way we do penance for all the other illusions we allow ourselves and the mistakes we make because of those illusions. — Dean Koontz