Beside Each Other Quotes & Sayings
Enjoy reading and share 73 famous quotes about Beside Each Other with everyone.
Top Beside Each Other Quotes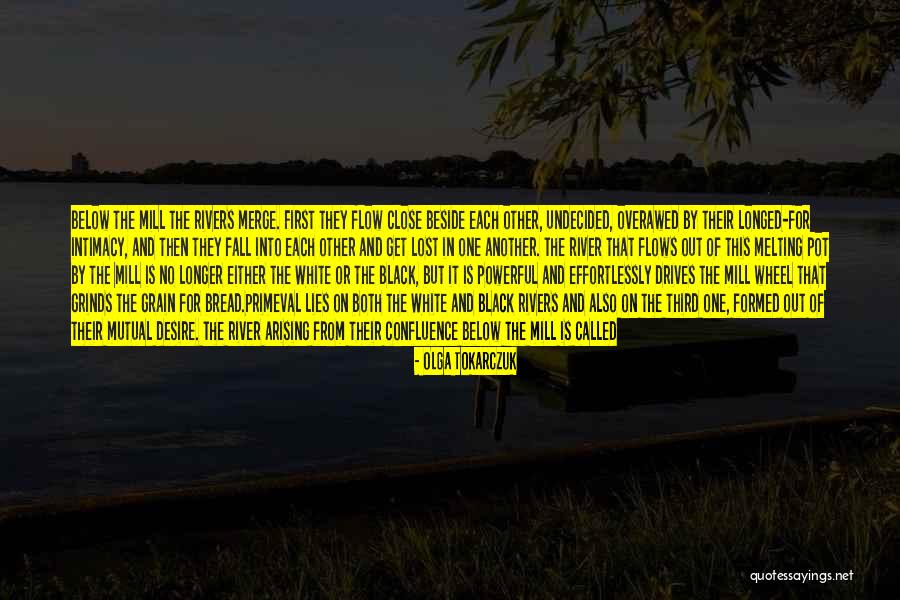 Below the mill the rivers merge. First they flow close beside each other, undecided, overawed by their longed-for intimacy, and then they fall into each other and get lost in one another. The river that flows out of this melting pot by the mill is no longer either the White or the Black, but it is powerful and effortlessly drives the mill wheel that grinds the grain for bread.
Primeval lies on both the White and Black rivers and also on the third one, formed out of their mutual desire. The river arising from their confluence below the mill is called The River, and it flows on calm and contented. — Olga Tokarczuk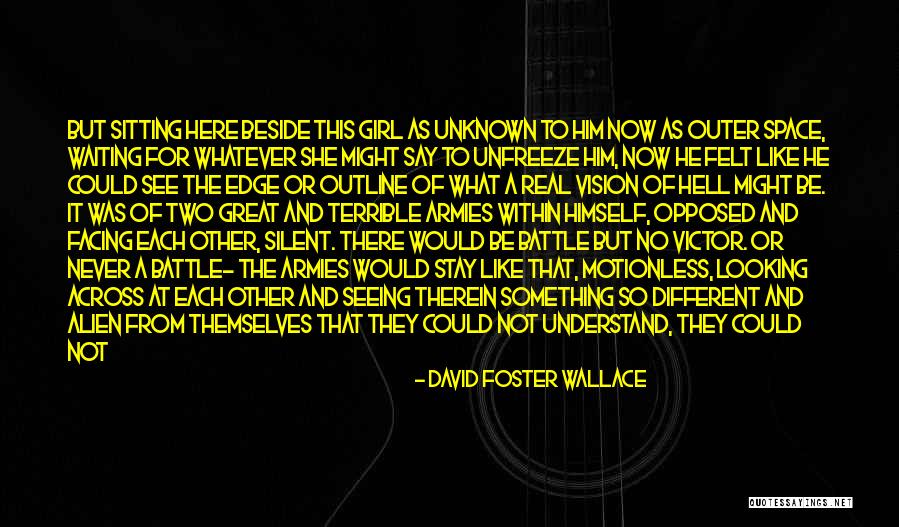 But sitting here beside this girl as unknown to him now as outer space, waiting for whatever she might say to unfreeze him, now he felt like he could see the edge or outline of what a real vision of hell might be. It was of two great and terrible armies within himself, opposed and facing each other, silent. There would be battle but no victor. Or never a battle- the armies would stay like that, motionless, looking across at each other and seeing therein something so different and alien from themselves that they could not understand, they could not hear each other's speech as even words or read anything from what their faces looked like, frozen like that, opposed and uncomprehending, for all human time. Two hearted, a hypocrite to yourself either way. — David Foster Wallace
Do you want to know how to write a song? Songwriting is about counterpoint. Counterpoint is the key. Putting two disparate images beside each other and seeing which way the sparks fly. Like letting a small child in the same room as, I don't know, a Mongolian psychopath or something, and just sitting back and seeing what happens. Then you send in a clown, say, on a tricycle and again you wait and you watch. And if that doesn't do it, you shoot the clown. — Nick Cave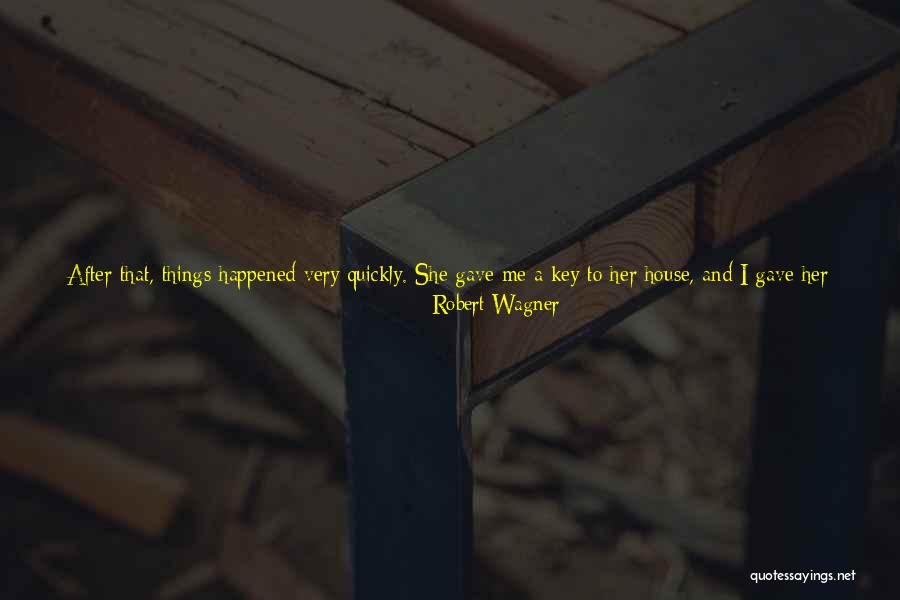 After that, things happened very quickly. She gave me a key to her house, and I gave her a key to my apartment. If we were in town, we spent every weekend together. She cooked for me - she was good in the kitchen, but then she was good everywhere. We watched the Friday night fights on TV, and on Saturday or Sunday afternoons we'd go for long walks in the mountains above Malibu. Occasionally we would go to a movie, slipping in after the lights went down. Whenever we went out, Barbara [Stanwyck] would wear a scarf over her head, or a kind of hat, so it would be hard to tell who she was. For the next four years, we became part of each other's lives. In a very real way, I think we still are. Barbara proved to be one of the most marvelous relationships of my life. I was twenty-two, she was forty-five, but our ages were beside the point. She was everything to me - a beautiful woman with a great sense of humor and enormous accomplishments to her name. — Robert Wagner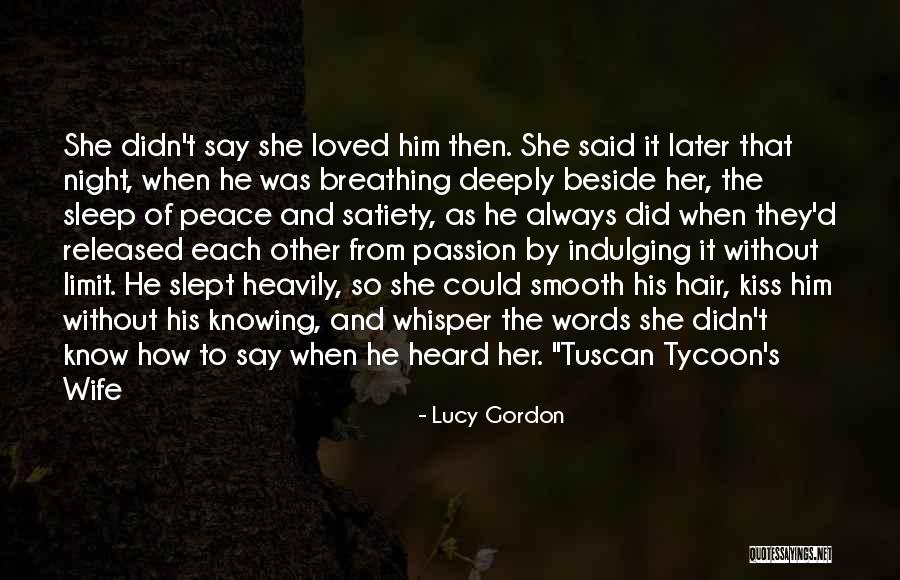 She didn't say she loved him then. She said it later that night, when he was breathing deeply beside her, the sleep of peace and satiety, as he always did when they'd released each other from passion by indulging it without limit. He slept heavily, so she could smooth his hair, kiss him without his knowing, and whisper the words she didn't know how to say when he heard her. "Tuscan Tycoon's Wife — Lucy Gordon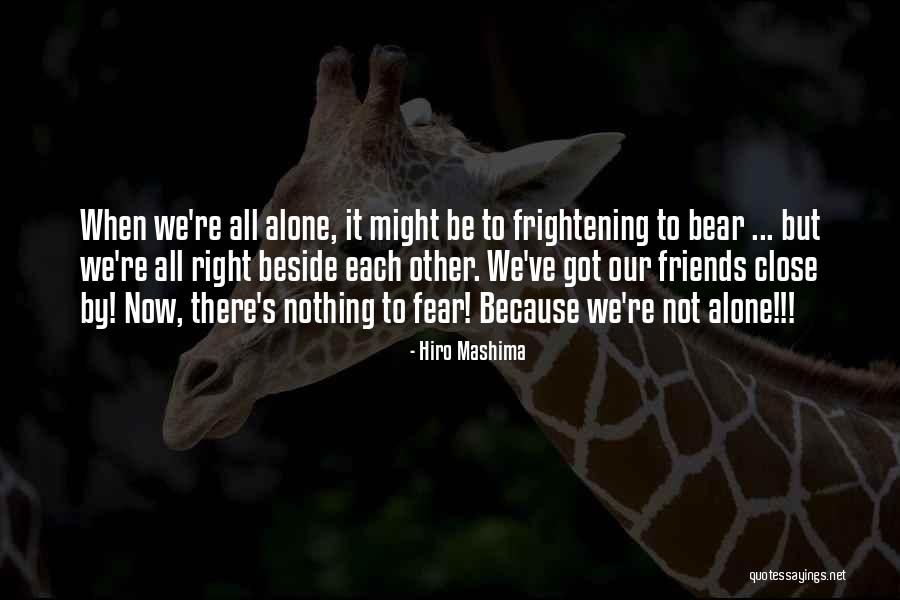 When we're all alone, it might be to frightening to bear ... but we're all right beside each other. We've got our friends close by! Now, there's nothing to fear! Because we're not alone!!! — Hiro Mashima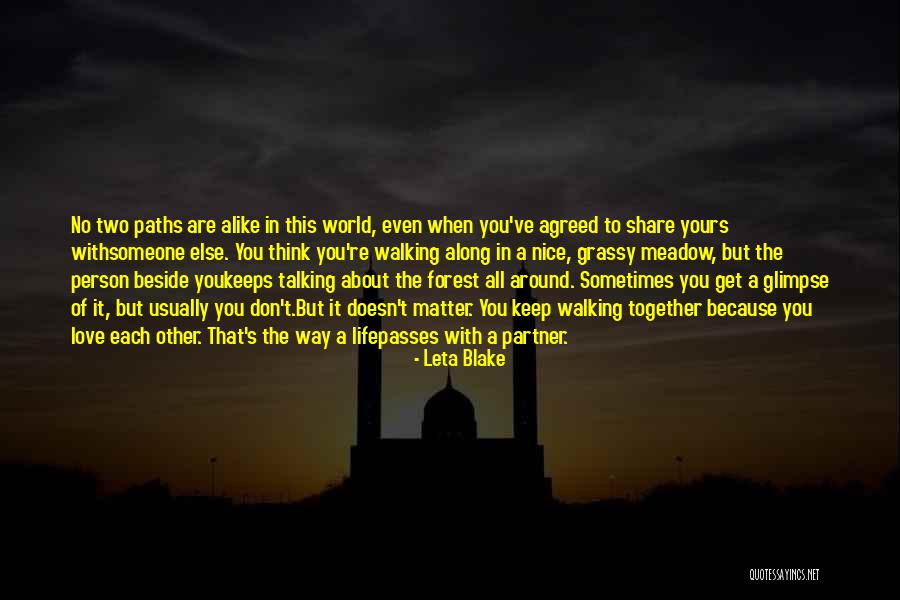 No two paths are alike in this world, even when you've agreed to share yours with
someone else. You think you're walking along in a nice, grassy meadow, but the person beside you
keeps talking about the forest all around. Sometimes you get a glimpse of it, but usually you don't.
But it doesn't matter. You keep walking together because you love each other. That's the way a life
passes with a partner. — Leta Blake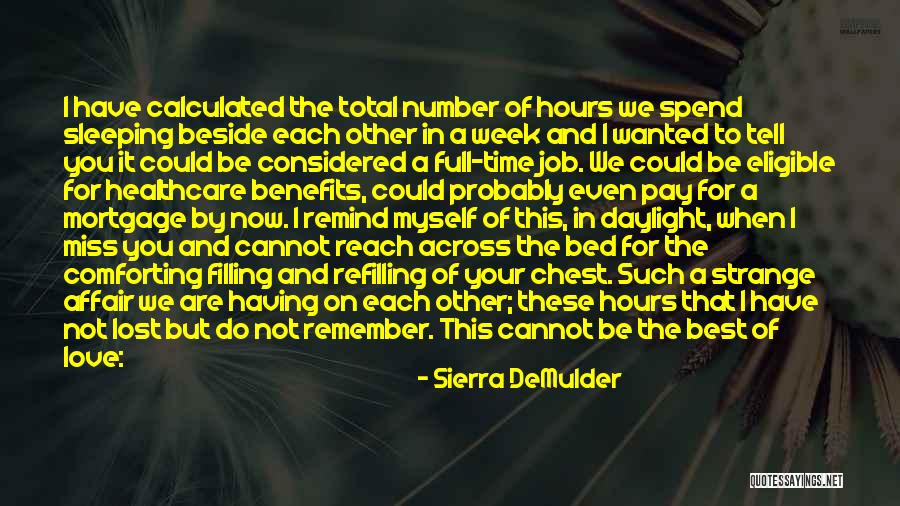 I have calculated the total number of hours
we spend sleeping beside each other in a week
and I wanted to tell you it could be considered
a full-time job. We could be eligible for healthcare
benefits, could probably even pay for a mortgage
by now. I remind myself of this, in daylight, when
I miss you and cannot reach across the bed
for the comforting filling and refilling
of your chest. Such a strange affair
we are having on each other; these hours
that I have not lost but do not remember.
This cannot be the best of love: to drool
on someone's collarbone or inhale an elbow to
the jaw or be woken by the most ungraceful sounds
of the body. But what is it if not the softening
of grips? A letting go of. Your heart
finally slowly that stubborn, lonely march. — Sierra DeMulder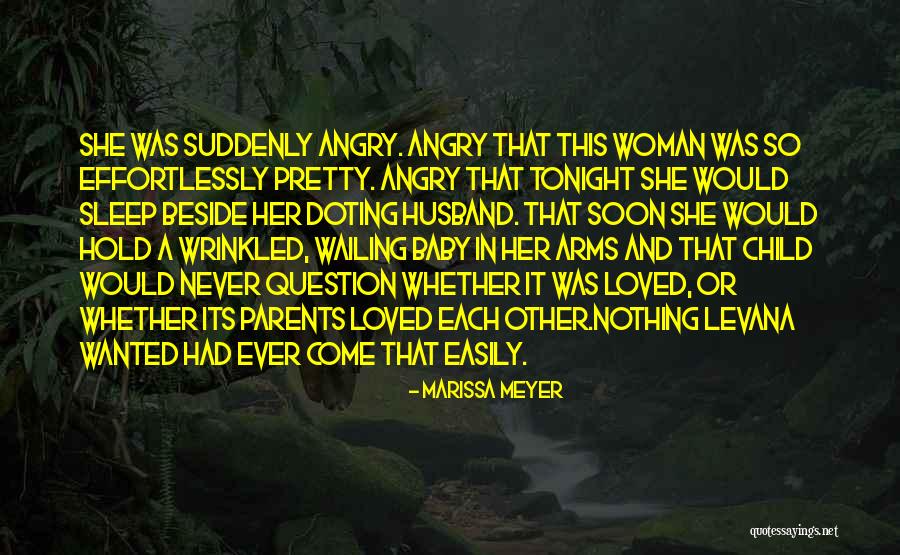 She was suddenly angry. Angry that this woman was so effortlessly pretty. Angry that tonight she would sleep beside her doting husband. That soon she would hold a wrinkled, wailing baby in her arms and that child would never question whether it was loved, or whether its parents loved each other.
Nothing Levana wanted had ever come that easily. — Marissa Meyer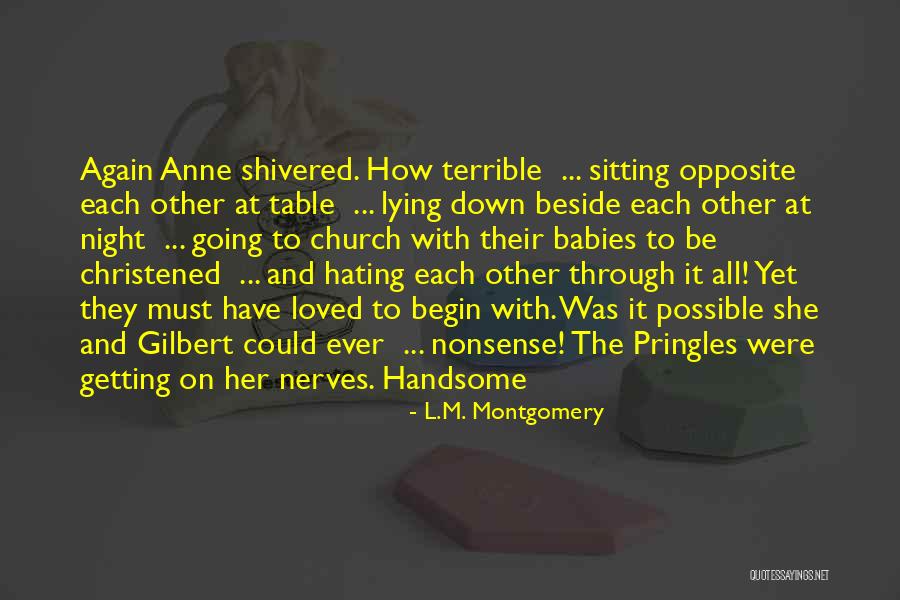 Again Anne shivered. How terrible ... sitting opposite each other at table ... lying down beside each other at night ... going to church with their babies to be christened ... and hating each other through it all! Yet they must have loved to begin with. Was it possible she and Gilbert could ever ... nonsense! The Pringles were getting on her nerves. Handsome — L.M. Montgomery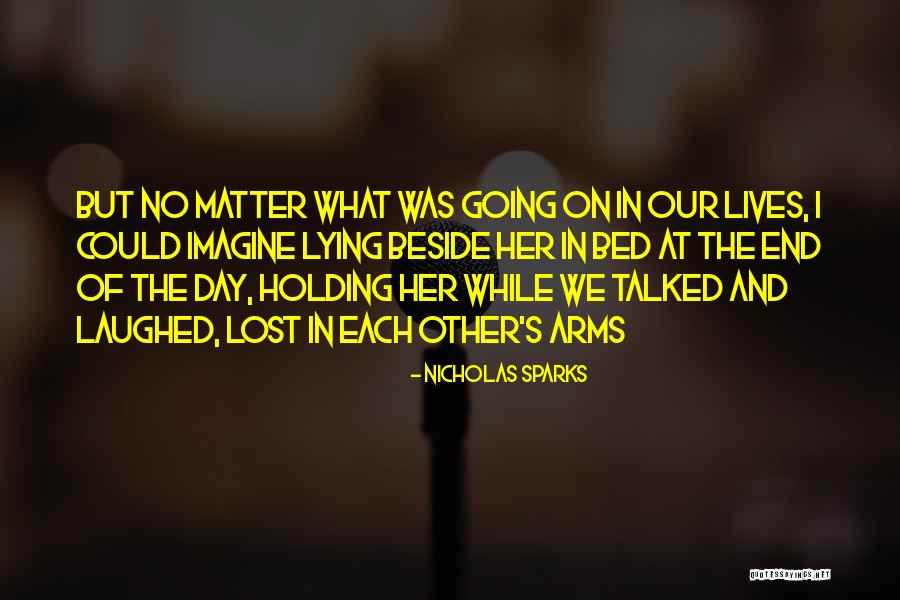 But no matter what was going on in our lives, I could imagine lying beside her in bed at the end of the day, holding her while we talked and laughed, lost in each other's arms — Nicholas Sparks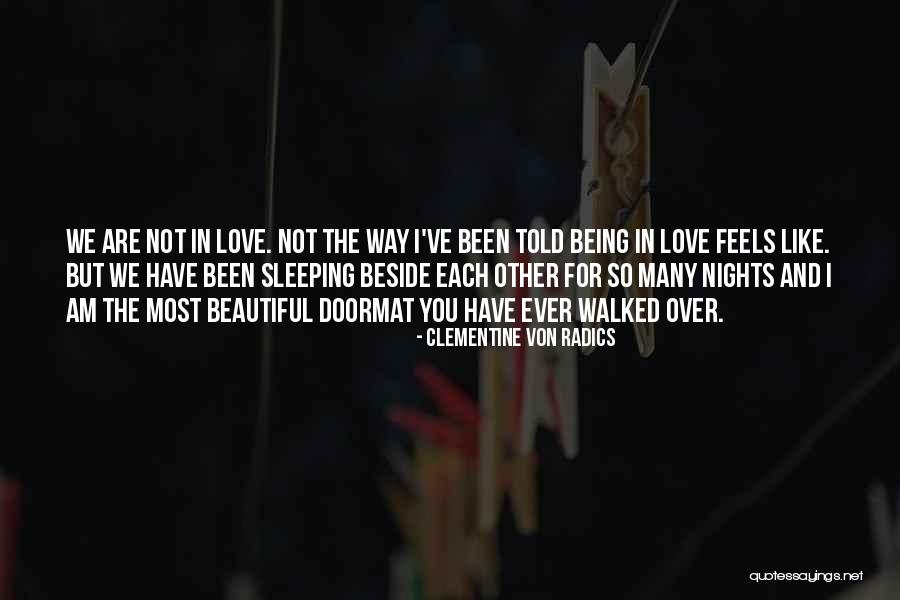 We are not in love. Not the way I've been told
being in love feels like. But we have been sleeping
beside each other for so many nights and I
am the most beautiful doormat you have ever
walked over. — Clementine Von Radics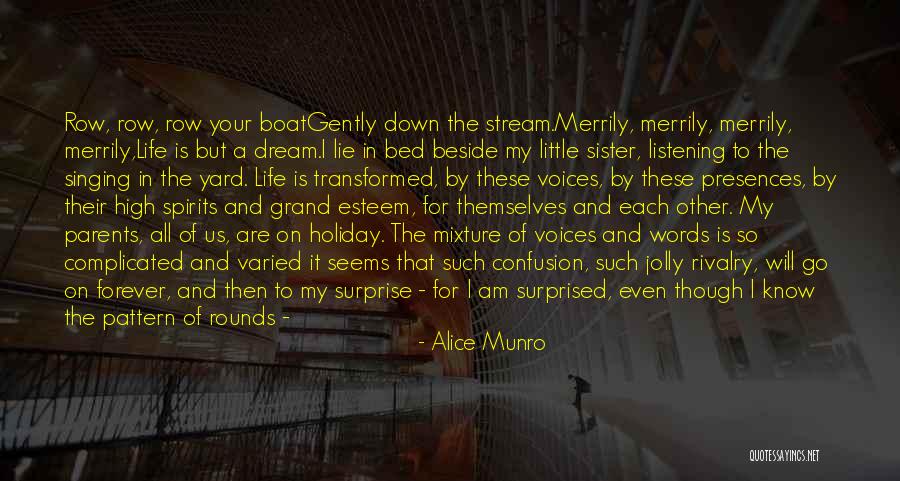 Row, row, row your boat
Gently down the stream.
Merrily, merrily, merrily, merrily,
Life is but a dream.
I lie in bed beside my little sister, listening to the singing in the yard. Life is transformed, by these voices, by these presences, by their high spirits and grand esteem, for themselves and each other. My parents, all of us, are on holiday. The mixture of voices and words is so complicated and varied it seems that such confusion, such jolly rivalry, will go on forever, and then to my surprise - for I am surprised, even though I know the pattern of rounds - the song is thinning out, you can hear the two voices striving.
Merrily, merrily, merrily, merrily,
Life is but a dream.
Then the one voice alone, one of them singing on, gamely, to the finish. One voice in which there is an unexpected note of entreaty, of warning, as it hangs the five separate words on the air. Life is. Wait. But a. Now, wait. Dream. — Alice Munro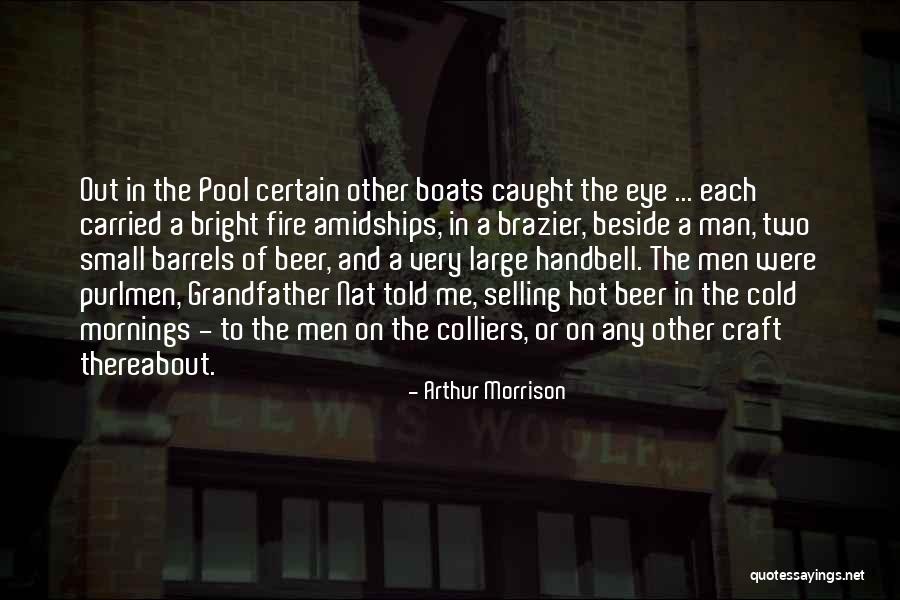 Out in the Pool certain other boats caught the eye ... each carried a bright fire amidships, in a brazier, beside a man, two small barrels of beer, and a very large handbell. The men were purlmen, Grandfather Nat told me, selling hot beer in the cold mornings - to the men on the colliers, or on any other craft thereabout. — Arthur Morrison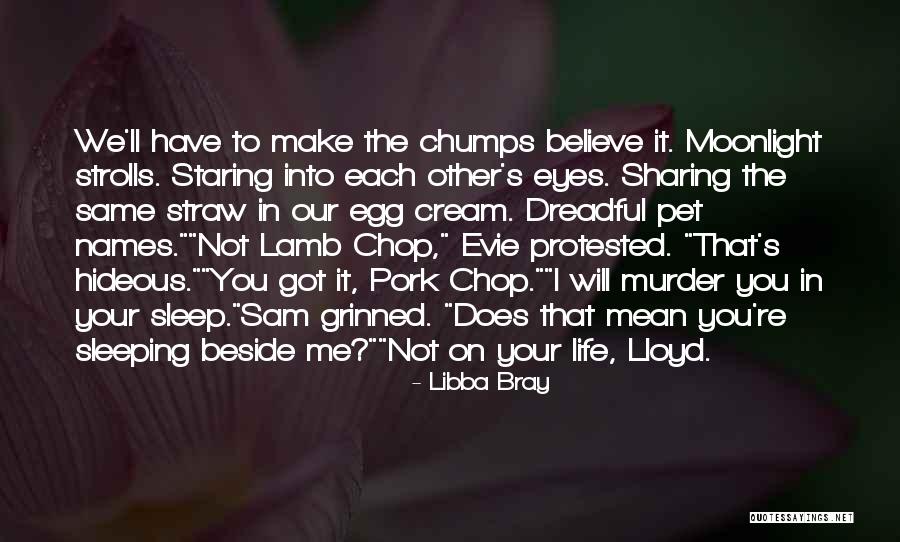 We'll have to make the chumps believe it. Moonlight strolls. Staring into each other's eyes. Sharing the same straw in our egg cream. Dreadful pet names."
"Not Lamb Chop," Evie protested. "That's hideous."
"You got it, Pork Chop."
"I will murder you in your sleep."
Sam grinned. "Does that mean you're sleeping beside me?"
"Not on your life, Lloyd. — Libba Bray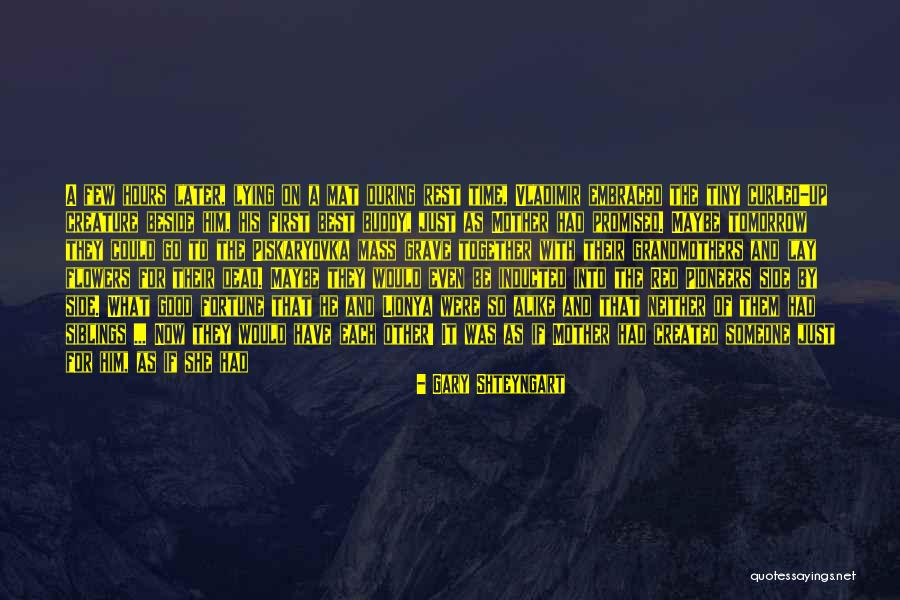 A few hours later, lying on a mat during rest time, Vladimir embraced the tiny curled-up creature beside him, his first best buddy, just as Mother had promised. Maybe tomorrow they could go to the Piskaryovka mass grave together with their grandmothers and lay flowers for their dead. Maybe they would even be inducted into the Red Pioneers side by side. What good fortune that he and Lionya were so alike and that neither of them had siblings ... Now they would have each other! It was as if Mother had created someone just for him, as if she had guessed how lonely he had been in his sick bed with his stuffed giraffe, the months spinning away in twilight gloom until it was June again, time to go down to sunny Yalta to watch the Black Sea dolphins jump for joy. — Gary Shteyngart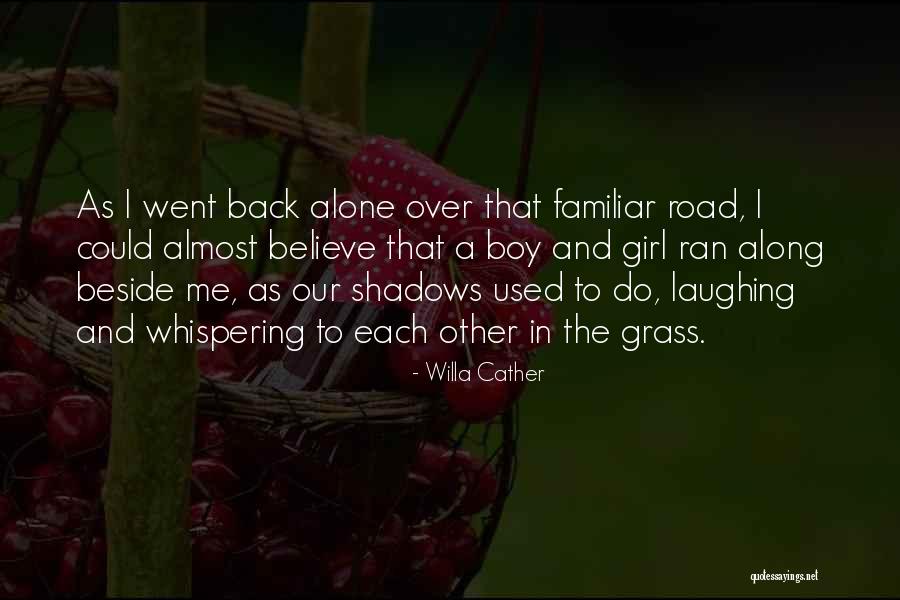 As I went back alone over that familiar road, I could almost believe that a boy and girl ran along beside me, as our shadows used to do, laughing and whispering to each other in the grass. — Willa Cather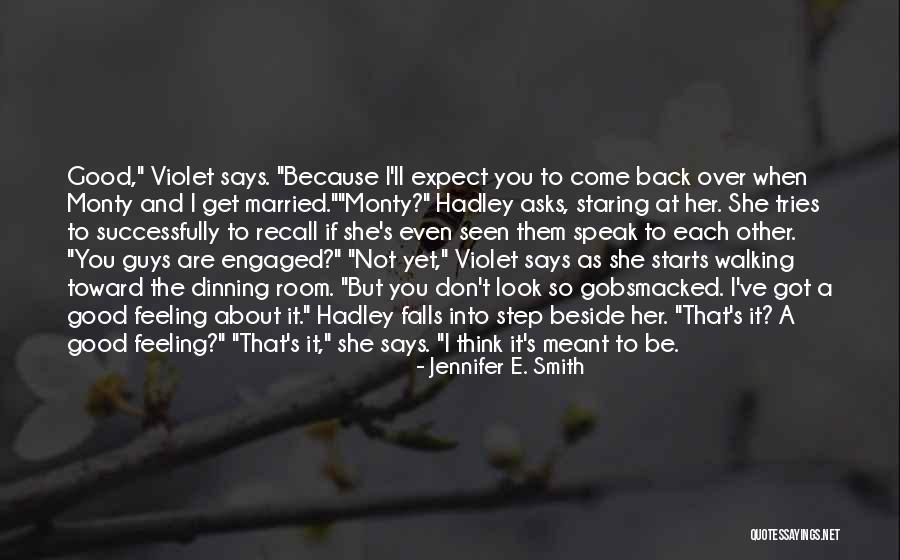 Good," Violet says. "Because I'll expect you to come back over when Monty and I get married."
"Monty?" Hadley asks, staring at her. She tries to successfully to recall if she's even seen them speak to each other. "You guys are engaged?" "Not yet," Violet says as she starts walking toward the dinning room. "But you don't look so gobsmacked. I've got a good feeling about it." Hadley falls into step beside her. "That's it? A good feeling?" "That's it," she says. "I think it's meant to be. — Jennifer E. Smith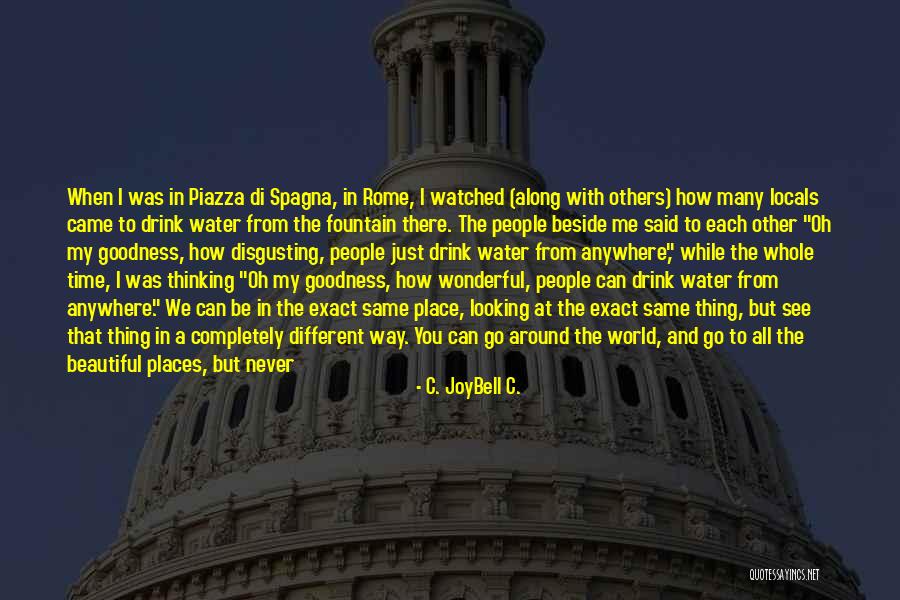 When I was in Piazza di Spagna, in Rome, I watched (along with others) how many locals came to drink water from the fountain there. The people beside me said to each other "Oh my goodness, how disgusting, people just drink water from anywhere," while the whole time, I was thinking "Oh my goodness, how wonderful, people can drink water from anywhere." We can be in the exact same place, looking at the exact same thing, but see that thing in a completely different way. You can go around the world, and go to all the beautiful places, but never be happy, because happiness is something that you bring inside of you, it is not where you are or what you are looking at, but it is how you are and how you look at. — C. JoyBell C.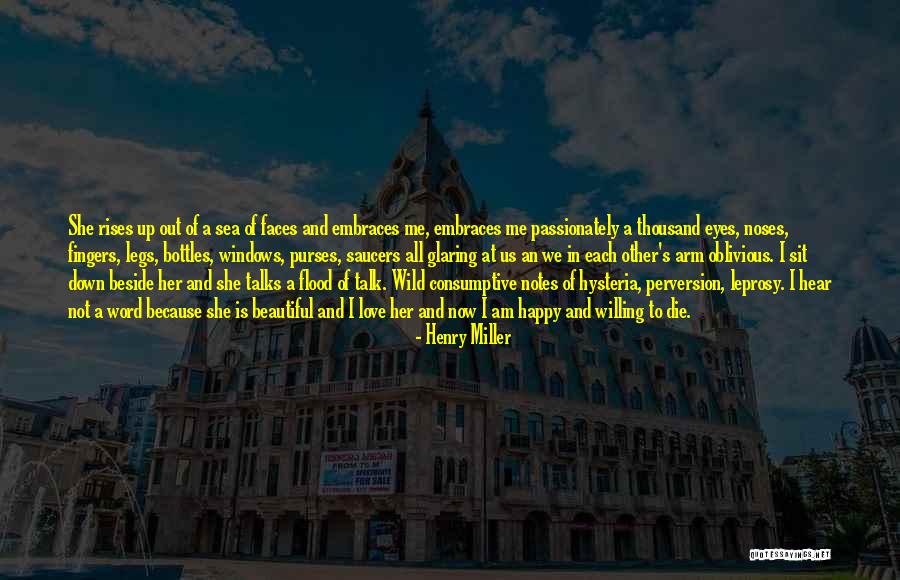 She rises up out of a sea of faces and embraces me, embraces me passionately
a thousand eyes, noses, fingers, legs, bottles, windows, purses, saucers all glaring at us an we in each other's arm oblivious. I sit down beside her and she talks
a flood of talk. Wild consumptive notes of hysteria, perversion, leprosy. I hear not a word because she is beautiful and I love her and now I am happy and willing to die. — Henry Miller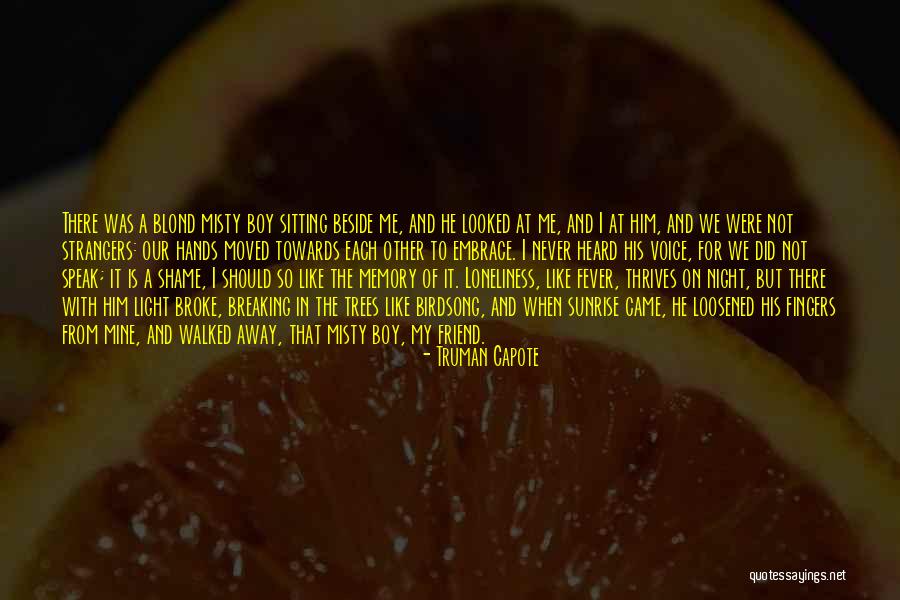 There was a blond misty boy sitting beside me, and he looked at me, and I at him, and we were not strangers: our hands moved towards each other to embrace. I never heard his voice, for we did not speak; it is a shame, I should so like the memory of it. Loneliness, like fever, thrives on night, but there with him light broke, breaking in the trees like birdsong, and when sunrise came, he loosened his fingers from mine, and walked away, that misty boy, my friend. — Truman Capote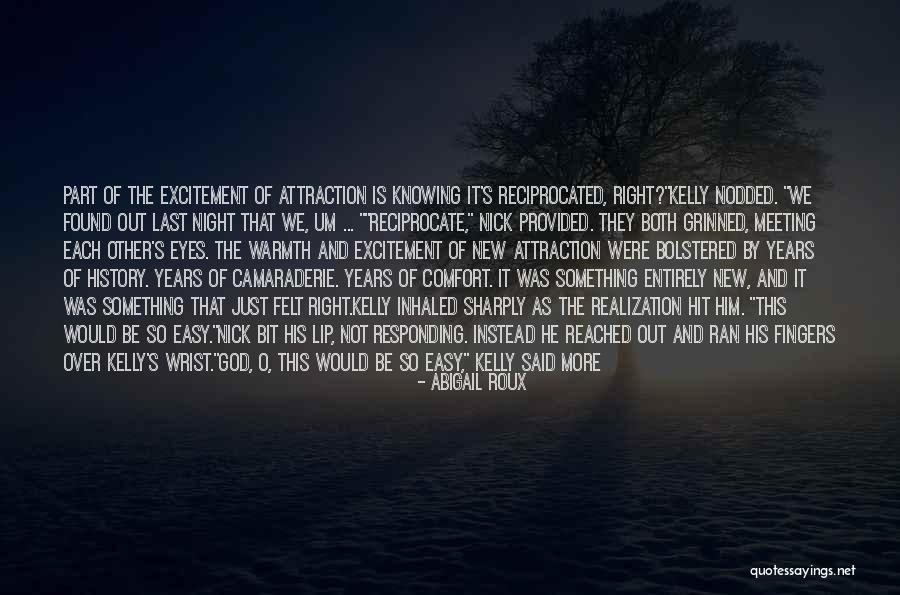 Part of the excitement of attraction is knowing it's reciprocated, right?"
Kelly nodded. "We found out last night that we, um ... "
"Reciprocate," Nick provided. They both grinned, meeting each other's eyes. The warmth and excitement of new attraction were bolstered by years of history. Years of camaraderie. Years of comfort. It was something entirely new, and it was something that just felt right.
Kelly inhaled sharply as the realization hit him. "This would be so easy."
Nick bit his lip, not responding. Instead he reached out and ran his fingers over Kelly's wrist.
"God, O, this would be so easy," Kelly said more emphatically. He moved carefully and leaned on the railing beside Nick. "You and me? Just ... can you imagine? — Abigail Roux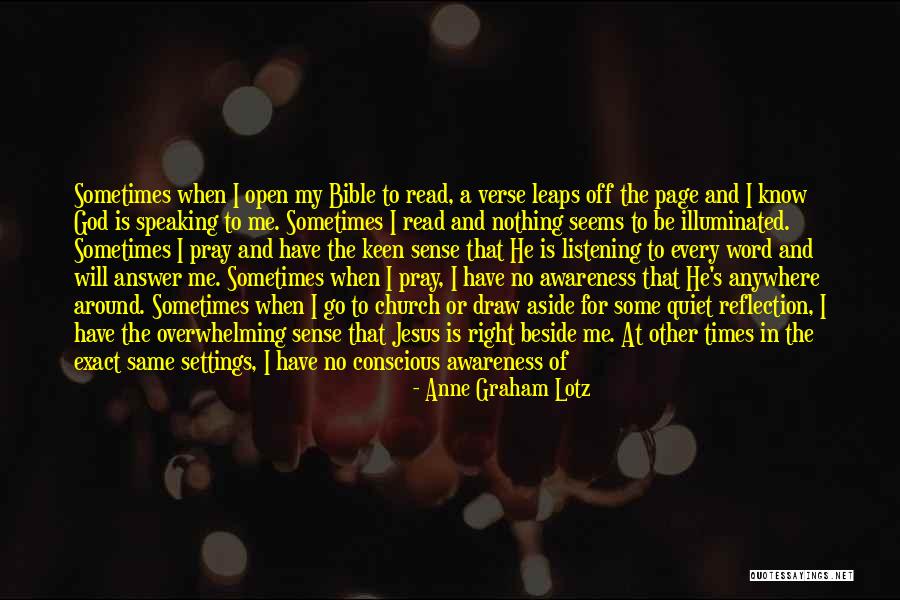 Sometimes when I open my Bible to read, a verse leaps off the page and I know God is speaking to me. Sometimes I read and nothing seems to be illuminated. Sometimes I pray and have the keen sense that He is listening to every word and will answer me. Sometimes when I pray, I have no awareness that He's anywhere around. Sometimes when I go to church or draw aside for some quiet reflection, I have the overwhelming sense that Jesus is right beside me. At other times in the exact same settings, I have no conscious awareness of His presence at all. And I know by each experience - as I read my Bible and pray and work and worship - that He is teaching me to live by FAITH, not by my feelings. — Anne Graham Lotz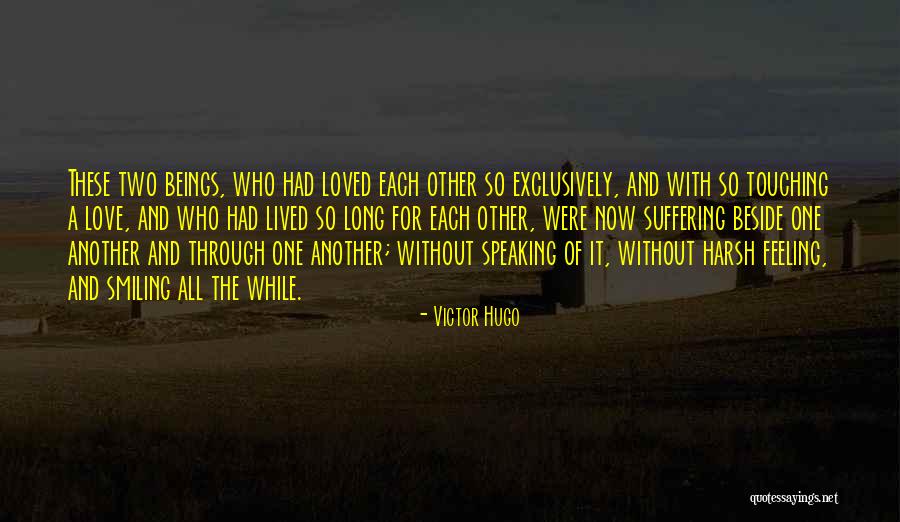 These two beings, who had loved each other so exclusively, and with so touching a love, and who had lived so long for each other, were now suffering beside one another and through one another; without speaking of it, without harsh feeling, and smiling all the while. — Victor Hugo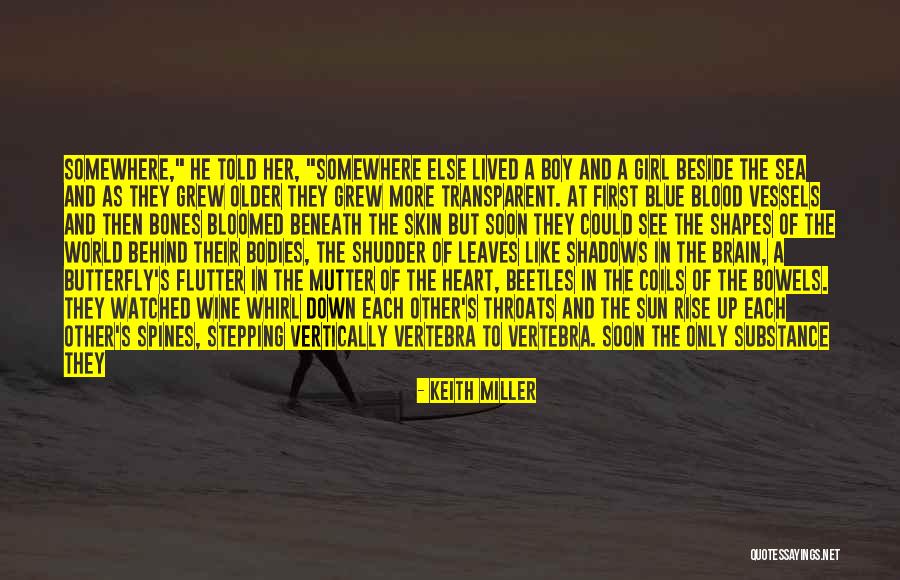 Somewhere," he told her, "somewhere else lived a boy and a girl beside the sea and as they grew older they grew more transparent. At first blue blood vessels and then bones bloomed beneath the skin but soon they could see the shapes of the world behind their bodies, the shudder of leaves like shadows in the brain, a butterfly's flutter in the mutter of the heart, beetles in the coils of the bowels. They watched wine whirl down each other's throats and the sun rise up each other's spines, stepping vertically vertebra to vertebra. Soon the only substance they obtained was when their bodies overlapped and so they clasped each other, peering for the vestiges of eyes, teeth, ears, smears against the landscape. And one day they kissed and disappeared. — Keith Miller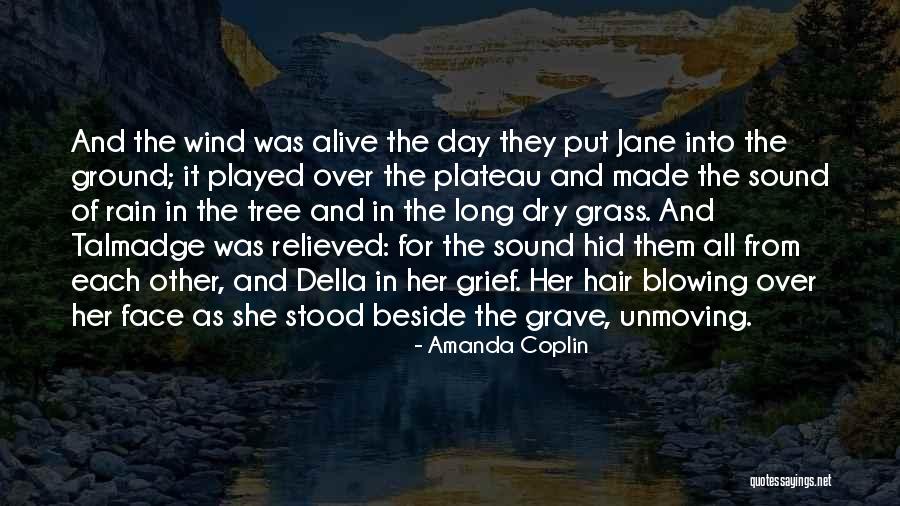 And the wind was alive the day they put Jane into the ground; it played over the plateau and made the sound of rain in the tree and in the long dry grass. And Talmadge was relieved: for the sound hid them all from each other, and Della in her grief. Her hair blowing over her face as she stood beside the grave, unmoving. — Amanda Coplin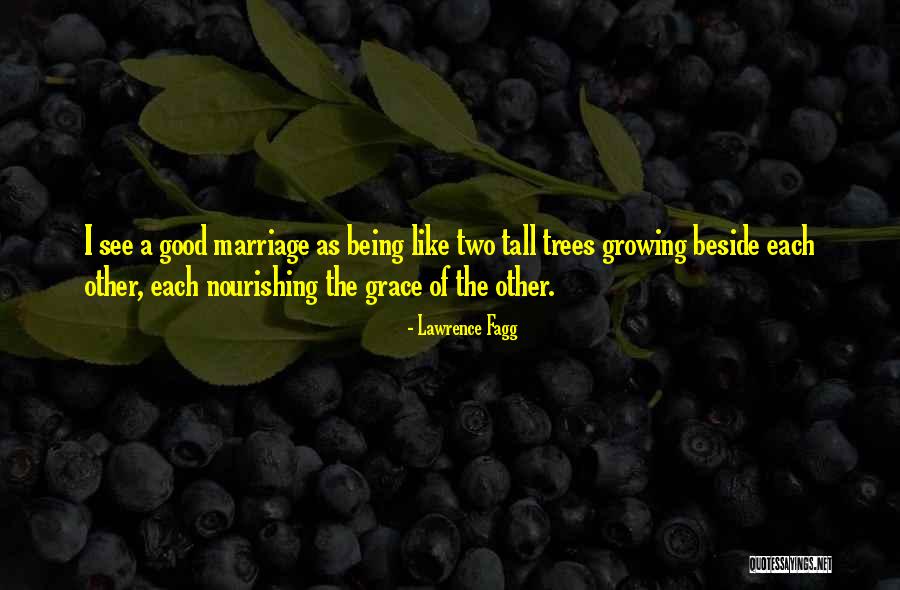 I see a good marriage as being like two tall trees growing beside each other, each nourishing the grace of the other. — Lawrence Fagg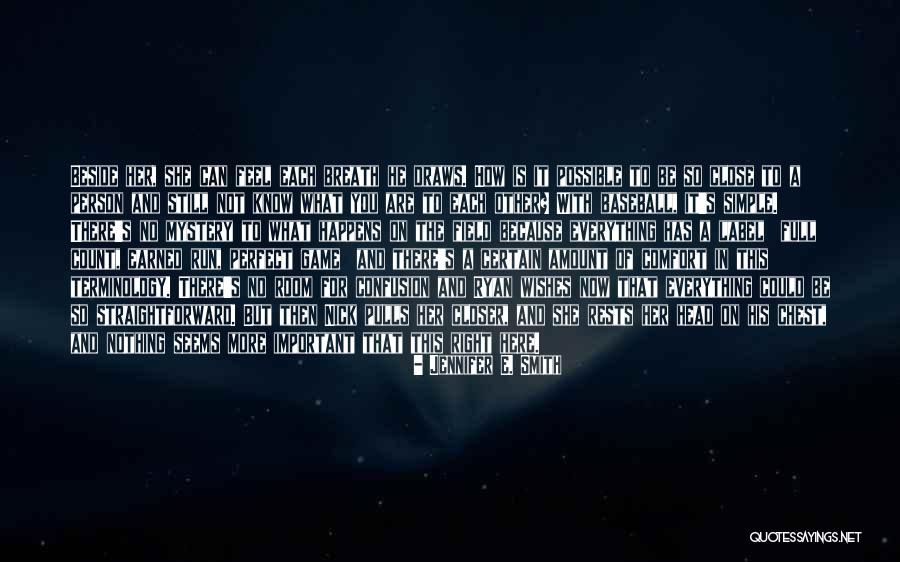 Beside her, she can feel each breath he draws. How is it possible to be so close to a person and still not know what you are to each other? With baseball, it's simple. There's no mystery to what happens on the field because everything has a label
full count, earned run, perfect game
and there's a certain amount of comfort in this terminology. There's no room for confusion and Ryan wishes now that everything could be so straightforward. But then Nick pulls her closer, and she rests her head on his chest, and nothing seems more important that this right here. — Jennifer E. Smith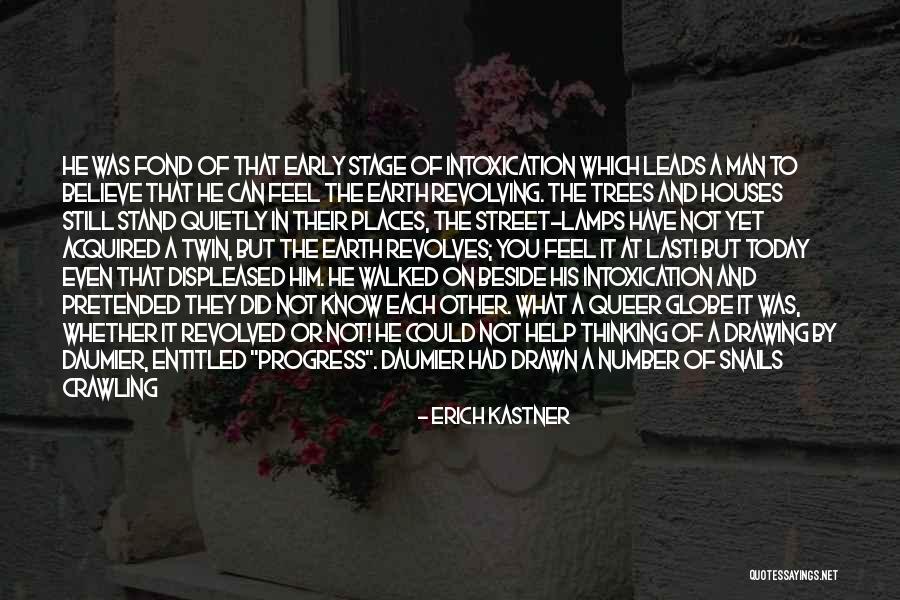 He was fond of that early stage of intoxication which leads a man to believe that he can feel the earth revolving. The trees and houses still stand quietly in their places, the street-lamps have not yet acquired a twin, but the earth revolves; you feel it at last! But today even that displeased him. He walked on beside his intoxication and pretended they did not know each other. What a queer globe it was, whether it revolved or not! He could not help thinking of a drawing by Daumier, entitled "Progress". Daumier had drawn a number of snails crawling after each other; that was the pace of human development. But the snails were crawling in a circle.
And that was the worst of it. — Erich Kastner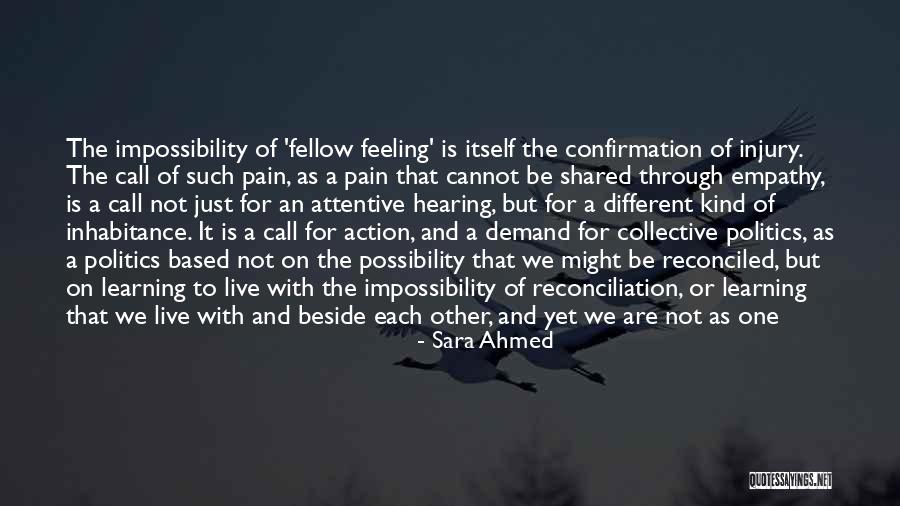 The impossibility of 'fellow feeling' is itself the confirmation of injury. The call of such pain, as a pain that cannot be shared through empathy, is a call not just for an attentive hearing, but for a different kind of inhabitance. It is a call for action, and a demand for collective politics, as a politics based not on the possibility that we might be reconciled, but on learning to live with the impossibility of reconciliation, or learning that we live with and beside each other, and yet we are not as one — Sara Ahmed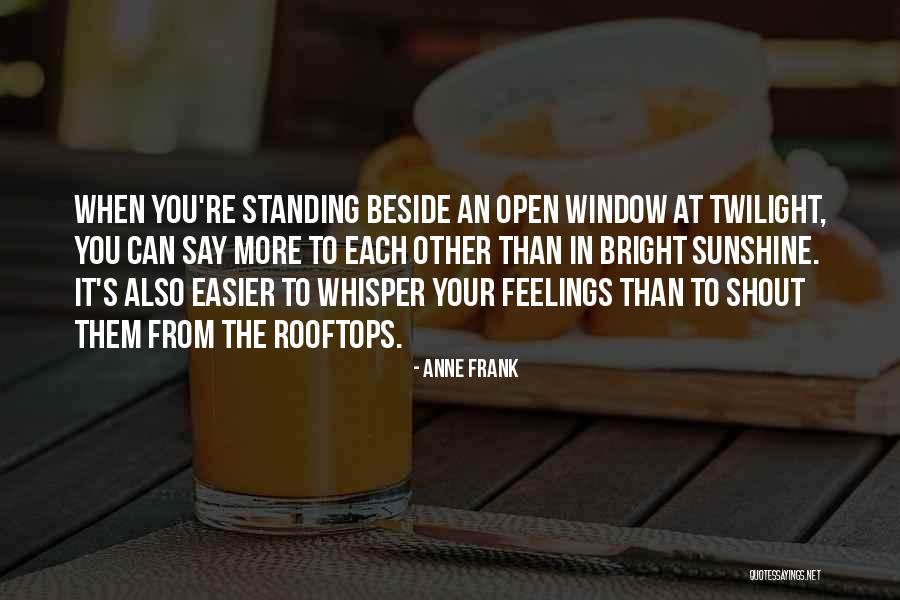 When you're standing beside an open window at twilight, you can say more to each other than in bright sunshine. It's also easier to whisper your feelings than to shout them from the rooftops. — Anne Frank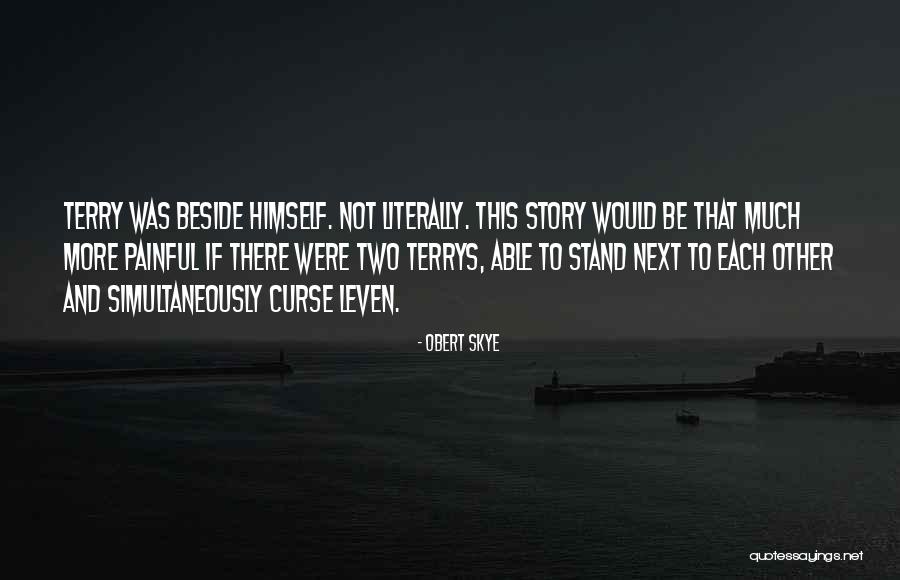 Terry was beside himself. Not literally. This story would be that much more painful if there were two Terrys, able to stand next to each other and simultaneously curse Leven. — Obert Skye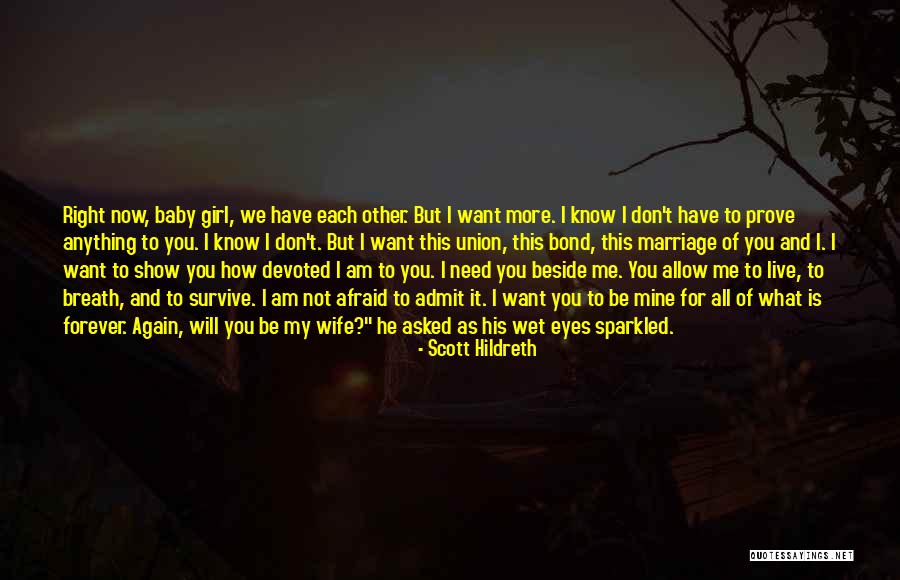 Right now, baby girl, we have each other. But I want more. I know I don't have to prove anything to you. I know I don't. But I want this union, this bond, this marriage of you and I. I want to show you how devoted I am to you. I need you beside me. You allow me to live, to breath, and to survive. I am not afraid to admit it. I want you to be mine for all of what is forever. Again, will you be my wife?" he asked as his wet eyes sparkled. — Scott Hildreth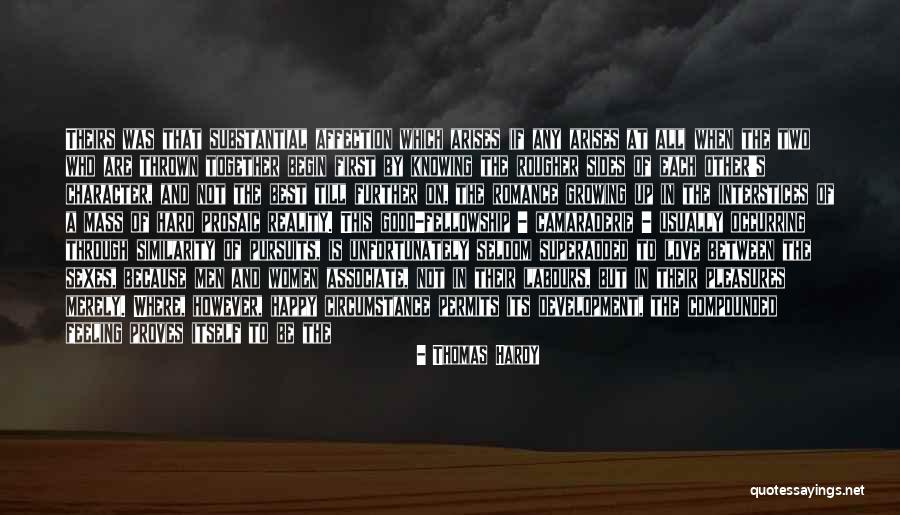 Theirs was that substantial affection which arises (if any arises at all) when the two who are thrown together begin first by knowing the rougher sides of each other's character, and not the best till further on, the romance growing up in the interstices of a mass of hard prosaic reality. This good-fellowship - camaraderie - usually occurring through similarity of pursuits, is unfortunately seldom superadded to love between the sexes, because men and women associate, not in their labours, but in their pleasures merely. Where, however, happy circumstance permits its development, the compounded feeling proves itself to be the only love which is strong as death - that love which many waters cannot quench, nor the floods drown, beside which the passion usually called by the name is evanescent as steam. — Thomas Hardy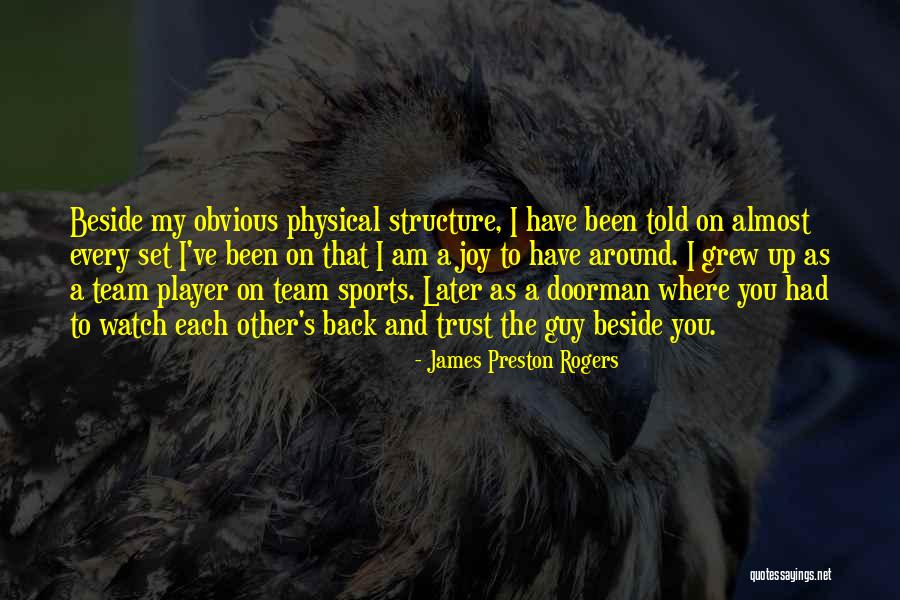 Beside my obvious physical structure, I have been told on almost every set I've been on that I am a joy to have around. I grew up as a team player on team sports. Later as a doorman where you had to watch each other's back and trust the guy beside you. — James Preston Rogers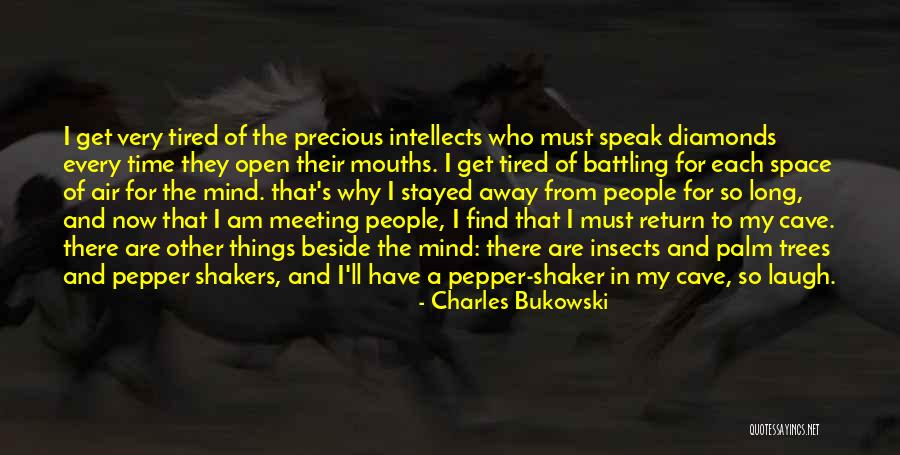 I get very tired of the precious intellects who must speak diamonds every time they open their mouths. I get tired of battling for each space of air for the mind. that's why I stayed away from people for so long, and now that I am meeting people, I find that I must return to my cave. there are other things beside the mind: there are insects and palm trees and pepper shakers, and I'll have a pepper-shaker in my cave, so laugh. — Charles Bukowski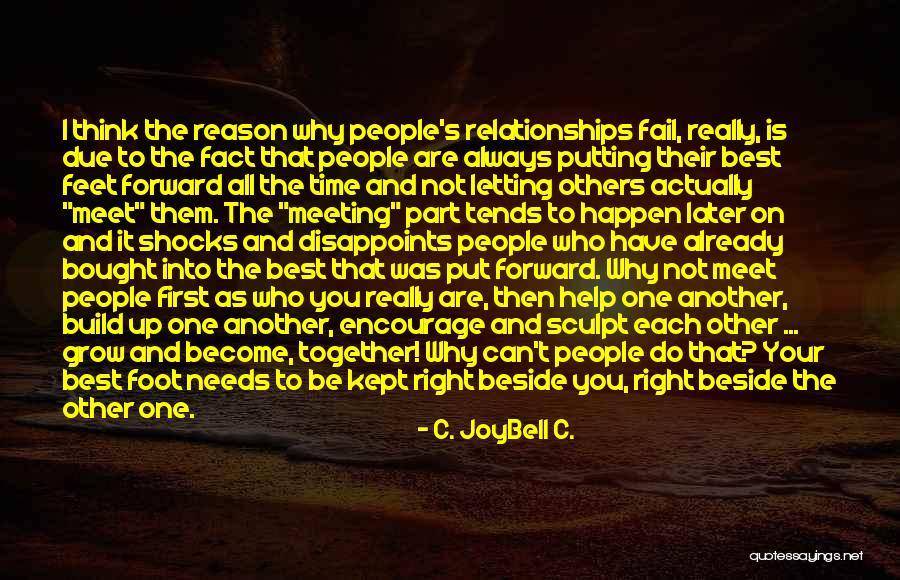 I think the reason why people's relationships fail, really, is due to the fact that people are always putting their best feet forward all the time and not letting others actually "meet" them. The "meeting" part tends to happen later on and it shocks and disappoints people who have already bought into the best that was put forward. Why not meet people first as who you really are, then help one another, build up one another, encourage and sculpt each other ... grow and become, together! Why can't people do that? Your best foot needs to be kept right beside you, right beside the other one. — C. JoyBell C.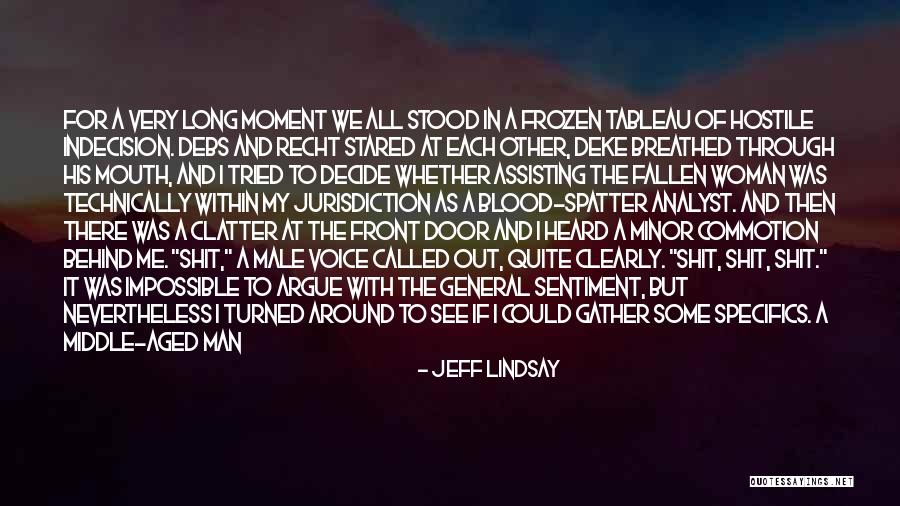 FOR A VERY LONG MOMENT WE ALL STOOD IN A FROZEN tableau of hostile indecision. Debs and Recht stared at each other, Deke breathed through his mouth, and I tried to decide whether assisting the fallen woman was technically within my jurisdiction as a blood-spatter analyst. And then there was a clatter at the front door and I heard a minor commotion behind me. "Shit," a male voice called out, quite clearly. "Shit, shit, shit." It was impossible to argue with the general sentiment, but nevertheless I turned around to see if I could gather some specifics. A middle-aged man hurried toward us. He was tall and soft-looking and had close-cropped gray hair and a matching beard. He slid to one knee beside Mrs. Aldovar and picked up her hand. "Hey, Emily? Honey?" he said as he patted her hand. "Come on, Em." I — Jeff Lindsay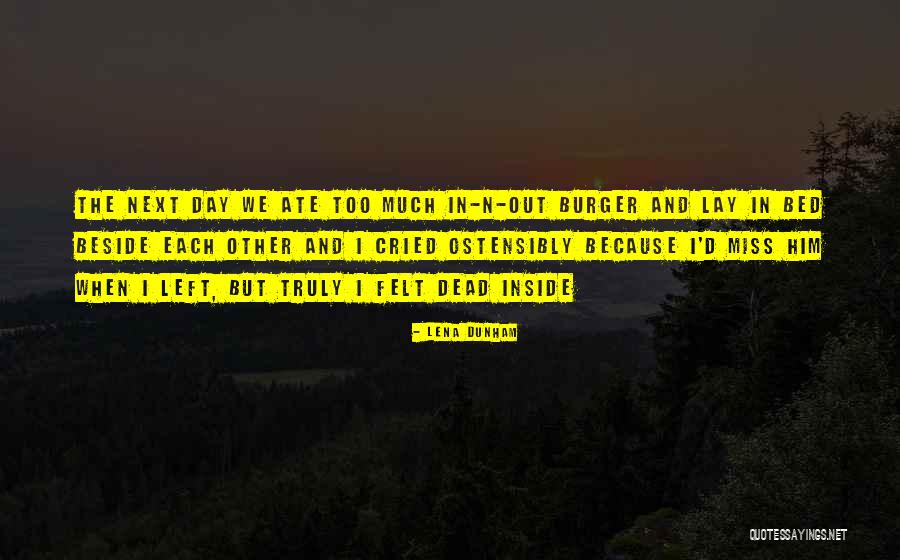 The next day we ate too much In-N-Out Burger and lay in bed beside each other and I cried ostensibly because I'd miss him when I left, but truly I felt dead inside — Lena Dunham
There's this anomaly that happens sometimes with twins. It occurs in the womb when the fetuses are growing too closely to each other. The stronger twin develops normally, while the weaker twin crumples and is encased by the body of the stronger twin, where it becomes a parasite. The result is a single child, plagued by a twin-shaped fossil inside. Like a tumor.
In death Rose became Linden's parasitic twin. They were two separate organisms once, growing steadily beside each other. Two pulses. Two brains. But she has crumpled and died, and still he carries her inside himself. She goes where he goes, feeling nothing, seeing nothing, a shadow behind his ribs. — Lauren DeStefano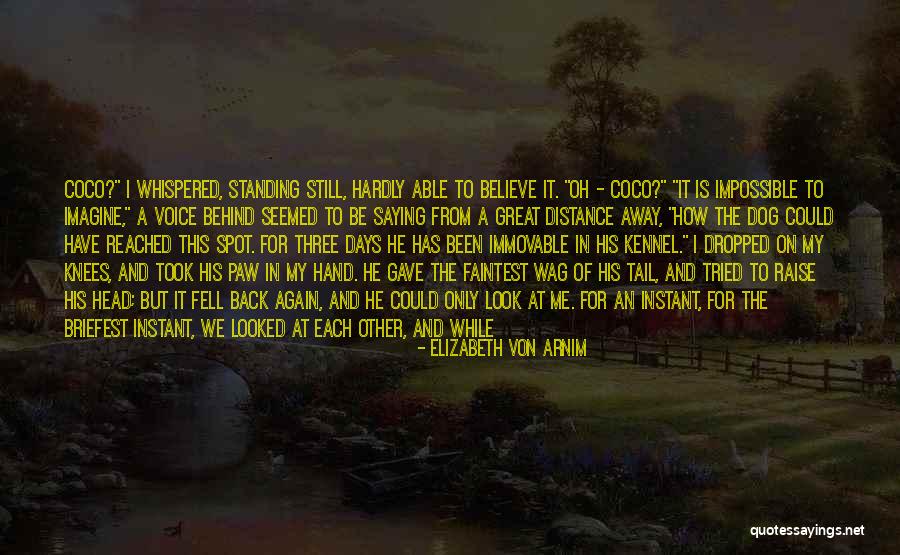 Coco?" I whispered, standing still, hardly able to believe it. "Oh - Coco?" "It is impossible to imagine," a voice behind seemed to be saying from a great distance away, "how the dog could have reached this spot. For three days he has been immovable in his kennel." I dropped on my knees, and took his paw in my hand. He gave the faintest wag of his tail, and tried to raise his head; but it fell back again, and he could only look at me. For an instant, for the briefest instant, we looked at each other, and while we looked his eyes glazed. "Coco - I've come back. Darling - I'll never leave you any more - - " I don't know why I said these things. I knew he was dead, and that no calls, no lamentations, no love could ever reach him again. Sliding down on to the stone flags beside him, I laid my head on his and wept in an agony of bitter grief. Now indeed I was left alone in the world. Even my dog was gone. — Elizabeth Von Arnim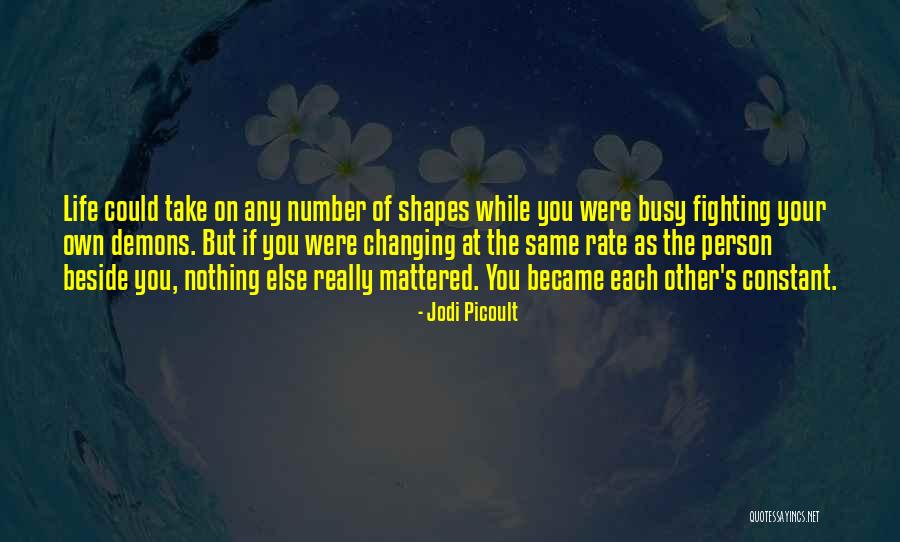 Life could take on any number of shapes while you were busy fighting your own demons. But if you were changing at the same rate as the person beside you, nothing else really mattered. You became each other's constant. — Jodi Picoult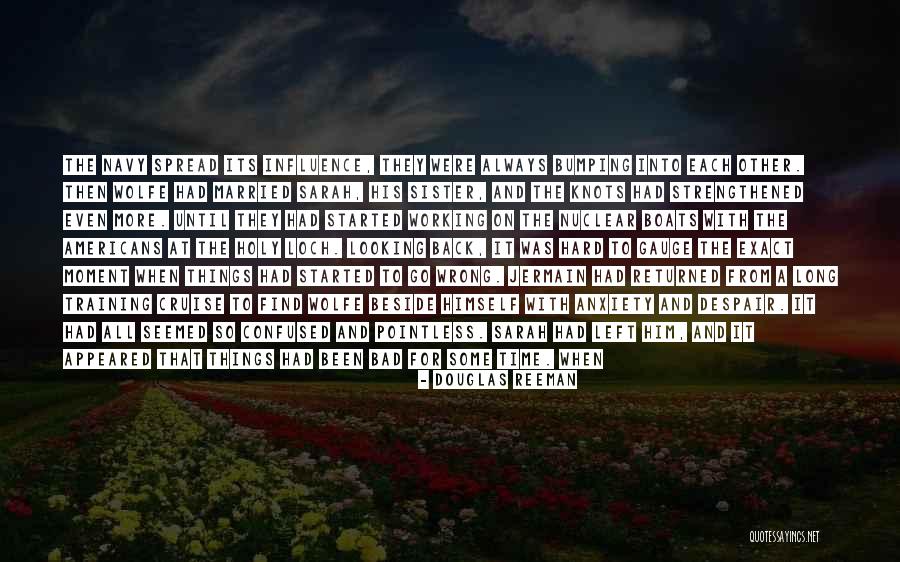 the Navy spread its influence, they were always bumping into each other. Then Wolfe had married Sarah, his sister, and the knots had strengthened even more. Until they had started working on the nuclear boats with the Americans at the Holy Loch. Looking back, it was hard to gauge the exact moment when things had started to go wrong. Jermain had returned from a long training cruise to find Wolfe beside himself with anxiety and despair. It had all seemed so confused and pointless. Sarah had left him, and it appeared that things had been bad for some time. When it became obvious that she had left him for another man, an American officer from the Holy Loch, Wolfe's bitterness had changed to an — Douglas Reeman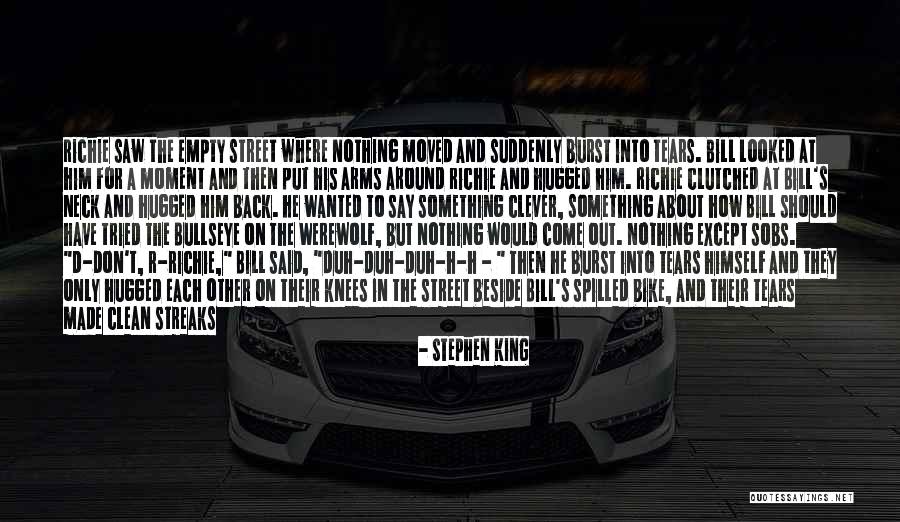 Richie saw the empty street where nothing moved and suddenly burst into tears. Bill looked at him for a moment and then put his arms around Richie and hugged him. Richie clutched at Bill's neck and hugged him back. He wanted to say something clever, something about how Bill should have tried the Bullseye on the Werewolf, but nothing would come out. Nothing except sobs. "D-Don't, R-Richie," Bill said, "duh-duh-duh-h-h - " Then he burst into tears himself and they only hugged each other on their knees in the street beside Bill's spilled bike, and their tears made clean streaks down their cheeks, which were sooted with coaldust. — Stephen King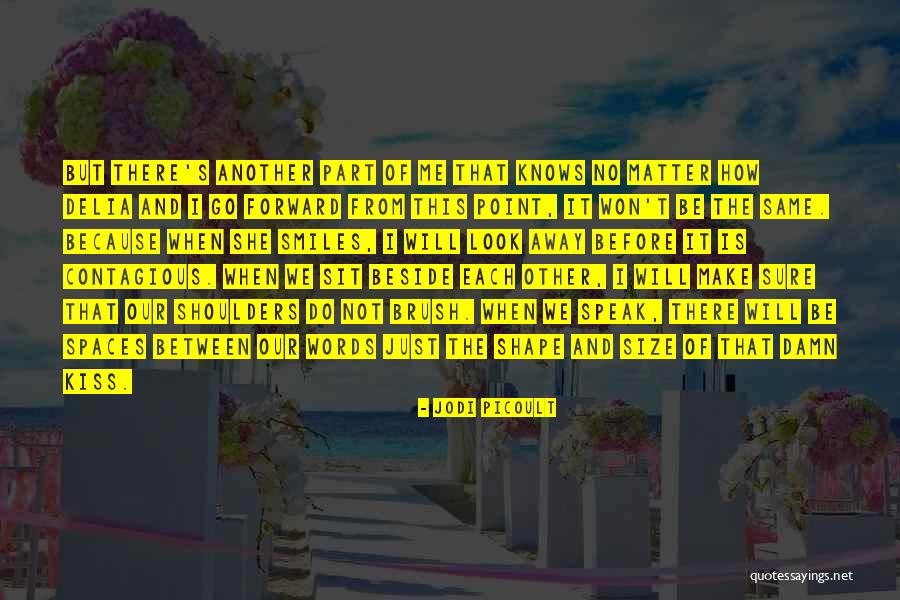 But there's another part of me that knows no matter how Delia and I go forward from this point, it won't be the same. Because when she smiles, I will look away before it is contagious. When we sit beside each other, I will make sure that our shoulders do not brush. When we speak, there will be spaces between our words just the shape and size of that damn kiss. — Jodi Picoult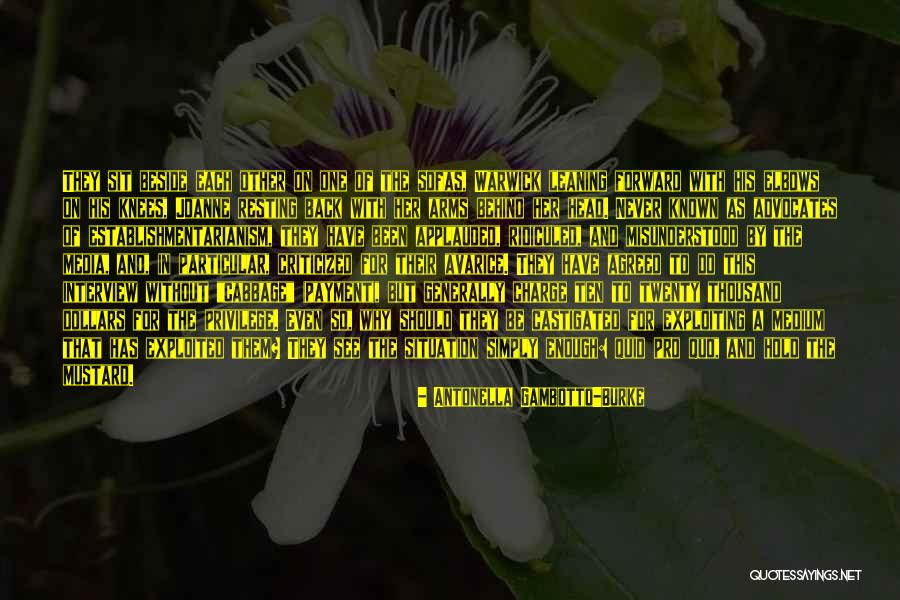 They sit beside each other on one of the sofas, Warwick leaning forward with his elbows on his knees, Joanne resting back with her arms behind her head. Never known as advocates of establishmentarianism, they have been applauded, ridiculed, and misunderstood by the media, and, in particular, criticized for their avarice. They have agreed to do this interview without "cabbage" (payment), but generally charge ten to twenty thousand dollars for the privilege. Even so, why should they be castigated for exploiting a medium that has exploited them? They see the situation simply enough: quid pro quo, and hold the mustard. — Antonella Gambotto-Burke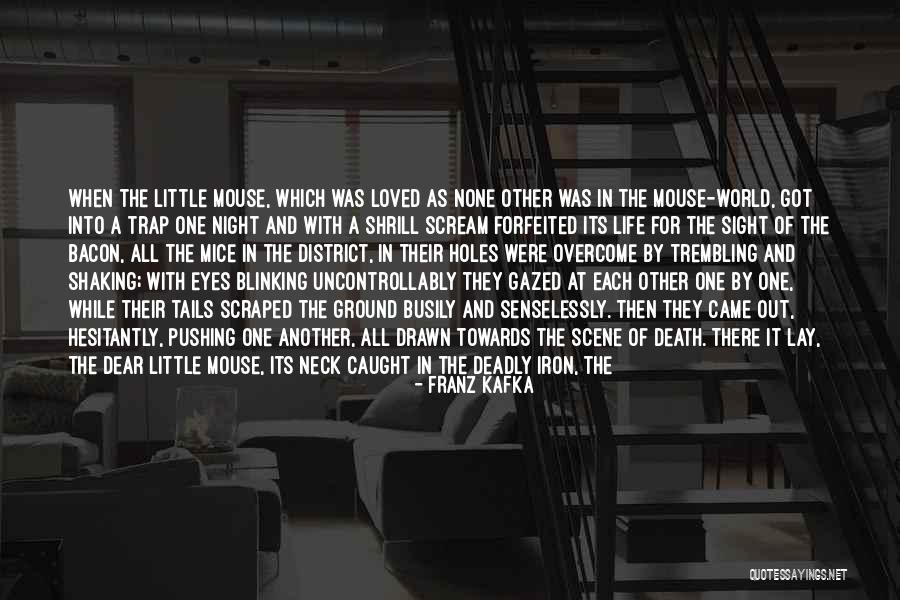 When the little mouse, which was loved as none other was in the mouse-world, got into a trap one night and with a shrill scream forfeited its life for the sight of the bacon, all the mice in the district, in their holes were overcome by trembling and shaking; with eyes blinking uncontrollably they gazed at each other one by one, while their tails scraped the ground busily and senselessly. Then they came out, hesitantly, pushing one another, all drawn towards the scene of death. There it lay, the dear little mouse, its neck caught in the deadly iron, the little pink legs drawn up, and now stiff the feeble body that would so well have deserved a scrap of bacon.
The parents stood beside it and eyed their child's remains. — Franz Kafka
Yes, he fights well," said Bulba, pausing; "well, by heavens!" he continued, rather as if excusing himself, "although he has never tried his hand at it before, he will make a good Cossack! Now, welcome, son! embrace me," and father and son began to kiss each other. "Good lad! see that you hit every one as you pommelled me; don't let any one escape. Nevertheless your clothes are ridiculous all the same. What rope is this hanging there?
And you, you lout, why are you standing there with your hands hanging beside you?" he added, turning to the youngest. "Why don't you fight me? you son of a dog! — Nikolai Gogol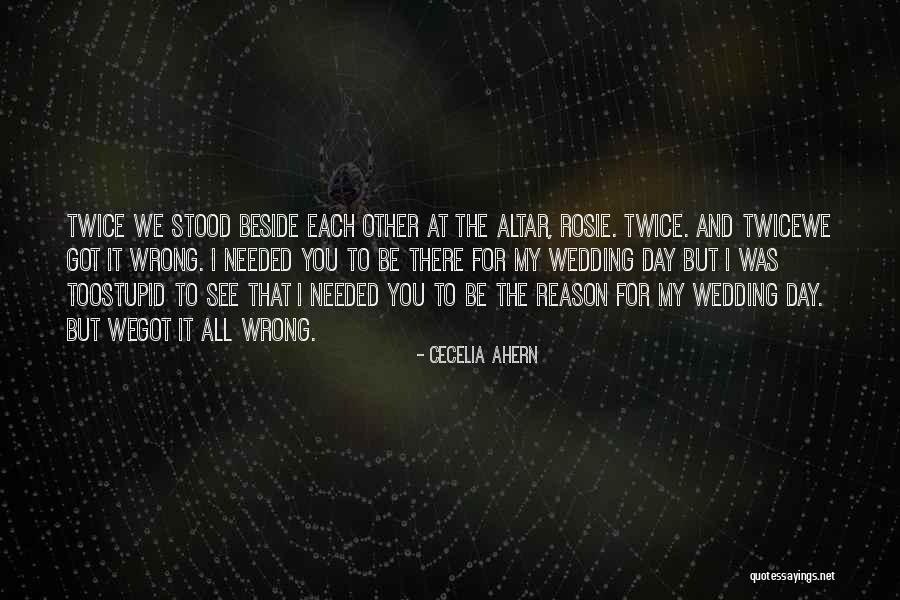 Twice we stood beside each other at the altar, Rosie. Twice. And twice
we got it wrong. I needed you to be there for my wedding day but I was too
stupid to see that I needed you to be the reason for my wedding day. But we
got it all wrong. — Cecelia Ahern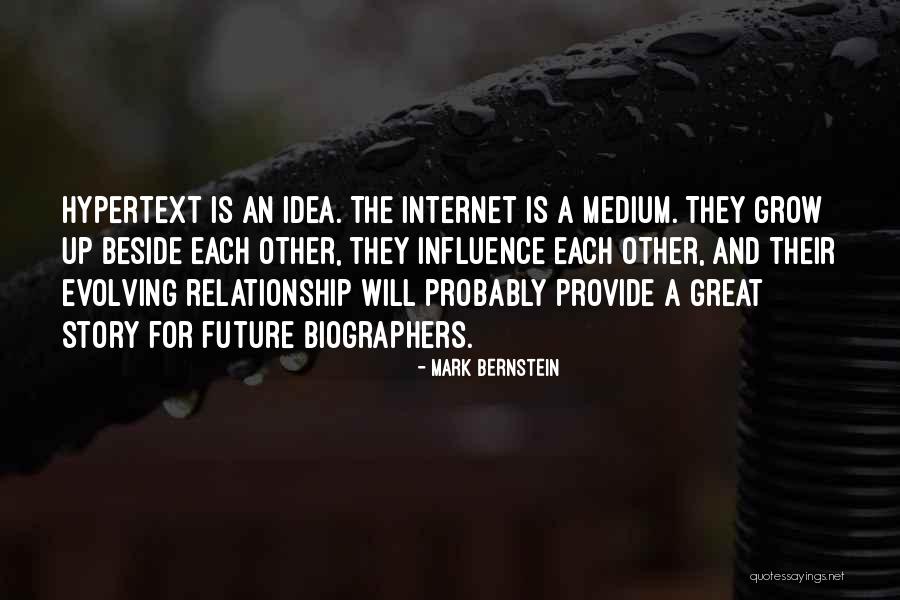 Hypertext is an idea. The Internet is a medium. They grow up beside each other, they influence each other, and their evolving relationship will probably provide a great story for future biographers. — Mark Bernstein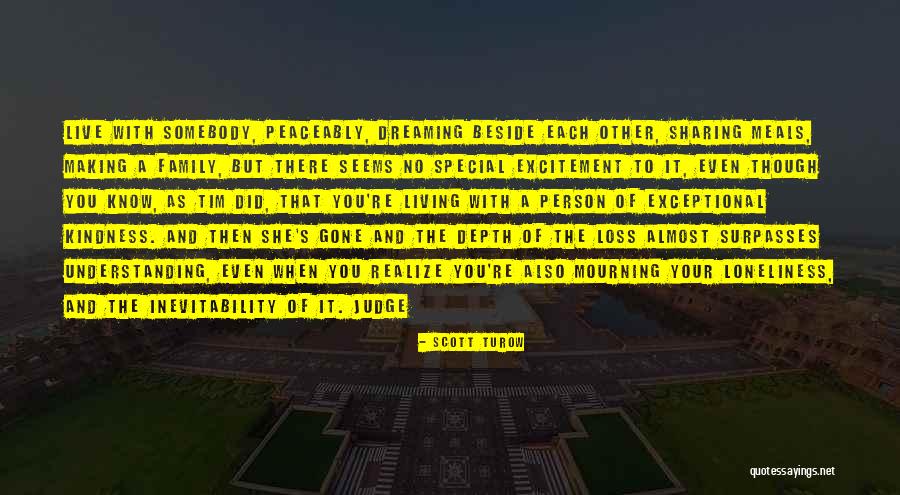 live with somebody, peaceably, dreaming beside each other, sharing meals, making a family, but there seems no special excitement to it, even though you know, as Tim did, that you're living with a person of exceptional kindness. And then she's gone and the depth of the loss almost surpasses understanding, even when you realize you're also mourning your loneliness, and the inevitability of it. Judge — Scott Turow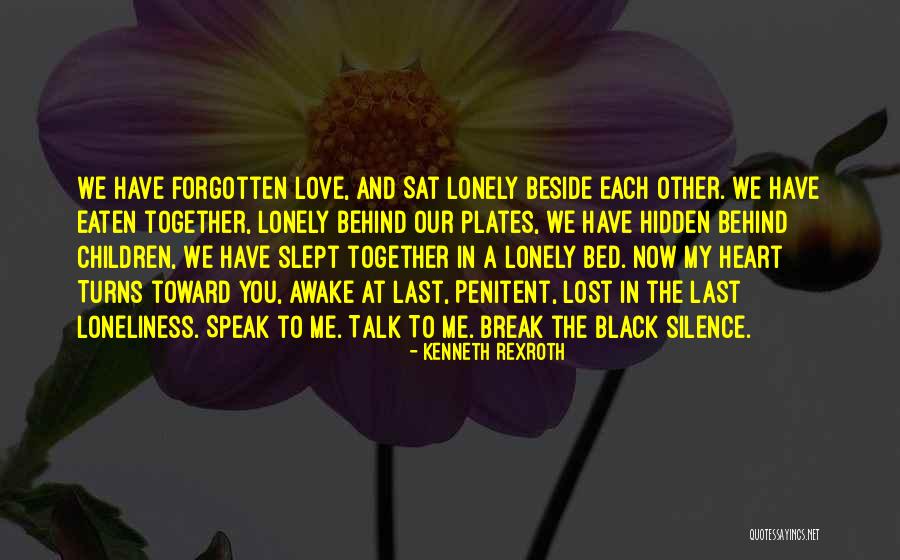 We have forgotten love, and Sat lonely beside each other. We have eaten together, Lonely behind our plates, we Have hidden behind children, We have slept together in A lonely bed. Now my heart Turns toward you, awake at last, Penitent, lost in the last Loneliness. Speak to me. Talk To me. Break the black silence. — Kenneth Rexroth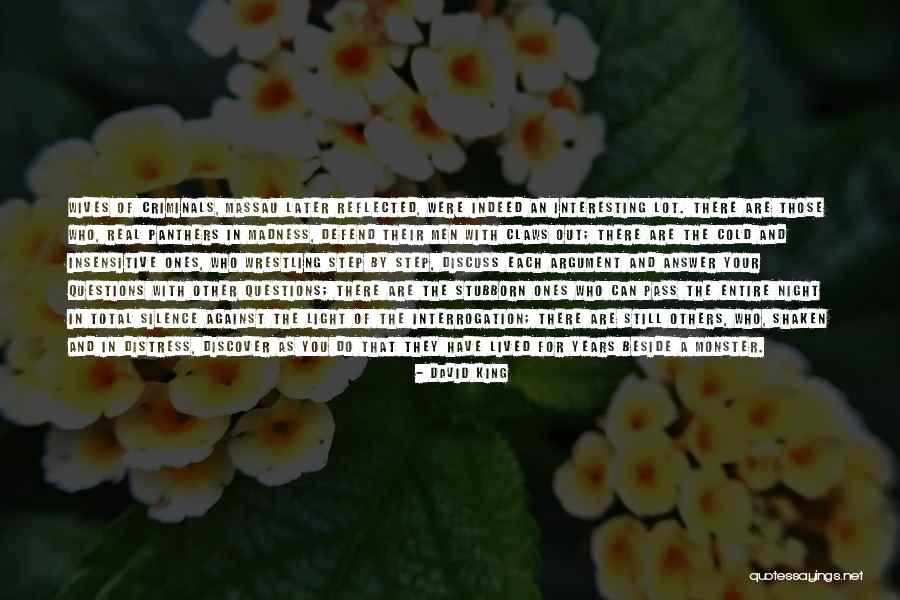 Wives of criminals, Massau later reflected, were indeed an interesting lot. There are those who, real panthers in madness, defend their men with claws out; there are the cold and insensitive ones, who wrestling step by step, discuss each argument and answer your questions with other questions; there are the stubborn ones who can pass the entire night in total silence against the light of the interrogation; there are still others, who, shaken and in distress, discover as you do that they have lived for years beside a monster. — David King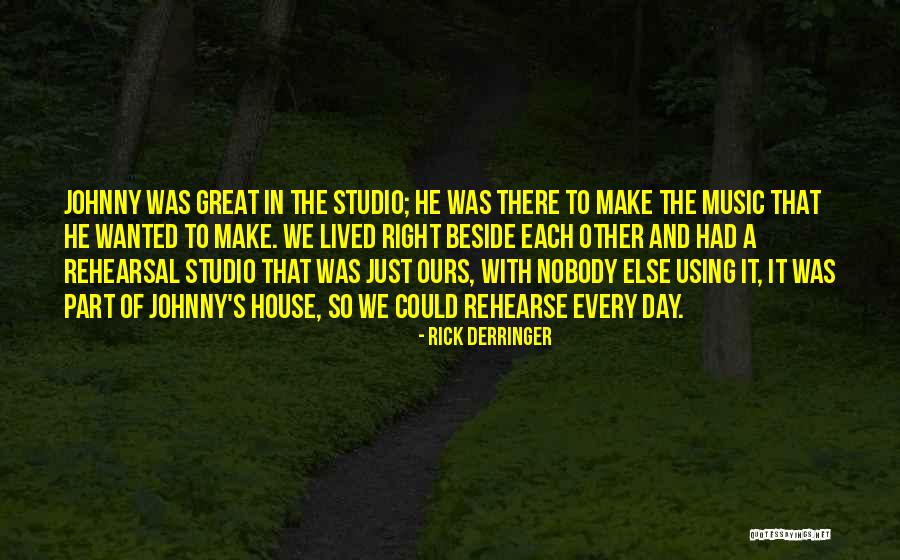 Johnny was great in the studio; he was there to make the music that he wanted to make. We lived right beside each other and had a rehearsal studio that was just ours, with nobody else using it, it was part of Johnny's house, so we could rehearse every day. — Rick Derringer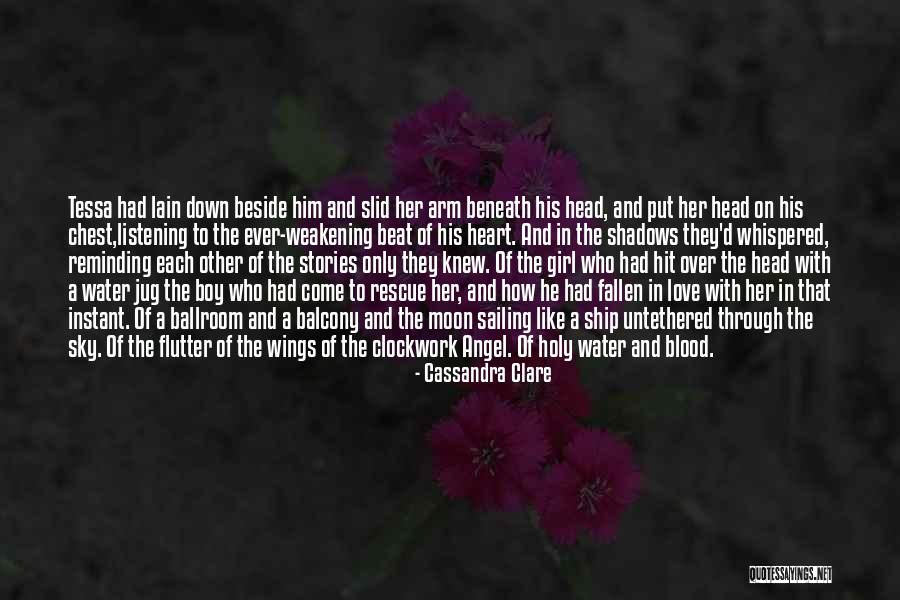 Tessa had lain down beside him and slid her arm beneath his head, and put her head on his chest,listening to the ever-weakening beat of his heart. And in the shadows they'd whispered, reminding each other of the stories only they knew. Of the girl who had hit over the head with a water jug the boy who had come to rescue her, and how he had fallen in love with her in that instant. Of a ballroom and a balcony and the moon sailing like a ship untethered through the sky. Of the flutter of the wings of the clockwork Angel. Of holy water and blood. — Cassandra Clare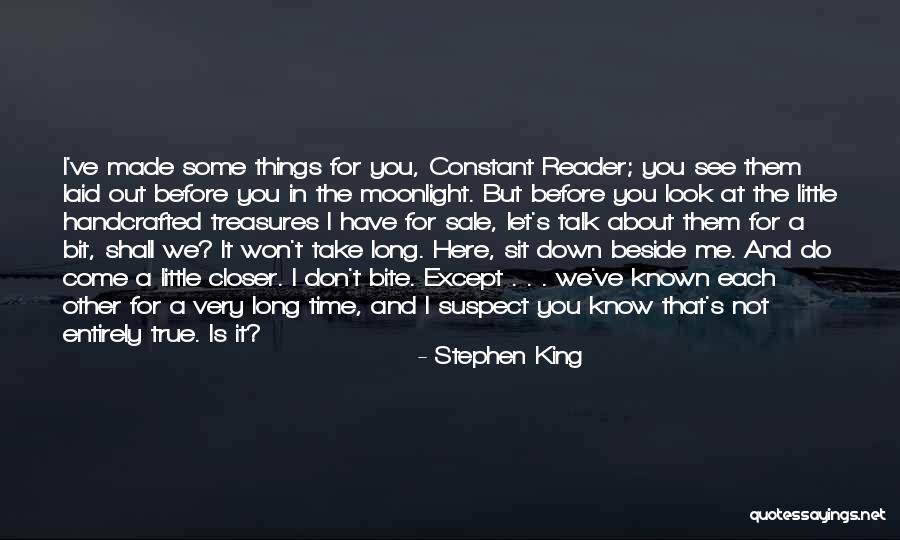 I've made some things for you, Constant Reader; you see them laid out before you in the moonlight. But before you look at the little handcrafted treasures I have for sale, let's talk about them for a bit, shall we? It won't take long. Here, sit down beside me. And do come a little closer. I don't bite. Except . . . we've known each other for a very long time, and I suspect you know that's not entirely true. Is it? — Stephen King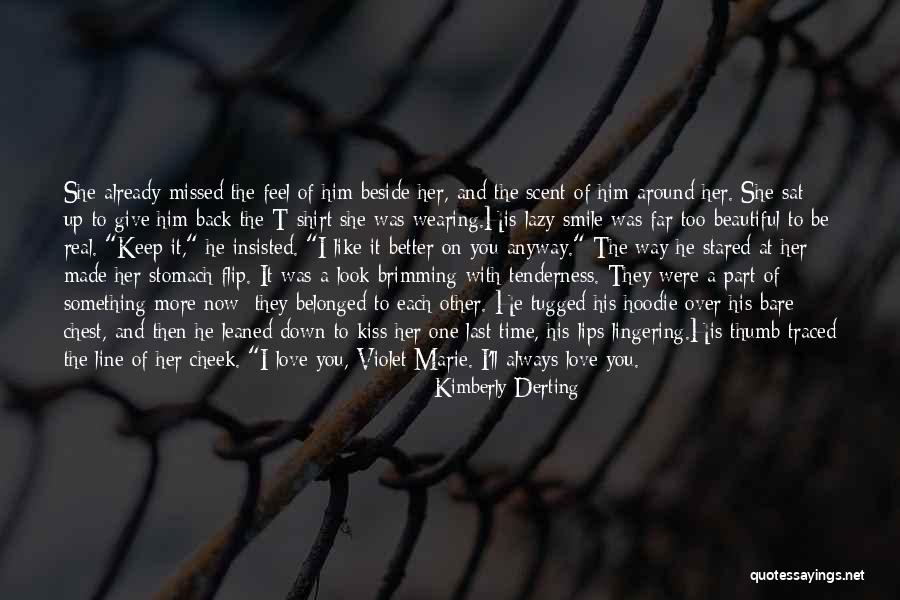 She already missed the feel of him beside her, and the scent of him around her. She sat up to give him back the T-shirt she was wearing.
His lazy smile was far too beautiful to be real. "Keep it," he insisted. "I like it better on you anyway." The way he stared at her made her stomach flip. It was a look brimming with tenderness. They were a part of something more now; they belonged to each other.
He tugged his hoodie over his bare chest, and then he leaned down to kiss her one last time, his lips lingering.
His thumb traced the line of her cheek. "I love you, Violet Marie. I'll always love you. — Kimberly Derting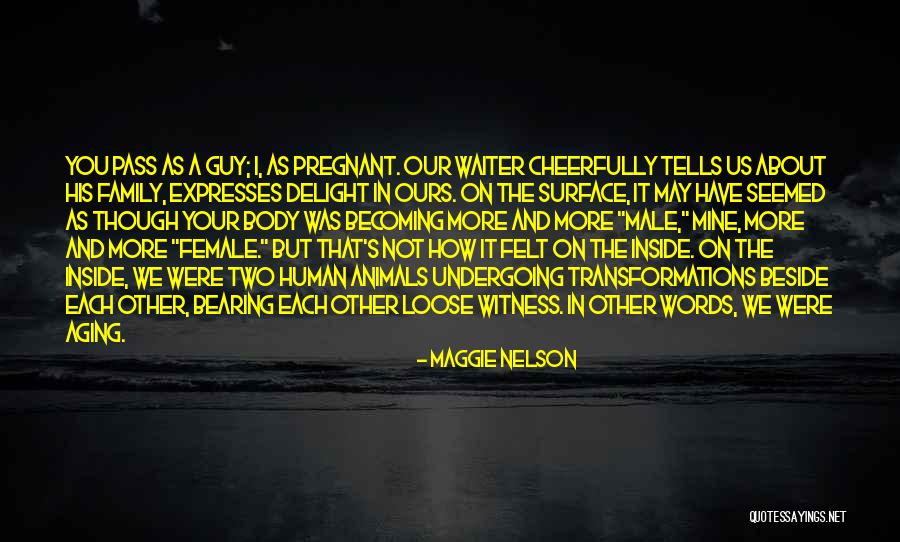 You pass as a guy; I, as pregnant. Our waiter cheerfully tells us about his family, expresses delight in ours. On the surface, it may have seemed as though your body was becoming more and more "male," mine, more and more "female." But that's not how it felt on the inside. On the inside, we were two human animals undergoing transformations beside each other, bearing each other loose witness. In other words, we were aging. — Maggie Nelson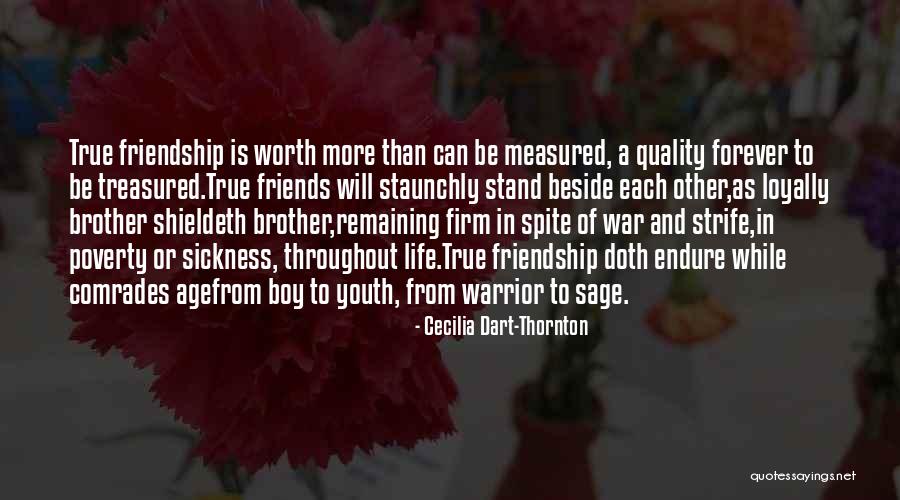 True friendship is worth more than can be measured,
a quality forever to be treasured.
True friends will staunchly stand beside each other,
as loyally brother shieldeth brother,
remaining firm in spite of war and strife,
in poverty or sickness, throughout life.
True friendship doth endure while comrades age
from boy to youth, from warrior to sage. — Cecilia Dart-Thornton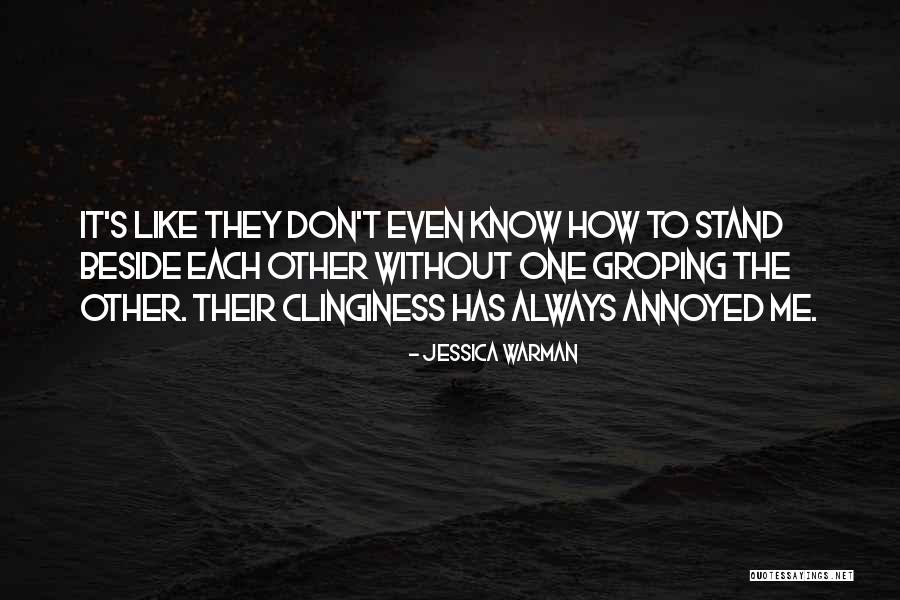 It's like they don't even know how to stand beside each other without one groping the other. Their clinginess has always annoyed me. — Jessica Warman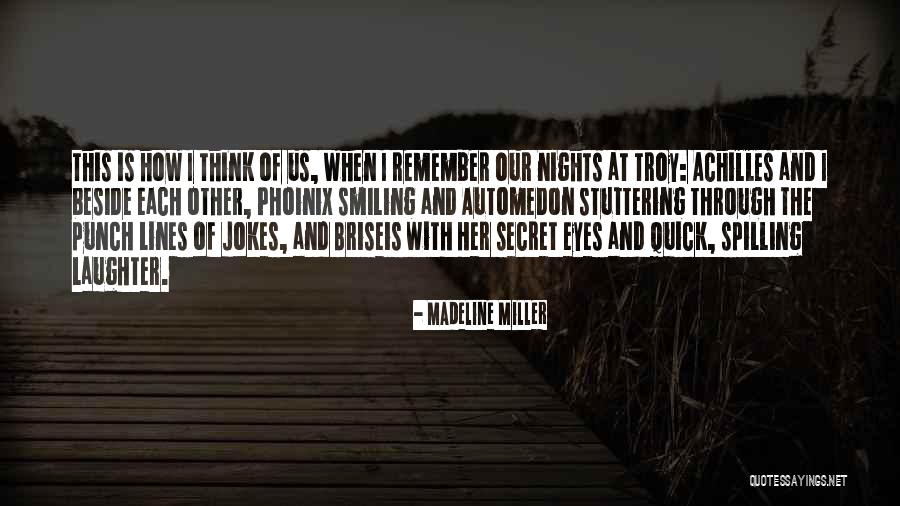 This is how I think of us, when I remember our nights at Troy: Achilles and I beside each other, Phoinix smiling and Automedon stuttering through the punch lines of jokes, and Briseis with her secret eyes and quick, spilling laughter. — Madeline Miller
I remember how I would eye with envy all the kids in our neighborhood, in my school, who had a little brother or sister. How bewildered I was by the way some of them treated each other, oblivious to their own good luck. They acted like wild dogs. Pinching, hitting, pushing, betraying one another any way they could think of. Laughing about it too. They wouldn't speak to one another. I didn't understand. Me, I spent most of my early years craving a sibling. What I really wished I had was a twin, someone who'd cried next to me in the crib, slept beside me, fed from Mother's breast with me. Someone to love helplessly and totally, and in whose face I could always find myself. — Khaled Hosseini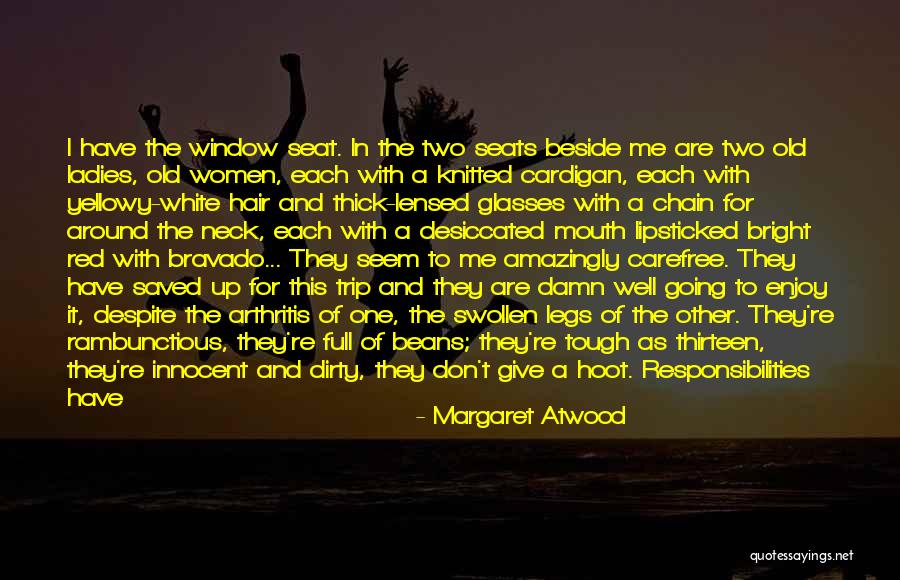 I have the window seat. In the two seats beside me are two old ladies, old women, each with a knitted cardigan, each with yellowy-white hair and thick-lensed glasses with a chain for around the neck, each with a desiccated mouth lipsticked bright red with bravado... They seem to me amazingly carefree. They have saved up for this trip and they are damn well going to enjoy it, despite the arthritis of one, the swollen legs of the other. They're rambunctious, they're full of beans; they're tough as thirteen, they're innocent and dirty, they don't give a hoot. Responsibilities have fallen away from them, obligations, old hates and grievances; now for a short while they can play again like children, but this time without the pain. — Margaret Atwood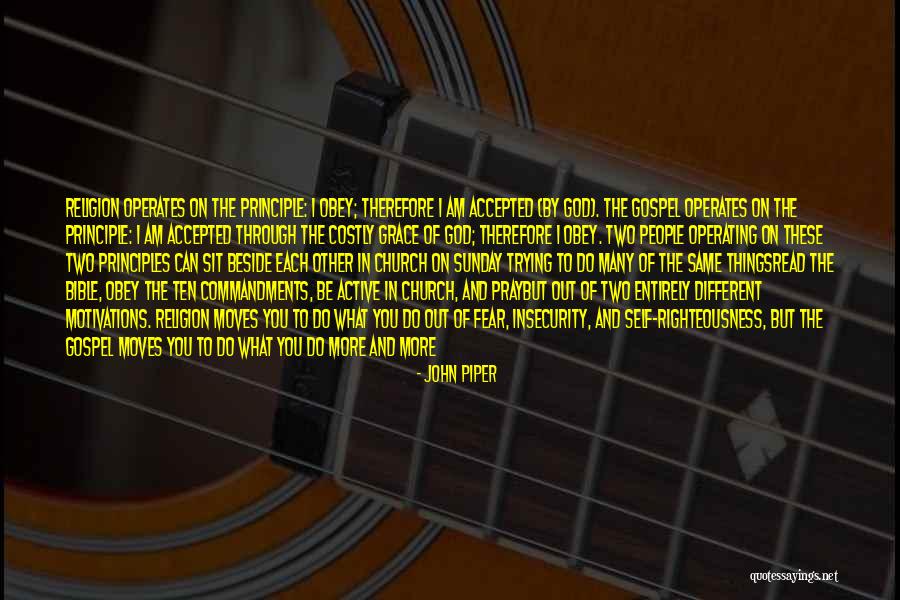 Religion operates on the principle: I obey; therefore I am accepted (by God). The gospel operates on the principle: I am accepted through the costly grace of God; therefore I obey. Two people operating on these two principles can sit beside each other in church on Sunday trying to do many of the same things
read the Bible, obey the Ten Commandments, be active in church, and pray
but out of two entirely different motivations. Religion moves you to do what you do out of fear, insecurity, and self-righteousness, but the gospel moves you to do what you do more and more out of grateful joy in who God is in himself. Times — John Piper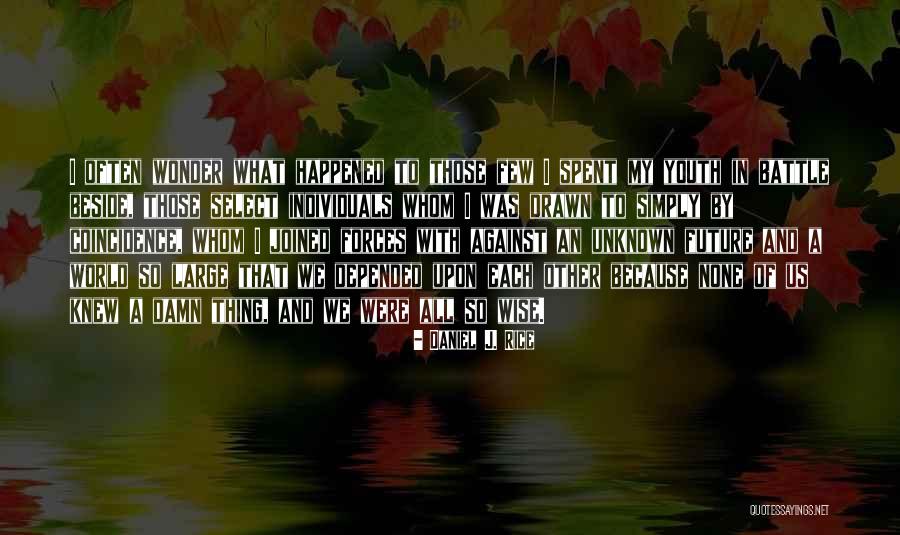 I often wonder what happened to those few I spent my youth in battle beside, those select individuals whom I was drawn to simply by coincidence, whom I joined forces with against an unknown future and a world so large that we depended upon each other because none of us knew a damn thing, and we were all so wise. — Daniel J. Rice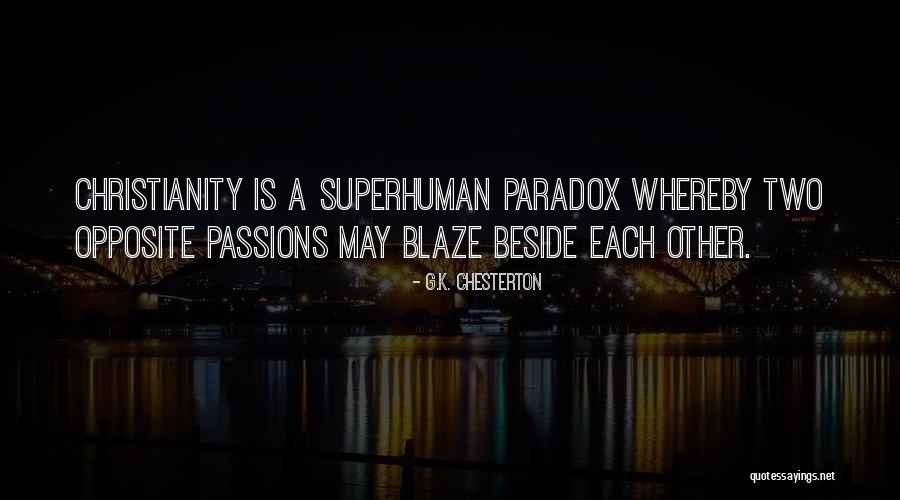 Christianity is a superhuman paradox whereby two opposite passions may blaze beside each other. — G.K. Chesterton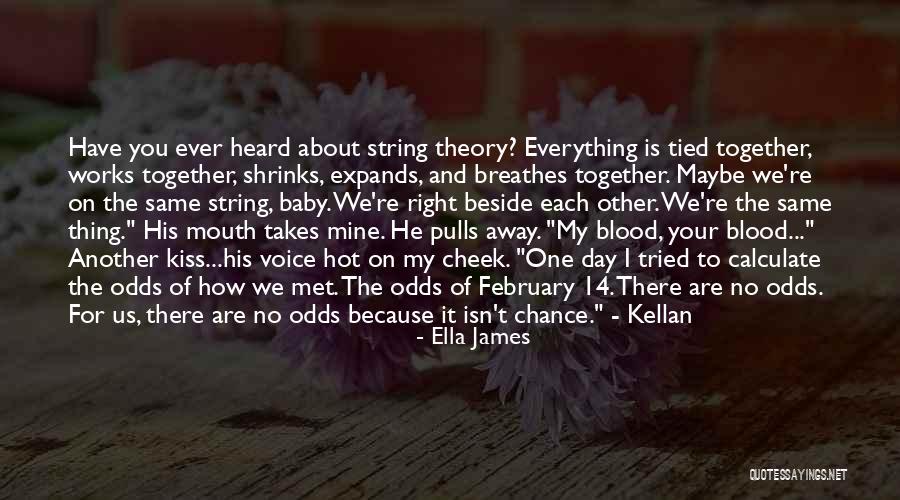 Have you ever heard about string theory? Everything is tied together, works together, shrinks, expands, and breathes together. Maybe we're on the same string, baby. We're right beside each other. We're the same thing." His mouth takes mine. He pulls away. "My blood, your blood..." Another kiss...his voice hot on my cheek. "One day I tried to calculate the odds of how we met. The odds of February 14. There are no odds. For us, there are no odds because it isn't chance." - Kellan — Ella James
All those bickering worshippers, each one convinced their version is the right one. Imagine getting prayers from ten million believers, not one of them believing the same thing as the one kneeling beside him or her. Imagine all those Holy Books, not one of them agreeing on anything, yet all of them purporting to be the word of that one god. Imagine two armies annihilating each other, both in that god's name. Who wouldn't be driven mad by that? — Steven Erikson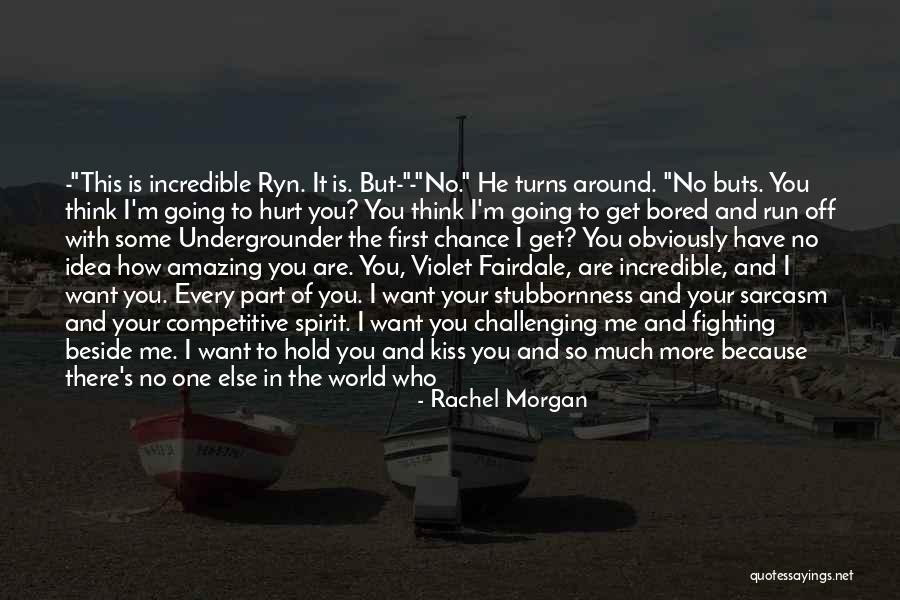 -"This is incredible Ryn. It is. But-"
-"No." He turns around. "No buts. You think I'm going to hurt you? You think I'm going to get bored and run off with some Undergrounder the first chance I get? You obviously have no idea how amazing you are. You, Violet Fairdale, are incredible, and I want you. Every part of you. I want your stubbornness and your sarcasm and your competitive spirit. I want you challenging me and fighting beside me. I want to hold you and kiss you and so much more because there's no one else in the world who knows me like you do. You have always been the one for me, even when we couldn't stand each other. You're beautiful and hot and sexy all at once, and you're more intelligent than any girl I've met. I love the fact that I've known you all my life. It just feels right when you're beside me. It feel like I've been lost in the desert for years, and ... I've finally come home. — Rachel Morgan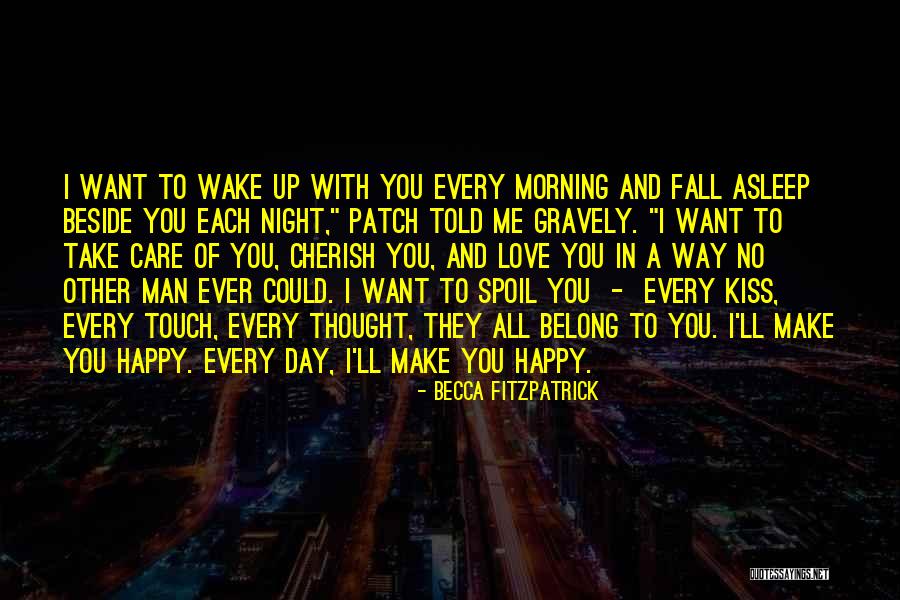 I want to wake up with you every morning and fall asleep beside you each night," Patch told me gravely. "I want to take care of you, cherish you, and love you in a way no other man ever could. I want to spoil you - every kiss, every touch, every thought, they all belong to you. I'll make you happy. Every day, I'll make you happy. — Becca Fitzpatrick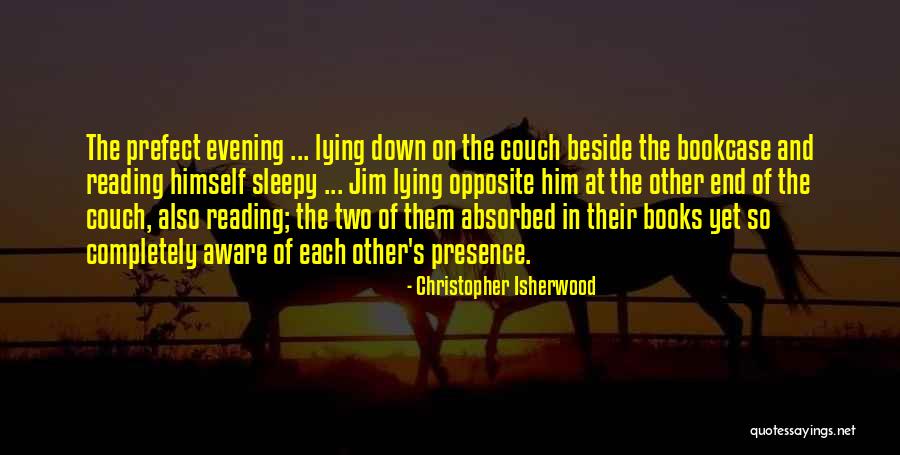 The prefect evening ... lying down on the couch beside the bookcase and reading himself sleepy ... Jim lying opposite him at the other end of the couch, also reading; the two of them absorbed in their books yet so completely aware of each other's presence. — Christopher Isherwood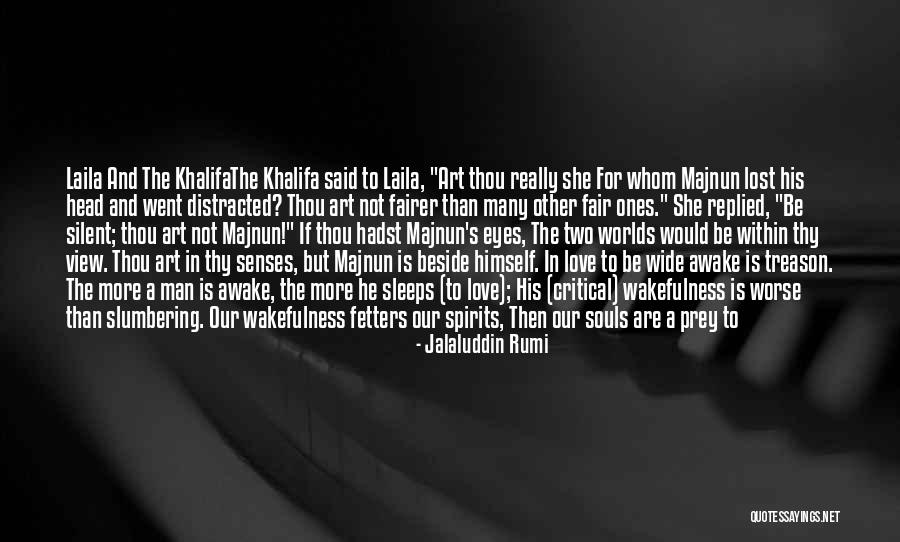 Laila And The Khalifa

The Khalifa said to Laila,
"Art thou really she
For whom Majnun lost his head
and went distracted?
Thou art not fairer than many
other fair ones."
She replied, "Be silent;
thou art not Majnun!"


If thou hadst Majnun's eyes,
The two worlds would be within thy view.
Thou art in thy senses, but Majnun is beside himself.
In love to be wide awake is treason.
The more a man is awake, the more he sleeps (to love);
His (critical) wakefulness is worse than slumbering.


Our wakefulness fetters our spirits,
Then our souls are a prey to divers whims,
Thoughts of loss and gain and fears of misery.
They retain not purity, nor dignity, nor lustre,
Nor aspiration to soar heavenwards.
That one is really sleeping who hankers after each whim
And holds parley with each fancy. — Jalaluddin Rumi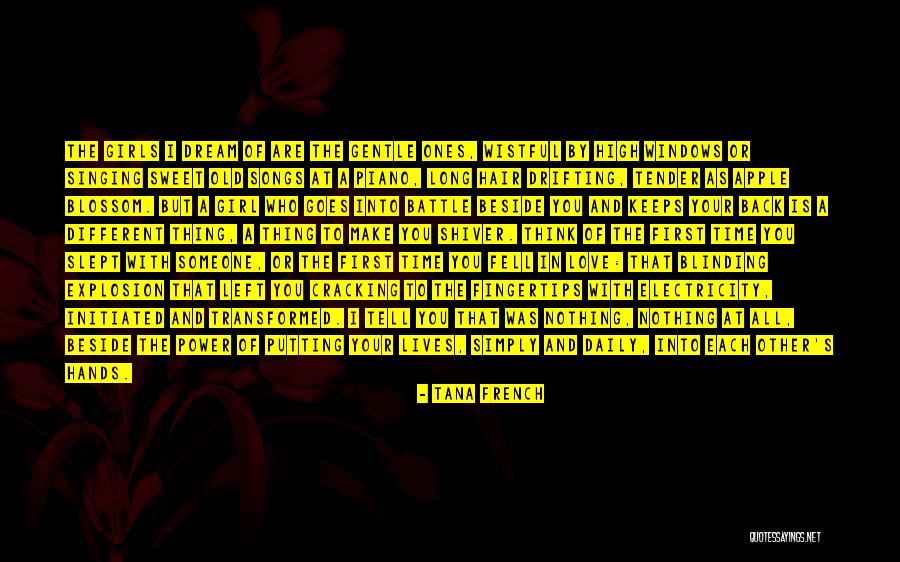 The girls I dream of are the gentle ones, wistful by high windows or singing sweet old songs at a piano, long hair drifting, tender as apple blossom. But a girl who goes into battle beside you and keeps your back is a different thing, a thing to make you shiver. Think of the first time you slept with someone, or the first time you fell in love: that blinding explosion that left you cracking to the fingertips with electricity, initiated and transformed. I tell you that was nothing, nothing at all, beside the power of putting your lives, simply and daily, into each other's hands. — Tana French