Quotes & Sayings About Being Married To The Love Of Your Life
Enjoy reading and share 19 famous quotes about Being Married To The Love Of Your Life with everyone.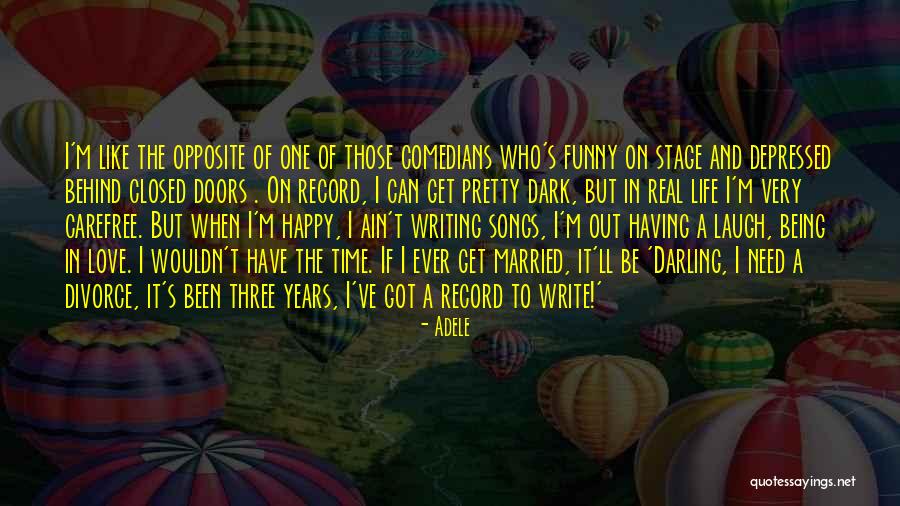 I'm like the opposite of one of those comedians who's funny on stage and depressed behind closed doors . On record, I can get pretty dark, but in real life I'm very carefree. But when I'm happy, I ain't writing songs, I'm out having a laugh, being in love. I wouldn't have the time. If I ever get married, it'll be 'Darling, I need a divorce, it's been three years, I've got a record to write!' — Adele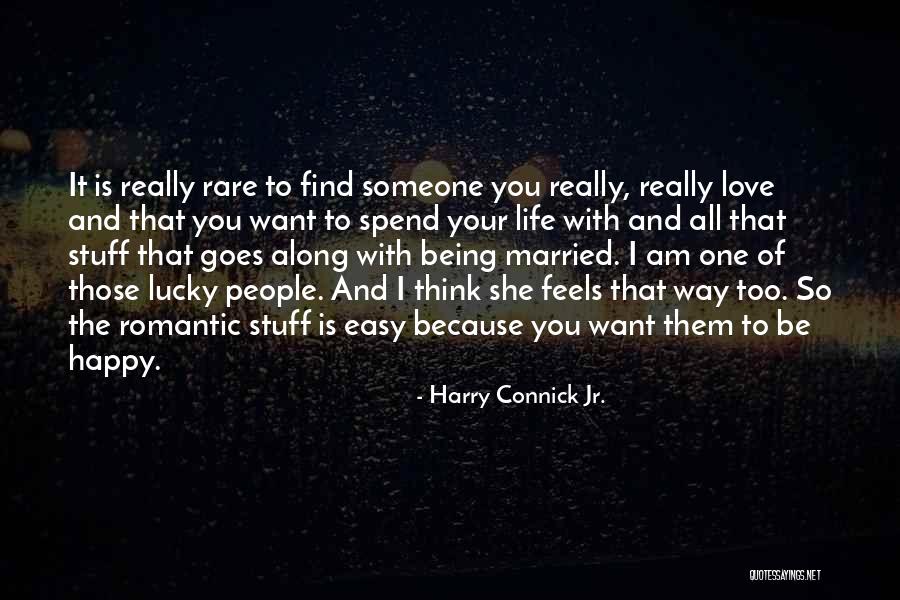 It is really rare to find someone you really, really love and that you want to spend your life with and all that stuff that goes along with being married. I am one of those lucky people. And I think she feels that way too. So the romantic stuff is easy because you want them to be happy. — Harry Connick Jr.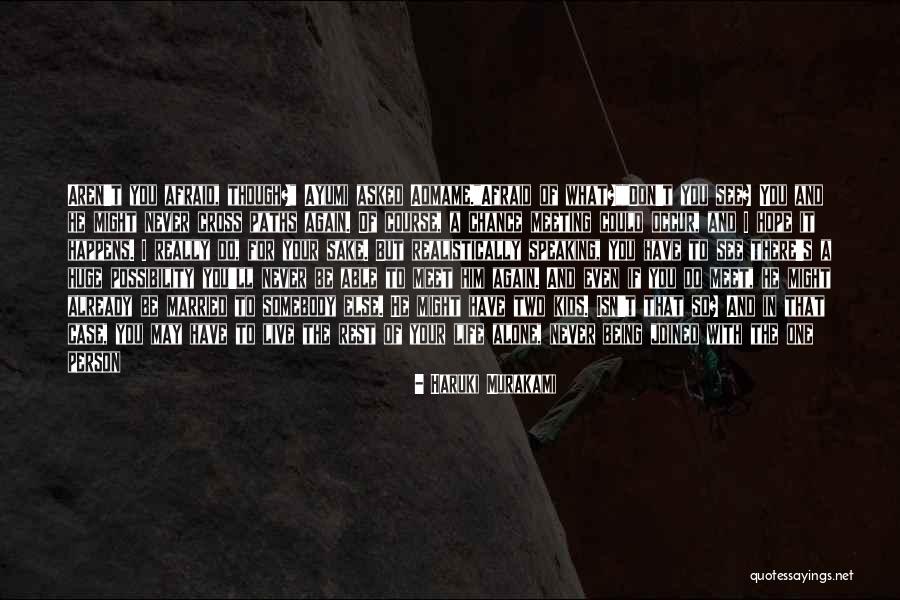 Aren't you afraid, though?" Ayumi asked Aomame.
"Afraid of what?"
"Don't you see? You and he might never cross paths again. Of course, a chance meeting could occur, and I hope it happens. I really do, for your sake. But realistically speaking, you have to see there's a huge possibility you'll never be able to meet him again. And even if you do meet, he might already be married to somebody else. He might have two kids. Isn't that so? And in that case, you may have to live the rest of your life alone, never being joined with the one person you love in all the world. Don't you find that scary?
Aomame stared at the red wine in her glass. "Maybe I do," she said. "But at least I have someone I love. — Haruki Murakami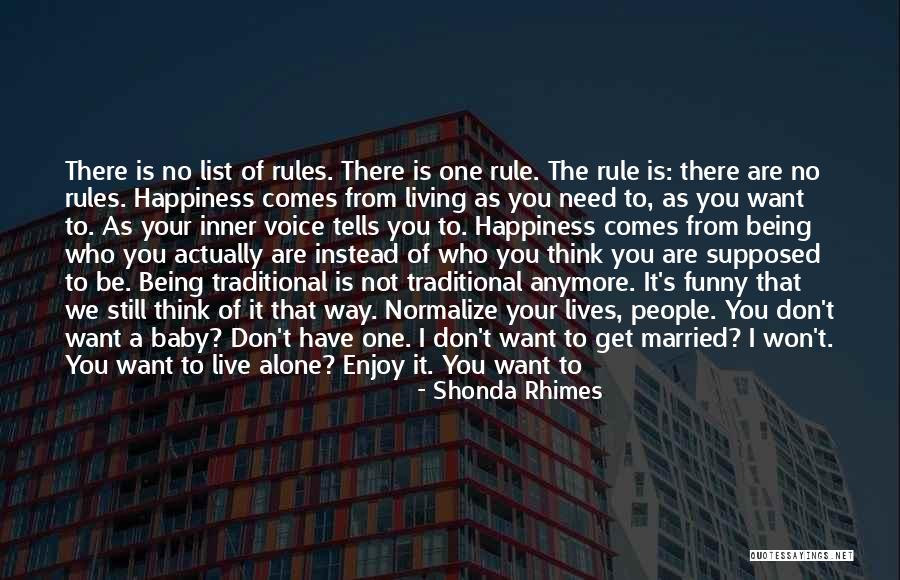 There is no list of rules. There is one rule. The rule is: there are no rules. Happiness comes from living as you need to, as you want to. As your inner voice tells you to. Happiness comes from being who you actually are instead of who you think you are supposed to be. Being traditional is not traditional anymore. It's funny that we still think of it that way. Normalize your lives, people. You don't want a baby? Don't have one. I don't want to get married? I won't. You want to live alone? Enjoy it. You want to love someone? Love someone. Don't apologize. Don't explain. Don't ever feel less than. When you feel the need to apologize or explain who you are, it means the voice in your head is telling you the wrong story. Wipe the slate clean. And rewrite it. No fairy tales. Be your own narrator. And go for a happy ending. One foot in front of the other. You will make it. — Shonda Rhimes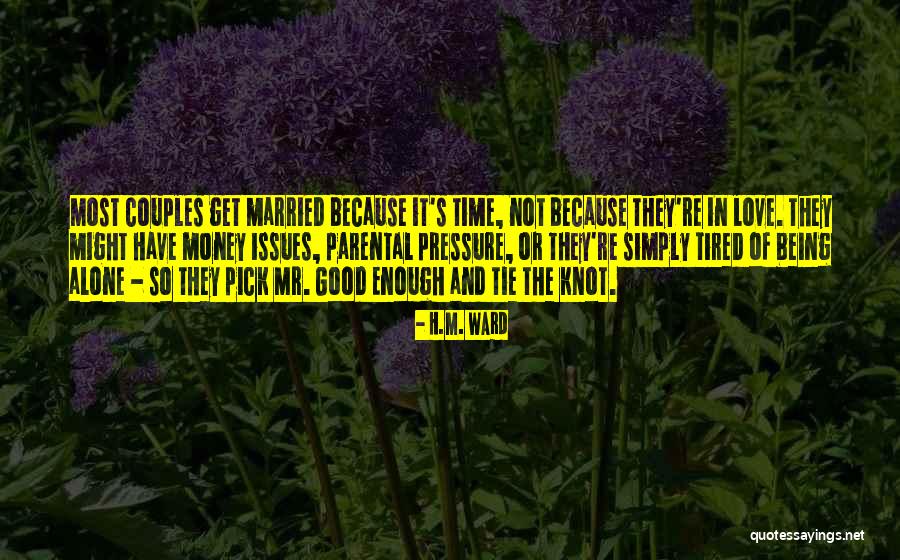 Most couples get married because it's time, not because they're in love. They might have money issues, parental pressure, or they're simply tired of being alone - so they pick Mr. Good Enough and tie the knot. — H.M. Ward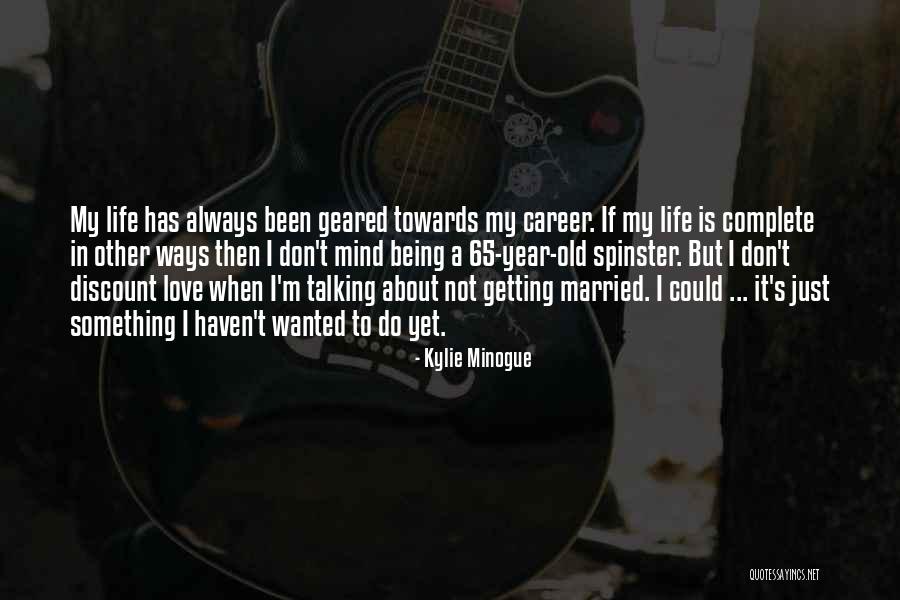 My life has always been geared towards my career. If my life is complete in other ways then I don't mind being a 65-year-old spinster. But I don't discount love when I'm talking about not getting married. I could ... it's just something I haven't wanted to do yet. — Kylie Minogue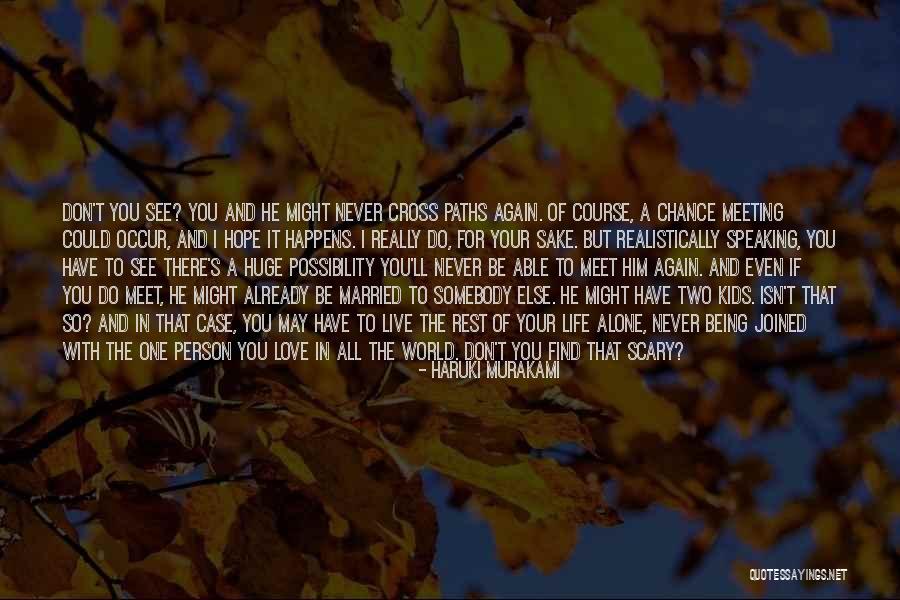 Don't you see? You and he might never cross paths again. Of course, a chance meeting could occur, and I hope it happens. I really do, for your sake. But realistically speaking, you have to see there's a huge possibility you'll never be able to meet him again. And even if you do meet, he might already be married to somebody else. He might have two kids. Isn't that so? And in that case, you may have to live the rest of your life alone, never being joined with the one person you love in all the world. Don't you find that scary? — Haruki Murakami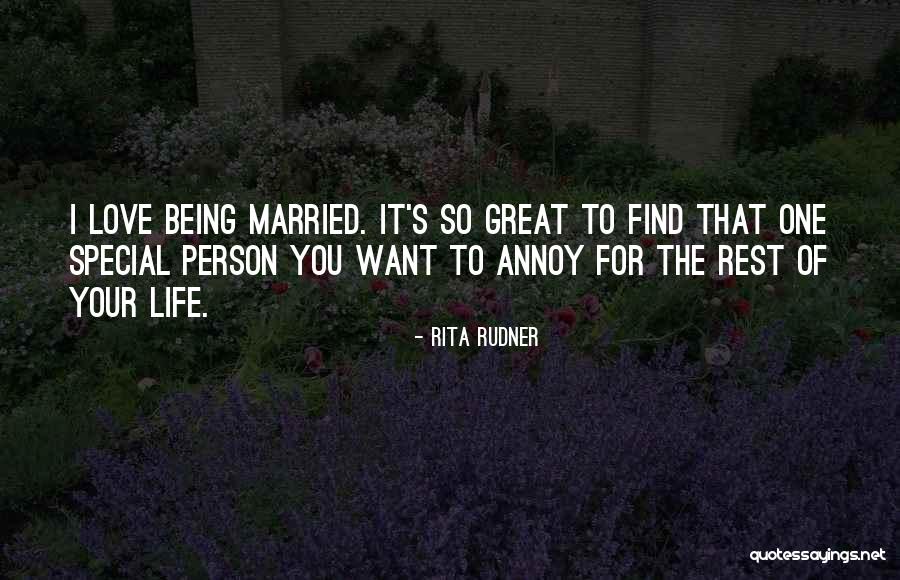 I love being married. It's so great to find that one special person you want to annoy for the rest of your life. — Rita Rudner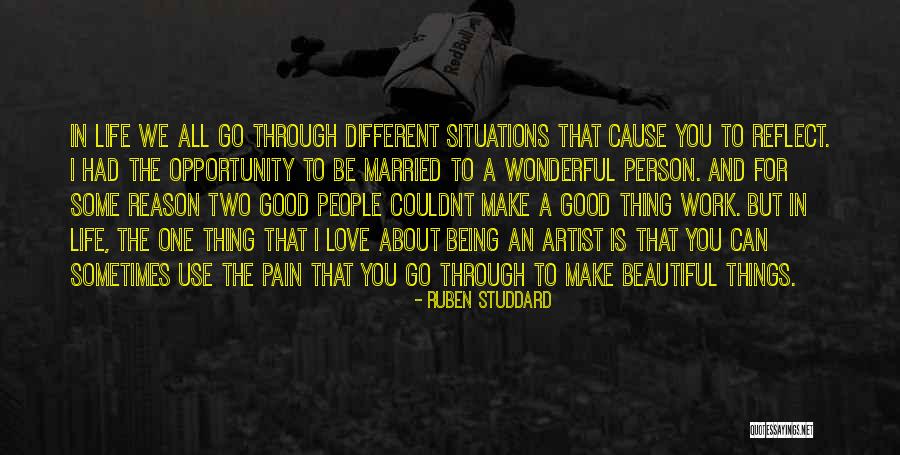 In life we all go through different situations that cause you to reflect. I had the opportunity to be married to a wonderful person. And for some reason two good people couldnt make a good thing work. But in life, the one thing that I love about being an artist is that you can sometimes use the pain that you go through to make beautiful things. — Ruben Studdard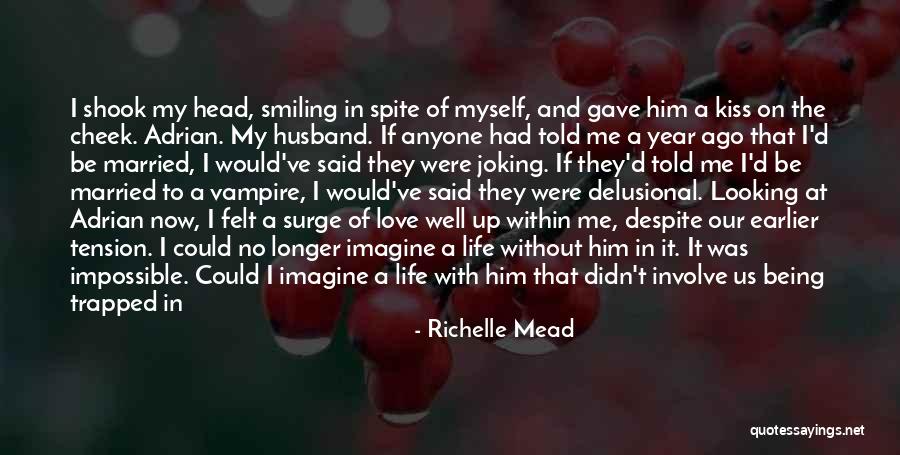 I shook my head, smiling in spite of myself, and gave him a kiss on the cheek. Adrian. My husband. If anyone had told me a year ago that I'd be married, I would've said they were joking. If they'd told me I'd be married to a vampire, I would've said they were delusional. Looking at Adrian now, I felt a surge of love well up within me, despite our earlier tension. I could no longer imagine a life without him in it. It was impossible. Could I imagine a life with him that didn't involve us being trapped in a suite of rooms with his mother while both our people reviled us and made plans against us? Definitely. There were any number of futures I'd love to have for us, but his was our current path until something spectacular happened. Outside, the Court's gates, my people wanted to imprison me. Inside them, his people wanted to assault him. At least in this suite, we were safe. Most importantly, we were together. — Richelle Mead
[Marriage] a bond for life, and whether you're gay or straight, it makes no difference to being married. What marriage stands for is that you love that person ... You want to commit yourself to that person forever. — Cheryl Cole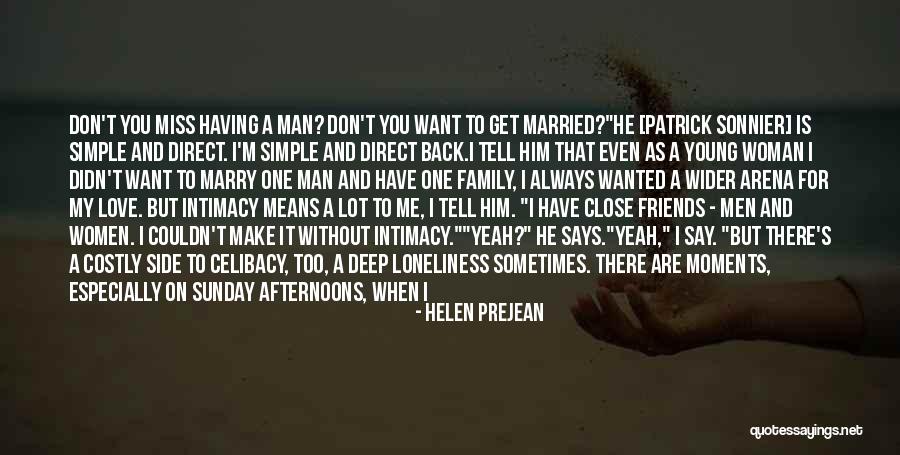 Don't you miss having a man? Don't you want to get married?"
He [Patrick Sonnier] is simple and direct. I'm simple and direct back.
I tell him that even as a young woman I didn't want to marry one man and have one family, I always wanted a wider arena for my love. But intimacy means a lot to me, I tell him. "I have close friends - men and women. I couldn't make it without intimacy."
"Yeah?" he says.
"Yeah," I say. "But there's a costly side to celibacy, too, a deep loneliness sometimes. There are moments, especially on Sunday afternoons, when I smell the smoke in the neighborhood from family barbecues, and feel like a fool not to have pursued a "normal" life. But, then, I've figured out that loneliness is part of everyone's life, part of being human - the private, solitary part of us that no one else can touch." (p. 127) — Helen Prejean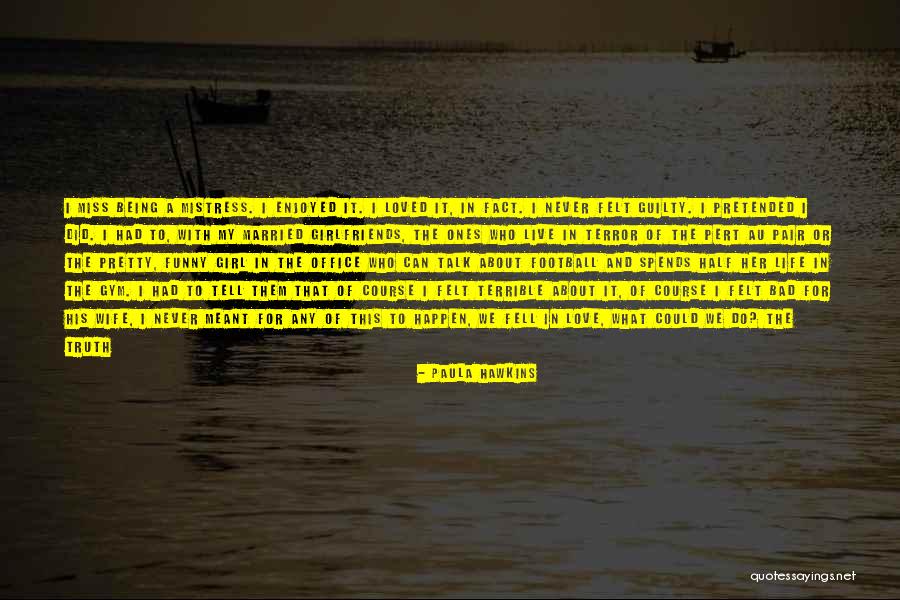 I miss being a mistress. I enjoyed it. I loved it, in fact. I never felt guilty. I pretended I did. I had to, with my married girlfriends, the ones who live in terror of the pert au pair or the pretty, funny girl in the office who can talk about football and spends half her life in the gym. I had to tell them that of course I felt terrible about it, of course I felt bad for his wife, I never meant for any of this to happen, we fell in love, what could we do? The truth is, I never felt bad for Rachel.... She just wasn't real to me, and anyway, I was enjoying myself too much. Being the other woman is a huge turn-on, there's no point denying it: you're the one he can't help but betray his wife for, even though he loves her. That's just how irresistible you are. — Paula Hawkins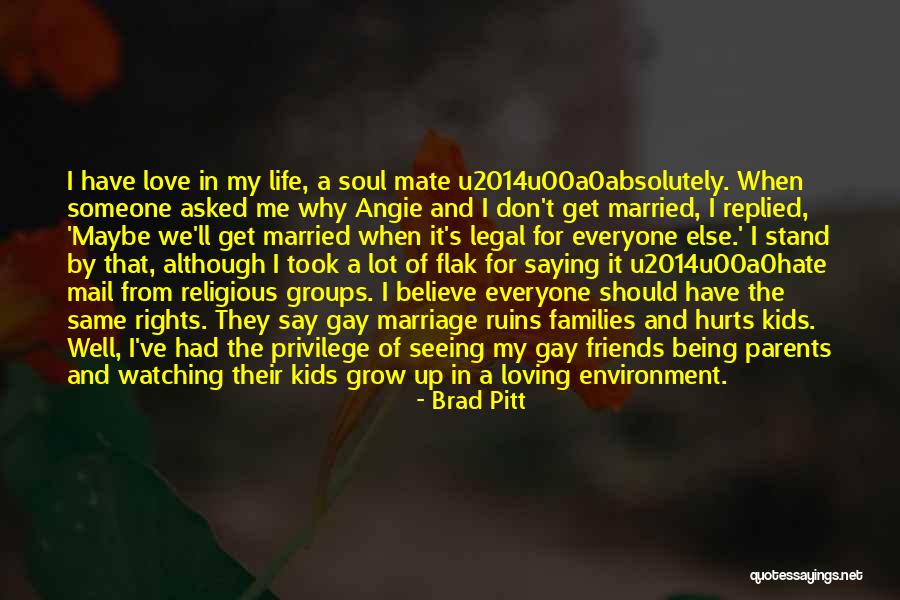 I have love in my life, a soul mate u2014u00a0absolutely. When someone asked me why Angie and I don't get married, I replied, 'Maybe we'll get married when it's legal for everyone else.' I stand by that, although I took a lot of flak for saying it u2014u00a0hate mail from religious groups. I believe everyone should have the same rights. They say gay marriage ruins families and hurts kids. Well, I've had the privilege of seeing my gay friends being parents and watching their kids grow up in a loving environment. — Brad Pitt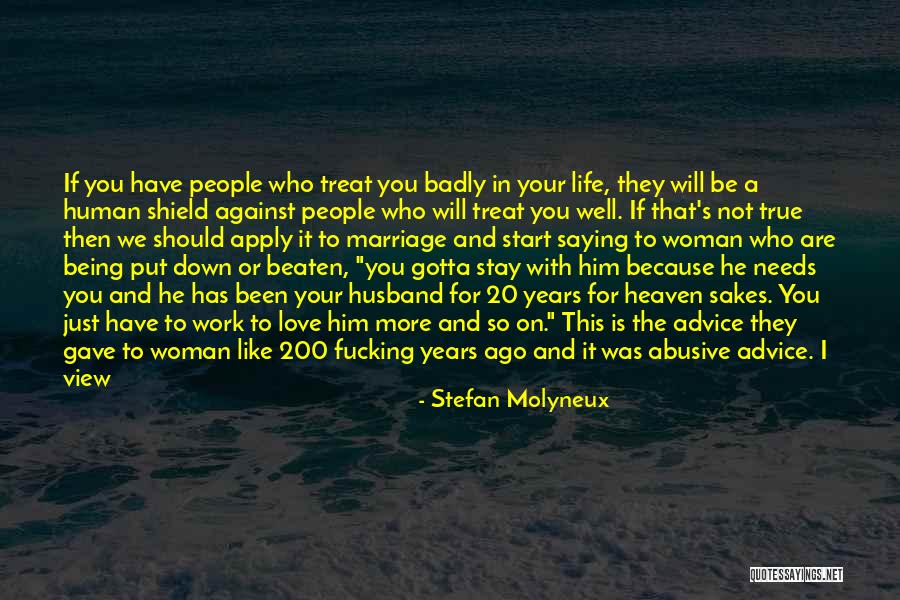 If you have people who treat you badly in your life, they will be a human shield against people who will treat you well. If that's not true then we should apply it to marriage and start saying to woman who are being put down or beaten, "you gotta stay with him because he needs you and he has been your husband for 20 years for heaven sakes. You just have to work to love him more and so on." This is the advice they gave to woman like 200 fucking years ago and it was abusive advice.
I view the parent child relationship (This just not my made up perspective.) it is the least voluntary relationship. At least the woman who got married chose to get married. We don't choose our parents. The highest standards of behavior are required for parents and no one else. There is no one else whose standards of behavior need be higher than parents and so often parents get away with the lowest possible standards of behavior with regards to their children. — Stefan Molyneux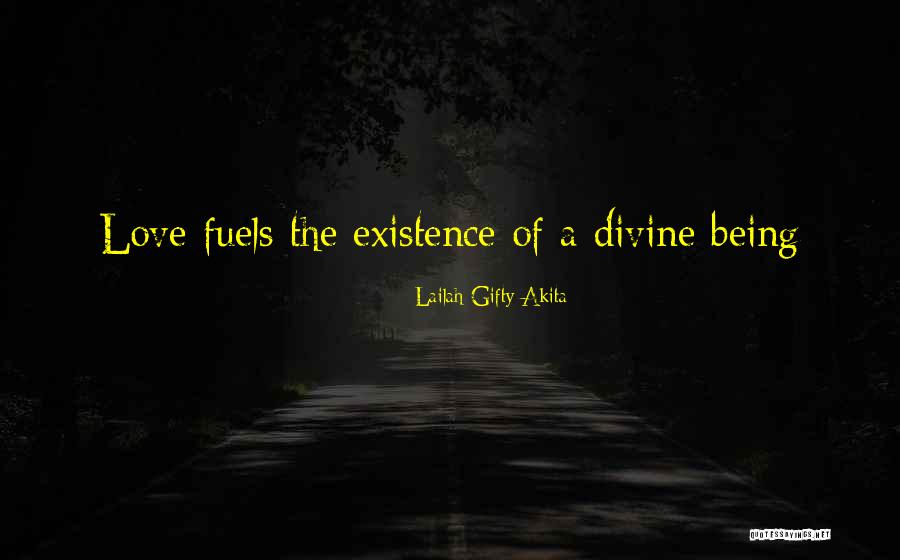 Love fuels the existence of a divine being — Lailah Gifty Akita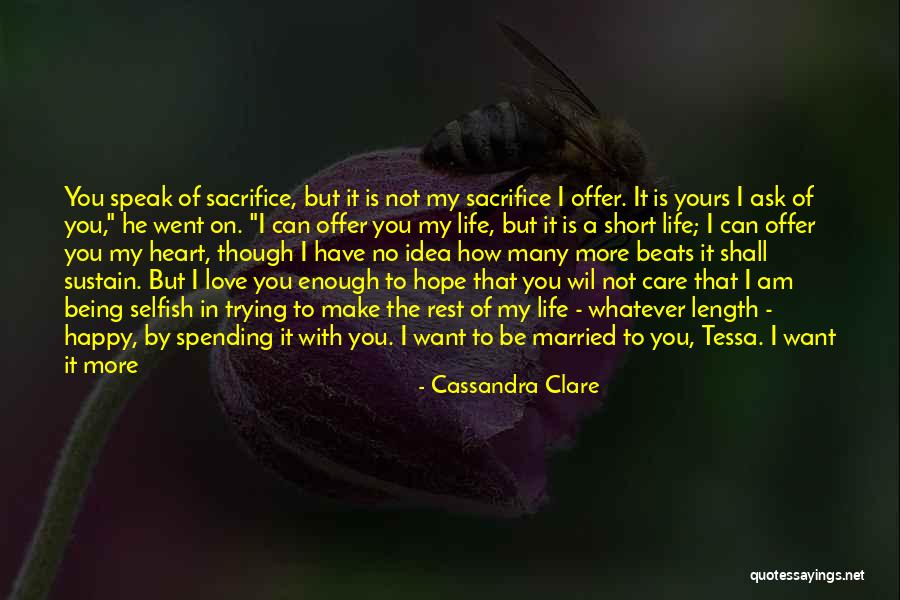 You speak of sacrifice, but it is not my sacrifice I offer. It is yours I ask of you," he went on. "I can offer you my life, but it is a short life; I can offer you my heart, though I have no idea how many more beats it shall sustain. But I love you enough to hope that you wil not care that I am being selfish in trying to make the rest of my life - whatever length - happy, by spending it with you. I want to be married to you, Tessa. I want it more than I have ever wanted anything else in my life." He looked up at her through the veil of silvery hair that fell over his eyes. "That is," he said shyly, "if you love me, too. — Cassandra Clare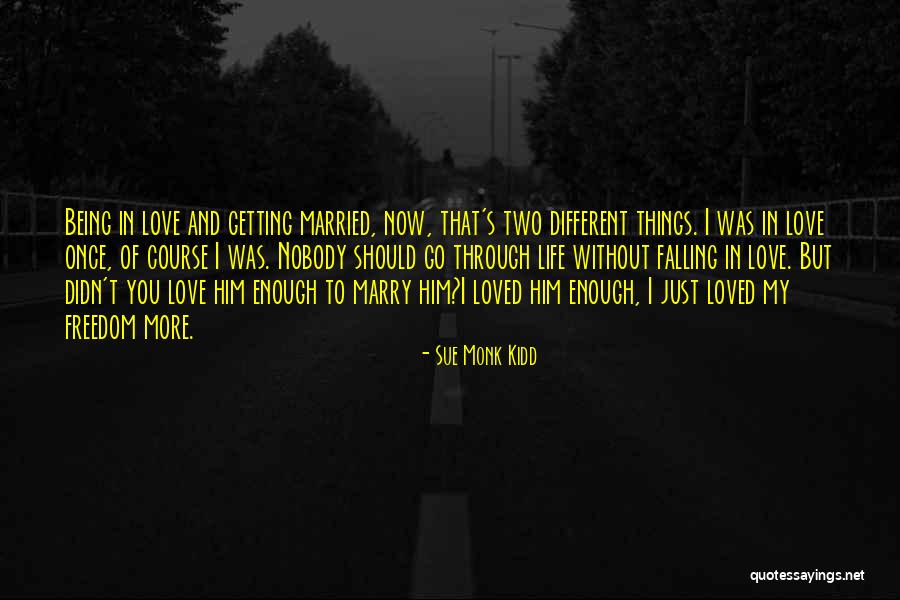 Being in love and getting married, now, that's two different things. I was in love once, of course I was. Nobody should go through life without falling in love.
But didn't you love him enough to marry him?
I loved him enough, I just loved my freedom more. — Sue Monk Kidd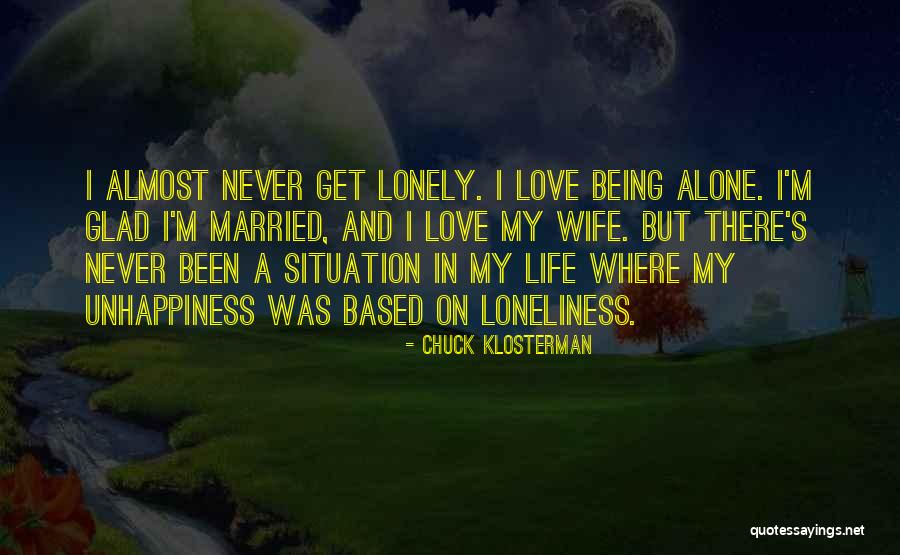 I almost never get lonely. I love being alone. I'm glad I'm married, and I love my wife. But there's never been a situation in my life where my unhappiness was based on loneliness. — Chuck Klosterman