Quotes & Sayings About Being Happy With Friends
Enjoy reading and share 57 famous quotes about Being Happy With Friends with everyone.
Top Being Happy With Friends Quotes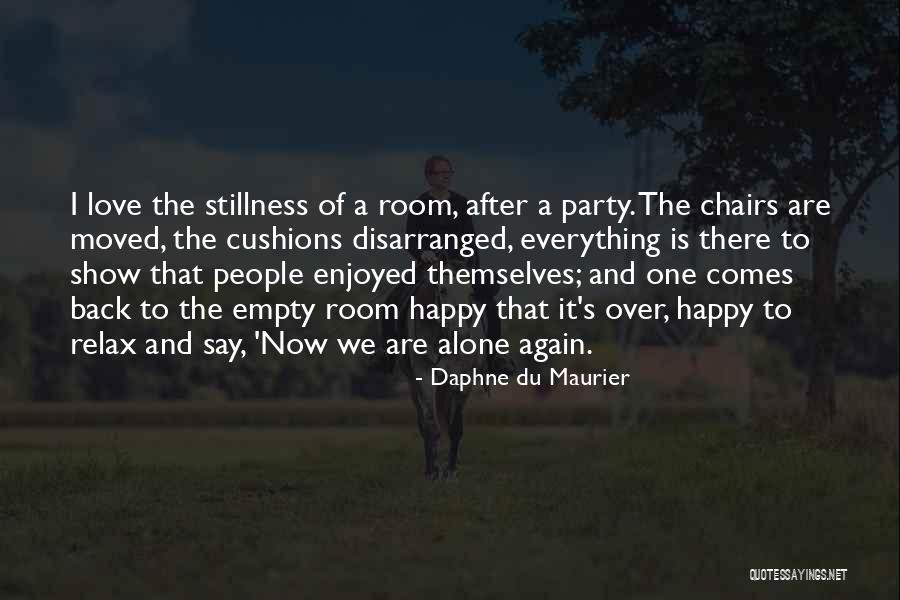 I love the stillness of a room, after a party. The chairs are moved, the cushions disarranged, everything is there to show that people enjoyed themselves; and one comes back to the empty room happy that it's over, happy to relax and say, 'Now we are alone again. — Daphne Du Maurier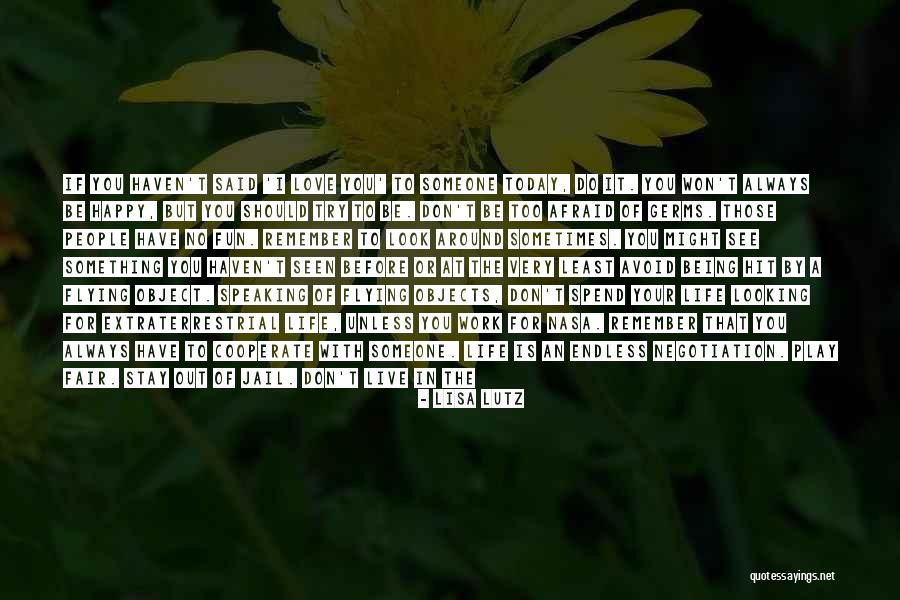 If you haven't said 'I love you' to someone today, do it. You won't always be happy, but you should try to be. Don't be too afraid of germs. Those people have no fun. Remember to look around sometimes. You might see something you haven't seen before or at the very least avoid being hit by a flying object. Speaking of flying objects, don't spend your life looking for extraterrestrial life, unless you work for NASA. Remember that you always have to cooperate with someone. Life is an endless negotiation. Play fair. Stay out of jail. Don't live in the past. Eat breakfast. It really is the most important meal of the day. Try to make new friends, even when you think you're too old to do that ... And finally, remember this 'Yes' is always a better work than 'no'. Unless, of course, someone has just asked you to commit a felony. — Lisa Lutz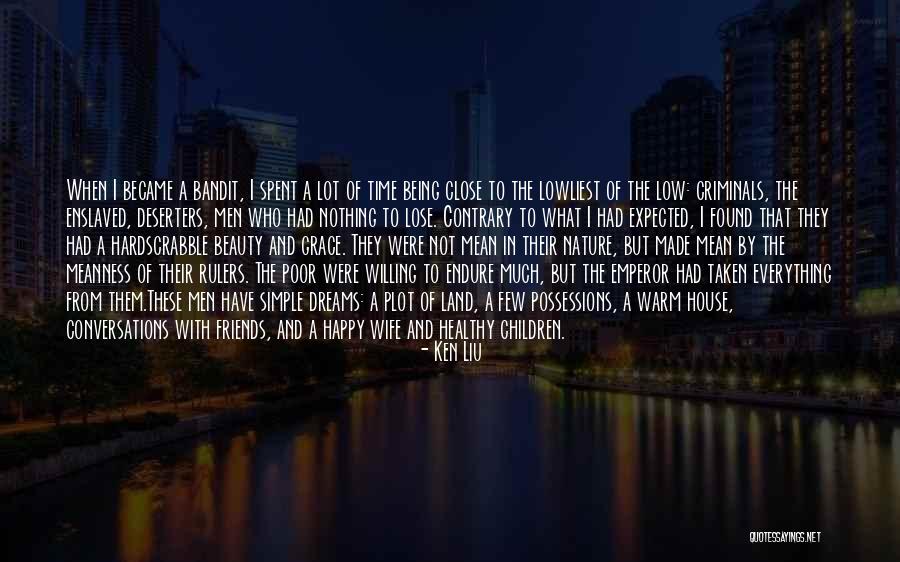 When I became a bandit, I spent a lot of time being close to the lowliest of the low: criminals, the enslaved, deserters, men who had nothing to lose. Contrary to what I had expected, I found that they had a hardscrabble beauty and grace. They were not mean in their nature, but made mean by the meanness of their rulers. The poor were willing to endure much, but the emperor had taken everything from them.

These men have simple dreams: a plot of land, a few possessions, a warm house, conversations with friends, and a happy wife and healthy children. They remember the smallest acts of kindness and think me a good man because of a few exaggerated stories. They've raised me on their shoulders and called me duke, and I have a duty to help them get a little closer to their dreams. — Ken Liu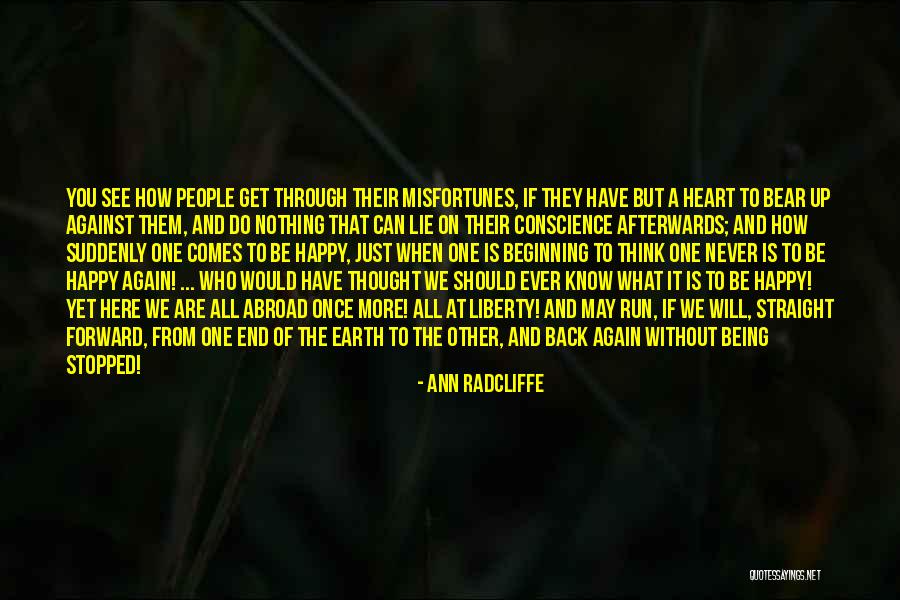 You see how people get through their misfortunes, if they have but a heart to bear up against them, and do nothing that can lie on their conscience afterwards; and how suddenly one comes to be happy, just when one is beginning to think one never is to be happy again! ... who would have thought we should ever know what it is to be happy! Yet here we are all abroad once more! All at liberty! And may run, if we will, straight forward, from one end of the earth to the other, and back again without being stopped! May fly in the sea, or swim in the sky, or tumble over head and heels into the moon! For remember, my good friends, we have no lead in our consciences to keep us down! — Ann Radcliffe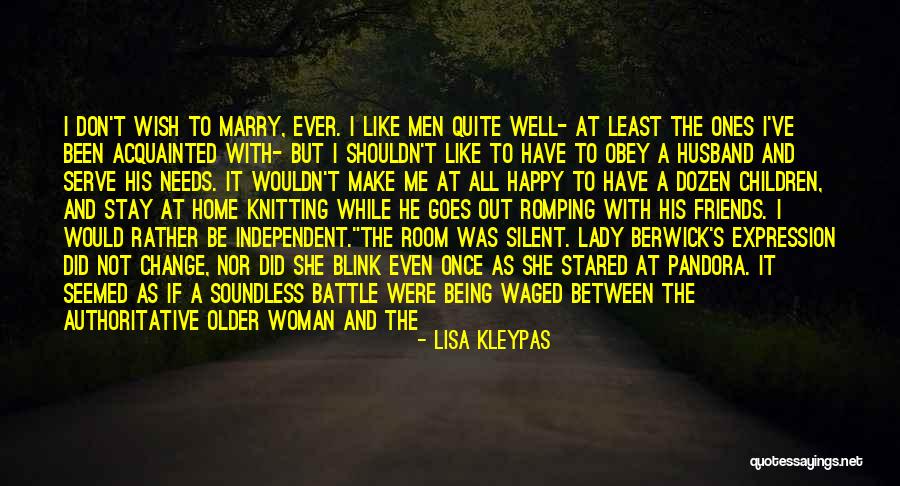 I don't wish to marry, ever. I like men quite well- at least the ones I've been acquainted with- but I shouldn't like to have to obey a husband and serve his needs. It wouldn't make me at all happy to have a dozen children, and stay at home knitting while he goes out romping with his friends. I would rather be independent."
The room was silent. Lady Berwick's expression did not change, nor did she blink even once as she stared at Pandora. It seemed as if a soundless battle were being waged between the authoritative older woman and the rebellious girl.
Finally Lady Berwick said, "You must have read Tolstoy."
Pandora blinked, clearly caught off guard by the unexpected comment. "I have," she admitted, looking mystified. "How did you know?"
"No young woman wants to marry after reading Tolstoy. That is why I never allowed either of my daughters to read Russian novels. — Lisa Kleypas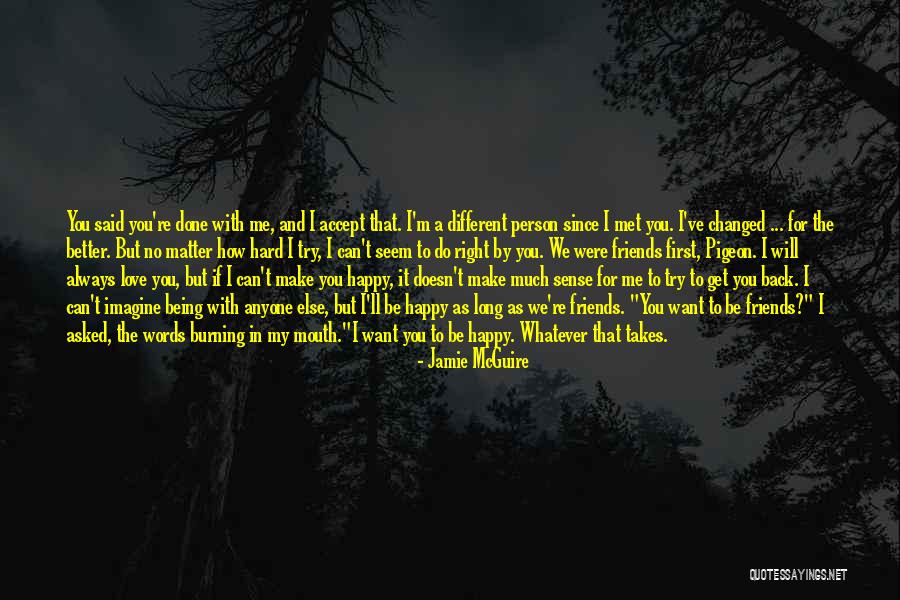 You said you're done with me, and I accept that. I'm a different person since I met you. I've changed ... for the better. But no matter how hard I try, I can't seem to do right by you. We were friends first, Pigeon. I will always love you, but if I can't make you happy, it doesn't make much sense for me to try to get you back. I can't imagine being with anyone else, but I'll be happy as long as we're friends.
"You want to be friends?" I asked, the words burning in my mouth.
"I want you to be happy. Whatever that takes. — Jamie McGuire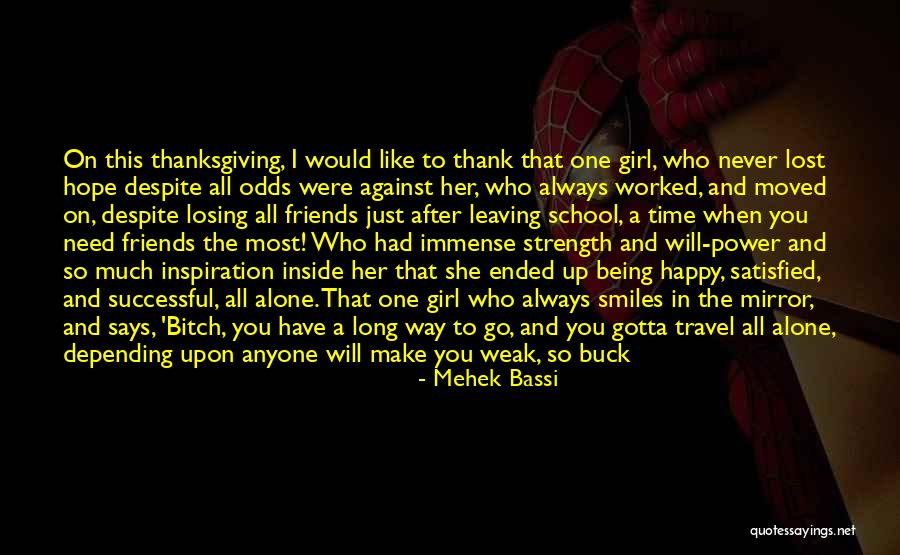 On this thanksgiving, I would like to thank that one girl, who never lost hope despite all odds were against her, who always worked, and moved on, despite losing all friends just after leaving school, a time when you need friends the most! Who had immense strength and will-power and so much inspiration inside her that she ended up being happy, satisfied, and successful, all alone.
That one girl who always smiles in the mirror, and says, 'Bitch, you have a long way to go, and you gotta travel all alone, depending upon anyone will make you weak, so buck up, there's a lot you gotta do!' On this thanksgiving, I thank myself, my soul for being so majestically robust!
I would have thanked other people, but sadly, nobody ever helped me, more than I helped myself ... — Mehek Bassi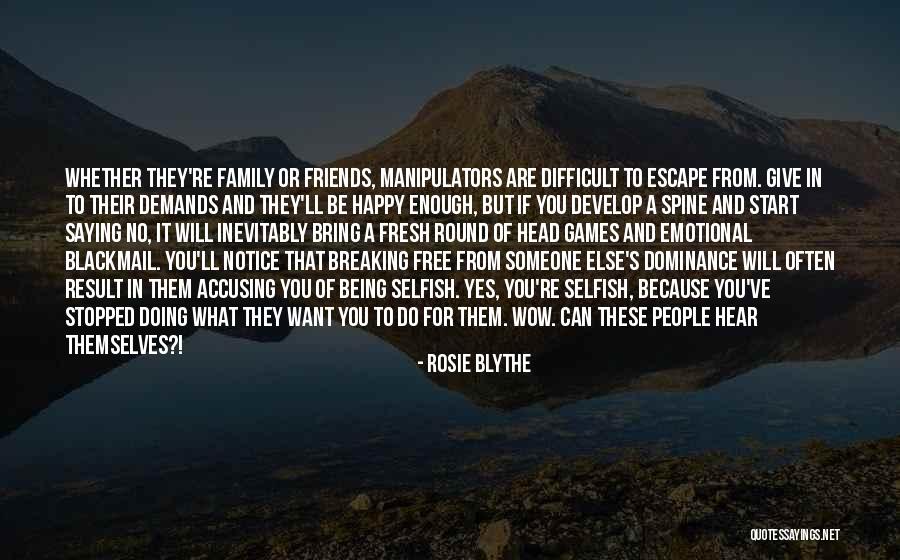 Whether they're family or friends, manipulators are difficult to escape from. Give in to their demands and they'll be happy enough, but if you develop a spine and start saying no, it will inevitably bring a fresh round of head games and emotional blackmail. You'll notice that breaking free from someone else's dominance will often result in them accusing you of being selfish. Yes, you're selfish, because you've stopped doing what they want you to do for them. Wow. Can these people hear themselves?! — Rosie Blythe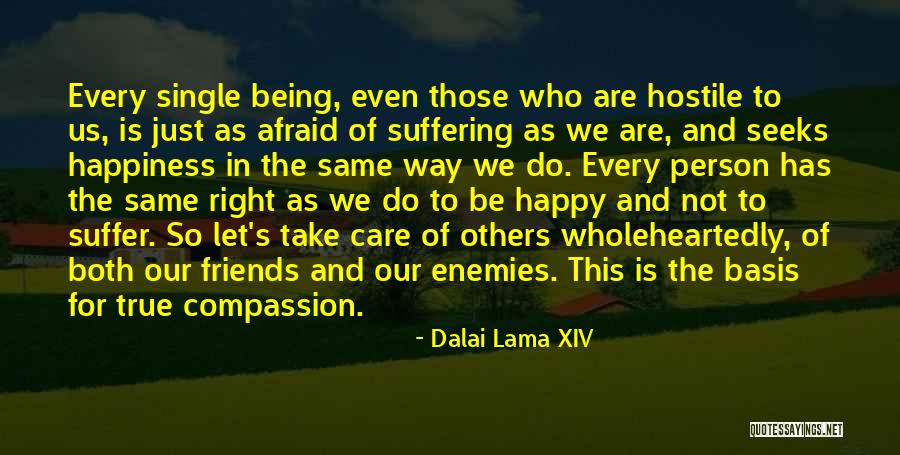 Every single being, even those who are hostile to us, is just as afraid of suffering as we are, and seeks happiness in the same way we do. Every person has the same right as we do to be happy and not to suffer. So let's take care of others wholeheartedly, of both our friends and our enemies. This is the basis for true compassion. — Dalai Lama XIV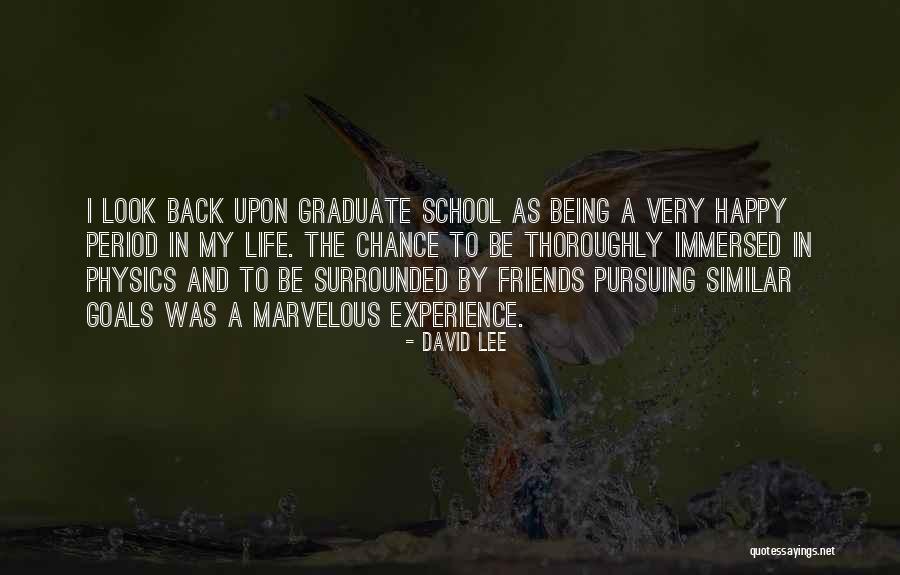 I look back upon graduate school as being a very happy period in my life. The chance to be thoroughly immersed in physics and to be surrounded by friends pursuing similar goals was a marvelous experience. — David Lee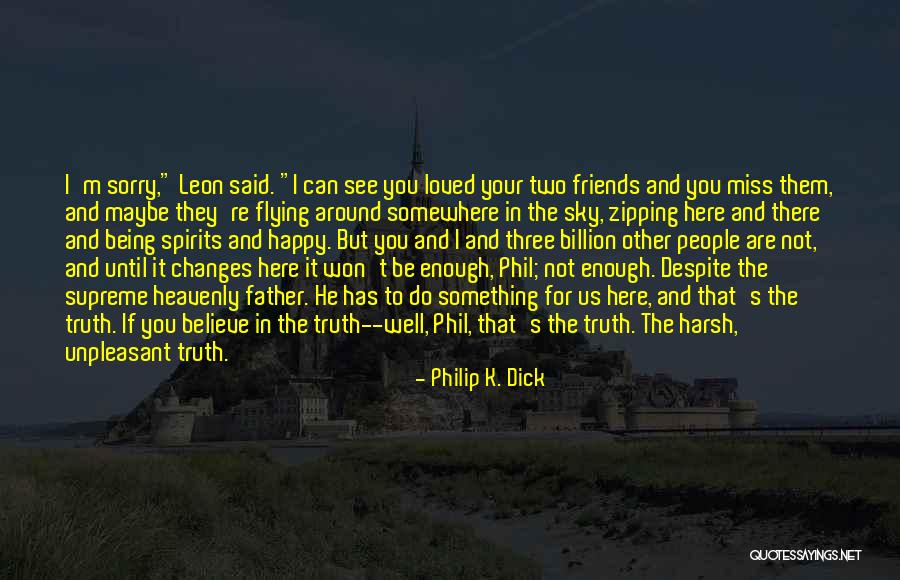 I'm sorry," Leon said. "I can see you loved your two friends and you miss them, and maybe they're flying around somewhere in the sky, zipping here and there and being spirits and happy. But you and I and three billion other people are not, and until it changes here it won't be enough, Phil; not enough. Despite the supreme heavenly father. He has to do something for us here, and that's the truth. If you believe in the truth--well, Phil, that's the truth. The harsh, unpleasant truth. — Philip K. Dick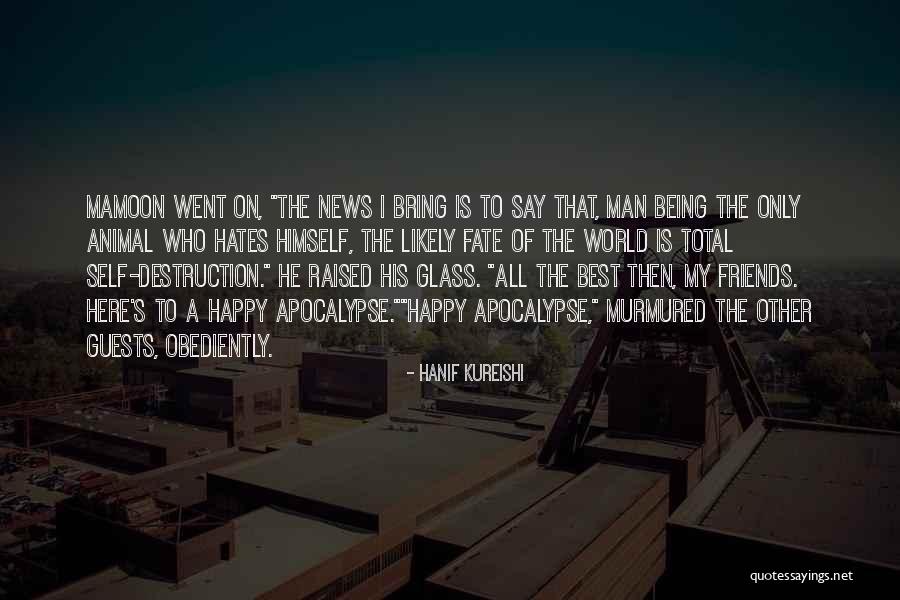 Mamoon went on, "The news I bring is to say that, man being the only animal who hates himself, the likely fate of the world is total self-destruction." He raised his glass. "All the best then, my friends. Here's to a happy apocalypse."
"Happy apocalypse," murmured the other guests, obediently. — Hanif Kureishi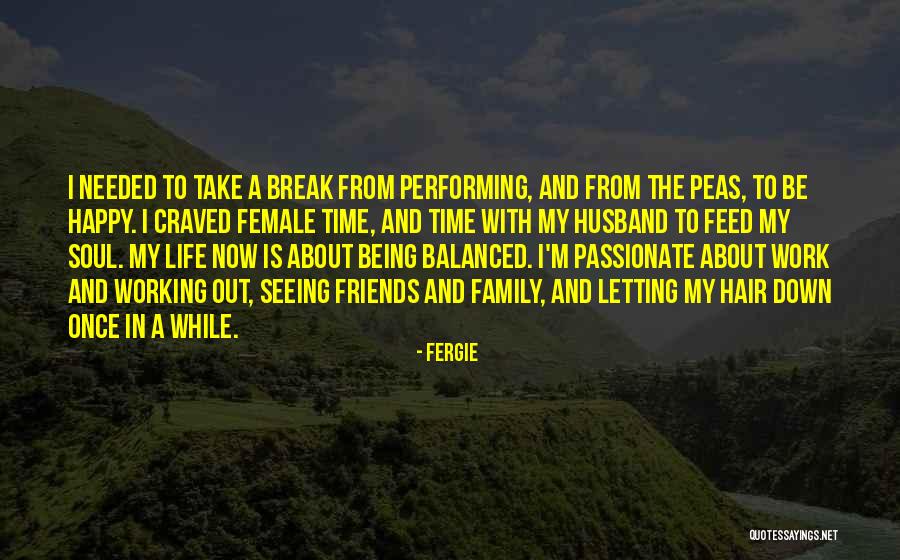 I needed to take a break from performing, and from the Peas, to be happy. I craved female time, and time with my husband to feed my soul. My life now is about being balanced. I'm passionate about work and working out, seeing friends and family, and letting my hair down once in a while. — Fergie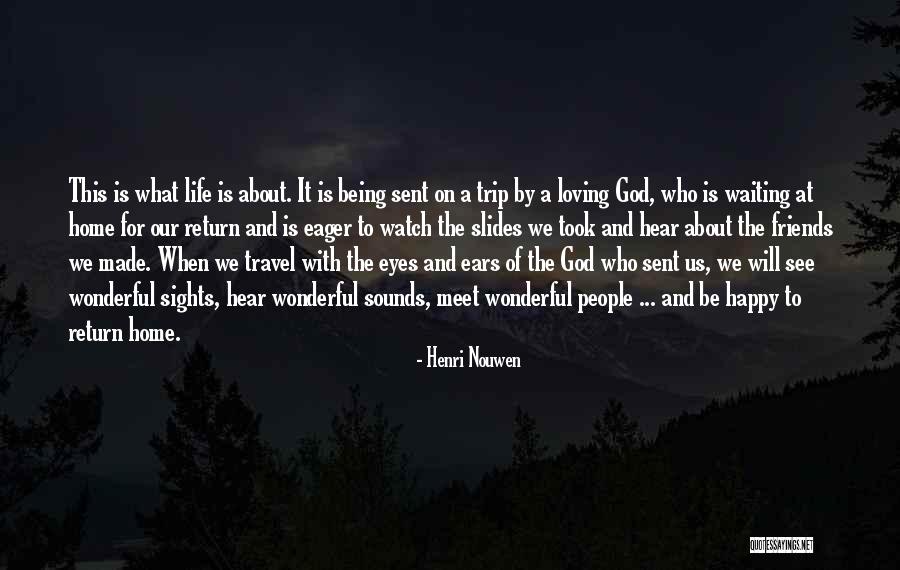 This is what life is about. It is being sent on a trip by a loving God, who is waiting at home for our return and is eager to watch the slides we took and hear about the friends we made. When we travel with the eyes and ears of the God who sent us, we will see wonderful sights, hear wonderful sounds, meet wonderful people ... and be happy to return home. — Henri Nouwen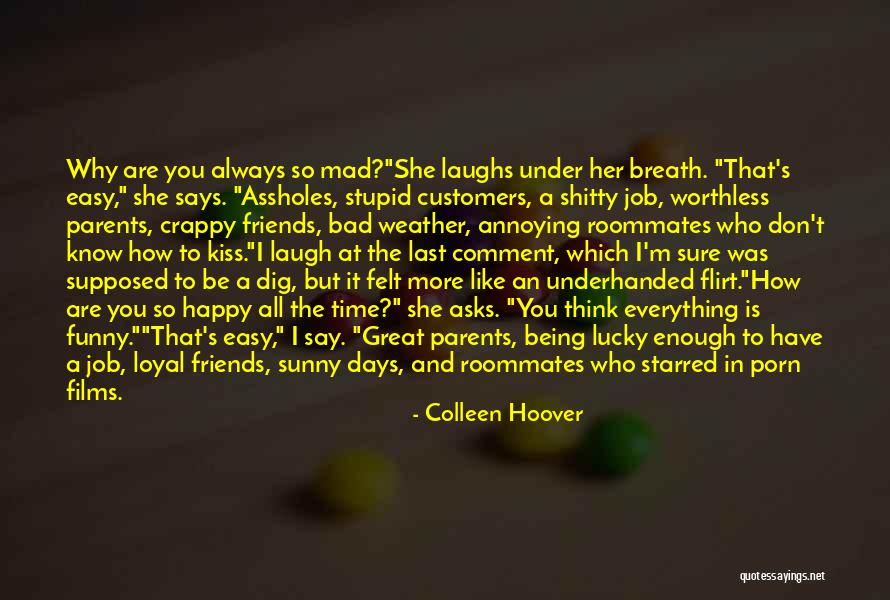 Why are you always so mad?"

She laughs under her breath. "That's easy," she says. "Assholes, stupid customers, a shitty job, worthless parents, crappy friends, bad weather, annoying roommates who don't know how to kiss."

I laugh at the last comment, which I'm sure was supposed to be a dig, but it felt more like an underhanded flirt.

"How are you so happy all the time?" she asks. "You think everything is funny."

"That's easy," I say. "Great parents, being lucky enough to have a job, loyal friends, sunny days, and roommates who starred in porn films. — Colleen Hoover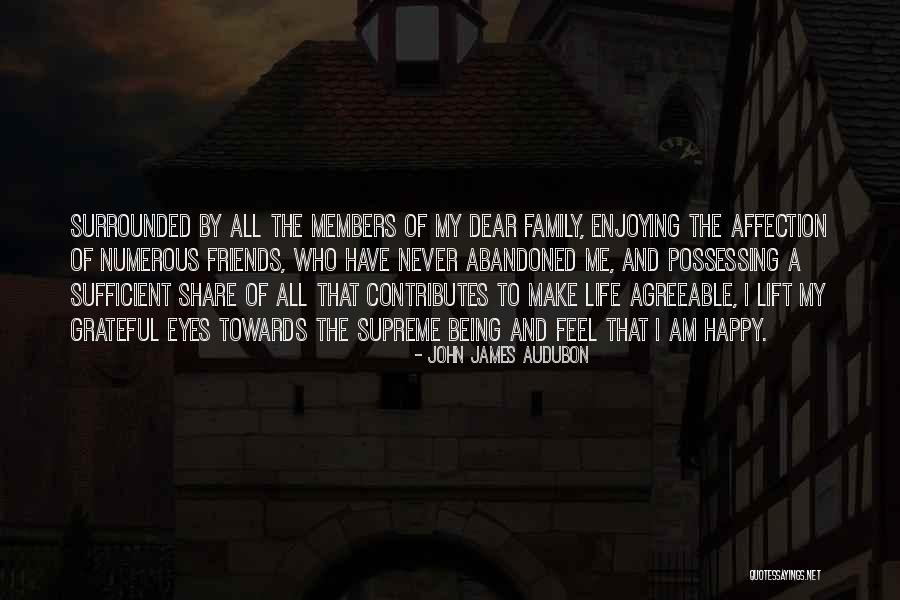 Surrounded by all the members of my dear family, enjoying the affection of numerous friends, who have never abandoned me, and possessing a sufficient share of all that contributes to make life agreeable, I lift my grateful eyes towards the Supreme Being and feel that I am happy. — John James Audubon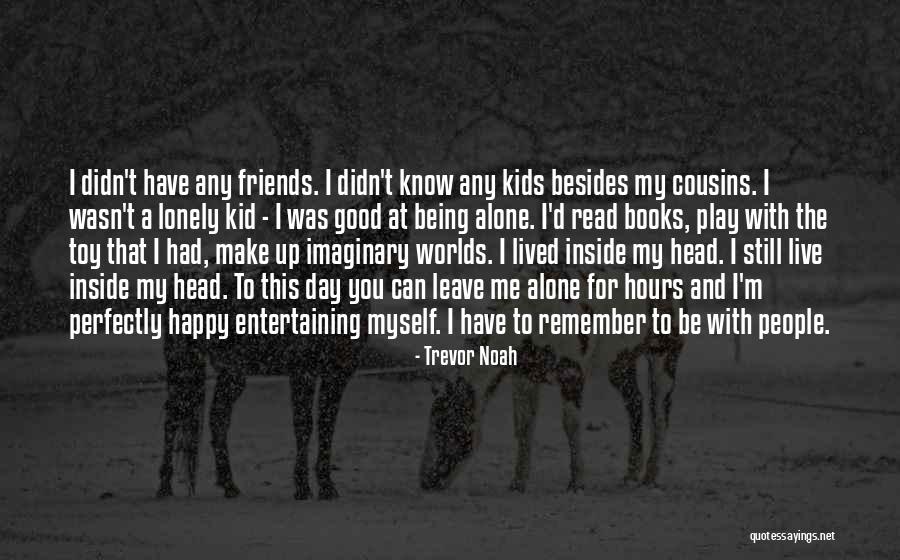 I didn't have any friends. I didn't know any kids besides my cousins. I wasn't a lonely kid - I was good at being alone. I'd read books, play with the toy that I had, make up imaginary worlds. I lived inside my head. I still live inside my head. To this day you can leave me alone for hours and I'm perfectly happy entertaining myself. I have to remember to be with people. — Trevor Noah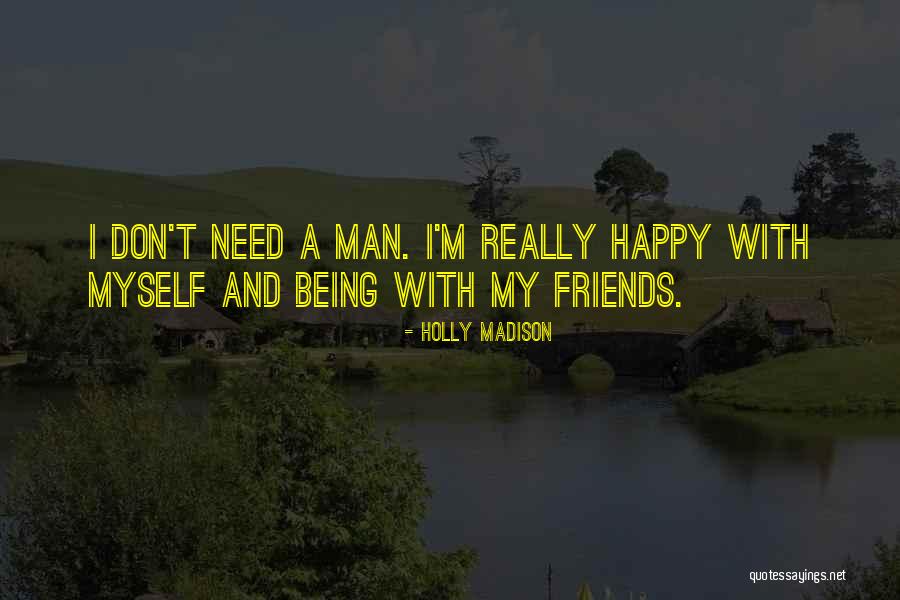 I don't need a man. I'm really happy with myself and being with my friends. — Holly Madison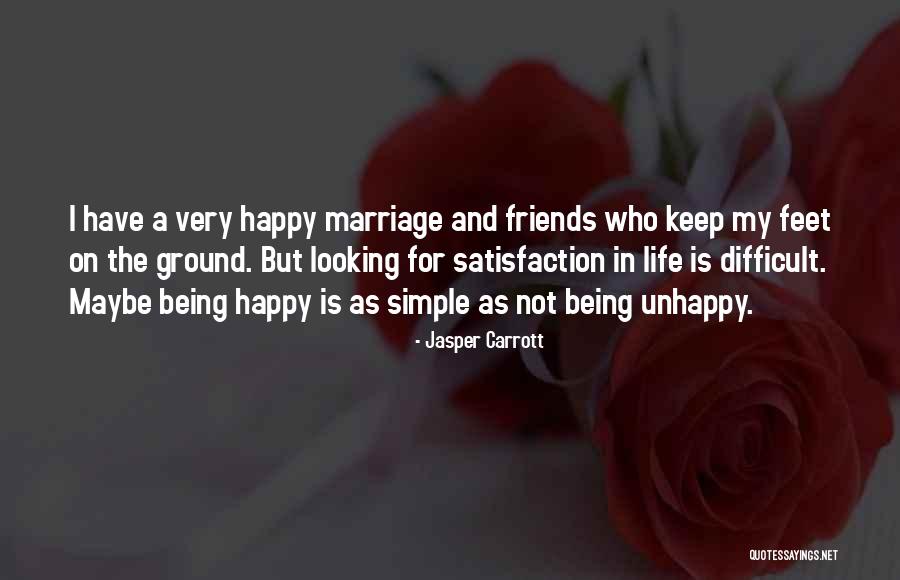 I have a very happy marriage and friends who keep my feet on the ground. But looking for satisfaction in life is difficult. Maybe being happy is as simple as not being unhappy. — Jasper Carrott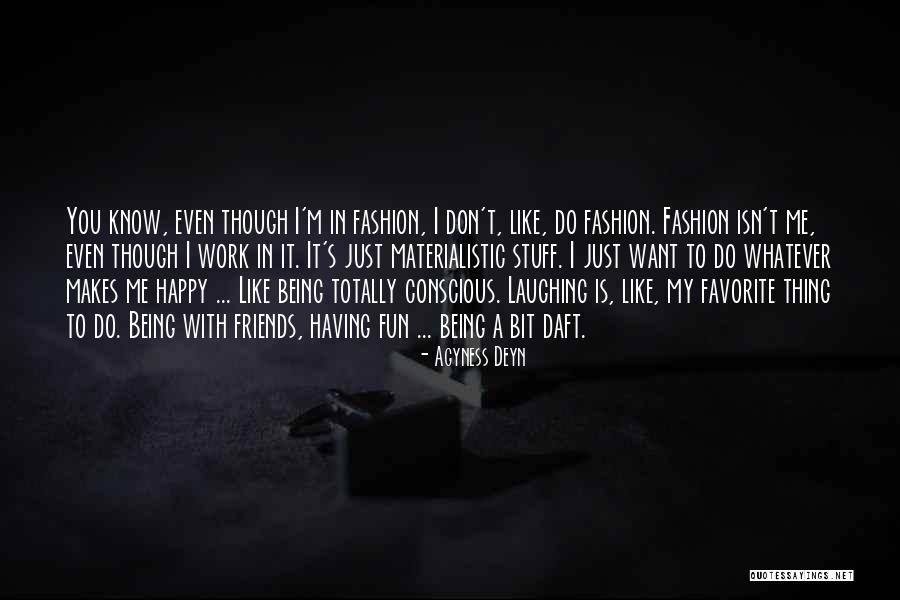 You know, even though I'm in fashion, I don't, like, do fashion. Fashion isn't me, even though I work in it. It's just materialistic stuff. I just want to do whatever makes me happy ... Like being totally conscious. Laughing is, like, my favorite thing to do. Being with friends, having fun ... being a bit daft. — Agyness Deyn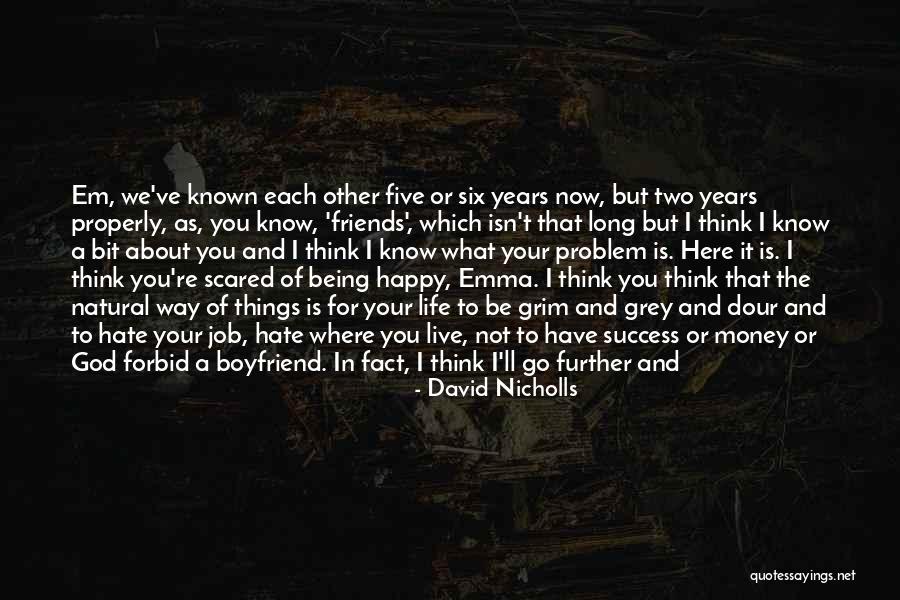 Em, we've known each other five or six years now, but two years properly, as, you know, 'friends', which isn't that long but I think I know a bit about you and I think I know what your problem is. Here it is. I think you're scared of being happy, Emma. I think you think that the natural way of things is for your life to be grim and grey and dour and to hate your job, hate where you live, not to have success or money or God forbid a boyfriend. In fact, I think I'll go further and say that I think you actually get a kick out of being disappointed and under-achieving, because it's easier, isn't it? Failure and unhappiness is easier because you can make a joke out of it. — David Nicholls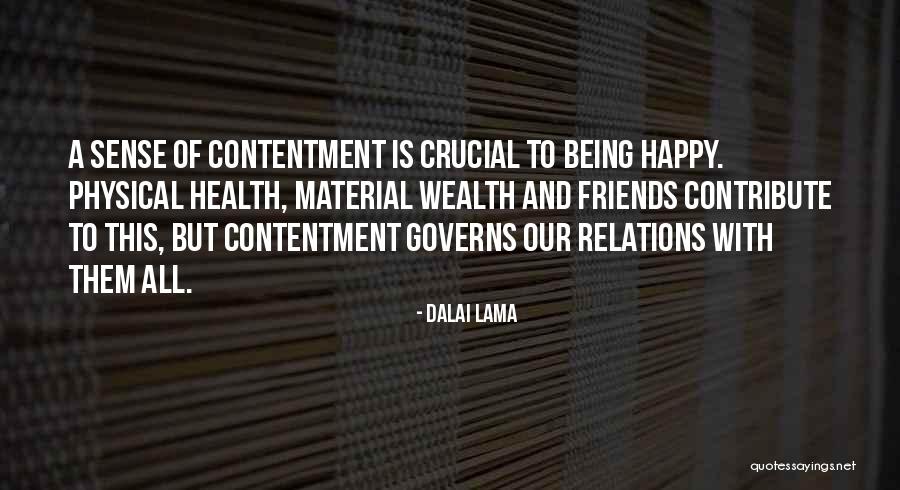 A sense of contentment is crucial to being happy. Physical health, material wealth and friends contribute to this, but contentment governs our relations with them all. — Dalai Lama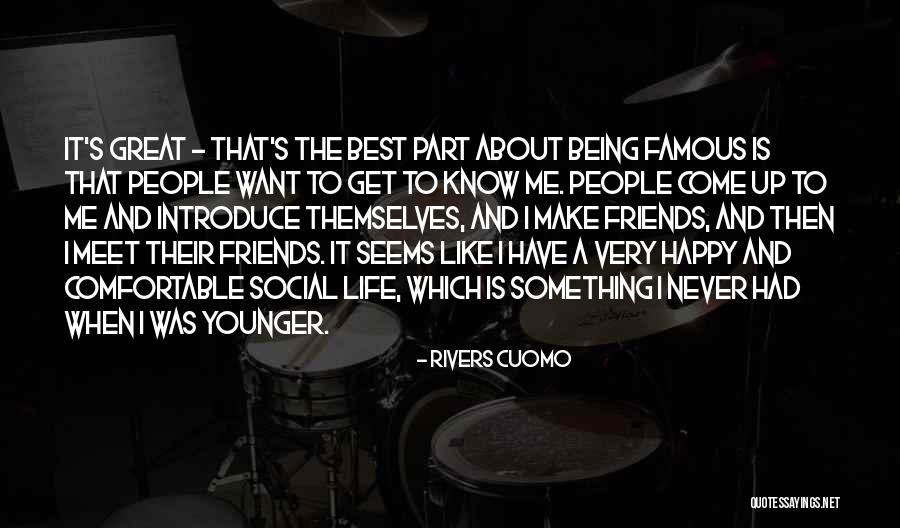 It's great - that's the best part about being famous is that people want to get to know me. People come up to me and introduce themselves, and I make friends, and then I meet their friends. It seems like I have a very happy and comfortable social life, which is something I never had when I was younger. — Rivers Cuomo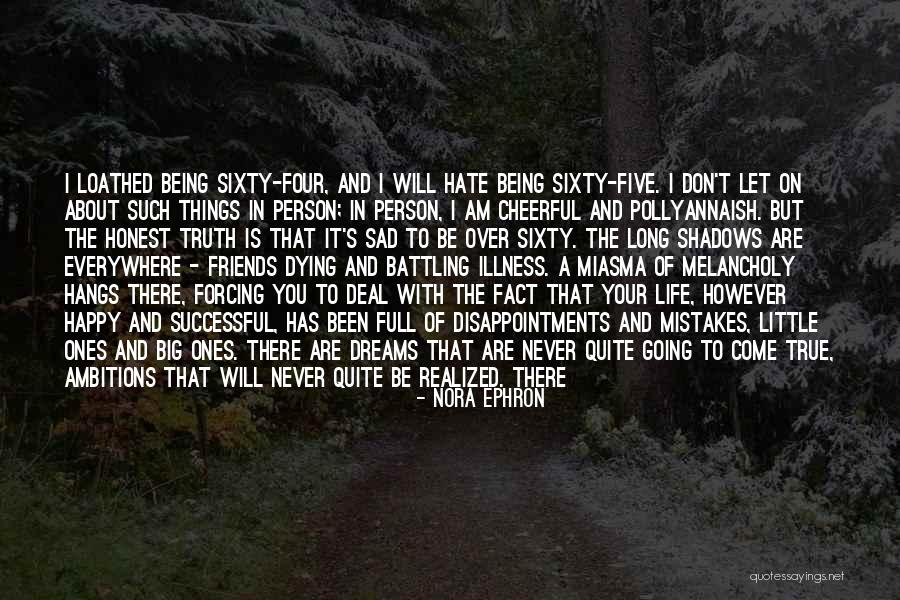 I loathed being sixty-four, and I will hate being sixty-five. I don't let on about such things in person; in person, I am cheerful and Pollyannaish. But the honest truth is that it's sad to be over sixty. The long shadows are everywhere - friends dying and battling illness. A miasma of melancholy hangs there, forcing you to deal with the fact that your life, however happy and successful, has been full of disappointments and mistakes, little ones and big ones. There are dreams that are never quite going to come true, ambitions that will never quite be realized. There are, in short, regrets. Edith Piaf was famous for singing a song called "Non, je ne regrette rien." It's a good song. I know what she meant. I can get into it; I can make a case that I regret nothing. After all, most of my mistakes turned out to be things I survived, or turned into funny stories, or, on occasion, even made money from. But — Nora Ephron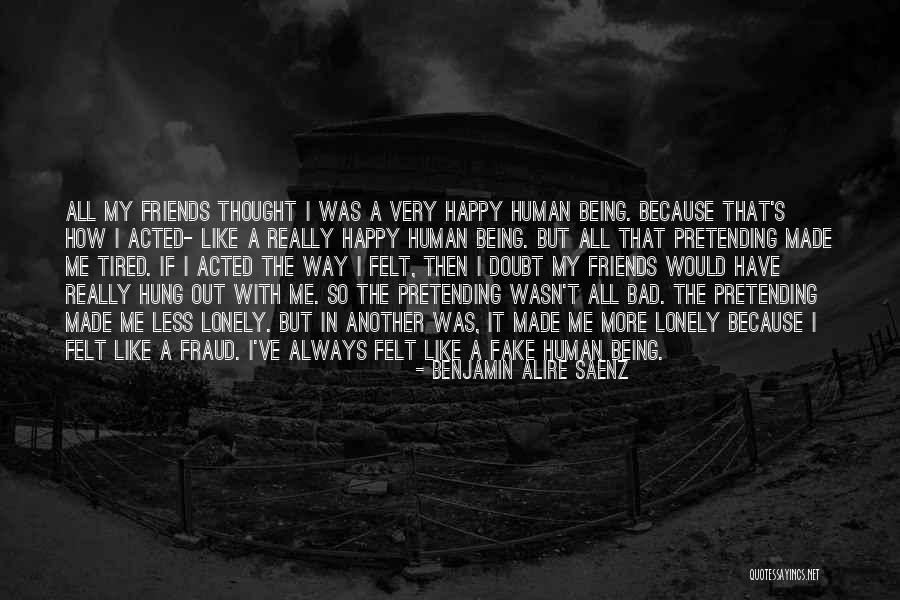 All my friends thought I was a very happy human being. Because that's how I acted- like a really happy human being. But all that pretending made me tired. If I acted the way I felt, then I doubt my friends would have really hung out with me. So the pretending wasn't all bad. The pretending made me less lonely. But in another was, it made me more lonely because I felt like a fraud. I've always felt like a fake human being. — Benjamin Alire Saenz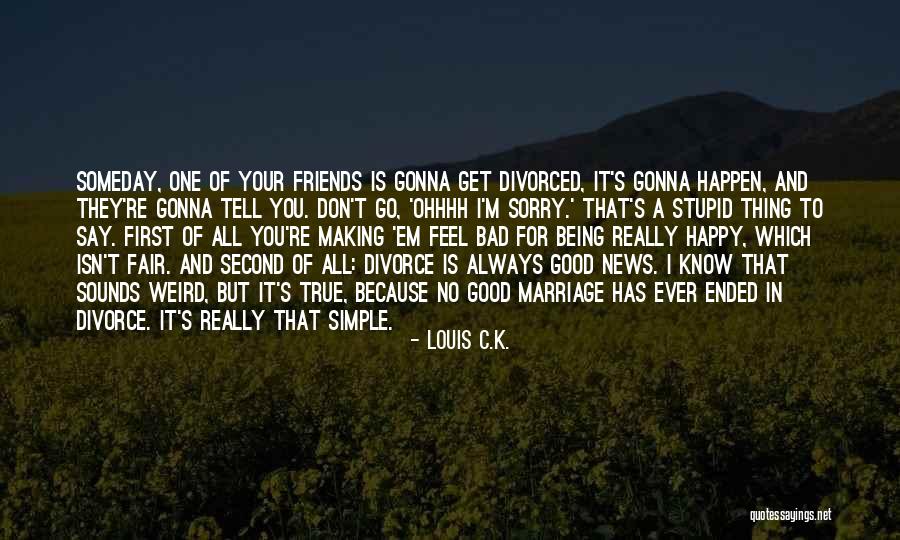 Someday, one of your friends is gonna get divorced, it's gonna happen, and they're gonna tell you. Don't go, 'ohhhh I'm sorry.' That's a stupid thing to say. First of all you're making 'em feel bad for being really happy, which isn't fair. And second of all: divorce is always good news. I know that sounds weird, but it's true, because no good marriage has ever ended in divorce. It's really that simple. — Louis C.K.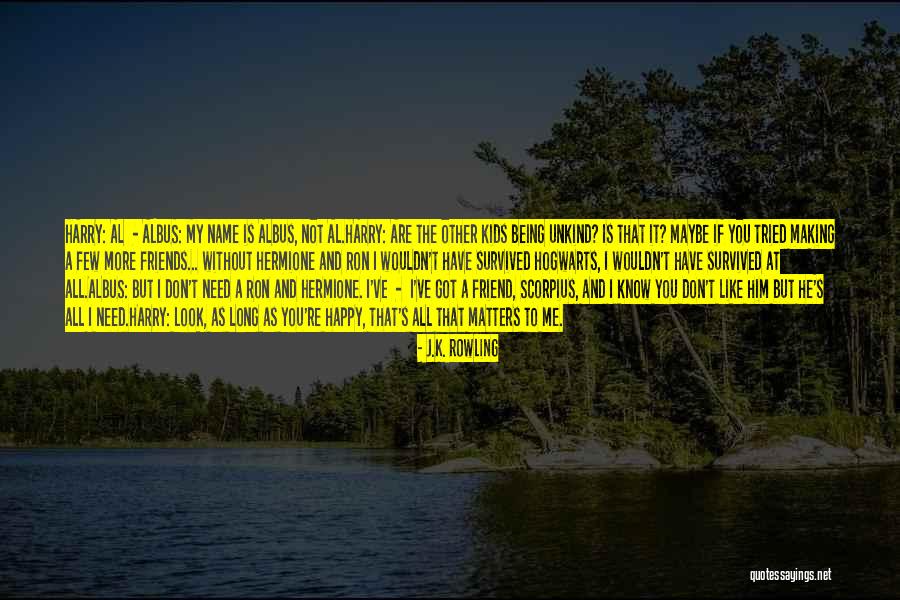 HARRY: Al -
ALBUS: My name is Albus, not Al.
HARRY: Are the other kids being unkind? Is that it? Maybe if you tried making a few more friends... without Hermione and Ron I wouldn't have survived Hogwarts, I wouldn't have survived at all.
ALBUS: But I don't need a Ron and Hermione. I've - I've got a friend, Scorpius, and I know you don't like him but he's all I need.
HARRY: Look, as long as you're happy, that's all that matters to me. — J.K. Rowling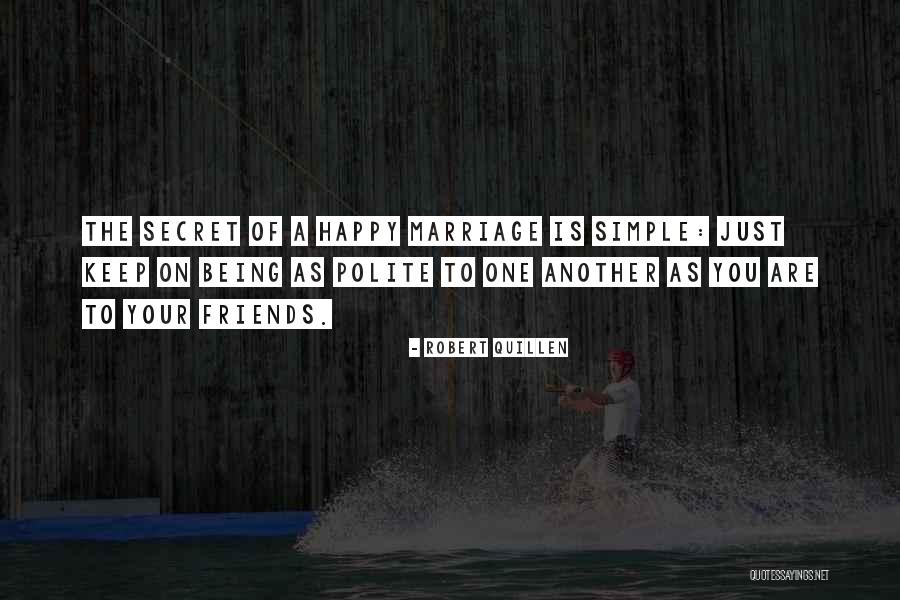 The secret of a happy marriage is simple: Just keep on being as polite to one another as you are to your friends. — Robert Quillen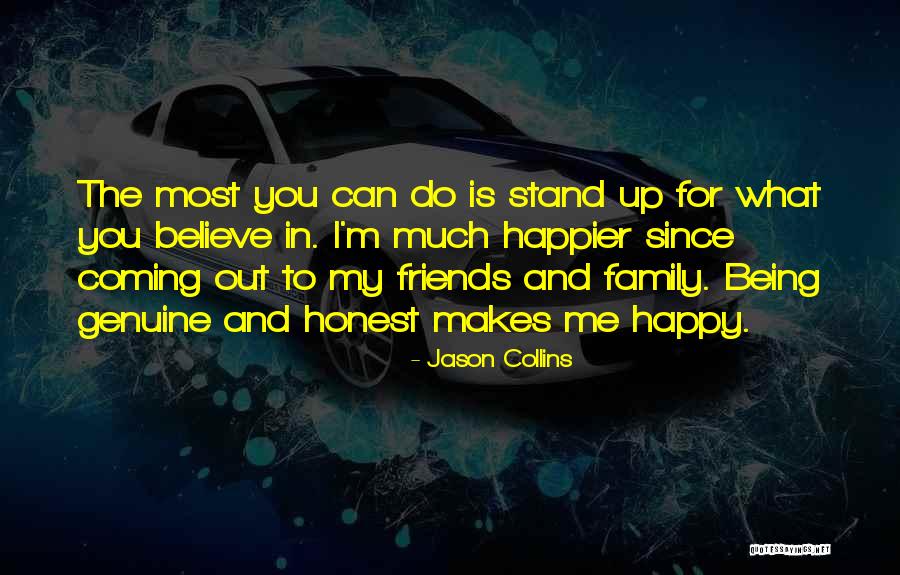 The most you can do is stand up for what you believe in. I'm much happier since coming out to my friends and family. Being genuine and honest makes me happy. — Jason Collins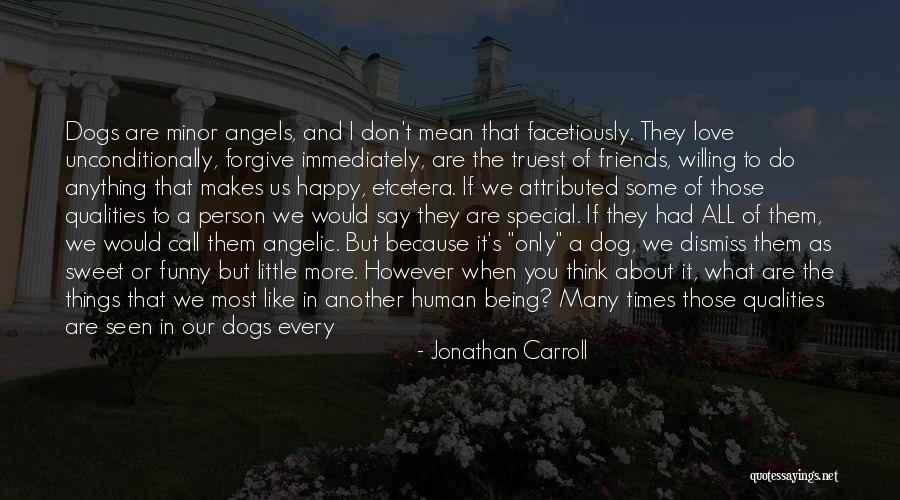 Dogs are minor angels, and I don't mean that facetiously. They love unconditionally, forgive immediately, are the truest of friends, willing to do anything that makes us happy, etcetera. If we attributed some of those qualities to a person we would say they are special. If they had ALL of them, we would call them angelic. But because it's "only" a dog, we dismiss them as sweet or funny but little more. However when you think about it, what are the things that we most like in another human being? Many times those qualities are seen in our dogs every single day
we're just so used to them that we pay no attention. — Jonathan Carroll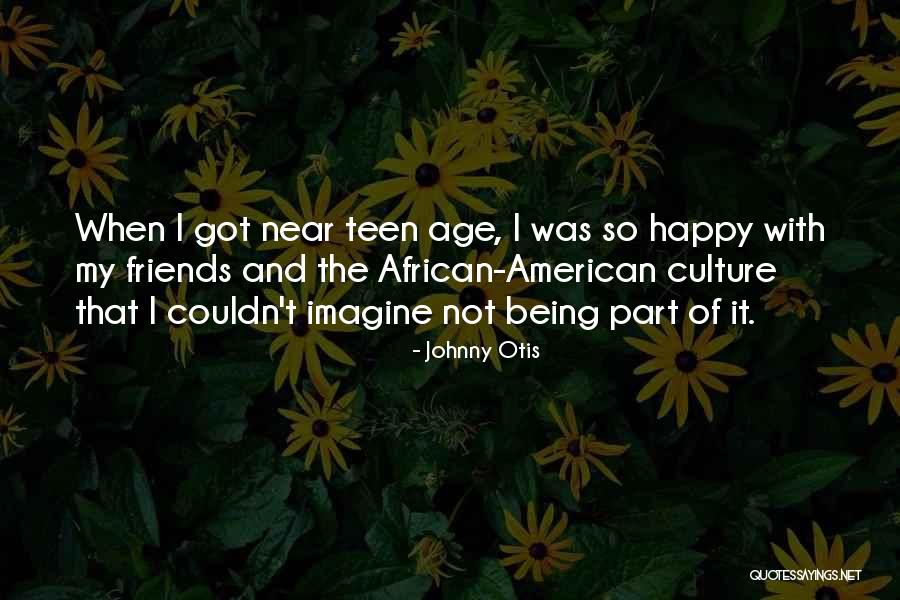 When I got near teen age, I was so happy with my friends and the African-American culture that I couldn't imagine not being part of it. — Johnny Otis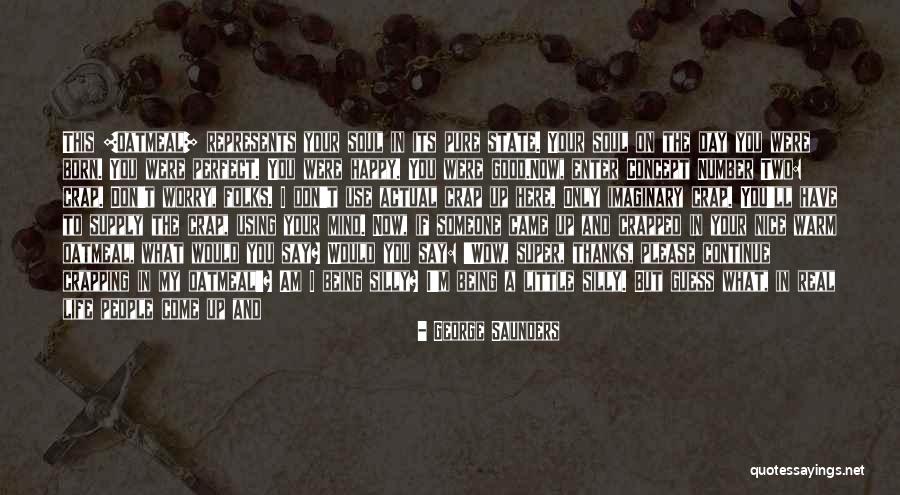 This [oatmeal] represents your soul in its pure state. Your soul on the day you were born. You were perfect. You were happy. You were good.
Now, enter Concept Number Two: crap. Don't worry, folks. I don't use actual crap up here. Only imaginary crap. You'll have to supply the crap, using your mind. Now, if someone came up and crapped in your nice warm oatmeal, what would you say? Would you say: 'Wow, super, thanks, please continue crapping in my oatmeal'? Am I being silly? I'm being a little silly. But guess what, in real life people come up and crap in your oatmeal all the time
friends, co-workers, loved ones, even you kids, especially your kids!
and that's exactly what you do. You say, 'Thanks so much!' You say, 'Crap away!' You say, and here the metaphor breaks down a bit, 'Is there some way I can help you crap in my oatmeal? — George Saunders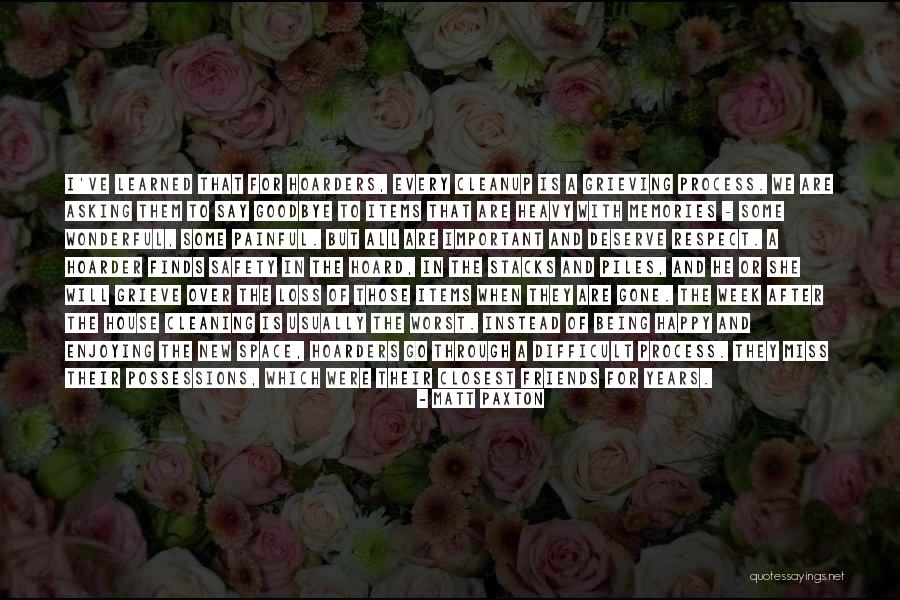 I've learned that for hoarders, every cleanup is a grieving process. We are asking them to say goodbye to items that are heavy with memories - some wonderful, some painful. But all are important and deserve respect. A hoarder finds safety in the hoard, in the stacks and piles, and he or she will grieve over the loss of those items when they are gone. The week after the house cleaning is usually the worst. Instead of being happy and enjoying the new space, hoarders go through a difficult process. They miss their possessions, which were their closest friends for years. — Matt Paxton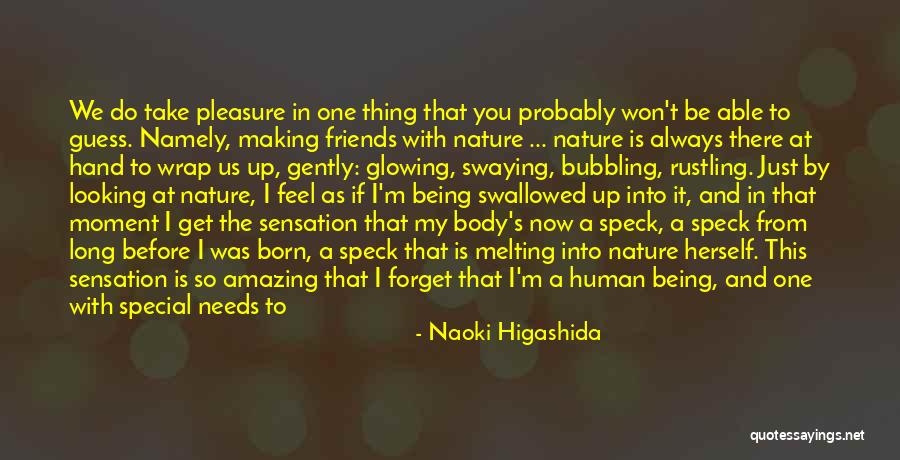 We do take pleasure in one thing that you probably won't be able to guess. Namely, making friends with nature ... nature is always there at hand to wrap us up, gently: glowing, swaying, bubbling, rustling.
Just by looking at nature, I feel as if I'm being swallowed up into it, and in that moment I get the sensation that my body's now a speck, a speck from long before I was born, a speck that is melting into nature herself. This sensation is so amazing that I forget that I'm a human being, and one with special needs to boot.
Nature calms me down when I'm furious, and laughs with me when I'm happy. You might think that it's not possible that nature could be a friend, not really. But human beings are part of the animal kingdom too, and perhaps us people with autism still have some left-over awareness of this, buried somewhere deep down. I'll always cherish that part of me that thinks of nature as a friend. — Naoki Higashida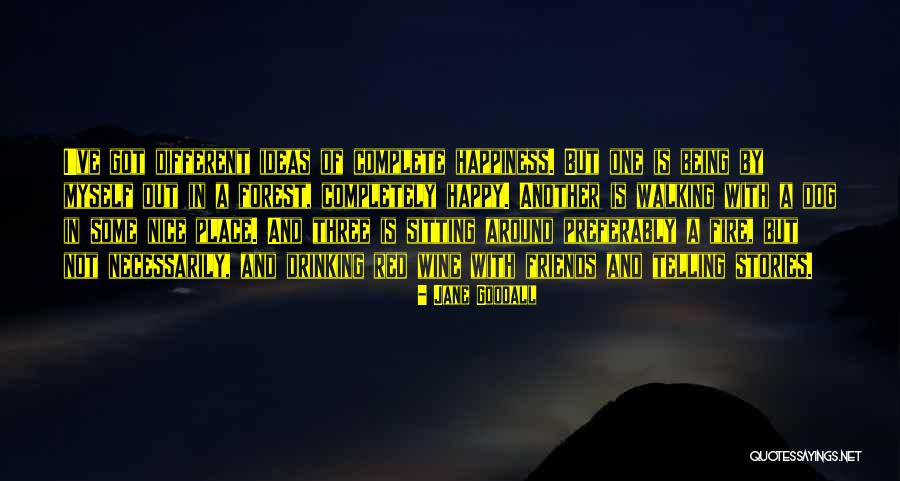 I've got different ideas of complete happiness. But one is being by myself out in a forest, completely happy. Another is walking with a dog in some nice place. And three is sitting around preferably a fire, but not necessarily, and drinking red wine with friends and telling stories. — Jane Goodall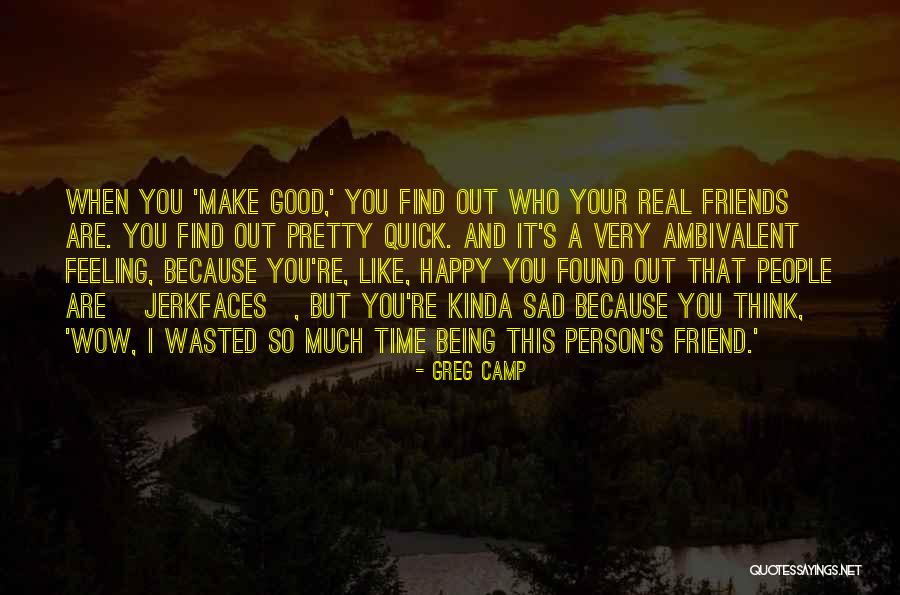 When you 'make good,' you find out who your real friends are. You find out pretty quick. And it's a very ambivalent feeling, because you're, like, happy you found out that people are [jerkfaces], but you're kinda sad because you think, 'Wow, I wasted so much time being this person's friend.' — Greg Camp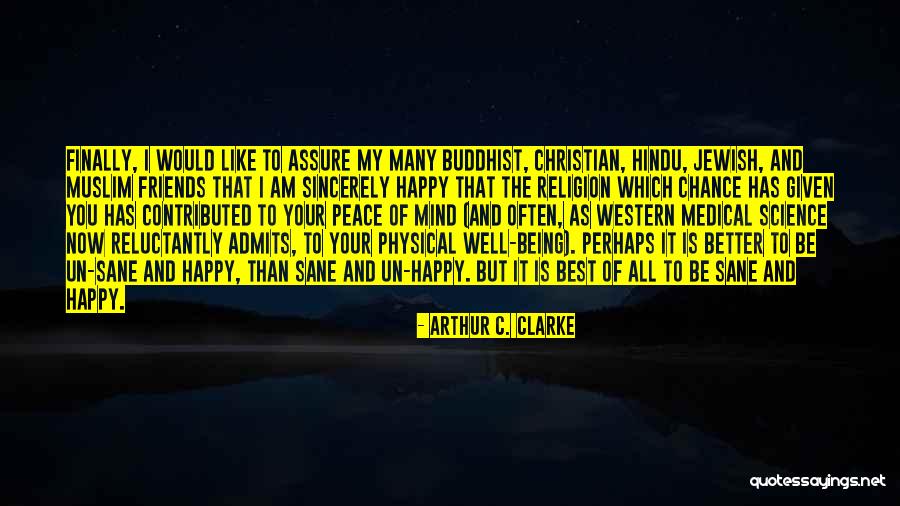 Finally, I would like to assure my many Buddhist, Christian, Hindu, Jewish, and Muslim friends that I am sincerely happy that the religion which Chance has given you has contributed to your peace of mind (and often, as Western medical science now reluctantly admits, to your physical well-being). Perhaps it is better to be un-sane and happy, than sane and un-happy. But it is best of all to be sane and happy. — Arthur C. Clarke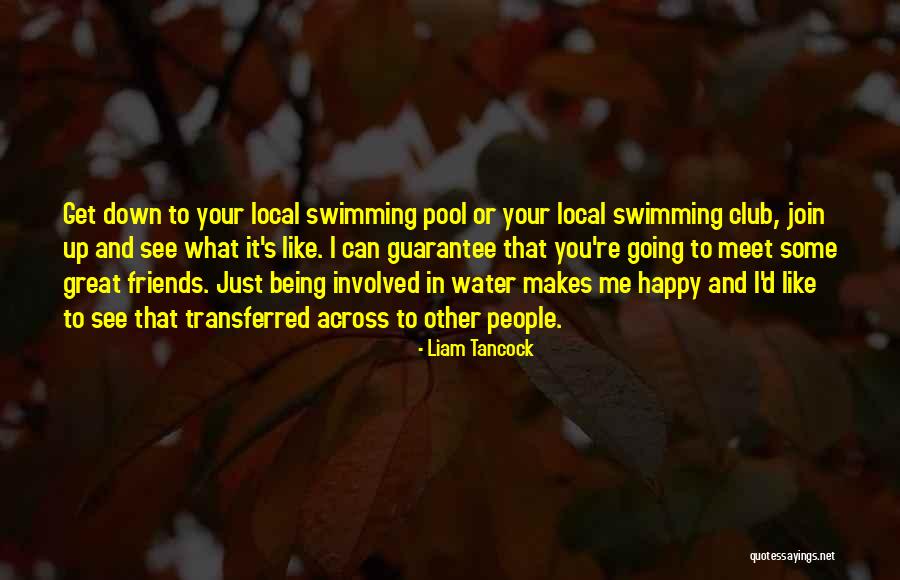 Get down to your local swimming pool or your local swimming club, join up and see what it's like. I can guarantee that you're going to meet some great friends. Just being involved in water makes me happy and I'd like to see that transferred across to other people. — Liam Tancock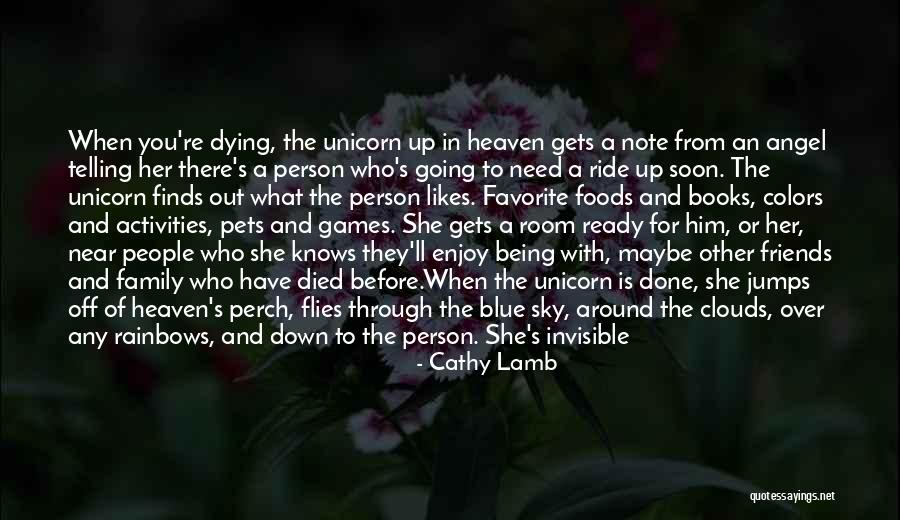 When you're dying, the unicorn up in heaven gets a note from an angel telling her there's a person who's going to need a ride up soon. The unicorn finds out what the person likes. Favorite foods and books, colors and activities, pets and games. She gets a room ready for him, or her, near people who she knows they'll enjoy being with, maybe other friends and family who have died before.
When the unicorn is done, she jumps off of heaven's perch, flies through the blue sky, around the clouds, over any rainbows, and down to the person. She's invisible to everyone. She patiently waits. When the person dies, she gathers them up on her back, using her hooves and horn. All of a sudden, they sit up straight and smile, they laugh, because they're on top of a unicorn and alive again. They hold on tight to her golden reins and the unicorn takes them to their new home, where they're happy. — Cathy Lamb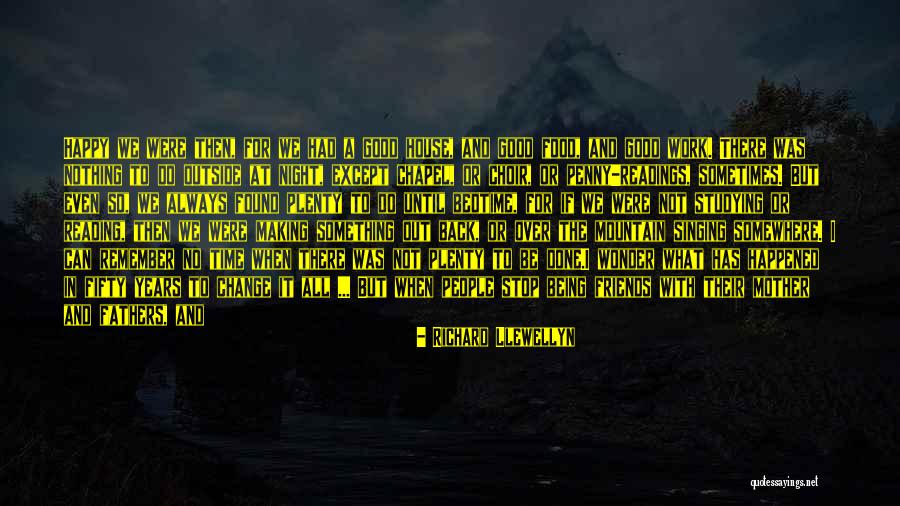 Happy we were then, for we had a good house, and good food, and good work. There was nothing to do outside at night, except chapel, or choir, or penny-readings, sometimes. But even so, we always found plenty to do until bedtime, for if we were not studying or reading, then we were making something out back, or over the mountain singing somewhere. I can remember no time when there was not plenty to be done.
I wonder what has happened in fifty years to change it all ... But when people stop being friends with their mother and fathers, and itching to be out of the house, and going mad for other things to do, I cannot think. It is like an asthma, that comes on a man quickly. He has no notion how he had it, but there it is, and nothing can cure it. — Richard Llewellyn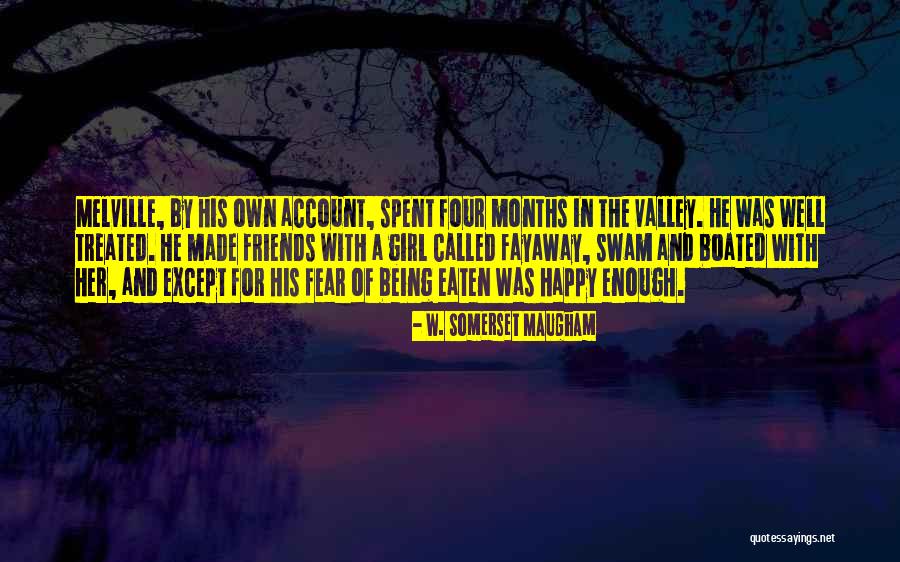 Melville, by his own account, spent four months in the valley. He was well treated. He made friends with a girl called Fayaway, swam and boated with her, and except for his fear of being eaten was happy enough. — W. Somerset Maugham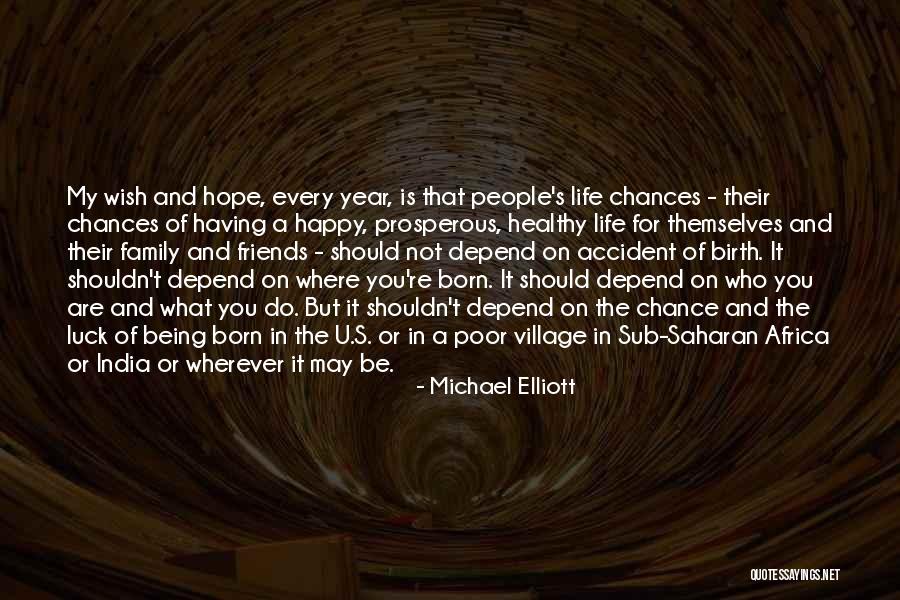 My wish and hope, every year, is that people's life chances - their chances of having a happy, prosperous, healthy life for themselves and their family and friends - should not depend on accident of birth. It shouldn't depend on where you're born. It should depend on who you are and what you do. But it shouldn't depend on the chance and the luck of being born in the U.S. or in a poor village in Sub-Saharan Africa or India or wherever it may be. — Michael Elliott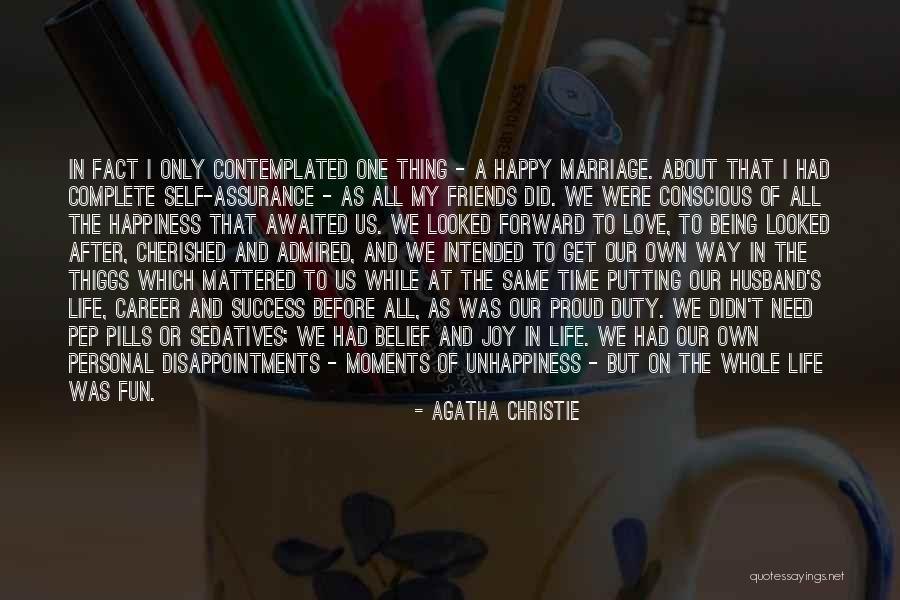 In fact i only contemplated one thing - a happy marriage. About that i had complete self-assurance - as all my friends did. We were conscious of all the happiness that awaited us. We looked forward to love, to being looked after, cherished and admired, and we intended to get our own way in the thiggs which mattered to us while at the same time putting our husband's life, career and success before all, as was our proud duty. we didn't need pep pills or sedatives; we had belief and joy in life. We had our own personal disappointments - moments of unhappiness - but on the whole life was fun. — Agatha Christie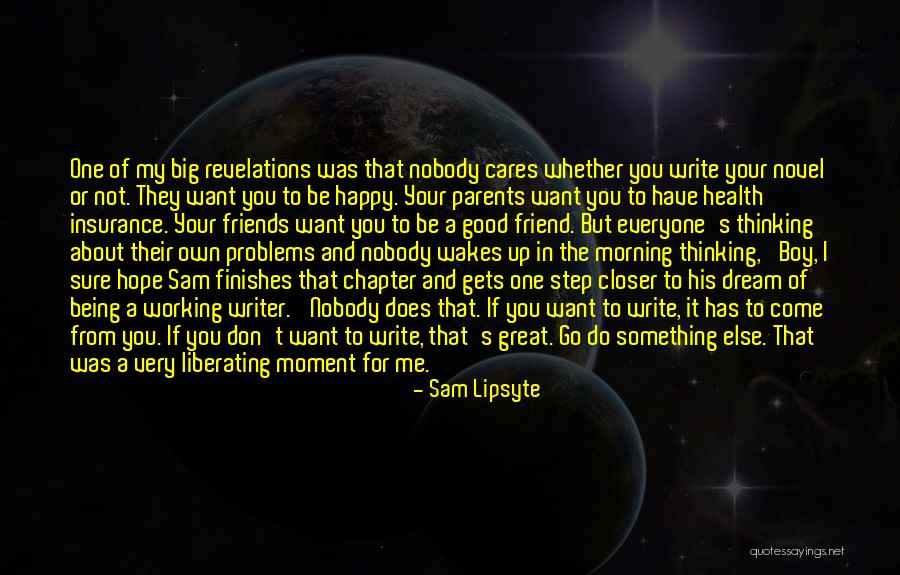 One of my big revelations was that nobody cares whether you write your novel or not. They want you to be happy. Your parents want you to have health insurance. Your friends want you to be a good friend. But everyone's thinking about their own problems and nobody wakes up in the morning thinking, 'Boy, I sure hope Sam finishes that chapter and gets one step closer to his dream of being a working writer.' Nobody does that. If you want to write, it has to come from you. If you don't want to write, that's great. Go do something else. That was a very liberating moment for me. — Sam Lipsyte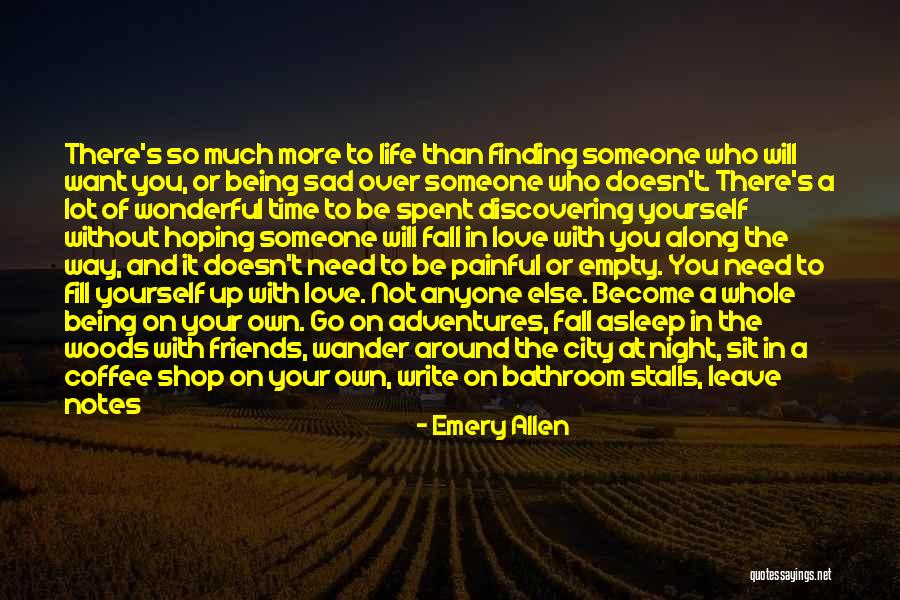 There's so much more to life than finding someone who will want you, or being sad over someone who doesn't. There's a lot of wonderful time to be spent discovering yourself without hoping someone will fall in love with you along the way, and it doesn't need to be painful or empty. You need to fill yourself up with love. Not anyone else. Become a whole being on your own. Go on adventures, fall asleep in the woods with friends, wander around the city at night, sit in a coffee shop on your own, write on bathroom stalls, leave notes in library books, dress up for yourself, give to others, smile a lot. Do all things with love, but don't romanticize life like you can't survive without it. Live for yourself and be happy on your own. It isn't any less beautiful, I promise. — Emery Allen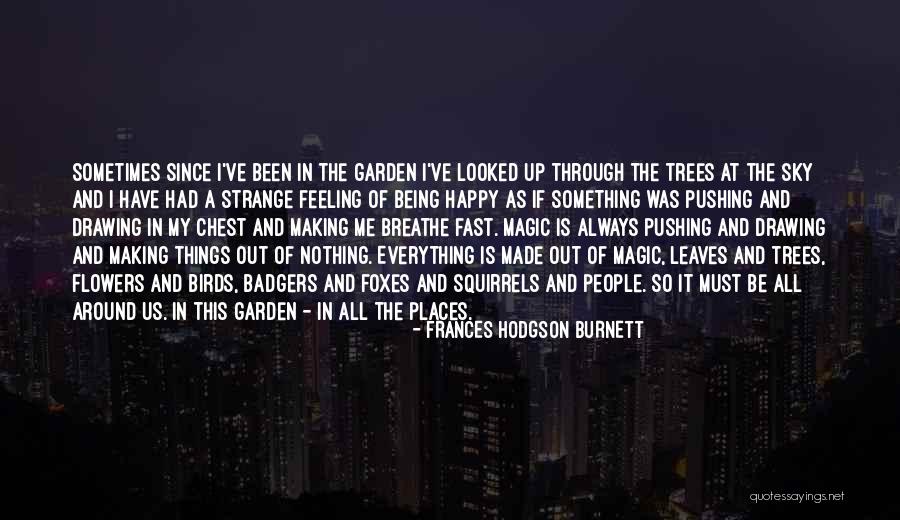 Sometimes since I've been in the garden I've looked up through the trees at the sky and I have had a strange feeling of being happy as if something was pushing and drawing in my chest and making me breathe fast. Magic is always pushing and drawing and making things out of nothing. Everything is made out of magic, leaves and trees, flowers and birds, badgers and foxes and squirrels and people. So it must be all around us. In this garden - in all the places. — Frances Hodgson Burnett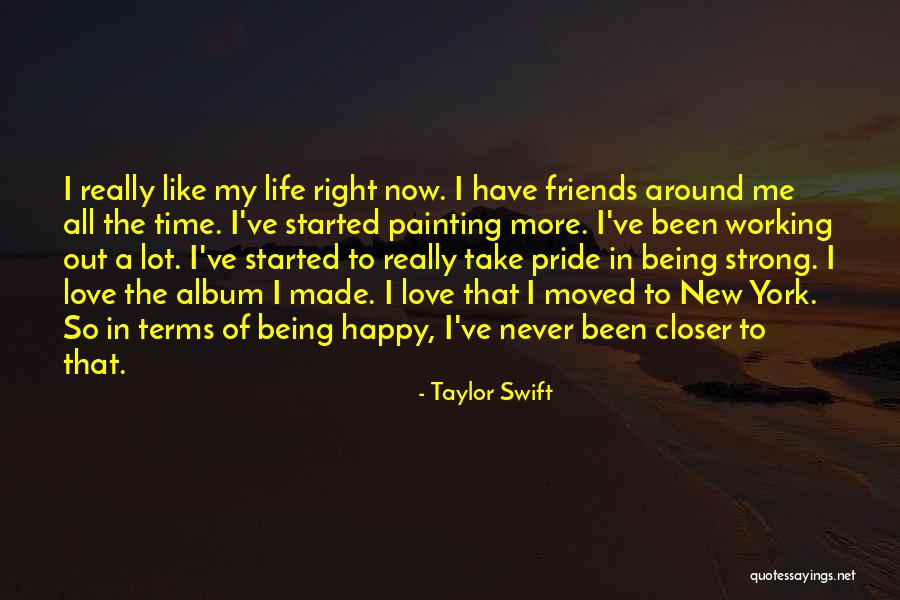 I really like my life right now. I have friends around me all the time. I've started painting more. I've been working out a lot. I've started to really take pride in being strong. I love the album I made. I love that I moved to New York. So in terms of being happy, I've never been closer to that. — Taylor Swift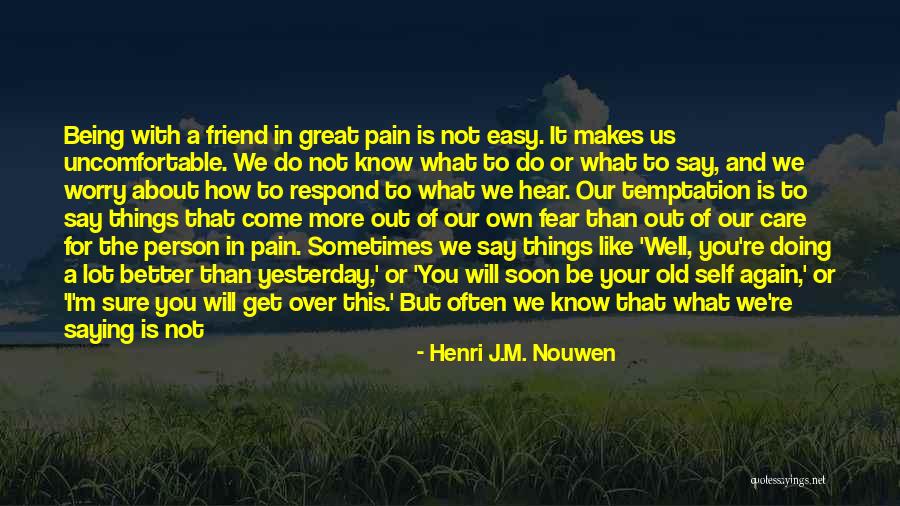 Being with a friend in great pain is not easy. It makes us uncomfortable. We do not know what to do or what to say, and we worry about how to respond to what we hear. Our temptation is to say things that come more out of our own fear than out of our care for the person in pain. Sometimes we say things like 'Well, you're doing a lot better than yesterday,' or 'You will soon be your old self again,' or 'I'm sure you will get over this.' But often we know that what we're saying is not true, and our friends know it too.
We do not have to play games with each other. We can simply say: 'I am your friend, I am happy to be with you.' We can say that in words or with touch or with loving silence. Sometimes it is good to say: 'You don't have to talk. Just close your eyes. I am here with you, thinking of you, praying for you, loving you. — Henri J.M. Nouwen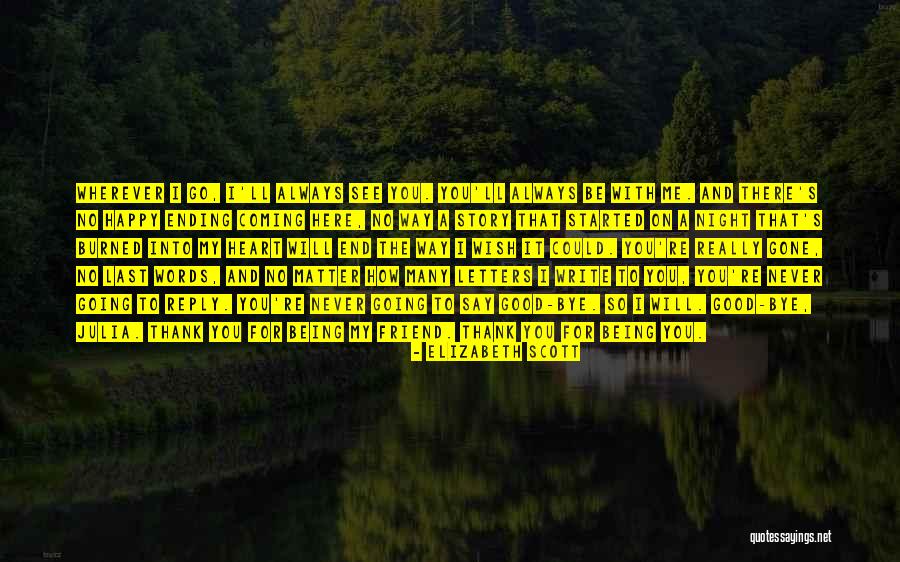 Wherever I go, I'll always see you. You'll always be with me. And there's no happy ending coming here, no way a story that started on a night that's burned into my heart will end the way I wish it could. You're really gone, no last words, and no matter how many letters I write to you, you're never going to reply. You're never going to say good-bye. So I will. Good-bye, Julia. Thank you for being my friend. Thank you for being you. — Elizabeth Scott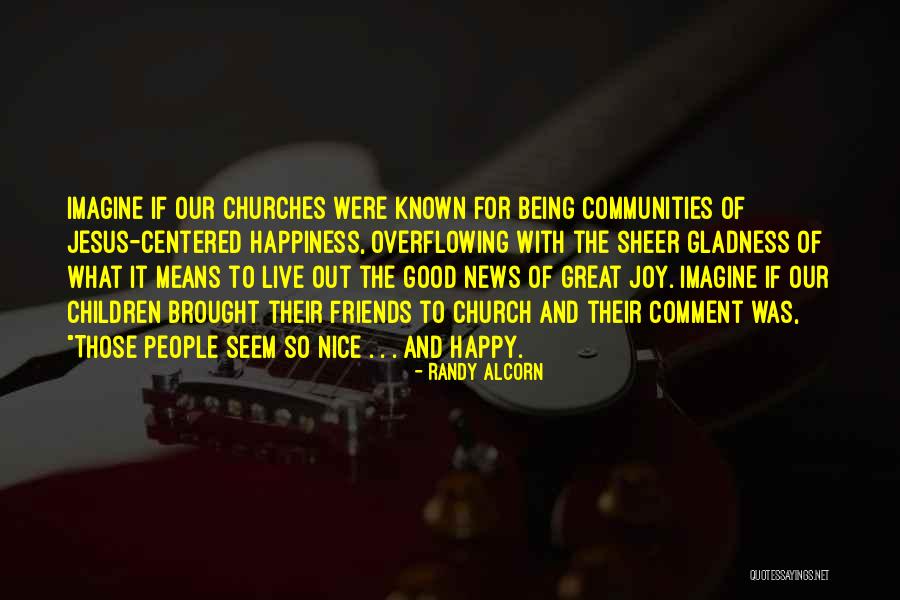 Imagine if our churches were known for being communities of Jesus-centered happiness, overflowing with the sheer gladness of what it means to live out the good news of great joy. Imagine if our children brought their friends to church and their comment was, "Those people seem so nice . . . and happy. — Randy Alcorn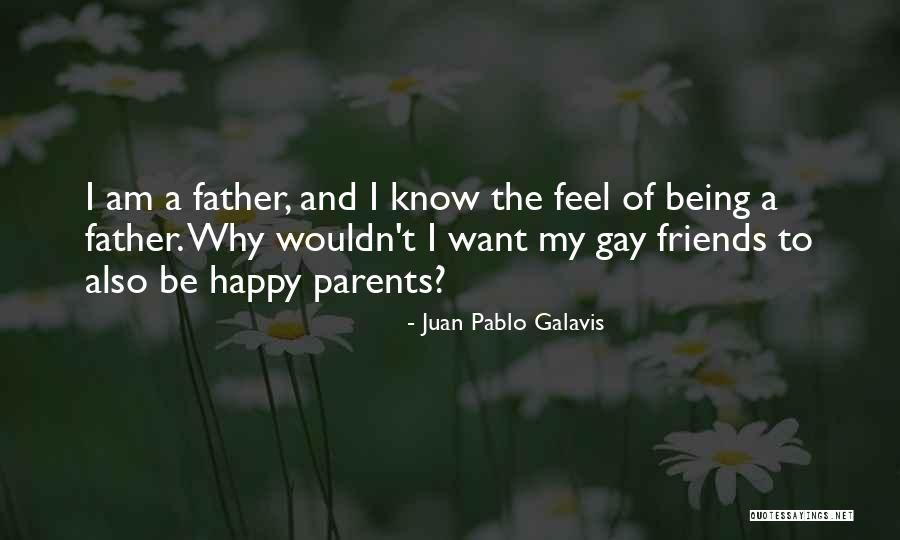 I am a father, and I know the feel of being a father. Why wouldn't I want my gay friends to also be happy parents? — Juan Pablo Galavis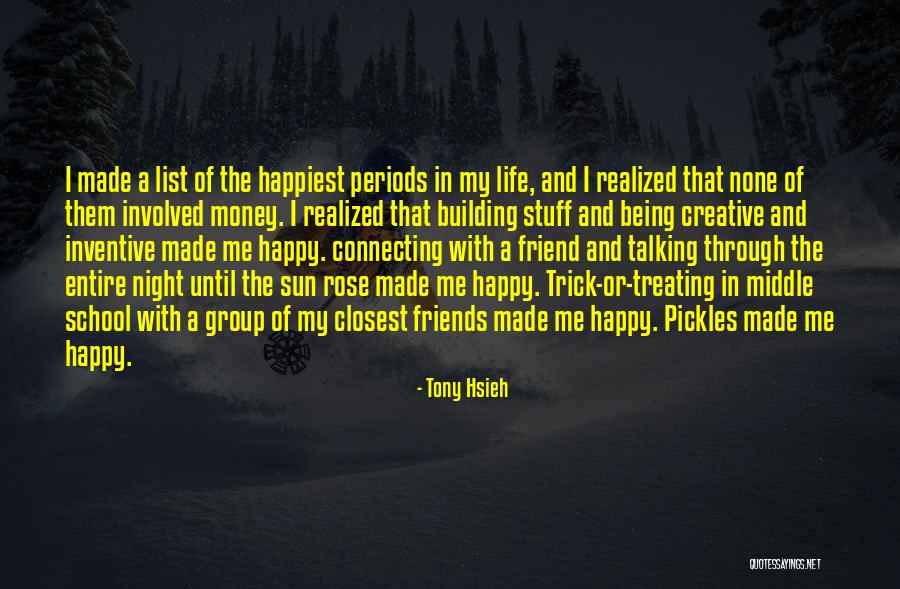 I made a list of the happiest periods in my life, and I realized that none of them involved money. I realized that building stuff and being creative and inventive made me happy. connecting with a friend and talking through the entire night until the sun rose made me happy. Trick-or-treating in middle school with a group of my closest friends made me happy. Pickles made me happy. — Tony Hsieh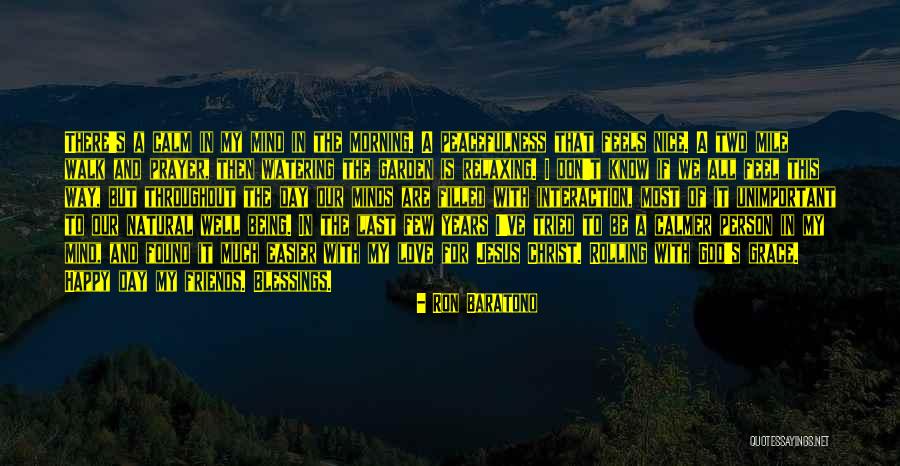 There's a calm in my mind in the morning. A peacefulness that feels nice. A two mile walk and prayer, then watering the garden is relaxing. I don't know if we all feel this way, but throughout the day our minds are filled with interaction, most of it unimportant to our natural well being. In the last few years I've tried to be a calmer person in my mind, and found it much easier with my love for Jesus Christ. Rolling with God's grace. Happy day my friends. Blessings. — Ron Baratono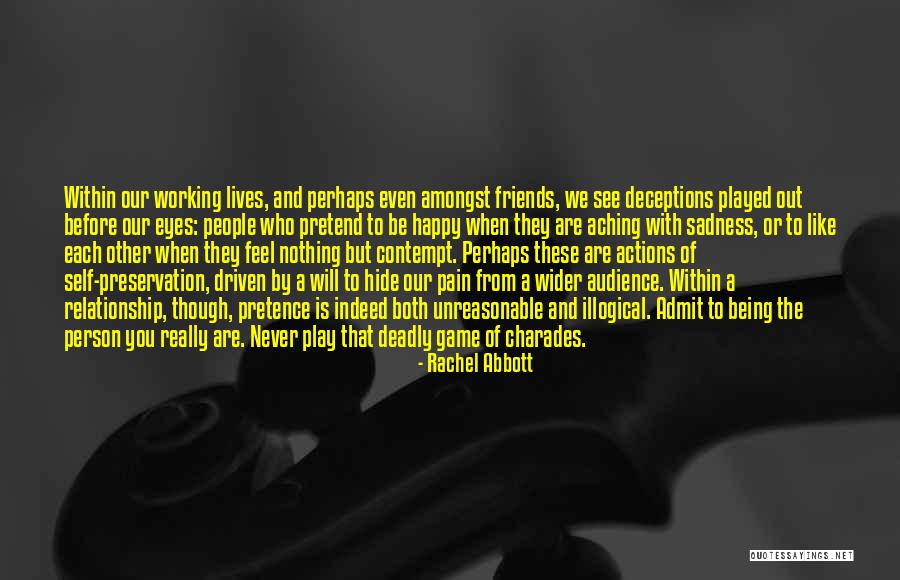 Within our working lives, and perhaps even amongst friends, we see deceptions played out before our eyes: people who pretend to be happy when they are aching with sadness, or to like each other when they feel nothing but contempt. Perhaps these are actions of self-preservation, driven by a will to hide our pain from a wider audience. Within a relationship, though, pretence is indeed both unreasonable and illogical. Admit to being the person you really are. Never play that deadly game of charades. — Rachel Abbott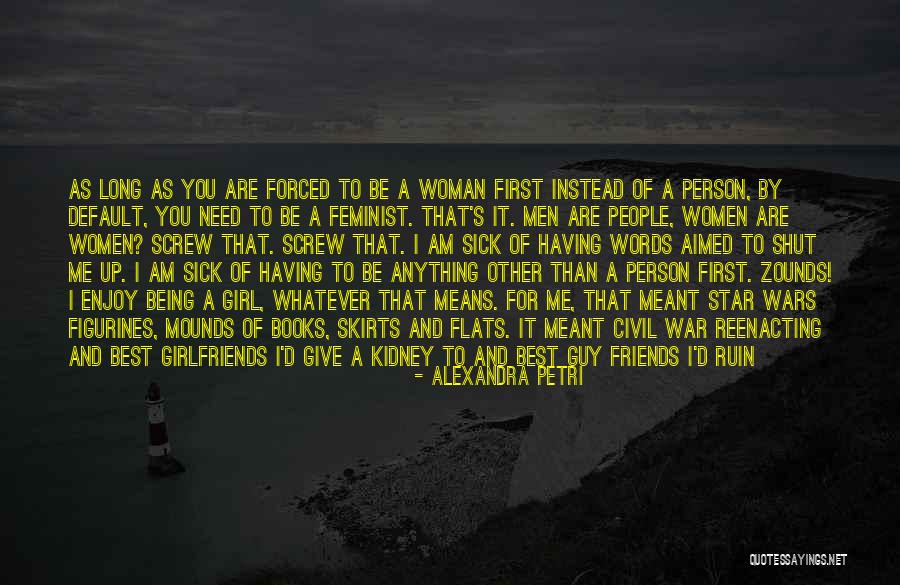 As long as you are forced to be a woman first instead of a person, by default, you need to be a feminist. That's it. Men are people, women are women? Screw that. Screw that. I am sick of having words aimed to shut me up. I am sick of having to be anything other than a person first. Zounds! I enjoy being a girl, whatever that means. For me, that meant Star Wars figurines, mounds of books, skirts and flats. It meant Civil War reenacting and best girlfriends I'd give a kidney to and best guy friends I'd ruin a liver with and making messes and cleaning up some of them and still not knowing how to apply eye shadow. That's being a girl. That's being a person. It's the same damn thing. I wish Rush had just called me an idiot. I'm happy to be called an idiot! On the day when someone on the Internet calls me an idiot first and ugly second, I will set down my feminist battle flag and heave a great sigh. Then I will pick it back up and keep climbing. There are many more mountains to overcome. — Alexandra Petri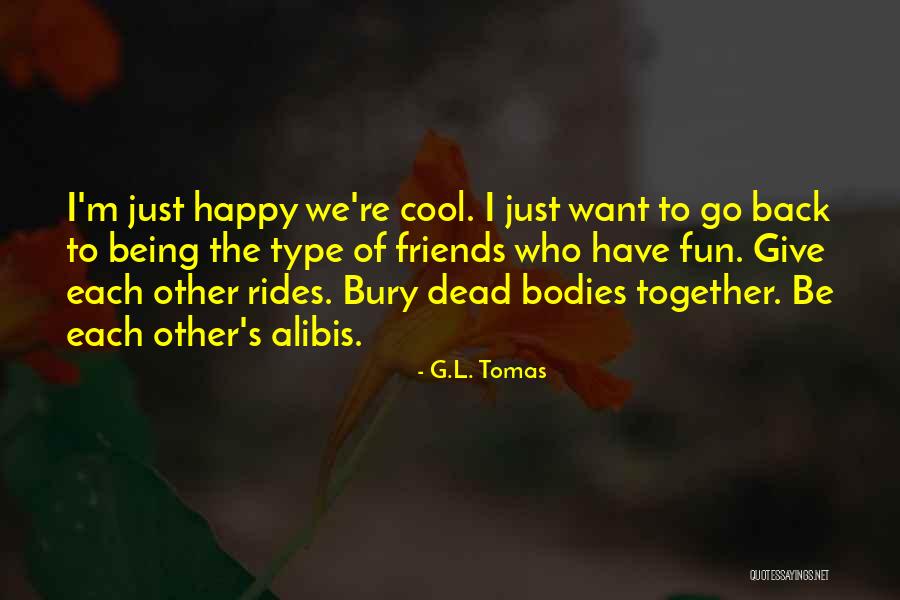 I'm just happy we're cool. I just want to go back to being the type of friends who have fun. Give each other rides. Bury dead bodies together. Be each other's alibis. — G.L. Tomas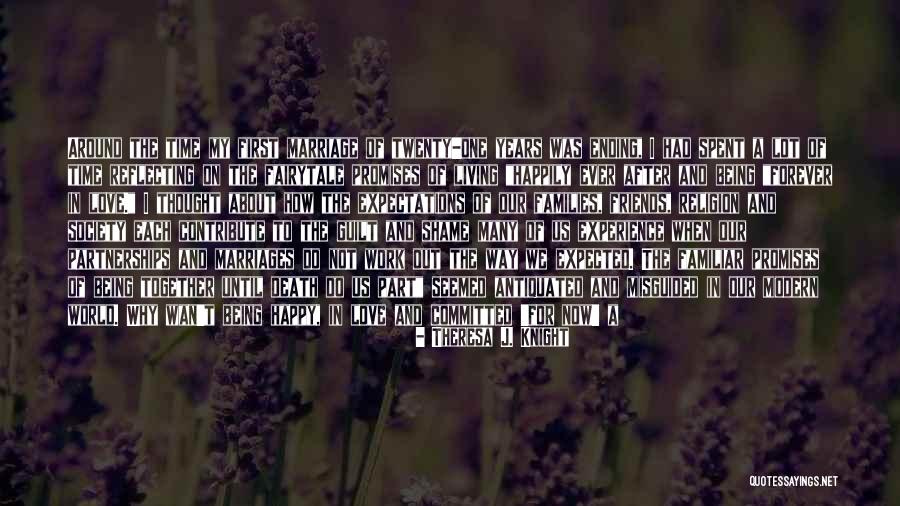 Around the time my first marriage of twenty-one years was ending, I had spent a lot of time reflecting on the fairytale promises of living "happily ever after and being "forever in love." I thought about how the expectations of our families, friends, religion and society each contribute to the guilt and shame many of us experience when our partnerships and marriages do not work out the way we expected. The familiar promises of being together until death do us part" seemed antiquated and misguided in our modern world. Why wan't being happy, in love and committed 'for now' a more widely accepted and reasonable vision? — Theresa J. Knight