Quotes & Sayings About Being Grateful For The Life You Have
Enjoy reading and share 44 famous quotes about Being Grateful For The Life You Have with everyone.
Top Being Grateful For The Life You Have Quotes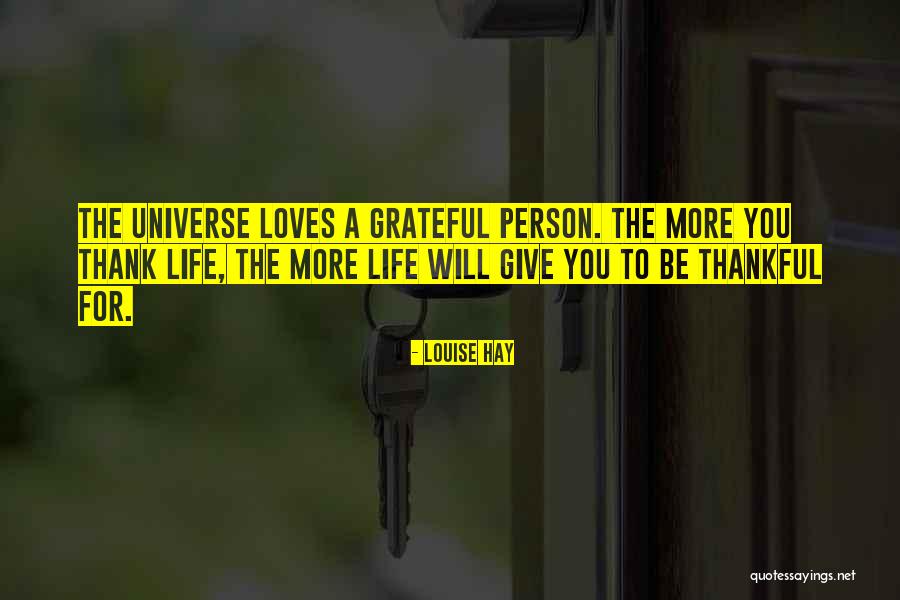 The Universe loves a grateful person. The more you thank Life, the more Life will give you to be thankful for. — Louise Hay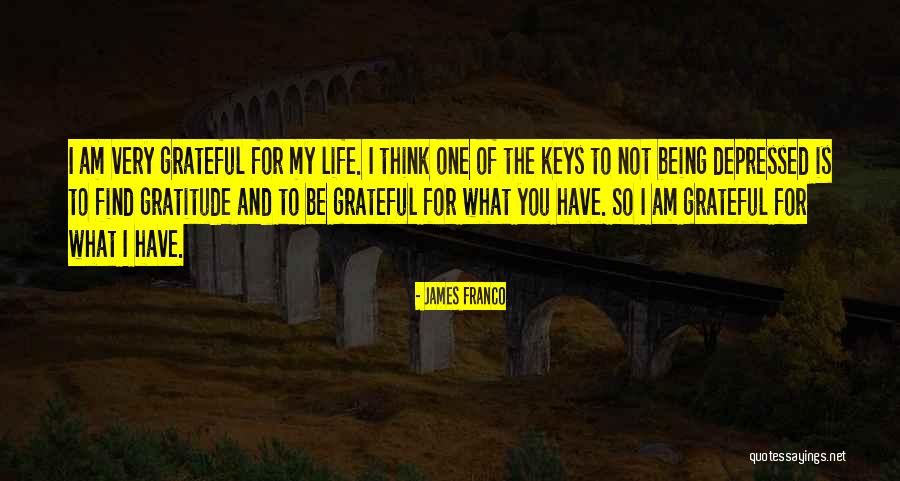 I am very grateful for my life. I think one of the keys to not being depressed is to find gratitude and to be grateful for what you have. So I am grateful for what I have. — James Franco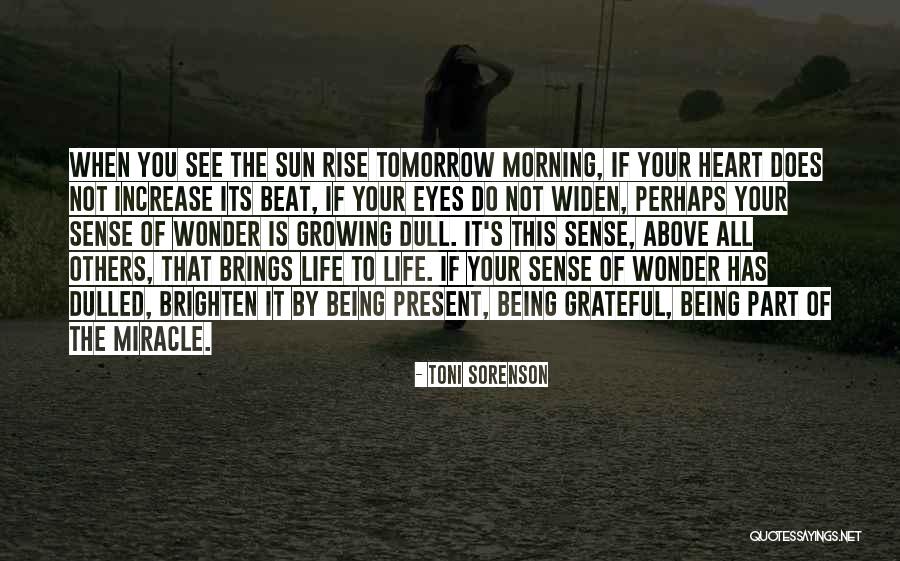 When you see the sun rise tomorrow morning, if your heart does not increase its beat, if your eyes do not widen, perhaps your sense of wonder is growing dull. It's this sense, above all others, that brings life to life. If your sense of wonder has dulled, brighten it by being present, being grateful, being part of the miracle. — Toni Sorenson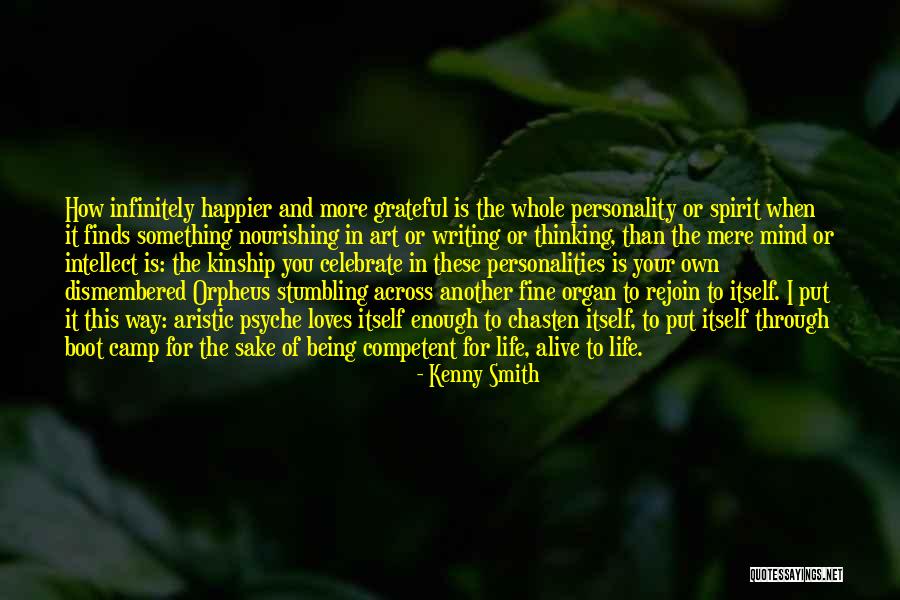 How infinitely happier and more grateful is the whole personality or spirit when it finds something nourishing in art or writing or thinking, than the mere mind or intellect is: the kinship you celebrate in these personalities is your own dismembered Orpheus stumbling across another fine organ to rejoin to itself. I put it this way: aristic psyche loves itself enough to chasten itself, to put itself through boot camp for the sake of being competent for life, alive to life. — Kenny Smith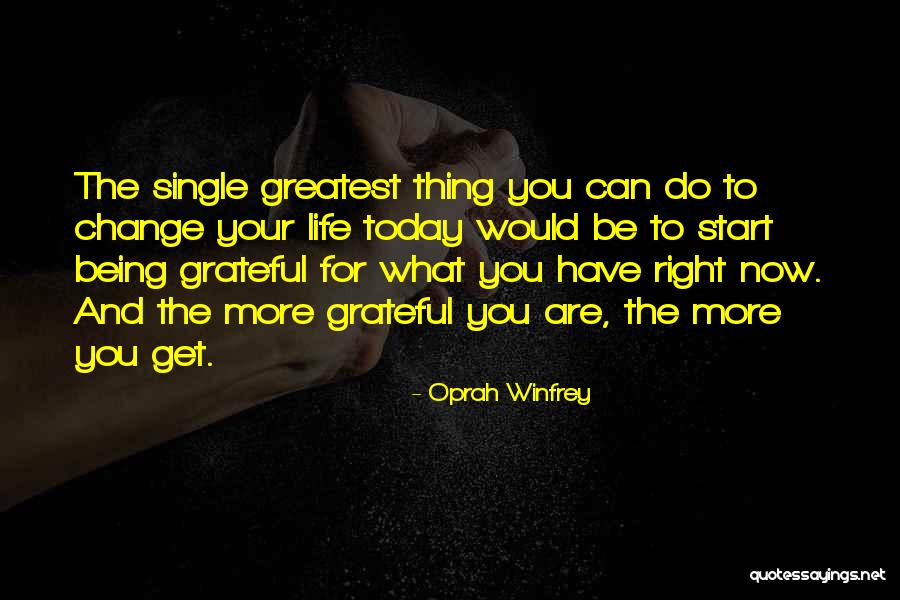 The single greatest thing you can do to change your life today would be to start being grateful for what you have right now. And the more grateful you are, the more you get. — Oprah Winfrey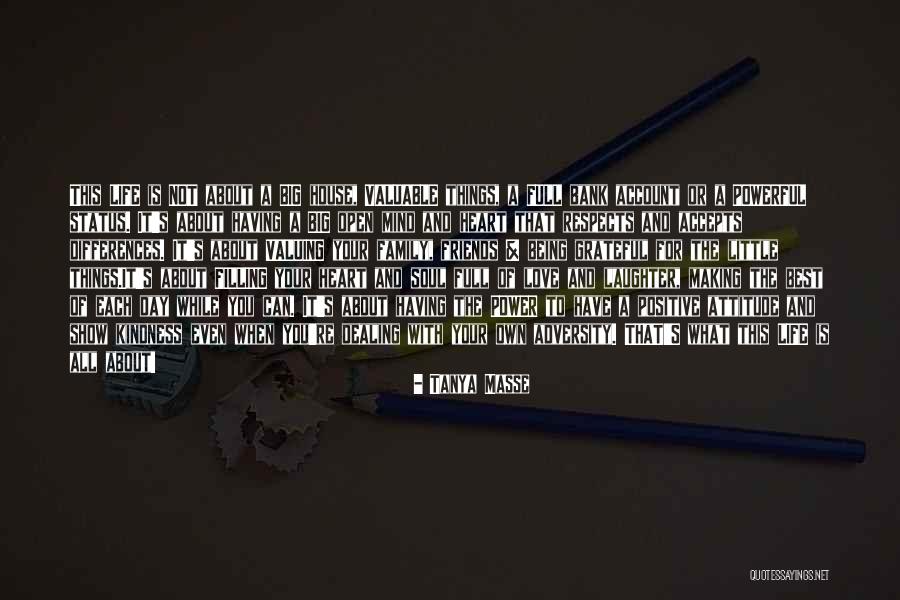 This LIFE is NOT about a BIG house, VALUABLE things, a FULL bank account or a POWERFUL status.
It's about having a BIG open mind and heart that respects and accepts differences.
It's about VALUING your family, friends & being grateful for the little things.
It's about FILLING your heart and soul full of love and laughter, making the best of each day while you can.
It's about having the POWER to have a positive attitude and show kindness even when you're dealing with your own adversity.
THAT'S what this LIFE is all about! — Tanya Masse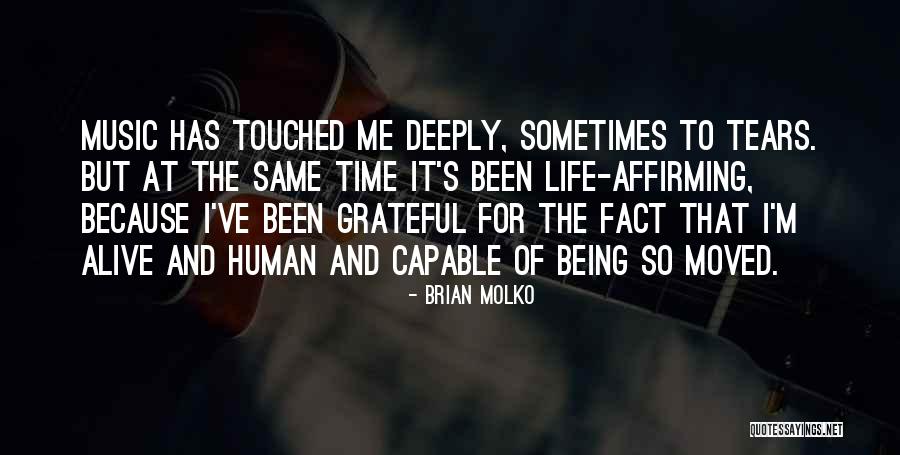 Music has touched me deeply, sometimes to tears. But at the same time it's been life-affirming, because I've been grateful for the fact that I'm alive and human and capable of being so moved. — Brian Molko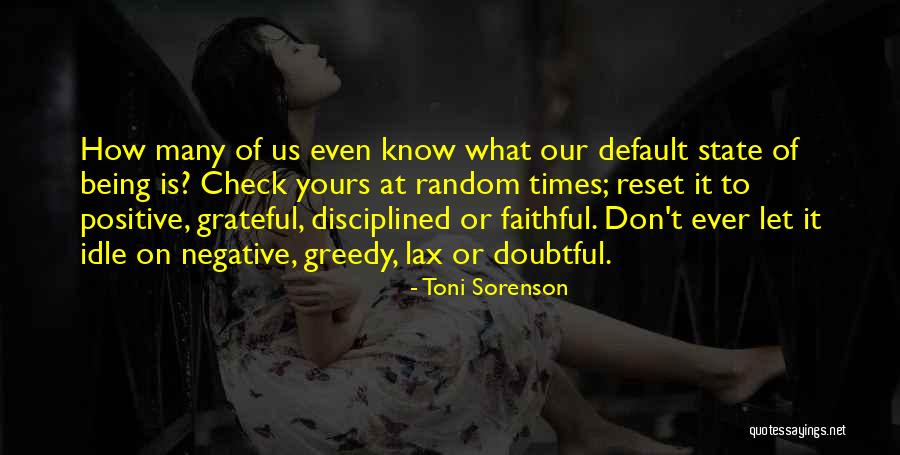 How many of us even know what our default state of being is? Check yours at random times; reset it to positive, grateful, disciplined or faithful. Don't ever let it idle on negative, greedy, lax or doubtful. — Toni Sorenson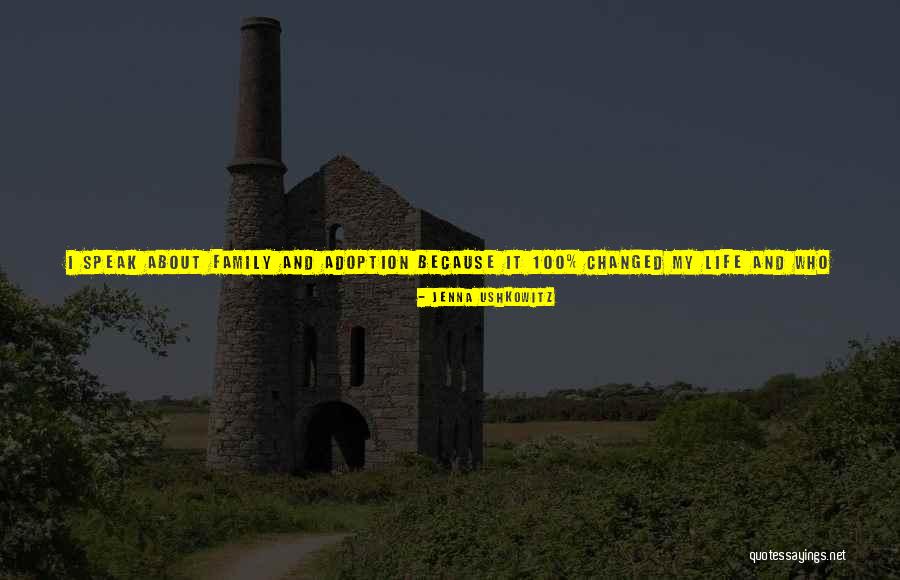 I speak about family and adoption because it 100% changed my life and who I am. It definitely played a very large role into just learning how to be grateful for what you have and being fulfilled in a way that a lot of adopted kids don't feel. — Jenna Ushkowitz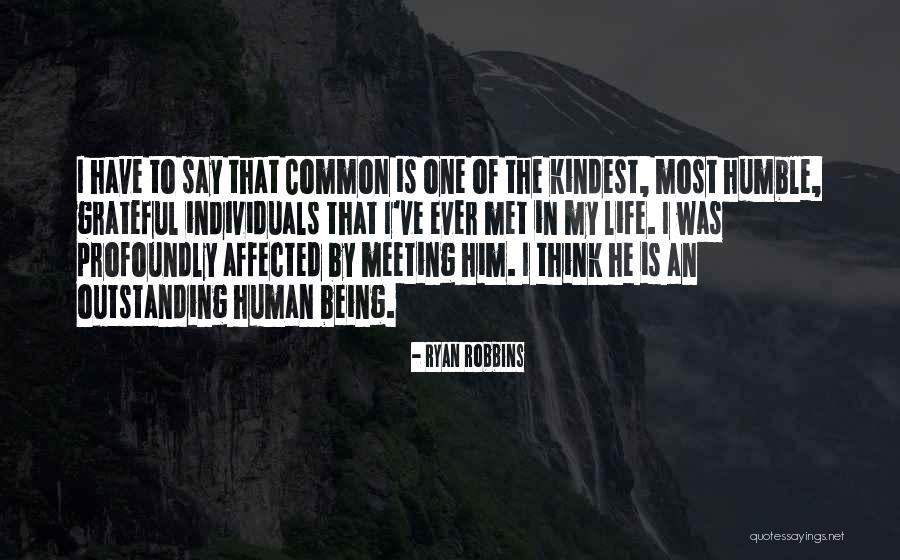 I have to say that Common is one of the kindest, most humble, grateful individuals that I've ever met in my life. I was profoundly affected by meeting him. I think he is an outstanding human being. — Ryan Robbins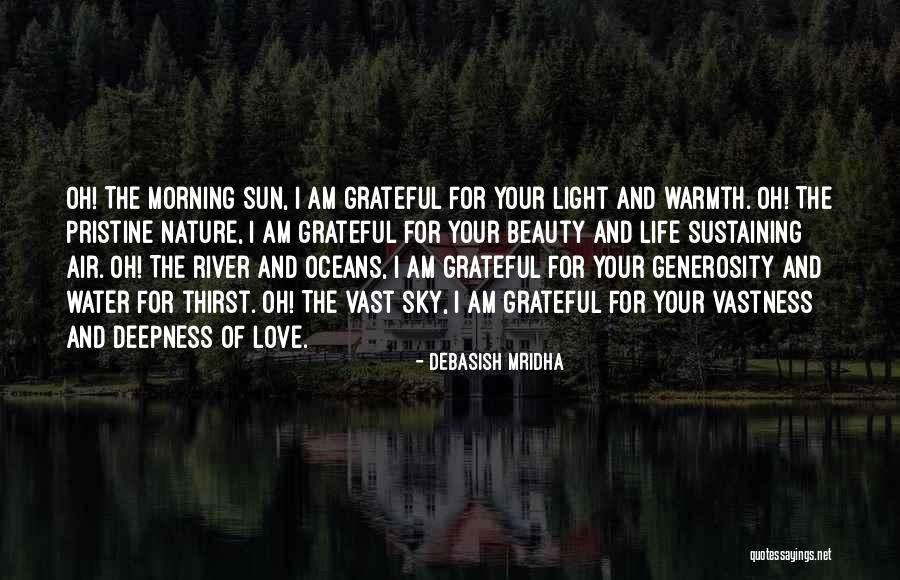 Oh! The morning sun, I am grateful for your light and warmth.
Oh! The pristine nature, I am grateful for your beauty and life sustaining air.
Oh! The river and oceans, I am grateful for your generosity and water for thirst.
Oh! The vast sky, I am grateful for your vastness and deepness of love. — Debasish Mridha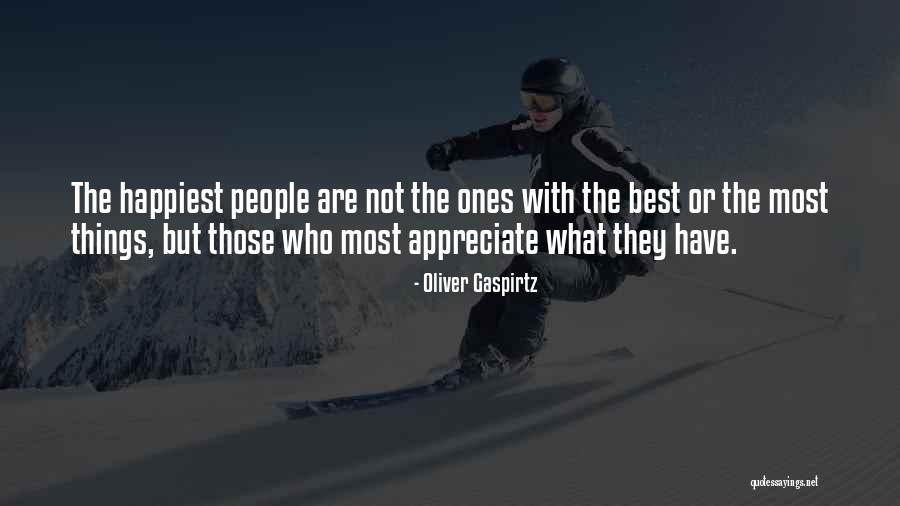 The happiest people are not the ones with the best or the most things, but those who most appreciate what they have. — Oliver Gaspirtz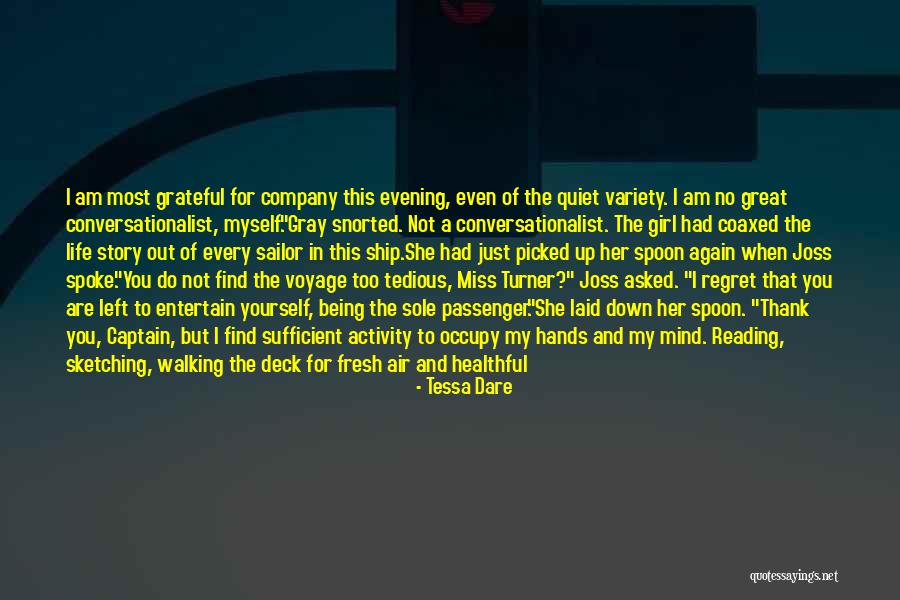 I am most grateful for company this evening, even of the quiet variety. I am no great conversationalist, myself."
Gray snorted. Not a conversationalist. The girl had coaxed the life story out of every sailor in this ship.
She had just picked up her spoon again when Joss spoke.
"You do not find the voyage too tedious, Miss Turner?" Joss asked. "I regret that you are left to entertain yourself, being the sole passenger."
She laid down her spoon. "Thank you, Captain, but I find sufficient activity to occupy my hands and my mind. Reading, sketching, walking the deck for fresh air and healthful exertion. I'm surprisingly content, living at sea."
Gray's heart gave an odd kick. — Tessa Dare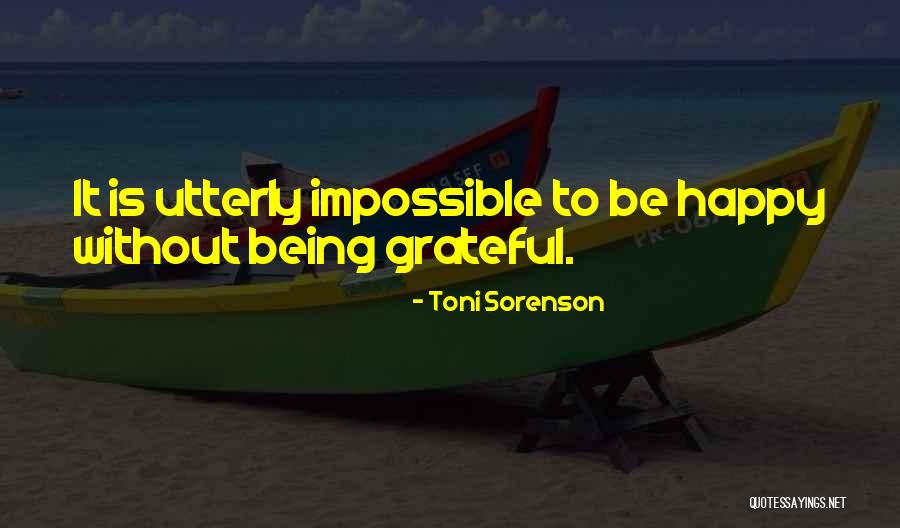 It is utterly impossible to be happy without being grateful. — Toni Sorenson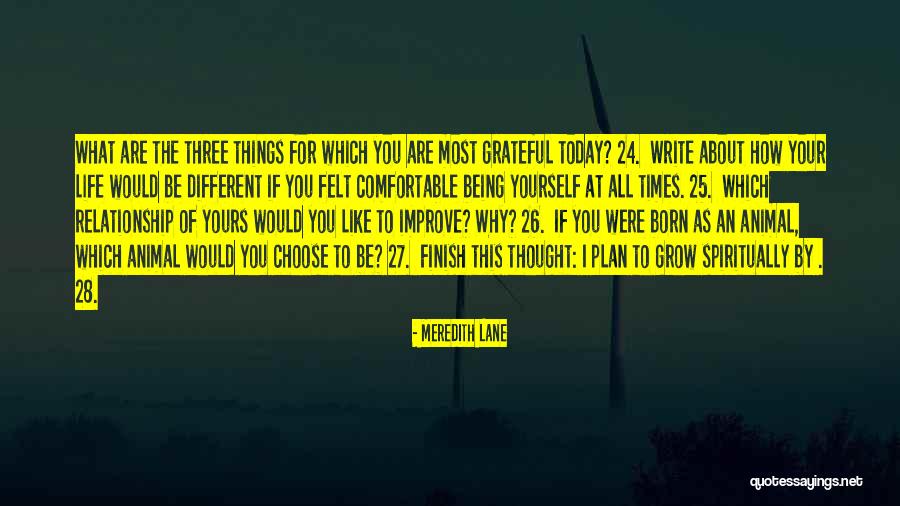 What are the three things for which you are most grateful today? 24. Write about how your life would be different if you felt comfortable being yourself at all times. 25. Which relationship of yours would you like to improve? Why? 26. If you were born as an animal, which animal would you choose to be? 27. Finish this thought: I plan to grow spiritually by . 28. — Meredith Lane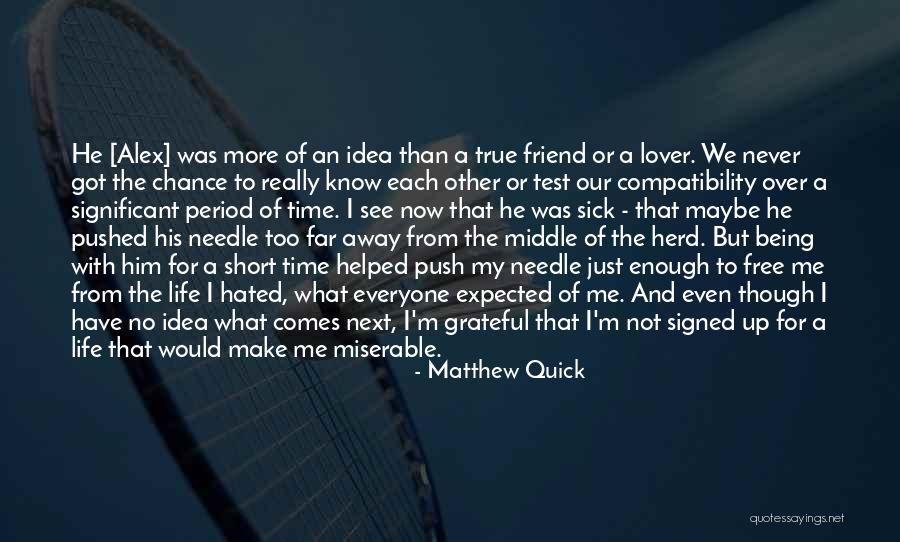 He [Alex] was more of an idea than a true friend or a lover. We never got the chance to really know each other or test our compatibility over a significant period of time. I see now that he was sick - that maybe he pushed his needle too far away from the middle of the herd. But being with him for a short time helped push my needle just enough to free me from the life I hated, what everyone expected of me. And even though I have no idea what comes next, I'm grateful that I'm not signed up for a life that would make me miserable. — Matthew Quick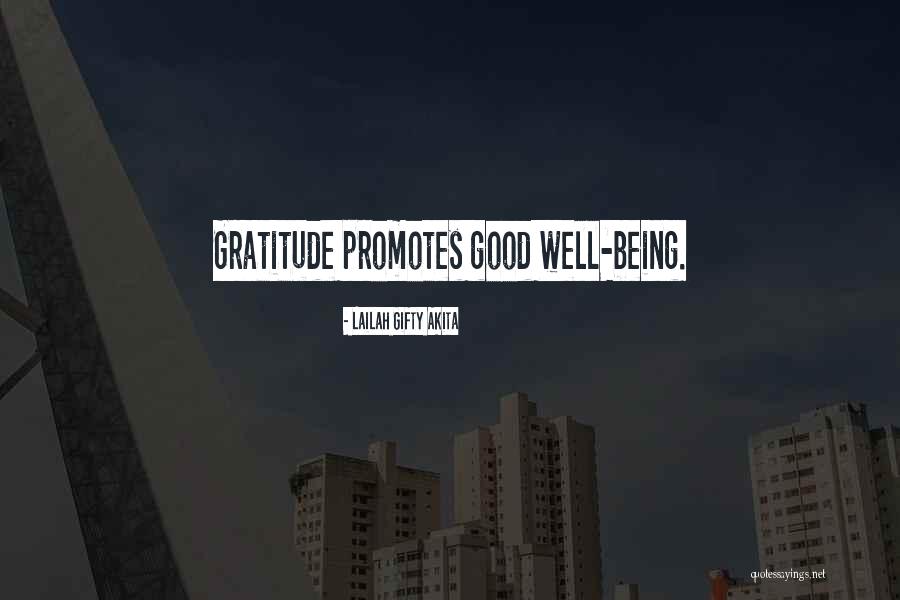 Gratitude promotes good well-being. — Lailah Gifty Akita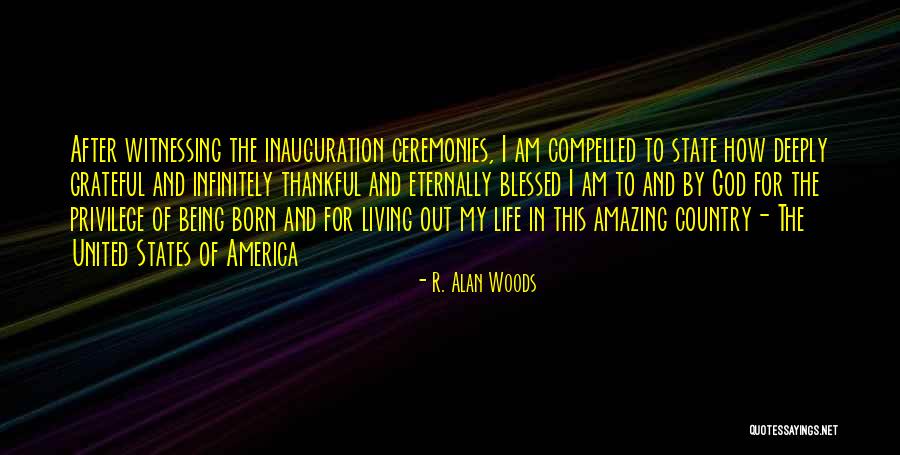 After witnessing the inauguration ceremonies, I am compelled to state how deeply grateful and infinitely thankful and eternally blessed I am to and by God for the privilege of being born and for living out my life in this amazing country- The United States of America — R. Alan Woods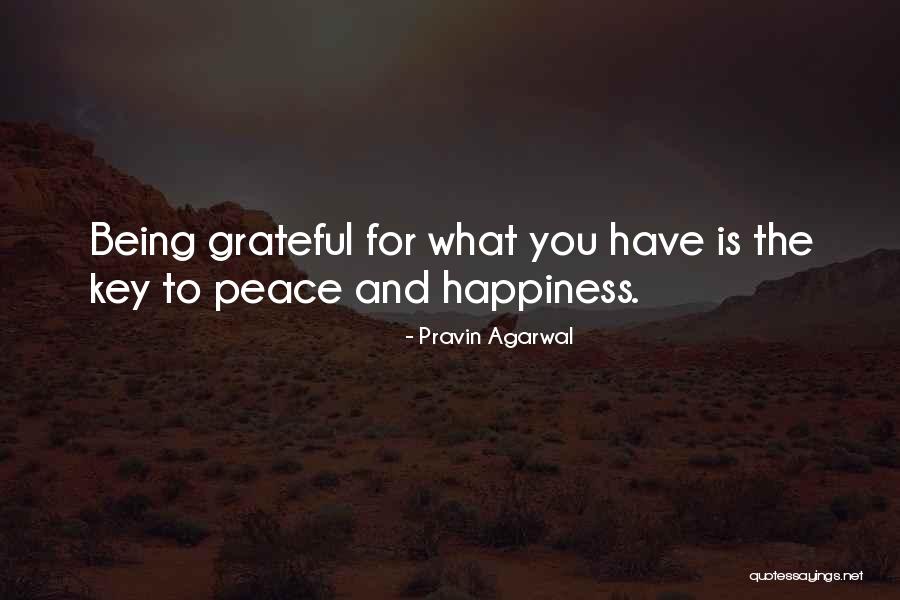 Being grateful for what you have is the key to peace and happiness. — Pravin Agarwal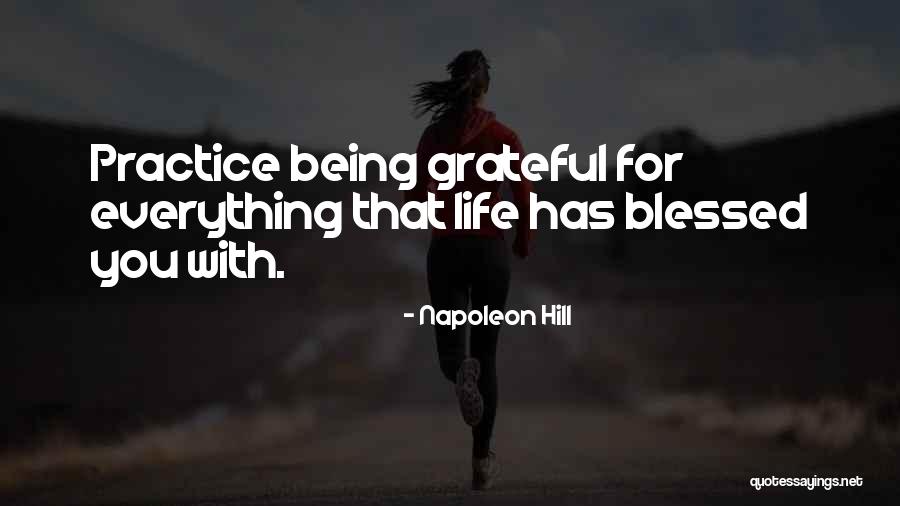 Practice being grateful for everything that life has blessed you with. — Napoleon Hill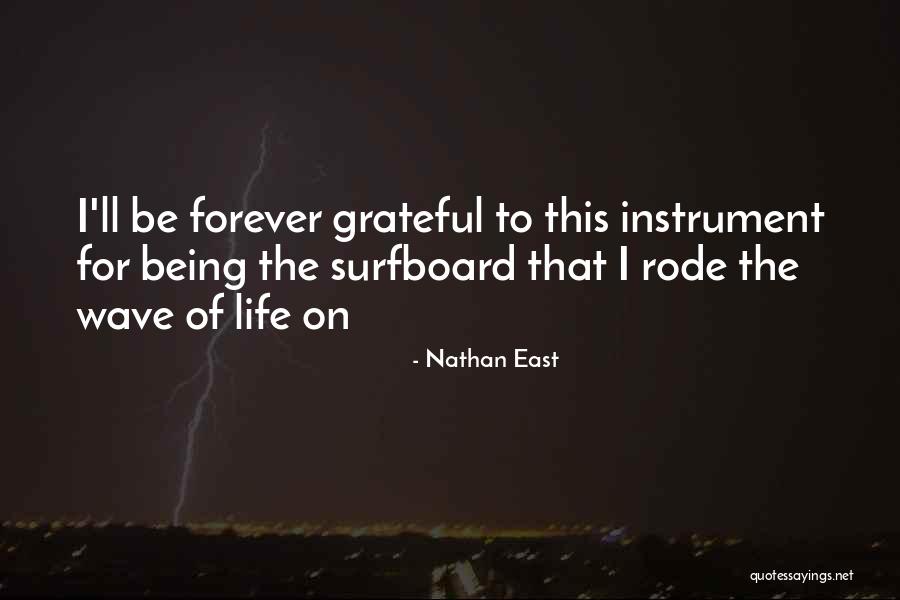 I'll be forever grateful to this instrument for being the surfboard that I rode the wave of life on — Nathan East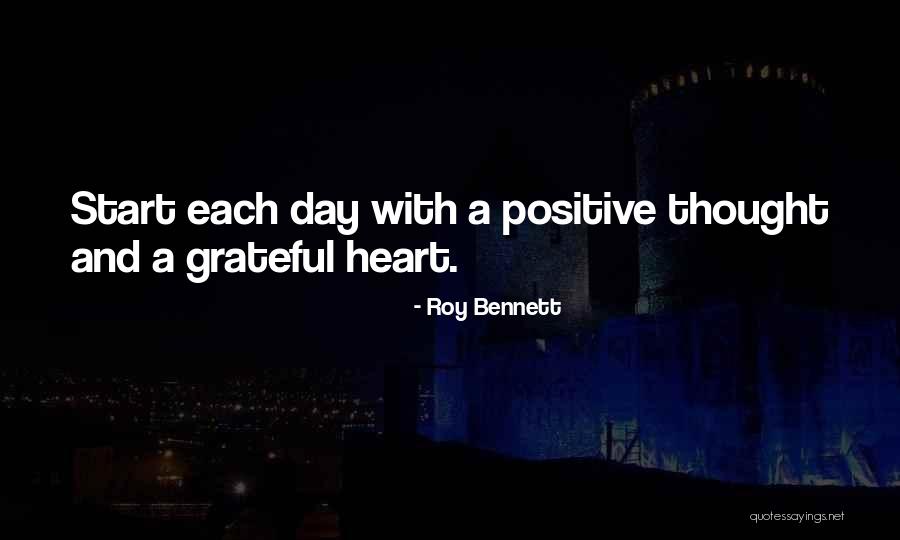 Start each day with a positive thought and a grateful heart. — Roy Bennett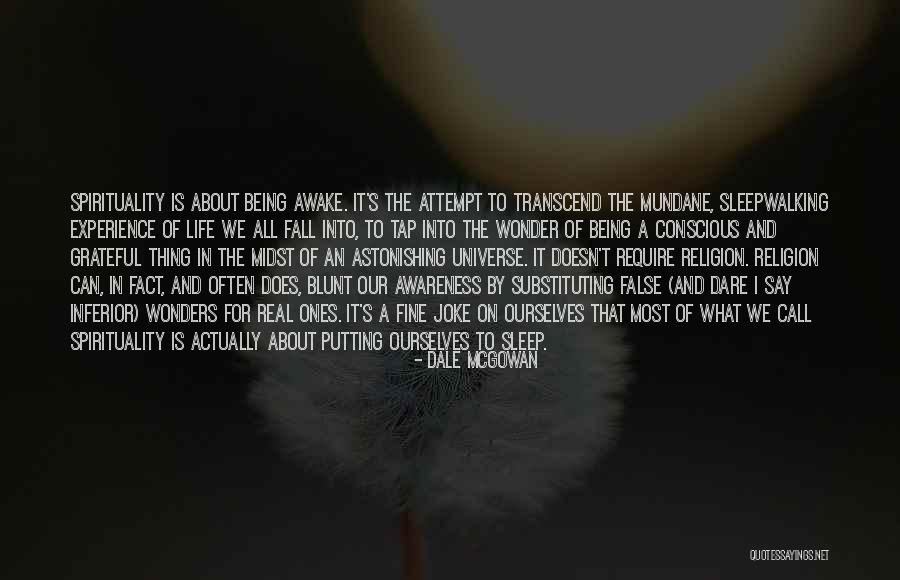 Spirituality is about being awake. It's the attempt to transcend the mundane, sleepwalking experience of life we all fall into, to tap into the wonder of being a conscious and grateful thing in the midst of an astonishing universe. It doesn't require religion. Religion can, in fact, and often does, blunt our awareness by substituting false (and dare I say inferior) wonders for real ones. It's a fine joke on ourselves that most of what we call spirituality is actually about putting ourselves to sleep. — Dale McGowan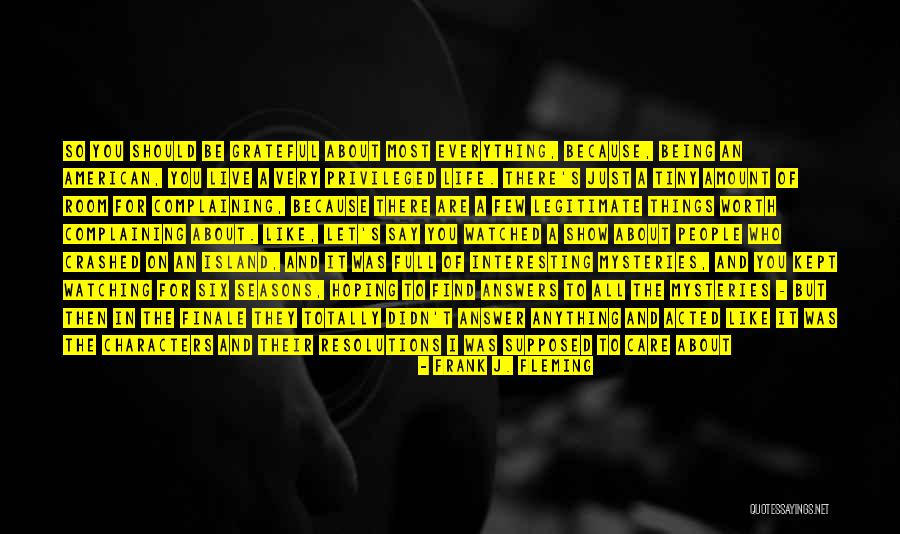 So you should be grateful about most everything, because, being an American, you live a very privileged life. There's just a tiny amount of room for complaining, because there are a few legitimate things worth complaining about. Like, let's say you watched a show about people who crashed on an island, and it was full of interesting mysteries, and you kept watching for six seasons, hoping to find answers to all the mysteries - but then in the finale they totally didn't answer anything and acted like it was the characters and their resolutions I was supposed to care about - like Jack's constant whining should have been my focus rather than the smoke monster or the mysterious hatch. That's awful. That's worth complaining about . . . even years later. — Frank J. Fleming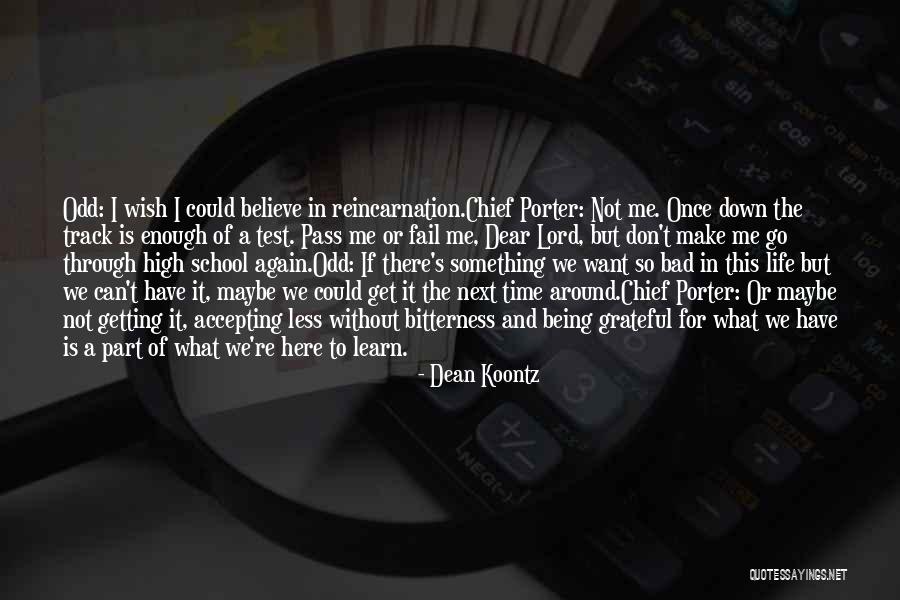 Odd: I wish I could believe in reincarnation.
Chief Porter: Not me. Once down the track is enough of a test. Pass me or fail me, Dear Lord, but don't make me go through high school again.
Odd: If there's something we want so bad in this life but we can't have it, maybe we could get it the next time around.
Chief Porter: Or maybe not getting it, accepting less without bitterness and being grateful for what we have is a part of what we're here to learn. — Dean Koontz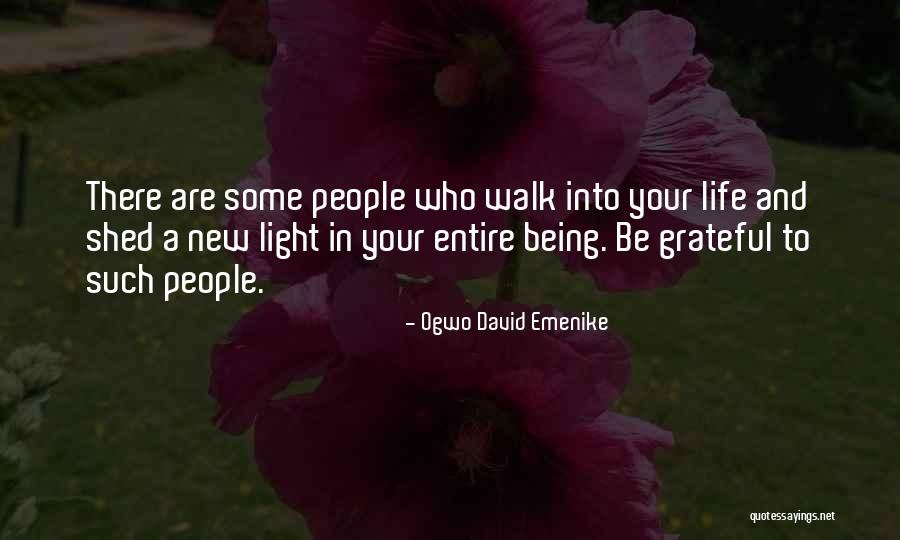 There are some people who walk into your life and shed a new light in your entire being. Be grateful to such people. — Ogwo David Emenike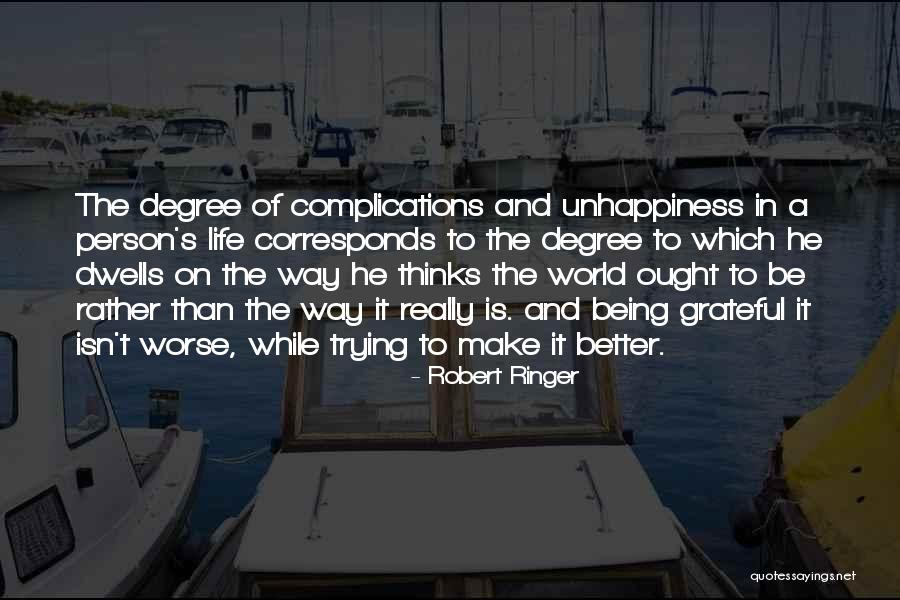 The degree of complications and unhappiness in a person's life corresponds to the degree to which he dwells on the way he thinks the world ought to be rather than the way it really is. and being grateful it isn't worse, while trying to make it better. — Robert Ringer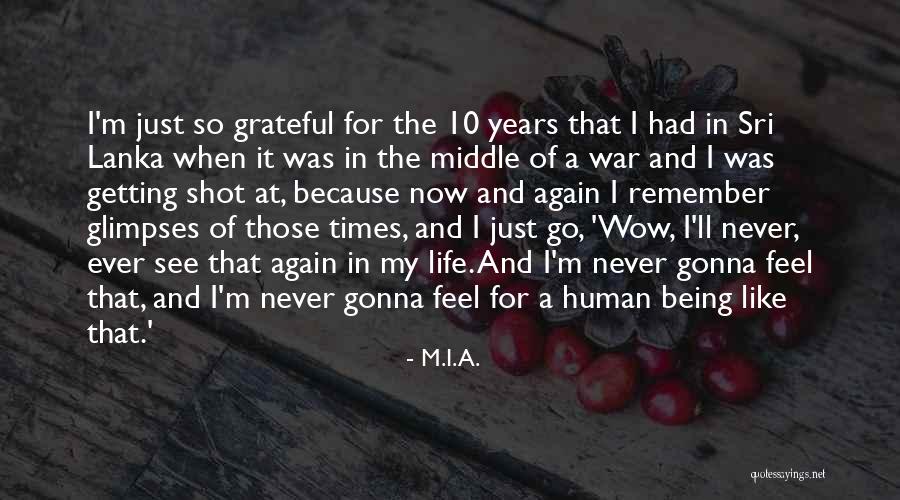 I'm just so grateful for the 10 years that I had in Sri Lanka when it was in the middle of a war and I was getting shot at, because now and again I remember glimpses of those times, and I just go, 'Wow, I'll never, ever see that again in my life. And I'm never gonna feel that, and I'm never gonna feel for a human being like that.' — M.I.A.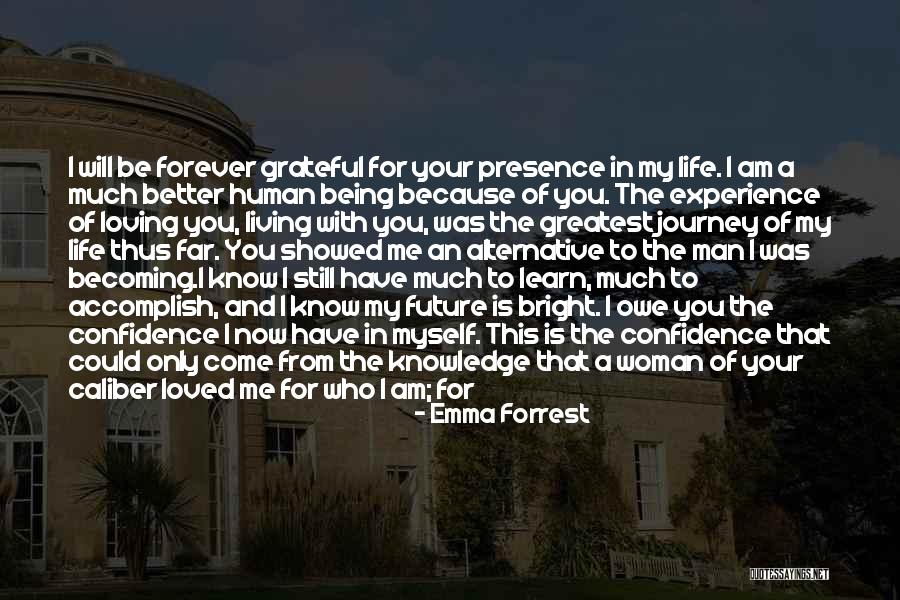 I will be forever grateful for your presence in my life. I am a much better human being because of you. The experience of loving you, living with you, was the greatest journey of my life thus far. You showed me an alternative to the man I was becoming.
I know I still have much to learn, much to accomplish, and I know my future is bright. I owe you the confidence I now have in myself. This is the confidence that could only come from the knowledge that a woman of your caliber loved me for who I am; for what you saw in me.
You are a great woman and I mean that in the strongest sense of the phrase. You feel deeply, think deeply, and live deeply. I admire so much about you. Regardless of whether our paths cross again, know that I am actively wishing you success and happiness. I pray that you will once again be part of my life. But if left with just the experience we've shared, I know my life was better because of it. — Emma Forrest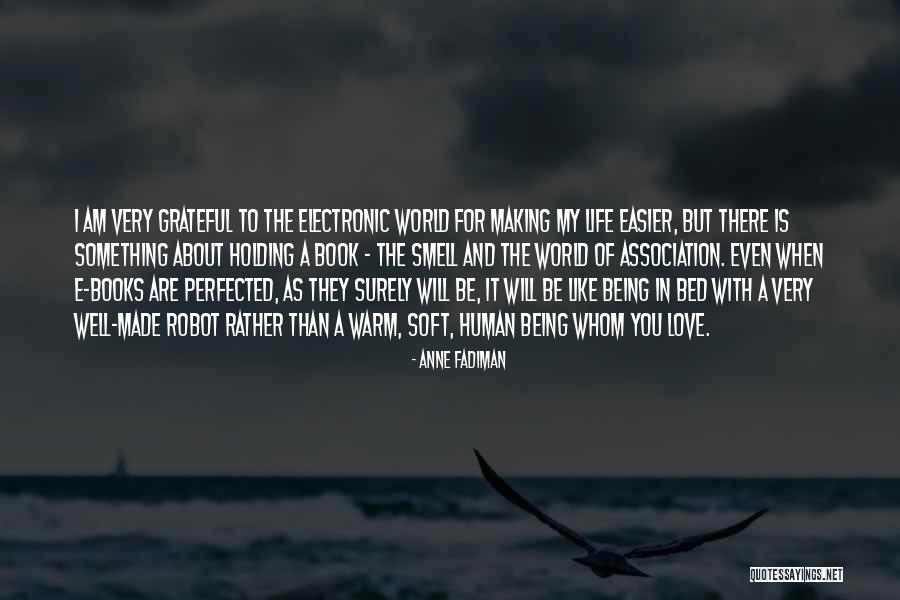 I am very grateful to the electronic world for making my life easier, but there is something about holding a book - the smell and the world of association. Even when e-books are perfected, as they surely will be, it will be like being in bed with a very well-made robot rather than a warm, soft, human being whom you love. — Anne Fadiman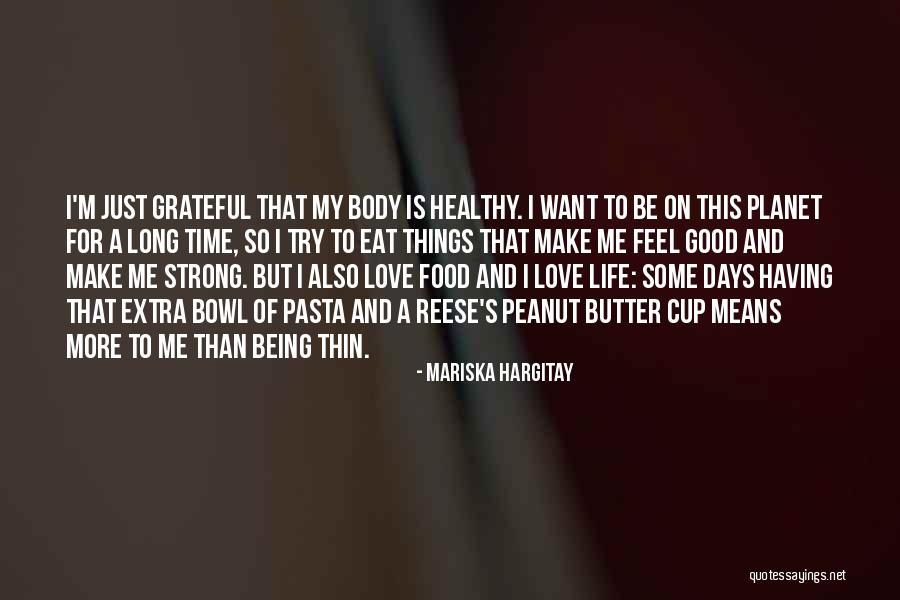 I'm just grateful that my body is healthy. I want to be on this planet for a long time, so I try to eat things that make me feel good and make me strong. But I also love food and I love life: Some days having that extra bowl of pasta and a Reese's Peanut Butter Cup means more to me than being thin. — Mariska Hargitay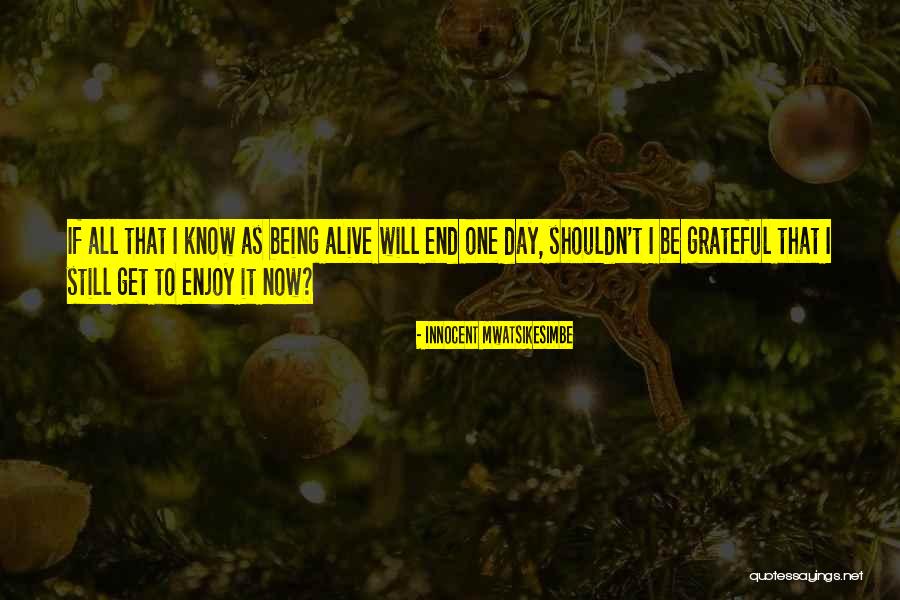 If all that I know as being alive will end one day, shouldn't I be grateful that I still get to enjoy it now? — Innocent Mwatsikesimbe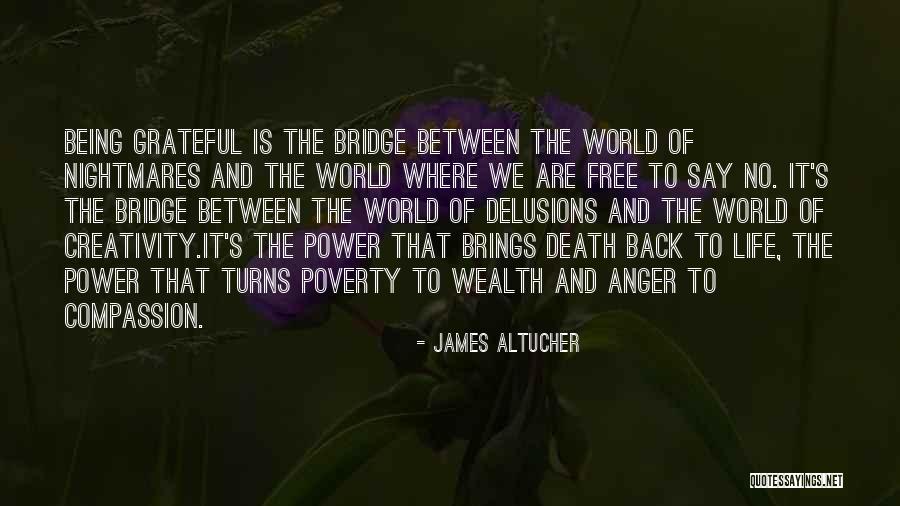 Being grateful is the bridge between the world of nightmares and the world where we are free to say no. It's the bridge between the world of delusions and the world of creativity.
It's the power that brings death back to life, the power that turns poverty to wealth and anger to compassion. — James Altucher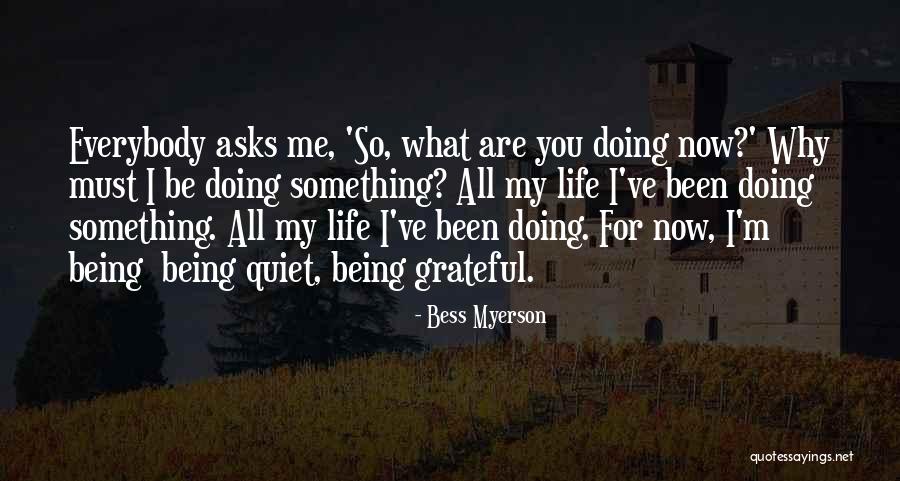 Everybody asks me, 'So, what are you doing now?' Why must I be doing something? All my life I've been doing something. All my life I've been doing. For now, I'm being
being quiet, being grateful. — Bess Myerson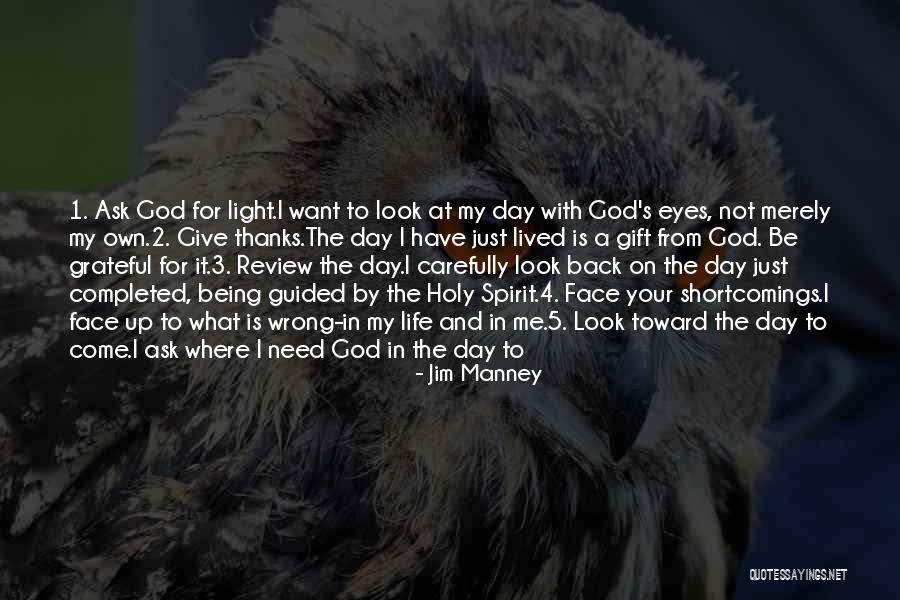 1. Ask God for light.
I want to look at my day with God's eyes, not merely my own.
2. Give thanks.
The day I have just lived is a gift from God. Be grateful for it.
3. Review the day.
I carefully look back on the day just completed, being guided by the Holy Spirit.
4. Face your shortcomings.
I face up to what is wrong-in my life and in me.
5. Look toward the day to come.
I ask where I need God in the day to — Jim Manney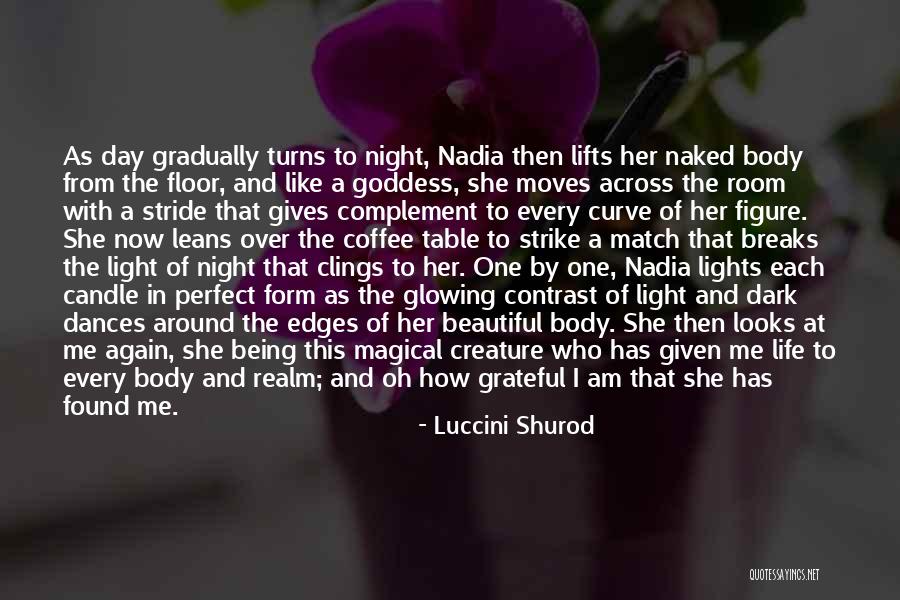 As day gradually turns to night, Nadia then lifts her naked body from the floor, and like a goddess, she moves across the room with a stride that gives complement to every curve of her figure. She now leans over the coffee table to strike a match that breaks the light of night that clings to her. One by one, Nadia lights each candle in perfect form as the glowing contrast of light and dark dances around the edges of her beautiful body. She then looks at me again, she being this magical creature who has given me life to every body and realm; and oh how grateful I am that she has found me. — Luccini Shurod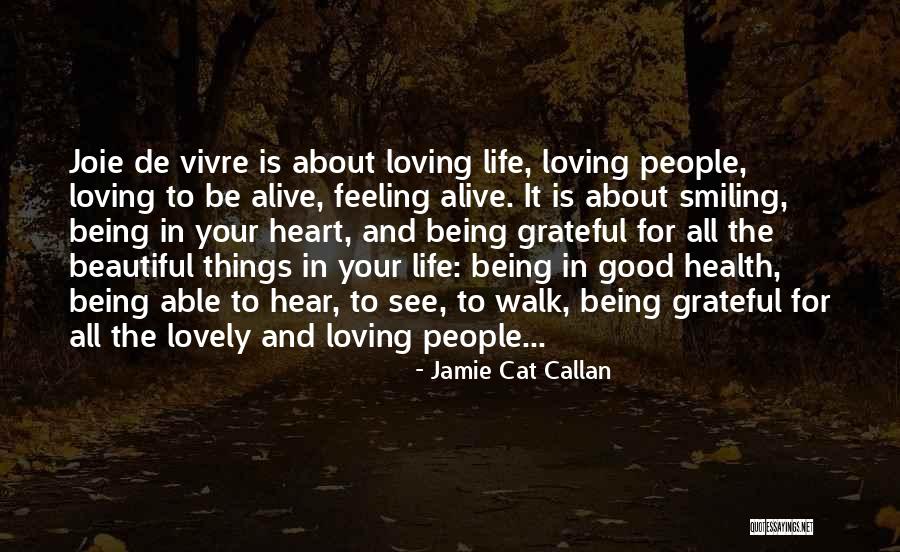 Joie de vivre is about loving life, loving people, loving to be alive, feeling alive. It is about smiling, being in your heart, and being grateful for all the beautiful things in your life: being in good health, being able to hear, to see, to walk, being grateful for all the lovely and loving people... — Jamie Cat Callan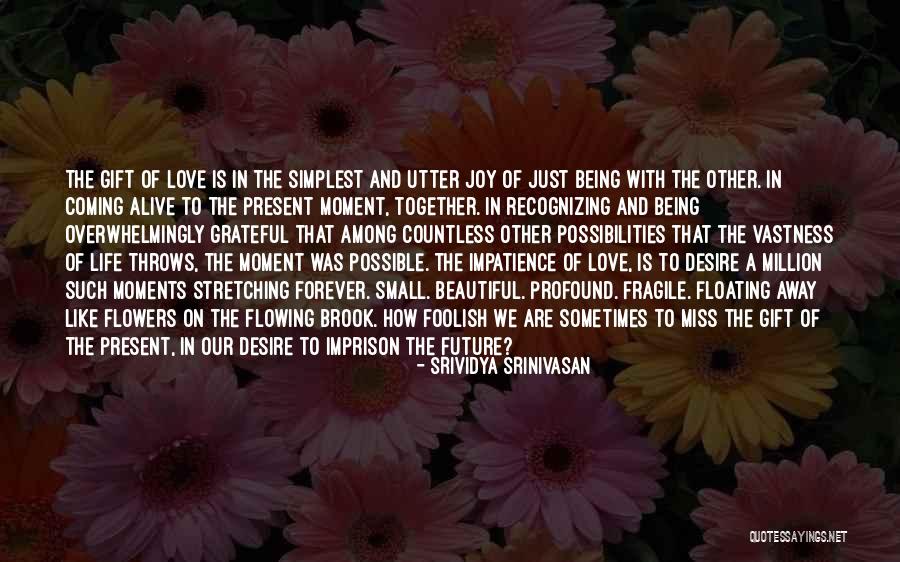 The gift of love is in the simplest and utter joy of just being with the other. In coming alive to the present moment, together. In recognizing and being overwhelmingly grateful that among countless other possibilities that the vastness of life throws, the moment was possible. The impatience of love, is to desire a million such moments stretching forever. Small. Beautiful. Profound. Fragile. Floating away like flowers on the flowing brook. How foolish we are sometimes to miss the gift of the present, in our desire to imprison the future? — Srividya Srinivasan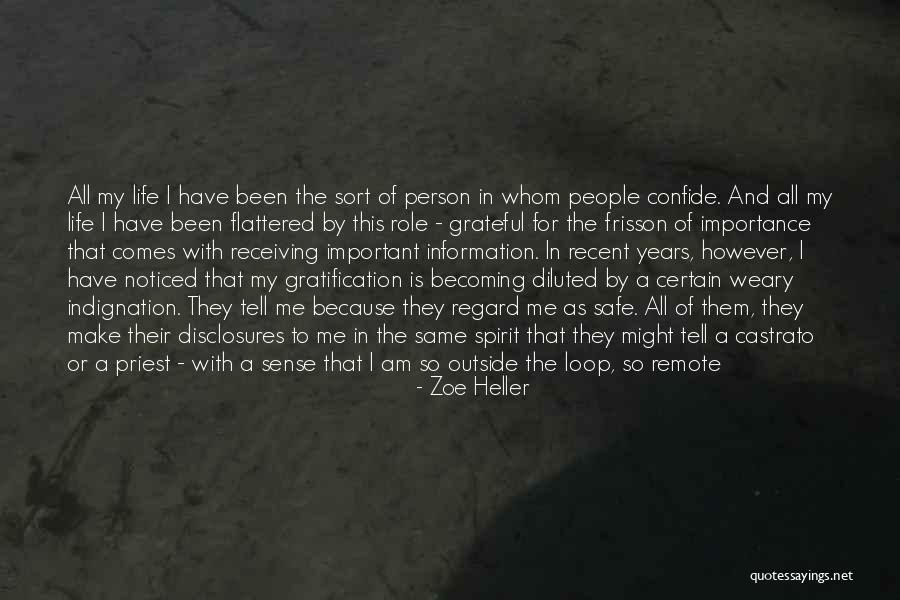 All my life I have been the sort of person in whom people confide. And all my life I have been flattered by this role - grateful for the frisson of importance that comes with receiving important information. In recent years, however, I have noticed that my gratification is becoming diluted by a certain weary indignation. They tell me because they regard me as safe. All of them, they make their disclosures to me in the same spirit that they might tell a castrato or a priest - with a sense that I am so outside the loop, so remote from the doings of the great world, as to be defused of any possible threat. The number of secrets I receive is in inverse proportion to the number of secrets anyone expects me to have of my own. And this is the real source of my dismay. Being told secrets is not - never has been - a sign that I belong or that I matter. It is quite the opposite: confirmation of my irrelevance. — Zoe Heller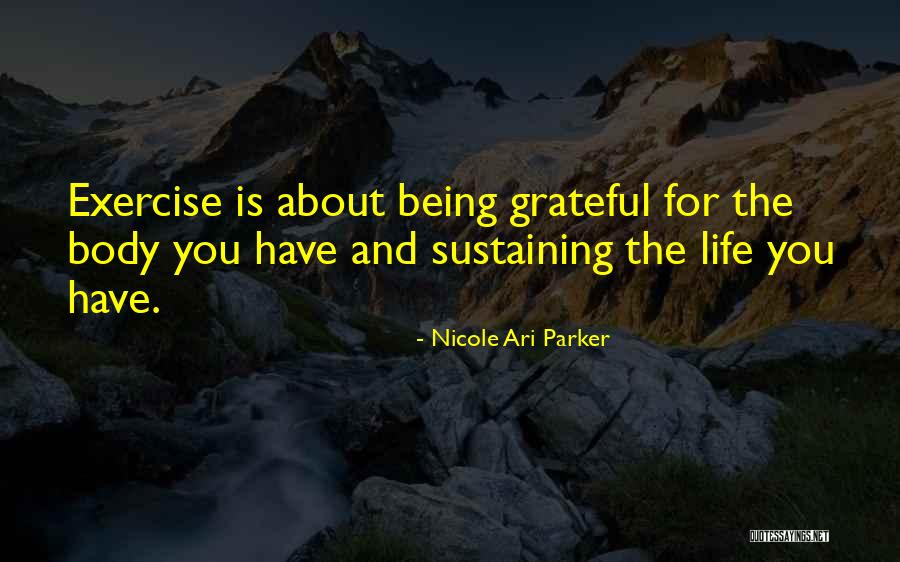 Exercise is about being grateful for the body you have and sustaining the life you have. — Nicole Ari Parker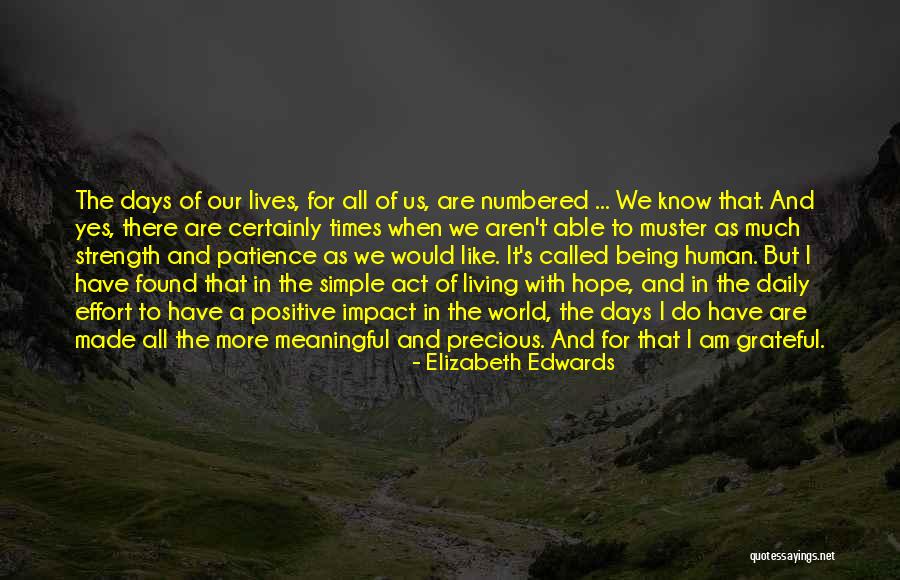 The days of our lives, for all of us, are numbered ... We know that. And yes, there are certainly times when we aren't able to muster as much strength and patience as we would like. It's called being human. But I have found that in the simple act of living with hope, and in the daily effort to have a positive impact in the world, the days I do have are made all the more meaningful and precious. And for that I am grateful. — Elizabeth Edwards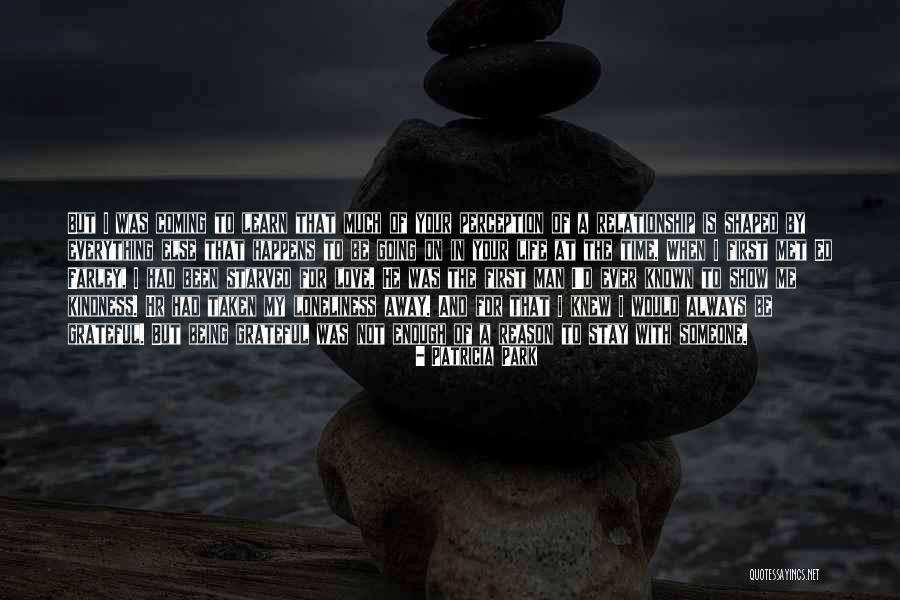 But I was coming to learn that much of your perception of a relationship is shaped by everything else that happens to be going on in your life at the time. When I first met Ed Farley, I had been starved for love. He was the first man I'd ever known to show me kindness. Hr had taken my loneliness away. And for that I knew I would always be grateful. But being grateful was not enough of a reason to stay with someone. — Patricia Park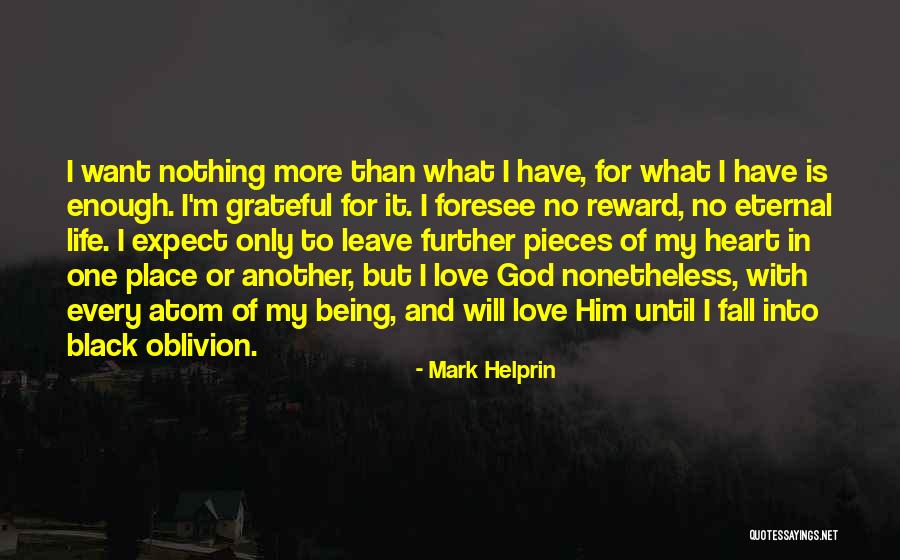 I want nothing more than what I have, for what I have is enough. I'm grateful for it. I foresee no reward, no eternal life. I expect only to leave further pieces of my heart in one place or another, but I love God nonetheless, with every atom of my being, and will love Him until I fall into black oblivion. — Mark Helprin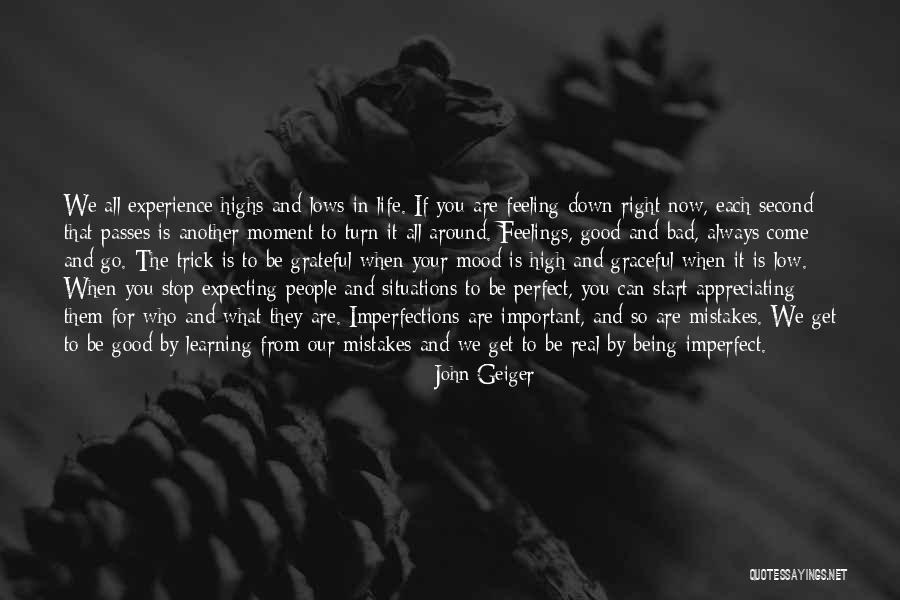 We all experience highs and lows in life. If you are feeling down right now, each second that passes is another moment to turn it all around. Feelings, good and bad, always come and go. The trick is to be grateful when your mood is high and graceful when it is low. When you stop expecting people and situations to be perfect, you can start appreciating them for who and what they are. Imperfections are important, and so are mistakes. We get to be good by learning from our mistakes and we get to be real by being imperfect. — John Geiger