Quotes & Sayings About Being Done With Friends
Enjoy reading and share 66 famous quotes about Being Done With Friends with everyone.
Top Being Done With Friends Quotes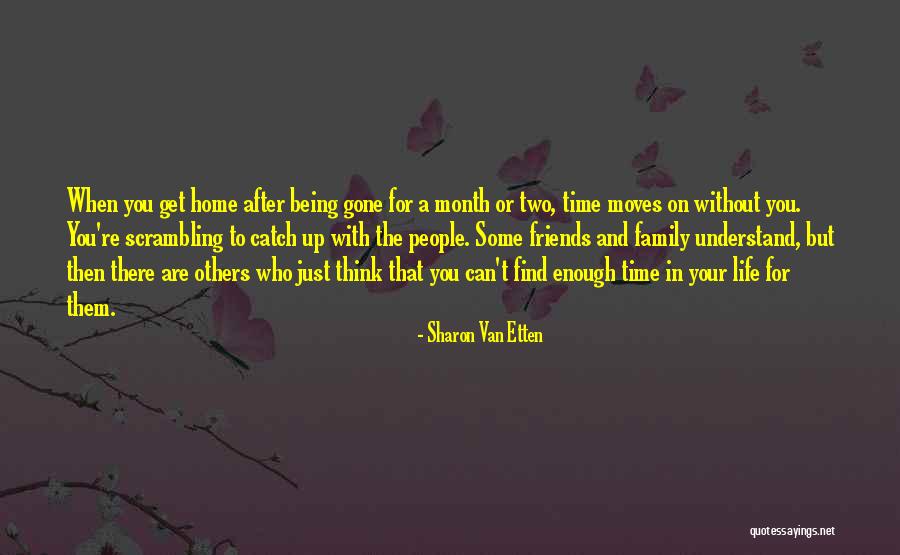 When you get home after being gone for a month or two, time moves on without you. You're scrambling to catch up with the people. Some friends and family understand, but then there are others who just think that you can't find enough time in your life for them. — Sharon Van Etten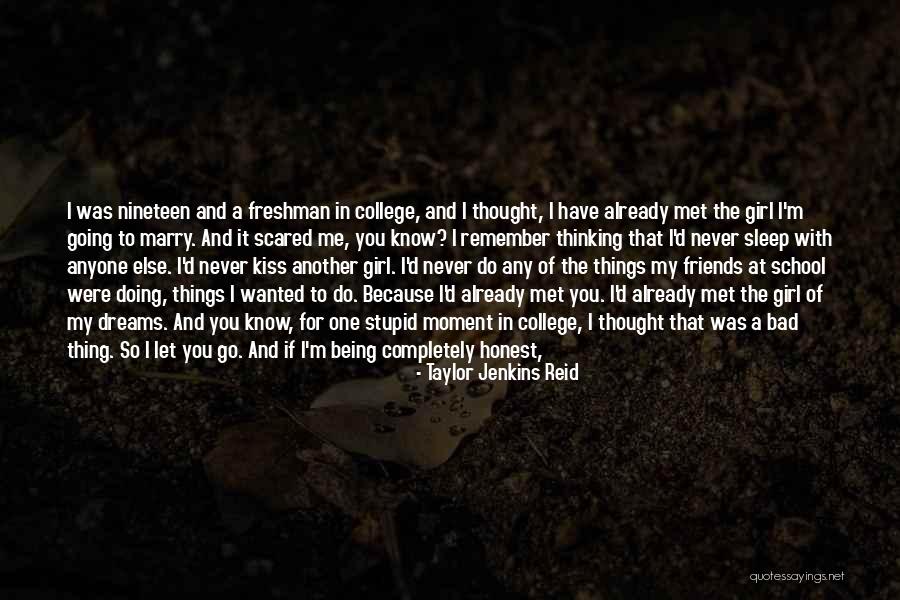 I was nineteen and a freshman in college, and I thought, I have already met the girl I'm going to marry. And it scared me, you know? I remember thinking that I'd never sleep with anyone else. I'd never kiss another girl. I'd never do any of the things my friends at school were doing, things I wanted to do. Because I'd already met you. I'd already met the girl of my dreams. And you know, for one stupid moment in college, I thought that was a bad thing. So I let you go. And if I'm being completely honest, even though it makes me sound like a total jerk, I always thought I'd get you back. I thought I could break up with you and have my fun and be young, and then, when I was done, I'd go get you back. It never occurred to me that you have to hold those things sacred. — Taylor Jenkins Reid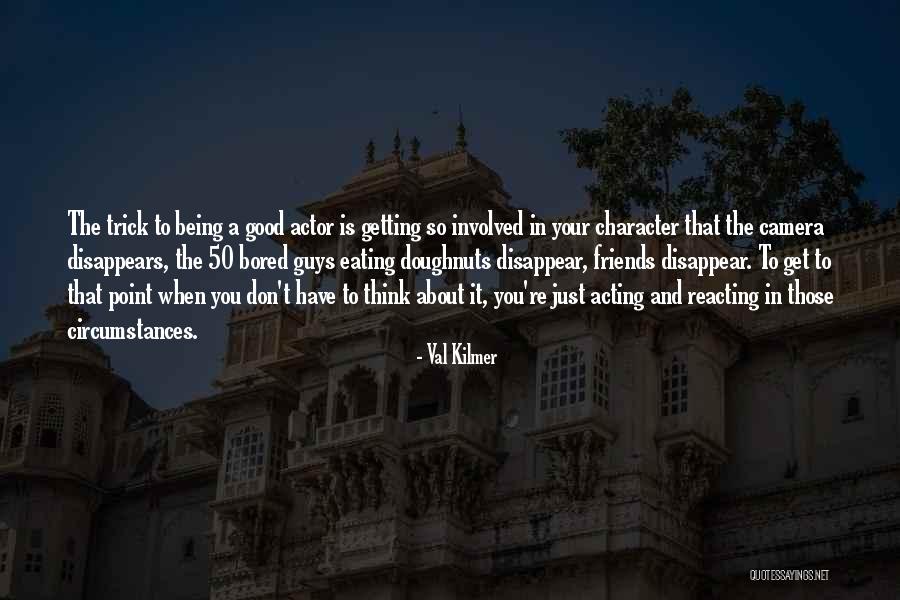 The trick to being a good actor is getting so involved in your character that the camera disappears, the 50 bored guys eating doughnuts disappear, friends disappear. To get to that point when you don't have to think about it, you're just acting and reacting in those circumstances. — Val Kilmer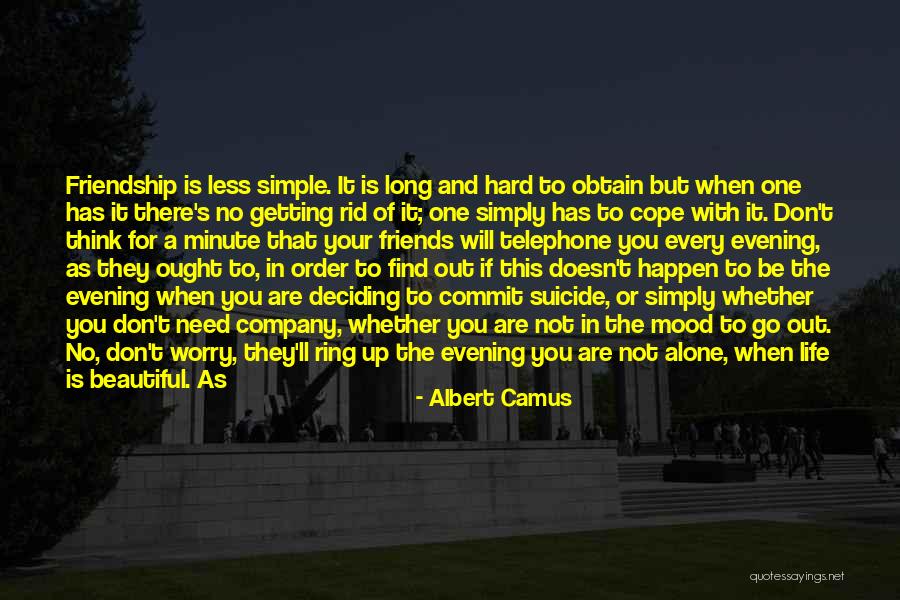 Friendship is less simple. It is long and hard to obtain but when one has it there's no getting rid of it; one simply has to cope with it. Don't think for a minute that your friends will telephone you every evening, as they ought to, in order to find out if this doesn't happen to be the evening when you are deciding to commit suicide, or simply whether you don't need company, whether you are not in the mood to go out. No, don't worry, they'll ring up the evening you are not alone, when life is beautiful. As for suicide, they would be more likely to push you to it, by virtue of what you owe to yourself, according to them. May heaven protect us, cher Monsieur, from being set upon a pedestal by our friends! — Albert Camus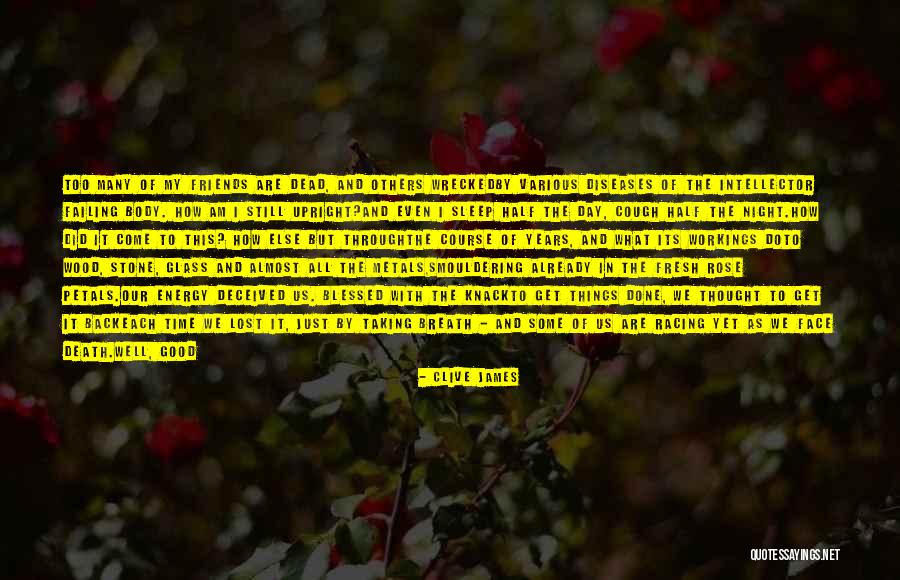 Too many of my friends are dead, and others wrecked
By various diseases of the intellect
Or failing body. How am I still upright?
And even I sleep half the day, cough half the night.

How did it come to this? How else but through
The course of years, and what its workings do
To wood, stone, glass and almost all the metals,
Smouldering already in the fresh rose petals.

Our energy deceived us. Blessed with the knack
To get things done, we thought to get it back
Each time we lost it, just by taking breath -
And some of us are racing yet as we face death.

Well, good to see you. Sorry I have to fly.
I'm struggling with a deadline, God knows why,
And ghosts keep interrupting. Think of me
The way I do of you. Quite often. Constantly. — Clive James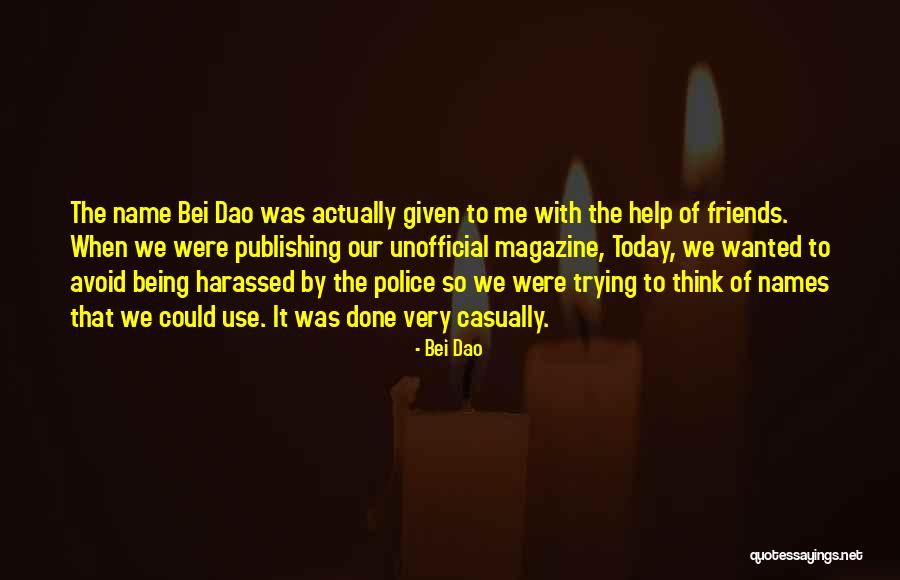 The name Bei Dao was actually given to me with the help of friends. When we were publishing our unofficial magazine, Today, we wanted to avoid being harassed by the police so we were trying to think of names that we could use. It was done very casually. — Bei Dao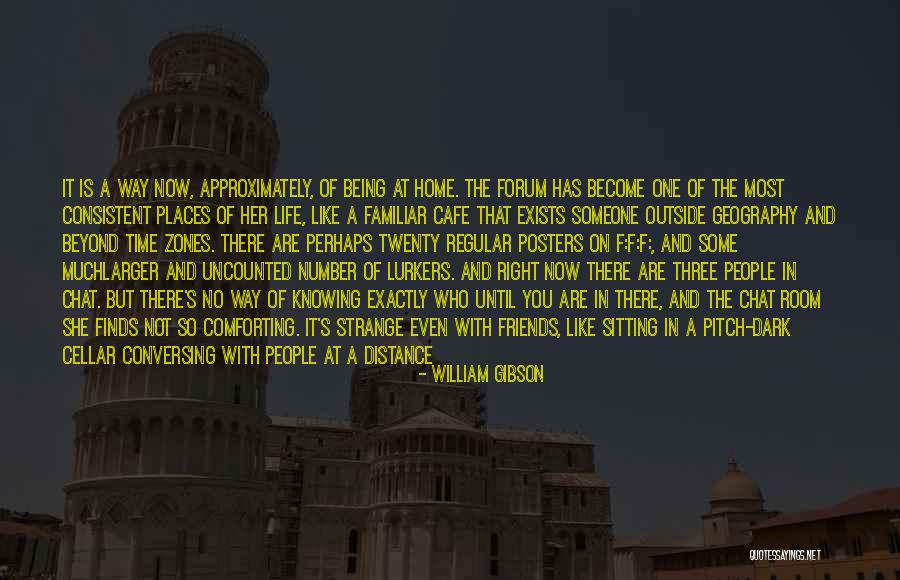 It is a way now, approximately, of being at home. The forum has become one of the most consistent places of her life, like a familiar cafe that exists someone outside geography and beyond time zones.
There are perhaps twenty regular posters on F:F:F:, and some muchlarger and uncounted number of lurkers. And right now there are three people in Chat. But there's no way of knowing exactly who until you are in there, and the chat room she finds not so comforting. It's strange even with friends, like sitting in a pitch-dark cellar conversing with people at a distance of about fifteen feet. the hectic speed, and the brevity of the lines in the thread, plus the feeling that everyone is talking at once, at counmter-purposes, deter her. — William Gibson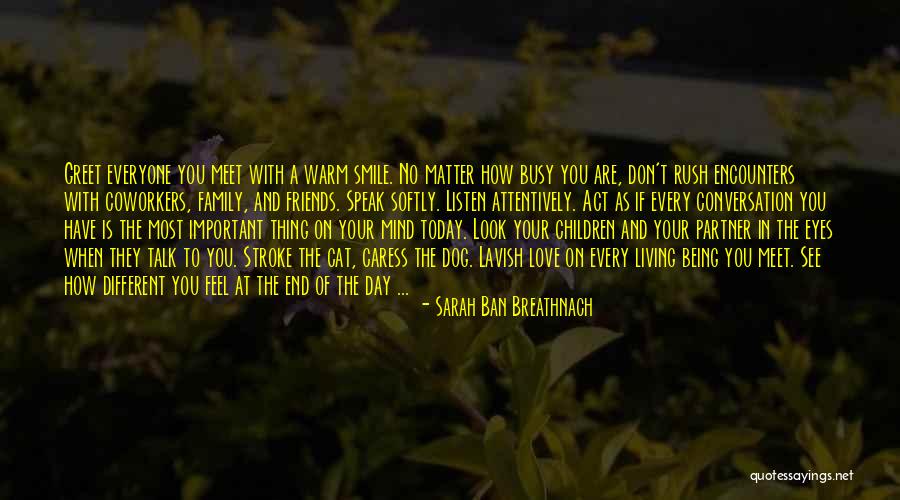 Greet everyone you meet with a warm smile. No matter how busy you are, don't rush encounters with coworkers, family, and friends. Speak softly. Listen attentively. Act as if every conversation you have is the most important thing on your mind today. Look your children and your partner in the eyes when they talk to you. Stroke the cat, caress the dog. Lavish love on every living being you meet. See how different you feel at the end of the day ... — Sarah Ban Breathnach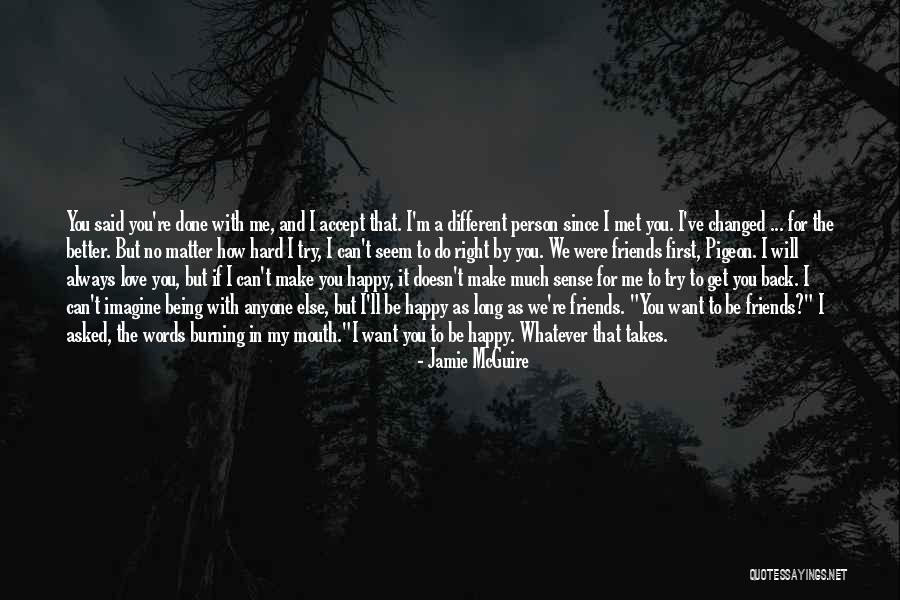 You said you're done with me, and I accept that. I'm a different person since I met you. I've changed ... for the better. But no matter how hard I try, I can't seem to do right by you. We were friends first, Pigeon. I will always love you, but if I can't make you happy, it doesn't make much sense for me to try to get you back. I can't imagine being with anyone else, but I'll be happy as long as we're friends.
"You want to be friends?" I asked, the words burning in my mouth.
"I want you to be happy. Whatever that takes. — Jamie McGuire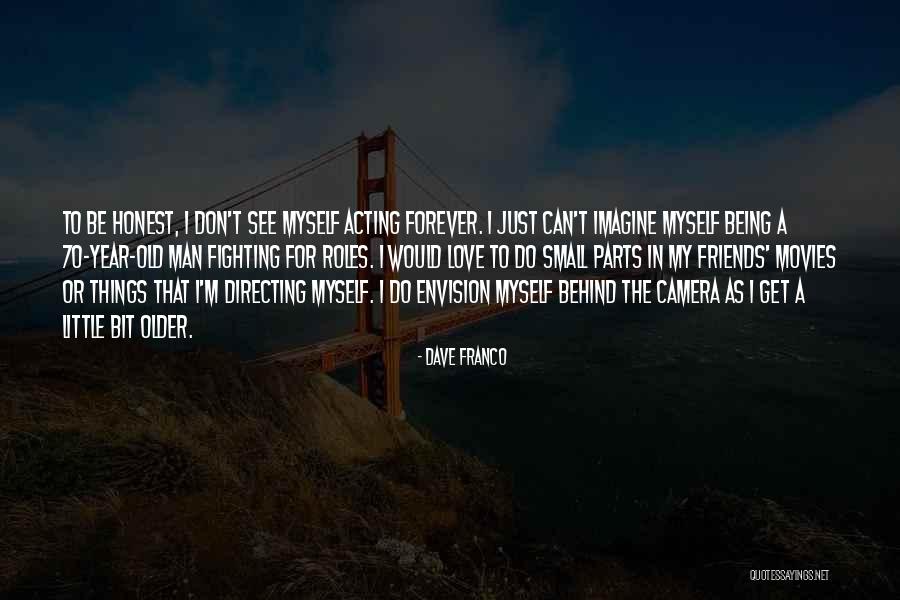 To be honest, I don't see myself acting forever. I just can't imagine myself being a 70-year-old man fighting for roles. I would love to do small parts in my friends' movies or things that I'm directing myself. I do envision myself behind the camera as I get a little bit older. — Dave Franco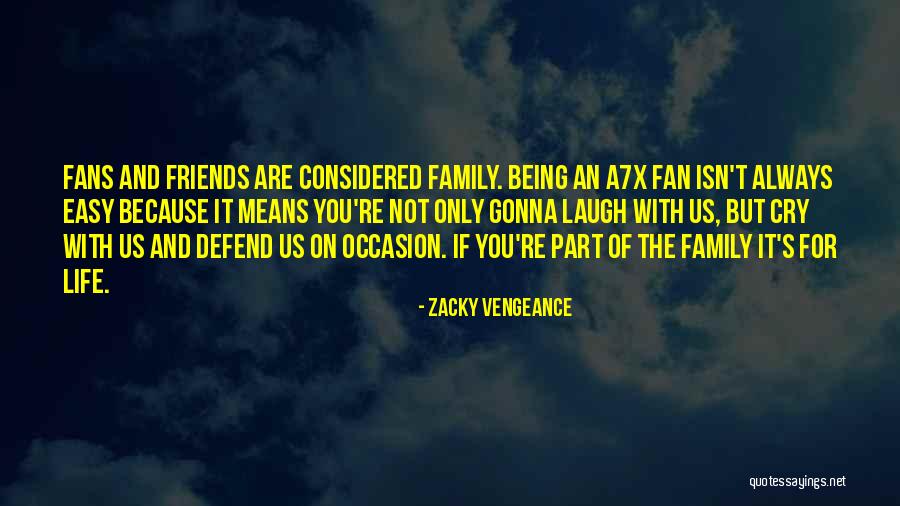 Fans and friends are considered family. Being an A7X fan isn't always easy because it means you're not only gonna laugh with us, but cry with us and defend us on occasion. If you're part of the family it's for life. — Zacky Vengeance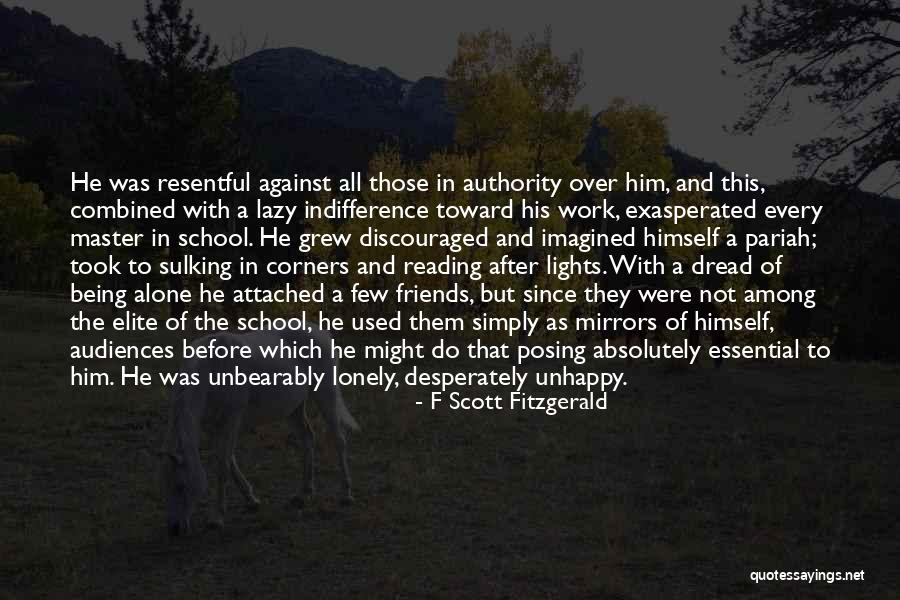 He was resentful against all those in authority over him, and this, combined with a lazy indifference toward his work, exasperated every master in school. He grew discouraged and imagined himself a pariah; took to sulking in corners and reading after lights. With a dread of being alone he attached a few friends, but since they were not among the elite of the school, he used them simply as mirrors of himself, audiences before which he might do that posing absolutely essential to him. He was unbearably lonely, desperately unhappy. — F Scott Fitzgerald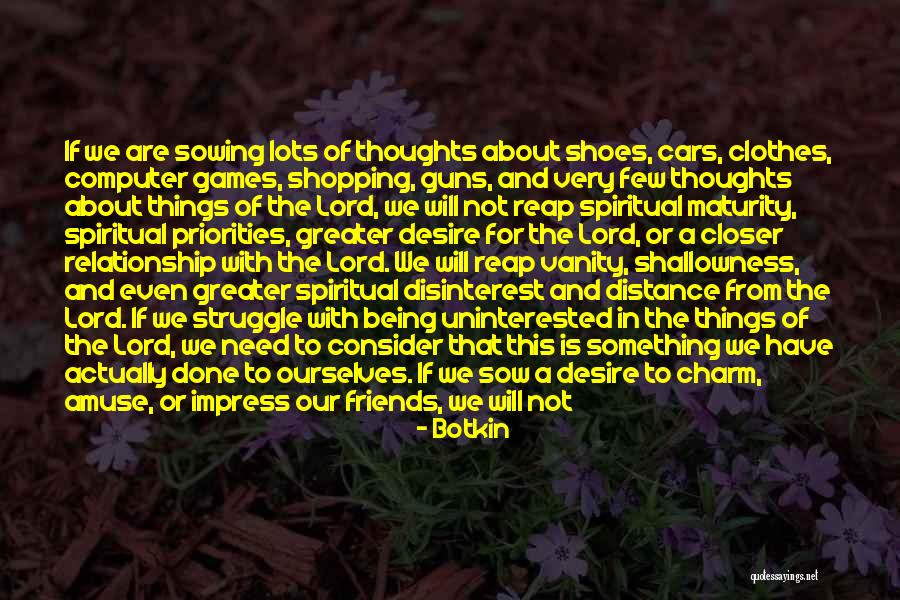 If we are sowing lots of thoughts about shoes, cars, clothes, computer games, shopping, guns, and very few thoughts about things of the Lord, we will not reap spiritual maturity, spiritual priorities, greater desire for the Lord, or a closer relationship with the Lord. We will reap vanity, shallowness, and even greater spiritual disinterest and distance from the Lord. If we struggle with being uninterested in the things of the Lord, we need to consider that this is something we have actually done to ourselves. If we sow a desire to charm, amuse, or impress our friends, we will not reap relationships based on a selfless, sacrificial, Christ-like interest in our friend's spiritual welfare. We will reap self-serving, exploitive relationships that can actually drag our friends down. This is a life and death matter: what you are sowing in every little conversation that you have. Are you building up, edifying your friends? — Botkin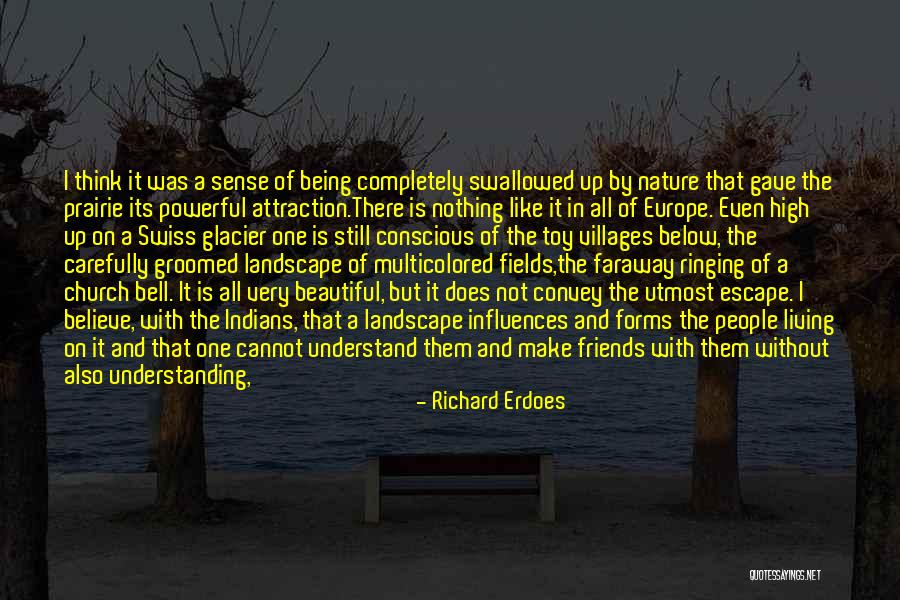 I think it was a sense of being completely swallowed up by nature that gave the prairie its powerful attraction.There is nothing like it in all of Europe. Even high up on a Swiss glacier one is still conscious of the toy villages below, the carefully groomed landscape of multicolored fields,the faraway ringing of a church bell. It is all very beautiful, but it does not convey the utmost escape. I believe, with the Indians, that a landscape influences and forms the people living on it and that one cannot understand them and make friends with them without also understanding, and making friends with, the earth from which they came. — Richard Erdoes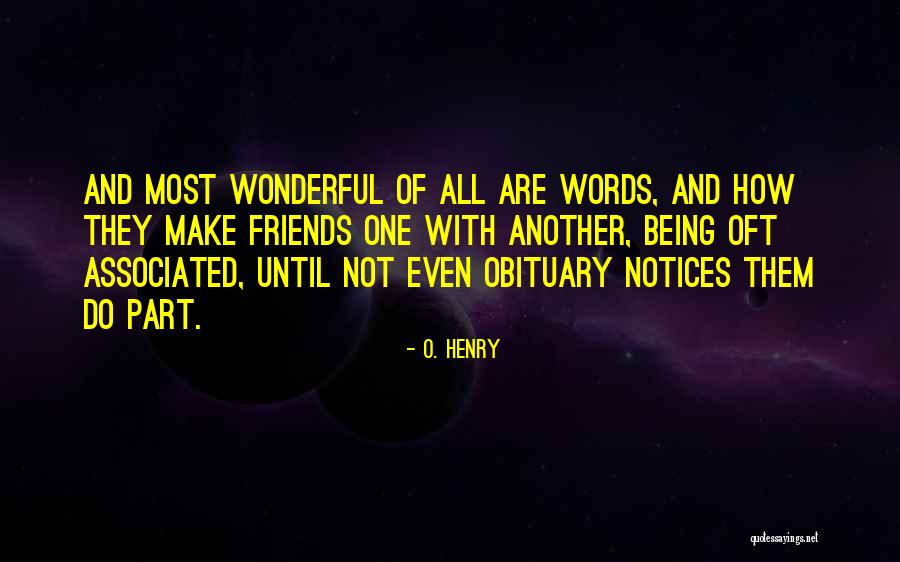 And most wonderful of all are words, and how they make friends one with another, being oft associated, until not even obituary notices them do part. — O. Henry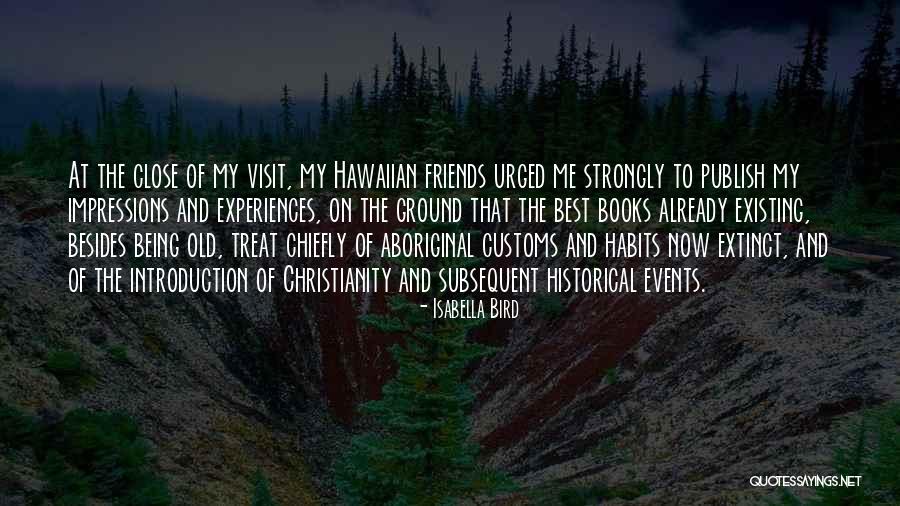 At the close of my visit, my Hawaiian friends urged me strongly to publish my impressions and experiences, on the ground that the best books already existing, besides being old, treat chiefly of aboriginal customs and habits now extinct, and of the introduction of Christianity and subsequent historical events. — Isabella Bird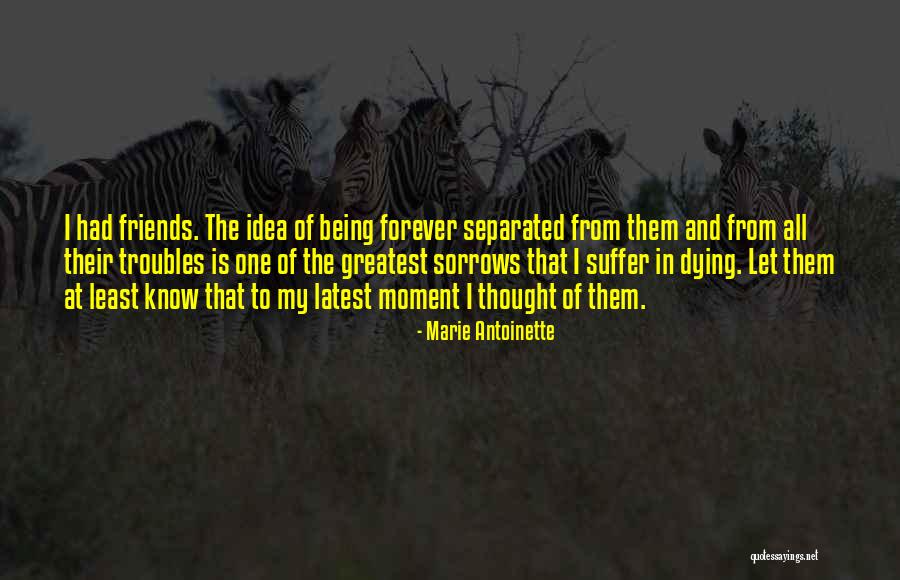 I had friends. The idea of being forever separated from them and from all their troubles is one of the greatest sorrows that I suffer in dying. Let them at least know that to my latest moment I thought of them. — Marie Antoinette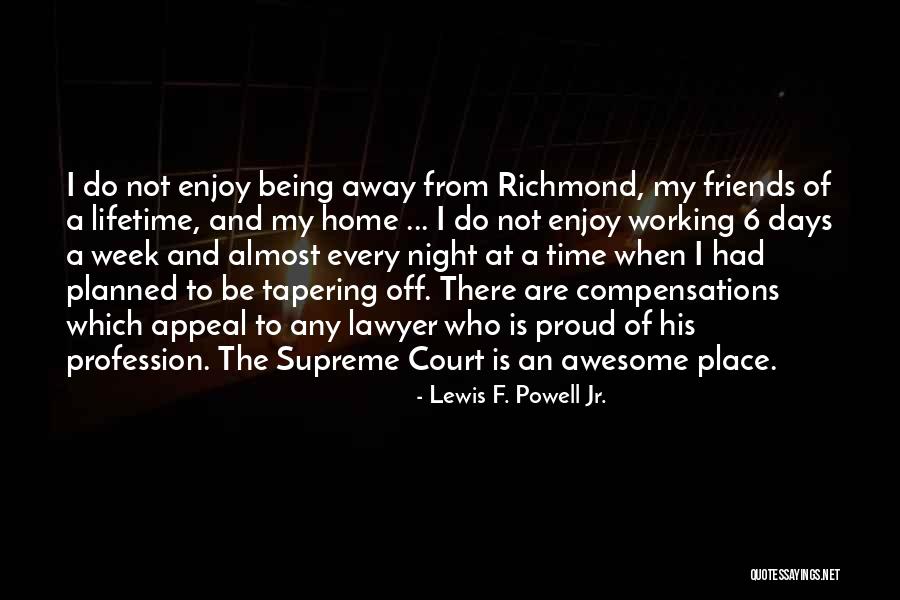 I do not enjoy being away from Richmond, my friends of a lifetime, and my home ... I do not enjoy working 6 days a week and almost every night at a time when I had planned to be tapering off. There are compensations which appeal to any lawyer who is proud of his profession. The Supreme Court is an awesome place. — Lewis F. Powell Jr.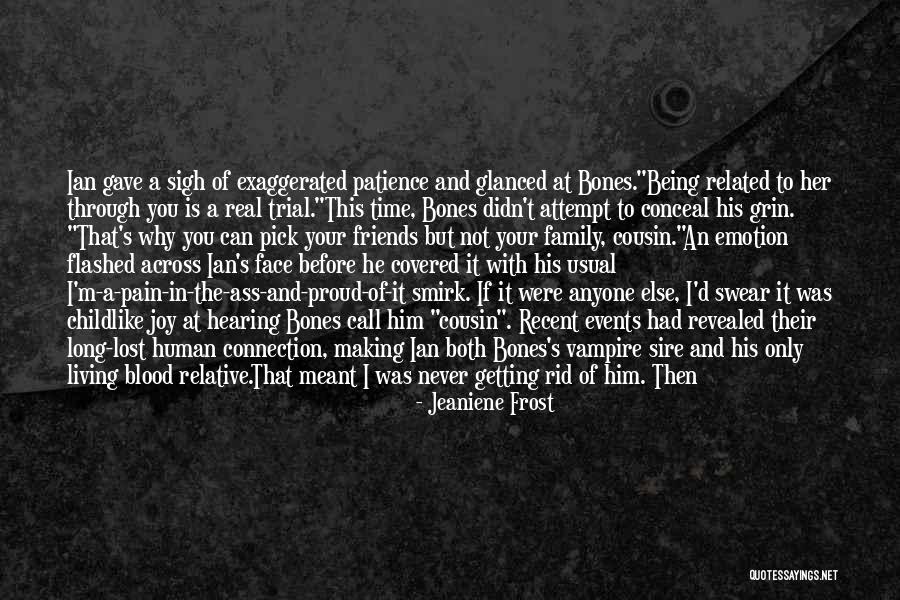 Ian gave a sigh of exaggerated patience and glanced at Bones.
"Being related to her through you is a real trial."
This time, Bones didn't attempt to conceal his grin. "That's why you can pick your friends but not your family, cousin."
An emotion flashed across Ian's face before he covered it with his usual I'm-a-pain-in-the-ass-and-proud-of-it smirk. If it were anyone else, I'd swear it was childlike joy at hearing Bones call him "cousin". Recent events had revealed their long-lost human connection, making Ian both Bones's vampire sire and his only living blood relative.
That meant I was never getting rid of him. Then again, considering what my blood relatives had done, Ian was almost a saint by comparison. — Jeaniene Frost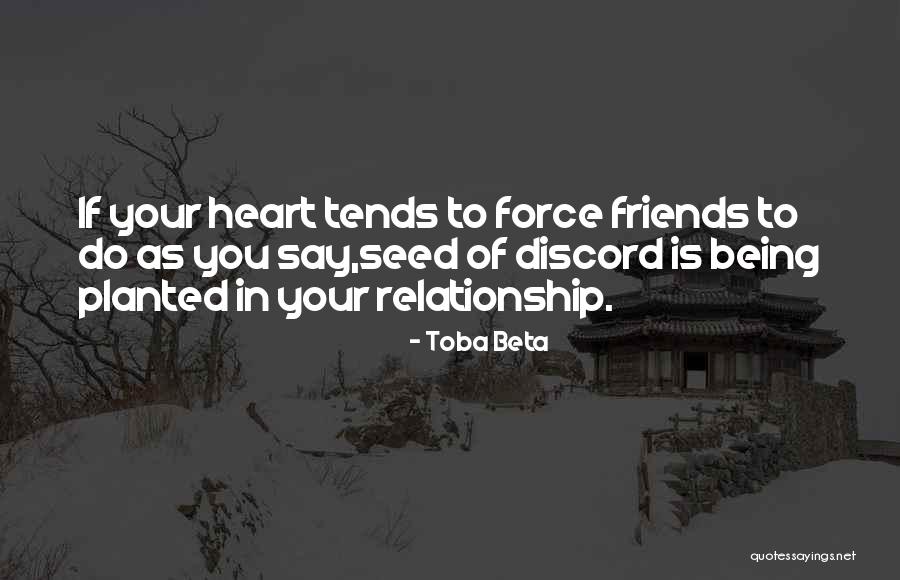 If your heart tends to force friends to do as you say,
seed of discord is being planted in your relationship. — Toba Beta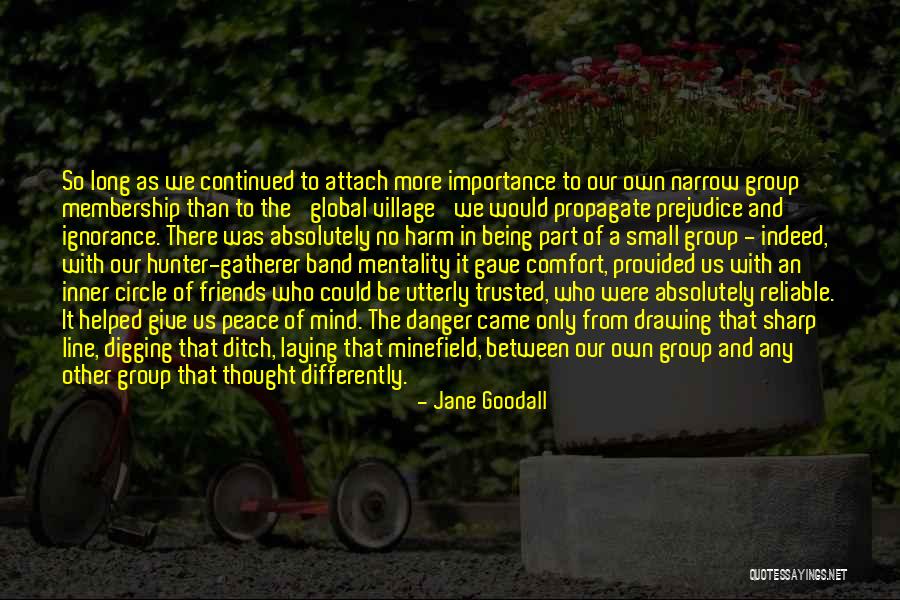 So long as we continued to attach more importance to our own narrow group membership than to the 'global village' we would propagate prejudice and ignorance. There was absolutely no harm in being part of a small group - indeed, with our hunter-gatherer band mentality it gave comfort, provided us with an inner circle of friends who could be utterly trusted, who were absolutely reliable. It helped give us peace of mind. The danger came only from drawing that sharp line, digging that ditch, laying that minefield, between our own group and any other group that thought differently. — Jane Goodall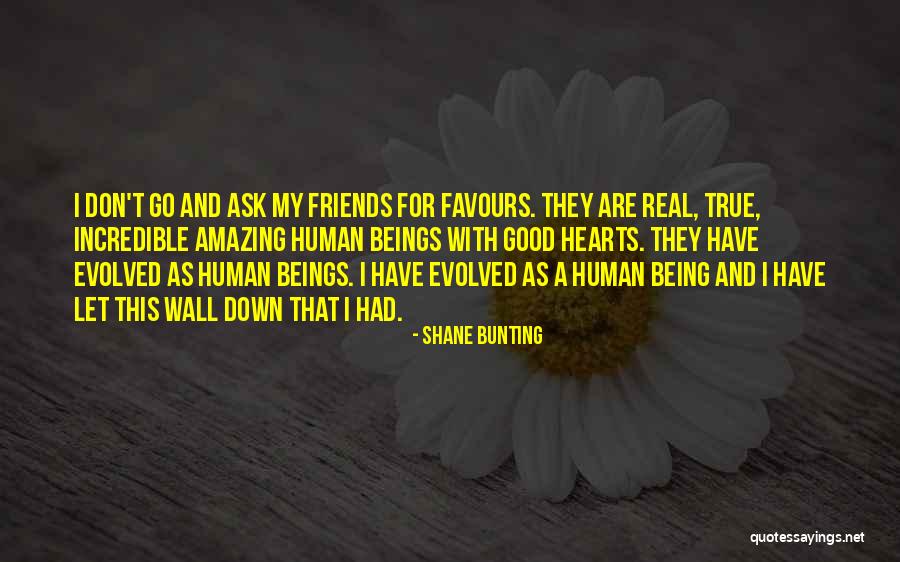 I don't go and ask my friends for favours. They are real, true, incredible amazing human beings with good hearts. They have evolved as human beings. I have evolved as a human being and I have let this wall down that I had. — Shane Bunting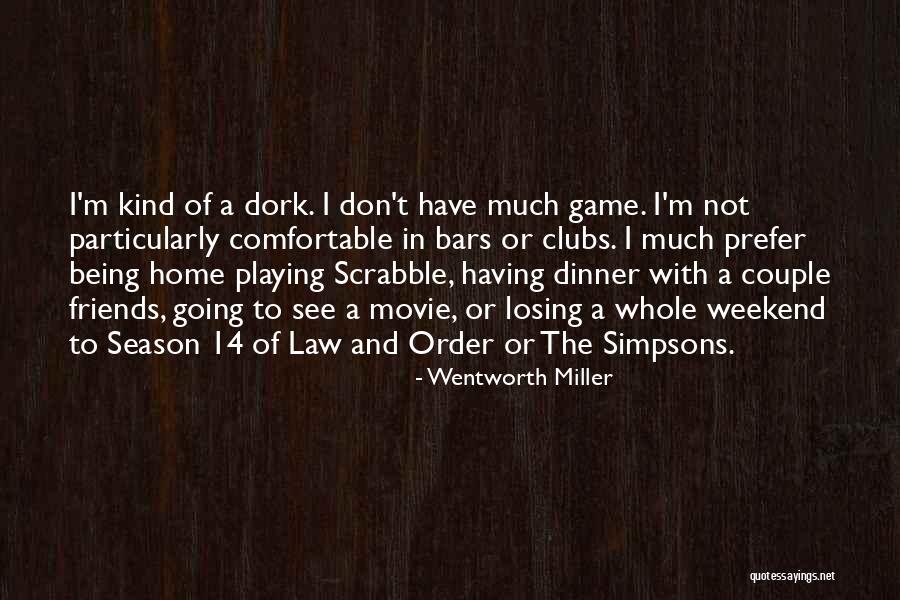 I'm kind of a dork. I don't have much game. I'm not particularly comfortable in bars or clubs. I much prefer being home playing Scrabble, having dinner with a couple friends, going to see a movie, or losing a whole weekend to Season 14 of Law and Order or The Simpsons. — Wentworth Miller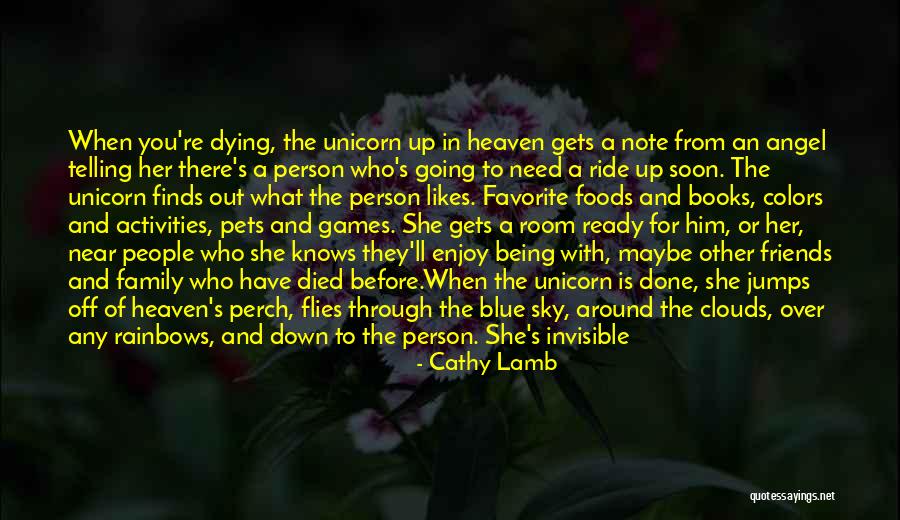 When you're dying, the unicorn up in heaven gets a note from an angel telling her there's a person who's going to need a ride up soon. The unicorn finds out what the person likes. Favorite foods and books, colors and activities, pets and games. She gets a room ready for him, or her, near people who she knows they'll enjoy being with, maybe other friends and family who have died before.
When the unicorn is done, she jumps off of heaven's perch, flies through the blue sky, around the clouds, over any rainbows, and down to the person. She's invisible to everyone. She patiently waits. When the person dies, she gathers them up on her back, using her hooves and horn. All of a sudden, they sit up straight and smile, they laugh, because they're on top of a unicorn and alive again. They hold on tight to her golden reins and the unicorn takes them to their new home, where they're happy. — Cathy Lamb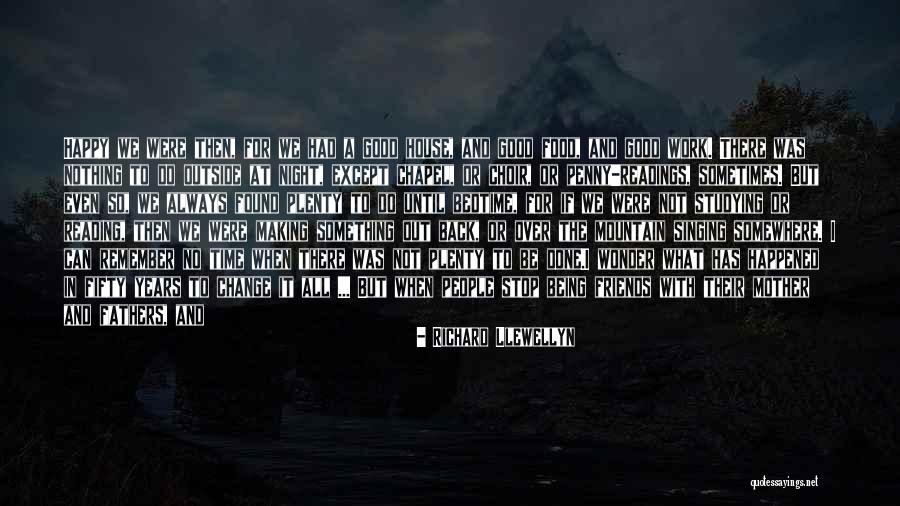 Happy we were then, for we had a good house, and good food, and good work. There was nothing to do outside at night, except chapel, or choir, or penny-readings, sometimes. But even so, we always found plenty to do until bedtime, for if we were not studying or reading, then we were making something out back, or over the mountain singing somewhere. I can remember no time when there was not plenty to be done.
I wonder what has happened in fifty years to change it all ... But when people stop being friends with their mother and fathers, and itching to be out of the house, and going mad for other things to do, I cannot think. It is like an asthma, that comes on a man quickly. He has no notion how he had it, but there it is, and nothing can cure it. — Richard Llewellyn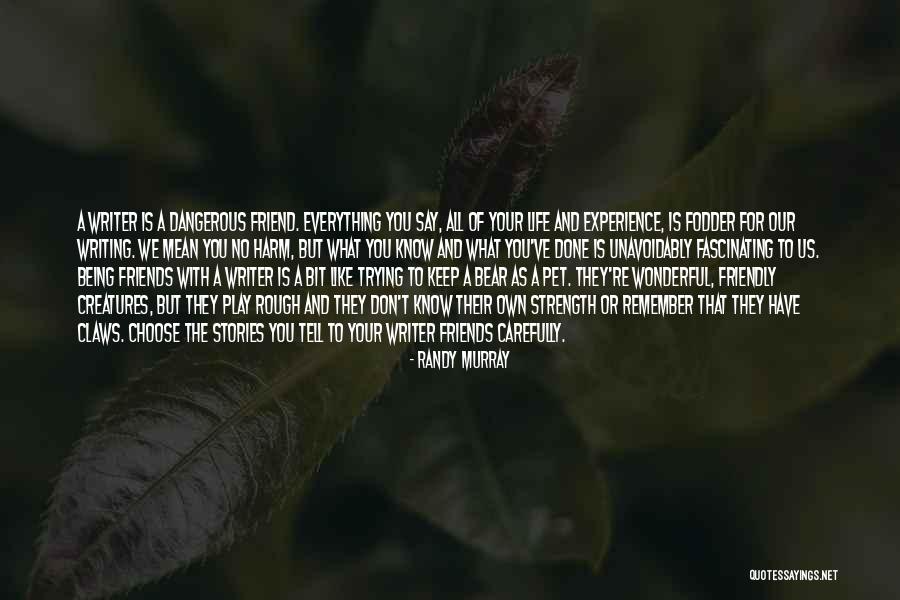 A writer is a dangerous friend. Everything you say, all of your life and experience, is fodder for our writing. We mean you no harm, but what you know and what you've done is unavoidably fascinating to us. Being friends with a writer is a bit like trying to keep a bear as a pet. They're wonderful, friendly creatures, but they play rough and they don't know their own strength or remember that they have claws. Choose the stories you tell to your writer friends carefully. — Randy Murray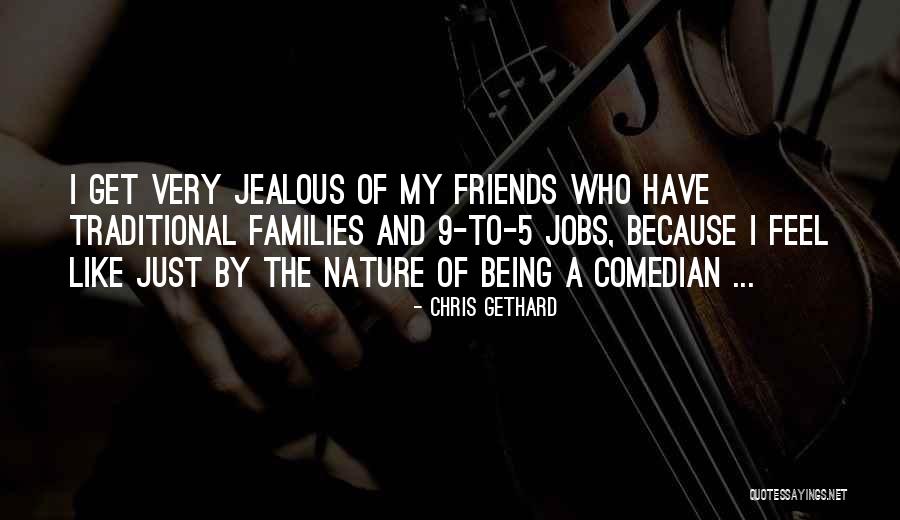 I get very jealous of my friends who have traditional families and 9-to-5 jobs, because I feel like just by the nature of being a comedian ... — Chris Gethard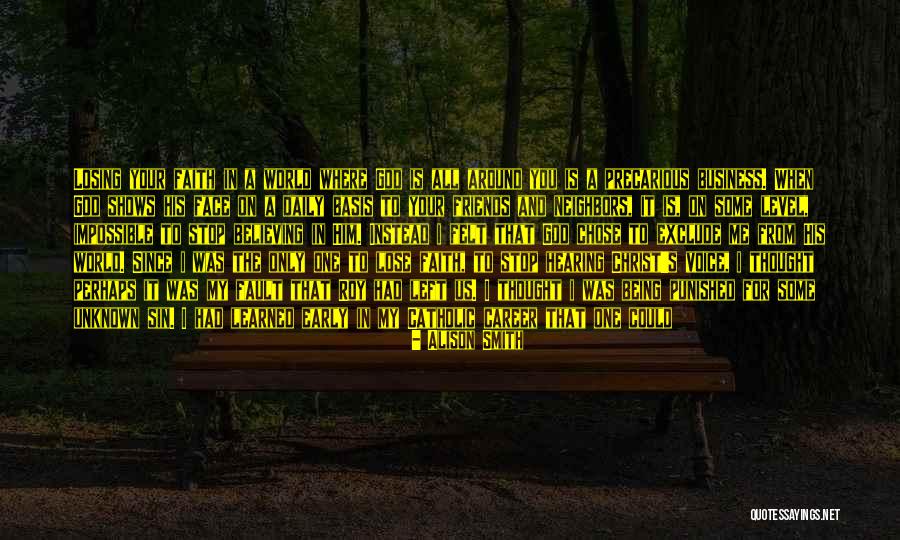 Losing your faith in a world where God is all around you is a precarious business. When God shows his face on a daily basis to your friends and neighbors, it is, on some level, impossible to stop believing in Him. Instead i felt that God chose to exclude me from His world. Since i was the only one to lose faith, to stop hearing Christ's voice, i thought perhaps it was my fault that Roy had left us. I thought i was being punished for some unknown sin. I had learned early in my Catholic career that one could sin silently in one's heart. One could even sin without ever discovering what one had done or why it was wrong. What had i done, i asked myself, to make God disappear and take Roy with Him. — Alison Smith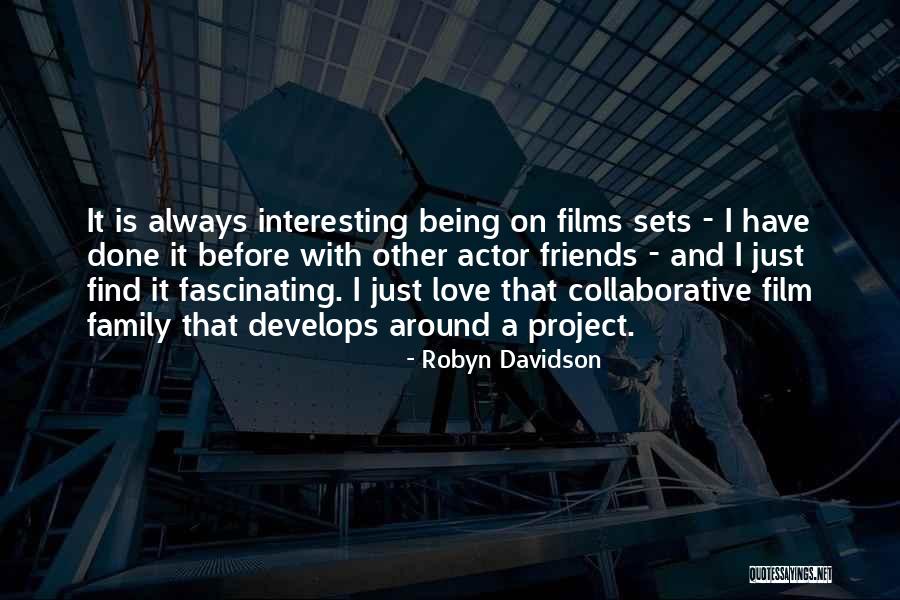 It is always interesting being on films sets - I have done it before with other actor friends - and I just find it fascinating. I just love that collaborative film family that develops around a project. — Robyn Davidson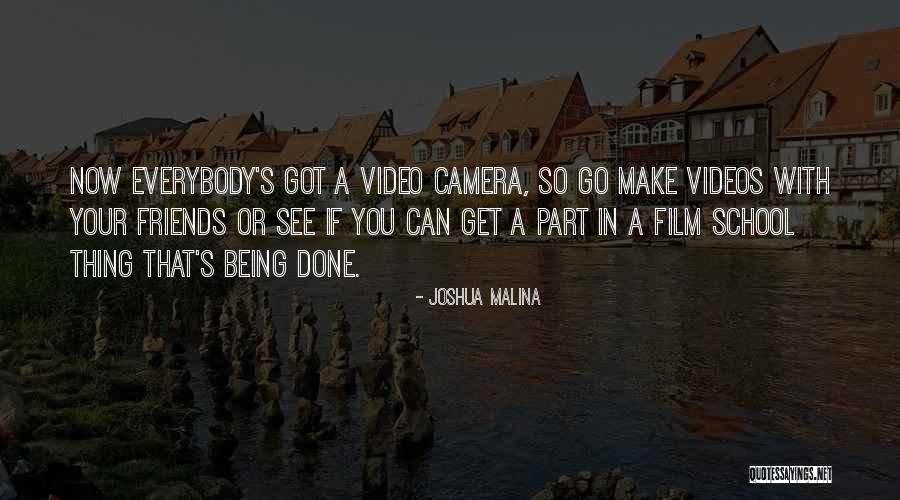 Now everybody's got a video camera, so go make videos with your friends or see if you can get a part in a film school thing that's being done. — Joshua Malina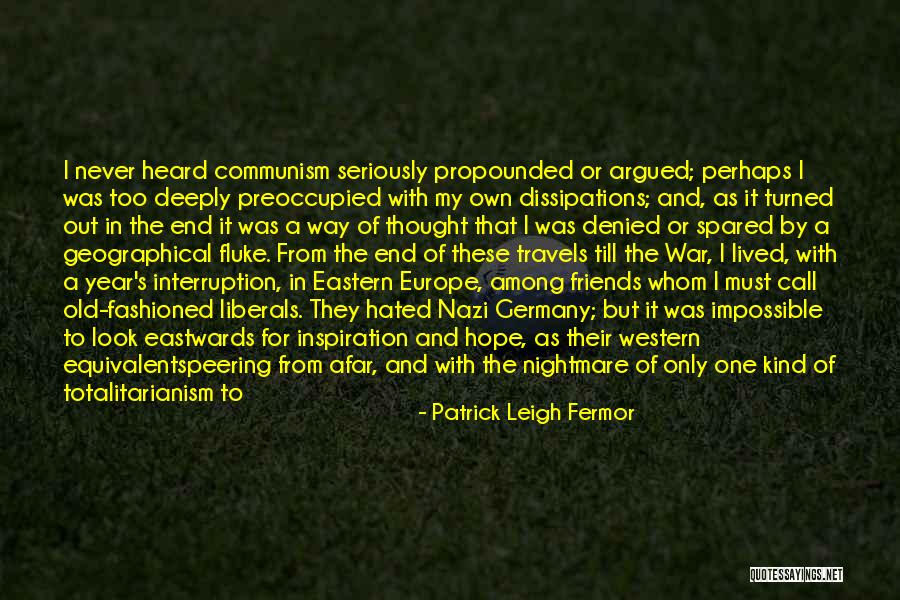 I never heard communism seriously propounded or argued; perhaps I was too deeply preoccupied with my own dissipations; and, as it turned out in the end it was a way of thought that I was denied or spared by a geographical fluke. From the end of these travels till the War, I lived, with a year's interruption, in Eastern Europe, among friends whom I must call old-fashioned liberals. They hated Nazi Germany; but it was impossible to look eastwards for inspiration and hope, as their western equivalents
peering from afar, and with the nightmare of only one kind of totalitarianism to vex them
felt able to do. For Russia began only a few fields away, the other side of a river; and there, as all her neighbours knew, great wrong was being done and terrible danger lay. All their fears came true. Living among them made me share those fears and they made stony ground for certain kinds of grain. — Patrick Leigh Fermor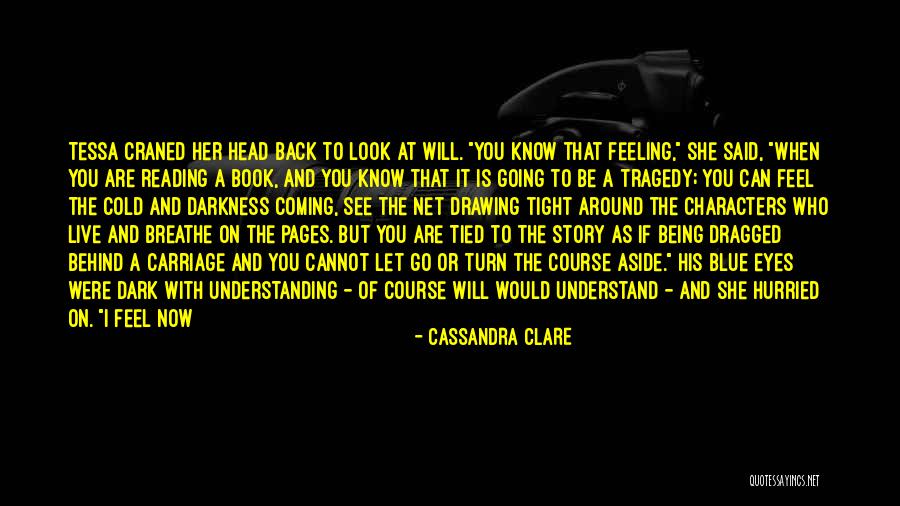 Tessa craned her head back to look at Will. "You know that feeling," she said, "when you are reading a book, and you know that it is going to be a tragedy; you can feel the cold and darkness coming, see the net drawing tight around the characters who live and breathe on the pages. But you are tied to the story as if being dragged behind a carriage and you cannot let go or turn the course aside." His blue eyes were dark with understanding - of course Will would understand - and she hurried on. "I feel now as if the same is happening, only not to characters on a page but to my own beloved friends and companions. I do not want to sit by while tragedy comes for us. I would turn it aside, only I struggle to discover how that might be done."
"You fear for Jem," Will said.
"Yes," she said. "And I fear for you, too."
"No," Will said, hoarsely. "Don't waste that on me, Tess. — Cassandra Clare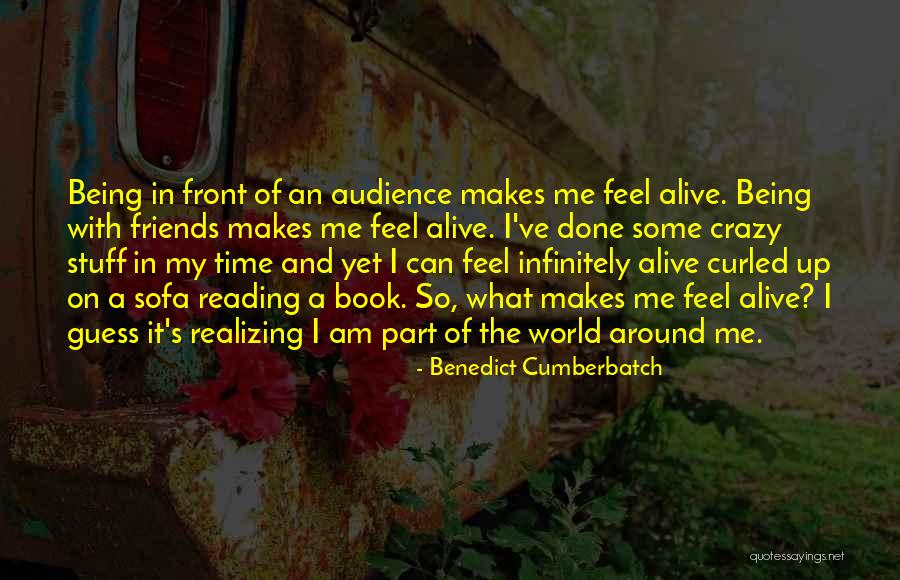 Being in front of an audience makes me feel alive. Being with friends makes me feel alive. I've done some crazy stuff in my time and yet I can feel infinitely alive curled up on a sofa reading a book. So, what makes me feel alive? I guess it's realizing I am part of the world around me. — Benedict Cumberbatch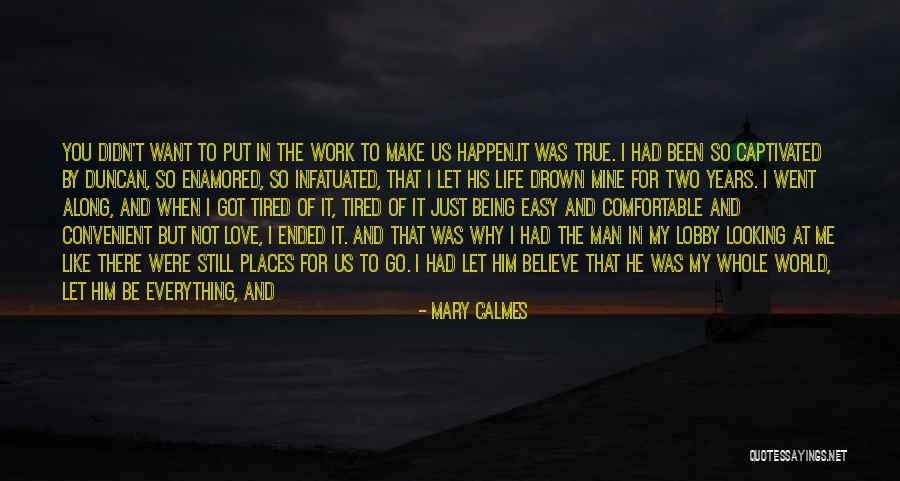 You didn't want to put in the work to make us happen.
It was true. I had been so captivated by Duncan, so enamored, so infatuated, that I let his life drown mine for two years. I went along, and when I got tired of it, tired of it just being easy and comfortable and convenient but not love, I ended it. And that was why I had the man in my lobby looking at me like there were still places for us to go.
I had let him believe that he was my whole world, let him be everything, and then one day just stopped loving him and walked away. It was something I did, something I had always done - poured on the charm, made myself into the ideal partner, lover, friend, indispensable and irreplaceable, and then, when I got bored or tired or tapped out, instead of fighting, I just quit. It was wildly unfair, and the only people I didn't do it with were my family. Even my friends complained that I was always around and then just gone.
Nathan Qells — Mary Calmes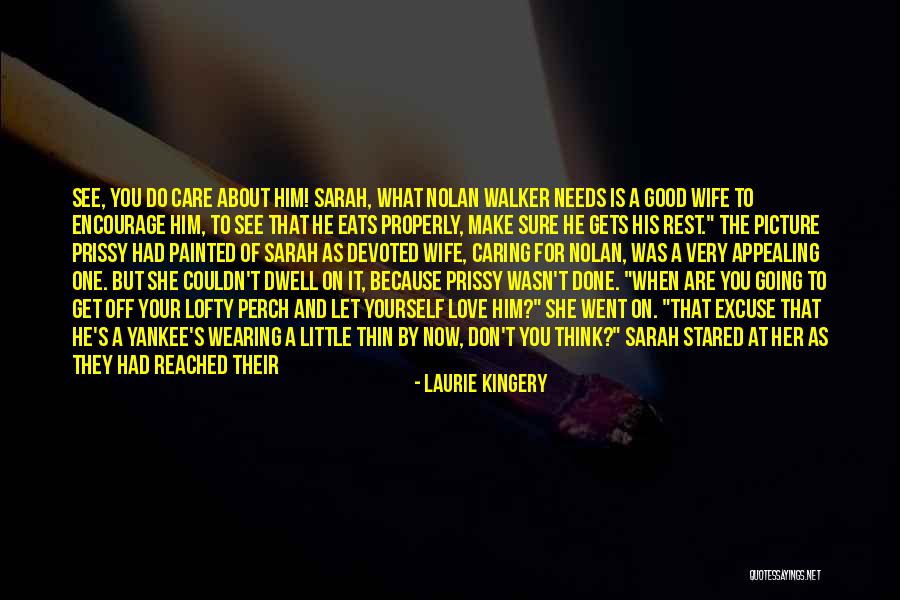 See, you do care about him! Sarah, what Nolan Walker needs is a good wife to encourage him, to see that he eats properly, make sure he gets his rest." The picture Prissy had painted of Sarah as devoted wife, caring for Nolan, was a very appealing one. But she couldn't dwell on it, because Prissy wasn't done. "When are you going to get off your lofty perch and let yourself love him?" she went on. "That excuse that he's a Yankee's wearing a little thin by now, don't you think?" Sarah stared at her as they had reached their little cottage and went in. She hung up her coat with a sigh, then took Prissy's coat and hung it up, too. "Dr. Walker and I have become friends. But how can he and I be anything more if he's not a believer? The Bible warns about being unequally yoked, you know." Prissy groaned exasperatedly. "Sarah Matthews, if you gave that man the slightest bit of encouragement, he'd be sitting in the front pew every Sunday morning, and you know it. — Laurie Kingery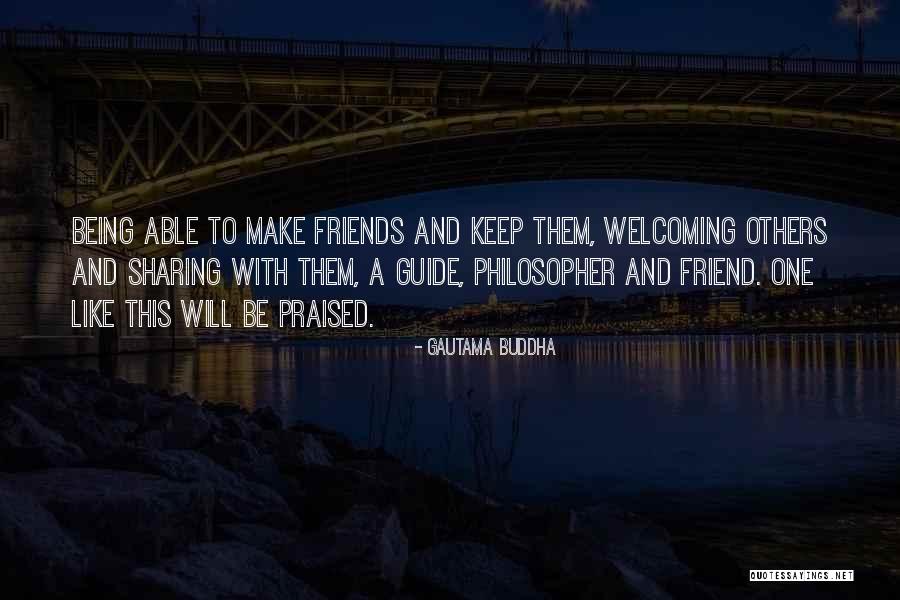 Being able to make friends and keep them, welcoming others and sharing with them, a guide, philosopher and friend. One like this will be praised. — Gautama Buddha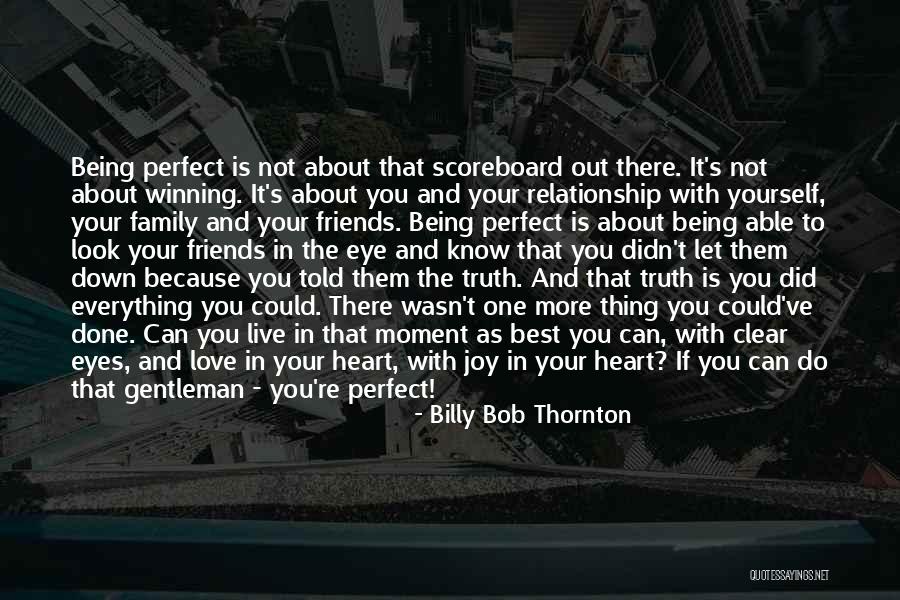 Being perfect is not about that scoreboard out there. It's not about winning. It's about you and your relationship with yourself, your family and your friends. Being perfect is about being able to look your friends in the eye and know that you didn't let them down because you told them the truth. And that truth is you did everything you could. There wasn't one more thing you could've done. Can you live in that moment as best you can, with clear eyes, and love in your heart, with joy in your heart? If you can do that gentleman - you're perfect! — Billy Bob Thornton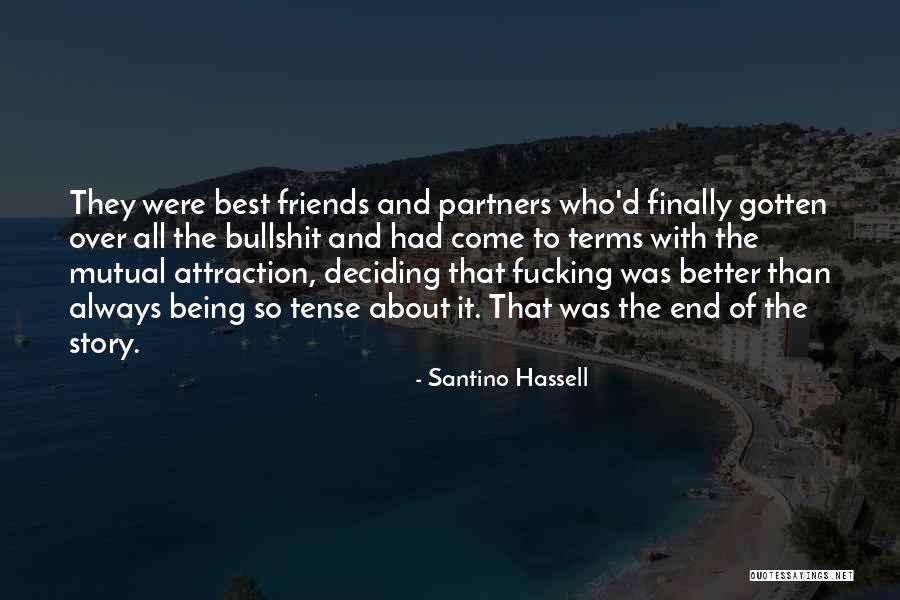 They were best friends and partners who'd finally gotten over all the bullshit and had come to terms with the mutual attraction, deciding that fucking was better than always being so tense about it. That was the end of the story. — Santino Hassell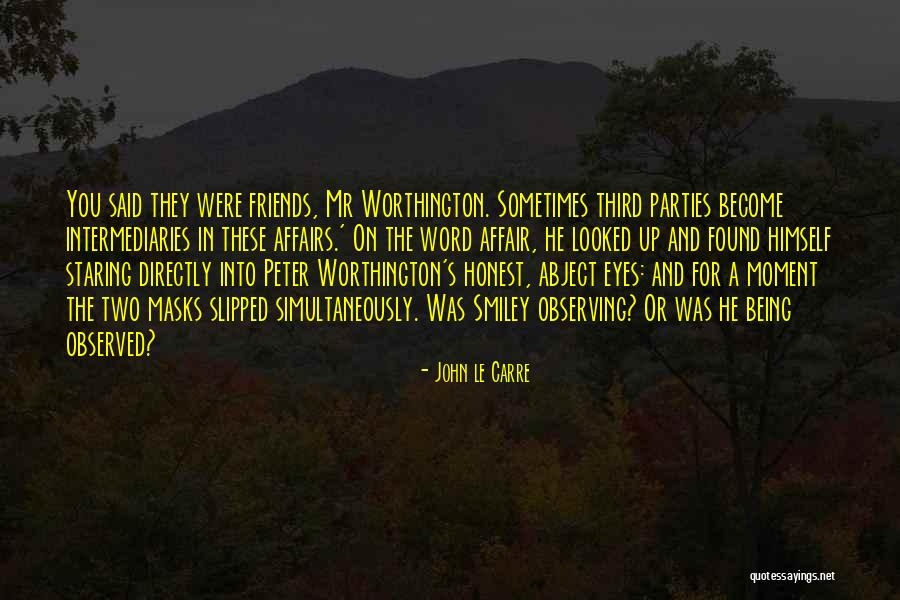 You said they were friends, Mr Worthington. Sometimes third parties become intermediaries in these affairs.' On the word affair, he looked up and found himself staring directly into Peter Worthington's honest, abject eyes: and for a moment the two masks slipped simultaneously. Was Smiley observing? Or was he being observed? — John Le Carre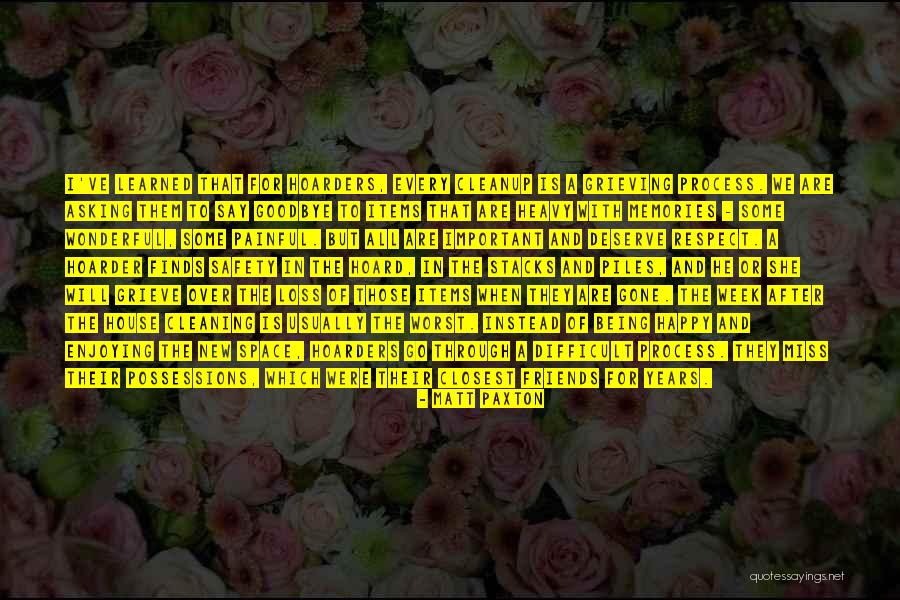 I've learned that for hoarders, every cleanup is a grieving process. We are asking them to say goodbye to items that are heavy with memories - some wonderful, some painful. But all are important and deserve respect. A hoarder finds safety in the hoard, in the stacks and piles, and he or she will grieve over the loss of those items when they are gone. The week after the house cleaning is usually the worst. Instead of being happy and enjoying the new space, hoarders go through a difficult process. They miss their possessions, which were their closest friends for years. — Matt Paxton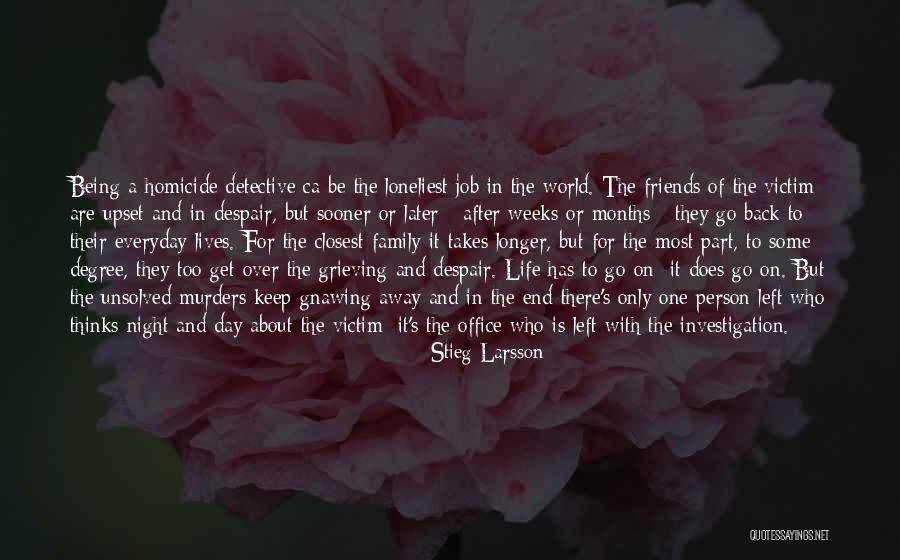 Being a homicide detective ca be the loneliest job in the world. The friends of the victim are upset and in despair, but sooner or later - after weeks or months - they go back to their everyday lives. For the closest family it takes longer, but for the most part, to some degree, they too get over the grieving and despair. Life has to go on; it does go on. But the unsolved murders keep gnawing away and in the end there's only one person left who thinks night and day about the victim: it's the office who is left with the investigation. — Stieg Larsson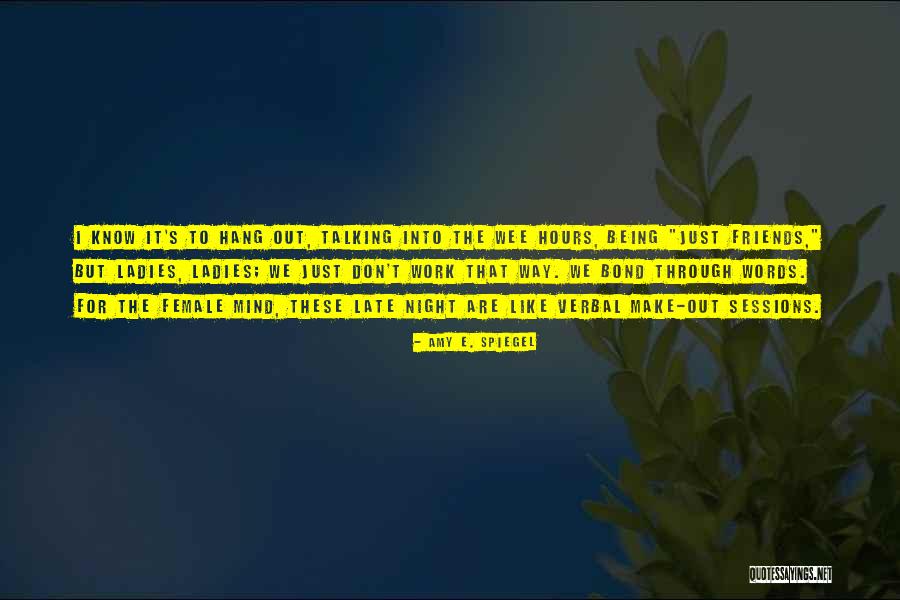 I know it's to hang out, talking into the wee hours, being "just friends," but ladies, ladies; we just don't work that way. We bond through words. For the female mind, these late night are like verbal make-out sessions. — Amy E. Spiegel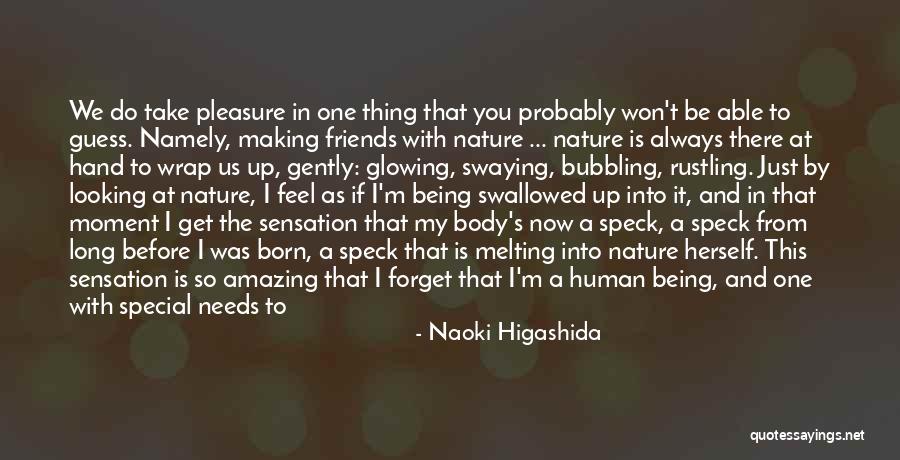 We do take pleasure in one thing that you probably won't be able to guess. Namely, making friends with nature ... nature is always there at hand to wrap us up, gently: glowing, swaying, bubbling, rustling.
Just by looking at nature, I feel as if I'm being swallowed up into it, and in that moment I get the sensation that my body's now a speck, a speck from long before I was born, a speck that is melting into nature herself. This sensation is so amazing that I forget that I'm a human being, and one with special needs to boot.
Nature calms me down when I'm furious, and laughs with me when I'm happy. You might think that it's not possible that nature could be a friend, not really. But human beings are part of the animal kingdom too, and perhaps us people with autism still have some left-over awareness of this, buried somewhere deep down. I'll always cherish that part of me that thinks of nature as a friend. — Naoki Higashida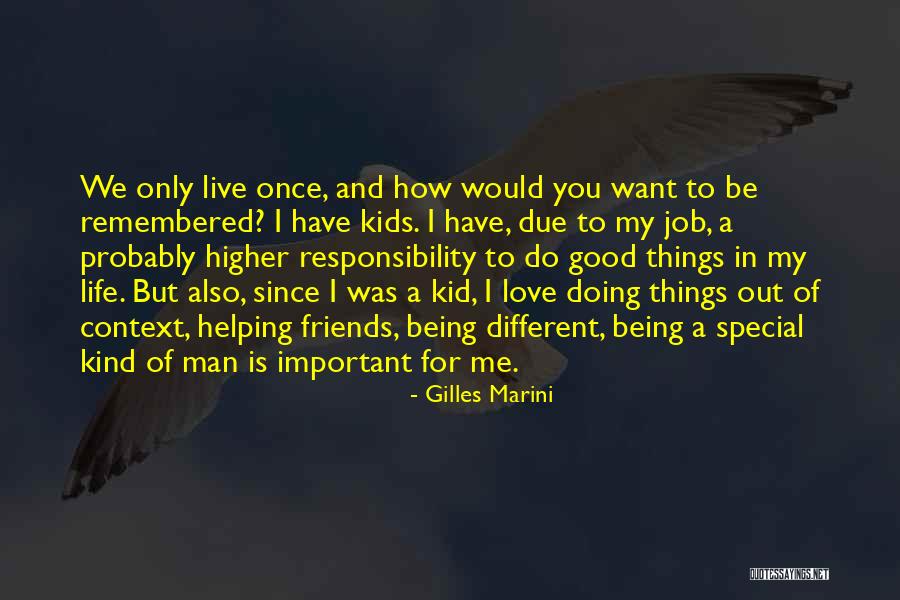 We only live once, and how would you want to be remembered? I have kids. I have, due to my job, a probably higher responsibility to do good things in my life. But also, since I was a kid, I love doing things out of context, helping friends, being different, being a special kind of man is important for me. — Gilles Marini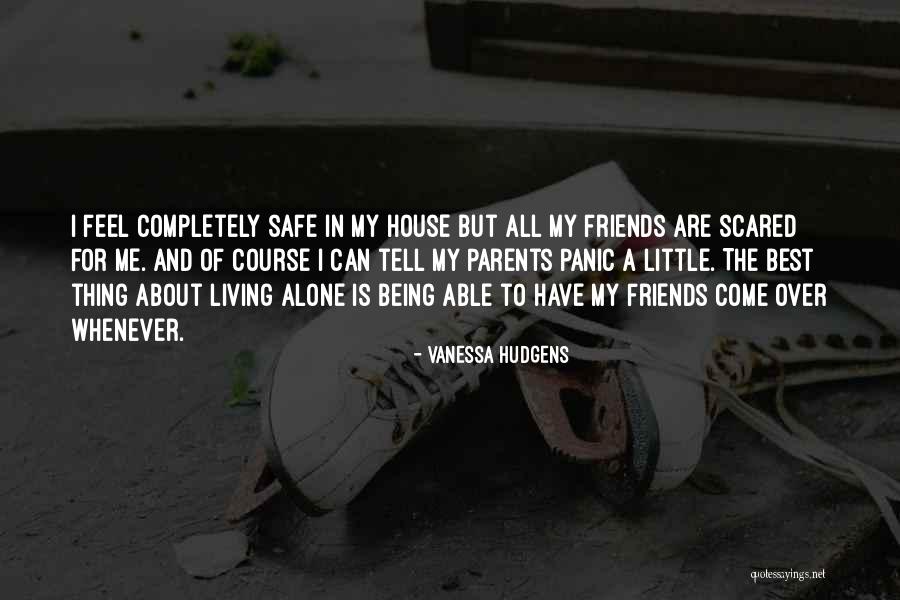 I feel completely safe in my house but all my friends are scared for me. And of course I can tell my parents panic a little. The best thing about living alone is being able to have my friends come over whenever. — Vanessa Hudgens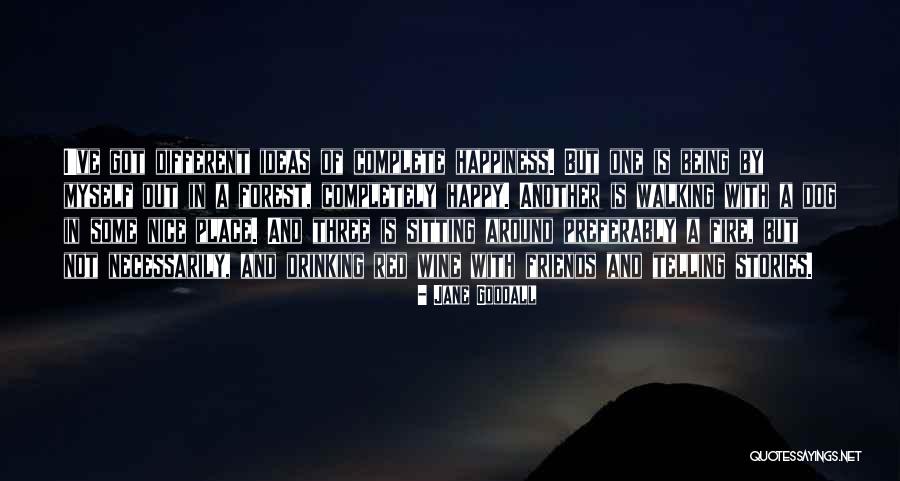 I've got different ideas of complete happiness. But one is being by myself out in a forest, completely happy. Another is walking with a dog in some nice place. And three is sitting around preferably a fire, but not necessarily, and drinking red wine with friends and telling stories. — Jane Goodall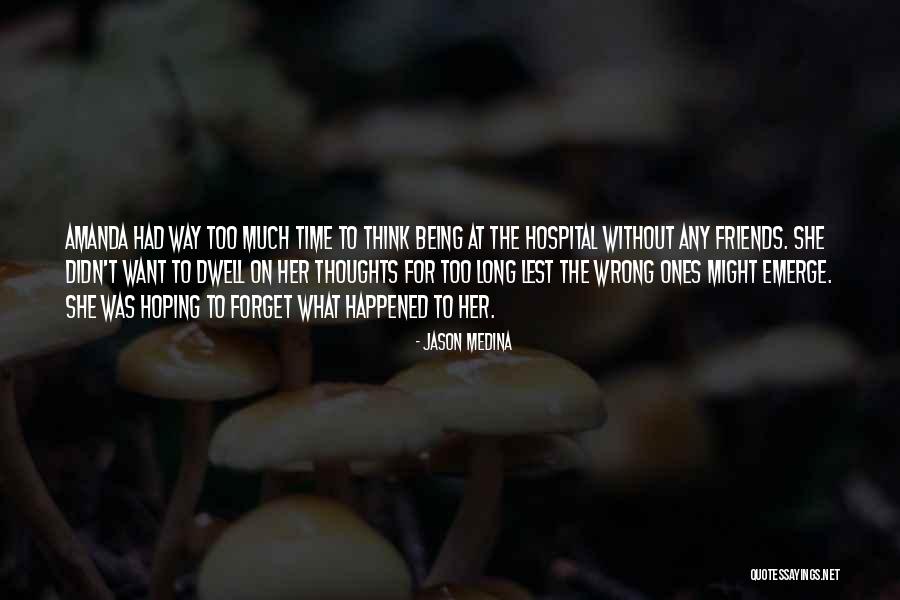 Amanda had way too much time to think being at the hospital without any friends. She didn't want to dwell on her thoughts for too long lest the wrong ones might emerge. She was hoping to forget what happened to her. — Jason Medina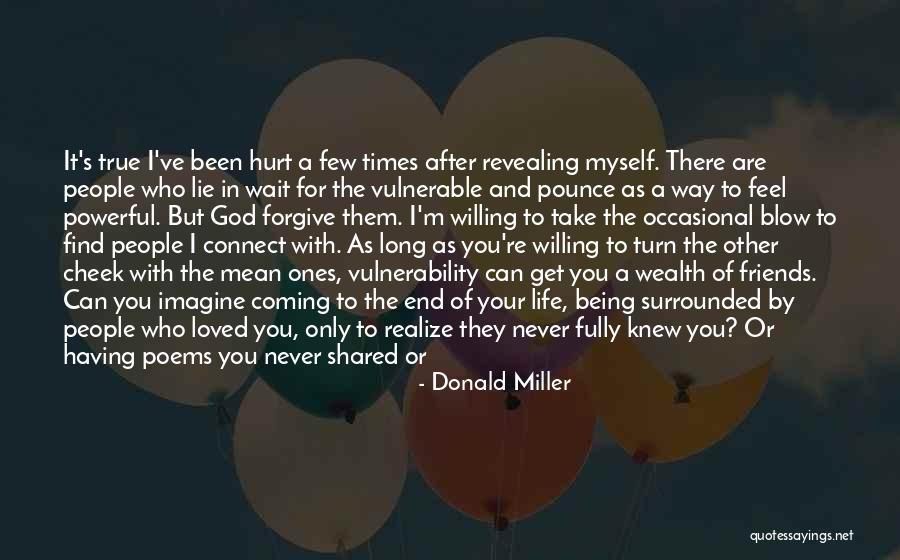 It's true I've been hurt a few times after revealing myself. There are people who lie in wait for the vulnerable and pounce as a way to feel powerful. But God forgive them. I'm willing to take the occasional blow to find people I connect with. As long as you're willing to turn the other cheek with the mean ones, vulnerability can get you a wealth of friends. Can you imagine coming to the end of your life, being surrounded by people who loved you, only to realize they never fully knew you? Or having poems you never shared or injustices you said nothing about? Can you imagine realizing, then, it was too late? How can we be loved if we are always in hiding? — Donald Miller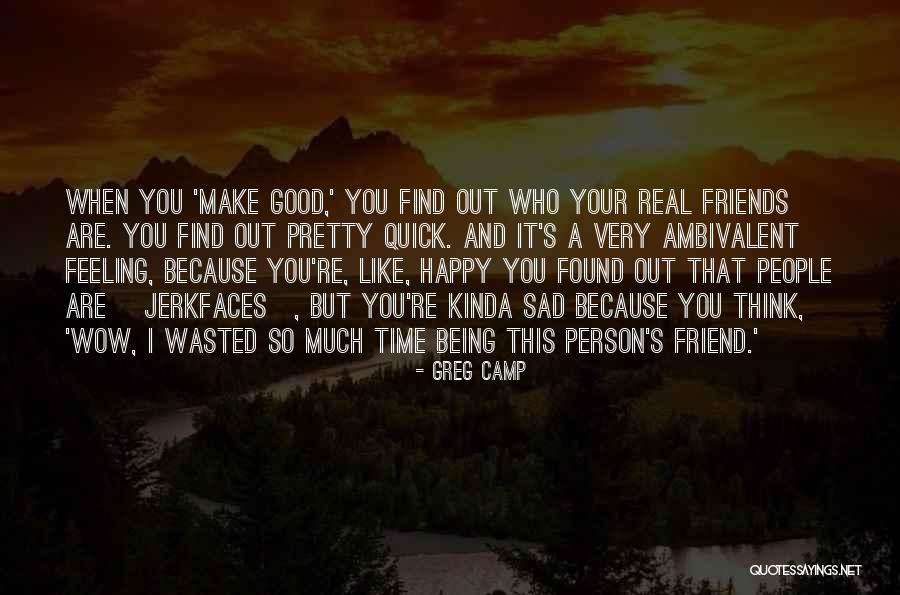 When you 'make good,' you find out who your real friends are. You find out pretty quick. And it's a very ambivalent feeling, because you're, like, happy you found out that people are [jerkfaces], but you're kinda sad because you think, 'Wow, I wasted so much time being this person's friend.' — Greg Camp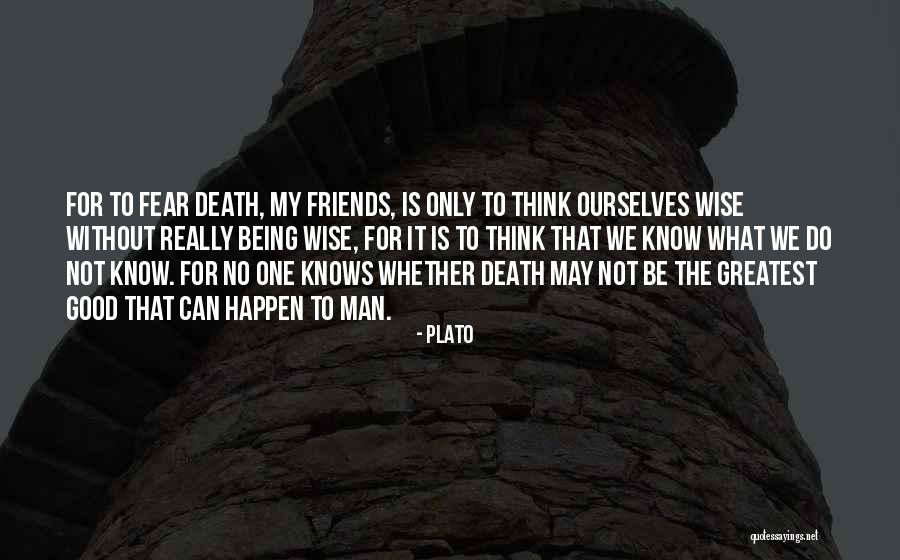 For to fear death, my friends, is only to think ourselves wise without really being wise, for it is to think that we know what we do not know. For no one knows whether death may not be the greatest good that can happen to man. — Plato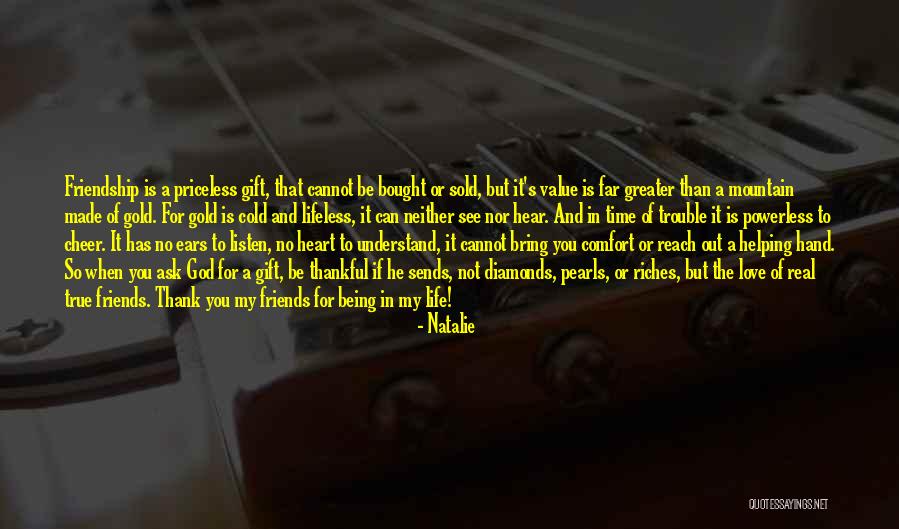 Friendship is a priceless gift, that cannot be bought or sold, but it's value is far greater than a mountain made of gold. For gold is cold and lifeless, it can neither see nor hear. And in time of trouble it is powerless to cheer. It has no ears to listen, no heart to understand, it cannot bring you comfort or reach out a helping hand. So when you ask God for a gift, be thankful if he sends, not diamonds, pearls, or riches, but the love of real true friends. Thank you my friends for being in my life! — Natalie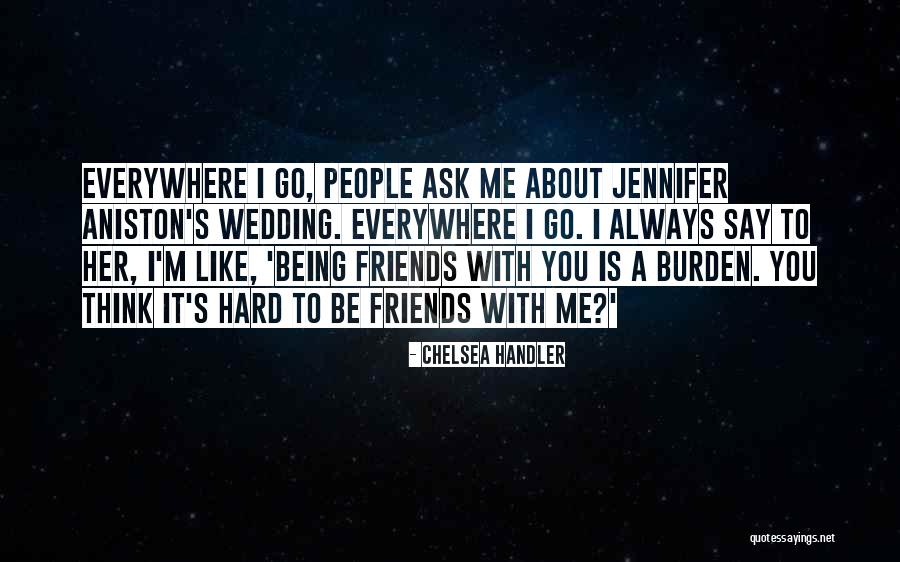 Everywhere I go, people ask me about Jennifer Aniston's wedding. Everywhere I go. I always say to her, I'm like, 'Being friends with you is a burden. You think it's hard to be friends with me?' — Chelsea Handler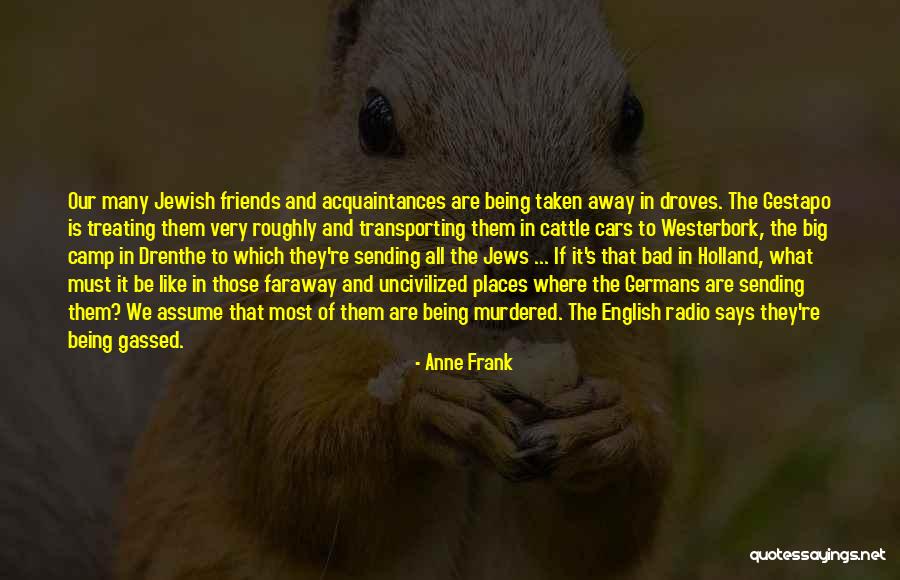 Our many Jewish friends and acquaintances are being taken away in droves. The Gestapo is treating them very roughly and transporting them in cattle cars to Westerbork, the big camp in Drenthe to which they're sending all the Jews ... If it's that bad in Holland, what must it be like in those faraway and uncivilized places where the Germans are sending them? We assume that most of them are being murdered. The English radio says they're being gassed. — Anne Frank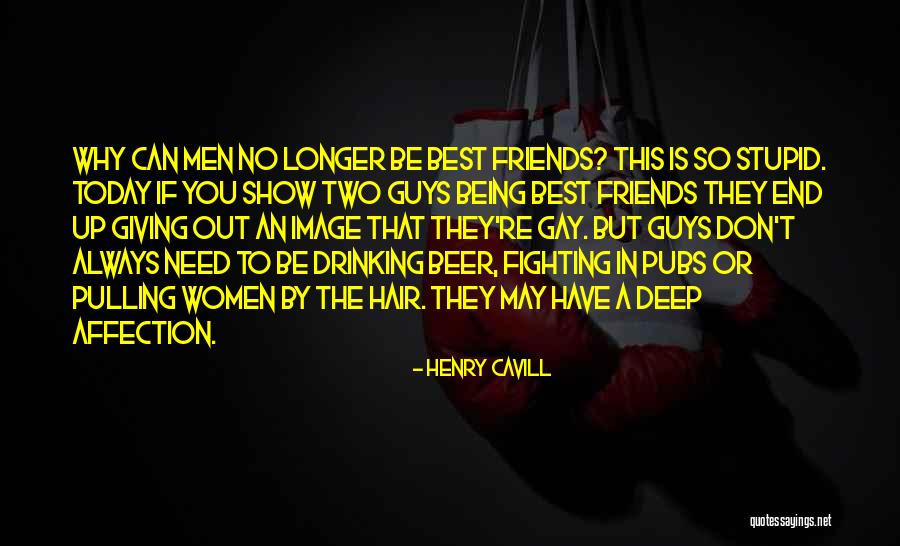 Why can men no longer be best friends? This is so stupid. Today if you show two guys being best friends they end up giving out an image that they're gay. But guys don't always need to be drinking beer, fighting in pubs or pulling women by the hair. They may have a deep affection. — Henry Cavill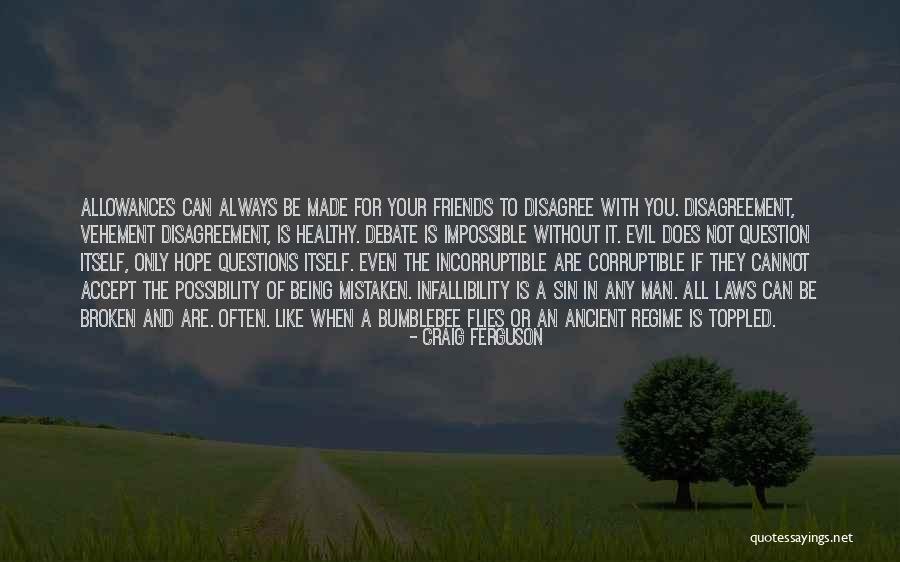 Allowances can always be made for your friends to disagree with you. Disagreement, vehement disagreement, is healthy. Debate is impossible without it. Evil does not question itself, only hope questions itself. Even the incorruptible are corruptible if they cannot accept the possibility of being mistaken. Infallibility is a sin in any man. All laws can be broken and are. Often. Like when a bumblebee flies or an ancient regime is toppled. — Craig Ferguson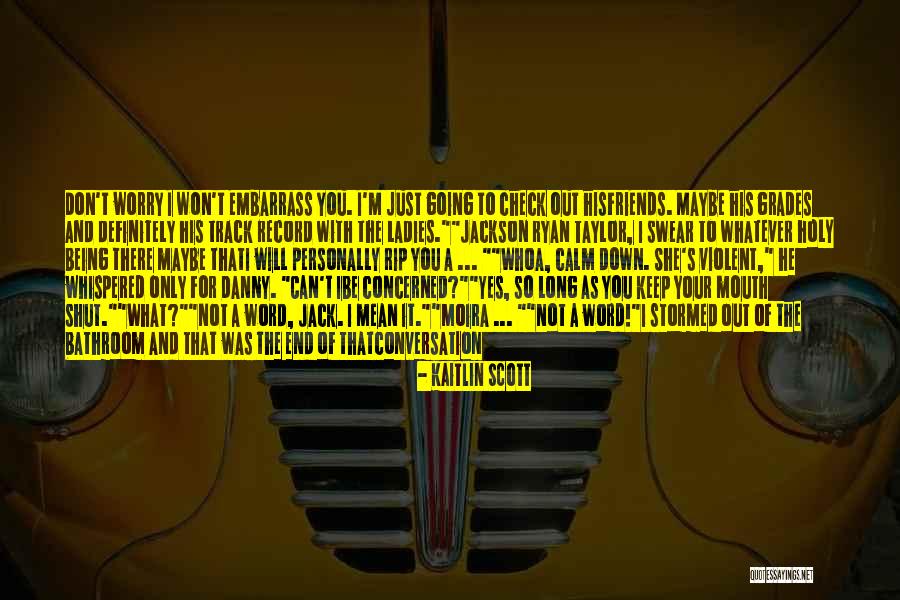 Don't worry I won't embarrass you. I'm just going to check out his
friends. Maybe his grades and definitely his track record with the ladies."
"Jackson Ryan Taylor, I swear to whatever holy being there maybe that
I will personally rip you a ... "
"Whoa, calm down. She's violent," he whispered only for Danny. "Can't I
be concerned?"
"Yes, so long as you keep your mouth shut."
"What?"
"Not a word, Jack. I mean it."
"Moira ... "
"Not a word!"
I stormed out of the bathroom and that was the end of that
conversation — Kaitlin Scott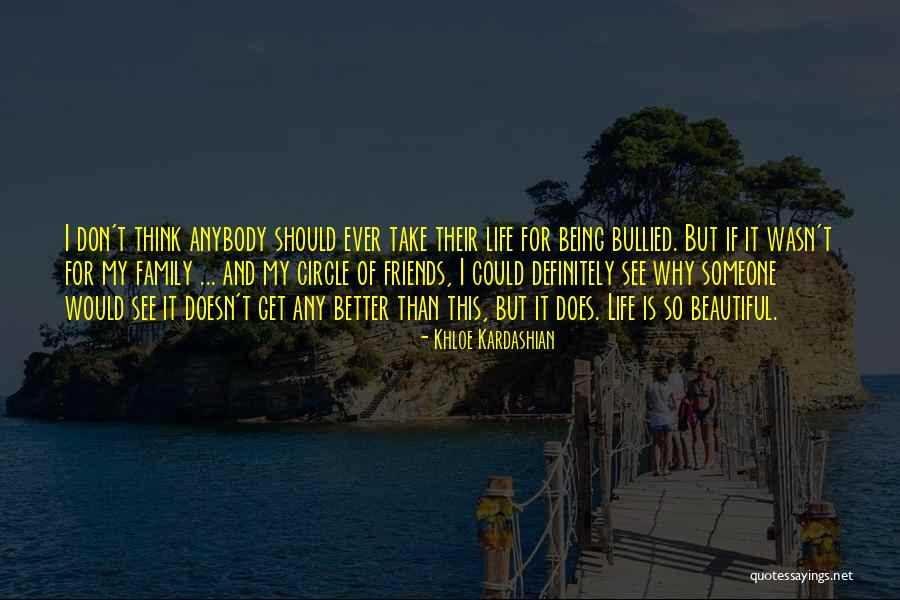 I don't think anybody should ever take their life for being bullied. But if it wasn't for my family ... and my circle of friends, I could definitely see why someone would see it doesn't get any better than this, but it does. Life is so beautiful. — Khloe Kardashian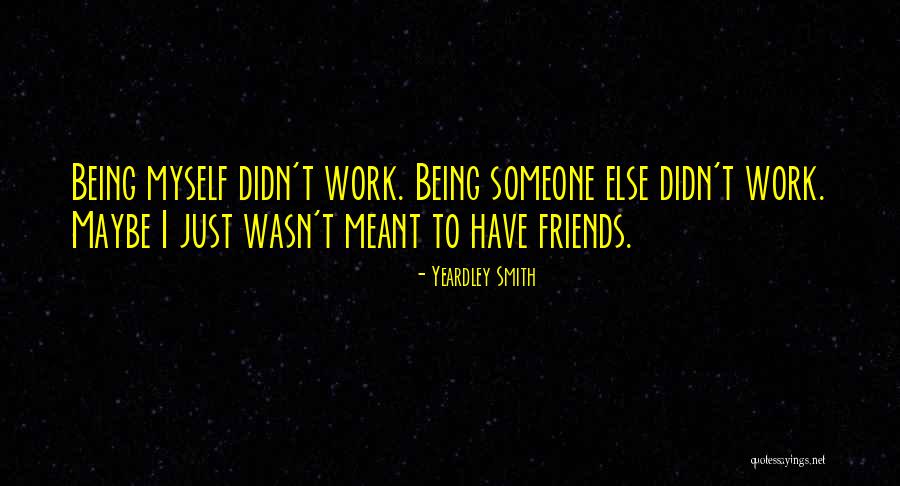 Being myself didn't work. Being someone else didn't work. Maybe I just wasn't meant to have friends. — Yeardley Smith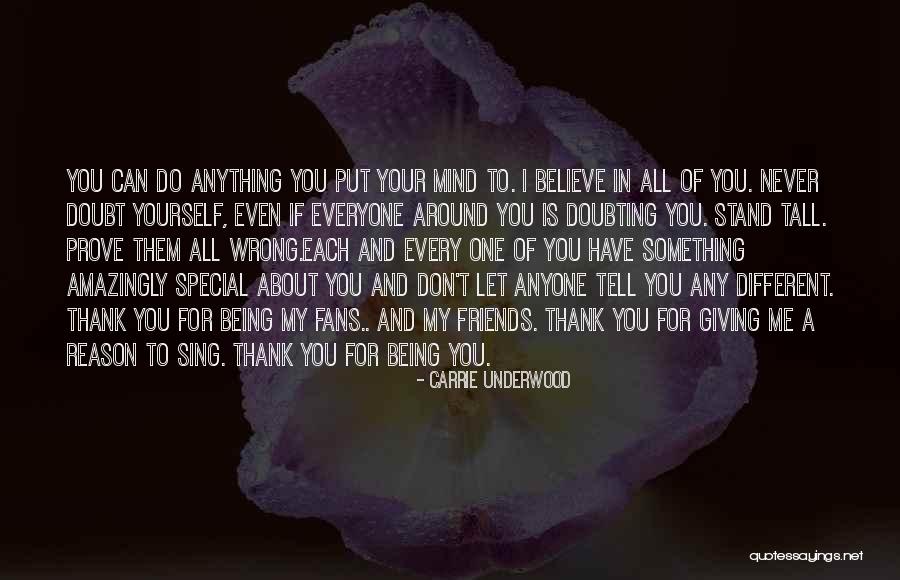 You can do anything you put your mind to. I believe in all of you. Never doubt yourself, even if everyone around you is doubting you. Stand tall. Prove them all wrong.Each and every one of you have something amazingly special about you and don't let anyone tell you any different. Thank you for being my fans.. and my friends. Thank you for giving me a reason to sing. Thank you for being you. — Carrie Underwood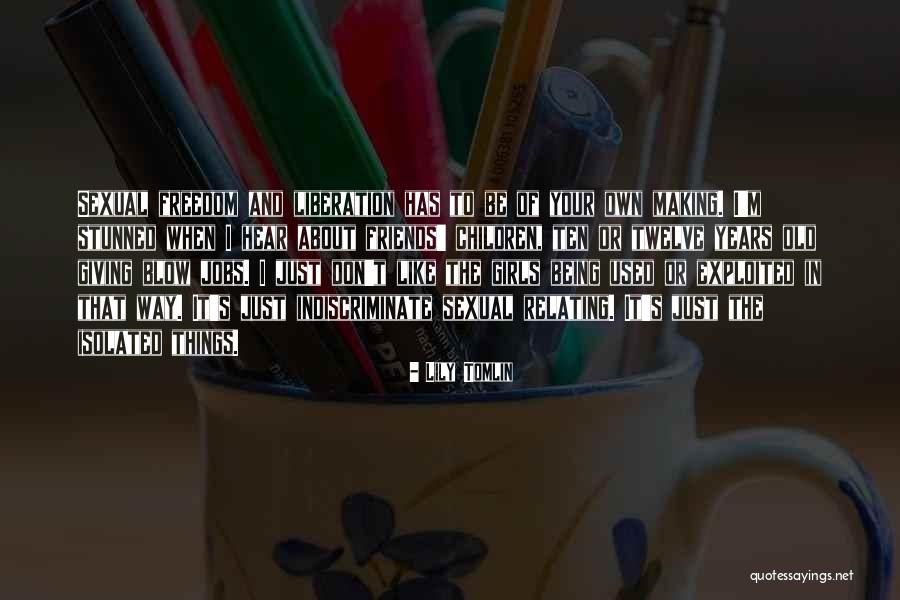 Sexual freedom and liberation has to be of your own making. I'm stunned when I hear about friends' children, ten or twelve years old giving blow jobs. I just don't like the girls being used or exploited in that way. It's just indiscriminate sexual relating. It's just the isolated things. — Lily Tomlin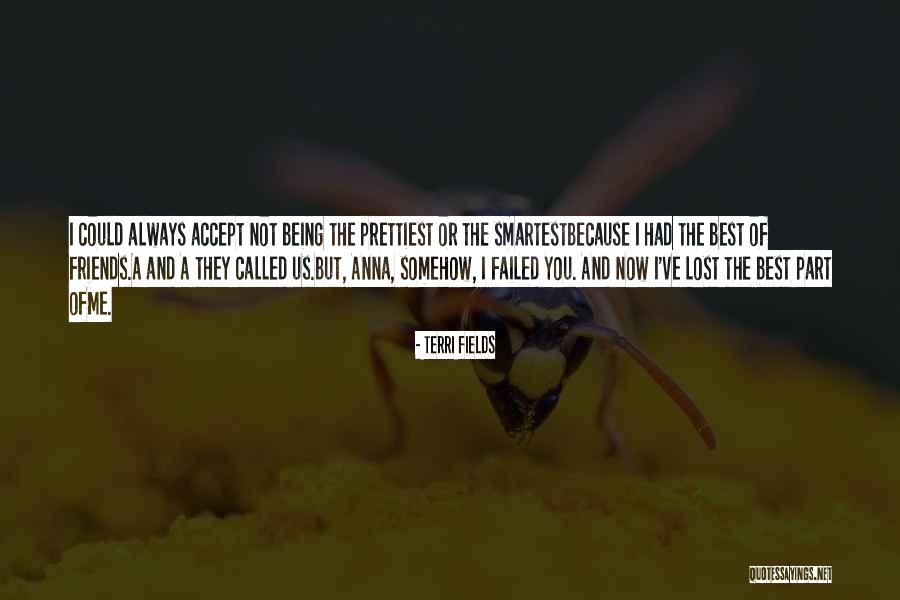 I could always accept not being the prettiest or the smartest
Because I had the best of friends.
A and A they called us.
But, Anna, somehow, I failed you.
And now I've lost the best part of
Me. — Terri Fields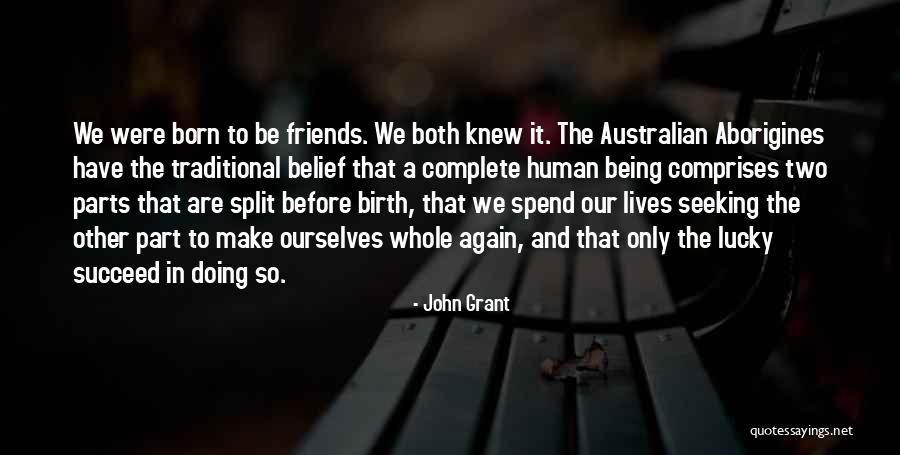 We were born to be friends. We both knew it. The Australian Aborigines have the traditional belief that a complete human being comprises two parts that are split before birth, that we spend our lives seeking the other part to make ourselves whole again, and that only the lucky succeed in doing so. — John Grant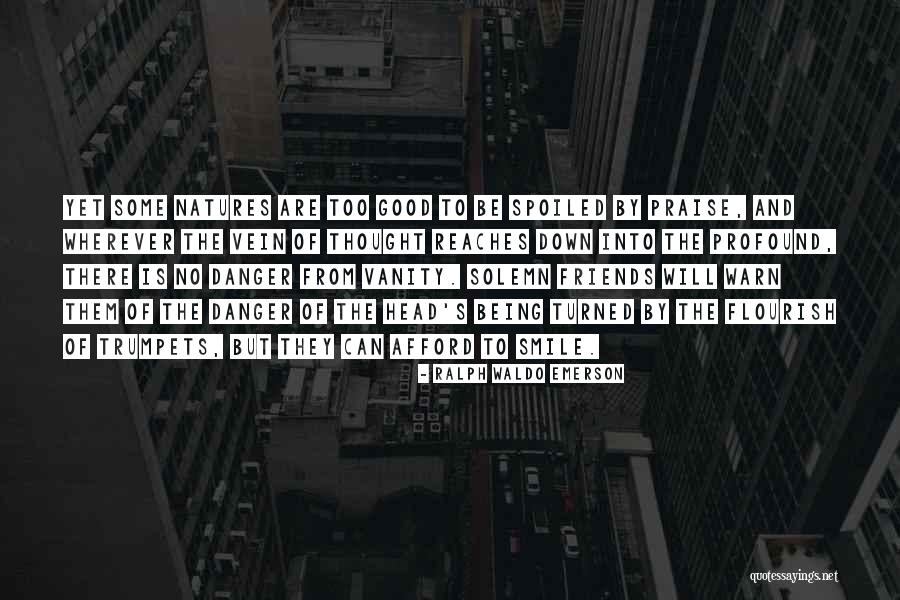 Yet some natures are too good to be spoiled by praise, and wherever the vein of thought reaches down into the profound, there is no danger from vanity. Solemn friends will warn them of the danger of the head's being turned by the flourish of trumpets, but they can afford to smile. — Ralph Waldo Emerson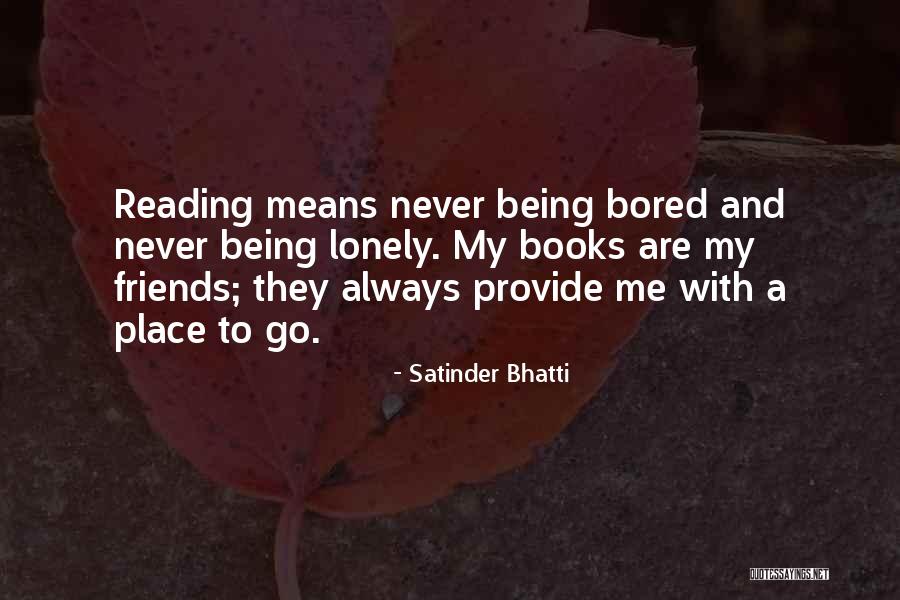 Reading means never being bored and never being lonely. My books are my friends; they always provide me with a place to go. — Satinder Bhatti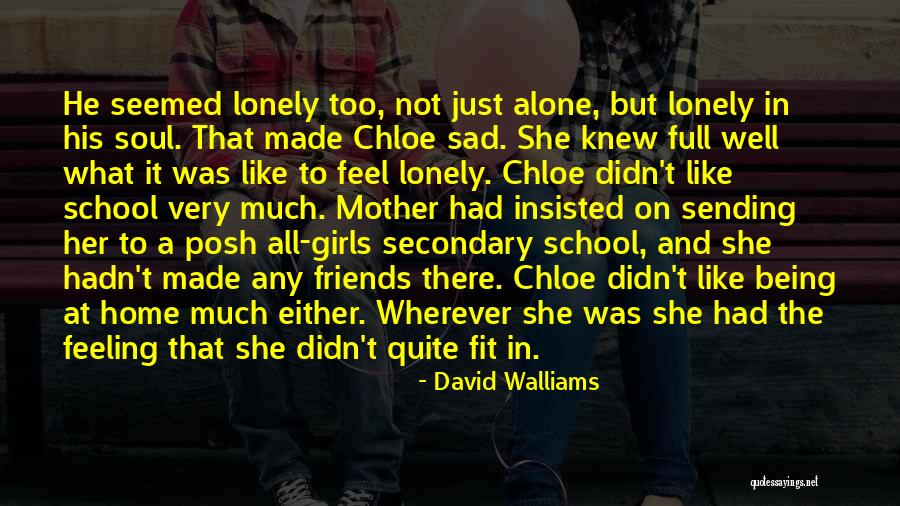 He seemed lonely too, not just alone, but lonely in his soul. That made Chloe sad. She knew full well what it was like to feel lonely. Chloe didn't like school very much. Mother had insisted on sending her to a posh all-girls secondary school, and she hadn't made any friends there. Chloe didn't like being at home much either. Wherever she was she had the feeling that she didn't quite fit in. — David Walliams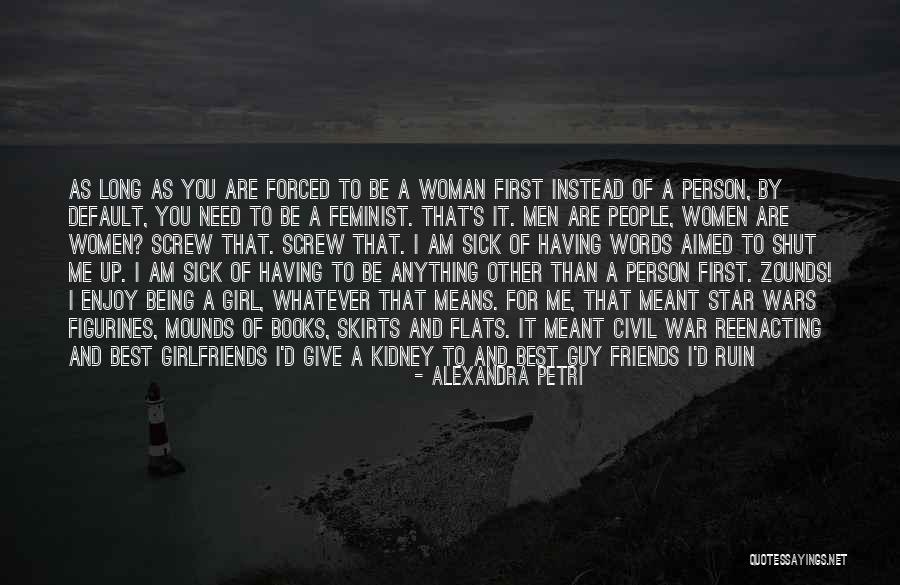 As long as you are forced to be a woman first instead of a person, by default, you need to be a feminist. That's it. Men are people, women are women? Screw that. Screw that. I am sick of having words aimed to shut me up. I am sick of having to be anything other than a person first. Zounds! I enjoy being a girl, whatever that means. For me, that meant Star Wars figurines, mounds of books, skirts and flats. It meant Civil War reenacting and best girlfriends I'd give a kidney to and best guy friends I'd ruin a liver with and making messes and cleaning up some of them and still not knowing how to apply eye shadow. That's being a girl. That's being a person. It's the same damn thing. I wish Rush had just called me an idiot. I'm happy to be called an idiot! On the day when someone on the Internet calls me an idiot first and ugly second, I will set down my feminist battle flag and heave a great sigh. Then I will pick it back up and keep climbing. There are many more mountains to overcome. — Alexandra Petri