Quotes & Sayings About Being Different On The Inside
Enjoy reading and share 36 famous quotes about Being Different On The Inside with everyone.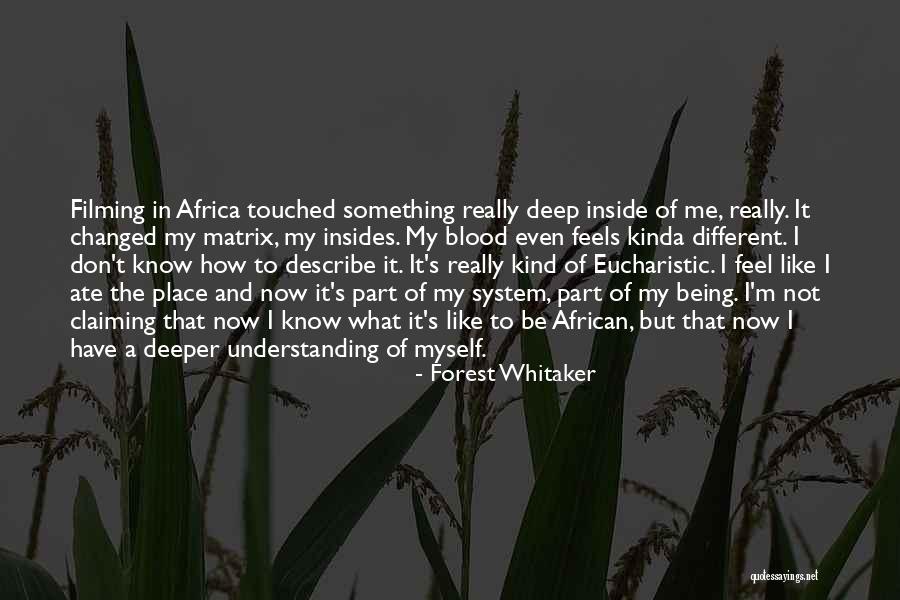 Filming in Africa touched something really deep inside of me, really. It changed my matrix, my insides. My blood even feels kinda different. I don't know how to describe it. It's really kind of Eucharistic. I feel like I ate the place and now it's part of my system, part of my being. I'm not claiming that now I know what it's like to be African, but that now I have a deeper understanding of myself. — Forest Whitaker
Most of being young, she had always thought, was playing a game of elimination with an army of different selves until you settled on one, usually by circumstance. But what made her grin, sitting across a starched white tablecloth from a man who seemed to actually listen to her, was the feeling that all those other selves weren't dead. They were still alive - multitudes of them, waiting inside her. — Ted Thompson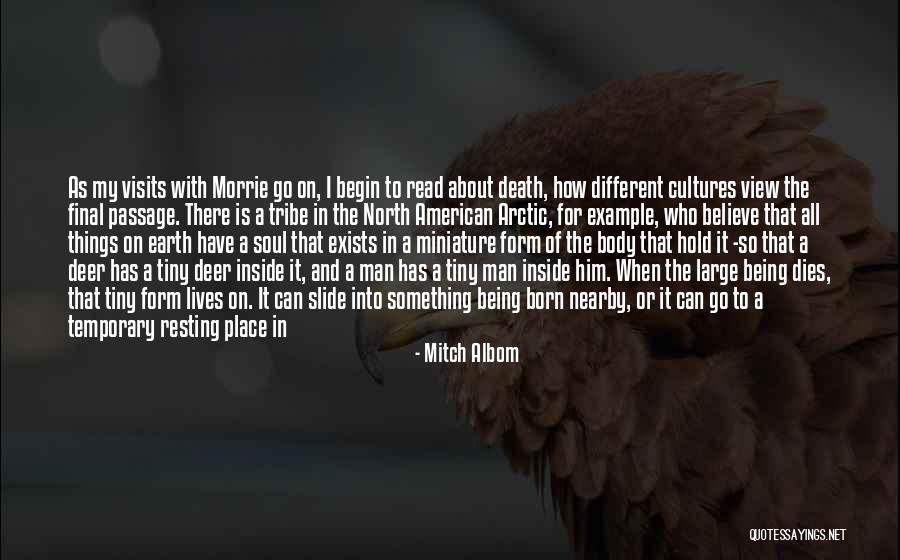 As my visits with Morrie go on, I begin to read about death, how different cultures view the final passage. There is a tribe in the North American Arctic, for example, who believe that all things on earth have a soul that exists in a miniature form of the body that hold it -so that a deer has a tiny deer inside it, and a man has a tiny man inside him. When the large being dies, that tiny form lives on. It can slide into something being born nearby, or it can go to a temporary resting place in the sky, in the belly of a great feminine spirit, where it waits until the moon can send it back to earth.
Sometimes, they say, the moon is so busy with the new souls of the world that it disappears from the sky. That is why we have moonless nights. But in the end, the moon always returns, as do we all.
That is what they believe. — Mitch Albom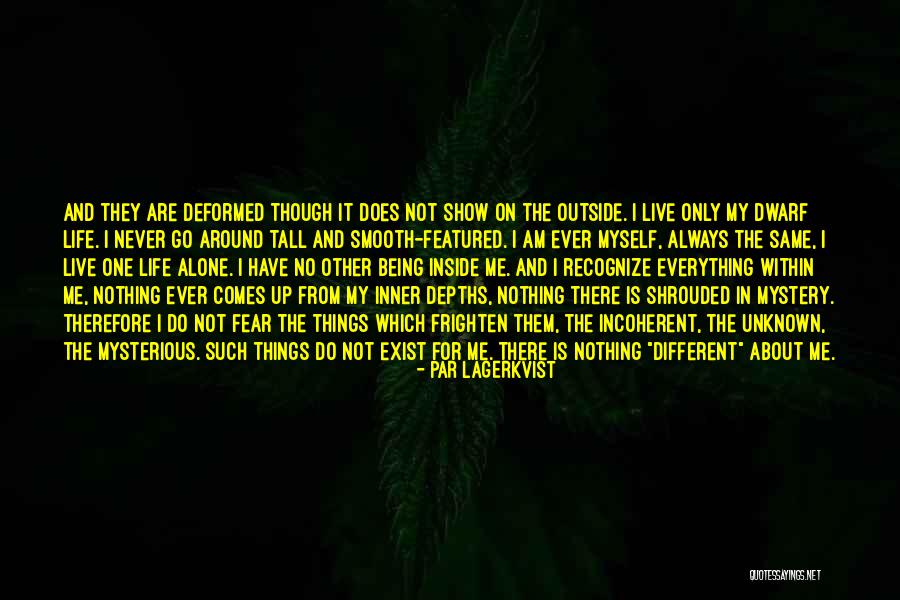 And they are deformed though it does not show on the outside. I live only my dwarf life. I never go around tall and smooth-featured. I am ever myself, always the same, I live one life alone. I have no other being inside me. And I recognize everything within me, nothing ever comes up from my inner depths, nothing there is shrouded in mystery. Therefore I do not fear the things which frighten them, the incoherent, the unknown, the mysterious. Such things do not exist for me. There is nothing "different" about me. — Par Lagerkvist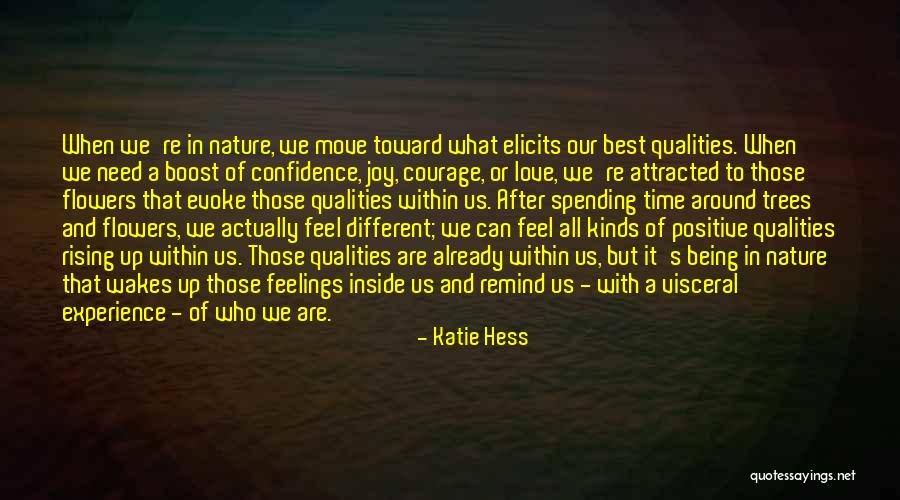 When we're in nature, we move toward what elicits our best qualities. When we need a boost of confidence, joy, courage, or love, we're attracted to those flowers that evoke those qualities within us. After spending time around trees and flowers, we actually feel different; we can feel all kinds of positive qualities rising up within us. Those qualities are already within us, but it's being in nature that wakes up those feelings inside us and remind us - with a visceral experience - of who we are. — Katie Hess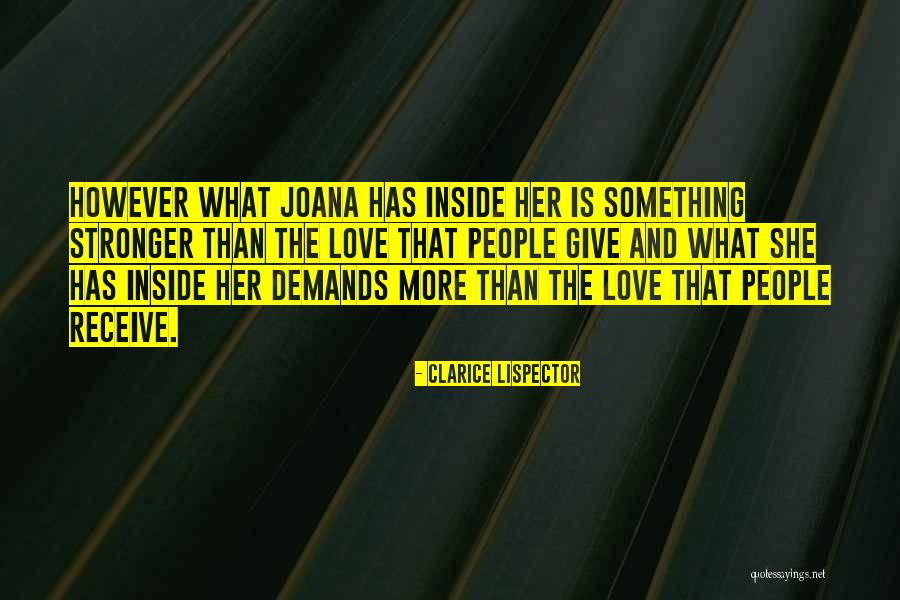 However what Joana has inside her is something stronger than the love that people give and what she has inside her demands more than the love that people receive. — Clarice Lispector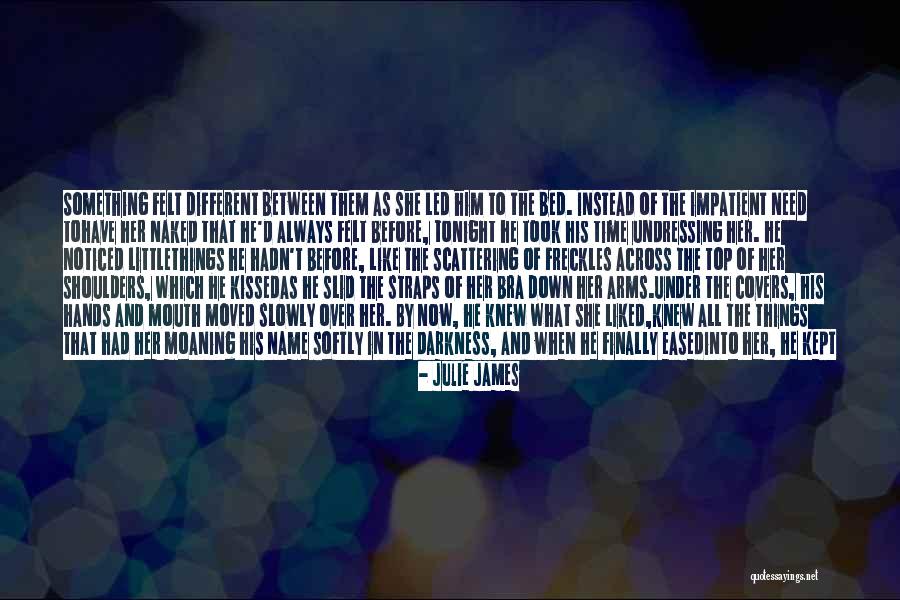 Something felt different between them as she led him to the bed. Instead of the impatient need to
have her naked that he'd always felt before, tonight he took his time undressing her. He noticed little
things he hadn't before, like the scattering of freckles across the top of her shoulders, which he kissed
as he slid the straps of her bra down her arms.
Under the covers, his hands and mouth moved slowly over her. By now, he knew what she liked,
knew all the things that had her moaning his name softly in the darkness, and when he finally eased
into her, he kept his lower body still for several moments as they kissed, wanting to simply savor the
feeling of being inside her.
And in that moment, he was pretty sure that nothing else had ever felt quite so right. — Julie James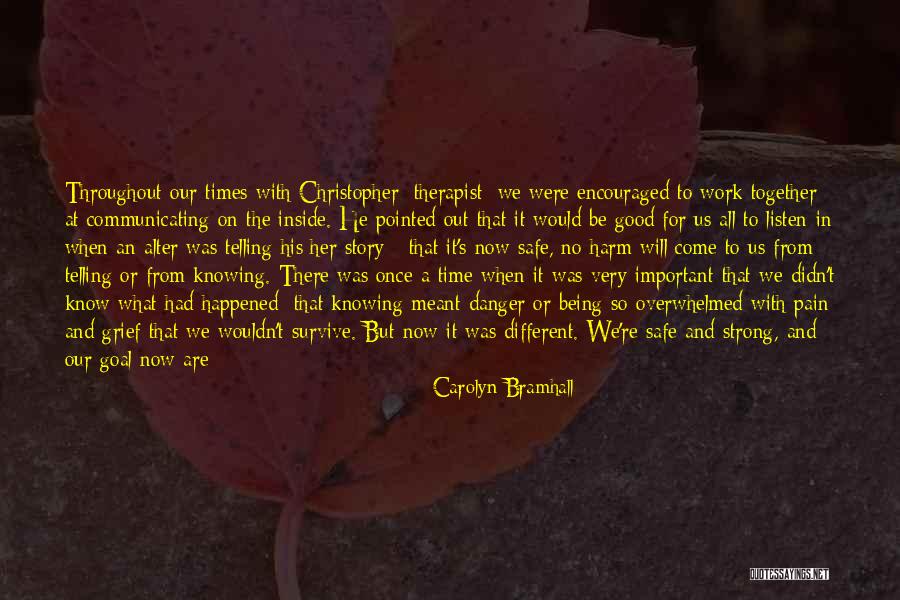 Throughout our times with Christopher [therapist] we were encouraged to work together at communicating on the inside. He pointed out that it would be good for us all to listen-in when an alter was telling his/her story - that it's now safe, no harm will come to us from telling or from knowing. There was once a time when it was very important that we didn't know what had happened; that knowing meant danger or being so overwhelmed with pain and grief that we wouldn't survive. But now it was different. We're safe and strong, and our goal now are to uncover the grisly truth of what's happened to us, so that it's no longer a powerful secret. We can look at it and face the past for what it is - old memories of old events. Today is now,and we can choose to live a different way and believe different things. We were once powerless and vulnerable, but now we were in a position to make choices. We had control over our life. — Carolyn Bramhall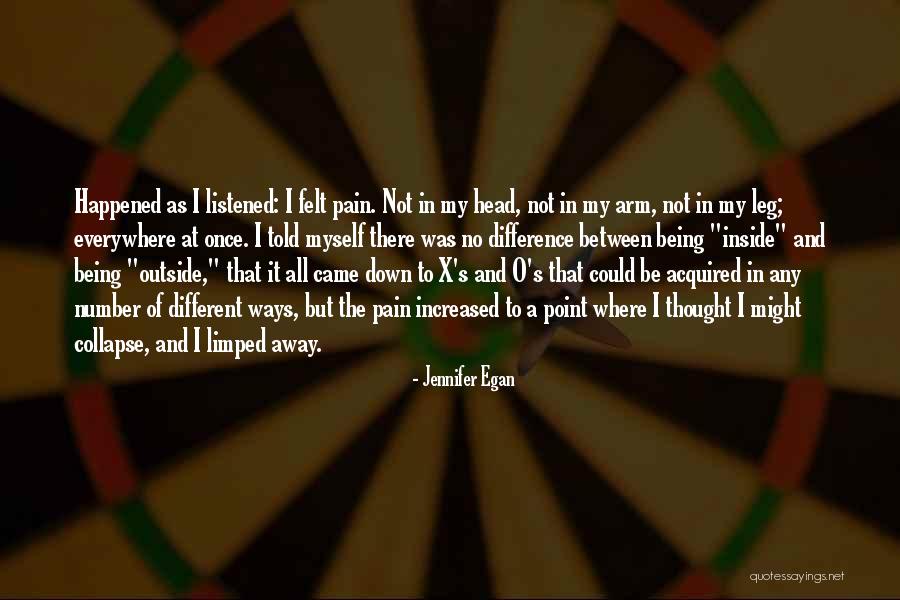 Happened as I listened: I felt pain. Not in my head, not in my arm, not in my leg; everywhere at once. I told myself there was no difference between being "inside" and being "outside," that it all came down to X's and O's that could be acquired in any number of different ways, but the pain increased to a point where I thought I might collapse, and I limped away. — Jennifer Egan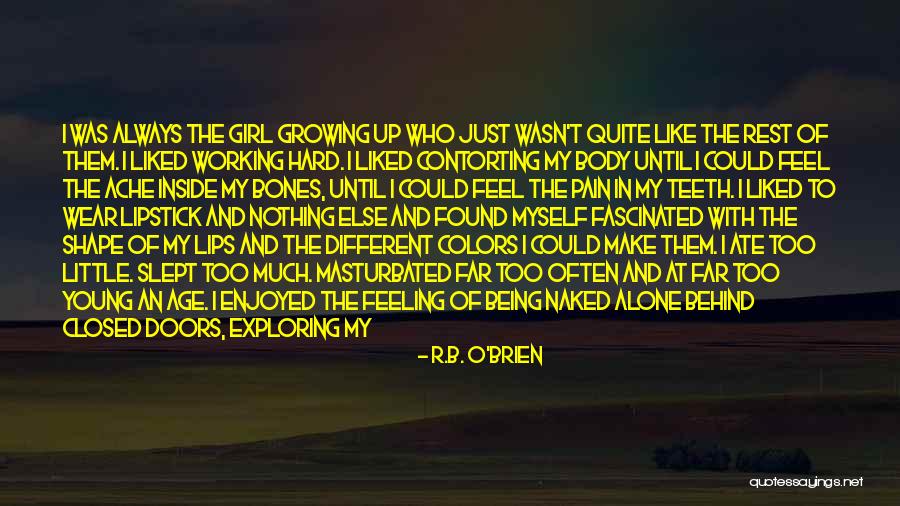 I was always the girl growing up who just wasn't quite like the rest of them. I liked working hard. I liked contorting my body until I could feel the ache inside my bones, until I could feel the pain in my teeth. I liked to wear lipstick and nothing else and found myself fascinated with the shape of my lips and the different colors I could make them. I ate too little. Slept too much. Masturbated far too often and at far too young an age. I enjoyed the feeling of being naked alone behind closed doors, exploring my deepest secrets within my imagination, as I put my hand over the rapid pace of my heart to feel how nervous it made me. I blushed at the faintest mention of my name and almost perished when complimented. I loved to find the answers behind someone's eyes. There's nothing quite like the feeling of when someone REALLY looks at you. And I read. Every chance I got. — R.B. O'Brien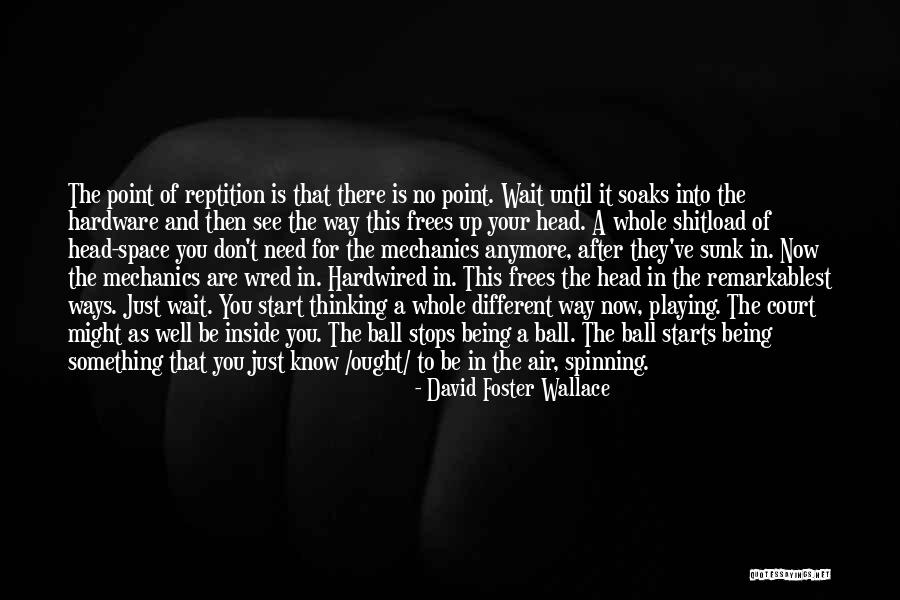 The point of reptition is that there is no point. Wait until it soaks into the hardware and then see the way this frees up your head. A whole shitload of head-space you don't need for the mechanics anymore, after they've sunk in. Now the mechanics are wred in. Hardwired in. This frees the head in the remarkablest ways. Just wait. You start thinking a whole different way now, playing. The court might as well be inside you. The ball stops being a ball. The ball starts being something that you just know /ought/ to be in the air, spinning. — David Foster Wallace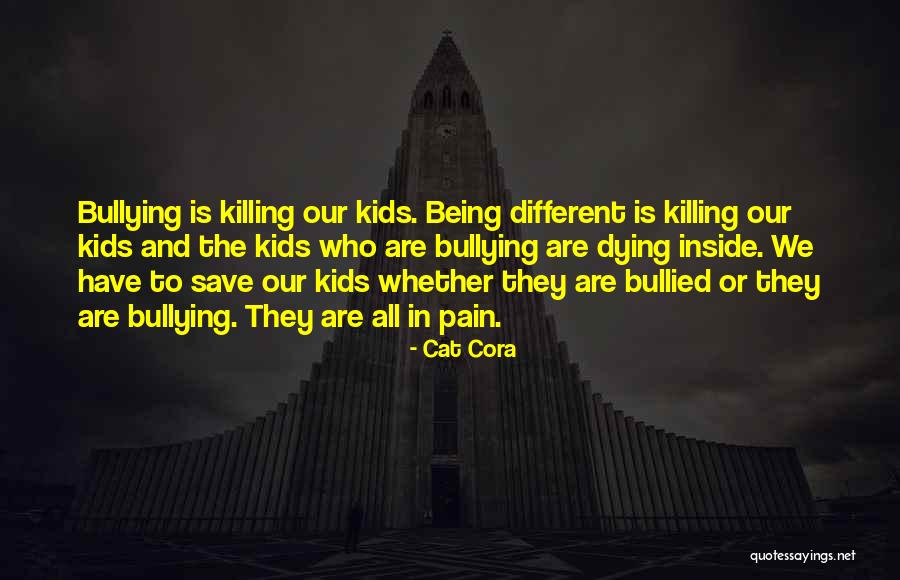 Bullying is killing our kids. Being different is killing our kids and the kids who are bullying are dying inside. We have to save our kids whether they are bullied or they are bullying. They are all in pain. — Cat Cora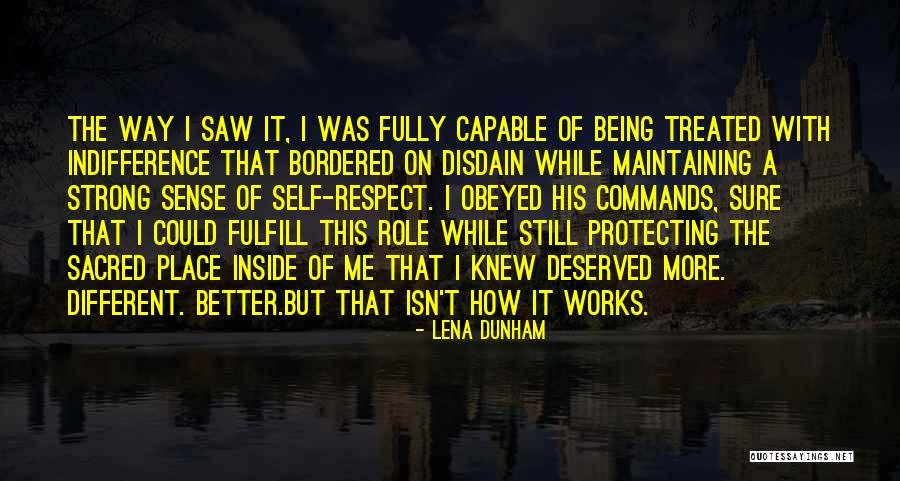 The way I saw it, I was fully capable of being treated with indifference that bordered on disdain while maintaining a strong sense of self-respect. I obeyed his commands, sure that I could fulfill this role while still protecting the sacred place inside of me that I knew deserved more. Different. Better.
But that isn't how it works. — Lena Dunham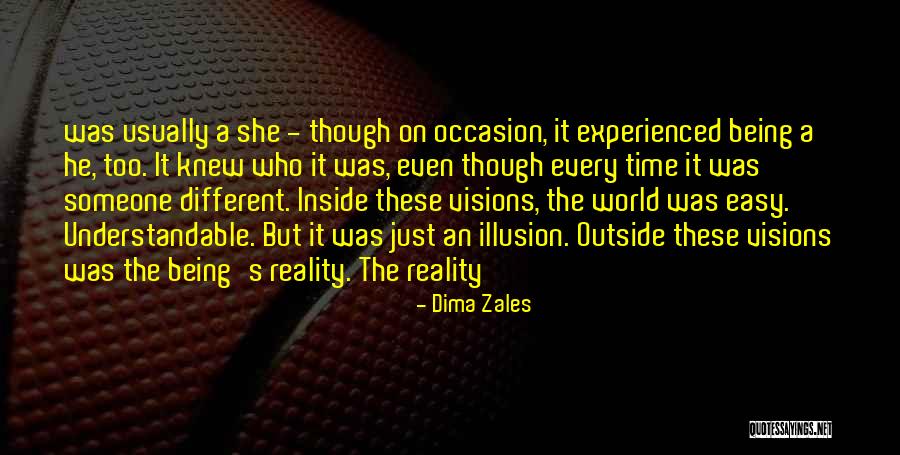 was usually a she - though on occasion, it experienced being a he, too. It knew who it was, even though every time it was someone different. Inside these visions, the world was easy. Understandable. But it was just an illusion. Outside these visions was the being's reality. The reality — Dima Zales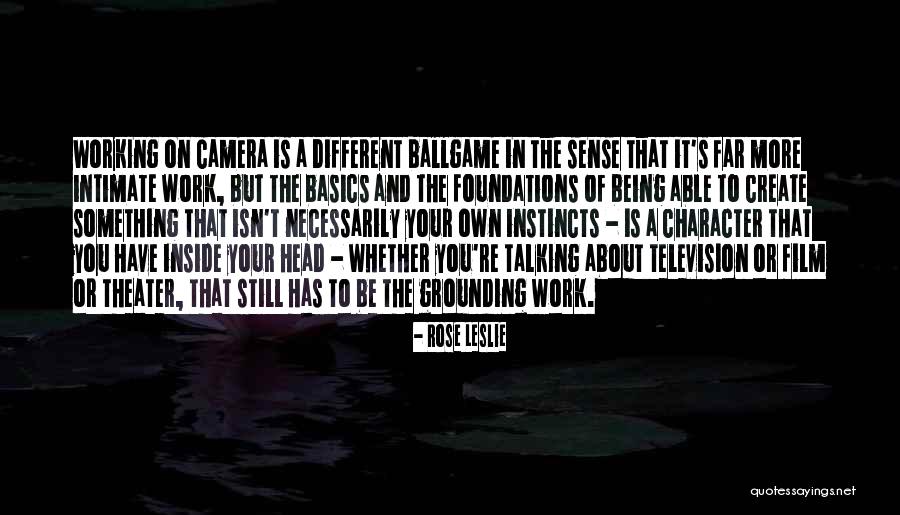 Working on camera is a different ballgame in the sense that it's far more intimate work, but the basics and the foundations of being able to create something that isn't necessarily your own instincts - is a character that you have inside your head - whether you're talking about television or film or theater, that still has to be the grounding work. — Rose Leslie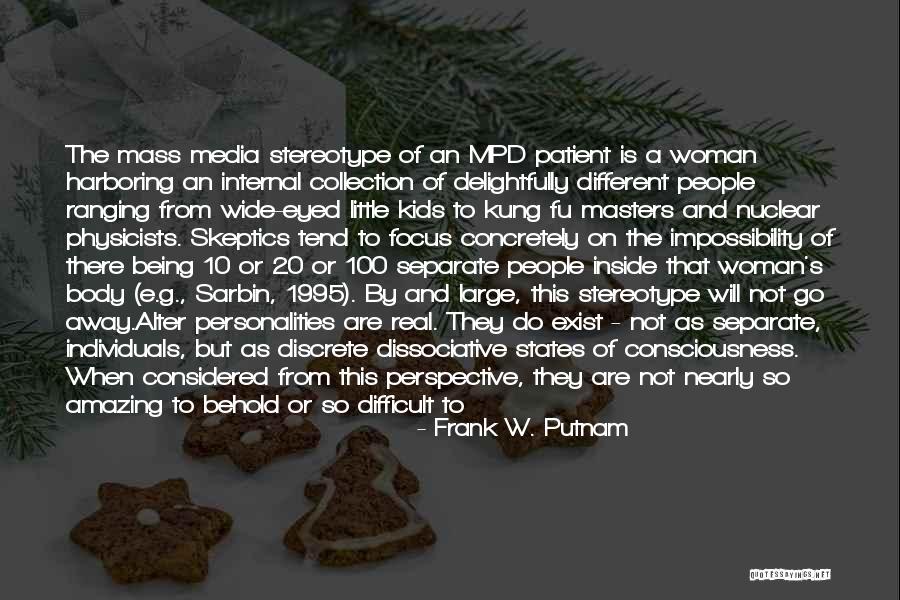 The mass media stereotype of an MPD patient is a woman harboring an internal collection of delightfully different people ranging from wide-eyed little kids to kung fu masters and nuclear physicists. Skeptics tend to focus concretely on the impossibility of there being 10 or 20 or 100 separate people inside that woman's body (e.g., Sarbin, 1995). By and large, this stereotype will not go away.

Alter personalities are real. They do exist - not as separate, individuals, but as discrete dissociative states of consciousness. When considered from this perspective, they are not nearly so amazing to behold or so difficult to accept. A fair reading of the MPD literature shows that authorities have long subscribed to this thesis: "Only when taken together can all of the personality states be considered a whole personality" (Coons, 1984, p. 53). Paradoxically, it is the critics who implicitly accept the view that the alter personalities are separate people. — Frank W. Putnam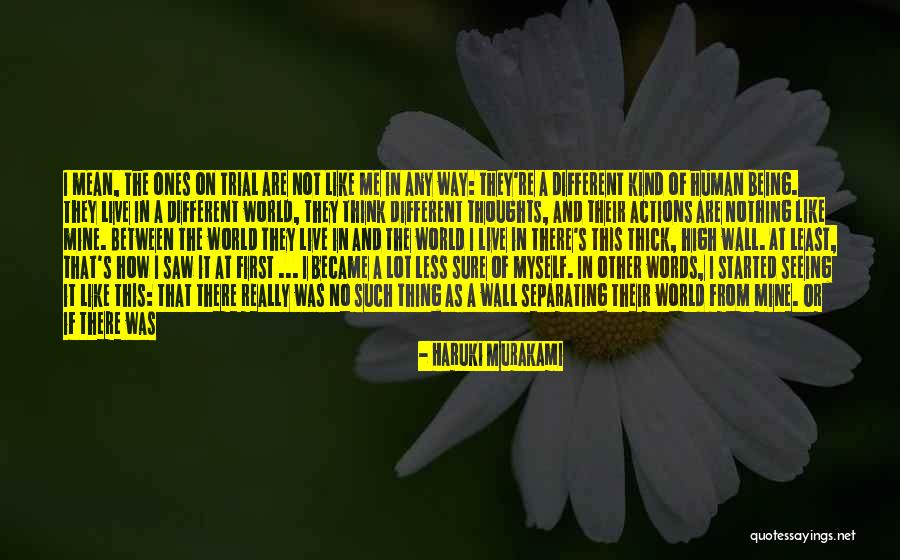 I mean, the ones on trial are not like me in any way: they're a different kind of human being. They live in a different world, they think different thoughts, and their actions are nothing like mine. Between the world they live in and the world I live in there's this thick, high wall. At least, that's how I saw it at first ... I became a lot less sure of myself. In other words, I started seeing it like this: that there really was no such thing as a wall separating their world from mine. Or if there was such a wall, it was probably a flimsy one made of papier-mache. The second I leaned on it, I'd probably fall right through and end up on the other side. Or maybe it's that the other side has already managed to sneak its way inside of us, and we just haven't noticed. — Haruki Murakami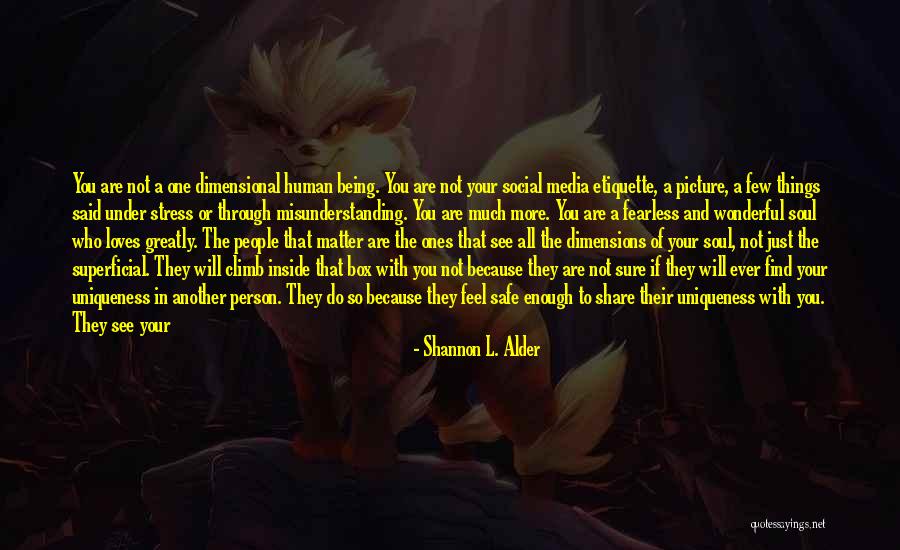 You are not a one dimensional human being. You are not your social media etiquette, a picture, a few things said under stress or through misunderstanding. You are much more. You are a fearless and wonderful soul who loves greatly. The people that matter are the ones that see all the dimensions of your soul, not just the superficial. They will climb inside that box with you not because they are not sure if they will ever find your uniqueness in another person. They do so because they feel safe enough to share their uniqueness with you. They see your faults and know that they have them also. They feel the walls lowered and the freedom of being themselves. Honesty is never guarded or regretted. That is what makes that box home. — Shannon L. Alder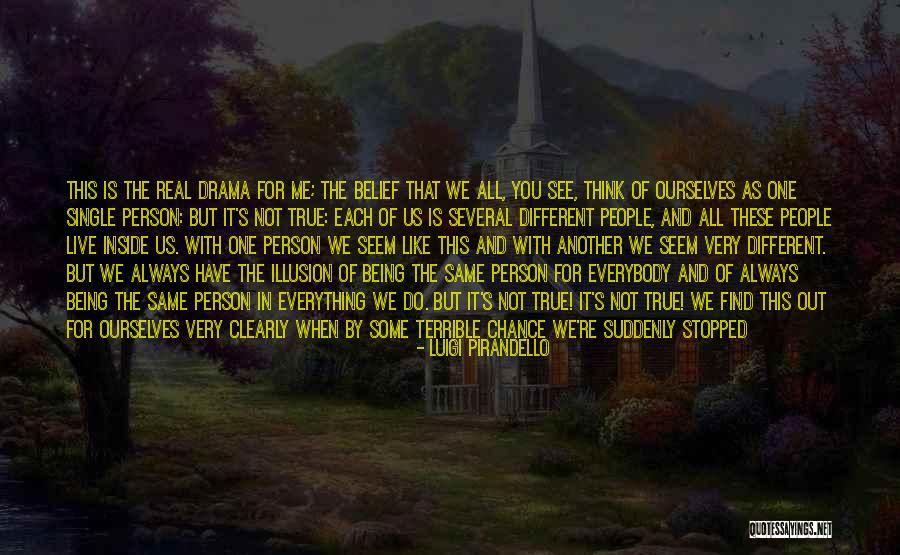 This is the real drama for me; the belief that we all, you see, think of ourselves as one single person: but it's not true: each of us is several different people, and all these people live inside us. With one person we seem like this and with another we seem very different. But we always have the illusion of being the same person for everybody and of always being the same person in everything we do. But it's not true! It's not true! We find this out for ourselves very clearly when by some terrible chance we're suddenly stopped in the middle of doing something and we're left dangling there, suspended. We realize then, that every part of us was not involved in what we'd been doing and that it would be a dreadful injustice of other people to judge us only by this one action as we dangle there, hanging in chains, fixed for all eternity, as if the whole of one's personality were summed up in that single, interrupted action. — Luigi Pirandello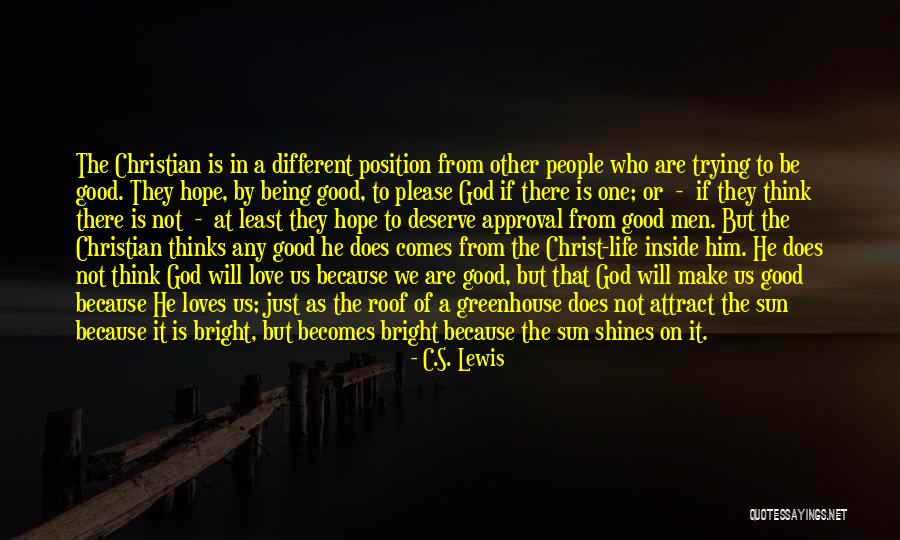 The Christian is in a different position from other people who are trying to be good. They hope, by being good, to please God if there is one; or - if they think there is not - at least they hope to deserve approval from good men. But the Christian thinks any good he does comes from the Christ-life inside him. He does not think God will love us because we are good, but that God will make us good because He loves us; just as the roof of a greenhouse does not attract the sun because it is bright, but becomes bright because the sun shines on it. — C.S. Lewis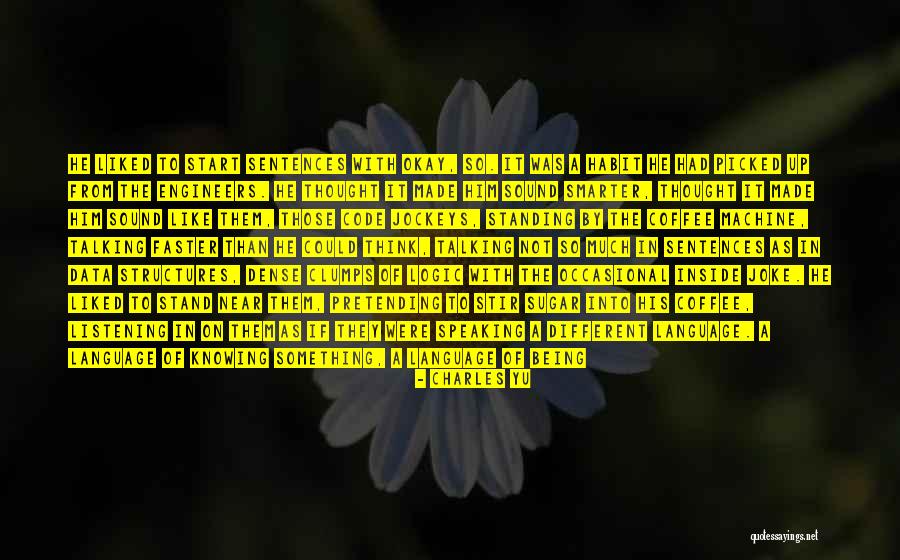 He liked to start sentences with okay, so. It was a habit he had picked up from the engineers. He thought it made him sound smarter, thought it made him sound like them, those code jockeys, standing by the coffee machine, talking faster than he could think, talking not so much in sentences as in data structures, dense clumps of logic with the occasional inside joke. He liked to stand near them, pretending to stir sugar into his coffee, listening in on them as if they were speaking a different language. A language of knowing something, a language of being an expert at something. A language of being something more than an hourly unit. — Charles Yu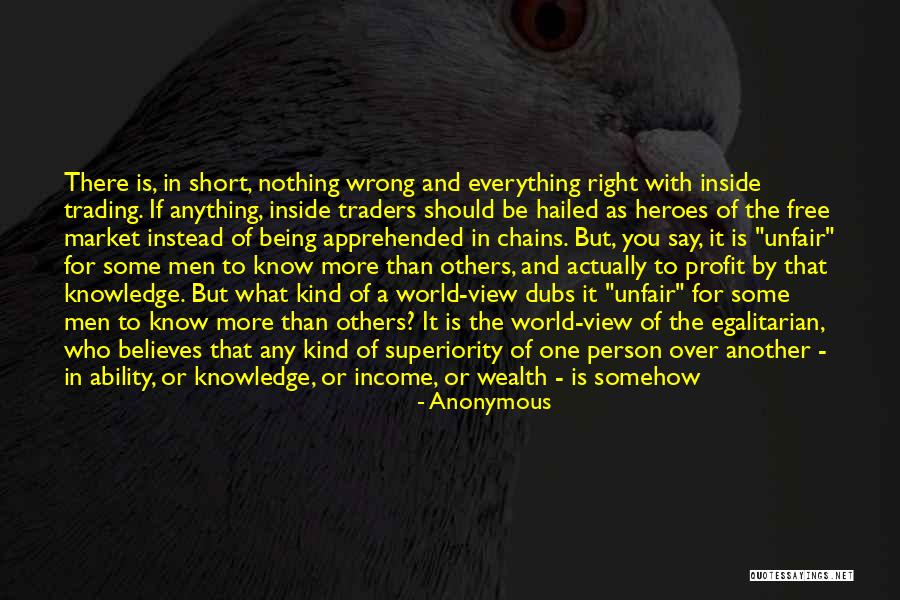 There is, in short, nothing wrong and everything right with inside trading. If anything, inside traders should be hailed as heroes of the free market instead of being apprehended in chains. But, you say, it is "unfair" for some men to know more than others, and actually to profit by that knowledge. But what kind of a world-view dubs it "unfair" for some men to know more than others? It is the world-view of the egalitarian, who believes that any kind of superiority of one person over another - in ability, or knowledge, or income, or wealth - is somehow "unfair." But men are not ants or bees or robots; each individual is unique and different from others, and ability, talent, and wealth will therefore differ. — Anonymous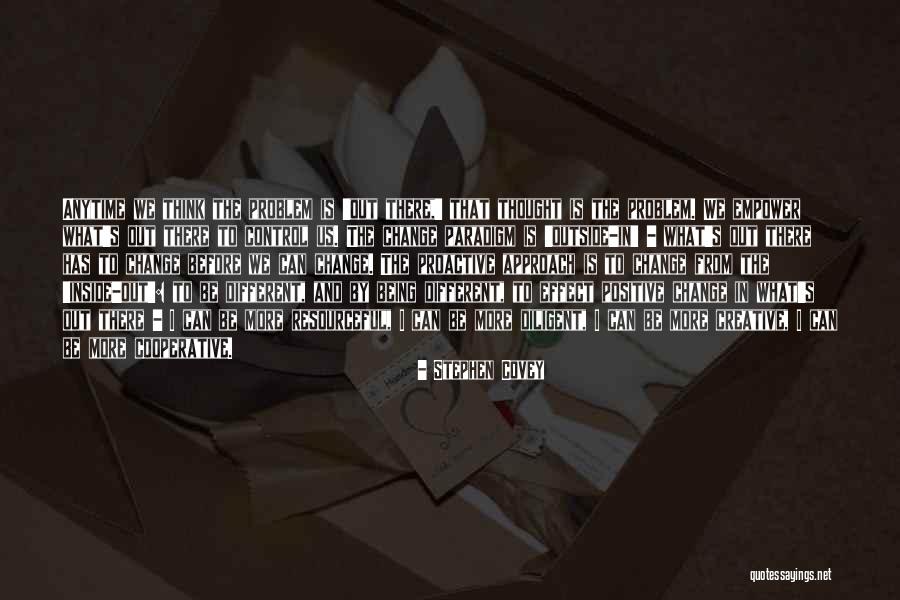 Anytime we think the problem is 'out there,' that thought is the problem. We empower what's out there to control us. The change paradigm is 'outside-in' - what's out there has to change before we can change. The proactive approach is to change from the 'inside-out': to be different, and by being different, to effect positive change in what's out there - I can be more resourceful, I can be more diligent, I can be more creative, I can be more cooperative. — Stephen Covey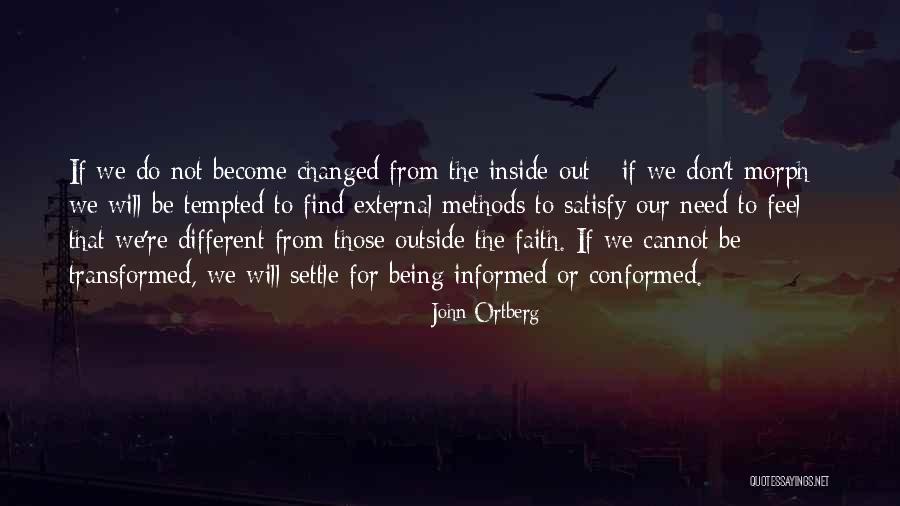 If we do not become changed from the inside-out - if we don't morph - we will be tempted to find external methods to satisfy our need to feel that we're different from those outside the faith. If we cannot be transformed, we will settle for being informed or conformed. — John Ortberg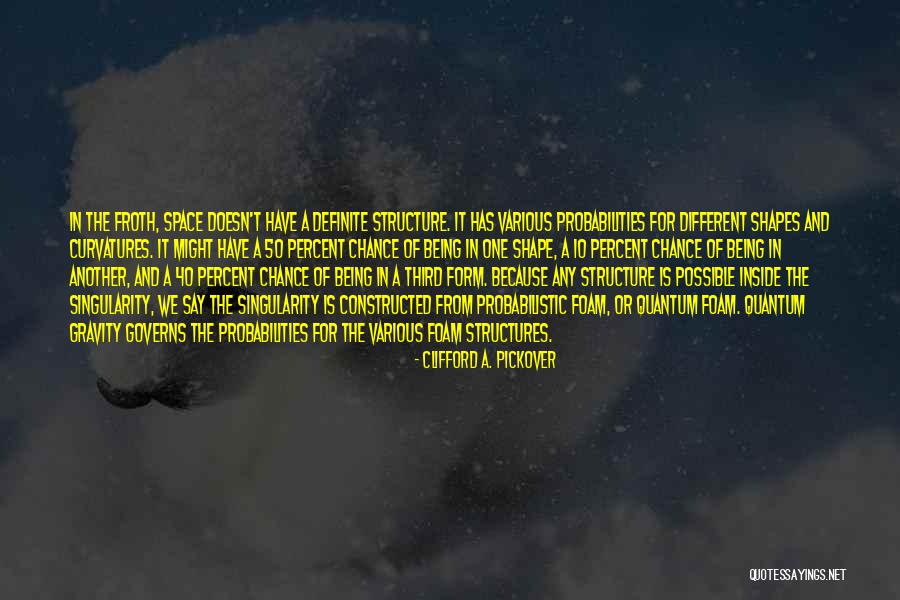 In the froth, space doesn't have a definite structure. It has various probabilities for different shapes and curvatures. It might have a 50 percent chance of being in one shape, a 10 percent chance of being in another, and a 40 percent chance of being in a third form. Because any structure is possible inside the singularity, we say the singularity is constructed from probabilistic foam, or quantum foam. Quantum gravity governs the probabilities for the various foam structures. — Clifford A. Pickover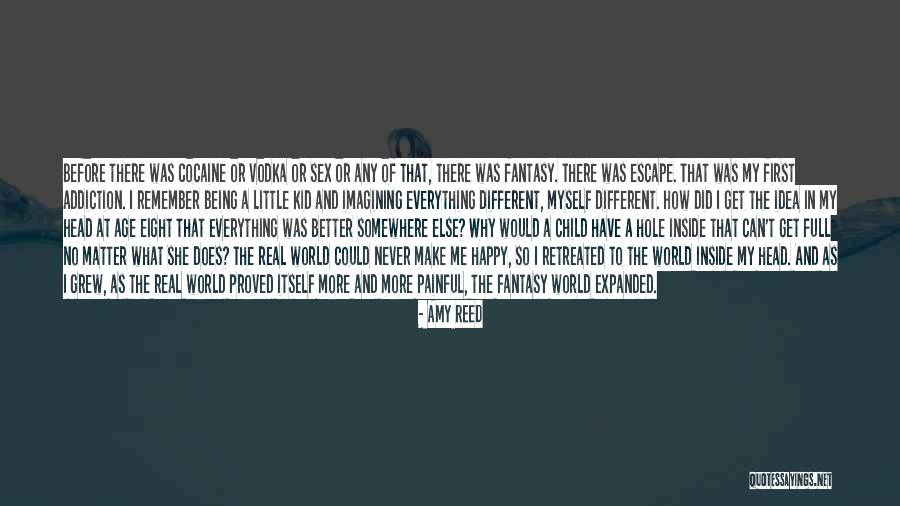 Before there was Cocaine or vodka or sex or any of that, there was fantasy. There was escape. That was my first addiction. I remember being a little kid and imagining everything different, myself different. How did I get the idea in my head at age eight that everything was better somewhere else? Why would a child have a hole inside that can't get full no matter what she does? The real world could never make me happy, so I retreated to the world inside my head. And as I grew, as the real world proved itself more and more painful, the fantasy world expanded. — Amy Reed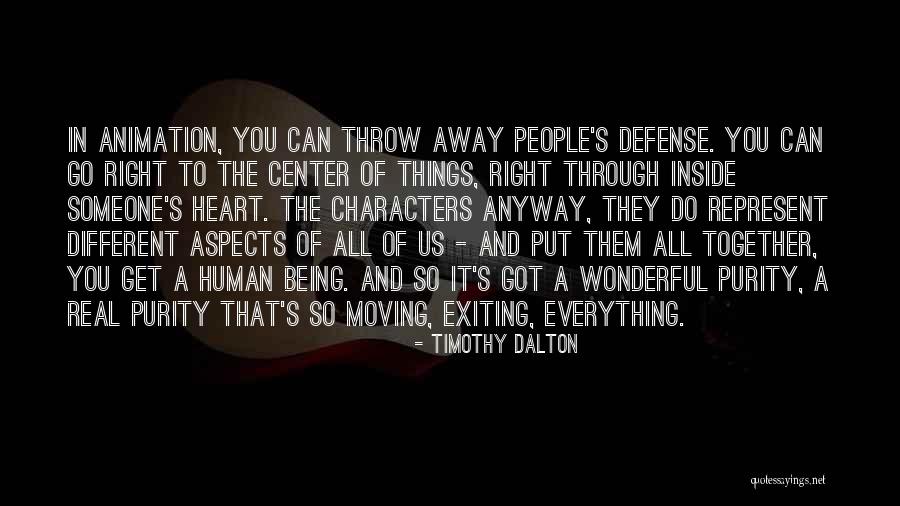 In animation, you can throw away people's defense. You can go right to the center of things, right through inside someone's heart. The characters anyway, they do represent different aspects of all of us - and put them all together, you get a human being. And so it's got a wonderful purity, a real purity that's so moving, exiting, everything. — Timothy Dalton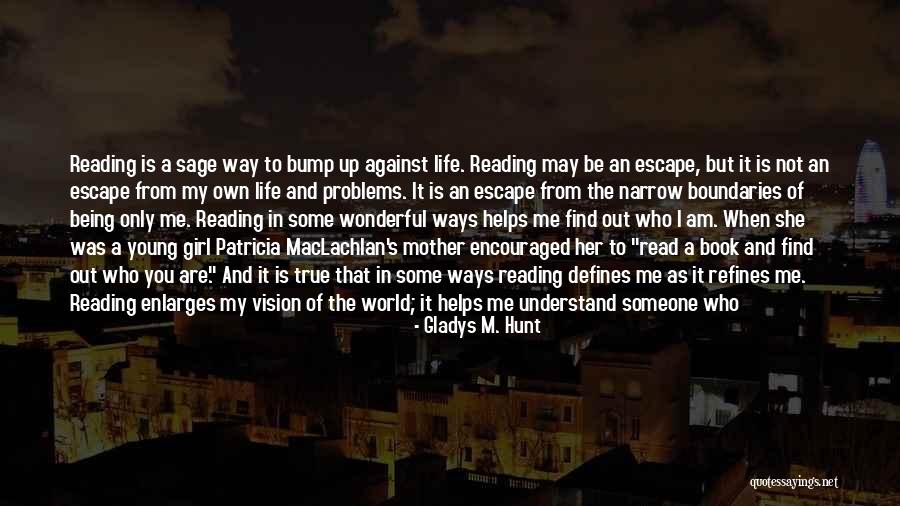 Reading is a sage way to bump up against life. Reading may be an escape, but it is not an escape from my own life and problems. It is an escape from the narrow boundaries of being only me. Reading in some wonderful ways helps me find out who I am. When she was a young girl Patricia MacLachlan's mother encouraged her to "read a book and find out who you are." And it is true that in some ways reading defines me as it refines me. Reading enlarges my vision of the world; it helps me understand someone who is different from me. It makes me bigger on the inside. We tend to see the world from our own perspective; it is good to see it from the eyes of others. Good literature helps me understand who I am in relation to what others experience. Far from being an escape from reality, good literature is a window into reality. I read to feel life. — Gladys M. Hunt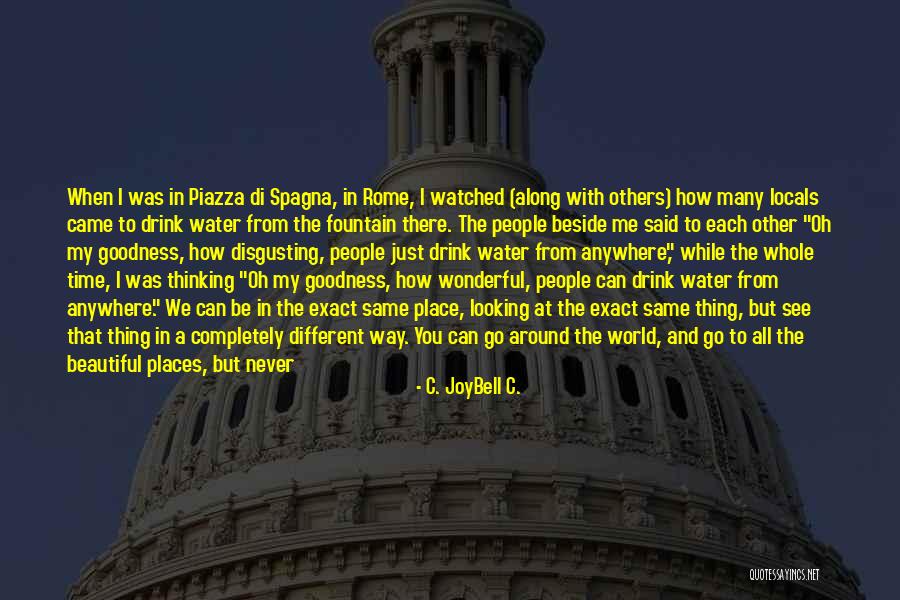 When I was in Piazza di Spagna, in Rome, I watched (along with others) how many locals came to drink water from the fountain there. The people beside me said to each other "Oh my goodness, how disgusting, people just drink water from anywhere," while the whole time, I was thinking "Oh my goodness, how wonderful, people can drink water from anywhere." We can be in the exact same place, looking at the exact same thing, but see that thing in a completely different way. You can go around the world, and go to all the beautiful places, but never be happy, because happiness is something that you bring inside of you, it is not where you are or what you are looking at, but it is how you are and how you look at. — C. JoyBell C.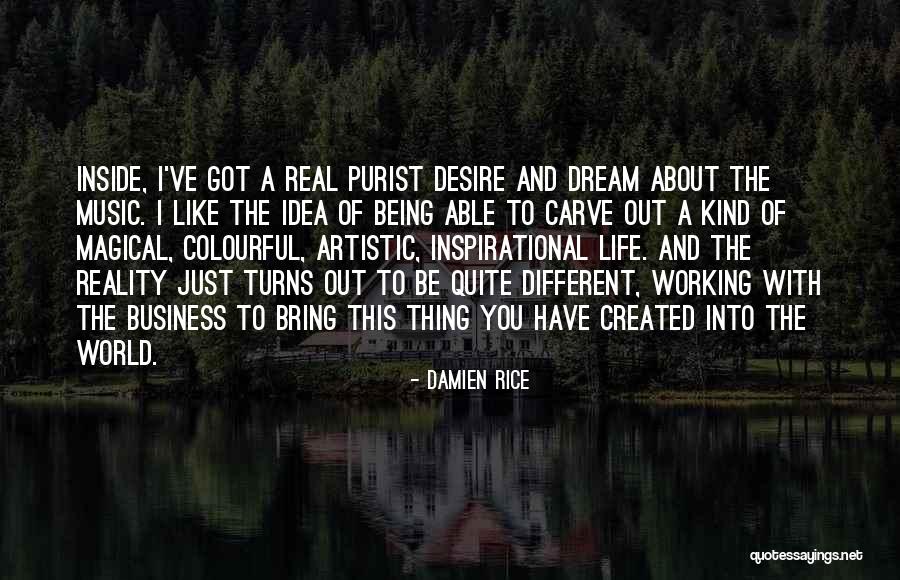 Inside, I've got a real purist desire and dream about the music. I like the idea of being able to carve out a kind of magical, colourful, artistic, inspirational life. And the reality just turns out to be quite different, working with the business to bring this thing you have created into the world. — Damien Rice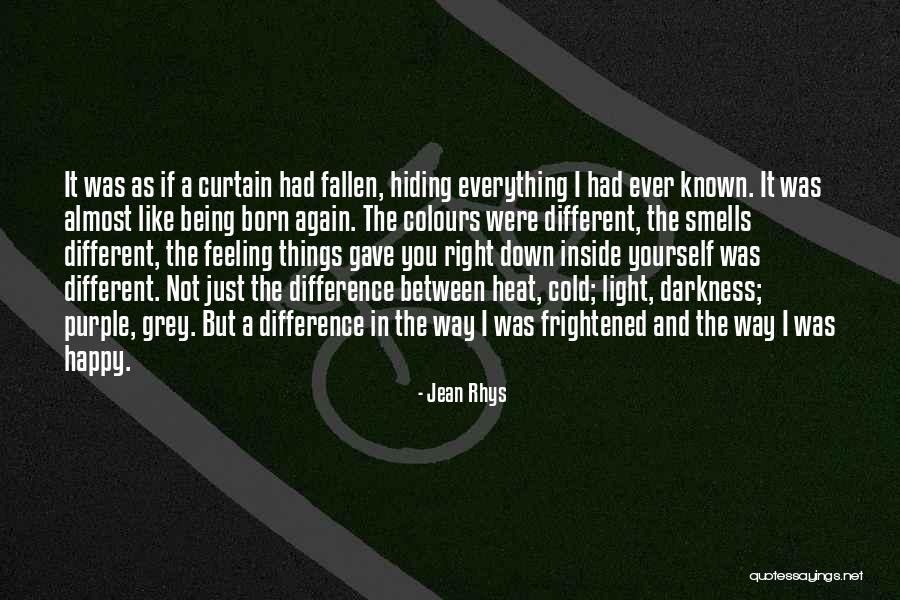 It was as if a curtain had fallen, hiding everything I had ever known. It was almost like being born again. The colours were different, the smells different, the feeling things gave you right down inside yourself was different. Not just the difference between heat, cold; light, darkness; purple, grey. But a difference in the way I was frightened and the way I was happy. — Jean Rhys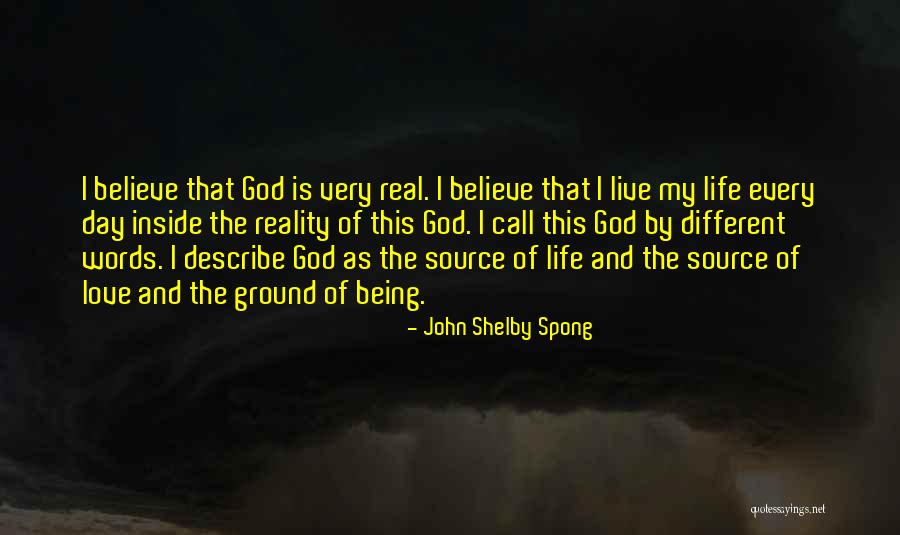 I believe that God is very real. I believe that I live my life every day inside the reality of this God. I call this God by different words. I describe God as the source of life and the source of love and the ground of being. — John Shelby Spong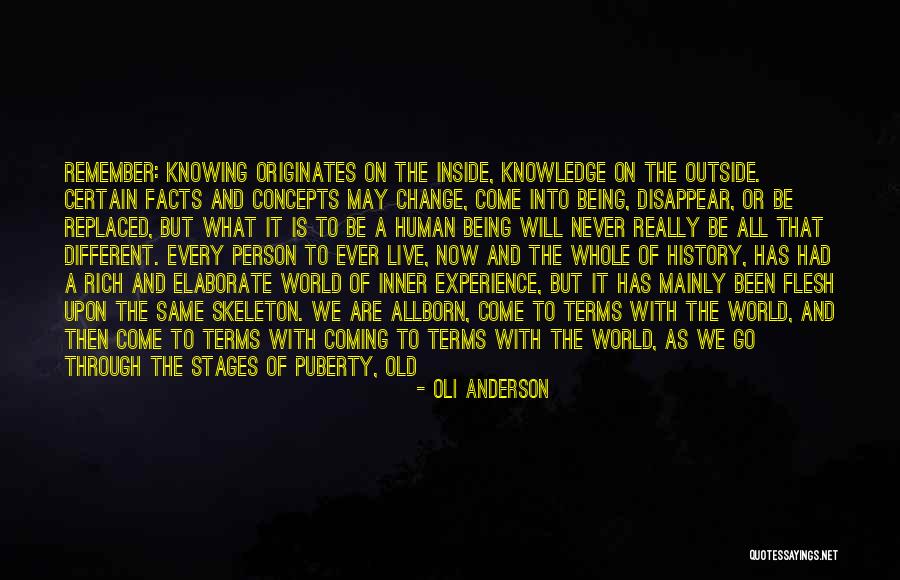 Remember: knowing originates on the inside, knowledge on the outside. Certain facts and concepts may change, come into being, disappear, or be replaced, but what it is to be a human being will never really be all that different. Every person to ever live, now and the whole of history, has had a rich and elaborate world of inner experience, but it has mainly been flesh upon the same skeleton. We are all
born, come to terms with the world, and then come to terms with coming to terms with the world, as we go through the stages of puberty, old age, death and
making sense of it all in between. We all live the same process in different ways. Some live it longer than others and some cover more ground. But that's it. — Oli Anderson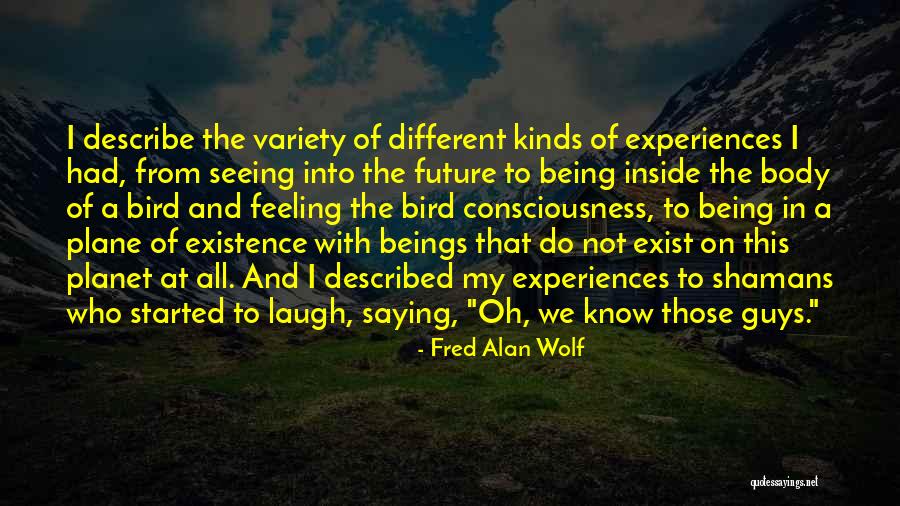 I describe the variety of different kinds of experiences I had, from seeing into the future to being inside the body of a bird and feeling the bird consciousness, to being in a plane of existence with beings that do not exist on this planet at all. And I described my experiences to shamans who started to laugh, saying, "Oh, we know those guys." — Fred Alan Wolf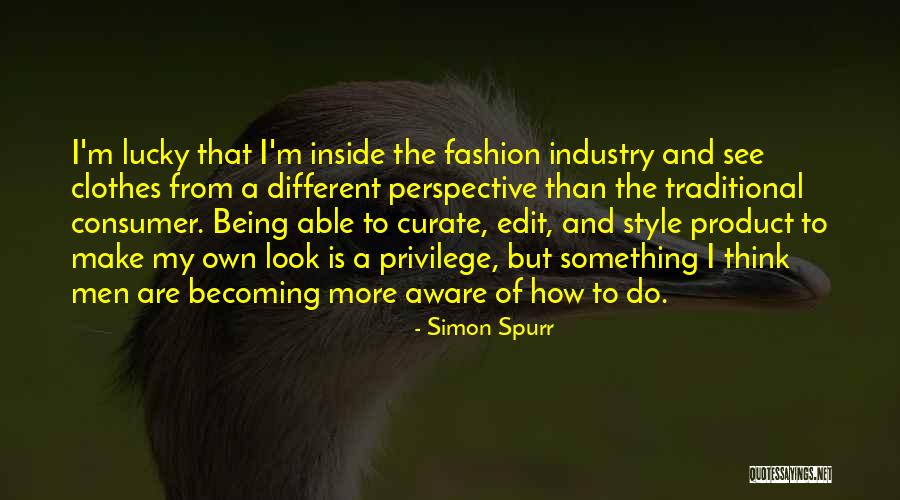 I'm lucky that I'm inside the fashion industry and see clothes from a different perspective than the traditional consumer. Being able to curate, edit, and style product to make my own look is a privilege, but something I think men are becoming more aware of how to do. — Simon Spurr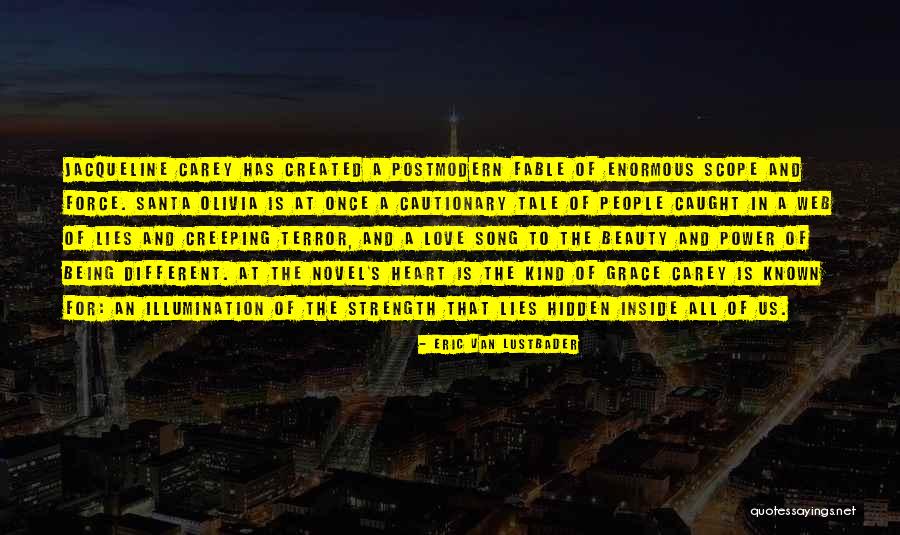 Jacqueline Carey has created a postmodern fable of enormous scope and force. Santa Olivia is at once a cautionary tale of people caught in a web of lies and creeping terror, and a love song to the beauty and power of being different. At the novel's heart is the kind of grace Carey is known for: an illumination of the strength that lies hidden inside all of us. — Eric Van Lustbader