Quotes & Sayings About Being Different And Standing Out
Enjoy reading and share 21 famous quotes about Being Different And Standing Out with everyone.
Top Being Different And Standing Out Quotes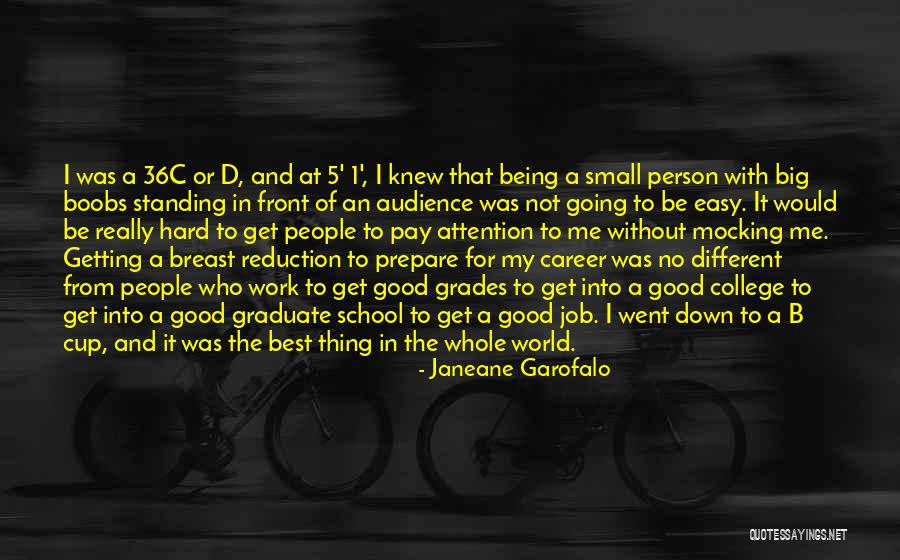 I was a 36C or D, and at 5' 1', I knew that being a small person with big boobs standing in front of an audience was not going to be easy. It would be really hard to get people to pay attention to me without mocking me. Getting a breast reduction to prepare for my career was no different from people who work to get good grades to get into a good college to get into a good graduate school to get a good job. I went down to a B cup, and it was the best thing in the whole world. — Janeane Garofalo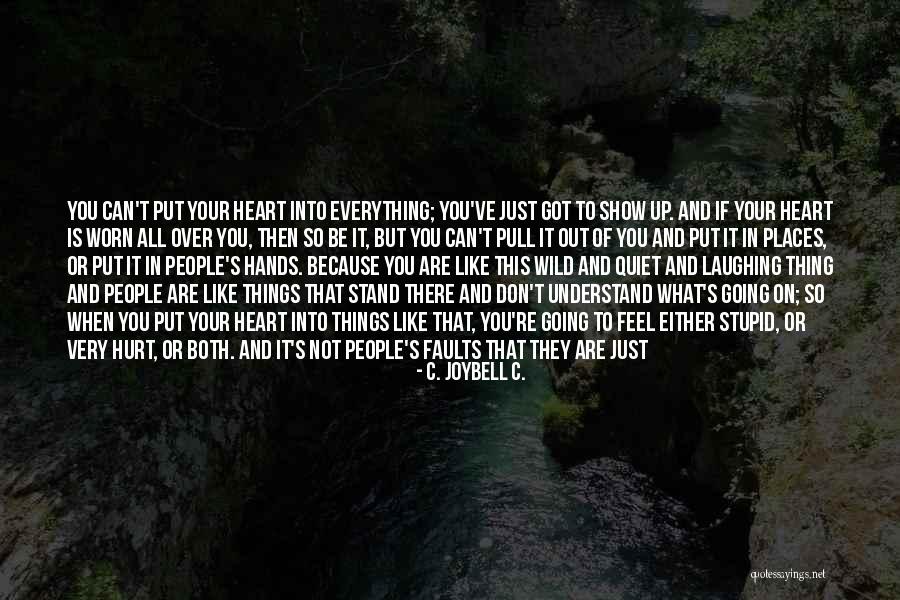 You can't put your heart into everything; you've just got to show up. And if your heart is worn all over you, then so be it, but you can't pull it out of you and put it in places, or put it in people's hands. Because you are like this wild and quiet and laughing thing and people are like things that stand there and don't understand what's going on; so when you put your heart into things like that, you're going to feel either stupid, or very hurt, or both. And it's not people's faults that they are just standing there. I mean, you're the different one; they're not different; they're all the same. — C. JoyBell C.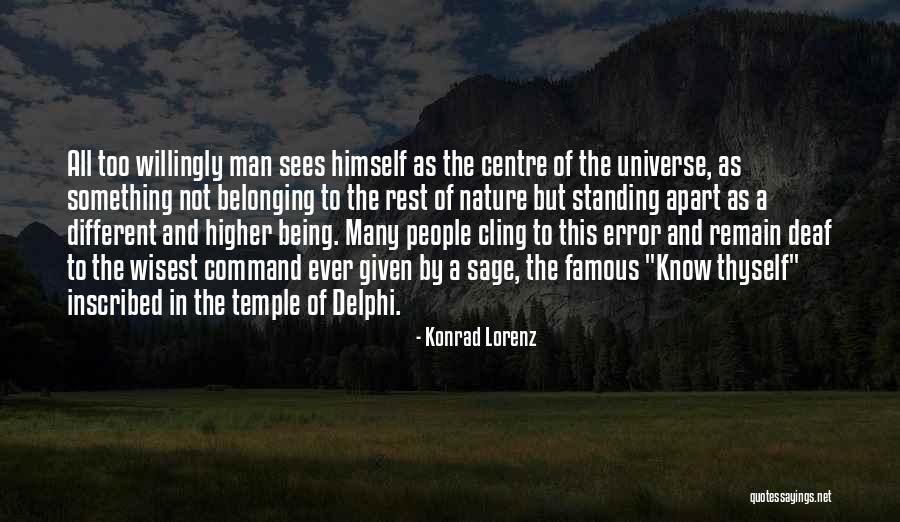 All too willingly man sees himself as the centre of the universe, as something not belonging to the rest of nature but standing apart as a different and higher being. Many people cling to this error and remain deaf to the wisest command ever given by a sage, the famous "Know thyself" inscribed in the temple of Delphi. — Konrad Lorenz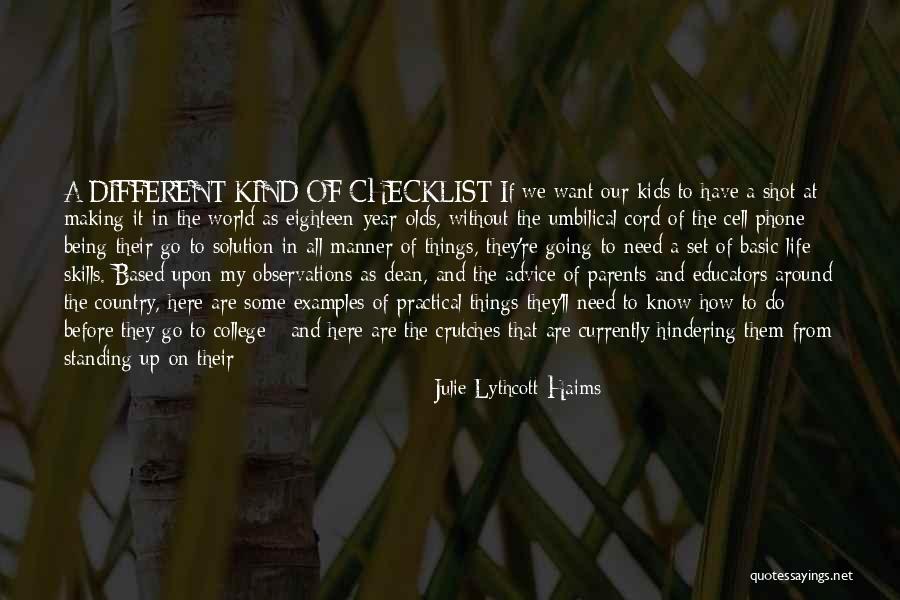 A DIFFERENT KIND OF CHECKLIST If we want our kids to have a shot at making it in the world as eighteen-year-olds, without the umbilical cord of the cell phone being their go-to solution in all manner of things, they're going to need a set of basic life skills. Based upon my observations as dean, and the advice of parents and educators around the country, here are some examples of practical things they'll need to know how to do before they go to college - and here are the crutches that are currently hindering them from standing up on their own two feet: 1. An eighteen-year-old must be able to talk to strangers - faculty, deans, advisers, landlords, store clerks, human resource managers, coworkers, bank tellers, health care providers, bus drivers, mechanics - in the real world. — Julie Lythcott-Haims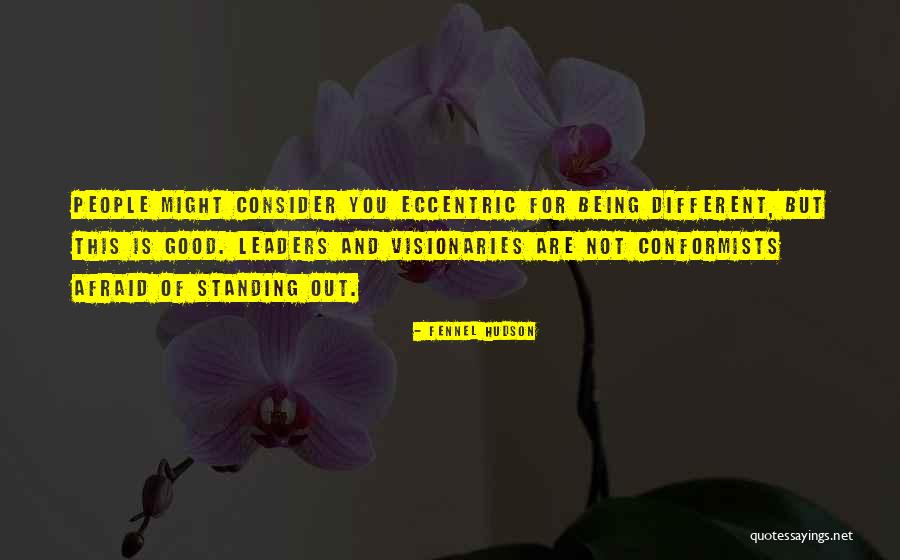 People might consider you eccentric for being different, but this is good. Leaders and visionaries are not conformists afraid of standing out. — Fennel Hudson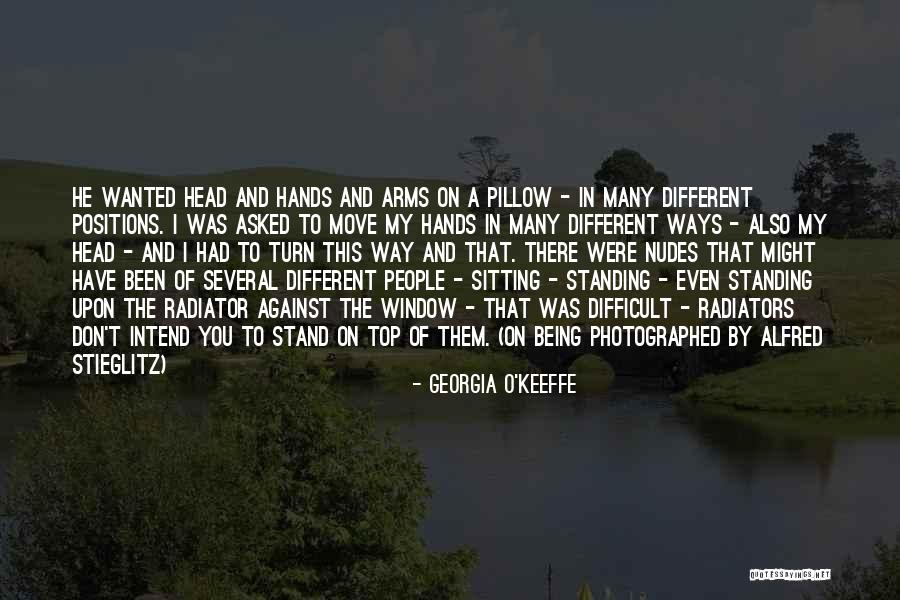 He wanted head and hands and arms on a pillow - in many different positions. I was asked to move my hands in many different ways - also my head - and I had to turn this way and that. There were nudes that might have been of several different people - sitting - standing - even standing upon the radiator against the window - that was difficult - radiators don't intend you to stand on top of them. (On being photographed by Alfred Stieglitz) — Georgia O'Keeffe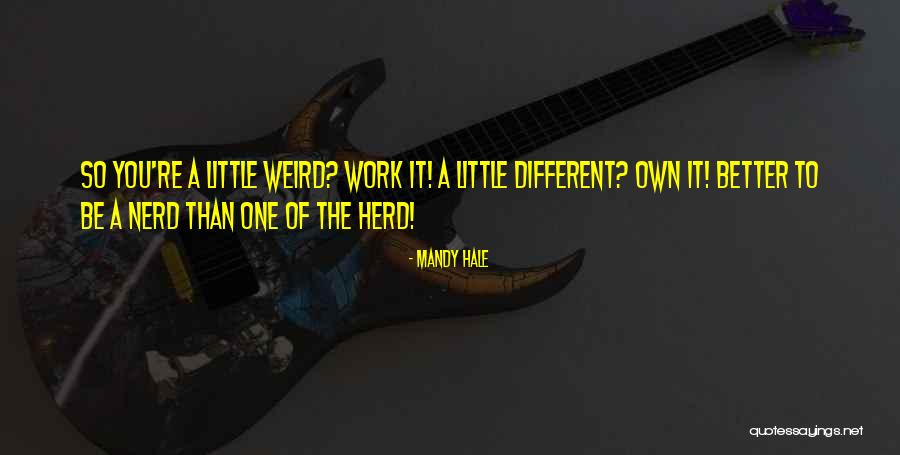 So you're a little weird? Work it! A little different? OWN it! Better to be a nerd than one of the herd! — Mandy Hale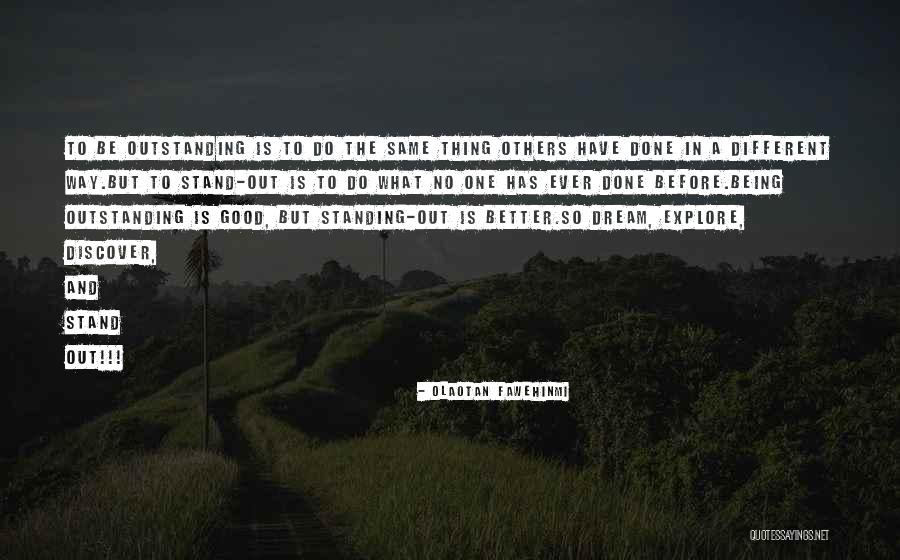 To be Outstanding is to do the same thing others have done in a different way.
But to STAND-OUT is to do what no one has ever done before.
Being outstanding is good, but STANDING-OUT is better.
So Dream, Explore, Discover, and Stand Out!!! — Olaotan Fawehinmi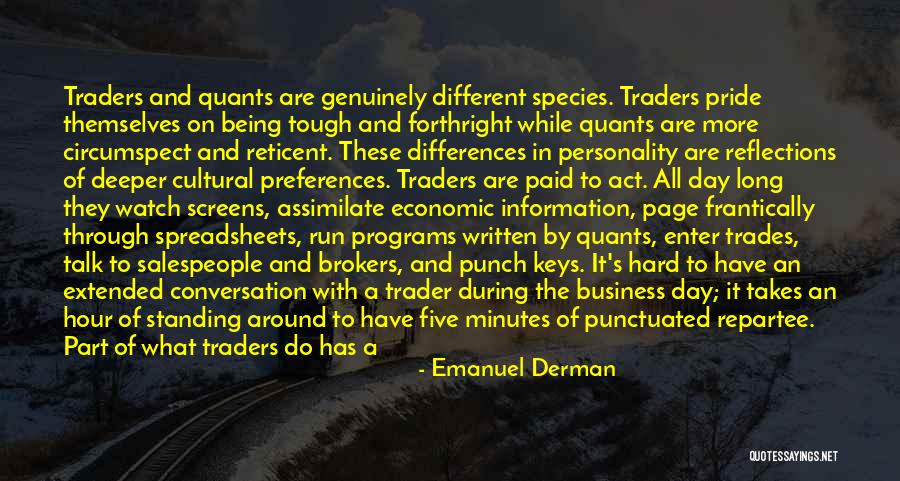 Traders and quants are genuinely different species. Traders pride themselves on being tough and forthright while quants are more circumspect and reticent. These differences in personality are reflections of deeper cultural preferences. Traders are paid to act. All day long they watch screens, assimilate economic information, page frantically through spreadsheets, run programs written by quants, enter trades, talk to salespeople and brokers, and punch keys. It's hard to have an extended conversation with a trader during the business day; it takes an hour of standing around to have five minutes of punctuated repartee. Part of what traders do has a video game quality. In consequence, they learn to be opinionated, visceral, fast-thinking, and decisive, though not always right. They thrive on interruption. Quants — Emanuel Derman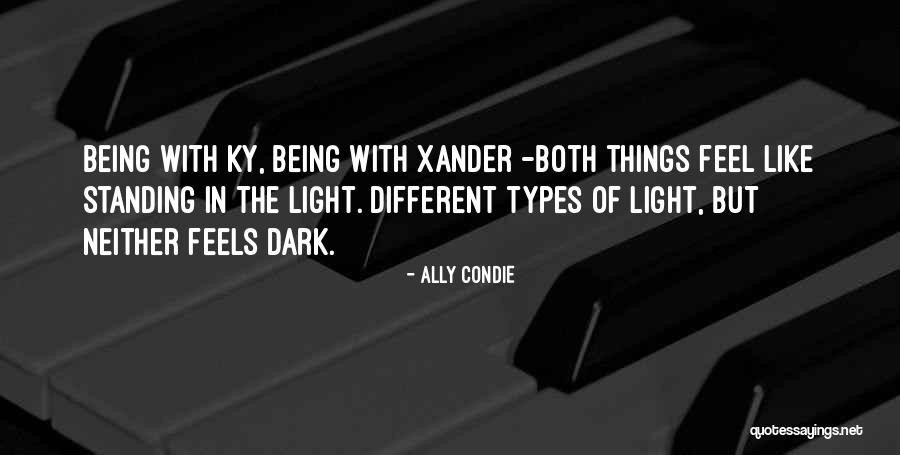 Being with Ky, being with Xander -both things feel like standing in the light. Different types of light, but neither feels dark. — Ally Condie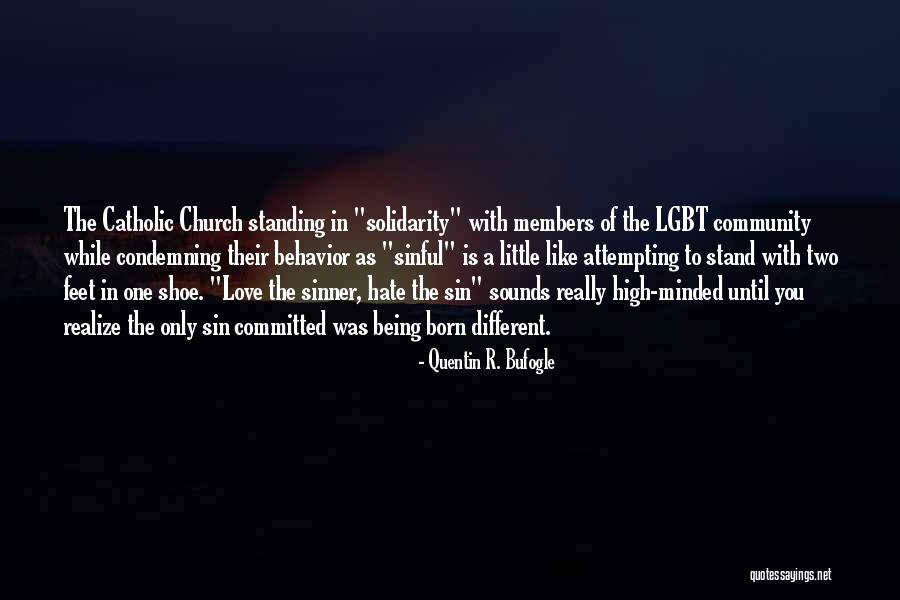 The Catholic Church standing in "solidarity" with members of the LGBT community while condemning their behavior as "sinful" is a little like attempting to stand with two feet in one shoe. "Love the sinner, hate the sin" sounds really high-minded until you realize the only sin committed was being born different. — Quentin R. Bufogle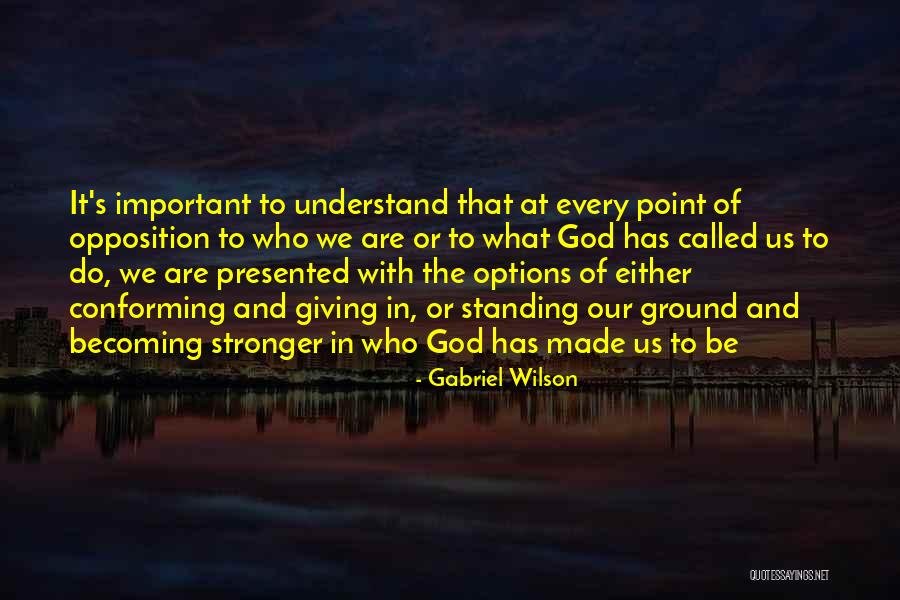 It's important to understand that at every point of opposition to who we are or to what God has called us to do, we are presented with the options of either conforming and giving in, or standing our ground and becoming stronger in who God has made us to be — Gabriel Wilson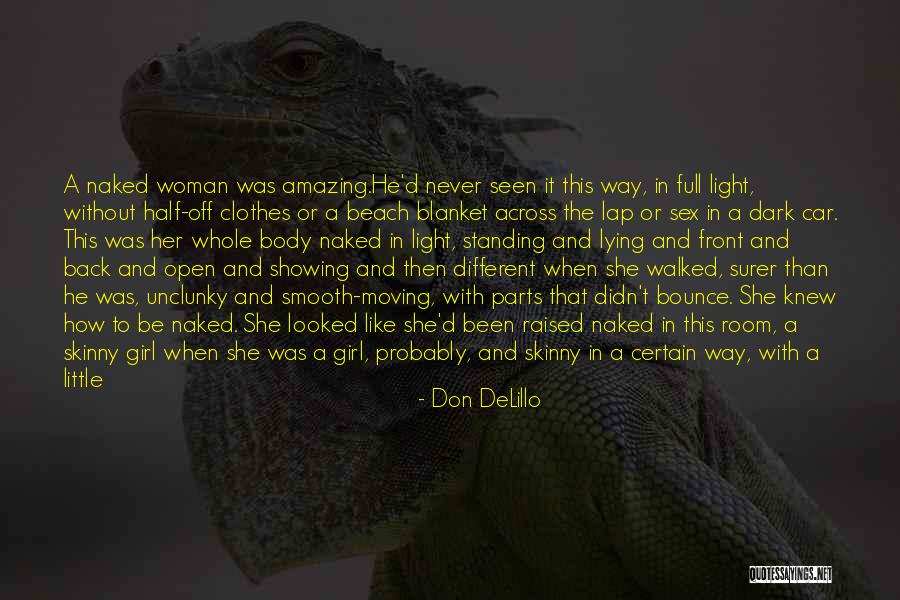 A naked woman was amazing.

He'd never seen it this way, in full light, without half-off clothes or a beach blanket across the lap or sex in a dark car. This was her whole body naked in light, standing and lying and front and back and open and showing and then different when she walked, surer than he was, unclunky and smooth-moving, with parts that didn't bounce. She knew how to be naked. She looked like she'd been raised naked in this room, a skinny girl when she was a girl, probably, and skinny in a certain way, with a little bulgy belly and ashamed of her feet, but grown out of shyness and wrong proportions now, and being married of course, used to being seen, and she didn't have curves and swerves but was good looking naked and stuck to him when they fucked like a thing fighting for light, a great wet papery moth. — Don DeLillo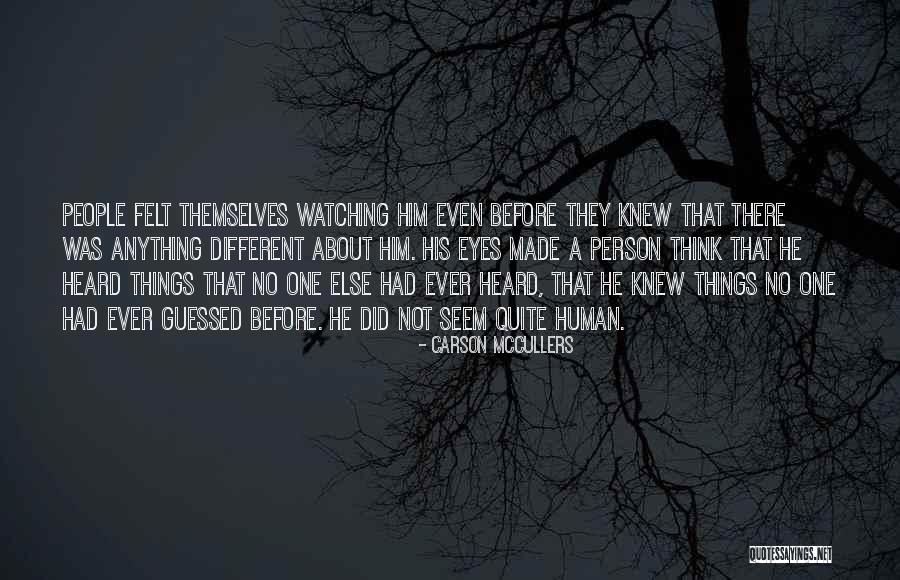 People felt themselves watching him even before they knew that there was anything different about him. His eyes made a person think that he heard things that no one else had ever heard, that he knew things no one had ever guessed before. He did not seem quite human. — Carson McCullers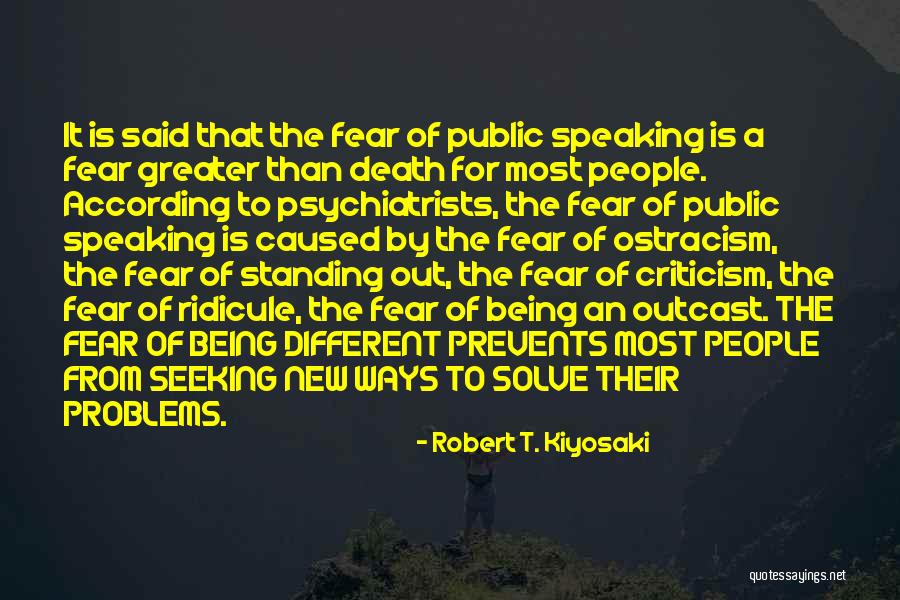 It is said that the fear of public speaking is a fear greater than death for most people. According to psychiatrists, the fear of public speaking is caused by the fear of ostracism, the fear of standing out, the fear of criticism, the fear of ridicule, the fear of being an outcast. THE FEAR OF BEING DIFFERENT PREVENTS MOST PEOPLE FROM SEEKING NEW WAYS TO SOLVE THEIR PROBLEMS. — Robert T. Kiyosaki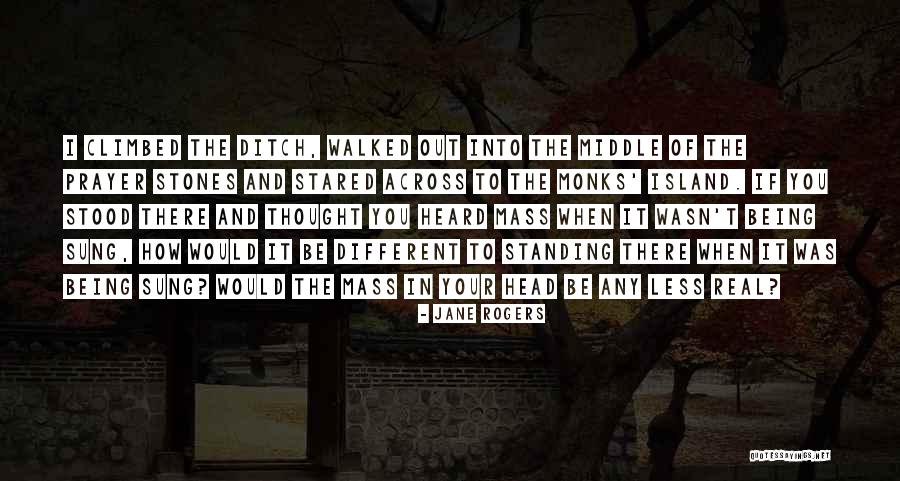 I climbed the ditch, walked out into the middle of the prayer stones and stared across to the monks' island. If you stood there and thought you heard mass when it wasn't being sung, how would it be different to standing there when it was being sung? Would the mass in your head be any less real? — Jane Rogers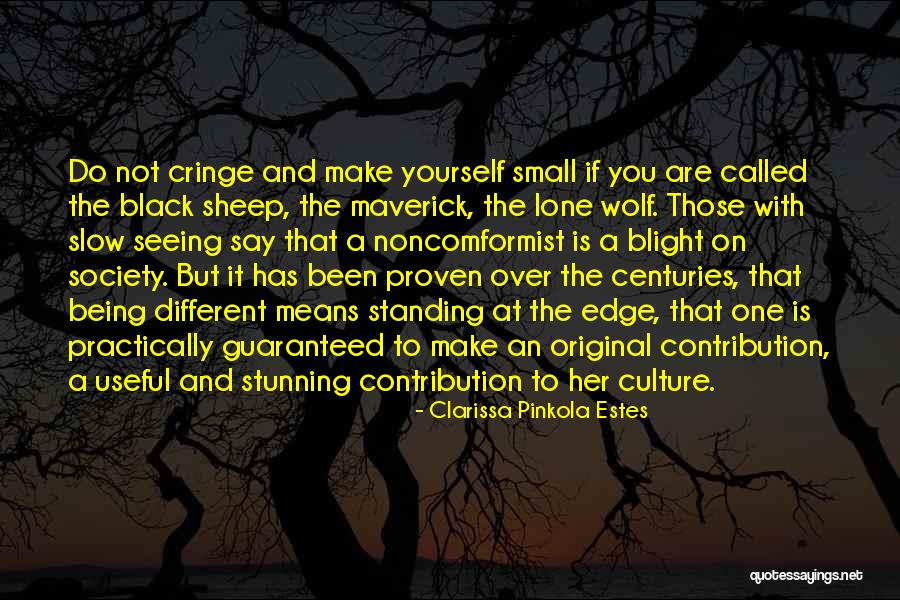 Do not cringe and make yourself small if you are called the black sheep, the maverick, the lone wolf. Those with slow seeing say that a noncomformist is a blight on society. But it has been proven over the centuries, that being different means standing at the edge, that one is practically guaranteed to make an original contribution, a useful and stunning contribution to her culture. — Clarissa Pinkola Estes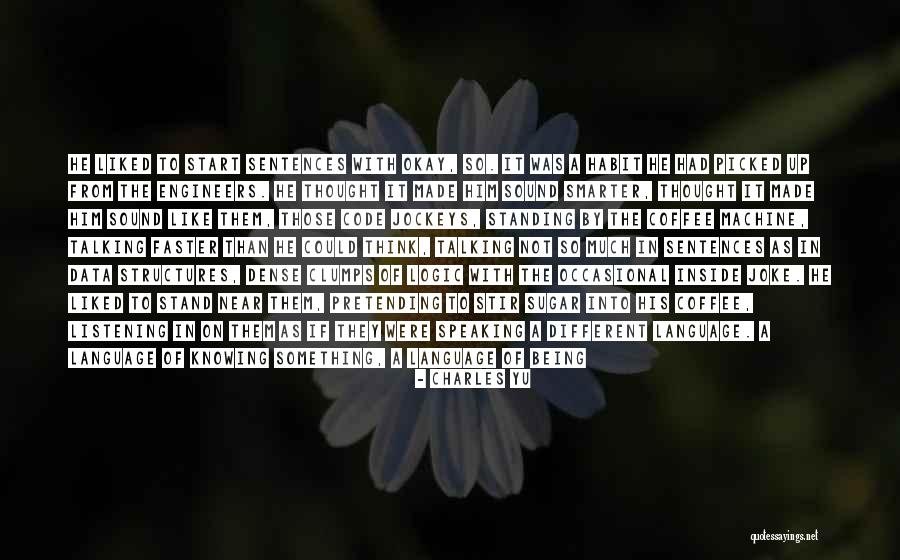 He liked to start sentences with okay, so. It was a habit he had picked up from the engineers. He thought it made him sound smarter, thought it made him sound like them, those code jockeys, standing by the coffee machine, talking faster than he could think, talking not so much in sentences as in data structures, dense clumps of logic with the occasional inside joke. He liked to stand near them, pretending to stir sugar into his coffee, listening in on them as if they were speaking a different language. A language of knowing something, a language of being an expert at something. A language of being something more than an hourly unit. — Charles Yu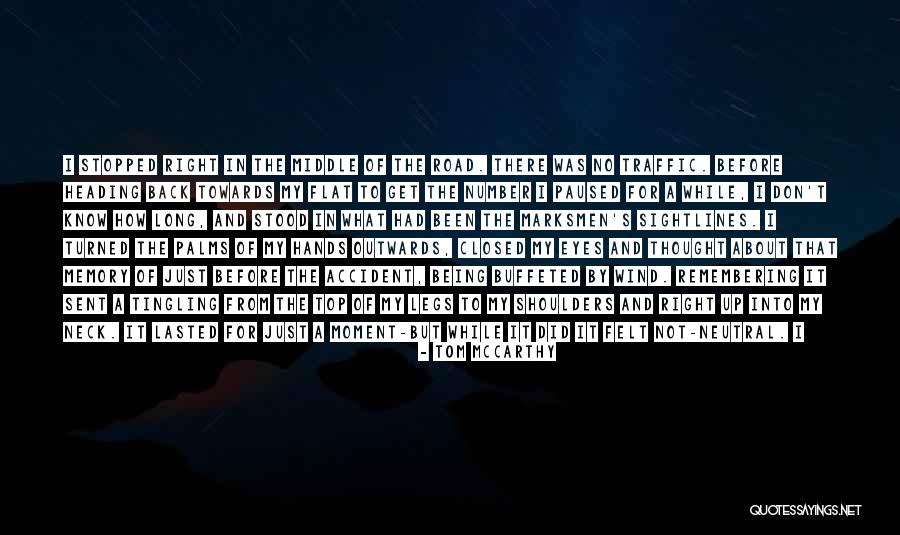 I stopped right in the middle of the road. There was no traffic. Before heading back towards my flat to get the number I paused for a while, I don't know how long, and stood in what had been the marksmen's sightlines. I turned the palms of my hands outwards, closed my eyes and thought about that memory of just before the accident, being buffeted by wind. Remembering it sent a tingling from the top of my legs to my shoulders and right up into my neck. It lasted for just a moment-but while it did it felt not-neutral. I felt different, intense: both intense and serene at the same time. I remember feeling this way very well: standing there, passive, with my palms turned outwards, feeling intense and serene. — Tom McCarthy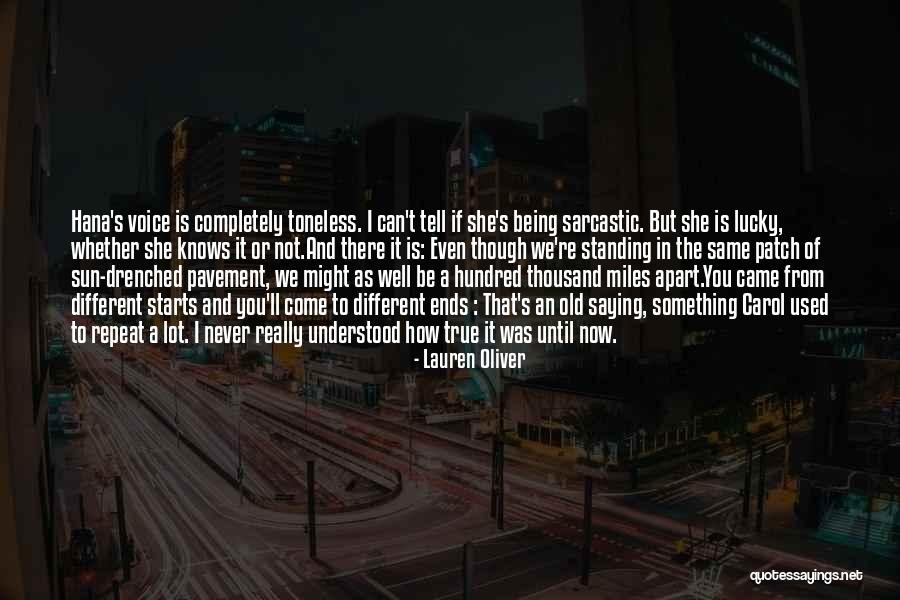 Hana's voice is completely toneless. I can't tell if she's being sarcastic. But she is lucky, whether she knows it or not.
And there it is: Even though we're standing in the same patch of sun-drenched pavement, we might as well be a hundred thousand miles apart.
You came from different starts and you'll come to different ends : That's an old saying, something Carol used to repeat a lot. I never really understood how true it was until now. — Lauren Oliver