Being Behind The Scenes Quotes & Sayings
Enjoy reading and share 26 famous quotes about Being Behind The Scenes with everyone.
Top Being Behind The Scenes Quotes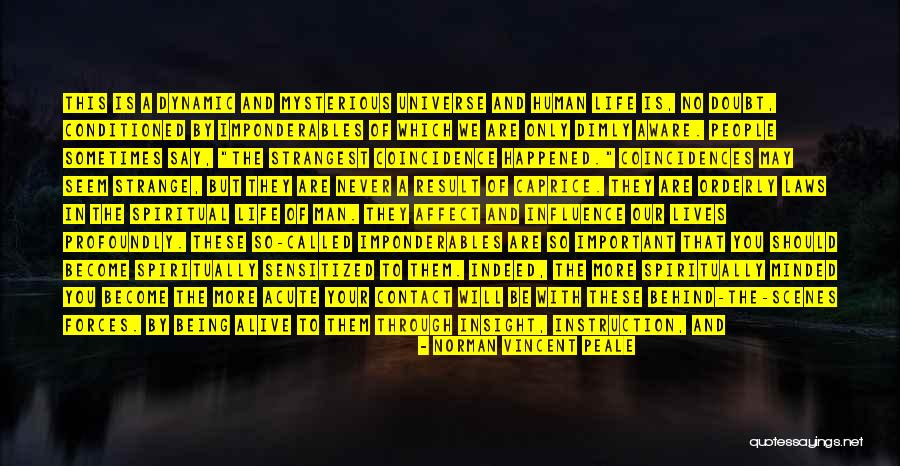 This is a dynamic and mysterious universe and human life is, no doubt, conditioned by imponderables of which we are only dimly aware. People sometimes say, "the strangest coincidence happened." Coincidences may seem strange, but they are never a result of caprice. They are orderly laws in the spiritual life of man. They affect and influence our lives profoundly. These so-called imponderables are so important that you should become spiritually sensitized to them. Indeed, the more spiritually minded you become the more acute your contact will be with these behind-the-scenes forces. By being alive to them through insight, instruction, and illumination, you can make your way past errors and mistakes on which, were you less spiritually sensitive, you might often stumble. — Norman Vincent Peale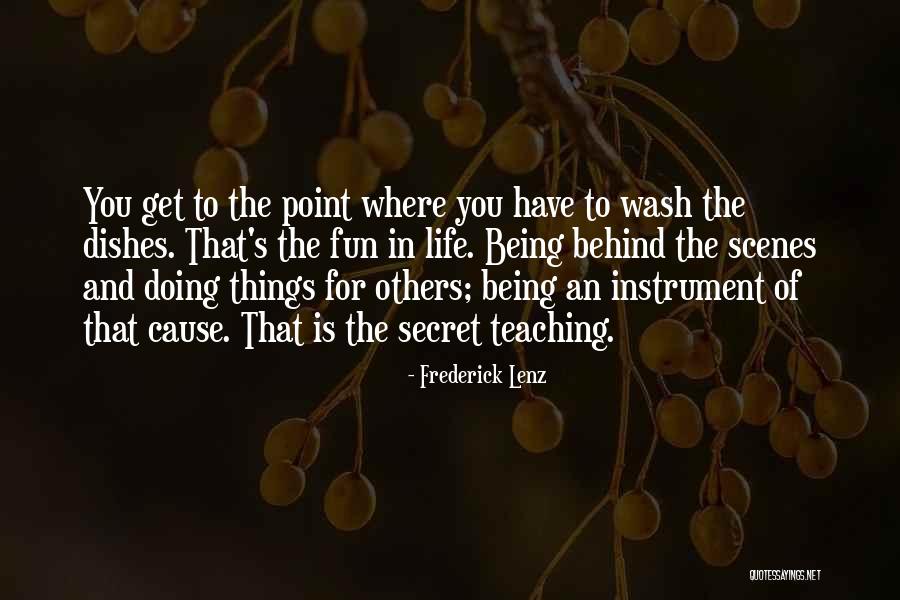 You get to the point where you have to wash the dishes. That's the fun in life. Being behind the scenes and doing things for others; being an instrument of that cause. That is the secret teaching. — Frederick Lenz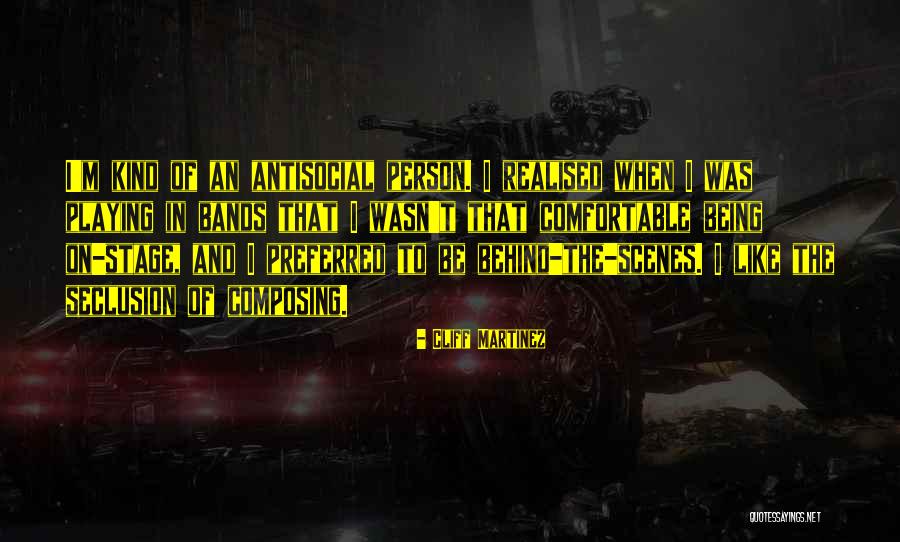 I'm kind of an antisocial person. I realised when I was playing in bands that I wasn't that comfortable being on-stage, and I preferred to be behind-the-scenes. I like the seclusion of composing. — Cliff Martinez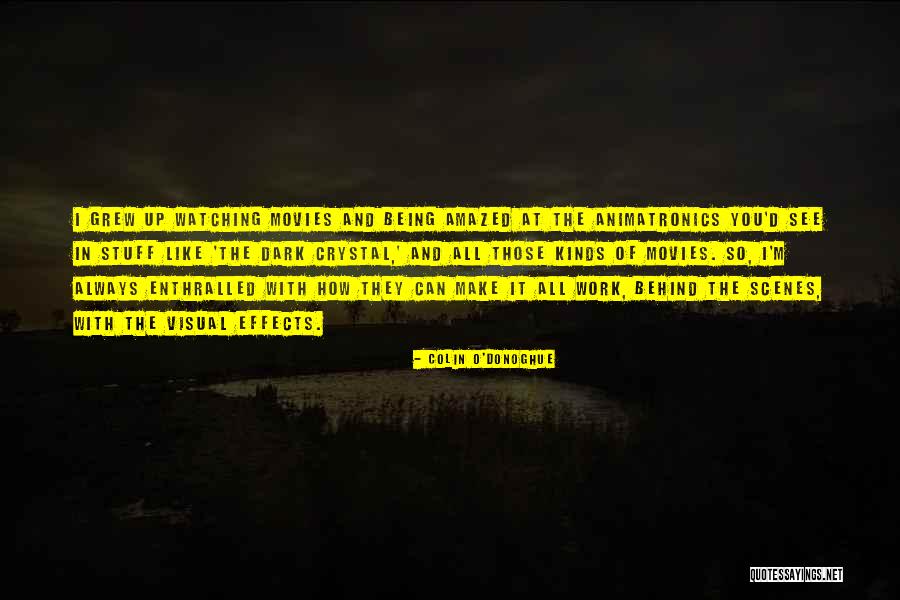 I grew up watching movies and being amazed at the animatronics you'd see in stuff like 'The Dark Crystal,' and all those kinds of movies. So, I'm always enthralled with how they can make it all work, behind the scenes, with the visual effects. — Colin O'Donoghue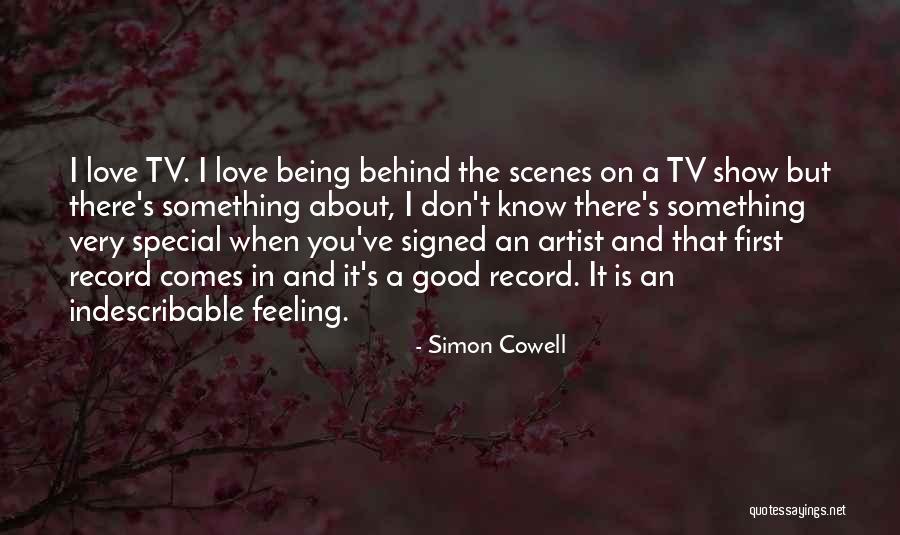 I love TV. I love being behind the scenes on a TV show but there's something about, I don't know there's something very special when you've signed an artist and that first record comes in and it's a good record. It is an indescribable feeling. — Simon Cowell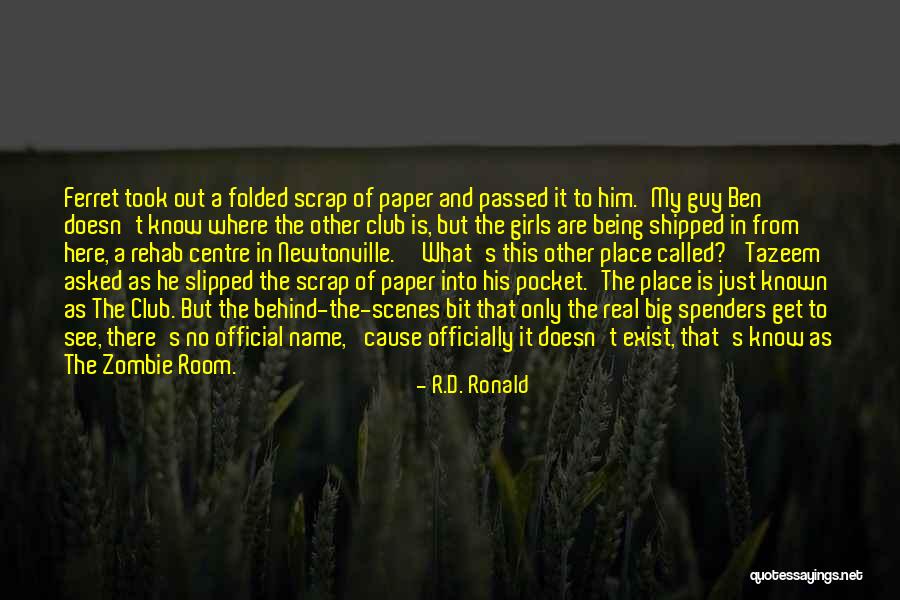 Ferret took out a folded scrap of paper and passed it to him.
'My guy Ben doesn't know where the other club is, but the girls are being shipped in from here, a rehab centre in Newtonville.'
'What's this other place called?' Tazeem asked as he slipped the scrap of paper into his pocket.
'The place is just known as The Club. But the behind-the-scenes bit that only the real big spenders get to see, there's no official name, 'cause officially it doesn't exist, that's know as The Zombie Room. — R.D. Ronald
Be prepared to have the breath knocked out of you. — Ben Brantley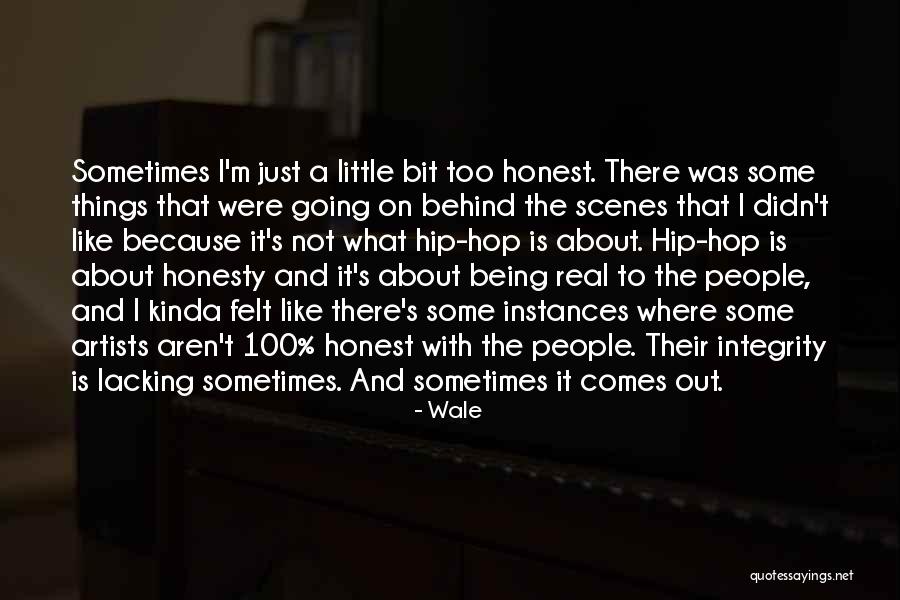 Sometimes I'm just a little bit too honest. There was some things that were going on behind the scenes that I didn't like because it's not what hip-hop is about. Hip-hop is about honesty and it's about being real to the people, and I kinda felt like there's some instances where some artists aren't 100% honest with the people. Their integrity is lacking sometimes. And sometimes it comes out. — Wale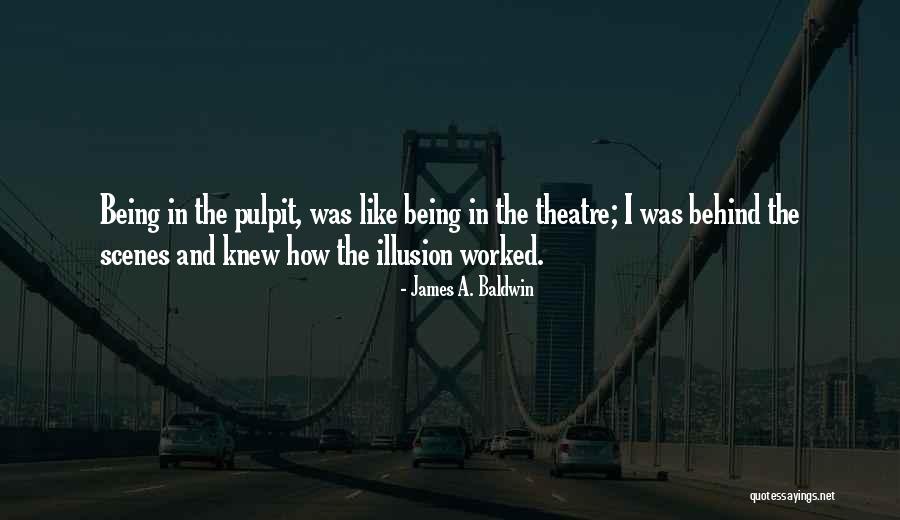 Being in the pulpit, was like being in the theatre; I was behind the scenes and knew how the illusion worked. — James A. Baldwin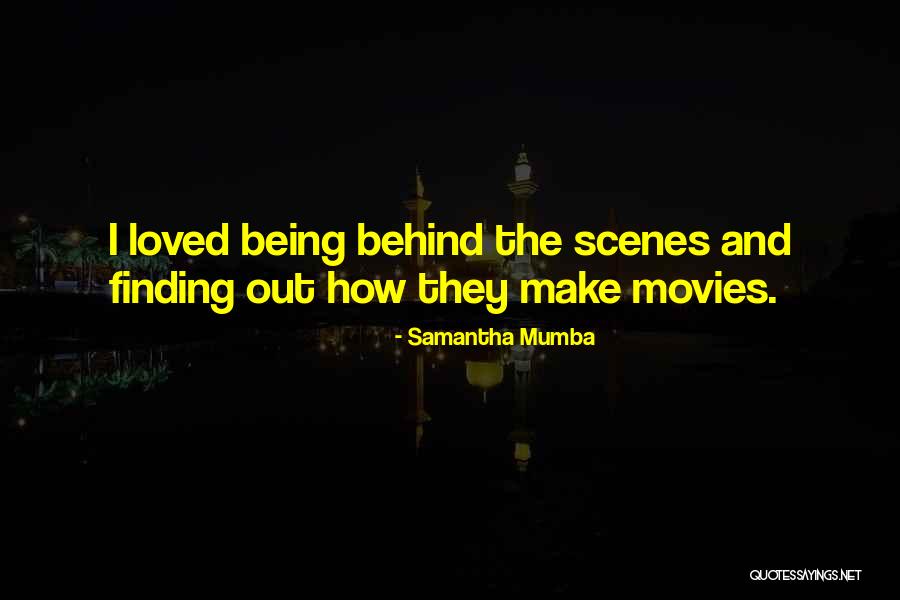 I loved being behind the scenes and finding out how they make movies. — Samantha Mumba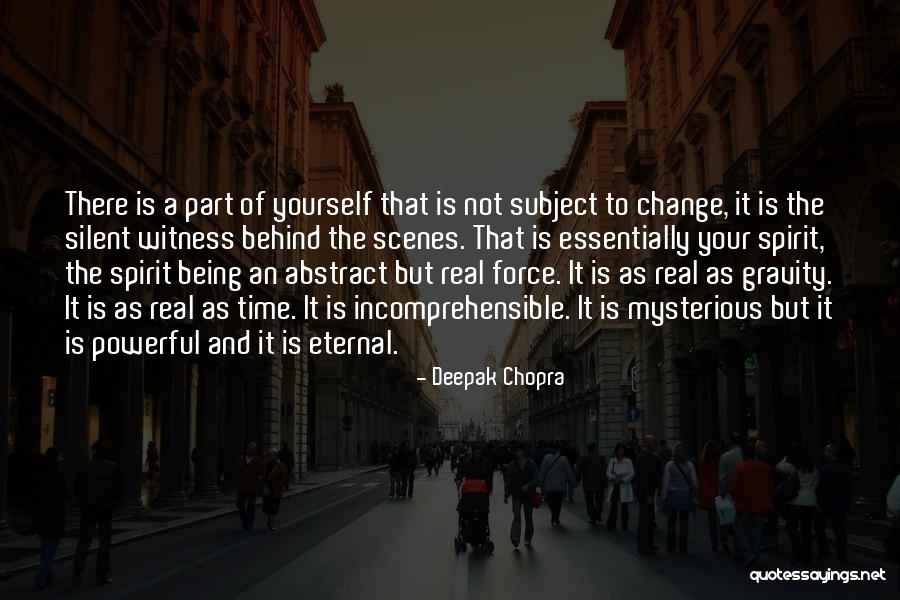 There is a part of yourself that is not subject to change, it is the silent witness behind the scenes. That is essentially your spirit, the spirit being an abstract but real force. It is as real as gravity. It is as real as time. It is incomprehensible. It is mysterious but it is powerful and it is eternal. — Deepak Chopra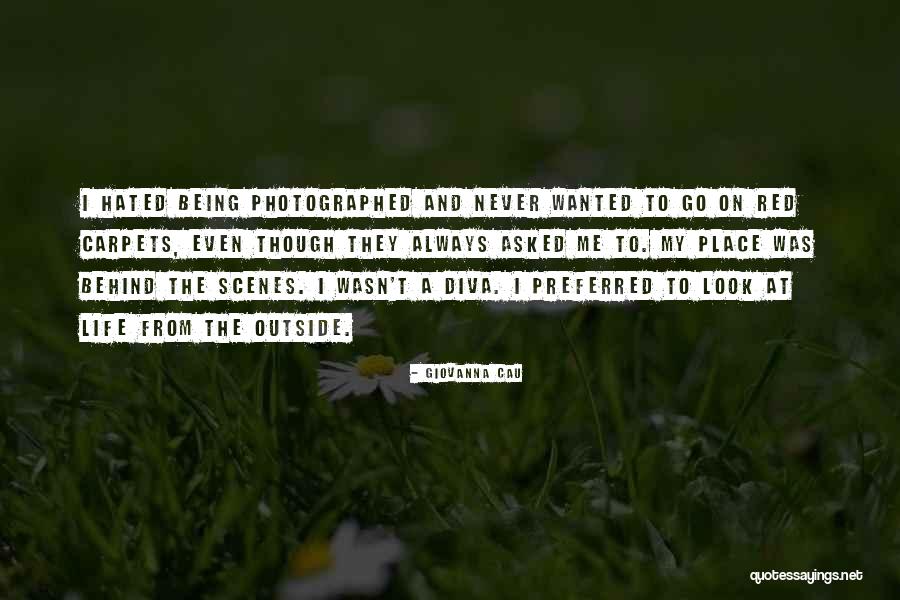 I hated being photographed and never wanted to go on red carpets, even though they always asked me to. My place was behind the scenes. I wasn't a diva. I preferred to look at life from the outside. — Giovanna Cau
I think I went more toward writing because that's my talent. I don't think I was a great performer ... And I like being behind the scenes a little bit. — Harvey Mason Jr.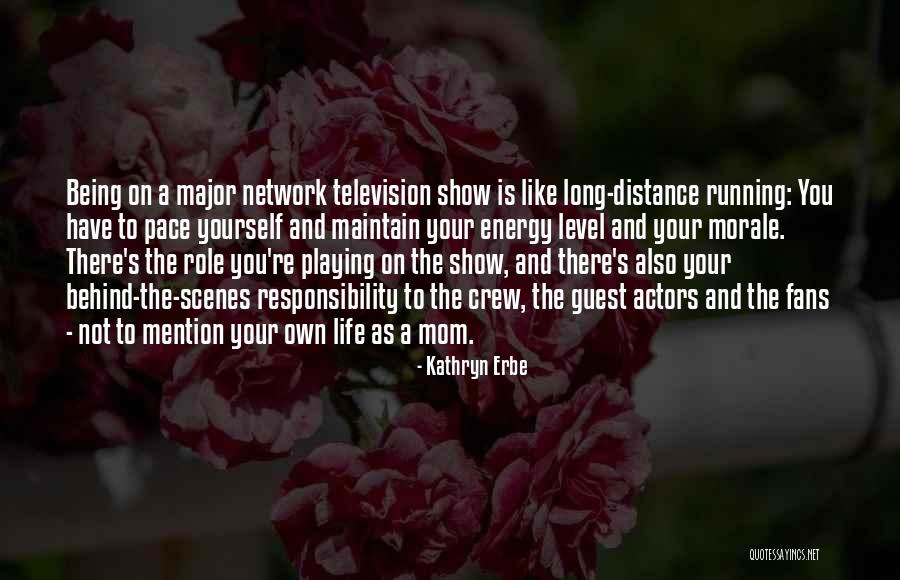 Being on a major network television show is like long-distance running: You have to pace yourself and maintain your energy level and your morale. There's the role you're playing on the show, and there's also your behind-the-scenes responsibility to the crew, the guest actors and the fans - not to mention your own life as a mom. — Kathryn Erbe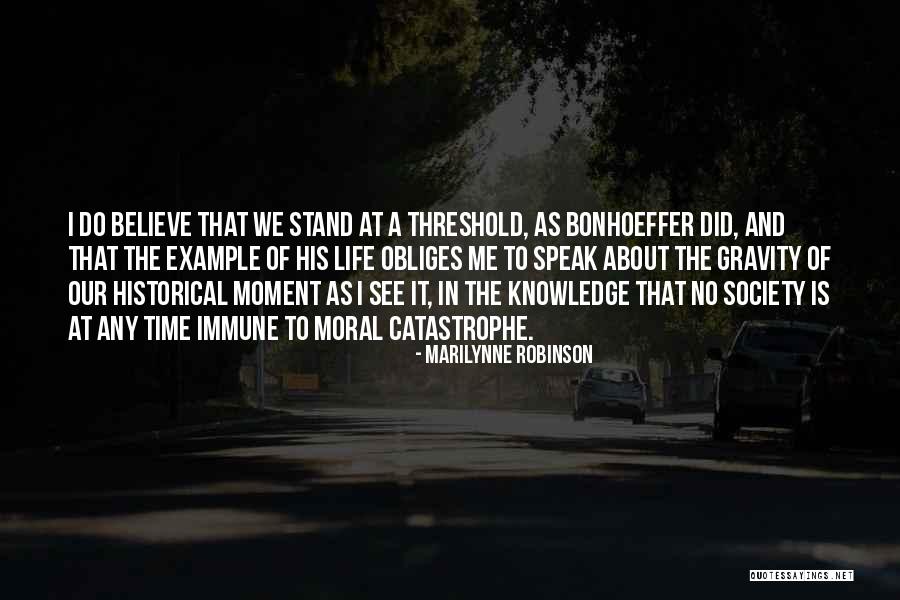 I do believe that we stand at a threshold, as Bonhoeffer did, and that the example of his life obliges me to speak about the gravity of our historical moment as I see it, in the knowledge that no society is at any time immune to moral catastrophe. — Marilynne Robinson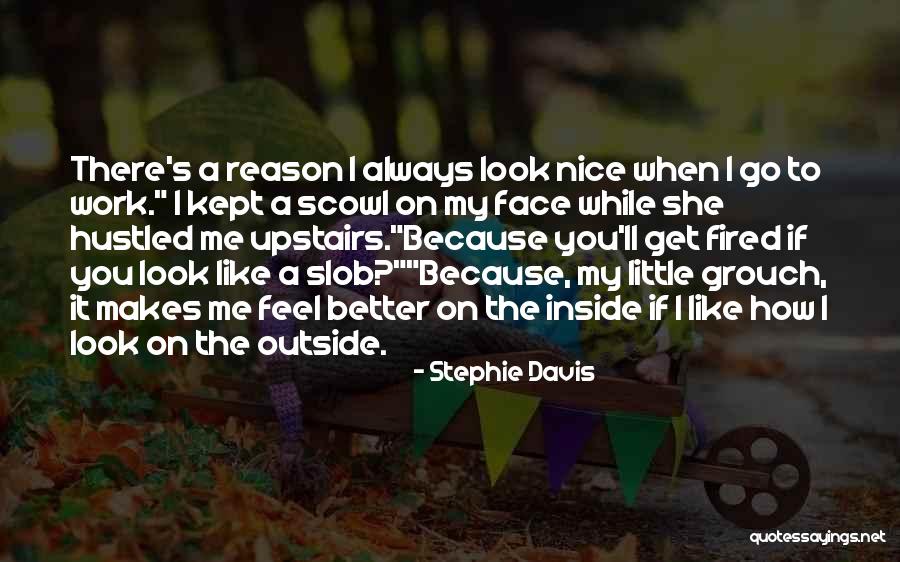 There's a reason I always look nice when I go to work." I kept a scowl on my face while she hustled me upstairs.
"Because you'll get fired if you look like a slob?"
"Because, my little grouch, it makes me feel better on the inside if I like how I look on the outside. — Stephie Davis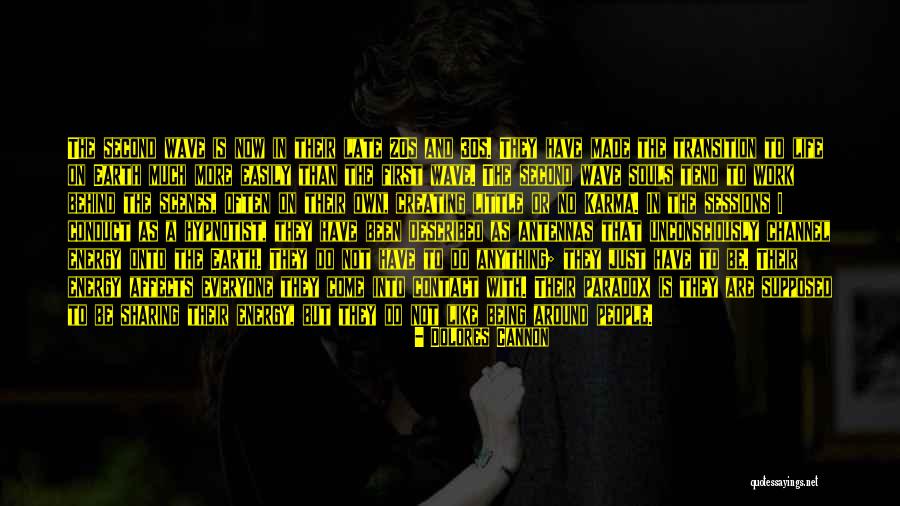 The second wave is now in their late 20s and 30s. They have made the transition to life on Earth much more easily than the first wave. The second wave souls tend to work behind the scenes, often on their own, creating little or no Karma. In the sessions I conduct as a hypnotist, they have been described as antennas that unconsciously channel energy onto the Earth. They do not have to do anything; they just have to be. Their energy affects everyone they come into contact with. Their paradox is they are supposed to be sharing their energy, but they do not like being around people. — Dolores Cannon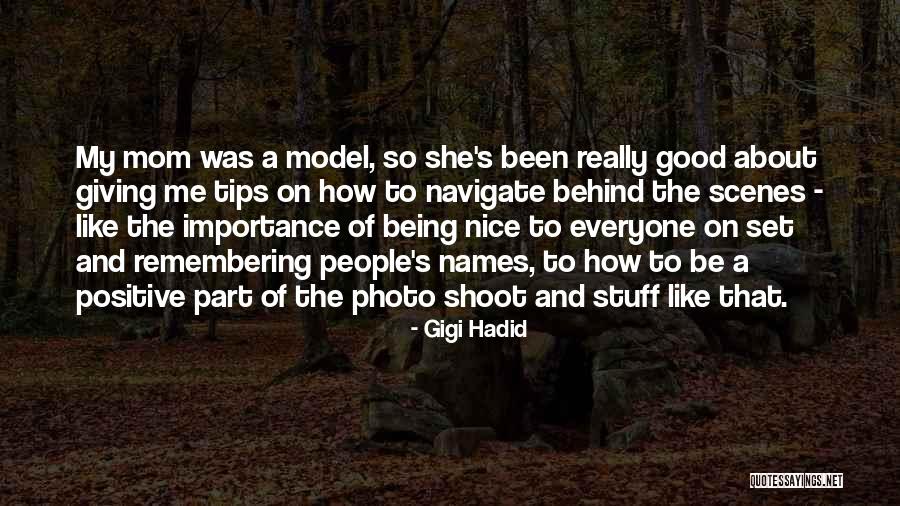 My mom was a model, so she's been really good about giving me tips on how to navigate behind the scenes - like the importance of being nice to everyone on set and remembering people's names, to how to be a positive part of the photo shoot and stuff like that. — Gigi Hadid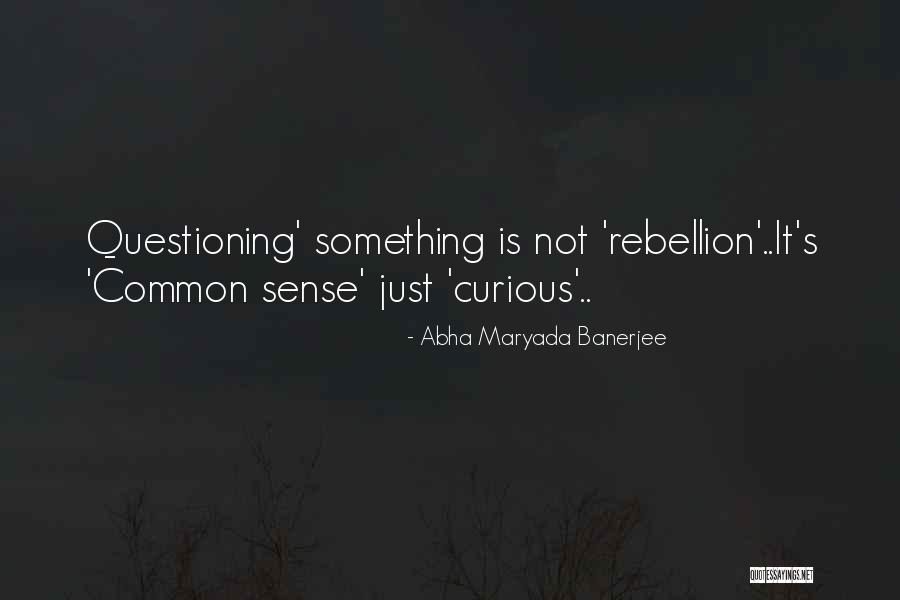 Questioning' something is not 'rebellion'..
It's 'Common sense' just 'curious'.. — Abha Maryada Banerjee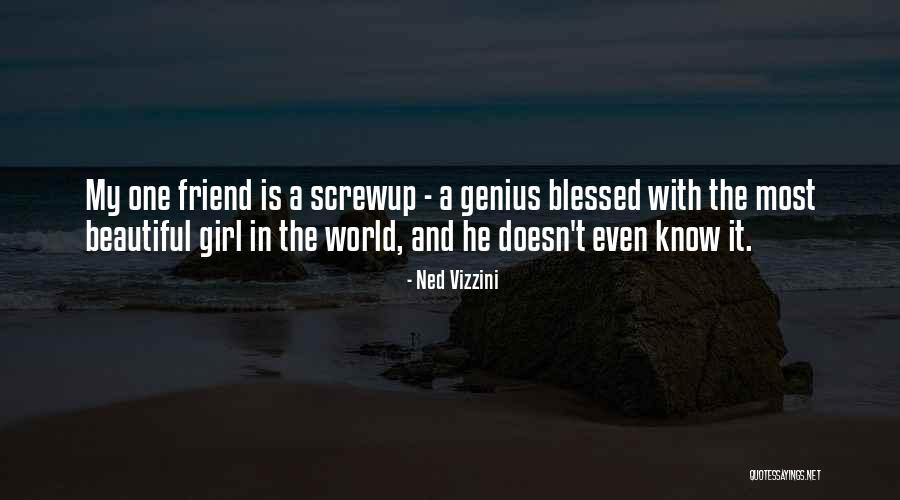 My one friend is a screwup - a genius blessed with the most beautiful girl in the world, and he doesn't even know it. — Ned Vizzini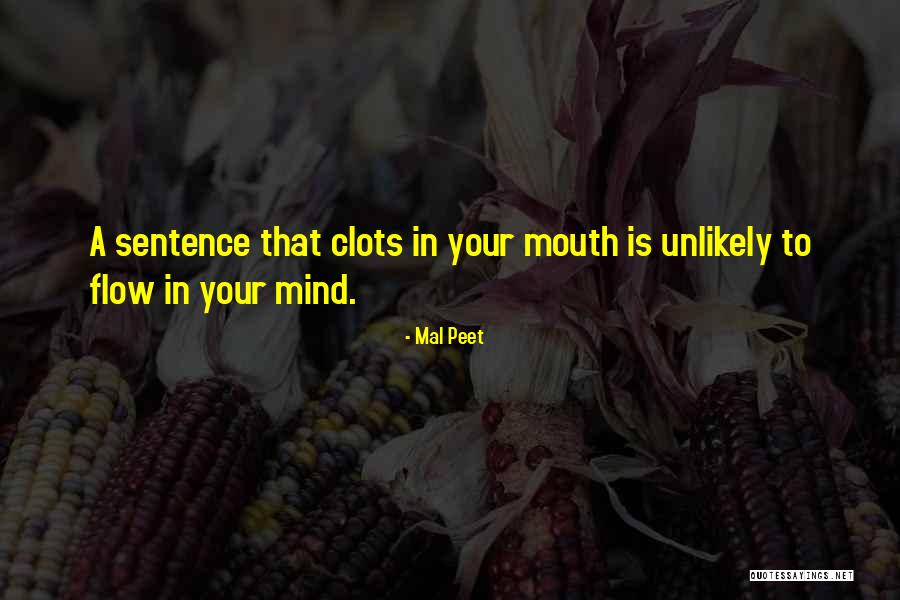 A sentence that clots in your mouth is unlikely to flow in your mind. — Mal Peet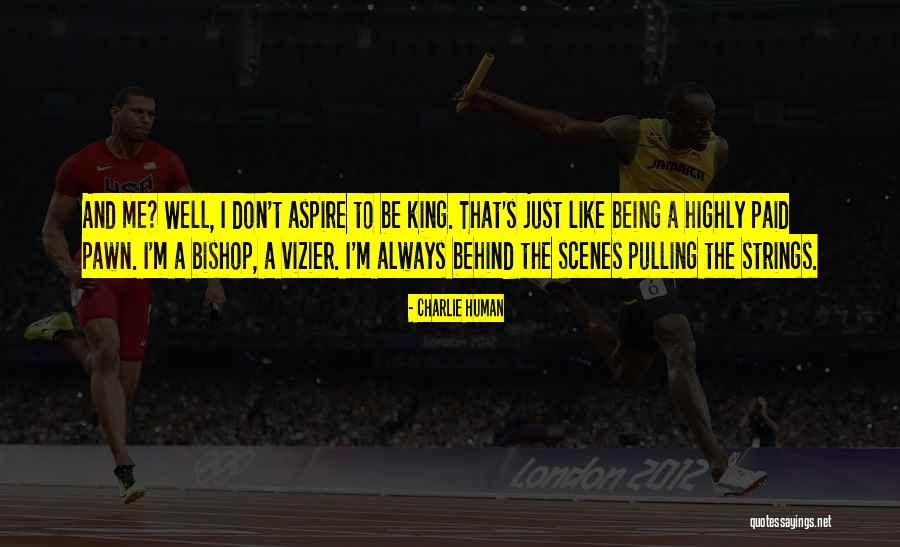 And me? Well, I don't aspire to be king. That's just like being a highly paid pawn. I'm a bishop, a vizier. I'm always behind the scenes pulling the strings. — Charlie Human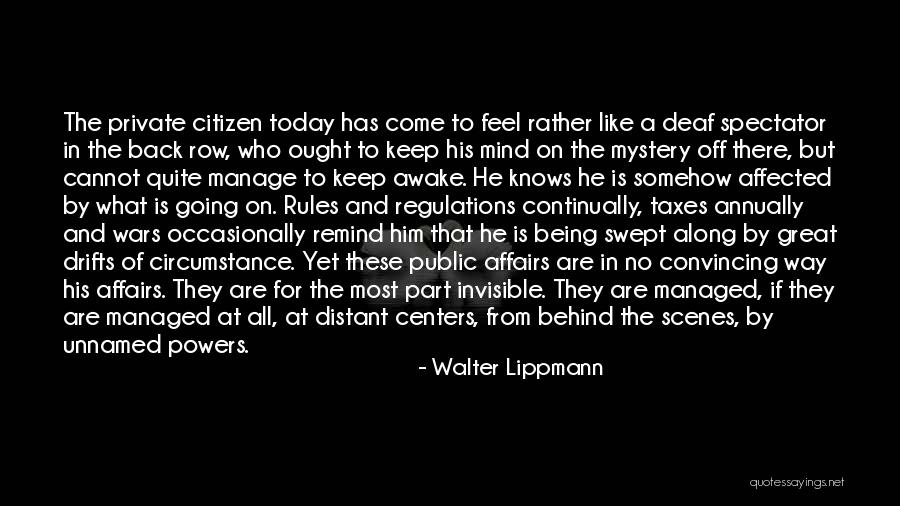 The private citizen today has come to feel rather like a deaf spectator in the back row, who ought to keep his mind on the mystery off there, but cannot quite manage to keep awake. He knows he is somehow affected by what is going on. Rules and regulations continually, taxes annually and wars occasionally remind him that he is being swept along by great drifts of circumstance. Yet these public affairs are in no convincing way his affairs. They are for the most part invisible. They are managed, if they are managed at all, at distant centers, from behind the scenes, by unnamed powers. — Walter Lippmann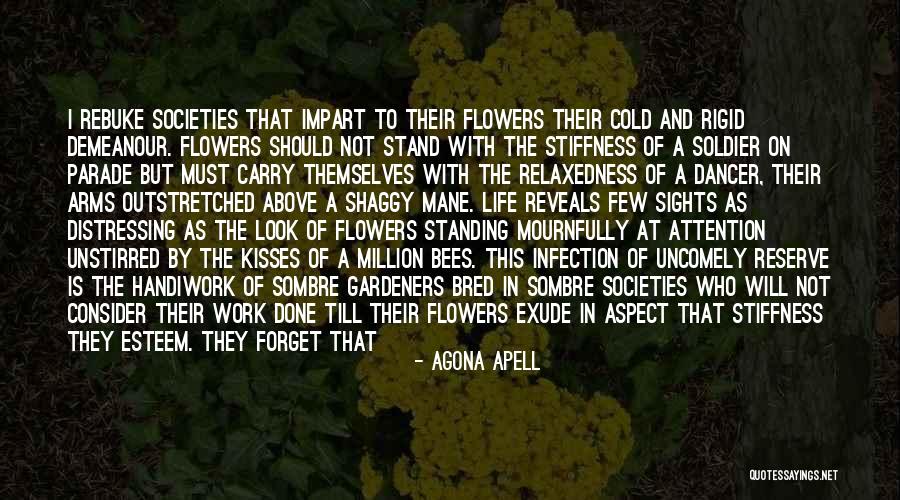 I rebuke societies that impart to their flowers their cold and rigid demeanour. Flowers should not stand with the stiffness of a soldier on parade but must carry themselves with the relaxedness of a dancer, their arms outstretched above a shaggy mane. Life reveals few sights as distressing as the look of flowers standing mournfully at attention unstirred by the kisses of a million bees. This infection of uncomely reserve is the handiwork of sombre gardeners bred in sombre societies who will not consider their work done till their flowers exude in aspect that stiffness they esteem. They forget that God intended that we mingle with flowers and not merely admire them from afar. But there is a look in a fastidiously manicured garden that makes me keep my distance, a look that draws my eyes but scorns my touch, and that is why I condemn them. — Agona Apell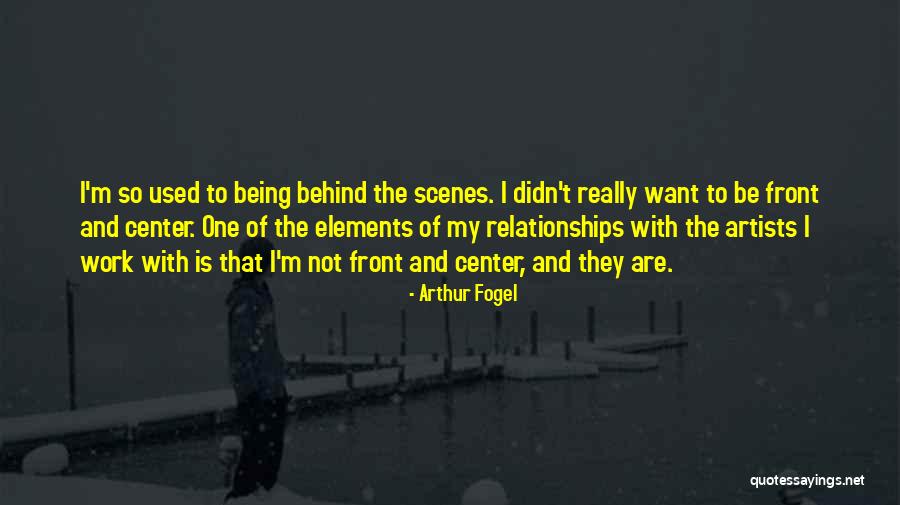 I'm so used to being behind the scenes. I didn't really want to be front and center. One of the elements of my relationships with the artists I work with is that I'm not front and center, and they are. — Arthur Fogel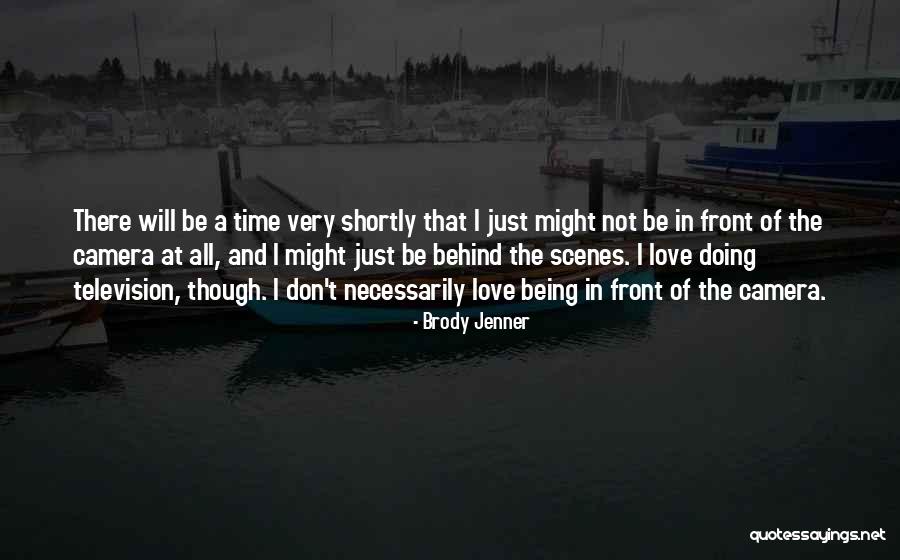 There will be a time very shortly that I just might not be in front of the camera at all, and I might just be behind the scenes. I love doing television, though. I don't necessarily love being in front of the camera. — Brody Jenner