Quotes & Sayings About Being Adventurous
Enjoy reading and share 38 famous quotes about Being Adventurous with everyone.
Top Being Adventurous Quotes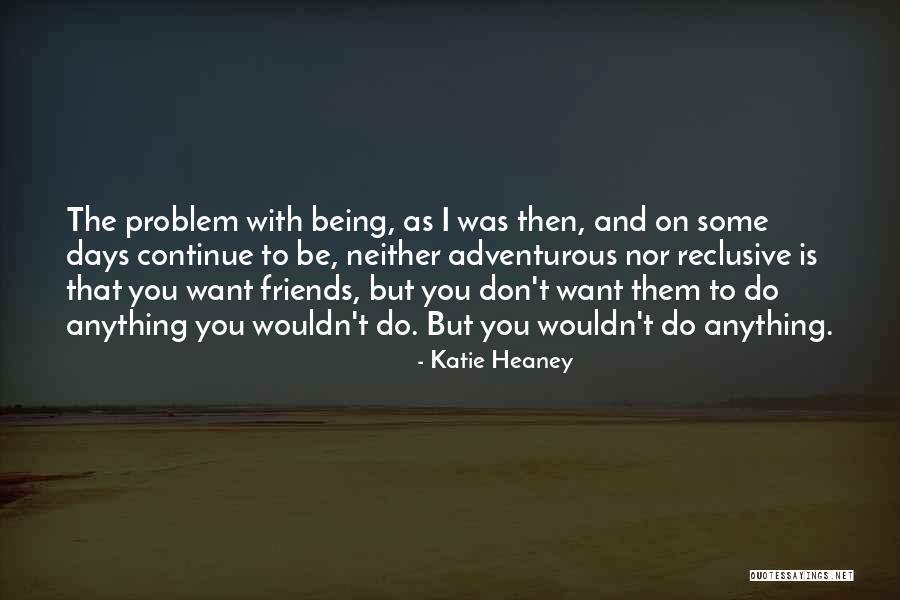 The problem with being, as I was then, and on some days continue to be, neither adventurous nor reclusive is that you want friends, but you don't want them to do anything you wouldn't do. But you wouldn't do anything. — Katie Heaney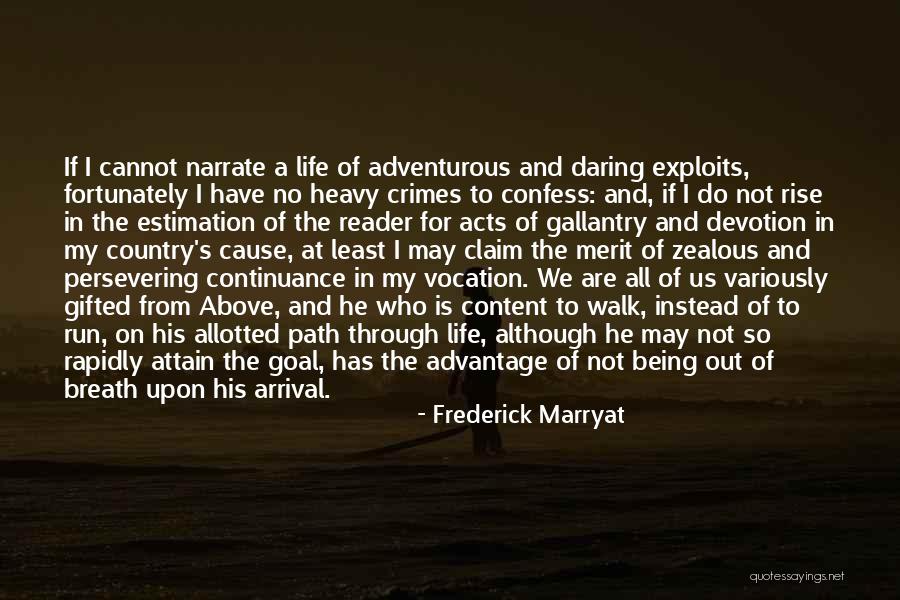 If I cannot narrate a life of adventurous and daring exploits, fortunately I have no heavy crimes to confess: and, if I do not rise in the estimation of the reader for acts of gallantry and devotion in my country's cause, at least I may claim the merit of zealous and persevering continuance in my vocation. We are all of us variously gifted from Above, and he who is content to walk, instead of to run, on his allotted path through life, although he may not so rapidly attain the goal, has the advantage of not being out of breath upon his arrival. — Frederick Marryat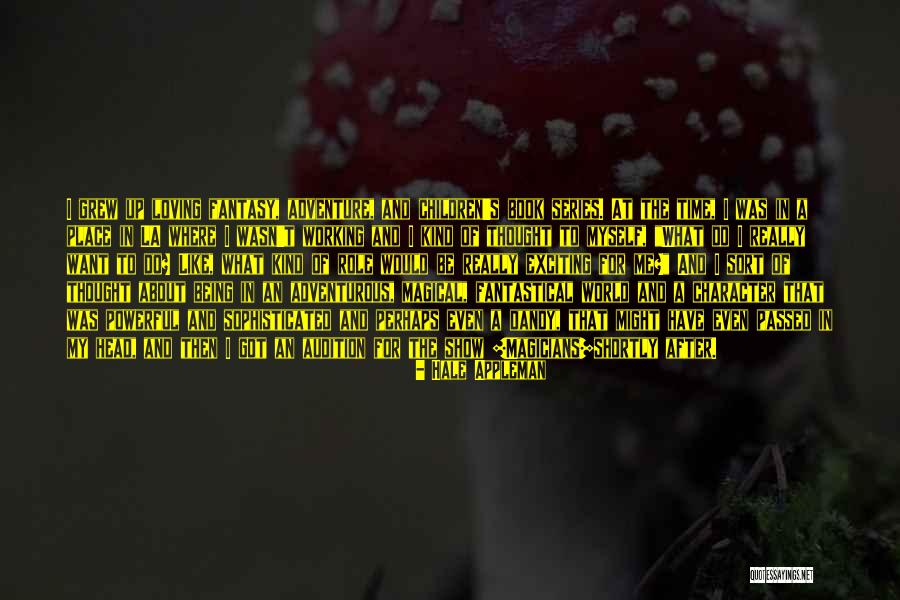 I grew up loving fantasy, adventure, and children's book series. At the time, I was in a place in LA where I wasn't working and I kind of thought to myself, "What do I really want to do? Like, what kind of role would be really exciting for me?" And I sort of thought about being in an adventurous, magical, fantastical world and a character that was powerful and sophisticated and perhaps even a dandy, that might have even passed in my head, and then I got an audition for the show [Magicians]shortly after. — Hale Appleman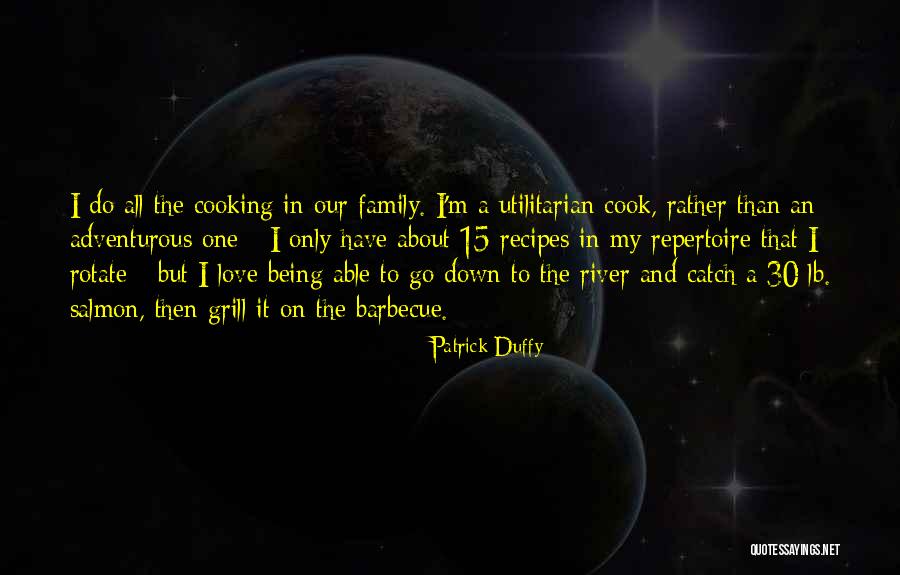 I do all the cooking in our family. I'm a utilitarian cook, rather than an adventurous one - I only have about 15 recipes in my repertoire that I rotate - but I love being able to go down to the river and catch a 30 lb. salmon, then grill it on the barbecue. — Patrick Duffy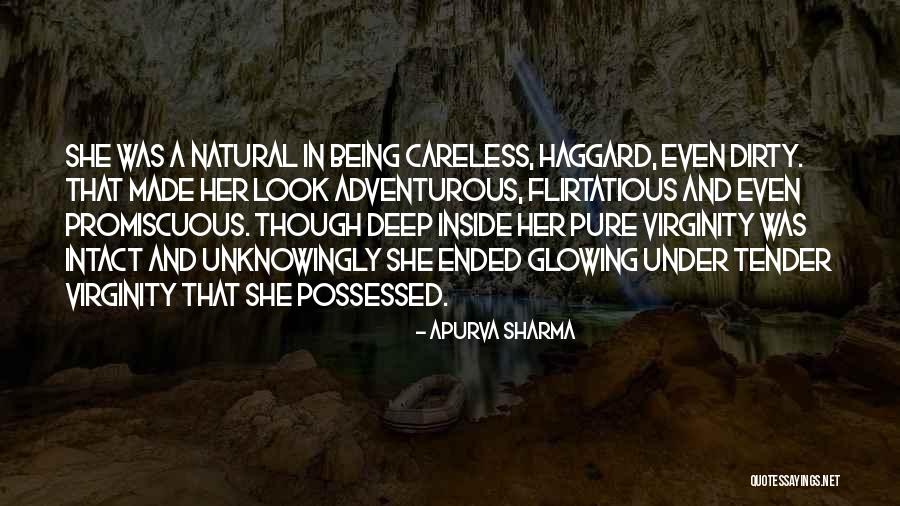 She was a natural in being careless, haggard, even dirty. that made her look adventurous, flirtatious and even promiscuous. though deep inside her pure virginity was intact and unknowingly she ended glowing under tender virginity that she possessed. — Apurva Sharma
Being determined delinquents, Peyton and I jumped the barricades and wandered around the dilapidated interior. — S.A. Tawks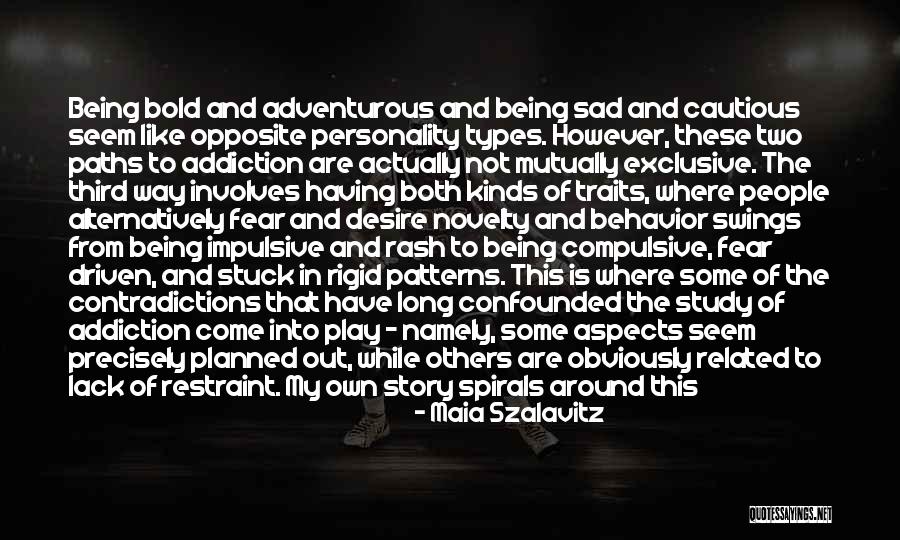 Being bold and adventurous and being sad and cautious seem like opposite personality types. However, these two paths to addiction are actually not mutually exclusive. The third way involves having both kinds of traits, where people alternatively fear and desire novelty and behavior swings from being impulsive and rash to being compulsive, fear driven, and stuck in rigid patterns. This is where some of the contradictions that have long confounded the study of addiction come into play - namely, some aspects seem precisely planned out, while others are obviously related to lack of restraint. My own story spirals around this paradoxical situation: I was driven enough to excel academically and fundamentally scared of change and of other people - yet I was also reckless enough to sell cocaine and shoot heroin. — Maia Szalavitz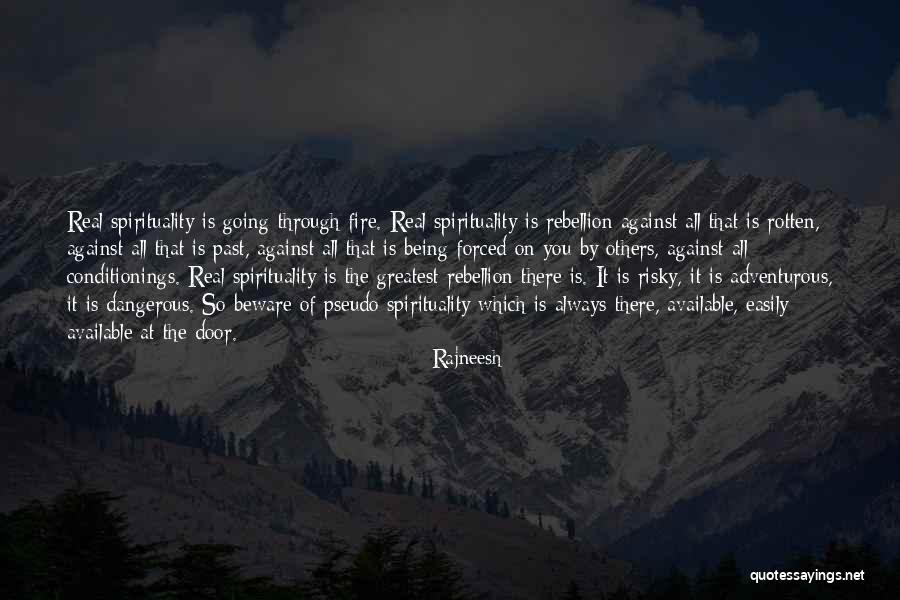 Real spirituality is going through fire. Real spirituality is rebellion against all that is rotten, against all that is past, against all that is being forced on you by others, against all conditionings. Real spirituality is the greatest rebellion there is. It is risky, it is adventurous, it is dangerous. So beware of pseudo spirituality which is always there, available, easily available at the door. — Rajneesh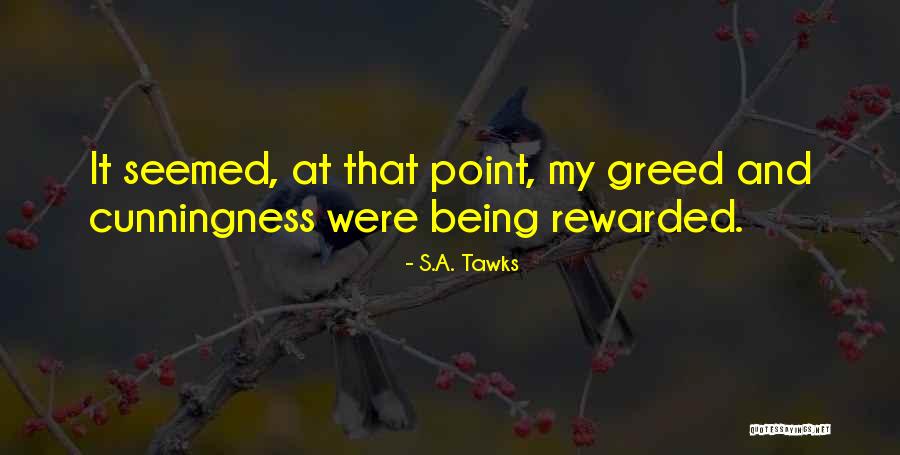 It seemed, at that point, my greed and cunningness were being rewarded. — S.A. Tawks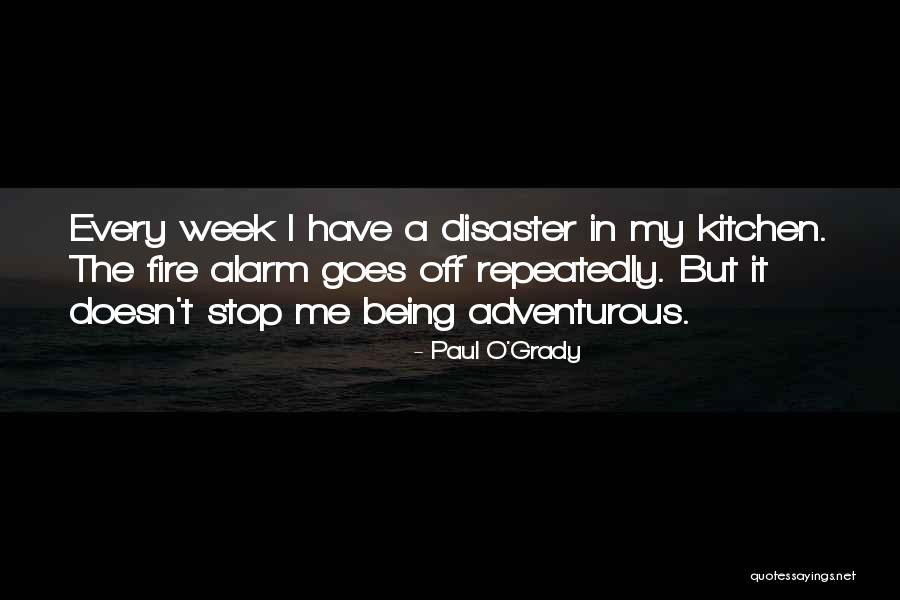 Every week I have a disaster in my kitchen. The fire alarm goes off repeatedly. But it doesn't stop me being adventurous. — Paul O'Grady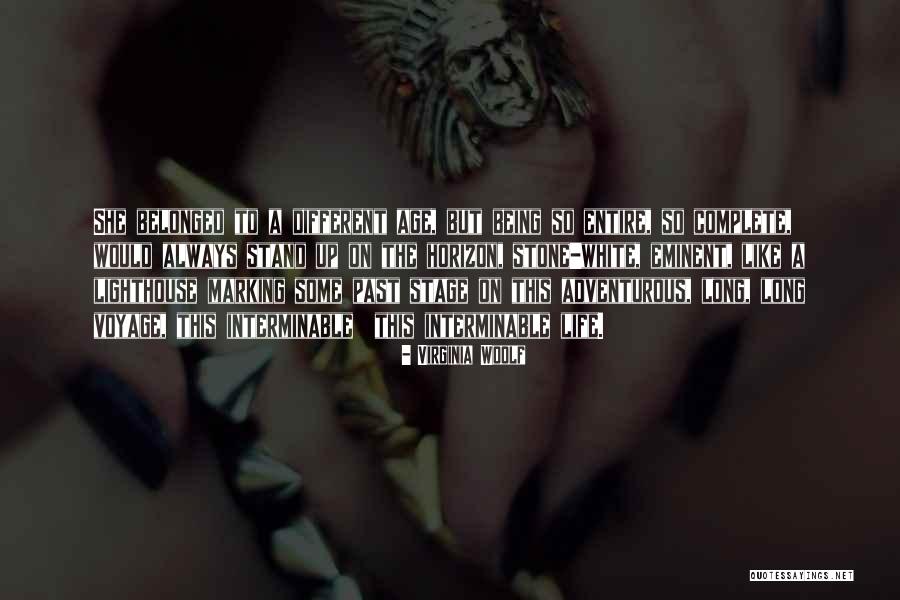 She belonged to a different age, but being so entire, so complete, would always stand up on the horizon, stone-white, eminent, like a lighthouse marking some past stage on this adventurous, long, long voyage, this interminable
this interminable life. — Virginia Woolf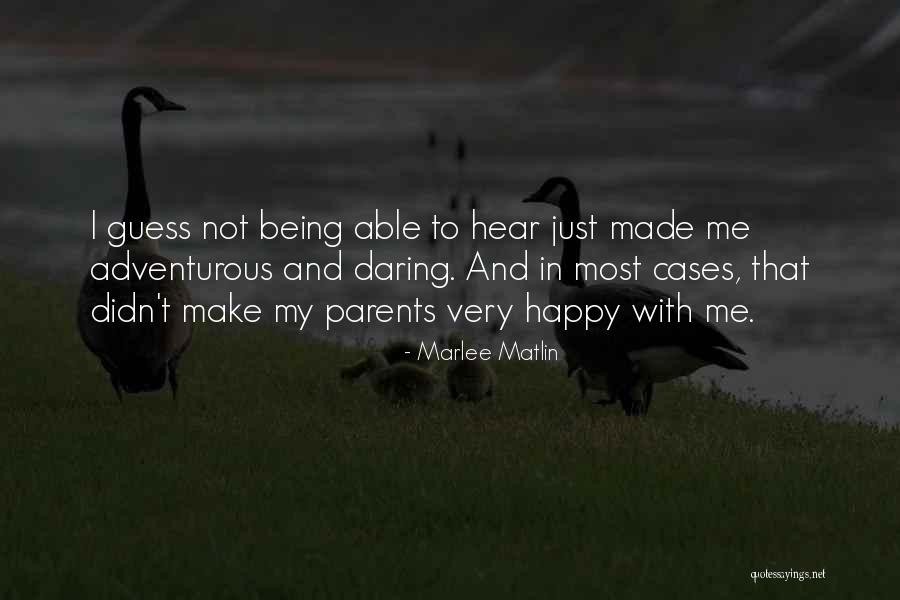 I guess not being able to hear just made me adventurous and daring. And in most cases, that didn't make my parents very happy with me. — Marlee Matlin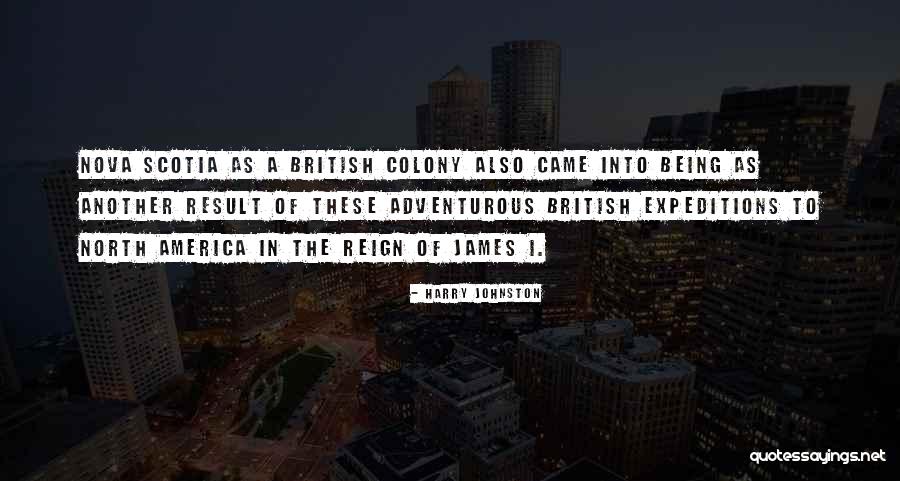 Nova Scotia as a British colony also came into being as another result of these adventurous British expeditions to North America in the reign of James I. — Harry Johnston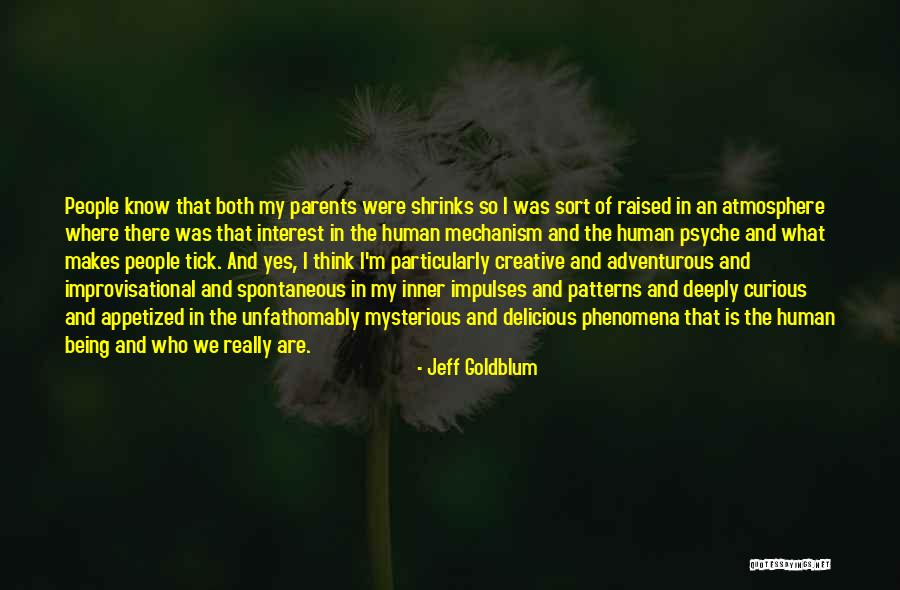 People know that both my parents were shrinks so I was sort of raised in an atmosphere where there was that interest in the human mechanism and the human psyche and what makes people tick. And yes, I think I'm particularly creative and adventurous and improvisational and spontaneous in my inner impulses and patterns and deeply curious and appetized in the unfathomably mysterious and delicious phenomena that is the human being and who we really are. — Jeff Goldblum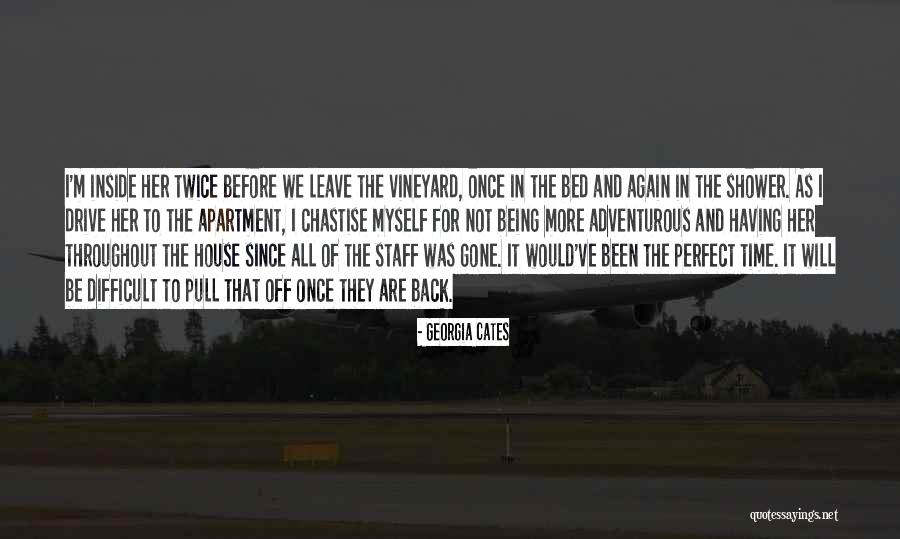 I'm inside her twice before we leave the vineyard, once in the bed and again in the shower. As I drive her to the apartment, I chastise myself for not being more adventurous and having her throughout the house since all of the staff was gone. It would've been the perfect time. It will be difficult to pull that off once they are back. — Georgia Cates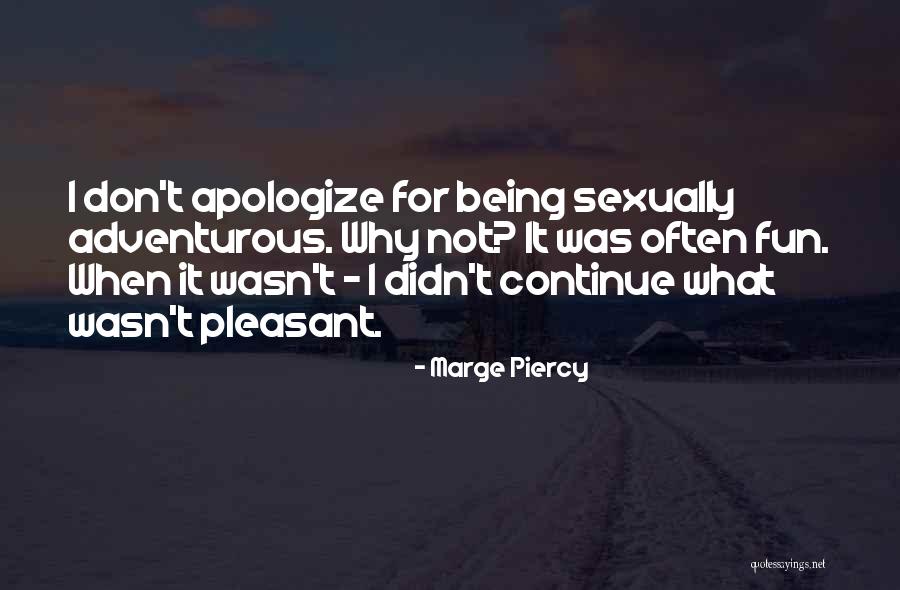 I don't apologize for being sexually adventurous. Why not? It was often fun. When it wasn't - I didn't continue what wasn't pleasant. — Marge Piercy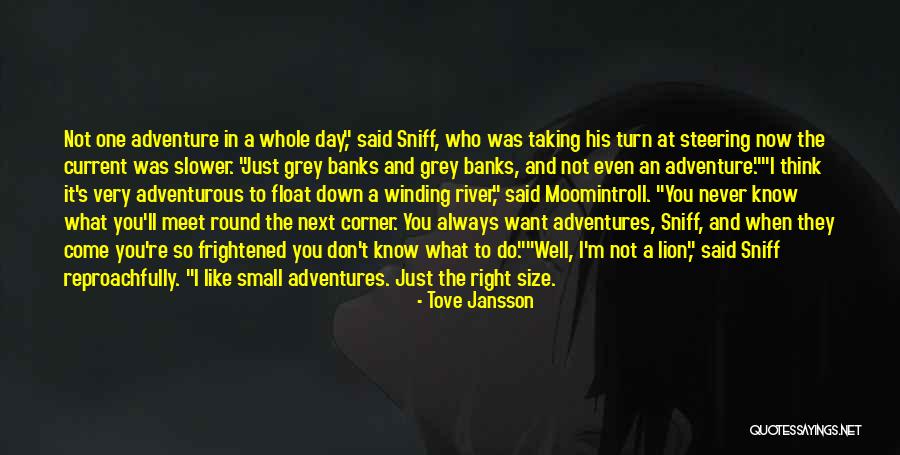 Not one adventure in a whole day," said Sniff, who was taking his turn at steering now the current was slower. "Just grey banks and grey banks, and not even an adventure."
"I think it's very adventurous to float down a winding river," said Moomintroll. "You never know what you'll meet round the next corner. You always want adventures, Sniff, and when they come you're so frightened you don't know what to do."
"Well, I'm not a lion," said Sniff reproachfully. "I like small adventures. Just the right size. — Tove Jansson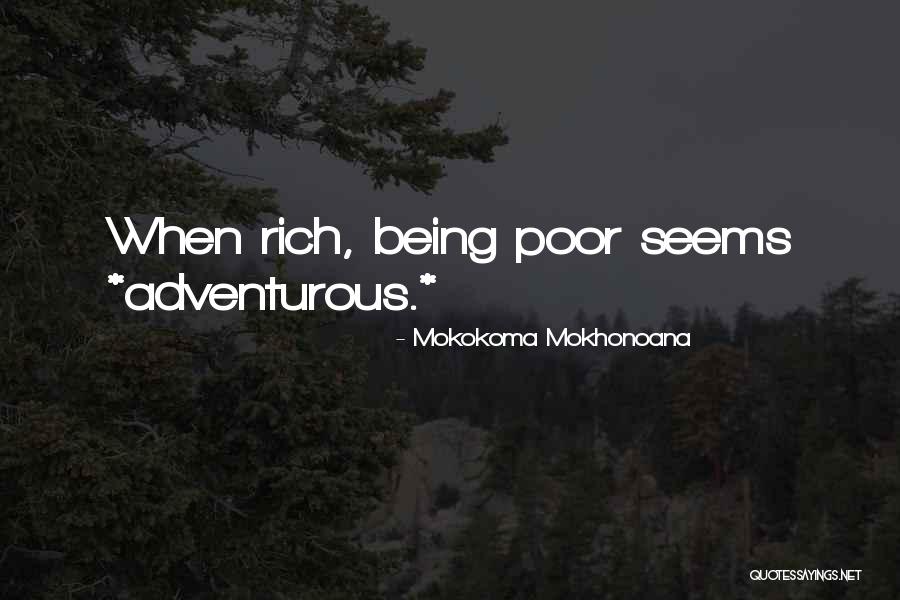 When rich, being poor seems *adventurous.* — Mokokoma Mokhonoana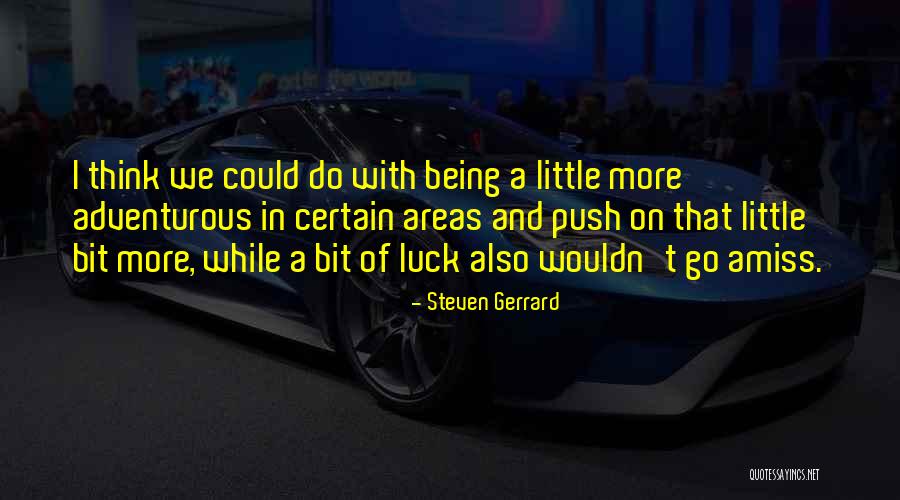 I think we could do with being a little more adventurous in certain areas and push on that little bit more, while a bit of luck also wouldn't go amiss. — Steven Gerrard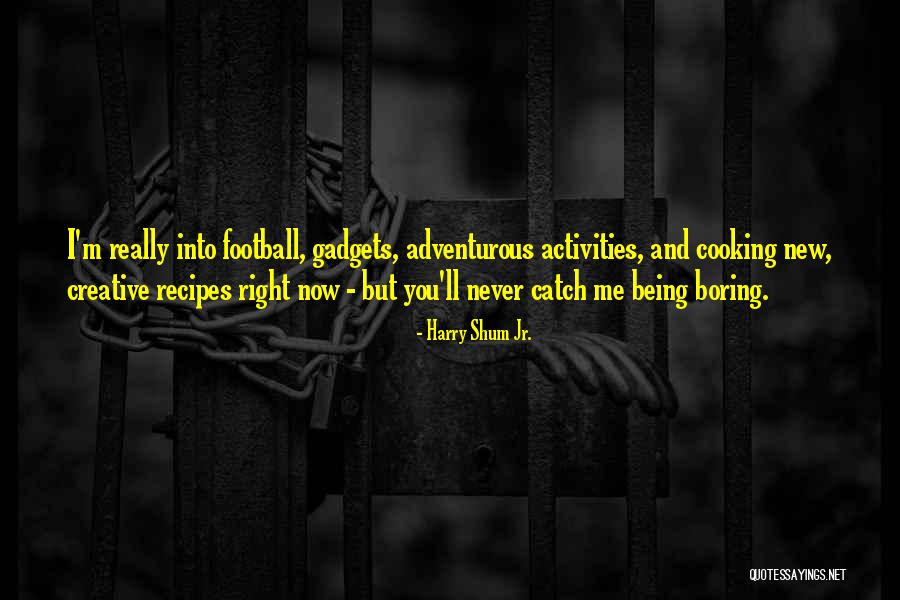 I'm really into football, gadgets, adventurous activities, and cooking new, creative recipes right now - but you'll never catch me being boring. — Harry Shum Jr.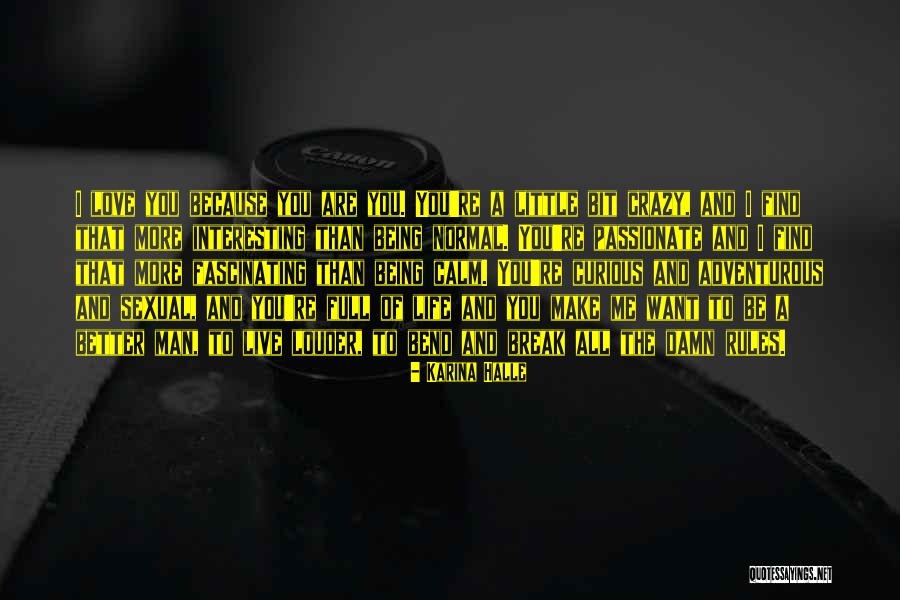 I love you because you are you. You're a little bit crazy, and I find that more interesting than being normal. You're passionate and I find that more fascinating than being calm. You're curious and adventurous and sexual, and you're full of life and you make me want to be a better man, to live louder, to bend and break all the damn rules. — Karina Halle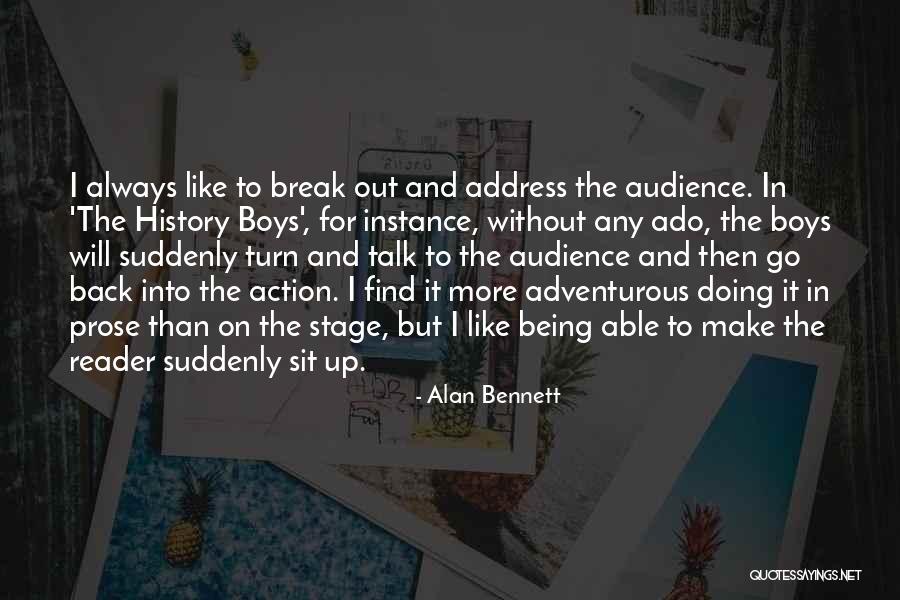 I always like to break out and address the audience. In 'The History Boys', for instance, without any ado, the boys will suddenly turn and talk to the audience and then go back into the action. I find it more adventurous doing it in prose than on the stage, but I like being able to make the reader suddenly sit up. — Alan Bennett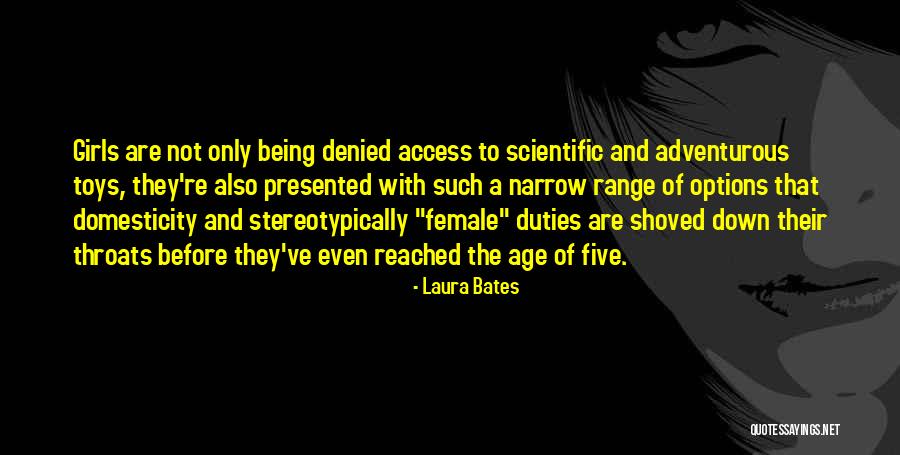 Girls are not only being denied access to scientific and adventurous toys, they're also presented with such a narrow range of options that domesticity and stereotypically "female" duties are shoved down their throats before they've even reached the age of five. — Laura Bates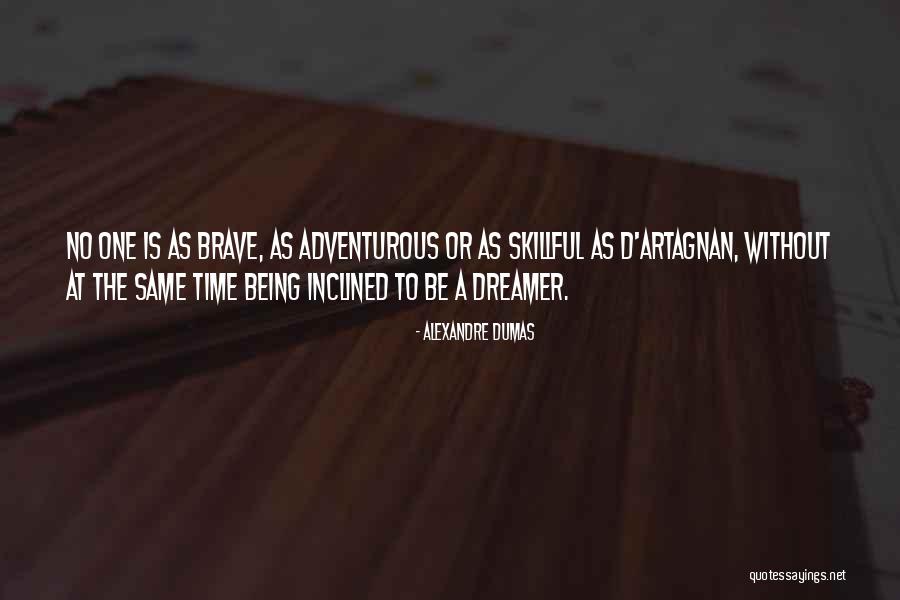 No one is as brave, as adventurous or as skillful as D'Artagnan, without at the same time being inclined to be a dreamer. — Alexandre Dumas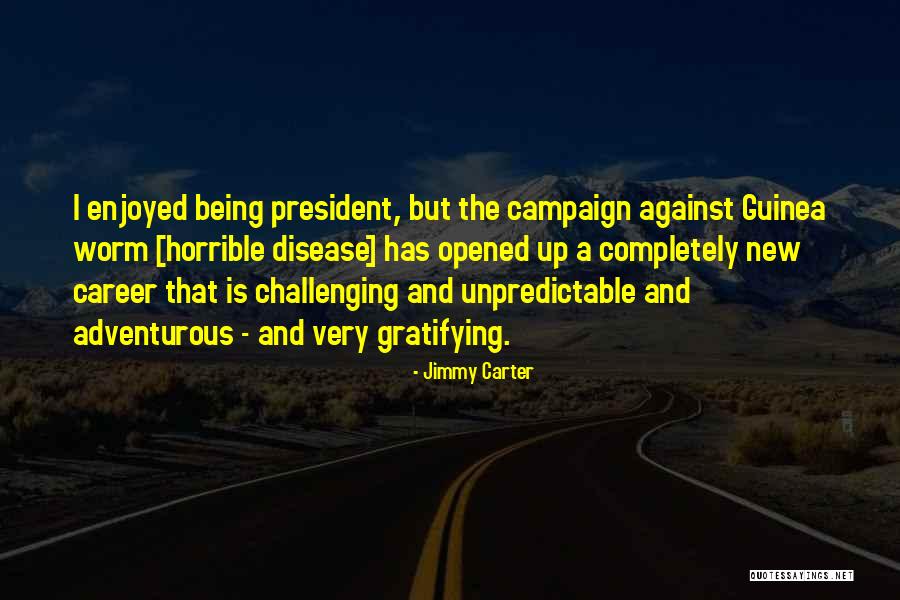 I enjoyed being president, but the campaign against Guinea worm [horrible disease] has opened up a completely new career that is challenging and unpredictable and adventurous - and very gratifying. — Jimmy Carter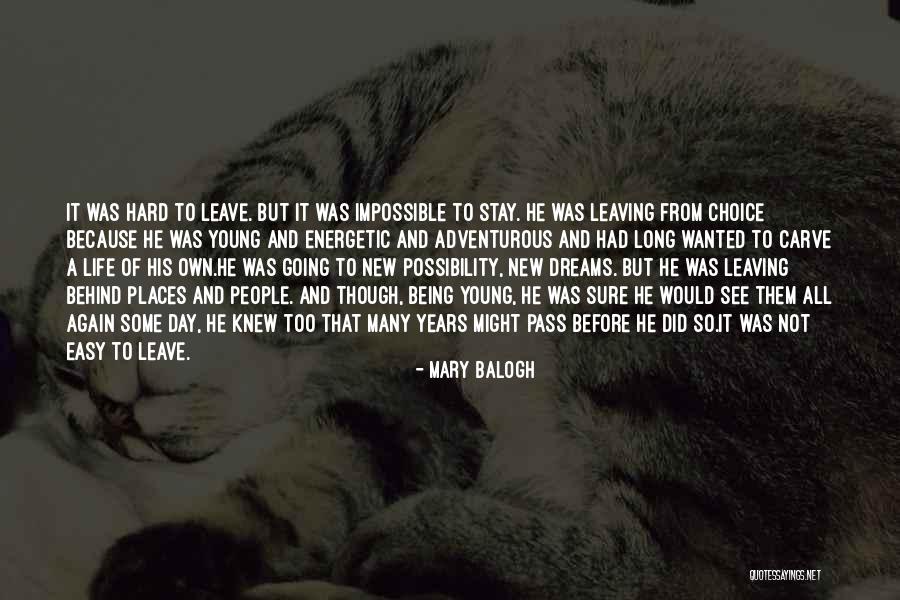 It was hard to leave. But it was impossible to stay. He was leaving from choice because he was young and energetic and adventurous and had long wanted to carve a life of his own.
He was going to new possibility, new dreams. But he was leaving behind places and people. And though, being young, he was sure he would see them all again some day, he knew too that many years might pass before he did so.
It was not easy to leave. — Mary Balogh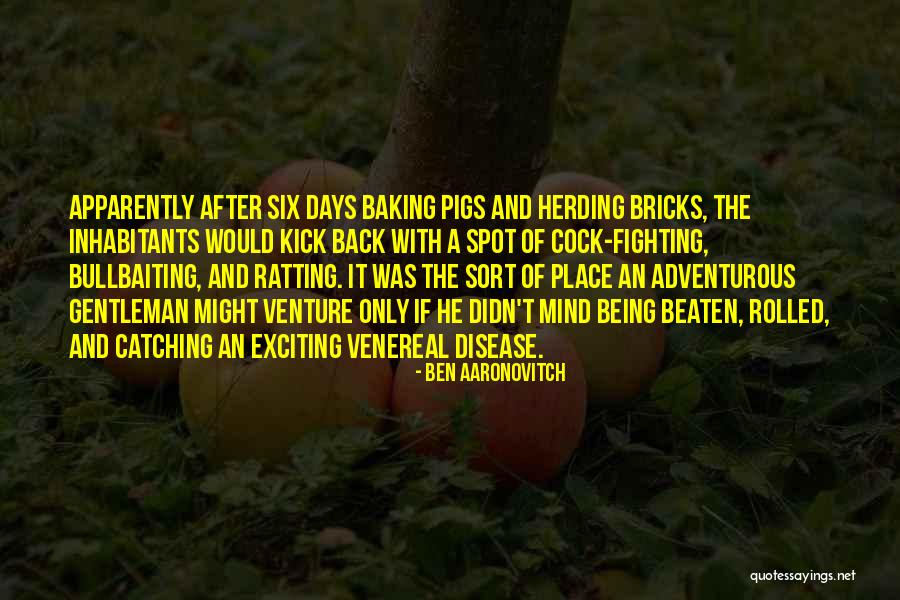 Apparently after six days baking pigs and herding bricks, the inhabitants would kick back with a spot of cock-fighting, bullbaiting, and ratting. It was the sort of place an adventurous gentleman might venture only if he didn't mind being beaten, rolled, and catching an exciting venereal disease. — Ben Aaronovitch
Will Carmel eventually forget about this adventurous time with us? Will she shun Thomas and go back to being the center of SWC? She wouldn't do that, would she? I mean, she did just compare me to Buffy the Vampire Slayer. My opinion of her isn't the highest right now. — Kendare Blake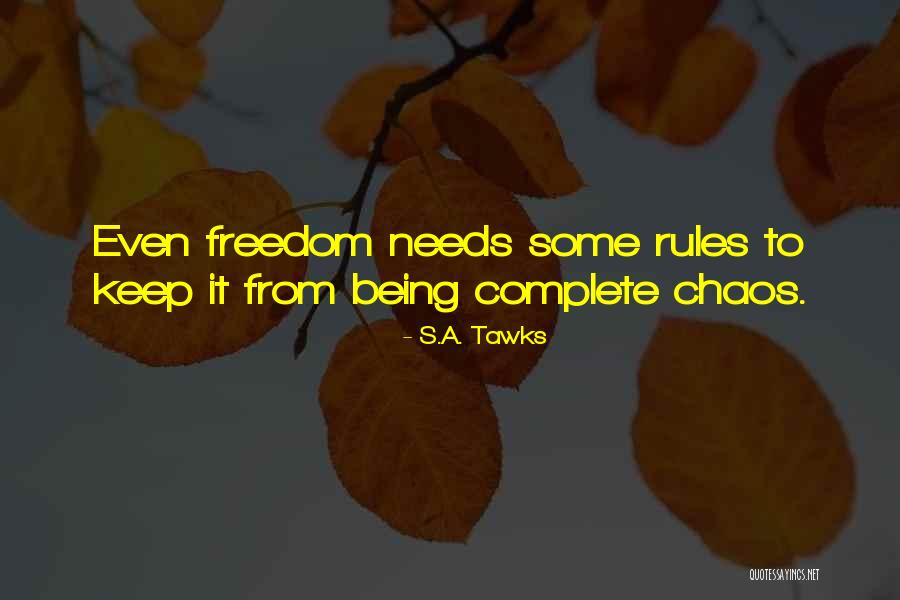 Even freedom needs some rules to keep it from being complete chaos. — S.A. Tawks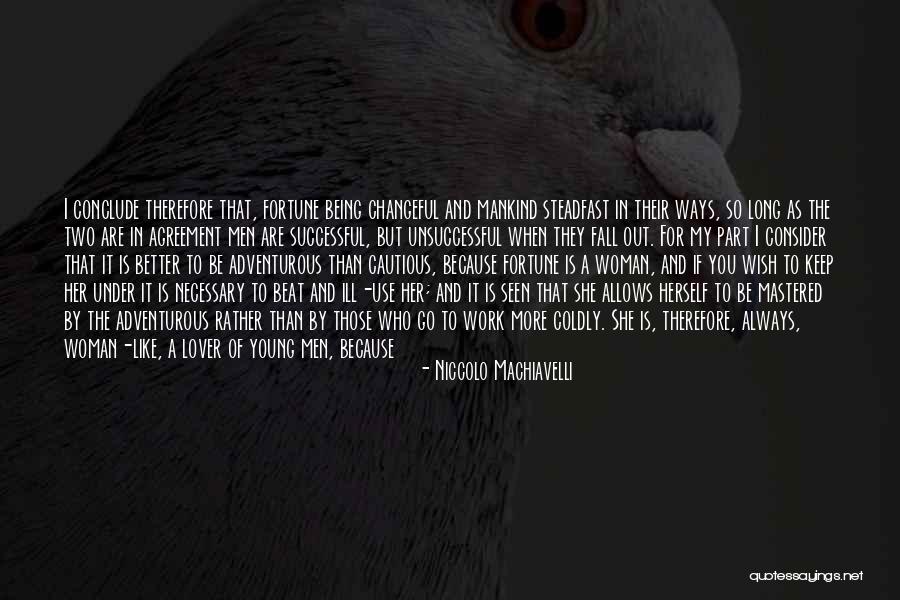 I conclude therefore that, fortune being changeful and mankind steadfast in their ways, so long as the two are in agreement men are successful, but unsuccessful when they fall out. For my part I consider that it is better to be adventurous than cautious, because fortune is a woman, and if you wish to keep her under it is necessary to beat and ill-use her; and it is seen that she allows herself to be mastered by the adventurous rather than by those who go to work more coldly. She is, therefore, always, woman-like, a lover of young men, because they are less cautious, more violent, and with more audacity command her. — Niccolo Machiavelli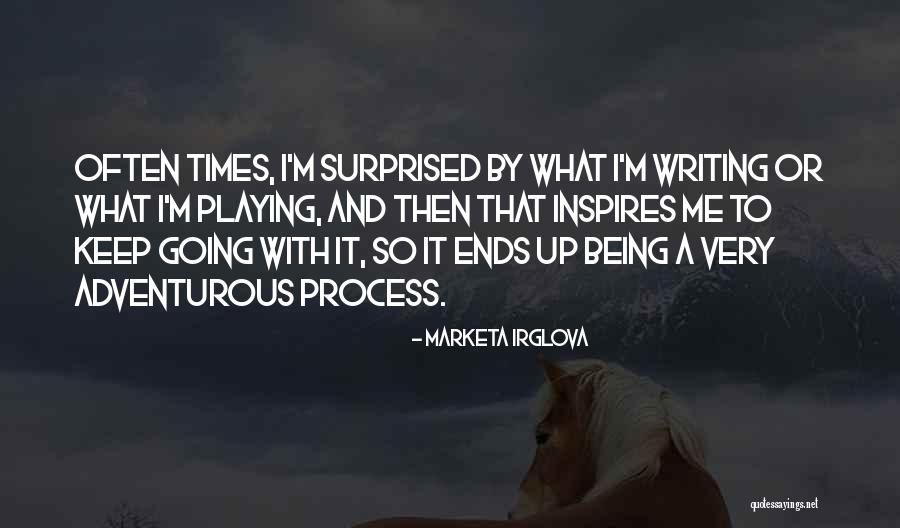 Often times, I'm surprised by what I'm writing or what I'm playing, and then that inspires me to keep going with it, so it ends up being a very adventurous process. — Marketa Irglova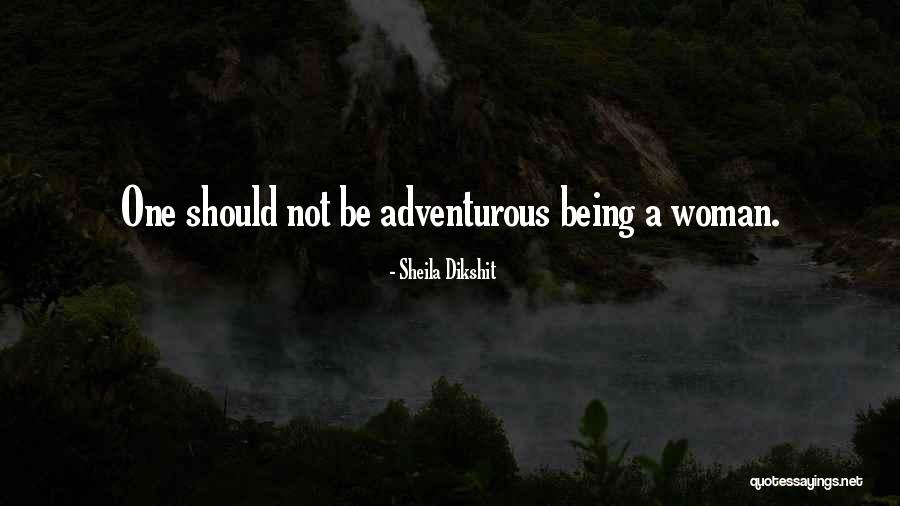 One should not be adventurous being a woman. — Sheila Dikshit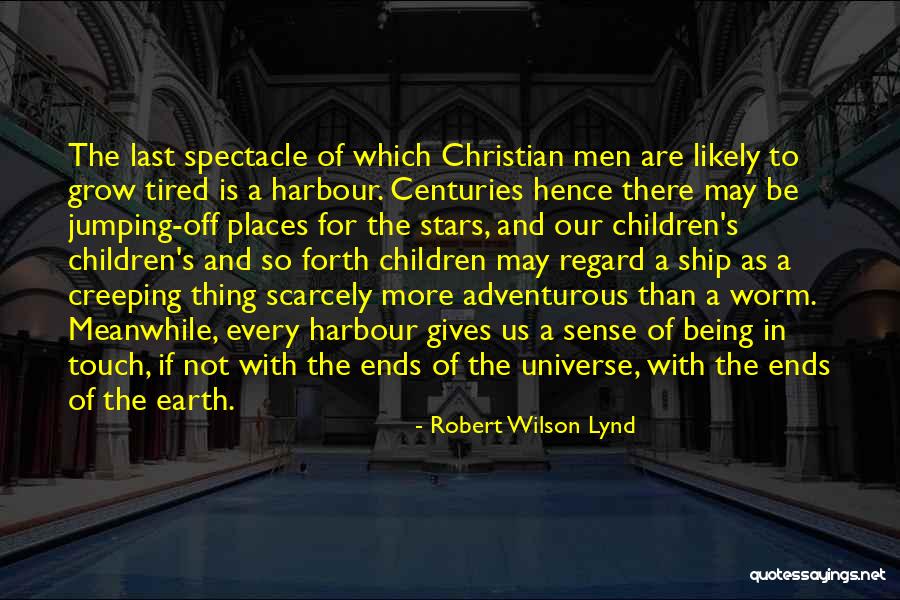 The last spectacle of which Christian men are likely to grow tired is a harbour. Centuries hence there may be jumping-off places for the stars, and our children's children's and so forth children may regard a ship as a creeping thing scarcely more adventurous than a worm. Meanwhile, every harbour gives us a sense of being in touch, if not with the ends of the universe, with the ends of the earth. — Robert Wilson Lynd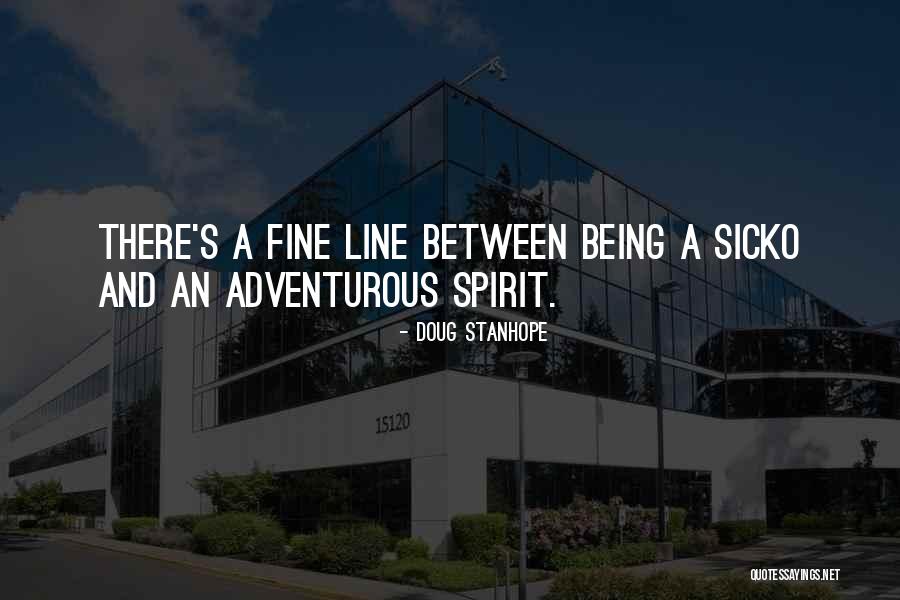 There's a fine line between being a sicko and an adventurous spirit. — Doug Stanhope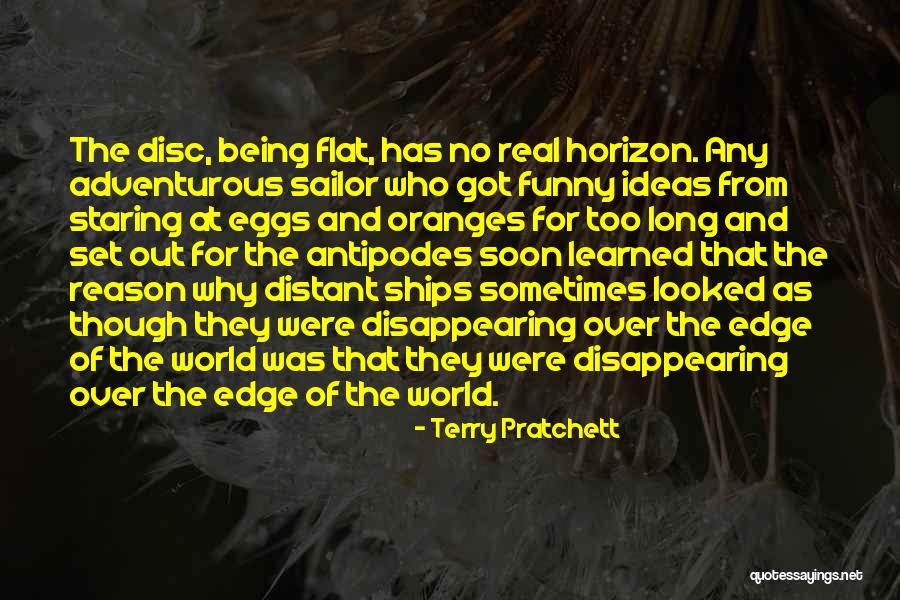 The disc, being flat, has no real horizon. Any adventurous sailor who got funny ideas from staring at eggs and oranges for too long and set out for the antipodes soon learned that the reason why distant ships sometimes looked as though they were disappearing over the edge of the world was that they were disappearing over the edge of the world. — Terry Pratchett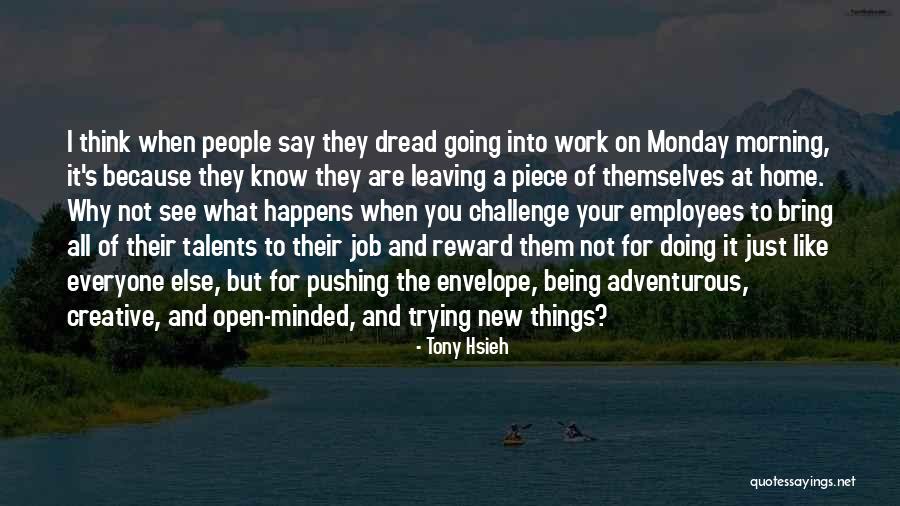 I think when people say they dread going into work on Monday morning, it's because they know they are leaving a piece of themselves at home. Why not see what happens when you challenge your employees to bring all of their talents to their job and reward them not for doing it just like everyone else, but for pushing the envelope, being adventurous, creative, and open-minded, and trying new things? — Tony Hsieh