Being A Simple Person Quotes & Sayings
Enjoy reading and share 53 famous quotes about Being A Simple Person with everyone.
Top Being A Simple Person Quotes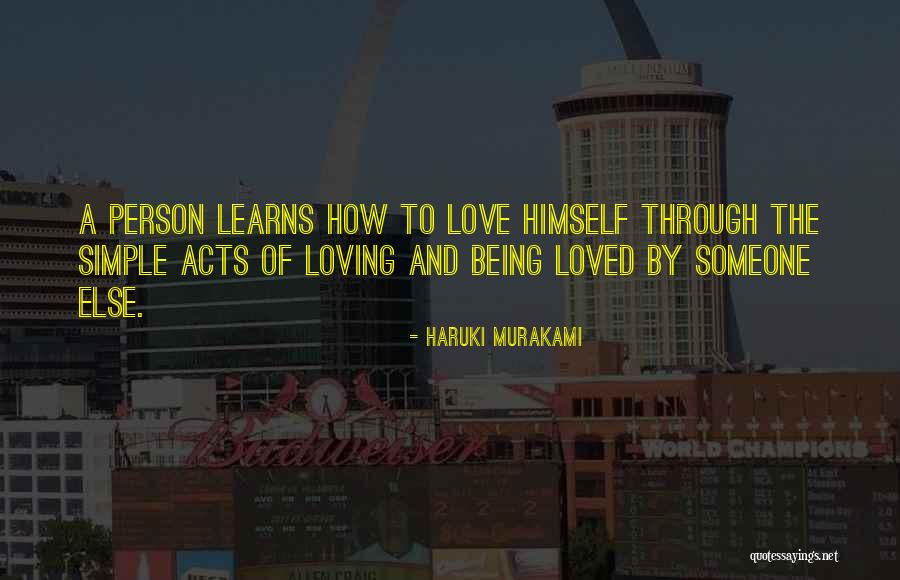 A person learns how to love himself through the simple acts of loving and being loved by someone else. — Haruki Murakami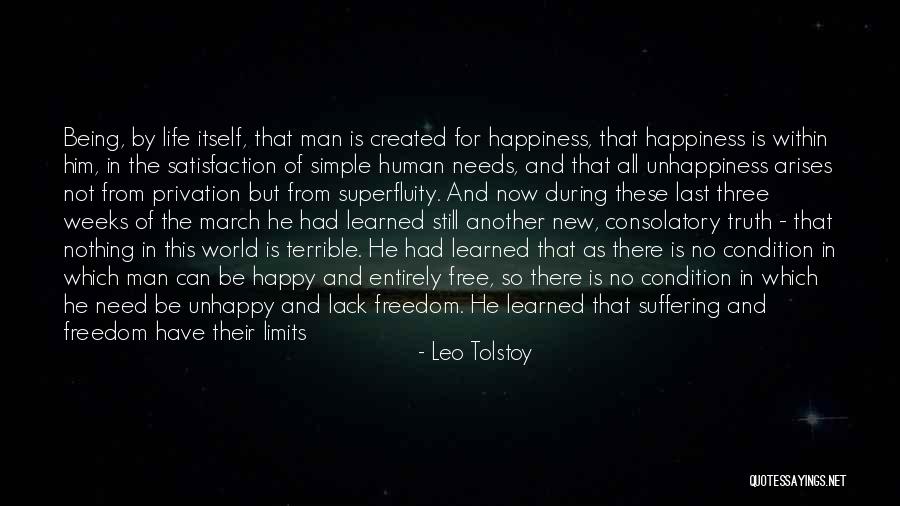 Being, by life itself, that man is created for happiness, that happiness is within him, in the satisfaction of simple human needs, and that all unhappiness arises not from privation but from superfluity. And now during these last three weeks of the march he had learned still another new, consolatory truth - that nothing in this world is terrible. He had learned that as there is no condition in which man can be happy and entirely free, so there is no condition in which he need be unhappy and lack freedom. He learned that suffering and freedom have their limits and that those limits are very near together; that the person in a bed of roses with one crumpled petal suffered as keenly as he now, sleeping on the bare damp earth with one side growing chilled while the — Leo Tolstoy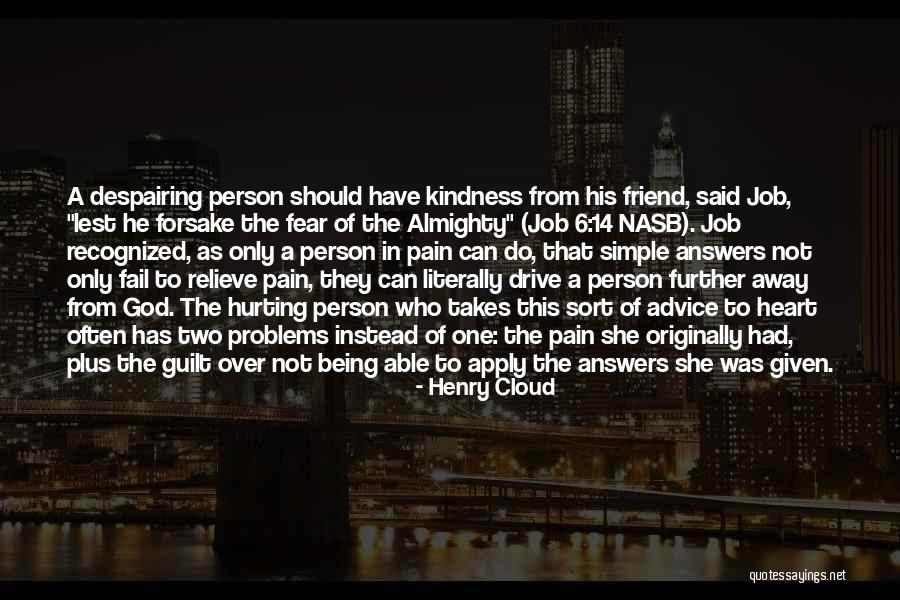 A despairing person should have kindness from his friend, said Job, "lest he forsake the fear of the Almighty" (Job 6:14 NASB). Job recognized, as only a person in pain can do, that simple answers not only fail to relieve pain, they can literally drive a person further away from God. The hurting person who takes this sort of advice to heart often has two problems instead of one: the pain she originally had, plus the guilt over not being able to apply the answers she was given. — Henry Cloud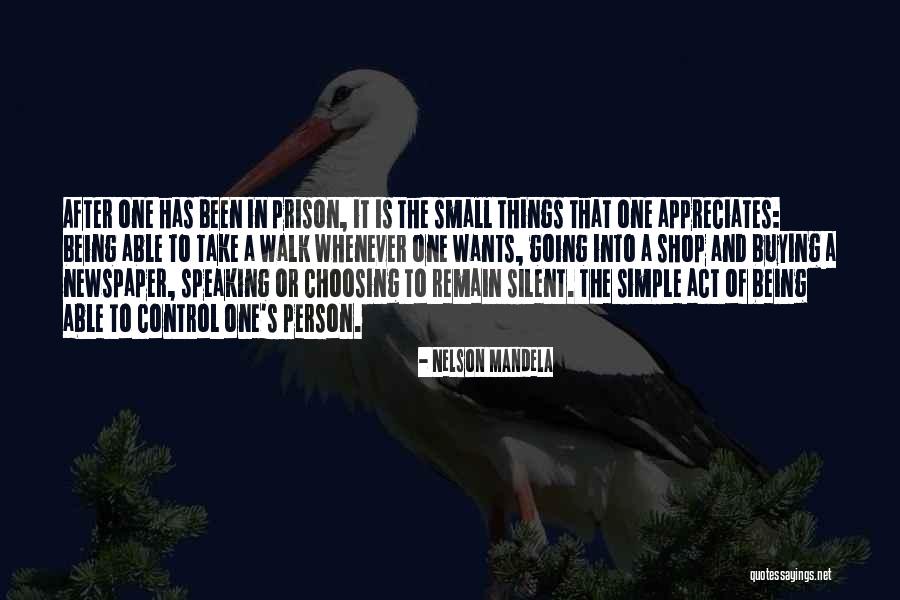 After one has been in prison, it is the small things that one appreciates: being able to take a walk whenever one wants, going into a shop and buying a newspaper, speaking or choosing to remain silent. The simple act of being able to control one's person. — Nelson Mandela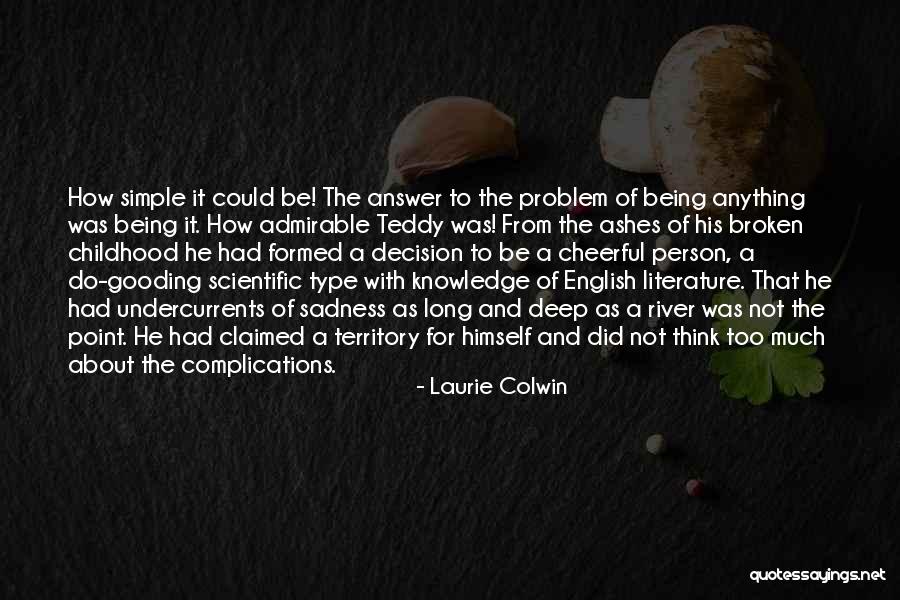 How simple it could be! The answer to the problem of being anything was being it. How admirable Teddy was! From the ashes of his broken childhood he had formed a decision to be a cheerful person, a do-gooding scientific type with knowledge of English literature. That he had undercurrents of sadness as long and deep as a river was not the point. He had claimed a territory for himself and did not think too much about the complications. — Laurie Colwin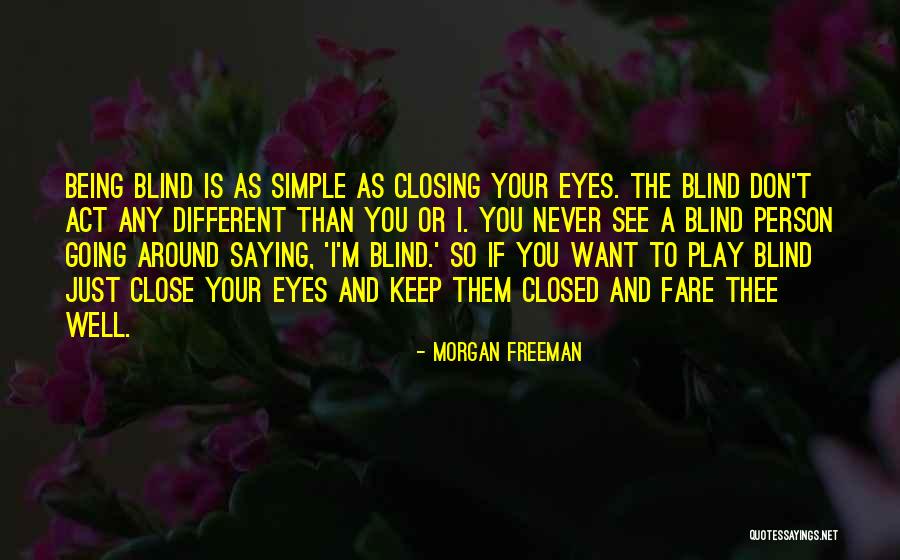 Being blind is as simple as closing your eyes. The blind don't act any different than you or I. You never see a blind person going around saying, 'I'm blind.' So if you want to play blind just close your eyes and keep them closed and fare thee well. — Morgan Freeman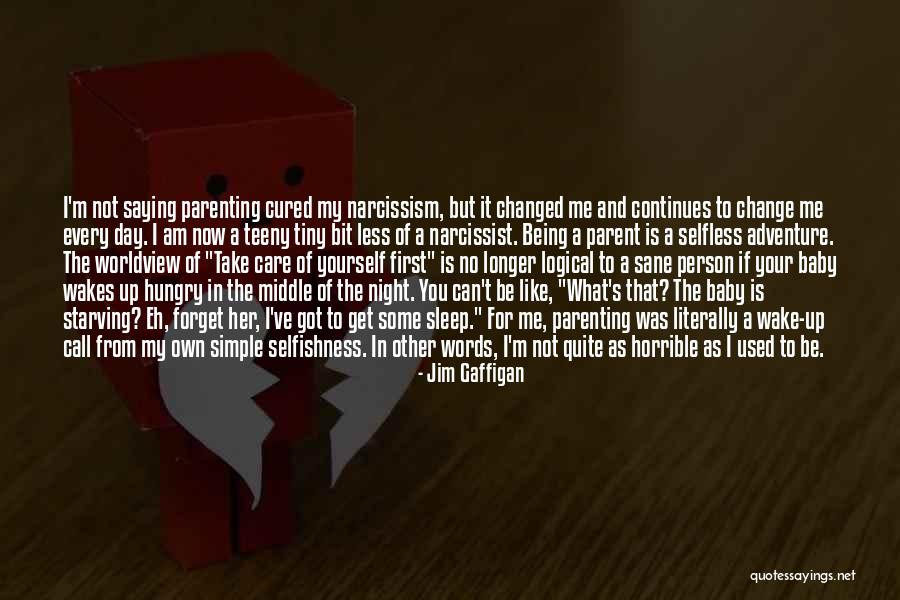 I'm not saying parenting cured my narcissism, but it changed me and continues to change me every day. I am now a teeny tiny bit less of a narcissist. Being a parent is a selfless adventure. The worldview of "Take care of yourself first" is no longer logical to a sane person if your baby wakes up hungry in the middle of the night. You can't be like, "What's that? The baby is starving? Eh, forget her, I've got to get some sleep." For me, parenting was literally a wake-up call from my own simple selfishness. In other words, I'm not quite as horrible as I used to be. — Jim Gaffigan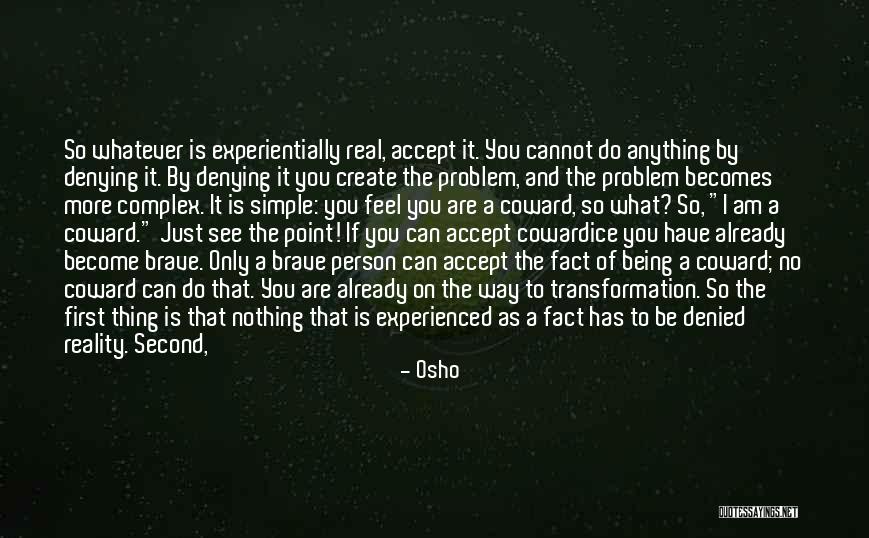 So whatever is experientially real, accept it. You cannot do anything by denying it. By denying it you create the problem, and the problem becomes more complex. It is simple: you feel you are a coward, so what? So, "I am a coward." Just see the point! If you can accept cowardice you have already become brave. Only a brave person can accept the fact of being a coward; no coward can do that. You are already on the way to transformation. So the first thing is that nothing that is experienced as a fact has to be denied reality. Second, — Osho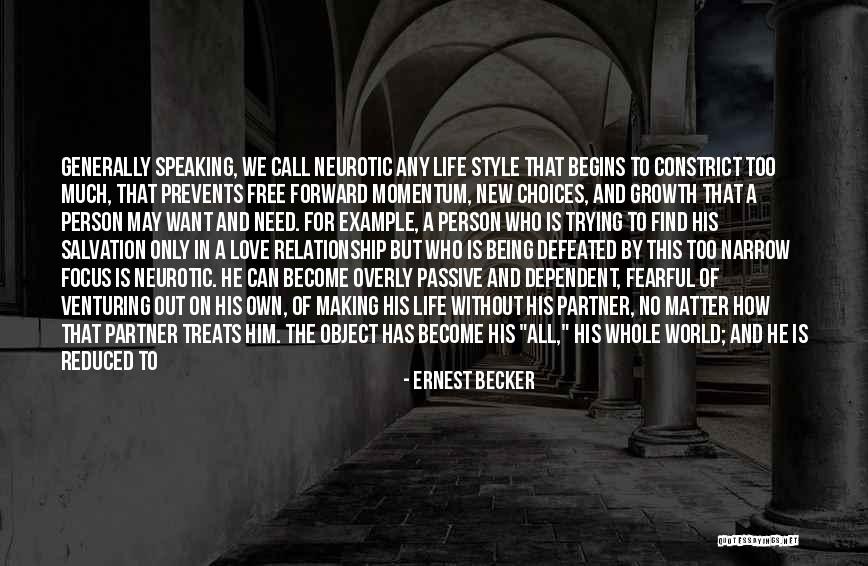 Generally speaking, we call neurotic any life style that begins to constrict too much, that prevents free forward momentum, new choices, and growth that a person may want and need. For example, a person who is trying to find his salvation only in a love relationship but who is being defeated by this too narrow focus is neurotic. He can become overly passive and dependent, fearful of venturing out on his own, of making his life without his partner, no matter how that partner treats him. The object has become his "All," his whole world; and he is reduced to the status of a simple reflex of another human being. — Ernest Becker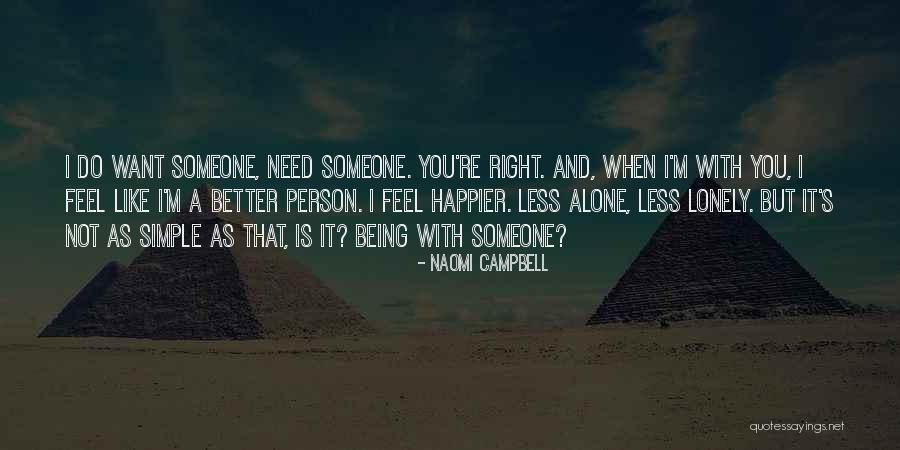 I do want someone, need someone. You're right. And, when I'm with you, I feel like I'm a better person. I feel happier. Less alone, less lonely. But it's not as simple as that, is it? Being with someone? — Naomi Campbell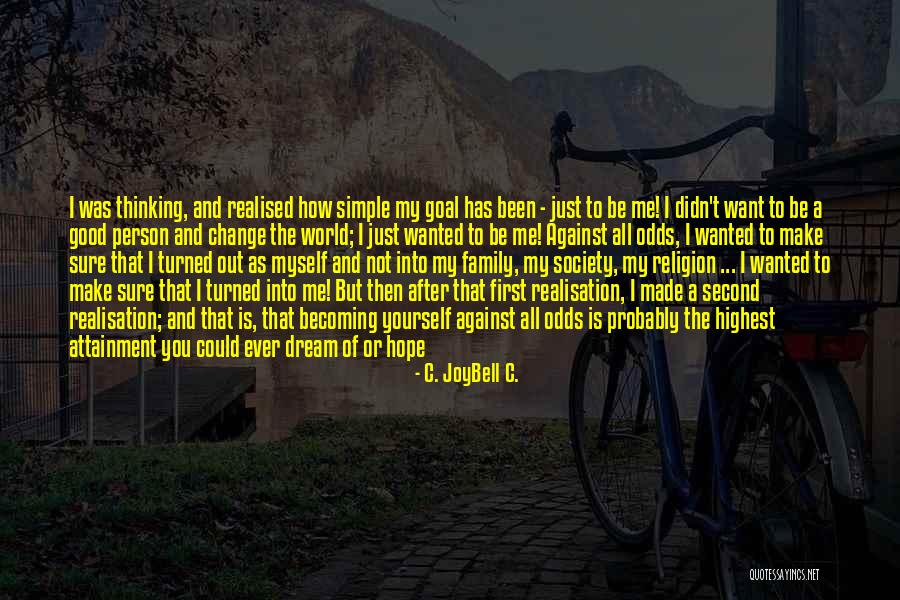 I was thinking, and realised how simple my goal has been - just to be me! I didn't want to be a good person and change the world; I just wanted to be me! Against all odds, I wanted to make sure that I turned out as myself and not into my family, my society, my religion ... I wanted to make sure that I turned into me! But then after that first realisation, I made a second realisation; and that is, that becoming yourself against all odds is probably the highest attainment you could ever dream of or hope for! After all, the minute we are born, we are born into a world that isn't interested in making us who we are; but rather, is interested in making us who they think we are supposed to be! It is a most courageous act to become yourself, no matter what! And you can move mountains and change the world without trying to! As long as you fight for you! — C. JoyBell C.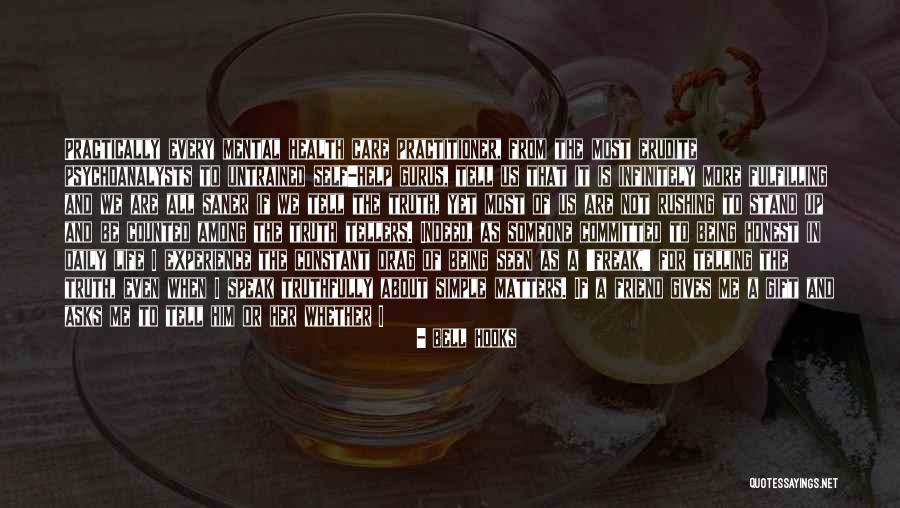 Practically every mental health care practitioner, from the most erudite psychoanalysts to untrained self-help gurus, tell us that it is infinitely more fulfilling and we are all saner if we tell the truth, yet most of us are not rushing to stand up and be counted among the truth tellers. Indeed, as someone committed to being honest in daily life I experience the constant drag of being seen as a 'freak,' for telling the truth, even when I speak truthfully about simple matters. If a friend gives me a gift and asks me to tell him or her whether I like it, I will respond honestly and judiciously; that is to say I will speak the truth in a positive, caring manner. Yet even in this situation, the person who asks for honesty will often express annoyance when given a truthful response. — Bell Hooks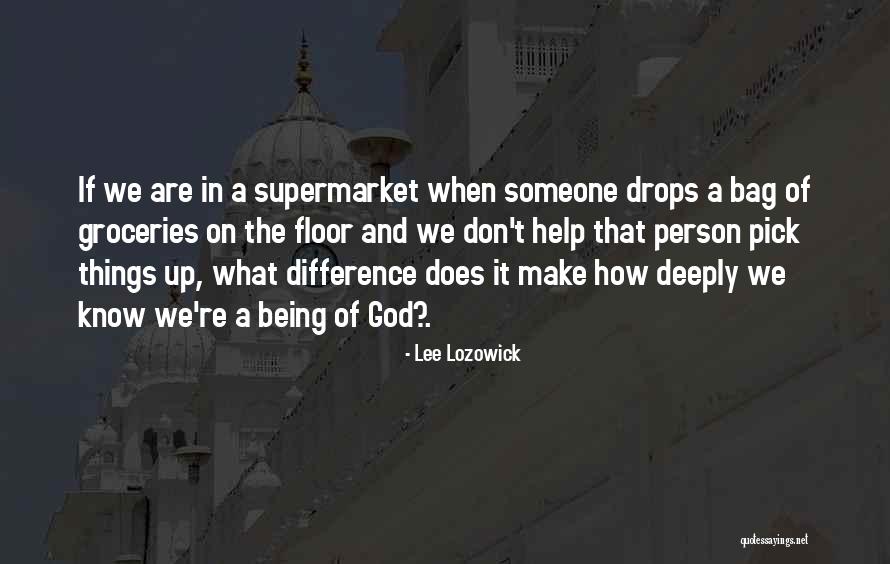 If we are in a supermarket when someone drops a bag of groceries on the floor and we don't help that person pick things up, what difference does it make how deeply we know we're a being of God?. — Lee Lozowick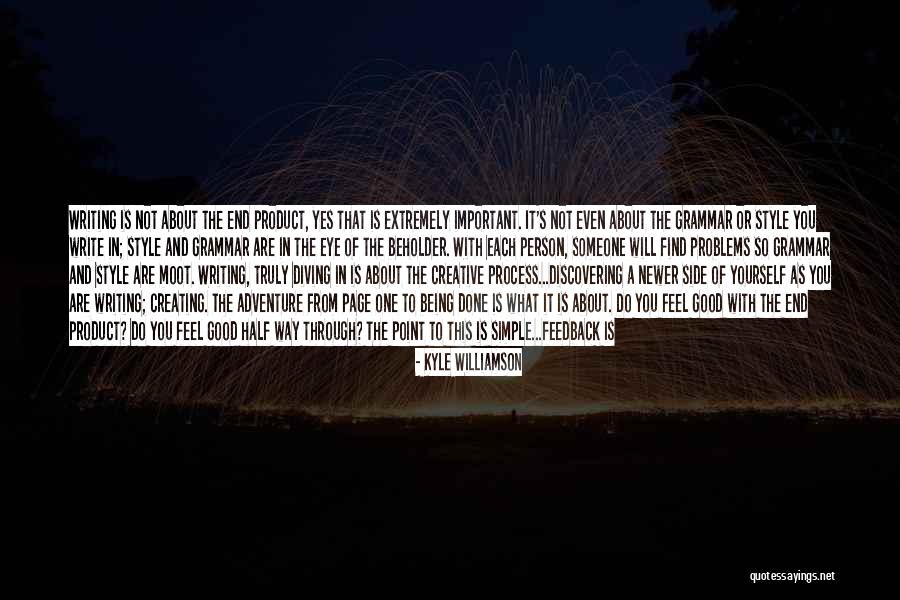 Writing is not about the end product, yes that is extremely important. It's not even about the grammar or style you write in; style and grammar are in the eye of the beholder. With each person, someone will find problems so grammar and style are moot. Writing, truly diving in is about the creative process...discovering a newer side of yourself as you are writing; creating. The adventure from page one to being done is what it is about. Do you feel good with the end product? do you feel good half way through? The point to this is simple...feedback is vital to selling your work, paying attention to hurtful feedback can destroy your pursuit of your dreams. so write for you...sell to others but write from your soul. Whether it's fiction/faction/non fiction or somewhere in between if your heart and soul is not in it...you are not going to be happy with it. — Kyle Williamson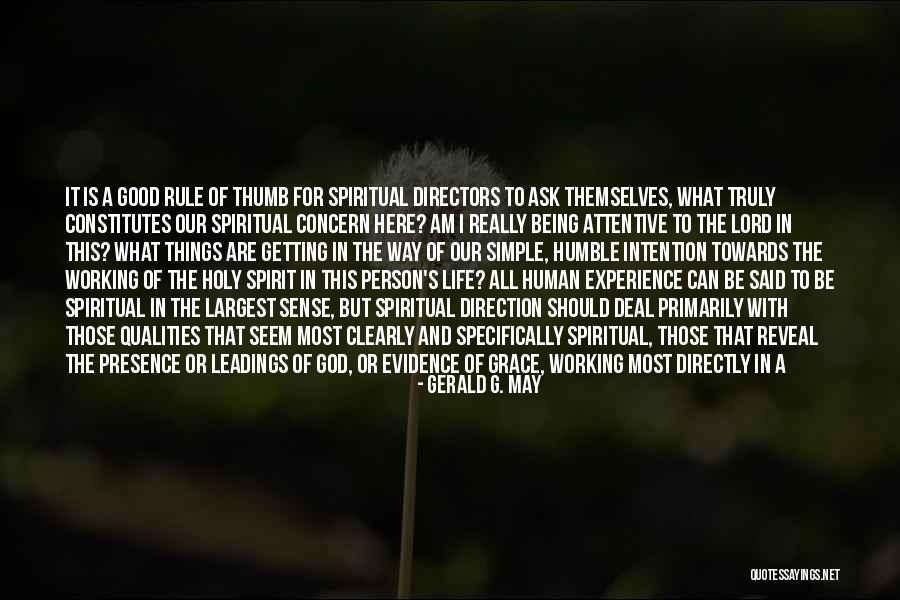 It is a good rule of thumb for spiritual directors to ask themselves, What truly constitutes our spiritual concern here? Am I really being attentive to the Lord in this? What things are getting in the way of our simple, humble intention towards the working of the Holy Spirit in this person's life? All human experience can be said to be spiritual in the largest sense, but spiritual direction should deal primarily with those qualities that seem most clearly and specifically spiritual, those that reveal the presence or leadings of God, or evidence of grace, working most directly in a person's life. This becomes increasingly important as spiritual direction progresses over time with any given individual. In the course of spiritual maturation, concern with superficial psychological experience must give way to a much more basic concern for the discernment of good and evil. — Gerald G. May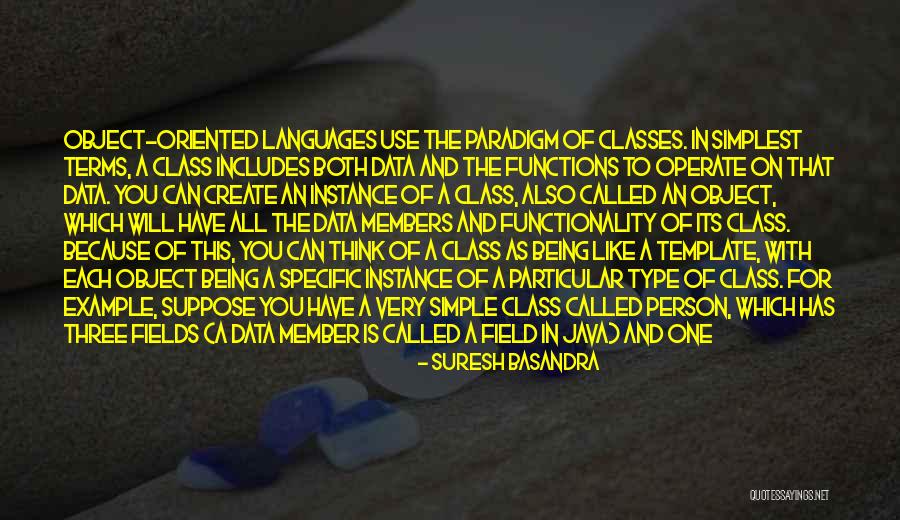 Object-oriented languages use the paradigm of classes. In simplest terms, a class includes both data and the functions to operate on that data. You can create an instance of a class, also called an object, which will have all the data members and functionality of its class. Because of this, you can think of a class as being like a template, with each object being a specific instance of a particular type of class. For example, suppose you have a very simple class called Person, which has three fields (a data member is called a field in Java) and one method (a function is called a method in Java). The following code illustrates creating a simple class. For example, the first thing inside the beginning brace ({) is a constructor, a special kind of method that creates an instance of a class and sets its fields with their initial values. — Suresh Basandra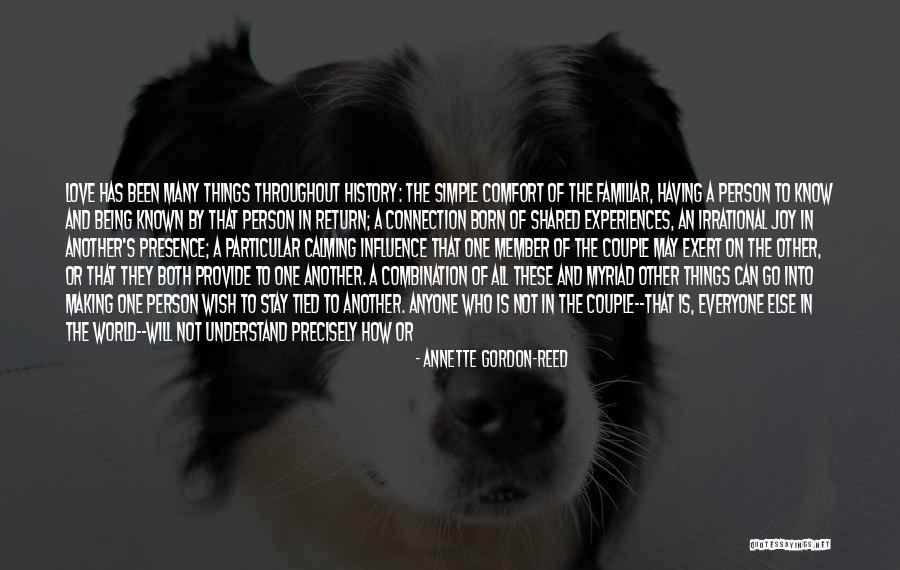 Love has been many things throughout history: the simple comfort of the familiar, having a person to know and being known by that person in return; a connection born of shared experiences, an irrational joy in another's presence; a particular calming influence that one member of the couple may exert on the other, or that they both provide to one another. A combination of all these and myriad other things can go into making one person wish to stay tied to another. Anyone who is not in the couple--that is, everyone else in the world--will not understand precisely how or why it works for two people. — Annette Gordon-Reed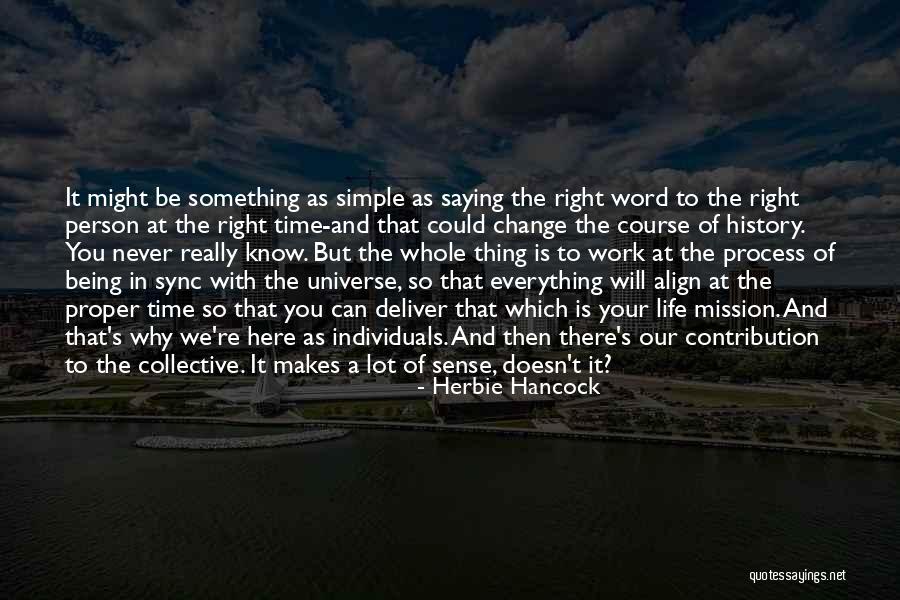 It might be something as simple as saying the right word to the right person at the right time-and that could change the course of history. You never really know. But the whole thing is to work at the process of being in sync with the universe, so that everything will align at the proper time so that you can deliver that which is your life mission. And that's why we're here as individuals. And then there's our contribution to the collective. It makes a lot of sense, doesn't it? — Herbie Hancock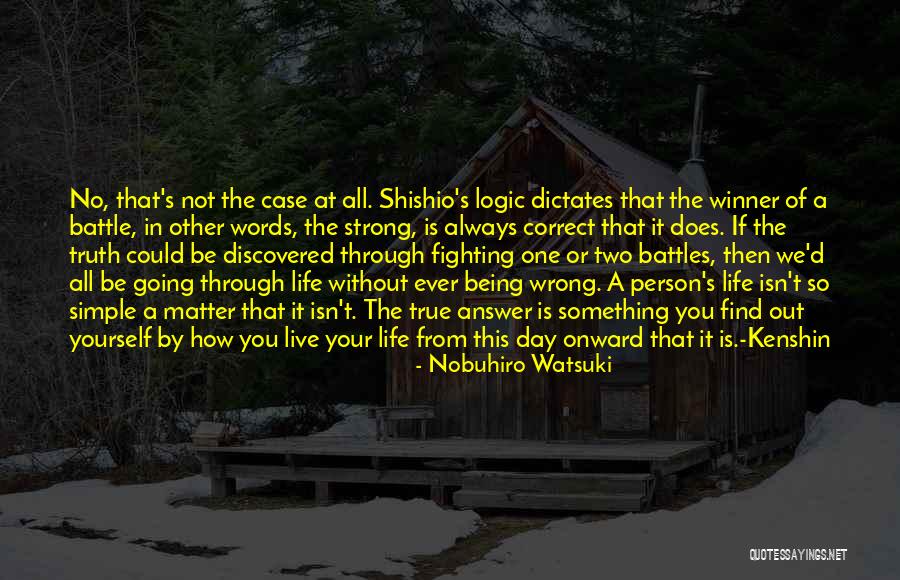 No, that's not the case at all. Shishio's logic dictates that the winner of a battle, in other words, the strong, is always correct that it does. If the truth could be discovered through fighting one or two battles, then we'd all be going through life without ever being wrong. A person's life isn't so simple a matter that it isn't. The true answer is something you find out yourself by how you live your life from this day onward that it is.
-Kenshin — Nobuhiro Watsuki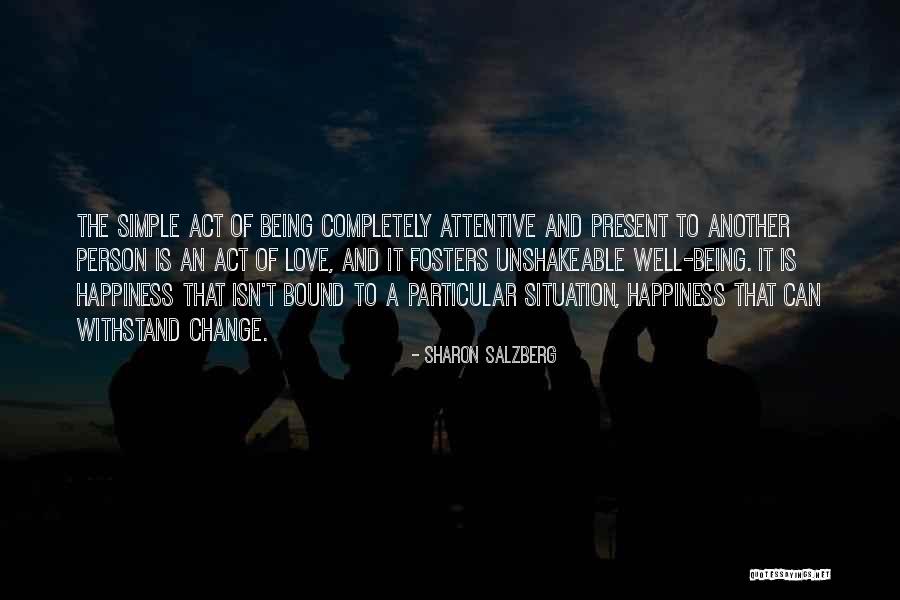 The simple act of being completely attentive and present to another person is an act of love, and it fosters unshakeable well-being. It is happiness that isn't bound to a particular situation, happiness that can withstand change. — Sharon Salzberg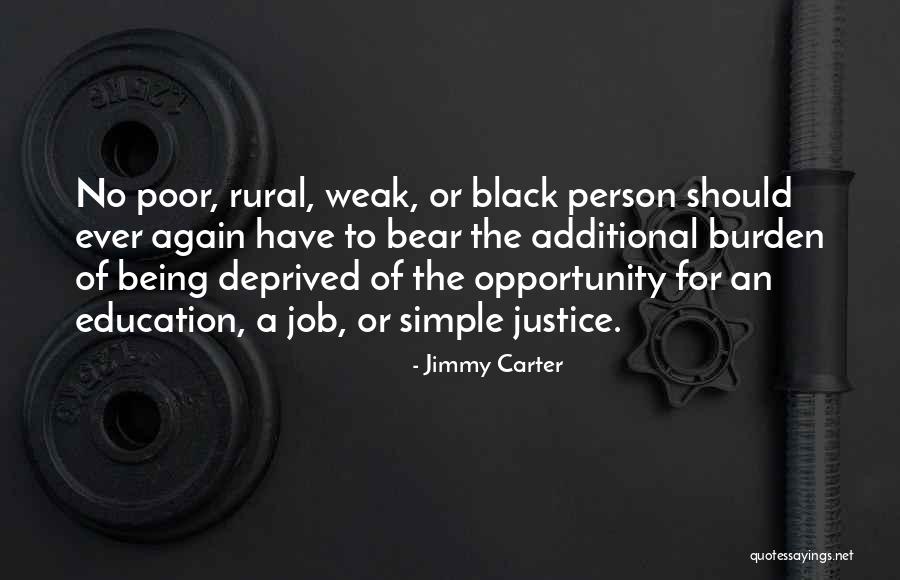 No poor, rural, weak, or black person should ever again have to bear the additional burden of being deprived of the opportunity for an education, a job, or simple justice. — Jimmy Carter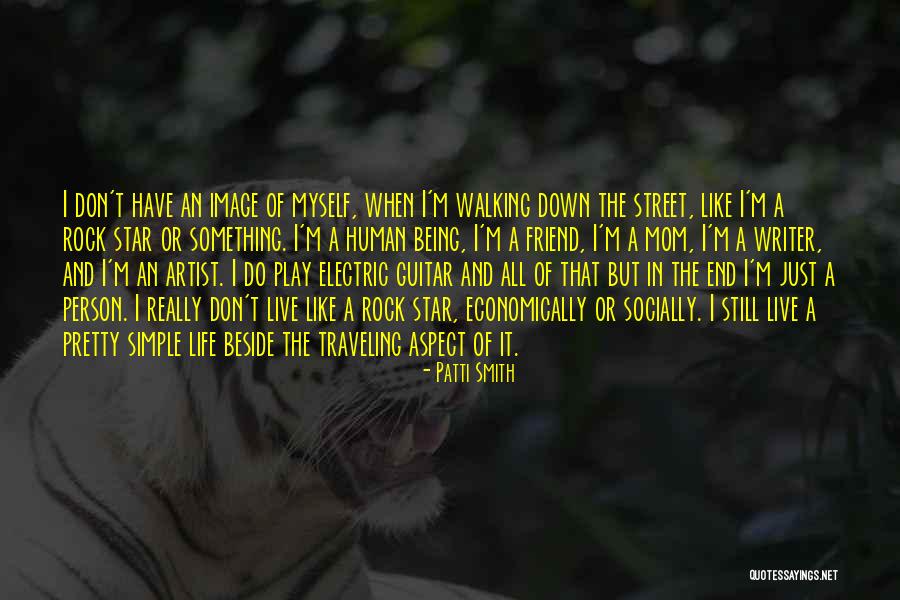 I don't have an image of myself, when I'm walking down the street, like I'm a rock star or something. I'm a human being, I'm a friend, I'm a mom, I'm a writer, and I'm an artist. I do play electric guitar and all of that but in the end I'm just a person. I really don't live like a rock star, economically or socially. I still live a pretty simple life beside the traveling aspect of it. — Patti Smith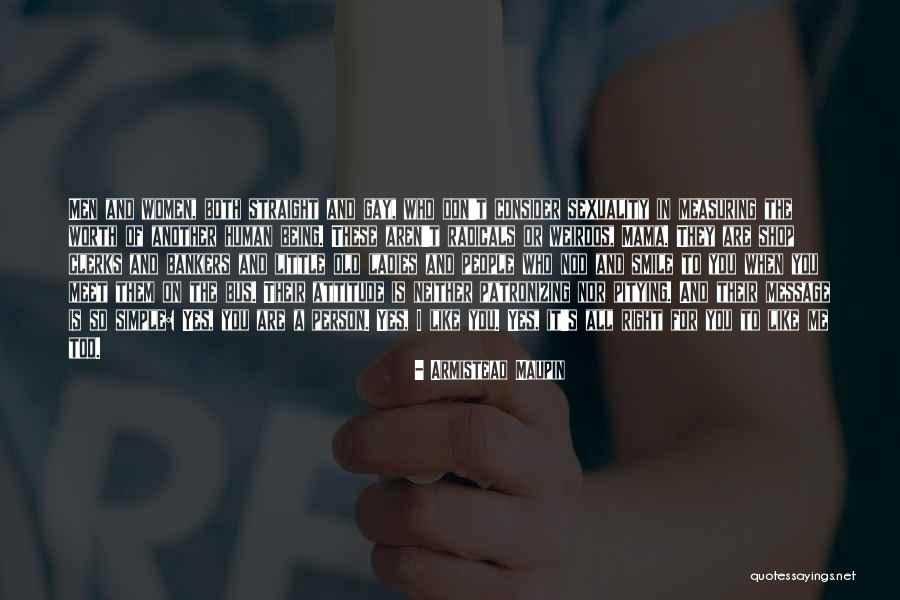 Men and women, both straight and gay, who don't consider sexuality in measuring the worth of another human being. These aren't radicals or weirdos, Mama. They are shop clerks and bankers and little old ladies and people who nod and smile to you when you meet them on the bus. Their attitude is neither patronizing nor pitying. And their message is so simple: Yes, you are a person. Yes, I like you. Yes, it's all right for you to like me too. — Armistead Maupin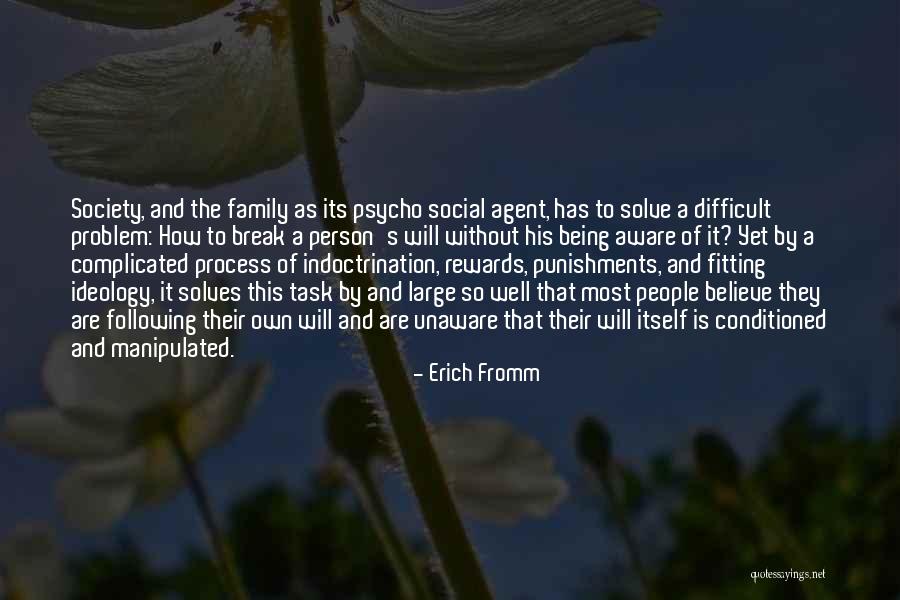 Society, and the family as its psycho social agent, has to solve a difficult problem: How to break a person's will without his being aware of it? Yet by a complicated process of indoctrination, rewards, punishments, and fitting ideology, it solves this task by and large so well that most people believe they are following their own will and are unaware that their will itself is conditioned and manipulated. — Erich Fromm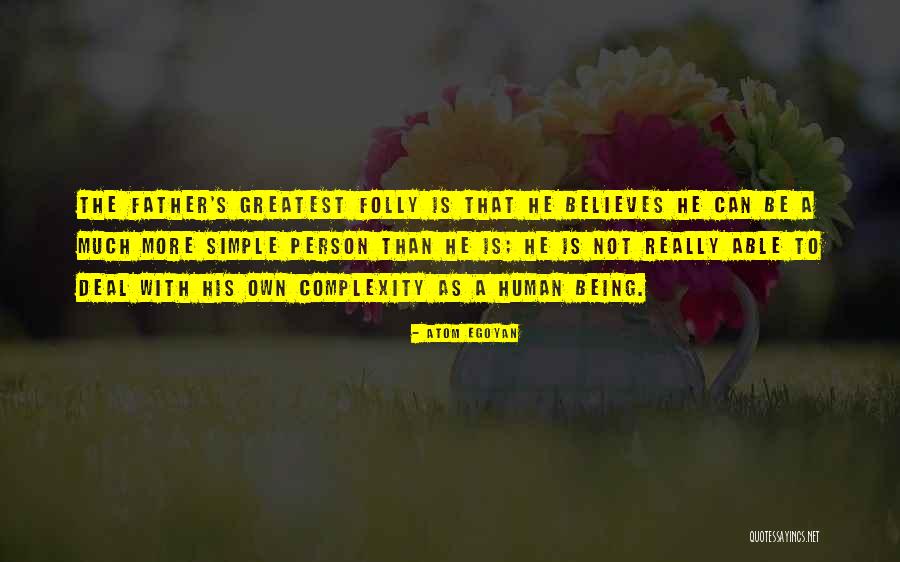 The father's greatest folly is that he believes he can be a much more simple person than he is; he is not really able to deal with his own complexity as a human being. — Atom Egoyan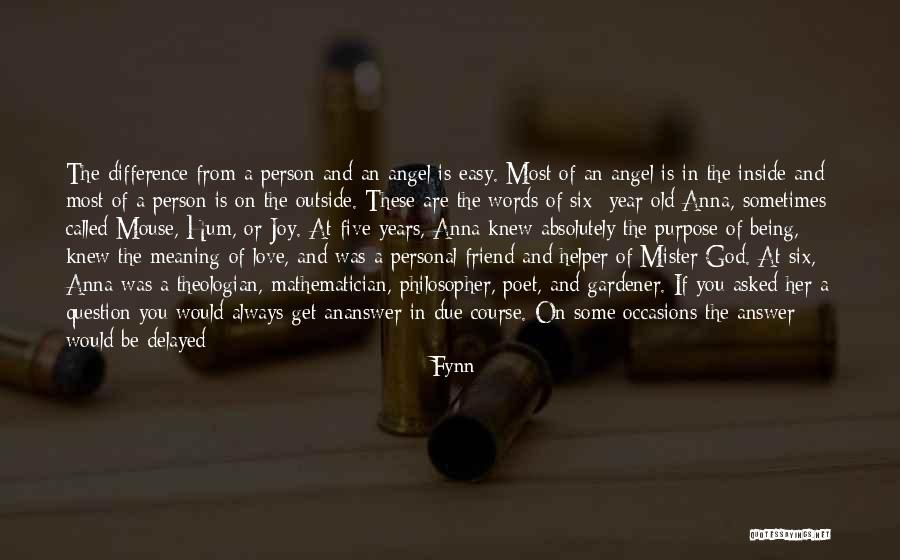 The difference from a person and an angel is easy. Most of an angel is in the inside and most of a person is on the outside. These are the words of six- year old Anna, sometimes called Mouse, Hum, or Joy. At five years, Anna knew absolutely the purpose of being, knew the meaning of love, and was a personal friend and helper of Mister God. At six, Anna was a theologian, mathematician, philosopher, poet, and gardener. If you asked her a question you would always get ananswer in due course. On some occasions the answer would be delayed for weeks or months; but eventually, in her own good time, the answer would come: direct, simple, and much to the point. — Fynn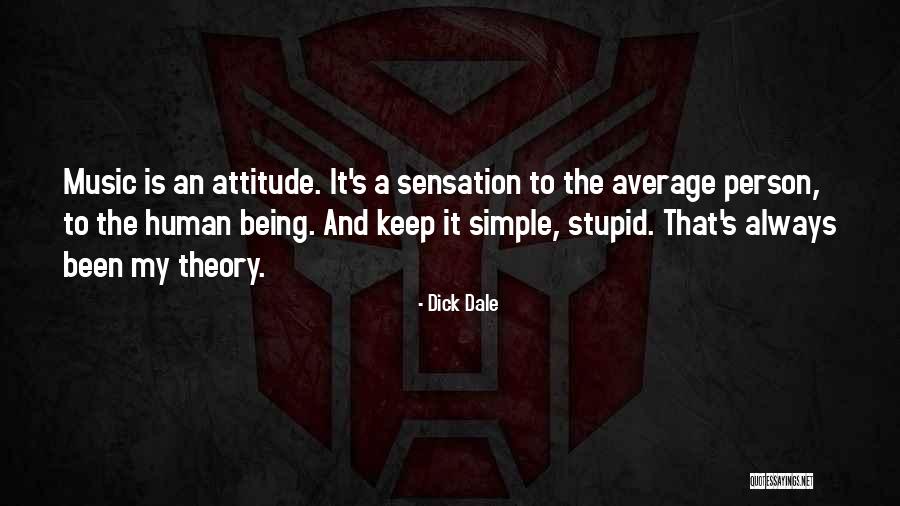 Music is an attitude. It's a sensation to the average person, to the human being. And keep it simple, stupid. That's always been my theory. — Dick Dale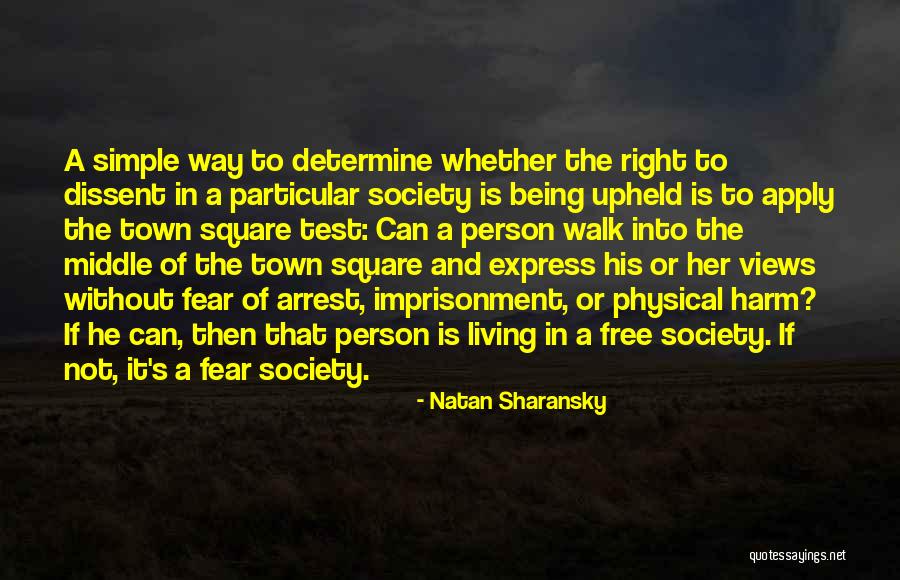 A simple way to determine whether the right to dissent in a particular society is being upheld is to apply the town square test: Can a person walk into the middle of the town square and express his or her views without fear of arrest, imprisonment, or physical harm? If he can, then that person is living in a free society. If not, it's a fear society. — Natan Sharansky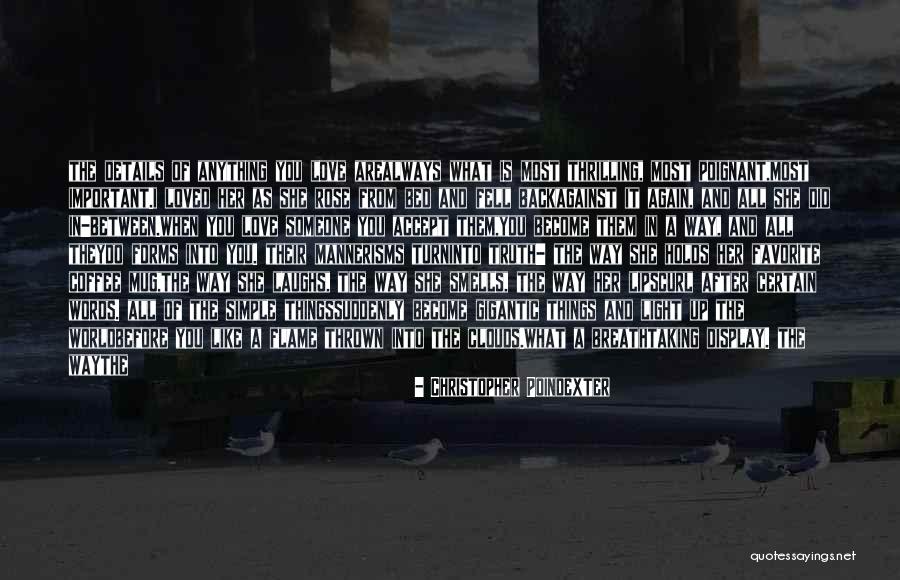 the details of anything you love are
always what is most thrilling, most poignant,
most important.
i loved her as she rose from bed and fell back
against it again, and all she did in-between.
when you love someone you accept them,
you become them in a way, and all they
do forms into you. their mannerisms turn
into truth- the way she holds her favorite coffee mug,
the way she laughs, the way she smells, the way her lips
curl after certain words. all of the simple things
suddenly become gigantic things and light up the world
before you like a flame thrown into the clouds.
what a breathtaking display. the way
the earth begins to dissolve in your periphery
and a human being replaces it.

no matter what they tell you-
a person is a universe when truly
loved and anything less is not
love at all. — Christopher Poindexter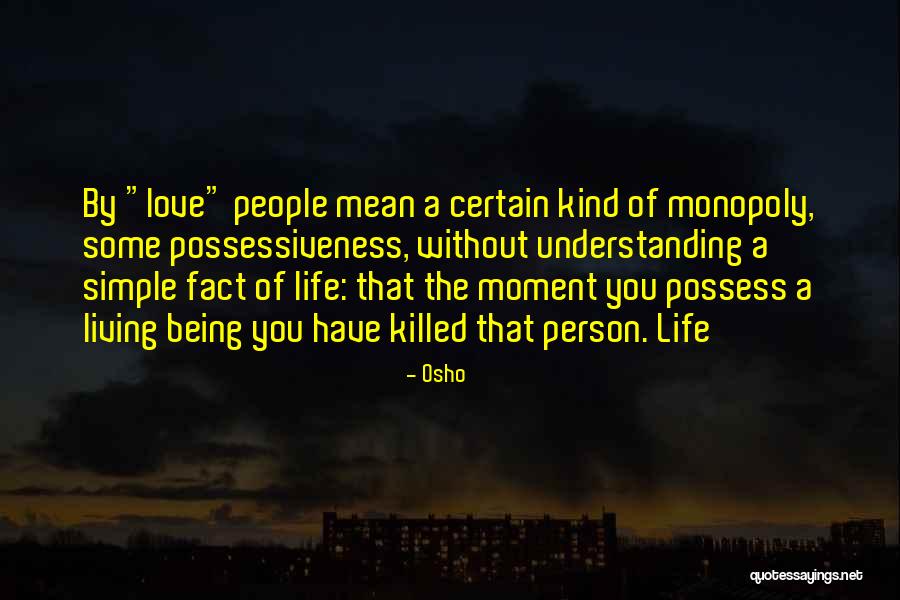 By "love" people mean a certain kind of monopoly, some possessiveness, without understanding a simple fact of life: that the moment you possess a living being you have killed that person. Life — Osho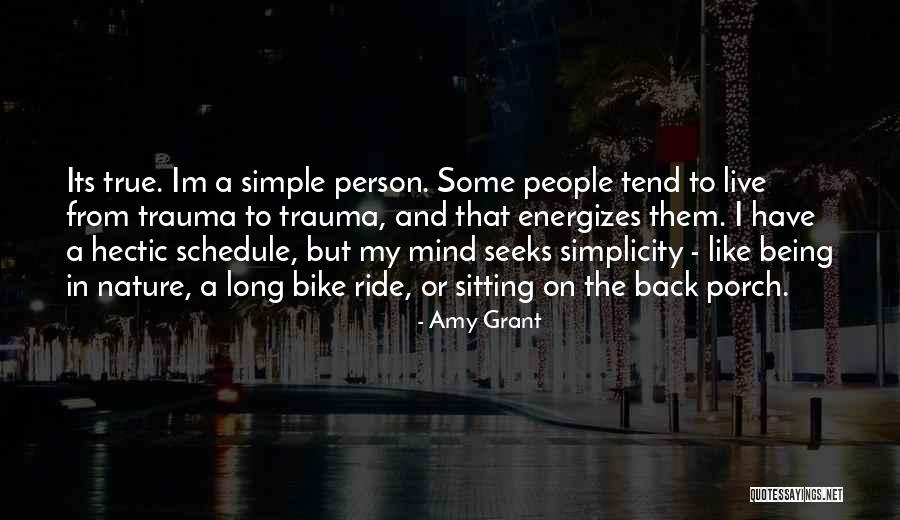 Its true. Im a simple person. Some people tend to live from trauma to trauma, and that energizes them. I have a hectic schedule, but my mind seeks simplicity - like being in nature, a long bike ride, or sitting on the back porch. — Amy Grant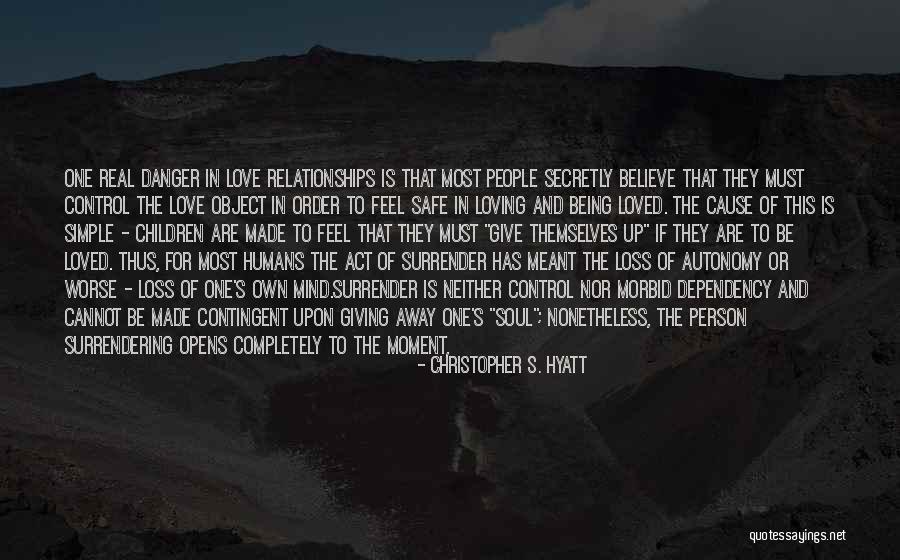 One real danger in love relationships is that most people secretly believe that they must control the love object in order to feel safe in loving and being loved. The cause of this is simple - children are made to feel that they must "give themselves up" if they are to be loved. Thus, for most humans the act of surrender has meant the loss of autonomy or worse - loss of one's own mind.
Surrender is neither control nor morbid dependency and cannot be made contingent upon giving away one's "soul"; nonetheless, the person surrendering opens completely to the moment, and runs the risk of being deeply hurt. Sadly, in our society this is not uncommon and frequently serves to harden or embitter a person toward life in general. Or, on the other had being deeply hurt in the act of surrender can lead to angry and painful "cries for help." When this occurs there is an insatiable and wrathful desire to be cared for as a child is cared for and the horrid fear of loss of independence. — Christopher S. Hyatt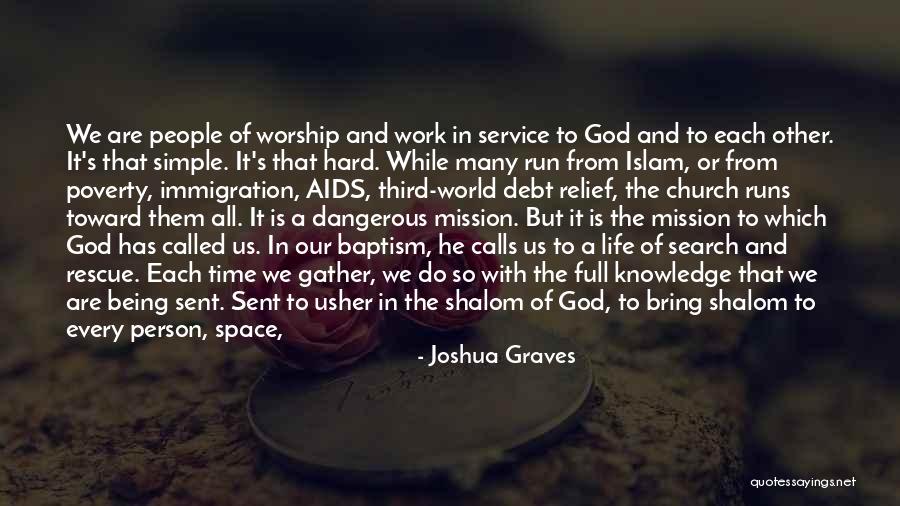 We are people of worship and work in service to God and to each other. It's that simple. It's that hard. While many run from Islam, or from poverty, immigration, AIDS, third-world debt relief, the church runs toward them all. It is a dangerous mission. But it is the mission to which God has called us. In our baptism, he calls us to a life of search and rescue. Each time we gather, we do so with the full knowledge that we are being sent. Sent to usher in the shalom of God, to bring shalom to every person, space, and place. The first step in not killing your Muslim neighbor is to join a church that reads the gospels (particularly Luke 10) and puts those words into action. We're moving beyond stereotypes. The future depends upon it. Beyond fear. Beyond anger. Beyond rage. Beyond caricatures. So be bold. And do not be afraid. — Joshua Graves
Just try to understand a simple fact: human beings are human beings. Once in a while everybody gets bored being with the same person all the time. Be factual; don't live in fictions. Once in a while, everybody gets fed up; that does not mean your love has stopped, it simply means a little change is needed. It is good for your health, it is good for your partner's health. You both need a little holiday from each other. Why not do it consciously? — Osho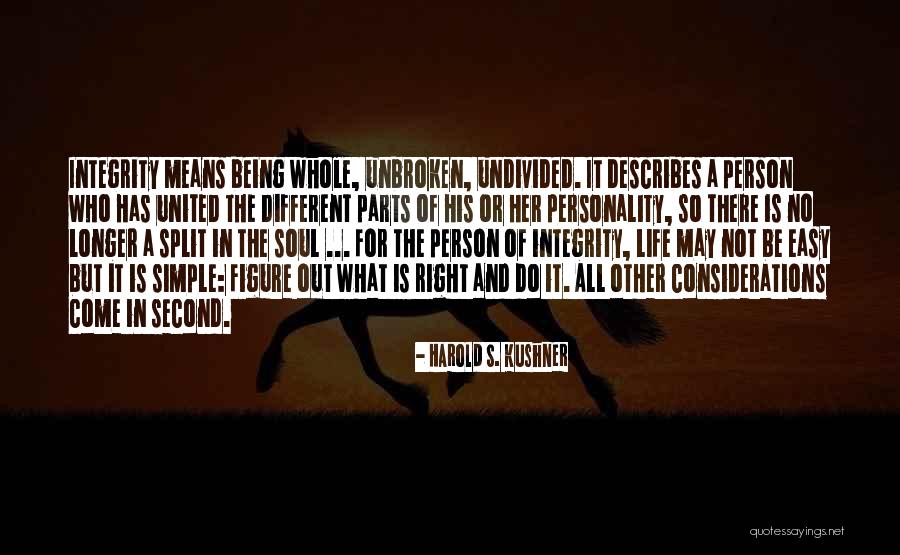 Integrity means being whole, unbroken, undivided. It describes a person who has united the different parts of his or her personality, so there is no longer a split in the soul ... For the person of integrity, life may not be easy but it is simple: Figure out what is right and do it. All other considerations come in second. — Harold S. Kushner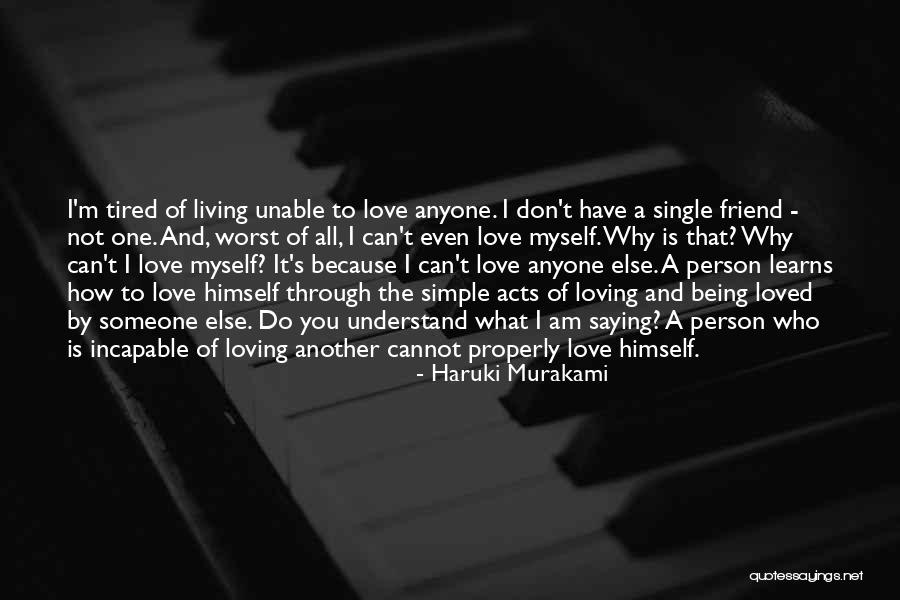 I'm tired of living unable to love anyone. I don't have a single friend - not one. And, worst of all, I can't even love myself. Why is that? Why can't I love myself? It's because I can't love anyone else. A person learns how to love himself through the simple acts of loving and being loved by someone else. Do you understand what I am saying? A person who is incapable of loving another cannot properly love himself. — Haruki Murakami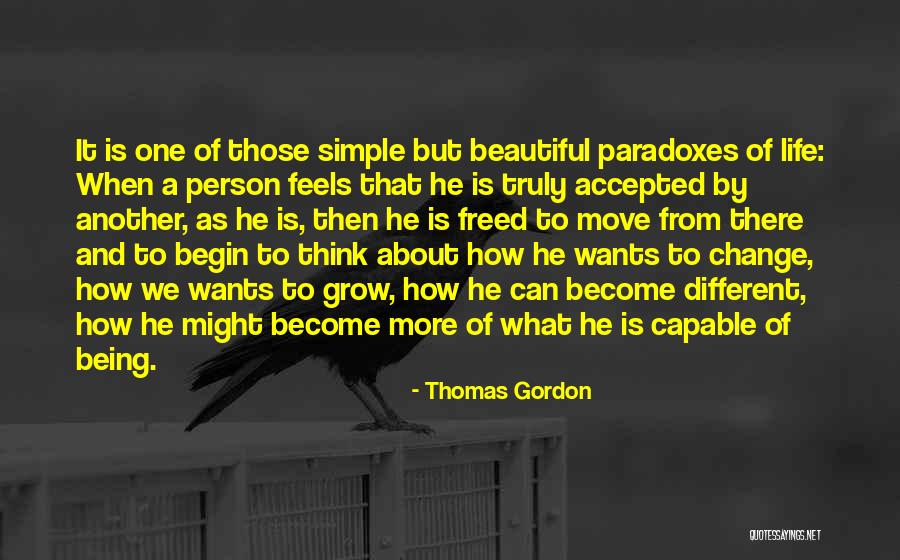 It is one of those simple but beautiful paradoxes of life: When a person feels that he is truly accepted by another, as he is, then he is freed to move from there and to begin to think about how he wants to change, how we wants to grow, how he can become different, how he might become more of what he is capable of being. — Thomas Gordon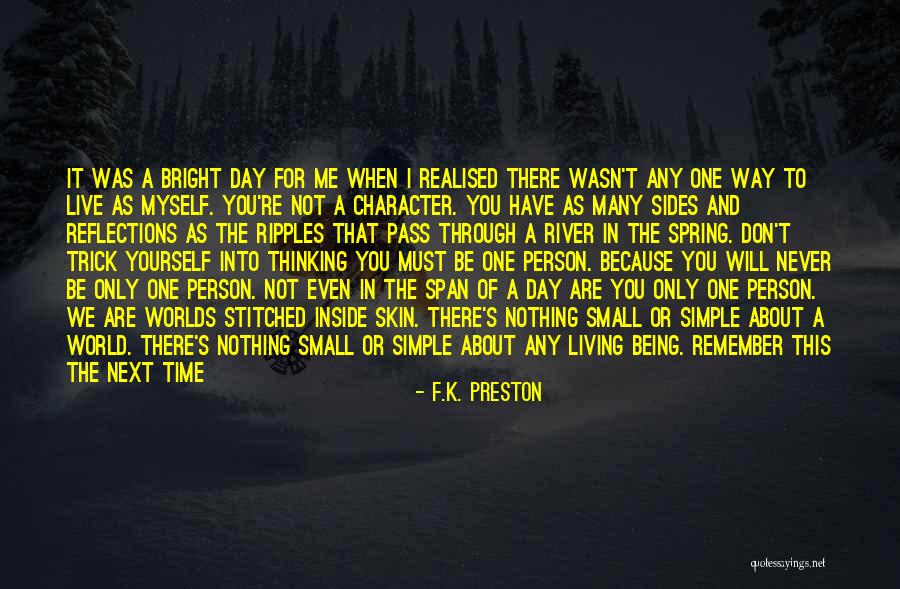 It was a bright day for me when I realised there wasn't any one way to live as myself. You're not a character. You have as many sides and reflections as the ripples that pass through a river in the spring. Don't trick yourself into thinking you must be one person. Because you will never be only one person. Not even in the span of a day are you only one person. We are worlds stitched inside skin. There's nothing small or simple about a world. There's nothing small or simple about any living being. Remember this the next time someone tells you who to be and how to live. They haven't figured it out yet. But don't let yourself forget. — F.K. Preston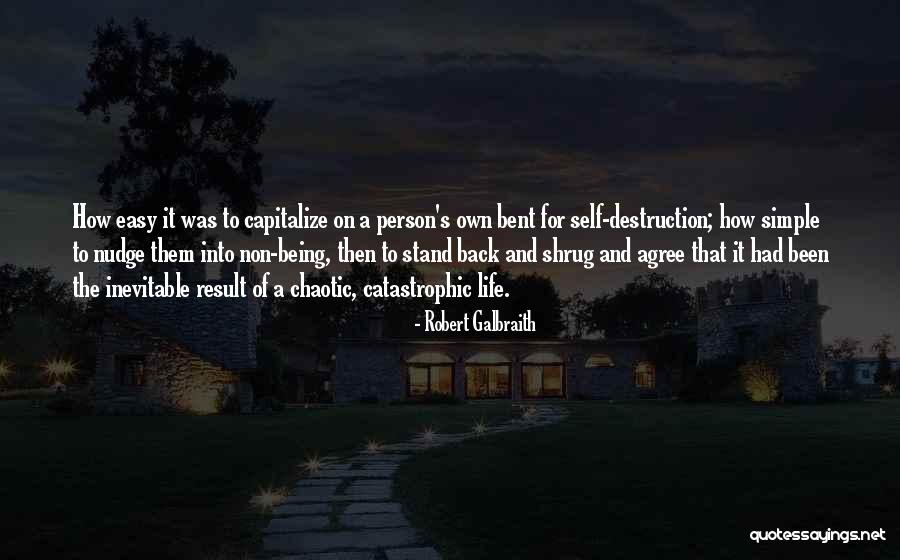 How easy it was to capitalize on a person's own bent for self-destruction; how simple to nudge them into non-being, then to stand back and shrug and agree that it had been the inevitable result of a chaotic, catastrophic life. — Robert Galbraith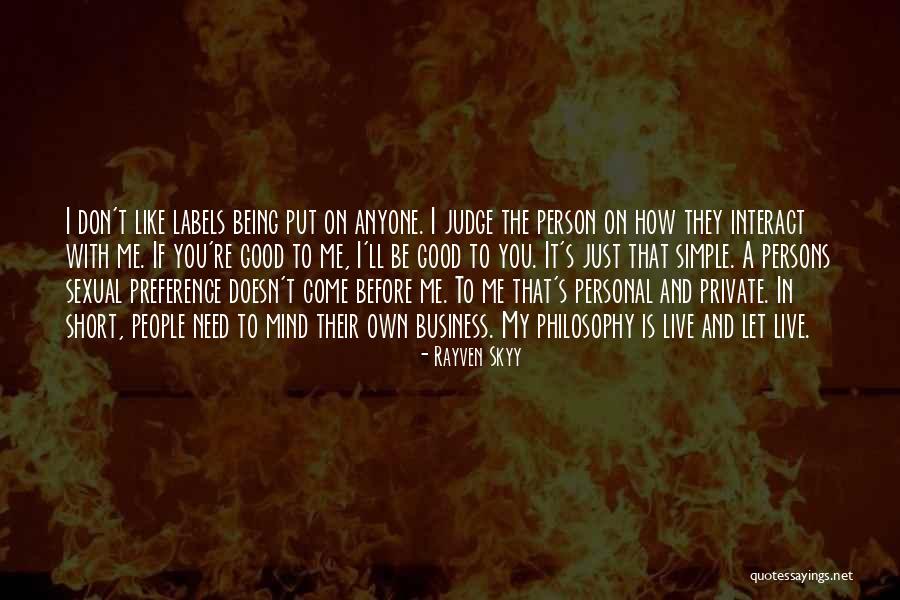 I don't like labels being put on anyone. I judge the person on how they interact with me. If you're good to me, I'll be good to you. It's just that simple. A persons sexual preference doesn't come before me. To me that's personal and private. In short, people need to mind their own business. My philosophy is live and let live. — Rayven Skyy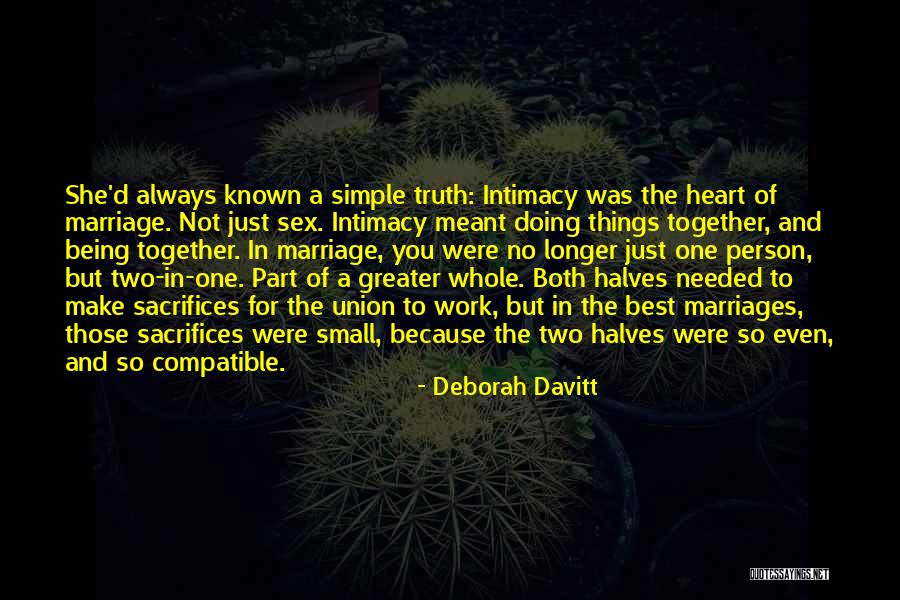 She'd always known a simple truth: Intimacy was the heart of marriage. Not just sex. Intimacy meant doing things together, and being together. In marriage, you were no longer just one person, but two-in-one. Part of a greater whole. Both halves needed to make sacrifices for the union to work, but in the best marriages, those sacrifices were small, because the two halves were so even, and so compatible. — Deborah Davitt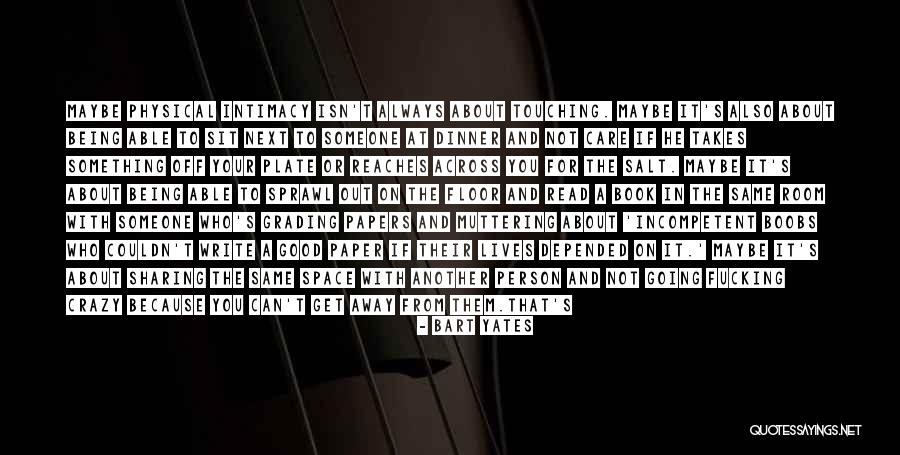 Maybe physical intimacy isn't always about touching. Maybe it's also about being able to sit next to someone at dinner and not care if he takes something off your plate or reaches across you for the salt. Maybe it's about being able to sprawl out on the floor and read a book in the same room with someone who's grading papers and muttering about 'incompetent boobs who couldn't write a good paper if their lives depended on it.' Maybe it's about sharing the same space with another person and not going fucking crazy because you can't get away from them.

That's it, I guess: true intimacy is really just the run of the mill, day to day stuff that happens without thinking - thousands of simple, meaningless, comfortable ways you can be close to someone, never dreaming how shitty you'll feel when you wake up one morning with all of it gone. — Bart Yates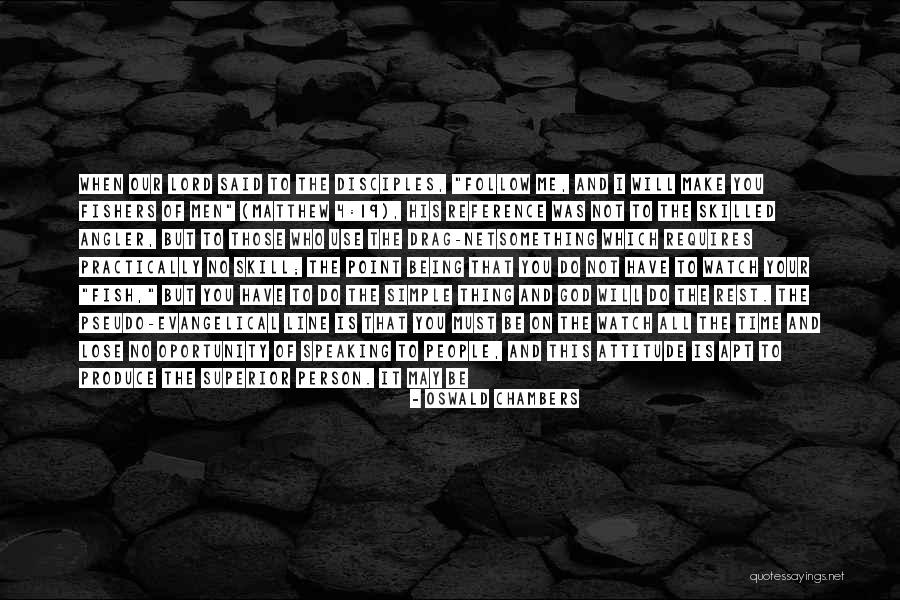 When our Lord said to the disciples, "Follow me, and I will make you fishers of men" (Matthew 4:19), His reference was not to the skilled angler, but to those who use the drag-net
something which requires practically no skill; the point being that you do not have to watch your "fish," but you have to do the simple thing and God will do the rest. The pseudo-evangelical line is that you must be on the watch all the time and lose no oportunity of speaking to people, and this attitude is apt to produce the superior person. It may be a noble enough point of view, but it produces the wrong kind of character. It does not produce a disciple of Jesus, but too often it produces the kind of person who smells of gunpowder and people are afraid of meeting him. According to Jesus Christ, what we have to do is to watch the source and He will look after the outflow: "He that believeth on me, ... out of his belly shall flow rivers of living water" (John 7:38). — Oswald Chambers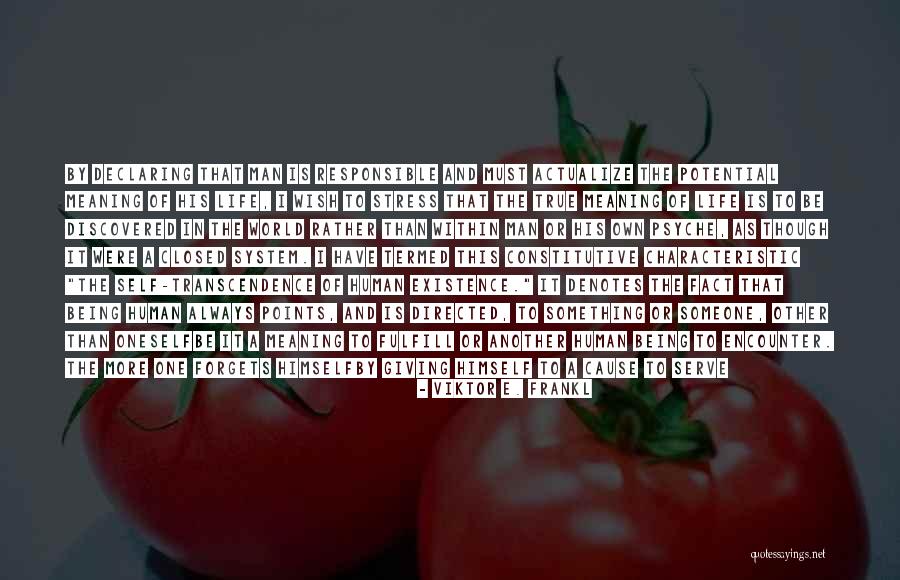 By declaring that man is responsible and must actualize the potential meaning of his life, I wish to stress that the true meaning of life is to be discovered in the world rather than within man or his own psyche, as though it were a closed system. I have termed this constitutive characteristic "the self-transcendence of human existence." It denotes the fact that being human always points, and is directed, to something or someone, other than oneself
be it a meaning to fulfill or another human being to encounter. The more one forgets himself
by giving himself to a cause to serve or another person to love
the more human he is and the more he actualizes himself. What is called self-actualization is not an attainable aim at all, for the simple reason that the more one would strive for it, the more he would miss it. In other words, self-actualization is possible only as a side-effect of self-transcendence. — Viktor E. Frankl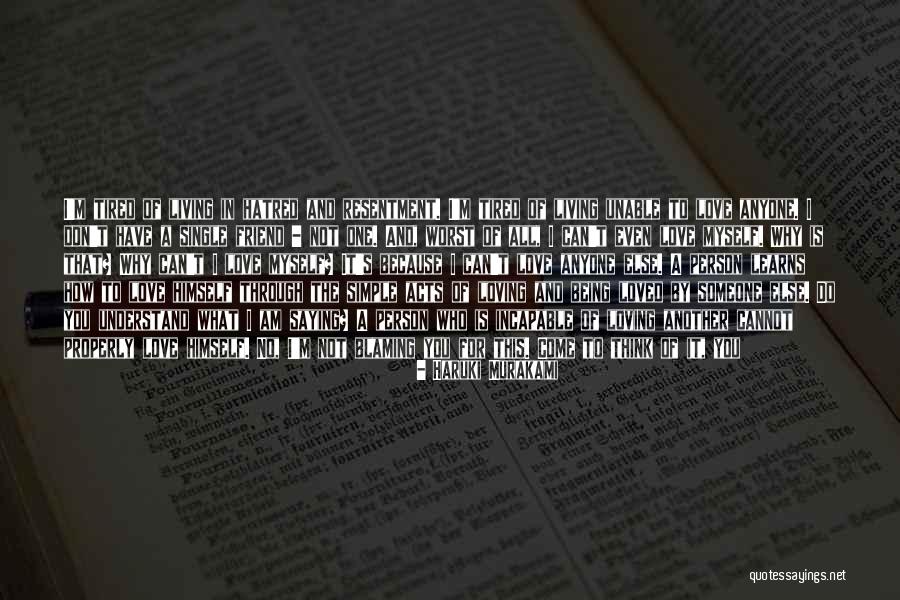 I'm tired of living in hatred and resentment. I'm tired of living unable to love anyone. I don't have a single friend - not one. And, worst of all, I can't even love myself. Why is that? Why can't I love myself? It's because I can't love anyone else. A person learns how to love himself through the simple acts of loving and being loved by someone else. Do you understand what I am saying? A person who is incapable of loving another cannot properly love himself. No, I'm not blaming you for this. Come to think of it, you may be such a victim. You probably don't know how to love yourself. Am I wrong about that? — Haruki Murakami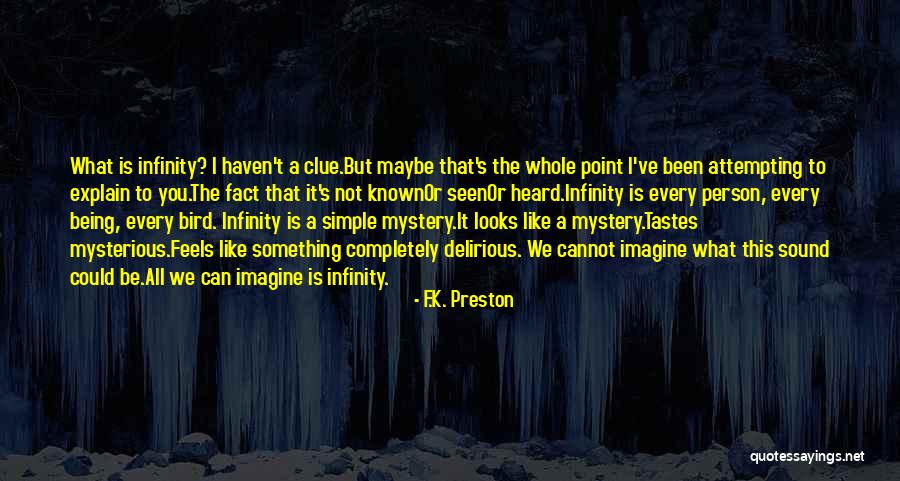 What is infinity? I haven't a clue.
But maybe that's the whole point I've been attempting to explain to you.
The fact that it's not known
Or seen
Or heard.
Infinity is every person, every being, every bird.
Infinity is a simple mystery.
It looks like a mystery.
Tastes mysterious.
Feels like something completely delirious.
We cannot imagine what this sound could be.
All we can imagine is infinity. — F.K. Preston
When someone shows you how little you mean to them and you keep coming back for more, before you know it you start to mean less to yourself. You are not made up of compartments! You are one whole person! What gets said to you gets said to all of you, ditto what gets done. Being treated like shit is not an amusing game or a transgressive intellectual experiment. It's something you accept, condone, and learn to believe you deserve. This is so simple. But I tried so hard to make it complicated. — Lena Dunham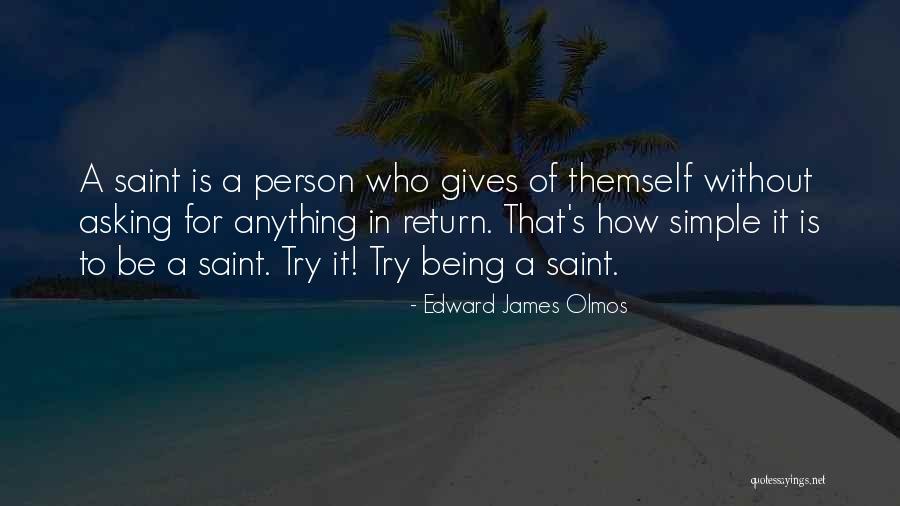 A saint is a person who gives of themself without asking for anything in return. That's how simple it is to be a saint. Try it! Try being a saint. — Edward James Olmos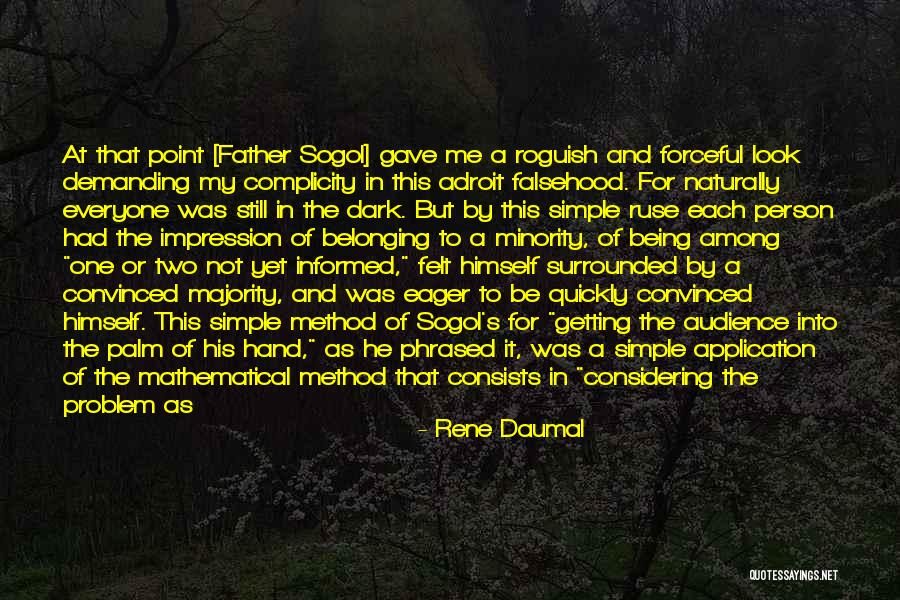 At that point [Father Sogol] gave me a roguish and forceful look demanding my complicity in this adroit falsehood. For naturally everyone was still in the dark. But by this simple ruse each person had the impression of belonging to a minority, of being among "one or two not yet informed," felt himself surrounded by a convinced majority, and was eager to be quickly convinced himself. This simple method of Sogol's for "getting the audience into the palm of his hand," as he phrased it, was a simple application of the mathematical method that consists in "considering the problem as solved." And he also used the chemical analogy of a "chain reaction." But if this use was employed in the service of truth, could one still call it falsehood? In any case everyone pricked up his ears. — Rene Daumal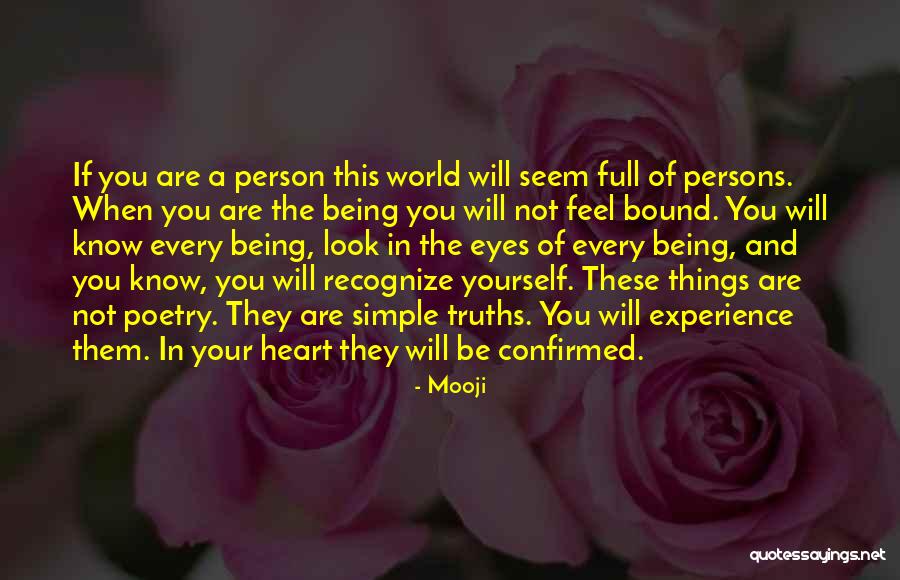 If you are a person this world will seem full of persons. When you are the being you will not feel bound. You will know every being, look in the eyes of every being, and you know, you will recognize yourself. These things are not poetry. They are simple truths. You will experience them. In your heart they will be confirmed. — Mooji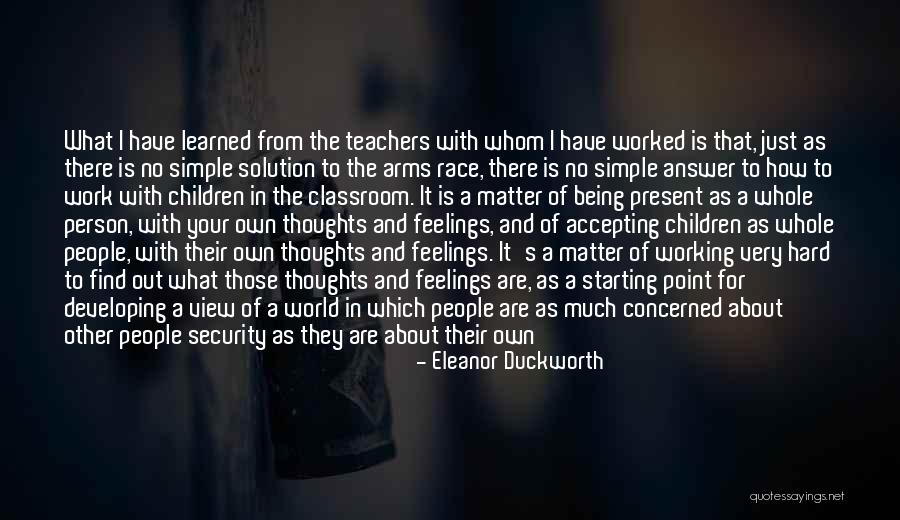 What I have learned from the teachers with whom I have worked is that, just as there is no simple solution to the arms race, there is no simple answer to how to work with children in the classroom. It is a matter of being present as a whole person, with your own thoughts and feelings, and of accepting children as whole people, with their own thoughts and feelings. It's a matter of working very hard to find out what those thoughts and feelings are, as a starting point for developing a view of a world in which people are as much concerned about other people security as they are about their own — Eleanor Duckworth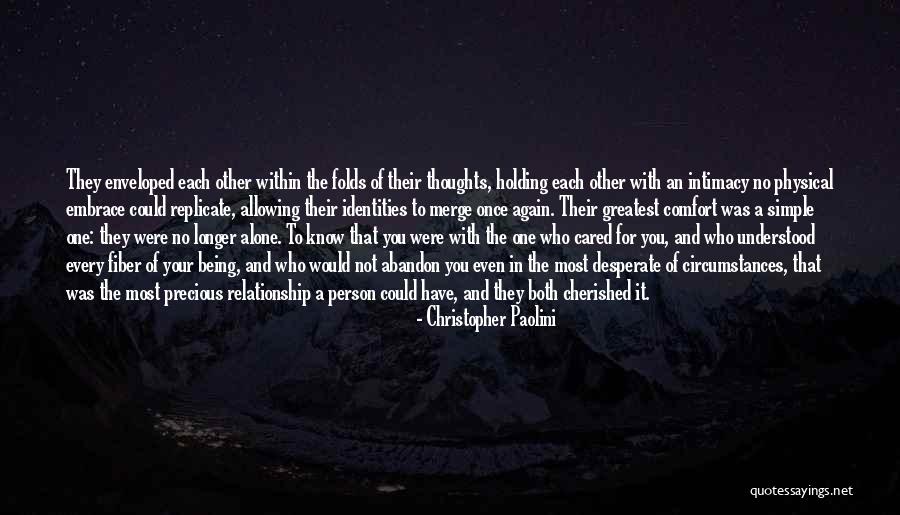 They enveloped each other within the folds of their thoughts, holding each other with an intimacy no physical embrace could replicate, allowing their identities to merge once again. Their greatest comfort was a simple one: they were no longer alone. To know that you were with the one who cared for you, and who understood every fiber of your being, and who would not abandon you even in the most desperate of circumstances, that was the most precious relationship a person could have, and they both cherished it. — Christopher Paolini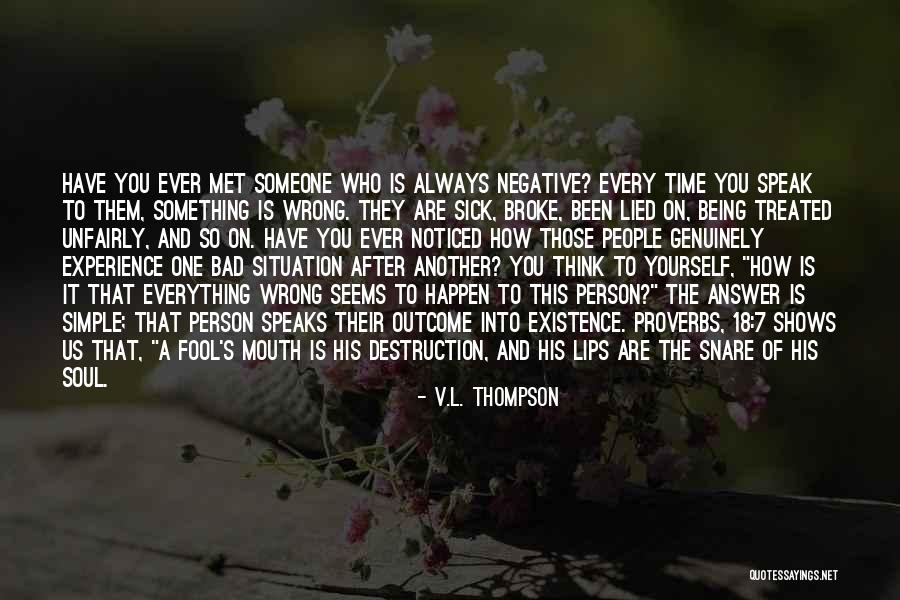 Have you ever met someone who is always negative? Every time you speak to them, something is wrong. They are sick, broke, been lied on, being treated unfairly, and so on. Have you ever noticed how those people genuinely experience one bad situation after another? You think to yourself, "How is it that everything wrong seems to happen to this person?" The answer is simple; that person speaks their outcome into existence. Proverbs, 18:7 shows us that, "A fool's mouth is his destruction, and his lips are the snare of his soul. — V.L. Thompson