Quotes & Sayings About Being A Sculptor
Enjoy reading and share 21 famous quotes about Being A Sculptor with everyone.
Top Being A Sculptor Quotes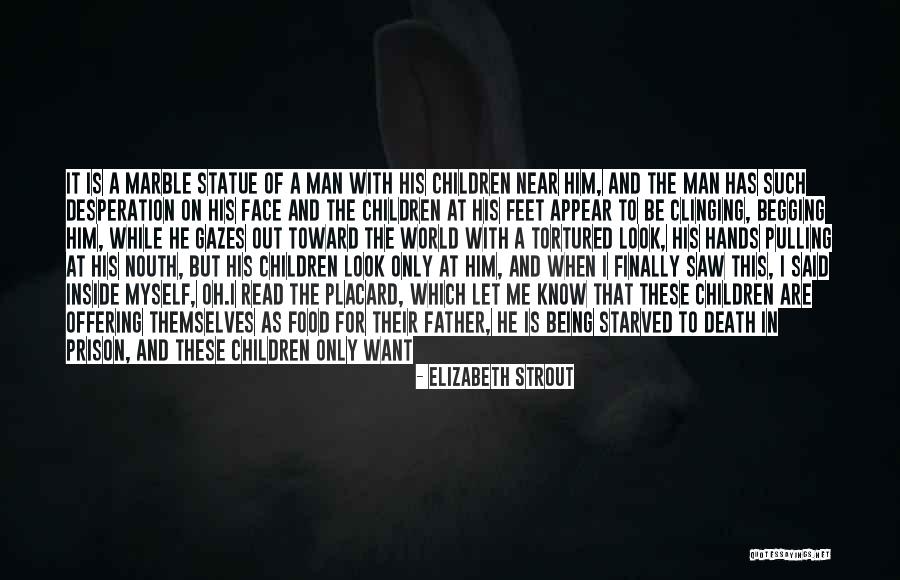 It is a marble statue of a man with his children near him, and the man has such desperation on his face and the children at his feet appear to be clinging, begging him, while he gazes out toward the world with a tortured look, his hands pulling at his nouth, but his children look only at him, and when I finally saw this, I said inside myself, Oh.
I read the placard, which let me know that these children are offering themselves as food for their father, he is being starved to death in prison, and these children only want one thing - to have their father's distress disappear. They will allow him - oh, happily, happily - to eat them.
And I thought, So that guy knew. Meaning the sculptor. He knew.
And so did the poet who wrote what the sculpture has shown. He knew too. — Elizabeth Strout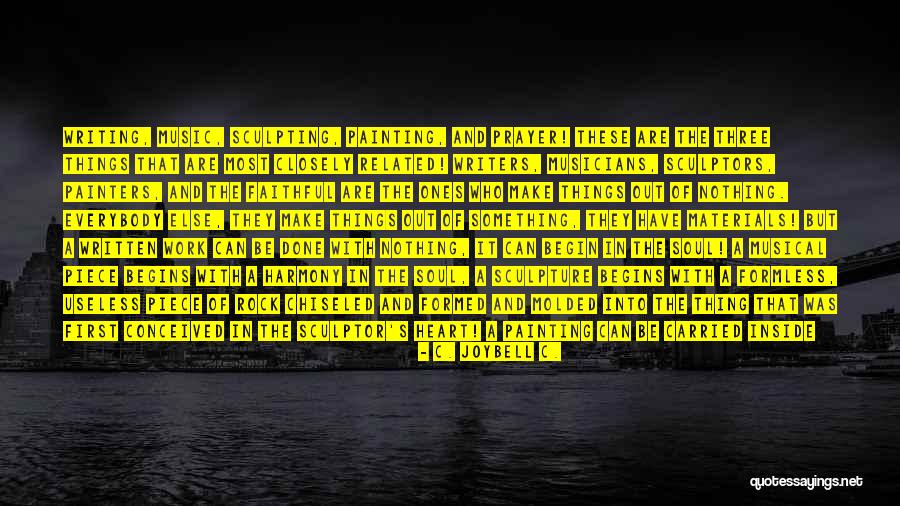 Writing, music, sculpting, painting, and prayer! These are the three things that are most closely related! Writers, musicians, sculptors, painters, and the faithful are the ones who make things out of nothing. Everybody else, they make things out of something, they have materials! But a written work can be done with nothing, it can begin in the soul! A musical piece begins with a harmony in the soul, a sculpture begins with a formless, useless piece of rock chiseled and formed and molded into the thing that was first conceived in the sculptor's heart! A painting can be carried inside the mind for a lifetime, before ever being put onto paper or canvass! And a prayer! A prayer is a thought, a remembrance, a whisper, a communion, that is from the soul going to what cannot be seen, yet it can move mountains! And so I believe that these five things are interrelated, these five kinds of people are kin. — C. JoyBell C.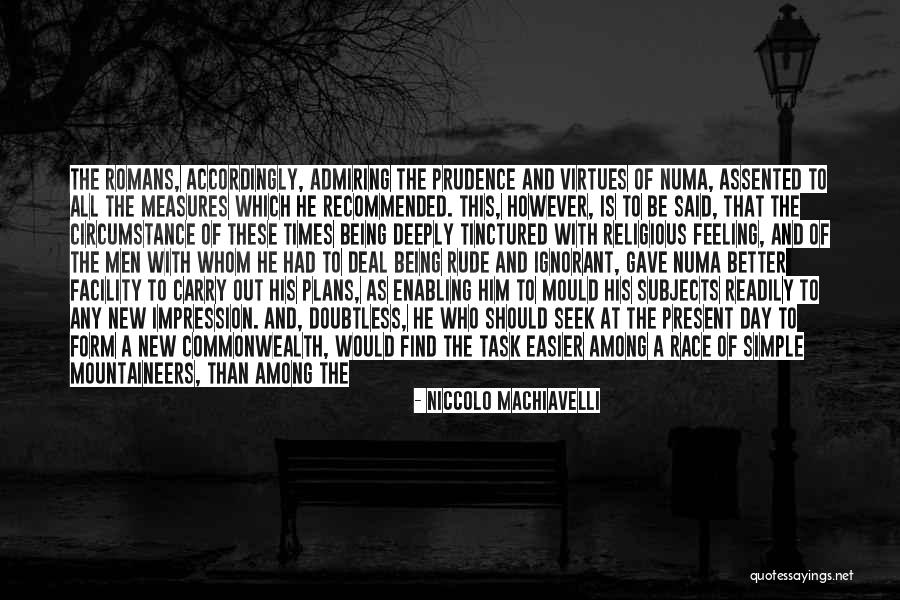 The Romans, accordingly, admiring the prudence and virtues of Numa, assented to all the measures which he recommended. This, however, is to be said, that the circumstance of these times being deeply tinctured with religious feeling, and of the men with whom he had to deal being rude and ignorant, gave Numa better facility to carry out his plans, as enabling him to mould his subjects readily to any new impression. And, doubtless, he who should seek at the present day to form a new commonwealth, would find the task easier among a race of simple mountaineers, than among the dwellers in cities where society is corrupt; as the sculptor can more easily carve a fair statue from a rough block, than from the block which has been badly shaped out by another. — Niccolo Machiavelli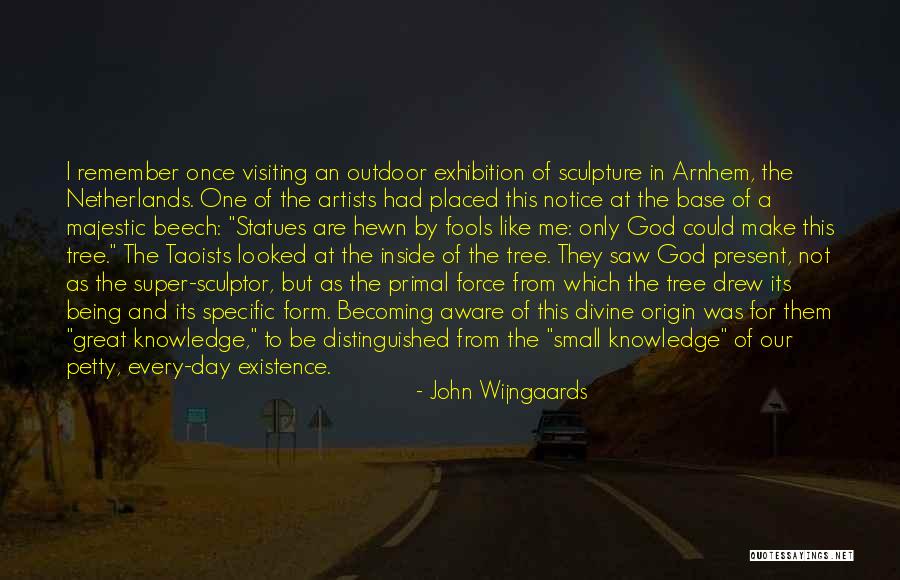 I remember once visiting an outdoor exhibition of sculpture in Arnhem, the Netherlands. One of the artists had placed this notice at the base of a majestic beech: "Statues are hewn by fools like me: only God could make this tree." The Taoists looked at the inside of the tree. They saw God present, not as the super-sculptor, but as the primal force from which the tree drew its being and its specific form. Becoming aware of this divine origin was for them "great knowledge," to be distinguished from the "small knowledge" of our petty, every-day existence. — John Wijngaards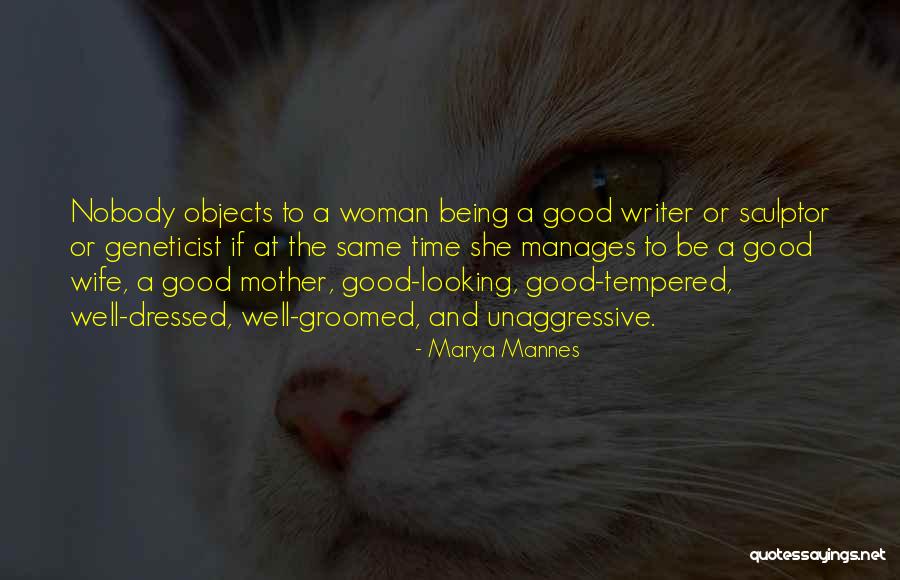 Nobody objects to a woman being a good writer or sculptor or geneticist if at the same time she manages to be a good wife, a good mother, good-looking, good-tempered, well-dressed, well-groomed, and unaggressive. — Marya Mannes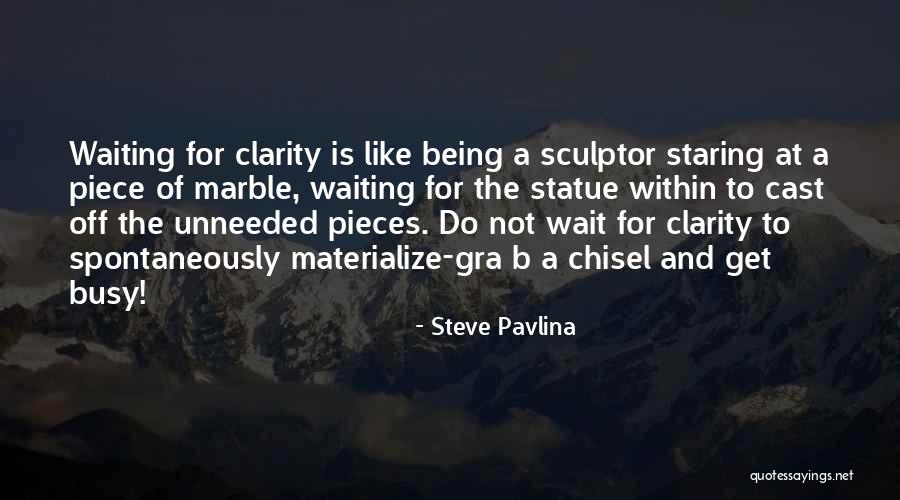 Waiting for clarity is like being a sculptor staring at a piece of marble, waiting for the statue within to cast off the unneeded pieces. Do not wait for clarity to spontaneously materialize-gra b a chisel and get busy! — Steve Pavlina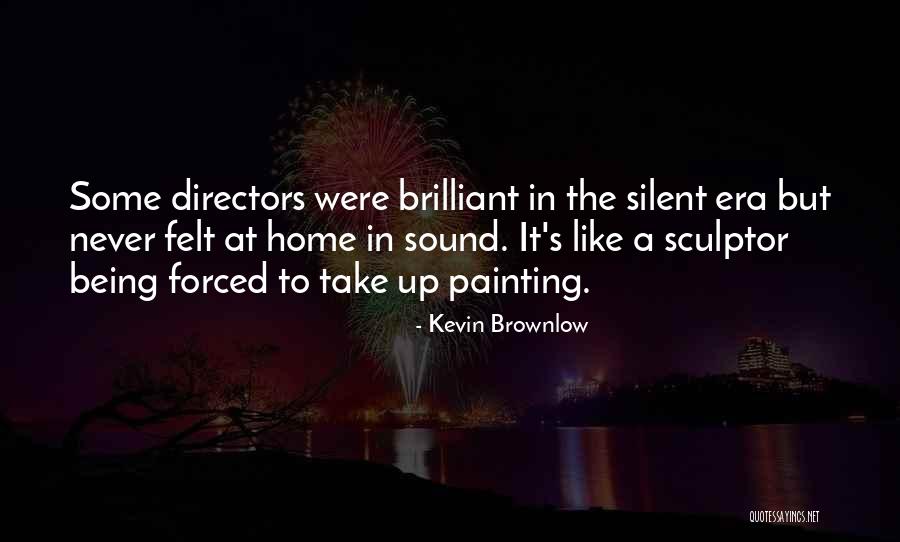 Some directors were brilliant in the silent era but never felt at home in sound. It's like a sculptor being forced to take up painting. — Kevin Brownlow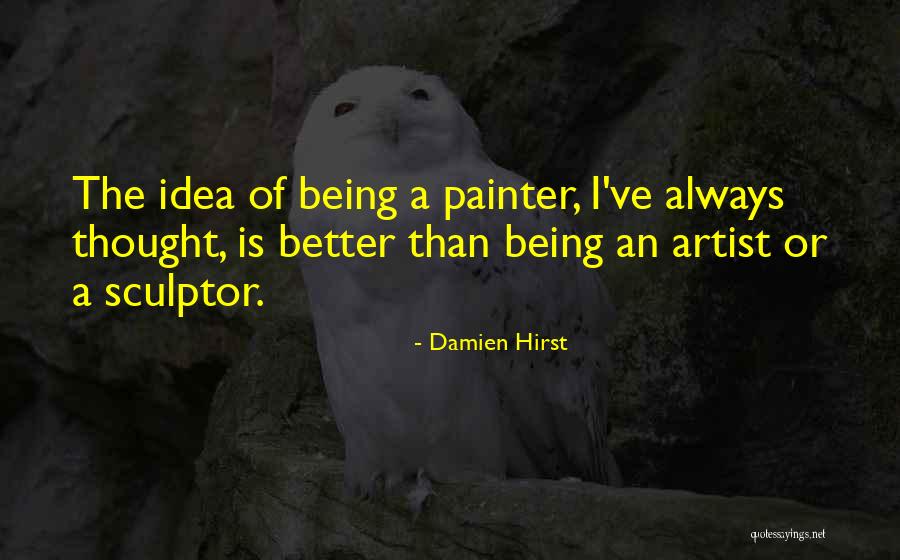 The idea of being a painter, I've always thought, is better than being an artist or a sculptor. — Damien Hirst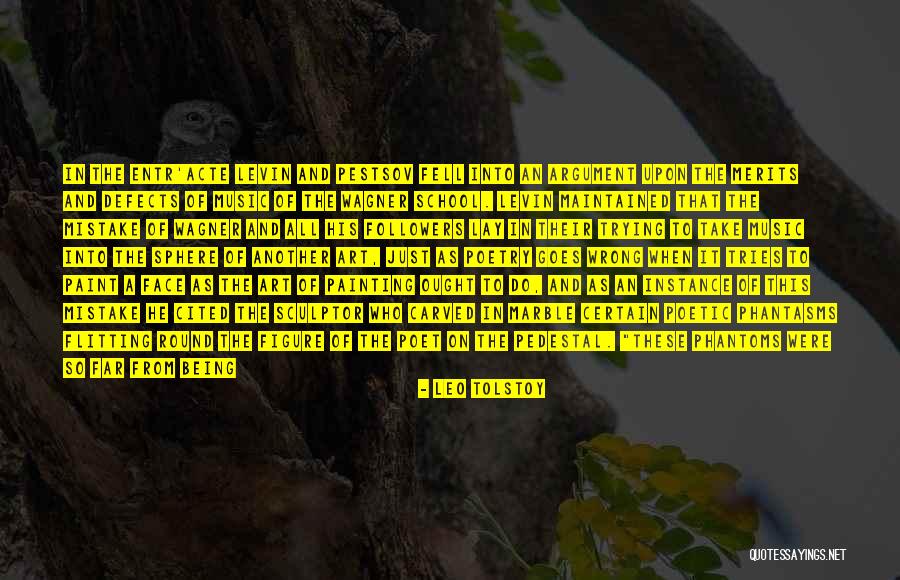 In the entr'acte Levin and Pestsov fell into an argument upon the merits and defects of music of the Wagner school. Levin maintained that the mistake of Wagner and all his followers lay in their trying to take music into the sphere of another art, just as poetry goes wrong when it tries to paint a face as the art of painting ought to do, and as an instance of this mistake he cited the sculptor who carved in marble certain poetic phantasms flitting round the figure of the poet on the pedestal. "These phantoms were so far from being phantoms that they were positively clinging on the ladder," said Levin. [ ... ] Pestsov maintained that art is one, and that it can attain its highest manifestations only by conjunction with all kinds of art. — Leo Tolstoy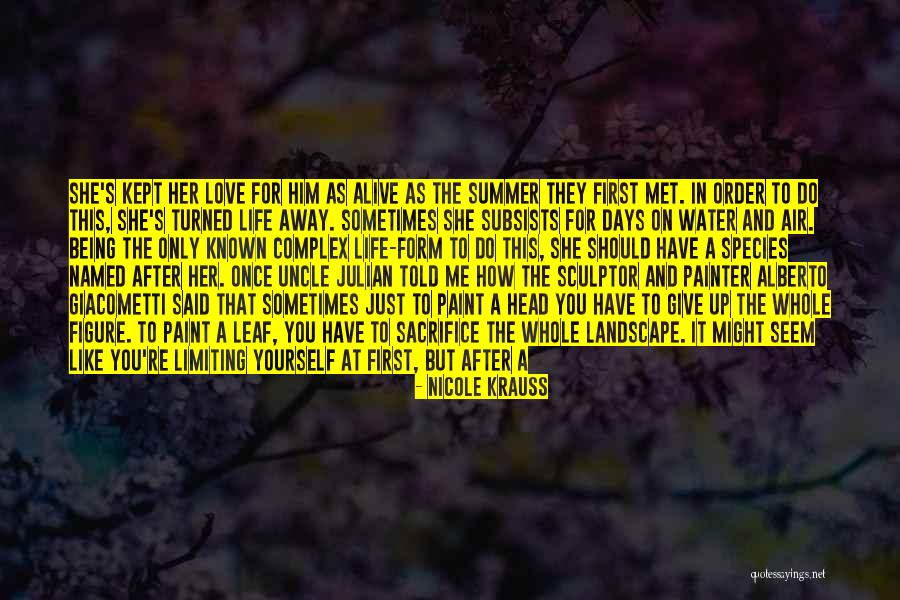 She's kept her love for him as alive as the summer they first met. In order to do this, she's turned life away. Sometimes she subsists for days on water and air. Being the only known complex life-form to do this, she should have a species named after her. Once Uncle Julian told me how the sculptor and painter Alberto Giacometti said that sometimes just to paint a head you have to give up the whole figure. To paint a leaf, you have to sacrifice the whole landscape. It might seem like you're limiting yourself at first, but after a while you realize that having a quarter-of-an-inch of something you have a better chance of holding on to a certain feeling of the universe than if you pretended to be doing the whole sky.
My mother did not choose a leaf or a head. She chose my father. And to hold on to a certain feeling, she sacrificed the world. — Nicole Krauss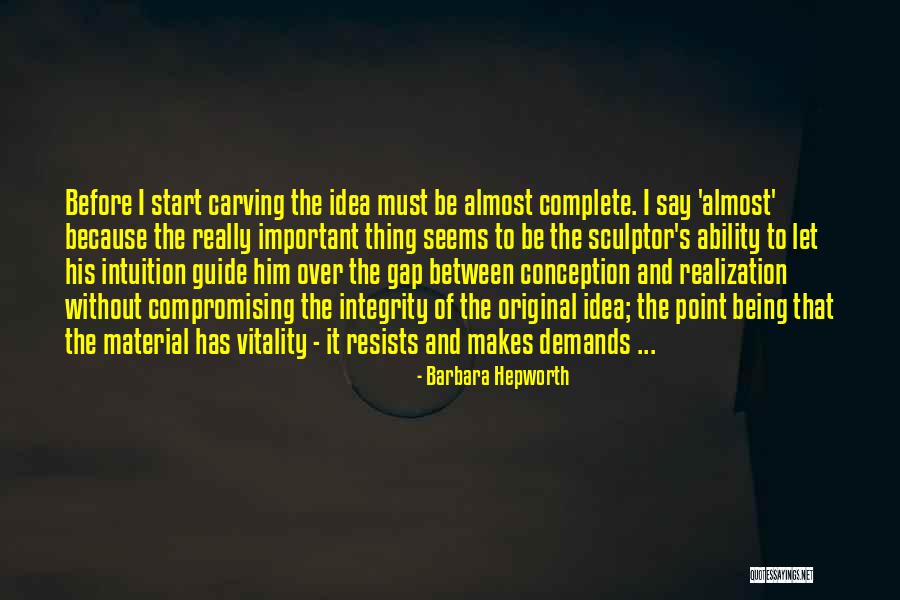 Before I start carving the idea must be almost complete. I say 'almost' because the really important thing seems to be the sculptor's ability to let his intuition guide him over the gap between conception and realization without compromising the integrity of the original idea; the point being that the material has vitality - it resists and makes demands ... — Barbara Hepworth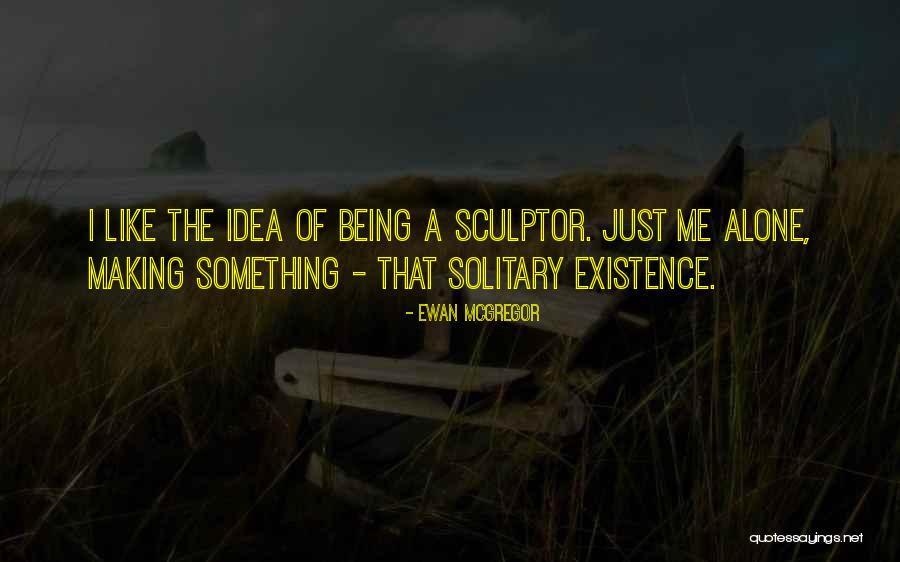 I like the idea of being a sculptor. Just me alone, making something - that solitary existence. — Ewan McGregor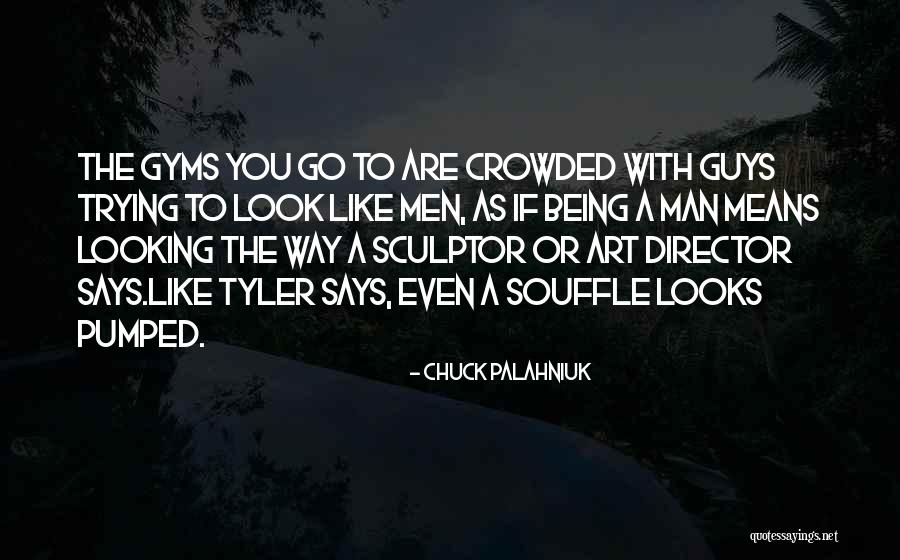 The gyms you go to are crowded with guys trying to look like men, as if being a man means looking the way a sculptor or art director says.
Like Tyler says, even a souffle looks pumped. — Chuck Palahniuk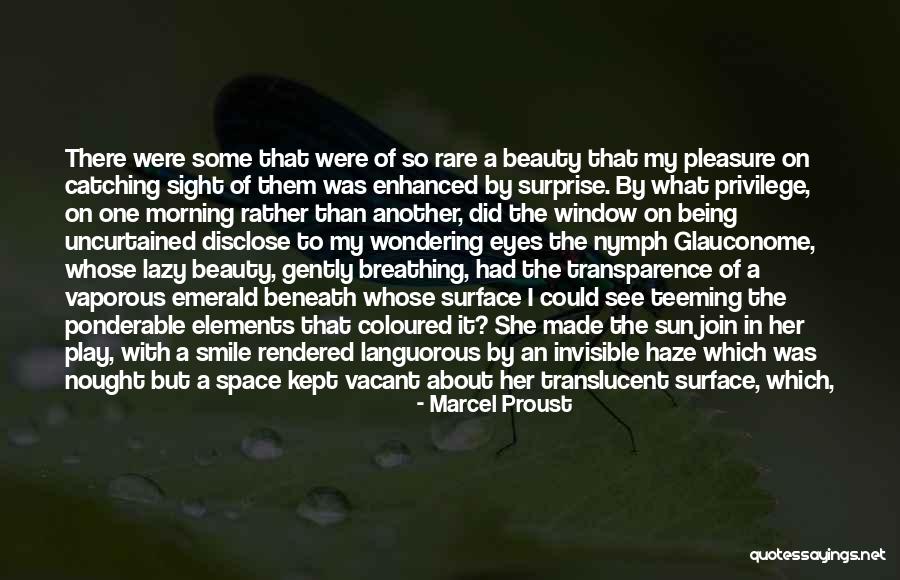 There were some that were of so rare a beauty that my pleasure on catching sight of them was enhanced by surprise. By what privilege, on one morning rather than another, did the window on being uncurtained disclose to my wondering eyes the nymph Glauconome, whose lazy beauty, gently breathing, had the transparence of a vaporous emerald beneath whose surface I could see teeming the ponderable elements that coloured it? She made the sun join in her play, with a smile rendered languorous by an invisible haze which was nought but a space kept vacant about her translucent surface, which, thus curtailed, became more appealing, like those goddesses whom the sculptor carves in relief upon a block of marble, the rest of which he leaves unchiselled. So, in her matchless colour, she invited us out over those rough terrestrial roads, from which, seated beside Mme. de Villeparisis in her barouche, we should see, all day long and without ever reaching it, the coolness of her gentle palpitation. — Marcel Proust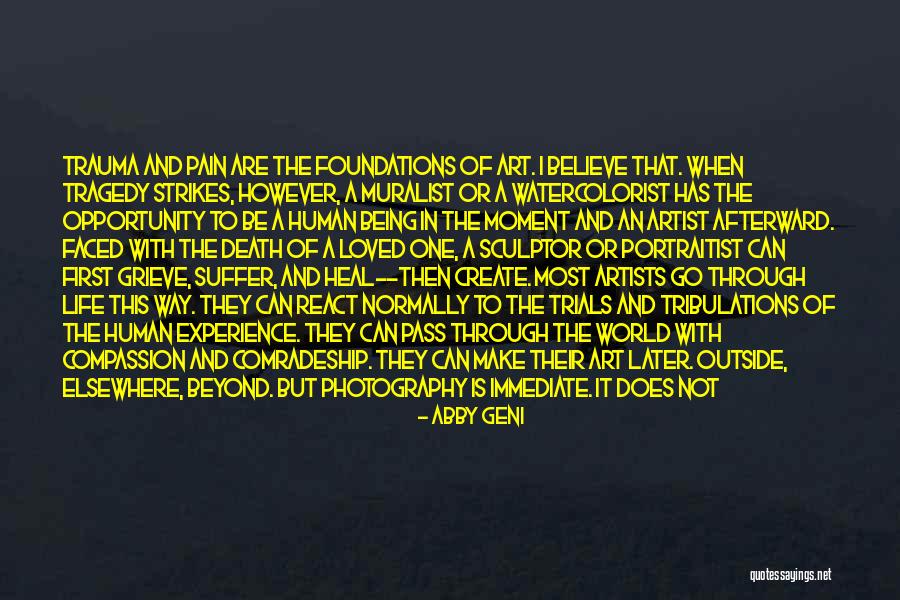 Trauma and pain are the foundations of art. I believe that. When tragedy strikes, however, a muralist or a watercolorist has the opportunity to be a human being in the moment and an artist afterward. Faced with the death of a loved one, a sculptor or portraitist can first grieve, suffer, and heal--then create. Most artists go through life this way. They can react normally to the trials and tribulations of the human experience. They can pass through the world with compassion and comradeship. They can make their art later. Outside, elsewhere, beyond. But photography is immediate. It does not offer the luxury of time. Faced with blood, death, or transformation, a photographer has no choice but to reach for the camera. An artist first, a human being afterward. Photography is a neutral record of all events, a chronicle of things both sublime and terrible. By necessity, this work is made without emotion, without connection, without love. — Abby Geni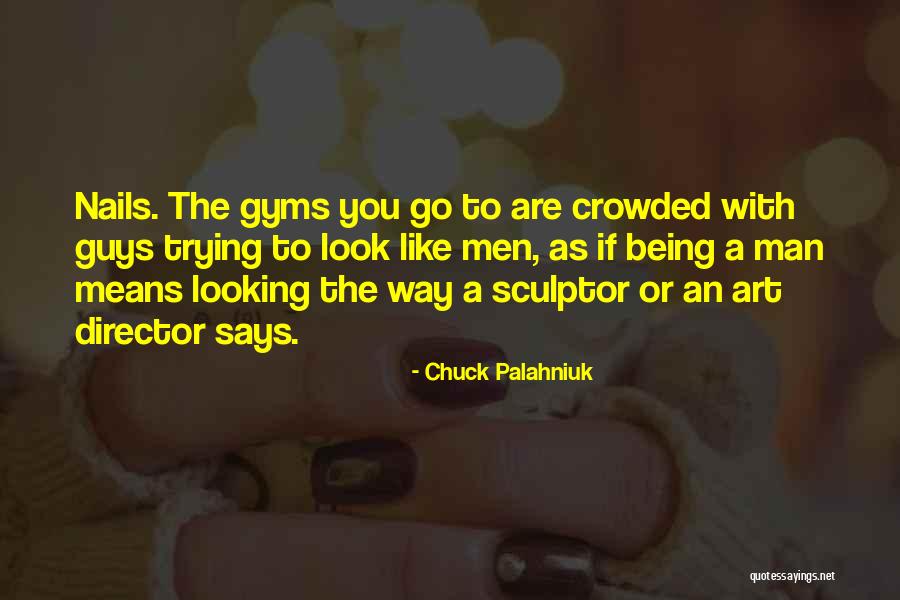 Nails. The gyms you go to are crowded with guys trying to look like men, as if being a man means looking the way a sculptor or an art director says. — Chuck Palahniuk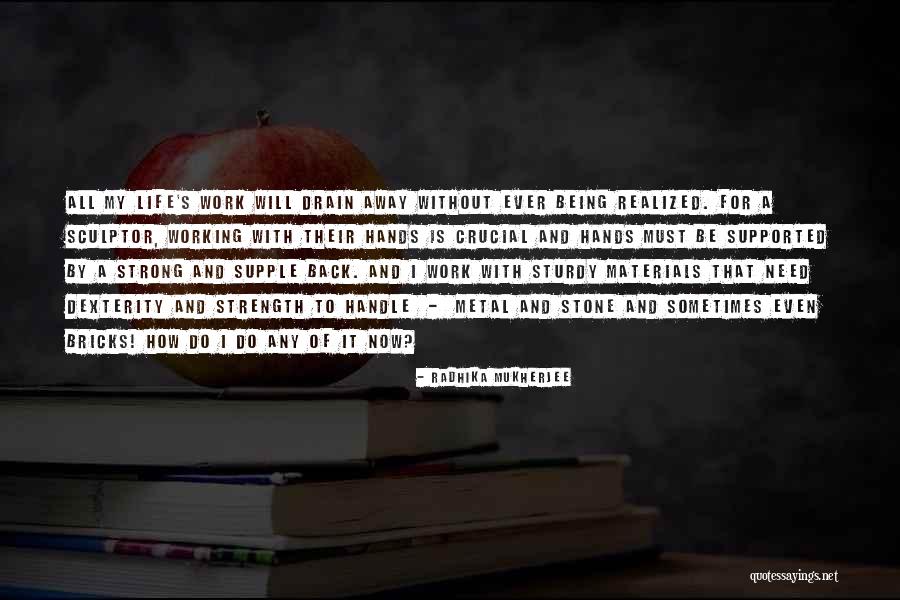 All my life's work will drain away without ever being realized. For a sculptor, working with their hands is crucial and hands must be supported by a strong and supple back. And I work with sturdy materials that need dexterity and strength to handle - metal and stone and sometimes even bricks! How do I do any of it now? — Radhika Mukherjee
If you stay open to the wisdom of your Muse, you may discover you're a playwright, a sculptor, a kitchen-table comedian, a beacon of creative kindness, or a person who chooses grace over ego and contentment over greed.
And in that choice you will create an world of joy within yourself, you'll truly be an artist of being alive. — Jill Badonsky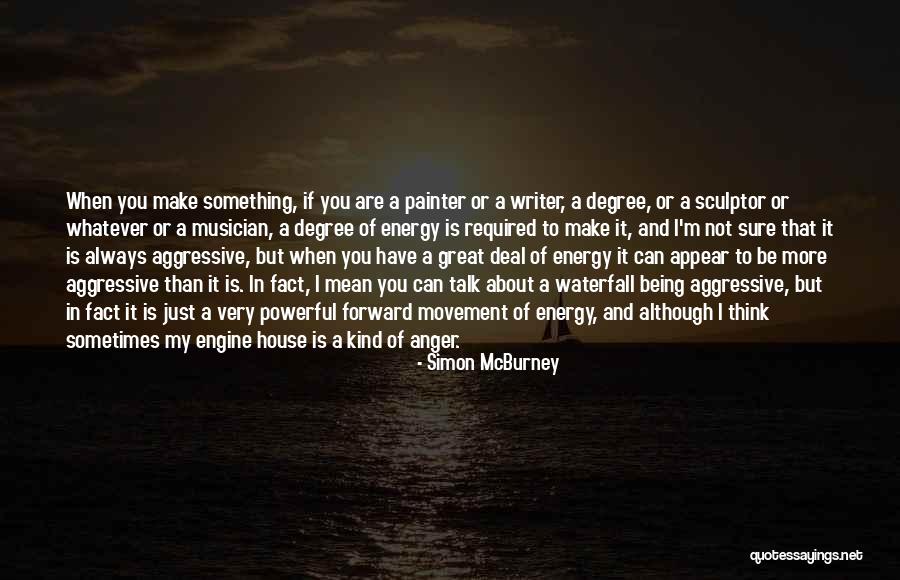 When you make something, if you are a painter or a writer, a degree, or a sculptor or whatever or a musician, a degree of energy is required to make it, and I'm not sure that it is always aggressive, but when you have a great deal of energy it can appear to be more aggressive than it is. In fact, I mean you can talk about a waterfall being aggressive, but in fact it is just a very powerful forward movement of energy, and although I think sometimes my engine house is a kind of anger. — Simon McBurney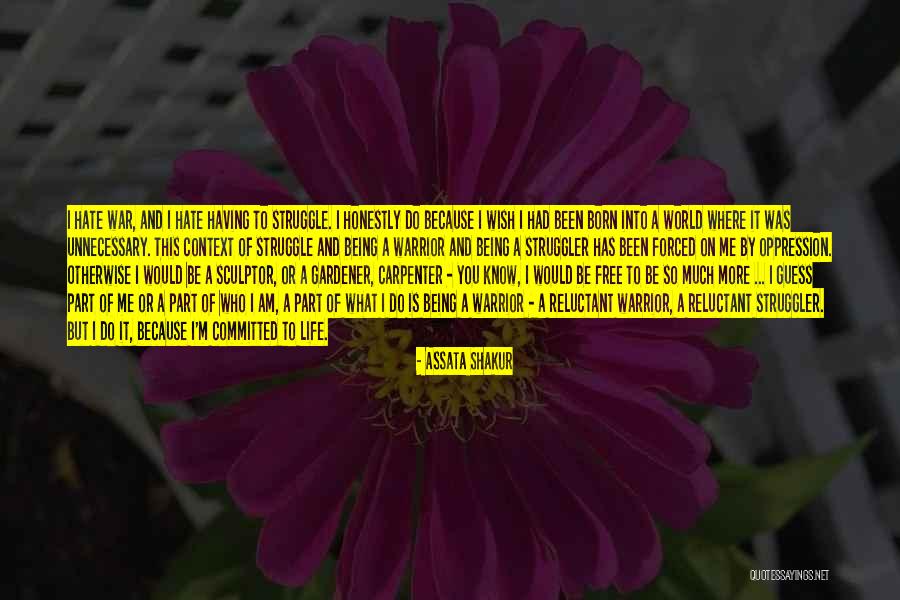 I hate war, and I hate having to struggle. I honestly do because I wish I had been born into a world where it was unnecessary. This context of struggle and being a warrior and being a struggler has been forced on me by oppression. Otherwise I would be a sculptor, or a gardener, carpenter - You know, I would be free to be so much more ... I guess part of me or a part of who I am, a part of what I do is being a warrior - a reluctant warrior, a reluctant struggler. But I do it, because I'm committed to life. — Assata Shakur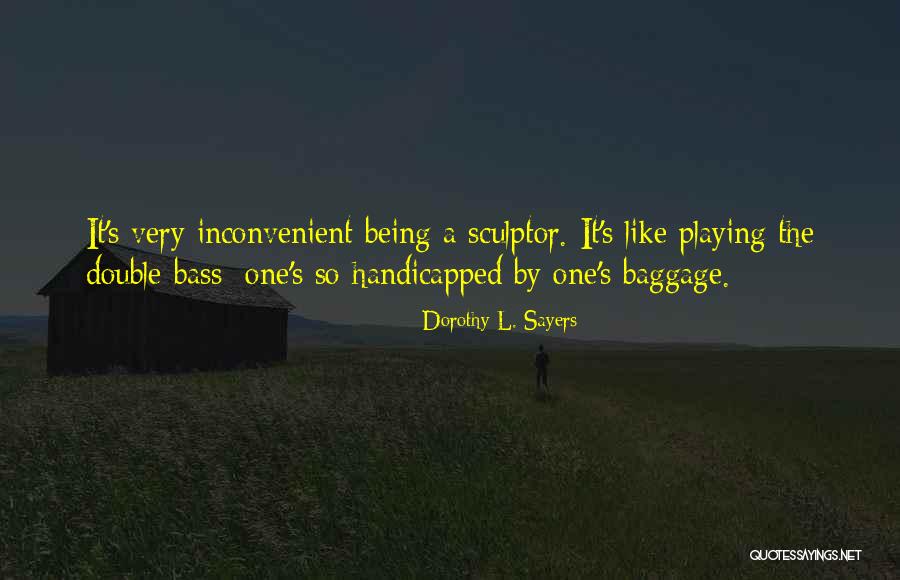 It's very inconvenient being a sculptor. It's like playing the double-bass; one's so handicapped by one's baggage. — Dorothy L. Sayers