Befriending Yourself Quotes & Sayings
Enjoy reading and share 30 famous quotes about Befriending Yourself with everyone.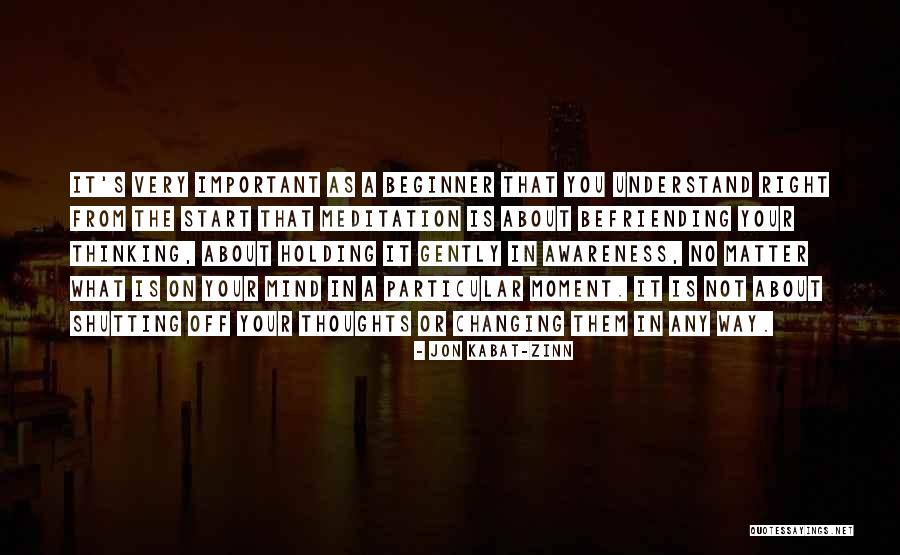 It's very important as a beginner that you understand right from the start that meditation is about befriending your thinking, about holding it gently in awareness, no matter what is on your mind in a particular moment. It is not about shutting off your thoughts or changing them in any way. — Jon Kabat-Zinn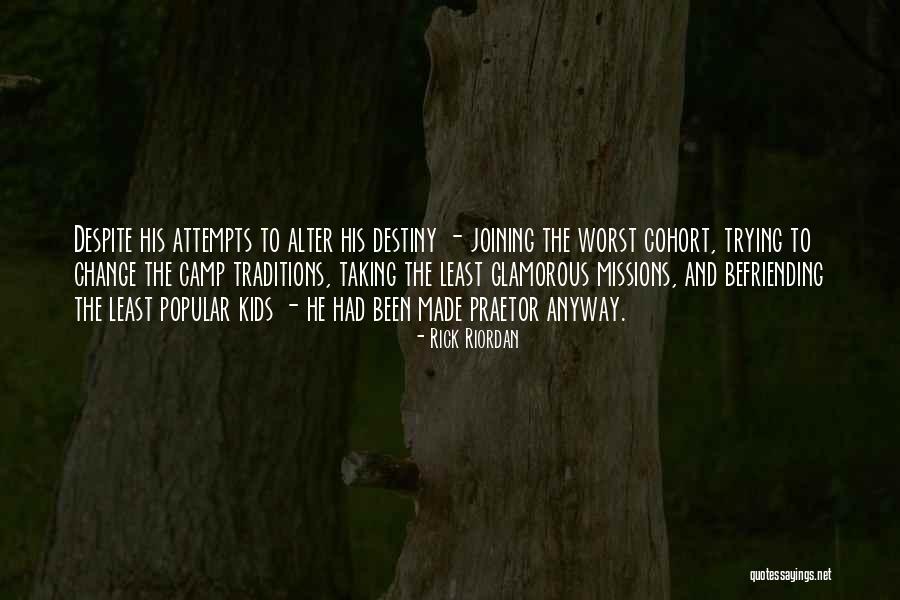 Despite his attempts to alter his destiny - joining the worst cohort, trying to change the camp traditions, taking the least glamorous missions, and befriending the least popular kids - he had been made praetor anyway. — Rick Riordan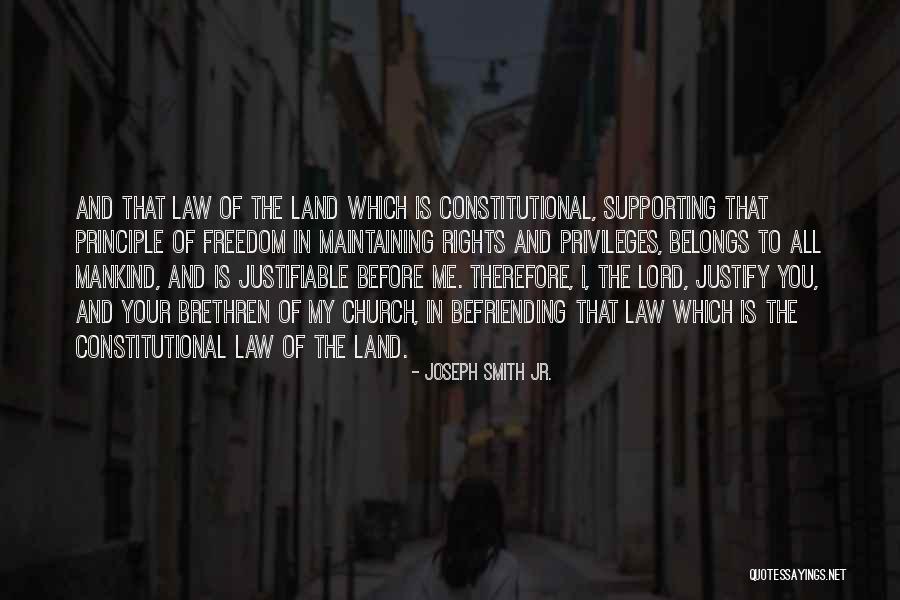 And that law of the land which is constitutional, supporting that principle of freedom in maintaining rights and privileges, belongs to all mankind, and is justifiable before me. Therefore, I, the Lord, justify you, and your brethren of my church, in befriending that law which is the constitutional law of the land. — Joseph Smith Jr.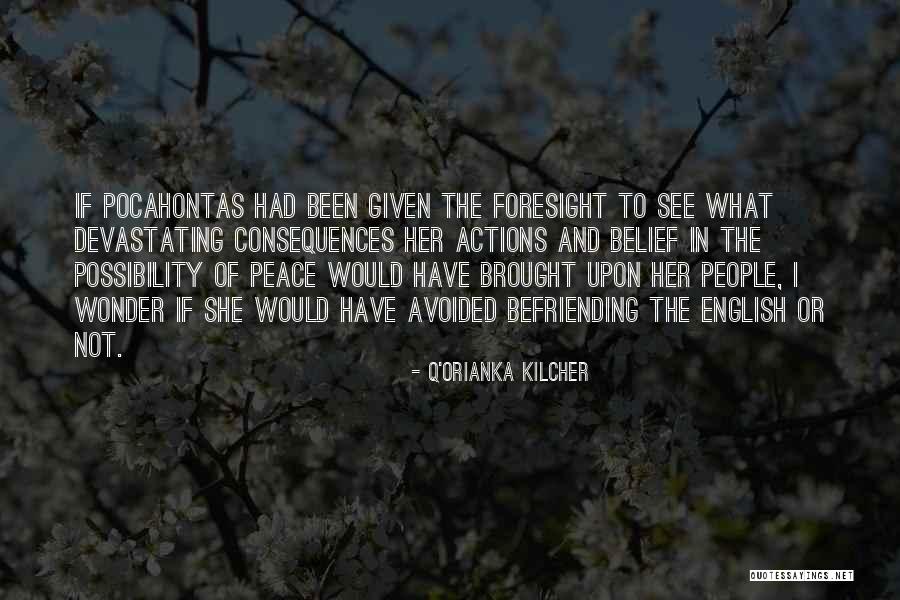 If Pocahontas had been given the foresight to see what devastating consequences her actions and belief in the possibility of peace would have brought upon her people, I wonder if she would have avoided befriending the English or not. — Q'orianka Kilcher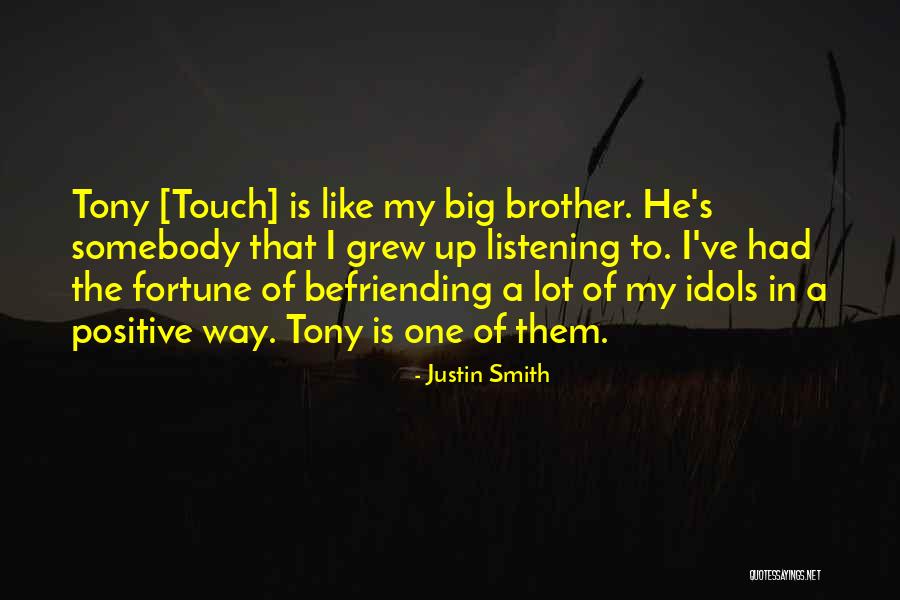 Tony [Touch] is like my big brother. He's somebody that I grew up listening to. I've had the fortune of befriending a lot of my idols in a positive way. Tony is one of them. — Justin Smith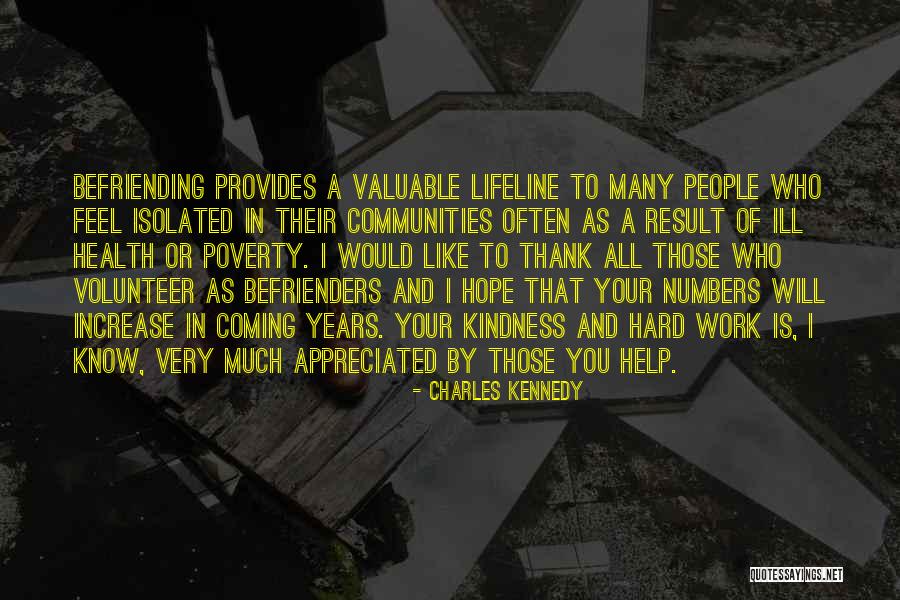 Befriending provides a valuable lifeline to many people who feel isolated in their communities often as a result of ill health or poverty. I would like to thank all those who volunteer as befrienders and I hope that your numbers will increase in coming years. Your kindness and hard work is, I know, very much appreciated by those you help. — Charles Kennedy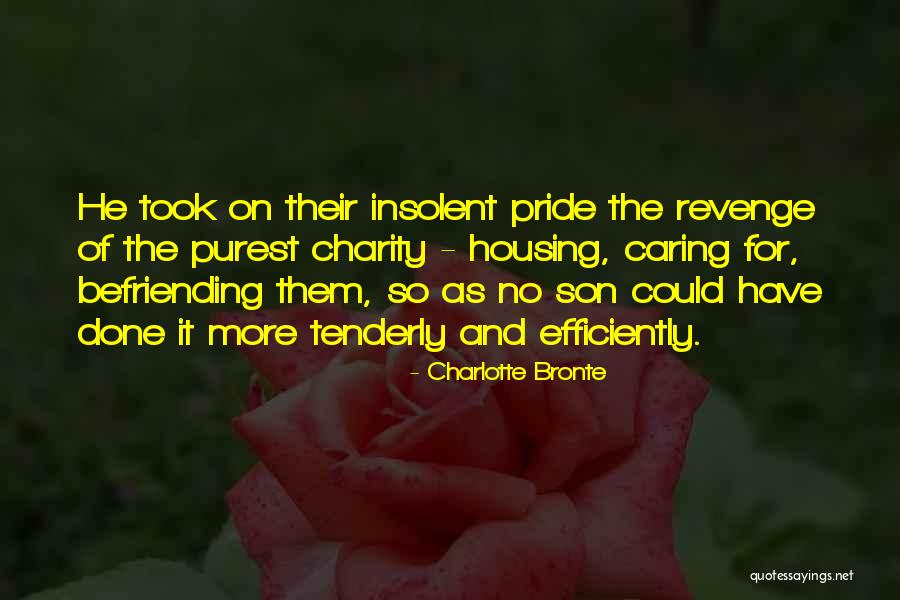 He took on their insolent pride the revenge of the purest charity - housing, caring for, befriending them, so as no son could have done it more tenderly and efficiently. — Charlotte Bronte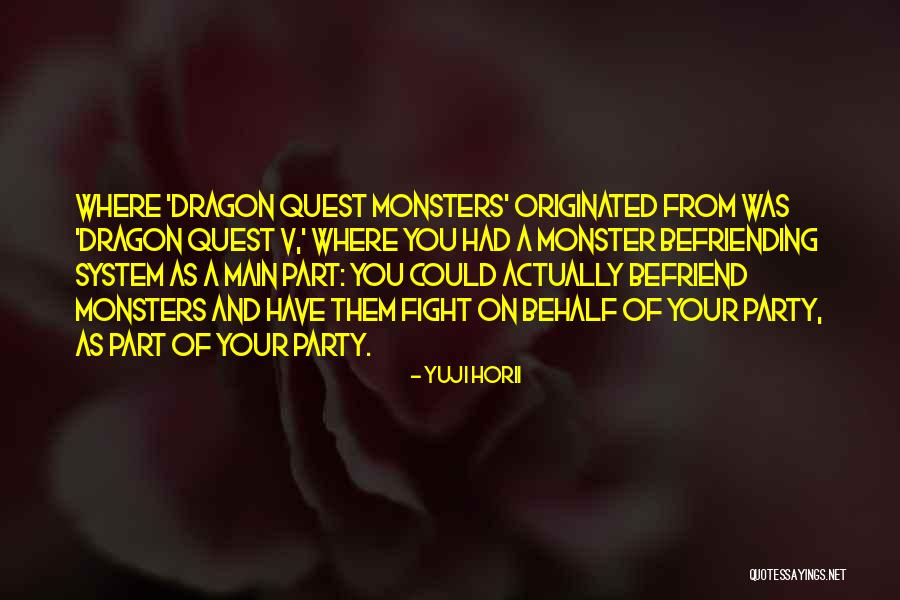 Where 'Dragon Quest Monsters' originated from was 'Dragon Quest V,' where you had a monster befriending system as a main part: you could actually befriend monsters and have them fight on behalf of your party, as part of your party. — Yuji Horii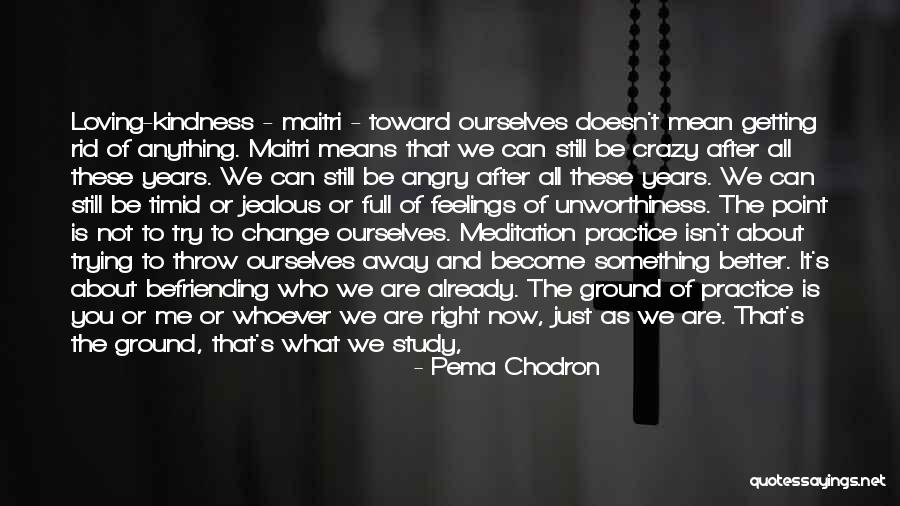 Loving-kindness - maitri - toward ourselves doesn't mean getting rid of anything. Maitri means that we can still be crazy after all these years. We can still be angry after all these years. We can still be timid or jealous or full of feelings of unworthiness. The point is not to try to change ourselves. Meditation practice isn't about trying to throw ourselves away and become something better. It's about befriending who we are already. The ground of practice is you or me or whoever we are right now, just as we are. That's the ground, that's what we study, that's what we come to know with tremendous curiosity and interest. Sometimes — Pema Chodron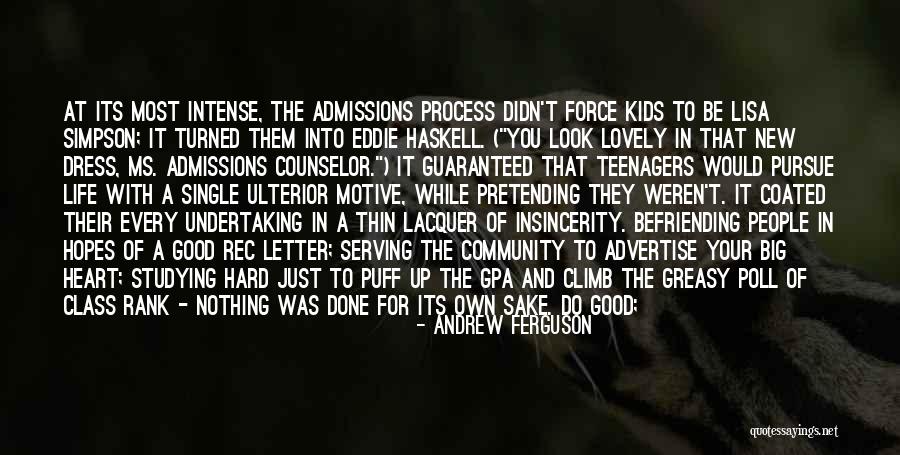 At its most intense, the admissions process didn't force kids to be Lisa Simpson; it turned them into Eddie Haskell. ("You look lovely in that new dress, Ms. Admissions Counselor.") It guaranteed that teenagers would pursue life with a single ulterior motive, while pretending they weren't. It coated their every undertaking in a thin lacquer of insincerity. Befriending people in hopes of a good rec letter; serving the community to advertise your big heart; studying hard just to puff up the GPA and climb the greasy poll of class rank - nothing was done for its own sake. Do good; do well; but make sure you can prove it on a college app. So — Andrew Ferguson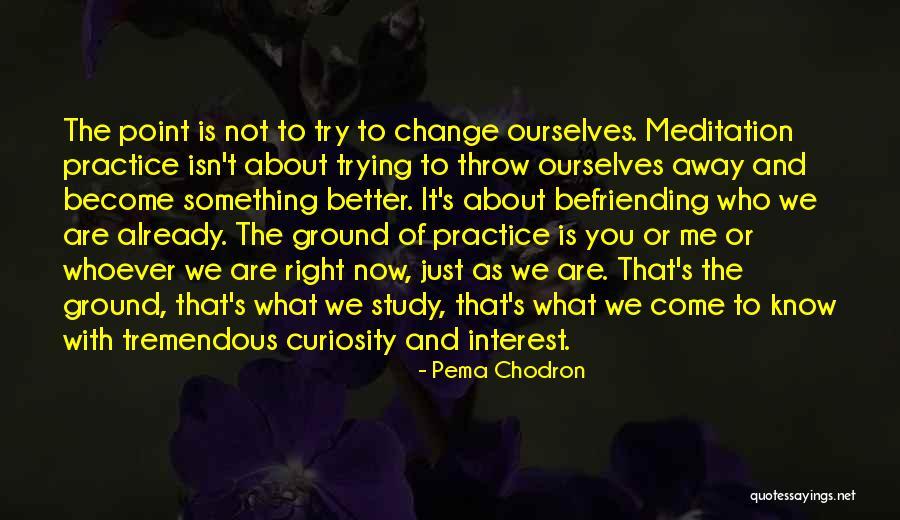 The point is not to try to change ourselves. Meditation practice isn't about trying to throw ourselves away and become something better. It's about befriending who we are already. The ground of practice is you or me or whoever we are right now, just as we are. That's the ground, that's what we study, that's what we come to know with tremendous curiosity and interest. — Pema Chodron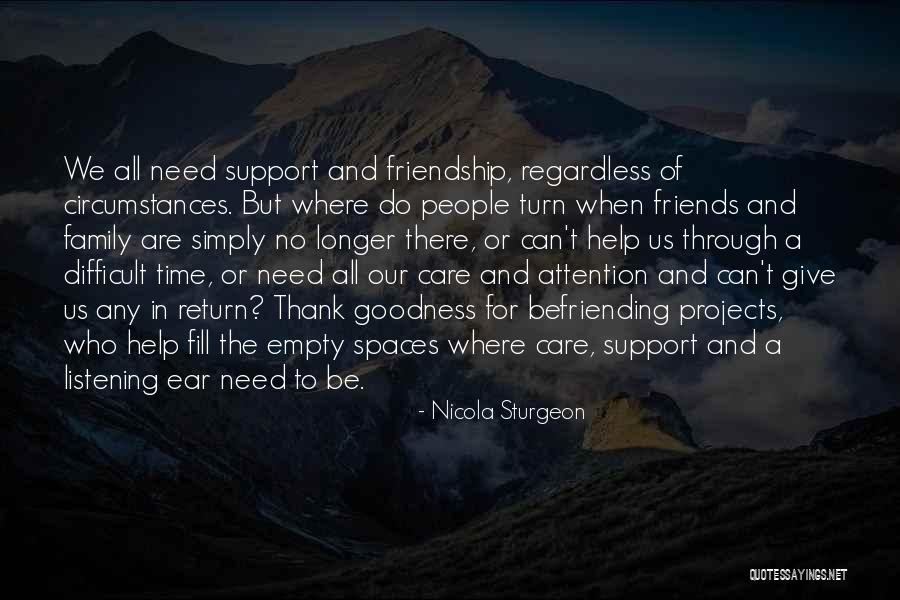 We all need support and friendship, regardless of circumstances. But where do people turn when friends and family are simply no longer there, or can't help us through a difficult time, or need all our care and attention and can't give us any in return? Thank goodness for befriending projects, who help fill the empty spaces where care, support and a listening ear need to be. — Nicola Sturgeon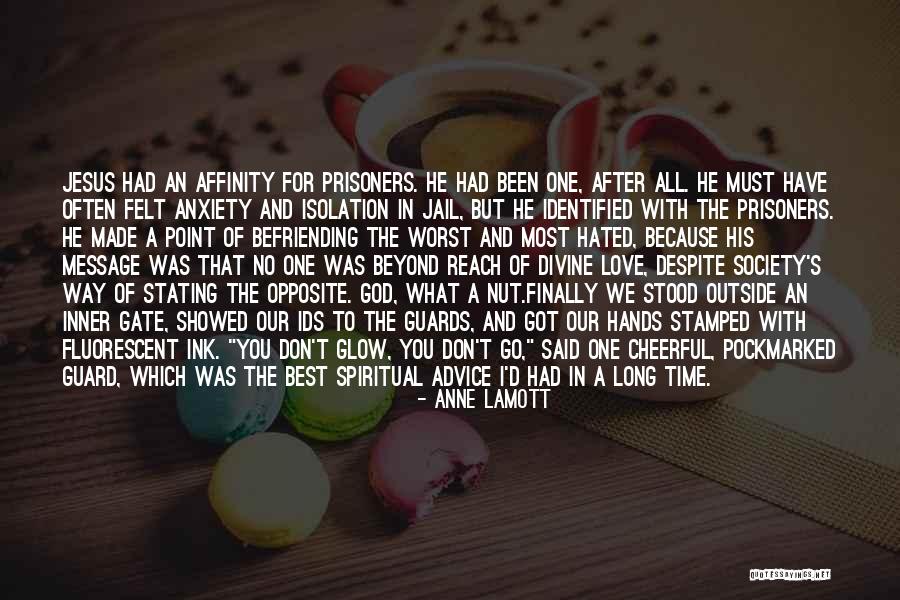 Jesus had an affinity for prisoners. He had been one, after all. He must have often felt anxiety and isolation in jail, but He identified with the prisoners. He made a point of befriending the worst and most hated, because His message was that no one was beyond reach of divine love, despite society's way of stating the opposite. God, what a nut.
Finally we stood outside an inner gate, showed our IDs to the guards, and got our hands stamped with fluorescent ink. "You don't glow, you don't go," said one cheerful, pockmarked guard, which was the best spiritual advice I'd had in a long time. — Anne Lamott
I can't imagine befriending Goliath and then leading him to the Syrena to be eaten. But I also can't imagine letting Galen or Toraf starve. Probably not Rayna either. It's time to introduce my new friends to the world of pizza ... — Anna Banks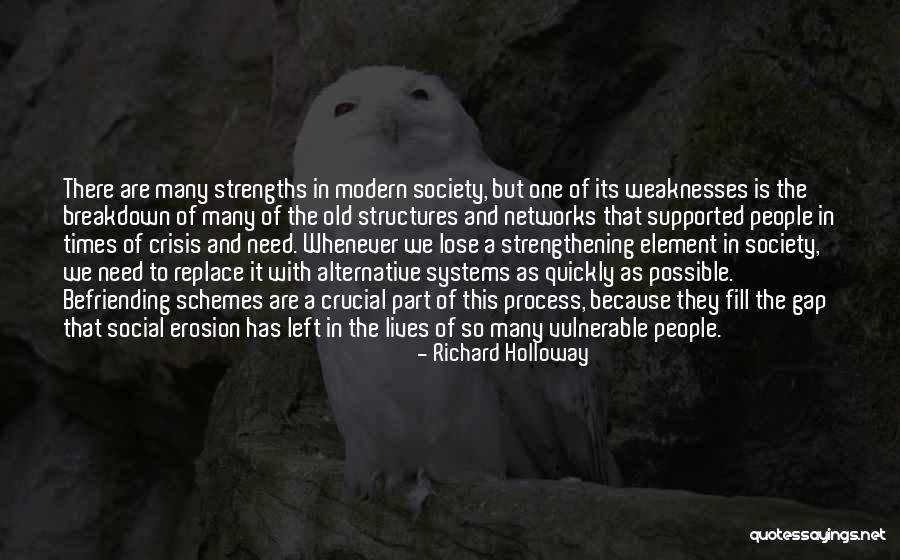 There are many strengths in modern society, but one of its weaknesses is the breakdown of many of the old structures and networks that supported people in times of crisis and need. Whenever we lose a strengthening element in society, we need to replace it with alternative systems as quickly as possible. Befriending schemes are a crucial part of this process, because they fill the gap that social erosion has left in the lives of so many vulnerable people. — Richard Holloway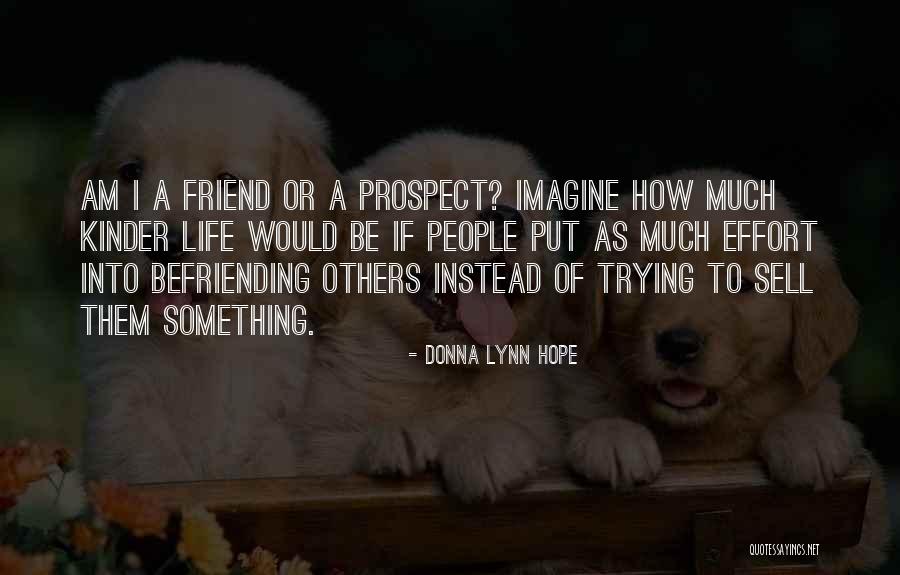 Am I a friend or a prospect? Imagine how much kinder life would be if people put as much effort into befriending others instead of trying to sell them something. — Donna Lynn Hope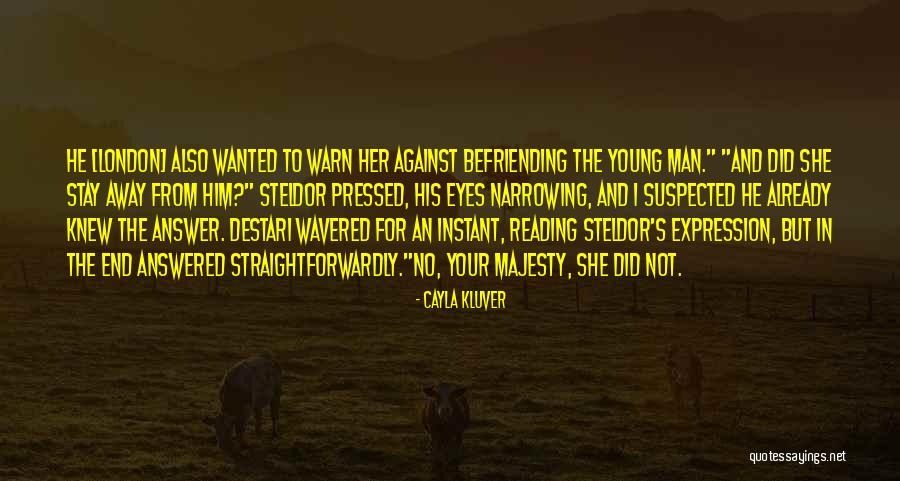 He [London] also wanted to warn her against befriending the young man."
"And did she stay away from him?" Steldor pressed, his eyes narrowing, and I suspected he already knew the answer. Destari wavered for an instant, reading Steldor's expression, but in the end answered straightforwardly.
"No, Your Majesty, she did not. — Cayla Kluver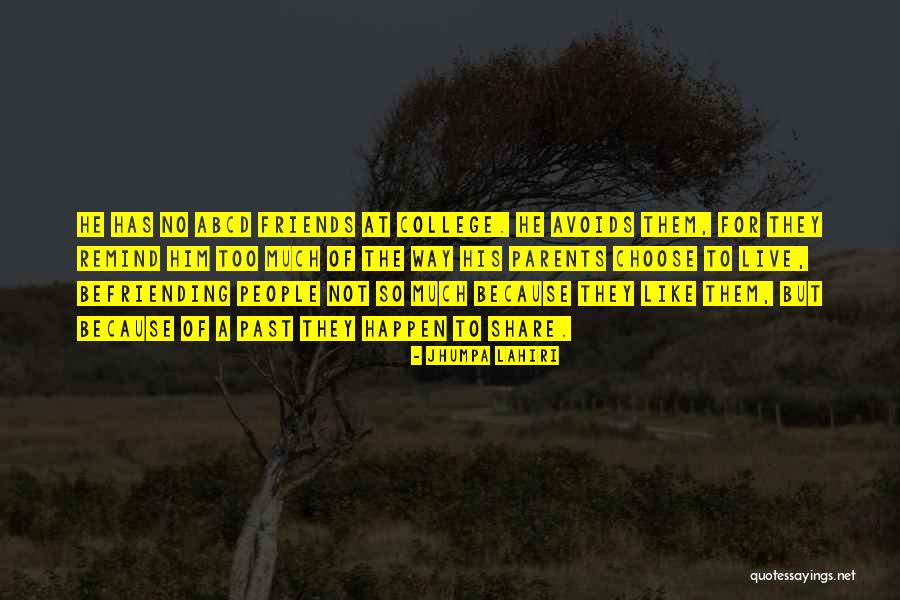 He has no ABCD friends at college. He avoids them, for they remind him too much of the way his parents choose to live, befriending people not so much because they like them, but because of a past they happen to share. — Jhumpa Lahiri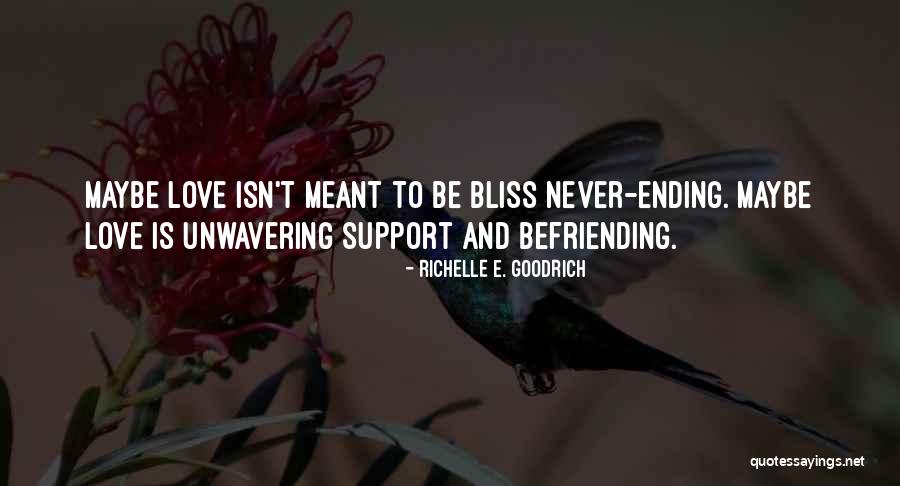 Maybe love isn't meant to be bliss never-ending.
Maybe love is unwavering support and befriending. — Richelle E. Goodrich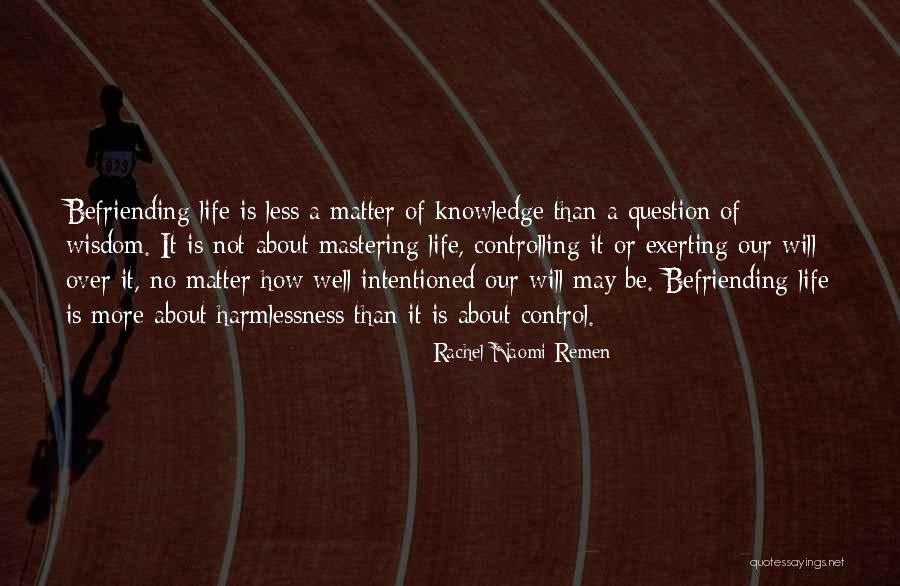 Befriending life is less a matter of knowledge than a question of wisdom. It is not about mastering life, controlling it or exerting our will over it, no matter how well intentioned our will may be. Befriending life is more about harmlessness than it is about control. — Rachel Naomi Remen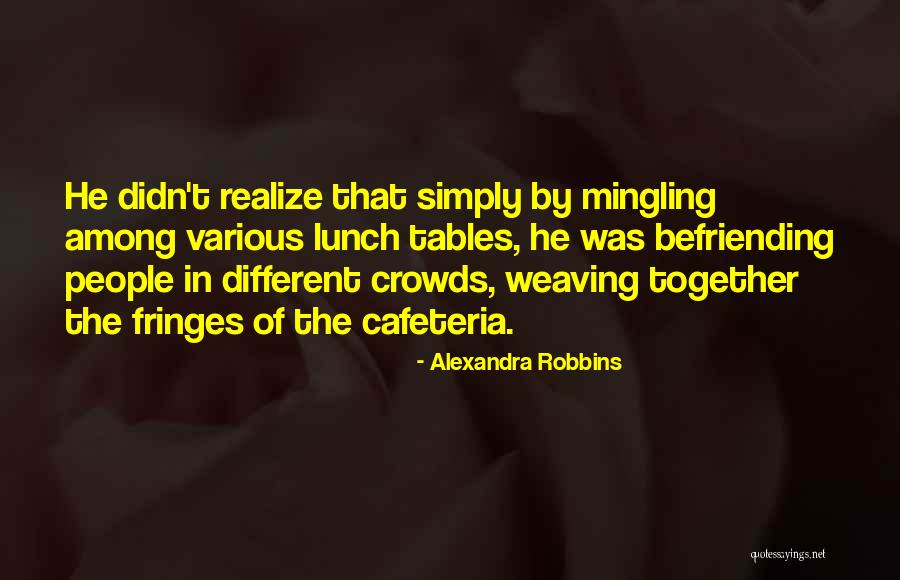 He didn't realize that simply by mingling among various lunch tables, he was befriending people in different crowds, weaving together the fringes of the cafeteria. — Alexandra Robbins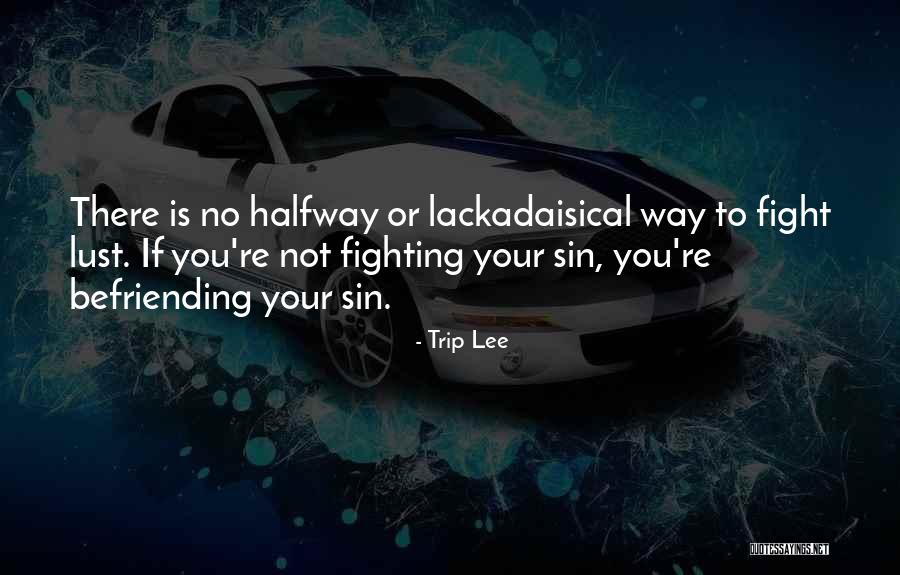 There is no halfway or lackadaisical way to fight lust. If you're not fighting your sin, you're befriending your sin. — Trip Lee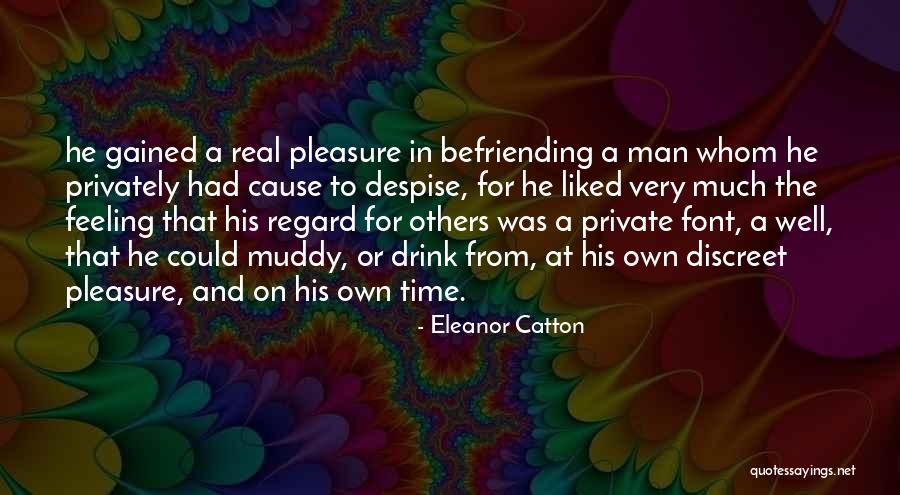 he gained a real pleasure in befriending a man whom he privately had cause to despise, for he liked very much the feeling that his regard for others was a private font, a well, that he could muddy, or drink from, at his own discreet pleasure, and on his own time. — Eleanor Catton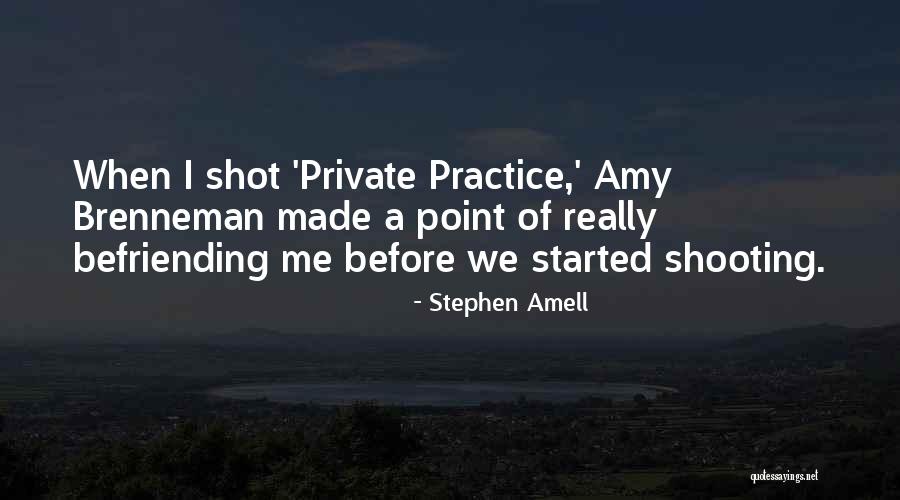 When I shot 'Private Practice,' Amy Brenneman made a point of really befriending me before we started shooting. — Stephen Amell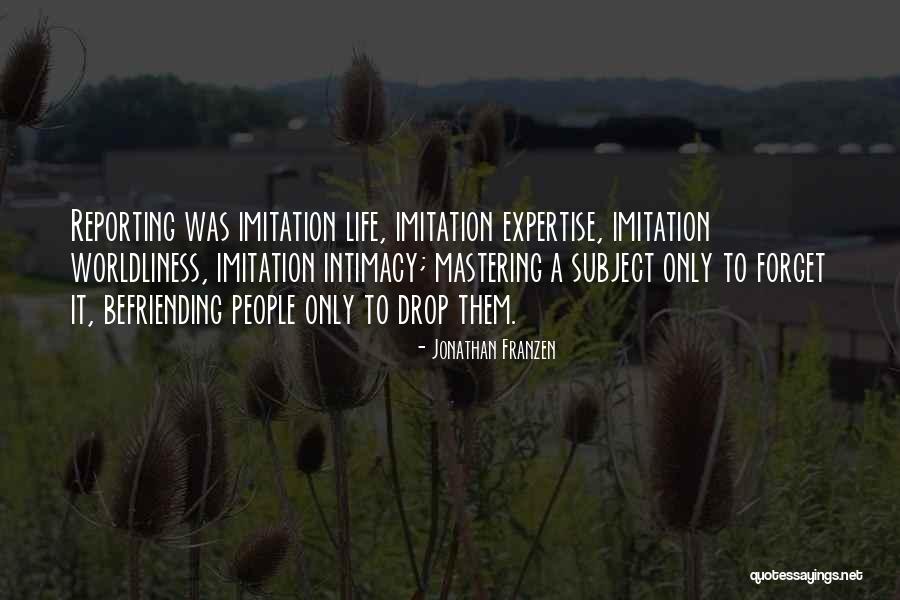 Reporting was imitation life, imitation expertise, imitation worldliness, imitation intimacy; mastering a subject only to forget it, befriending people only to drop them. — Jonathan Franzen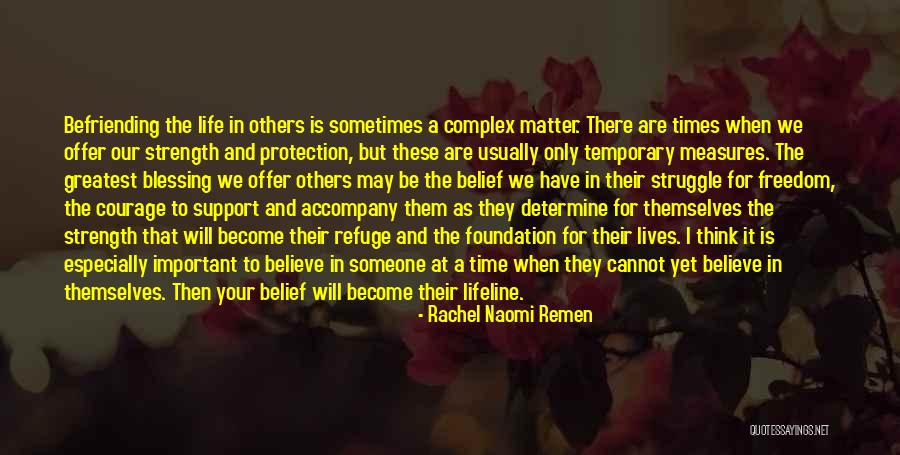 Befriending the life in others is sometimes a complex matter. There are times when we offer our strength and protection, but these are usually only temporary measures. The greatest blessing we offer others may be the belief we have in their struggle for freedom, the courage to support and accompany them as they determine for themselves the strength that will become their refuge and the foundation for their lives. I think it is especially important to believe in someone at a time when they cannot yet believe in themselves. Then your belief will become their lifeline. — Rachel Naomi Remen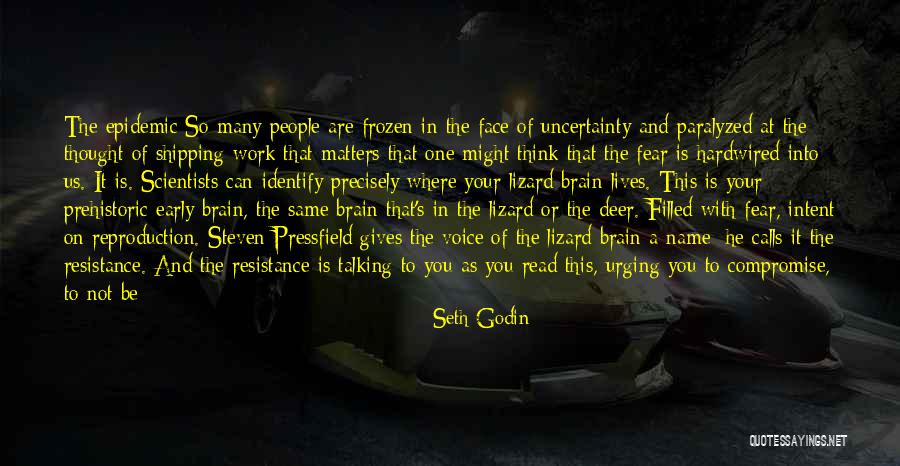 The epidemic So many people are frozen in the face of uncertainty and paralyzed at the thought of shipping work that matters that one might think that the fear is hardwired into us. It is. Scientists can identify precisely where your lizard brain lives. This is your prehistoric early brain, the same brain that's in the lizard or the deer. Filled with fear, intent on reproduction. Steven Pressfield gives the voice of the lizard brain a name: he calls it the resistance. And the resistance is talking to you as you read this, urging you to compromise, to not be an troublemaker, to avoid rash moves. For many of us, the resistance is always chattering away, frequently sabotaging our best opportunities and ruining our best chance to do great work. Naming it helps you befriend it, and befriending it helps you ignore it. — Seth Godin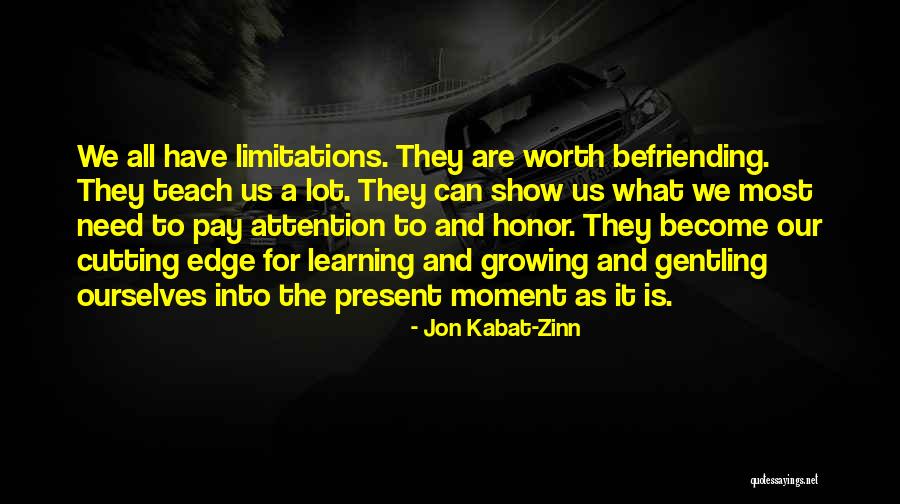 We all have limitations. They are worth befriending. They teach us a lot. They can show us what we most need to pay attention to and honor. They become our cutting edge for learning and growing and gentling ourselves into the present moment as it is. — Jon Kabat-Zinn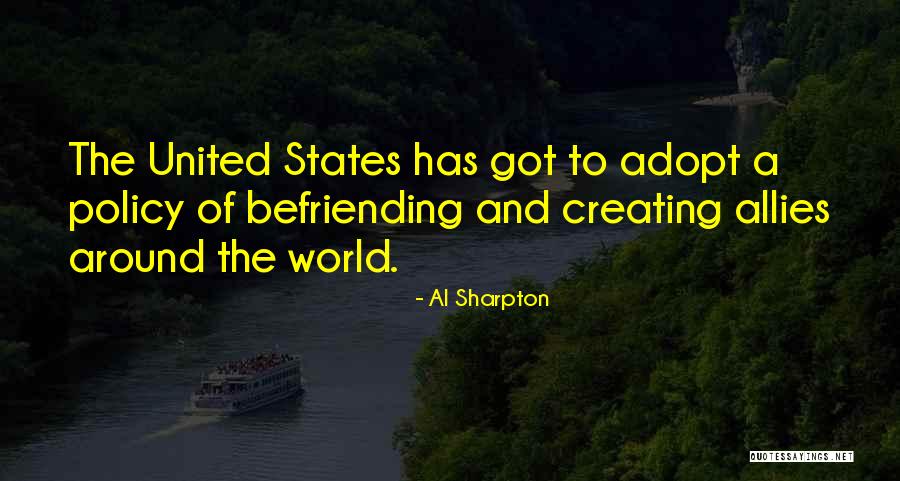 The United States has got to adopt a policy of befriending and creating allies around the world. — Al Sharpton