Quotes & Sayings About Becoming A Good Man
Enjoy reading and share 32 famous quotes about Becoming A Good Man with everyone.
Top Becoming A Good Man Quotes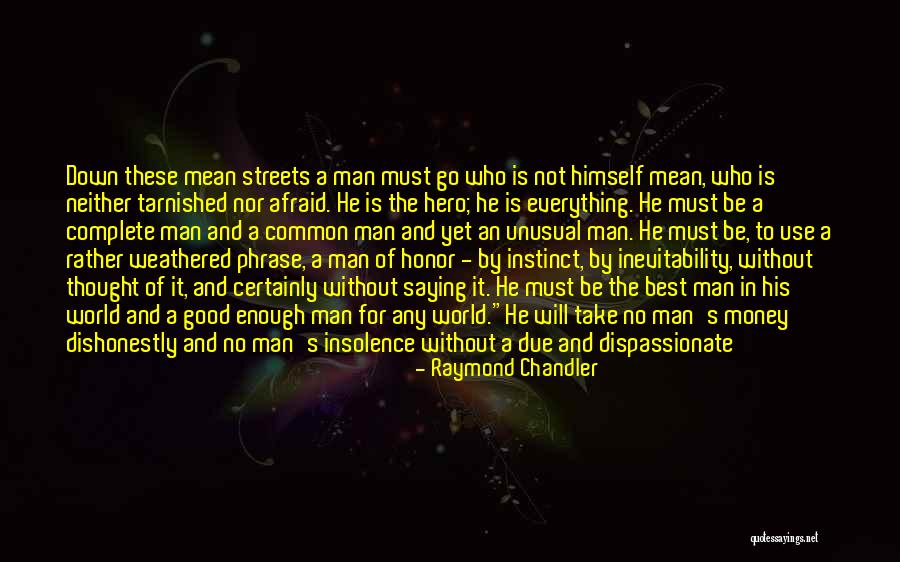 Down these mean streets a man must go who is not himself mean, who is neither tarnished nor afraid. He is the hero; he is everything. He must be a complete man and a common man and yet an unusual man. He must be, to use a rather weathered phrase, a man of honor - by instinct, by inevitability, without thought of it, and certainly without saying it. He must be the best man in his world and a good enough man for any world.
"He will take no man's money dishonestly and no man's insolence without a due and dispassionate revenge. He is a lonely man and his pride is that you will treat him as a proud man or be very sorry you ever saw him.
"The story is this man's adventure in search of a hidden truth, and it would be no adventure if it did not happen to a man fit for adventure. If there were enough like him, the world would be a very safe place to live in, without becoming too dull to be worth living in. — Raymond Chandler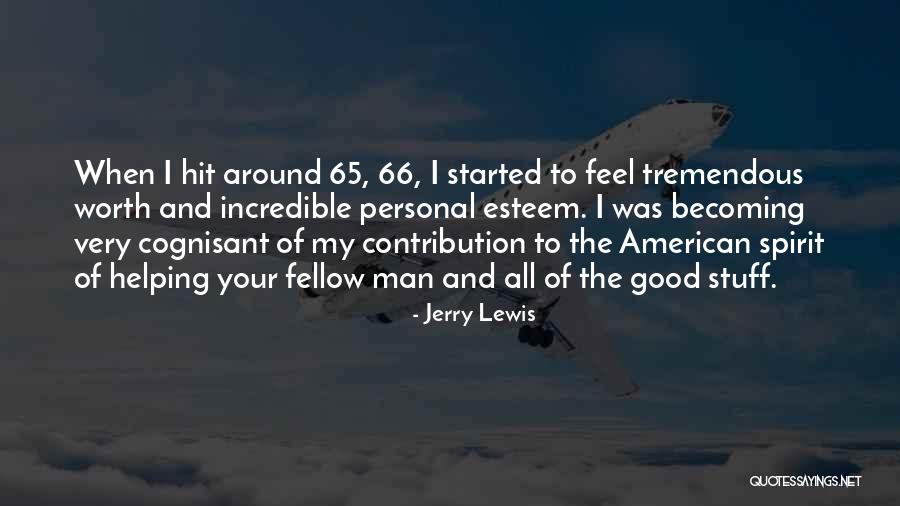 When I hit around 65, 66, I started to feel tremendous worth and incredible personal esteem. I was becoming very cognisant of my contribution to the American spirit of helping your fellow man and all of the good stuff. — Jerry Lewis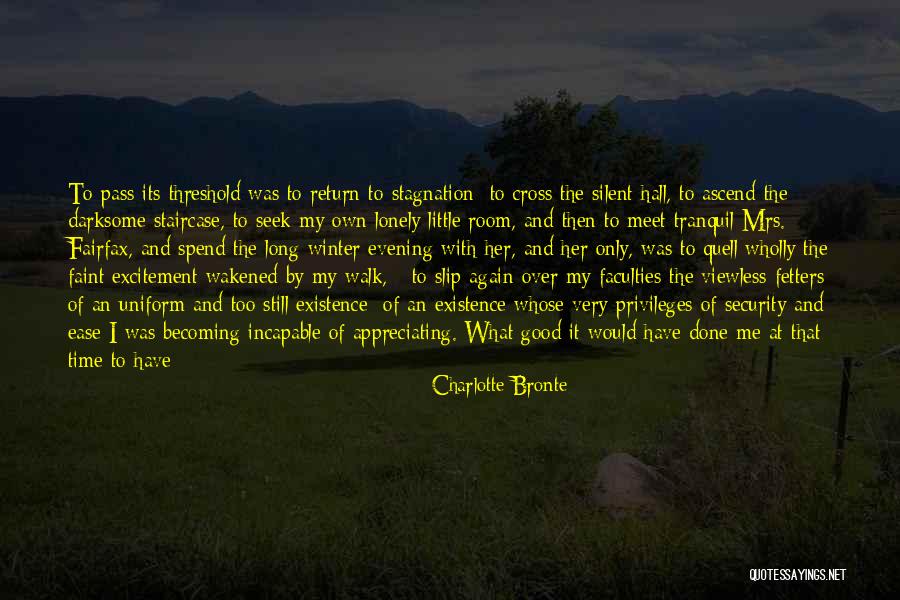 To pass its threshold was to return to stagnation; to cross the silent hall, to ascend the darksome staircase, to seek my own lonely little room, and then to meet tranquil Mrs. Fairfax, and spend the long winter evening with her, and her only, was to quell wholly the faint excitement wakened by my walk, - to slip again over my faculties the viewless fetters of an uniform and too still existence; of an existence whose very privileges of security and ease I was becoming incapable of appreciating. What good it would have done me at that time to have been tossed in the storms of an uncertain struggling life, and to have been taught by rough and bitter experience to long for the calm amidst which I now repined! Yes, just as much good as it would do a man tired of sitting still in a "too easy chair" to take a long walk: and just as natural was the wish to stir, under my circumstances, as it would be under his. — Charlotte Bronte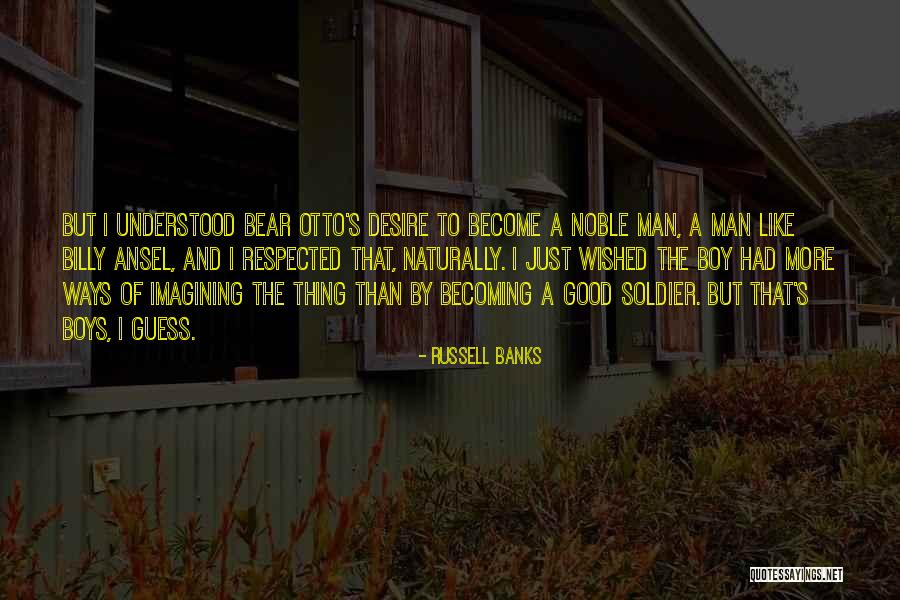 But I understood Bear Otto's desire to become a noble man, a man like Billy Ansel, and I respected that, naturally. I just wished the boy had more ways of imagining the thing than by becoming a good soldier. But that's boys, I guess. — Russell Banks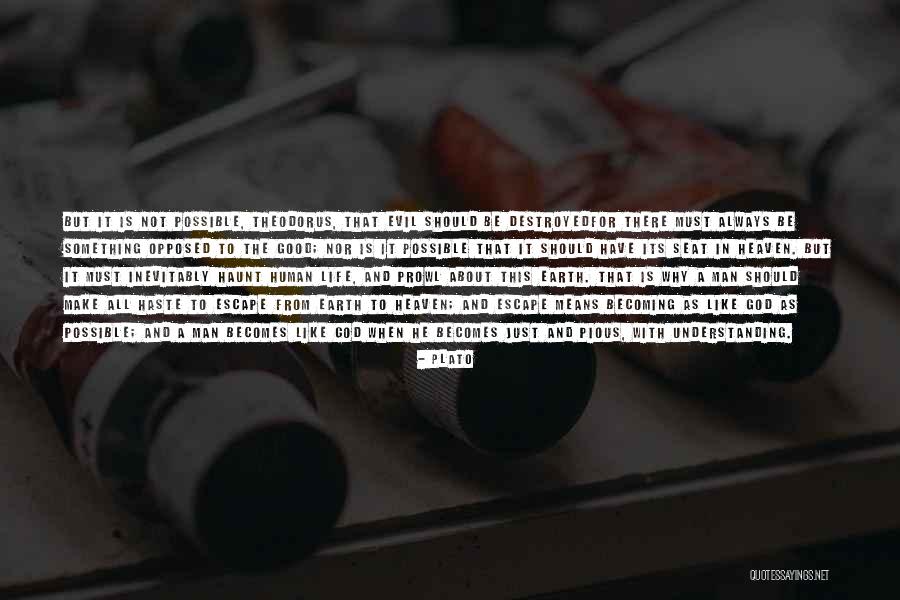 But it is not possible, Theodorus, that evil should be destroyed
for there must always be something opposed to the good; nor is it possible that it should have its seat in heaven. But it must inevitably haunt human life, and prowl about this earth. That is why a man should make all haste to escape from earth to heaven; and escape means becoming as like God as possible; and a man becomes like God when he becomes just and pious, with understanding. — Plato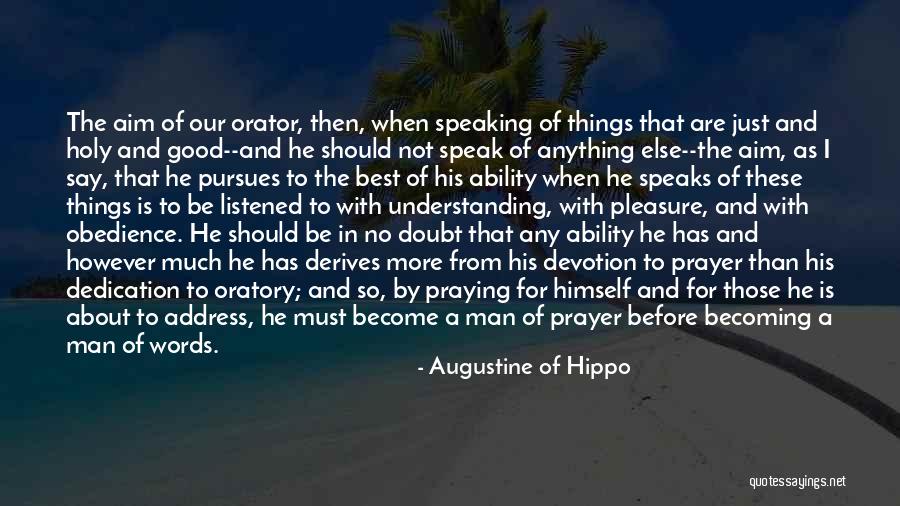 The aim of our orator, then, when speaking of things that are just and holy and good--and he should not speak of anything else--the aim, as I say, that he pursues to the best of his ability when he speaks of these things is to be listened to with understanding, with pleasure, and with obedience. He should be in no doubt that any ability he has and however much he has derives more from his devotion to prayer than his dedication to oratory; and so, by praying for himself and for those he is about to address, he must become a man of prayer before becoming a man of words. — Augustine Of Hippo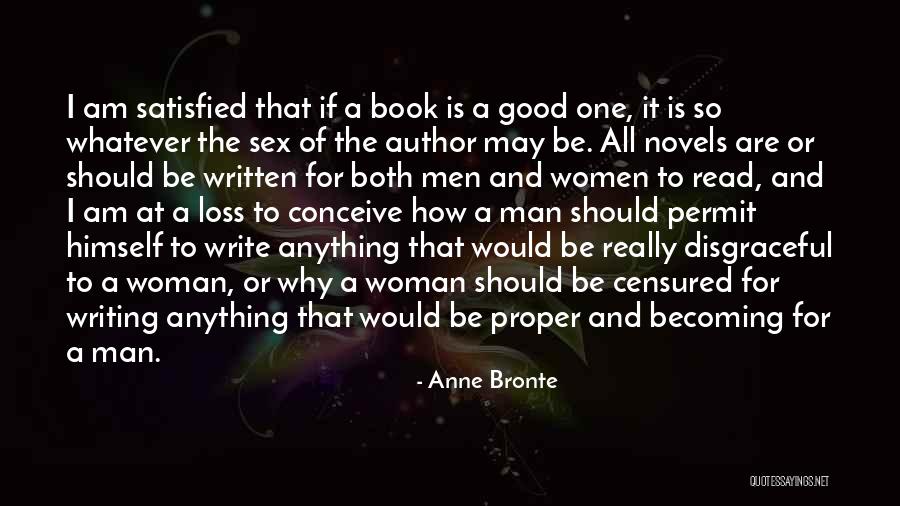 I am satisfied that if a book is a good one, it is so whatever the sex of the author may be. All novels are or should be written for both men and women to read, and I am at a loss to conceive how a man should permit himself to write anything that would be really disgraceful to a woman, or why a woman should be censured for writing anything that would be proper and becoming for a man. — Anne Bronte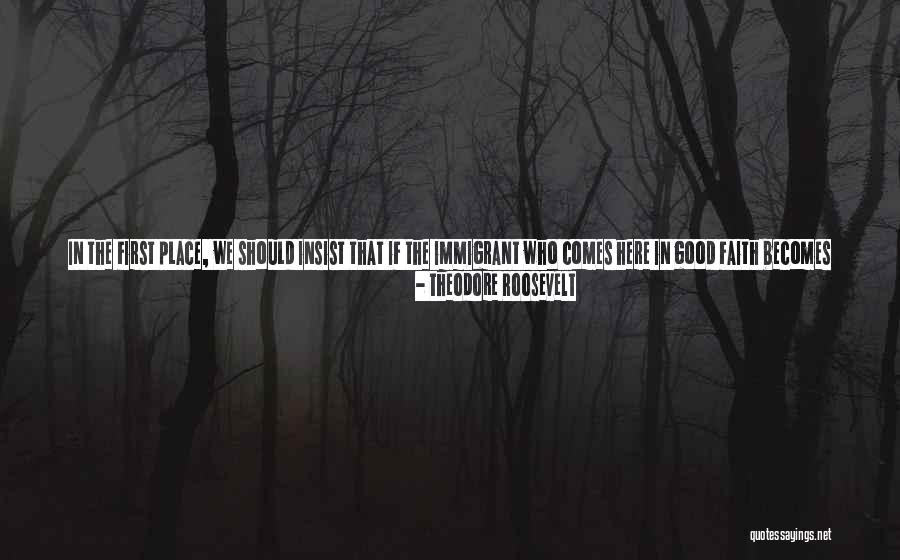 In the first place, we should insist that if the immigrant who comes here in good faith becomes an American and assimilates himself to us, he shall be treated on an exact equality with everyone else, for it is an outrage to discriminate against any such man because of creed, or birthplace, or origin. But this is predicated upon the person's becoming in every facet an American, and nothing but an American ... There can be no divided allegiance here. Any man who says he is an American, but something else also, isn't an American at all. We have room for but one flag, the American flag ... We have room for but one language here, and that is the English language ... and we have room for but one sole loyalty and that is a loyalty to the American people. — Theodore Roosevelt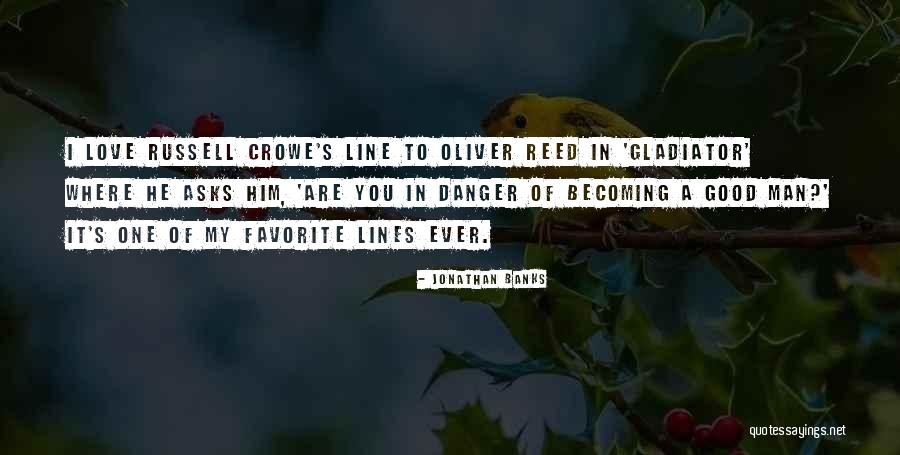 I love Russell Crowe's line to Oliver Reed in 'Gladiator' where he asks him, 'Are you in danger of becoming a good man?' It's one of my favorite lines ever. — Jonathan Banks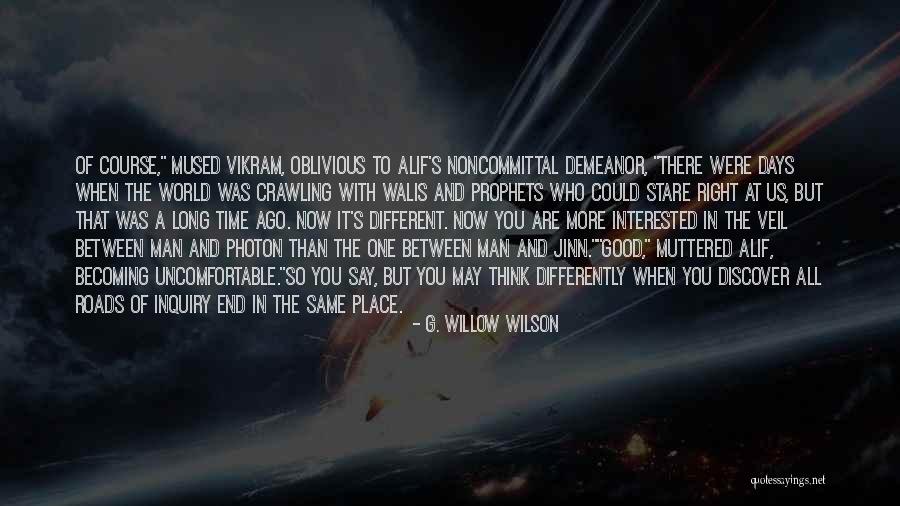 Of course," mused Vikram, oblivious to Alif's noncommittal demeanor, "there were days when the world was crawling with walis and prophets who could stare right at us, but that was a long time ago. Now it's different. Now you are more interested in the veil between man and photon than the one between man and jinn."
"Good," muttered Alif, becoming uncomfortable.
"So you say, but you may think differently when you discover all roads of inquiry end in the same place. — G. Willow Wilson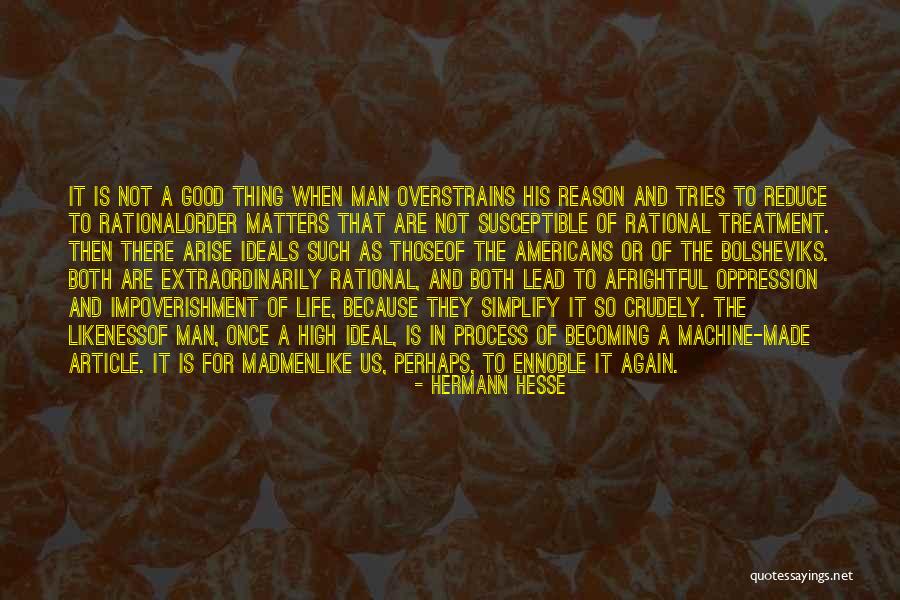 It is not a good thing when man overstrains his reason and tries to reduce to rational
order matters that are not susceptible of rational treatment. Then there arise ideals such as those
of the Americans or of the Bolsheviks. Both are extraordinarily rational, and both lead to a
frightful oppression and impoverishment of life, because they simplify it so crudely. The likeness
of man, once a high ideal, is in process of becoming a machine-made article. It is for madmen
like us, perhaps, to ennoble it again. — Hermann Hesse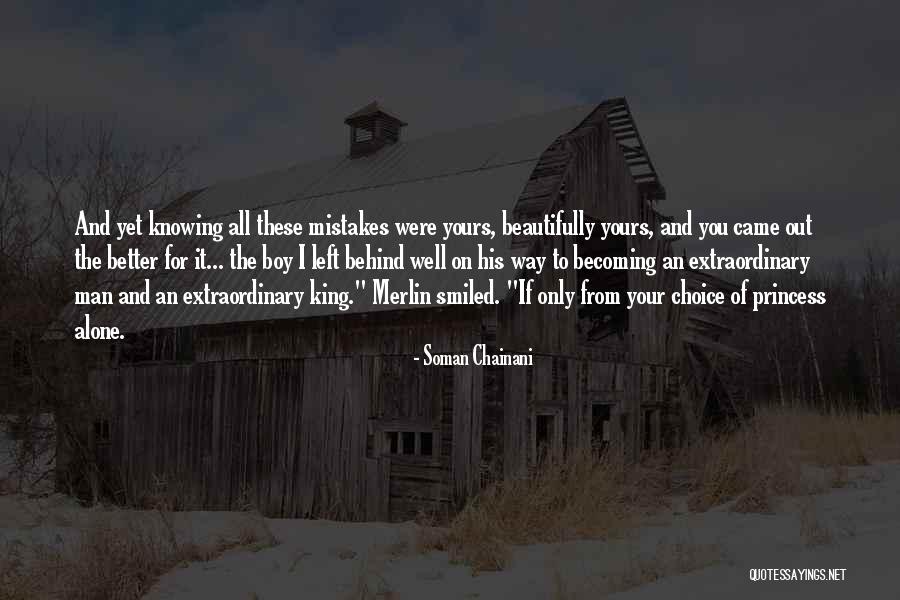 And yet knowing all these mistakes were yours, beautifully yours, and you came out the better for it... the boy I left behind well on his way to becoming an extraordinary man and an extraordinary king." Merlin smiled. "If only from your choice of princess alone. — Soman Chainani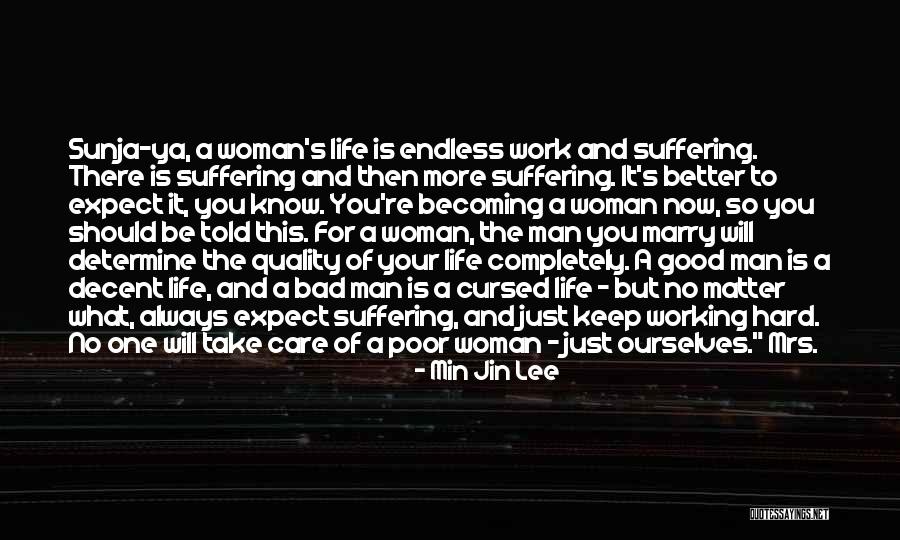 Sunja-ya, a woman's life is endless work and suffering. There is suffering and then more suffering. It's better to expect it, you know. You're becoming a woman now, so you should be told this. For a woman, the man you marry will determine the quality of your life completely. A good man is a decent life, and a bad man is a cursed life - but no matter what, always expect suffering, and just keep working hard. No one will take care of a poor woman - just ourselves." Mrs. — Min Jin Lee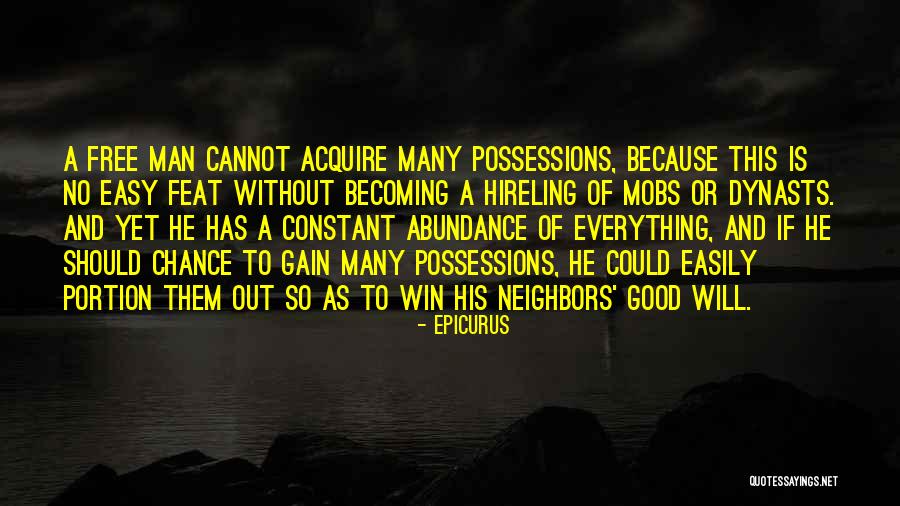 A free man cannot acquire many possessions, because this is no easy feat without becoming a hireling of mobs or dynasts. And yet he has a constant abundance of everything, and if he should chance to gain many possessions, he could easily portion them out so as to win his neighbors' good will. — Epicurus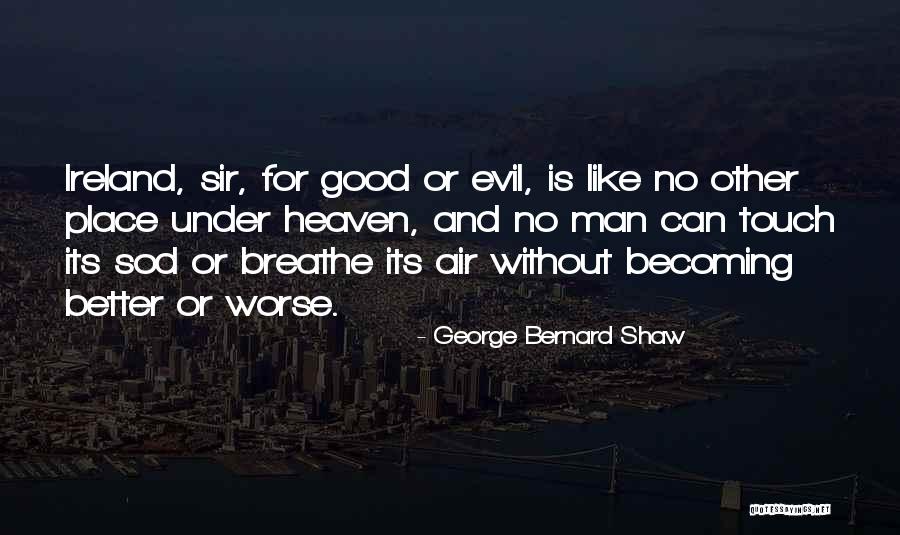 Ireland, sir, for good or evil, is like no other place under heaven, and no man can touch its sod or breathe its air without becoming better or worse. — George Bernard Shaw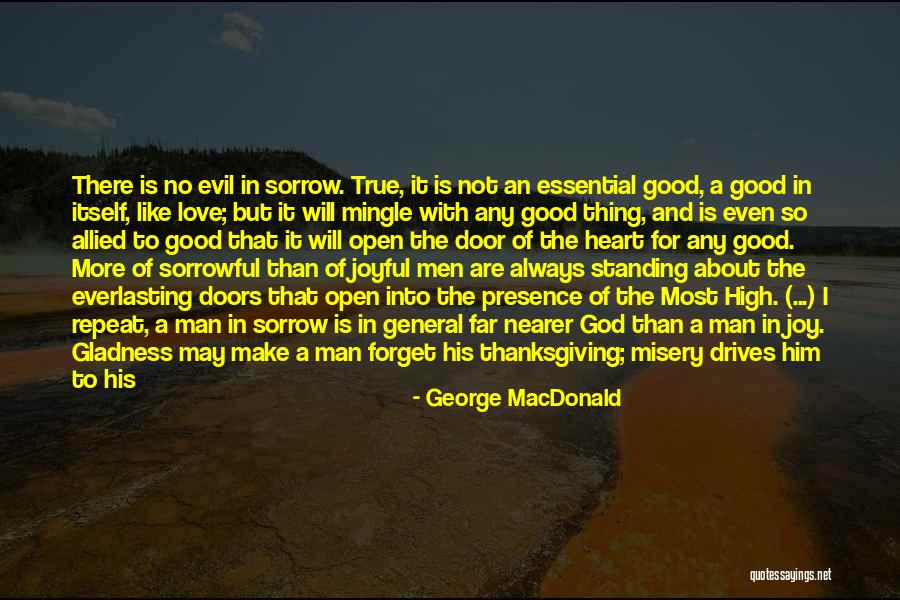 There is no evil in sorrow. True, it is not an essential good, a good in itself, like love; but it will mingle with any good thing, and is even so allied to good that it will open the door of the heart for any good. More of sorrowful than of joyful men are always standing about the everlasting doors that open into the presence of the Most High. (...) I repeat, a man in sorrow is in general far nearer God than a man in joy. Gladness may make a man forget his thanksgiving; misery drives him to his prayers. For we are not yet, we are only becoming. The endless day will at length dawn whose every throbbing moment will heave our hearts Godward — George MacDonald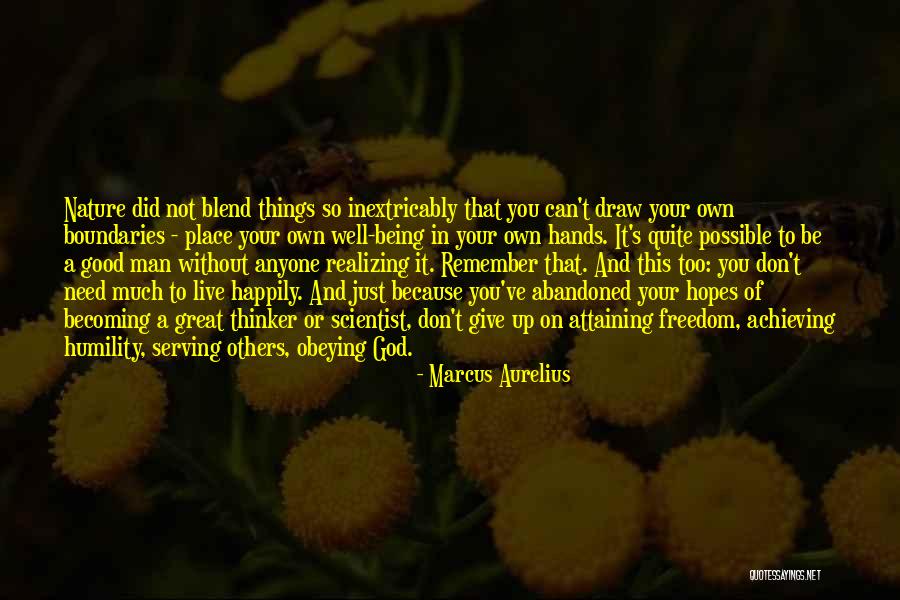 Nature did not blend things so inextricably that you can't draw your own boundaries - place your own well-being in your own hands. It's quite possible to be a good man without anyone realizing it. Remember that. And this too: you don't need much to live happily. And just because you've abandoned your hopes of becoming a great thinker or scientist, don't give up on attaining freedom, achieving humility, serving others, obeying God. — Marcus Aurelius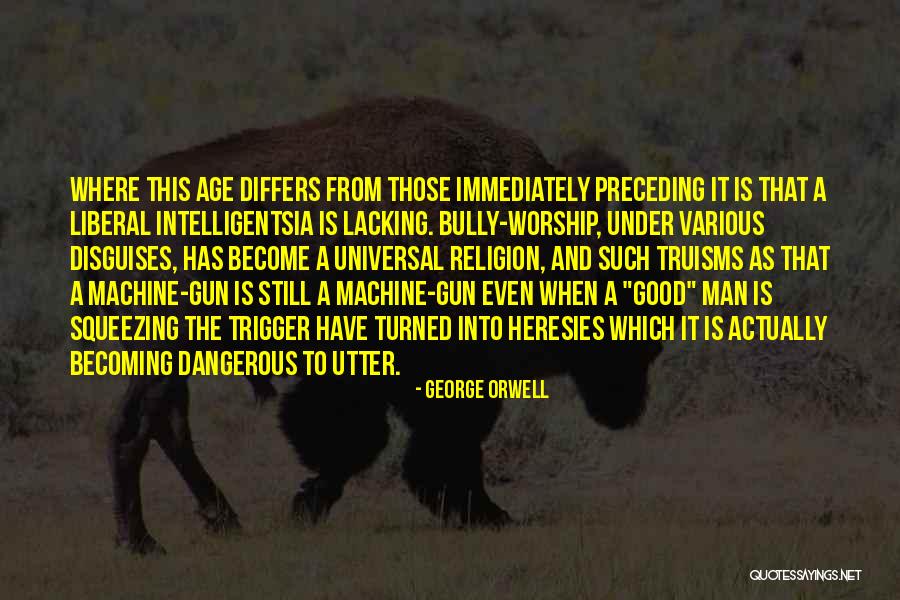 Where this age differs from those immediately preceding it is that a liberal intelligentsia is lacking. Bully-worship, under various disguises, has become a universal religion, and such truisms as that a machine-gun is still a machine-gun even when a "good" man is squeezing the trigger have turned into heresies which it is actually becoming dangerous to utter. — George Orwell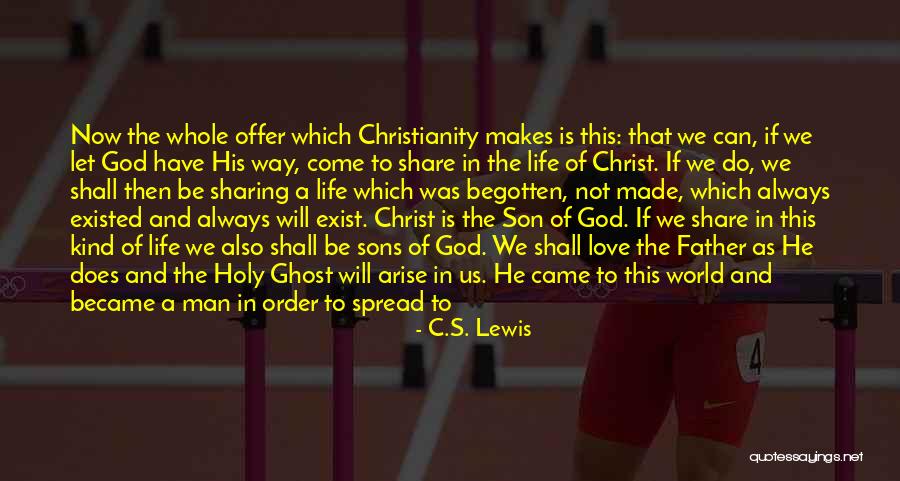 Now the whole offer which Christianity makes is this: that we can, if we let God have His way, come to share in the life of Christ. If we do, we shall then be sharing a life which was begotten, not made, which always existed and always will exist. Christ is the Son of God. If we share in this kind of life we also shall be sons of God. We shall love the Father as He does and the Holy Ghost will arise in us. He came to this world and became a man in order to spread to other men the kind of life He has - by what I call "good infection." Every Christian is to become a little Christ. The whole purpose of becoming a Christian is simply nothing else. — C.S. Lewis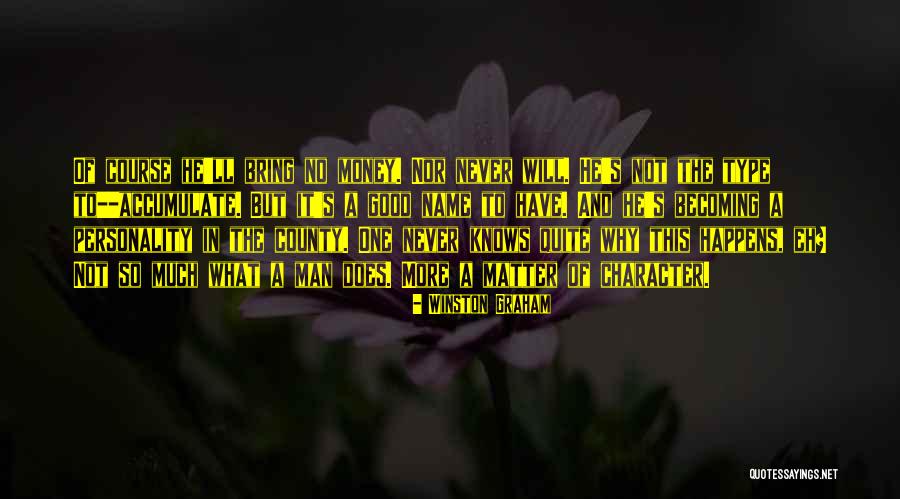 Of course he'll bring no money. Nor never will. He's not the type to--accumulate. But it's a good name to have. And he's becoming a personality in the county. One never knows quite why this happens, eh? Not so much what a man does. More a matter of character. — Winston Graham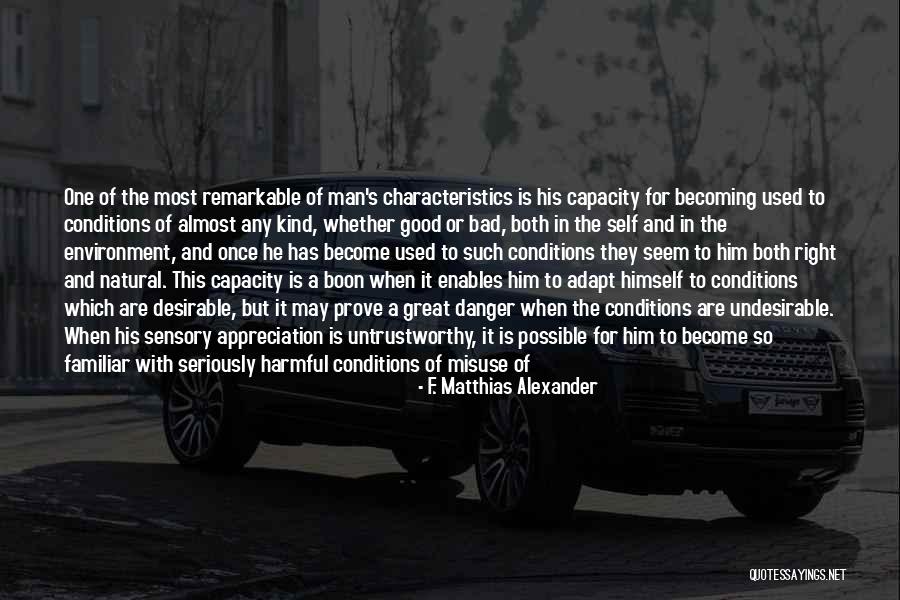 One of the most remarkable of man's characteristics is his capacity for becoming used to conditions of almost any kind, whether good or bad, both in the self and in the environment, and once he has become used to such conditions they seem to him both right and natural. This capacity is a boon when it enables him to adapt himself to conditions which are desirable, but it may prove a great danger when the conditions are undesirable. When his sensory appreciation is untrustworthy, it is possible for him to become so familiar with seriously harmful conditions of misuse of himself that these malconditions will feel right and comfortable. — F. Matthias Alexander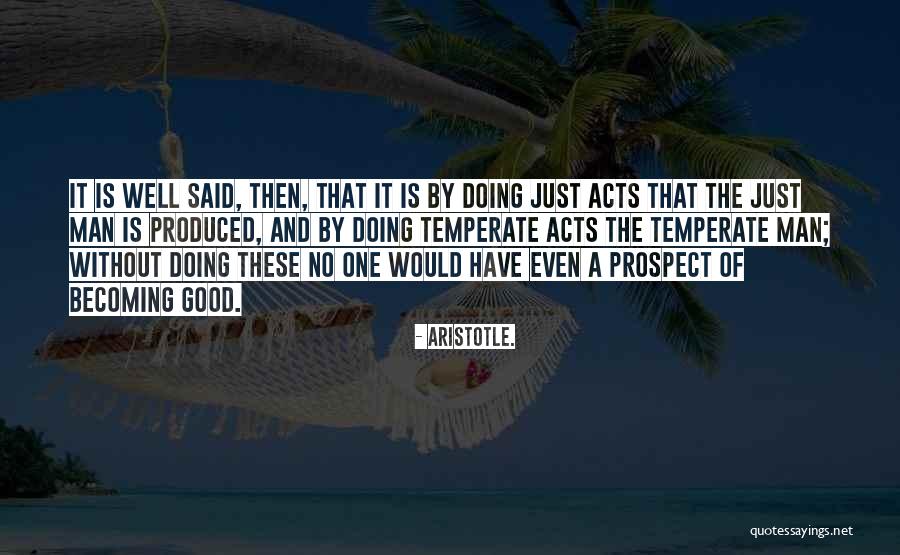 It is well said, then, that it is by doing just acts that the just man is produced, and by doing temperate acts the temperate man; without doing these no one would have even a prospect of becoming good. — Aristotle.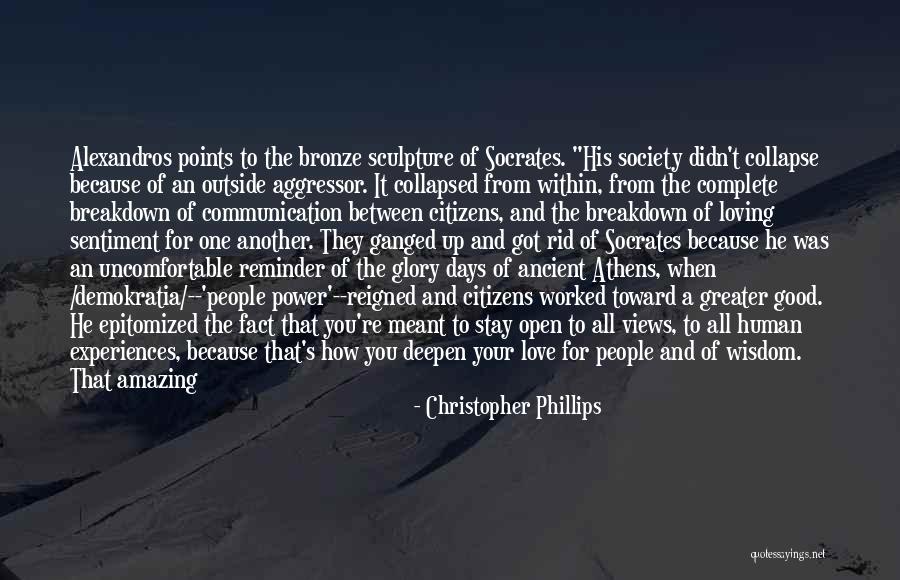 Alexandros points to the bronze sculpture of Socrates. "His society didn't collapse because of an outside aggressor. It collapsed from within, from the complete breakdown of communication between citizens, and the breakdown of loving sentiment for one another. They ganged up and got rid of Socrates because he was an uncomfortable reminder of the glory days of ancient Athens, when /demokratia/--'people power'--reigned and citizens worked toward a greater good. He epitomized the fact that you're meant to stay open to all views, to all human experiences, because that's how you deepen your love for people and of wisdom. That amazing man sacrificed his life in the name of classic Athenian values of excellence and honor and compassion, so one day they might live on. And they did, here in America, for more than two centuries. I'm worried my beloved America is becoming as loveless as ancient Athens in its days of decline. — Christopher Phillips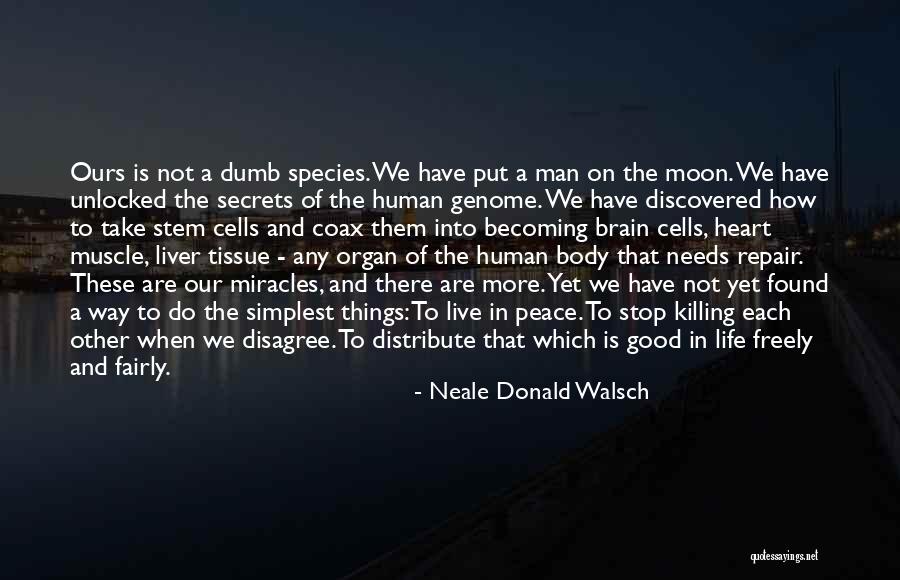 Ours is not a dumb species. We have put a man on the moon. We have unlocked the secrets of the human genome. We have discovered how to take stem cells and coax them into becoming brain cells, heart muscle, liver tissue - any organ of the human body that needs repair. These are our miracles, and there are more. Yet we have not yet found a way to do the simplest things: To live in peace. To stop killing each other when we disagree. To distribute that which is good in life freely and fairly. — Neale Donald Walsch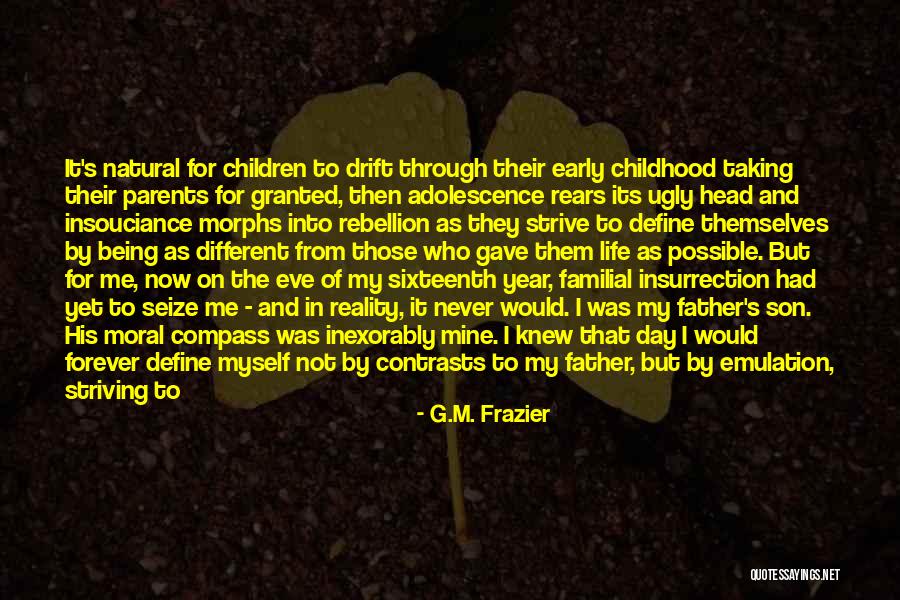 It's natural for children to drift through their early childhood taking their parents for granted, then adolescence rears its ugly head and insouciance morphs into rebellion as they strive to define themselves by being as different from those who gave them life as possible. But for me, now on the eve of my sixteenth year, familial insurrection had yet to seize me - and in reality, it never would. I was my father's son. His moral compass was inexorably mine. I knew that day I would forever define myself not by contrasts to my father, but by emulation, striving to be a "good man" like him. But the term "good man" was not adequate to describe him. Daddy was a great man who charted his own course in life, guided by his own light, irrespective of the opinions of others, be they my grandmother's or those of his Brothers in the Lodge. He was the kind of man I wanted to be, the kind of man I was already becoming without fully realizing it. — G.M. Frazier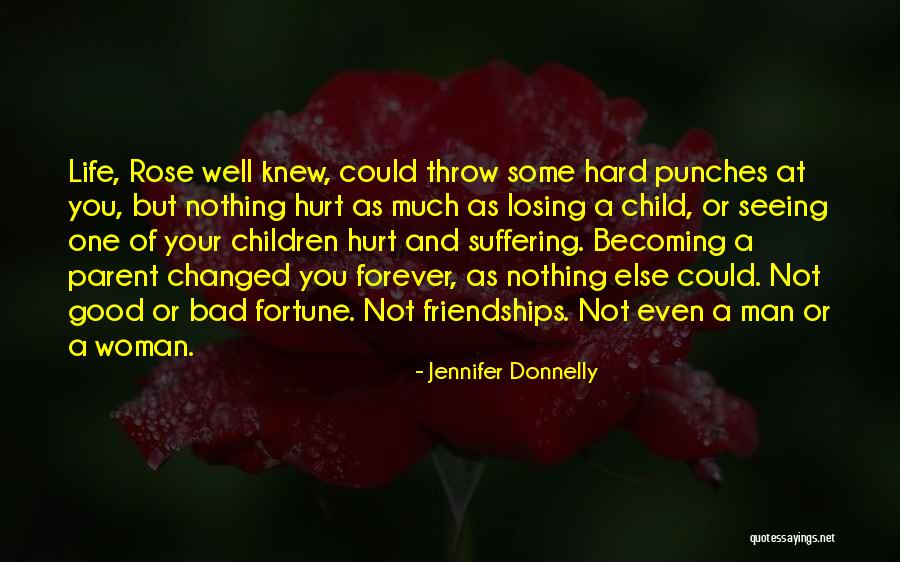 Life, Rose well knew, could throw some hard punches at you, but nothing hurt as much as losing a child, or seeing one of your children hurt and suffering. Becoming a parent changed you forever, as nothing else could. Not good or bad fortune. Not friendships. Not even a man or a woman. — Jennifer Donnelly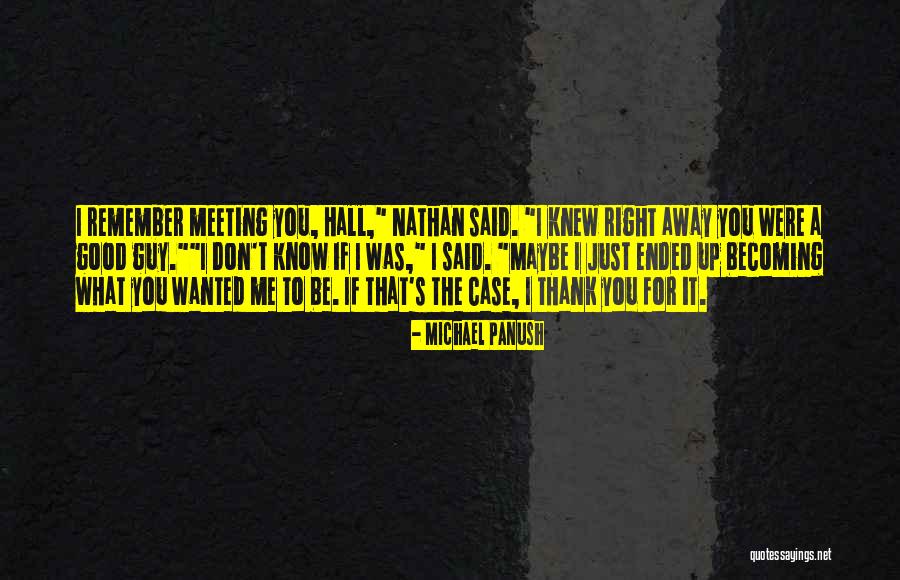 I remember meeting you, Hall," Nathan said. "I knew right away you were a good guy."
"I don't know if I was," I said. "Maybe I just ended up becoming what you wanted me to be. If that's the case, I thank you for it. — Michael Panush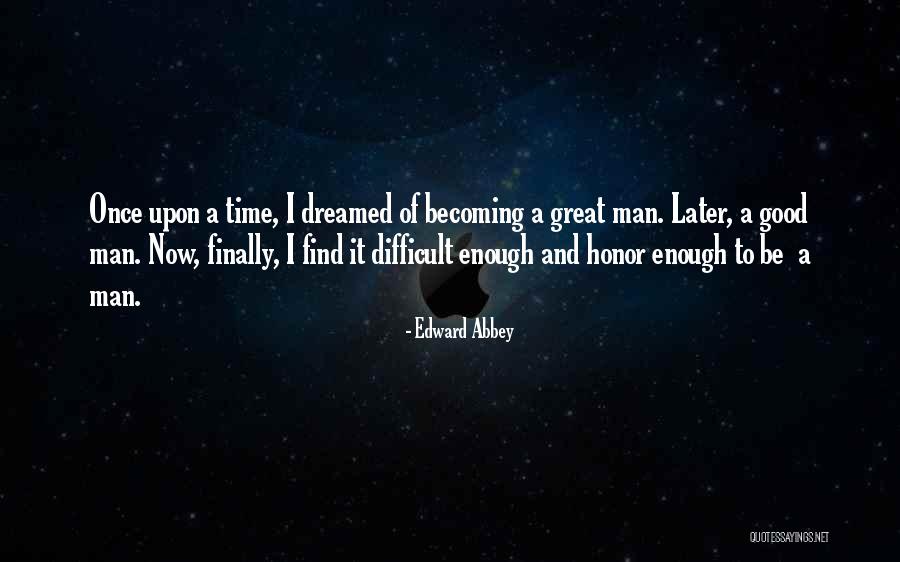 Once upon a time, I dreamed of becoming a great man. Later, a good man. Now, finally, I find it difficult enough and honor enough to be
a man. — Edward Abbey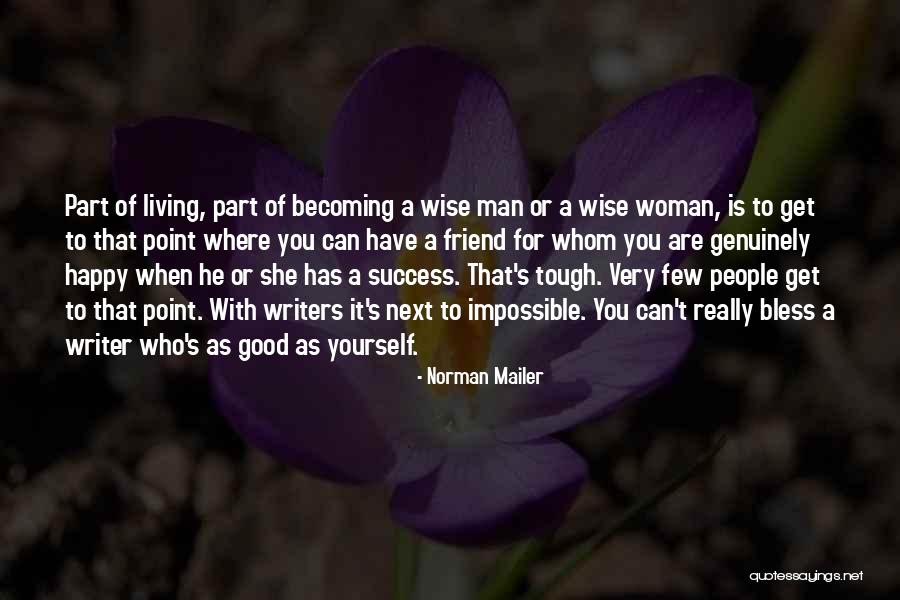 Part of living, part of becoming a wise man or a wise woman, is to get to that point where you can have a friend for whom you are genuinely happy when he or she has a success. That's tough. Very few people get to that point. With writers it's next to impossible. You can't really bless a writer who's as good as yourself. — Norman Mailer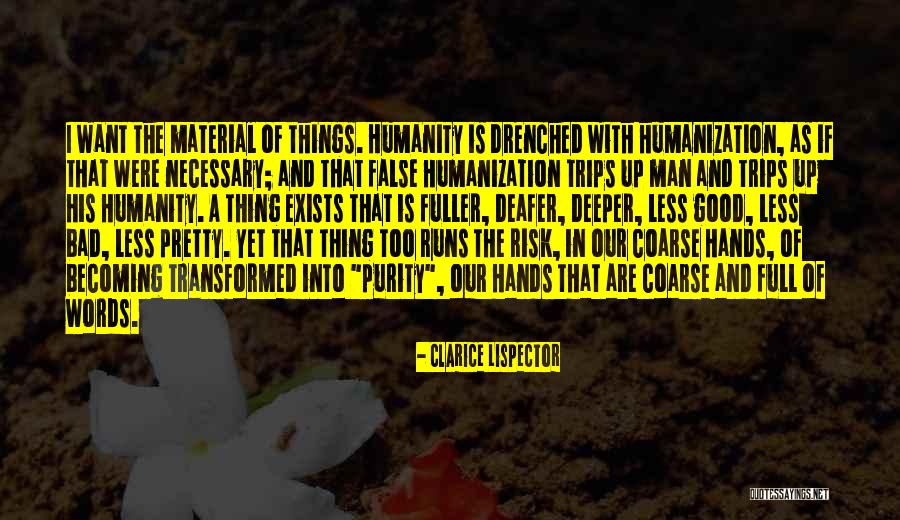 I want the material of things. Humanity is drenched with humanization, as if that were necessary; and that false humanization trips up man and trips up his humanity. A thing exists that is fuller, deafer, deeper, less good, less bad, less pretty. Yet that thing too runs the risk, in our coarse hands, of becoming transformed into "purity", our hands that are coarse and full of words. — Clarice Lispector
salvation is less like a good man becoming a saintly man than it is like a statue coming to life. — Louis Markos