Beautiful Scenery And Quotes & Sayings
Enjoy reading and share 31 famous quotes about Beautiful Scenery And with everyone.
Top Beautiful Scenery And Quotes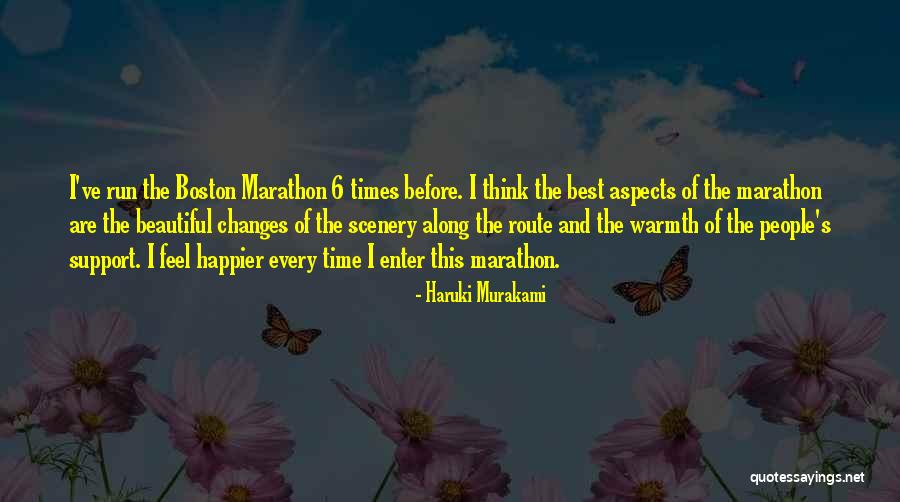 I've run the Boston Marathon 6 times before. I think the best aspects of the marathon are the beautiful changes of the scenery along the route and the warmth of the people's support. I feel happier every time I enter this marathon. — Haruki Murakami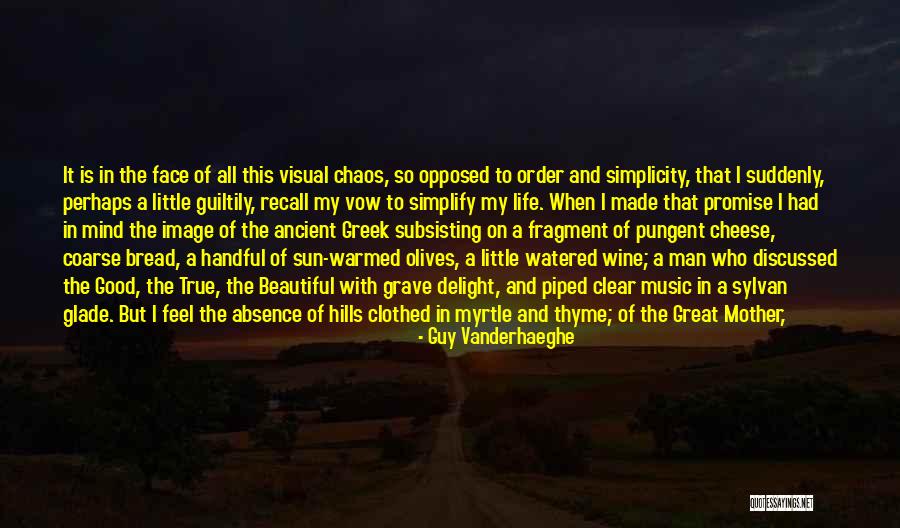 It is in the face of all this visual chaos, so opposed to order and simplicity, that I suddenly, perhaps a little guiltily, recall my vow to simplify my life. When I made that promise I had in mind the image of the ancient Greek subsisting on a fragment of pungent cheese, coarse bread, a handful of sun-warmed olives, a little watered wine; a man who discussed the Good, the True, the Beautiful with grave delight, and piped clear music in a sylvan glade. But I feel the absence of hills clothed in myrtle and thyme; of the Great Mother, Homer's wine-dark sea. Good resolutions, it seems, require good scenery. — Guy Vanderhaeghe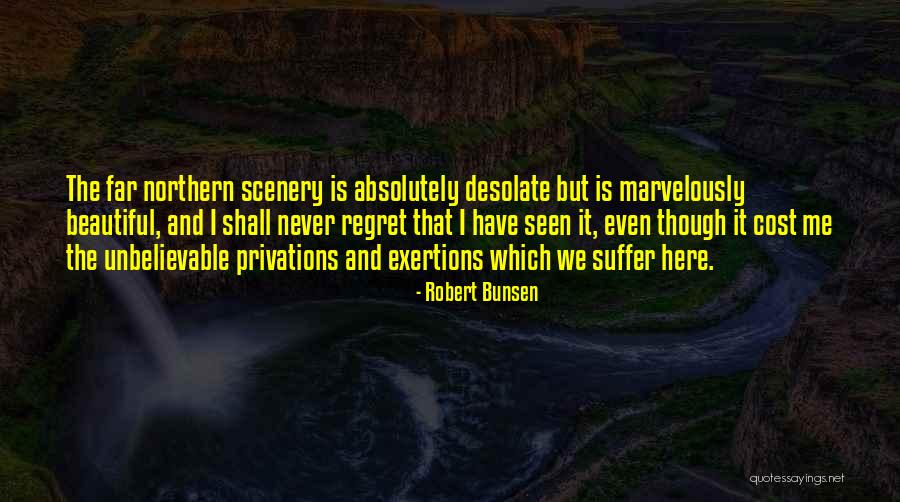 The far northern scenery is absolutely desolate but is marvelously beautiful, and I shall never regret that I have seen it, even though it cost me the unbelievable privations and exertions which we suffer here. — Robert Bunsen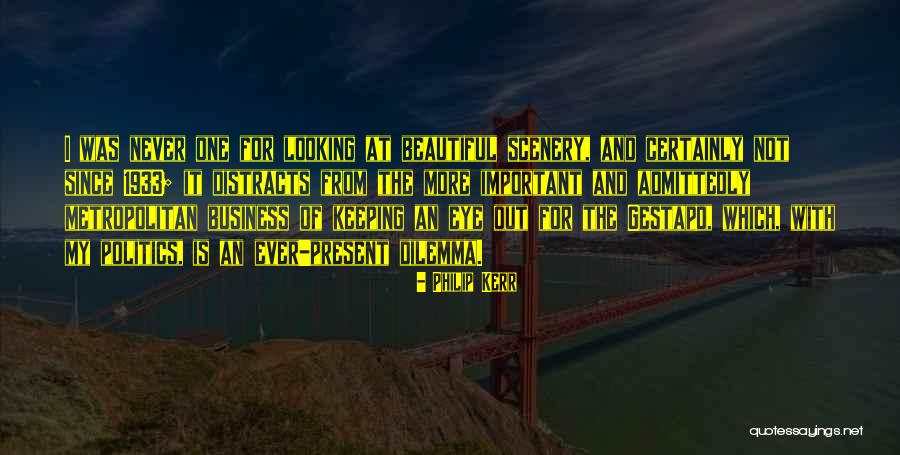 I was never one for looking at beautiful scenery, and certainly not since 1933; it distracts from the more important and admittedly metropolitan business of keeping an eye out for the Gestapo, which, with my politics, is an ever-present dilemma. — Philip Kerr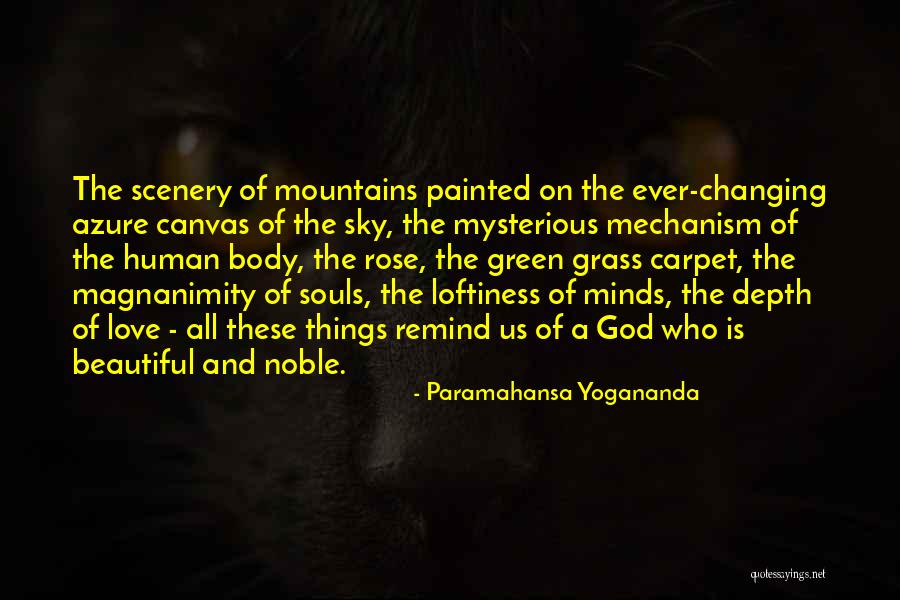 The scenery of mountains painted on the ever-changing azure canvas of the sky, the mysterious mechanism of the human body, the rose, the green grass carpet, the magnanimity of souls, the loftiness of minds, the depth of love - all these things remind us of a God who is beautiful and noble. — Paramahansa Yogananda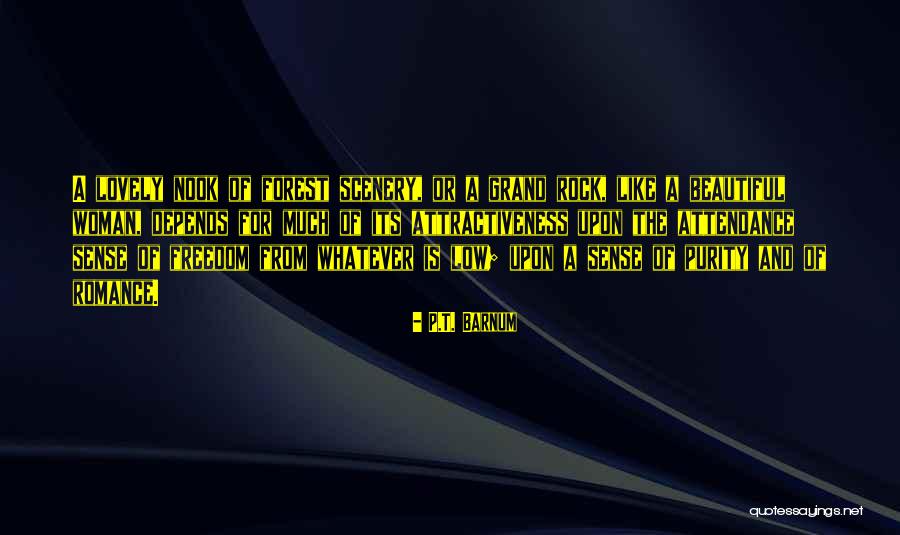 A lovely nook of forest scenery, or a grand rock, like a beautiful woman, depends for much of its attractiveness upon the attendance sense of freedom from whatever is low; upon a sense of purity and of romance. — P.T. Barnum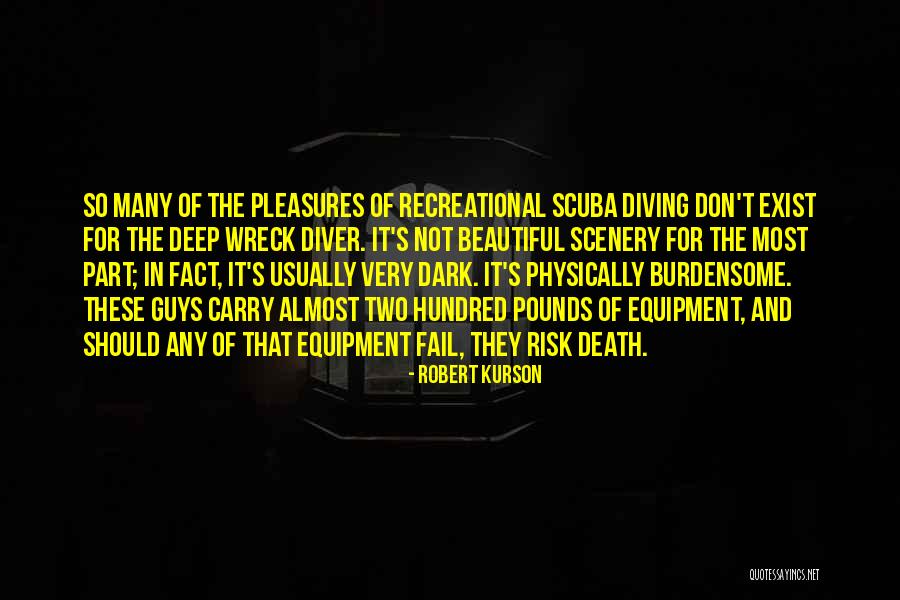 So many of the pleasures of recreational scuba diving don't exist for the deep wreck diver. It's not beautiful scenery for the most part; in fact, it's usually very dark. It's physically burdensome. These guys carry almost two hundred pounds of equipment, and should any of that equipment fail, they risk death. — Robert Kurson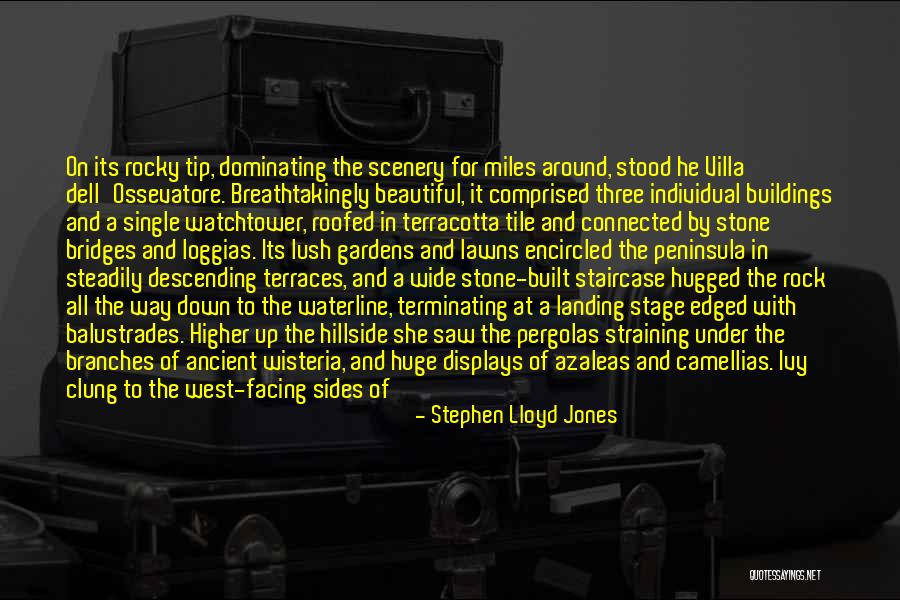 On its rocky tip, dominating the scenery for miles around, stood he Villa dell'Ossevatore. Breathtakingly beautiful, it comprised three individual buildings and a single watchtower, roofed in terracotta tile and connected by stone bridges and loggias. Its lush gardens and lawns encircled the peninsula in steadily descending terraces, and a wide stone-built staircase hugged the rock all the way down to the waterline, terminating at a landing stage edged with balustrades. Higher up the hillside she saw the pergolas straining under the branches of ancient wisteria, and huge displays of azaleas and camellias. Ivy clung to the west-facing sides of the buildings and curled among its statues. — Stephen Lloyd Jones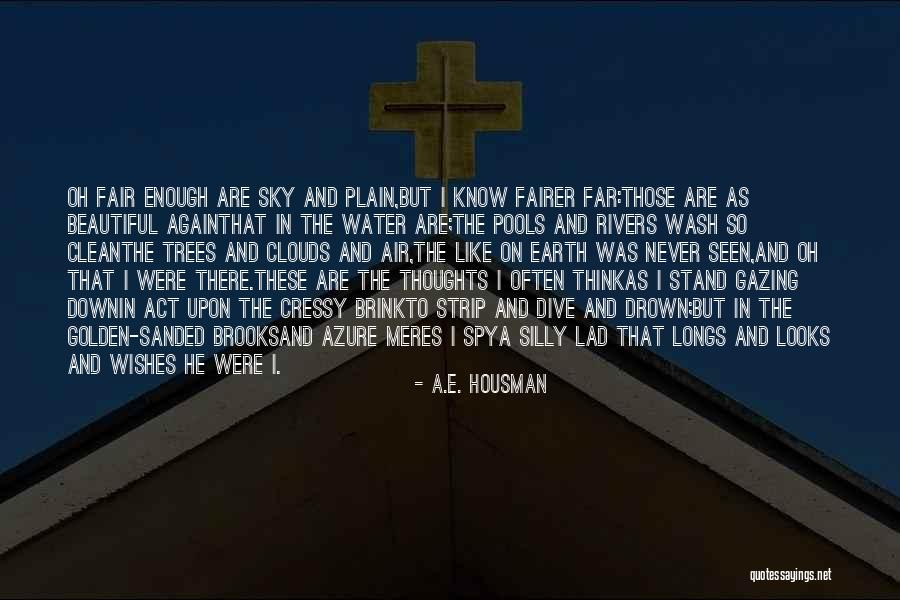 Oh fair enough are sky and plain,
But I know fairer far:
Those are as beautiful again
That in the water are;
The pools and rivers wash so clean
The trees and clouds and air,
The like on earth was never seen,
And oh that I were there.
These are the thoughts I often think
As I stand gazing down
In act upon the cressy brink
To strip and dive and drown;
But in the golden-sanded brooks
And azure meres I spy
A silly lad that longs and looks
And wishes he were I. — A.E. Housman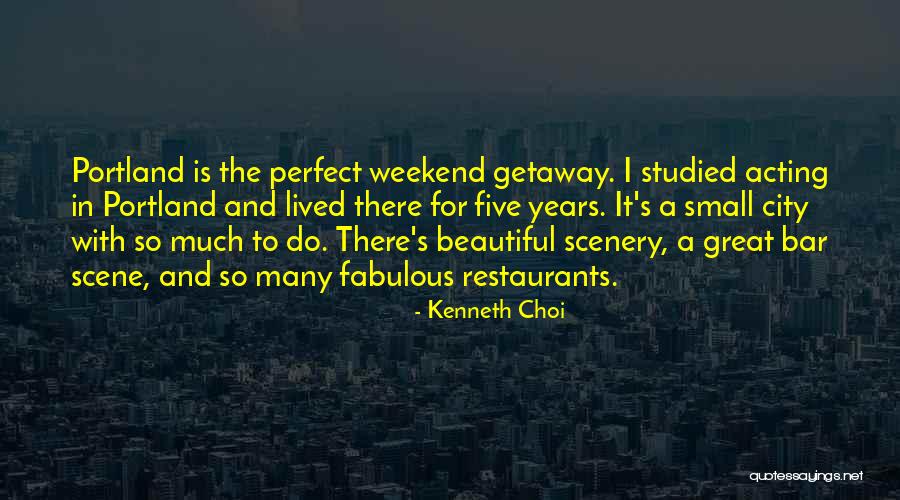 Portland is the perfect weekend getaway. I studied acting in Portland and lived there for five years. It's a small city with so much to do. There's beautiful scenery, a great bar scene, and so many fabulous restaurants. — Kenneth Choi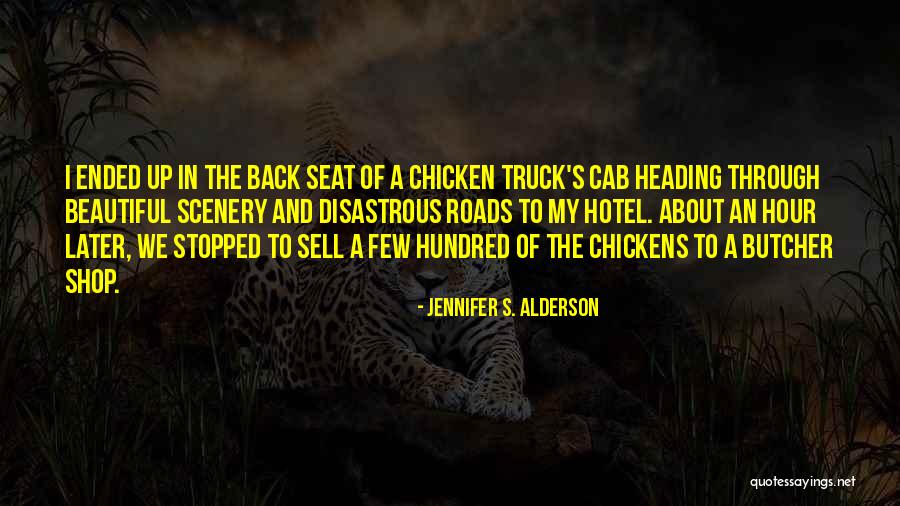 I ended up in the back seat of a chicken truck's cab heading through beautiful scenery and disastrous roads to my hotel. About an hour later, we stopped to sell a few hundred of the chickens to a butcher shop. — Jennifer S. Alderson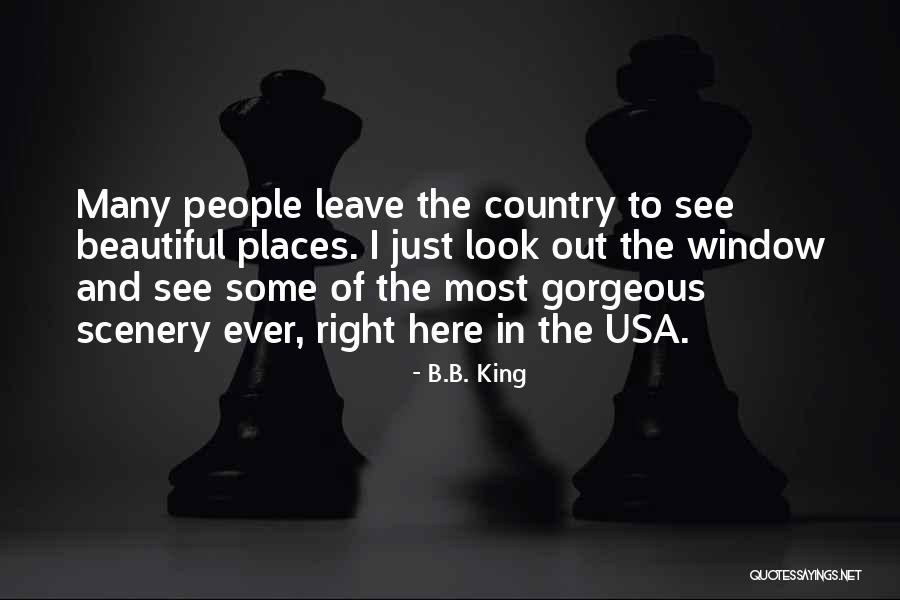 Many people leave the country to see beautiful places. I just look out the window and see some of the most gorgeous scenery ever, right here in the USA. — B.B. King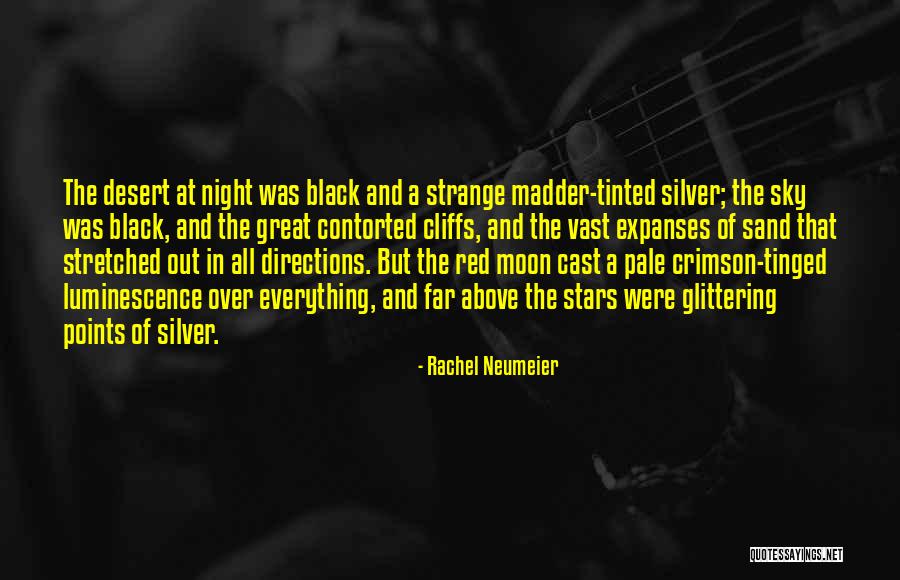 The desert at night was black and a strange madder-tinted silver; the sky was black, and the great contorted cliffs, and the vast expanses of sand that stretched out in all directions. But the red moon cast a pale crimson-tinged luminescence over everything, and far above the stars were glittering points of silver. — Rachel Neumeier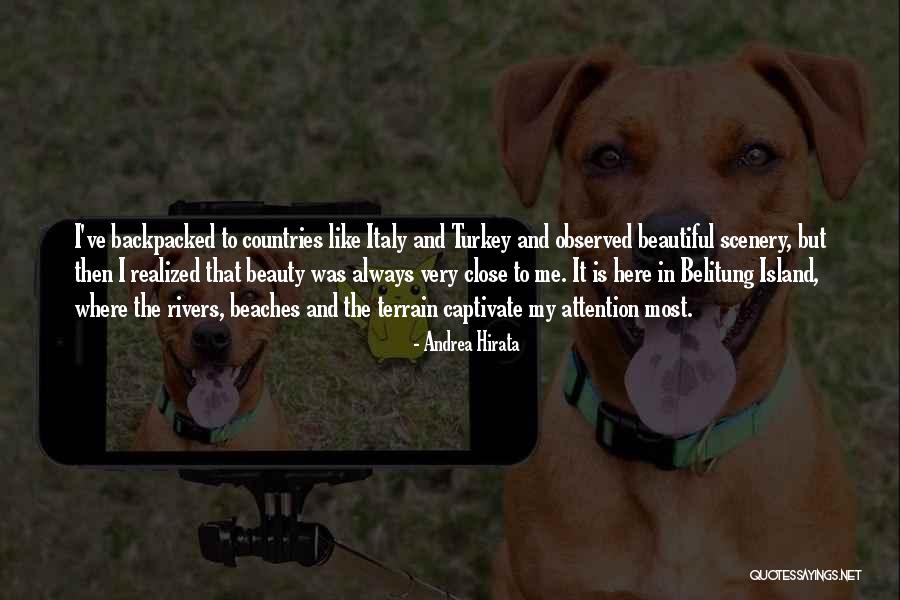 I've backpacked to countries like Italy and Turkey and observed beautiful scenery, but then I realized that beauty was always very close to me. It is here in Belitung Island, where the rivers, beaches and the terrain captivate my attention most. — Andrea Hirata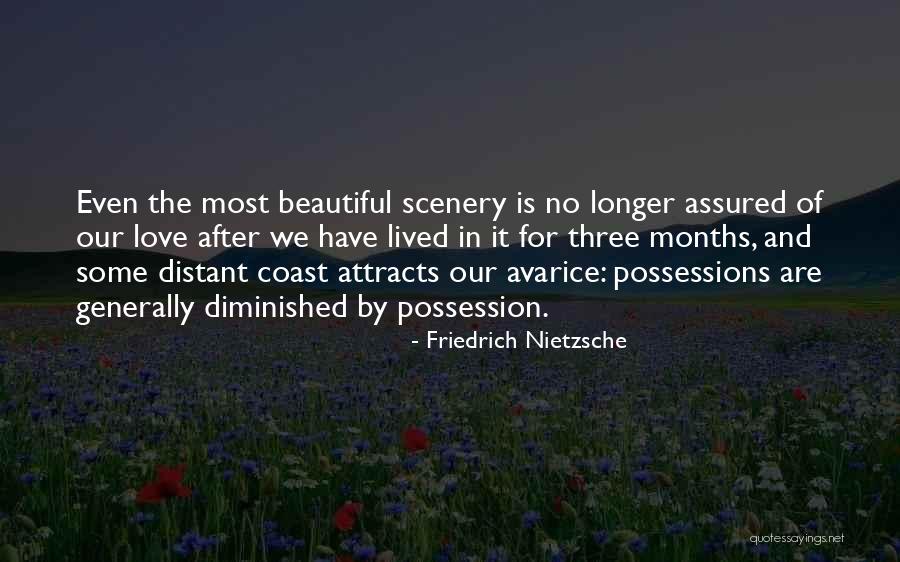 Even the most beautiful scenery is no longer assured of our love after we have lived in it for three months, and some distant coast attracts our avarice: possessions are generally diminished by possession. — Friedrich Nietzsche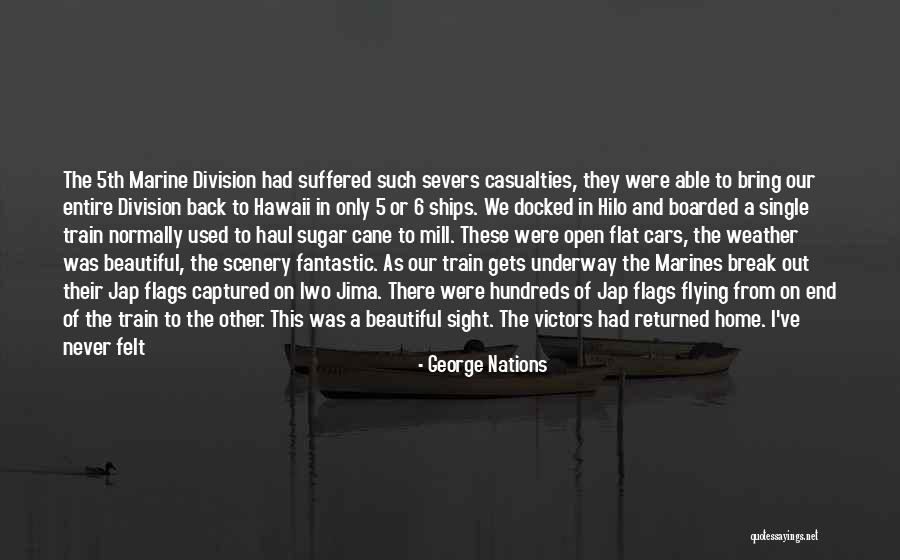 The 5th Marine Division had suffered such severs casualties, they were able to bring our entire Division back to Hawaii in only 5 or 6 ships. We docked in Hilo and boarded a single train normally used to haul sugar cane to mill. These were open flat cars, the weather was beautiful, the scenery fantastic. As our train gets underway the Marines break out their Jap flags captured on Iwo Jima. There were hundreds of Jap flags flying from on end of the train to the other. This was a beautiful sight. The victors had returned home. I've never felt so proud to be a part of anything like this before in my life. There were no spectators, no one watching us, no crowd, no cheering, no band, only the remainder of a proud 5th Marine Division returning home. For some reason I preferred it this way, no one could understand our feelings at this time. — George Nations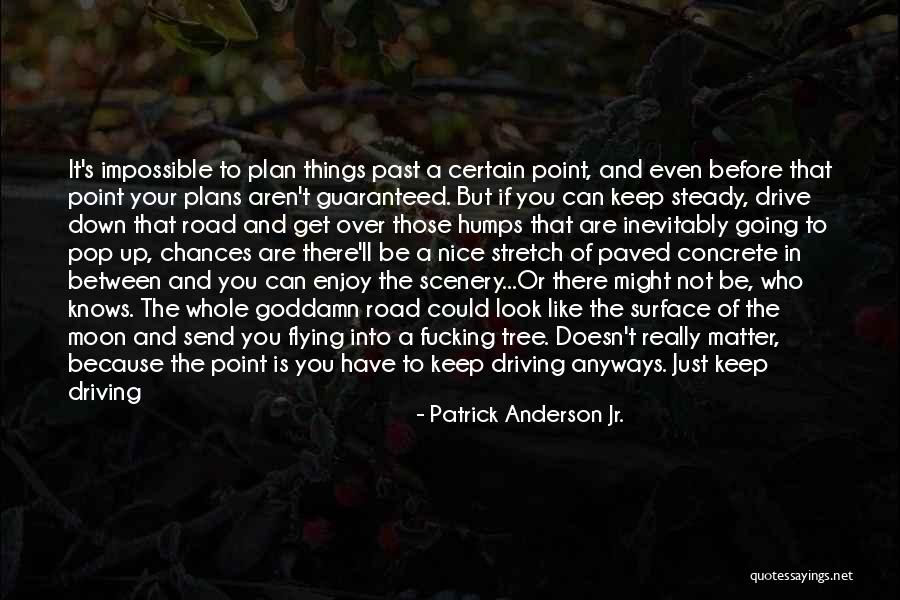 It's impossible to plan things past a certain point, and even before that point your plans aren't guaranteed. But if you can keep steady, drive down that road and get over those humps that are inevitably going to pop up, chances are there'll be a nice stretch of paved concrete in between and you can enjoy the scenery...Or there might not be, who knows. The whole goddamn road could look like the surface of the moon and send you flying into a fucking tree. Doesn't really matter, because the point is you have to keep driving anyways. Just keep driving and eventually you'll reach a point where the scenery will be so beautiful, it'll take your mind off how long you've been on that road.
Which is really all you can ask for. — Patrick Anderson Jr.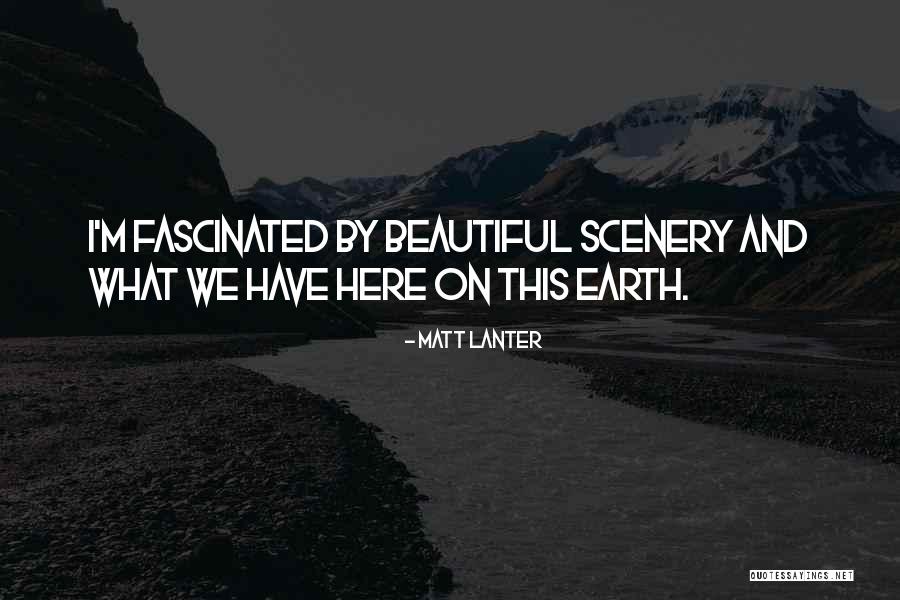 I'm fascinated by beautiful scenery and what we have here on this Earth. — Matt Lanter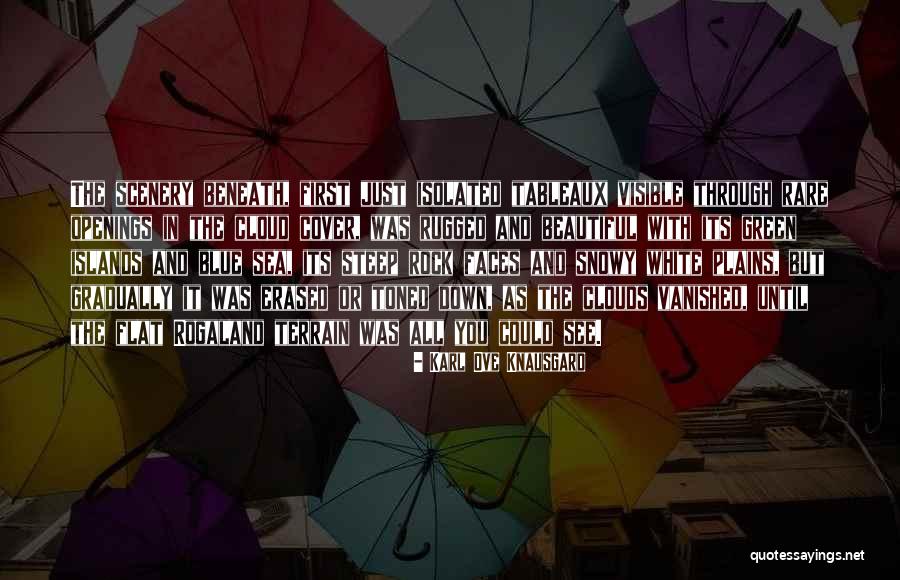 The scenery beneath, first just isolated tableaux visible through rare openings in the cloud cover, was rugged and beautiful with its green islands and blue sea, its steep rock faces and snowy white plains, but gradually it was erased or toned down, as the clouds vanished, until the flat Rogaland terrain was all you could see. — Karl Ove Knausgard
While I'm in L.A. I always make time for my favorite activity which is hiking. The trails in California are amazing, as they are always challenging, and I never get bored from all the beautiful scenery. — Dylan Lauren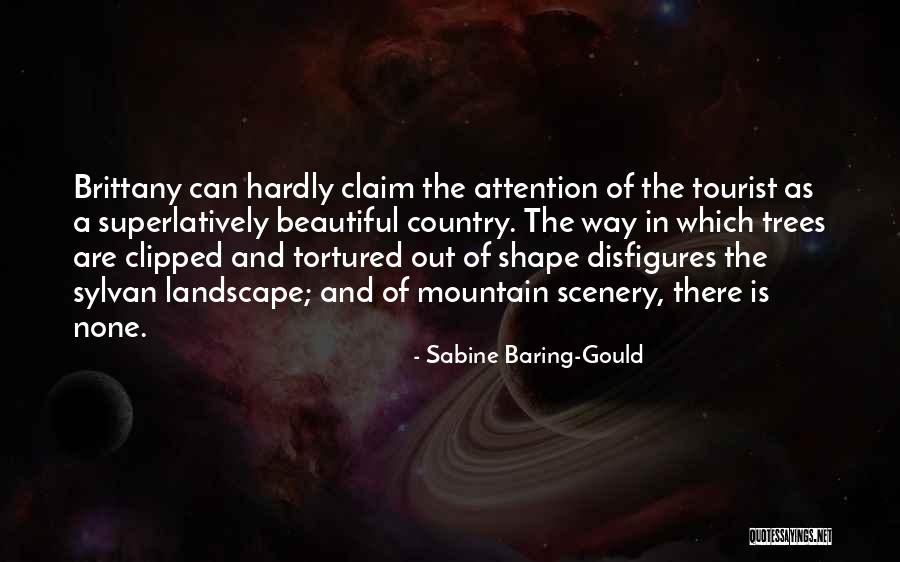 Brittany can hardly claim the attention of the tourist as a superlatively beautiful country. The way in which trees are clipped and tortured out of shape disfigures the sylvan landscape; and of mountain scenery, there is none. — Sabine Baring-Gould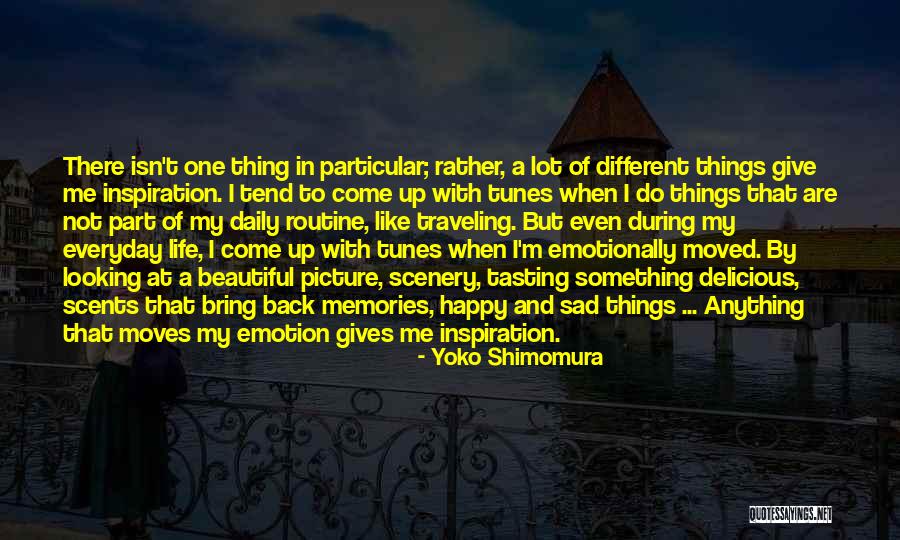 There isn't one thing in particular; rather, a lot of different things give me inspiration. I tend to come up with tunes when I do things that are not part of my daily routine, like traveling. But even during my everyday life, I come up with tunes when I'm emotionally moved. By looking at a beautiful picture, scenery, tasting something delicious, scents that bring back memories, happy and sad things ... Anything that moves my emotion gives me inspiration. — Yoko Shimomura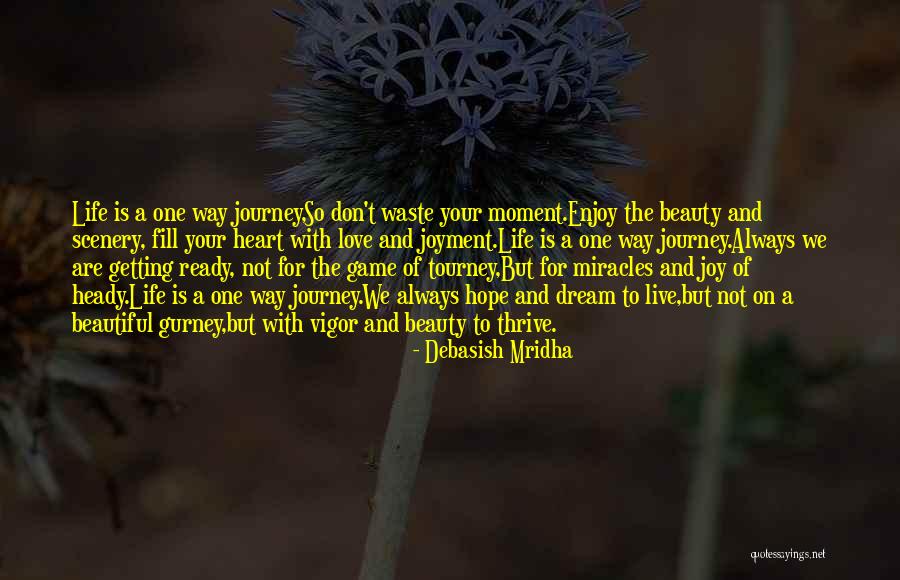 Life is a one way journey,
So don't waste your moment.
Enjoy the beauty and scenery,
fill your heart with love and joyment.
Life is a one way journey.
Always we are getting ready,
not for the game of tourney,
But for miracles and joy of heady.
Life is a one way journey.
We always hope and dream to live,
but not on a beautiful gurney,
but with vigor and beauty to thrive. — Debasish Mridha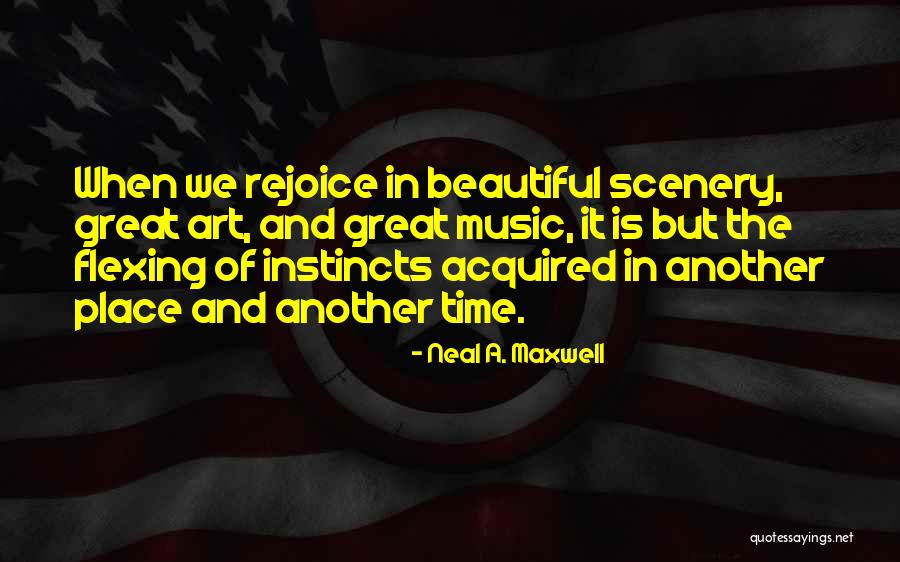 When we rejoice in beautiful scenery, great art, and great music, it is but the flexing of instincts acquired in another place and another time. — Neal A. Maxwell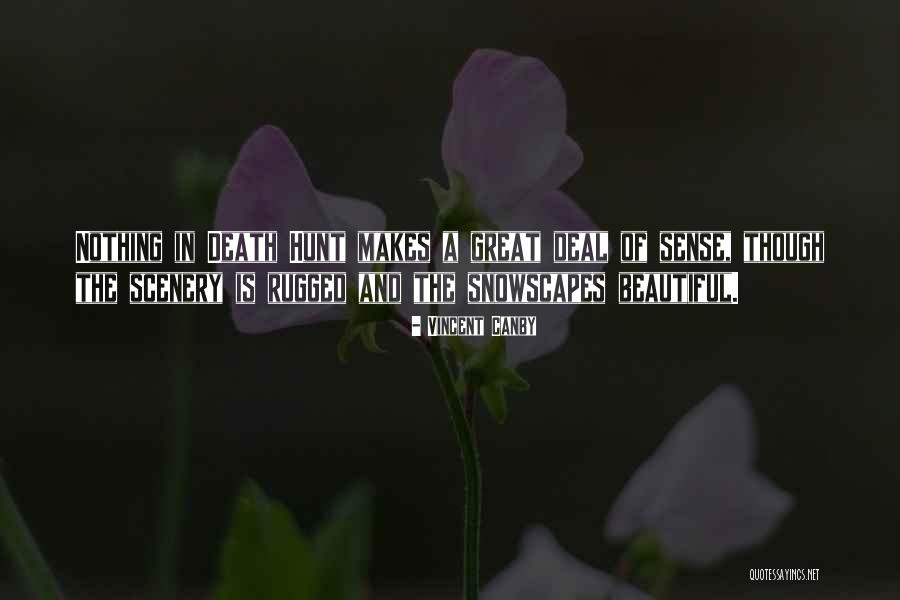 Nothing in Death Hunt makes a great deal of sense, though the scenery is rugged and the snowscapes beautiful. — Vincent Canby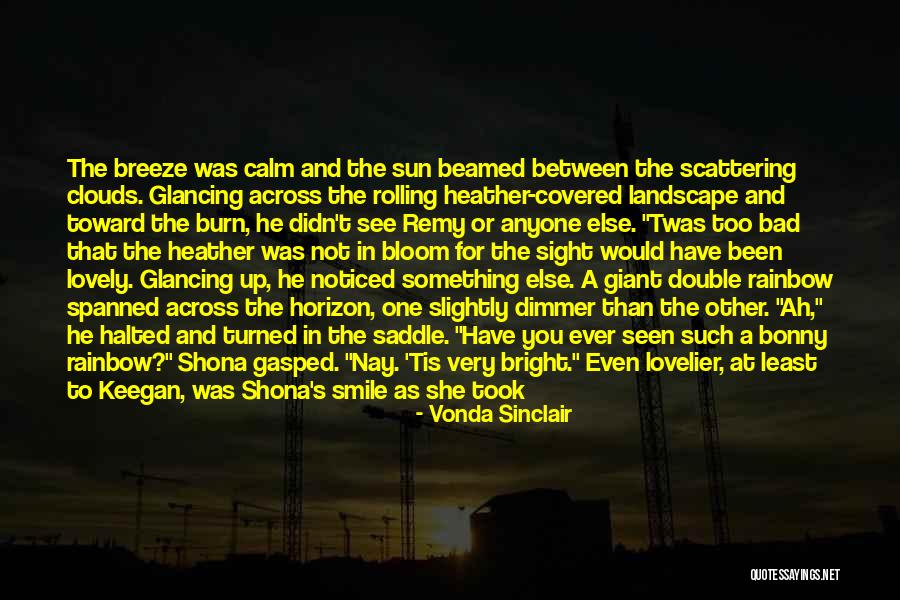 The breeze was calm and the sun beamed between the scattering clouds. Glancing across the rolling heather-covered landscape and toward the burn, he didn't see Remy or anyone else. "Twas too bad that the heather was not in bloom for the sight would have been lovely. Glancing up, he noticed something else. A giant double rainbow spanned across the horizon, one slightly dimmer than the other.
"Ah," he halted and turned in the saddle. "Have you ever seen such a bonny rainbow?"
Shona gasped. "Nay. 'Tis very bright."
Even lovelier, at least to Keegan, was Shona's smile as she took in the scenery. She was so beautiful, his chest ached. Yet, he knew not how he was going to keep her in his life so that he might see her smile every day. — Vonda Sinclair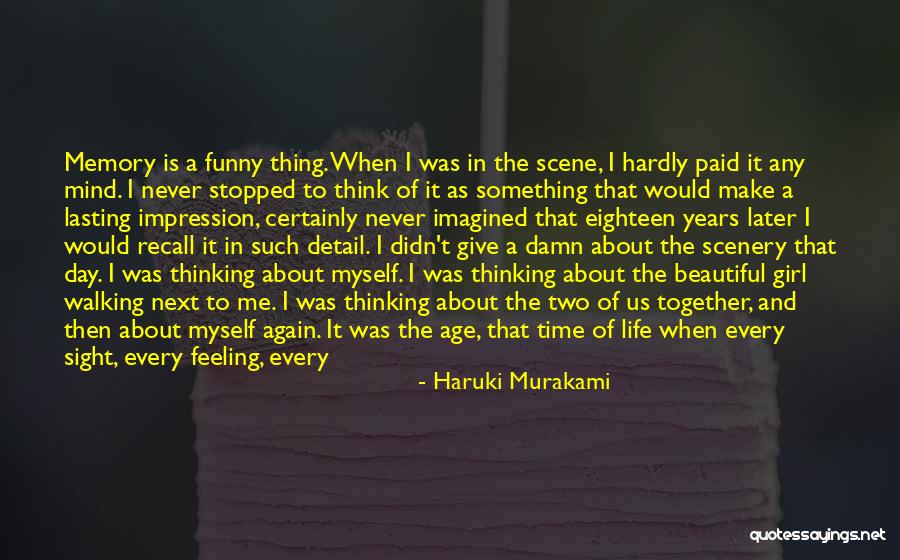 Memory is a funny thing. When I was in the scene, I hardly paid it any mind. I never stopped to think of it as something that would make a lasting impression, certainly never imagined that eighteen years later I would recall it in such detail. I didn't give a damn about the scenery that day. I was thinking about myself. I was thinking about the beautiful girl walking next to me. I was thinking about the two of us together, and then about myself again. It was the age, that time of life when every sight, every feeling, every thought came back, like a boomerang, to me. And worse, I was in love. Love with complications. The scenery was the last thing on my mind. — Haruki Murakami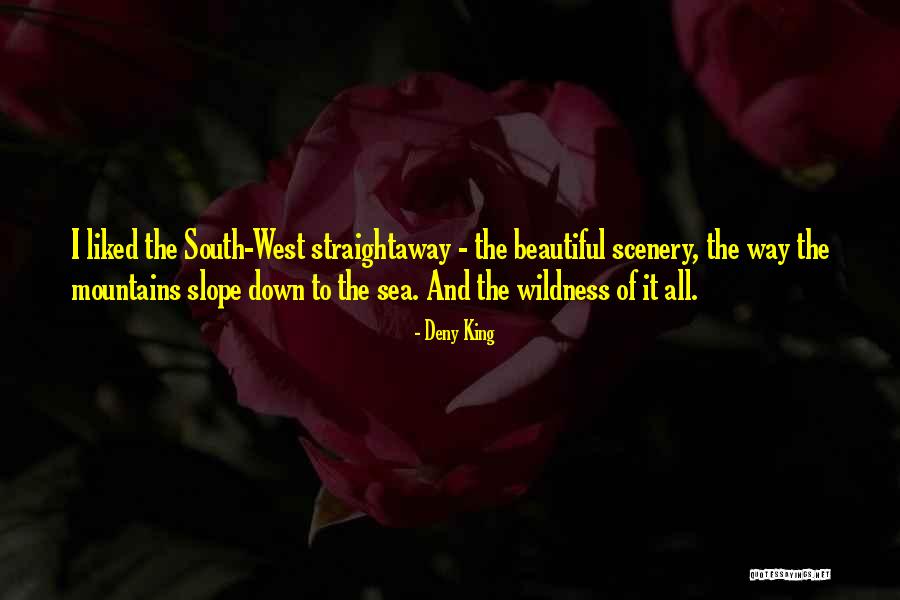 I liked the South-West straightaway - the beautiful scenery, the way the mountains slope down to the sea. And the wildness of it all. — Deny King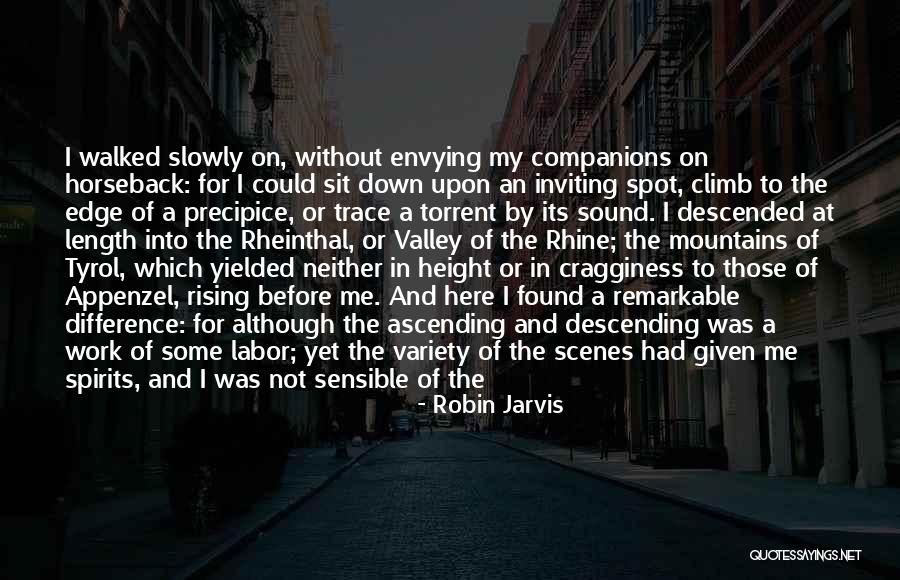 I walked slowly on, without envying my companions on horseback: for I could sit down upon an inviting spot, climb to the edge of a precipice, or trace a torrent by its sound. I descended at length into the Rheinthal, or Valley of the Rhine; the mountains of Tyrol, which yielded neither in height or in cragginess to those of Appenzel, rising before me. And here I found a remarkable difference: for although the ascending and descending was a work of some labor; yet the variety of the scenes had given me spirits, and I was not sensible of the least fatigue. But in the plain, notwithstanding the scenery was still beautiful and picturesque, I saw at once the whole way stretching before me, and had no room for fresh expectations: I was not therefore displeased when I arrived at Oberried, after a walk of about twelve miles, my coat flung upon my shoulder like a peripatetic by profession.
-William Coxe — Robin Jarvis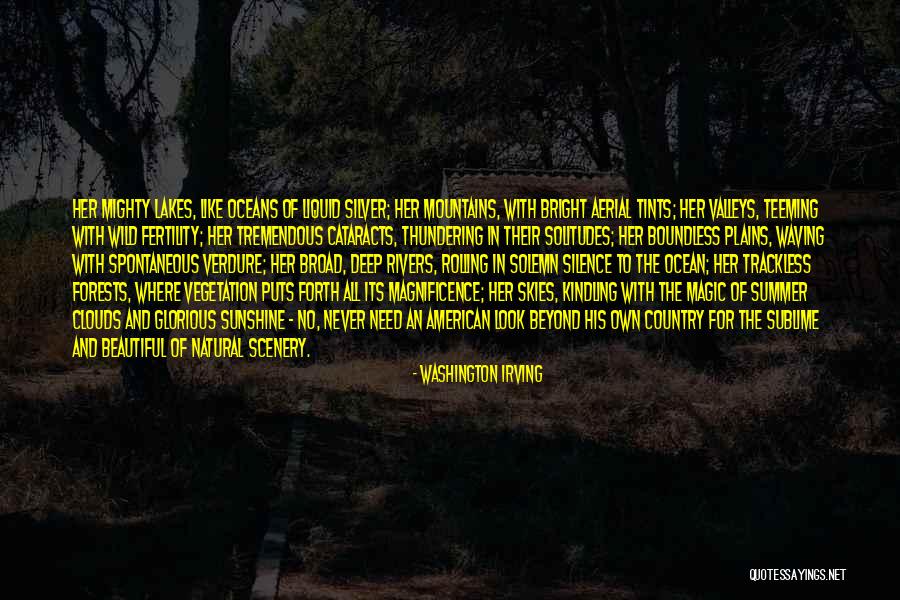 Her mighty lakes, like oceans of liquid silver; her mountains, with bright aerial tints; her valleys, teeming with wild fertility; her tremendous cataracts, thundering in their solitudes; her boundless plains, waving with spontaneous verdure; her broad, deep rivers, rolling in solemn silence to the ocean; her trackless forests, where vegetation puts forth all its magnificence; her skies, kindling with the magic of summer clouds and glorious sunshine - no, never need an American look beyond his own country for the sublime and beautiful of natural scenery. — Washington Irving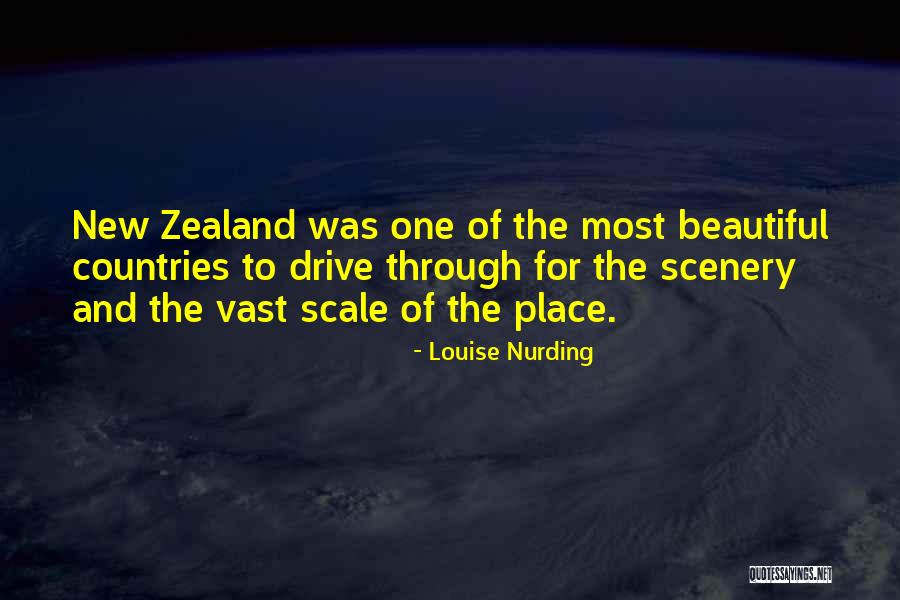 New Zealand was one of the most beautiful countries to drive through for the scenery and the vast scale of the place. — Louise Nurding