Quotes & Sayings About Authentic Leadership
Enjoy reading and share 43 famous quotes about Authentic Leadership with everyone.
Top Authentic Leadership Quotes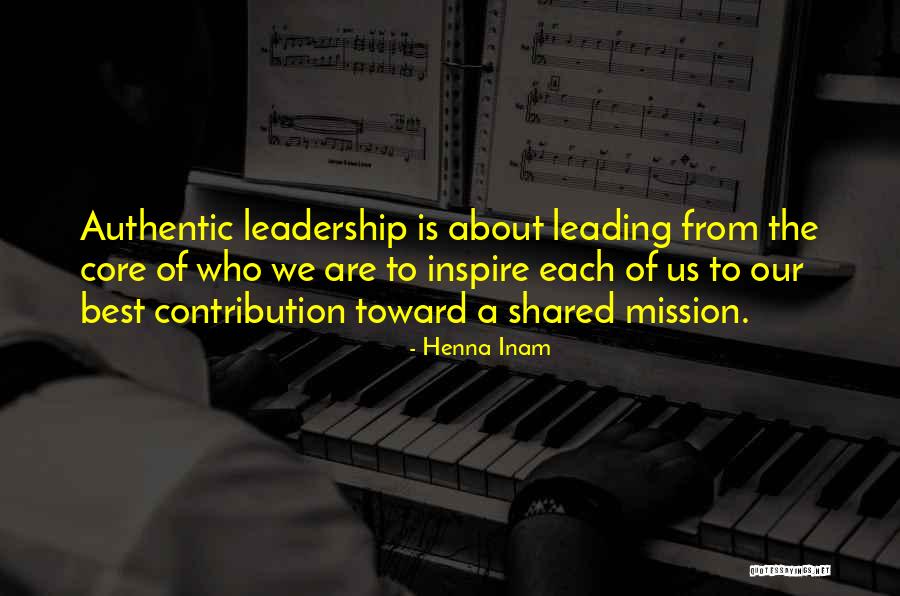 Authentic leadership is about leading from the core of who we are to inspire each of us to our best contribution toward a shared mission. — Henna Inam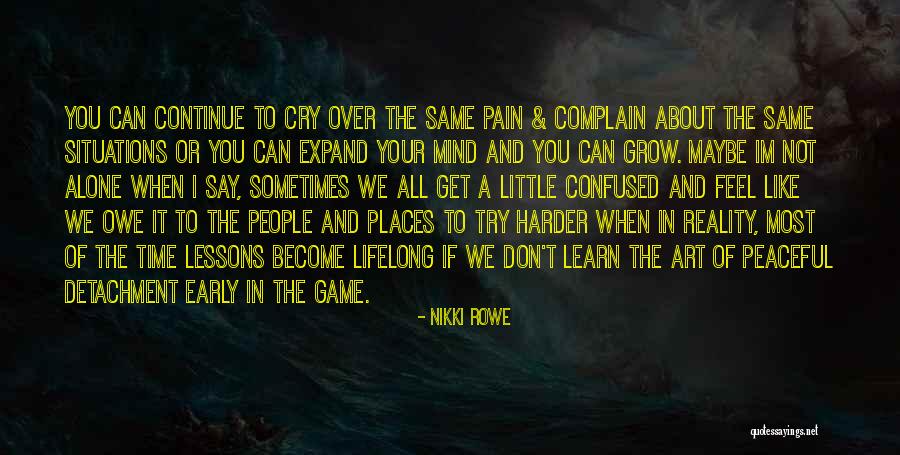 You can continue to cry over the same pain & complain about the same situations or you can expand your mind and you can grow. Maybe im not alone when I say, sometimes we all get a little confused and feel like we owe it to the people and places to try harder when in reality, most of the time lessons become lifelong if we don't learn the art of peaceful detachment early in the game. — Nikki Rowe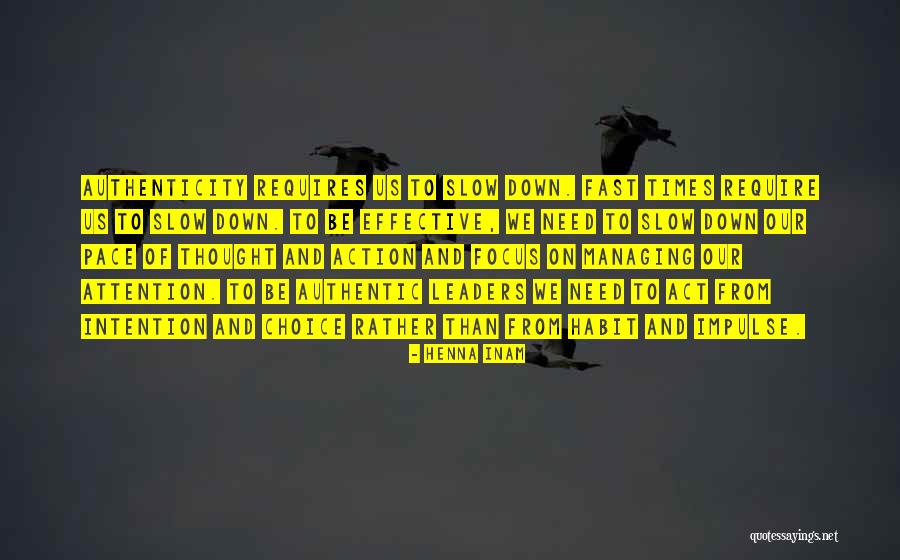 Authenticity requires us to slow down. Fast times require us to slow down. To be effective, we need to slow down our pace of thought and action and focus on managing our attention. To be authentic leaders we need to act from intention and choice rather than from habit and impulse. — Henna Inam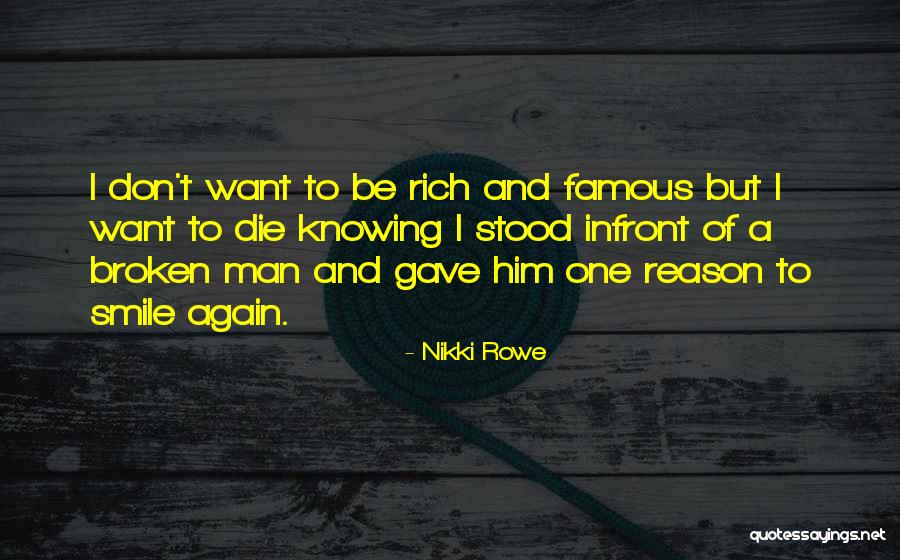 I don't want to be rich and famous but I want to die knowing I stood infront of a broken man and gave him one reason to smile again. — Nikki Rowe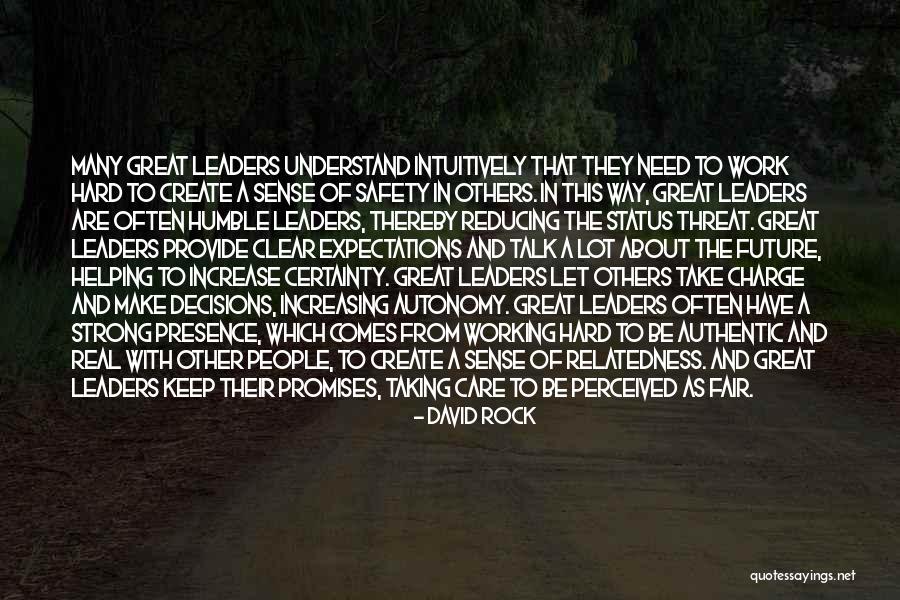 Many great leaders understand intuitively that they need to work hard to create a sense of safety in others. In this way, great leaders are often humble leaders, thereby reducing the status threat. Great leaders provide clear expectations and talk a lot about the future, helping to increase certainty. Great leaders let others take charge and make decisions, increasing autonomy. Great leaders often have a strong presence, which comes from working hard to be authentic and real with other people, to create a sense of relatedness. And great leaders keep their promises, taking care to be perceived as fair. — David Rock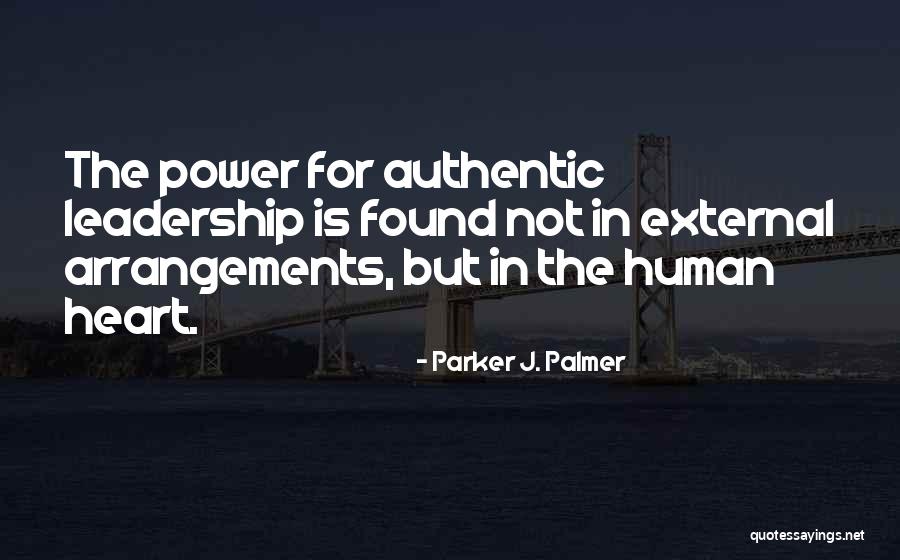 The power for authentic leadership is found not in external arrangements, but in the human heart. — Parker J. Palmer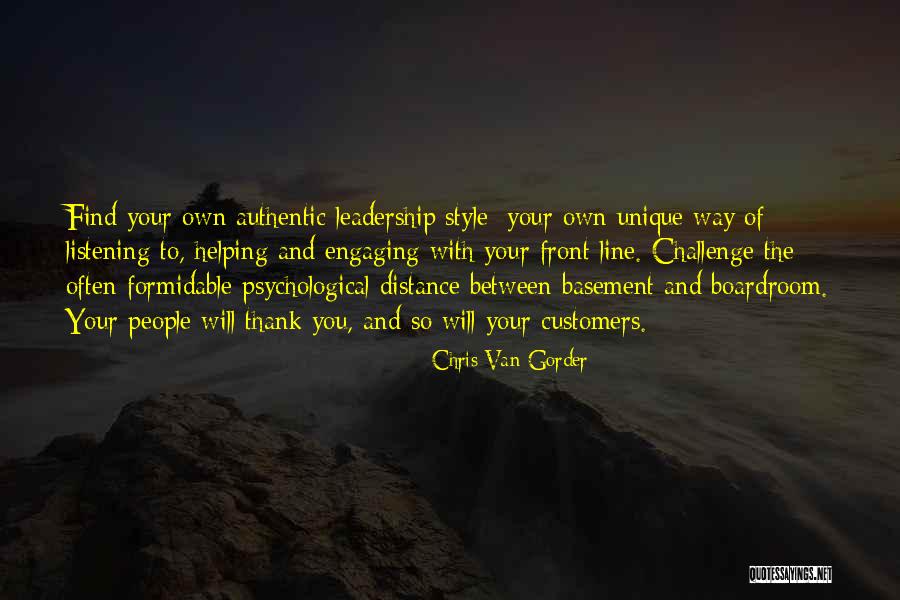 Find your own authentic leadership style; your own unique way of listening to, helping and engaging with your front line. Challenge the often formidable psychological distance between basement and boardroom. Your people will thank you, and so will your customers. — Chris Van Gorder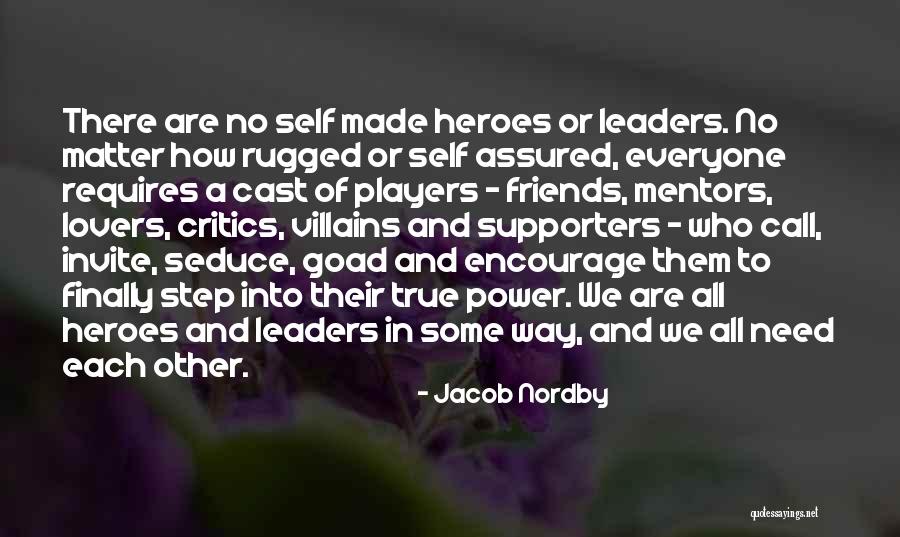 There are no self made heroes or leaders. No matter how rugged or self assured, everyone requires a cast of players - friends, mentors, lovers, critics, villains and supporters - who call, invite, seduce, goad and encourage them to finally step into their true power.
We are all heroes and leaders in some way, and we all need each other. — Jacob Nordby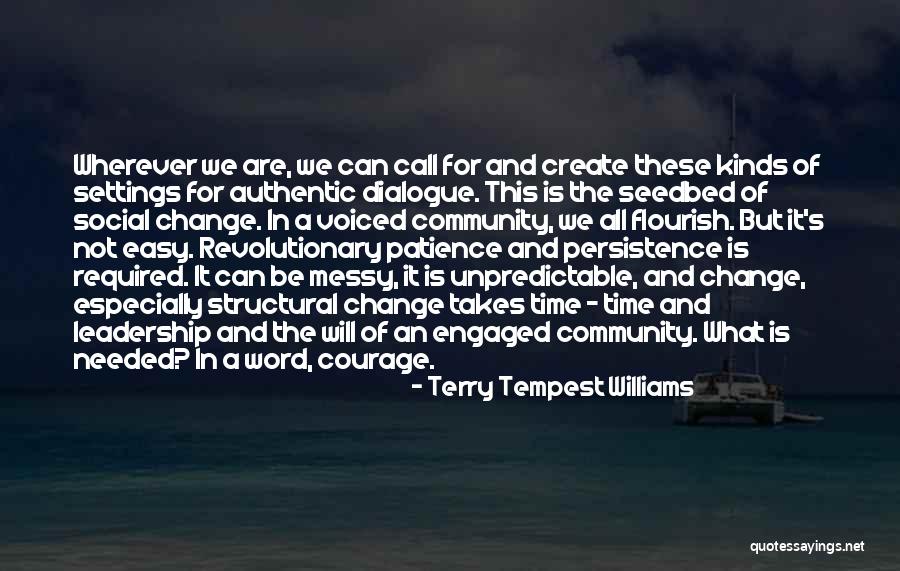 Wherever we are, we can call for and create these kinds of settings for authentic dialogue. This is the seedbed of social change. In a voiced community, we all flourish. But it's not easy. Revolutionary patience and persistence is required. It can be messy, it is unpredictable, and change, especially structural change takes time - time and leadership and the will of an engaged community. What is needed? In a word, courage. — Terry Tempest Williams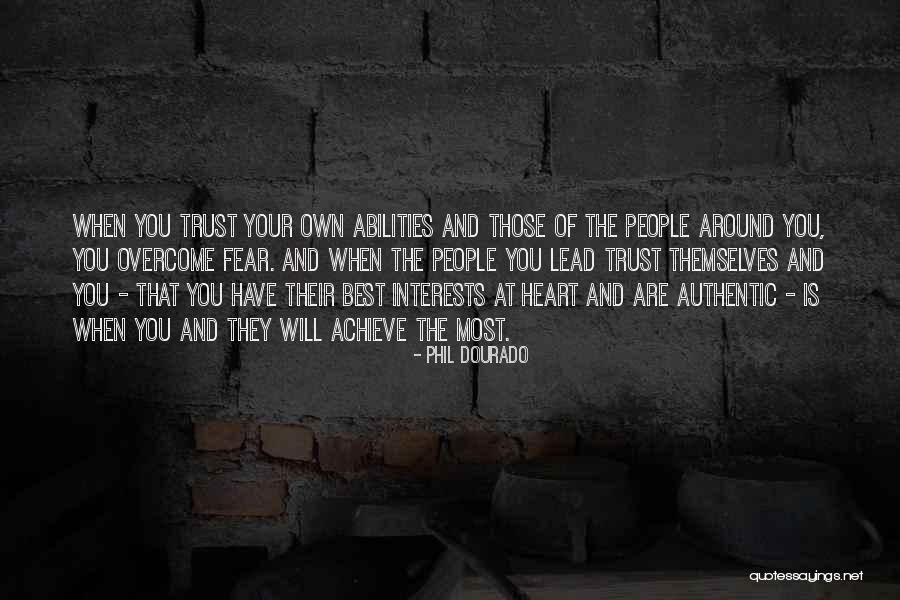 When you trust your own abilities and those of the people around you, you overcome fear. And when the people you lead trust themselves and you - that you have their best interests at heart and are authentic - is when you and they will achieve the most. — Phil Dourado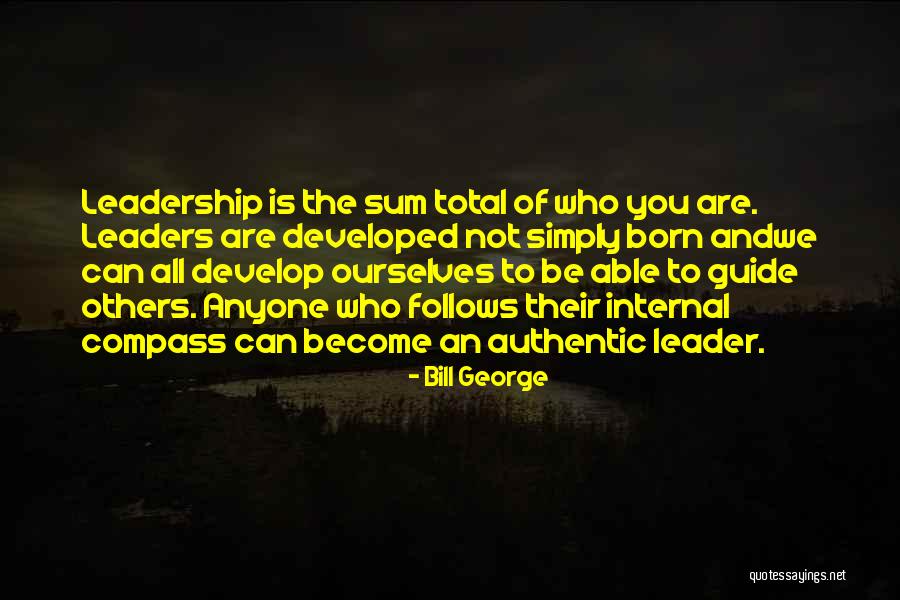 Leadership is the sum total of who you are. Leaders are developed not simply born and
we can all develop ourselves to be able to guide others. Anyone who follows their internal
compass can become an authentic leader. — Bill George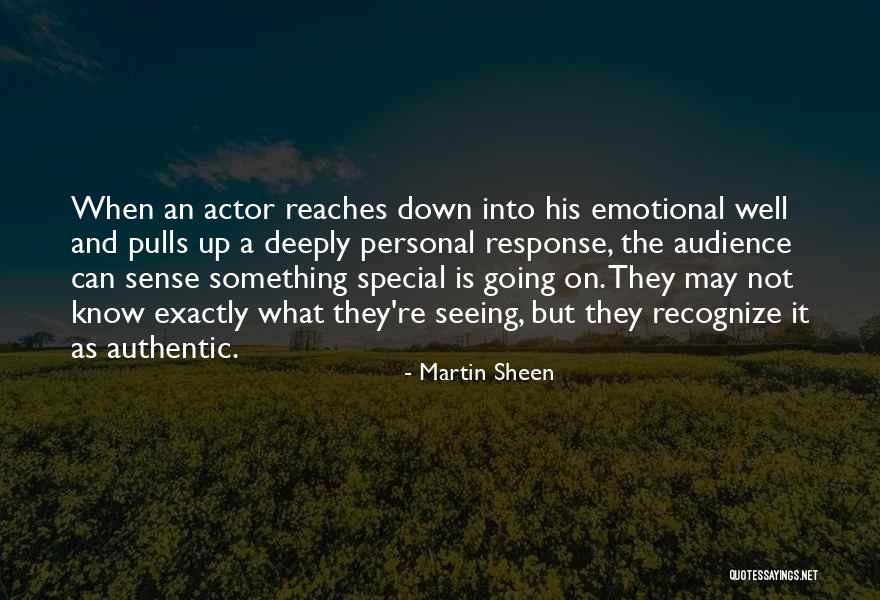 When an actor reaches down into his emotional well and pulls up a deeply personal response, the audience can sense something special is going on. They may not know exactly what they're seeing, but they recognize it as authentic. — Martin Sheen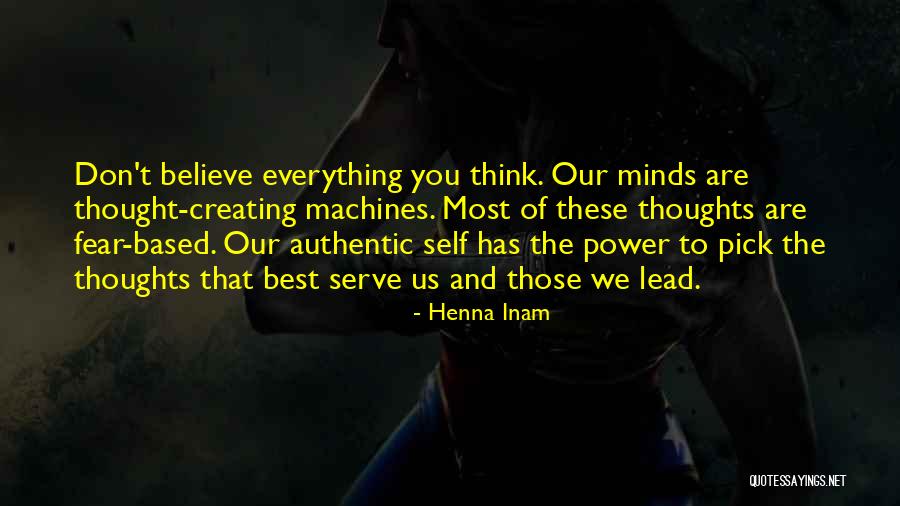 Don't believe everything you think. Our minds are thought-creating machines. Most of these thoughts are fear-based. Our authentic self has the power to pick the thoughts that best serve us and those we lead. — Henna Inam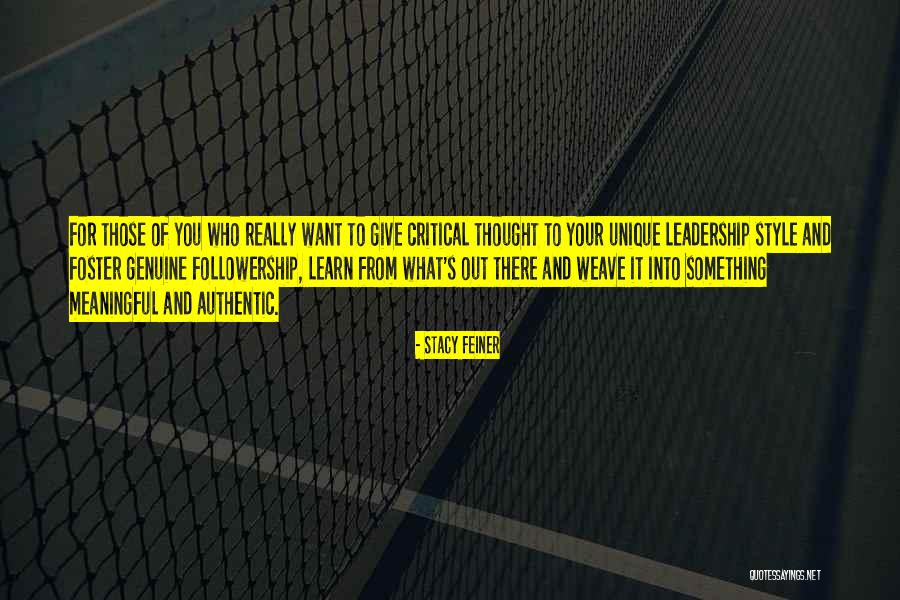 For those of you who really want to give critical thought to your unique leadership style and foster genuine followership, learn from what's out there and weave it into something meaningful and authentic. — Stacy Feiner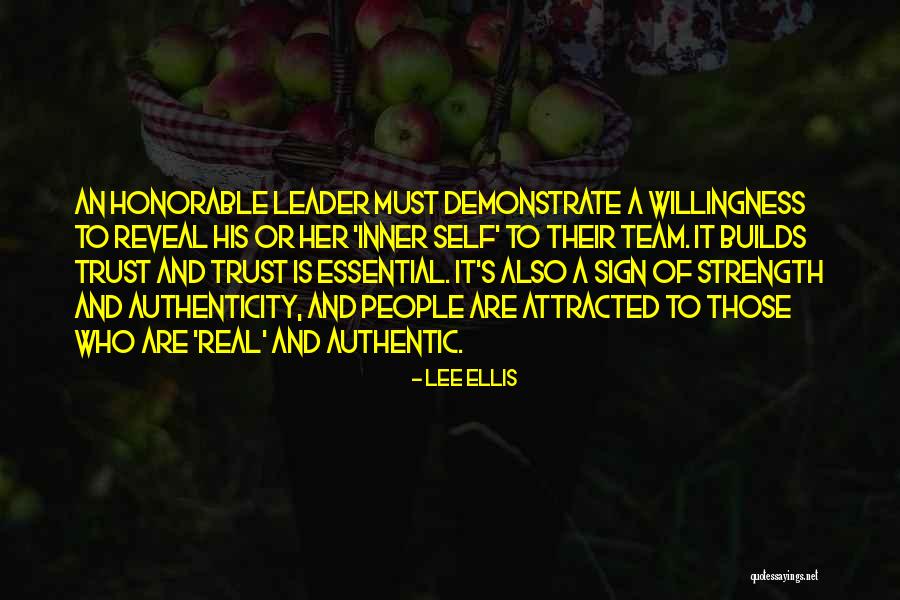 An honorable leader must demonstrate a willingness to reveal his or her 'inner self' to their team. It builds trust and trust is essential. It's also a sign of strength and authenticity, and people are attracted to those who are 'real' and authentic. — Lee Ellis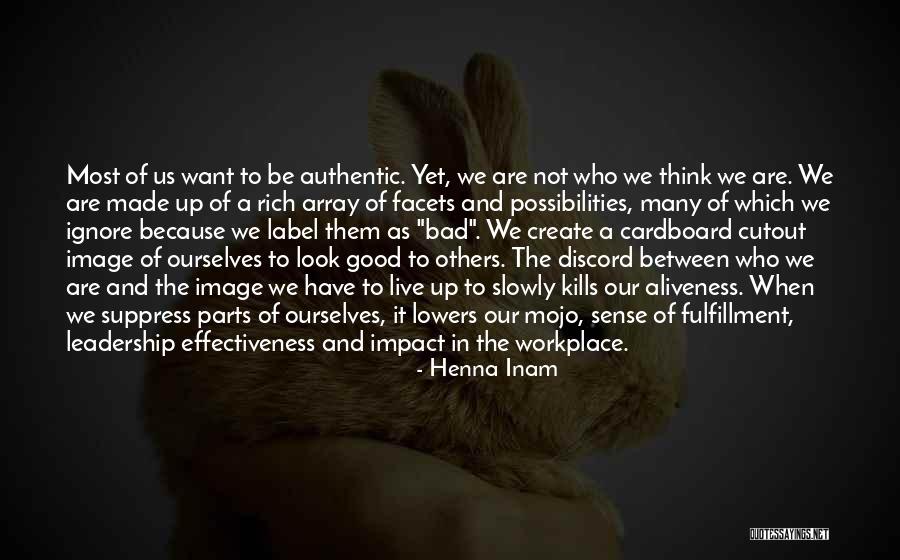 Most of us want to be authentic. Yet, we are not who we think we are. We are made up of a rich array of facets and possibilities, many of which we ignore because we label them as "bad". We create a cardboard cutout image of ourselves to look good to others. The discord between who we are and the image we have to live up to slowly kills our aliveness. When we suppress parts of ourselves, it lowers our mojo, sense of fulfillment, leadership effectiveness and impact in the workplace. — Henna Inam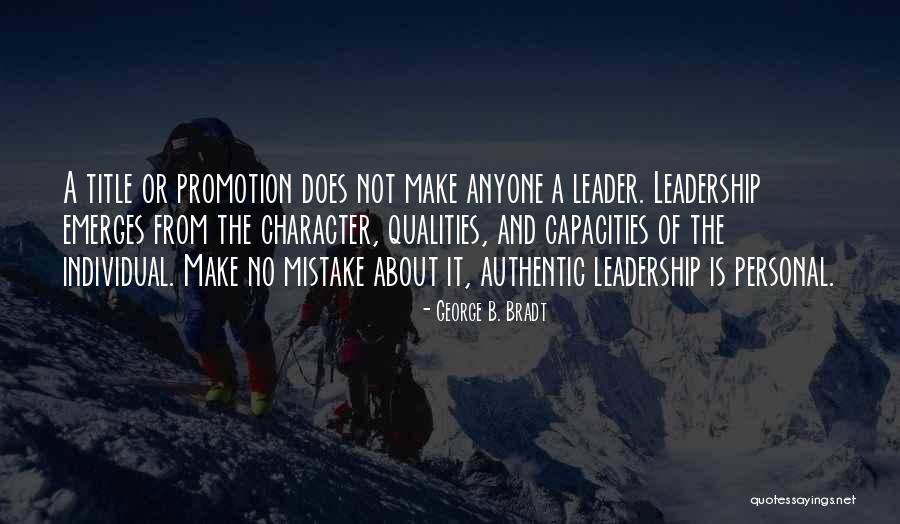 A title or promotion does not make anyone a leader. Leadership emerges from the character, qualities, and capacities of the individual. Make no mistake about it, authentic leadership is personal. — George B. Bradt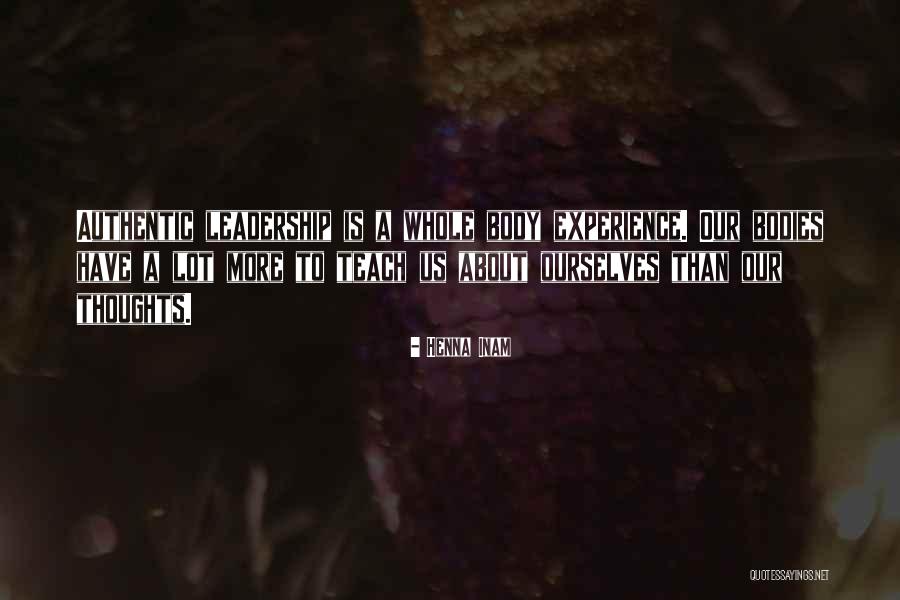 Authentic leadership is a whole body experience. Our bodies have a lot more to teach us about ourselves than our thoughts. — Henna Inam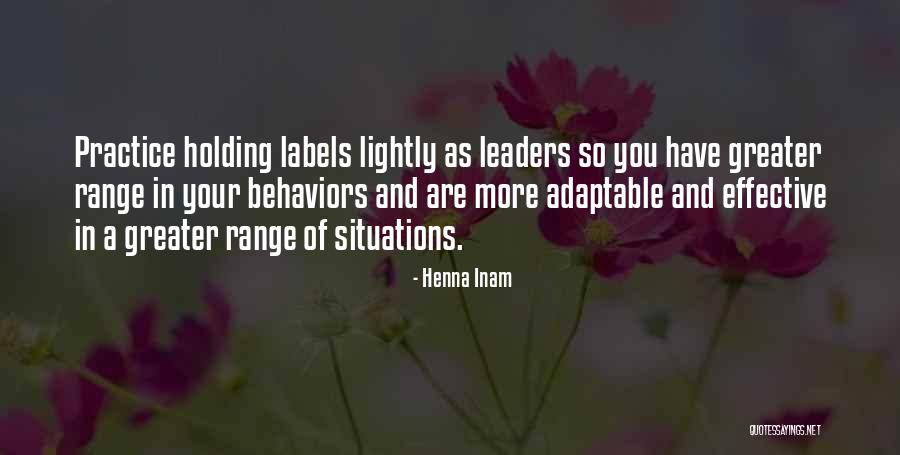 Practice holding labels lightly as leaders so you have greater range in your behaviors and are more adaptable and effective in a greater range of situations. — Henna Inam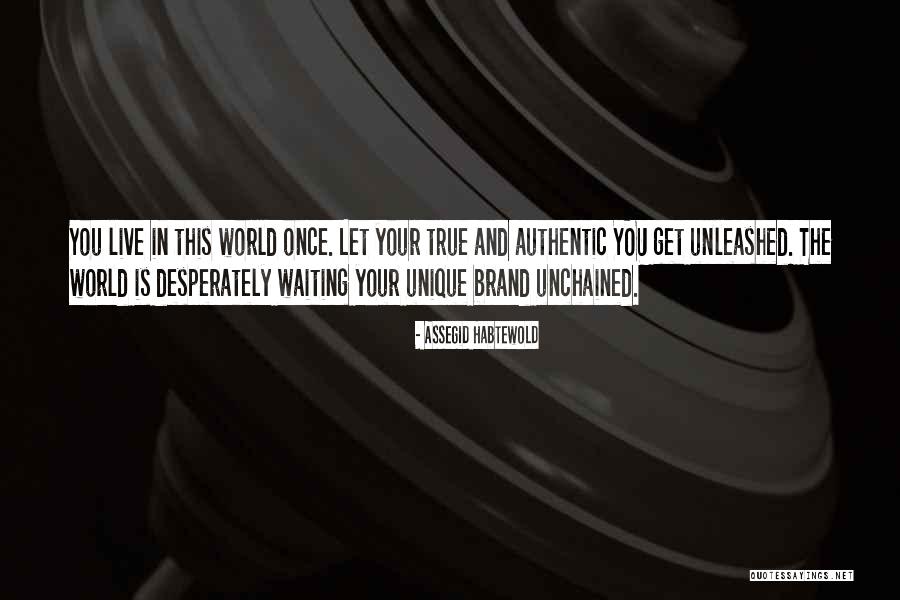 You live in this world once. Let your true and authentic YOU get unleashed. The world is desperately waiting your unique brand unchained. — Assegid Habtewold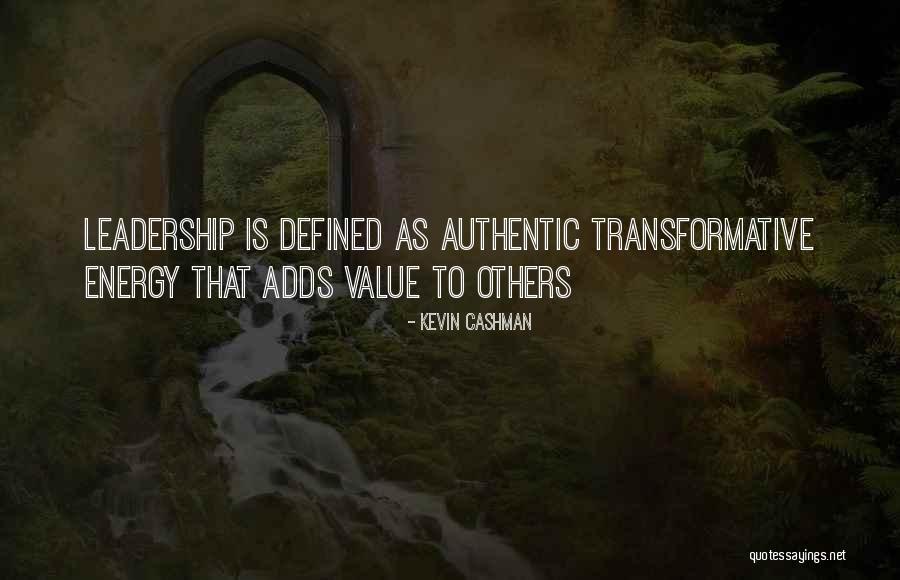 Leadership is defined as authentic transformative energy that adds value to others — Kevin Cashman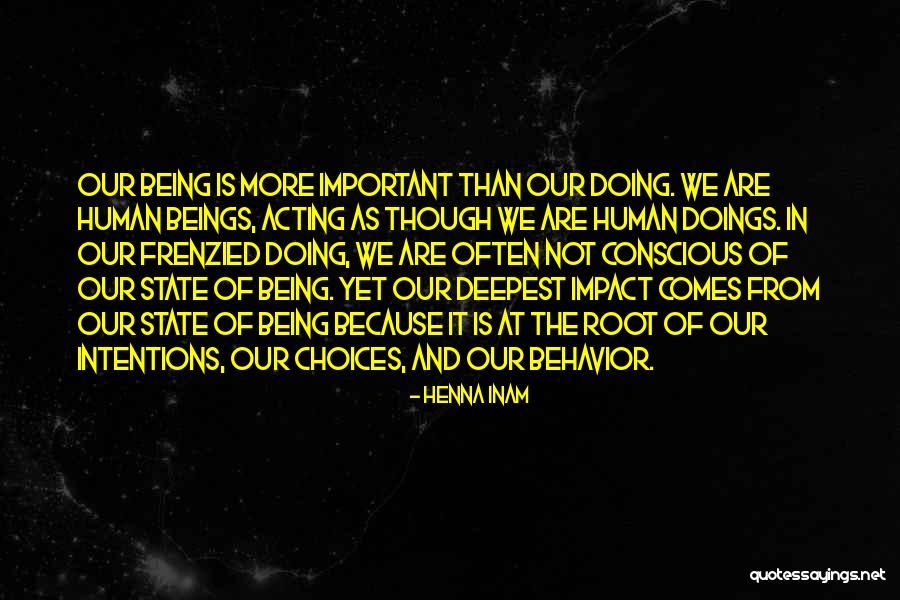 Our being is more important than our doing. We are human beings, acting as though we are human doings. In our frenzied doing, we are often not conscious of our state of being. Yet our deepest impact comes from our state of being because it is at the root of our intentions, our choices, and our behavior. — Henna Inam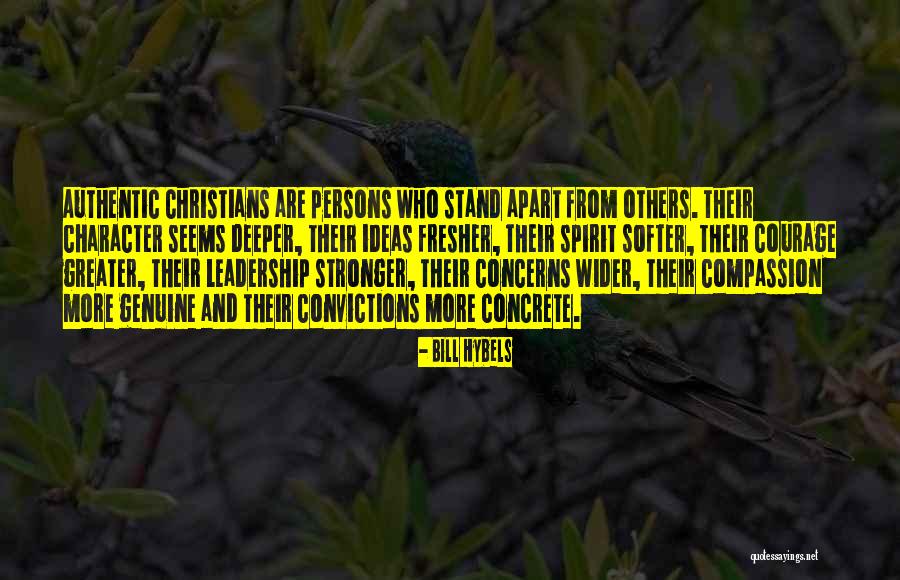 Authentic Christians are persons who stand apart from others. Their character seems deeper, their ideas fresher, their spirit softer, their courage greater, their leadership stronger, their concerns wider, their compassion more genuine and their convictions more concrete. — Bill Hybels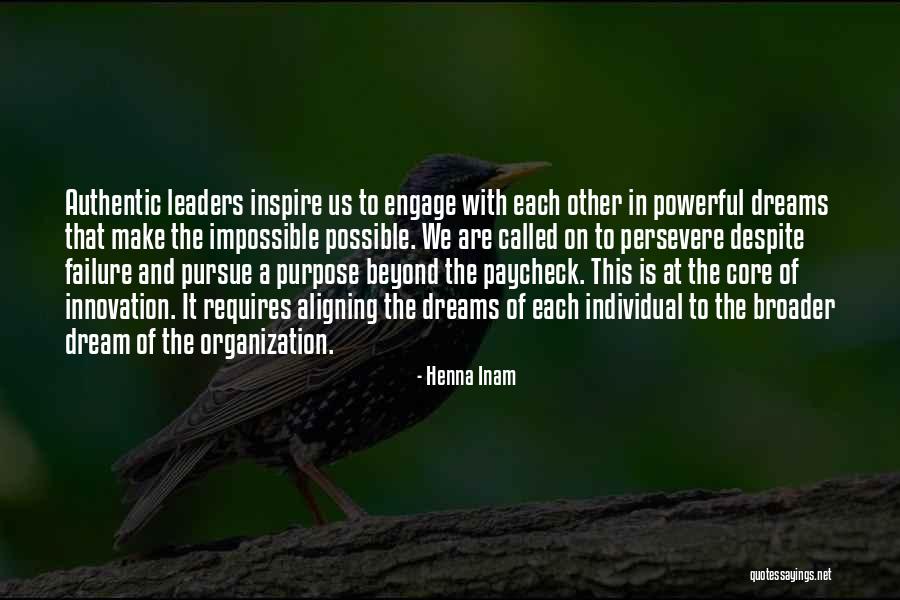 Authentic leaders inspire us to engage with each other in powerful dreams that make the impossible possible. We are called on to persevere despite failure and pursue a purpose beyond the paycheck. This is at the core of innovation. It requires aligning the dreams of each individual to the broader dream of the organization. — Henna Inam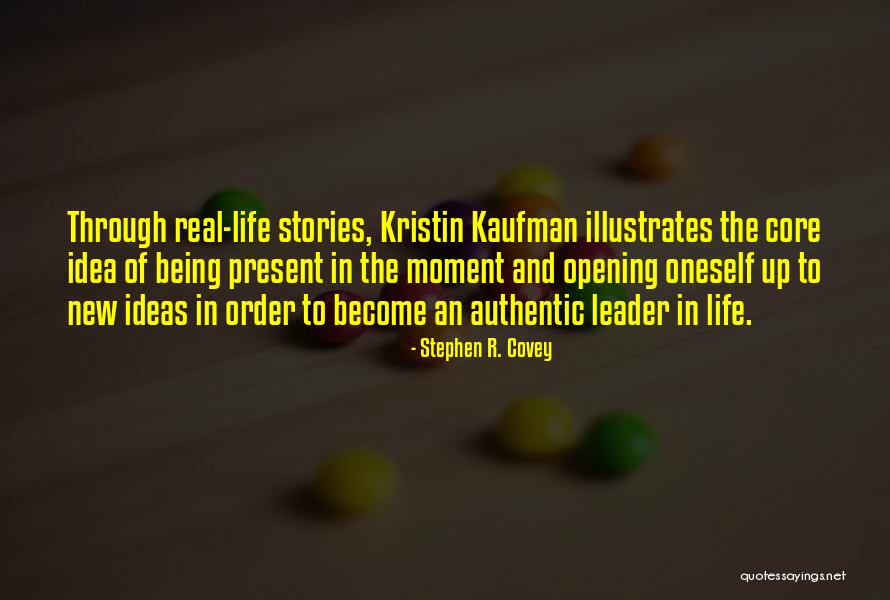 Through real-life stories, Kristin Kaufman illustrates the core idea of being present in the moment and opening oneself up to new ideas in order to become an authentic leader in life. — Stephen R. Covey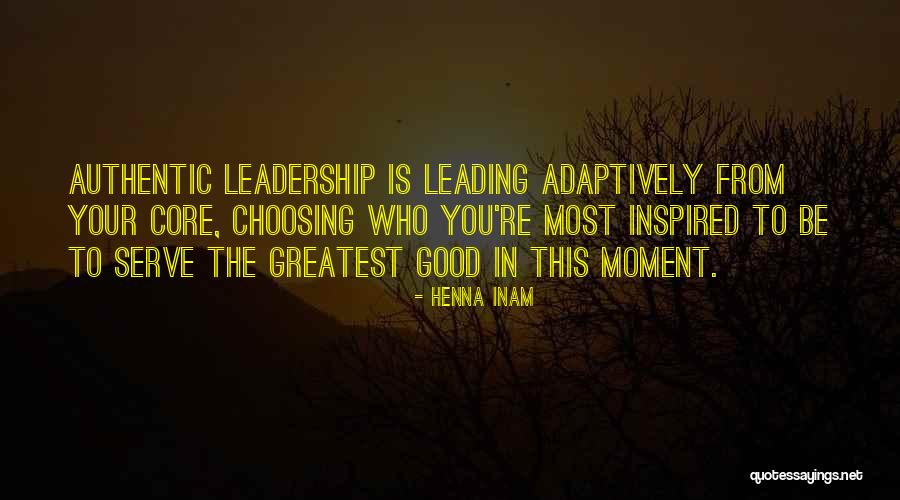 Authentic leadership is leading adaptively from your core, choosing who you're most inspired to be to serve the greatest good in this moment. — Henna Inam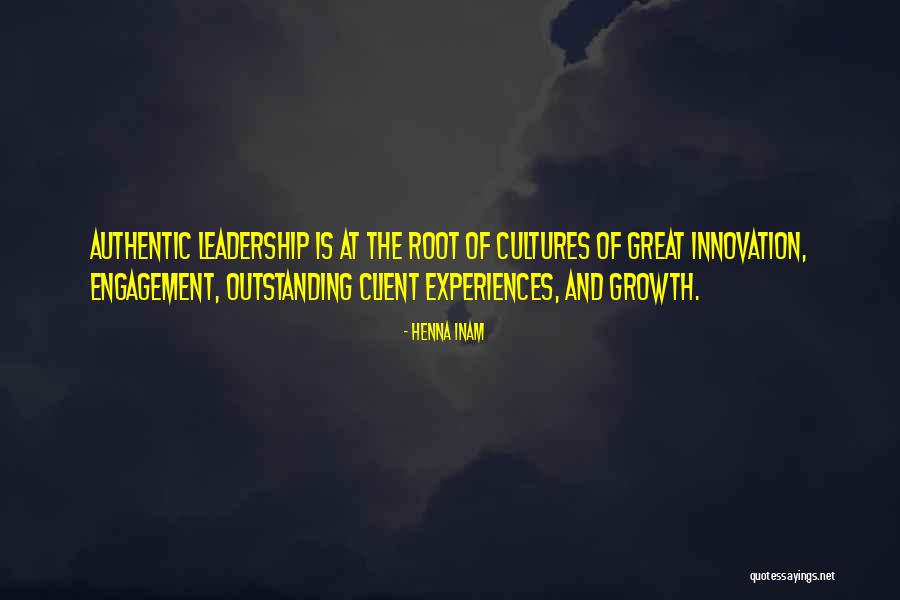 Authentic leadership is at the root of cultures of great innovation, engagement, outstanding client experiences, and growth. — Henna Inam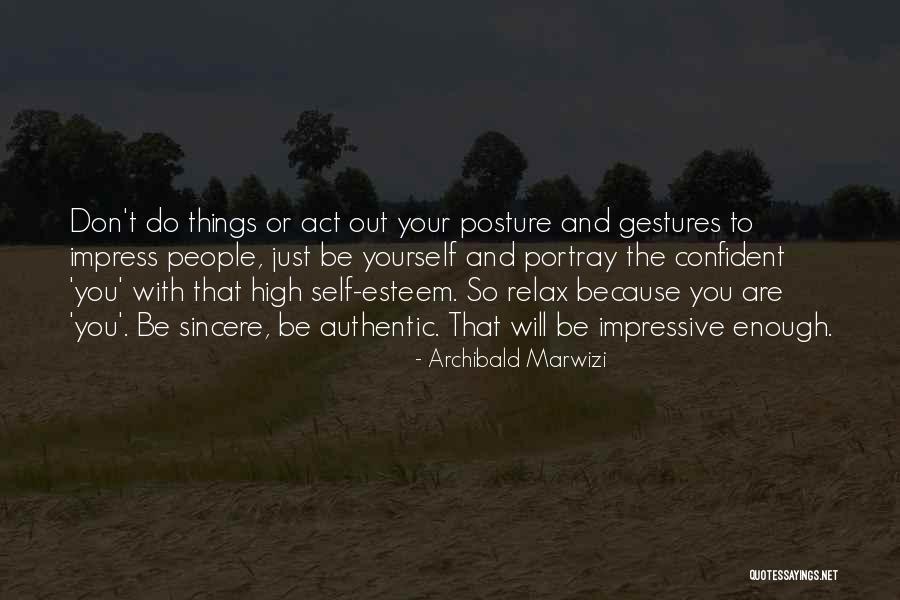 Don't do things or act out your posture and gestures to impress people, just be yourself and portray the confident 'you' with that high self-esteem. So relax because you are 'you'. Be sincere, be authentic. That will be impressive enough. — Archibald Marwizi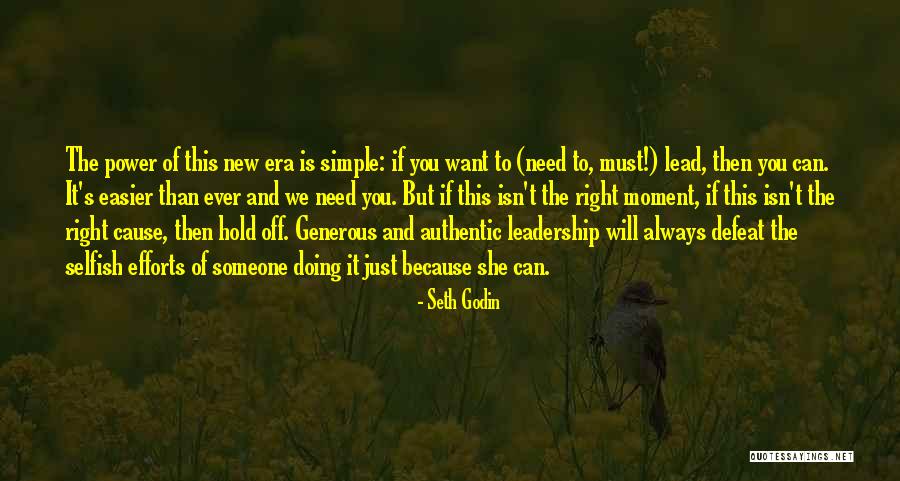 The power of this new era is simple: if you want to (need to, must!) lead, then you can. It's easier than ever and we need you. But if this isn't the right moment, if this isn't the right cause, then hold off. Generous and authentic leadership will always defeat the selfish efforts of someone doing it just because she can. — Seth Godin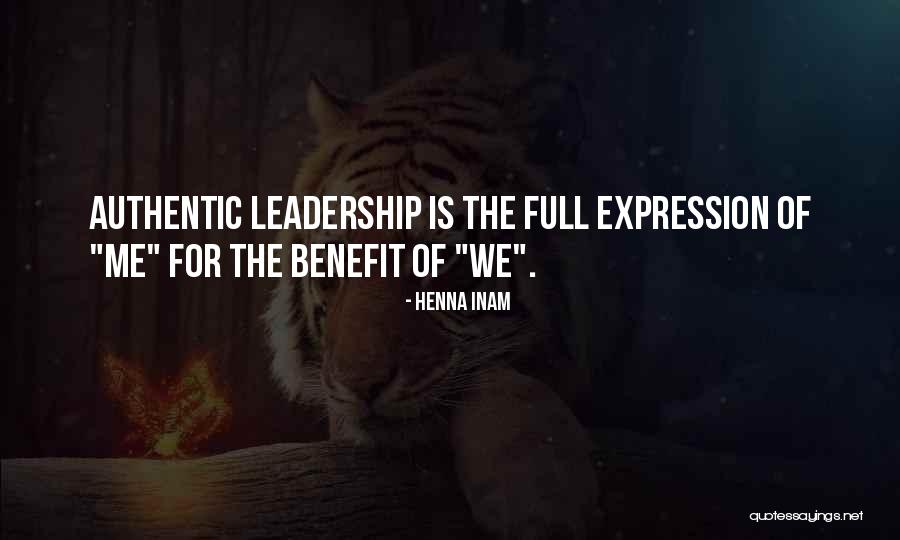 Authentic leadership is the full expression of "me" for the benefit of "we". — Henna Inam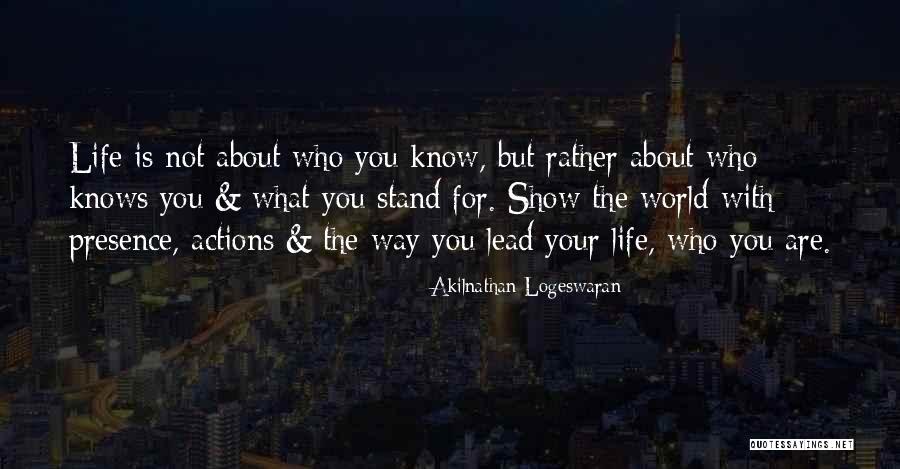 Life is not about who you know, but rather about who knows you & what you stand for.

Show the world with presence, actions & the way you lead your life, who you are. — Akilnathan Logeswaran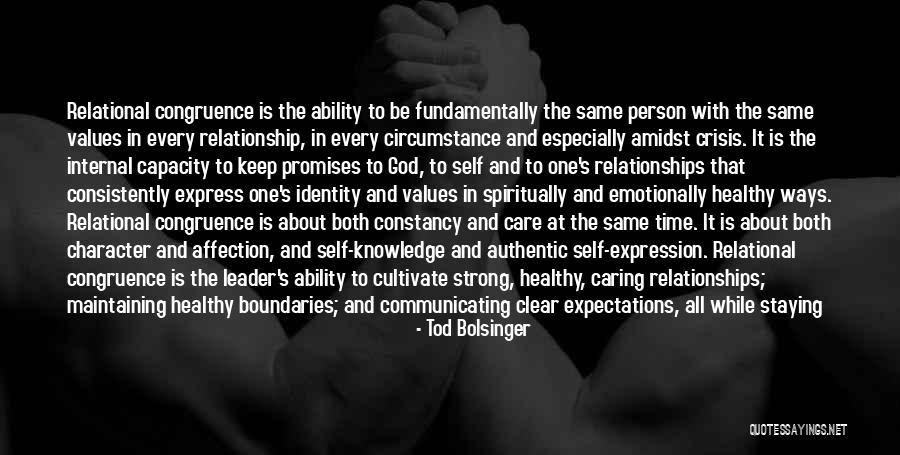 Relational congruence is the ability to be fundamentally the same person with the same values in every relationship, in every circumstance and especially amidst crisis. It is the internal capacity to keep promises to God, to self and to one's relationships that consistently express one's identity and values in spiritually and emotionally healthy ways. Relational congruence is about both constancy and care at the same time. It is about both character and affection, and self-knowledge and authentic self-expression. Relational congruence is the leader's ability to cultivate strong, healthy, caring relationships; maintaining healthy boundaries; and communicating clear expectations, all while staying focused on the mission. — Tod Bolsinger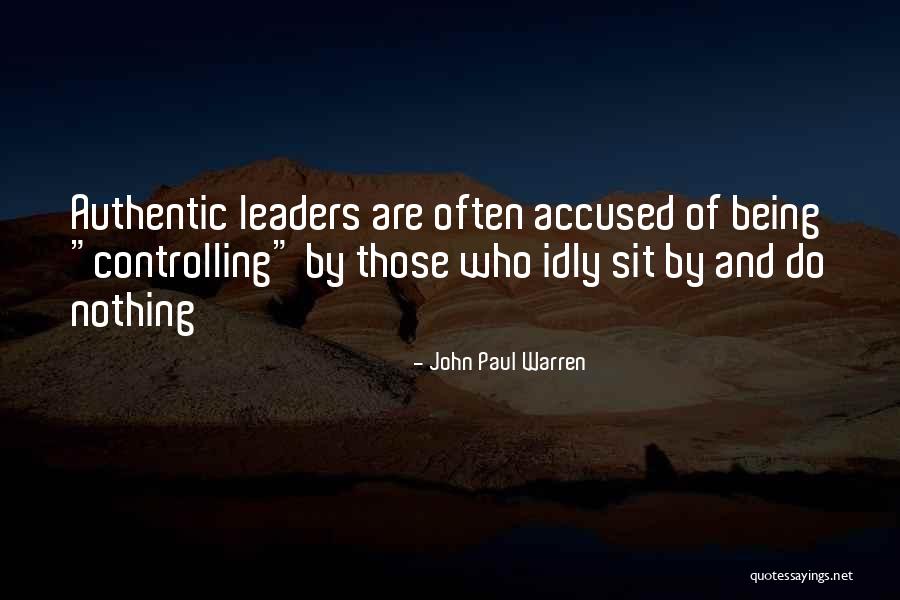 Authentic leaders are often accused of being "controlling" by those who idly sit by and do nothing — John Paul Warren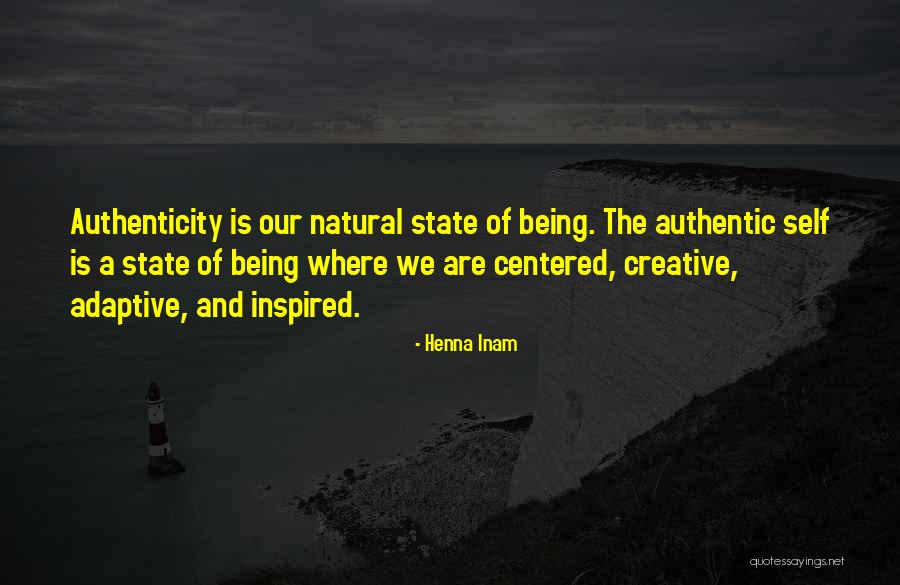 Authenticity is our natural state of being. The authentic self is a state of being where we are centered, creative, adaptive, and inspired. — Henna Inam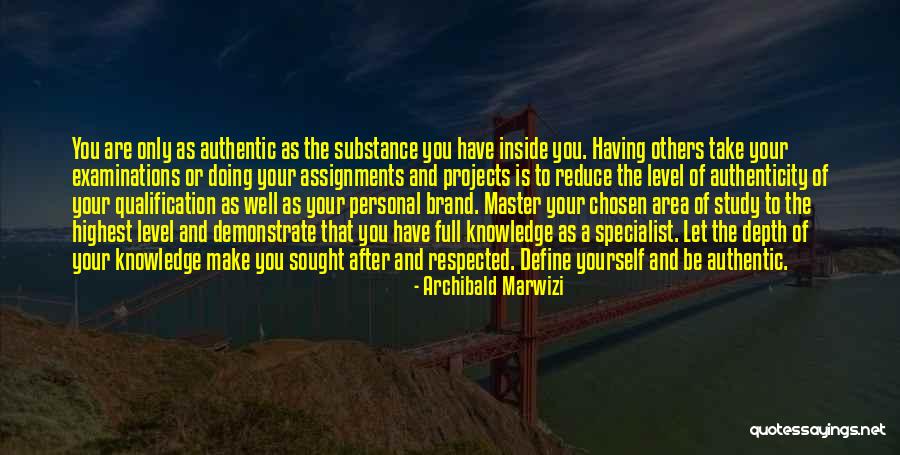 You are only as authentic as the substance you have inside you. Having others take your examinations or doing your assignments and projects is to reduce the level of authenticity of your qualification as well as your personal brand. Master your chosen area of study to the highest level and demonstrate that you have full knowledge as a specialist. Let the depth of your knowledge make you sought after and respected. Define yourself and be authentic. — Archibald Marwizi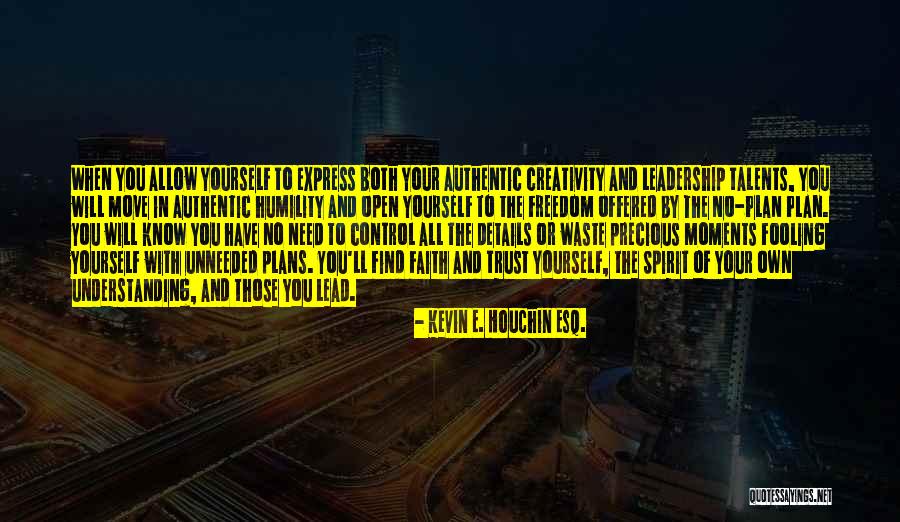 When you allow yourself to express both your authentic creativity and leadership talents, you will move in authentic humility and open yourself to the freedom offered by The No-Plan Plan. You will know you have no need to control all the details or waste precious moments fooling yourself with unneeded plans. You'll find faith and trust yourself, the Spirit of your own understanding, and those you lead. — Kevin E. Houchin Esq.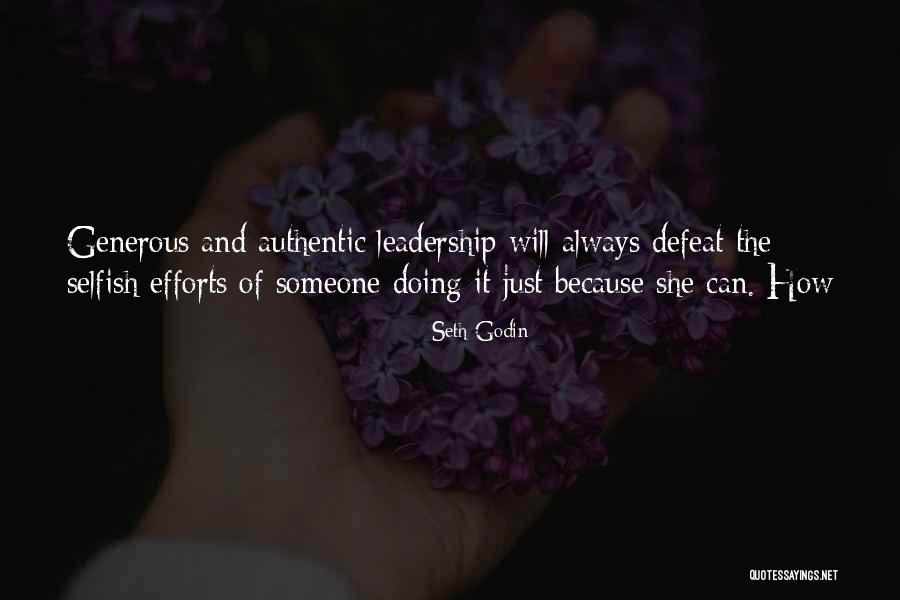 Generous and authentic leadership will always defeat the selfish efforts of someone doing it just because she can. How — Seth Godin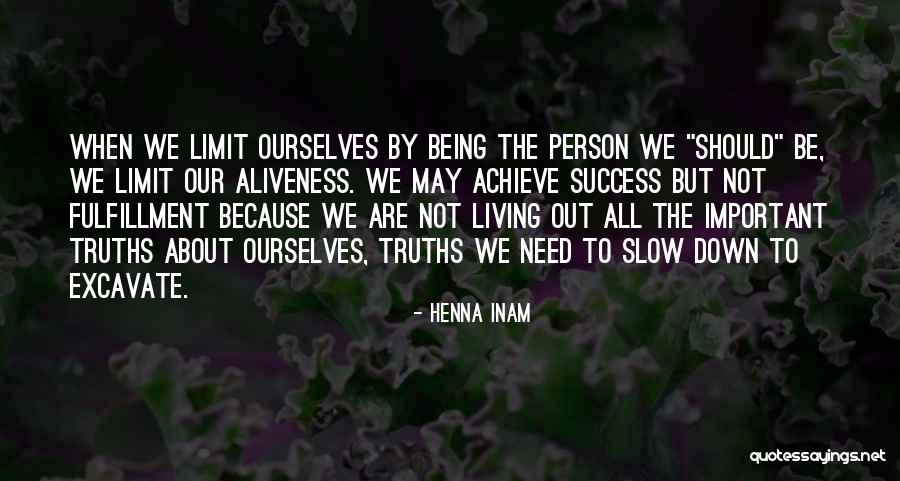 When we limit ourselves by being the person we "should" be, we limit our aliveness. We may achieve success but not fulfillment because we are not living out all the important truths about ourselves, truths we need to slow down to excavate. — Henna Inam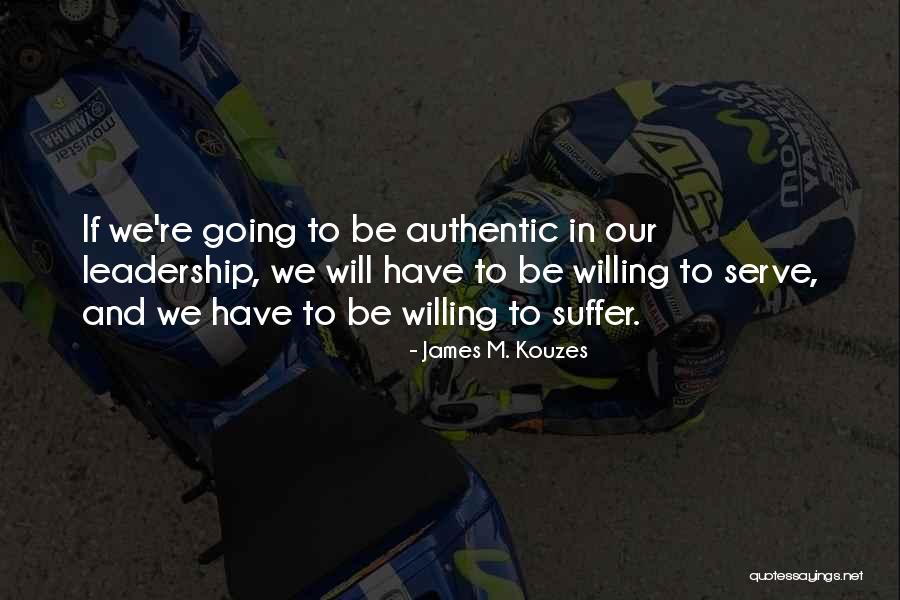 If we're going to be authentic in our leadership, we will have to be willing to serve, and we have to be willing to suffer. — James M. Kouzes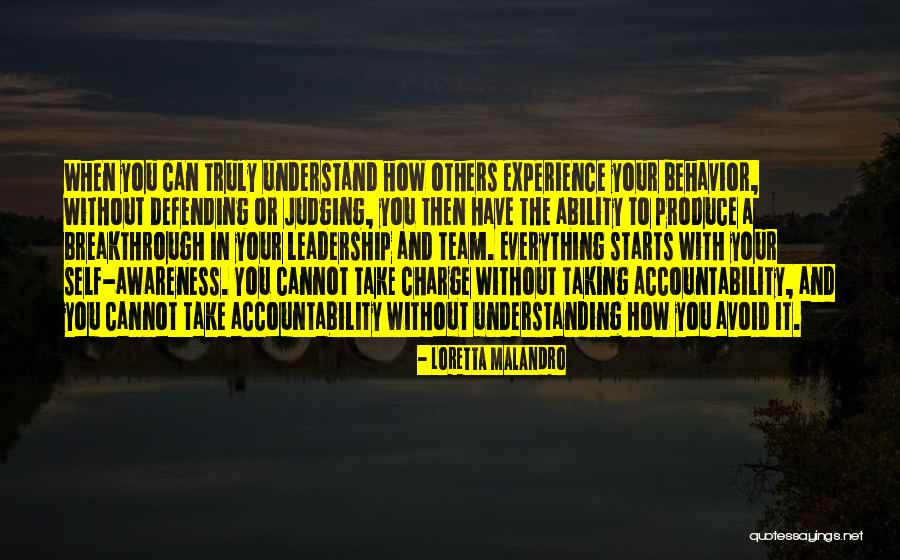 When you can truly understand how others experience your behavior, without defending or judging, you then have the ability to produce a breakthrough in your leadership and team. Everything starts with your self-awareness. You cannot take charge without taking accountability, and you cannot take accountability without understanding how you avoid it. — Loretta Malandro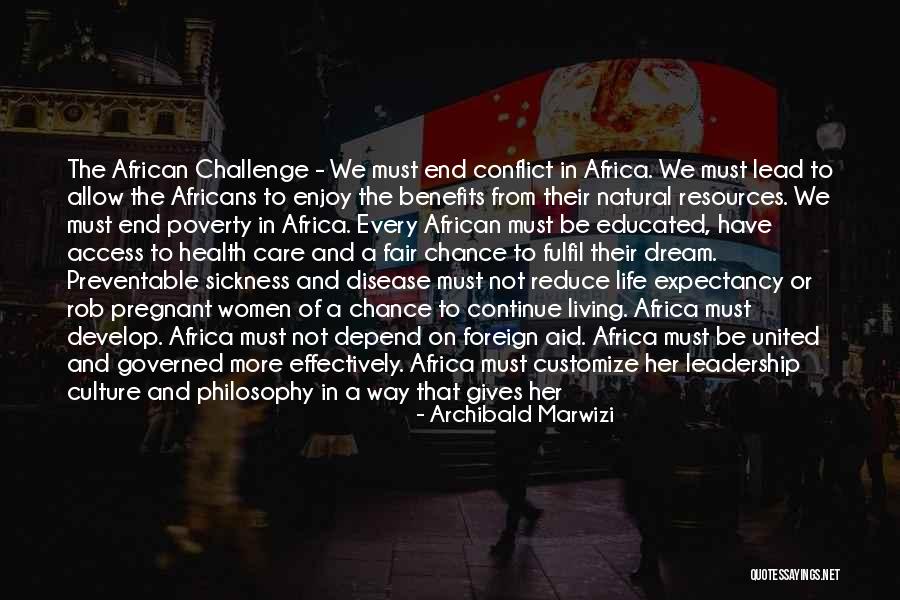 The African Challenge - We must end conflict in Africa. We must lead to allow the Africans to enjoy the benefits from their natural resources. We must end poverty in Africa. Every African must be educated, have access to health care and a fair chance to fulfil their dream. Preventable sickness and disease must not reduce life expectancy or rob pregnant women of a chance to continue living. Africa must develop. Africa must not depend on foreign aid. Africa must be united and governed more effectively. Africa must customize her leadership culture and philosophy in a way that gives her global relevance and respect but still remain true and authentic to herself. Will you accept the challenge? Will you be that Africa? — Archibald Marwizi