Arrive Early Quotes & Sayings
Enjoy reading and share 29 famous quotes about Arrive Early with everyone.
Top Arrive Early Quotes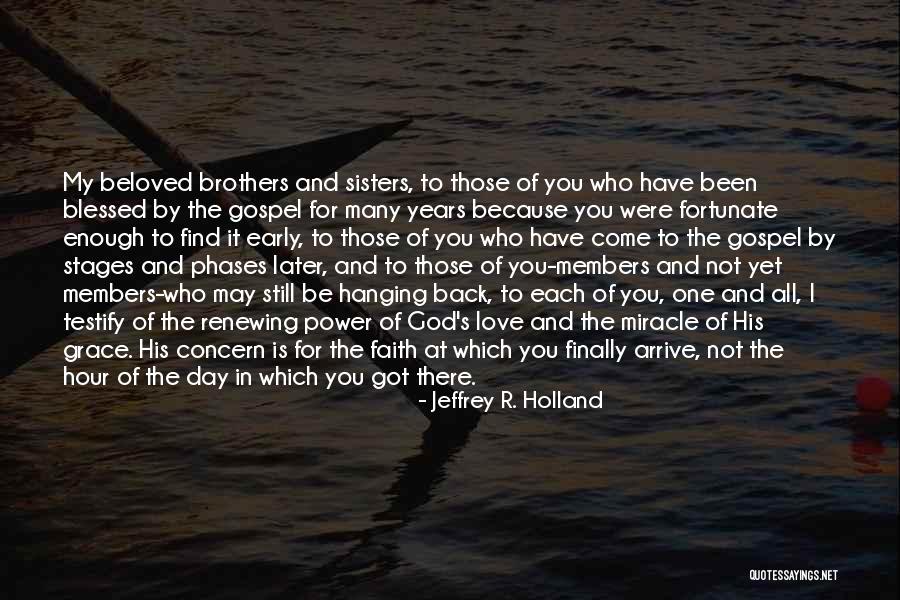 My beloved brothers and sisters, to those of you who have been blessed by the gospel for many years because you were fortunate enough to find it early, to those of you who have come to the gospel by stages and phases later, and to those of you-members and not yet members-who may still be hanging back, to each of you, one and all, I testify of the renewing power of God's love and the miracle of His grace. His concern is for the faith at which you finally arrive, not the hour of the day in which you got there. — Jeffrey R. Holland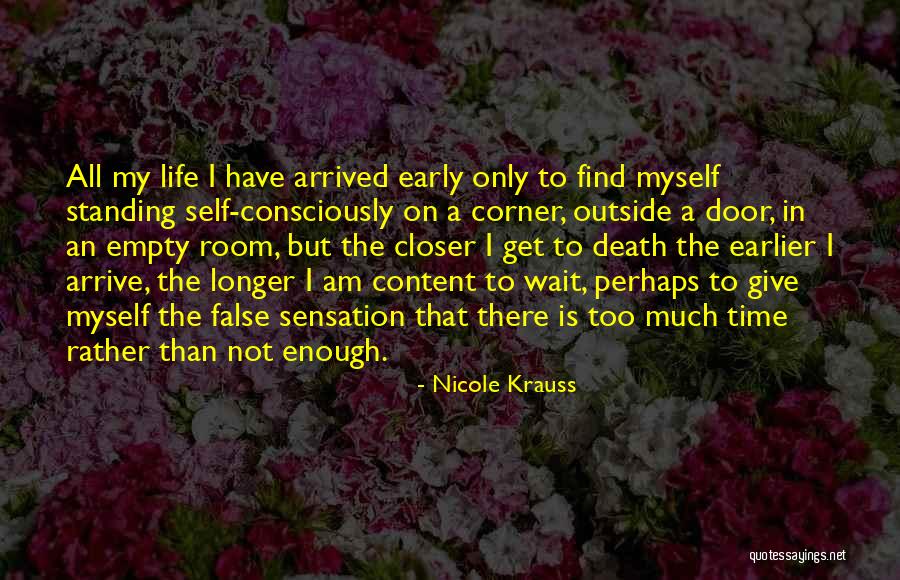 All my life I have arrived early only to find myself standing self-consciously on a corner, outside a door, in an empty room, but the closer I get to death the earlier I arrive, the longer I am content to wait, perhaps to give myself the false sensation that there is too much time rather than not enough. — Nicole Krauss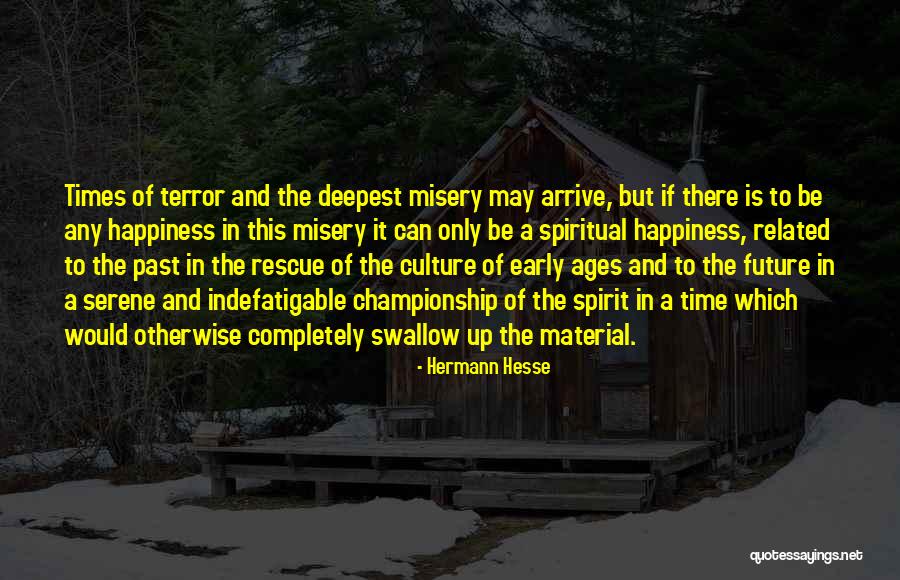 Times of terror and the deepest misery may arrive, but if there is to be any happiness in this misery it can only be a spiritual happiness, related to the past in the rescue of the culture of early ages and to the future in a serene and indefatigable championship of the spirit in a time which would otherwise completely swallow up the material. — Hermann Hesse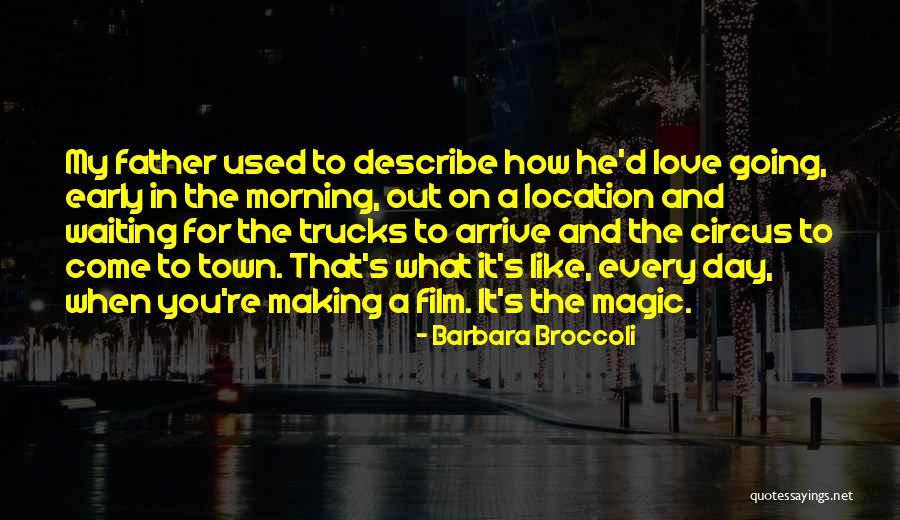 My father used to describe how he'd love going, early in the morning, out on a location and waiting for the trucks to arrive and the circus to come to town. That's what it's like, every day, when you're making a film. It's the magic. — Barbara Broccoli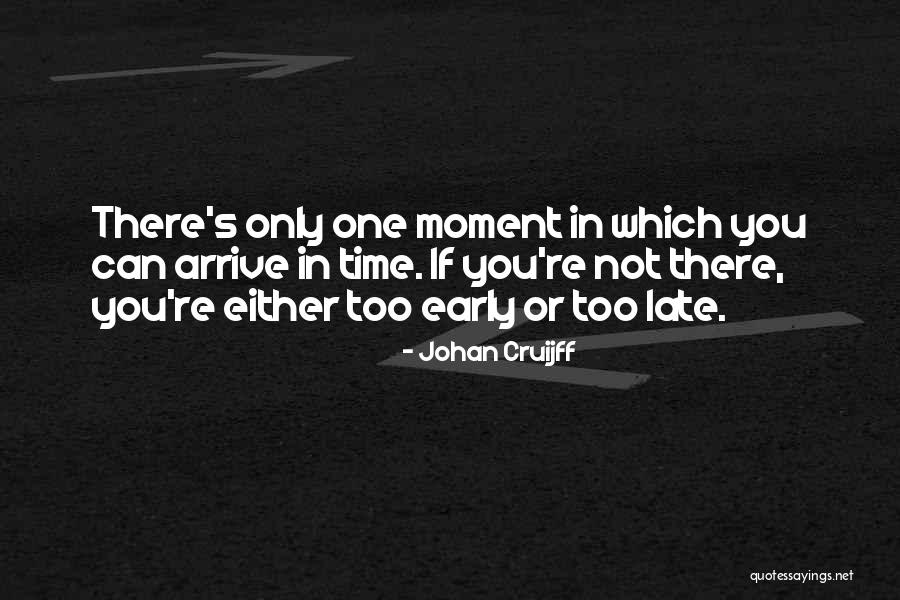 There's only one moment in which you can arrive in time. If you're not there, you're either too early or too late. — Johan Cruijff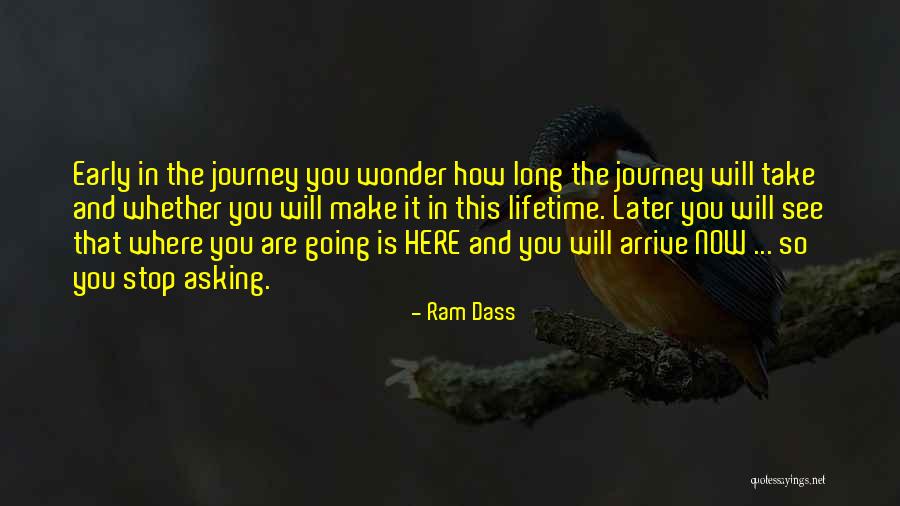 Early in the journey you wonder how long the journey will take and whether you will make it in this lifetime. Later you will see that where you are going is HERE and you will arrive NOW ... so you stop asking. — Ram Dass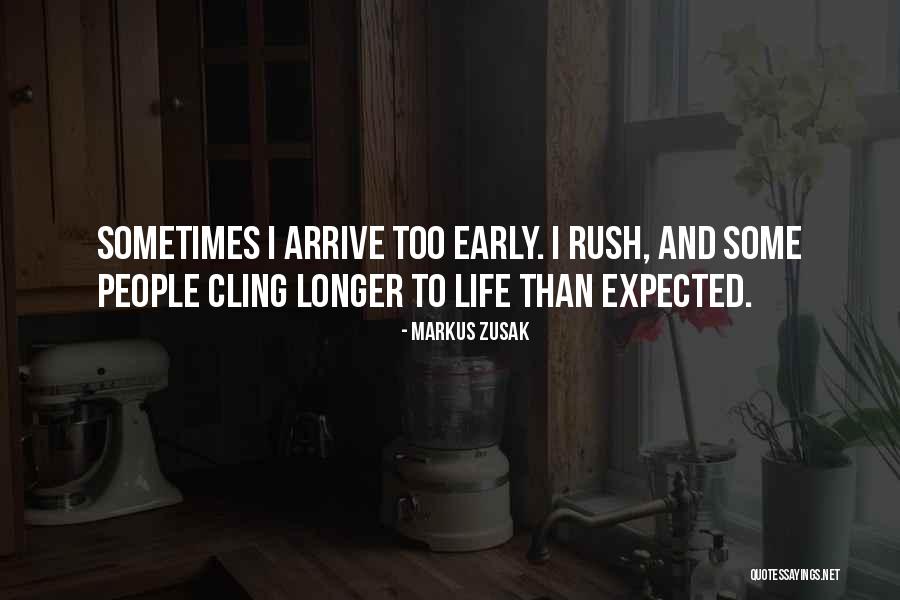 Sometimes I arrive too early. I rush, and some people cling longer to life than expected. — Markus Zusak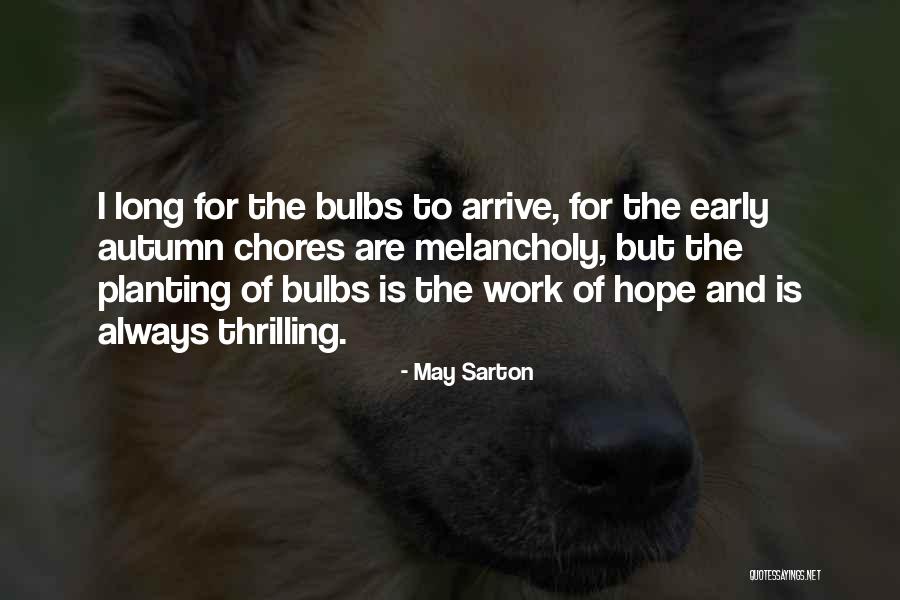 I long for the bulbs to arrive, for the early autumn chores are melancholy, but the planting of bulbs is the work of hope and is always thrilling. — May Sarton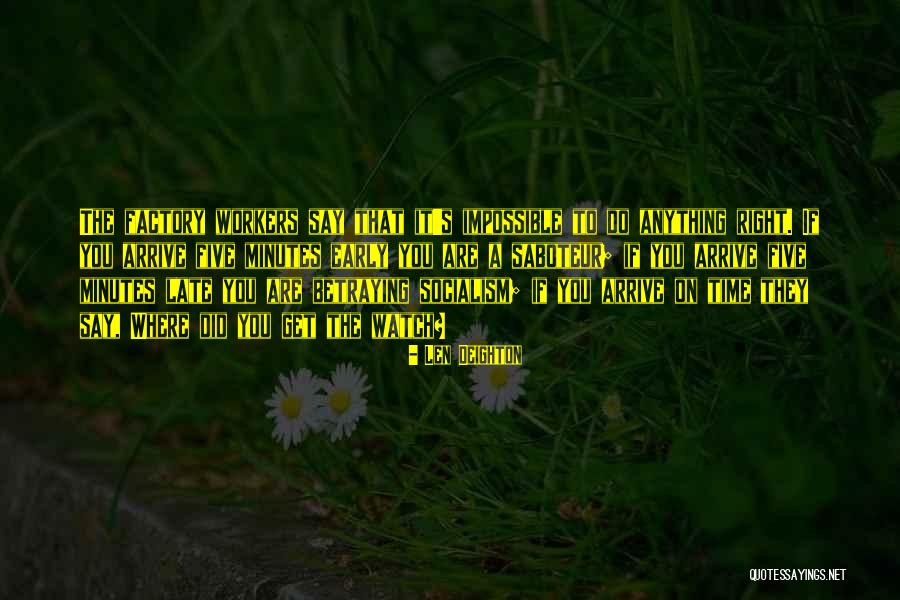 The factory workers say that it's impossible to do anything right. If you arrive five minutes early you are a saboteur; if you arrive five minutes late you are betraying socialism; if you arrive on time they say, Where did you get the watch? — Len Deighton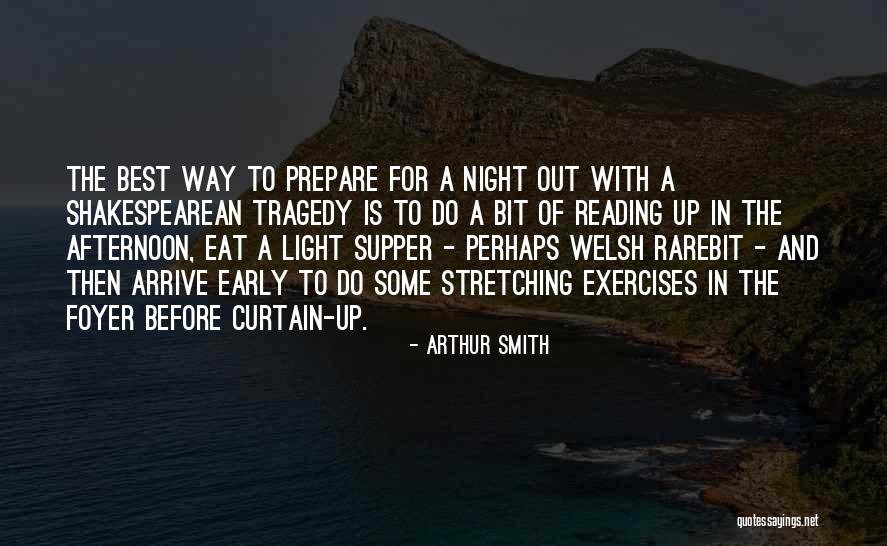 The best way to prepare for a night out with a Shakespearean tragedy is to do a bit of reading up in the afternoon, eat a light supper - perhaps Welsh rarebit - and then arrive early to do some stretching exercises in the foyer before curtain-up. — Arthur Smith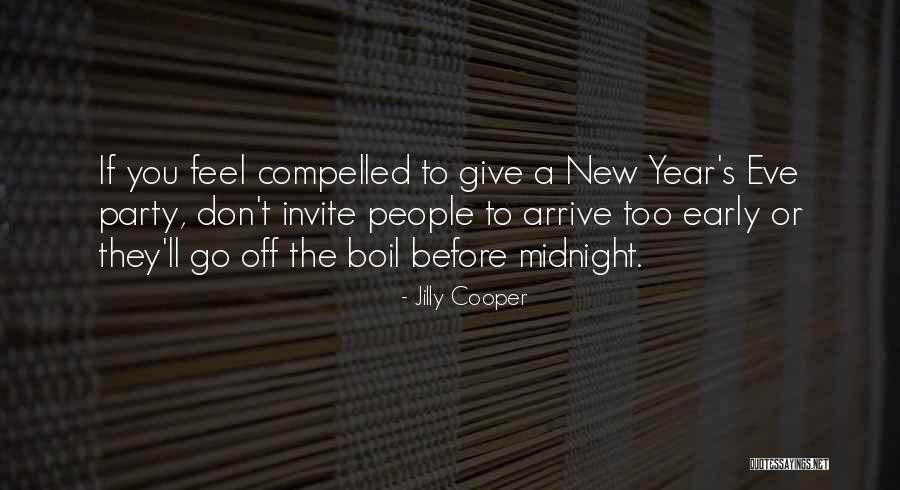 If you feel compelled to give a New Year's Eve party, don't invite people to arrive too early or they'll go off the boil before midnight. — Jilly Cooper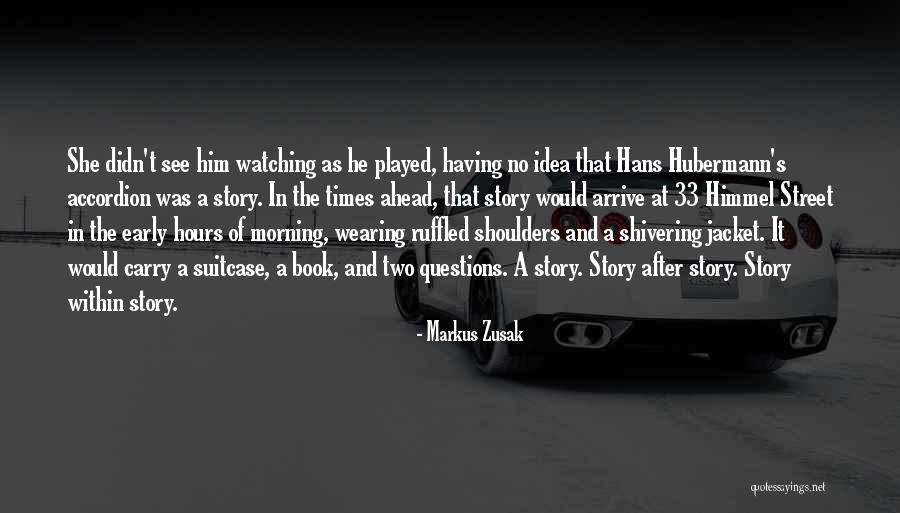 She didn't see him watching as he played, having no idea that Hans Hubermann's accordion was a story. In the times ahead, that story would arrive at 33 Himmel Street in the early hours of morning, wearing ruffled shoulders and a shivering jacket. It would carry a suitcase, a book, and two questions. A story. Story after story. Story within story. — Markus Zusak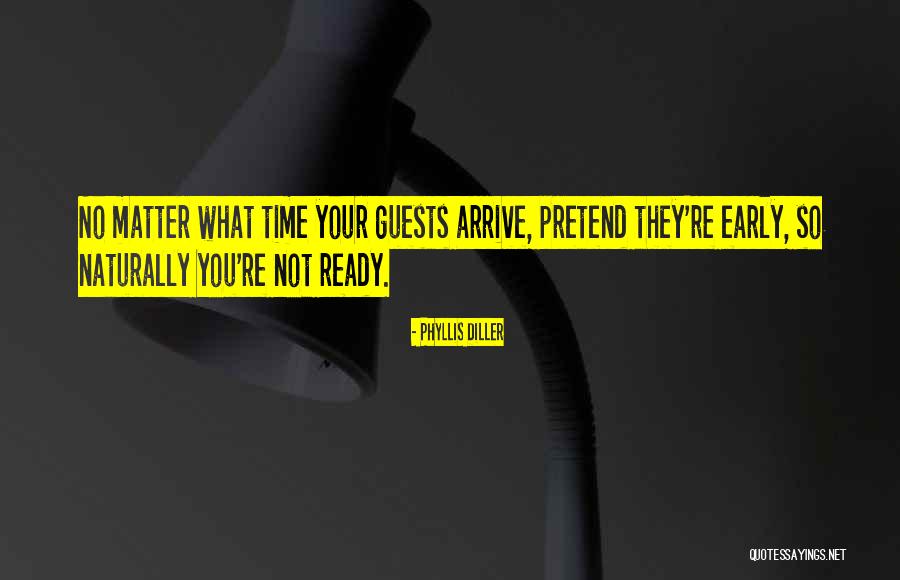 No matter what time your guests arrive, pretend they're early, so naturally you're not ready. — Phyllis Diller
Quite frankly, I am not very comfortable in chitchat. When I go to board meetings, I arrive two minutes before and leave when it's over. I don't stay for lunch or go early and have coffee. — Louis V. Gerstner Jr.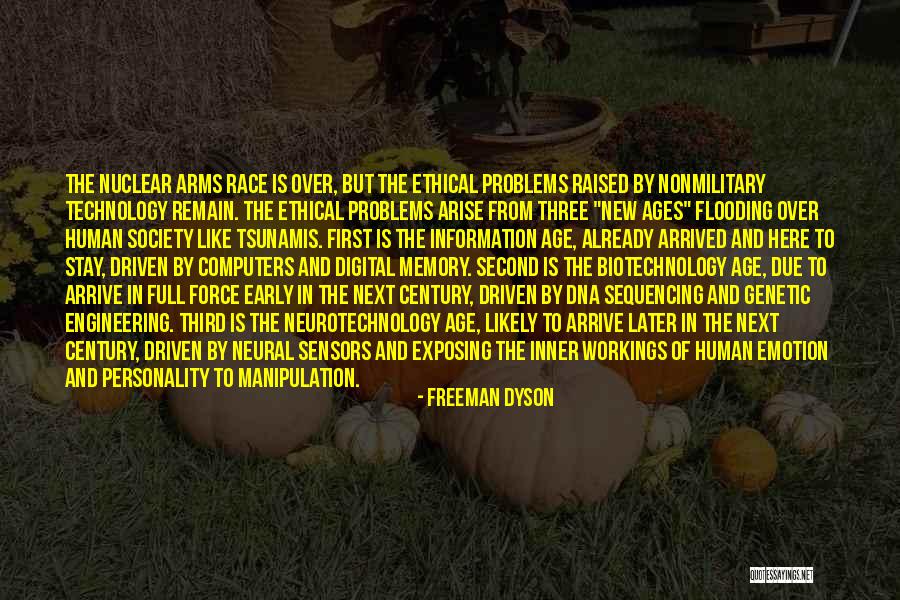 The nuclear arms race is over, but the ethical problems raised by nonmilitary technology remain. The ethical problems arise from three "new ages" flooding over human society like tsunamis. First is the Information Age, already arrived and here to stay, driven by computers and digital memory. Second is the Biotechnology Age, due to arrive in full force early in the next century, driven by DNA sequencing and genetic engineering. Third is the Neurotechnology Age, likely to arrive later in the next century, driven by neural sensors and exposing the inner workings of human emotion and personality to manipulation. — Freeman Dyson
I'll miss the gecko that watched from the wall each morning as I ate breakfast. Though there are literally millions of geckos in south Florida, I swear this one follows me to school and seems to be everywhere I am. I'll miss the thunderstorms that seem to come from out of nowhere, the way everything is still and quiet in the early-morning hours before the terns arrive. I'll miss the dolphins that sometimes feed when the sun sets. I'll even miss the smell of sulfur from the rotting seaweed at the base of the shore, the way that it fills the house and penetrates our dreams while we sleep. — Pittacus Lore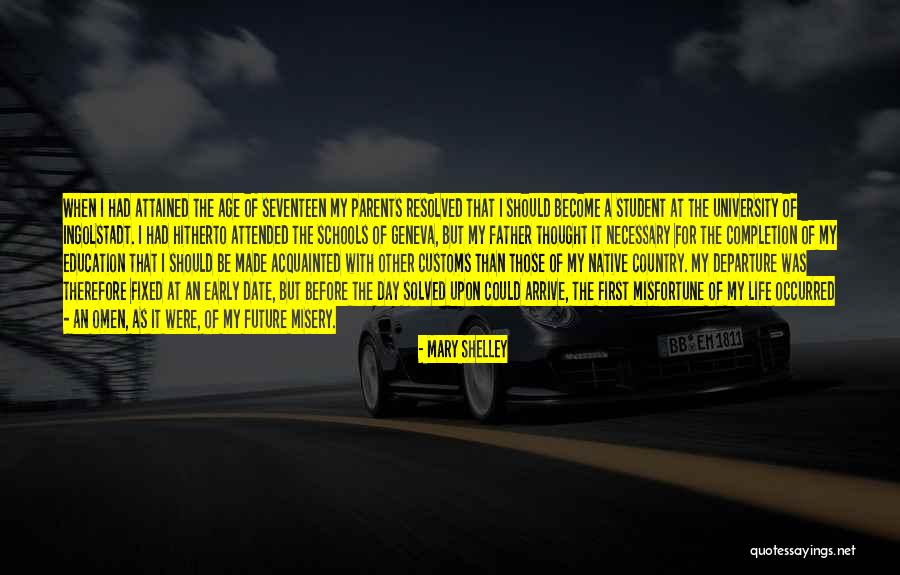 When I had attained the age of seventeen my parents resolved that I should become a student at the university of Ingolstadt. I had hitherto attended the schools of Geneva, but my father thought it necessary for the completion of my education that I should be made acquainted with other customs than those of my native country. My departure was therefore fixed at an early date, but before the day solved upon could arrive, the first misfortune of my life occurred - an omen, as it were, of my future misery. — Mary Shelley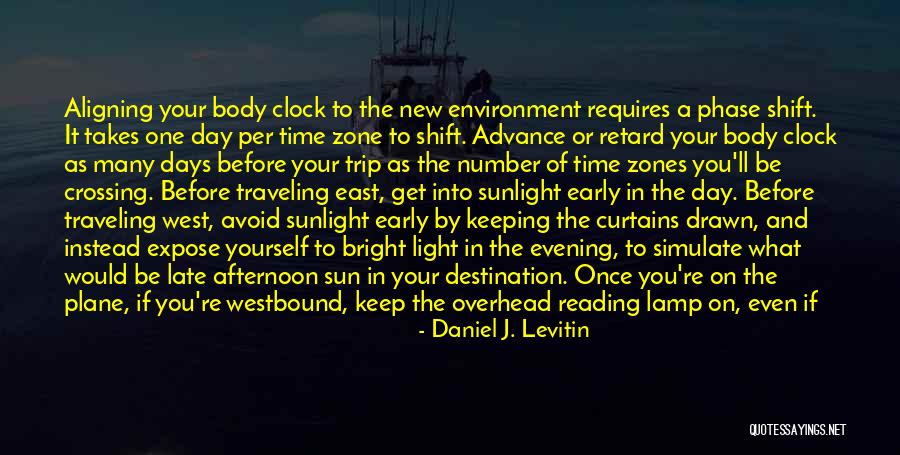 Aligning your body clock to the new environment requires a phase shift. It takes one day per time zone to shift. Advance or retard your body clock as many days before your trip as the number of time zones you'll be crossing. Before traveling east, get into sunlight early in the day. Before traveling west, avoid sunlight early by keeping the curtains drawn, and instead expose yourself to bright light in the evening, to simulate what would be late afternoon sun in your destination. Once you're on the plane, if you're westbound, keep the overhead reading lamp on, even if it is your home bedtime. When you arrive in the western city, exercise lightly by taking a walk in the sun. That sunlight will delay the production of melatonin in your body. If you're on an eastbound plane, wear eye shades to cover your eyes two hours or so before sunset in your destination city, to acclimate yourself to the new "dark" time. — Daniel J. Levitin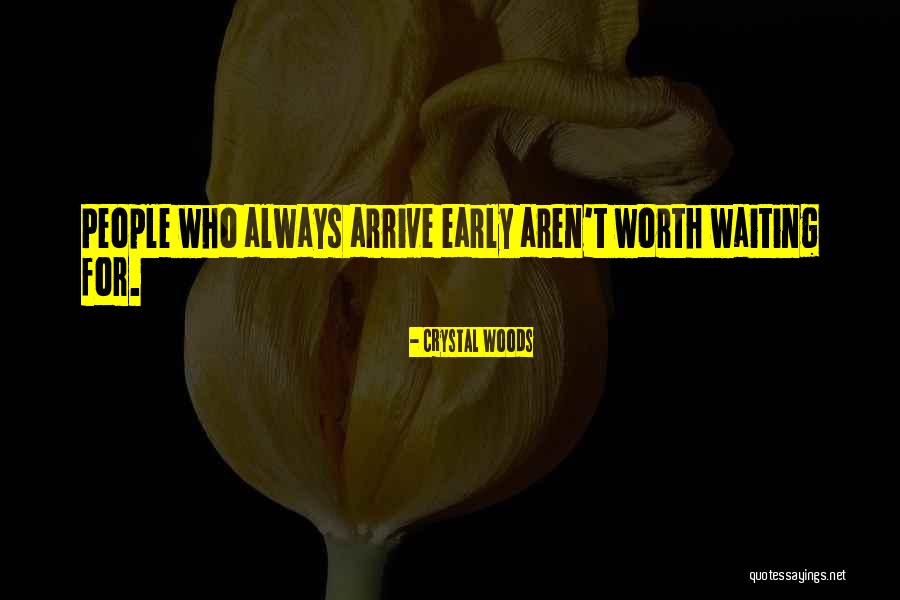 People who always arrive early aren't worth waiting for. — Crystal Woods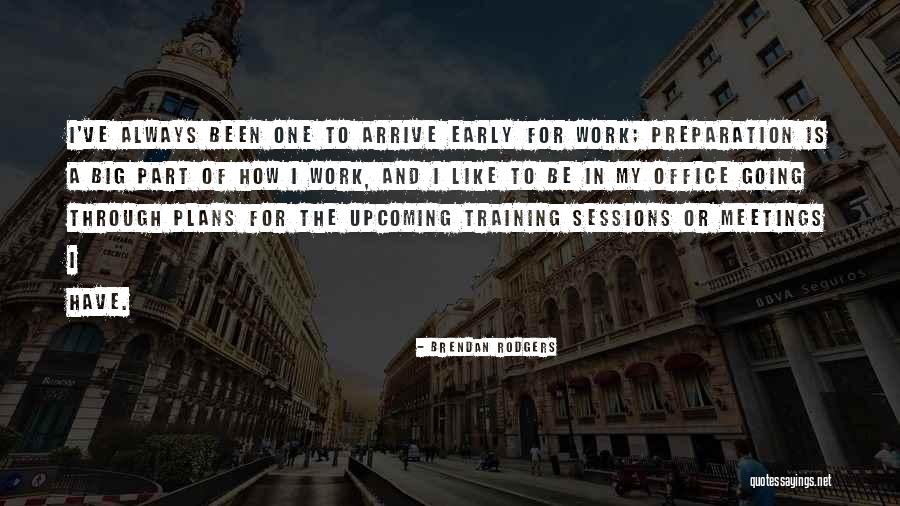 I've always been one to arrive early for work; preparation is a big part of how I work, and I like to be in my office going through plans for the upcoming training sessions or meetings I have. — Brendan Rodgers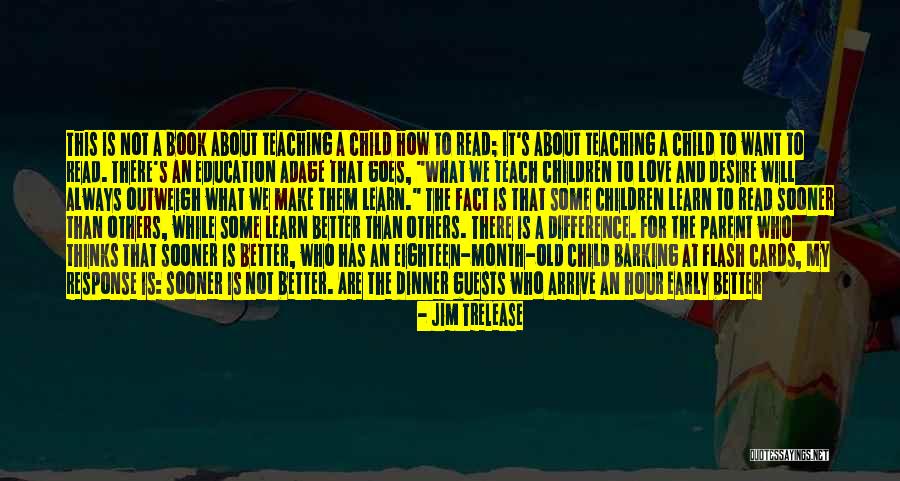 This is not a book about teaching a child how to read; it's about teaching a child to want to read. There's an education adage that goes, "What we teach children to love and desire will always outweigh what we make them learn." The fact is that some children learn to read sooner than others, while some learn better than others. There is a difference. For the parent who thinks that sooner is better, who has an eighteen-month-old child barking at flash cards, my response is: sooner is not better. Are the dinner guests who arrive an hour early better guests than those who arrive on time? Of course not. — Jim Trelease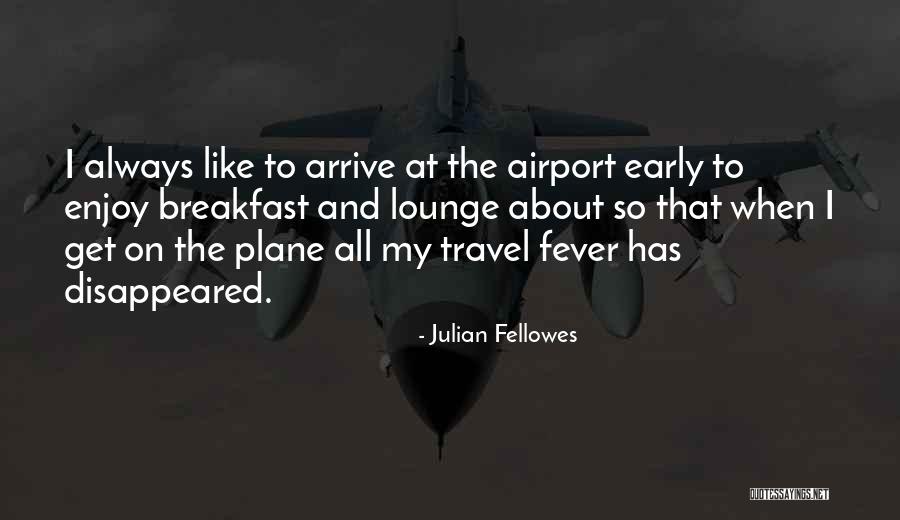 I always like to arrive at the airport early to enjoy breakfast and lounge about so that when I get on the plane all my travel fever has disappeared. — Julian Fellowes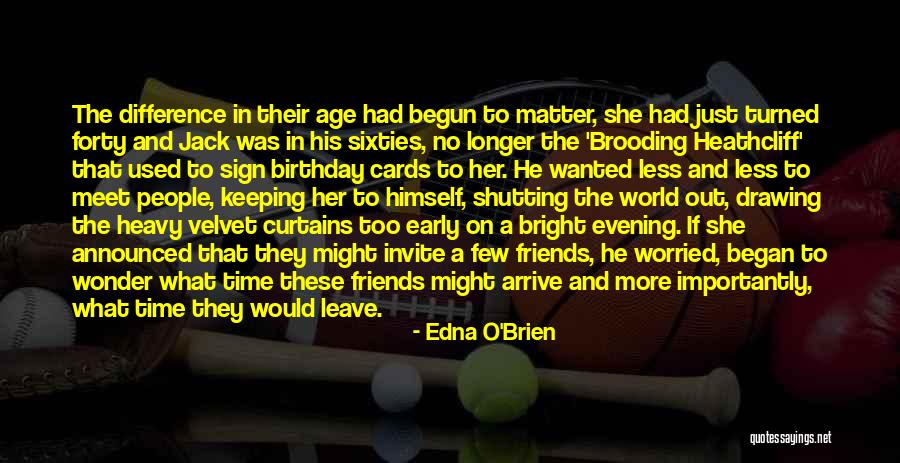 The difference in their age had begun to matter, she had just turned forty and Jack was in his sixties, no longer the 'Brooding Heathcliff' that used to sign birthday cards to her. He wanted less and less to meet people, keeping her to himself, shutting the world out, drawing the heavy velvet curtains too early on a bright evening. If she announced that they might invite a few friends, he worried, began to wonder what time these friends might arrive and more importantly, what time they would leave. — Edna O'Brien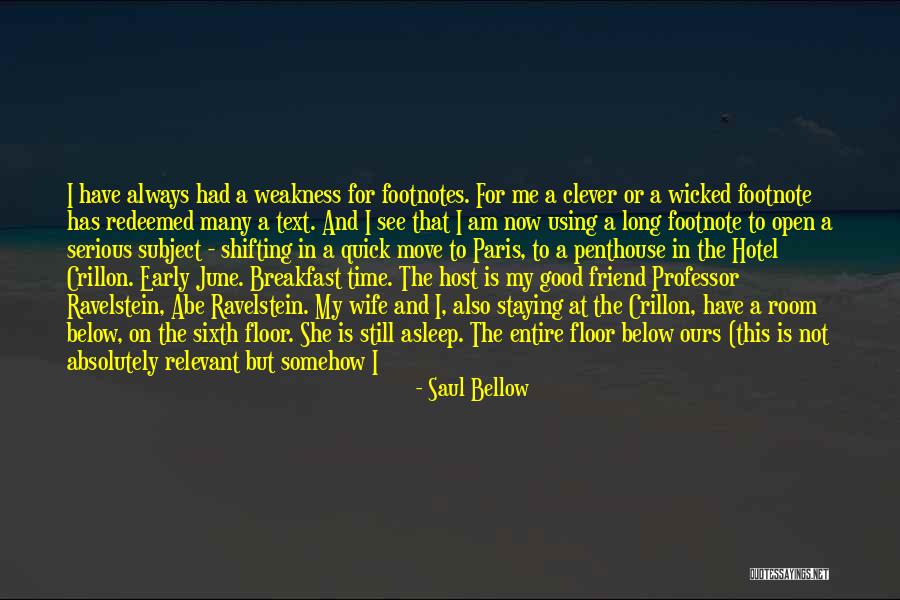 I have always had a weakness for footnotes. For me a clever or a wicked footnote has redeemed many a text. And I see that I am now using a long footnote to open a serious subject - shifting in a quick move to Paris, to a penthouse in the Hotel Crillon. Early June. Breakfast time. The host is my good friend Professor Ravelstein, Abe Ravelstein. My wife and I, also staying at the Crillon, have a room below, on the sixth floor. She is still asleep. The entire floor below ours (this is not absolutely relevant but somehow I can't avoid mentioning it) is occupied just now by Michael Jackson and his entourage. He performs nightly in some vast Parisian auditorium. Very soon his French fans will arrive and a crowd of faces will be turned upward, shouting in unison, 'Miekell Jack-sown'. A police barrier holds the fans back. Inside, from the sixth floor, when you look down the marble stairwell you see Michael's bodyguards. One of them is doing the crossword puzzle in the 'Paris Herald'. — Saul Bellow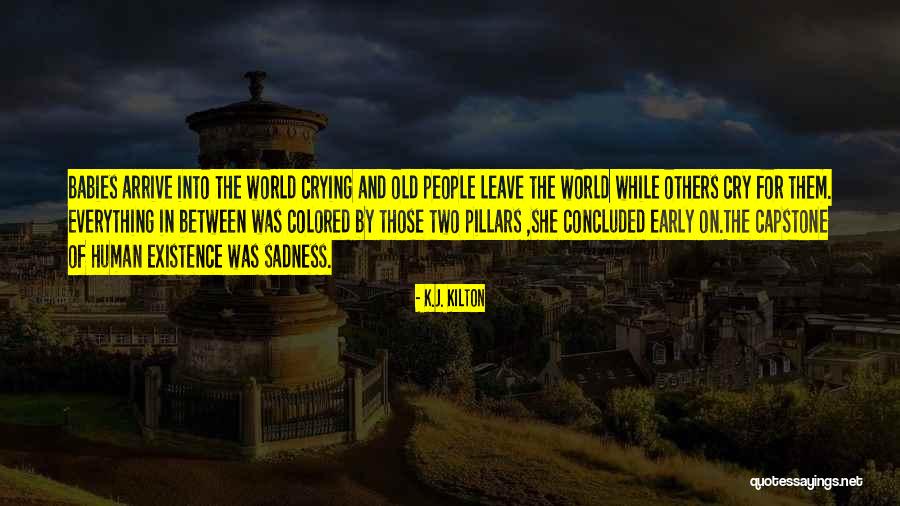 Babies arrive into the world crying and old people leave the world while others cry for them. Everything in between was colored by those two pillars ,she concluded early on.The capstone of human existence was sadness. — K.J. Kilton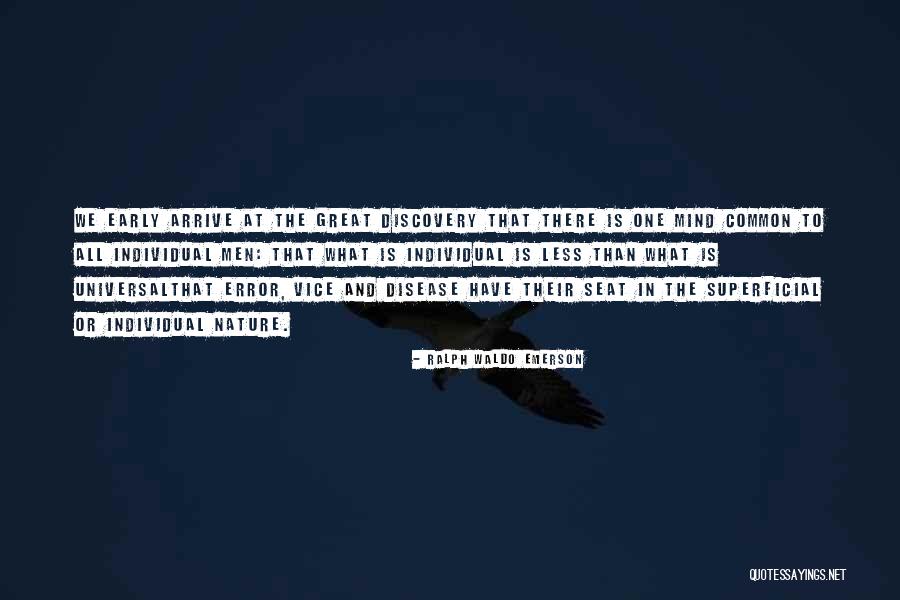 We early arrive at the great discovery that there is one mind common to all individual men: that what is individual is less than what is universalthat error, vice and disease have their seat in the superficial or individual nature. — Ralph Waldo Emerson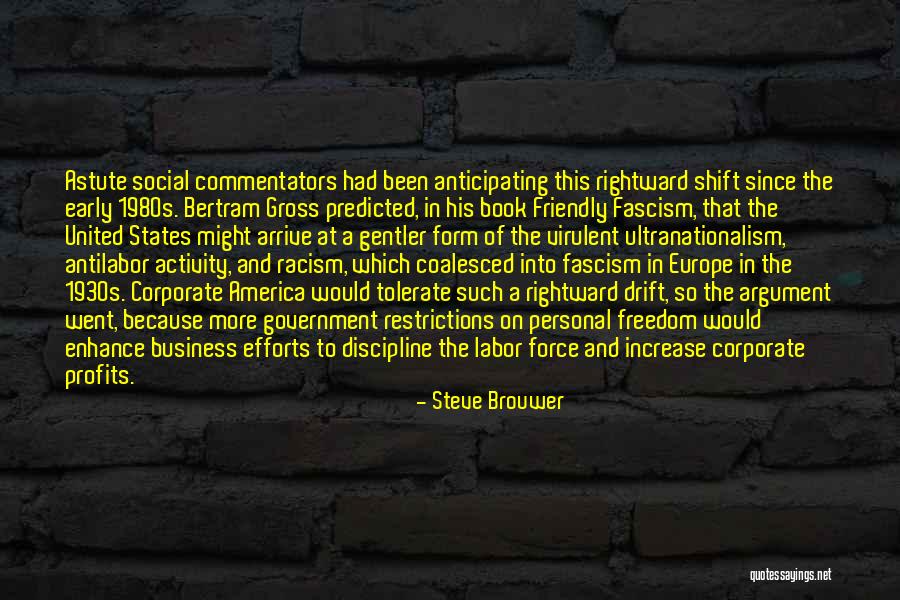 Astute social commentators had been anticipating this rightward shift since the early 1980s. Bertram Gross predicted, in his book Friendly Fascism, that the United States might arrive at a gentler form of the virulent ultranationalism, antilabor activity, and racism, which coalesced into fascism in Europe in the 1930s. Corporate America would tolerate such a rightward drift, so the argument went, because more government restrictions on personal freedom would enhance business efforts to discipline the labor force and increase corporate profits. — Steve Brouwer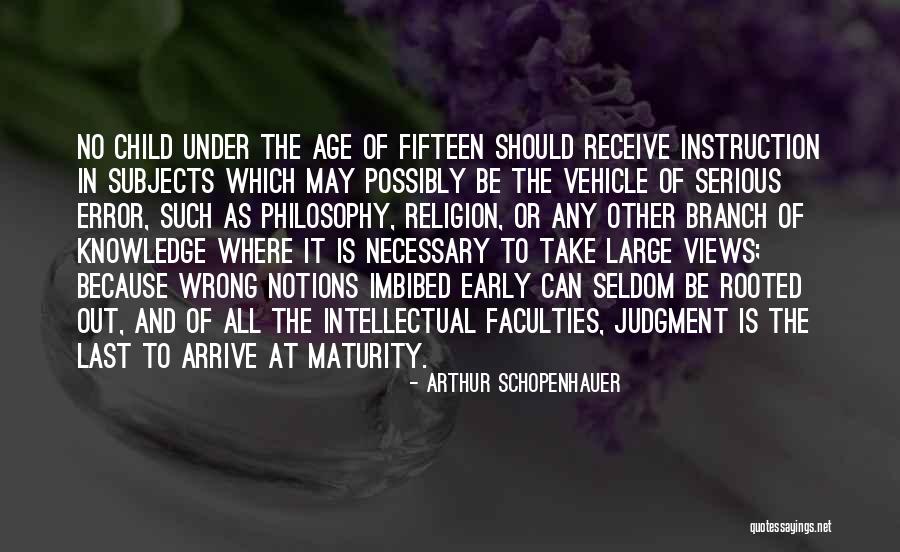 No child under the age of fifteen should receive instruction in subjects which may possibly be the vehicle of serious error, such as philosophy, religion, or any other branch of knowledge where it is necessary to take large views; because wrong notions imbibed early can seldom be rooted out, and of all the intellectual faculties, judgment is the last to arrive at maturity. — Arthur Schopenhauer