Quotes & Sayings About Annual Report
Enjoy reading and share 22 famous quotes about Annual Report with everyone.
Top Annual Report Quotes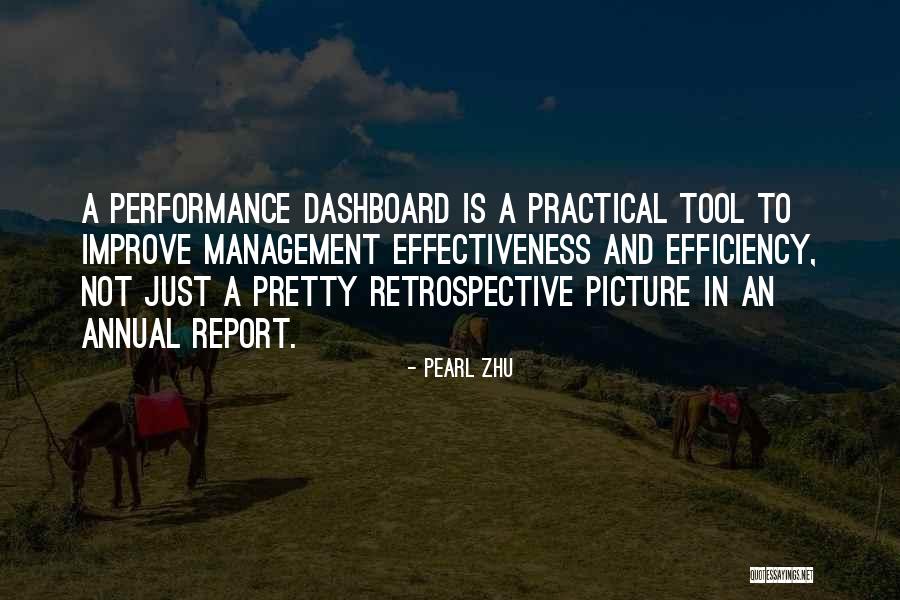 A performance dashboard is a practical tool to improve management effectiveness and efficiency, not just a pretty retrospective picture in an annual report. — Pearl Zhu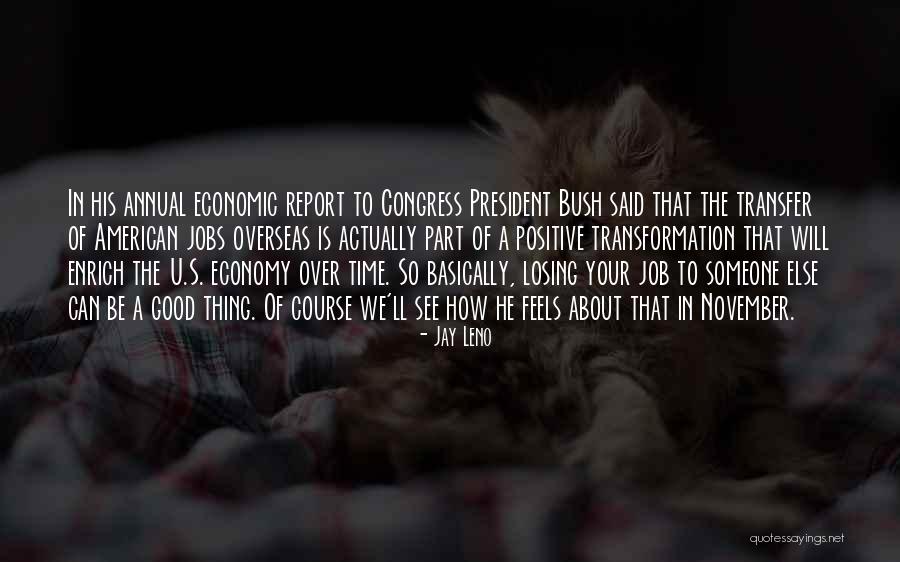 In his annual economic report to Congress President Bush said that the transfer of American jobs overseas is actually part of a positive transformation that will enrich the U.S. economy over time. So basically, losing your job to someone else can be a good thing. Of course we'll see how he feels about that in November. — Jay Leno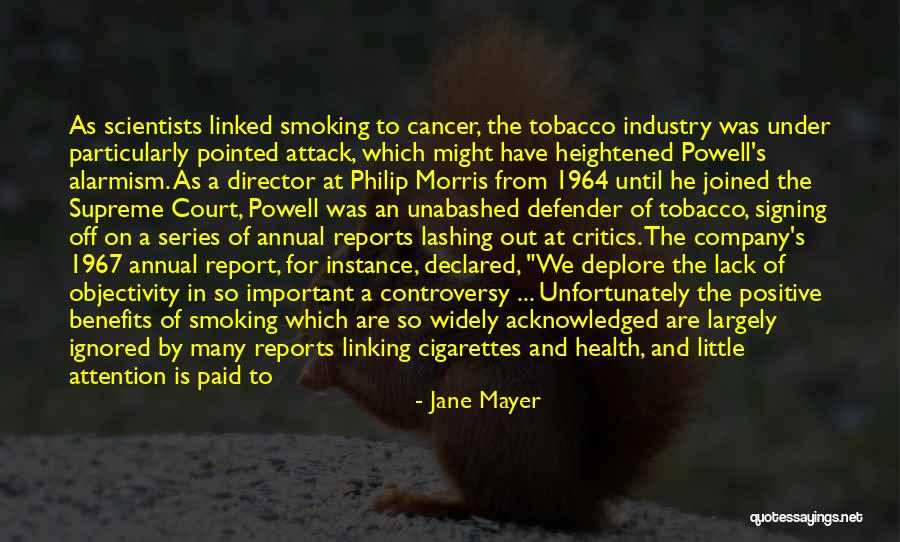 As scientists linked smoking to cancer, the tobacco industry was under particularly pointed attack, which might have heightened Powell's alarmism. As a director at Philip Morris from 1964 until he joined the Supreme Court, Powell was an unabashed defender of tobacco, signing off on a series of annual reports lashing out at critics. The company's 1967 annual report, for instance, declared, "We deplore the lack of objectivity in so important a controversy ... Unfortunately the positive benefits of smoking which are so widely acknowledged are largely ignored by many reports linking cigarettes and health, and little attention is paid to the scientific reports which are favorable to smoking." Powell took umbrage at the refusal by the Federal Communications Commission to grant the tobacco companies "equal time" to respond to their critics on television and argued that the companies' First Amendment rights were being infringed. — Jane Mayer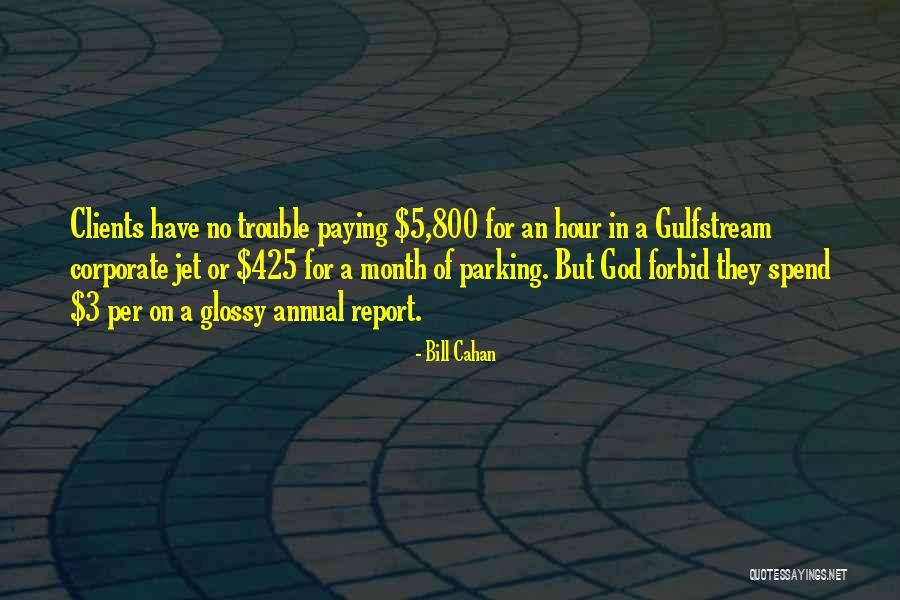 Clients have no trouble paying $5,800 for an hour in a Gulfstream corporate jet or $425 for a month of parking. But God forbid they spend $3 per on a glossy annual report. — Bill Cahan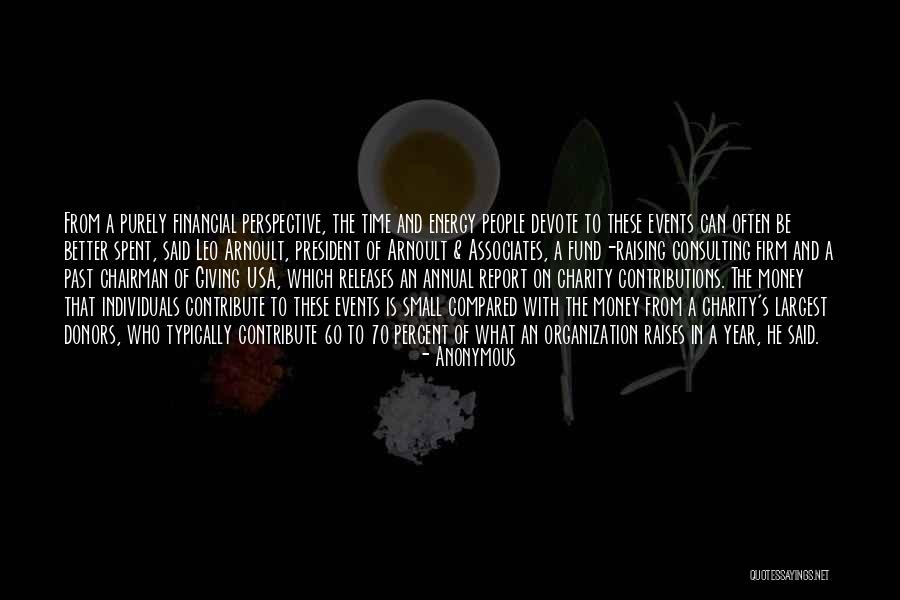 From a purely financial perspective, the time and energy people devote to these events can often be better spent, said Leo Arnoult, president of Arnoult & Associates, a fund-raising consulting firm and a past chairman of Giving USA, which releases an annual report on charity contributions. The money that individuals contribute to these events is small compared with the money from a charity's largest donors, who typically contribute 60 to 70 percent of what an organization raises in a year, he said. — Anonymous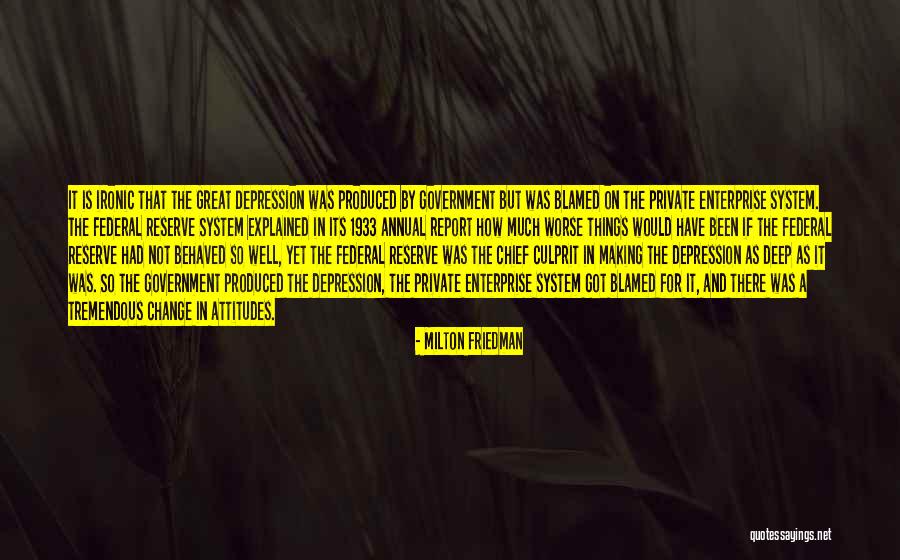 It is ironic that the Great Depression was produced by government but was blamed on the private enterprise system. The Federal Reserve System explained in its 1933 annual report how much worse things would have been if the Federal Reserve had not behaved so well, yet the Federal Reserve was the chief culprit in making the depression as deep as it was. So the government produced the depression, the private enterprise system got blamed for it, and there was a tremendous change in attitudes. — Milton Friedman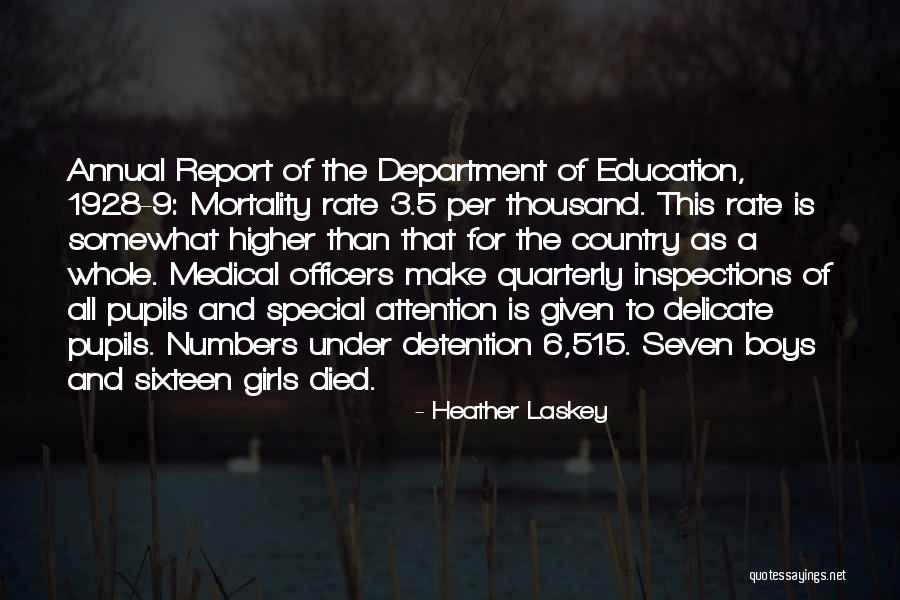 Annual Report of the Department of Education, 1928-9: Mortality rate 3.5 per thousand. This rate is somewhat higher than that for the country as a whole. Medical officers make quarterly inspections of all pupils and special attention is given to delicate pupils. Numbers under detention 6,515. Seven boys and sixteen girls died. — Heather Laskey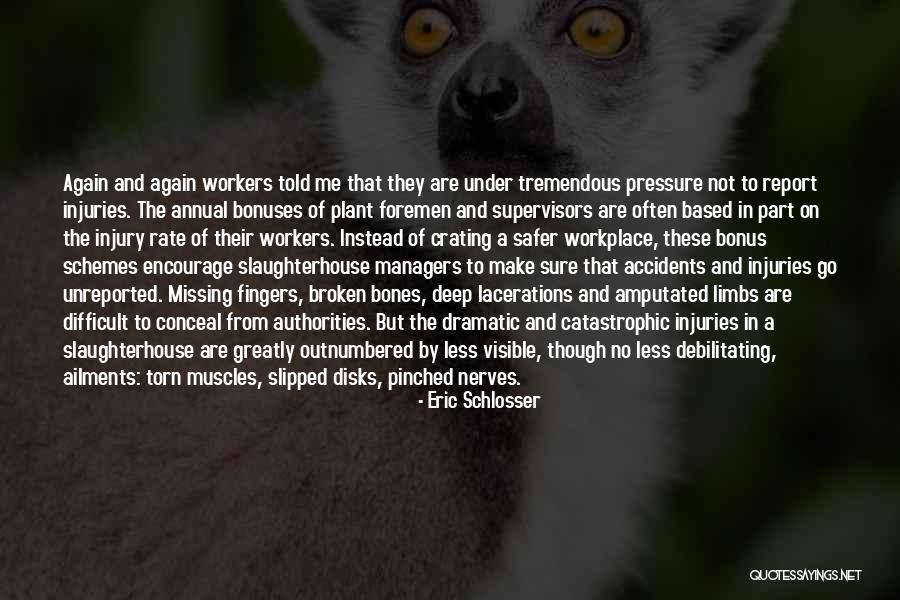 Again and again workers told me that they are under tremendous pressure not to report injuries. The annual bonuses of plant foremen and supervisors are often based in part on the injury rate of their workers. Instead of crating a safer workplace, these bonus schemes encourage slaughterhouse managers to make sure that accidents and injuries go unreported. Missing fingers, broken bones, deep lacerations and amputated limbs are difficult to conceal from authorities. But the dramatic and catastrophic injuries in a slaughterhouse are greatly outnumbered by less visible, though no less debilitating, ailments: torn muscles, slipped disks, pinched nerves. — Eric Schlosser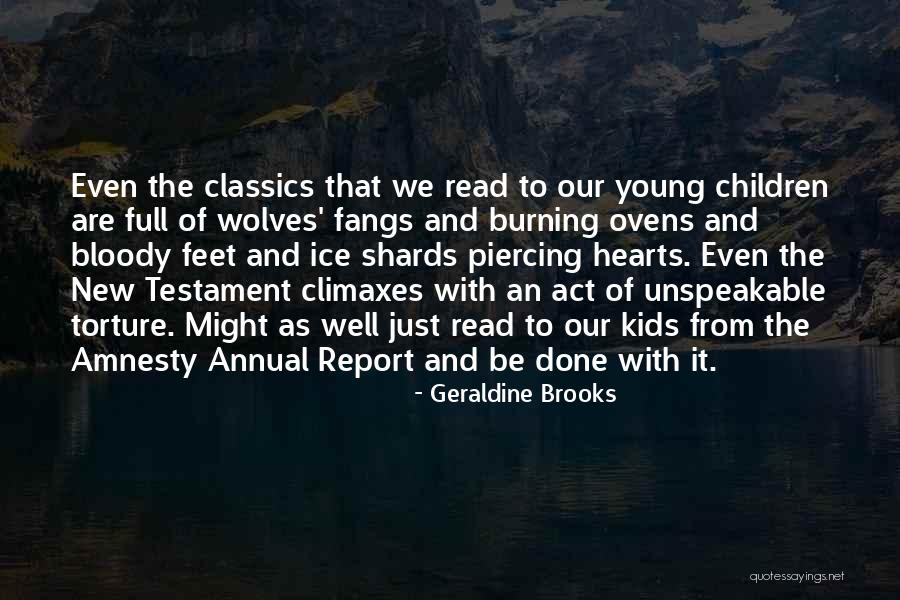 Even the classics that we read to our young children are full of wolves' fangs and burning ovens and bloody feet and ice shards piercing hearts. Even the New Testament climaxes with an act of unspeakable torture. Might as well just read to our kids from the Amnesty Annual Report and be done with it. — Geraldine Brooks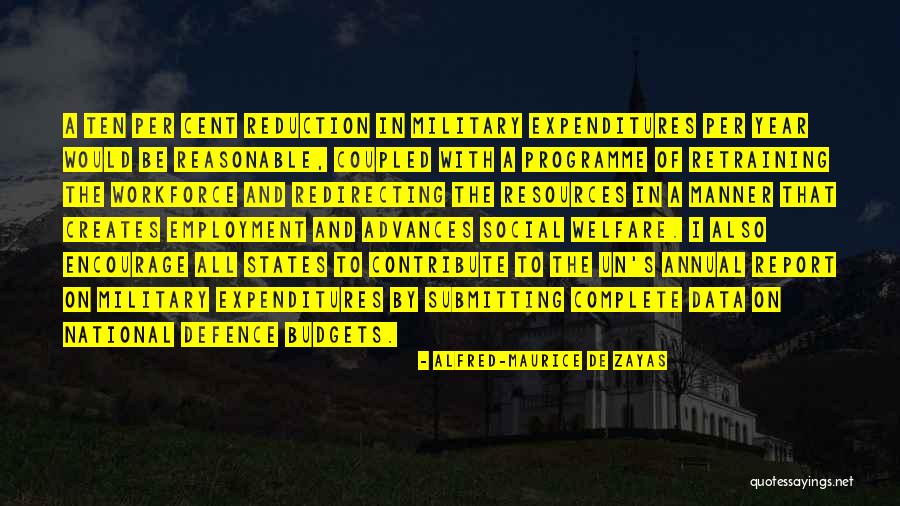 A ten per cent reduction in military expenditures per year would be reasonable, coupled with a programme of retraining the workforce and redirecting the resources in a manner that creates employment and advances social welfare. I also encourage all States to contribute to the UN's annual Report on Military Expenditures by submitting complete data on national defence budgets. — Alfred-Maurice De Zayas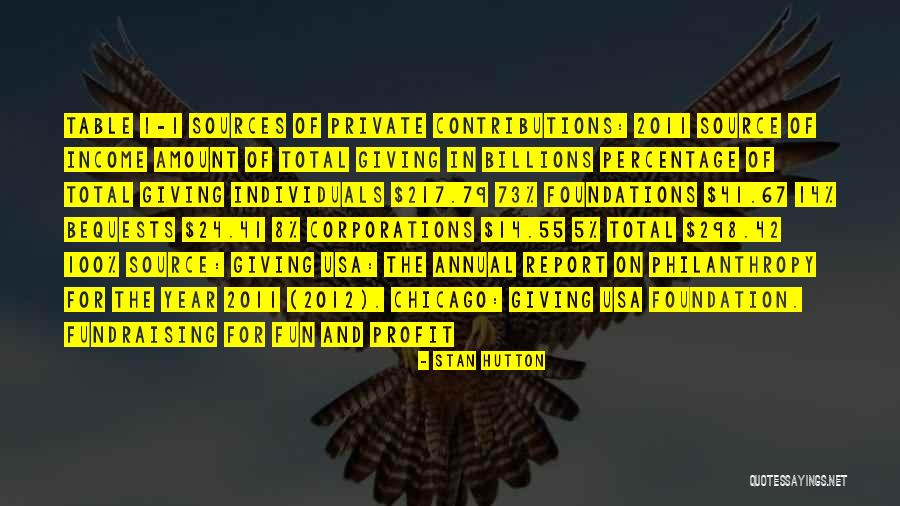 Table 1-1 Sources of Private Contributions: 2011 Source of Income Amount of Total Giving in Billions Percentage of Total Giving Individuals $217.79 73% Foundations $41.67 14% Bequests $24.41 8% Corporations $14.55 5% Total $298.42 100% Source: Giving USA: The Annual Report on Philanthropy for the Year 2011 (2012). Chicago: Giving USA Foundation. Fundraising for fun and profit — Stan Hutton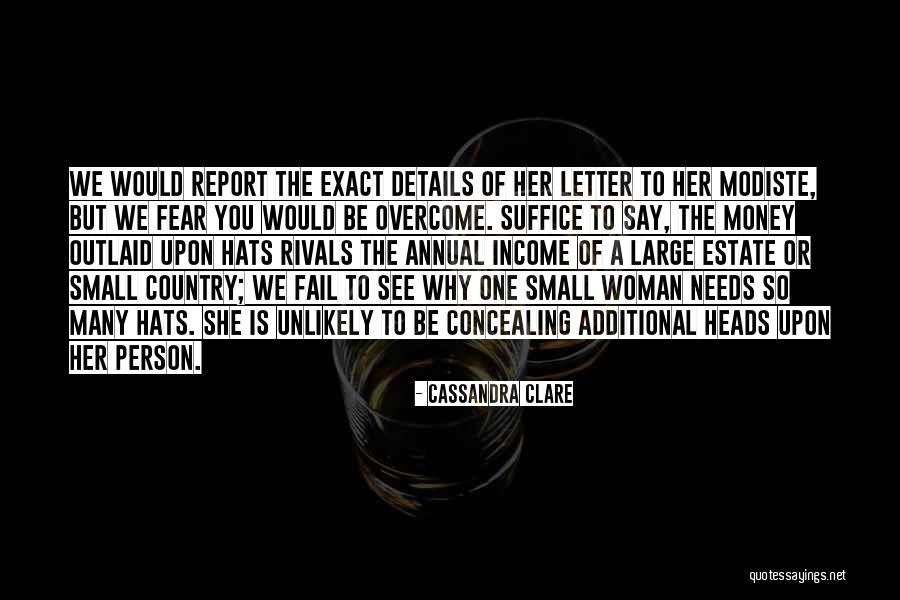 We would report the exact details of her letter to her modiste, but we fear you would be overcome. Suffice to say, the money outlaid upon hats rivals the annual income of a large estate or small country; We fail to see why one small woman needs so many hats. She is unlikely to be concealing additional heads upon her person. — Cassandra Clare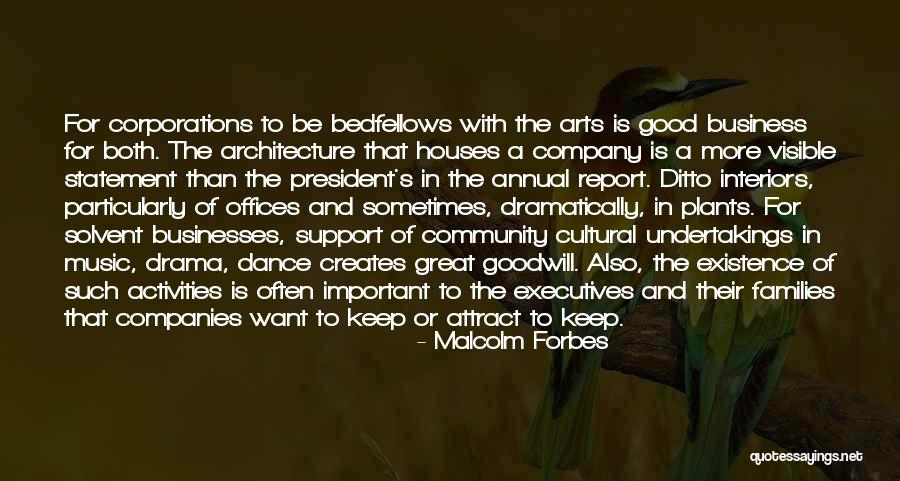 For corporations to be bedfellows with the arts is good business for both. The architecture that houses a company is a more visible statement than the president's in the annual report. Ditto interiors, particularly of offices and sometimes, dramatically, in plants. For solvent businesses, support of community cultural undertakings in music, drama, dance creates great goodwill. Also, the existence of such activities is often important to the executives and their families that companies want to keep or attract to keep. — Malcolm Forbes
Later that same spring of 1872, in his own annual report, Roebling would write that most men got over their troubles either by suffering for a long time or "by applying the heroic mode of returning into the caisson at once as soon as pains manifested themselves. — David McCullough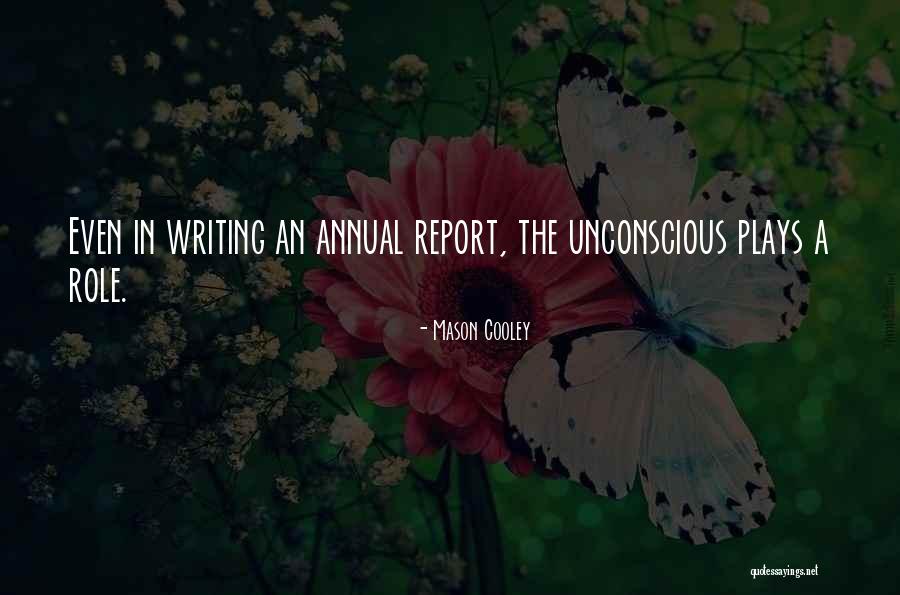 Even in writing an annual report, the unconscious plays a role. — Mason Cooley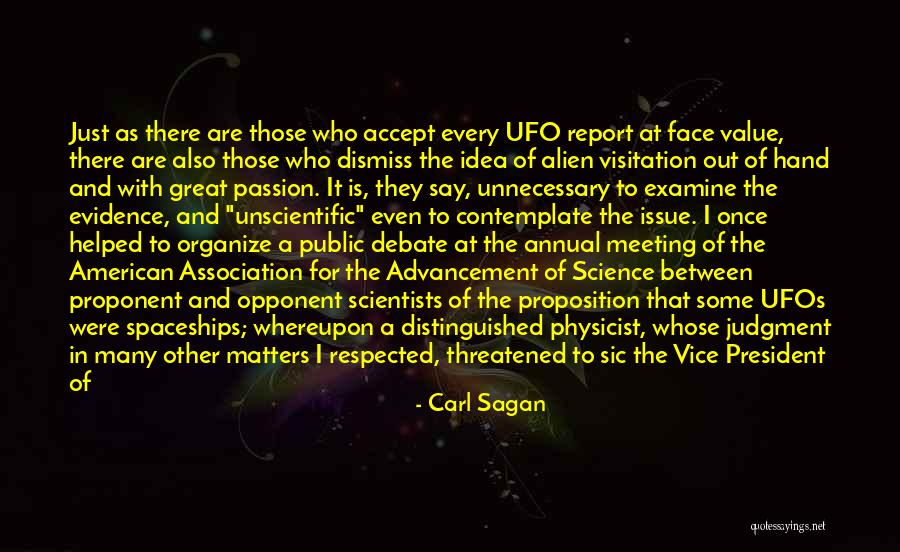 Just as there are those who accept every UFO report at face value, there are also those who dismiss the idea of alien visitation out of hand and with great passion. It is, they say, unnecessary to examine the evidence, and "unscientific" even to contemplate the issue. I once helped to organize a public debate at the annual meeting of the American Association for the Advancement of Science between proponent and opponent scientists of the proposition that some UFOs were spaceships; whereupon a distinguished physicist, whose judgment in many other matters I respected, threatened to sic the Vice President of the United States on me if I persisted in this madness. (Nevertheless, the debate was held and published, the issues were a little better clarified, and I did not hear from Spiro T. Agnew.) — Carl Sagan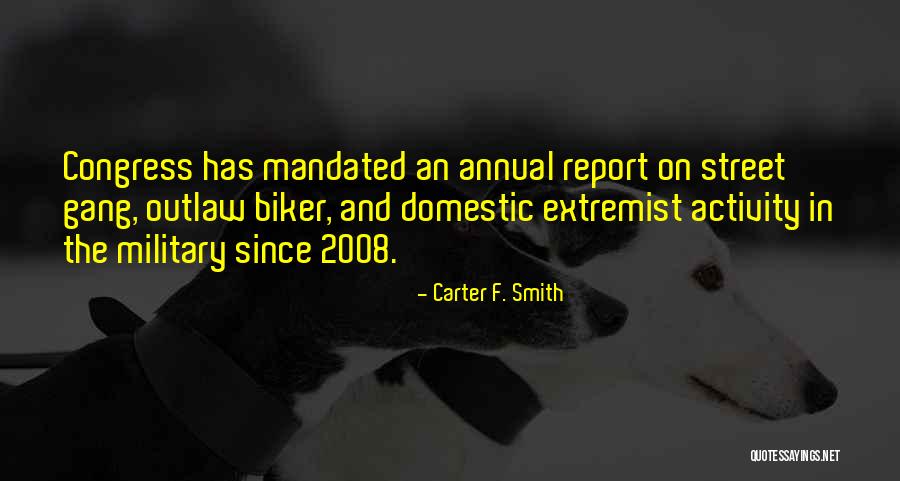 Congress has mandated an annual report on street gang, outlaw biker, and domestic extremist activity in the military since 2008. — Carter F. Smith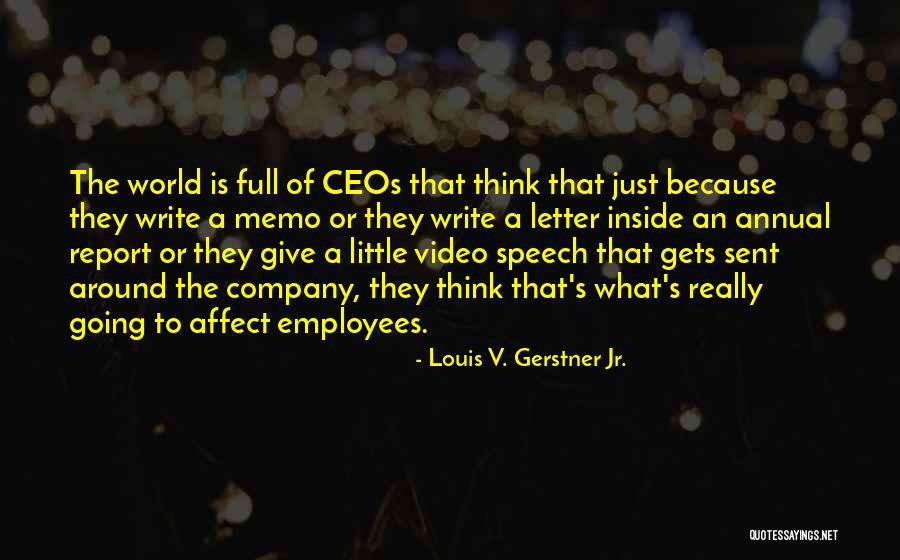 The world is full of CEOs that think that just because they write a memo or they write a letter inside an annual report or they give a little video speech that gets sent around the company, they think that's what's really going to affect employees. — Louis V. Gerstner Jr.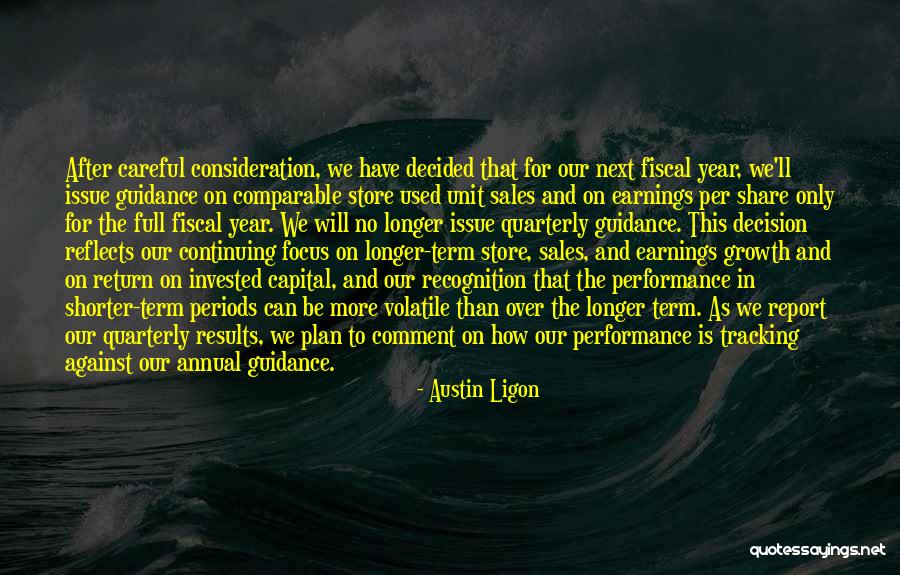 After careful consideration, we have decided that for our next fiscal year, we'll issue guidance on comparable store used unit sales and on earnings per share only for the full fiscal year. We will no longer issue quarterly guidance. This decision reflects our continuing focus on longer-term store, sales, and earnings growth and on return on invested capital, and our recognition that the performance in shorter-term periods can be more volatile than over the longer term. As we report our quarterly results, we plan to comment on how our performance is tracking against our annual guidance. — Austin Ligon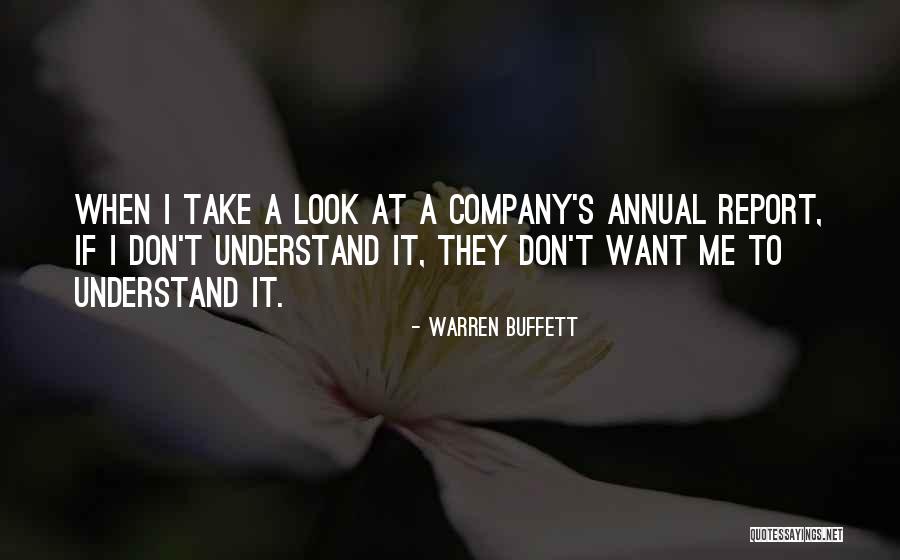 When I take a look at a company's annual report, if I don't understand it, they don't want me to understand it. — Warren Buffett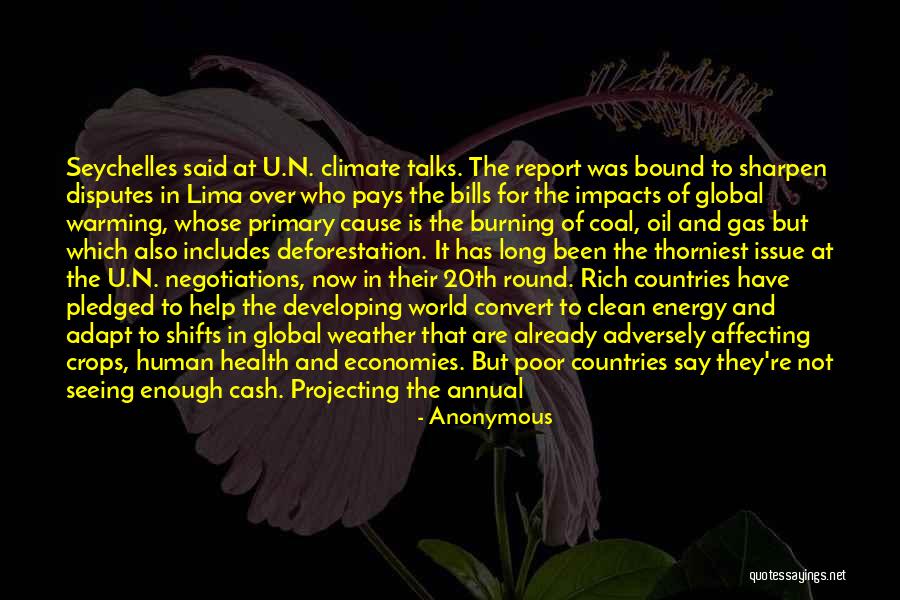 Seychelles said at U.N. climate talks. The report was bound to sharpen disputes in Lima over who pays the bills for the impacts of global warming, whose primary cause is the burning of coal, oil and gas but which also includes deforestation. It has long been the thorniest issue at the U.N. negotiations, now in their 20th round. Rich countries have pledged to help the developing world convert to clean energy and adapt to shifts in global weather that are already adversely affecting crops, human health and economies. But poor countries say they're not seeing enough cash. Projecting the annual costs that poor countries will face by 2050 just to adapt, the United Nations Environment Program report deemed the previous estimate of $70 billion to $100 billion "a significant underestimate." It had been based on 2010 World Bank numbers. — Anonymous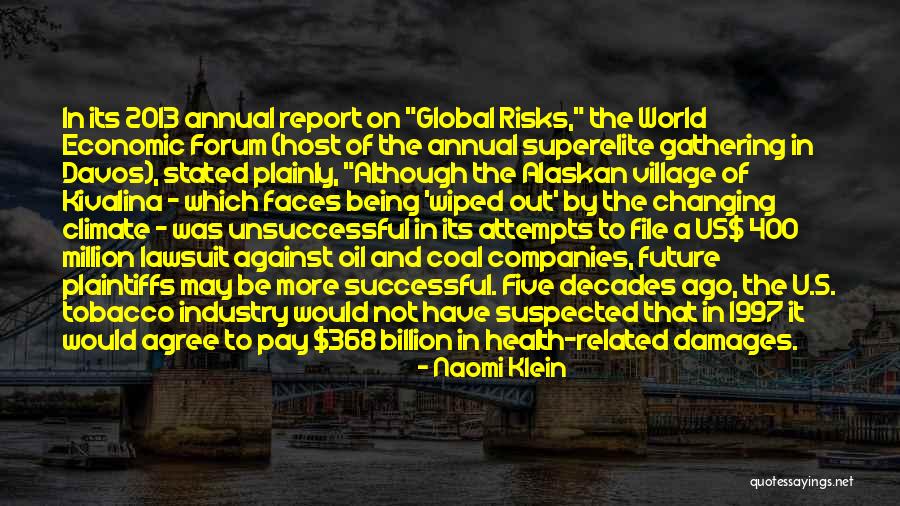 In its 2013 annual report on "Global Risks," the World Economic Forum (host of the annual superelite gathering in Davos), stated plainly, "Although the Alaskan village of Kivalina - which faces being 'wiped out' by the changing climate - was unsuccessful in its attempts to file a US$ 400 million lawsuit against oil and coal companies, future plaintiffs may be more successful. Five decades ago, the U.S. tobacco industry would not have suspected that in 1997 it would agree to pay $368 billion in health-related damages. — Naomi Klein