Quotes & Sayings About America Abraham Lincoln
Enjoy reading and share 35 famous quotes about America Abraham Lincoln with everyone.
Top America Abraham Lincoln Quotes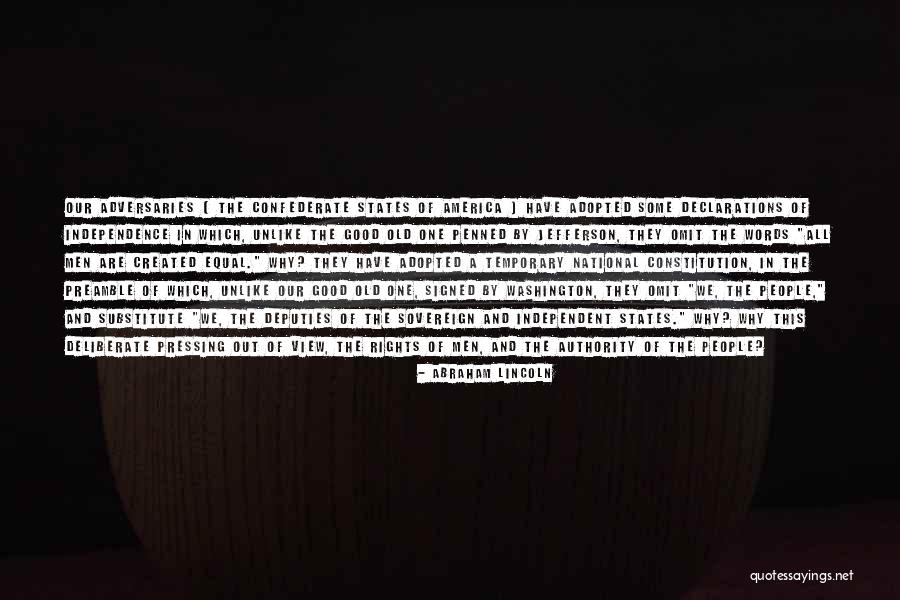 Our adversaries [ the Confederate States of America ] have adopted some declarations of independence in which, unlike the good old one penned by Jefferson, they omit the words "all men are created equal." Why? They have adopted a temporary national constitution, in the preamble of which, unlike our good old one, signed by Washington, they omit "We, the People," and substitute "We, the deputies of the sovereign and independent States." Why? Why this deliberate pressing out of view, the rights of men, and the authority of the people? — Abraham Lincoln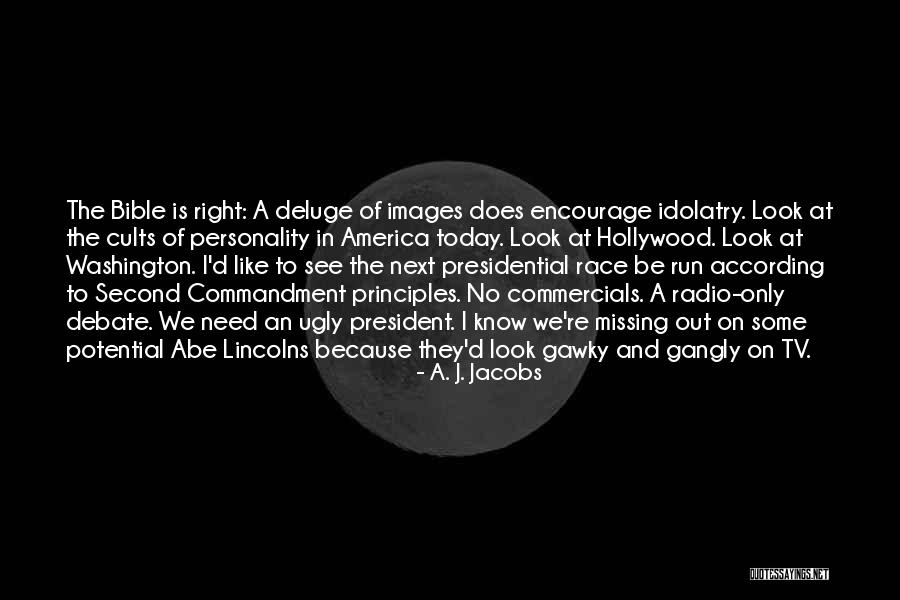 The Bible is right: A deluge of images does encourage idolatry. Look at the cults of personality in America today. Look at Hollywood. Look at Washington. I'd like to see the next presidential race be run according to Second Commandment principles. No commercials. A radio-only debate. We need an ugly president. I know we're missing out on some potential Abe Lincolns because they'd look gawky and gangly on TV. — A. J. Jacobs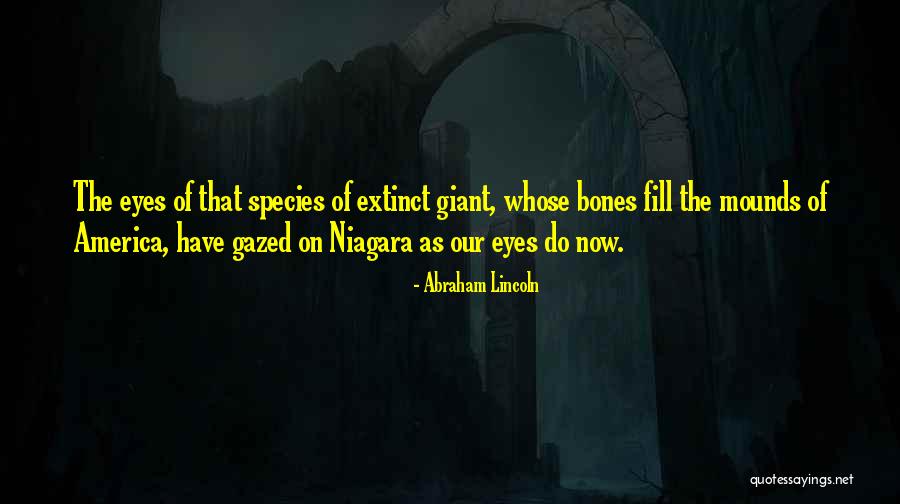 The eyes of that species of extinct giant, whose bones fill the mounds of America, have gazed on Niagara as our eyes do now. — Abraham Lincoln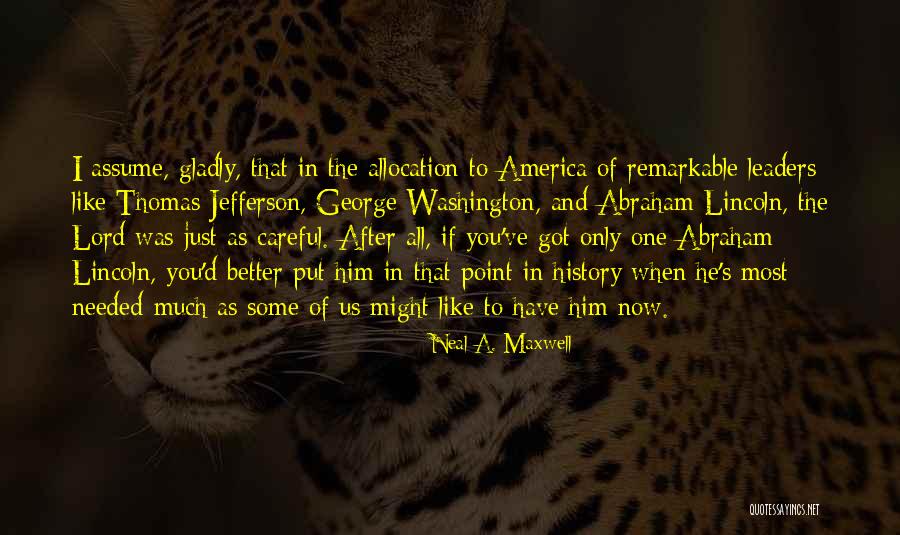 I assume, gladly, that in the allocation to America of remarkable leaders like Thomas Jefferson, George Washington, and Abraham Lincoln, the Lord was just as careful. After all, if you've got only one Abraham Lincoln, you'd better put him in that point in history when he's most needed-much as some of us might like to have him now. — Neal A. Maxwell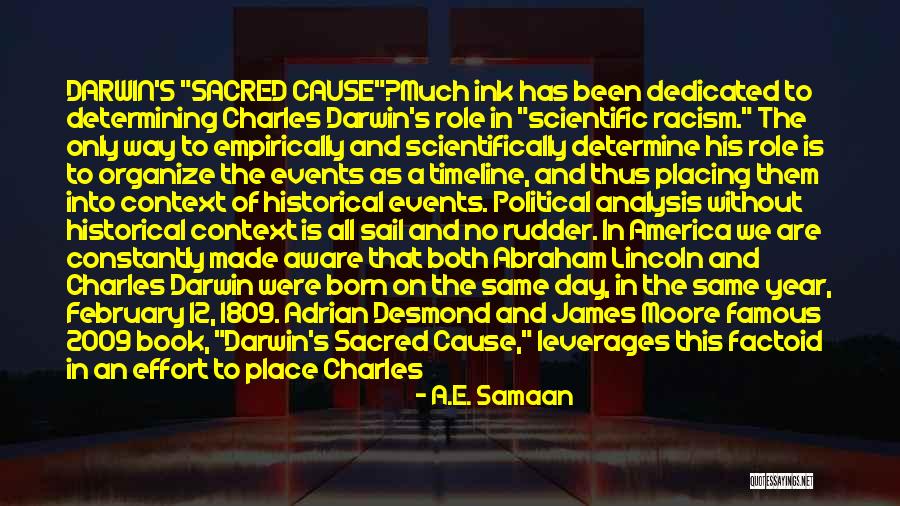 DARWIN'S "SACRED CAUSE"?
Much ink has been dedicated to determining Charles Darwin's role in "scientific racism." The only way to empirically and scientifically determine his role is to organize the events as a timeline, and thus placing them into context of historical events. Political analysis without historical context is all sail and no rudder. In America we are constantly made aware that both Abraham Lincoln and Charles Darwin were born on the same day, in the same year, February 12, 1809. Adrian Desmond and James Moore famous 2009 book, "Darwin's Sacred Cause," leverages this factoid in an effort to place Charles Darwin at par with Abraham Lincoln in the abolition of slavery. This fraudulently steals away credit from Abraham Lincoln, who took a bullet to the head for the cause, and transfers it by inference to an aristocrat whom remained in his plush abode throughout the conflict and never lifted a finger for the cause. — A.E. Samaan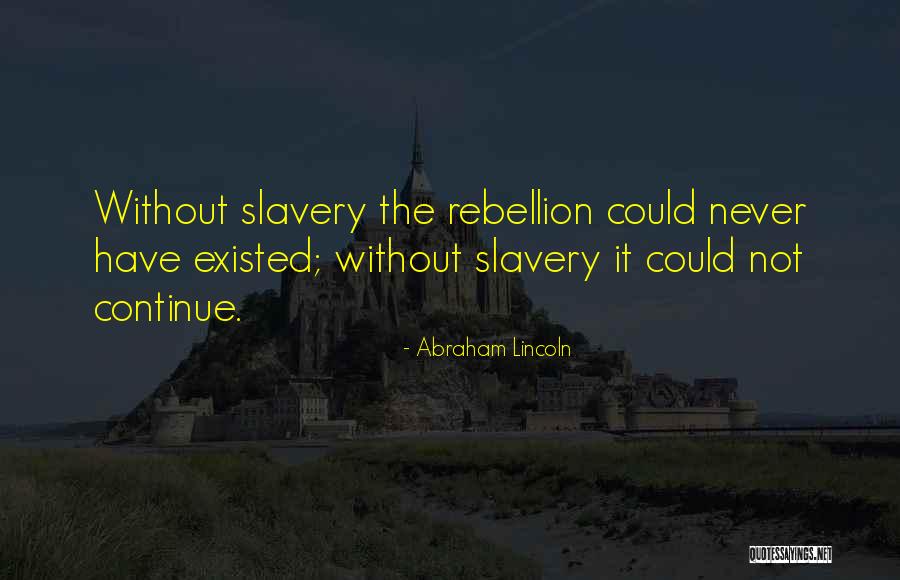 Without slavery the rebellion could never have existed; without slavery it could not continue. — Abraham Lincoln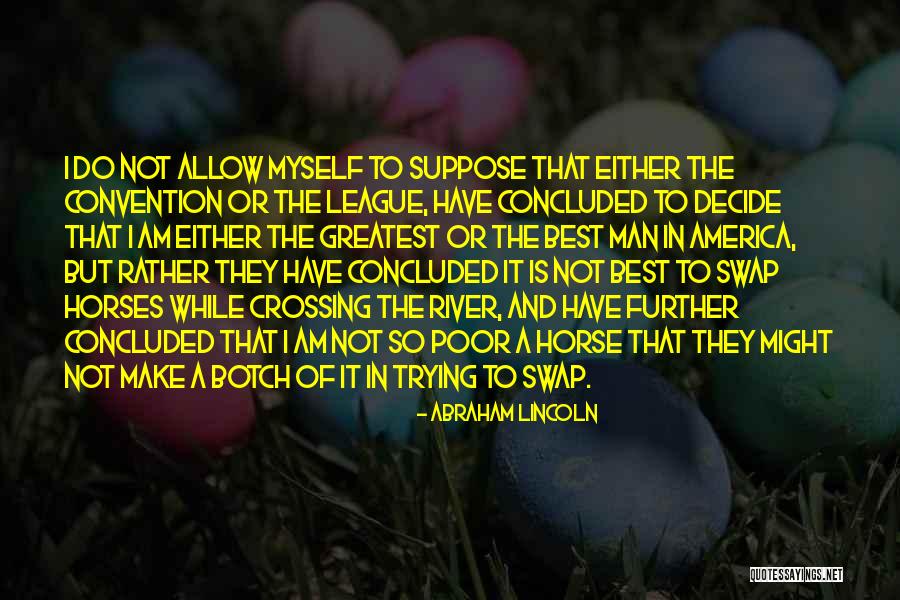 I do not allow myself to suppose that either the convention or the League, have concluded to decide that I am either the greatest or the best man in America, but rather they have concluded it is not best to swap horses while crossing the river, and have further concluded that I am not so poor a horse that they might not make a botch of it in trying to swap. — Abraham Lincoln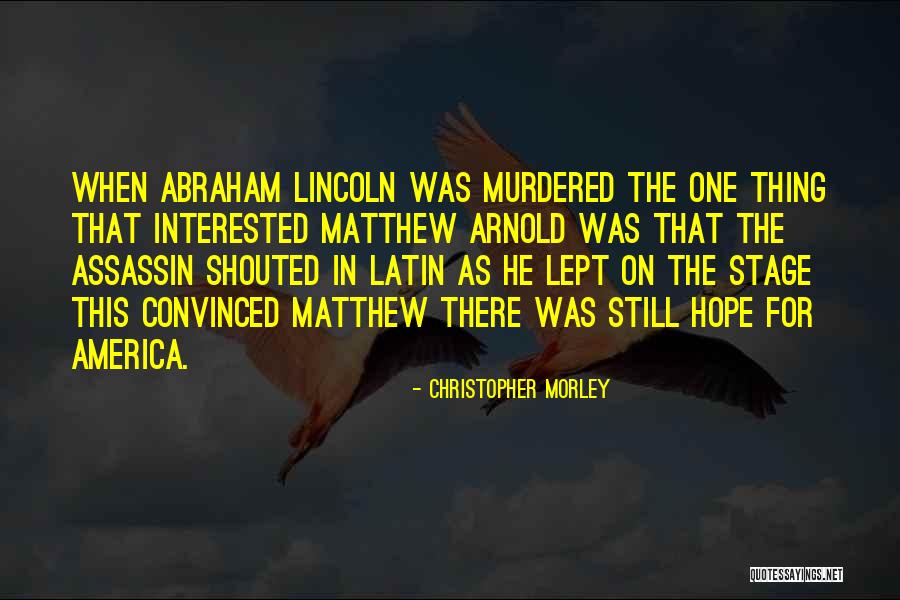 When Abraham Lincoln was murdered The one thing that interested Matthew Arnold Was that the assassin shouted in Latin As he lept on the stage This convinced Matthew There was still hope for America. — Christopher Morley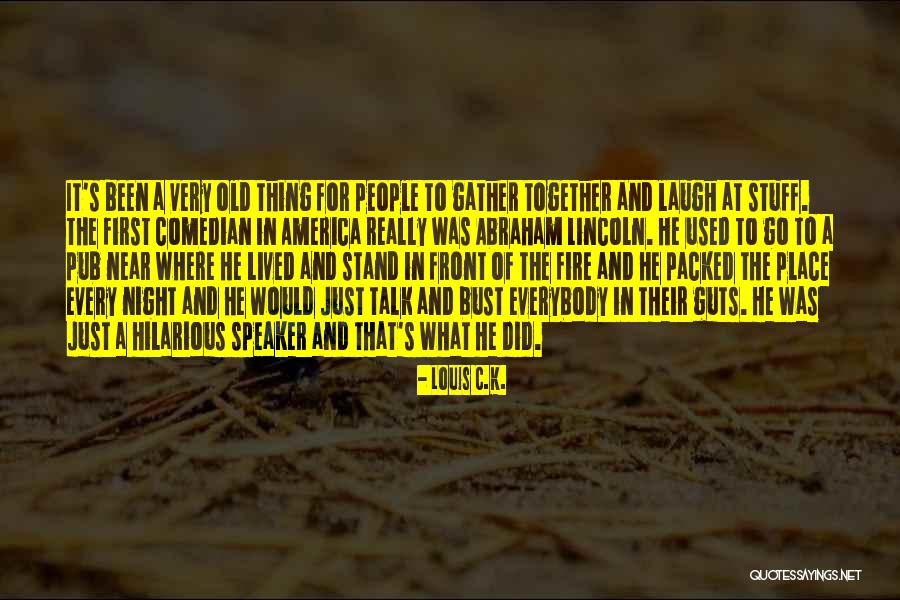 It's been a very old thing for people to gather together and laugh at stuff. The first comedian in America really was Abraham Lincoln. He used to go to a pub near where he lived and stand in front of the fire and he packed the place every night and he would just talk and bust everybody in their guts. He was just a hilarious speaker and that's what he did. — Louis C.K.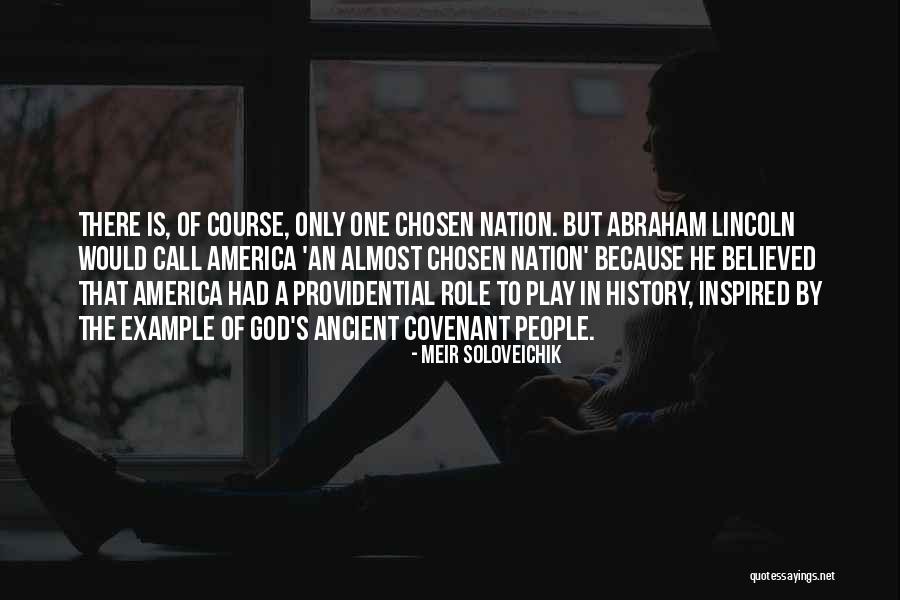 There is, of course, only one chosen nation. But Abraham Lincoln would call America 'an almost chosen nation' because he believed that America had a providential role to play in history, inspired by the example of God's ancient covenant people. — Meir Soloveichik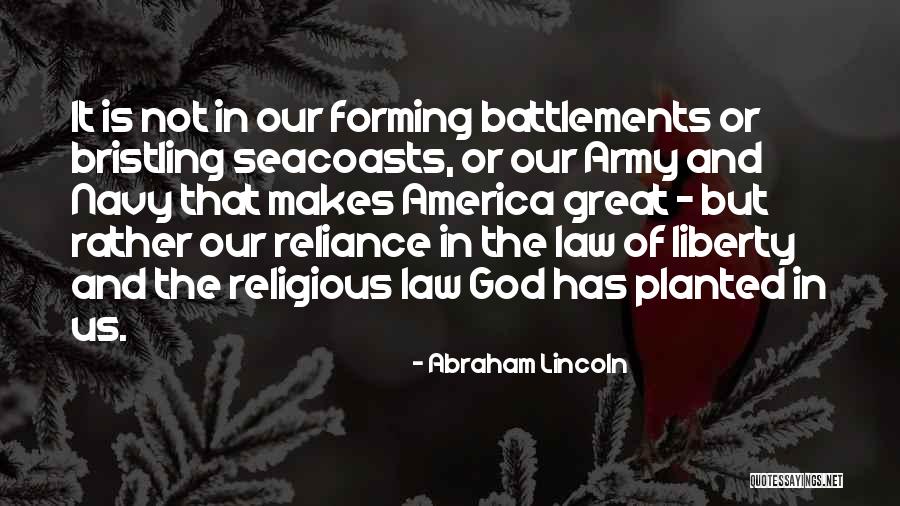 It is not in our forming battlements or bristling seacoasts, or our Army and Navy that makes America great - but rather our reliance in the law of liberty and the religious law God has planted in us. — Abraham Lincoln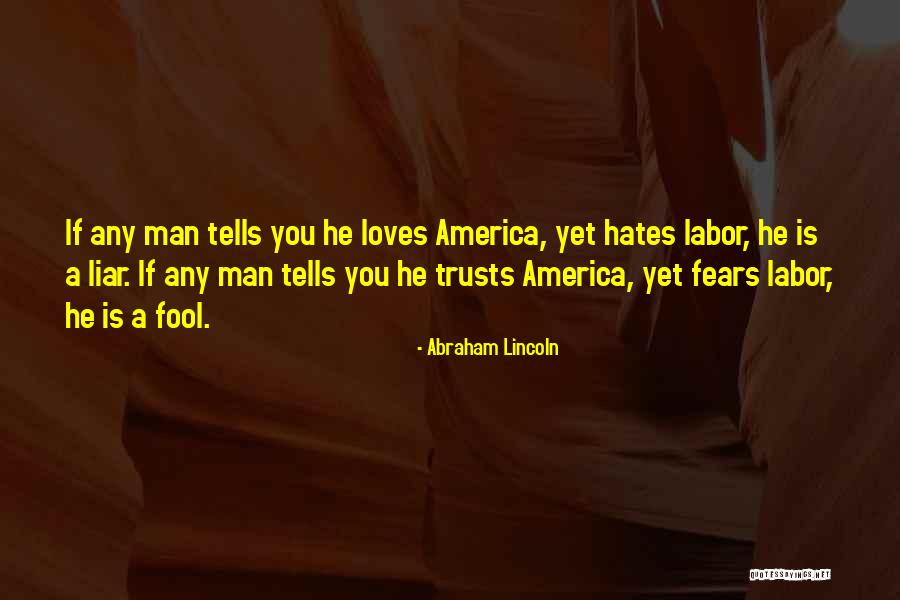 If any man tells you he loves America, yet hates labor, he is a liar. If any man tells you he trusts America, yet fears labor, he is a fool. — Abraham Lincoln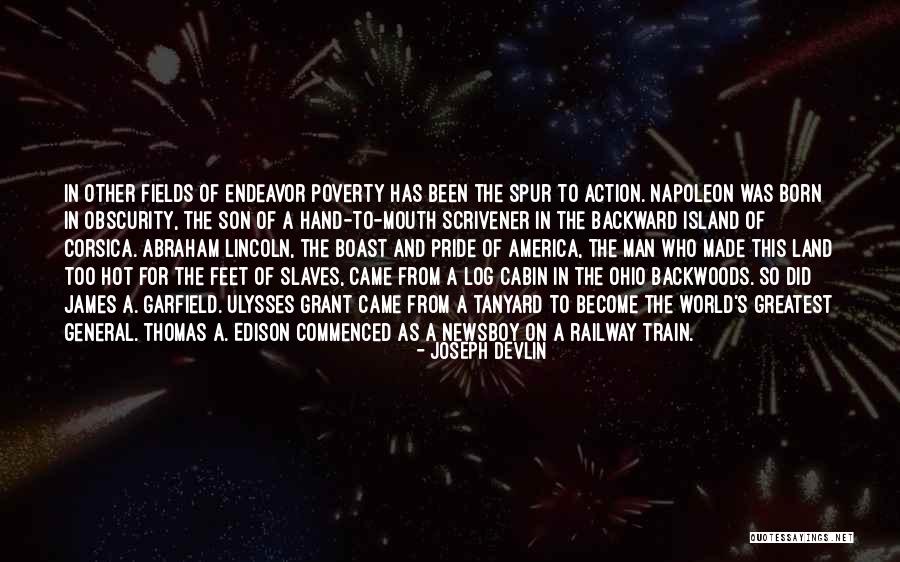 In other fields of endeavor poverty has been the spur to action. Napoleon was born in obscurity, the son of a hand-to-mouth scrivener in the backward island of Corsica. Abraham Lincoln, the boast and pride of America, the man who made this land too hot for the feet of slaves, came from a log cabin in the Ohio backwoods. So did James A. Garfield. Ulysses Grant came from a tanyard to become the world's greatest general. Thomas A. Edison commenced as a newsboy on a railway train. — Joseph Devlin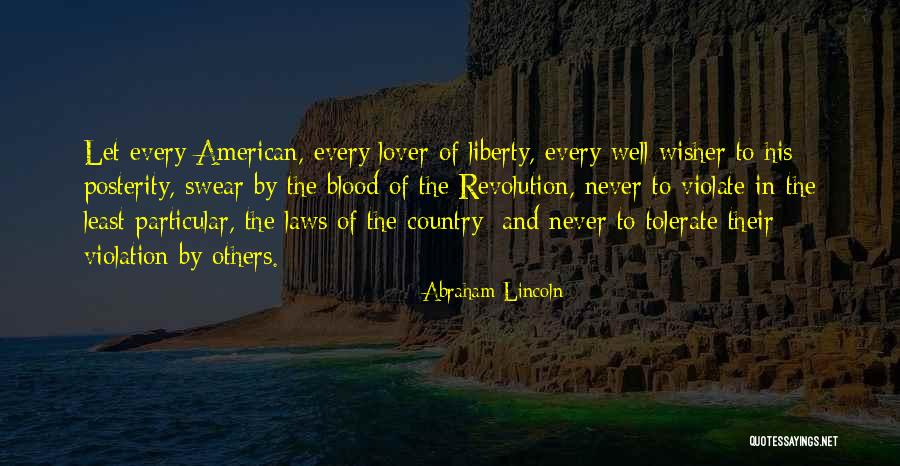 Let every American, every lover of liberty, every well wisher to his posterity, swear by the blood of the Revolution, never to violate in the least particular, the laws of the country; and never to tolerate their violation by others. — Abraham Lincoln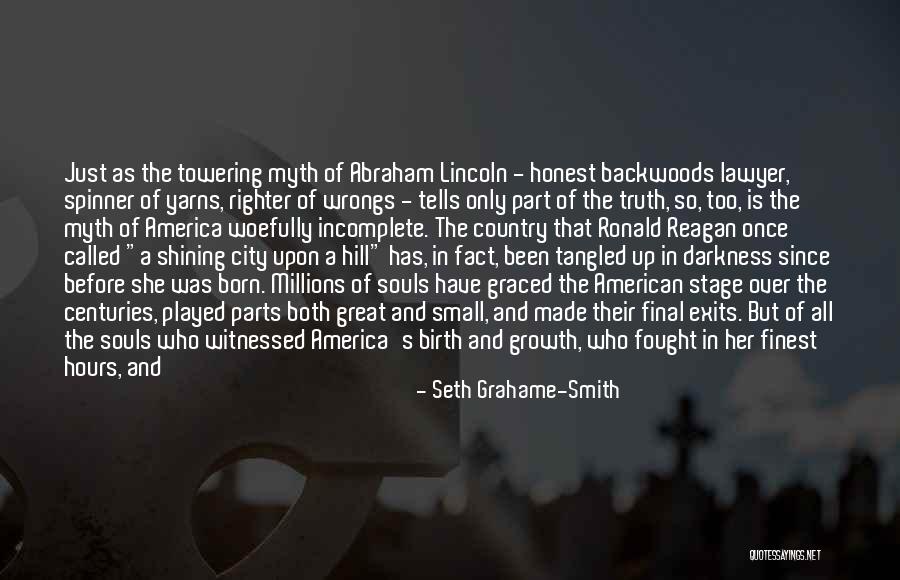 Just as the towering myth of Abraham Lincoln - honest backwoods lawyer, spinner of yarns, righter of wrongs - tells only part of the truth, so, too, is the myth of America woefully incomplete. The country that Ronald Reagan once called "a shining city upon a hill" has, in fact, been tangled up in darkness since before she was born. Millions of souls have graced the American stage over the centuries, played parts both great and small, and made their final exits. But of all the souls who witnessed America's birth and growth, who fought in her finest hours, and who had a hand in her hidden history, only one soul remains to tell the whole truth. What follows is the story of Henry Sturges. What follows is the story of an American life. — Seth Grahame-Smith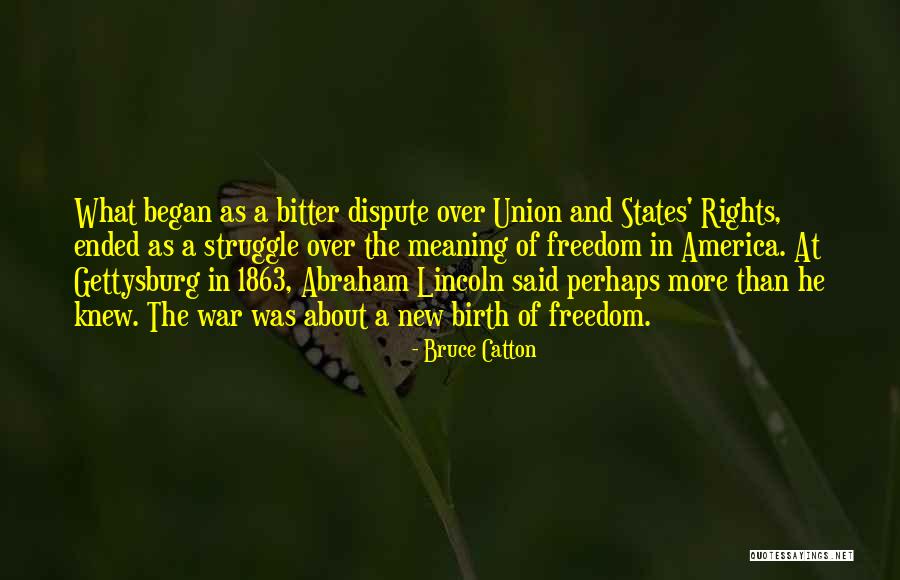 What began as a bitter dispute over Union and States' Rights, ended as a struggle over the meaning of freedom in America. At Gettysburg in 1863, Abraham Lincoln said perhaps more than he knew. The war was about a new birth of freedom. — Bruce Catton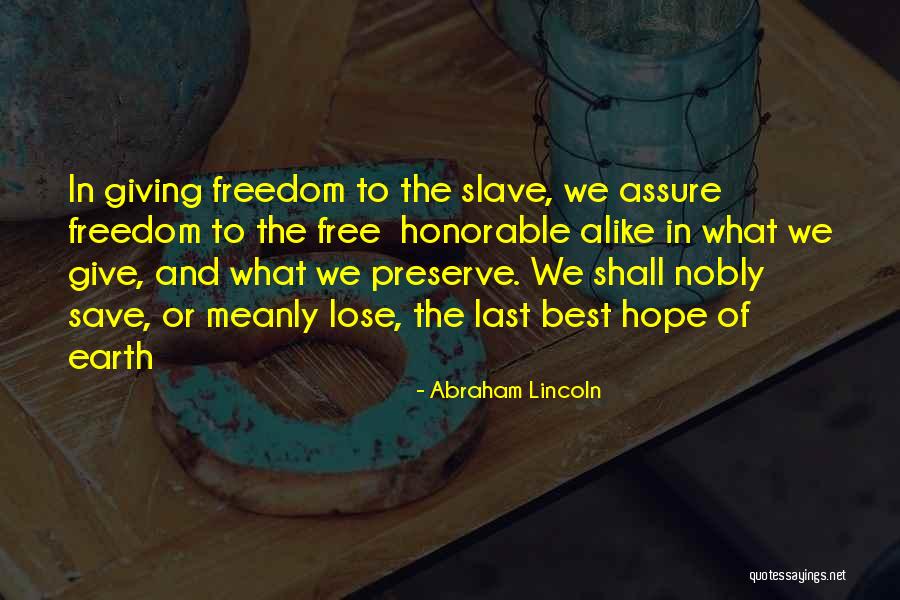 In giving freedom to the slave, we assure freedom to the free
honorable alike in what we give, and what we preserve. We shall nobly save, or meanly lose, the last best hope of earth — Abraham Lincoln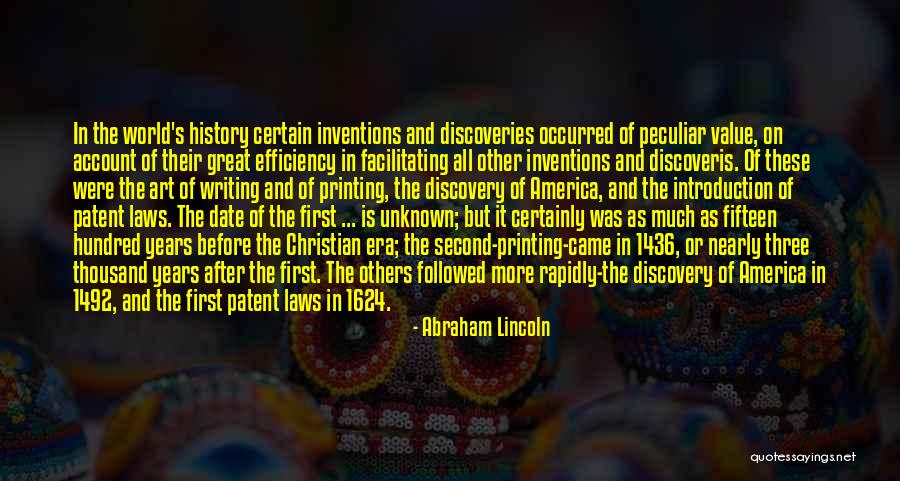 In the world's history certain inventions and discoveries occurred of peculiar value, on account of their great efficiency in facilitating all other inventions and discoveris. Of these were the art of writing and of printing, the discovery of America, and the introduction of patent laws. The date of the first ... is unknown; but it certainly was as much as fifteen hundred years before the Christian era; the second-printing-came in 1436, or nearly three thousand years after the first. The others followed more rapidly-the discovery of America in 1492, and the first patent laws in 1624. — Abraham Lincoln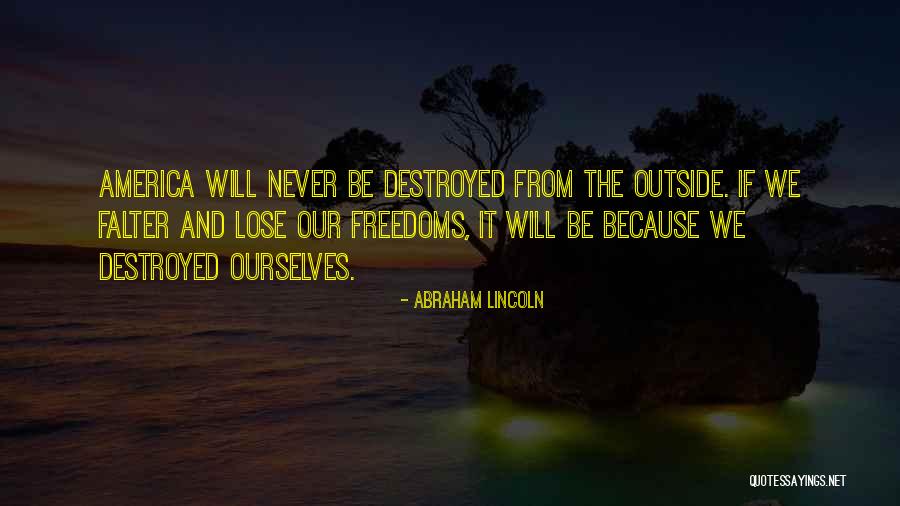 America will never be destroyed from the outside. If we falter and lose our freedoms, it will be because we destroyed ourselves. — Abraham Lincoln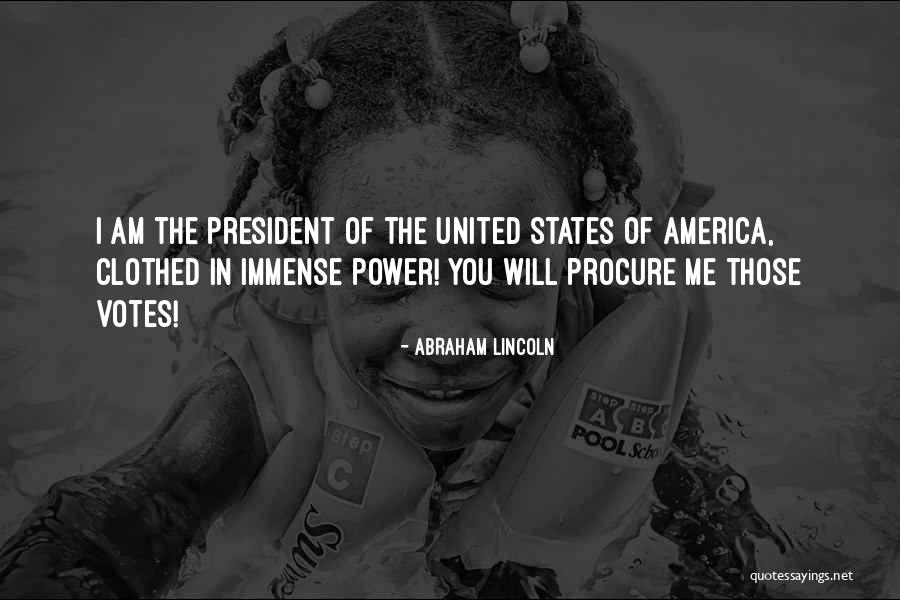 I am the president of the United States of America, clothed in immense power! You will procure me those votes! — Abraham Lincoln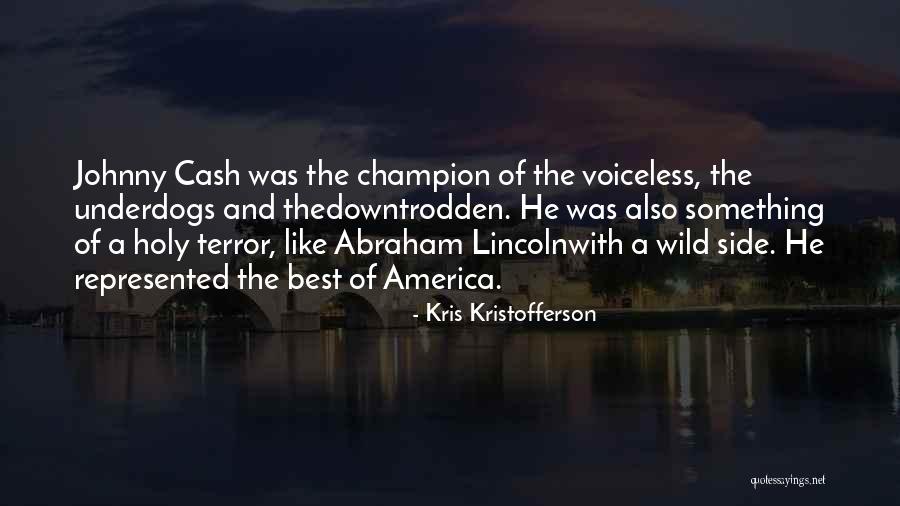 Johnny Cash was the champion of the voiceless, the underdogs and the
downtrodden. He was also something of a holy terror, like Abraham Lincoln
with a wild side. He represented the best of America. — Kris Kristofferson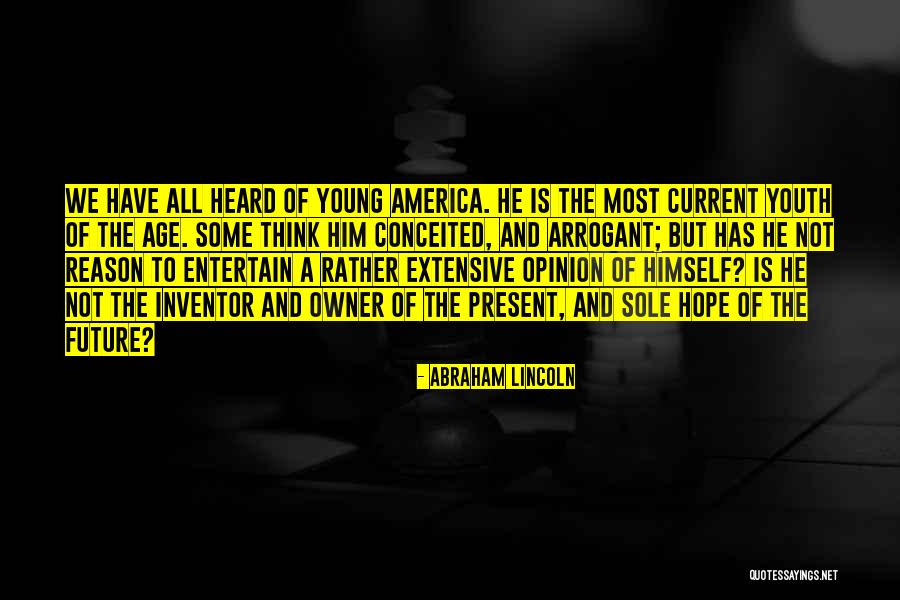 We have all heard of Young America. He is the most current youth of the age. Some think him conceited, and arrogant; but has he not reason to entertain a rather extensive opinion of himself? Is he not the inventor and owner of the present, and sole hope of the future? — Abraham Lincoln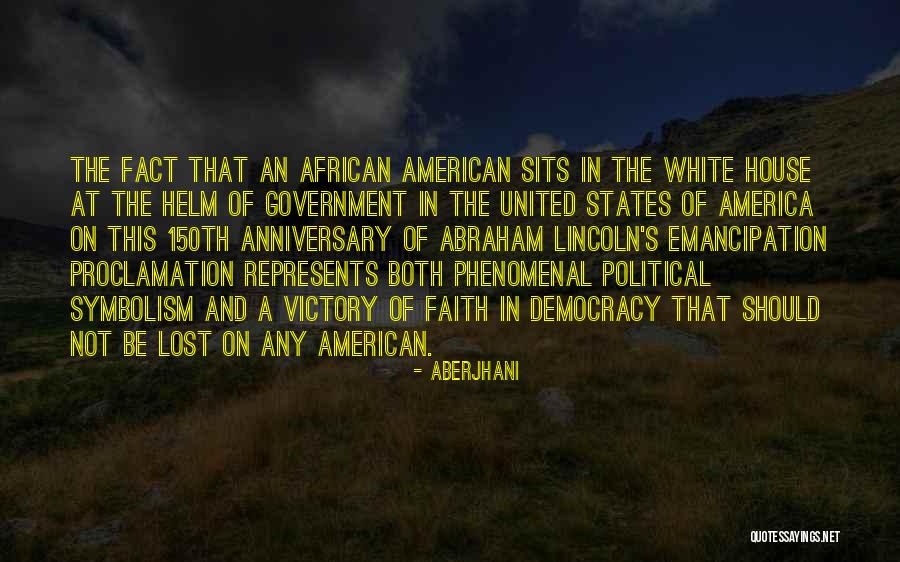 The fact that an African American sits in the White House at the helm of government in the United States of America on this 150th anniversary of Abraham Lincoln's Emancipation Proclamation represents both phenomenal political symbolism and a victory of faith in democracy that should not be lost on any American. — Aberjhani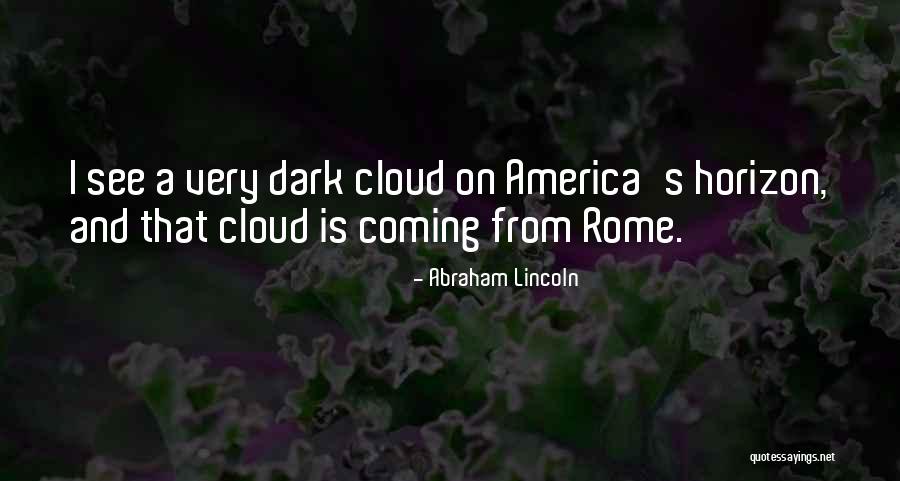 I see a very dark cloud on America's horizon, and that cloud is coming from Rome. — Abraham Lincoln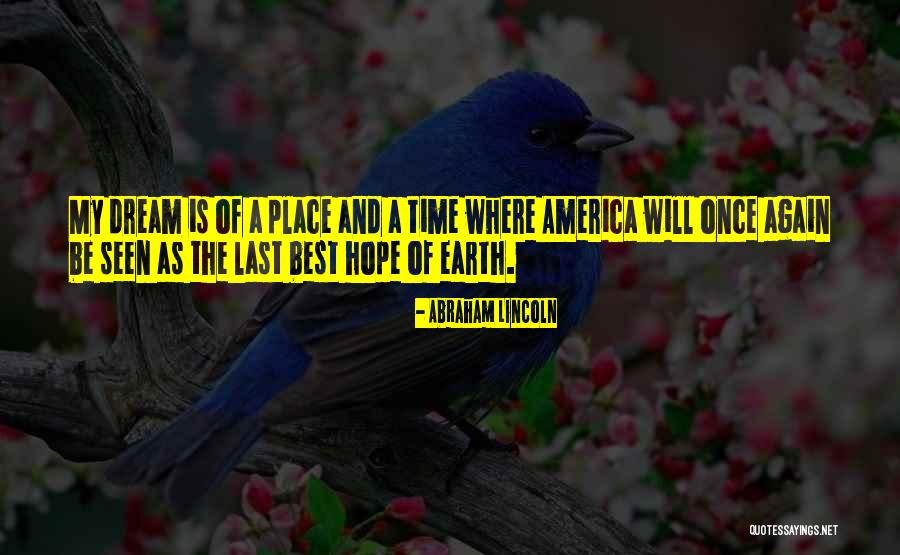 My dream is of a place and a time where America will once again be seen as the last best hope of earth. — Abraham Lincoln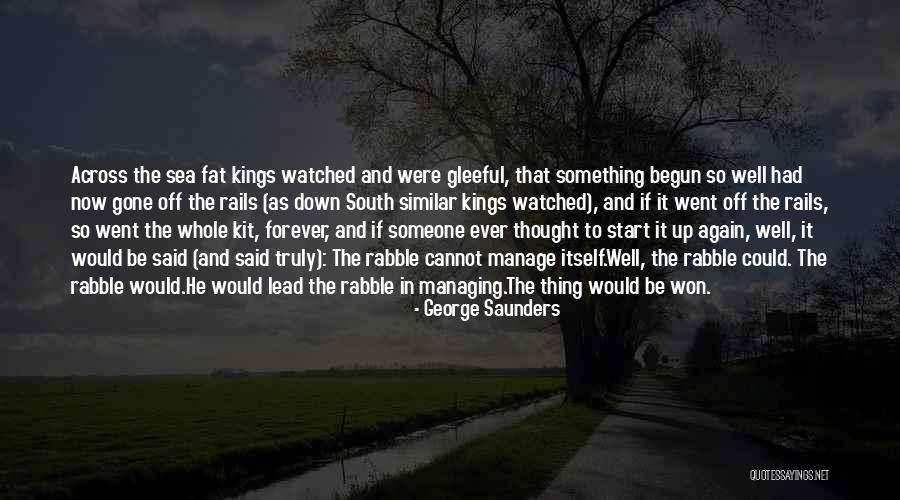 Across the sea fat kings watched and were gleeful, that something begun so well had now gone off the rails (as down South similar kings watched), and if it went off the rails, so went the whole kit, forever, and if someone ever thought to start it up again, well, it would be said (and said truly): The rabble cannot manage itself.

Well, the rabble could. The rabble would.

He would lead the rabble in managing.

The thing would be won. — George Saunders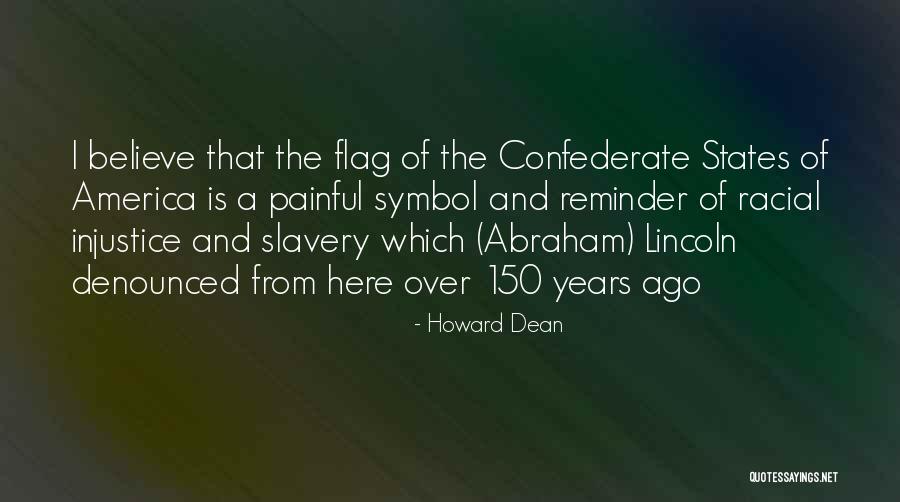 I believe that the flag of the Confederate States of America is a painful symbol and reminder of racial injustice and slavery which (Abraham) Lincoln denounced from here over 150 years ago — Howard Dean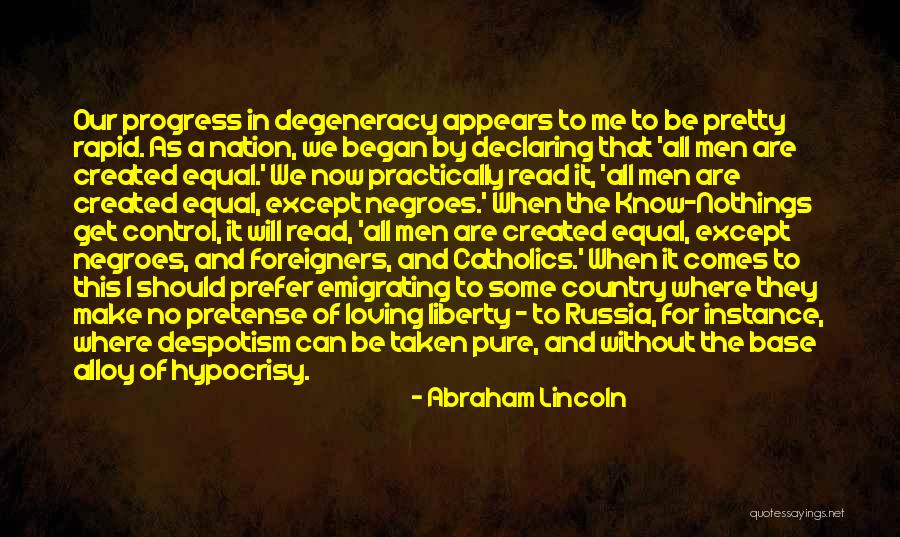 Our progress in degeneracy appears to me to be pretty rapid. As a nation, we began by declaring that 'all men are created equal.' We now practically read it, 'all men are created equal, except negroes.' When the Know-Nothings get control, it will read, 'all men are created equal, except negroes, and foreigners, and Catholics.' When it comes to this I should prefer emigrating to some country where they make no pretense of loving liberty - to Russia, for instance, where despotism can be taken pure, and without the base alloy of hypocrisy. — Abraham Lincoln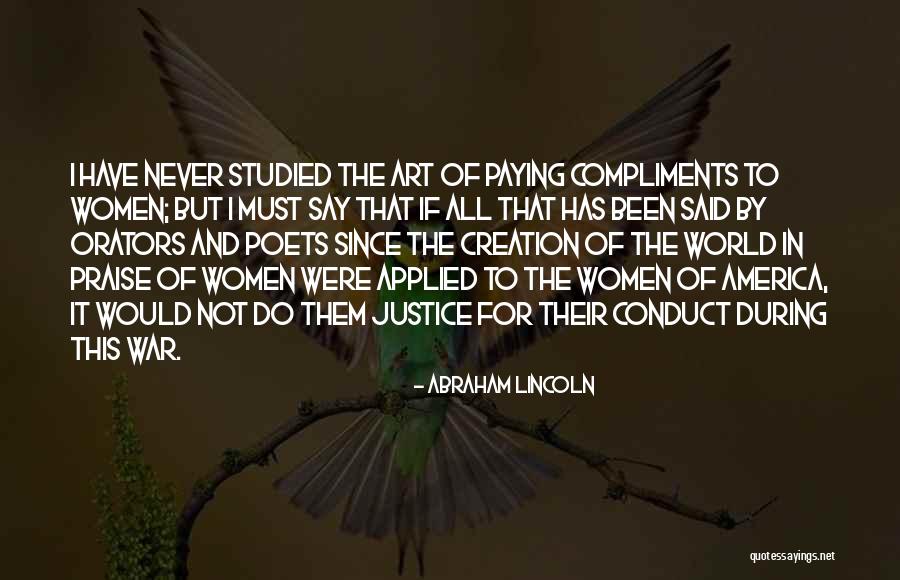 I have never studied the art of paying compliments to women; but I must say that if all that has been said by orators and poets since the creation of the world in praise of women were applied to the women of America, it would not do them justice for their conduct during this war. — Abraham Lincoln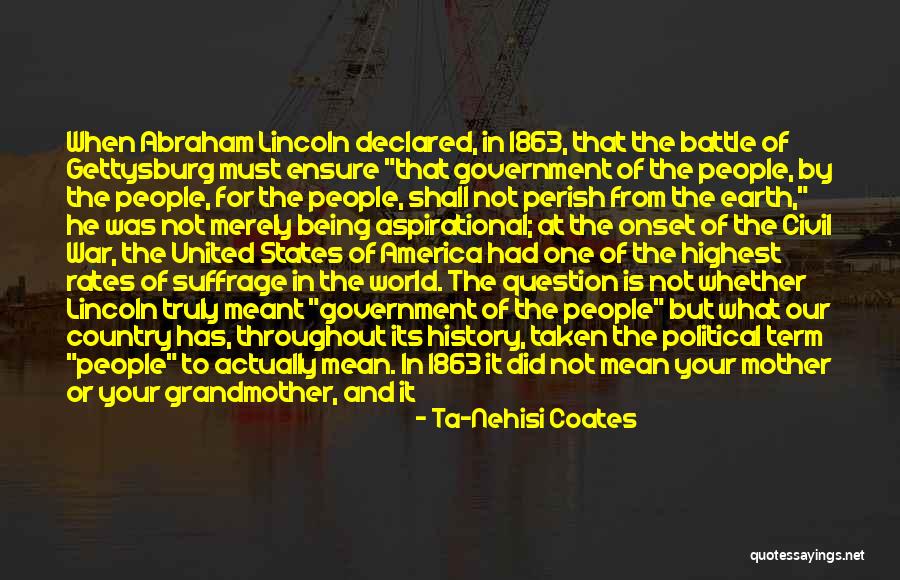 When Abraham Lincoln declared, in 1863, that the battle of Gettysburg must ensure "that government of the people, by the people, for the people, shall not perish from the earth," he was not merely being aspirational; at the onset of the Civil War, the United States of America had one of the highest rates of suffrage in the world. The question is not whether Lincoln truly meant "government of the people" but what our country has, throughout its history, taken the political term "people" to actually mean. In 1863 it did not mean your mother or your grandmother, and it did not mean you and me. Thus America's problem is not its betrayal of "government of the people," but the means by which "the people" acquired their names. This — Ta-Nehisi Coates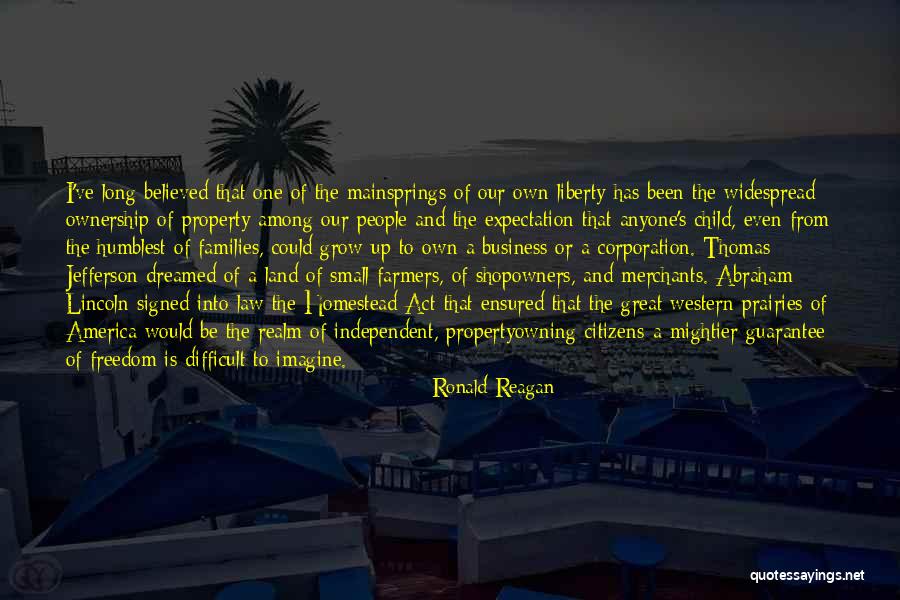 I've long believed that one of the mainsprings of our own liberty has been the widespread ownership of property among our people and the expectation that anyone's child, even from the humblest of families, could grow up to own a business or a corporation. Thomas Jefferson dreamed of a land of small farmers, of shopowners, and merchants. Abraham Lincoln signed into law the Homestead Act that ensured that the great western prairies of America would be the realm of independent, propertyowning citizens-a mightier guarantee of freedom is difficult to imagine. — Ronald Reagan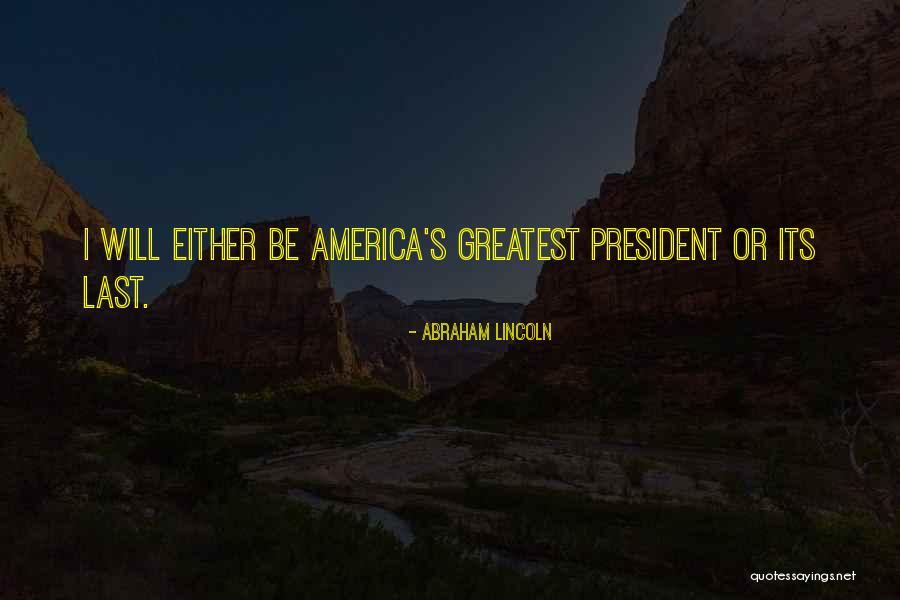 I will either be America's greatest president or its last. — Abraham Lincoln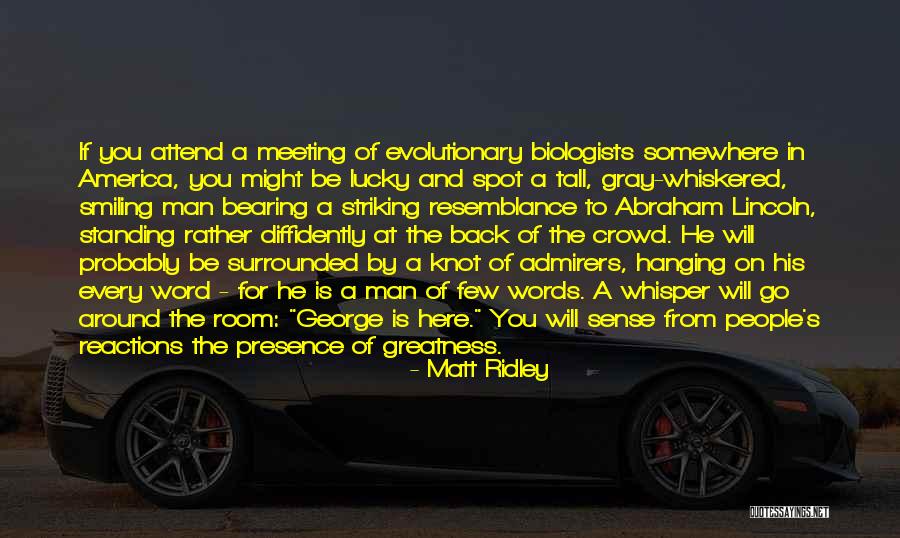 If you attend a meeting of evolutionary biologists somewhere in America, you might be lucky and spot a tall, gray-whiskered, smiling man bearing a striking resemblance to Abraham Lincoln, standing rather diffidently at the back of the crowd. He will probably be surrounded by a knot of admirers, hanging on his every word - for he is a man of few words. A whisper will go around the room: "George is here." You will sense from people's reactions the presence of greatness. — Matt Ridley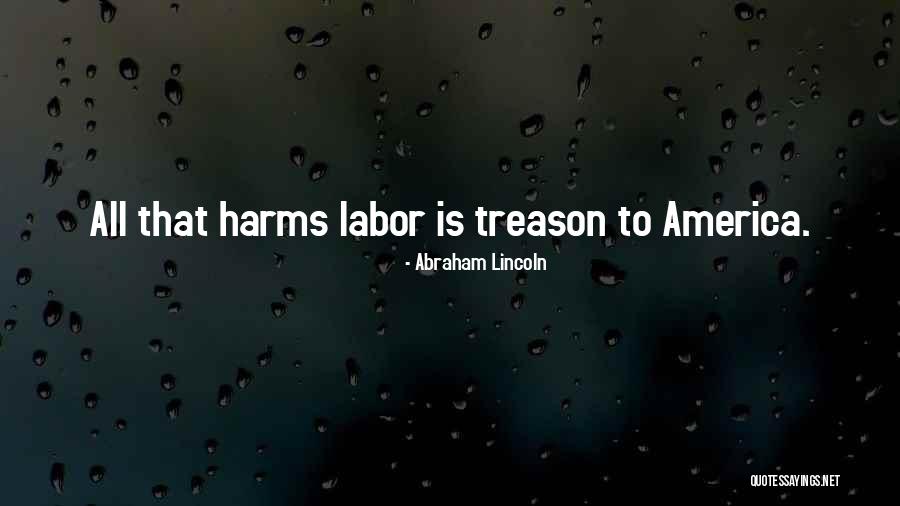 All that harms labor is treason to America. — Abraham Lincoln