Always Do Good To Others Quotes & Sayings
Enjoy reading and share 73 famous quotes about Always Do Good To Others with everyone.
Top Always Do Good To Others Quotes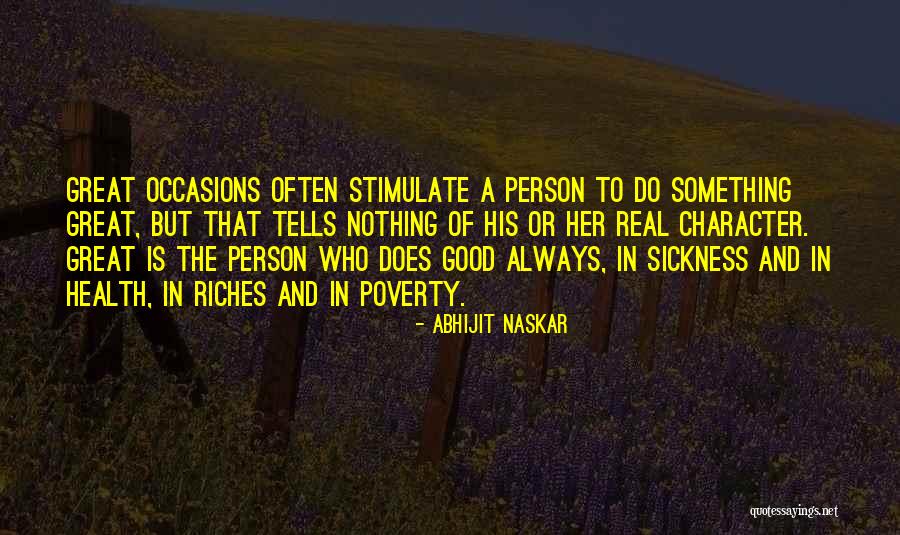 Great occasions often stimulate a person to do something great, but that tells nothing of his or her real character. Great is the person who does good always, in sickness and in health, in riches and in poverty. — Abhijit Naskar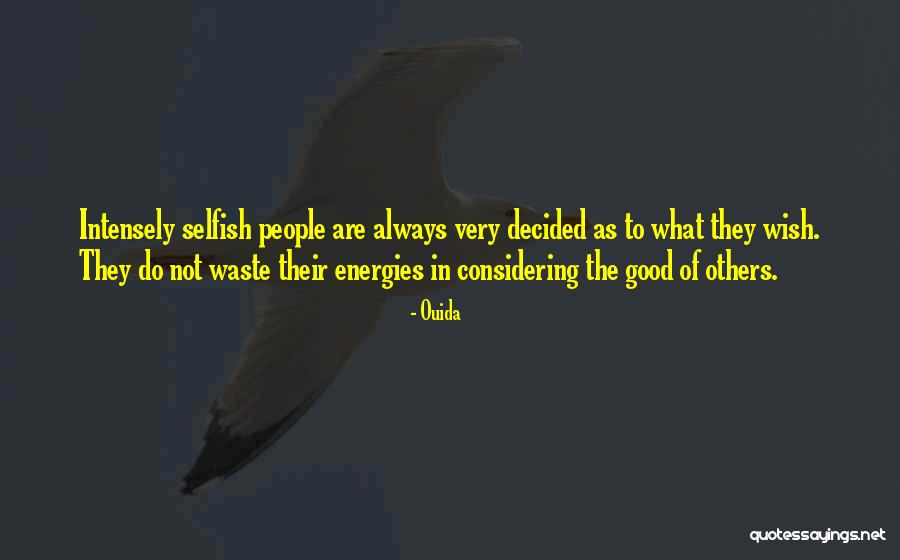 Intensely selfish people are always very decided as to what they wish. They do not waste their energies in considering the good of others. — Ouida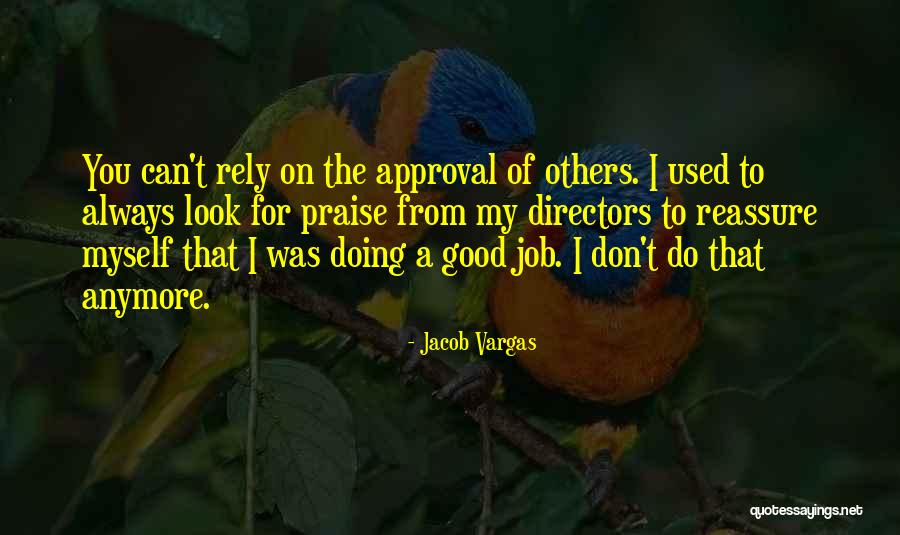 You can't rely on the approval of others. I used to always look for praise from my directors to reassure myself that I was doing a good job. I don't do that anymore. — Jacob Vargas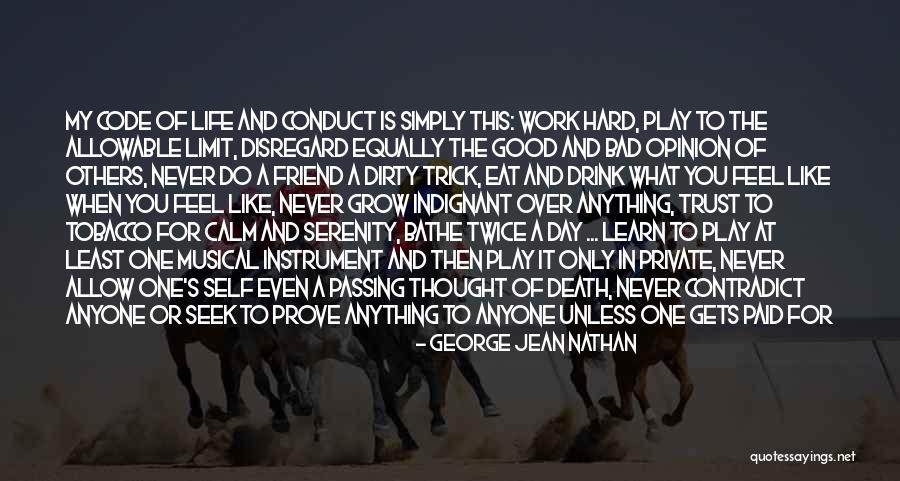 My code of life and conduct is simply this: work hard, play to the allowable limit, disregard equally the good and bad opinion of others, never do a friend a dirty trick, eat and drink what you feel like when you feel like, never grow indignant over anything, trust to tobacco for calm and serenity, bathe twice a day ... learn to play at least one musical instrument and then play it only in private, never allow one's self even a passing thought of death, never contradict anyone or seek to prove anything to anyone unless one gets paid for it in cold, hard coin, live the moment to the utmost of its possibilities, treat one's enemies with polite inconsideration, avoid persons who are chronically in need, and be satisfied with life always but never with one's self. — George Jean Nathan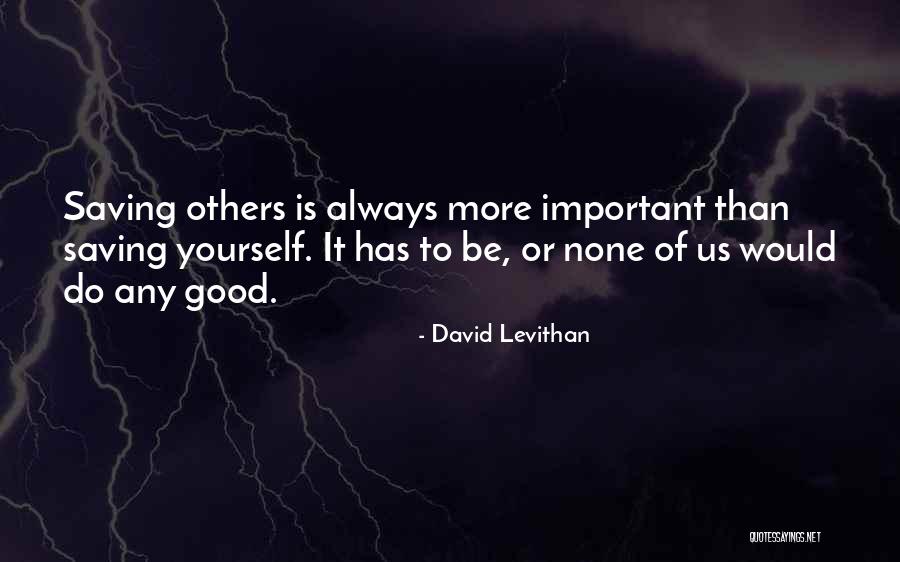 Saving others is always more important than saving yourself. It has to be, or none of us would do any good. — David Levithan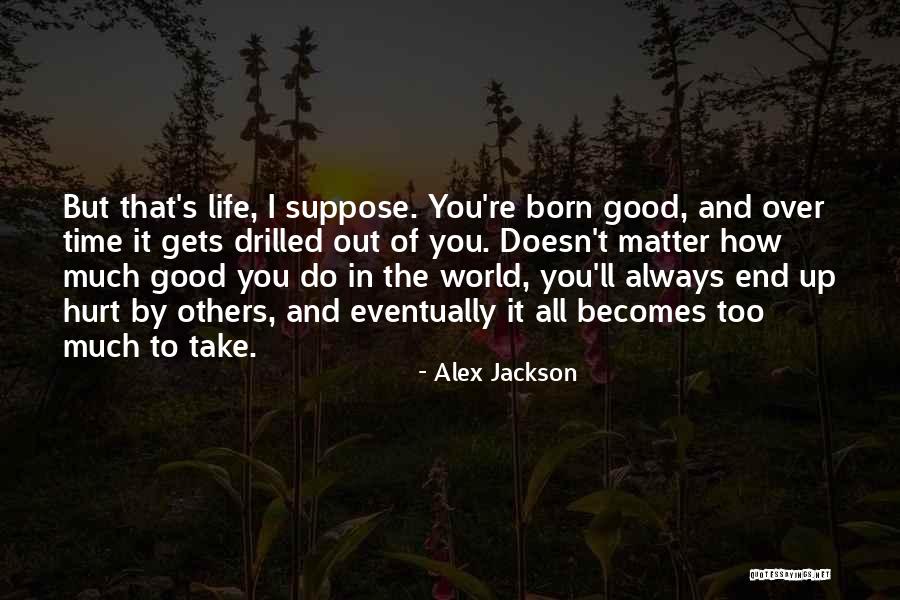 But that's life, I suppose. You're born good, and over time it gets drilled out of you. Doesn't matter how much good you do in the world, you'll always end up hurt by others, and eventually it all becomes too much to take. — Alex Jackson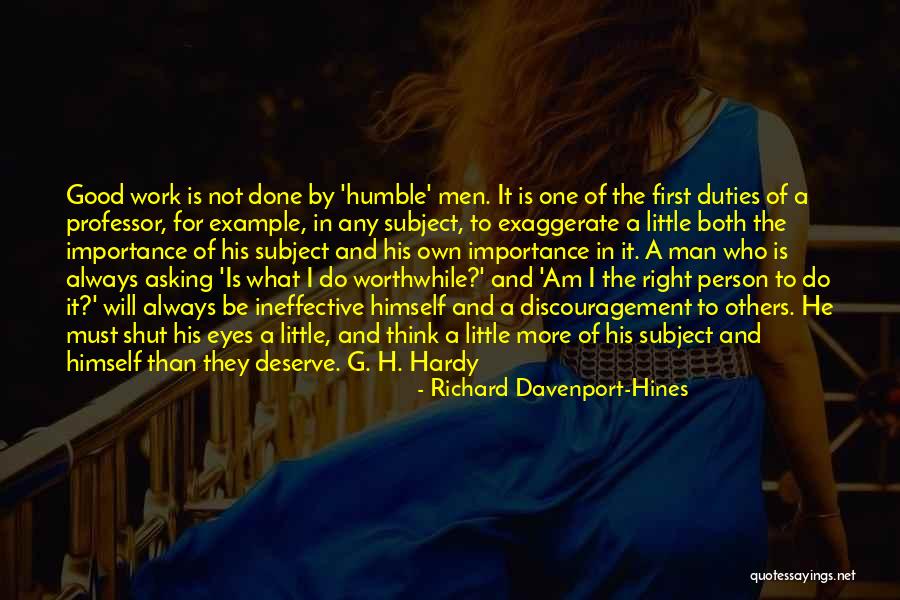 Good work is not done by 'humble' men. It is one of the first duties of a professor, for example, in any subject, to exaggerate a little both the importance of his subject and his own importance in it. A man who is always asking 'Is what I do worthwhile?' and 'Am I the right person to do it?' will always be ineffective himself and a discouragement to others. He must shut his eyes a little, and think a little more of his subject and himself than they deserve. G. H. Hardy — Richard Davenport-Hines
I started producing in 1992 at the age of 15, when I found out music could be made with the help of a computer. I come from a musical family, but was always the family member not as good as the others. So once I found out I could release the music that was stuck inside my head through a computer, I knew I found what I wanted to do for the rest of my life. — Laidback Luke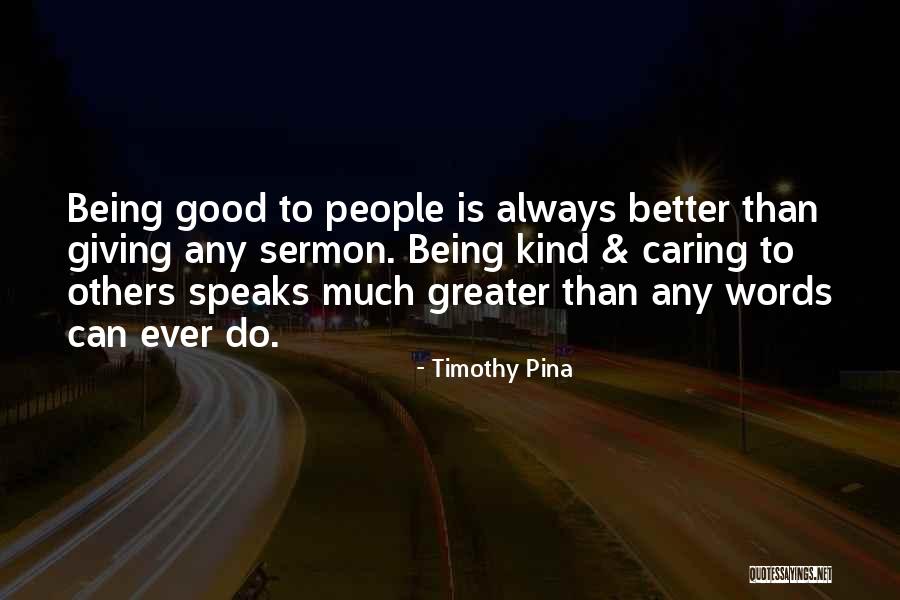 Being good to people is always better than giving any sermon. Being kind & caring to others speaks much greater than any words can ever do. — Timothy Pina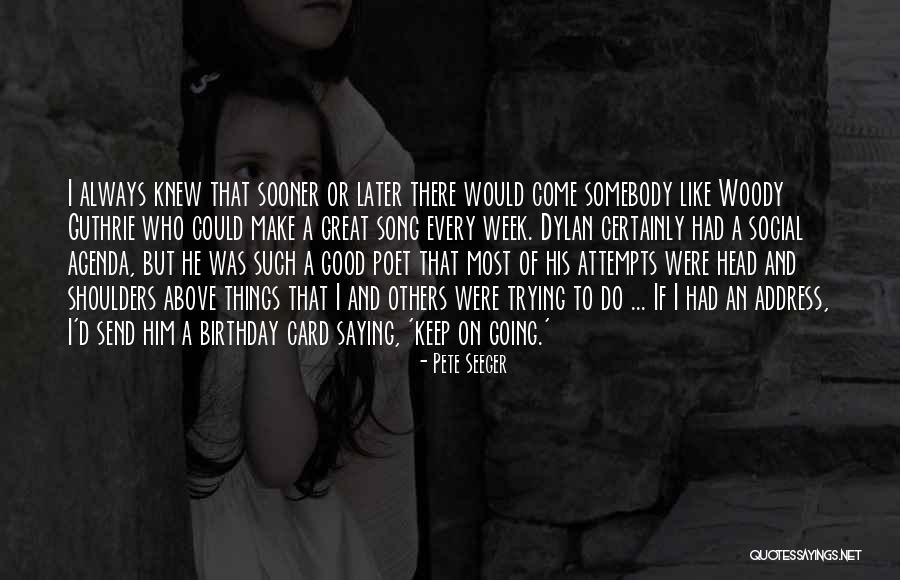 I always knew that sooner or later there would come somebody like Woody Guthrie who could make a great song every week. Dylan certainly had a social agenda, but he was such a good poet that most of his attempts were head and shoulders above things that I and others were trying to do ... If I had an address, I'd send him a birthday card saying, 'keep on going.' — Pete Seeger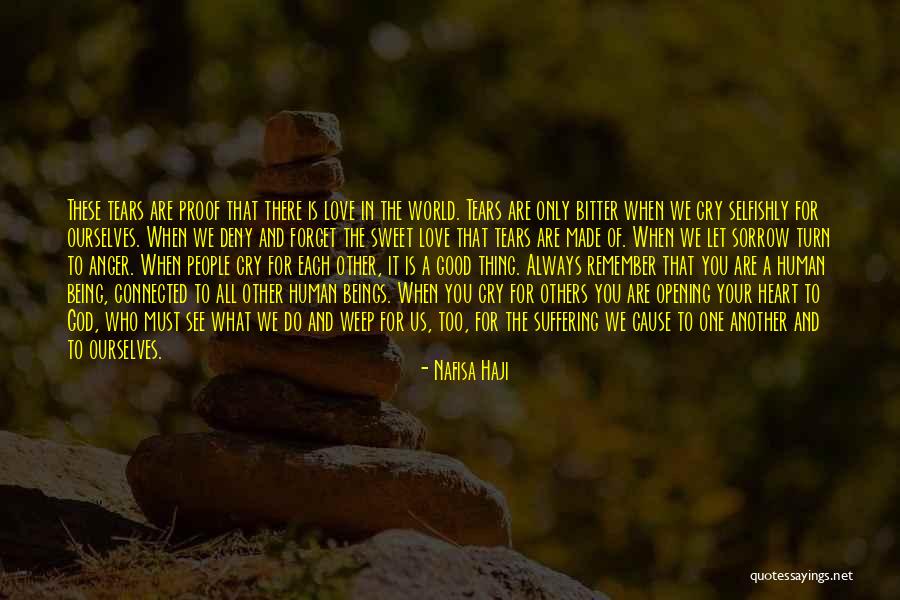 These tears are proof that there is love in the world. Tears are only bitter when we cry selfishly for ourselves. When we deny and forget the sweet love that tears are made of. When we let sorrow turn to anger. When people cry for each other, it is a good thing. Always remember that you are a human being, connected to all other human beings. When you cry for others you are opening your heart to God, who must see what we do and weep for us, too, for the suffering we cause to one another and to ourselves. — Nafisa Haji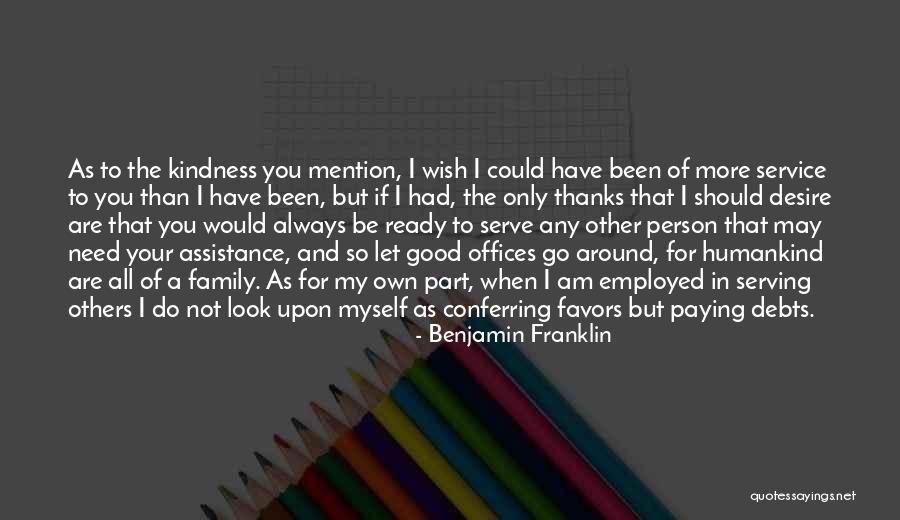 As to the kindness you mention, I wish I could have been of more service to you than I have been, but if I had, the only thanks that I should desire are that you would always be ready to serve any other person that may need your assistance, and so let good offices go around, for humankind are all of a family. As for my own part, when I am employed in serving others I do not look upon myself as conferring favors but paying debts. — Benjamin Franklin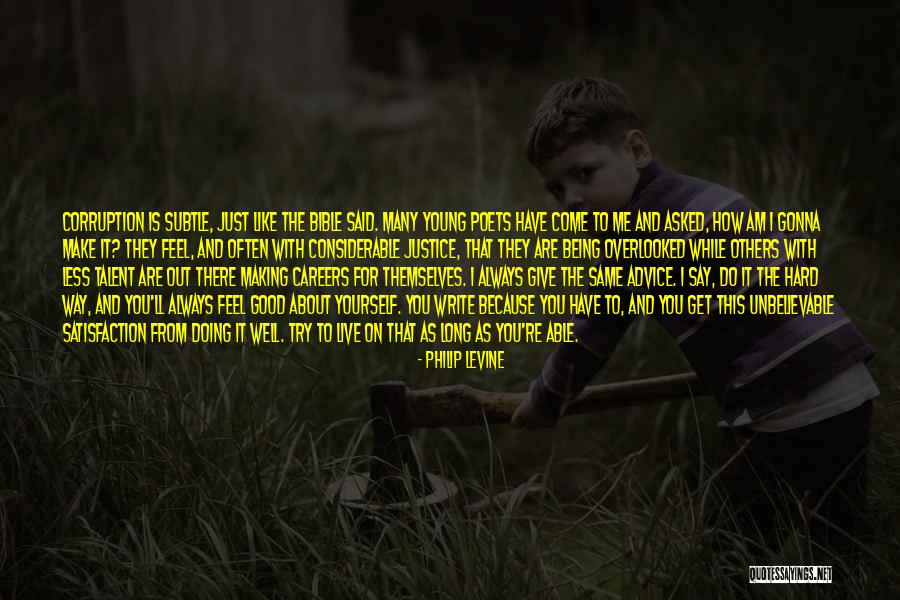 Corruption is subtle, just like the Bible said. Many young poets have come to me and asked, How am I gonna make it? They feel, and often with considerable justice, that they are being overlooked while others with less talent are out there making careers for themselves. I always give the same advice. I say, Do it the hard way, and you'll always feel good about yourself. You write because you have to, and you get this unbelievable satisfaction from doing it well. Try to live on that as long as you're able. — Philip Levine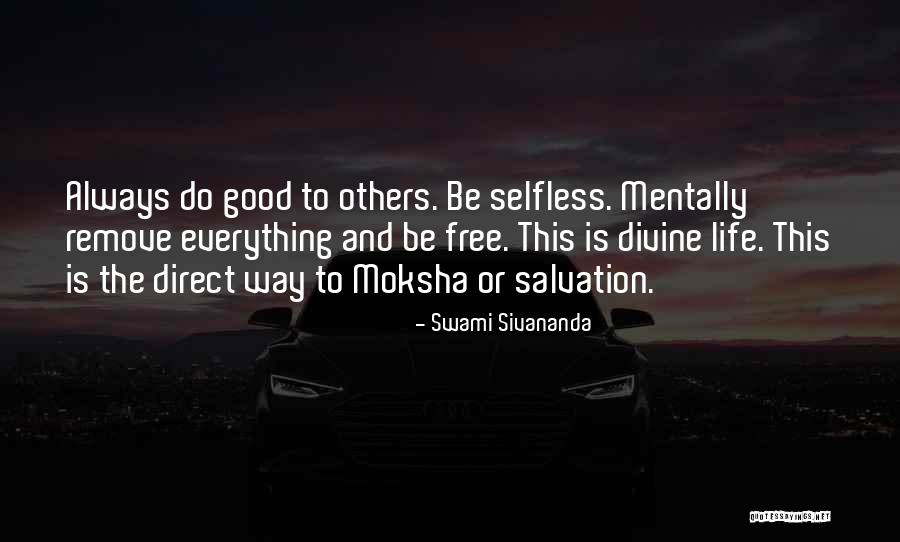 Always do good to others. Be selfless. Mentally remove everything and be free. This is divine life. This is the direct way to Moksha or salvation. — Swami Sivananda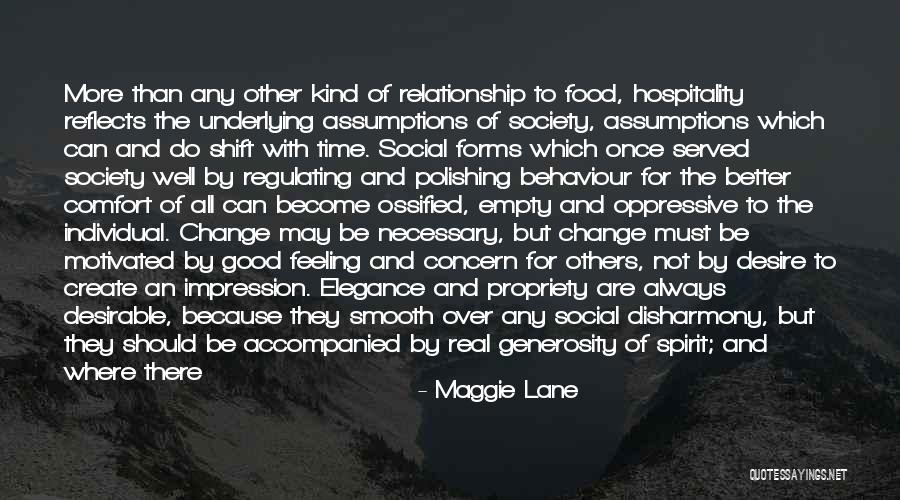 More than any other kind of relationship to food, hospitality reflects the underlying assumptions of society, assumptions which can and do shift with time. Social forms which once served society well by regulating and polishing behaviour for the better comfort of all can become ossified, empty and oppressive to the individual. Change may be necessary, but change must be motivated by good feeling and concern for others, not by desire to create an impression. Elegance and propriety are always desirable, because they smooth over any social disharmony, but they should be accompanied by real generosity of spirit; and where there is such generosity, want of elegance and propriety may be excused. — Maggie Lane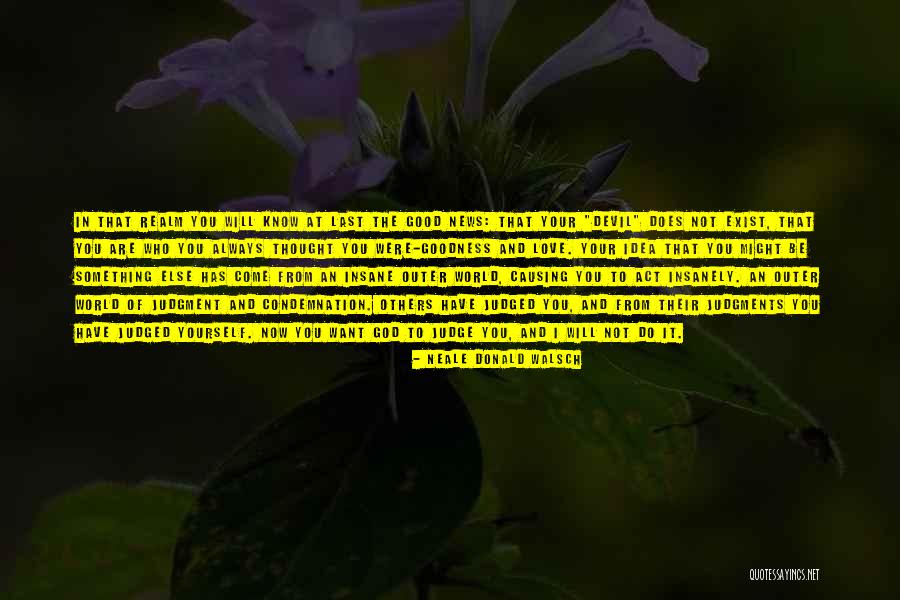 In that realm you will know at last the good news: that your "devil" does not exist, that you are who you always thought you were-goodness and love. Your idea that you might be something else has come from an insane outer world, causing you to act insanely. An outer world of judgment and condemnation. Others have judged you, and from their judgments you have judged yourself. Now you want God to judge you, and I will not do it. — Neale Donald Walsch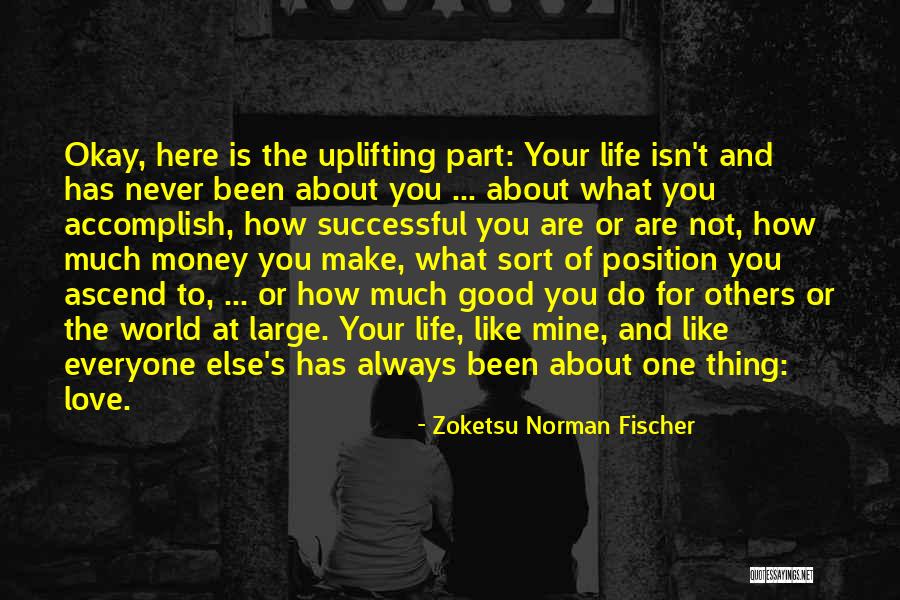 Okay, here is the uplifting part: Your life isn't and has never been about you ... about what you accomplish, how successful you are or are not, how much money you make, what sort of position you ascend to, ... or how much good you do for others or the world at large. Your life, like mine, and like everyone else's has always been about one thing: love. — Zoketsu Norman Fischer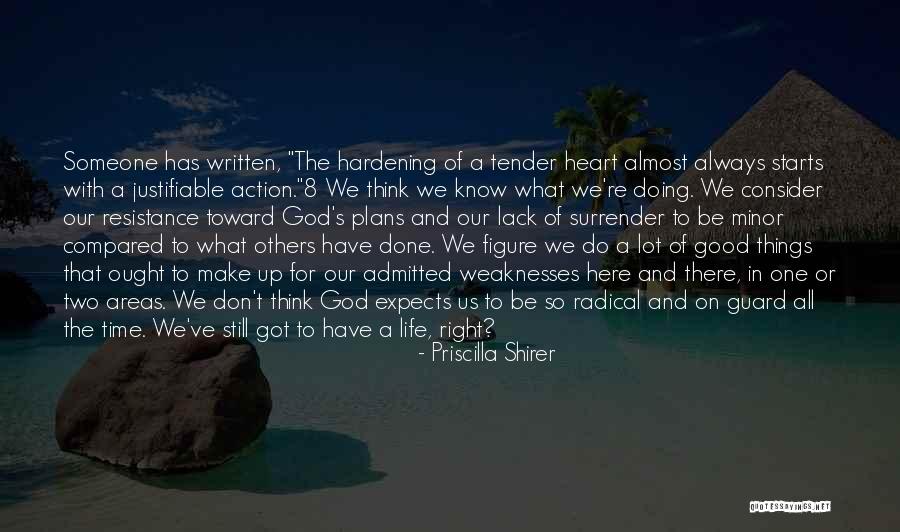 Someone has written, "The hardening of a tender heart almost always starts with a justifiable action."8 We think we know what we're doing. We consider our resistance toward God's plans and our lack of surrender to be minor compared to what others have done. We figure we do a lot of good things that ought to make up for our admitted weaknesses here and there, in one or two areas. We don't think God expects us to be so radical and on guard all the time. We've still got to have a life, right? — Priscilla Shirer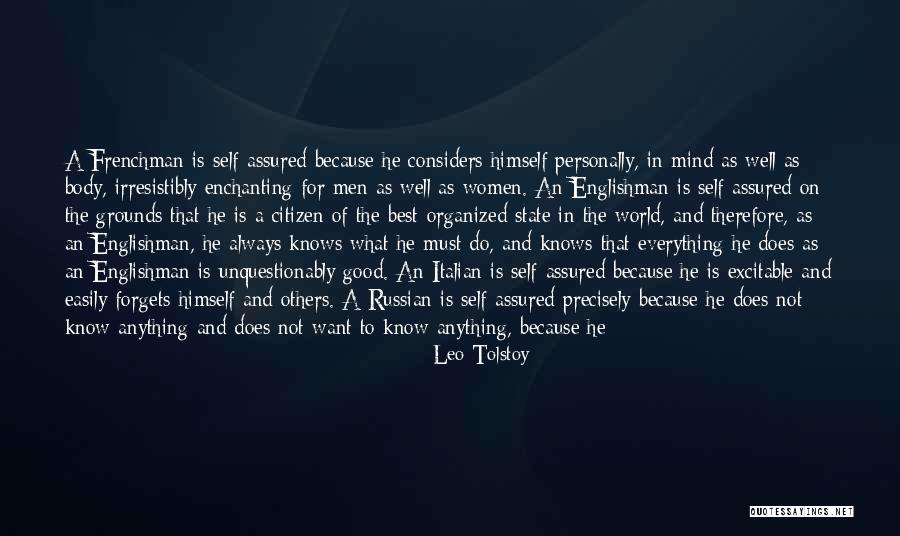 A Frenchman is self-assured because he considers himself personally, in mind as well as body, irresistibly enchanting for men as well as women. An Englishman is self-assured on the grounds that he is a citizen of the best-organized state in the world, and therefore, as an Englishman, he always knows what he must do, and knows that everything he does as an Englishman is unquestionably good. An Italian is self-assured because he is excitable and easily forgets himself and others. A Russian is self-assured precisely because he does not know anything and does not want to know anything, because he does not believe it possible to know anything fully. A German is self-assured worst of all, and most firmly of all, and most disgustingly of all, because he imagines that he knows the truth, science, which he has invented himself, but which for him is the absolute truth. — Leo Tolstoy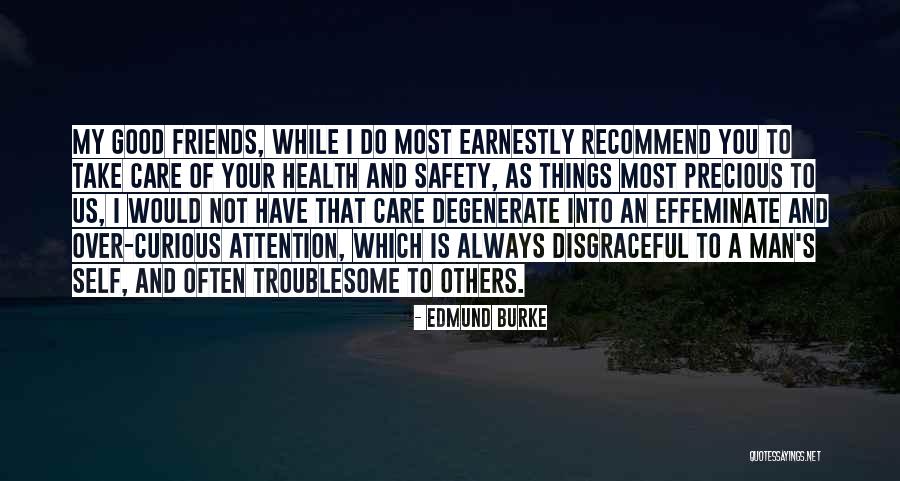 My good friends, while I do most earnestly recommend you to take care of your health and safety, as things most precious to us, I would not have that care degenerate into an effeminate and over-curious attention, which is always disgraceful to a man's self, and often troublesome to others. — Edmund Burke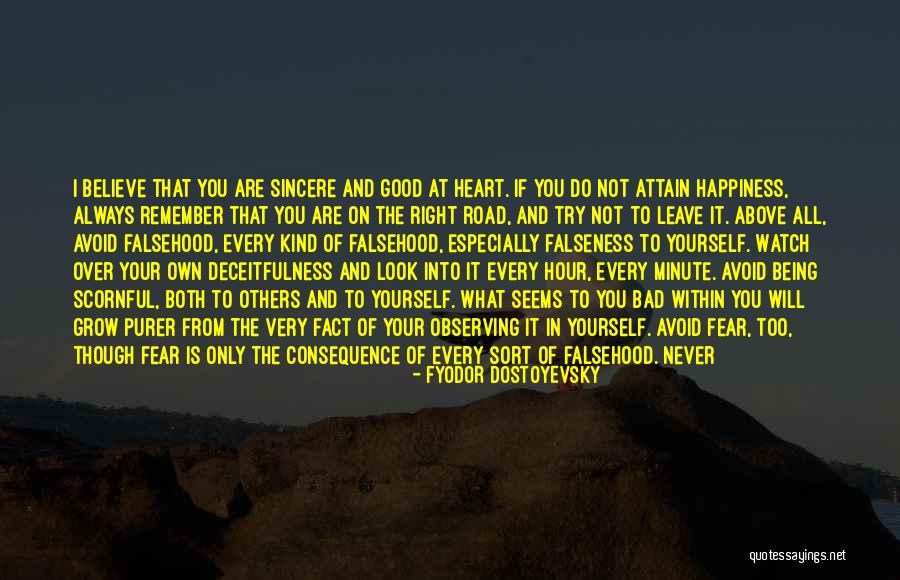 I believe that you are sincere and good at heart. If you do not attain happiness, always remember that you are on the right road, and try not to leave it. Above all, avoid falsehood, every kind of falsehood, especially falseness to yourself. Watch over your own deceitfulness and look into it every hour, every minute. Avoid being scornful, both to others and to yourself. What seems to you bad within you will grow purer from the very fact of your observing it in yourself. Avoid fear, too, though fear is only the consequence of every sort of falsehood. Never be frightened at your own faint-heartedness in attaining love. — Fyodor Dostoyevsky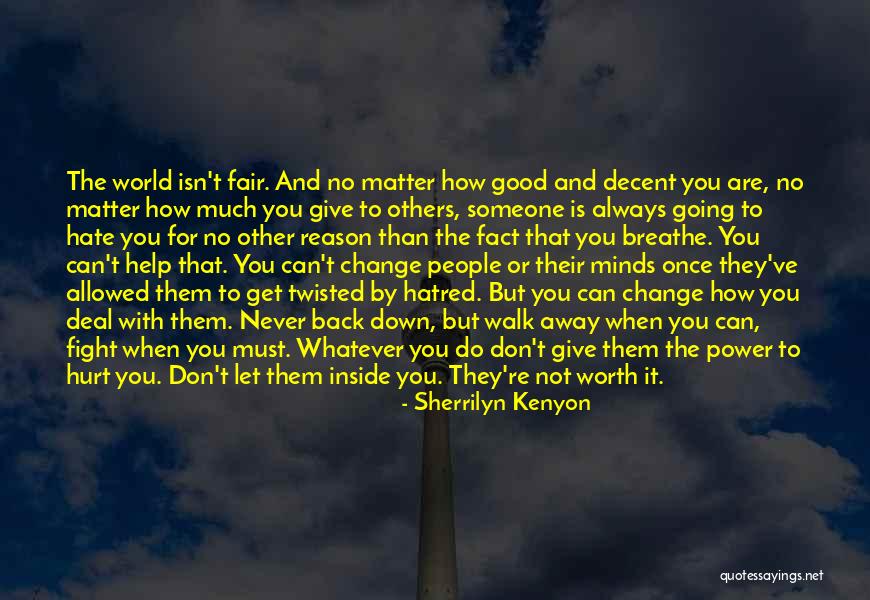 The world isn't fair. And no matter how good and decent you are, no matter how much you give to others, someone is always going to hate you for no other reason than the fact that you breathe. You can't help that. You can't change people or their minds once they've allowed them to get twisted by hatred. But you can change how you deal with them. Never back down, but walk away when you can, fight when you must. Whatever you do don't give them the power to hurt you. Don't let them inside you. They're not worth it. Live your life for yourself. Stay true to yourself and if they can't see the beauty that is you, it's their loss. Let the bitterness take them to their graves. Spend your time on what matters most. Being you and appreciating the people who see you for who and what you are. The people who love you, and the ones that you love. They are all that matter. Let the rest go to hell. - Drux Cruel — Sherrilyn Kenyon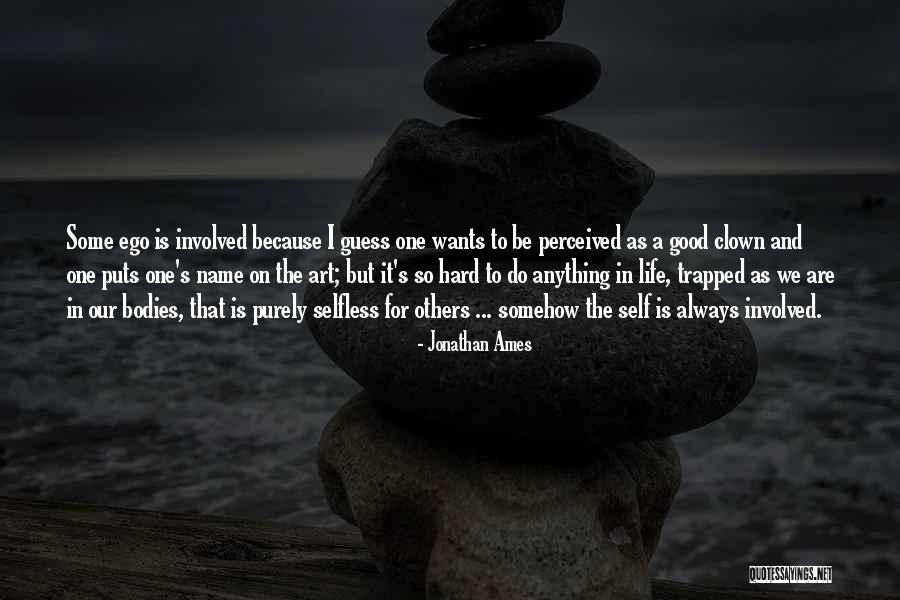 Some ego is involved because I guess one wants to be perceived as a good clown and one puts one's name on the art; but it's so hard to do anything in life, trapped as we are in our bodies, that is purely selfless for others ... somehow the self is always involved. — Jonathan Ames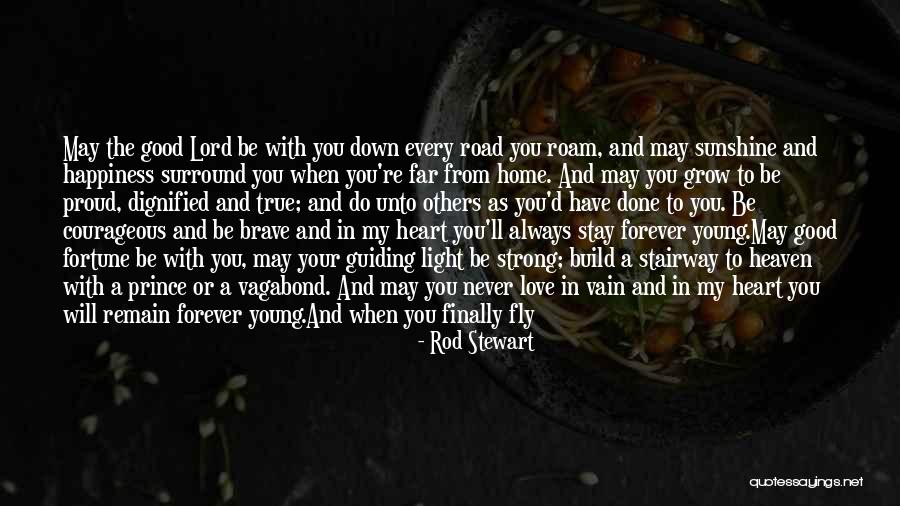 May the good Lord be with you down every road you roam, and may sunshine and happiness surround you when you're far from home. And may you grow to be proud, dignified and true; and do unto others as you'd have done to you. Be courageous and be brave and in my heart you'll always stay forever young.
May good fortune be with you, may your guiding light be strong; build a stairway to heaven with a prince or a vagabond. And may you never love in vain and in my heart you will remain forever young.
And when you finally fly away I'll be hoping that I served you well, for all the wisdom of a lifetime no one can ever tell. But whatever road you choose, I'm right behind you, win or lose, forever young. — Rod Stewart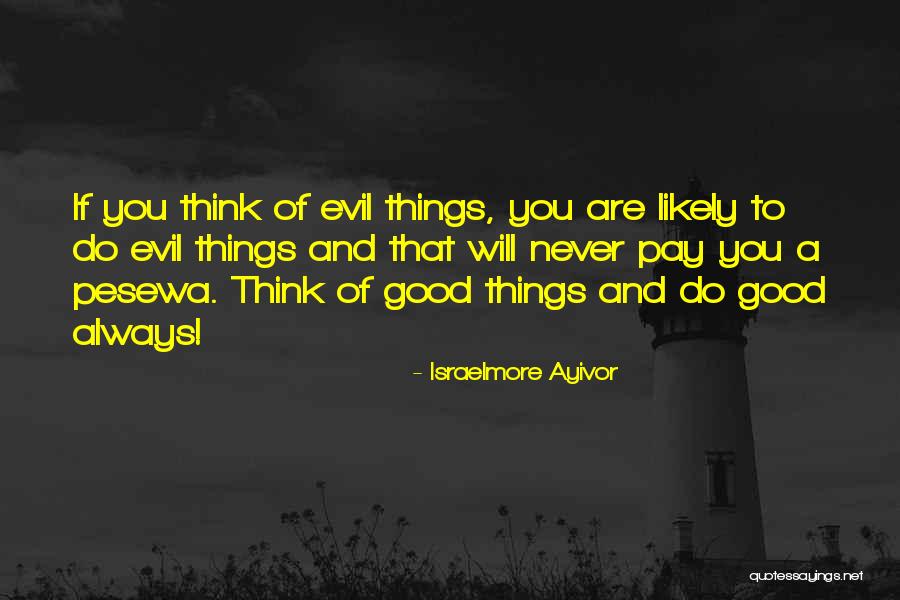 If you think of evil things, you are likely to do evil things and that will never pay you a pesewa. Think of good things and do good always! — Israelmore Ayivor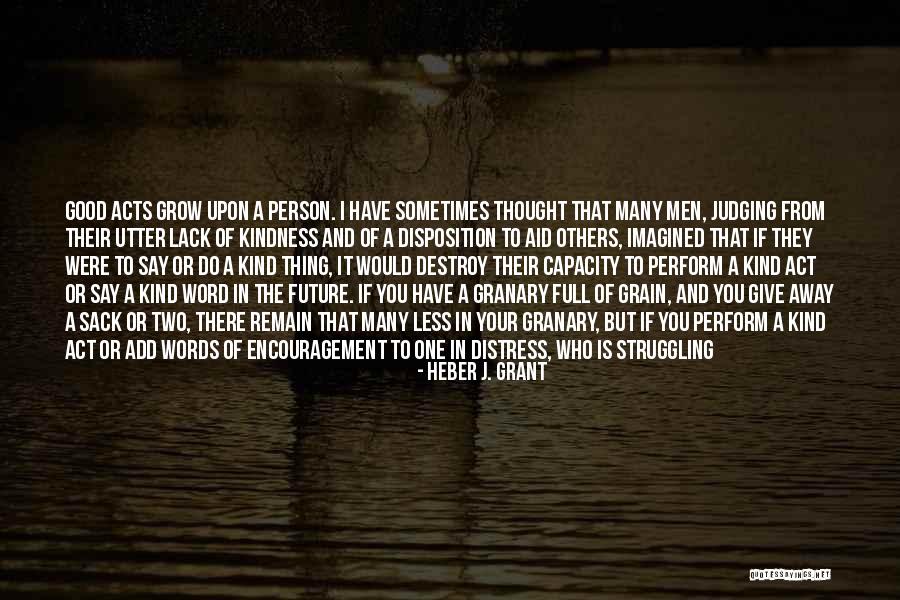 Good acts grow upon a person. I have sometimes thought that many men, judging from their utter lack of kindness and of a disposition to aid others, imagined that if they were to say or do a kind thing, it would destroy their capacity to perform a kind act or say a kind word in the future. If you have a granary full of grain, and you give away a sack or two, there remain that many less in your granary, but if you perform a kind act or add words of encouragement to one in distress, who is struggling along in the battle of life, the greater is your capacity to do this in the future. Don't go through life with your lips sealed against words of kindness and encouragement, nor your hearts sealed against performing labors for another. Make a motto in life: always try and assist someone else to carry his burden. — Heber J. Grant
Whom do I call educated? First, those who manage well the circumstances they encounter day by day. Next, those who are decent and honorable in their intercourse with all men, bearing easily and good naturedly what is offensive in others and being as agreeable and reasonable to their associates as is humanly possible to be ... those who hold their pleasures always under control and are not ultimately overcome by their misfortunes ... those who are not spoiled by their successes, who do not desert their true selves but hold their ground steadfastly as wise and sober - minded men. — Socrates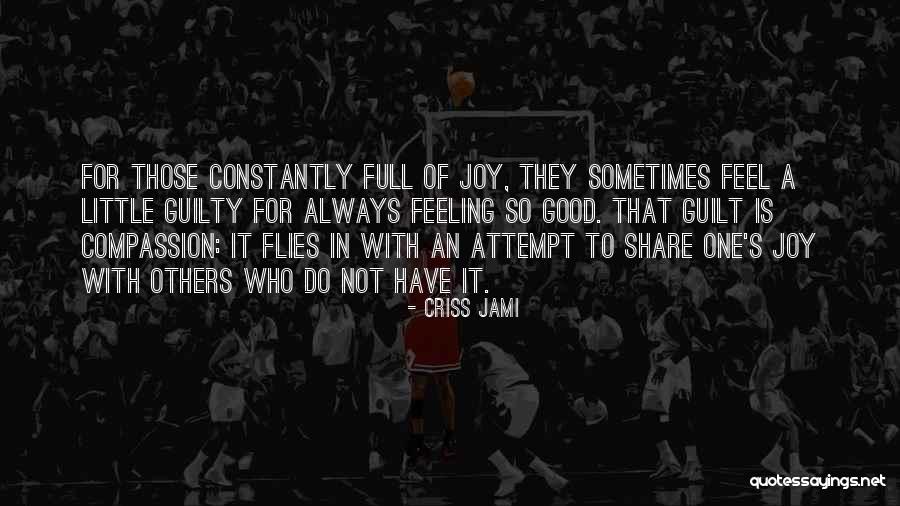 For those constantly full of joy, they sometimes feel a little guilty for always feeling so good. That guilt is compassion: it flies in with an attempt to share one's joy with others who do not have it. — Criss Jami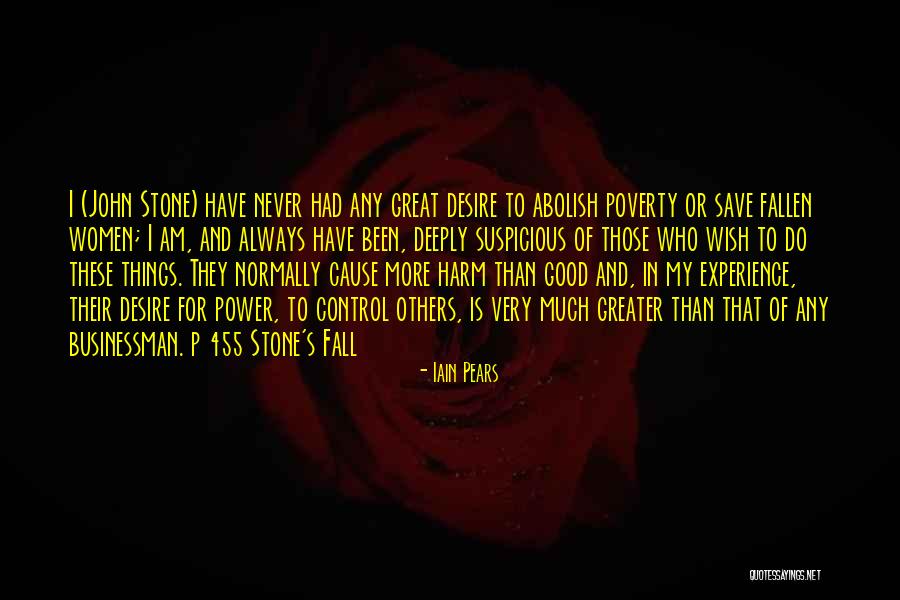 I (John Stone) have never had any great desire to abolish poverty or save fallen women; I am, and always have been, deeply suspicious of those who wish to do these things. They normally cause more harm than good and, in my experience, their desire for power, to control others, is very much greater than that of any businessman. p 455 Stone's Fall — Iain Pears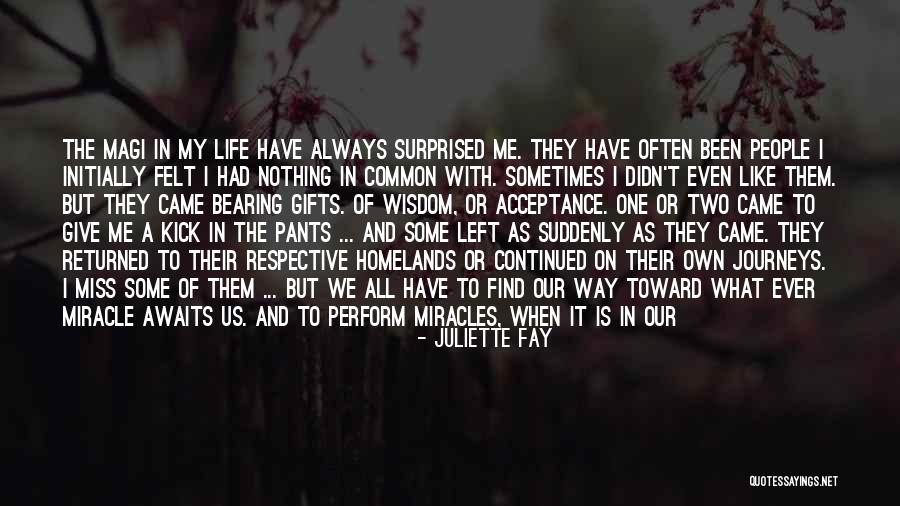 The Magi in my life have always surprised me. They have often been people I initially felt I had nothing in common with. Sometimes I didn't even like them. But they came bearing gifts. Of wisdom, or acceptance. One or two came to give me a kick in the pants ... and some left as suddenly as they came. They returned to their respective homelands or continued on their own journeys. I miss some of them ... But we all have to find our way toward what ever miracle awaits us. And to perform miracles, when it is in our power to do so. Maybe the most important question is: how do I serve the Magi for others? How generously do I give my gifts - and not just to the obvious recipients in my life? How far out of my way do go to recognize and pay homage to miracles? Not very far some days. But on good days, just far enough. — Juliette Fay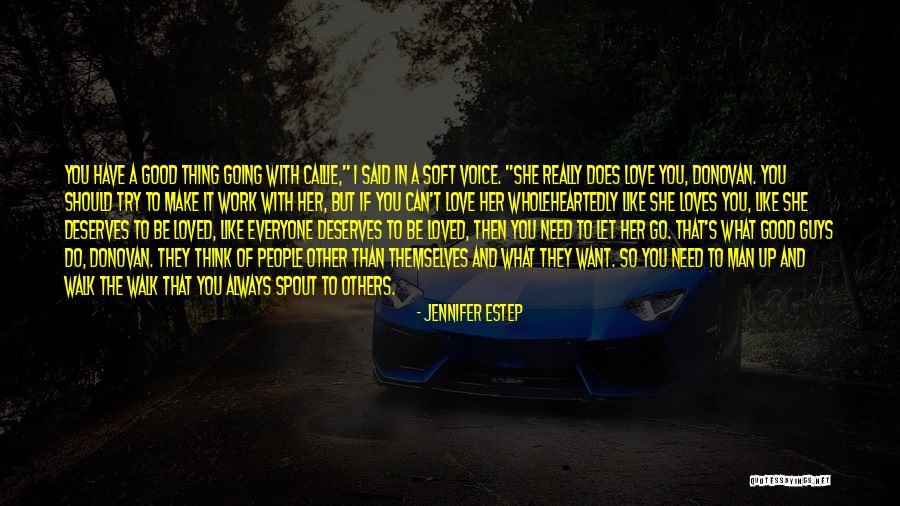 You have a good thing going with Callie," I said in a soft voice. "She really does love you, Donovan. You should try to make it work with her, but if you can't love her wholeheartedly like she loves you, like she deserves to be loved, like everyone deserves to be loved, then you need to let her go. That's what good guys do, Donovan. They think of people other than themselves and what they want. So you need to man up and walk the walk that you always spout to others. — Jennifer Estep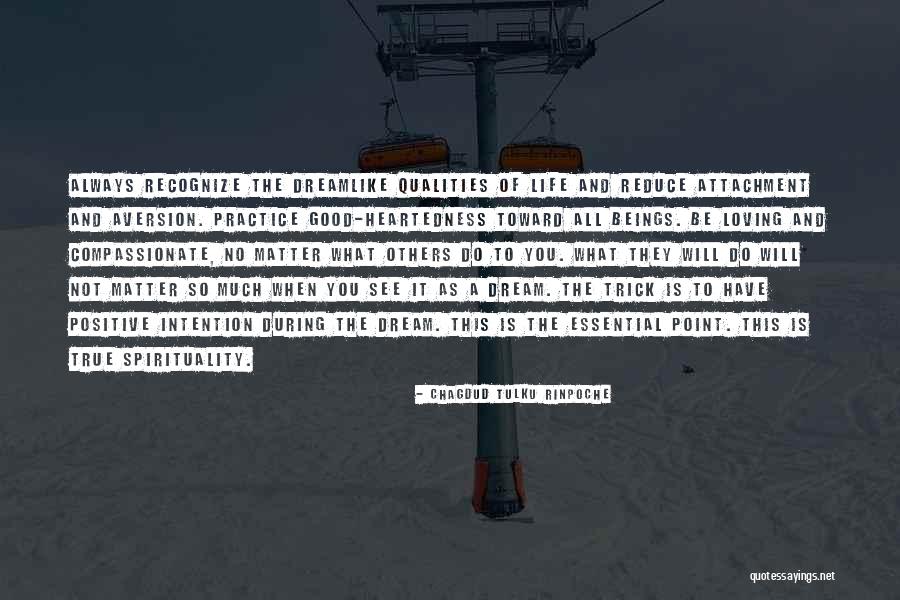 Always recognize the dreamlike qualities of life and reduce attachment and aversion. Practice good-heartedness toward all beings. Be loving and compassionate, no matter what others do to you. What they will do will not matter so much when you see it as a dream. The trick is to have positive intention during the dream. This is the essential point. This is true spirituality. — Chagdud Tulku Rinpoche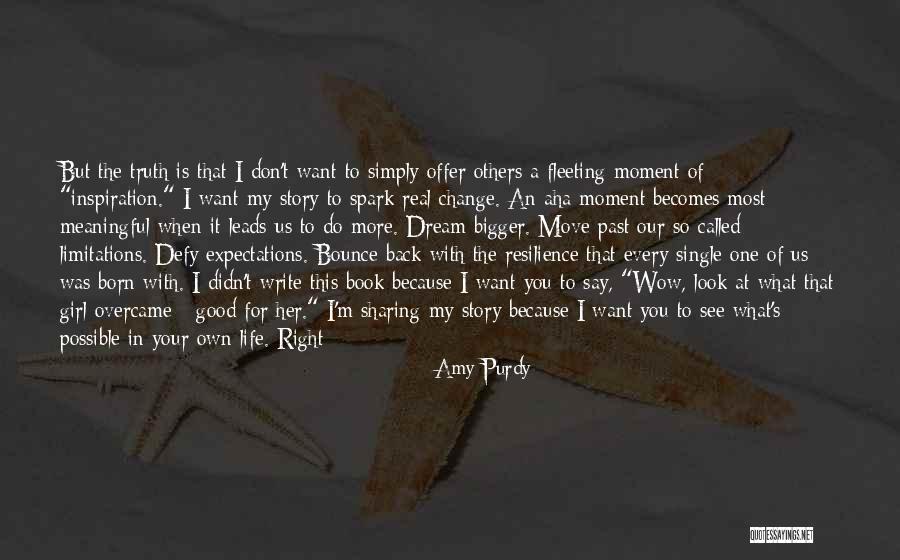 But the truth is that I don't want to simply offer others a fleeting moment of "inspiration." I want my story to spark real change. An aha moment becomes most meaningful when it leads us to do more. Dream bigger. Move past our so-called limitations. Defy expectations. Bounce back with the resilience that every single one of us was born with. I didn't write this book because I want you to say, "Wow, look at what that girl overcame - good for her." I'm sharing my story because I want you to see what's possible in your own life. Right here. Right now. Starting the second you pick up your pen and create your own amazing narrative. The words of the Chinese philosopher Lao-tzu have always resonated with me: "A journey of a thousand miles begins with a single step." What follows is my first step. My first stumble. My first dance. My first dream. — Amy Purdy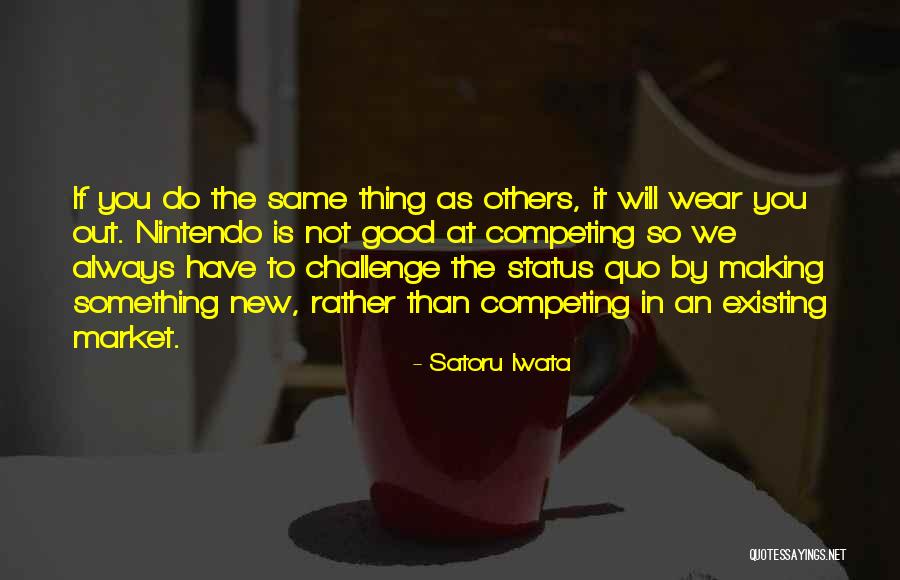 If you do the same thing as others, it will wear you out. Nintendo is not good at competing so we always have to challenge the status quo by making something new, rather than competing in an existing market. — Satoru Iwata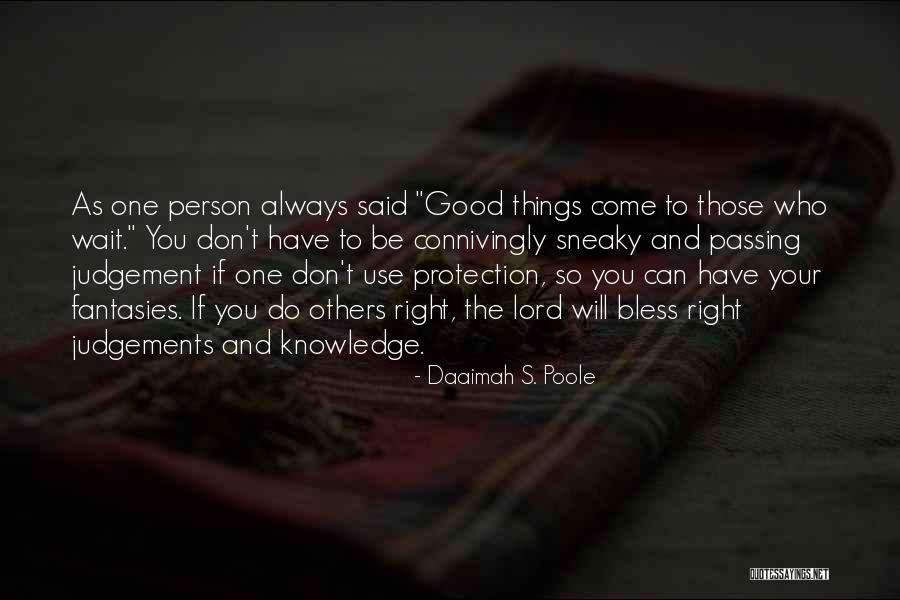 As one person always said "Good things come to those who wait." You don't have to be connivingly sneaky and passing judgement if one don't use protection, so you can have your fantasies. If you do others right, the lord will bless right judgements and knowledge. — Daaimah S. Poole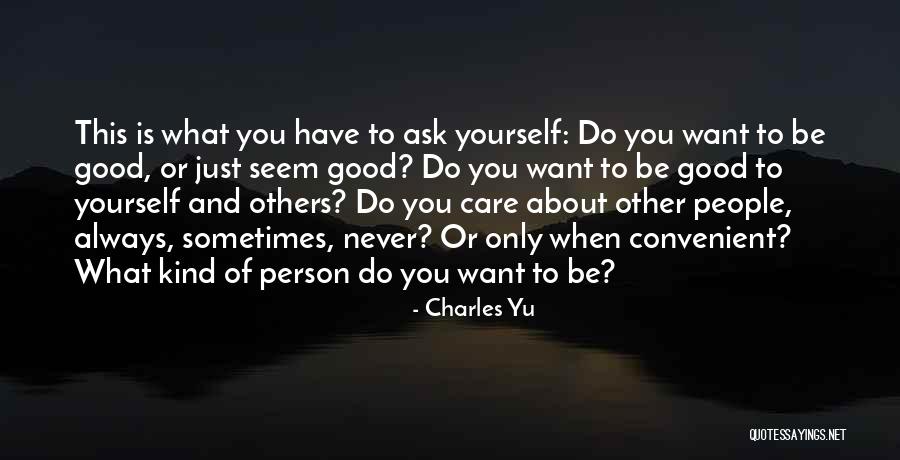 This is what you have to ask yourself: Do you want to be good, or just seem good? Do you want to be good to yourself and others? Do you care about other people, always, sometimes, never? Or only when convenient? What kind of person do you want to be? — Charles Yu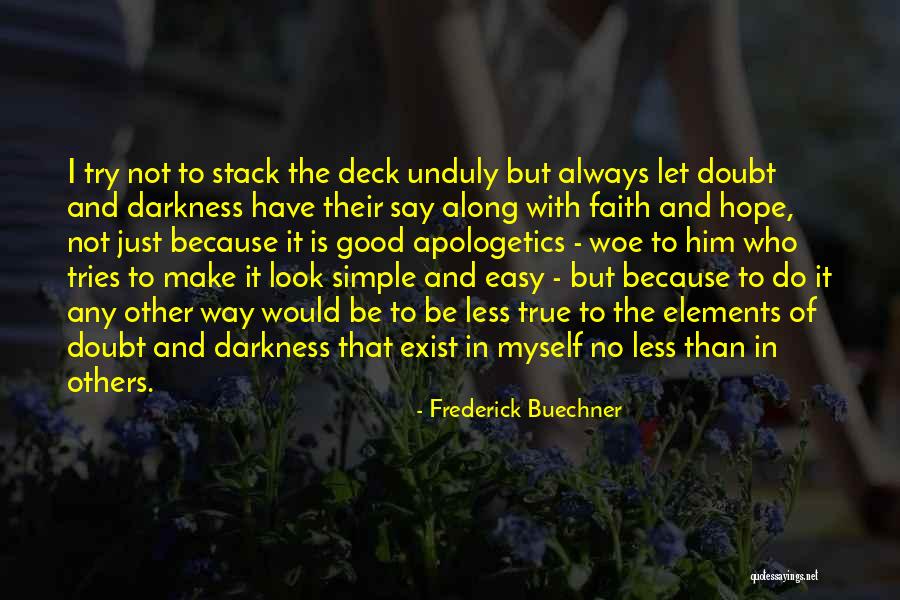 I try not to stack the deck unduly but always let doubt and darkness have their say along with faith and hope, not just because it is good apologetics - woe to him who tries to make it look simple and easy - but because to do it any other way would be to be less true to the elements of doubt and darkness that exist in myself no less than in others. — Frederick Buechner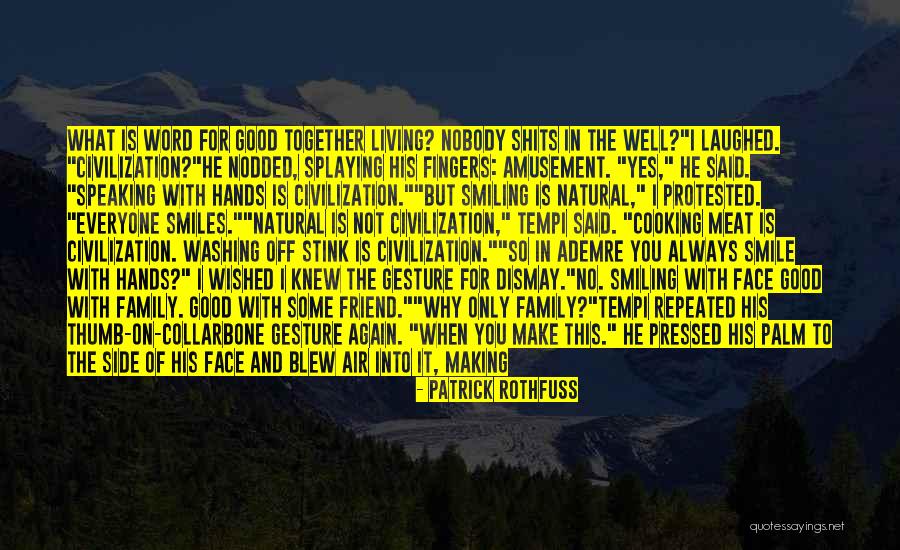 What is word for good together living? Nobody shits in the well?"
I laughed. "Civilization?"
He nodded, splaying his fingers: amusement. "Yes," he said. "Speaking with hands is civilization."
"But smiling is natural," I protested. "Everyone smiles."
"Natural is not civilization," Tempi said. "Cooking meat is civilization. Washing off stink is civilization."
"So in Ademre you always smile with hands?" I wished I knew the gesture for dismay.
"No. Smiling with face good with family. Good with some friend."
"Why only family?"
Tempi repeated his thumb-on-collarbone gesture again. "When you make this." He pressed his palm to the side of his face and blew air into it, making a great flatulent noise. "That is natural, but you do not make it near others. Rude. With family ... " He shrugged. Amusement. " ... civilization not important. More natural with family. — Patrick Rothfuss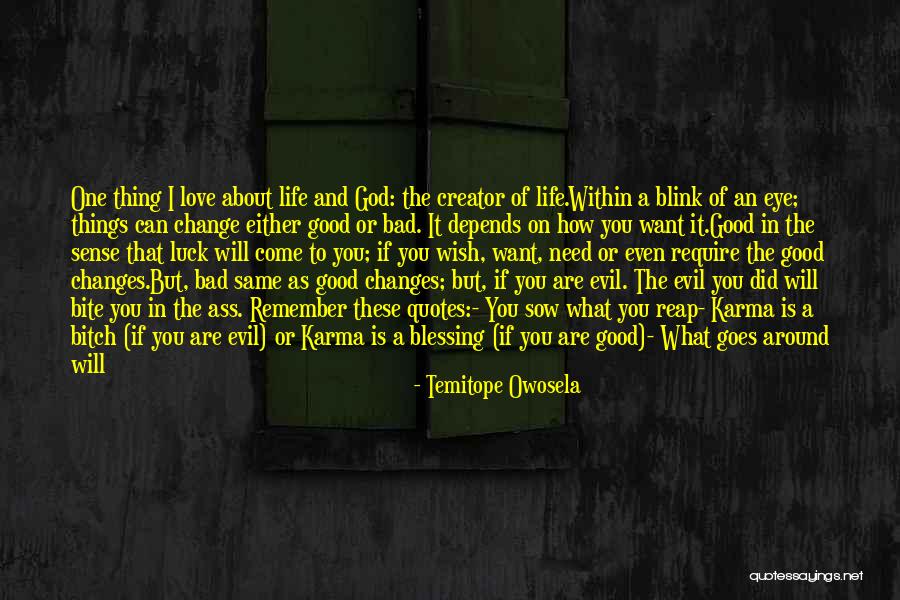 One thing I love about life and God: the creator of life.
Within a blink of an eye; things can change either good or bad. It depends on how you want it.
Good in the sense that luck will come to you; if you wish, want, need or even require the good changes.
But, bad same as good changes; but, if you are evil. The evil you did will bite you in the ass. Remember these quotes:
- You sow what you reap
- Karma is a bitch (if you are evil) or Karma is a blessing (if you are good)
- What goes around will eventually come around
- What goes up will come down
So be careful what you do to others.
That's why I am always cautious on the way I treat people. Yes; I am not perfect. But, I always try to be the best I can as a good and loving person despite my roots that is horrifying. — Temitope Owosela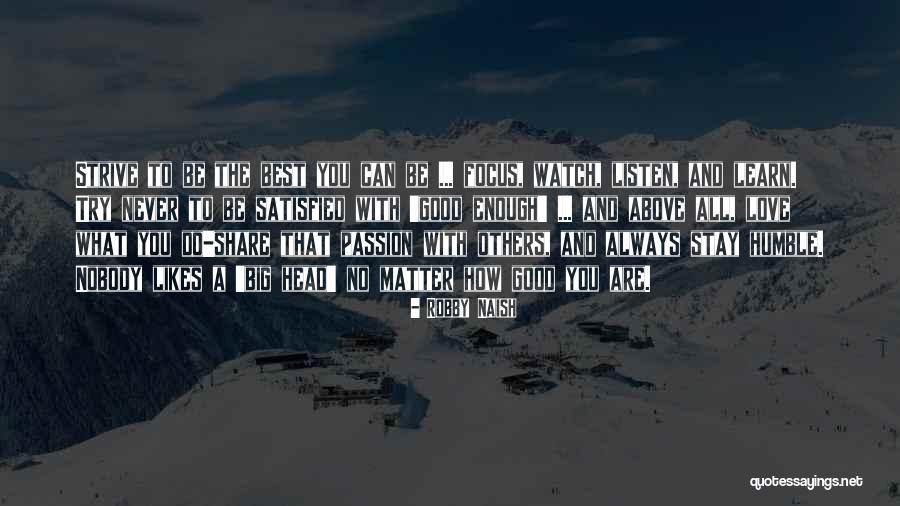 Strive to be the best you can be ... focus, watch, listen, and learn. Try never to be satisfied with 'good enough' ... and above all, love what you do-share that passion with others, and always stay humble. Nobody likes a 'big head' no matter how good you are. — Robby Naish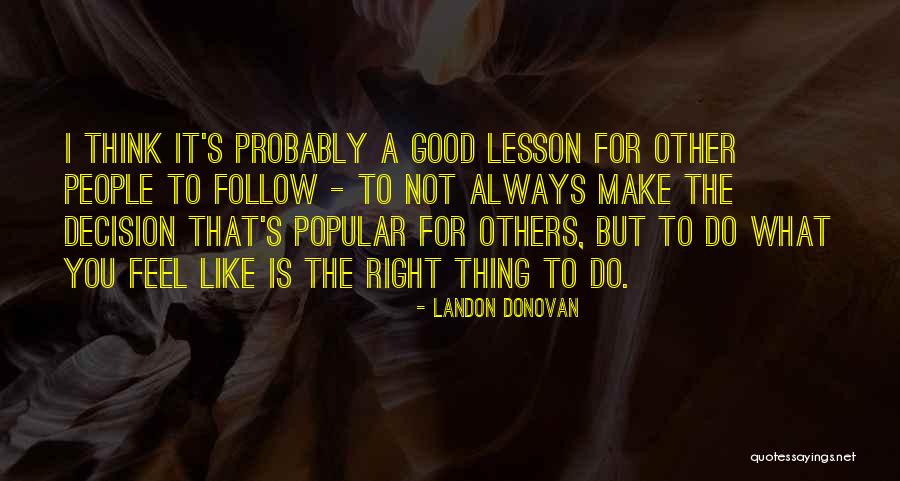 I think it's probably a good lesson for other people to follow - to not always make the decision that's popular for others, but to do what you feel like is the right thing to do. — Landon Donovan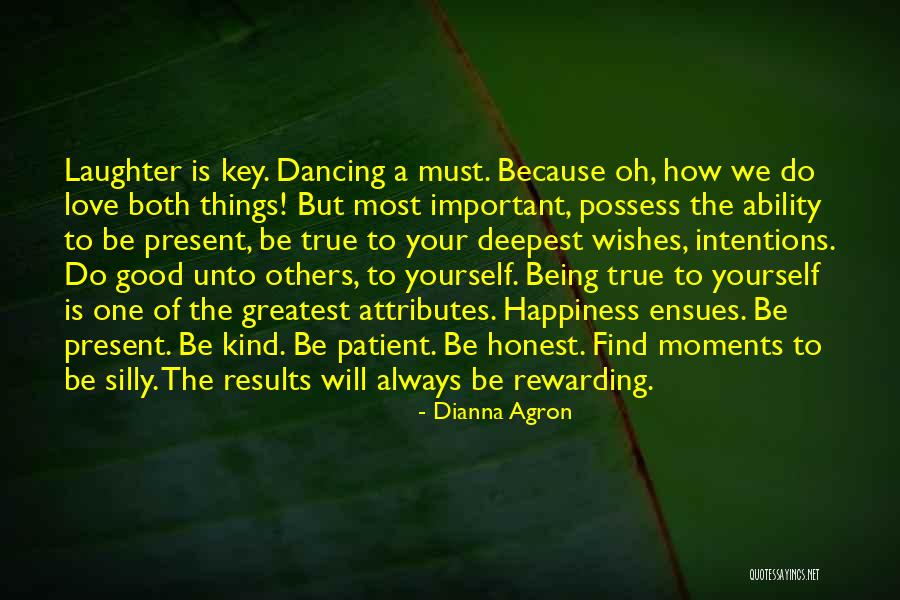 Laughter is key. Dancing a must. Because oh, how we do love both things! But most important, possess the ability to be present, be true to your deepest wishes, intentions. Do good unto others, to yourself. Being true to yourself is one of the greatest attributes. Happiness ensues. Be present. Be kind. Be patient. Be honest. Find moments to be silly. The results will always be rewarding. — Dianna Agron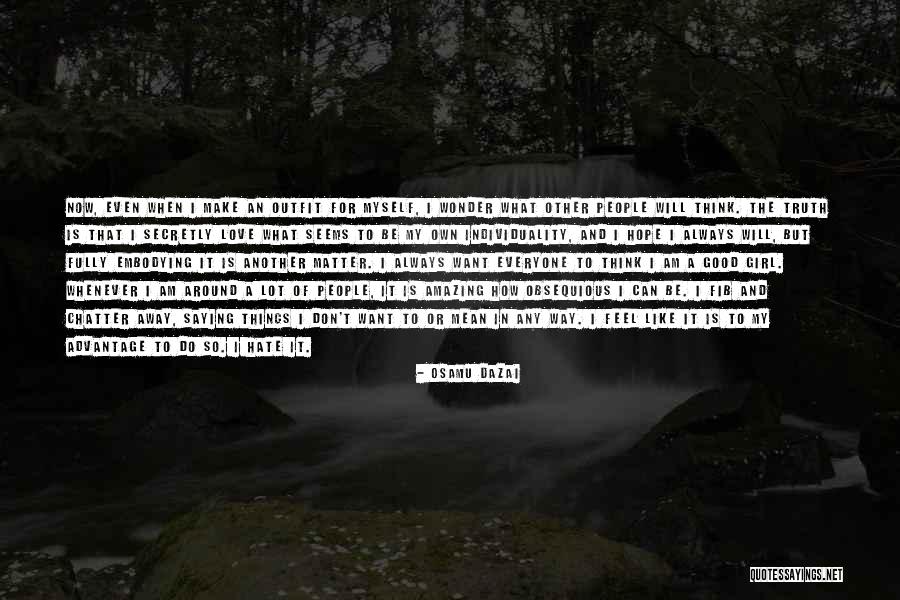 Now, even when I make an outfit for myself, I wonder what other people will think. The truth is that I secretly love what seems to be my own individuality, and I hope I always will, but fully embodying it is another matter. I always want everyone to think I am a good girl. Whenever I am around a lot of people, it is amazing how obsequious I can be. I fib and chatter away, saying things I don't want to or mean in any way. I feel like it is to my advantage to do so. I hate it. I hope for a revolution in ethics and morals. Then, my obsequiousness and this need to plod through life according to others' expectations would simply dissolve. Oh, — Osamu Dazai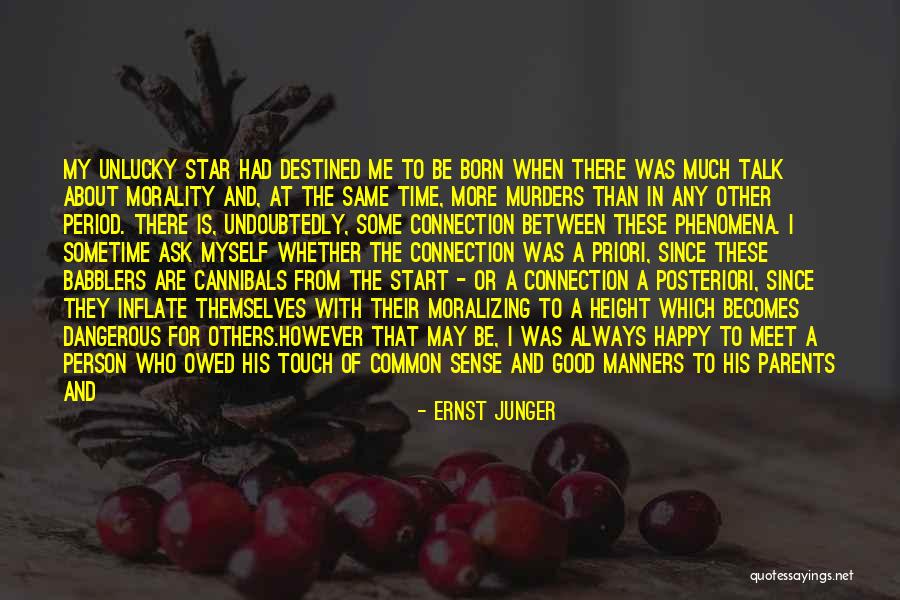 My unlucky star had destined me to be born when there was much talk about morality and, at the same time, more murders than in any other period. There is, undoubtedly, some connection between these phenomena. I sometime ask myself whether the connection was a priori, since these babblers are cannibals from the start - or a connection a posteriori, since they inflate themselves with their moralizing to a height which becomes dangerous for others.
However that may be, I was always happy to meet a person who owed his touch of common sense and good manners to his parents and who didn't need big principles. I do not claim more for myself, and I am a man who for an entire lifetime has been moralized at to the right and the left - by teachers and superiors, by policemen and journalists, by Jews and Gentiles, by inhabitants of the Alps, of islands, and the plains, by cut-throats and aristocrats - all of whom looked as if butter wouldn't melt in their mouths. — Ernst Junger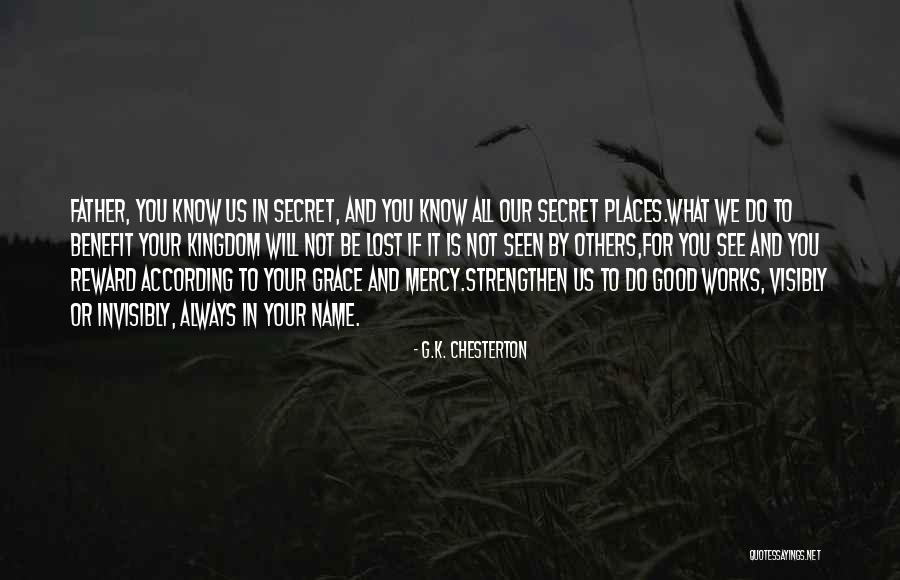 Father, you know us in secret, and you know all our secret places.
What we do to benefit your kingdom will not be lost if it is not seen by others,
for you see and you reward according to your grace and mercy.
Strengthen us to do good works, visibly or invisibly, always in your name. — G.K. Chesterton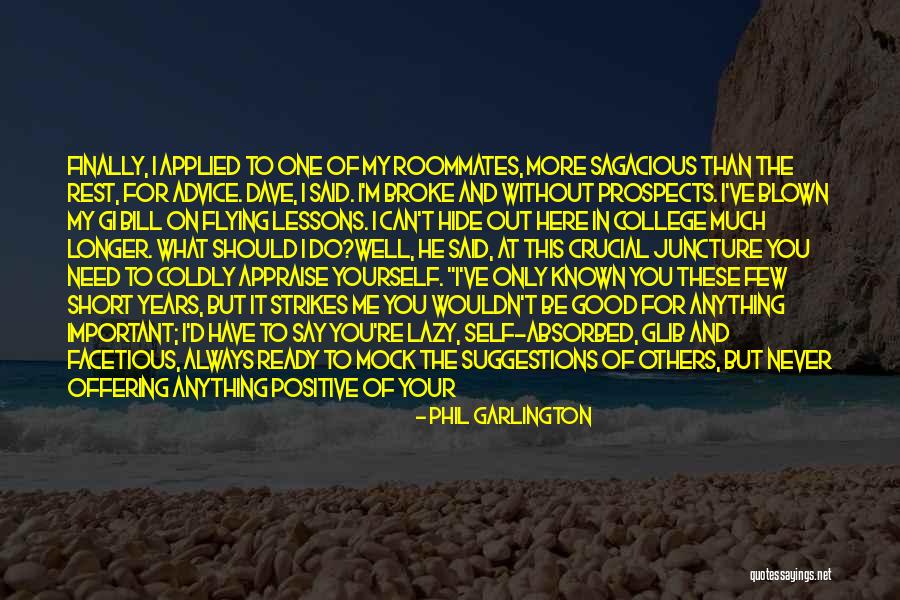 Finally, I applied to one of my roommates, more sagacious than the rest, for advice. Dave, I said. I'm broke and without prospects. I've blown my GI Bill on flying lessons. I can't hide out here in college much longer. What should I do?

Well, he said, at this crucial juncture you need to coldly appraise yourself. "I've only known you these few short years, but it strikes me you wouldn't be good for anything important; I'd have to say you're lazy, self-absorbed, glib and facetious, always ready to mock the suggestions of others, but never offering anything positive of your own. Intellectually shallow, no tap root anywhere, spiritually neutered, without feeling or compassion, unsteady of focus, lacking the fortitude for the long pull, with no fixed belief in anything."

I shook his hand and thanked him. The acuity of his analysis made my path clear. My only hope lay in daily journalism. — Phil Garlington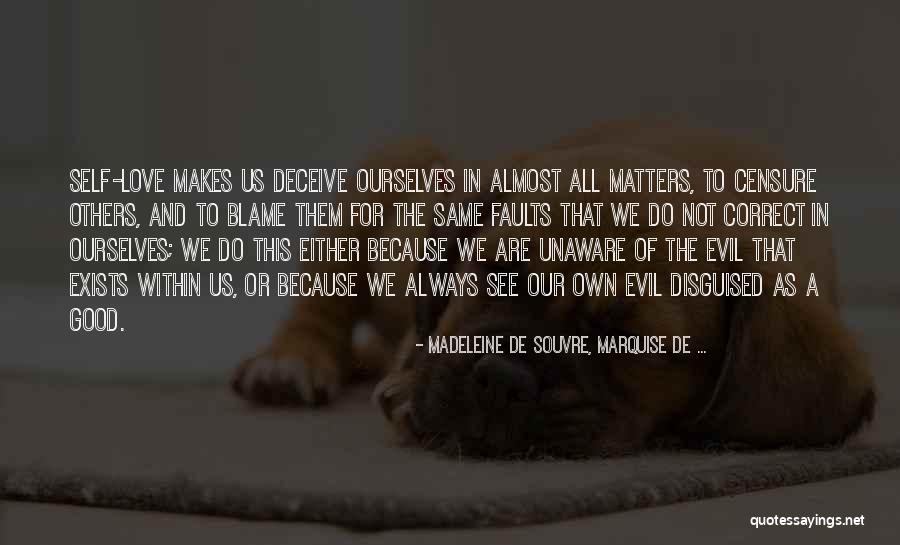 Self-love makes us deceive ourselves in almost all matters, to censure others, and to blame them for the same faults that we do not correct in ourselves; we do this either because we are unaware of the evil that exists within us, or because we always see our own evil disguised as a good. — Madeleine De Souvre, Marquise De ...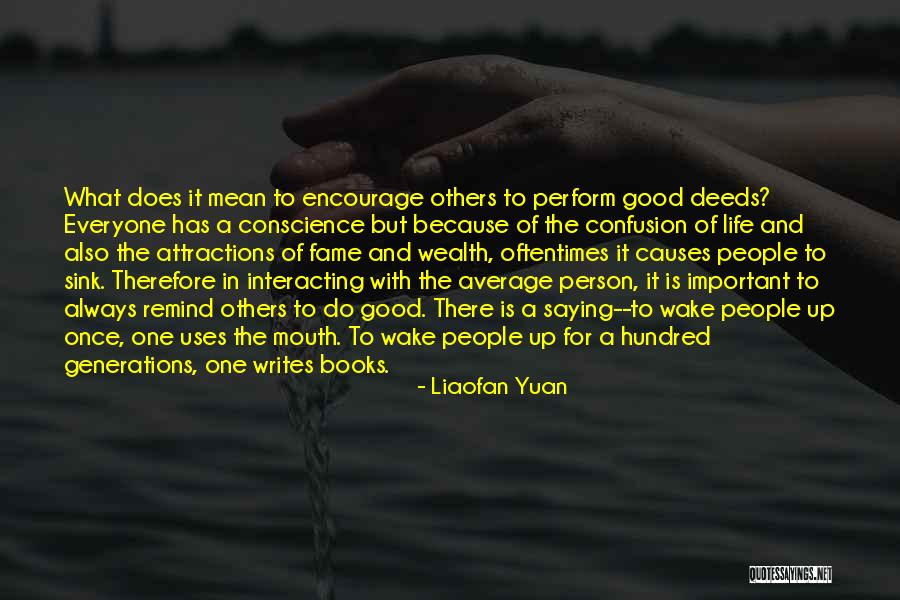 What does it mean to encourage others to perform good deeds? Everyone has a conscience but because of the confusion of life and also the attractions of fame and wealth, oftentimes it causes people to sink. Therefore in interacting with the average person, it is important to always remind others to do good. There is a saying--to wake people up once, one uses the mouth. To wake people up for a hundred generations, one writes books. — Liaofan Yuan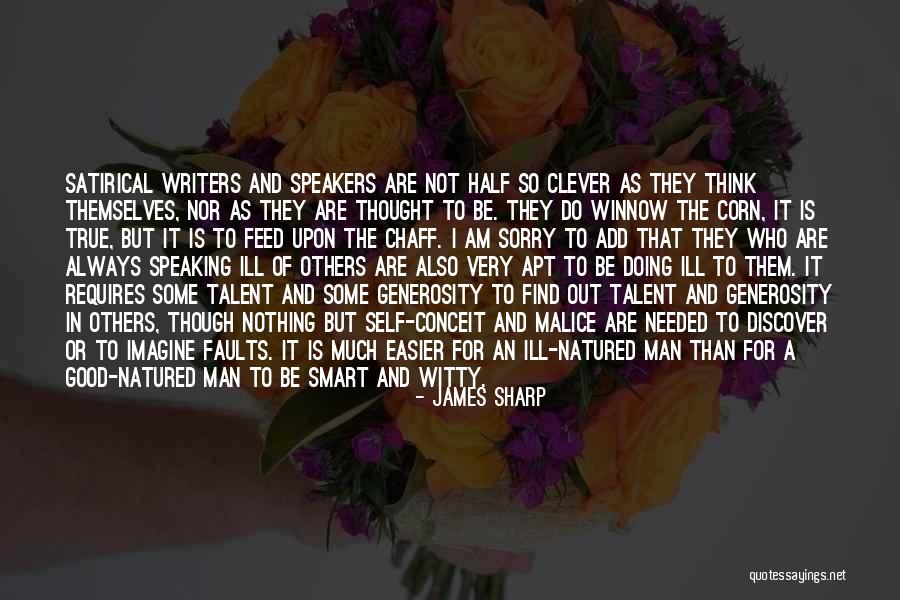 Satirical writers and speakers are not half so clever as they think themselves, nor as they are thought to be. They do winnow the corn, it is true, but it is to feed upon the chaff. I am sorry to add that they who are always speaking ill of others are also very apt to be doing ill to them. It requires some talent and some generosity to find out talent and generosity in others, though nothing but self-conceit and malice are needed to discover or to imagine faults. It is much easier for an ill-natured man than for a good-natured man to be smart and witty. — James Sharp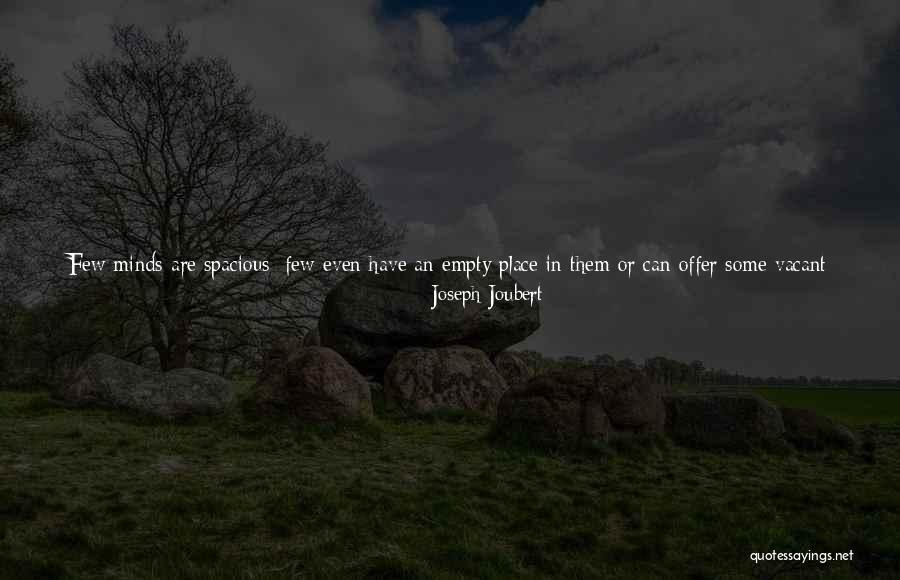 Few minds are spacious; few even have an empty place in them or can offer some vacant point. Almost all have narrow capacities and are filled by some knowledge that blocks them up. What a torture to talk to filled heads, that allow nothing from the outside to enter them! A good mind, in order to enjoy itself and allow itself to enjoy others, always keeps itself larger than its own thoughts. And in order to do this, these thoughts must be given a pliant form, must be easily folded and unfolded, so that they are capable, finally, of maintaining a natural flexibility.
All those short-sighted minds see clearly within their little ideas and see nothing in those of others; they are like those bad eyes that see from close range what is obscure and cannot perceive what is clear from afar. Night minds, minds of darkness. — Joseph Joubert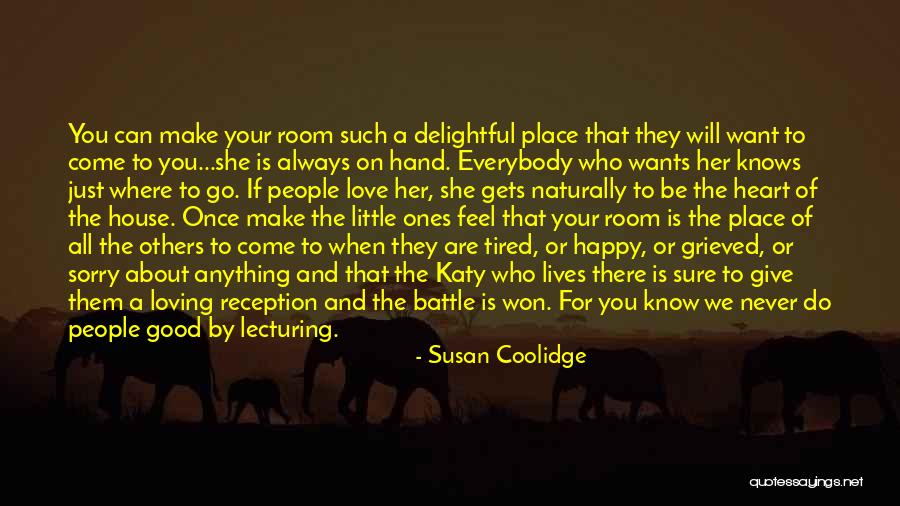 You can make your room such a delightful place that they will want to come to you...she is always on hand. Everybody who wants her knows just where to go. If people love her, she gets naturally to be the heart of the house. Once make the little ones feel that your room is the place of all the others to come to when they are tired, or happy, or grieved, or sorry about anything and that the Katy who lives there is sure to give them a loving reception and the battle is won. For you know we never do people good by lecturing. — Susan Coolidge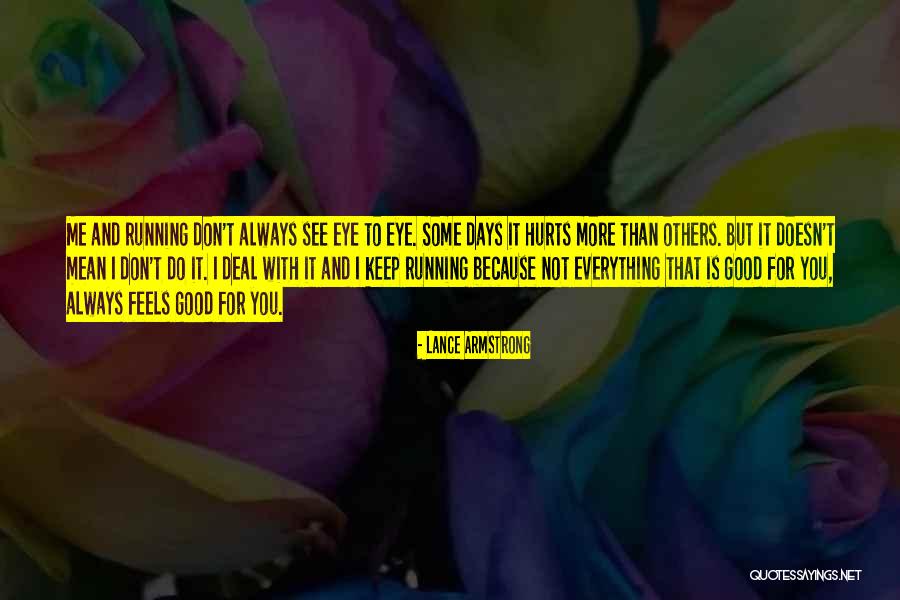 Me and running don't always see eye to eye. Some days it hurts more than others. But it doesn't mean I don't do it. I deal with it and I keep running because not everything that is good for you, always feels good for you. — Lance Armstrong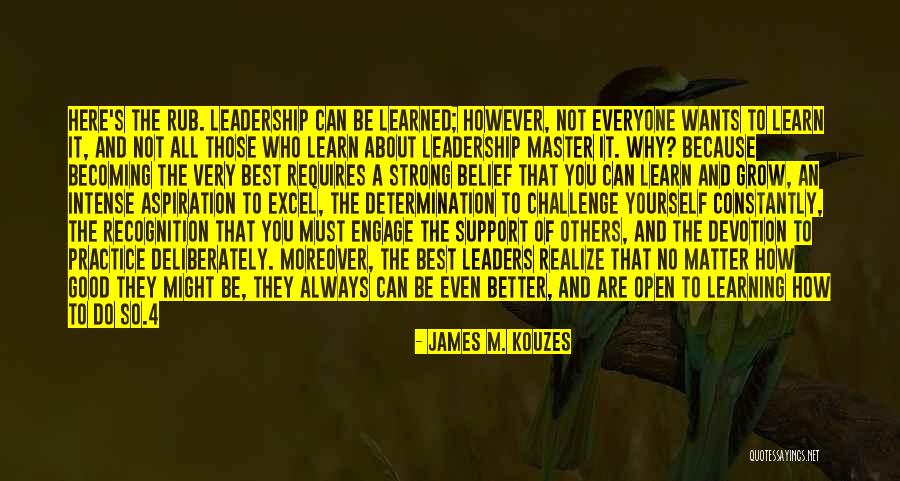 Here's the rub. Leadership can be learned; however, not everyone wants to learn it, and not all those who learn about leadership master it. Why? Because becoming the very best requires a strong belief that you can learn and grow, an intense aspiration to excel, the determination to challenge yourself constantly, the recognition that you must engage the support of others, and the devotion to practice deliberately. Moreover, the best leaders realize that no matter how good they might be, they always can be even better, and are open to learning how to do so.4 — James M. Kouzes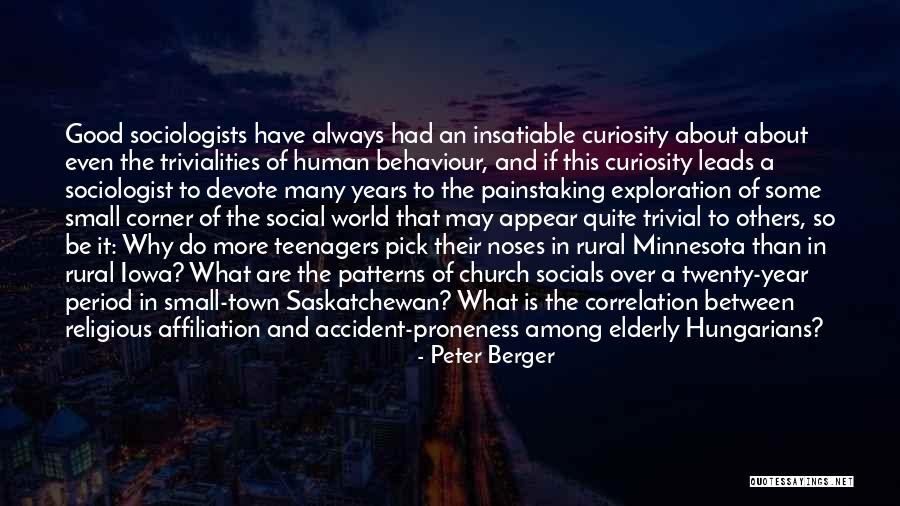 Good sociologists have always had an insatiable curiosity about about even the trivialities of human behaviour, and if this curiosity leads a sociologist to devote many years to the painstaking exploration of some small corner of the social world that may appear quite trivial to others, so be it: Why do more teenagers pick their noses in rural Minnesota than in rural Iowa? What are the patterns of church socials over a twenty-year period in small-town Saskatchewan? What is the correlation between religious affiliation and accident-proneness among elderly Hungarians? — Peter Berger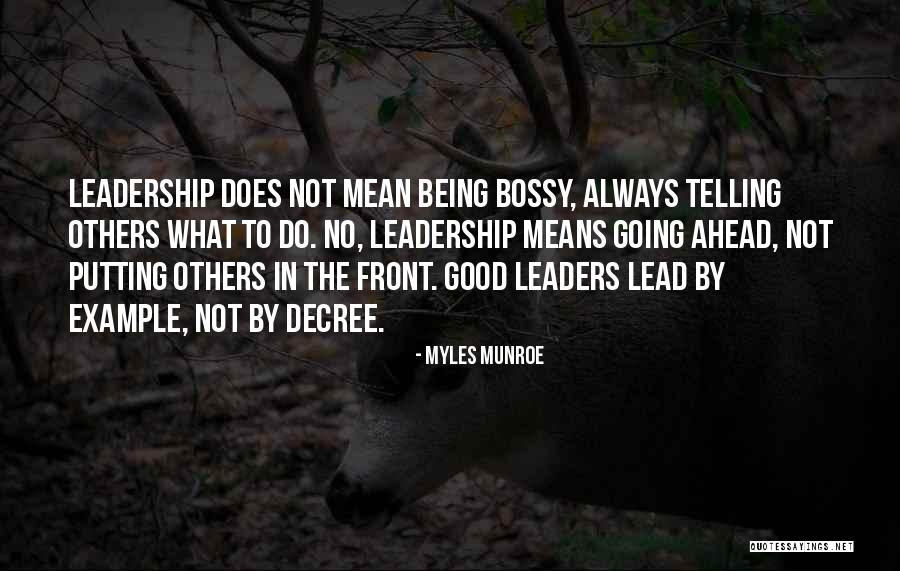 Leadership does not mean being bossy, always telling others what to do. No, leadership means going ahead, not putting others in the front. Good leaders lead by example, not by decree. — Myles Munroe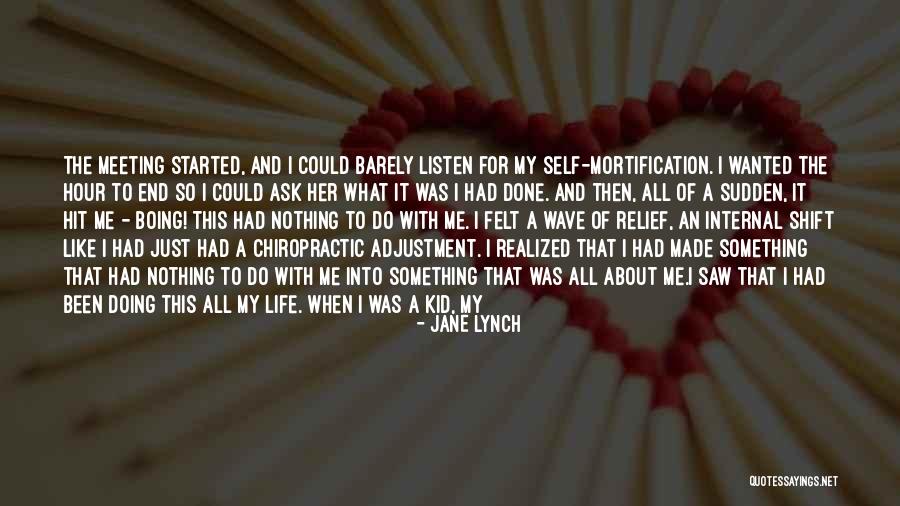 The meeting started, and I could barely listen for my self-mortification. I wanted the hour to end so I could ask her what it was I had done. And then, all of a sudden, it hit me - boing! This had NOTHING to do with me. I felt a wave of relief, an internal shift like I had just had a chiropractic adjustment. I realized that I had made something that had nothing to do with me into something that was all about me.

I saw that I had been doing this all my life. When I was a kid, my mom was easily annoyed, and I always figured it was me bugging her. After growing up like that, I was forever making myself the cause of other people's pain. It was self-centered and rendered me incapable of compassion for others, because I'm no good to anybody else when it's all about me. And frankly, most things have nothing to do with me. It was very adolescent, really. I got it, suddenly and profoundly. — Jane Lynch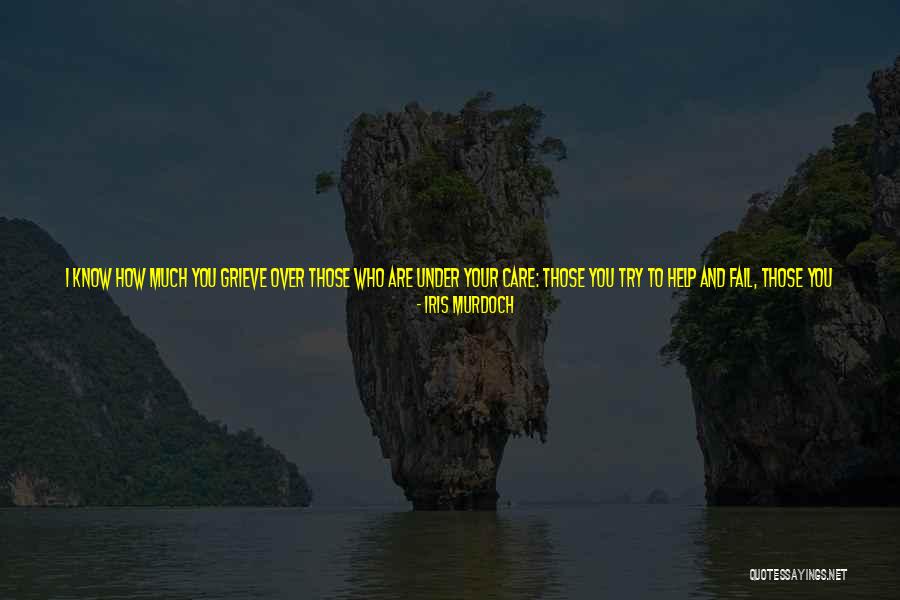 I know how much you grieve over those who are under your care: those you try to help and fail, those you cannot help. Have faith in God and remember that He will is His own way and in His own time complete what we so poorly attempt. Often we do not achieve for others the good that we intend but achieve something, something that goes on from our effort. Good is an overflow. Where we generously and sincerely intend it, we are engaged in a work of creation which may be mysterious even to ourselves - and because it is mysterious we may be afraid of it. But this should not make us draw back. God can always show us, if we will, a higher and a better way; and we can only learn to love by loving. Remember that all our failures are ultimately failures in love. Imperfect love must not be condemned and rejected but made perfect. The way is always forward, never back. — Iris Murdoch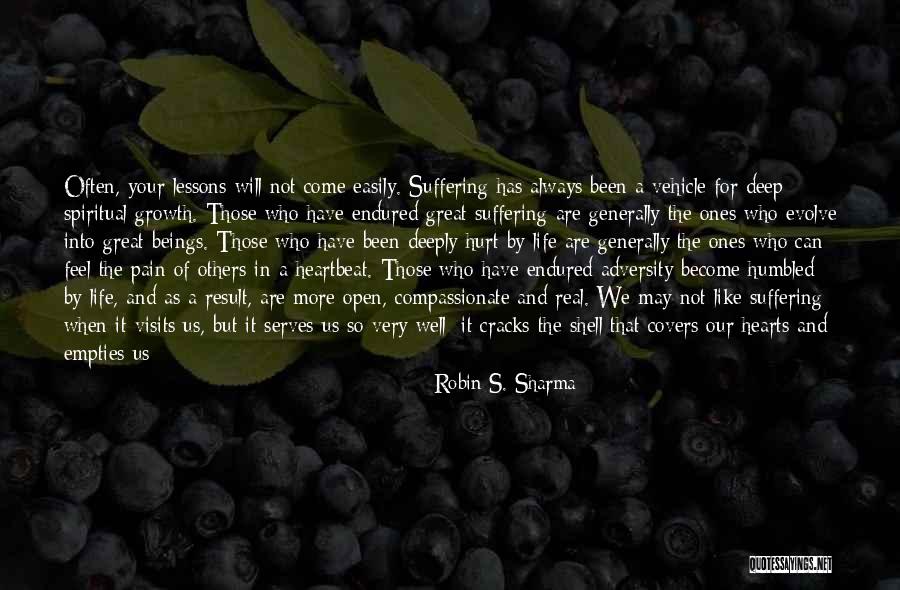 Often, your lessons will not come easily. Suffering has always been a vehicle for deep spiritual growth. Those who have endured great suffering are generally the ones who evolve into great beings. Those who have been deeply hurt by life are generally the ones who can feel the pain of others in a heartbeat. Those who have endured adversity become humbled by life, and as a result, are more open, compassionate and real. We may not like suffering when it visits us, but it serves us so very well: it cracks the shell that covers our hearts and empties us of the lies we have clung to about who we are, why we are here and how this remarkable world of ours really functions. Once emptied, we can be refilled with all that is good, noble and true. Troubles can transform, if we choose to allow them to do so. As Joseph Campbell — Robin S. Sharma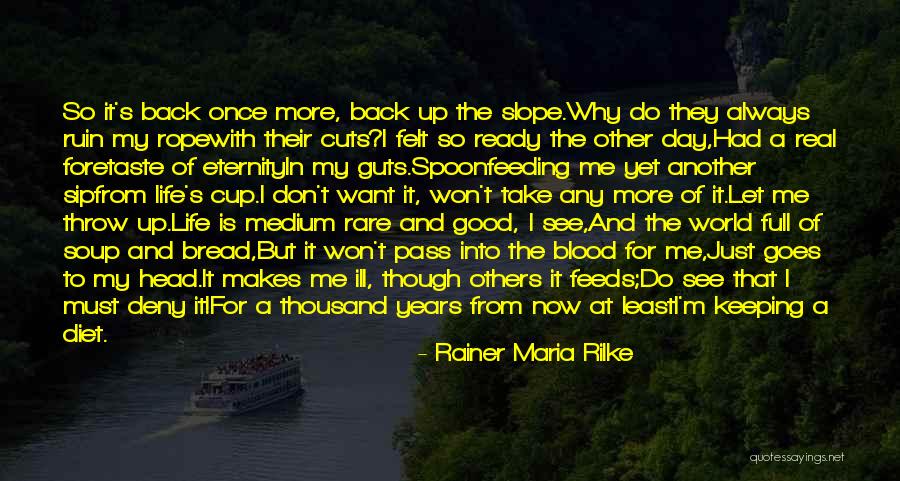 So it's back once more, back up the slope.
Why do they always ruin my rope
with their cuts?
I felt so ready the other day,
Had a real foretaste of eternity
In my guts.
Spoonfeeding me yet another sip
from life's cup.
I don't want it, won't take any more of it.
Let me throw up.
Life is medium rare and good, I see,
And the world full of soup and bread,
But it won't pass into the blood for me,
Just goes to my head.
It makes me ill, though others it feeds;
Do see that I must deny it!
For a thousand years from now at least
I'm keeping a diet. — Rainer Maria Rilke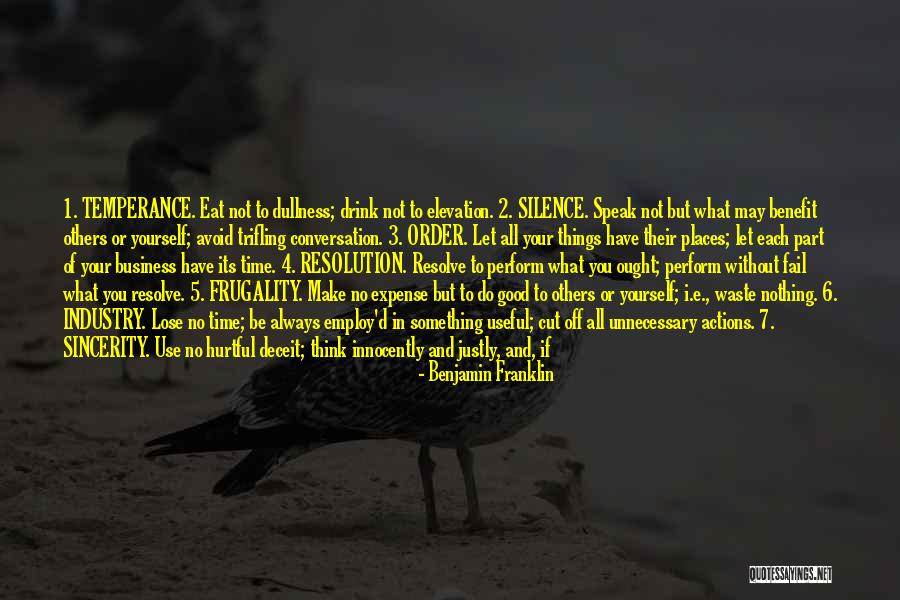 1. TEMPERANCE. Eat not to dullness; drink not to elevation. 2. SILENCE. Speak not but what may benefit others or yourself; avoid trifling conversation. 3. ORDER. Let all your things have their places; let each part of your business have its time. 4. RESOLUTION. Resolve to perform what you ought; perform without fail what you resolve. 5. FRUGALITY. Make no expense but to do good to others or yourself; i.e., waste nothing. 6. INDUSTRY. Lose no time; be always employ'd in something useful; cut off all unnecessary actions. 7. SINCERITY. Use no hurtful deceit; think innocently and justly, and, if you... — Benjamin Franklin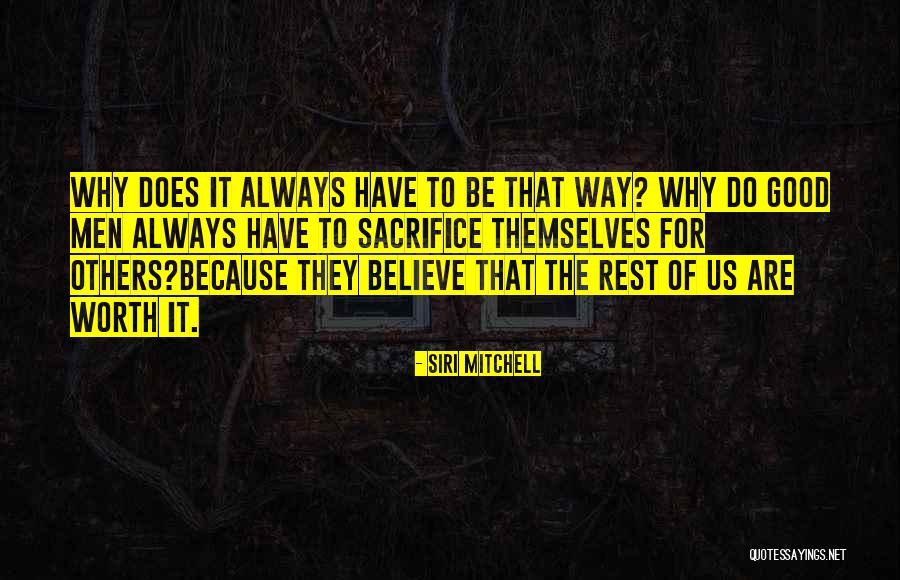 Why does it always have to be that way? Why do good men always have to sacrifice themselves for others?
Because they believe that the rest of us are worth it. — Siri Mitchell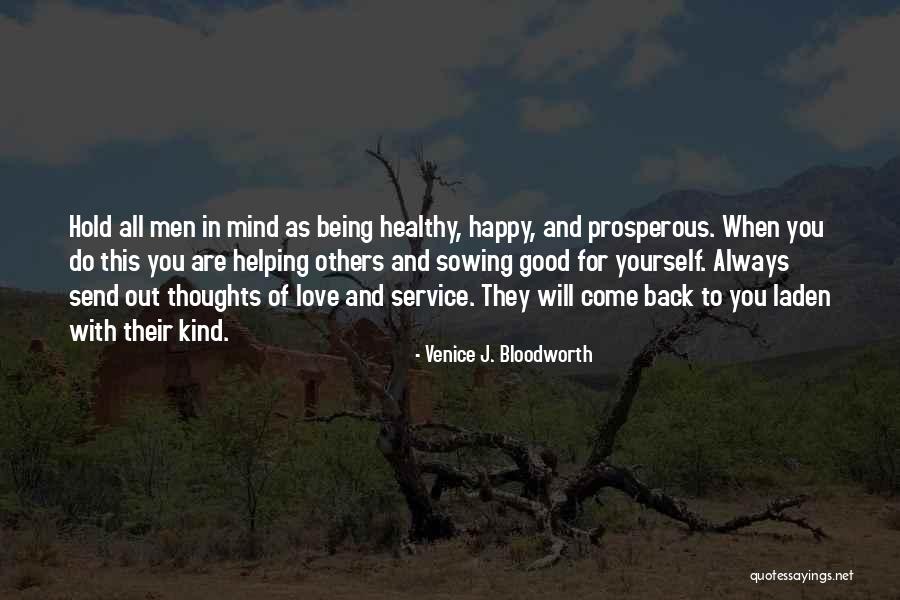 Hold all men in mind as being healthy, happy, and prosperous. When you do this you are helping others and sowing good for yourself. Always send out thoughts of love and service. They will come back to you laden with their kind. — Venice J. Bloodworth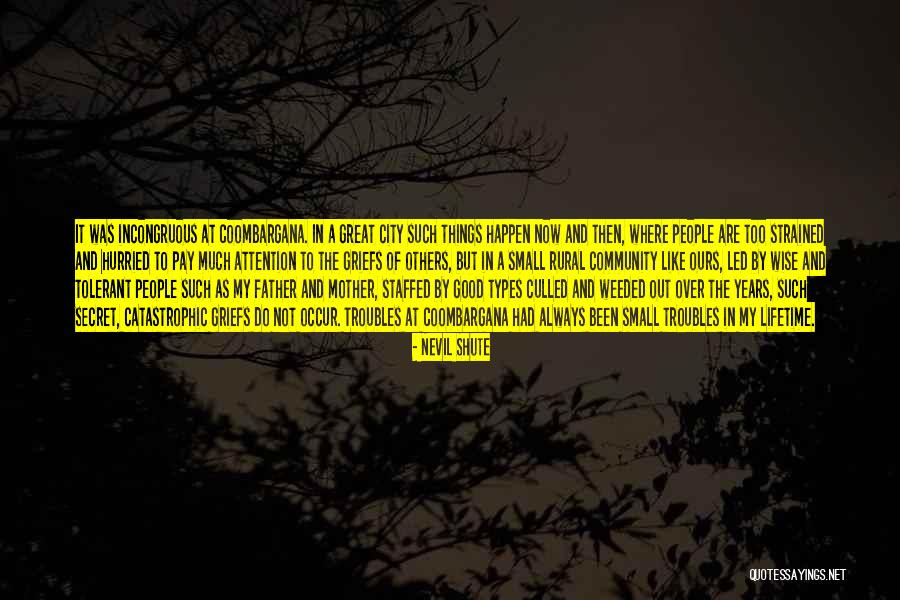 It was incongruous at Coombargana. In a great city such things happen now and then, where people are too strained and hurried to pay much attention to the griefs of others, but in a small rural community like ours, led by wise and tolerant people such as my father and mother, staffed by good types culled and weeded out over the years, such secret, catastrophic griefs do not occur. Troubles at Coombargana had always been small troubles in my lifetime. — Nevil Shute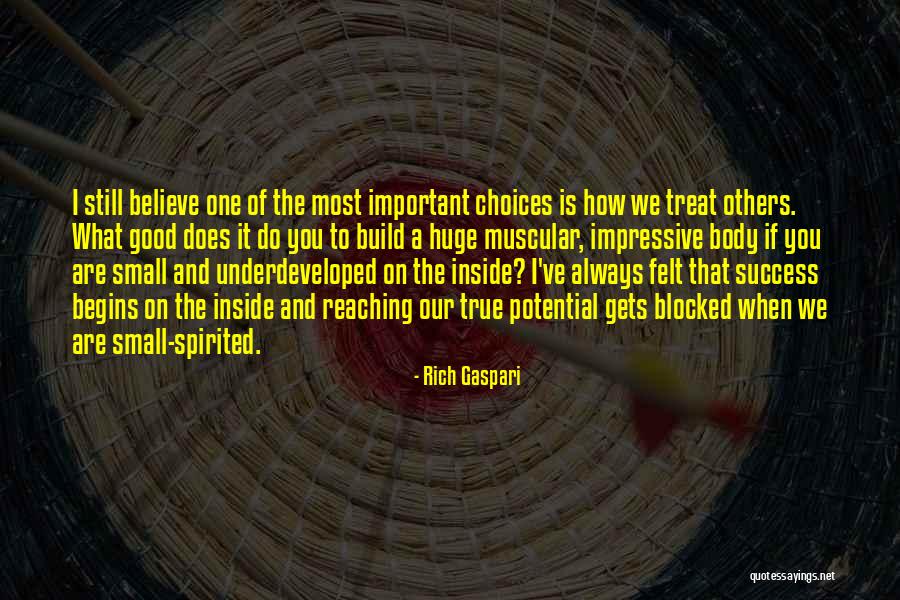 I still believe one of the most important choices is how we treat others. What good does it do you to build a huge muscular, impressive body if you are small and underdeveloped on the inside? I've always felt that success begins on the inside and reaching our true potential gets blocked when we are small-spirited. — Rich Gaspari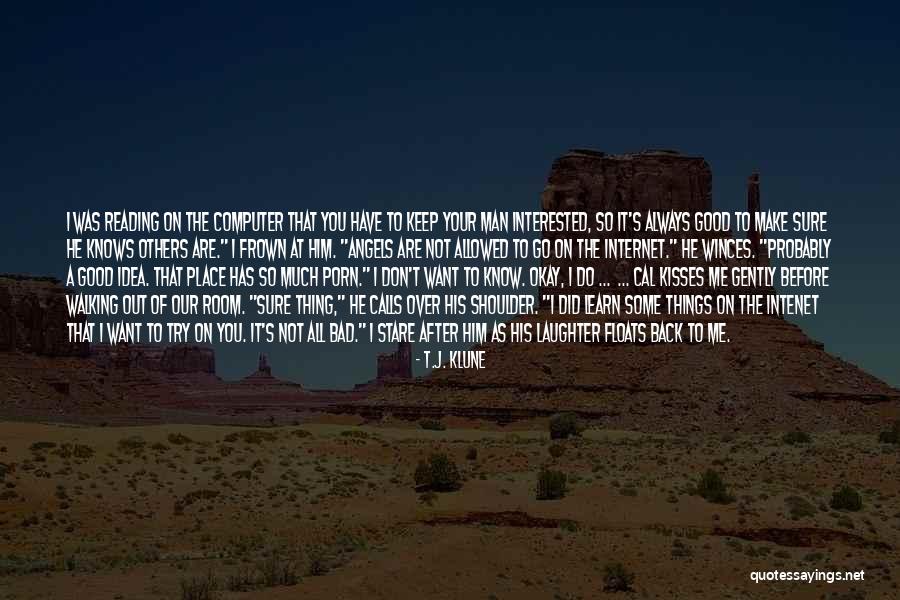 I was reading on the computer that you have to keep your man interested, so it's always good to make sure he knows others are."
I frown at him. "Angels are not allowed to go on the Internet."
He winces. "Probably a good idea. That place has so much porn."
I don't want to know. Okay, I do ...
... Cal kisses me gently before walking out of our room. "Sure thing," he calls over his shoulder. "I did learn some things on the Intenet that I want to try on you. It's not all bad."
I stare after him as his laughter floats back to me. — T.J. Klune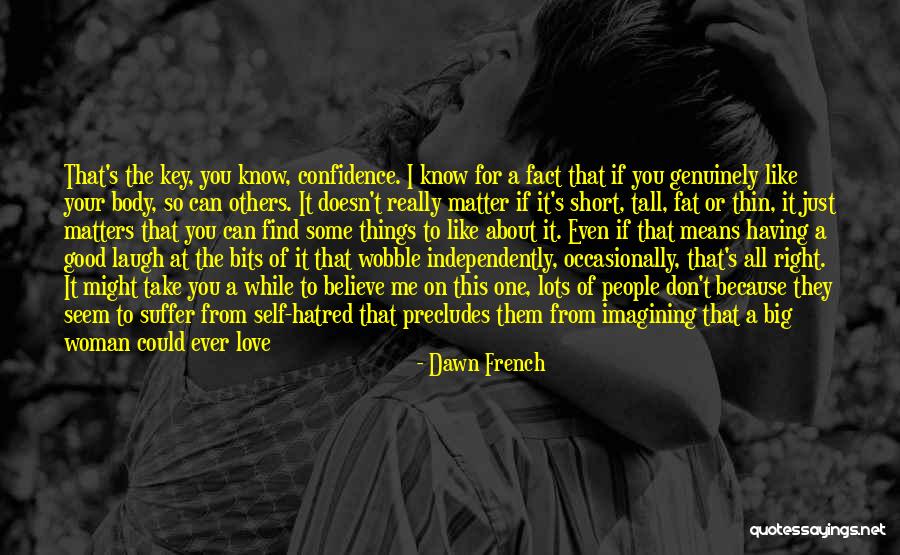 That's the key, you know, confidence. I know for a fact that if you genuinely like your body, so can others. It doesn't really matter if it's short, tall, fat or thin, it just matters that you can find some things to like about it. Even if that means having a good laugh at the bits of it that wobble independently, occasionally, that's all right. It might take you a while to believe me on this one, lots of people don't because they seem to suffer from self-hatred that precludes them from imagining that a big woman could ever love herself because they don't. But I do. I know what I've got is a bit strange and difficult to love but those are the very aspects that I love the most! It's a bit like people. I've never been particularly attracted to the uniform of conventional beauty. I'm always a bit suspicious of people who feel compelled to conform. I personally like the adventure of difference. And what's beauty, anyway? — Dawn French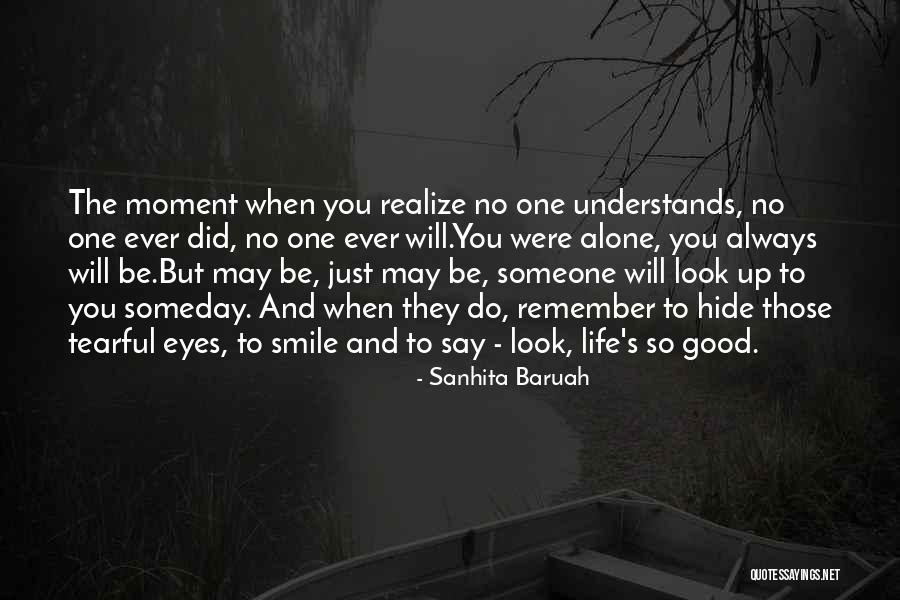 The moment when you realize no one understands, no one ever did, no one ever will.
You were alone, you always will be.
But may be, just may be, someone will look up to you someday. And when they do, remember to hide those tearful eyes, to smile and to say - look, life's so good. — Sanhita Baruah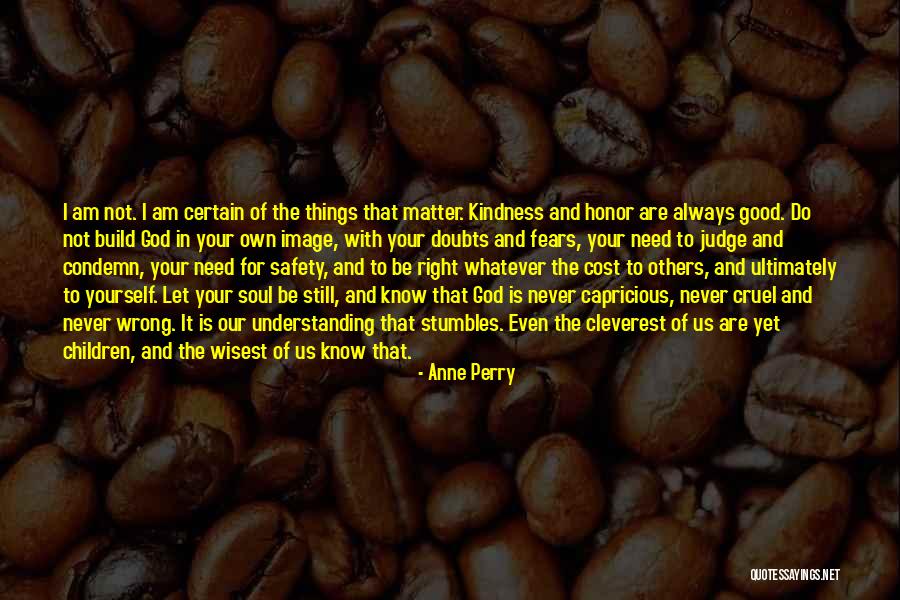 I am not. I am certain of the things that matter. Kindness and honor are always good. Do not build God in your own image, with your doubts and fears, your need to judge and condemn, your need for safety, and to be right whatever the cost to others, and ultimately to yourself. Let your soul be still, and know that God is never capricious, never cruel and never wrong. It is our understanding that stumbles. Even the cleverest of us are yet children, and the wisest of us know that. — Anne Perry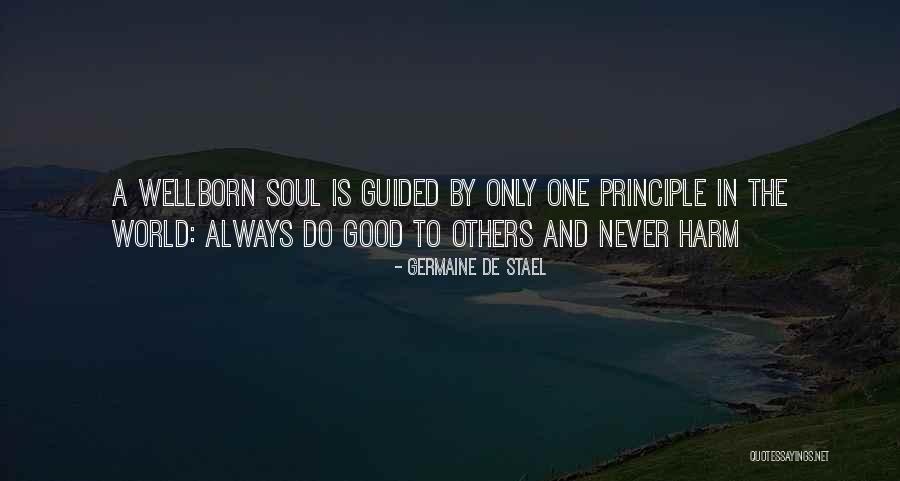 A wellborn soul is guided by only one principle in the world: always do good to others and never harm — Germaine De Stael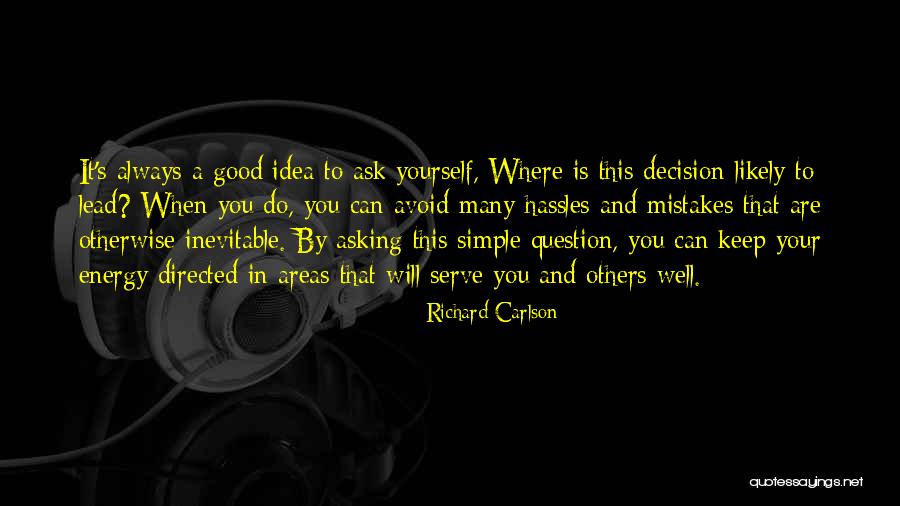 It's always a good idea to ask yourself, Where is this decision likely to lead? When you do, you can avoid many hassles and mistakes that are otherwise inevitable. By asking this simple question, you can keep your energy directed in areas that will serve you and others well. — Richard Carlson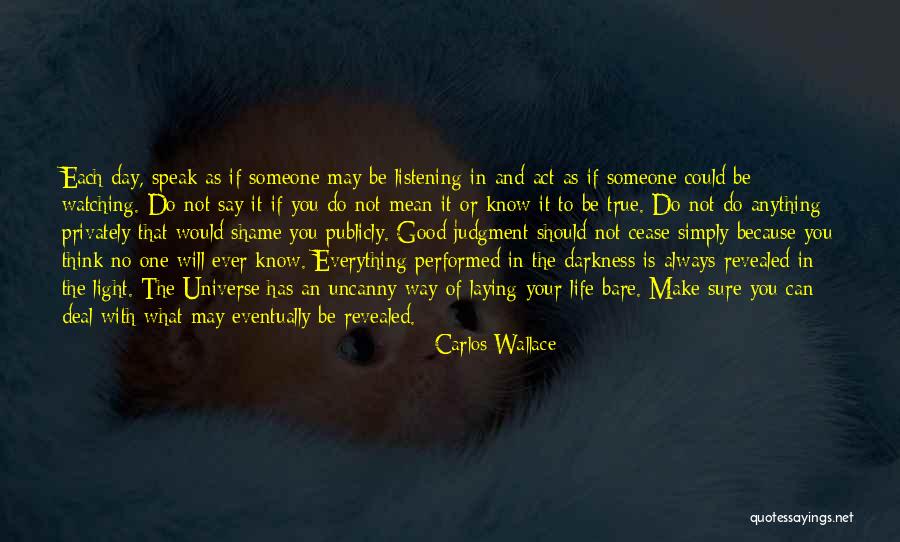 Each day, speak as if someone may be listening in and act as if someone could be watching. Do not say it if you do not mean it or know it to be true. Do not do anything privately that would shame you publicly. Good judgment should not cease simply because you think no one will ever know. Everything performed in the darkness is always revealed in the light. The Universe has an uncanny way of laying your life bare. Make sure you can deal with what may eventually be revealed. — Carlos Wallace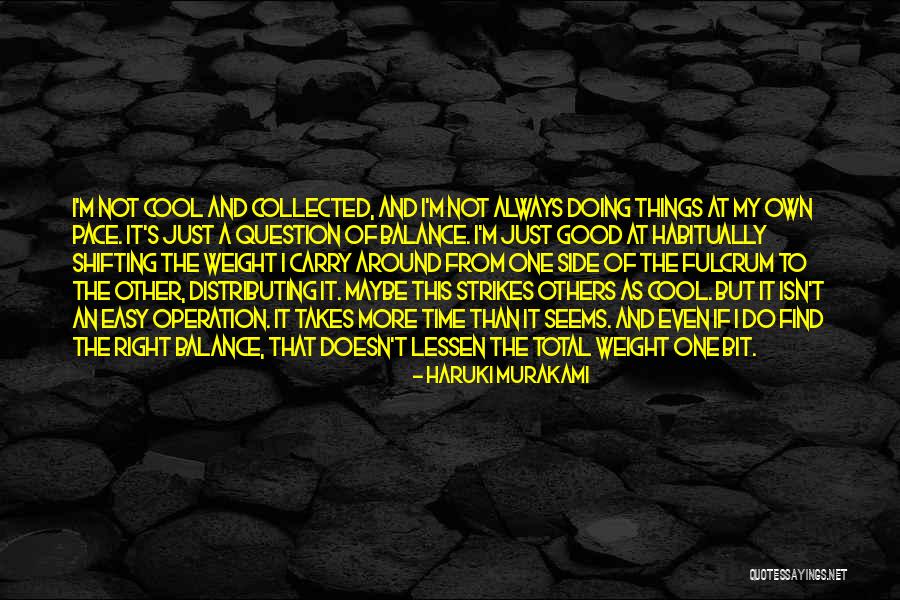 I'm not cool and collected, and I'm not always doing things at my own pace. It's just a question of balance. I'm just good at habitually shifting the weight I carry around from one side of the fulcrum to the other, distributing it. Maybe this strikes others as cool. But it isn't an easy operation. It takes more time than it seems. And even if I do find the right balance, that doesn't lessen the total weight one bit. — Haruki Murakami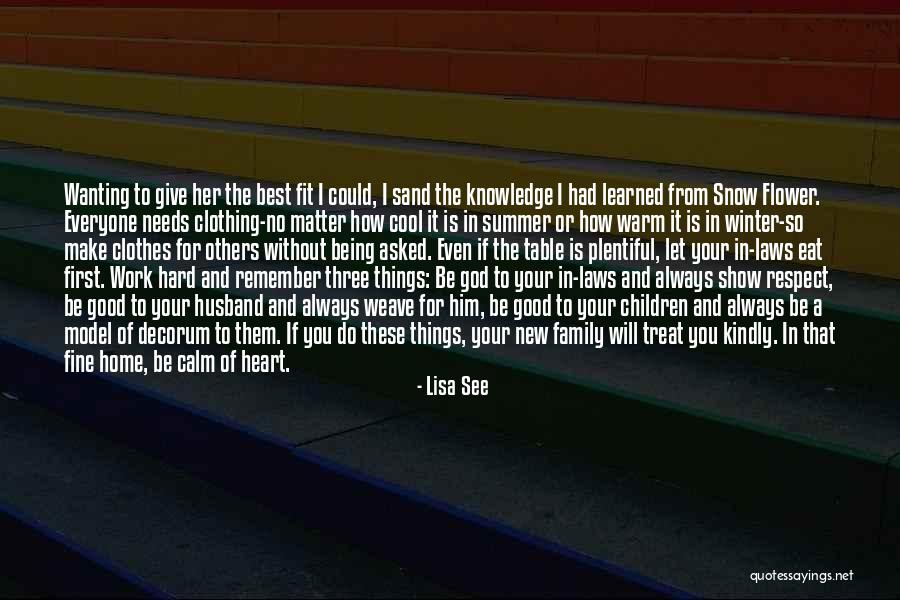 Wanting to give her the best fit I could, I sand the knowledge I had learned from Snow Flower. Everyone needs clothing-no matter how cool it is in summer or how warm it is in winter-so make clothes for others without being asked. Even if the table is plentiful, let your in-laws eat first. Work hard and remember three things: Be god to your in-laws and always show respect, be good to your husband and always weave for him, be good to your children and always be a model of decorum to them. If you do these things, your new family will treat you kindly. In that fine home, be calm of heart. — Lisa See