Always Come Back Home Quotes & Sayings
Enjoy reading and share 42 famous quotes about Always Come Back Home with everyone.
Top Always Come Back Home Quotes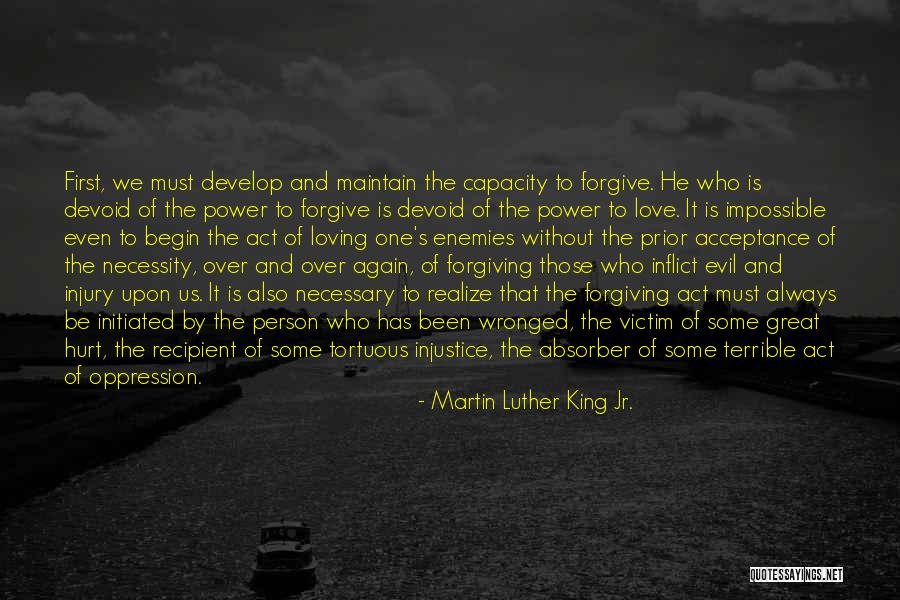 First, we must develop and maintain the capacity to forgive. He who is devoid of the power to forgive is devoid of the power to love. It is impossible even to begin the act of loving one's enemies without the prior acceptance of the necessity, over and over again, of forgiving those who inflict evil and injury upon us. It is also necessary to realize that the forgiving act must always be initiated by the person who has been wronged, the victim of some great hurt, the recipient of some tortuous injustice, the absorber of some terrible act of oppression. The wrongdoer may request forgiveness. He may come to himself, and, like the prodigal son, move up some dusty road, his heart palpitating with the desire for forgiveness. But only the injured neighbor, the loving father back home, can really pour out the warm waters of forgiveness. — Martin Luther King Jr.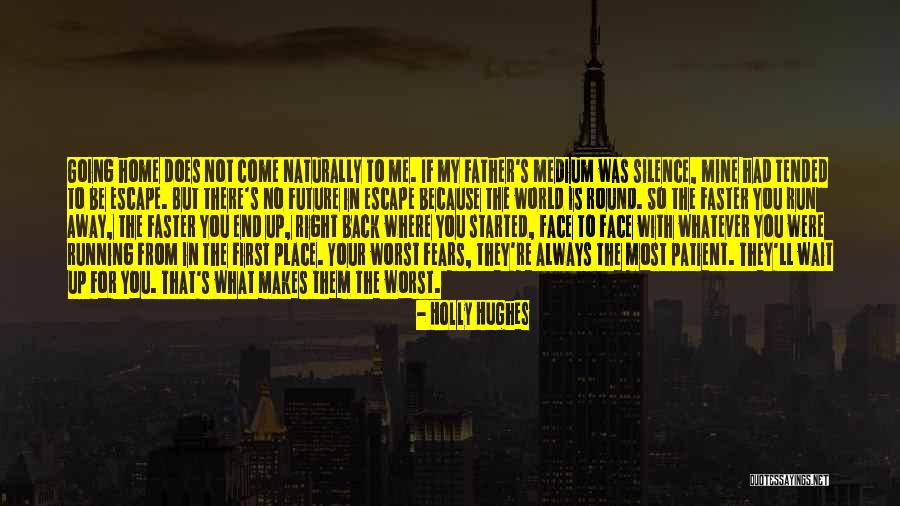 Going home does not come naturally to me. If my father's medium was silence, mine had tended to be escape. But there's no future in escape because the world is round. So the faster you run away, the faster you end up, right back where you started, face to face with whatever you were running from in the first place. Your worst fears, they're always the most patient. They'll wait up for you. That's what makes them the worst. — Holly Hughes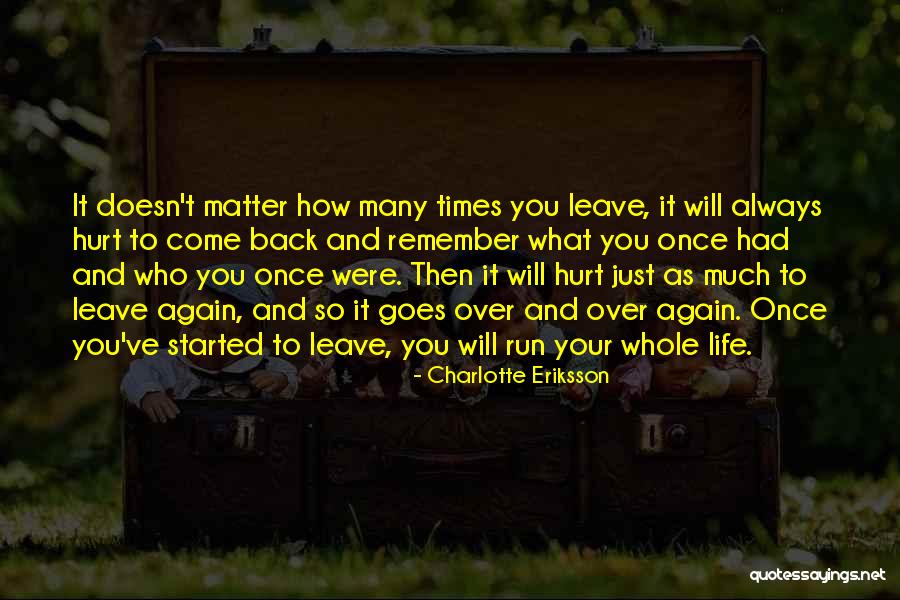 It doesn't matter how many times you leave, it will always hurt to come back and remember what you once had and who you once were. Then it will hurt just as much to leave again, and so it goes over and over again.
Once you've started to leave, you will run your whole life. — Charlotte Eriksson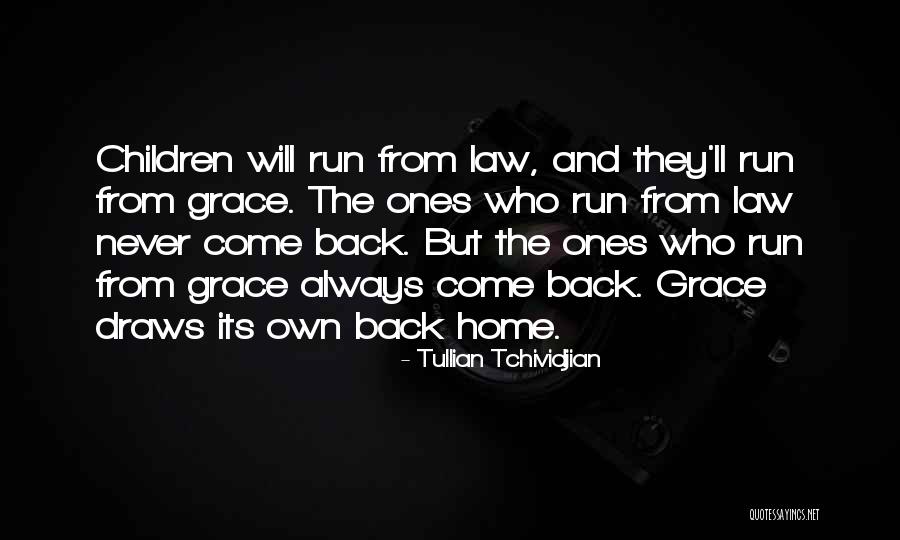 Children will run from law, and they'll run from grace. The ones who run from law never come back. But the ones who run from grace always come back. Grace draws its own back home. — Tullian Tchividjian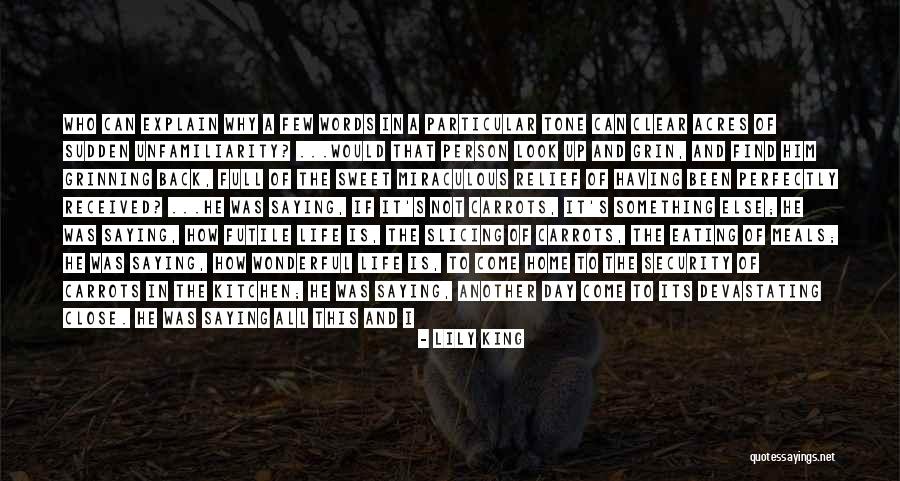 Who can explain why a few words in a particular tone can clear acres of sudden unfamiliarity? ...Would that person look up and grin, and find him grinning back, full of the sweet miraculous relief of having been perfectly received? ...He was saying, if it's not carrots, it's something else; he was saying, How futile life is, the slicing of carrots, the eating of meals; he was saying, How wonderful life is, to come home to the security of carrots in the kitchen; he was saying, Another day come to its devastating close. He was saying all this and I heard him because he was like me, entirely ambivalent about life. It was almost a question: Should I be full of joy or despair, Rosie? Joy, my face always replied to him, not because I felt sure that was the answer, but because I'd begun to want to make it his. — Lily King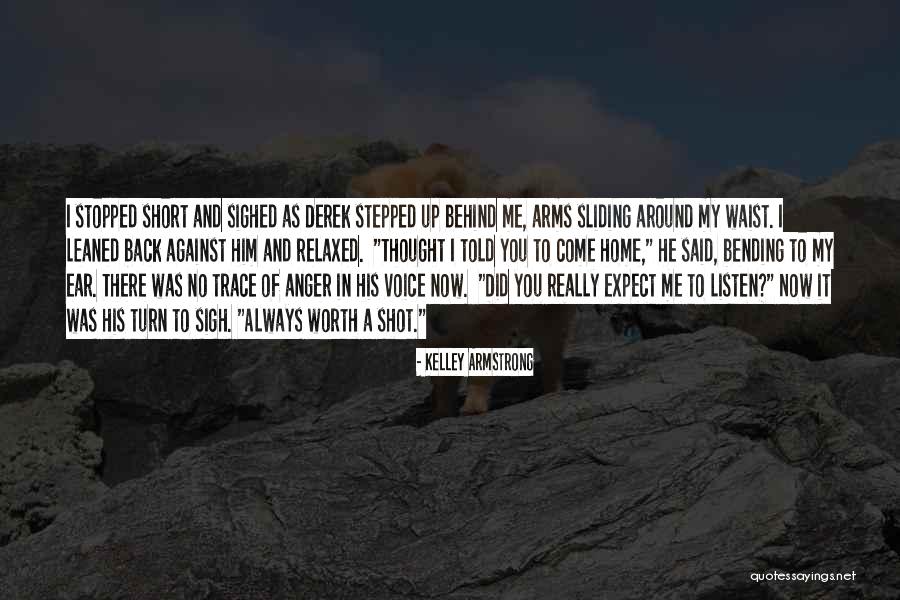 I stopped short and sighed as Derek stepped up behind me, arms sliding around my waist. I leaned back against him and relaxed.
"Thought I told you to come home," he said, bending to my ear. There was no trace of anger in his voice now.
"Did you really expect me to listen?"
Now it was his turn to sigh. "Always worth a shot." — Kelley Armstrong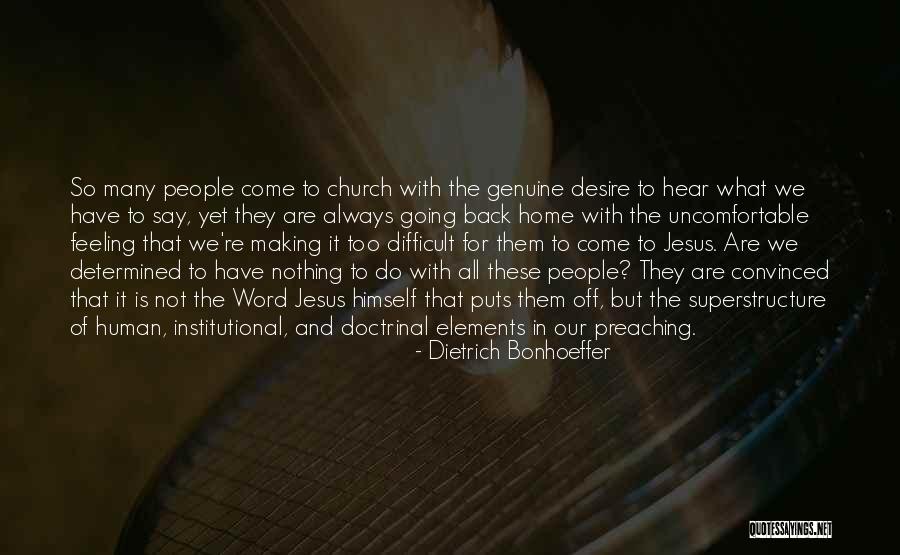 So many people come to church with the genuine desire to hear what we have to say, yet they are always going back home with the uncomfortable feeling that we're making it too difficult for them to come to Jesus. Are we determined to have nothing to do with all these people? They are convinced that it is not the Word Jesus himself that puts them off, but the superstructure of human, institutional, and doctrinal elements in our preaching. — Dietrich Bonhoeffer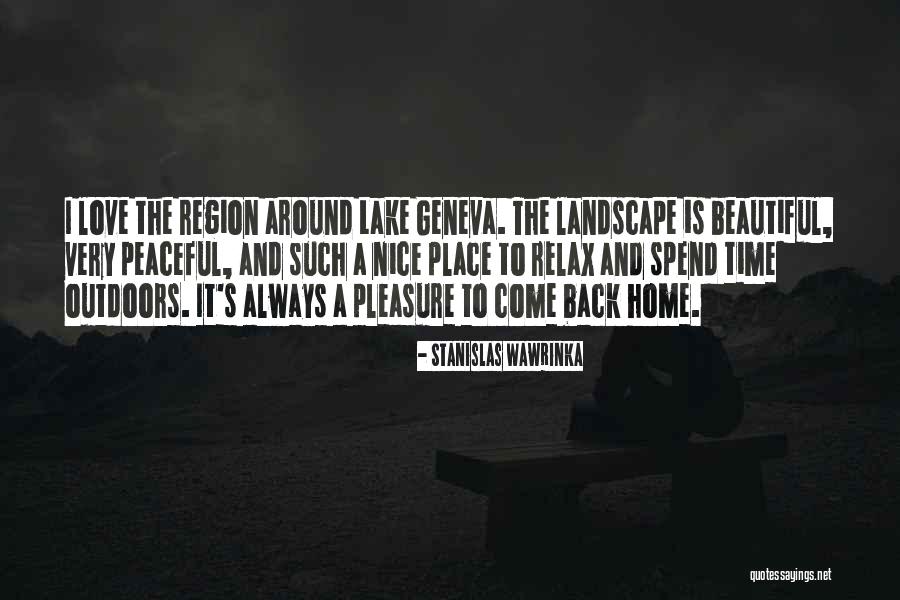 I love the region around Lake Geneva. The landscape is beautiful, very peaceful, and such a nice place to relax and spend time outdoors. It's always a pleasure to come back home. — Stanislas Wawrinka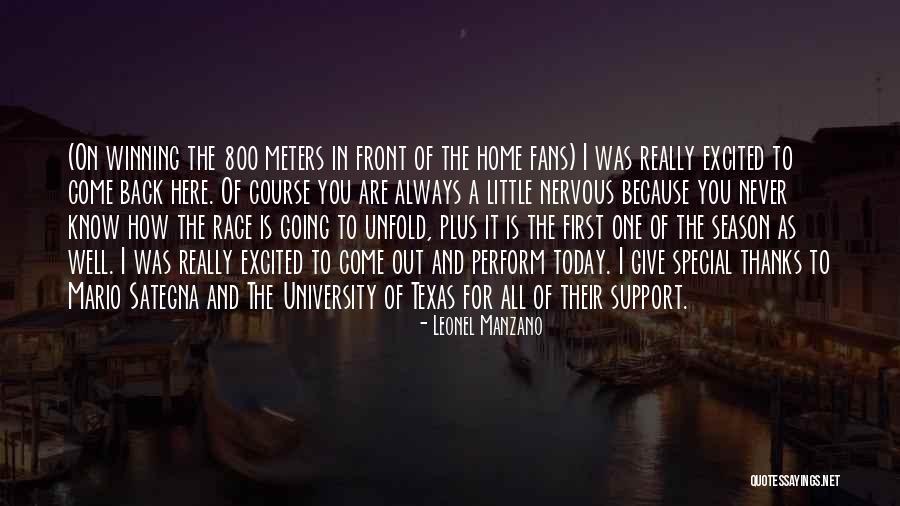 (On winning the 800 meters in front of the home fans) I was really excited to come back here. Of course you are always a little nervous because you never know how the race is going to unfold, plus it is the first one of the season as well. I was really excited to come out and perform today. I give special thanks to Mario Sategna and The University of Texas for all of their support. — Leonel Manzano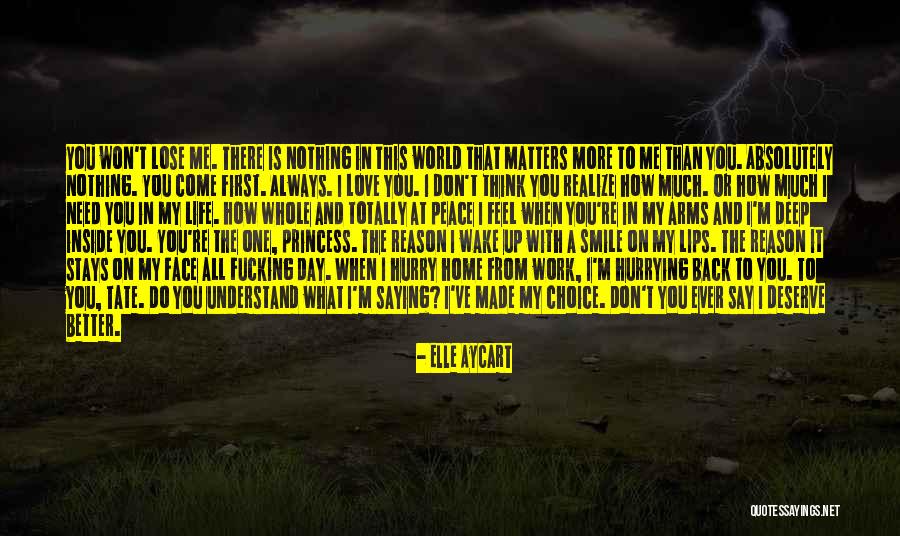 You won't lose me. There is nothing in this world that matters more to me than you. Absolutely nothing. You come first. Always. I love you. I don't think you realize how much. Or how much I need you in my life. How whole and totally at peace I feel when you're in my arms and I'm deep inside you. You're the one, princess. The reason I wake up with a smile on my lips. The reason it stays on my face all fucking day. When I hurry home from work, I'm hurrying back to you. To you, Tate. Do you understand what I'm saying? I've made my choice. Don't you ever say I deserve better. — Elle Aycart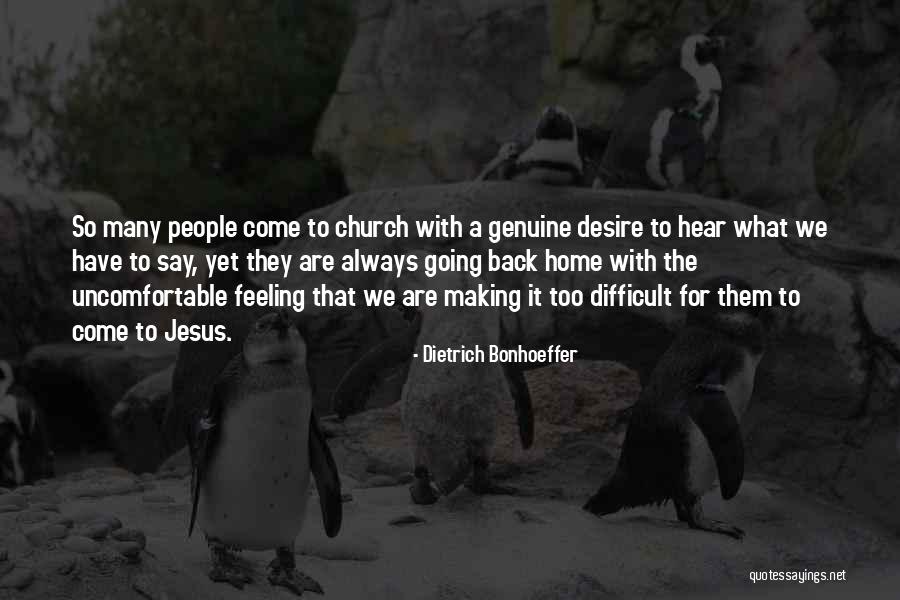 So many people come to church with a genuine desire to hear what we have to say, yet they are always going back home with the uncomfortable feeling that we are making it too difficult for them to come to Jesus. — Dietrich Bonhoeffer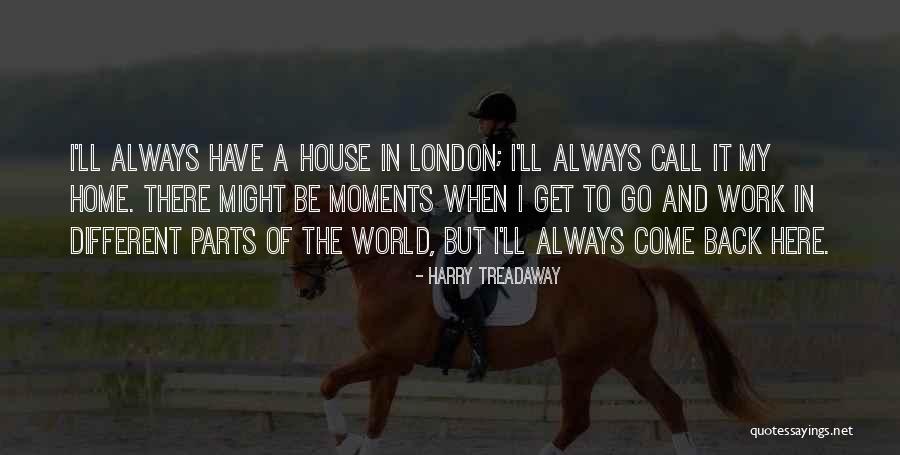 I'll always have a house in London; I'll always call it my home. There might be moments when I get to go and work in different parts of the world, but I'll always come back here. — Harry Treadaway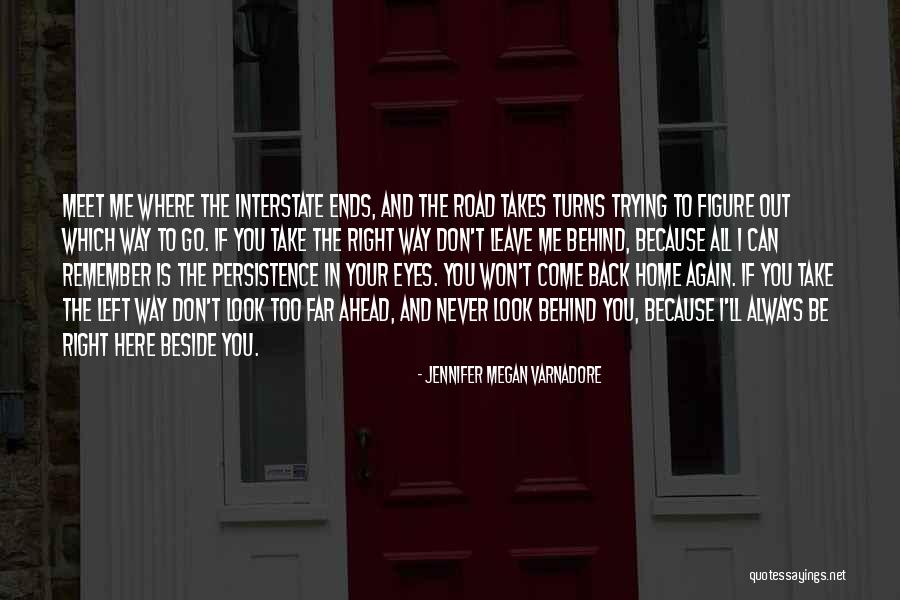 Meet me where the interstate ends, and the road takes turns trying to figure out which way to go. If you take the right way don't leave me behind, because all I can remember is the persistence in your eyes. You won't come back home again. If you take the left way don't look too far ahead, and never look behind you, because I'll always be right here beside you. — Jennifer Megan Varnadore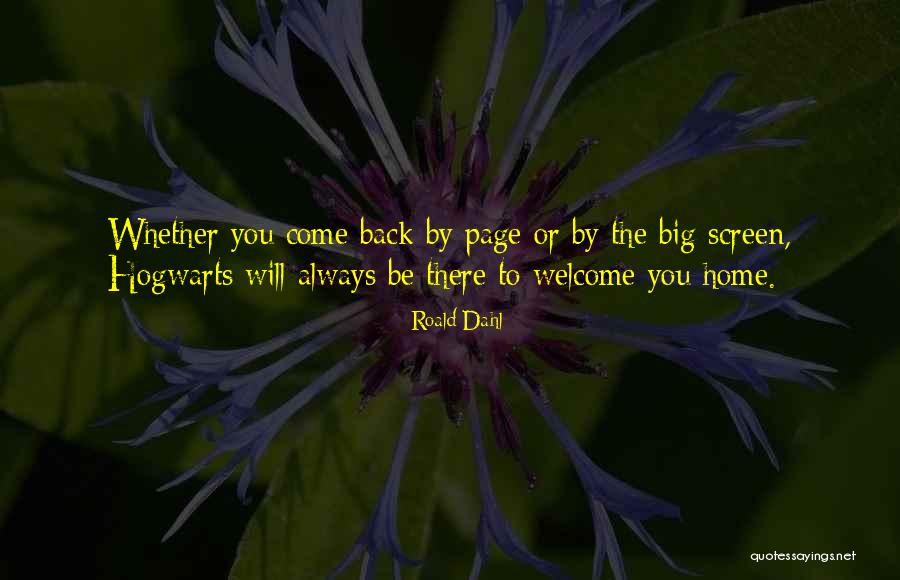 Whether you come back by page or by the big screen, Hogwarts will always be there to welcome you home. — Roald Dahl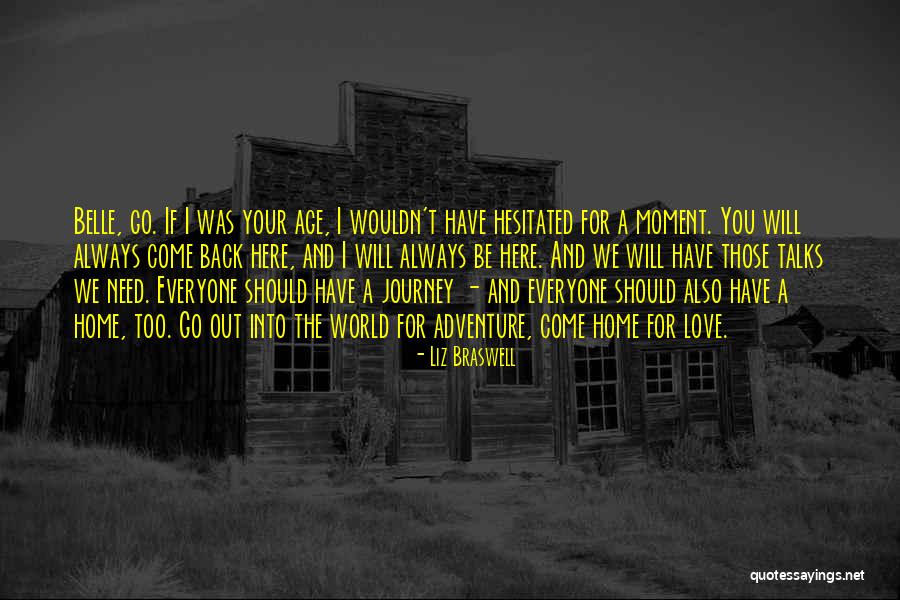 Belle, go. If I was your age, I wouldn't have hesitated for a moment. You will always come back here, and I will always be here. And we will have those talks we need. Everyone should have a journey - and everyone should also have a home, too. Go out into the world for adventure, come home for love. — Liz Braswell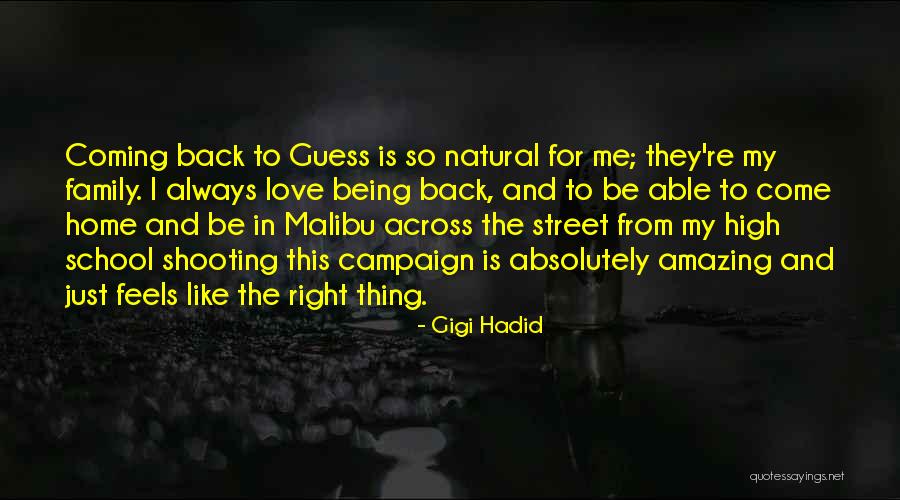 Coming back to Guess is so natural for me; they're my family. I always love being back, and to be able to come home and be in Malibu across the street from my high school shooting this campaign is absolutely amazing and just feels like the right thing. — Gigi Hadid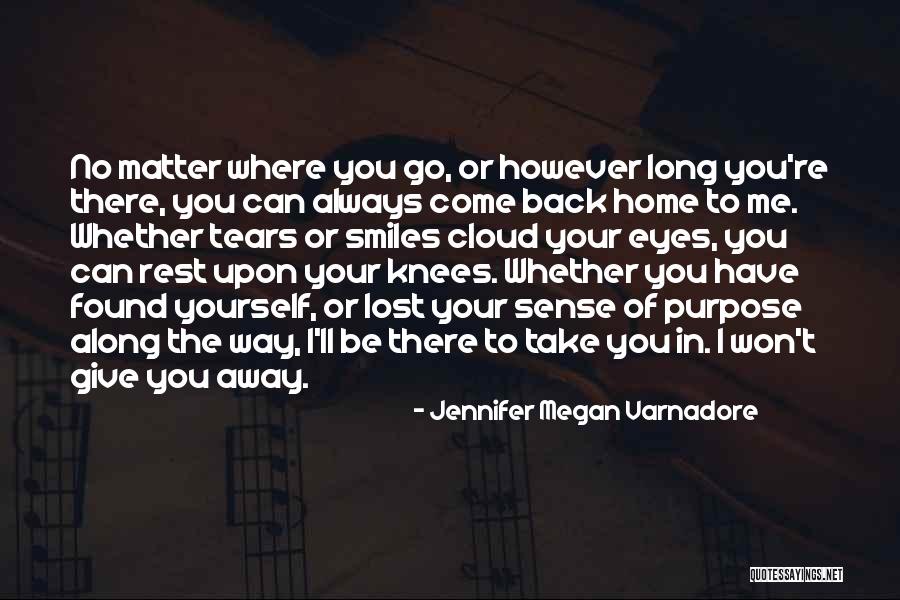 No matter where you go, or however long you're there, you can always come back home to me. Whether tears or smiles cloud your eyes, you can rest upon your knees. Whether you have found yourself, or lost your sense of purpose along the way, I'll be there to take you in. I won't give you away. — Jennifer Megan Varnadore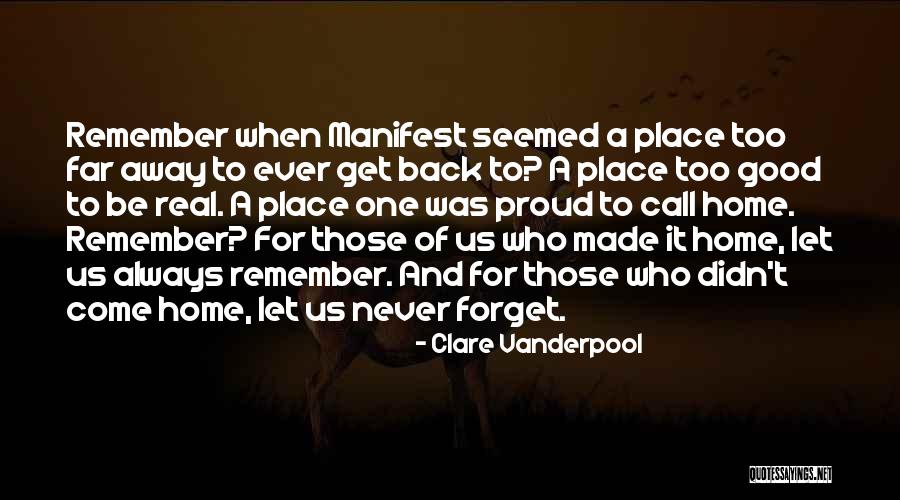 Remember when Manifest seemed a place too far away to ever get back to? A place too good to be real. A place one was proud to call home. Remember? For those of us who made it home, let us always remember. And for those who didn't come home, let us never forget. — Clare Vanderpool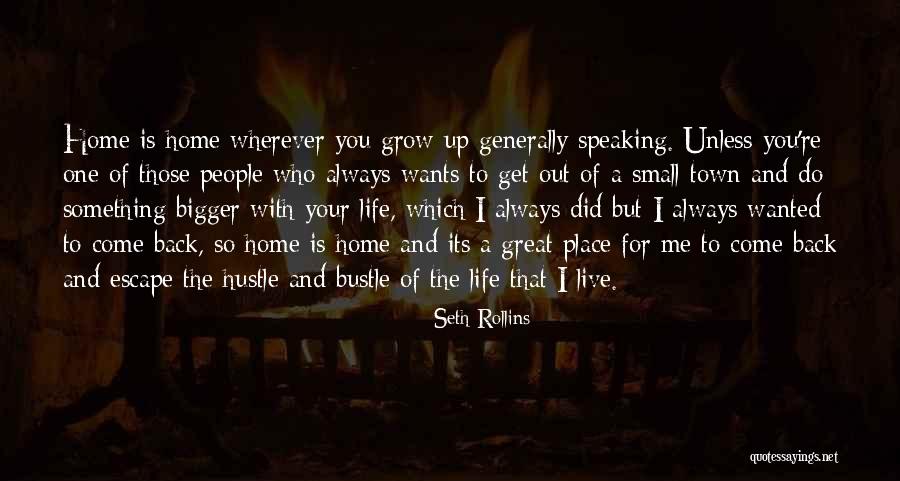 Home is home wherever you grow up generally speaking. Unless you're one of those people who always wants to get out of a small town and do something bigger with your life, which I always did but I always wanted to come back, so home is home and its a great place for me to come back and escape the hustle and bustle of the life that I live. — Seth Rollins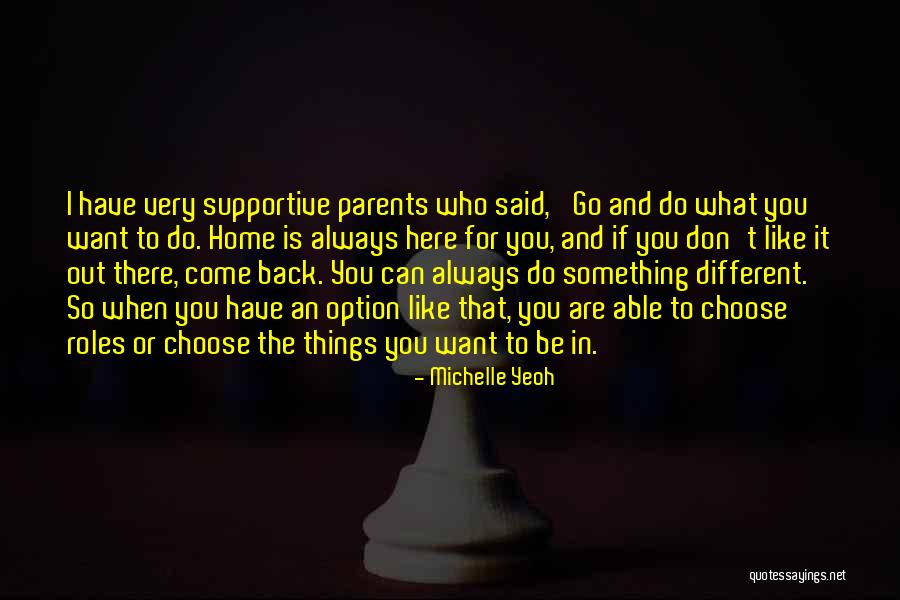 I have very supportive parents who said, 'Go and do what you want to do. Home is always here for you, and if you don't like it out there, come back. You can always do something different.' So when you have an option like that, you are able to choose roles or choose the things you want to be in. — Michelle Yeoh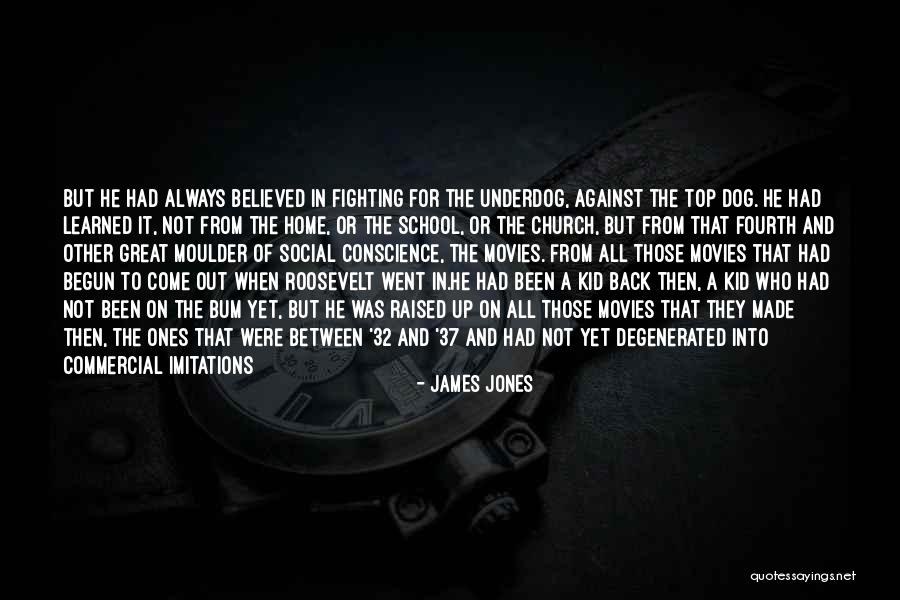 But he had always believed in fighting for the underdog, against the top dog. He had learned it, not from The Home, or The School, or The Church, but from that fourth and other great moulder of social conscience, The Movies. From all those movies that had begun to come out when Roosevelt went in.
He had been a kid back then, a kid who had not been on the bum yet, but he was raised up on all those movies that they made then, the ones that were between '32 and '37 and had not yet degenerated into commercial imitations of themselves like the Dead End Kid perpetual series that we have now. He had grown up with them, those movies like the every first Dead End, like Winternet, like Grapes Of Wrath, like Dust Be My Destiny, and those other movies starring John Garfield and the Lane girls, and the on-the-bum and prison pictures starring James Cagney and George Raft and Henry Fonda. — James Jones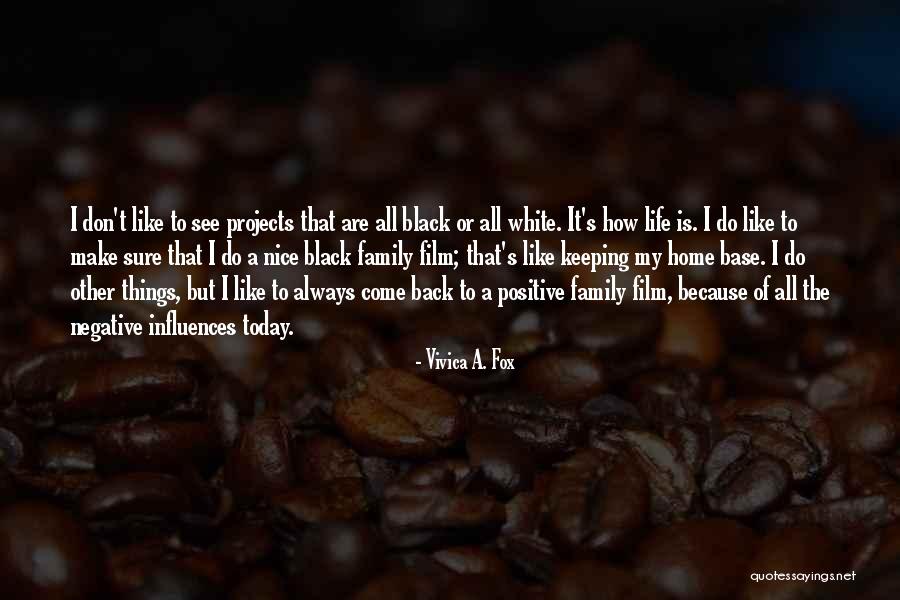 I don't like to see projects that are all black or all white. It's how life is. I do like to make sure that I do a nice black family film; that's like keeping my home base. I do other things, but I like to always come back to a positive family film, because of all the negative influences today. — Vivica A. Fox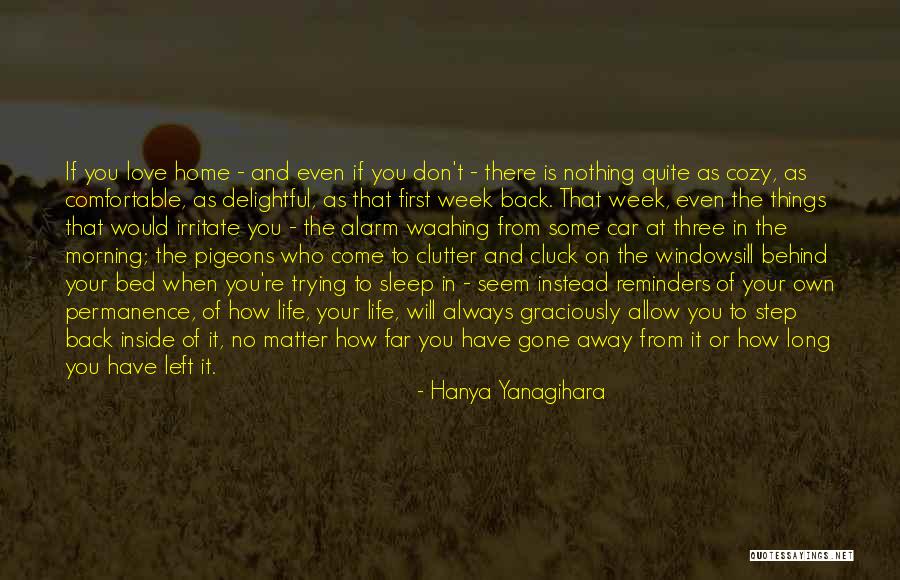 If you love home - and even if you don't - there is nothing quite as cozy, as comfortable, as delightful, as that first week back. That week, even the things that would irritate you - the alarm waahing from some car at three in the morning; the pigeons who come to clutter and cluck on the windowsill behind your bed when you're trying to sleep in - seem instead reminders of your own permanence, of how life, your life, will always graciously allow you to step back inside of it, no matter how far you have gone away from it or how long you have left it. — Hanya Yanagihara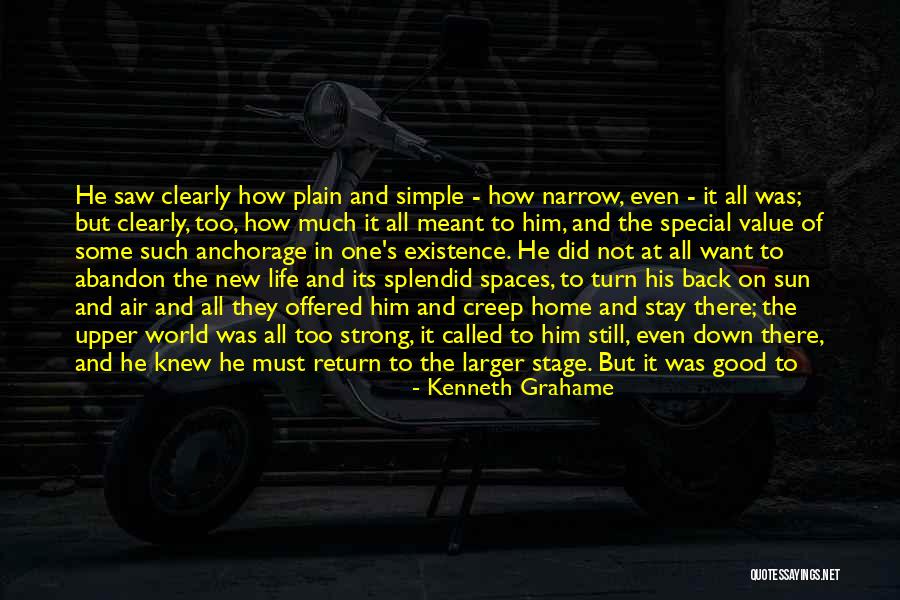 He saw clearly how plain and simple - how narrow, even - it all was; but clearly, too, how much it all meant to him, and the special value of some such anchorage in one's existence. He did not at all want to abandon the new life and its splendid spaces, to turn his back on sun and air and all they offered him and creep home and stay there; the upper world was all too strong, it called to him still, even down there, and he knew he must return to the larger stage. But it was good to think he had this to come back to, this place which was all his own, these things which were so glad to see him again and could always be counted upon for the same simple welcome. — Kenneth Grahame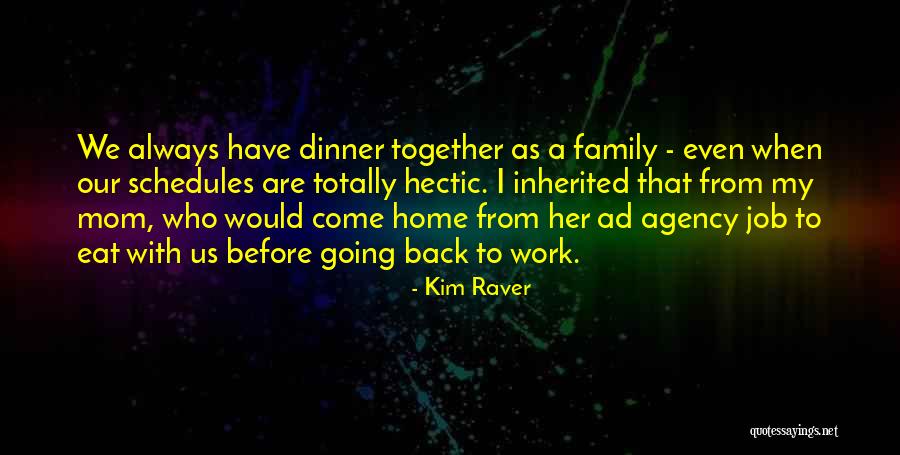 We always have dinner together as a family - even when our schedules are totally hectic. I inherited that from my mom, who would come home from her ad agency job to eat with us before going back to work. — Kim Raver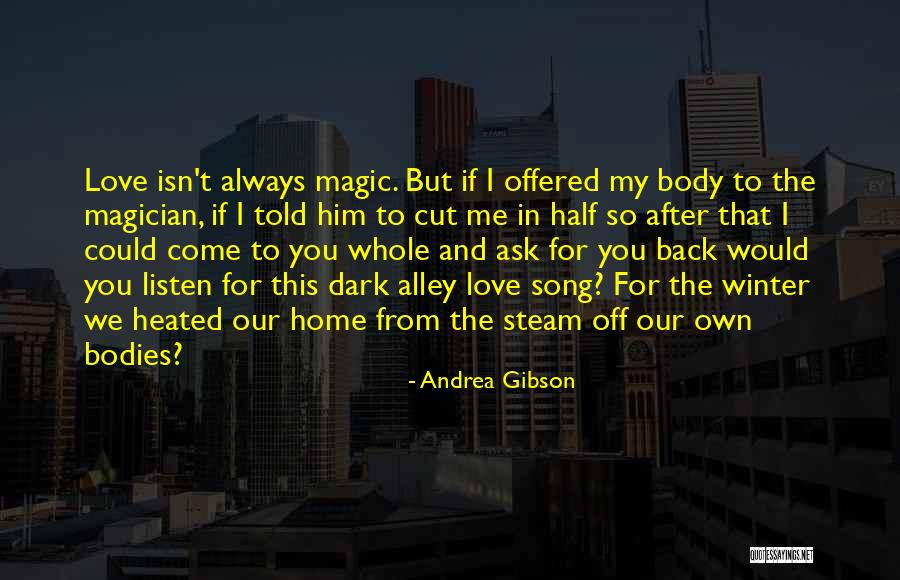 Love isn't always magic. But if I offered my body to the magician, if I told him to cut me in half so after that I could come to you whole and ask for you back would you listen for this dark alley love song? For the winter we heated our home from the steam off our own bodies? — Andrea Gibson
If you came back, you wanted to leave again; if you went away, you longed to come back. Wherever you were, you could hear the call of the homeland, like the note of the herdsman's horn far away in the hills. You had one home out there and one over here, and yet you were an alien in both places. Your true abiding place was the vision of something very far off, and your soul was like the waves, always restless, forever in motion. — Johan Bojer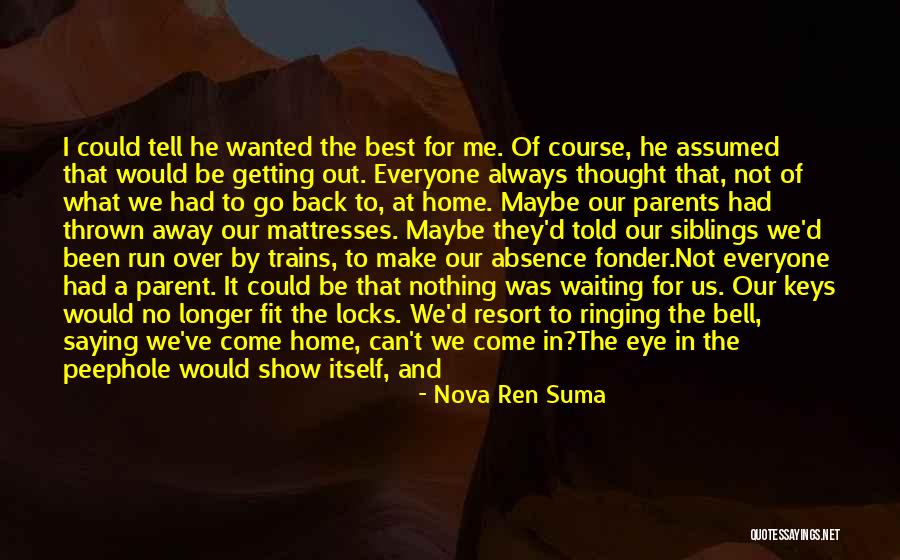 I could tell he wanted the best for me. Of course, he assumed that would be getting out. Everyone always thought that, not of what we had to go back to, at home. Maybe our parents had thrown away our mattresses. Maybe they'd told our siblings we'd been run over by trains, to make our absence fonder.
Not everyone had a parent. It could be that nothing was waiting for us. Our keys would no longer fit the locks. We'd resort to ringing the bell, saying we've come home, can't we come in?
The eye in the peephole would show itself, and that eye could belong to a stranger, as our family had moved halfway across the country and never informed us. Or that eye could belong to the woman who carried us for nine months, who labored for fourteen hours, who was sliced open with a C-section to give us life, and now wished she never did.
The juvenile correctional system could let us out into the world, but it could not control who would be out there, willing to claim us. — Nova Ren Suma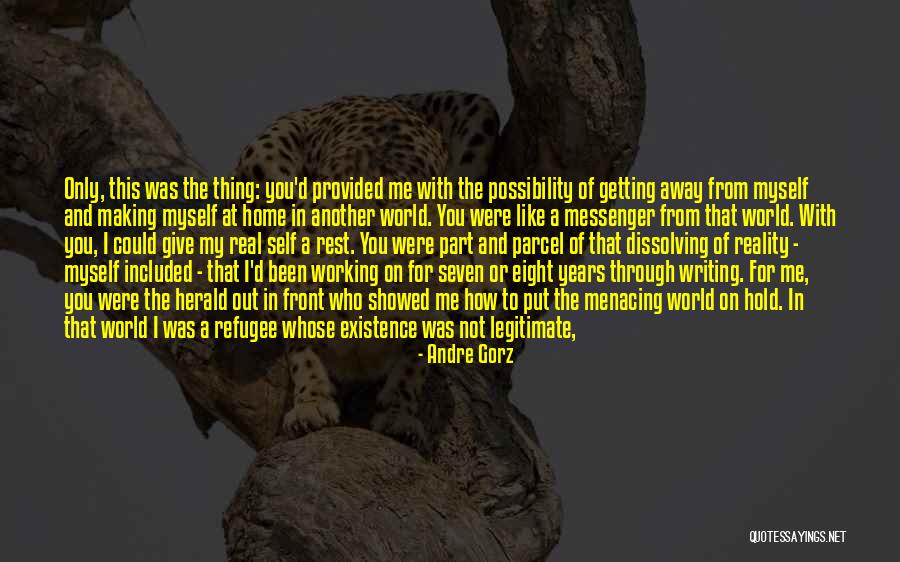 Only, this was the thing: you'd provided me with the possibility of getting away from myself and making myself at home in another world. You were like a messenger from that world. With you, I could give my real self a rest. You were part and parcel of that dissolving of reality - myself included - that I'd been working on for seven or eight years through writing. For me, you were the herald out in front who showed me how to put the menacing world on hold. In that world I was a refugee whose existence was not legitimate, whose future never went beyond the three months of a temporary visa. I had no desire to come back to earth. I'd found a refuge in a magical experience and I wasn't about to let it get dragged down into reality. As far back as I can remember, I'd always sought not to exist. You've had to work for years on end to get me to accept the fact that I do exist. And I really don't think your work is over yet. — Andre Gorz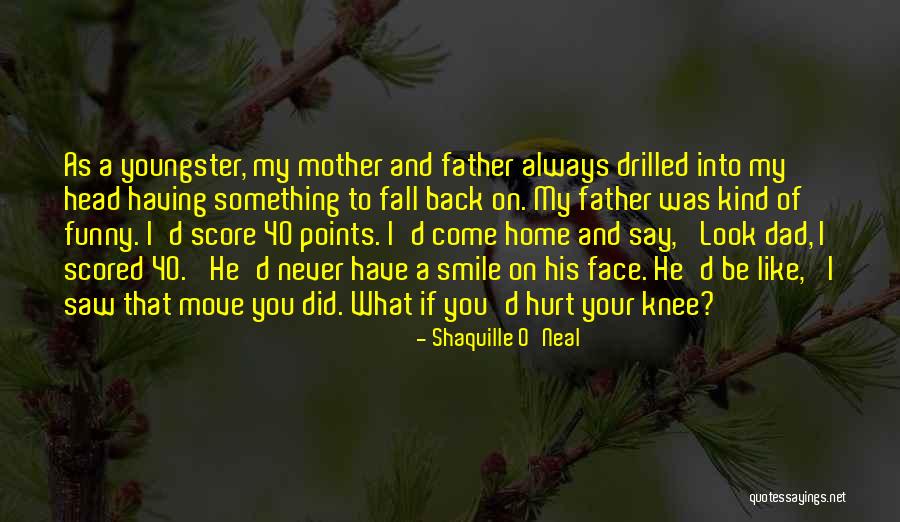 As a youngster, my mother and father always drilled into my head having something to fall back on. My father was kind of funny. I'd score 40 points. I'd come home and say, 'Look dad, I scored 40.' He'd never have a smile on his face. He'd be like, 'I saw that move you did. What if you'd hurt your knee?' — Shaquille O'Neal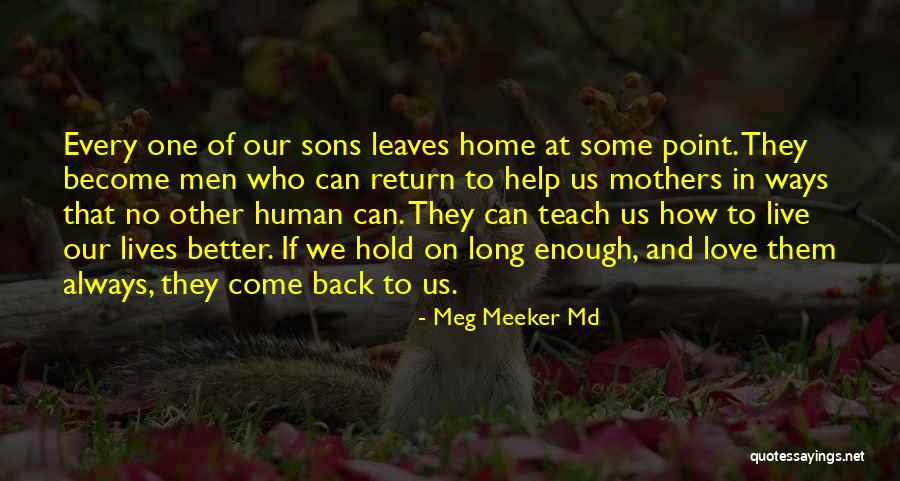 Every one of our sons leaves home at some point. They become men who can return to help us mothers in ways that no other human can. They can teach us how to live our lives better. If we hold on long enough, and love them always, they come back to us. — Meg Meeker Md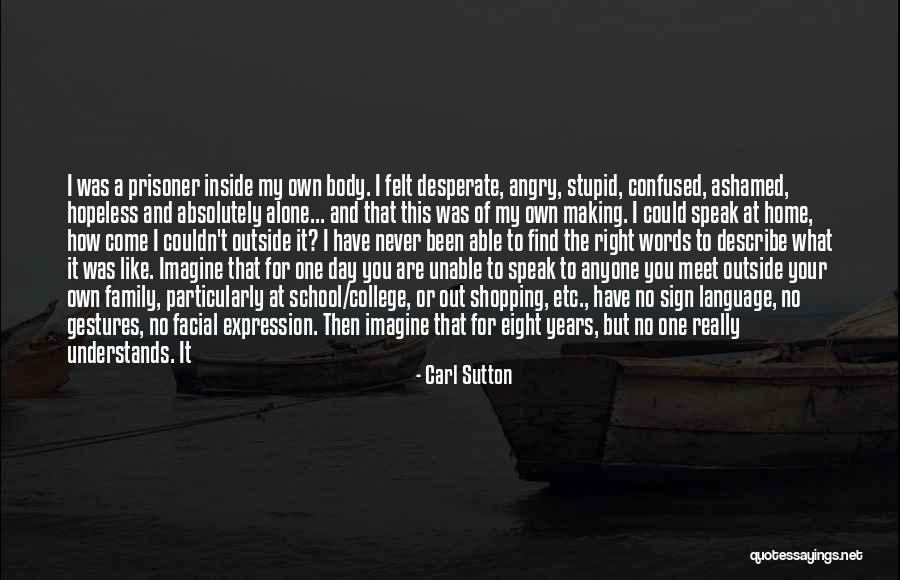 I was a prisoner inside my own body. I felt desperate, angry, stupid, confused, ashamed, hopeless and absolutely alone... and that this was of my own making. I could speak at home, how come I couldn't outside it? I have never been able to find the right words to describe what it was like. Imagine that for one day you are unable to speak to anyone you meet outside your own family, particularly at school/college, or out shopping, etc., have no sign language, no gestures, no facial expression. Then imagine that for eight years, but no one really understands. It was like torture, and I was the only person that knew it was happening. My body and face were frozen most of the time. I became hyperconscious of myself when outside the home and it was a relief to get back as I was always exhausted. I attempted to hide it (an impossible task) because I felt so ashamed that I couldn't do what other people seemed to find so natural and easy - to speak. At times I felt suicidal. — Carl Sutton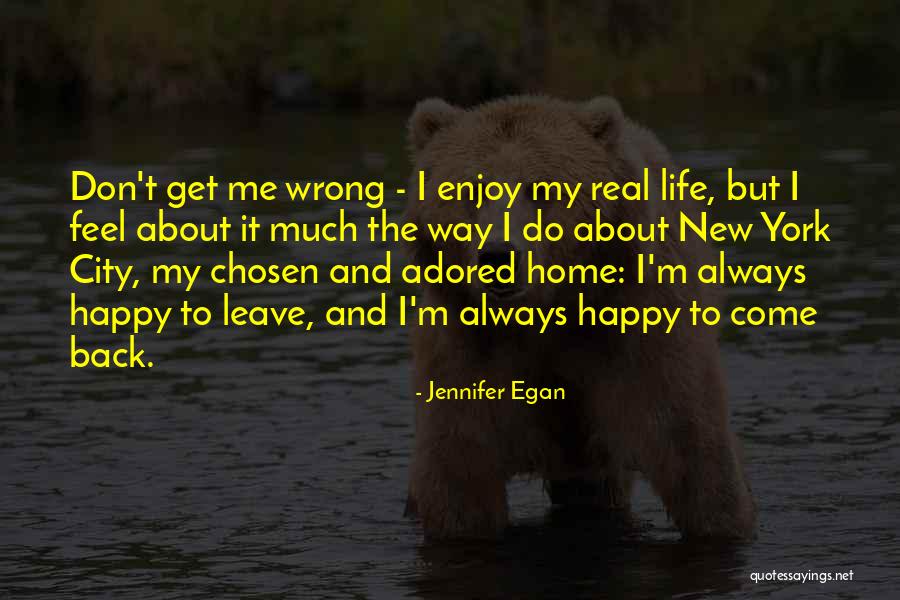 Don't get me wrong - I enjoy my real life, but I feel about it much the way I do about New York City, my chosen and adored home: I'm always happy to leave, and I'm always happy to come back. — Jennifer Egan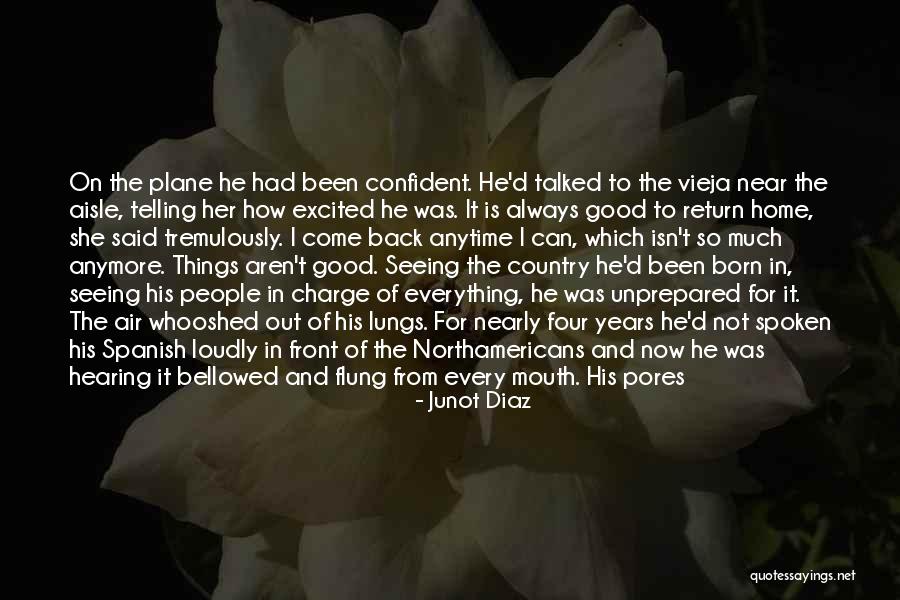 On the plane he had been confident. He'd talked to the vieja near the aisle, telling her how excited he was. It is always good to return home, she said tremulously. I come back anytime I can, which isn't so much anymore. Things aren't good. Seeing the country he'd been born in, seeing his people in charge of everything, he was unprepared for it. The air whooshed out of his lungs. For nearly four years he'd not spoken his Spanish loudly in front of the Northamericans and now he was hearing it bellowed and flung from every mouth. His pores opened, dousing him as he hadn't been doused in years. An awful heat was on the city and the red dust dried out his throat and clogged his nose. The poverty- the unwashed children pointing sullenly at his new shoes, the familias slouching in hovels- was familiar and stifling. — Junot Diaz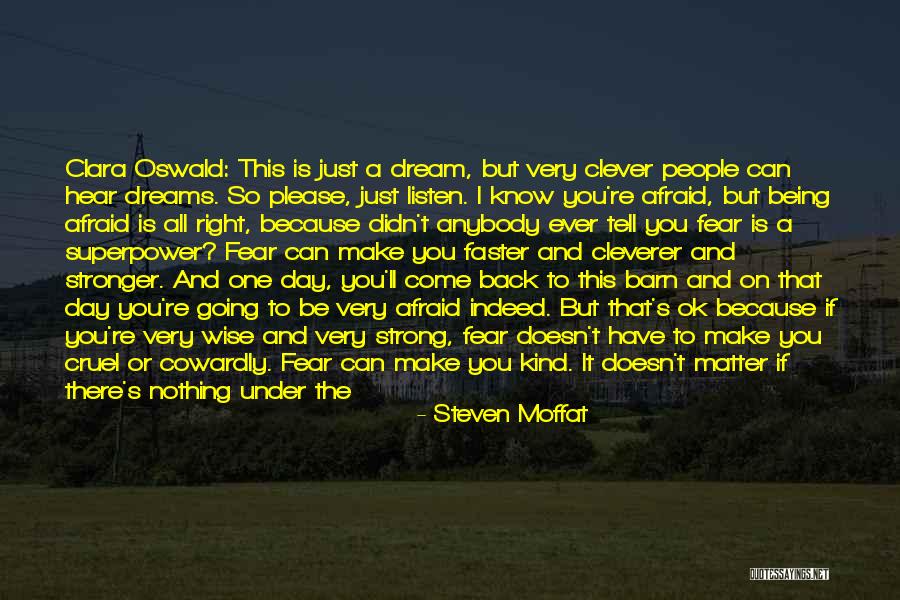 Clara Oswald: This is just a dream, but very clever people can hear dreams. So please, just listen. I know you're afraid, but being afraid is all right, because didn't anybody ever tell you fear is a superpower? Fear can make you faster and cleverer and stronger.
And one day, you'll come back to this barn and on that day you're going to be very afraid indeed. But that's ok because if you're very wise and very strong, fear doesn't have to make you cruel or cowardly. Fear can make you kind.
It doesn't matter if there's nothing under the bed or in the dark, so long as you know it's ok to be afraid of it. You're always going to be afraid, even if you learn to hide it. Fear is like a companion, a constant companion, always there. But that's ok, because fear can bring us together.
Fear can bring you home.
I'm going to leave you with something just so you always remember: Fear makes companions of us all. -Listen, Doctor Who, episode 8.4 — Steven Moffat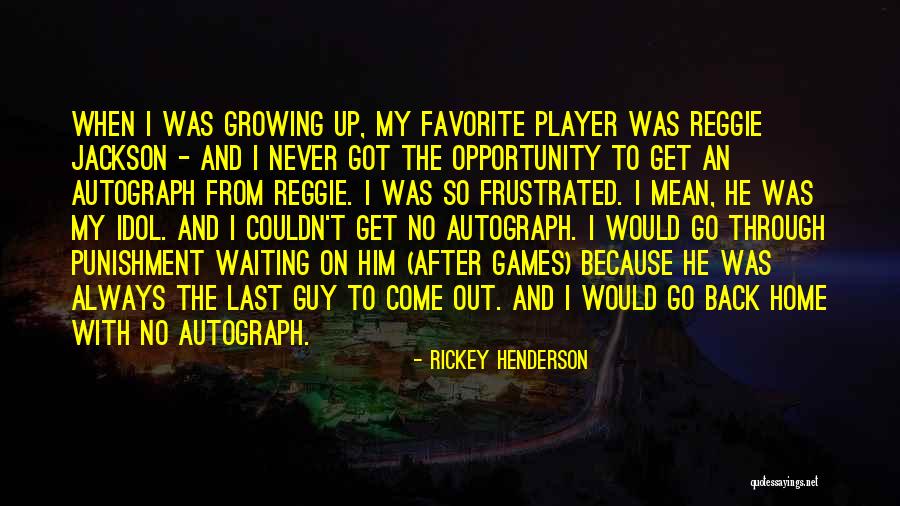 When I was growing up, my favorite player was Reggie Jackson - and I never got the opportunity to get an autograph from Reggie. I was so frustrated. I mean, he was my idol. And I couldn't get no autograph. I would go through punishment waiting on him (after games) because he was always the last guy to come out. And I would go back home with no autograph. — Rickey Henderson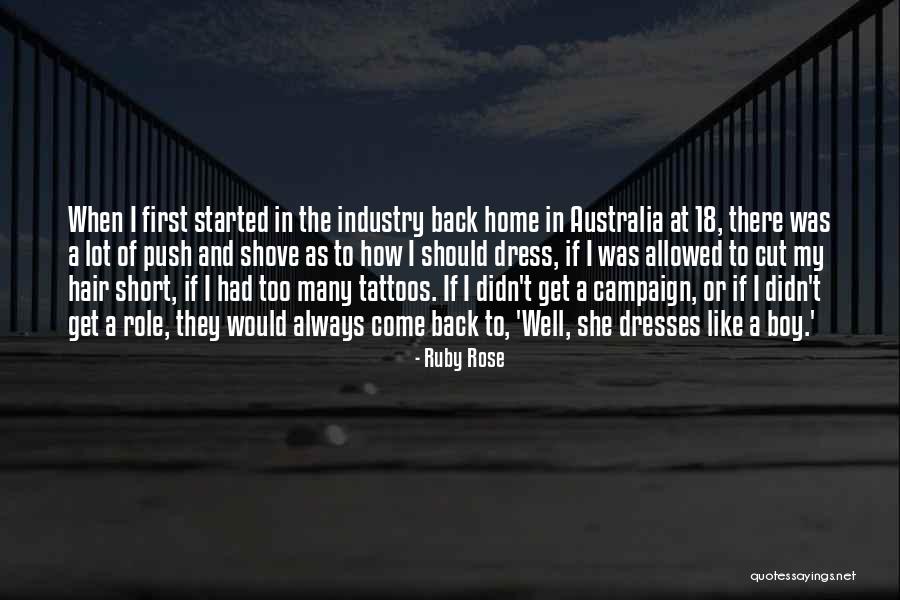 When I first started in the industry back home in Australia at 18, there was a lot of push and shove as to how I should dress, if I was allowed to cut my hair short, if I had too many tattoos. If I didn't get a campaign, or if I didn't get a role, they would always come back to, 'Well, she dresses like a boy.' — Ruby Rose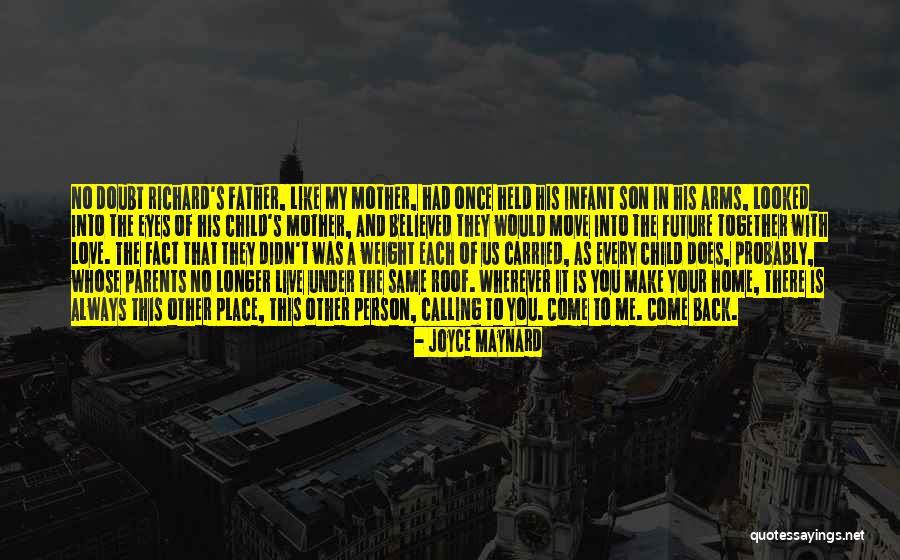 No doubt Richard's father, like my mother, had once held his infant son in his arms, looked into the eyes of his child's mother, and believed they would move into the future together with love. The fact that they didn't was a weight each of us carried, as every child does, probably, whose parents no longer live under the same roof. Wherever it is you make your home, there is always this other place, this other person, calling to you. Come to me. Come back. — Joyce Maynard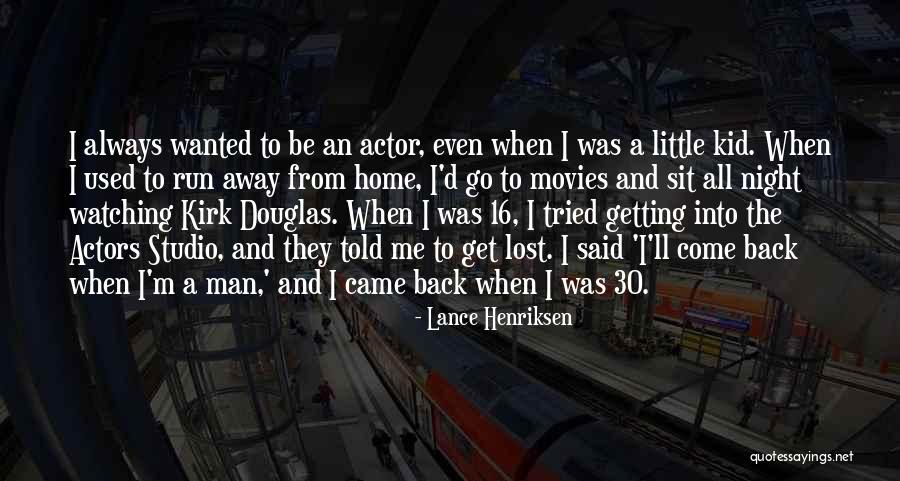 I always wanted to be an actor, even when I was a little kid. When I used to run away from home, I'd go to movies and sit all night watching Kirk Douglas. When I was 16, I tried getting into the Actors Studio, and they told me to get lost. I said 'I'll come back when I'm a man,' and I came back when I was 30. — Lance Henriksen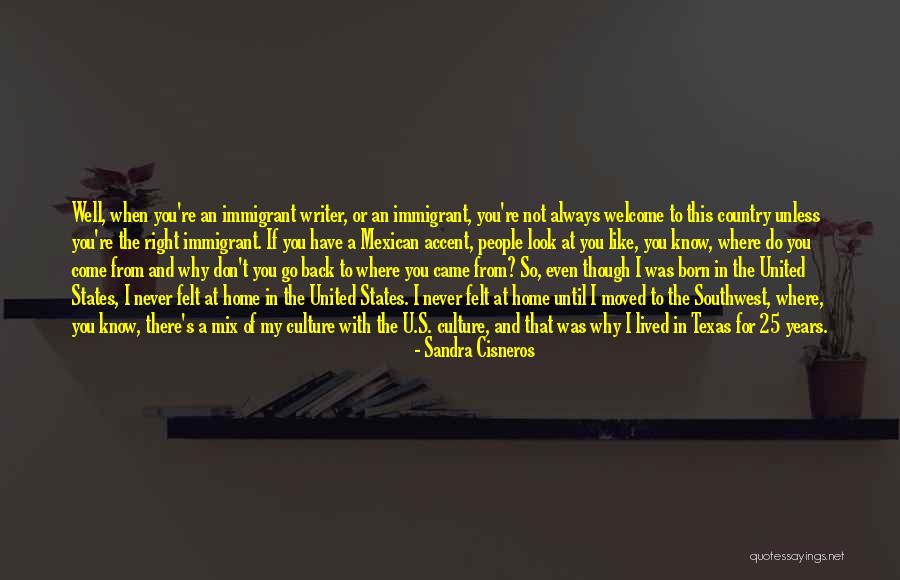 Well, when you're an immigrant writer, or an immigrant, you're not always welcome to this country unless you're the right immigrant. If you have a Mexican accent, people look at you like, you know, where do you come from and why don't you go back to where you came from? So, even though I was born in the United States, I never felt at home in the United States. I never felt at home until I moved to the Southwest, where, you know, there's a mix of my culture with the U.S. culture, and that was why I lived in Texas for 25 years. — Sandra Cisneros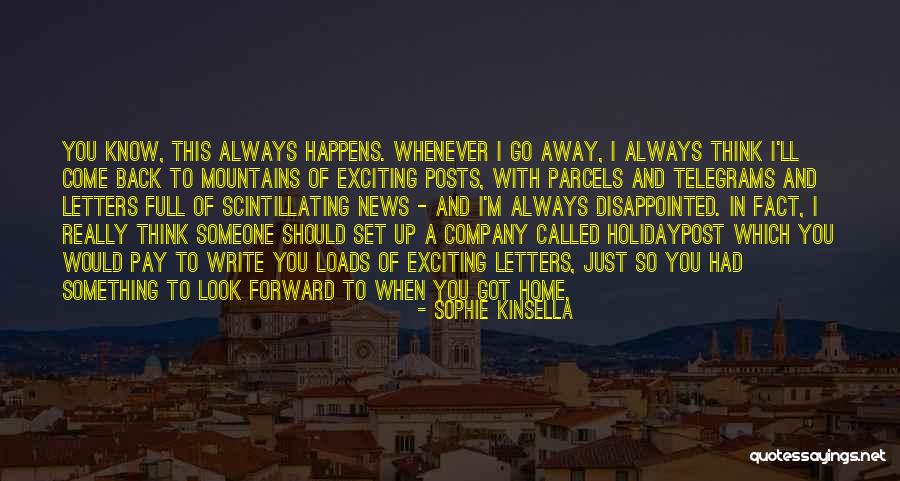 You know, this always happens. Whenever I go away, I always think I'll come back to mountains of exciting posts, with parcels and telegrams and letters full of scintillating news - and I'm always disappointed. In fact, I really think someone should set up a company called holidaypost which you would pay to write you loads of exciting letters, just so you had something to look forward to when you got home. — Sophie Kinsella