All Star Game Quotes & Sayings
Enjoy reading and share 37 famous quotes about All Star Game with everyone.
The last thing you want to do is go down in the history of All-Star game competition as the only injury (his nose was broken by Roberto Hernandez) sustained during the team picture. — Cal Ripken Jr.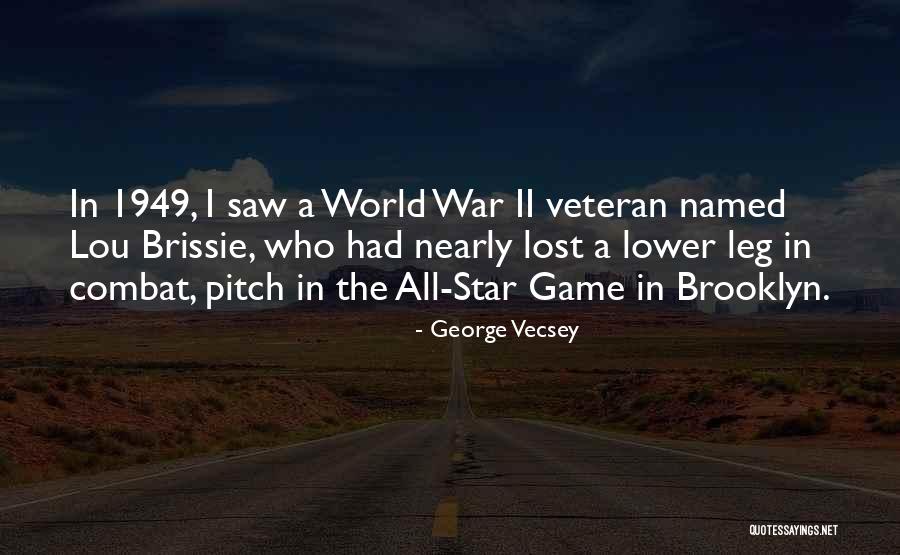 In 1949, I saw a World War II veteran named Lou Brissie, who had nearly lost a lower leg in combat, pitch in the All-Star Game in Brooklyn. — George Vecsey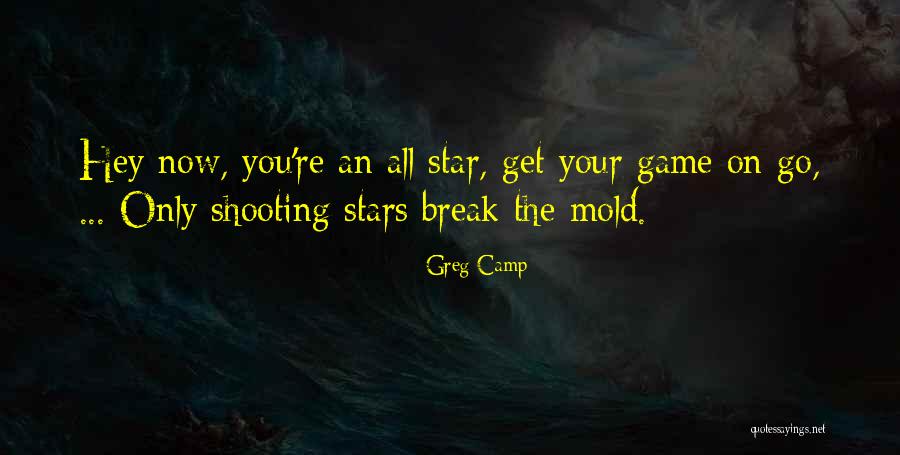 Hey now, you're an all star, get your game on go, ... Only shooting stars break the mold. — Greg Camp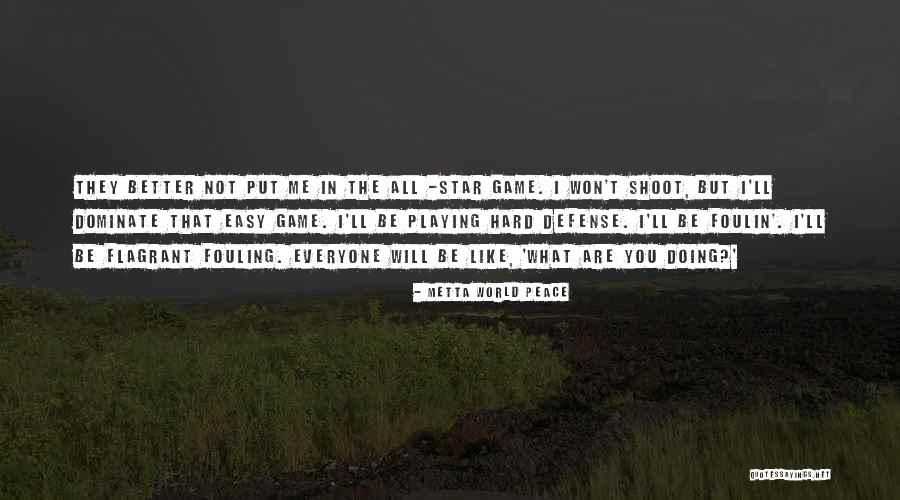 They better not put me in the All -Star Game. I won't shoot, but I'll dominate that easy game. I'll be playing hard defense. I'll be foulin'. I'll be flagrant fouling. Everyone will be like, 'What are you doing?' — Metta World Peace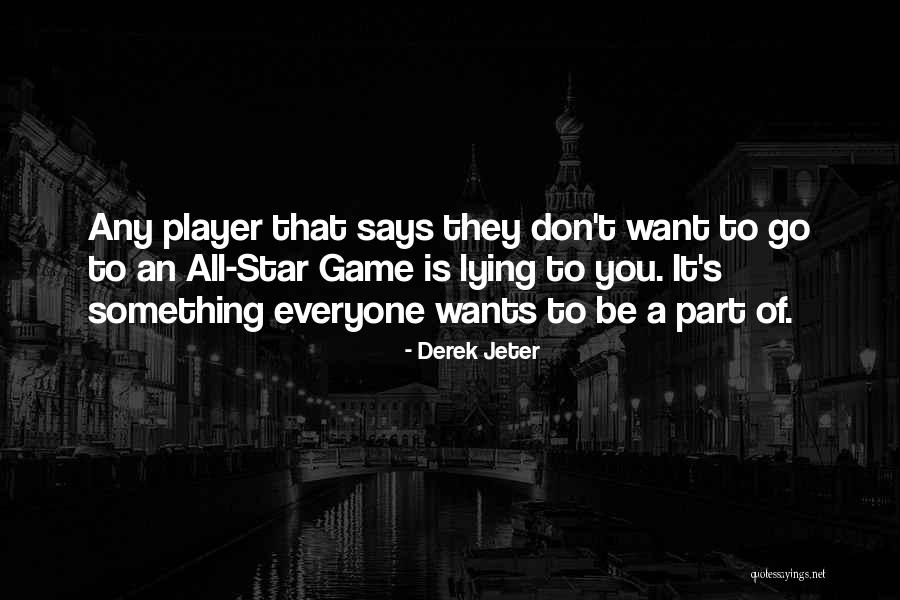 Any player that says they don't want to go to an All-Star Game is lying to you. It's something everyone wants to be a part of. — Derek Jeter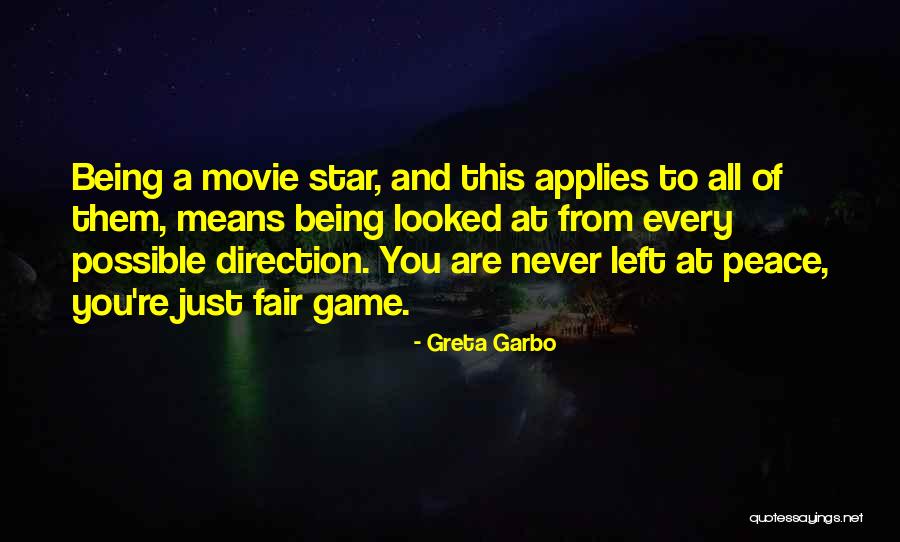 Being a movie star, and this applies to all of them, means being looked at from every possible direction. You are never left at peace, you're just fair game. — Greta Garbo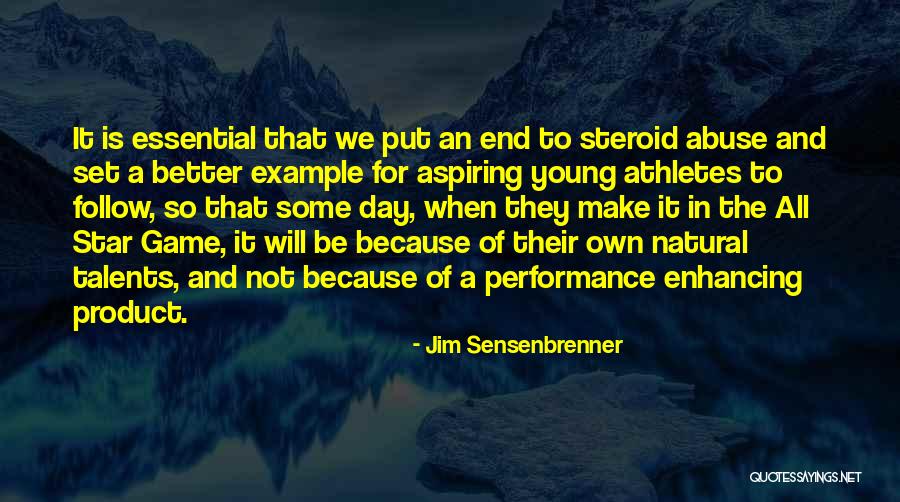 It is essential that we put an end to steroid abuse and set a better example for aspiring young athletes to follow, so that some day, when they make it in the All Star Game, it will be because of their own natural talents, and not because of a performance enhancing product. — Jim Sensenbrenner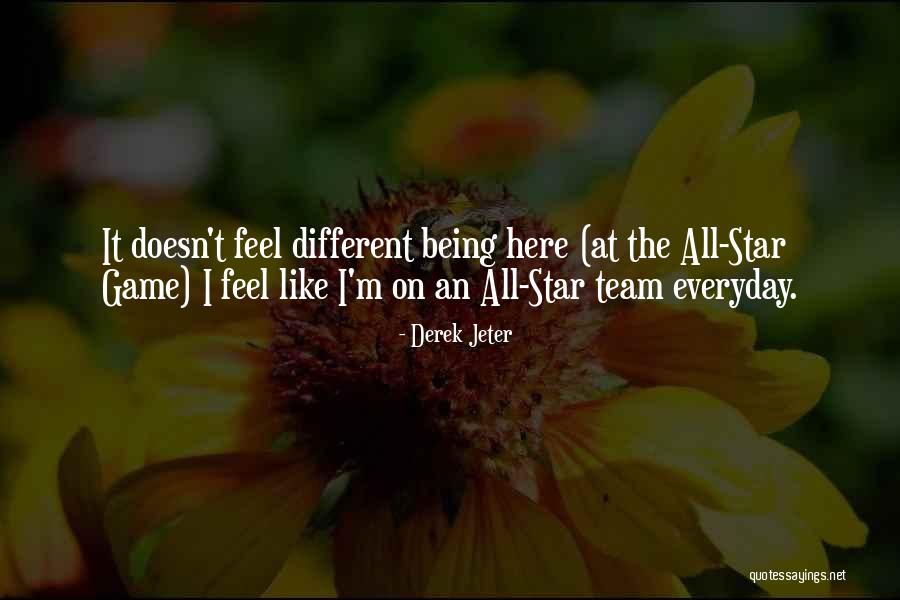 It doesn't feel different being here (at the All-Star Game) I feel like I'm on an All-Star team everyday. — Derek Jeter
I've got a basketball signed by all the greats from Julius Irving to Oscar Robinson. It was at an All Star game I got them all to sign it. So that ain't going nowhere. I'm going to die with that in my casket. — Ice Cube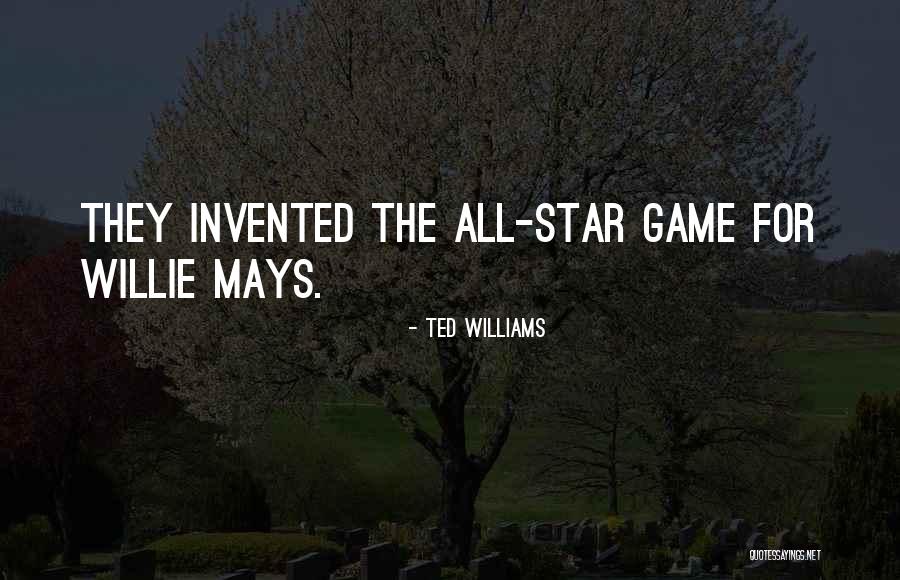 They invented the All-Star game for Willie Mays. — Ted Williams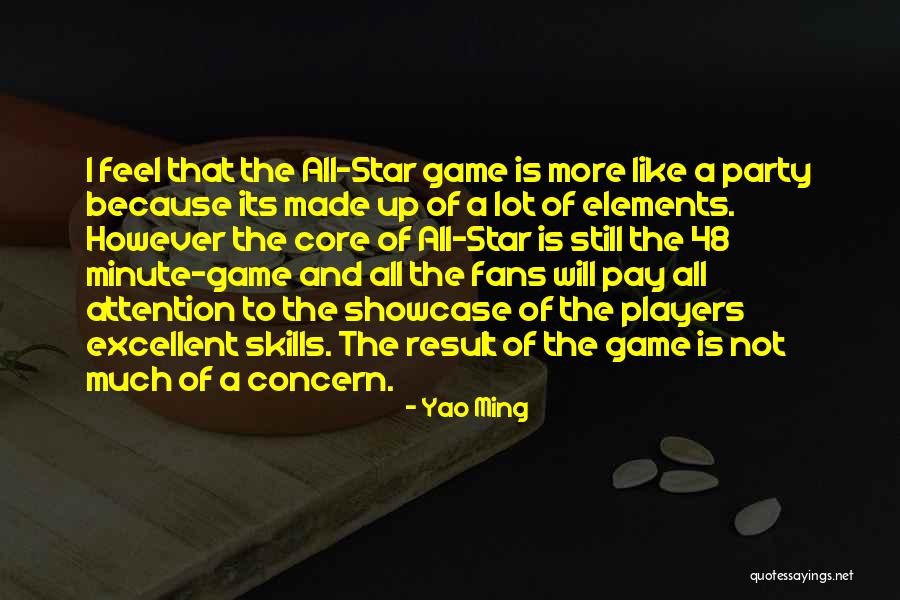 I feel that the All-Star game is more like a party because its made up of a lot of elements. However the core of All-Star is still the 48 minute-game and all the fans will pay all attention to the showcase of the players excellent skills. The result of the game is not much of a concern. — Yao Ming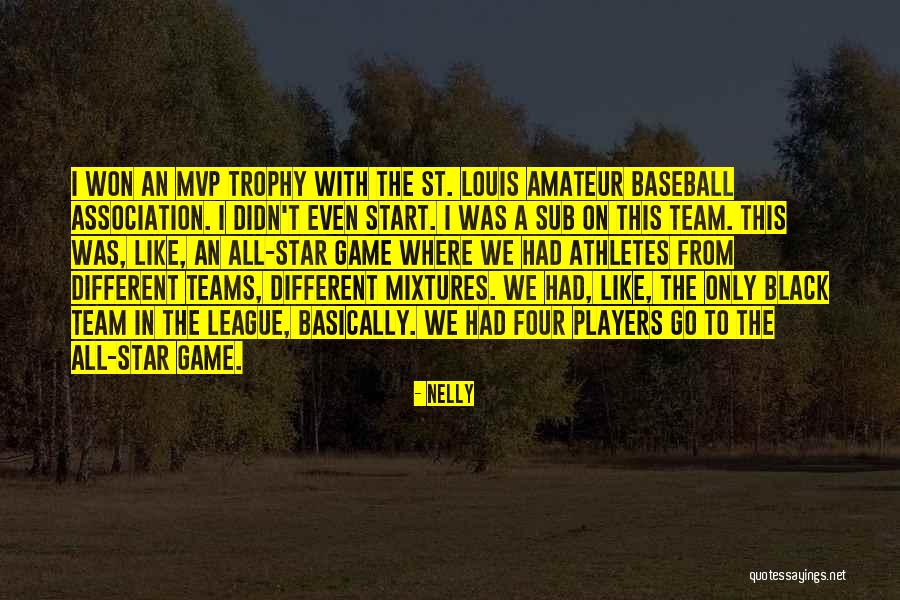 I won an MVP trophy with the St. Louis Amateur Baseball Association. I didn't even start. I was a sub on this team. This was, like, an All-Star game where we had athletes from different teams, different mixtures. We had, like, the only black team in the league, basically. We had four players go to the All-Star game. — Nelly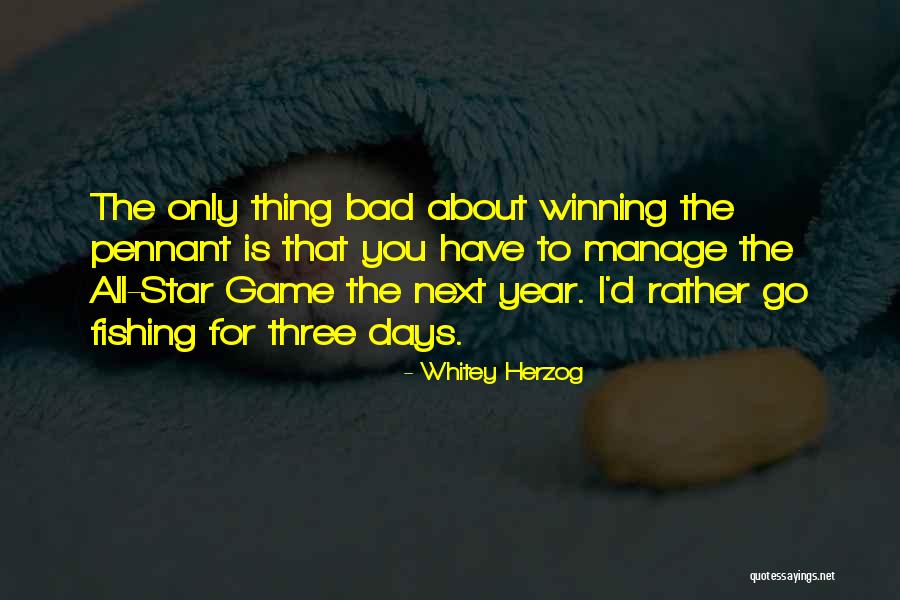 The only thing bad about winning the pennant is that you have to manage the All-Star Game the next year. I'd rather go fishing for three days. — Whitey Herzog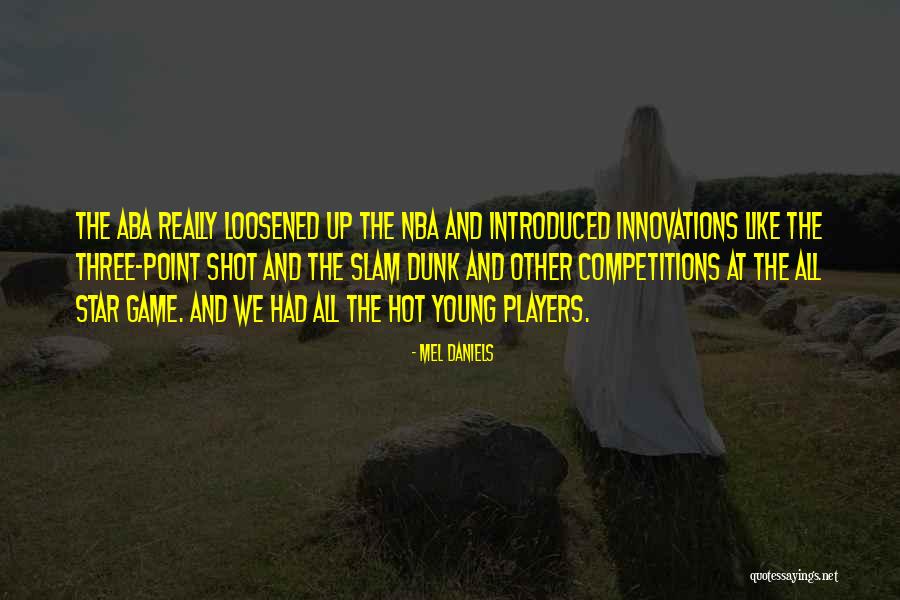 The ABA really loosened up the NBA and introduced innovations like the three-point shot and the Slam Dunk and other competitions at the All Star Game. And we had all the hot young players. — Mel Daniels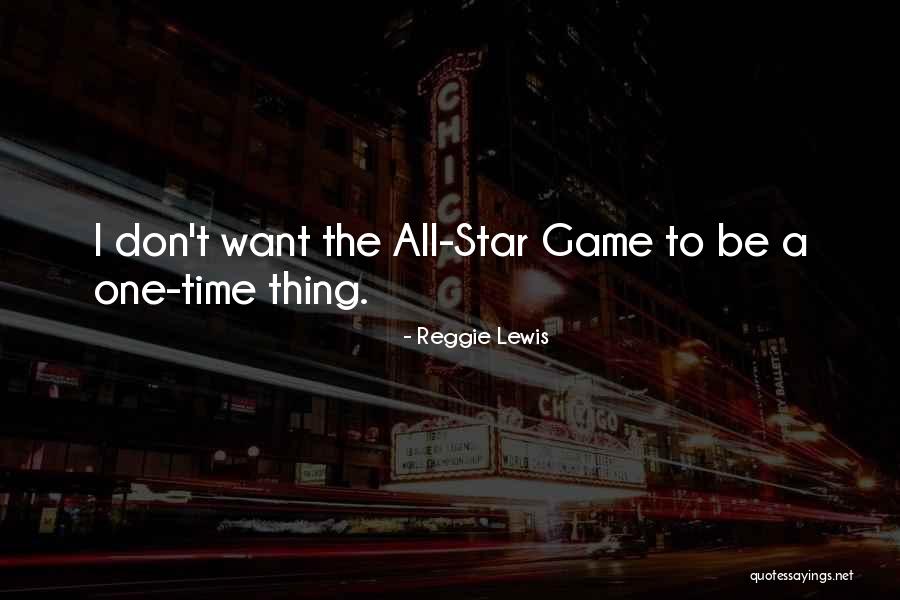 I don't want the All-Star Game to be a one-time thing. — Reggie Lewis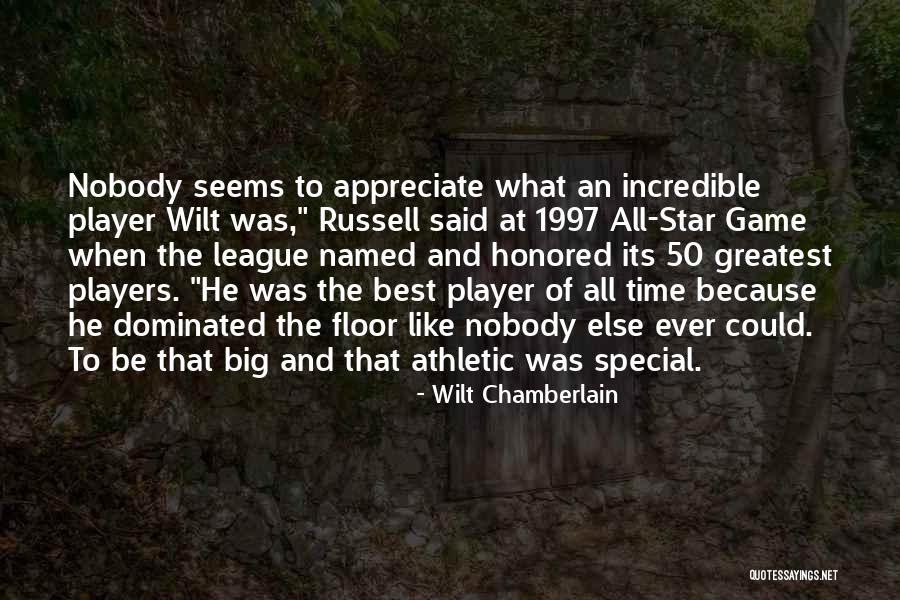 Nobody seems to appreciate what an incredible player Wilt was," Russell said at 1997 All-Star Game when the league named and honored its 50 greatest players. "He was the best player of all time because he dominated the floor like nobody else ever could. To be that big and that athletic was special. — Wilt Chamberlain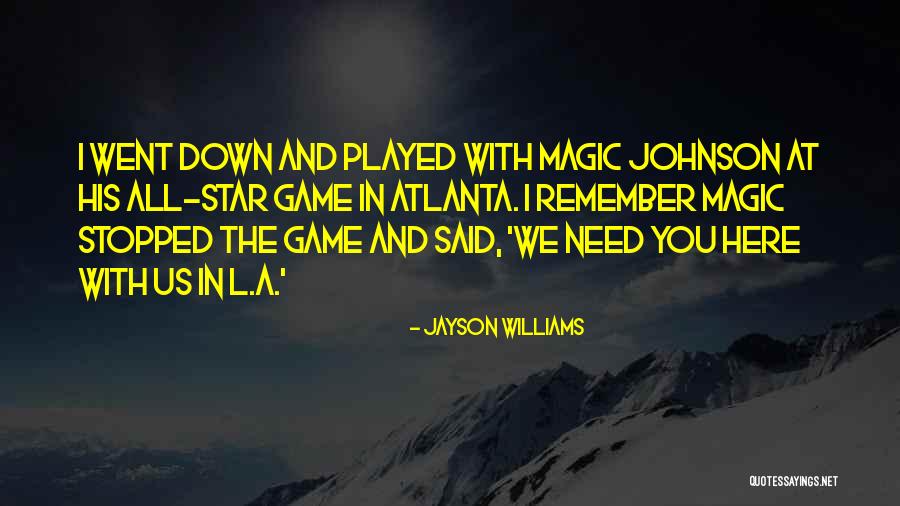 I went down and played with Magic Johnson at his all-star game in Atlanta. I remember Magic stopped the game and said, 'We need you here with us in L.A.' — Jayson Williams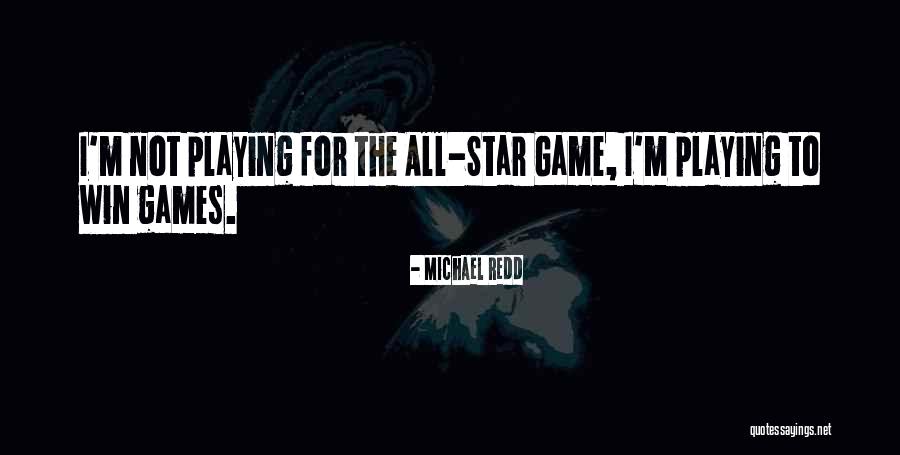 I'm not playing for the All-Star Game, I'm playing to win games. — Michael Redd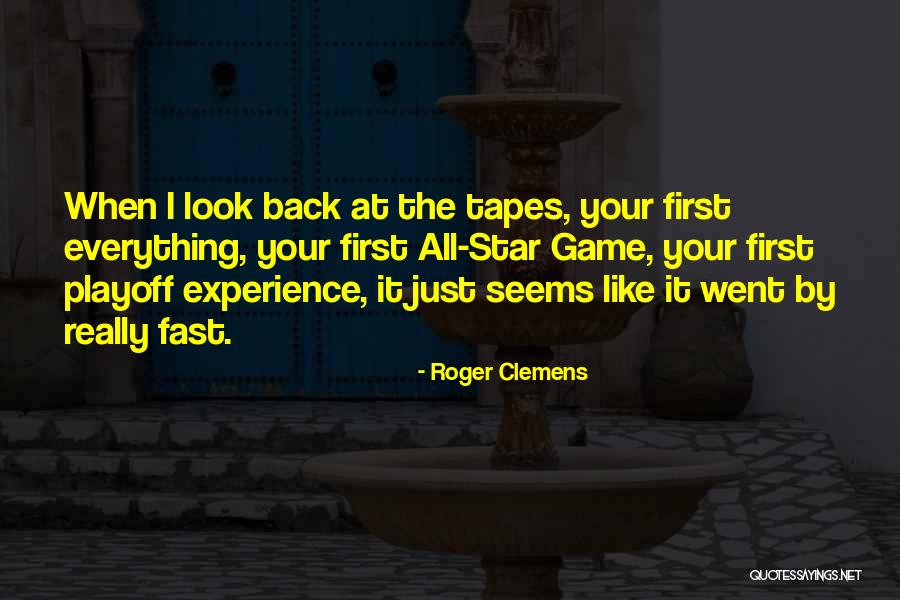 When I look back at the tapes, your first everything, your first All-Star Game, your first playoff experience, it just seems like it went by really fast. — Roger Clemens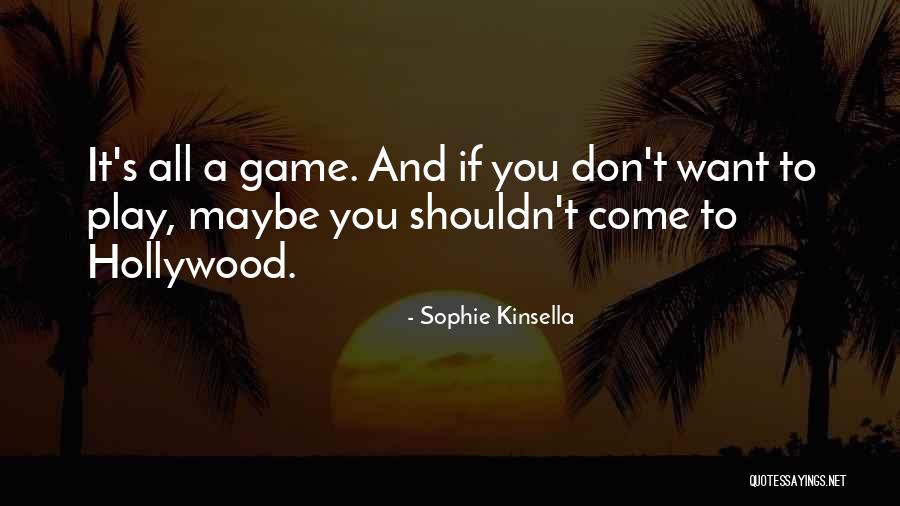 It's all a game. And if you don't want to play, maybe you shouldn't come to Hollywood. — Sophie Kinsella
All of this is not just a battle plan, it's a vacation too. For instance: you don't like the life you are living? Escape into another world by taking a lover. Men can't do this. When they take on a woman she becomes part of their life, but a woman gets to change lives with every man she sleeps with. In fact men are like magic flying carpets; you can visit different lands, become rich or poor without working, become religious by marrying a priest, become a cowboy by having an affair in Texas, join the political game by blowing the President, and tomorrow get high with a pop star. Society is a wonderful thing if you're a woman, you really can go anywhere so long as a man's first priority is to get laid, and that will never change. — Mary Woronov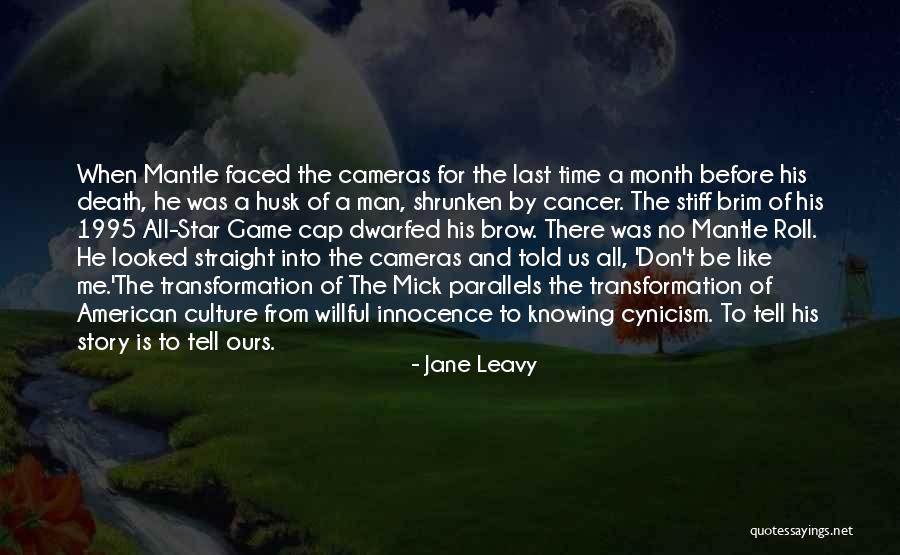 When Mantle faced the cameras for the last time a month before his death, he was a husk of a man, shrunken by cancer. The stiff brim of his 1995 All-Star Game cap dwarfed his brow. There was no Mantle Roll. He looked straight into the cameras and told us all, 'Don't be like me.'

The transformation of The Mick parallels the transformation of American culture from willful innocence to knowing cynicism. To tell his story is to tell ours. — Jane Leavy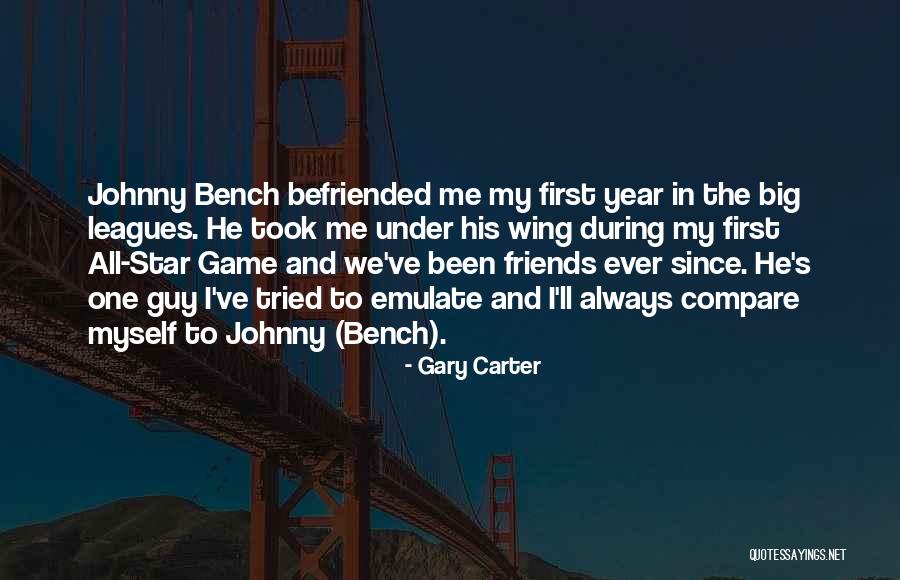 Johnny Bench
befriended me my first year in the big leagues. He took me under his wing during my first All-Star Game and we've been friends ever since. He's one guy I've tried to emulate and I'll always compare myself to Johnny (Bench). — Gary Carter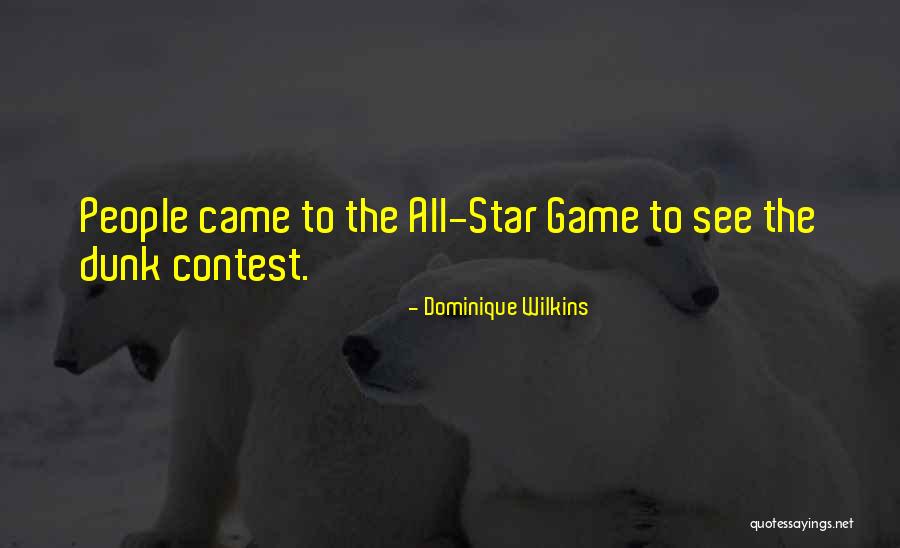 People came to the All-Star Game to see the dunk contest. — Dominique Wilkins
There were never a lot of attacks on my work. We were building more parks than were ever built in the city, building more recreation centers, fixing more streets. We had national events, the Super Bowl, the (Major League Baseball) All-Star game, Final Four. We built seven hotels. The city hadn't built a hotel in 20 or more years. — Kwame Kilpatrick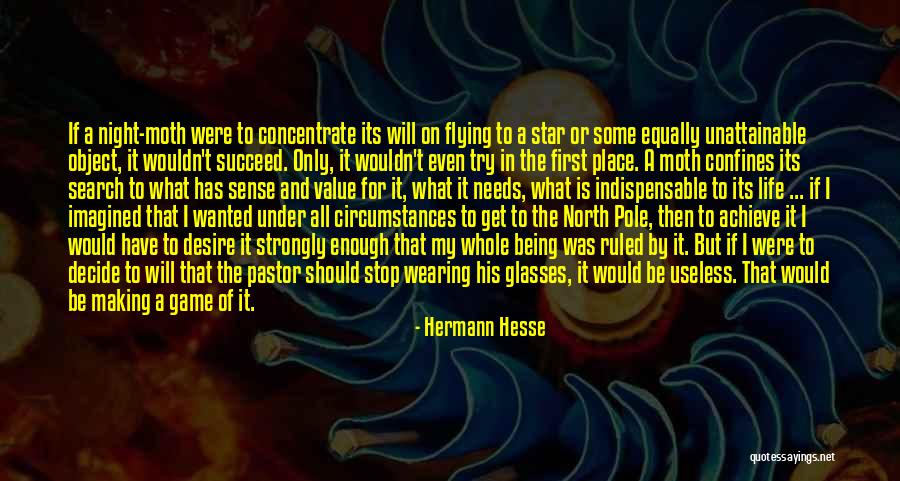 If a night-moth were to concentrate its will on flying to a star or some equally unattainable object, it wouldn't succeed. Only, it wouldn't even try in the first place. A moth confines its search to what has sense and value for it, what it needs, what is indispensable to its life ... if I imagined that I wanted under all circumstances to get to the North Pole, then to achieve it I would have to desire it strongly enough that my whole being was ruled by it. But if I were to decide to will that the pastor should stop wearing his glasses, it would be useless. That would be making a game of it. — Hermann Hesse
I met Powel Crosley at an All-Star Game in 1935. He was familiar, of course, with our winning record at Rochester. We seemed to hit it off immediately, and the following year, when he was looking for a successor to Larry MacPhail, he thought of me. — Warren Giles
Remember this, my darling - remember this. What you achieve on earth is only a small part of the deal. If there's a secret I could whisper, and that you could keep, it would be that it's all inside you already. Every single thing you need. Earth is just a stopover. A kind of game. Make it a star game. If I could give you a gift, it would be to teach you how to stay free inside that game, to find the glory inside yourself, beyond the roles and the drama, so you can dance the dance of the game of life with a little more rhythm, a little more abandon, a little more shaking-those-hips. — Annie Kagan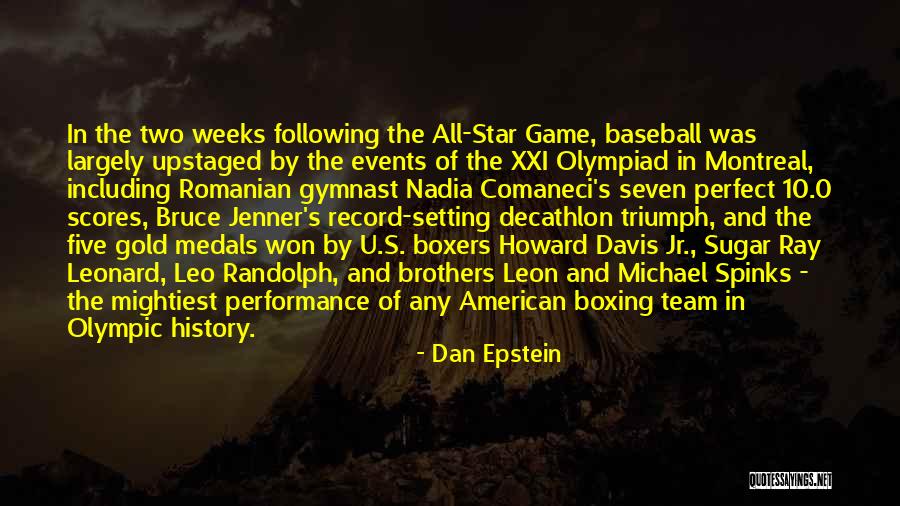 In the two weeks following the All-Star Game, baseball was largely upstaged by the events of the XXI Olympiad in Montreal, including Romanian gymnast Nadia Comaneci's seven perfect 10.0 scores, Bruce Jenner's record-setting decathlon triumph, and the five gold medals won by U.S. boxers Howard Davis Jr., Sugar Ray Leonard, Leo Randolph, and brothers Leon and Michael Spinks - the mightiest performance of any American boxing team in Olympic history. — Dan Epstein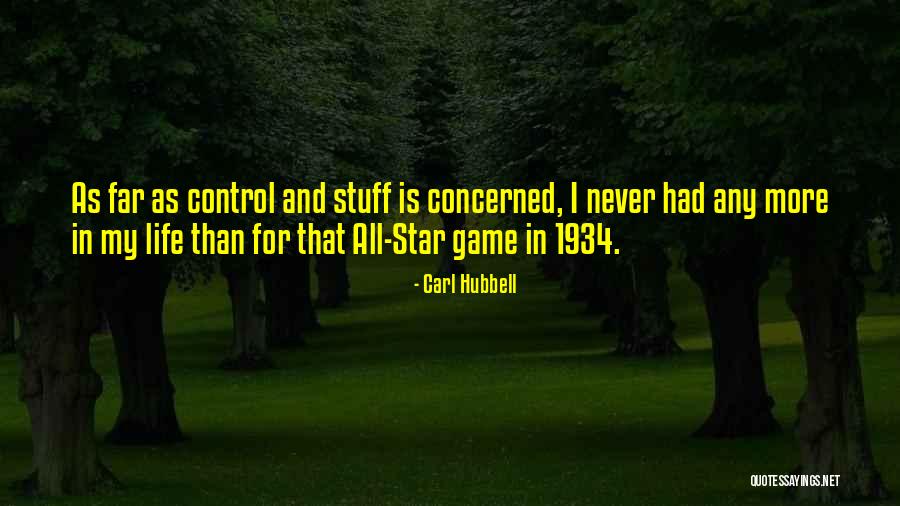 As far as control and stuff is concerned, I never had any more in my life than for that All-Star game in 1934. — Carl Hubbell
Does Pete (Rose) hustle? Before the All-Star game he came into the clubhouse and took off his shoes and they ran another mile without him. — Hank Aaron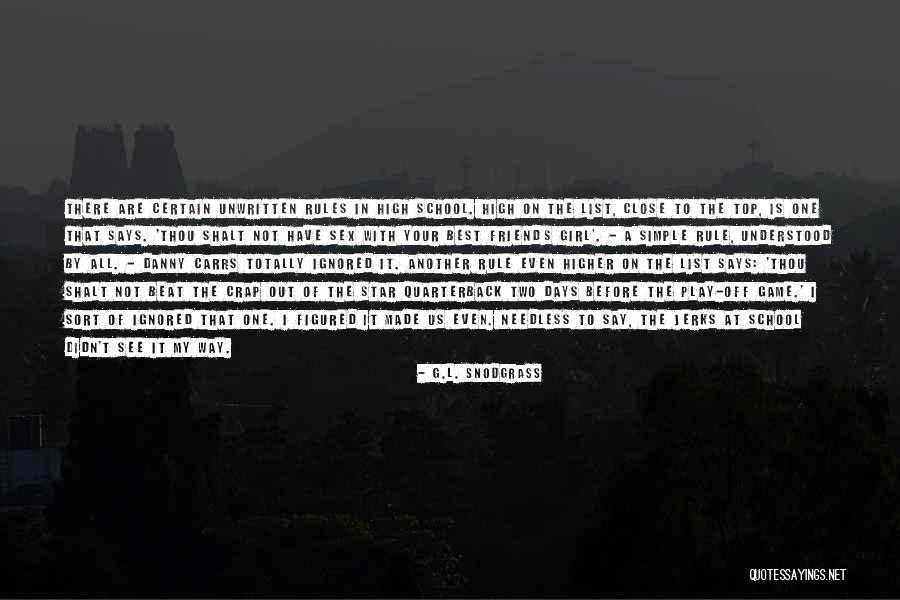 There are certain unwritten rules in high school. High on the list, close to the top, is one that says. 'Thou shalt not have sex with your best friend's girl'. - A simple rule, understood by all. - Danny Carrs totally ignored it.
Another rule even higher on the list says: 'Thou shalt not beat the crap out of the star quarterback two days before the play-off game.' I sort of ignored that one. I figured it made us even. Needless to say, the jerks at school didn't see it my way. — G.L. Snodgrass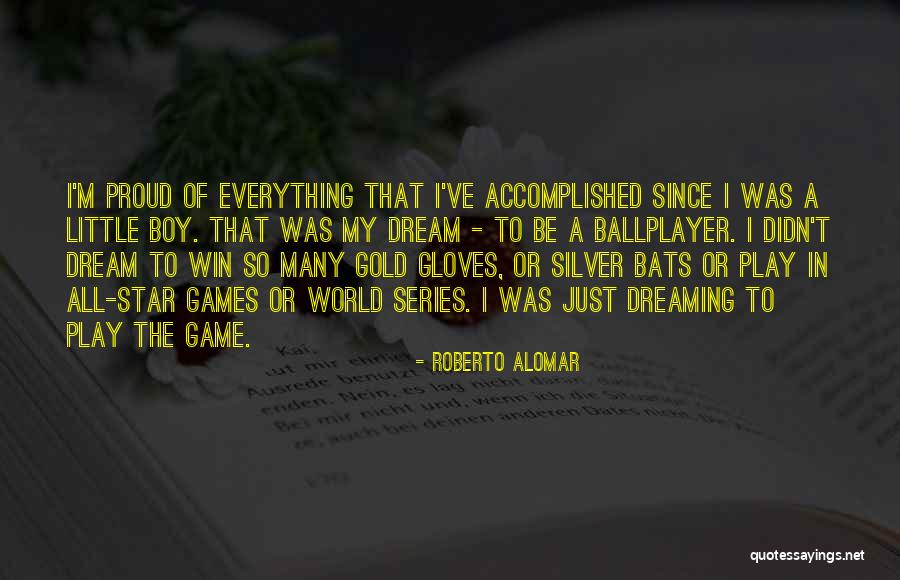 I'm proud of everything that I've accomplished since I was a little boy. That was my dream - to be a ballplayer. I didn't dream to win so many Gold Gloves, or Silver Bats or play in All-Star Games or World Series. I was just dreaming to play the game. — Roberto Alomar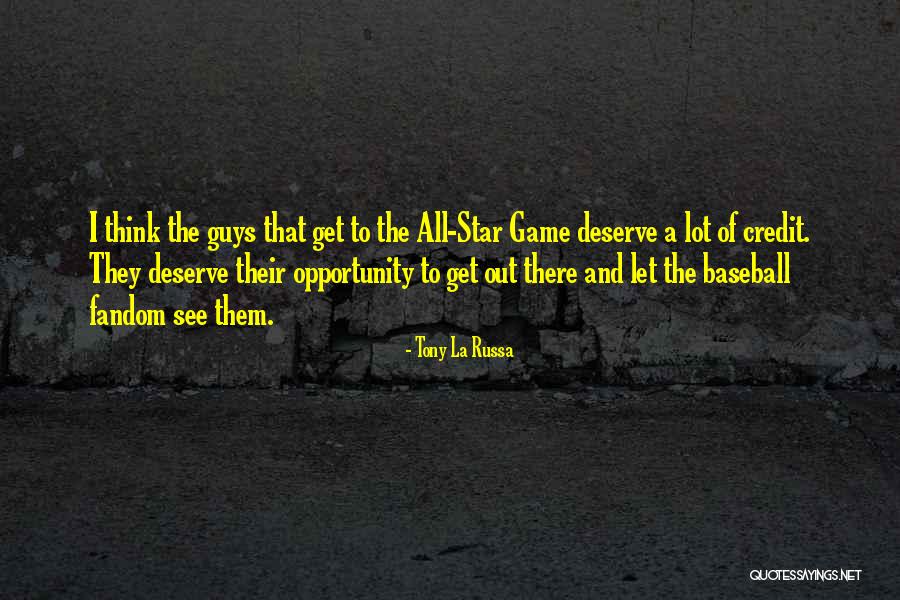 I think the guys that get to the All-Star Game deserve a lot of credit. They deserve their opportunity to get out there and let the baseball fandom see them. — Tony La Russa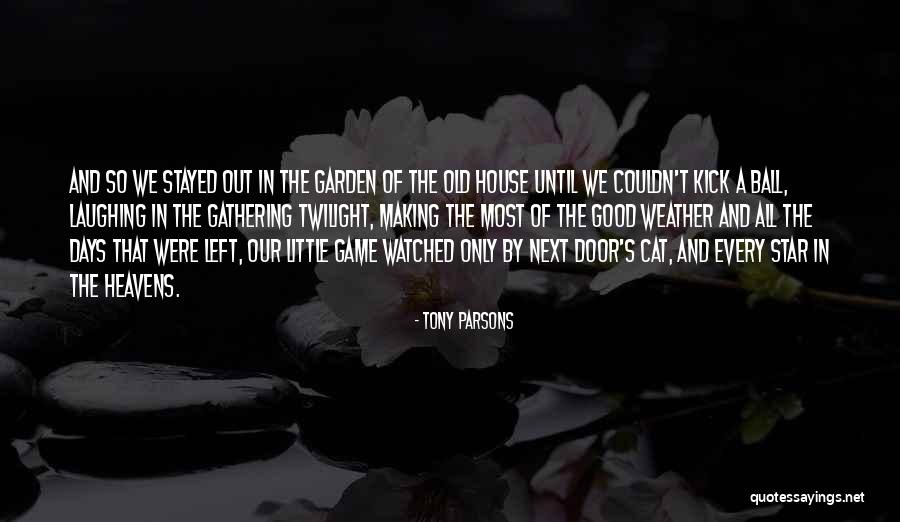 And so we stayed out in the garden of the old house until we couldn't kick a ball, laughing in the gathering twilight, making the most of the good weather and all the days that were left, our little game watched only by next door's cat, and every star in the heavens. — Tony Parsons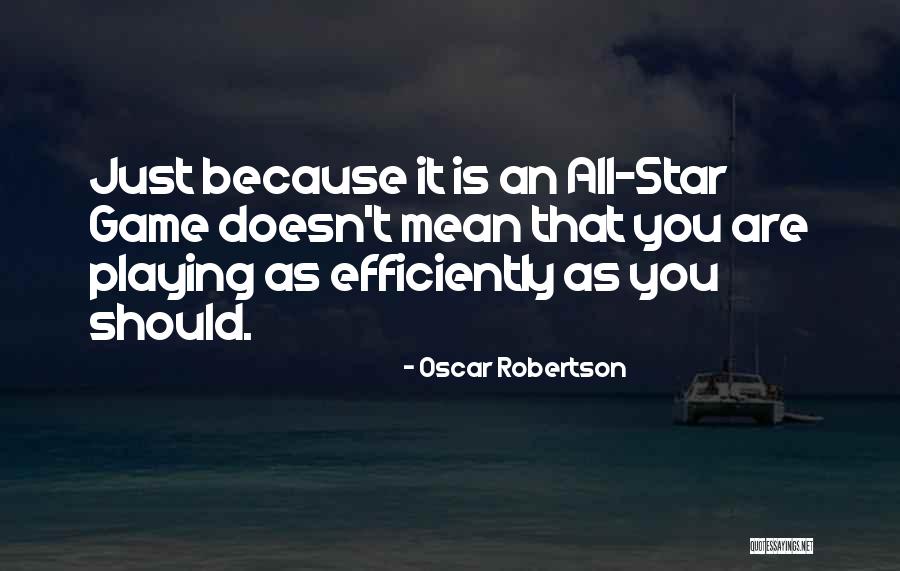 Just because it is an All-Star Game doesn't mean that you are playing as efficiently as you should. — Oscar Robertson