All Odds Against Us Quotes & Sayings
Enjoy reading and share 36 famous quotes about All Odds Against Us with everyone.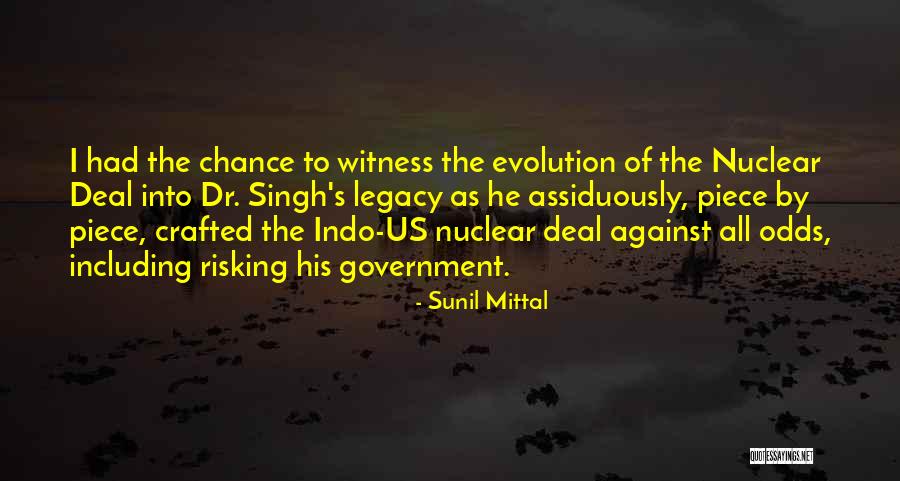 I had the chance to witness the evolution of the Nuclear Deal into Dr. Singh's legacy as he assiduously, piece by piece, crafted the Indo-US nuclear deal against all odds, including risking his government. — Sunil Mittal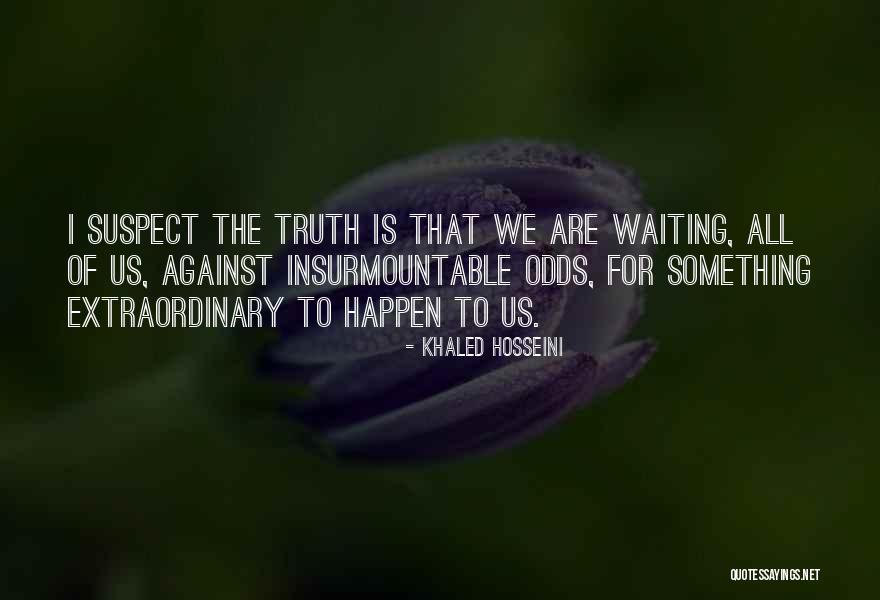 I suspect the truth is that we are waiting, all of us, against insurmountable odds, for something extraordinary to happen to us. — Khaled Hosseini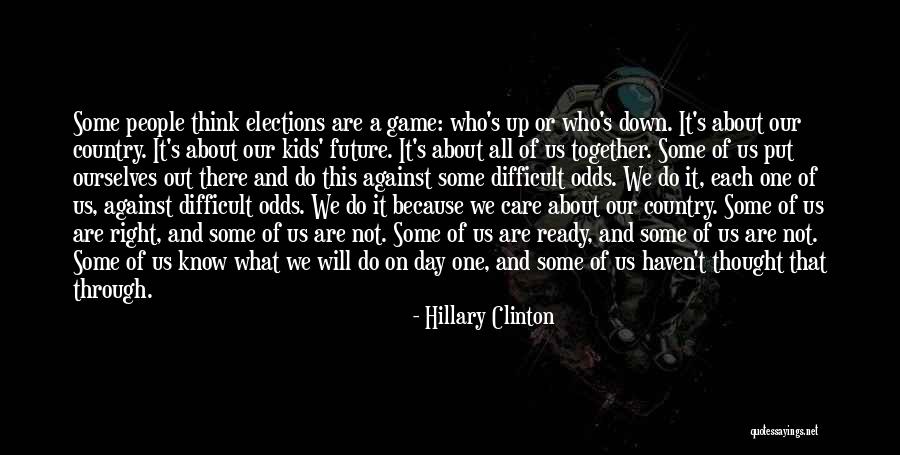 Some people think elections are a game: who's up or who's down. It's about our country. It's about our kids' future. It's about all of us together. Some of us put ourselves out there and do this against some difficult odds. We do it, each one of us, against difficult odds. We do it because we care about our country. Some of us are right, and some of us are not. Some of us are ready, and some of us are not. Some of us know what we will do on day one, and some of us haven't thought that through. — Hillary Clinton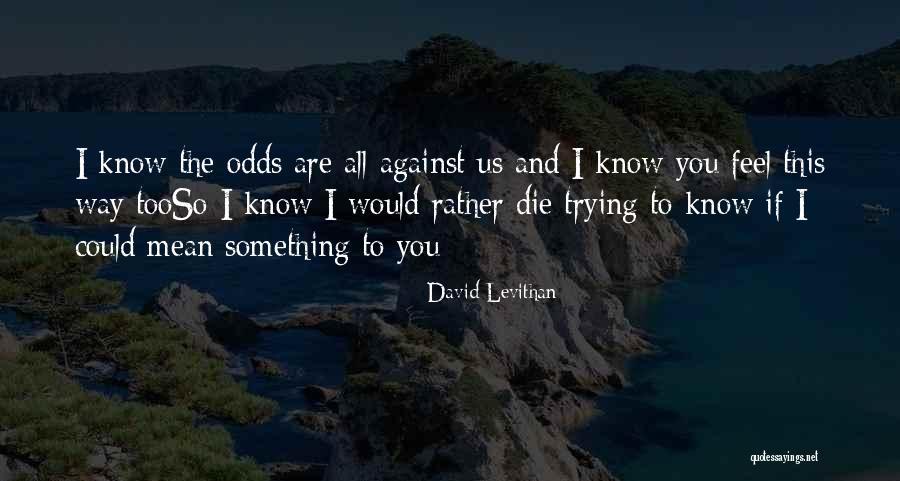 I know the odds are all against us and I know you feel this way too
So I know I would rather die trying to know if I could mean something to you — David Levithan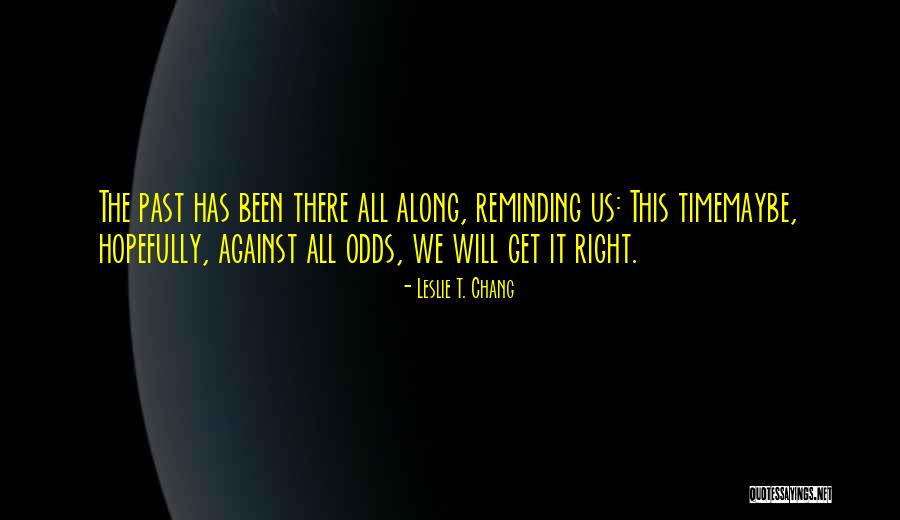 The past has been there all along, reminding us: This time
maybe, hopefully, against all odds, we will get it right. — Leslie T. Chang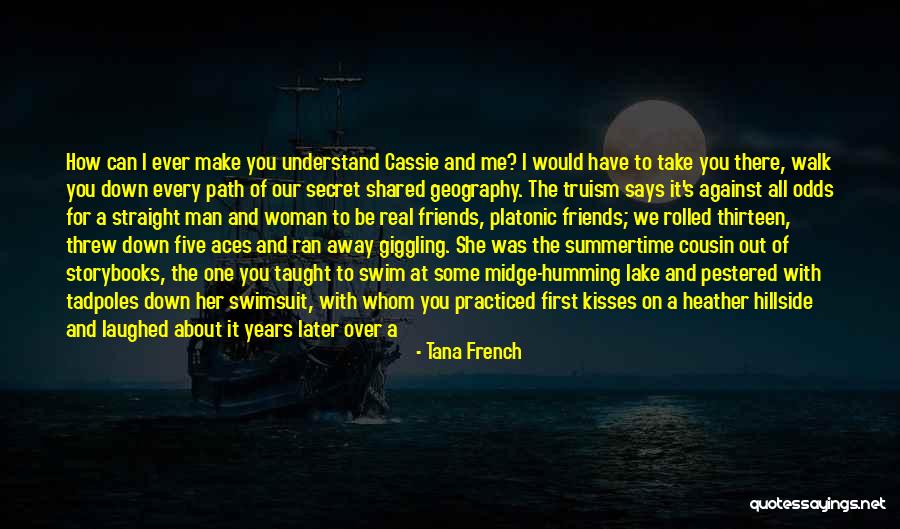 How can I ever make you understand Cassie and me? I would have to take you there, walk you down every path of our secret shared geography. The truism says it's against all odds for a straight man and woman to be real friends, platonic friends; we rolled thirteen, threw down five aces and ran away giggling. She was the summertime cousin out of storybooks, the one you taught to swim at some midge-humming lake and pestered with tadpoles down her swimsuit, with whom you practiced first kisses on a heather hillside and laughed about it years later over a clandestine joint in your granny's cluttered attic. She painted my fingernails gold and dared me to leave them that way for work ... We climbed out her window and down the fire escape and lay on the roof of the extension below, drinking improvised cocktails and singing Tom Waits and watching the stars spin dizzily around us.
No. — Tana French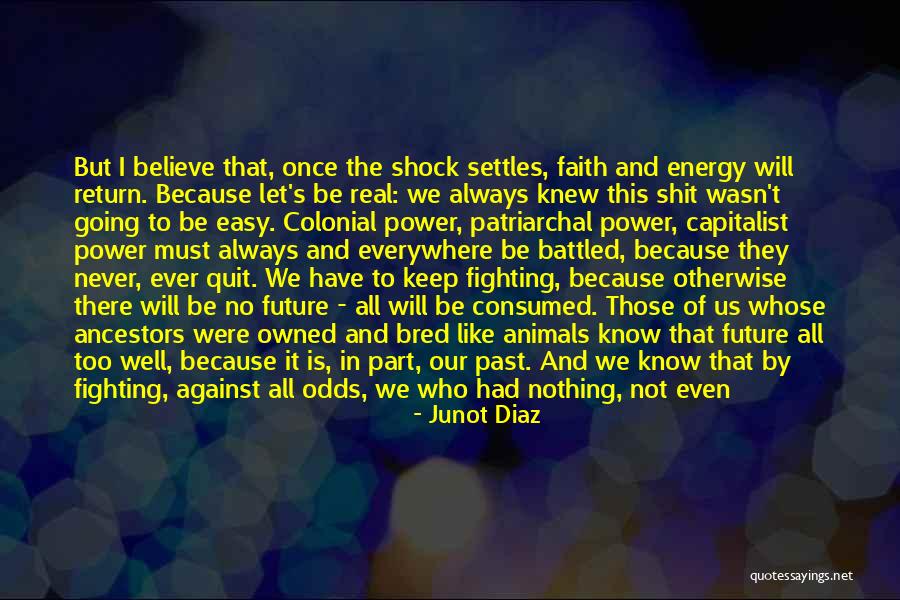 But I believe that, once the shock settles, faith and energy will return. Because let's be real: we always knew this shit wasn't going to be easy. Colonial power, patriarchal power, capitalist power must always and everywhere be battled, because they never, ever quit. We have to keep fighting, because otherwise there will be no future - all will be consumed. Those of us whose ancestors were owned and bred like animals know that future all too well, because it is, in part, our past. And we know that by fighting, against all odds, we who had nothing, not even our real names, transformed the universe. Our ancestors did this with very little, and we who have more must do the same. This is the joyous destiny of our people - to bury the arc of the moral universe so deep in justice that it will never be undone. — Junot Diaz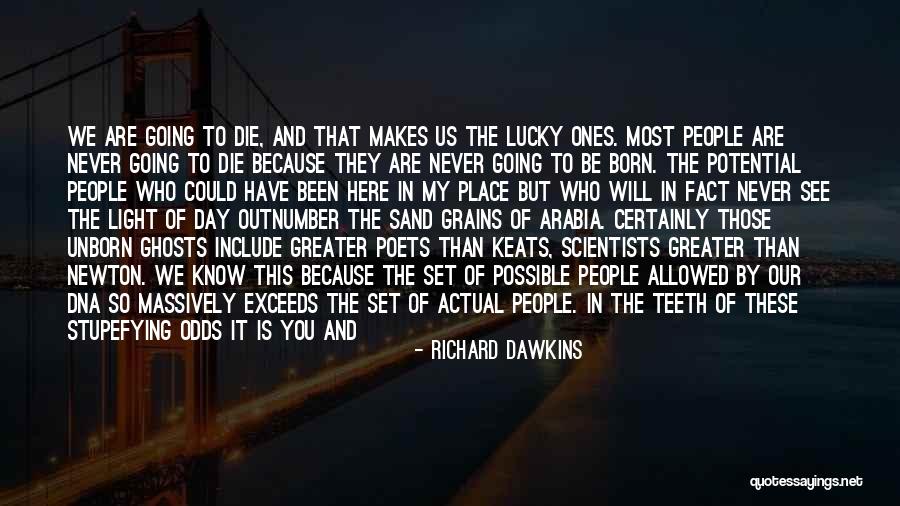 We are going to die, and that makes us the lucky ones. Most people are never going to die because they are never going to be born. The potential people who could have been here in my place but who will in fact never see the light of day outnumber the sand grains of Arabia. Certainly those unborn ghosts include greater poets than Keats, scientists greater than Newton. We know this because the set of possible people allowed by our DNA so massively exceeds the set of actual people. In the teeth of these stupefying odds it is you and I, in our ordinariness, that are here.We privileged few, who won the lottery of birth against all odds, how dare we whine at our inevitable return to that prior state from which the vast majority have never stirred? — Richard Dawkins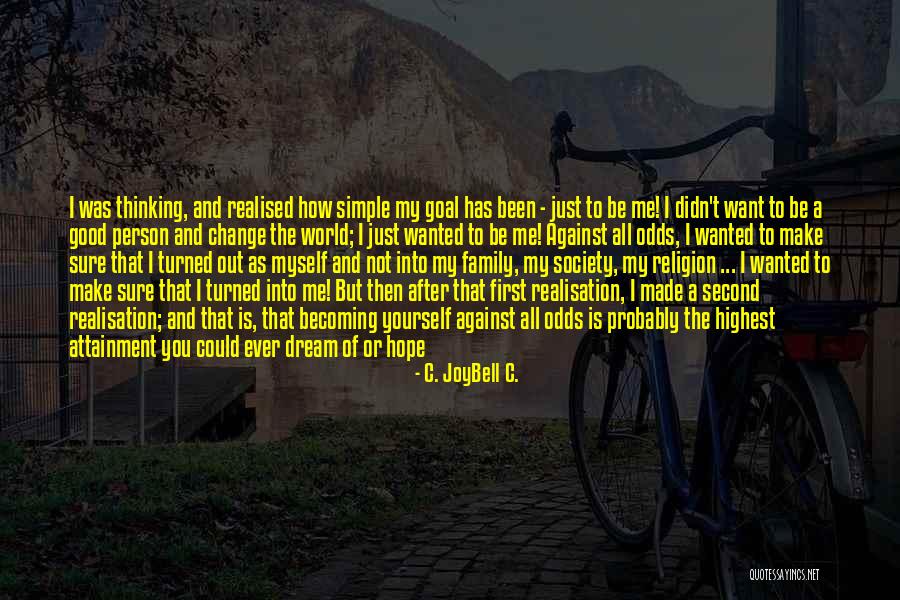 I was thinking, and realised how simple my goal has been - just to be me! I didn't want to be a good person and change the world; I just wanted to be me! Against all odds, I wanted to make sure that I turned out as myself and not into my family, my society, my religion ... I wanted to make sure that I turned into me! But then after that first realisation, I made a second realisation; and that is, that becoming yourself against all odds is probably the highest attainment you could ever dream of or hope for! After all, the minute we are born, we are born into a world that isn't interested in making us who we are; but rather, is interested in making us who they think we are supposed to be! It is a most courageous act to become yourself, no matter what! And you can move mountains and change the world without trying to! As long as you fight for you! — C. JoyBell C.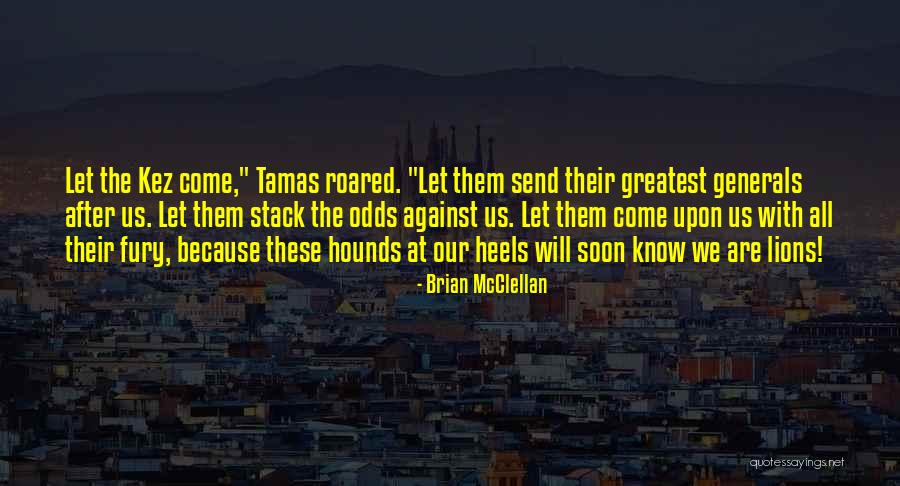 Let the Kez come," Tamas roared. "Let them send their greatest generals after us. Let them stack the odds against us. Let them come upon us with all their fury, because these hounds at our heels will soon know we are lions! — Brian McClellan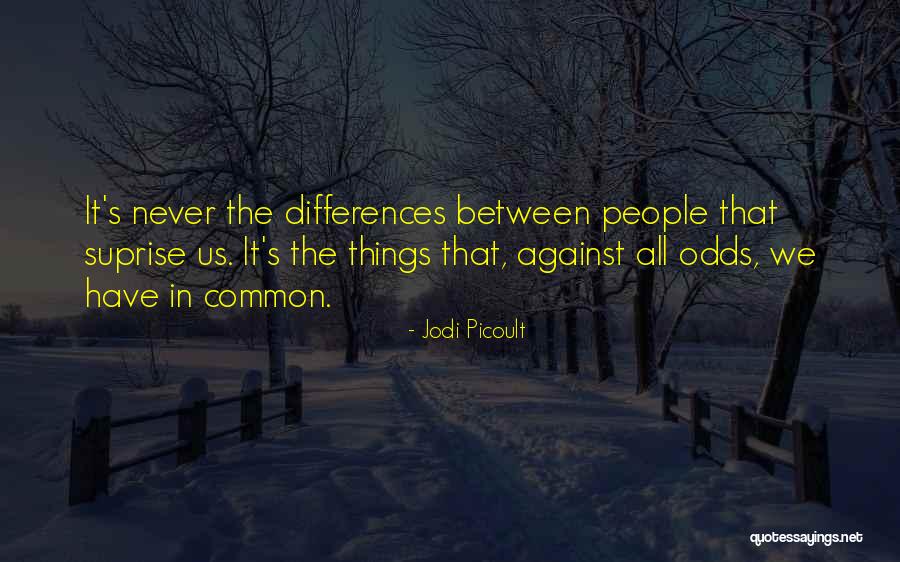 It's never the differences between people that suprise us. It's the things that, against all odds, we have in common. — Jodi Picoult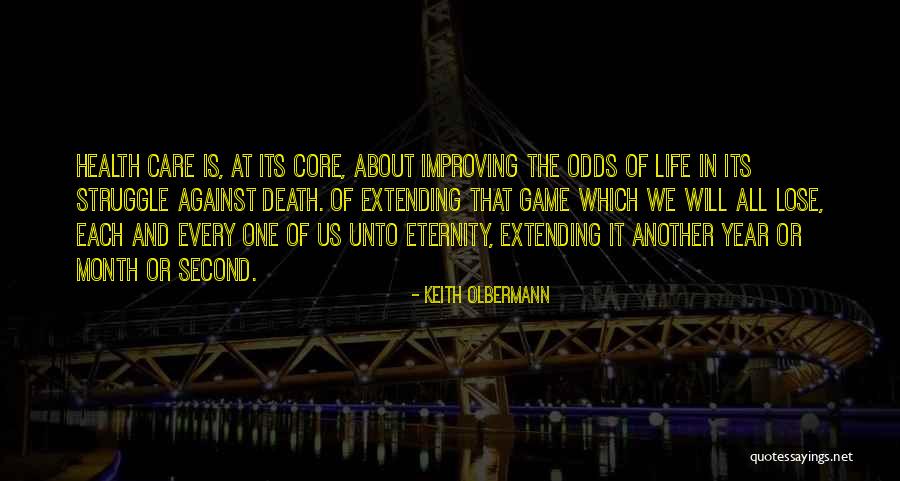 Health care is, at its core, about improving the odds of life in its struggle against death. Of extending that game which we will all lose, each and every one of us unto eternity, extending it another year or month or second. — Keith Olbermann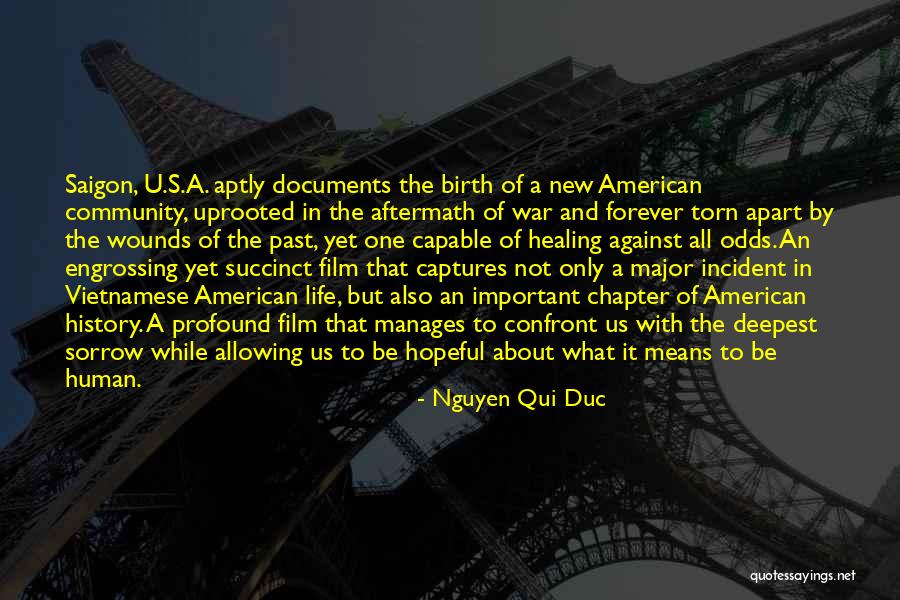 Saigon, U.S.A. aptly documents the birth of a new American community, uprooted in the aftermath of war and forever torn apart by the wounds of the past, yet one capable of healing against all odds. An engrossing yet succinct film that captures not only a major incident in Vietnamese American life, but also an important chapter of American history. A profound film that manages to confront us with the deepest sorrow while allowing us to be hopeful about what it means to be human. — Nguyen Qui Duc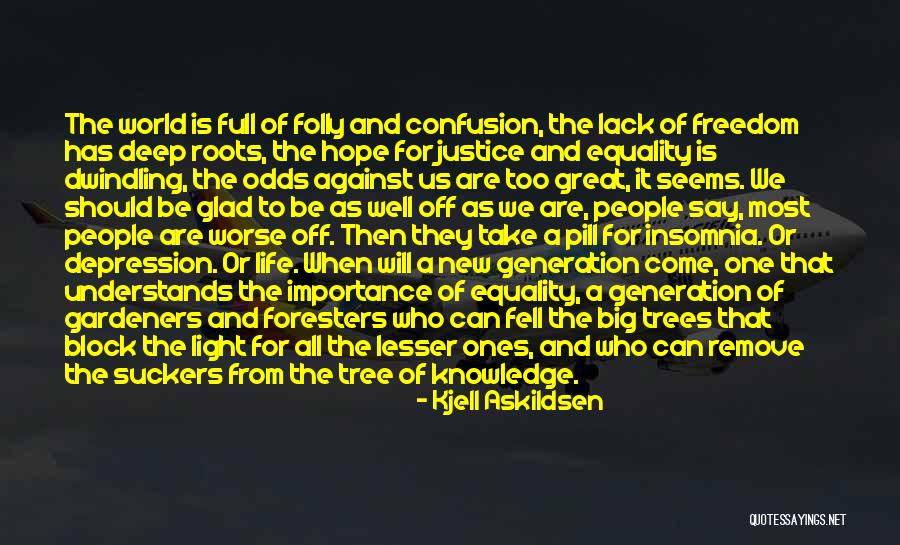 The world is full of folly and confusion, the lack of freedom has deep roots, the hope for justice and equality is dwindling, the odds against us are too great, it seems. We should be glad to be as well off as we are, people say, most people are worse off. Then they take a pill for insomnia. Or depression. Or life. When will a new generation come, one that understands the importance of equality, a generation of gardeners and foresters who can fell the big trees that block the light for all the lesser ones, and who can remove the suckers from the tree of knowledge. — Kjell Askildsen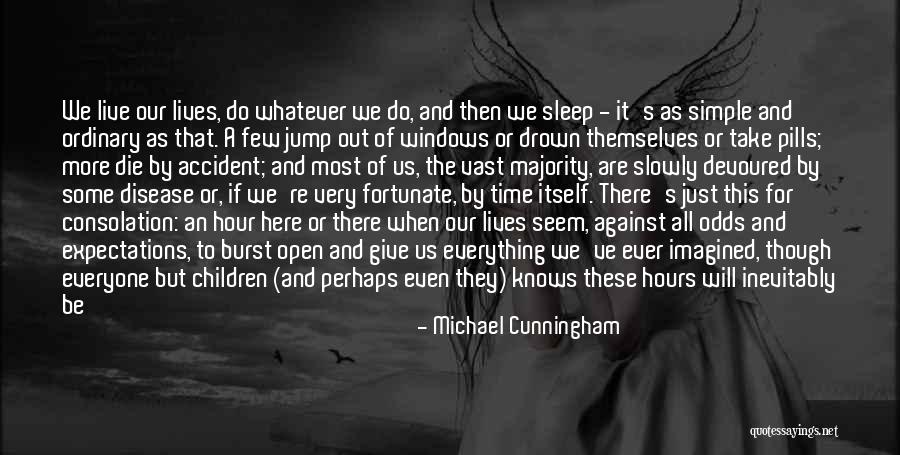 We live our lives, do whatever we do, and then we sleep - it's as simple and ordinary as that. A few jump out of windows or drown themselves or take pills; more die by accident; and most of us, the vast majority, are slowly devoured by some disease or, if we're very fortunate, by time itself. There's just this for consolation: an hour here or there when our lives seem, against all odds and expectations, to burst open and give us everything we've ever imagined, though everyone but children (and perhaps even they) knows these hours will inevitably be followed by others, far darker and more difficult. Still, we cherish the city, the morning; we hope, more than anything, for more. — Michael Cunningham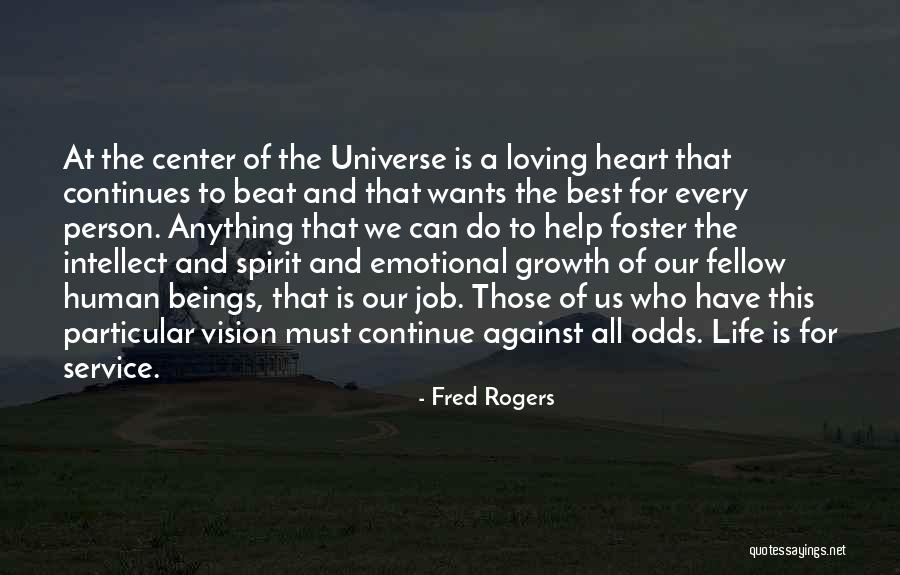 At the center of the Universe is a loving heart that continues to beat and that wants the best for every person. Anything that we can do to help foster the intellect and spirit and emotional growth of our fellow human beings, that is our job. Those of us who have this particular vision must continue against all odds. Life is for service. — Fred Rogers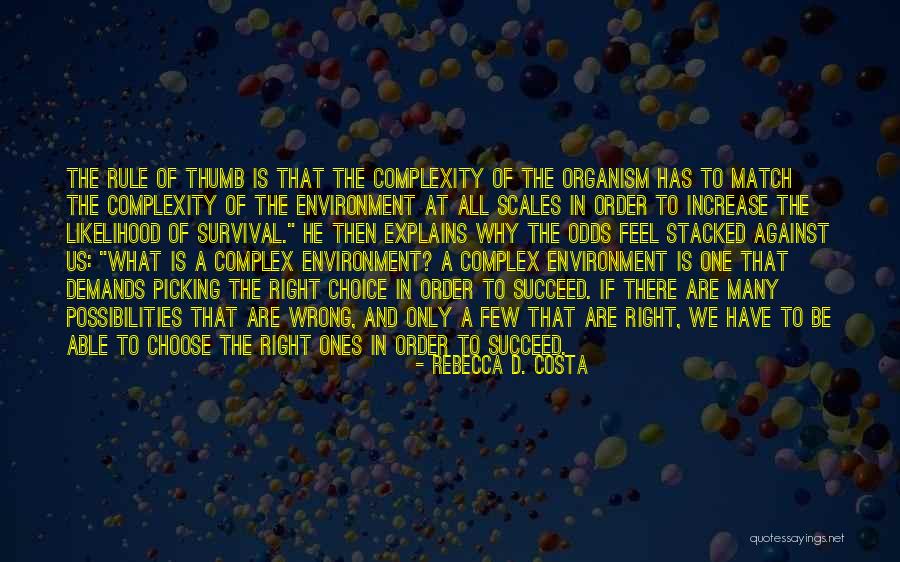 The rule of thumb is that the complexity of the organism has to match the complexity of the environment at all scales in order to increase the likelihood of survival." He then explains why the odds feel stacked against us: "What is a complex environment? A complex environment is one that demands picking the right choice in order to succeed. If there are many possibilities that are wrong, and only a few that are right, we have to be able to choose the right ones in order to succeed. — Rebecca D. Costa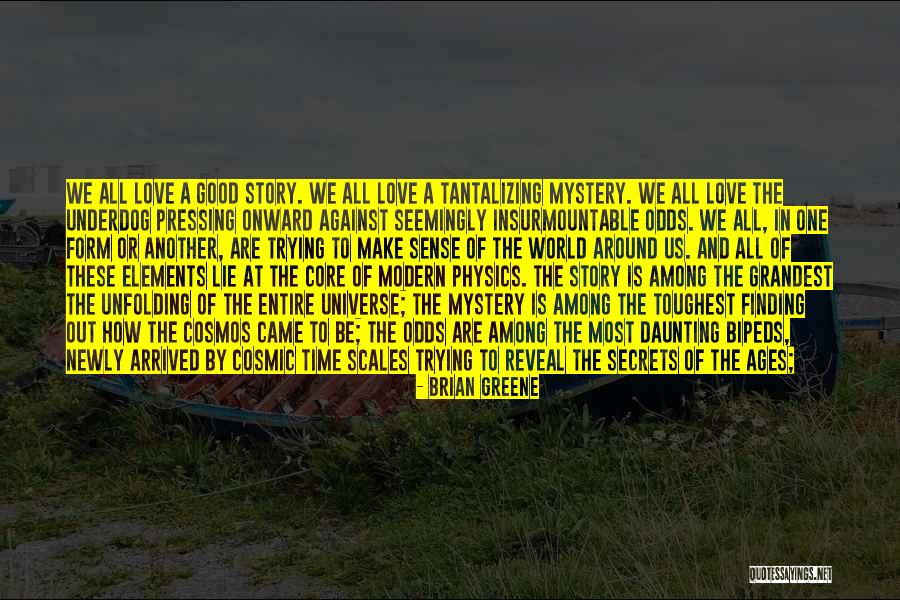 We all love a good story. We all love a tantalizing mystery. We all love the underdog pressing onward against seemingly insurmountable odds. We all, in one form or another, are trying to make sense of the world around us. And all of these elements lie at the core of modern physics. The story is among the grandest
the unfolding of the entire universe; the mystery is among the toughest
finding out how the cosmos came to be; the odds are among the most daunting
bipeds, newly arrived by cosmic time scales trying to reveal the secrets of the ages; and the quest is among the deepest
the search for fundamental laws to explain all we see and beyond, from the tiniest particles to the most distant galaxies. — Brian Greene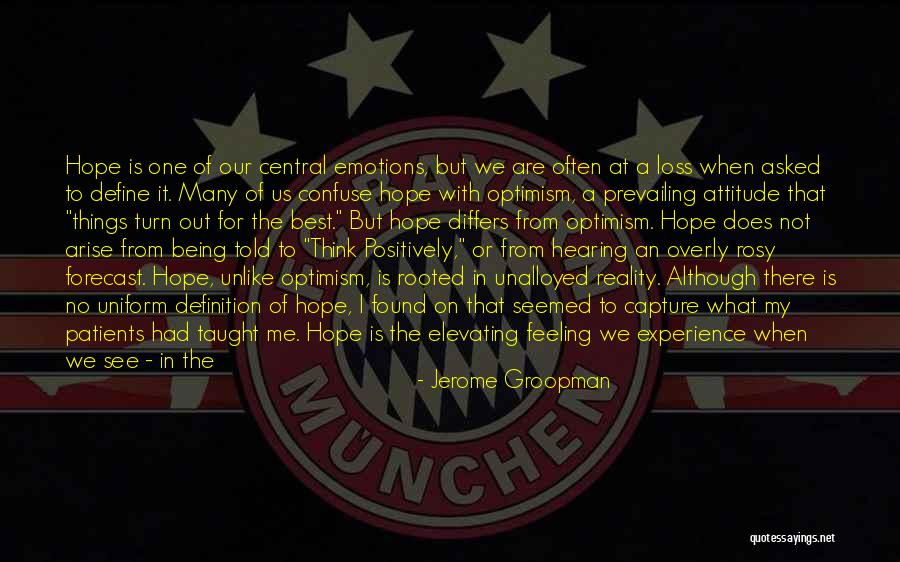 Hope is one of our central emotions, but we are often at a loss when asked to define it. Many of us confuse hope with optimism, a prevailing attitude that "things turn out for the best." But hope differs from optimism. Hope does not arise from being told to "Think Positively," or from hearing an overly rosy forecast. Hope, unlike optimism, is rooted in unalloyed reality. Although there is no uniform definition of hope, I found on that seemed to capture what my patients had taught me. Hope is the elevating feeling we experience when we see - in the mind's eye- a path to a better future. Hope acknowledges the significant obstacles and deep pitfalls along that path. True hope has no room for delusion. — Jerome Groopman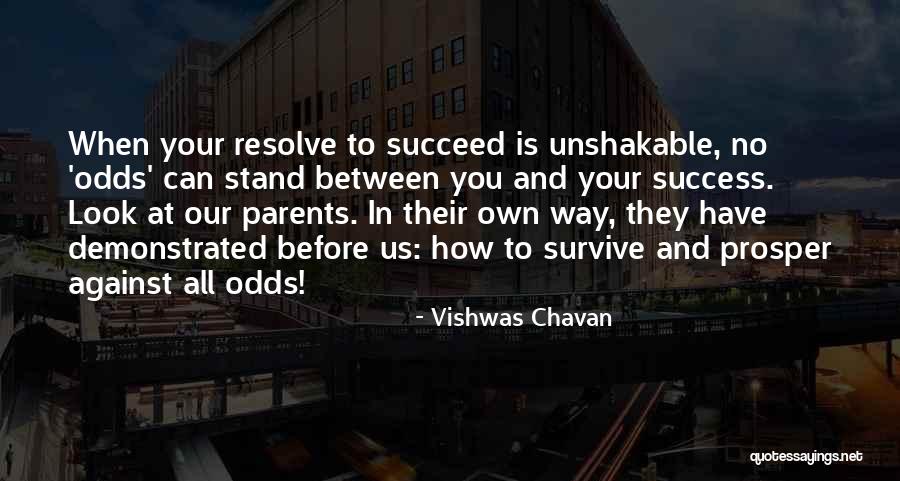 When your resolve to succeed is unshakable, no 'odds' can stand between you and your success. Look at our parents. In their own way, they have demonstrated before us: how to survive and prosper against all odds! — Vishwas Chavan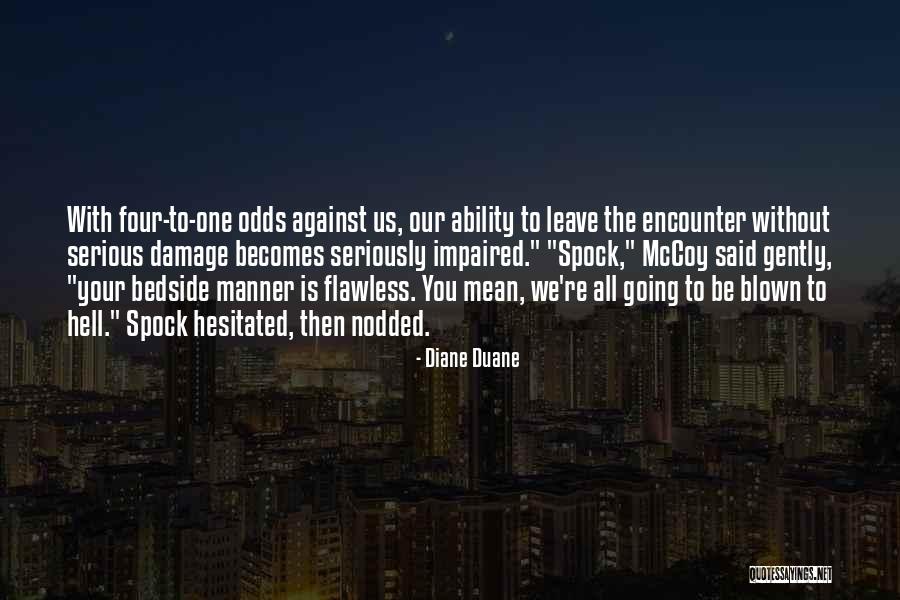 With four-to-one odds against us, our ability to leave the encounter without serious damage becomes seriously impaired." "Spock," McCoy said gently, "your bedside manner is flawless. You mean, we're all going to be blown to hell." Spock hesitated, then nodded. — Diane Duane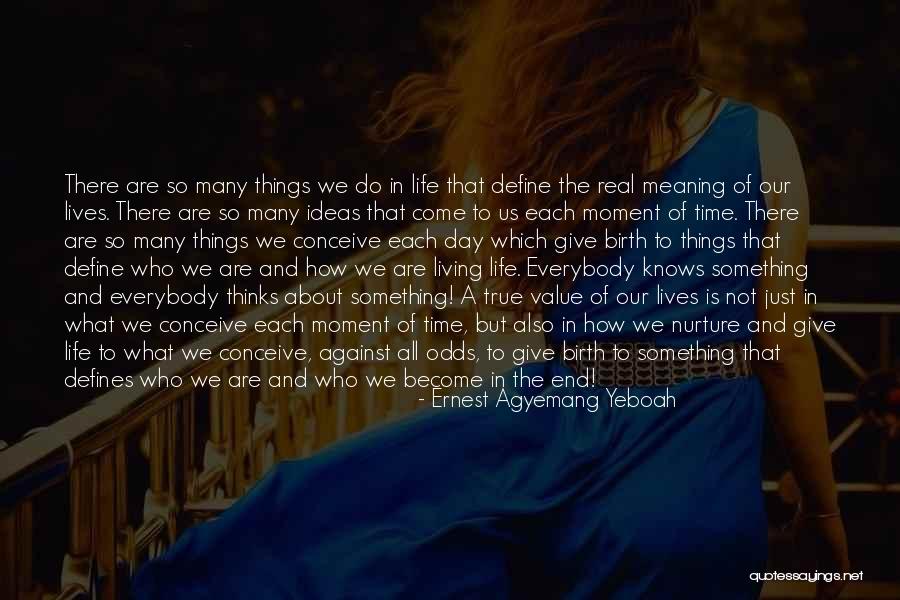 There are so many things we do in life that define the real meaning of our lives. There are so many ideas that come to us each moment of time. There are so many things we conceive each day which give birth to things that define who we are and how we are living life. Everybody knows something and everybody thinks about something! A true value of our lives is not just in what we conceive each moment of time, but also in how we nurture and give life to what we conceive, against all odds, to give birth to something that defines who we are and who we become in the end! — Ernest Agyemang Yeboah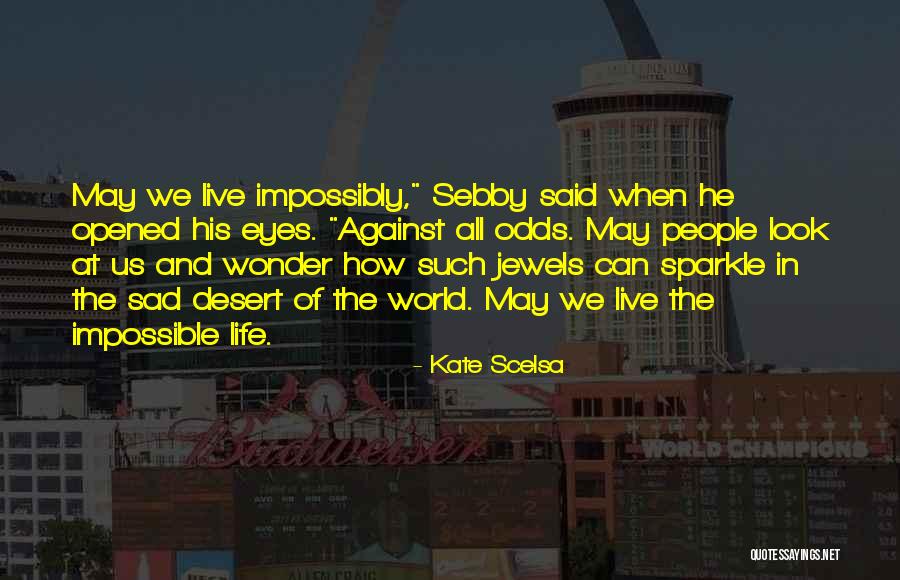 May we live impossibly," Sebby said when he opened his eyes. "Against all odds. May people look at us and wonder how such jewels can sparkle in the sad desert of the world. May we live the impossible life. — Kate Scelsa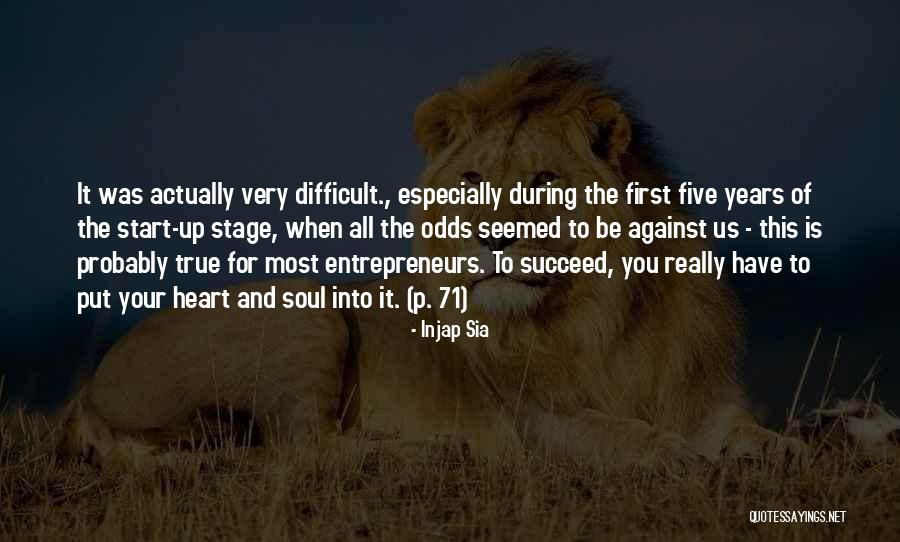 It was actually very difficult., especially during the first five years of the start-up stage, when all the odds seemed to be against us - this is probably true for most entrepreneurs. To succeed, you really have to put your heart and soul into it. (p. 71) — Injap Sia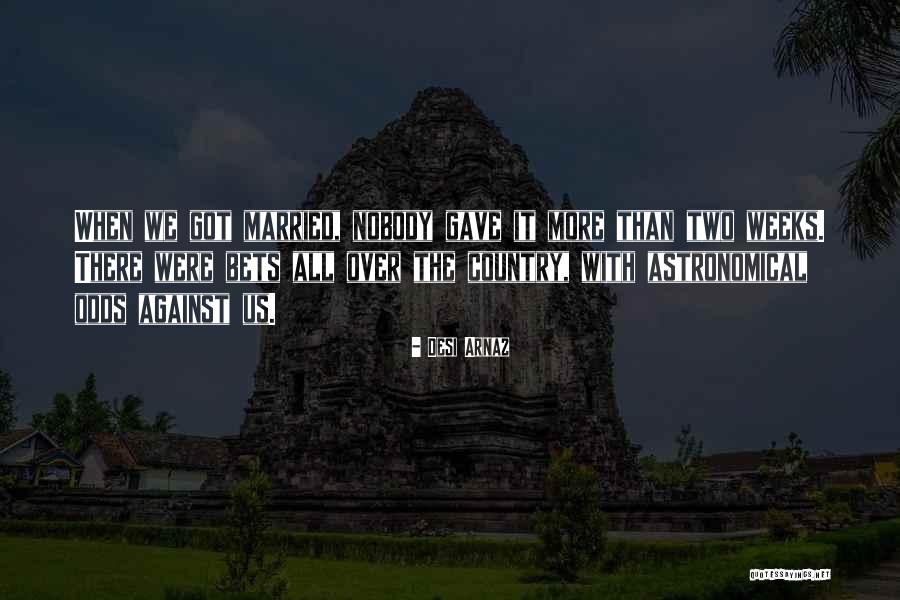 When we got married, nobody gave it more than two weeks. There were bets all over the country, with astronomical odds against us. — Desi Arnaz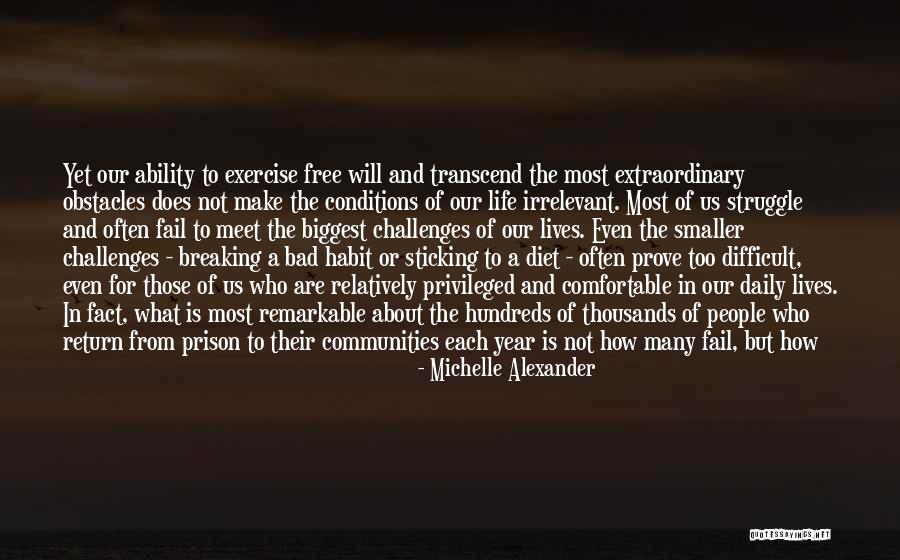 Yet our ability to exercise free will and transcend the most extraordinary obstacles does not make the conditions of our life irrelevant. Most of us struggle and often fail to meet the biggest challenges of our lives. Even the smaller challenges - breaking a bad habit or sticking to a diet - often prove too difficult, even for those of us who are relatively privileged and comfortable in our daily lives. In fact, what is most remarkable about the hundreds of thousands of people who return from prison to their communities each year is not how many fail, but how many somehow manage to survive and stay out of prison against all odds. — Michelle Alexander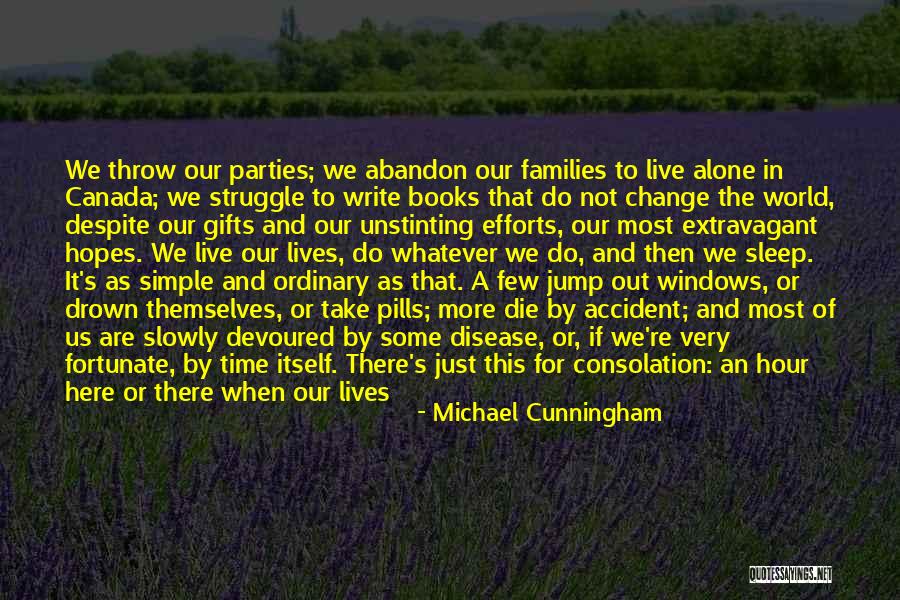 We throw our parties; we abandon our families to live alone in Canada; we struggle to write books that do not change the world, despite our gifts and our unstinting efforts, our most extravagant hopes. We live our lives, do whatever we do, and then we sleep. It's as simple and ordinary as that. A few jump out windows, or drown themselves, or take pills; more die by accident; and most of us are slowly devoured by some disease, or, if we're very fortunate, by time itself. There's just this for consolation: an hour here or there when our lives seem, against all odds and expectations, to burst open and give us everything we've ever imagined, though everyone but children (and perhaps even they) know these hours will inevitably be followed by others, far darker and more difficult. Still, we cherish the city, the morning; we hope, more than anything, for more. Heaven only knows why we love it so ... — Michael Cunningham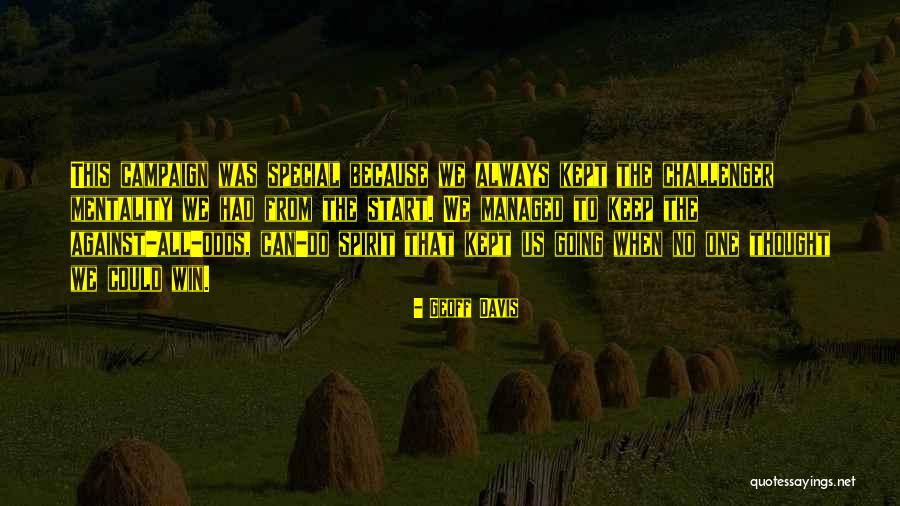 This campaign was special because we always kept the challenger mentality we had from the start. We managed to keep the against-all-odds, can-do spirit that kept us going when no one thought we could win. — Geoff Davis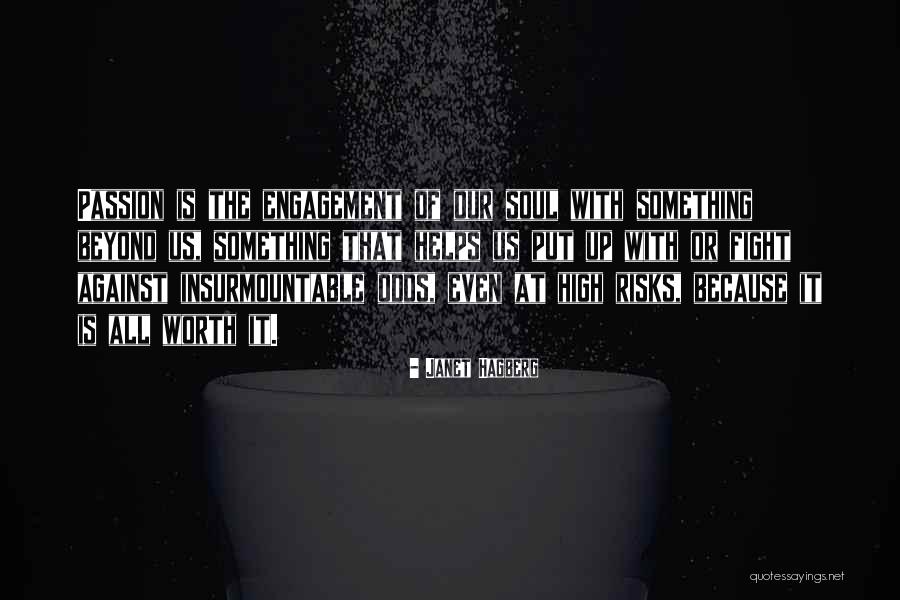 Passion is the engagement of our soul with something beyond us, something that helps us put up with or fight against insurmountable odds, even at high risks, because it is all worth it. — Janet Hagberg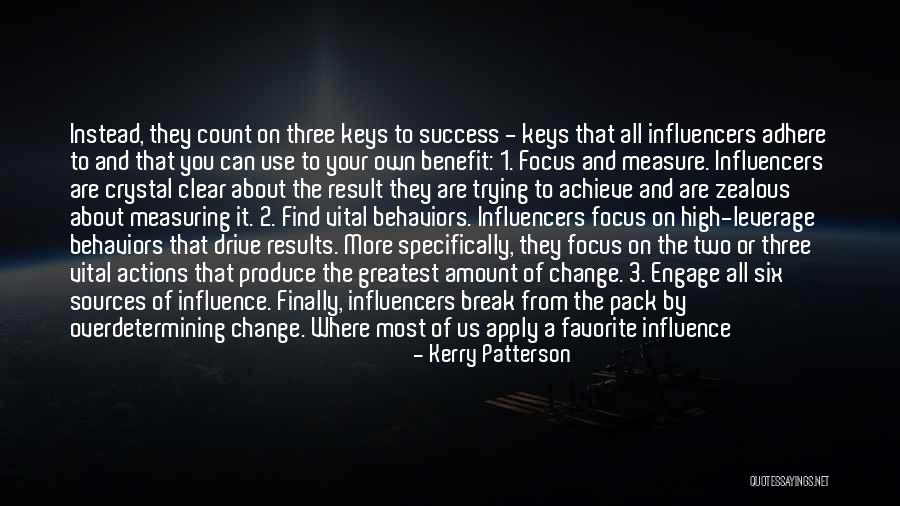 Instead, they count on three keys to success - keys that all influencers adhere to and that you can use to your own benefit: 1. Focus and measure. Influencers are crystal clear about the result they are trying to achieve and are zealous about measuring it. 2. Find vital behaviors. Influencers focus on high-leverage behaviors that drive results. More specifically, they focus on the two or three vital actions that produce the greatest amount of change. 3. Engage all six sources of influence. Finally, influencers break from the pack by overdetermining change. Where most of us apply a favorite influence tool or two to our important challenges, influencers identify all of the varied forces that are shaping the behavior they want to change and then get them working for rather than against them. And now for the really good news. According to our research, by getting six different sources of influence to work in their favor, influencers increase their odds of success tenfold. — Kerry Patterson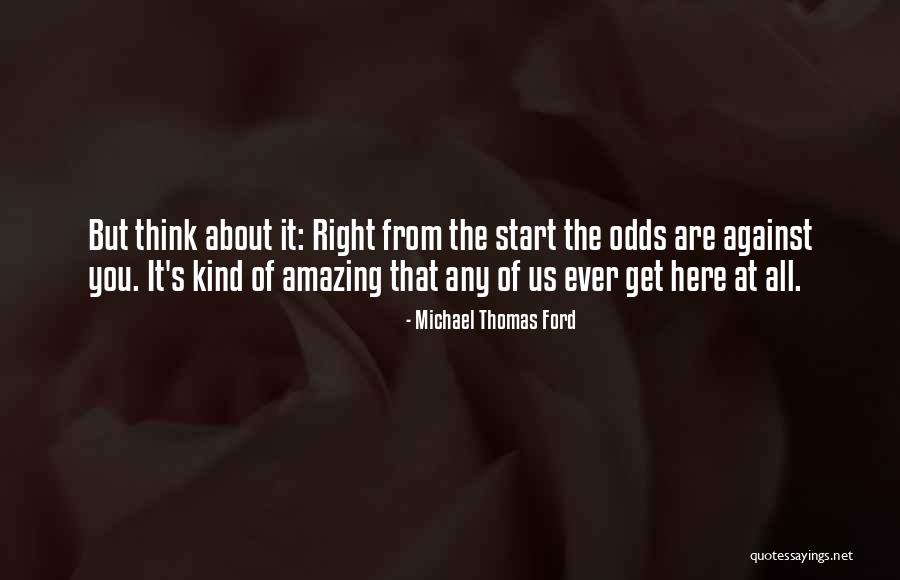 But think about it: Right from the start the odds are against you. It's kind of amazing that any of us ever get here at all. — Michael Thomas Ford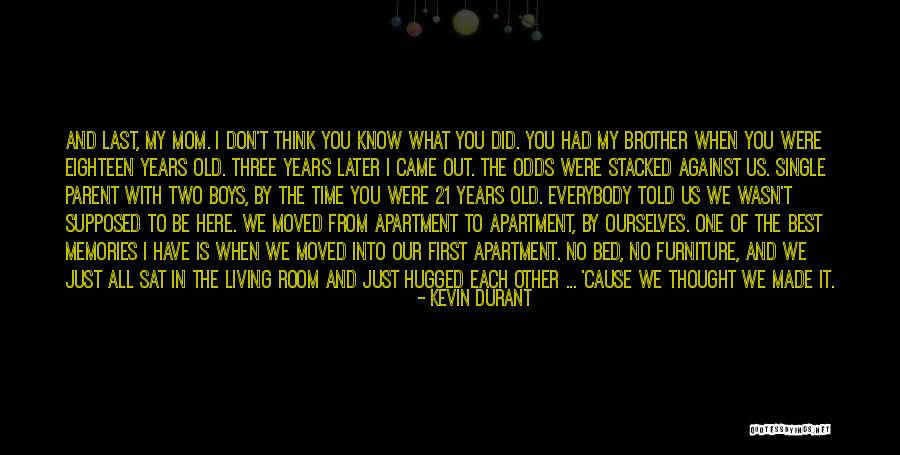 And last, My mom. I don't think you know what you did. You had my brother when you were eighteen years old. Three years later I came out. The odds were stacked against us. Single parent with two boys, By the time you were 21 years old. Everybody told us we wasn't supposed to be here. We moved from apartment to apartment, By ourselves. One of the best memories I have Is when we moved into our first apartment. No bed, No furniture, And we just all sat in the living room And just hugged each other ... 'Cause we thought we made it. — Kevin Durant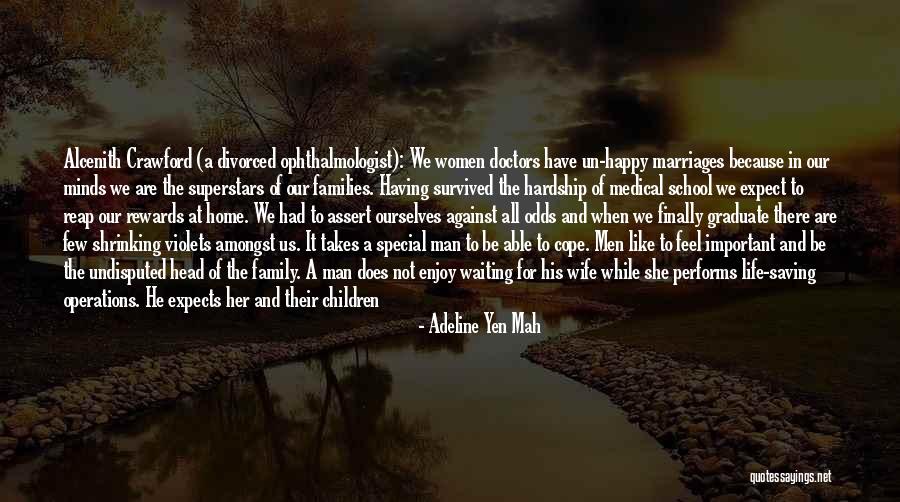 Alcenith Crawford (a divorced ophthalmologist): We women doctors have un-happy marriages because in our minds we are the superstars of our families. Having survived the hardship of medical school we expect to reap our rewards at home. We had to assert ourselves against all odds and when we finally graduate there are few shrinking violets amongst us. It takes a special man to be able to cope. Men like to feel important and be the undisputed head of the family. A man does not enjoy waiting for his wife while she performs life-saving operations. He expects her and their children to revolve around his needs, not the other way. But we have become accustomed to giving orders in hospitals and having them obeyed. Once home, it's difficult to adjust. Moreover, we often earn more than our husbands. It takes a generous and exceptional man to forgive all that. — Adeline Yen Mah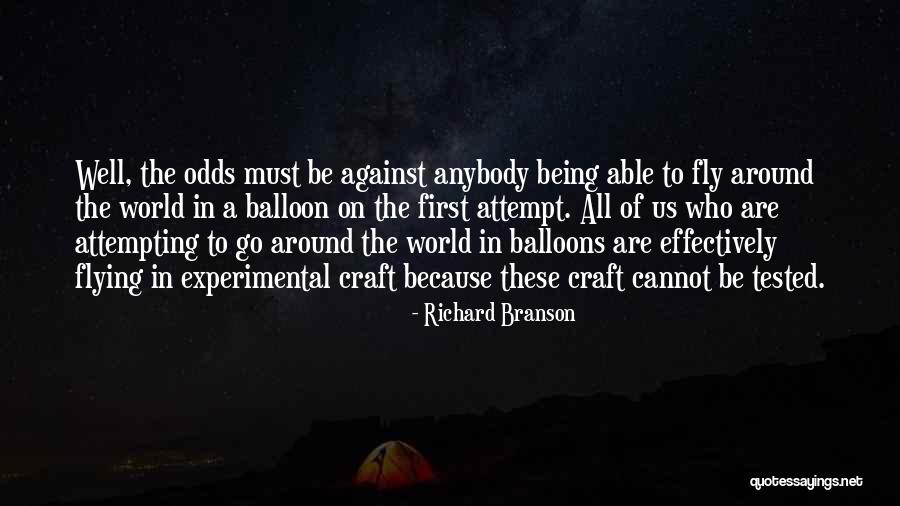 Well, the odds must be against anybody being able to fly around the world in a balloon on the first attempt. All of us who are attempting to go around the world in balloons are effectively flying in experimental craft because these craft cannot be tested. — Richard Branson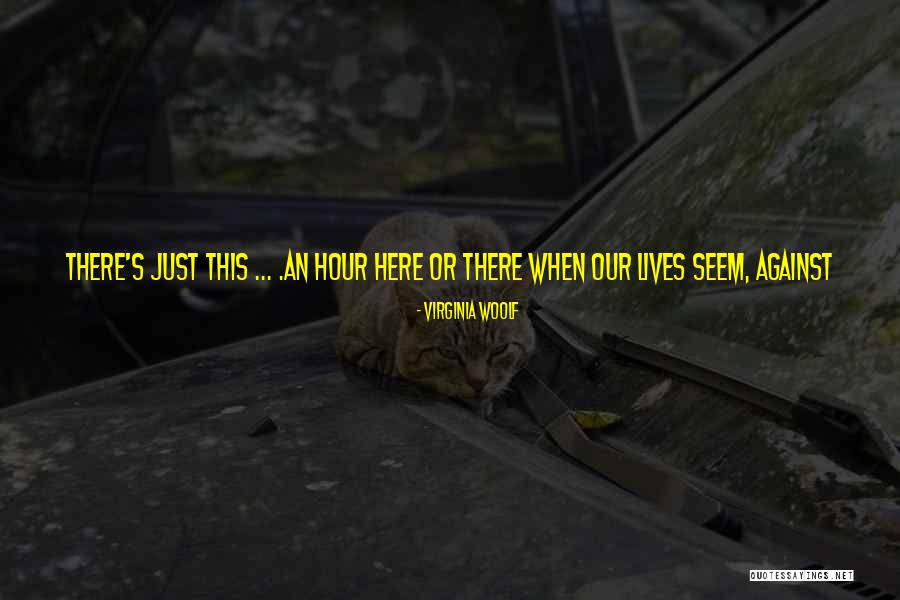 There's just this ... .an hour here or there when our lives seem, against all odds and expectations, to burst open and give us everything we've ever imagined. — Virginia Woolf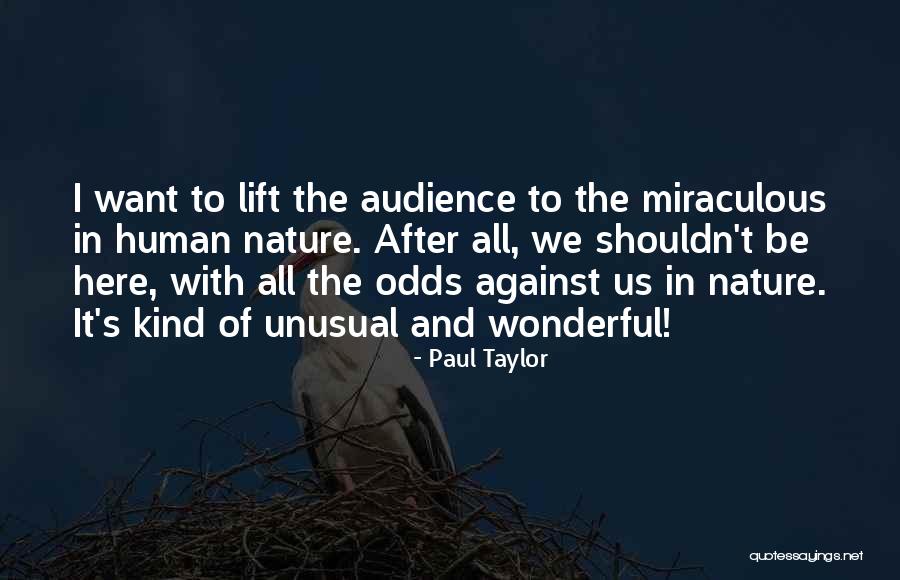 I want to lift the audience to the miraculous in human nature. After all, we shouldn't be here, with all the odds against us in nature. It's kind of unusual and wonderful! — Paul Taylor