Quotes & Sayings About Air Traffic Control
Enjoy reading and share 15 famous quotes about Air Traffic Control with everyone.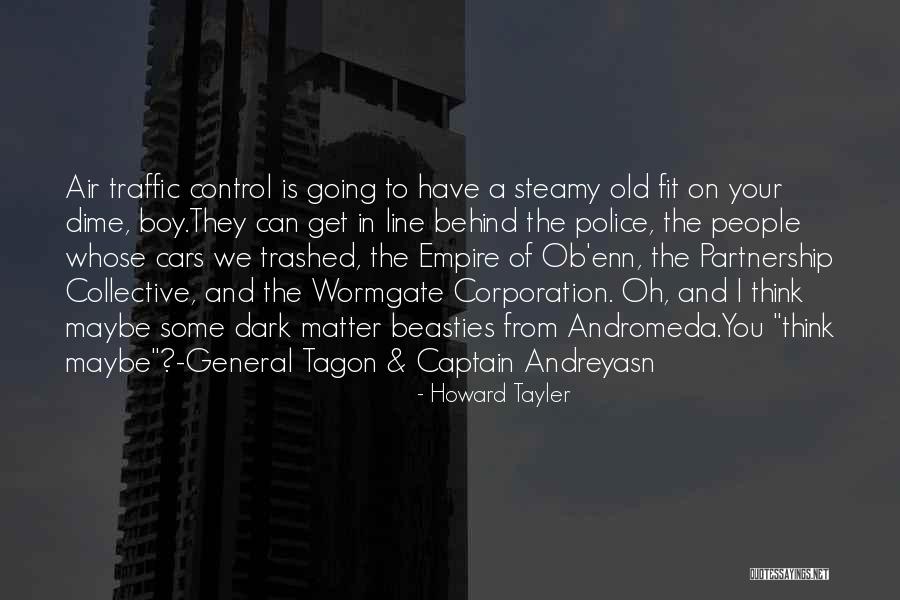 Air traffic control is going to have a steamy old fit on your dime, boy.
They can get in line behind the police, the people whose cars we trashed, the Empire of Ob'enn, the Partnership Collective, and the Wormgate Corporation. Oh, and I think maybe some dark matter beasties from Andromeda.
You "think maybe"?
-General Tagon & Captain Andreyasn — Howard Tayler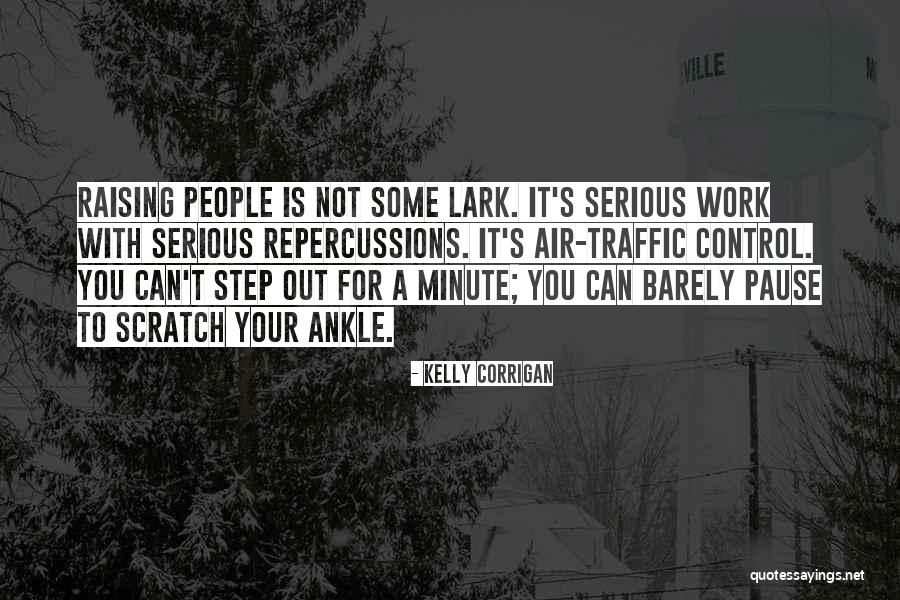 Raising people is not some lark. It's serious work with serious repercussions. It's air-traffic control. You can't step out for a minute; you can barely pause to scratch your ankle. — Kelly Corrigan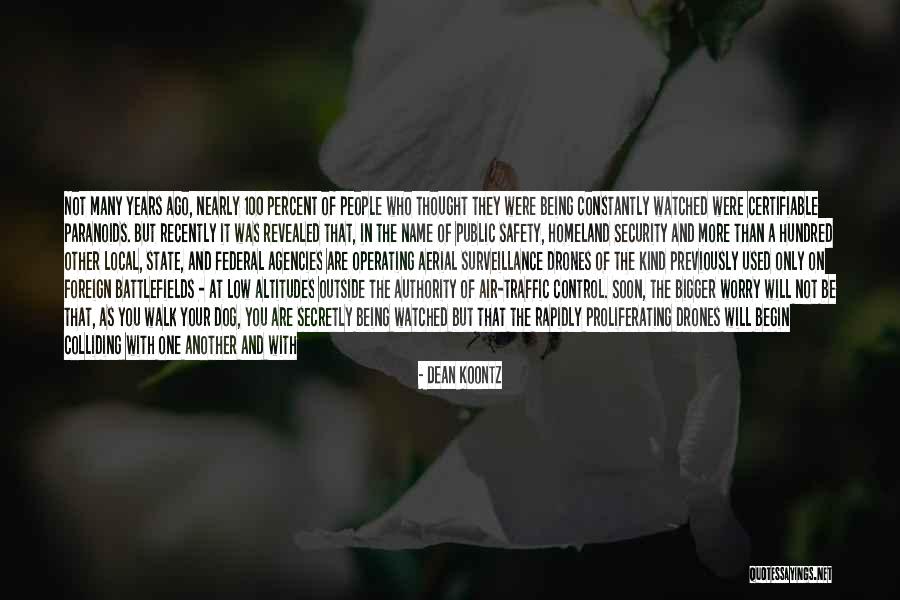 Not many years ago, nearly 100 percent of people who thought they were being constantly watched were certifiable paranoids. But recently it was revealed that, in the name of public safety, Homeland Security and more than a hundred other local, state, and federal agencies are operating aerial surveillance drones of the kind previously used only on foreign battlefields - at low altitudes outside the authority of air-traffic control. Soon, the bigger worry will not be that, as you walk your dog, you are secretly being watched but that the rapidly proliferating drones will begin colliding with one another and with passenger aircraft, and that you'll be killed by the plummeting drone that was monitoring you to be sure that you picked up Fido's poop in a federally approved pet-waste bag. — Dean Koontz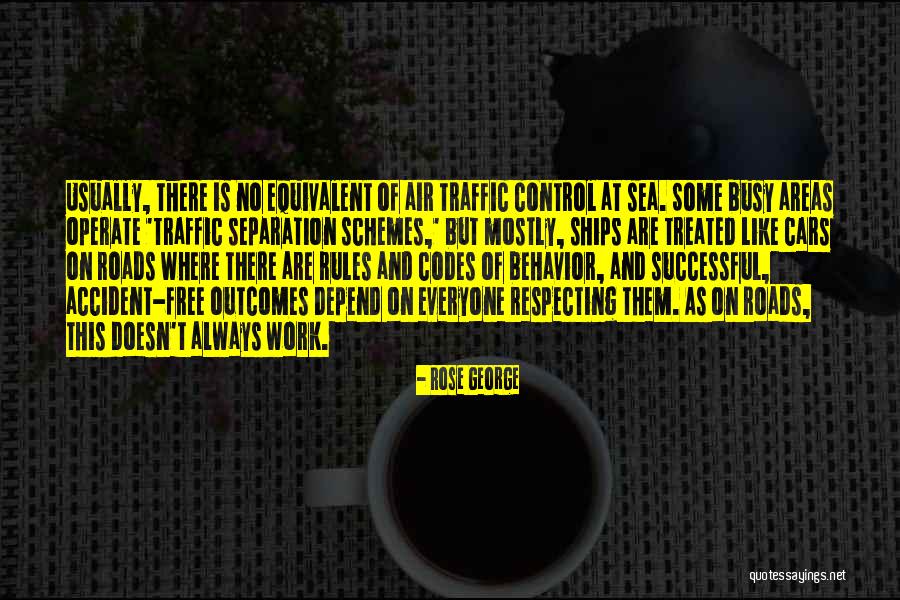 Usually, there is no equivalent of air traffic control at sea. Some busy areas operate 'traffic separation schemes,' but mostly, ships are treated like cars on roads where there are rules and codes of behavior, and successful, accident-free outcomes depend on everyone respecting them. As on roads, this doesn't always work. — Rose George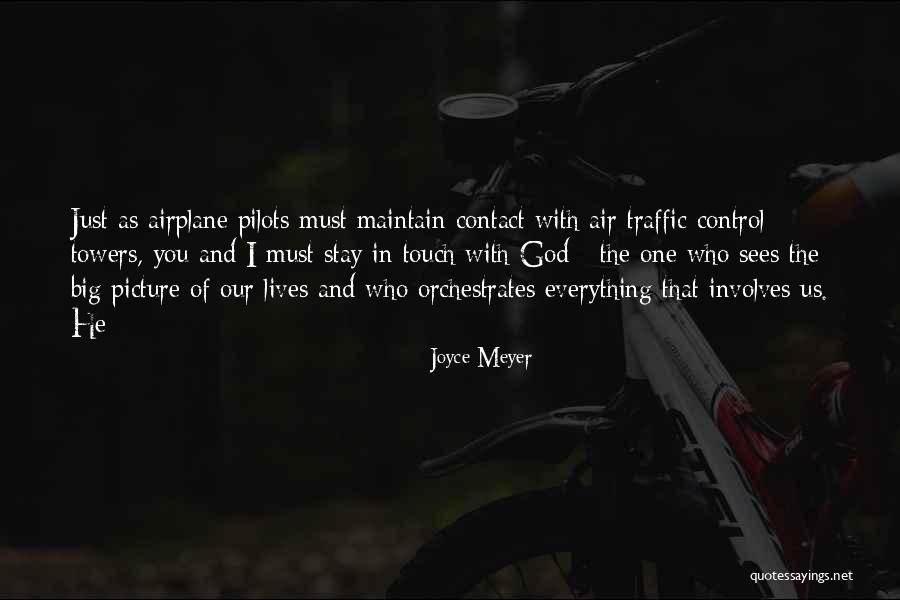 Just as airplane pilots must maintain contact with air traffic control towers, you and I must stay in touch with God - the one who sees the big picture of our lives and who orchestrates everything that involves us. He — Joyce Meyer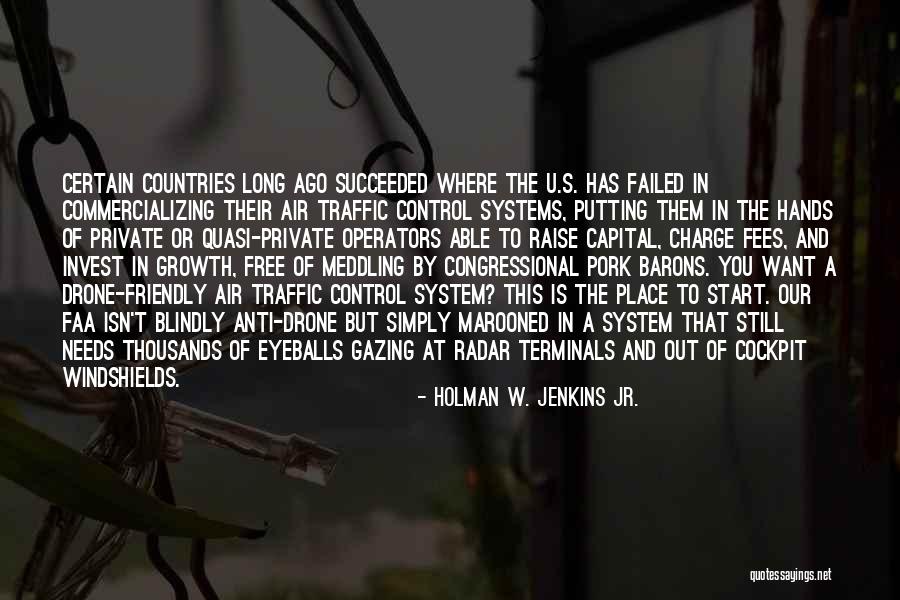 Certain countries long ago succeeded where the U.S. has failed in commercializing their air traffic control systems, putting them in the hands of private or quasi-private operators able to raise capital, charge fees, and invest in growth, free of meddling by congressional pork barons. You want a drone-friendly air traffic control system? This is the place to start. Our FAA isn't blindly anti-drone but simply marooned in a system that still needs thousands of eyeballs gazing at radar terminals and out of cockpit windshields. — Holman W. Jenkins Jr.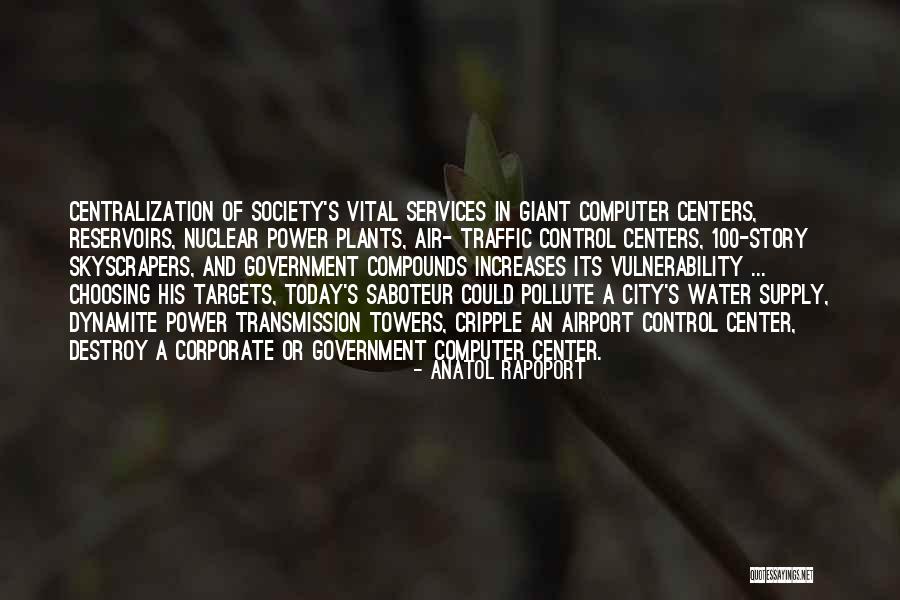 Centralization of society's vital services in giant computer centers, reservoirs, nuclear power plants, air- traffic control centers, 100-story skyscrapers, and government compounds increases its vulnerability ... choosing his targets, today's saboteur could pollute a city's water supply, dynamite power transmission towers, cripple an airport control center, destroy a corporate or government computer center. — Anatol Rapoport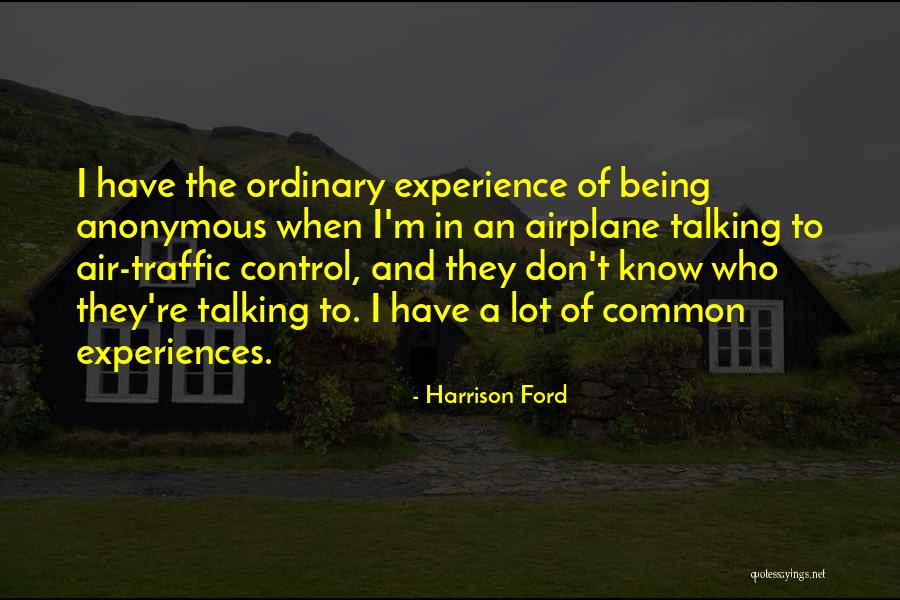 I have the ordinary experience of being anonymous when I'm in an airplane talking to air-traffic control, and they don't know who they're talking to. I have a lot of common experiences. — Harrison Ford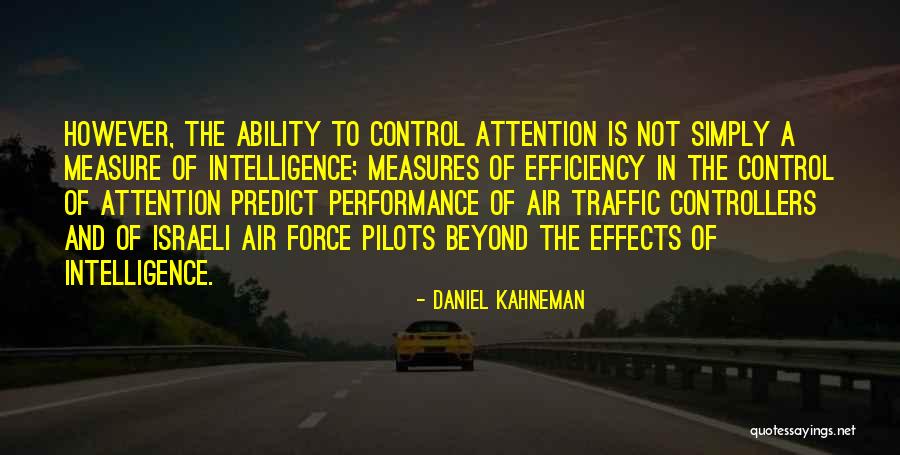 However, the ability to control attention is not simply a measure of intelligence; measures of efficiency in the control of attention predict performance of air traffic controllers and of Israeli Air Force pilots beyond the effects of intelligence. — Daniel Kahneman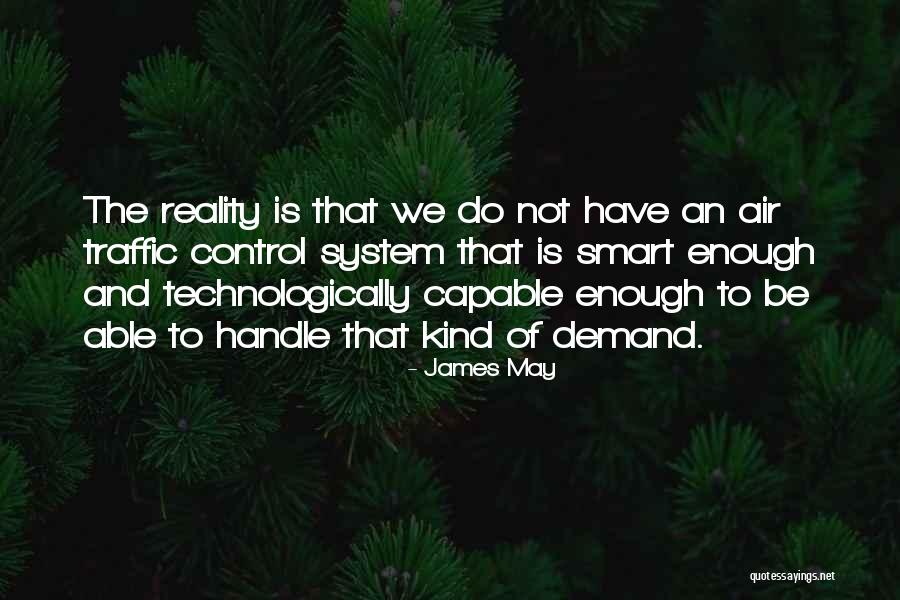 The reality is that we do not have an air traffic control system that is smart enough and technologically capable enough to be able to handle that kind of demand. — James May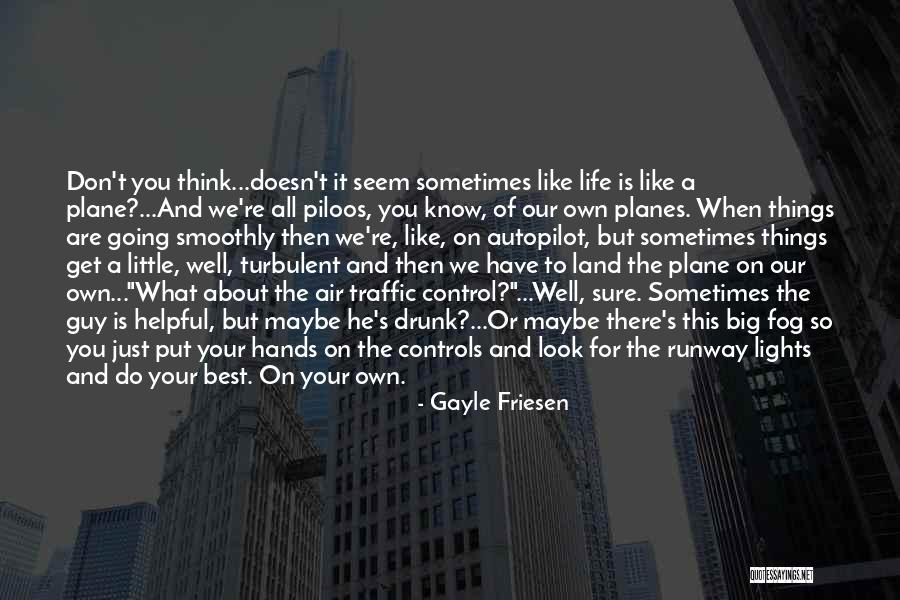 Don't you think...doesn't it seem sometimes like life is like a plane?...And we're all piloos, you know, of our own planes. When things are going smoothly then we're, like, on autopilot, but sometimes things get a little, well, turbulent and then we have to land the plane on our own..."What about the air traffic control?"...Well, sure. Sometimes the guy is helpful, but maybe he's drunk?...Or maybe there's this big fog so you just put your hands on the controls and look for the runway lights and do your best. On your own. — Gayle Friesen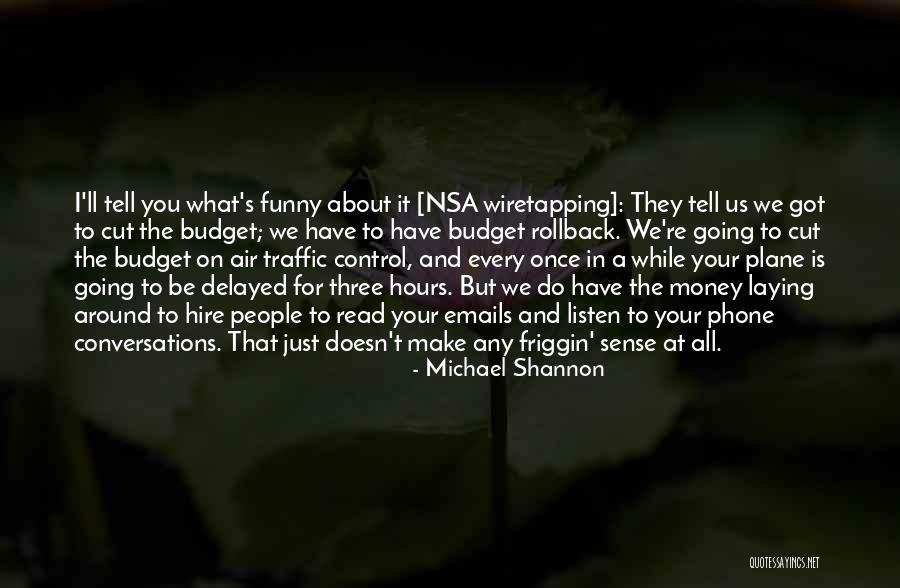 I'll tell you what's funny about it [NSA wiretapping]: They tell us we got to cut the budget; we have to have budget rollback. We're going to cut the budget on air traffic control, and every once in a while your plane is going to be delayed for three hours. But we do have the money laying around to hire people to read your emails and listen to your phone conversations. That just doesn't make any friggin' sense at all. — Michael Shannon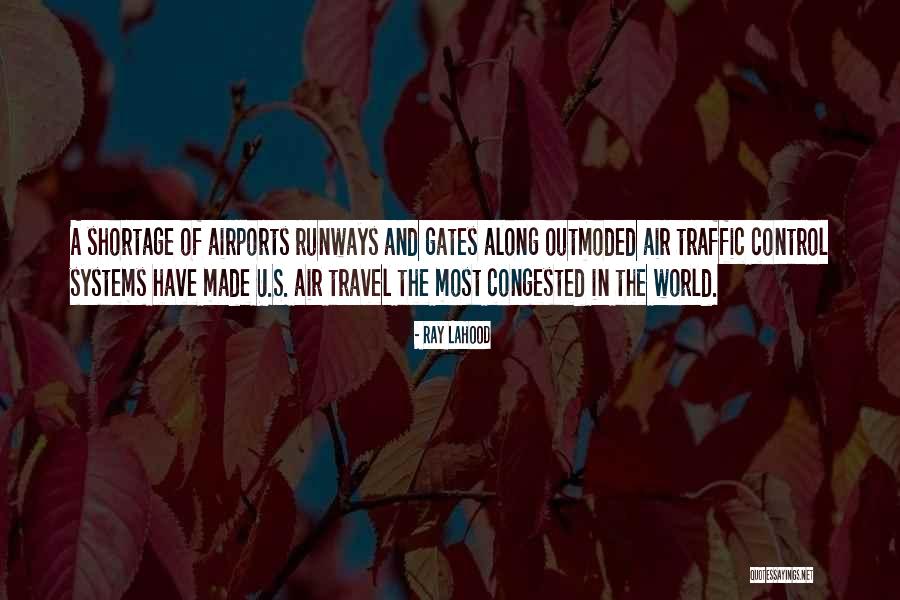 A shortage of airports runways and gates along outmoded air traffic control systems have made U.S. air travel the most congested in the world. — Ray LaHood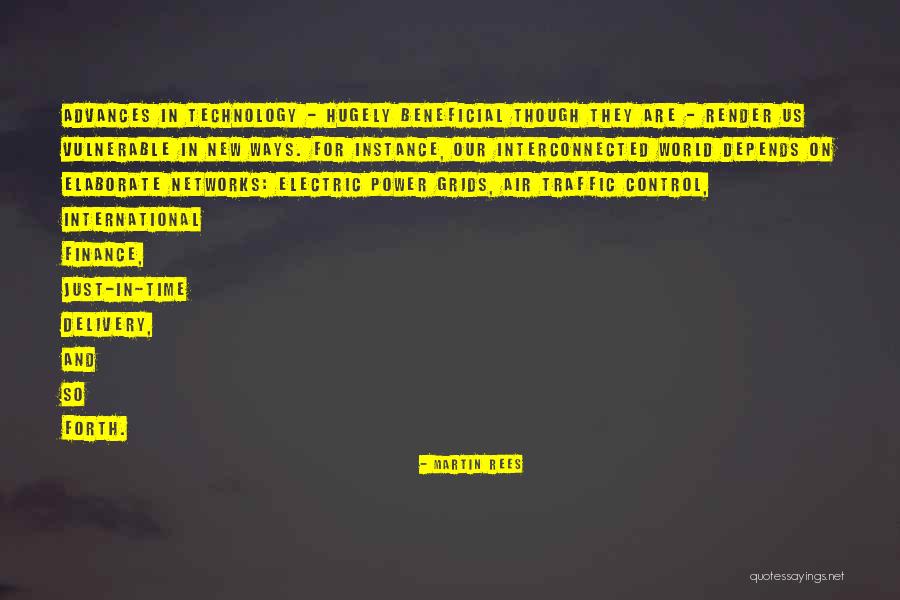 Advances in technology - hugely beneficial though they are - render us vulnerable in new ways. For instance, our interconnected world depends on elaborate networks: electric power grids, air traffic control, international finance, just-in-time delivery, and so forth. — Martin Rees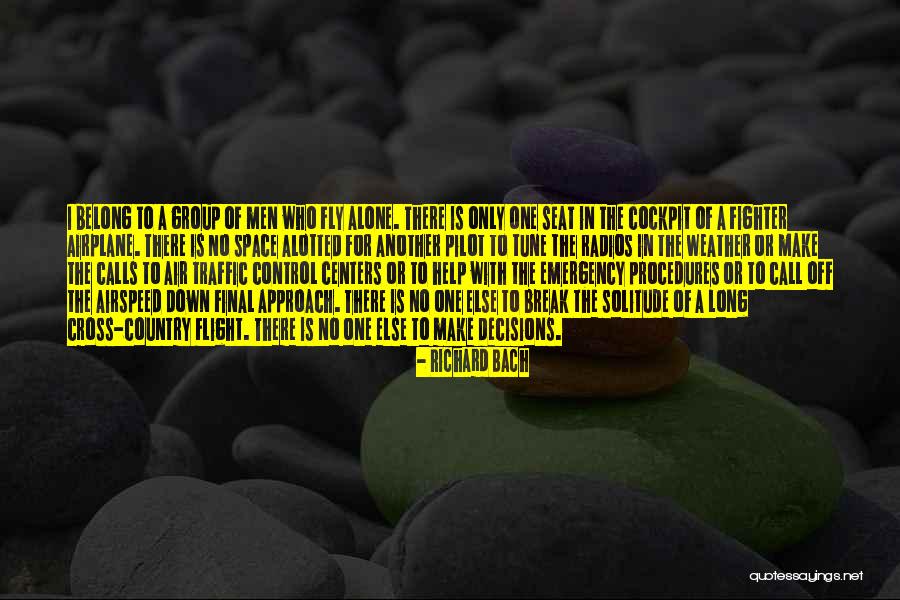 I belong to a group of men who fly alone. There is only one seat in the cockpit of a fighter airplane. There is no space alotted for another pilot to tune the radios in the weather or make the calls to air traffic control centers or to help with the emergency procedures or to call off the airspeed down final approach. There is no one else to break the solitude of a long cross-country flight. There is no one else to make decisions. — Richard Bach