Quotes & Sayings About Agitators
Enjoy reading and share 22 famous quotes about Agitators with everyone.
Top Agitators Quotes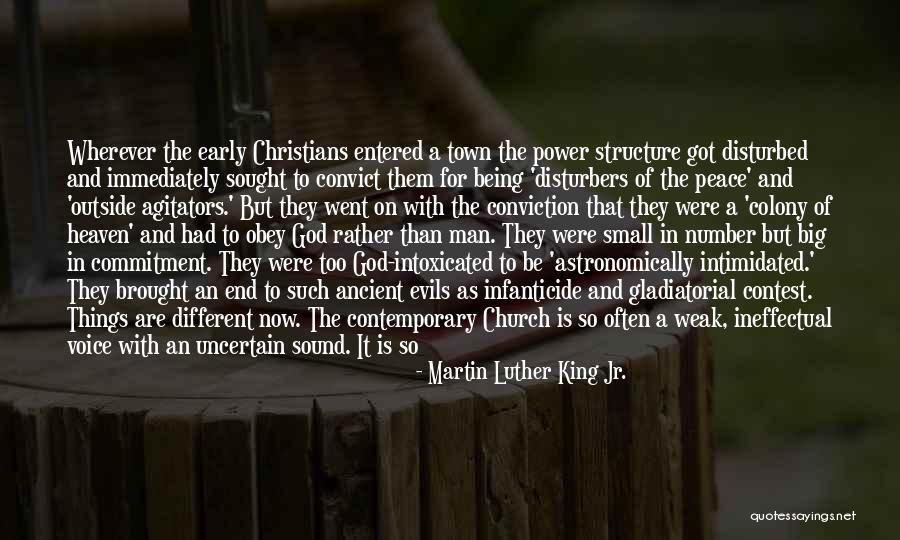 Wherever the early Christians entered a town the power structure got disturbed and immediately sought to convict them for being 'disturbers of the peace' and 'outside agitators.' But they went on with the conviction that they were a 'colony of heaven' and had to obey God rather than man. They were small in number but big in commitment. They were too God-intoxicated to be 'astronomically intimidated.' They brought an end to such ancient evils as infanticide and gladiatorial contest. Things are different now. The contemporary Church is so often a weak, ineffectual voice with an uncertain sound. It is so often the archsupporter of the status quo. Far from being disturbed by the presence of the Church, the power structure of the average community is consoled by the Church's silent and often vocal sanction of things as they are. — Martin Luther King Jr.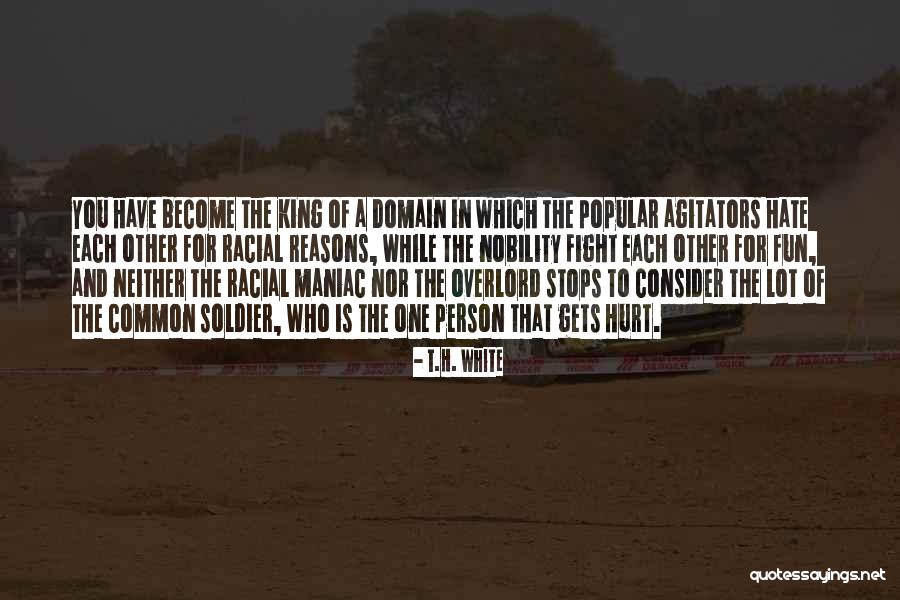 You have become the king of a domain in which the popular agitators hate each other for racial reasons, while the nobility fight each other for fun, and neither the racial maniac nor the overlord stops to consider the lot of the common soldier, who is the one person that gets hurt. — T.H. White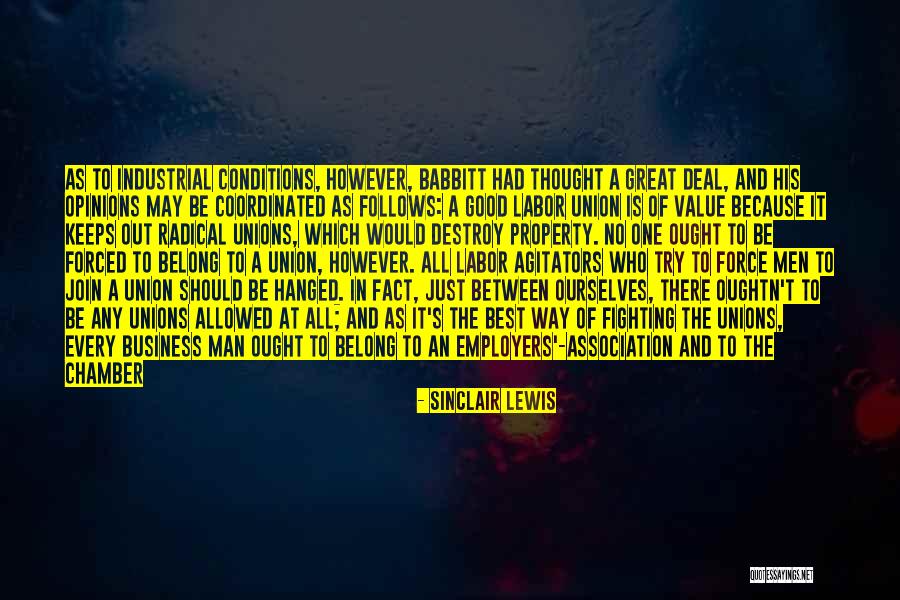 As to industrial conditions, however, Babbitt had thought a great deal, and his opinions may be coordinated as follows: A good labor union is of value because it keeps out radical unions, which would destroy property. No one ought to be forced to belong to a union, however. All labor agitators who try to force men to join a union should be hanged. In fact, just between ourselves, there oughtn't to be any unions allowed at all; and as it's the best way of fighting the unions, every business man ought to belong to an employers'-association and to the Chamber of Commerce. In union there is strength. So any selfish hog who doesn't join the Chamber of Commerce ought to be forced to. — Sinclair Lewis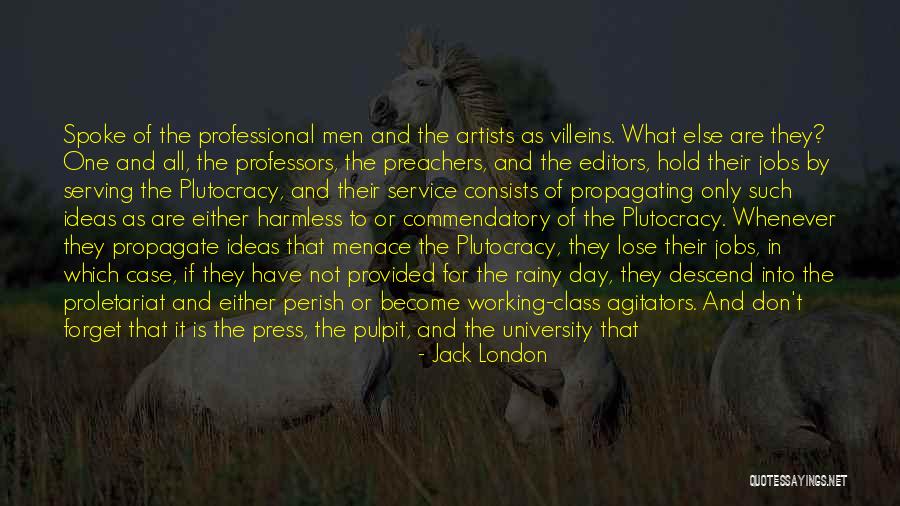 Spoke of the professional men and the artists as villeins. What else are they? One and all, the professors, the preachers, and the editors, hold their jobs by serving the Plutocracy, and their service consists of propagating only such ideas as are either harmless to or commendatory of the Plutocracy. Whenever they propagate ideas that menace the Plutocracy, they lose their jobs, in which case, if they have not provided for the rainy day, they descend into the proletariat and either perish or become working-class agitators. And don't forget that it is the press, the pulpit, and the university that mould public opinion, set the thought-pace of the nation. As for the artists, they merely pander to the little less than ignoble tastes of the Plutocracy. But — Jack London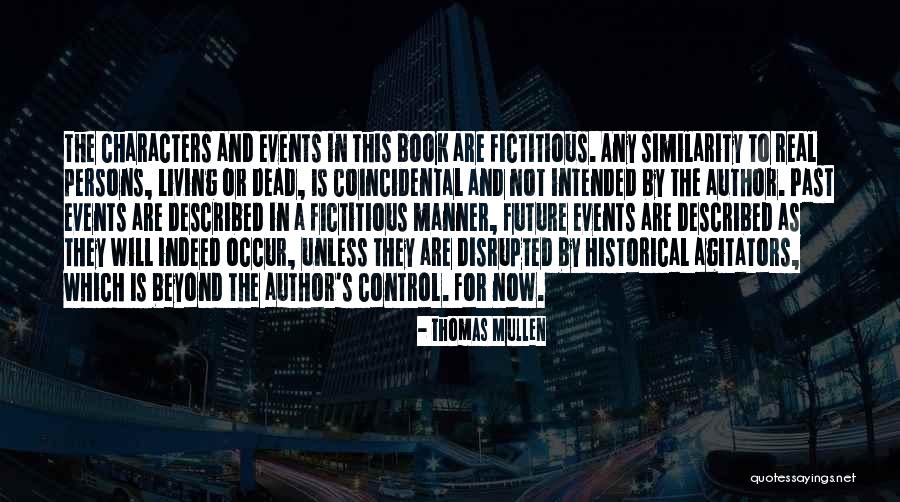 The characters and events in this book are fictitious. Any similarity to real persons, living or dead, is coincidental and not intended by the author. Past events are described in a fictitious manner, future events are described as they will indeed occur, unless they are disrupted by historical agitators, which is beyond the author's control. For now. — Thomas Mullen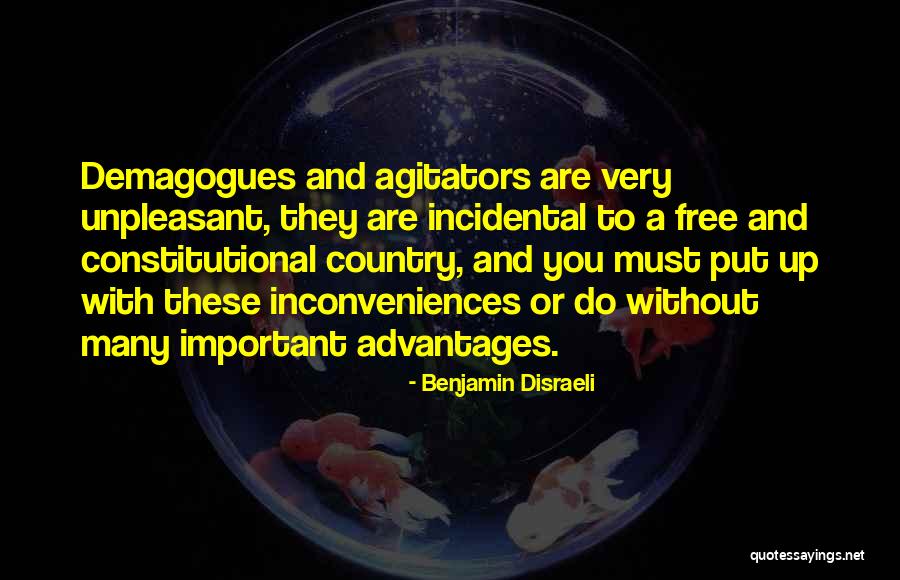 Demagogues and agitators are very unpleasant, they are incidental to a free and constitutional country, and you must put up with these inconveniences or do without many important advantages. — Benjamin Disraeli
God was executed by people painfully like us, in a society very similar to our own ... by a corrupt church, a timid politician, and a fickle proletariat led by professional agitators. — Dorothy L. Sayers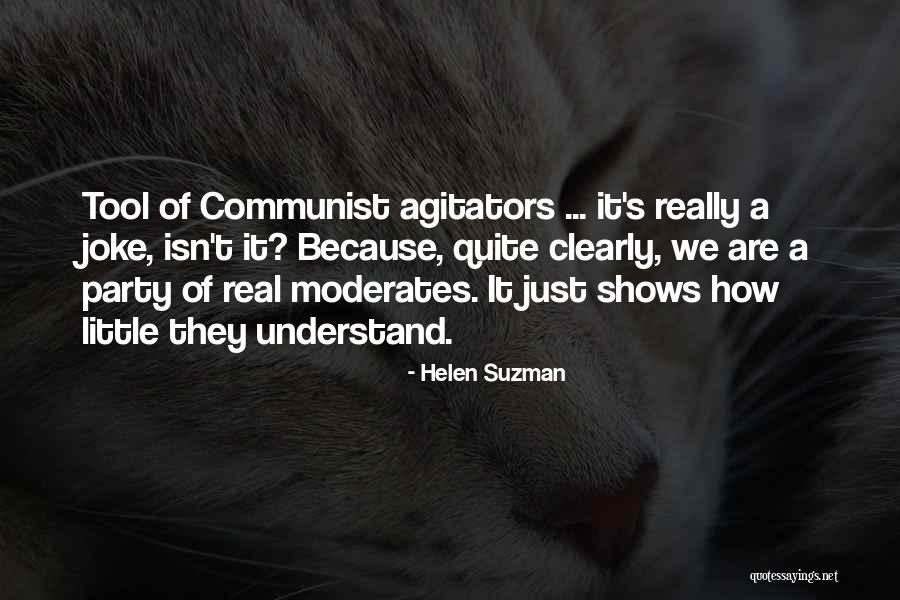 Tool of Communist agitators ... it's really a joke, isn't it? Because, quite clearly, we are a party of real moderates. It just shows how little they understand. — Helen Suzman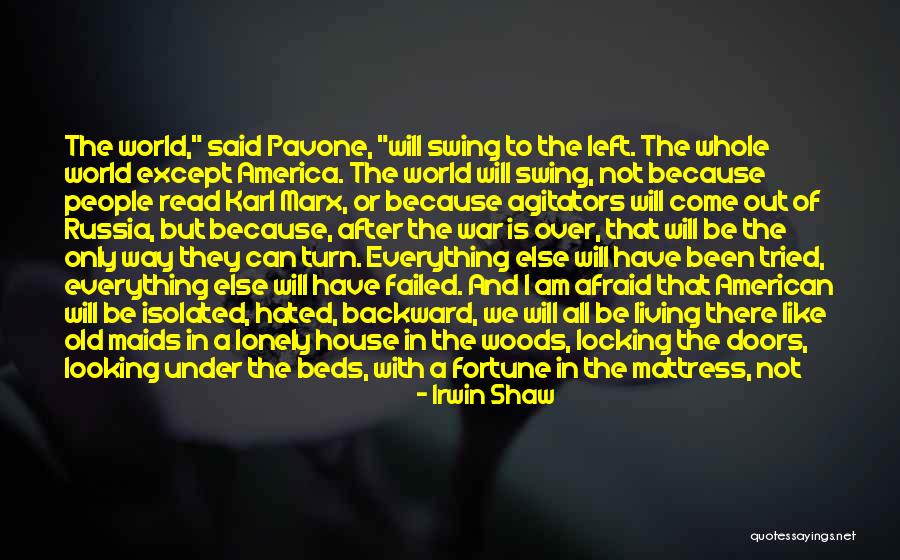 The world," said Pavone, "will swing to the left. The whole world except America. The world will swing, not because people read Karl Marx, or because agitators will come out of Russia, but because, after the war is over, that will be the only way they can turn. Everything else will have been tried, everything else will have failed. And I am afraid that American will be isolated, hated, backward, we will all be living there like old maids in a lonely house in the woods, locking the doors, looking under the beds, with a fortune in the mattress, not being able to sleep, because every time the wind blows and a floor creaks, we will think the murderers are breaking in to kill us and take our treasure ... — Irwin Shaw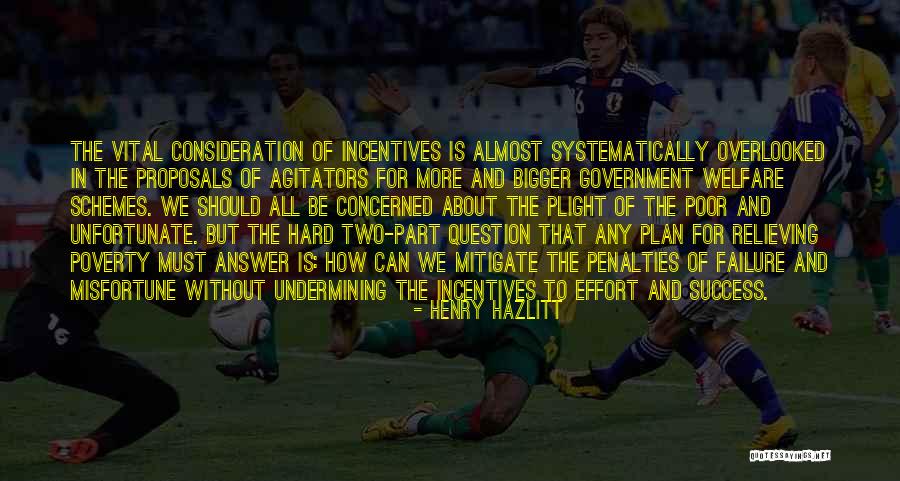 The vital consideration of incentives is almost systematically overlooked in the proposals of agitators for more and bigger government welfare schemes. We should all be concerned about the plight of the poor and unfortunate. But the hard two-part question that any plan for relieving poverty must answer is: How can we mitigate the penalties of failure and misfortune without undermining the incentives to effort and success. — Henry Hazlitt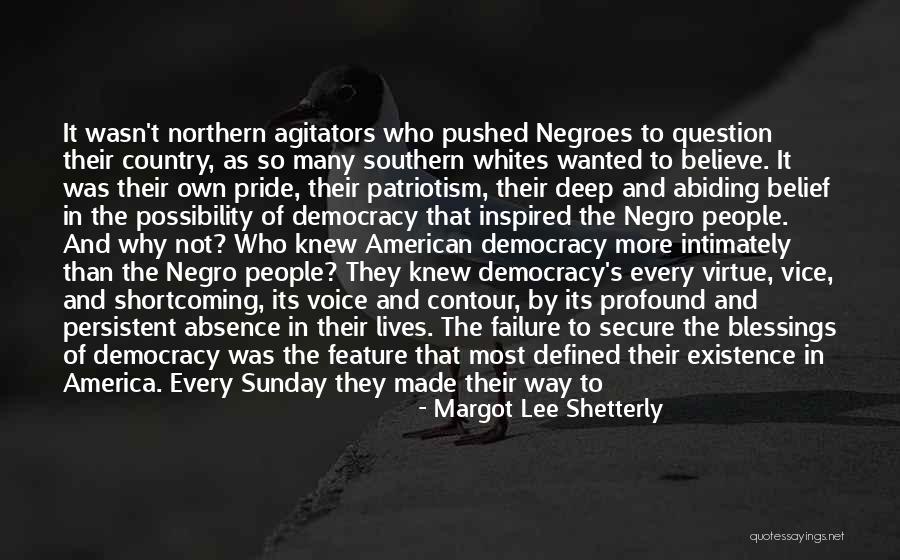 It wasn't northern agitators who pushed Negroes to question their country, as so many southern whites wanted to believe. It was their own pride, their patriotism, their deep and abiding belief in the possibility of democracy that inspired the Negro people. And why not? Who knew American democracy more intimately than the Negro people? They knew democracy's every virtue, vice, and shortcoming, its voice and contour, by its profound and persistent absence in their lives. The failure to secure the blessings of democracy was the feature that most defined their existence in America. Every Sunday they made their way to their sanctuaries and fervently prayed to the Lord to send them a sign that democracy would come to them. — Margot Lee Shetterly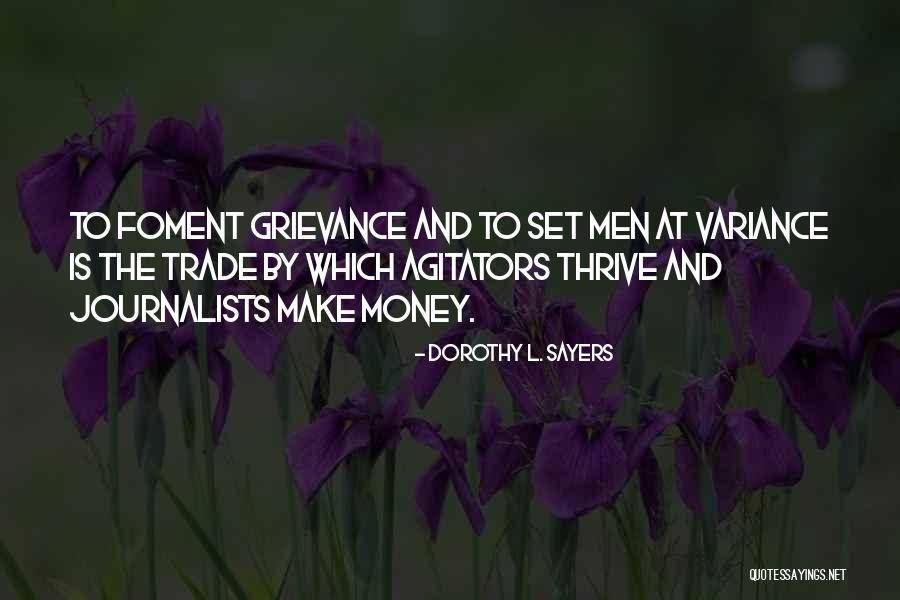 To foment grievance and to set men at variance is the trade by which agitators thrive and journalists make money. — Dorothy L. Sayers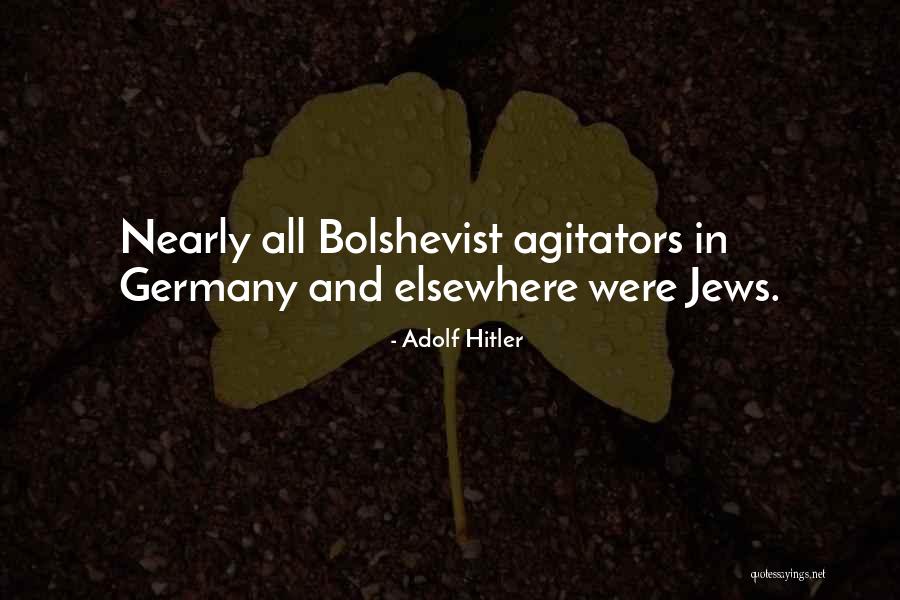 Nearly all Bolshevist agitators in Germany and elsewhere were Jews. — Adolf Hitler
Agitators and declaimers may heat the blood, but they do not illumine the mind. — John Lancaster Spalding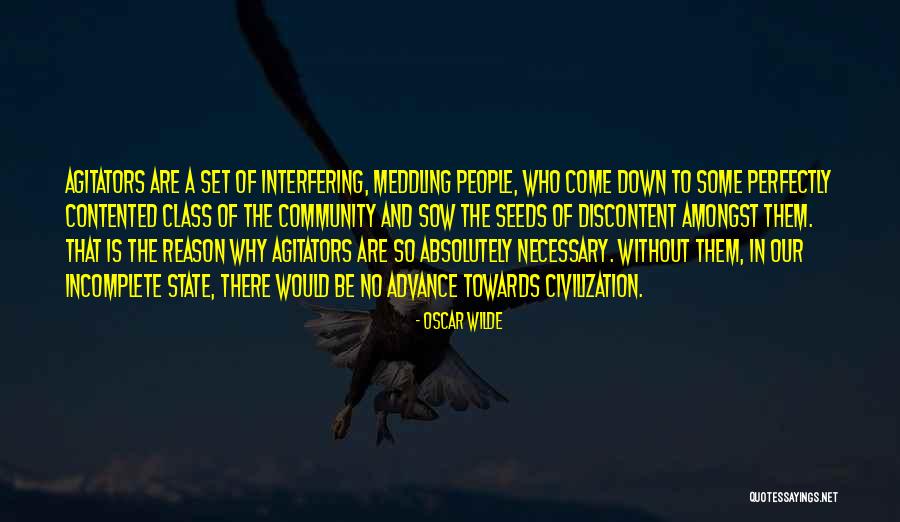 Agitators are a set of interfering, meddling people, who come down to some perfectly contented class of the community and sow the seeds of discontent amongst them. That is the reason why agitators are so absolutely necessary. Without them, in our incomplete state, there would be no advance towards civilization. — Oscar Wilde
When the South has trouble with its Negroes when the Negroes refuse to remain in their "place" it blames "outside agitators" and "Northern interference." When the nation has trouble with the Northern Negro, it blames the Kremlin. — James A. Baldwin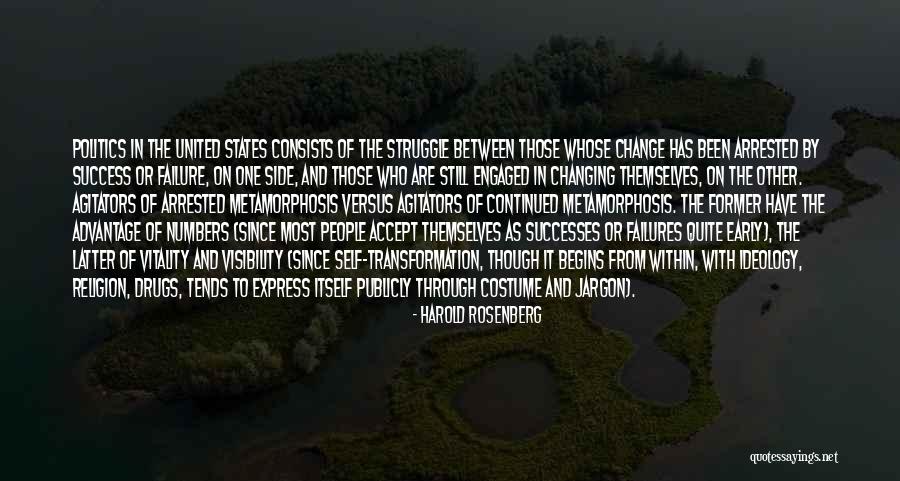 Politics in the United States consists of the struggle between those whose change has been arrested by success or failure, on one side, and those who are still engaged in changing themselves, on the other. Agitators of arrested metamorphosis versus agitators of continued metamorphosis. The former have the advantage of numbers (since most people accept themselves as successes or failures quite early), the latter of vitality and visibility (since self-transformation, though it begins from within, with ideology, religion, drugs, tends to express itself publicly through costume and jargon). — Harold Rosenberg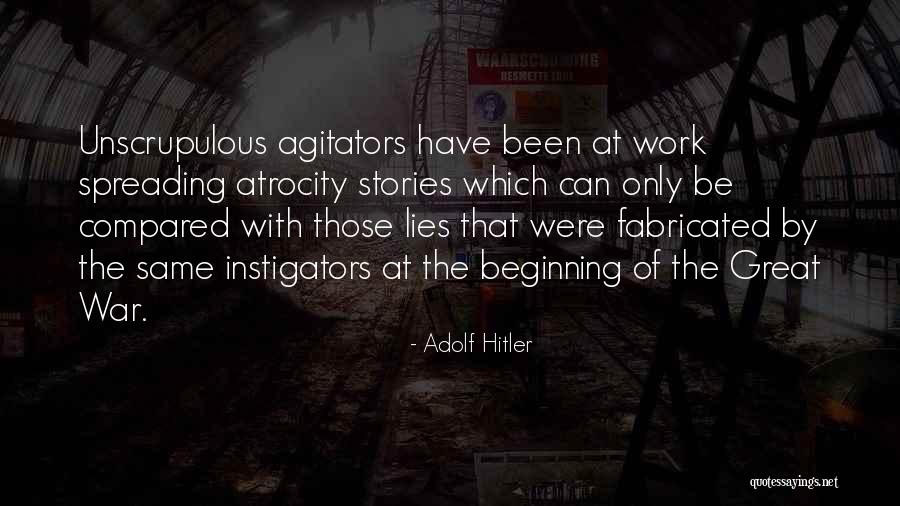 Unscrupulous agitators have been at work spreading atrocity stories which can only be compared with those lies that were fabricated by the same instigators at the beginning of the Great War. — Adolf Hitler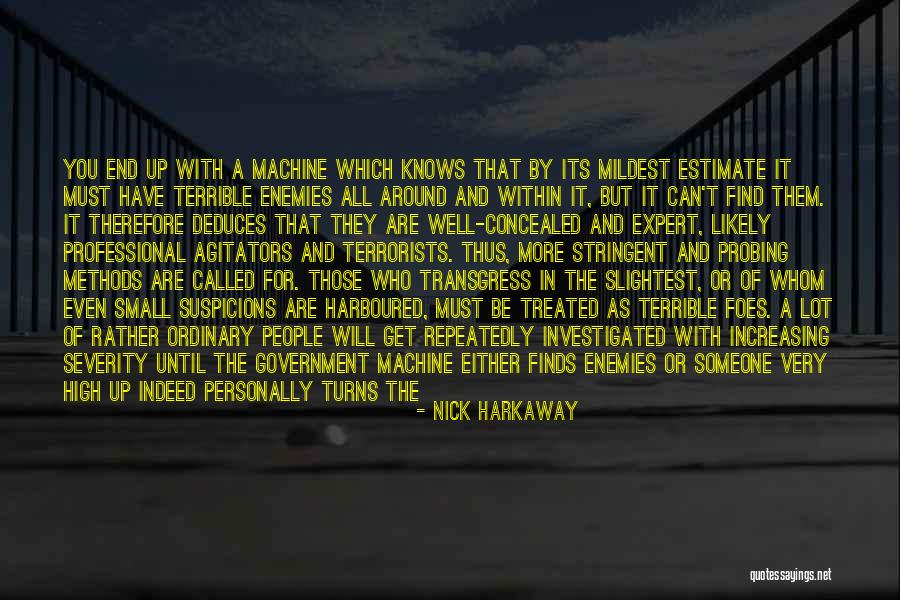 You end up with a machine which knows that by its mildest estimate it must have terrible enemies all around and within it, but it can't find them. It therefore deduces that they are well-concealed and expert, likely professional agitators and terrorists. Thus, more stringent and probing methods are called for. Those who transgress in the slightest, or of whom even small suspicions are harboured, must be treated as terrible foes. A lot of rather ordinary people will get repeatedly investigated with increasing severity until the Government Machine either finds enemies or someone very high up indeed personally turns the tide ... And these people under the microscope are in fact just taking up space in the machine's numerical model. In short, innocent people are treated as hellish fiends of ingenuity and bile because there's a gap in the numbers. — Nick Harkaway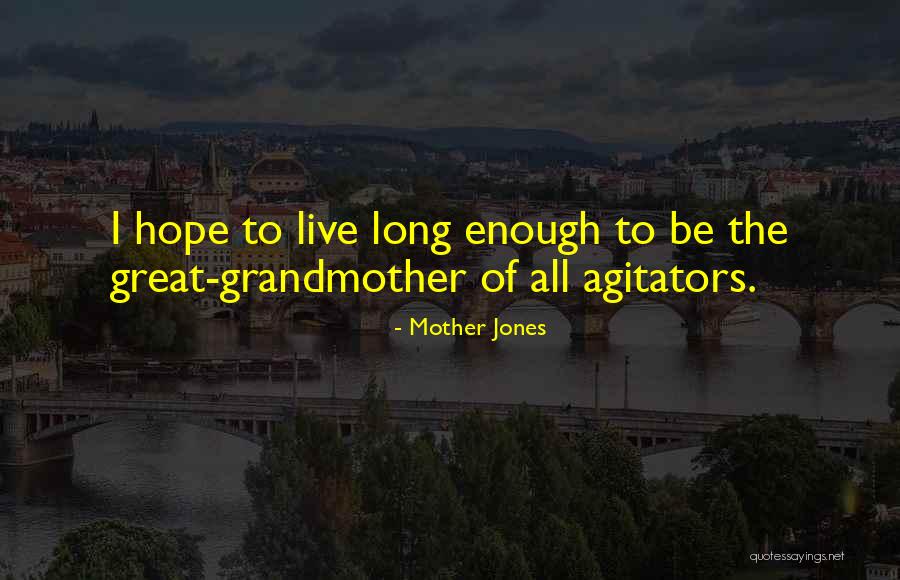 I hope to live long enough to be the great-grandmother of all agitators. — Mother Jones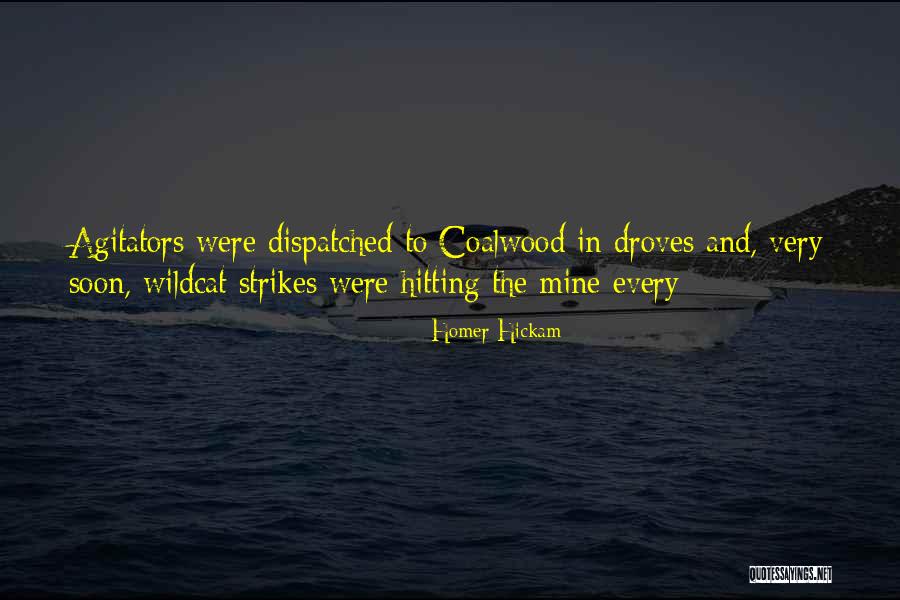 Agitators were dispatched to Coalwood in droves and, very soon, wildcat strikes were hitting the mine every — Homer Hickam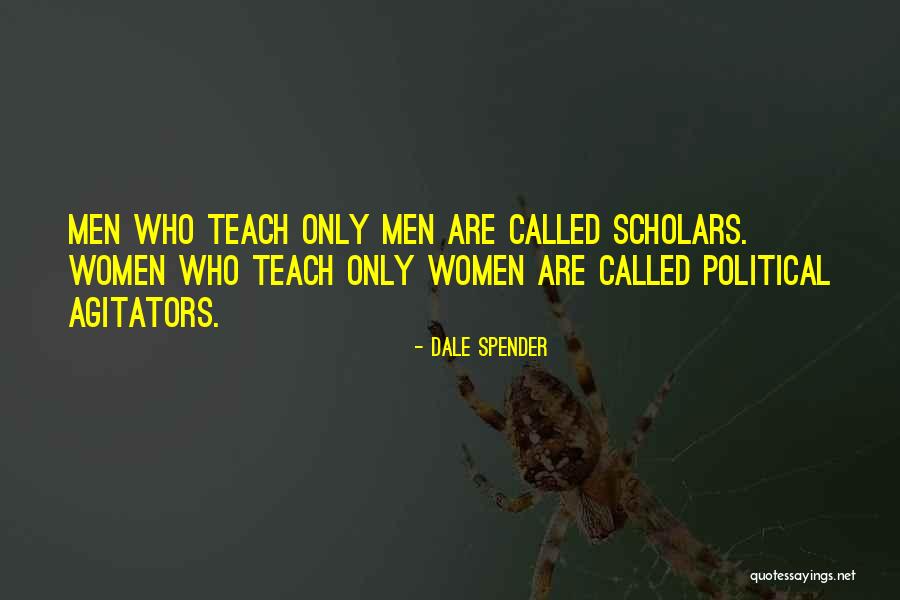 Men who teach only men are called scholars. Women who teach only women are called political agitators. — Dale Spender