Quotes & Sayings About Acting Crazy
Enjoy reading and share 66 famous quotes about Acting Crazy with everyone.
Top Acting Crazy Quotes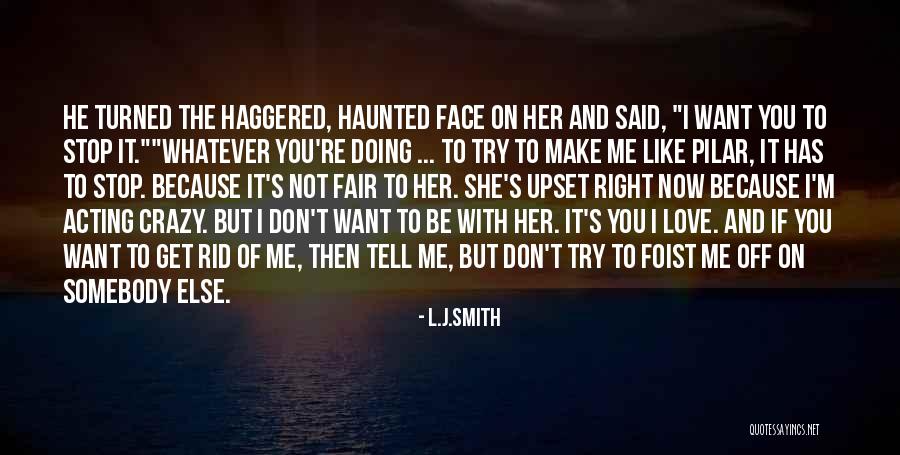 He turned the haggered, haunted face on her and said, "I want you to stop it."
"Whatever you're doing ... to try to make me like Pilar, it has to stop. Because it's not fair to her. She's upset right now because I'm acting crazy. But I don't want to be with her. It's you I love. And if you want to get rid of me, then tell me, but don't try to foist me off on somebody else. — L.J.Smith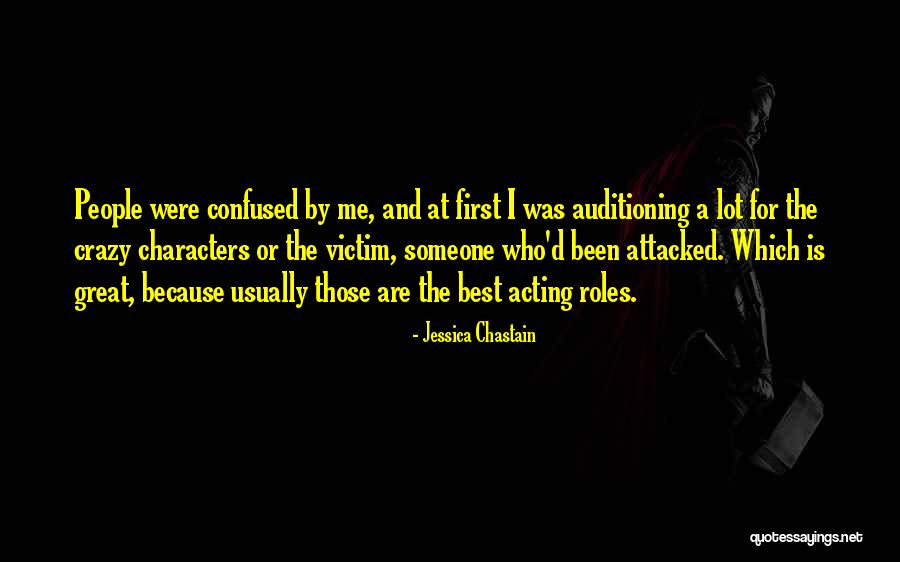 People were confused by me, and at first I was auditioning a lot for the crazy characters or the victim, someone who'd been attacked. Which is great, because usually those are the best acting roles. — Jessica Chastain
I went to NYU for acting, for six years. I thought acting was the easy way out or in because I didn't put in enough effort in school, being a crazy kid in college. But, I was good at it, so that was the other side of it. I would love to direct. What I've learned from being on set is more how to deal with actors than even the visual part of it all. — Drea De Matteo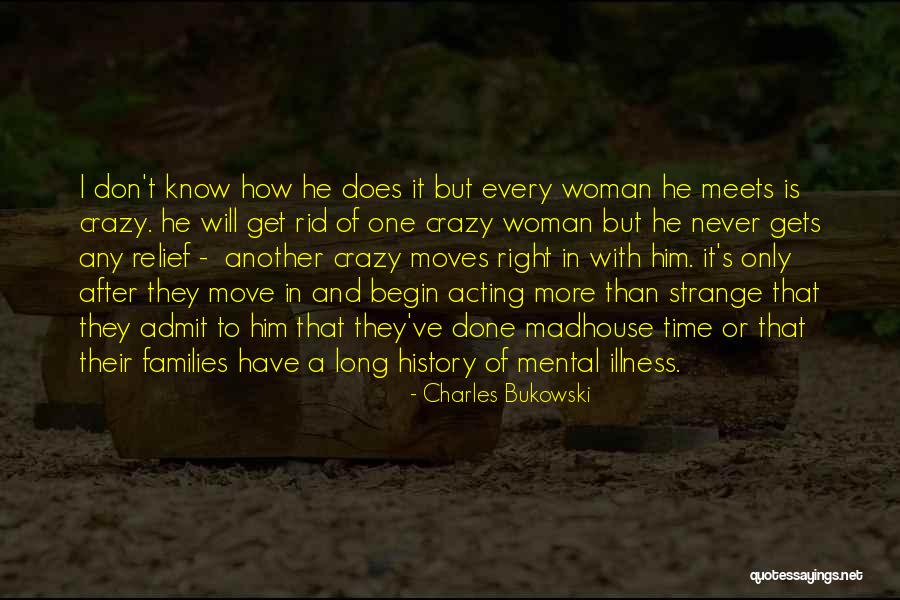 I don't know how he does it but every woman he meets is crazy. he will get rid of one crazy woman but he never gets any relief - another crazy moves right in with him. it's only after they move in and begin acting more than strange that they admit to him that they've done madhouse time or that their families have a long history of mental illness. — Charles Bukowski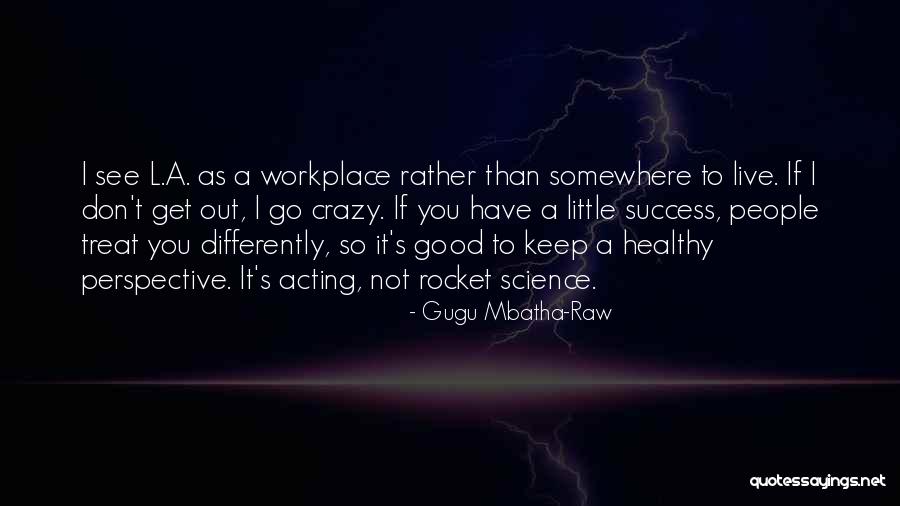 I see L.A. as a workplace rather than somewhere to live. If I don't get out, I go crazy. If you have a little success, people treat you differently, so it's good to keep a healthy perspective. It's acting, not rocket science. — Gugu Mbatha-Raw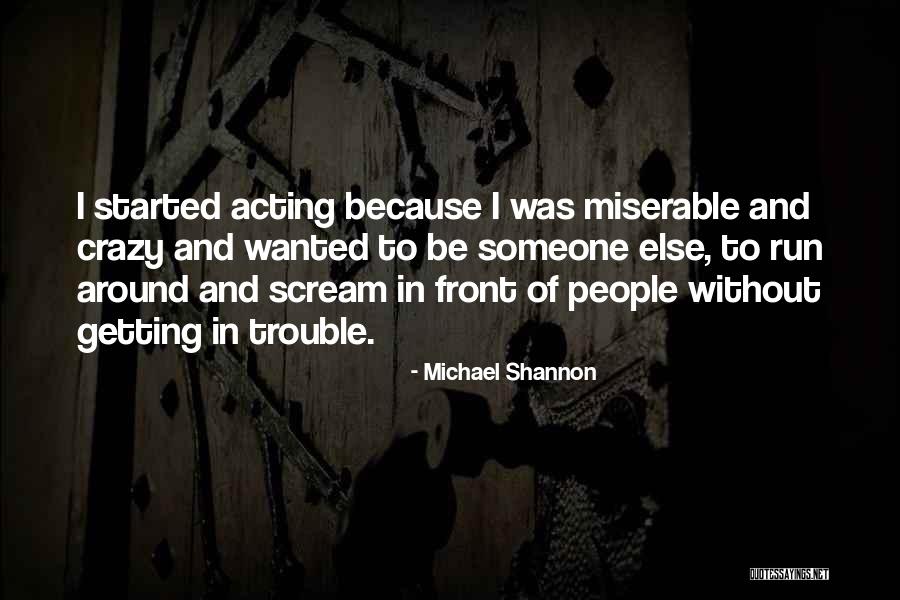 I started acting because I was miserable and crazy and wanted to be someone else, to run around and scream in front of people without getting in trouble. — Michael Shannon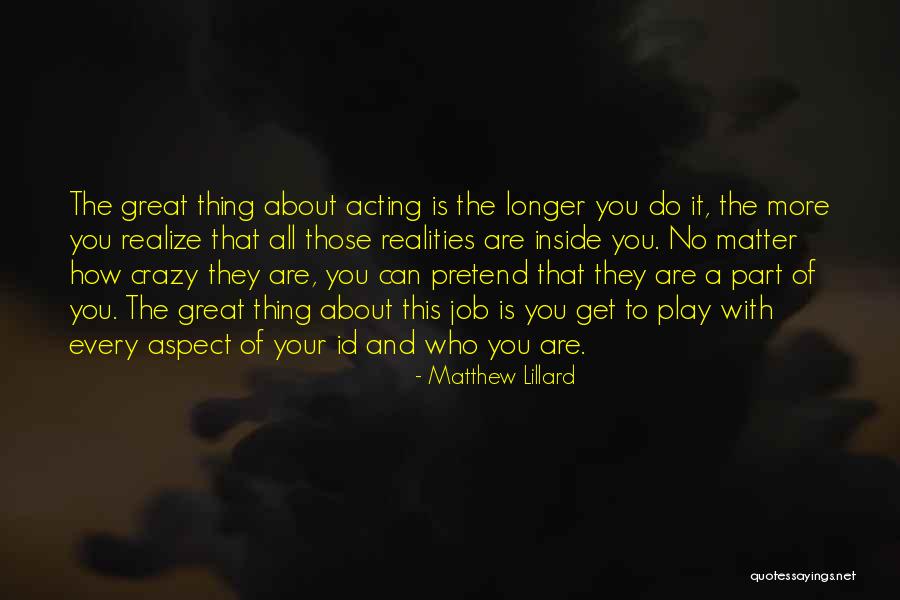 The great thing about acting is the longer you do it, the more you realize that all those realities are inside you. No matter how crazy they are, you can pretend that they are a part of you. The great thing about this job is you get to play with every aspect of your id and who you are. — Matthew Lillard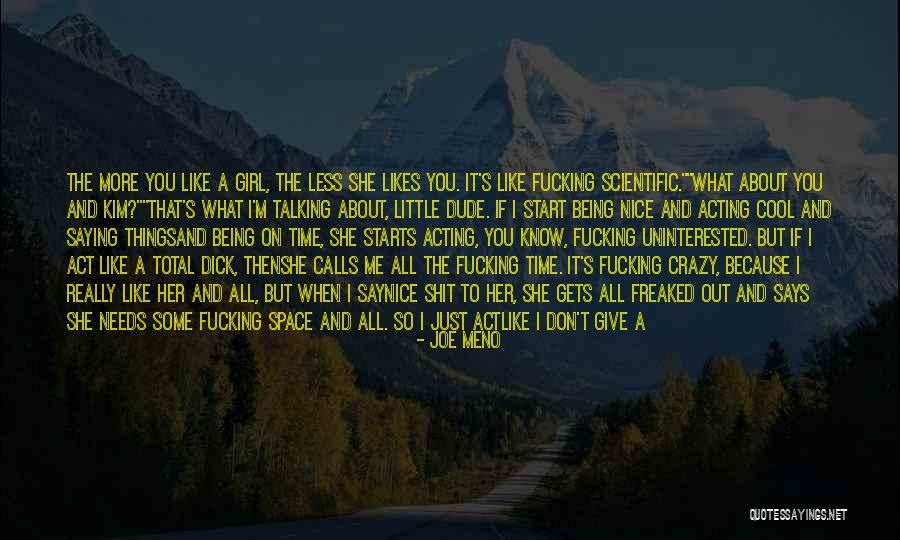 The more you like a girl, the less she likes you. It's like fucking scientific."
"What about you and Kim?"
"That's what I'm talking about, little dude. If I start being nice and acting cool and saying things
and being on time, she starts acting, you know, fucking uninterested. But if I act like a total dick, then
she calls me all the fucking time. It's fucking crazy, because I really like her and all, but when I say
nice shit to her, she gets all freaked out and says she needs some fucking space and all. So I just act
like I don't give a shit, you know? It's all part of God's plan," he said, nodding. — Joe Meno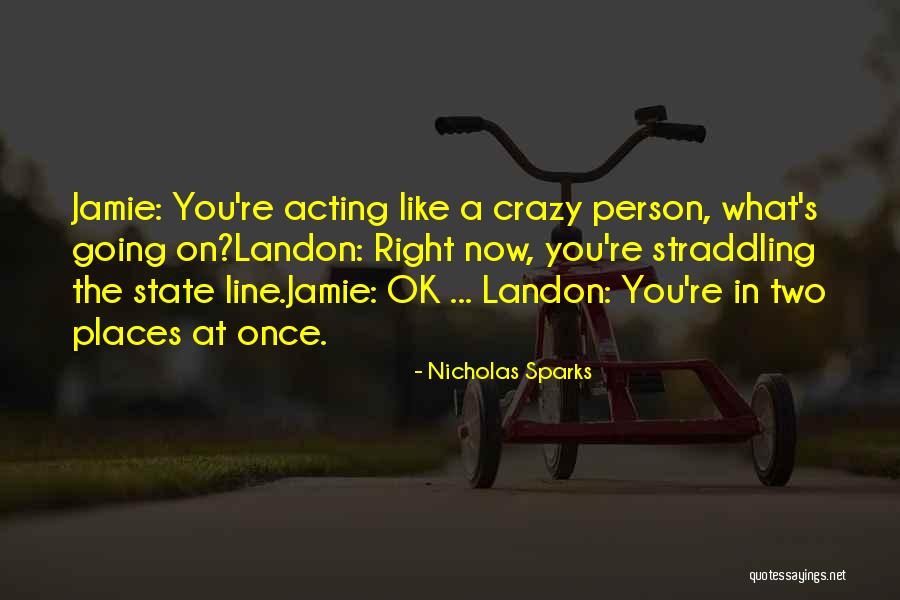 Jamie: You're acting like a crazy person, what's going on?
Landon: Right now, you're straddling the state line.
Jamie: OK ...
Landon: You're in two places at once. — Nicholas Sparks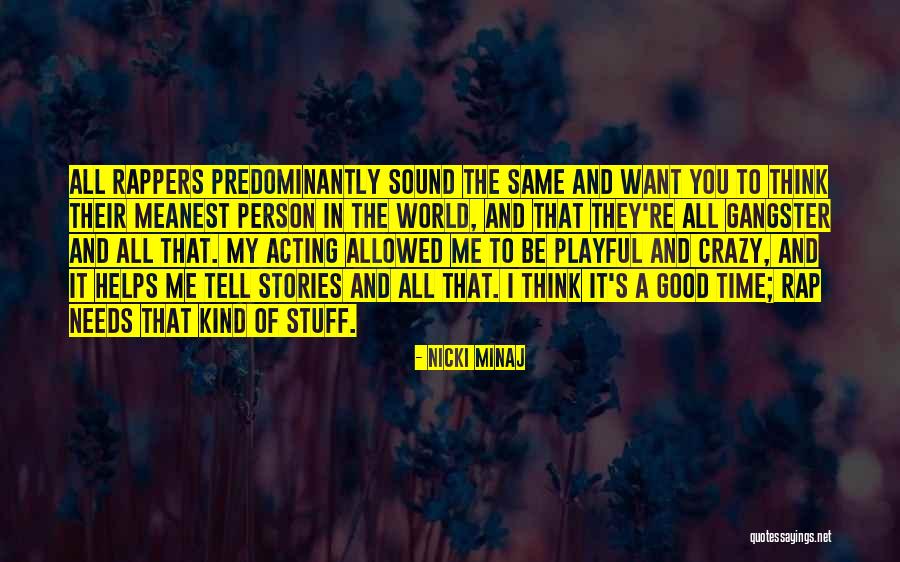 All rappers predominantly sound the same and want you to think their meanest person in the world, and that they're all gangster and all that. My acting allowed me to be playful and crazy, and it helps me tell stories and all that. I think it's a good time; rap needs that kind of stuff. — Nicki Minaj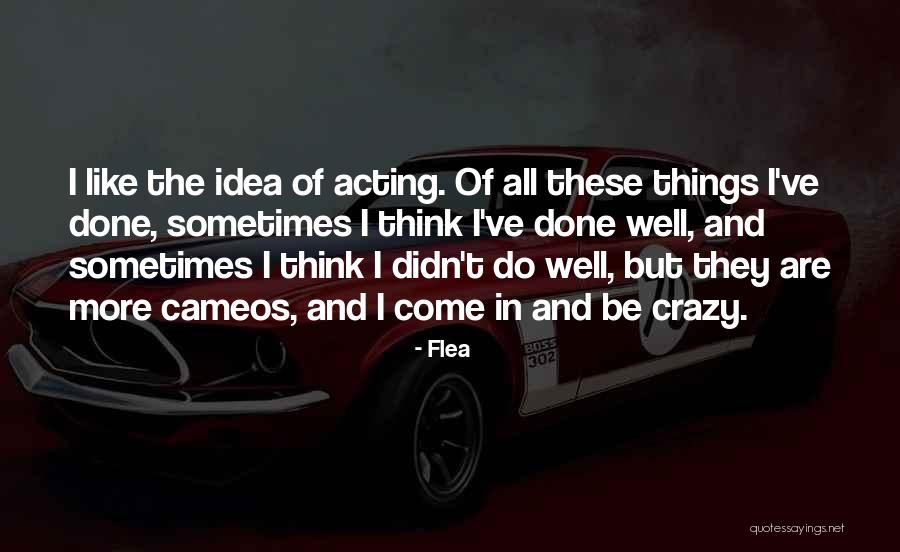 I like the idea of acting. Of all these things I've done, sometimes I think I've done well, and sometimes I think I didn't do well, but they are more cameos, and I come in and be crazy. — Flea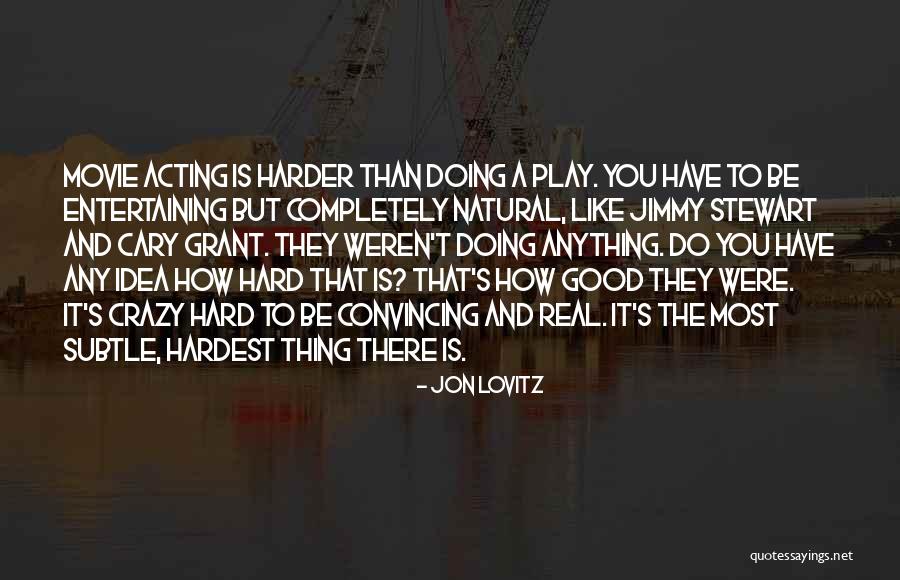 Movie acting is harder than doing a play. You have to be entertaining but completely natural, like Jimmy Stewart and Cary Grant. They weren't doing anything. Do you have any idea how hard that is? That's how good they were. It's crazy hard to be convincing and real. It's the most subtle, hardest thing there is. — Jon Lovitz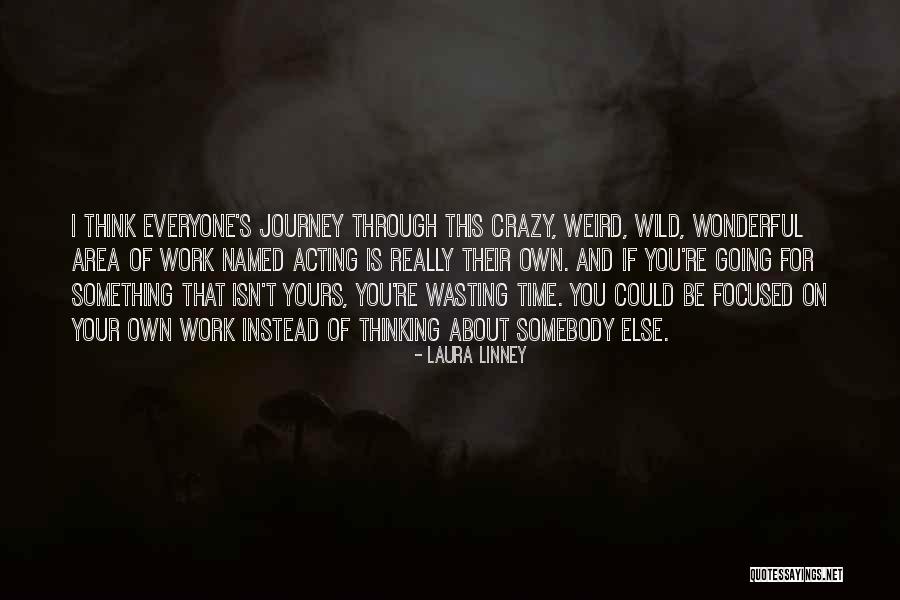 I think everyone's journey through this crazy, weird, wild, wonderful area of work named acting is really their own. And if you're going for something that isn't yours, you're wasting time. You could be focused on your own work instead of thinking about somebody else. — Laura Linney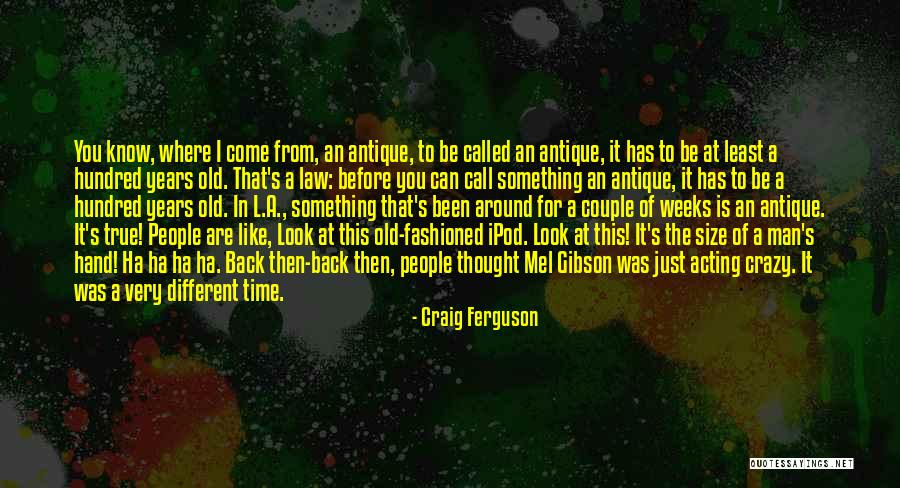 You know, where I come from, an antique, to be called an antique, it has to be at least a hundred years old. That's a law: before you can call something an antique, it has to be a hundred years old. In L.A., something that's been around for a couple of weeks is an antique. It's true! People are like, Look at this old-fashioned iPod. Look at this! It's the size of a man's hand! Ha ha ha ha. Back then-back then, people thought Mel Gibson was just acting crazy. It was a very different time. — Craig Ferguson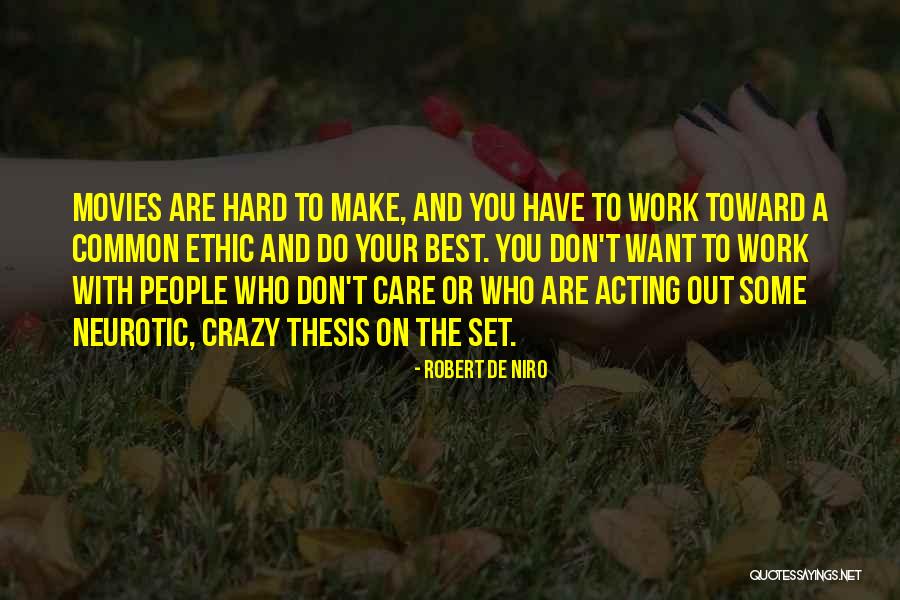 Movies are hard to make, and you have to work toward a common ethic and do your best. You don't want to work with people who don't care or who are acting out some neurotic, crazy thesis on the set. — Robert De Niro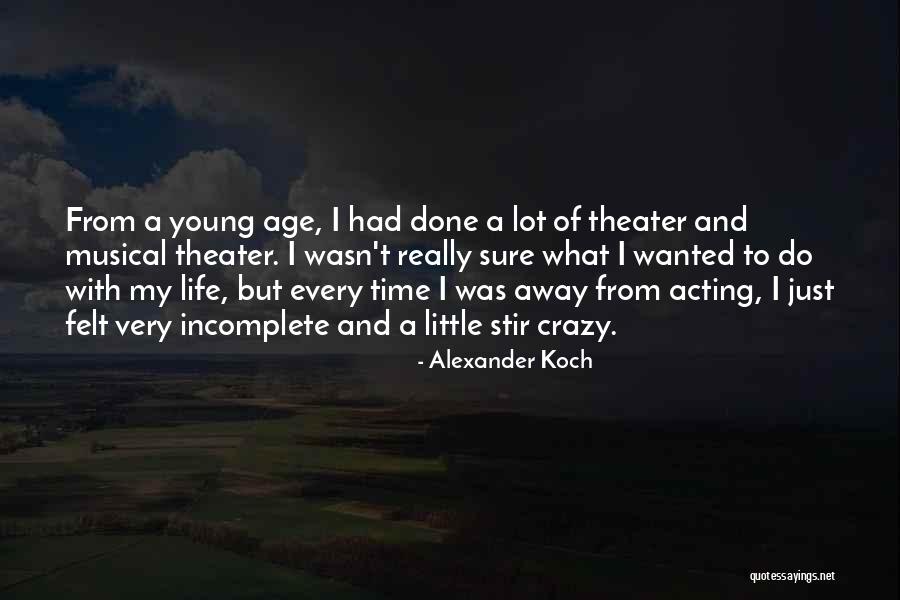 From a young age, I had done a lot of theater and musical theater. I wasn't really sure what I wanted to do with my life, but every time I was away from acting, I just felt very incomplete and a little stir crazy. — Alexander Koch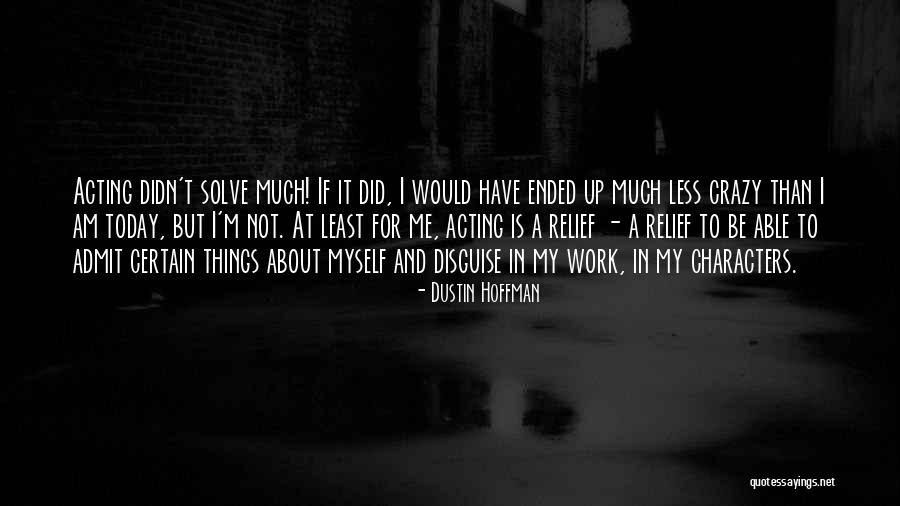 Acting didn't solve much! If it did, I would have ended up much less crazy than I am today, but I'm not. At least for me, acting is a relief - a relief to be able to admit certain things about myself and disguise in my work, in my characters. — Dustin Hoffman
Idleness does drive me crazy, but I'd rather read or write than do anything just to work. A kind of respect has been instilled in me for acting: I love it too much to ever have a bad relationship with it. — Karen Allen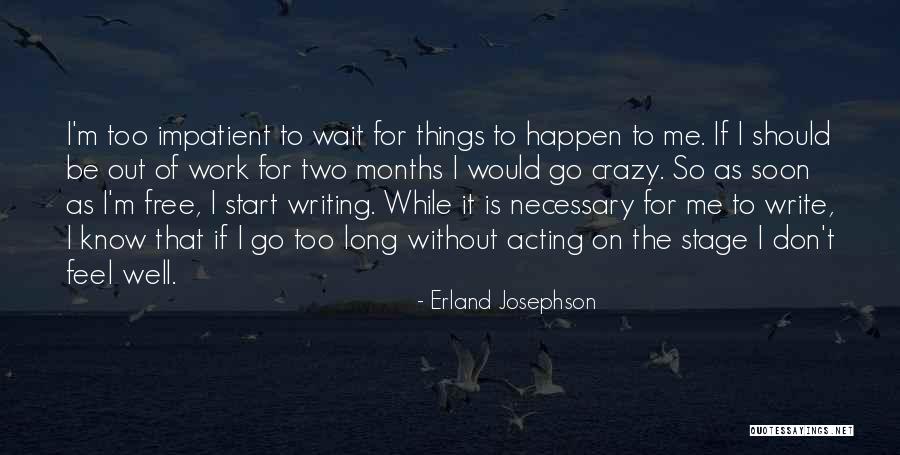 I'm too impatient to wait for things to happen to me. If I should be out of work for two months I would go crazy. So as soon as I'm free, I start writing. While it is necessary for me to write, I know that if I go too long without acting on the stage I don't feel well. — Erland Josephson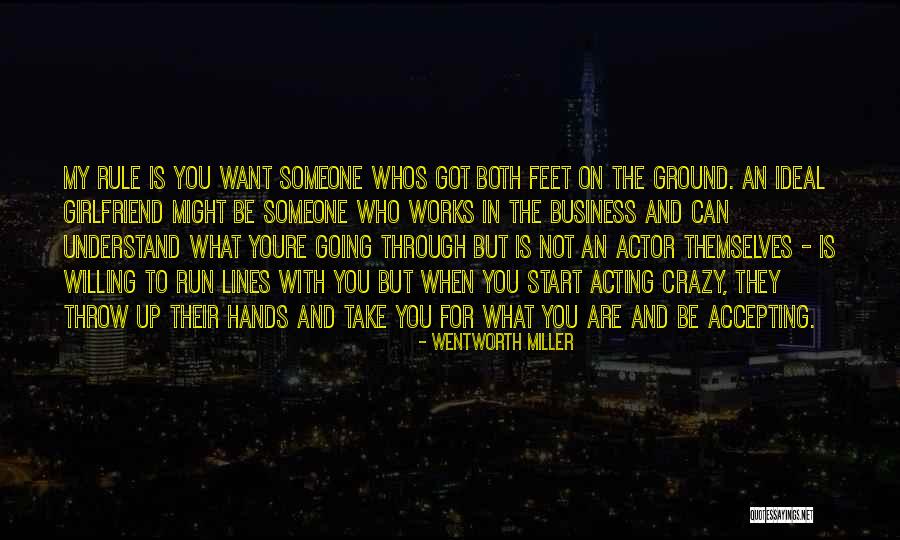 My rule is you want someone whos got both feet on the ground. An ideal girlfriend might be someone who works in the business and can understand what youre going through but is not an actor themselves - is willing to run lines with you but when you start acting crazy, they throw up their hands and take you for what you are and be accepting. — Wentworth Miller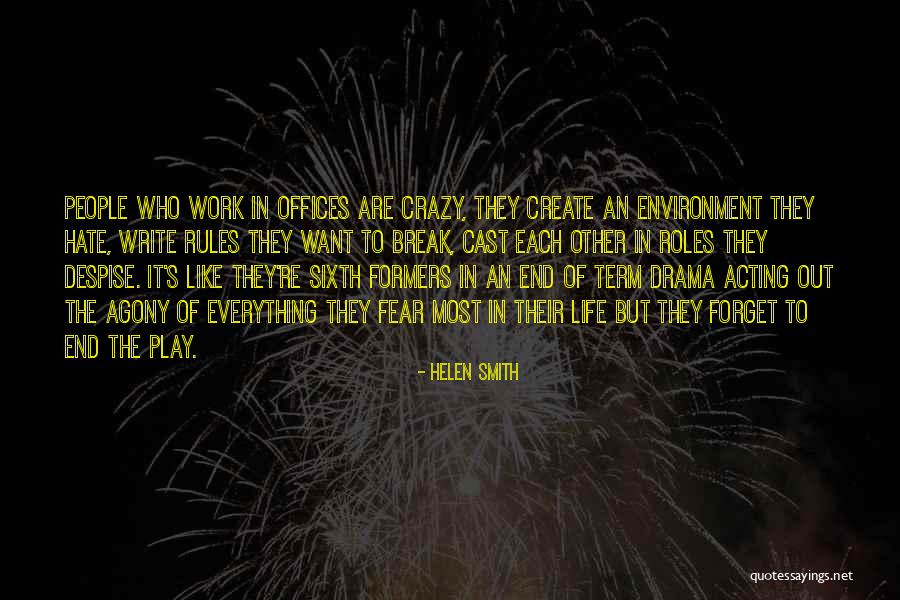 People who work in offices are crazy, they create an environment they hate, write rules they want to break, cast each other in roles they despise. It's like they're sixth formers in an end of term drama acting out the agony of everything they fear most in their life but they forget to end the play. — Helen Smith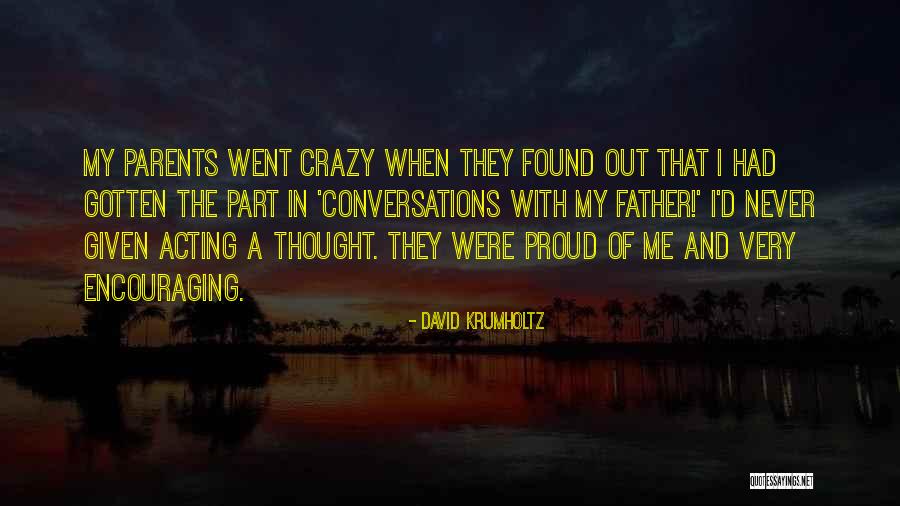 My parents went crazy when they found out that I had gotten the part in 'Conversations With My Father!' I'd never given acting a thought. They were proud of me and very encouraging. — David Krumholtz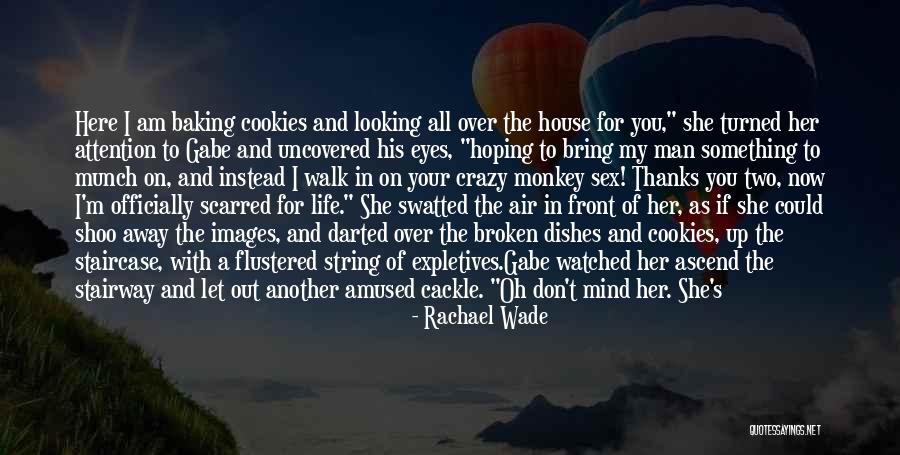 Here I am baking cookies and looking all over the house for you," she turned her attention to Gabe and uncovered his eyes, "hoping to bring my man something to munch on, and instead I walk in on your crazy monkey sex! Thanks you two, now I'm officially scarred for life." She swatted the air in front of her, as if she could shoo away the images, and darted over the broken dishes and cookies, up the staircase, with a flustered string of expletives.
Gabe watched her ascend the stairway and let out another amused cackle. "Oh don't mind her. She's acting like she just witnessed her parents in the act." Bending down, he snatched a cookie and gave us a thumbs-up. "You look hot, kids. Carry on. — Rachael Wade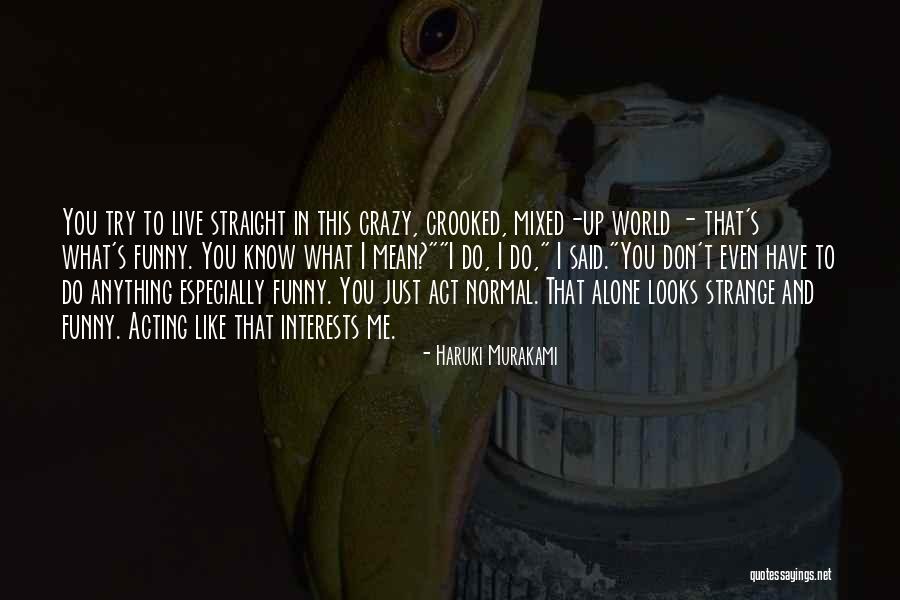 You try to live straight in this crazy, crooked, mixed-up world - that's what's funny. You know what I mean?"
"I do, I do," I said.
"You don't even have to do anything especially funny. You just act normal. That alone looks strange and funny. Acting like that interests me. — Haruki Murakami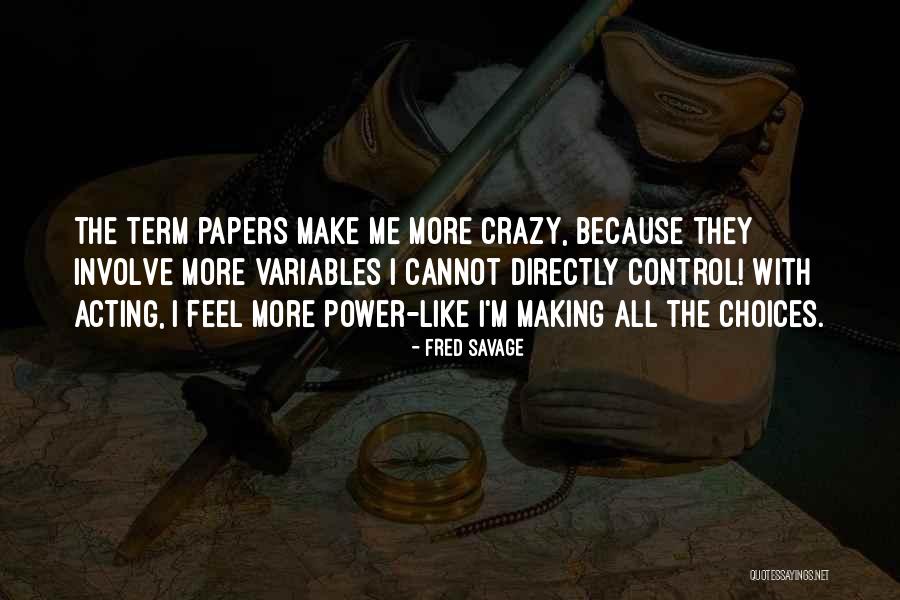 The term papers make me more crazy, because they involve more variables I cannot directly control! With acting, I feel more power-like I'm making all the choices. — Fred Savage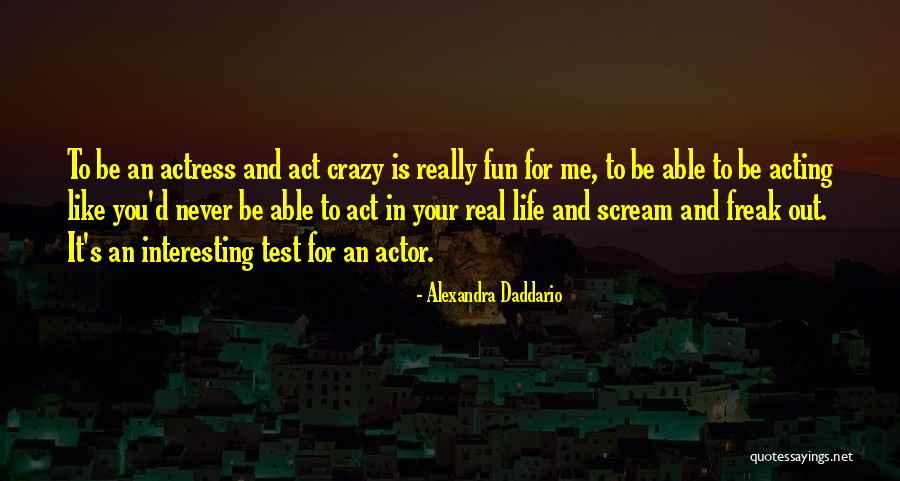 To be an actress and act crazy is really fun for me, to be able to be acting like you'd never be able to act in your real life and scream and freak out. It's an interesting test for an actor. — Alexandra Daddario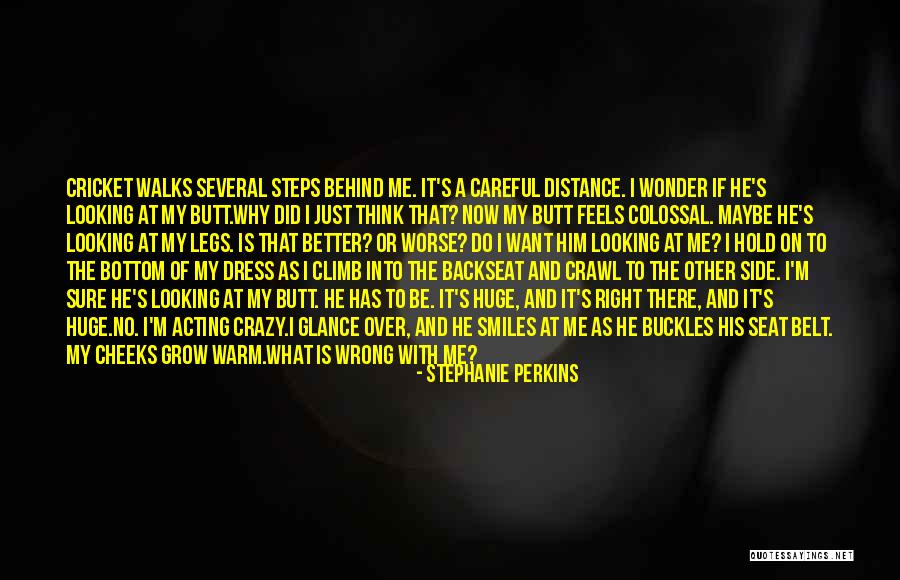 Cricket walks several steps behind me. It's a careful distance. I wonder if he's looking at my butt.
WHY DID I JUST THINK THAT? Now my butt feels COLOSSAL. Maybe he's looking at my legs. Is that better? Or worse? Do I want him looking at me? I hold on to the bottom of my dress as I climb into the backseat and crawl to the other side. I'm sure he's looking at my butt. He has to be. It's huge, and it's right there, and it's huge.
No. I'm acting crazy.
I glance over, and he smiles at me as he buckles his seat belt.
My cheeks grow warm.
WHAT IS WRONG WITH ME? — Stephanie Perkins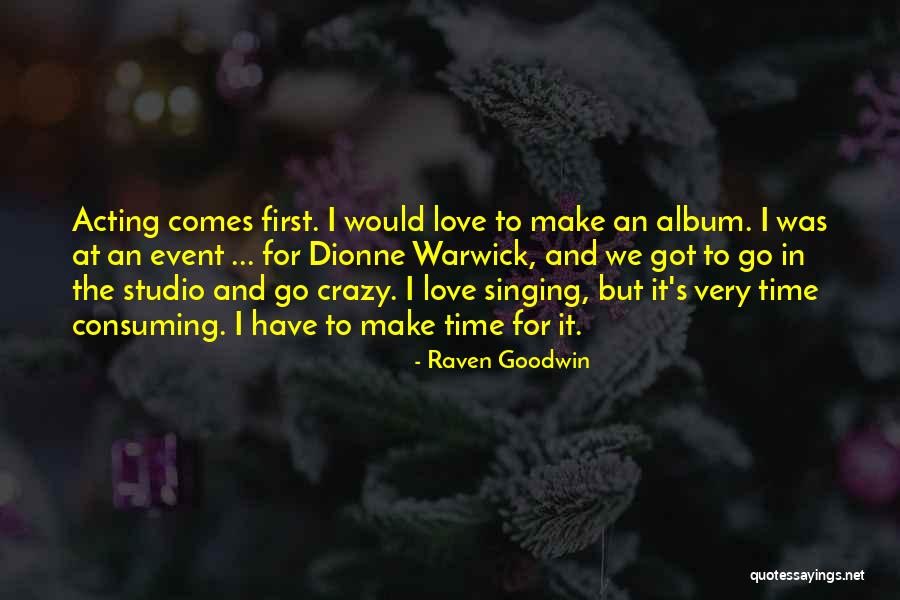 Acting comes first. I would love to make an album. I was at an event ... for Dionne Warwick, and we got to go in the studio and go crazy. I love singing, but it's very time consuming. I have to make time for it. — Raven Goodwin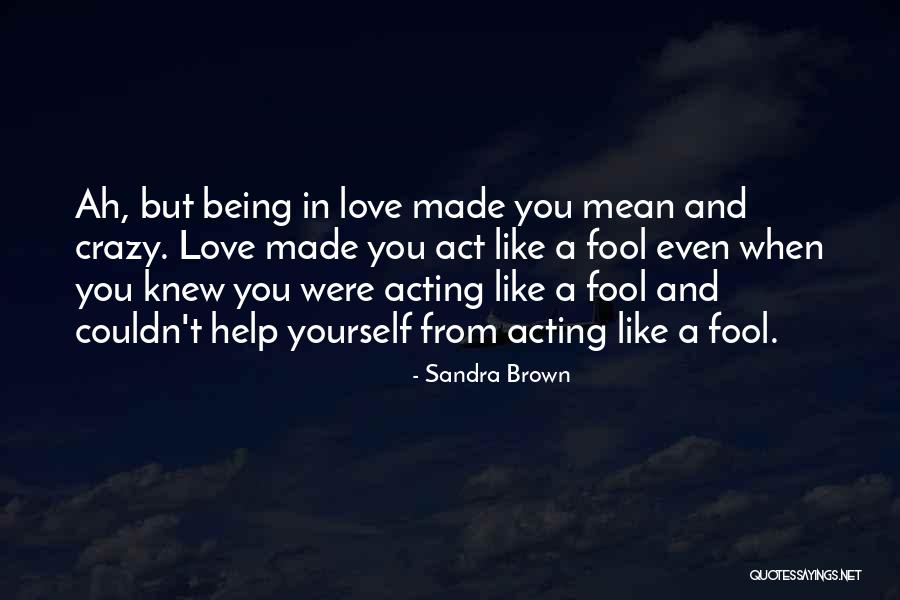 Ah, but being in love made you mean and crazy. Love made you act like a fool even when you knew you were acting like a fool and couldn't help yourself from acting like a fool. — Sandra Brown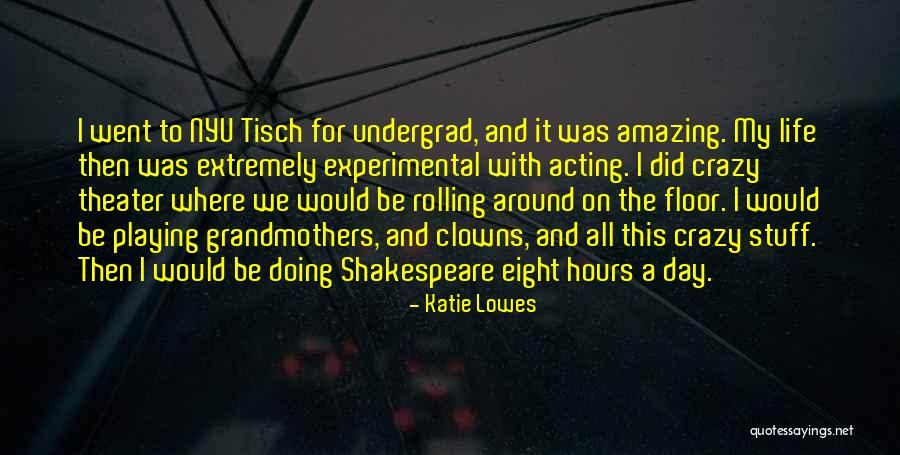 I went to NYU Tisch for undergrad, and it was amazing. My life then was extremely experimental with acting. I did crazy theater where we would be rolling around on the floor. I would be playing grandmothers, and clowns, and all this crazy stuff. Then I would be doing Shakespeare eight hours a day. — Katie Lowes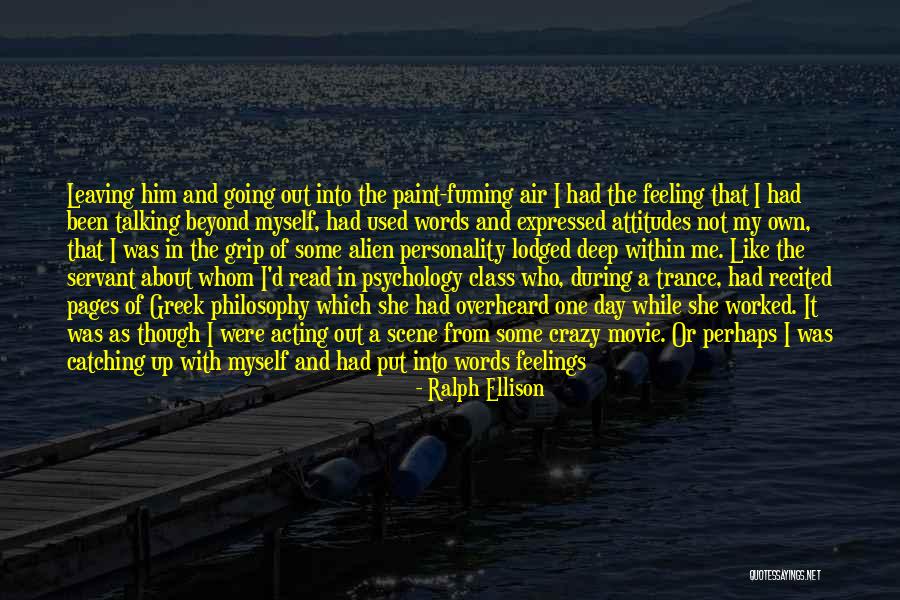 Leaving him and going out into the paint-fuming air I had the feeling that I had been talking beyond myself, had used words and expressed attitudes not my own, that I was in the grip of some alien personality lodged deep within me. Like the servant about whom I'd read in psychology class who, during a trance, had recited pages of Greek philosophy which she had overheard one day while she worked. It was as though I were acting out a scene from some crazy movie. Or perhaps I was catching up with myself and had put into words feelings which I had hitherto suppressed. Or was it, I thought, starting up the walk, that I was no longer afraid? I stopped, looking at the buildings down the bright street slanting with sun and shade. I was no longer afraid. Not of important men, not of trustees and such; for knowing now that there was nothing which I could expect from them, there was no reason to be afraid. Was that it? I felt light-headed, my ears were ringing. I went on. — Ralph Ellison
I think the reason we're so crazy sexually in America is that all our responses are acting. We don't know how to feel. We know how it looked in the movies. — Jill Robinson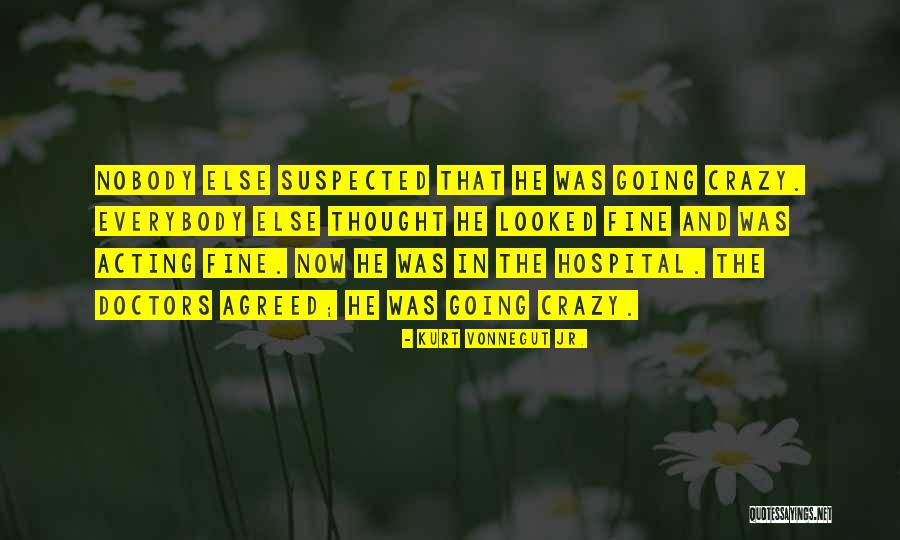 Nobody else suspected that he was going crazy. Everybody else thought he looked fine and was acting fine. Now he was in the hospital. The doctors agreed; He was going crazy. — Kurt Vonnegut Jr.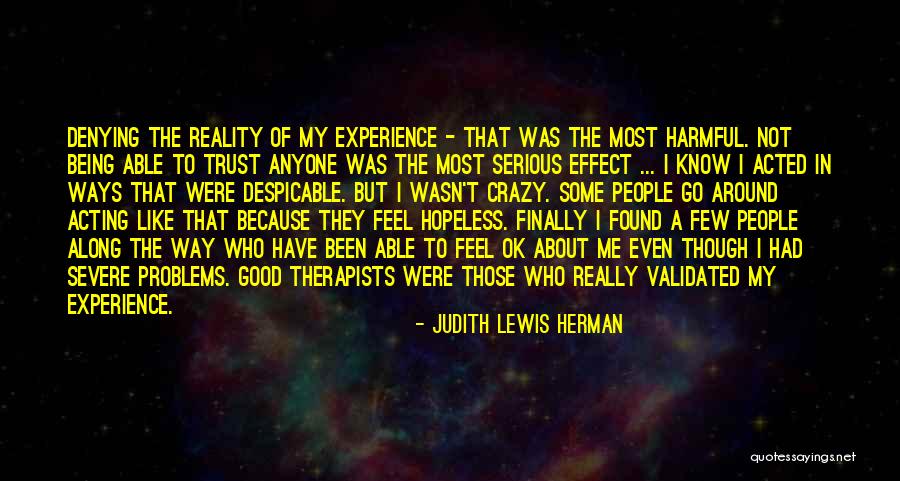 Denying the reality of my experience - that was the most harmful. Not being able to trust anyone was the most serious effect ... I know I acted in ways that were despicable. But I wasn't crazy. Some people go around acting like that because they feel hopeless. Finally I found a few people along the way who have been able to feel OK about me even though I had severe problems. Good therapists were those who really validated my experience. — Judith Lewis Herman
When you're a working actor and you're happy to be one, you can't focus all your energy on acting because you will go crazy. You have to focus as much energy as you can away from yourself. — Olivia Wilde
There's was no pressure on it for me - I just went in and had fun. Whatever Jason Moore, the director, asked me to do, I did it! I ran around the room acting like a crazy guest on "Jerry Springer" and yelling at the audience. I just went for it. — Max Von Essen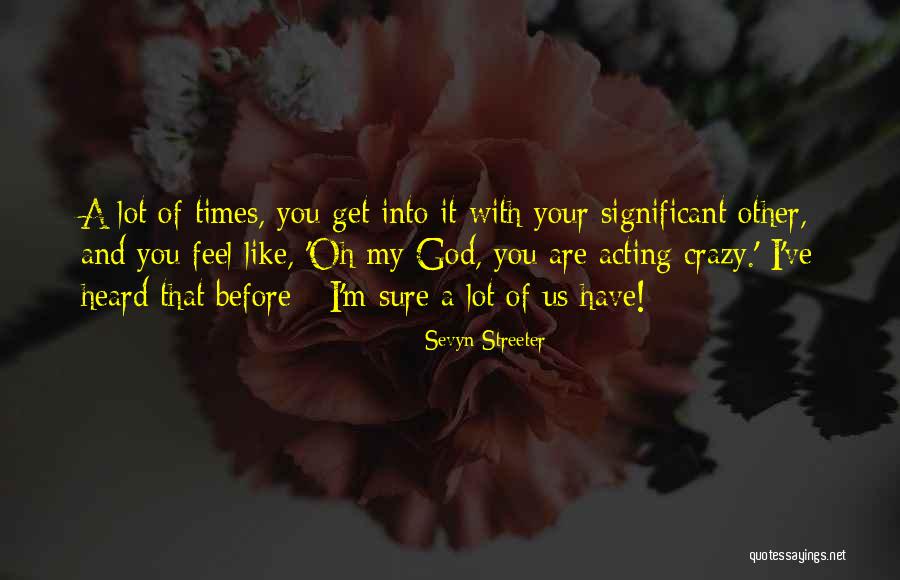 A lot of times, you get into it with your significant other, and you feel like, 'Oh my God, you are acting crazy.' I've heard that before - I'm sure a lot of us have! — Sevyn Streeter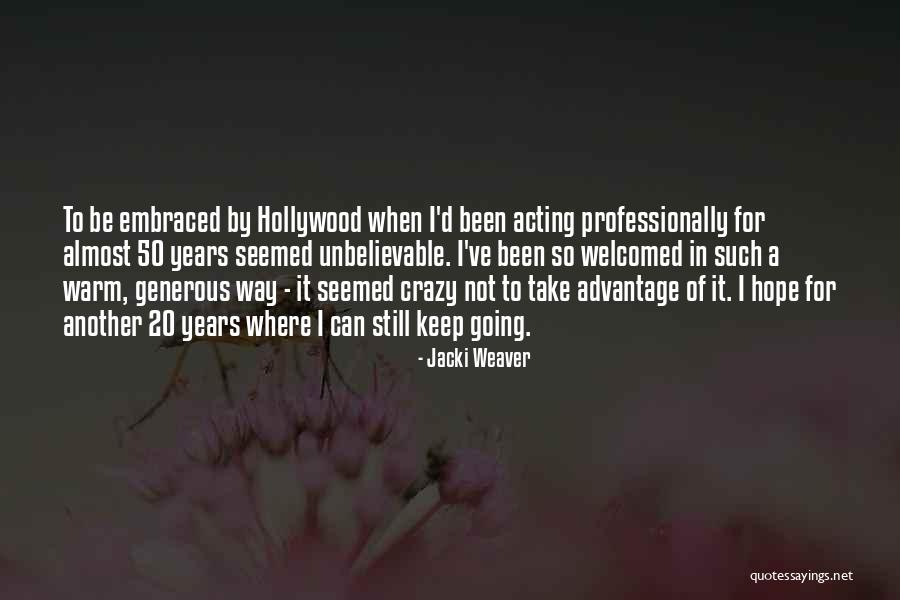 To be embraced by Hollywood when I'd been acting professionally for almost 50 years seemed unbelievable. I've been so welcomed in such a warm, generous way - it seemed crazy not to take advantage of it. I hope for another 20 years where I can still keep going. — Jacki Weaver
I point at Drew, as I turn to Dawn. See? My sister finds her soulmate, and not only does she get rewarded with love and happiness, she gets free champagne flutes, and dutch ovens, and fifty-dollar checks. And what do I get? What do I get on a day when I still haven't found anyone to love? When I'm waiting by the phone for some jerk to call me, and acting like a crazy woman, e-mailing him at three a.m., clutching at straws that I might ever find anyone? Do I get gifts? No! I get condemnation from my grandmother, and I get to wear a dress that makes me look like a baked potato. — Kim Gruenenfelder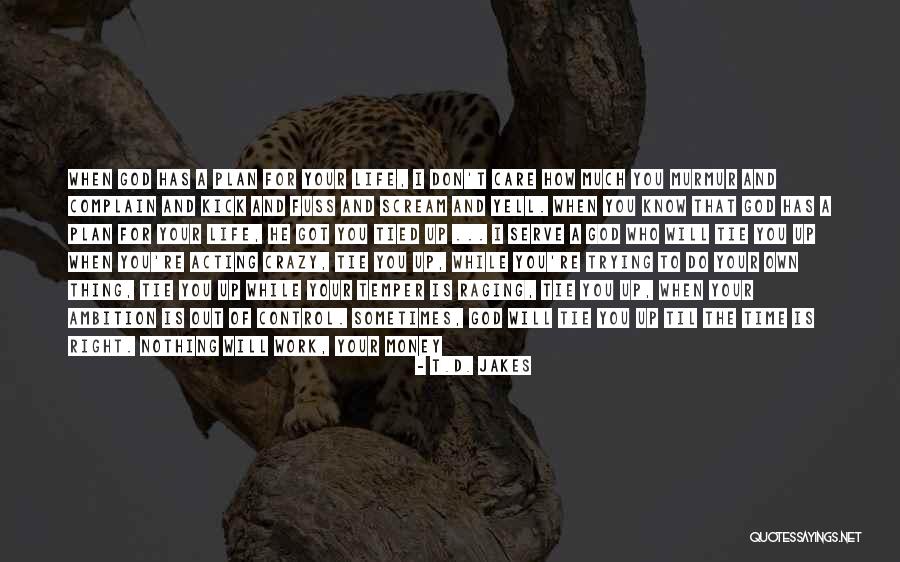 When God has a plan for your life, I don't care how much you murmur and complain and kick and fuss and scream and yell. When you know that God has a plan for your life, He got you tied up ... I serve a God who will tie you up when you're acting crazy, tie you up, while you're trying to do your own thing, tie you up while your temper is raging, tie you up, when your ambition is out of control. Sometimes, God will tie you up til the time is right. Nothing will work, your money won't work, your career won't work, the boyfriend will leave, the house will sell, cause when God has you tied up, He's not gonna let you get away. He'll say, Be still and see the salvation of the Lord. — T.D. Jakes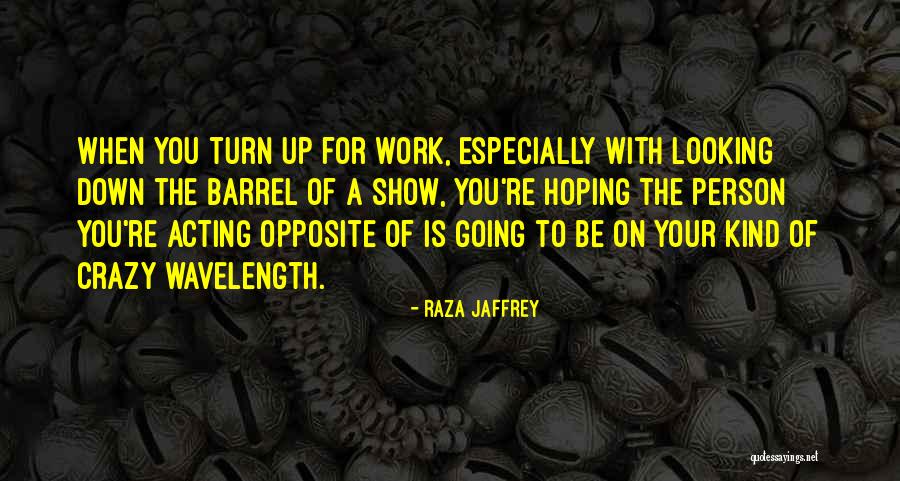 When you turn up for work, especially with looking down the barrel of a show, you're hoping the person you're acting opposite of is going to be on your kind of crazy wavelength. — Raza Jaffrey
Because I was crazy and because my parents wanted me out of their hair, they put me in an all-day acting class ... so they wouldn't have to deal with me, probably. And it just so happened there agents auditing the class, and I ended up getting signed. — Liana Liberato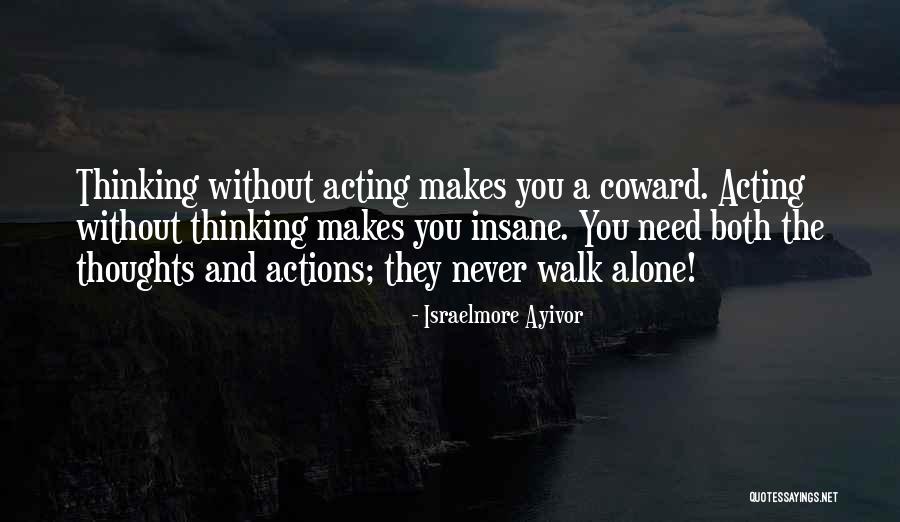 Thinking without acting makes you a coward. Acting without thinking makes you insane. You need both the thoughts and actions; they never walk alone! — Israelmore Ayivor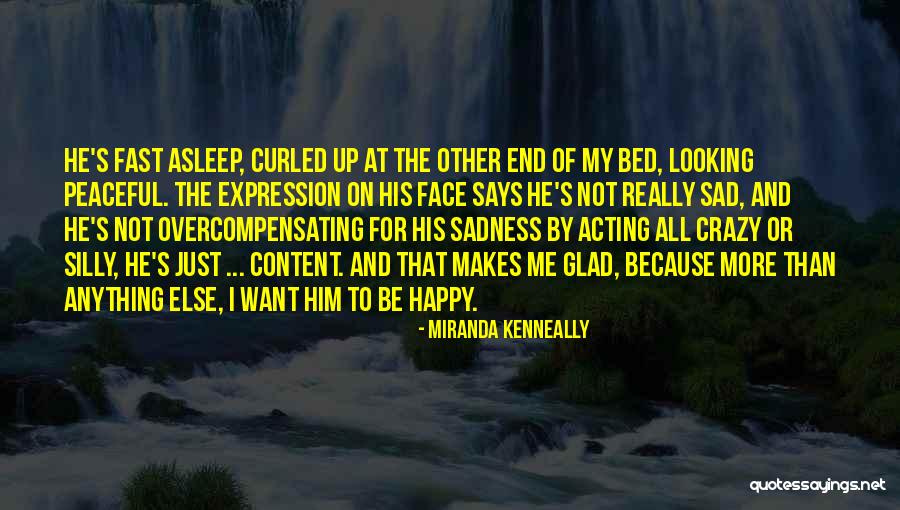 He's fast asleep, curled up at the other end of my bed, looking peaceful. The expression on his face says he's not really sad, and he's not overcompensating for his sadness by acting all crazy or silly, he's just ... content. And that makes me glad, because more than anything else, I want him to be happy. — Miranda Kenneally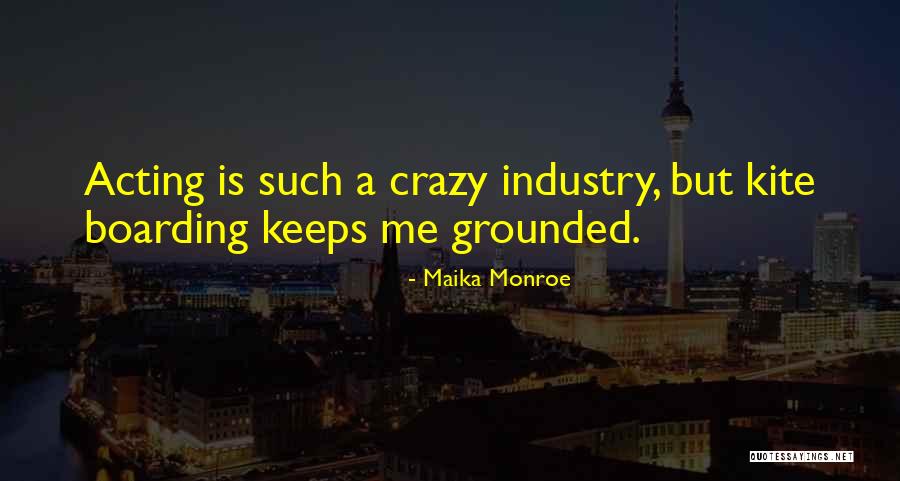 Acting is such a crazy industry, but kite boarding keeps me grounded. — Maika Monroe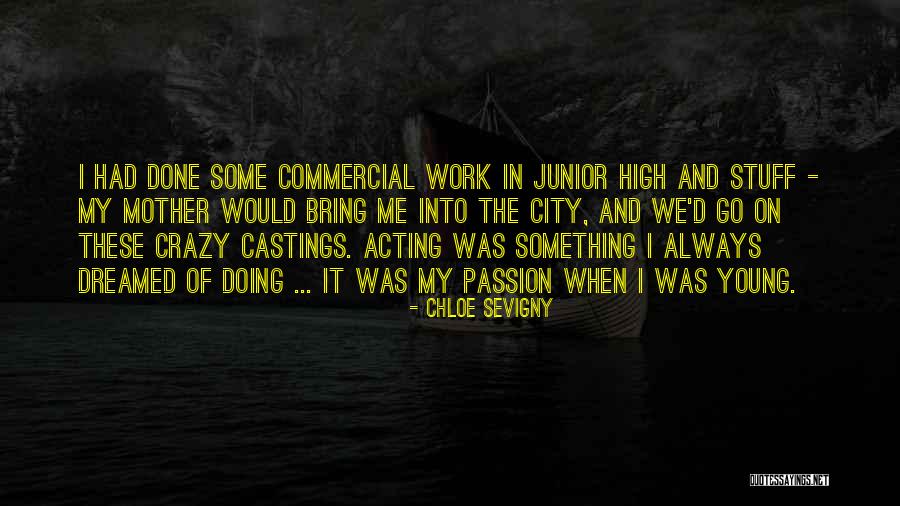 I had done some commercial work in junior high and stuff - my mother would bring me into the city, and we'd go on these crazy castings. Acting was something I always dreamed of doing ... it was my passion when I was young. — Chloe Sevigny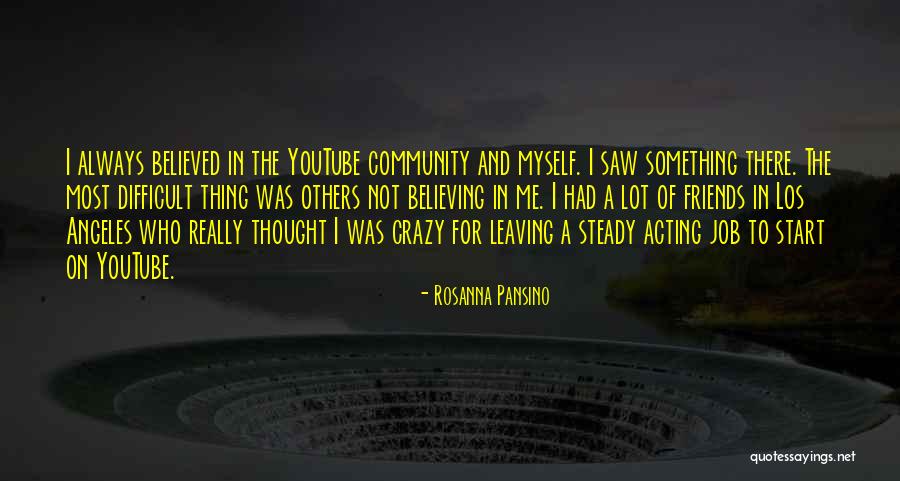 I always believed in the YouTube community and myself. I saw something there. The most difficult thing was others not believing in me. I had a lot of friends in Los Angeles who really thought I was crazy for leaving a steady acting job to start on YouTube. — Rosanna Pansino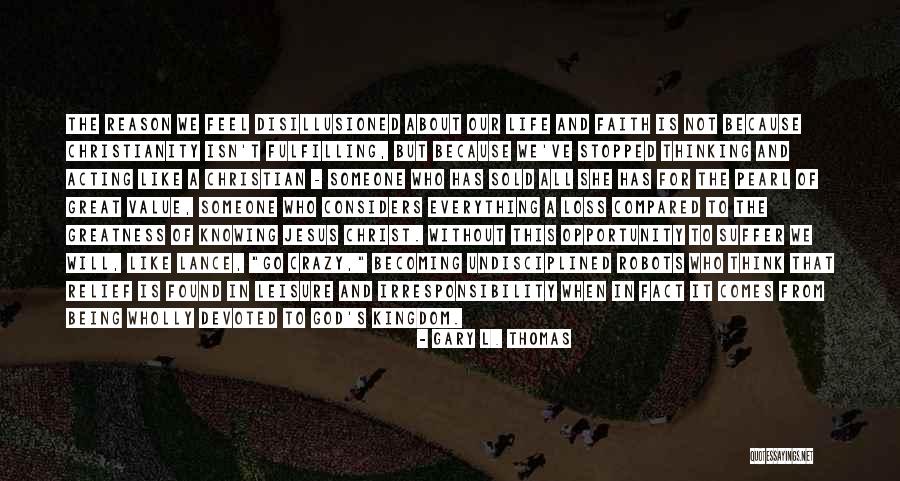 The reason we feel disillusioned about our life and faith is not because Christianity isn't fulfilling, but because we've stopped thinking and acting like a Christian - someone who has sold all she has for the pearl of great value, someone who considers everything a loss compared to the greatness of knowing Jesus Christ. Without this opportunity to suffer we will, like Lance, "go crazy," becoming undisciplined robots who think that relief is found in leisure and irresponsibility when in fact it comes from being wholly devoted to God's kingdom. — Gary L. Thomas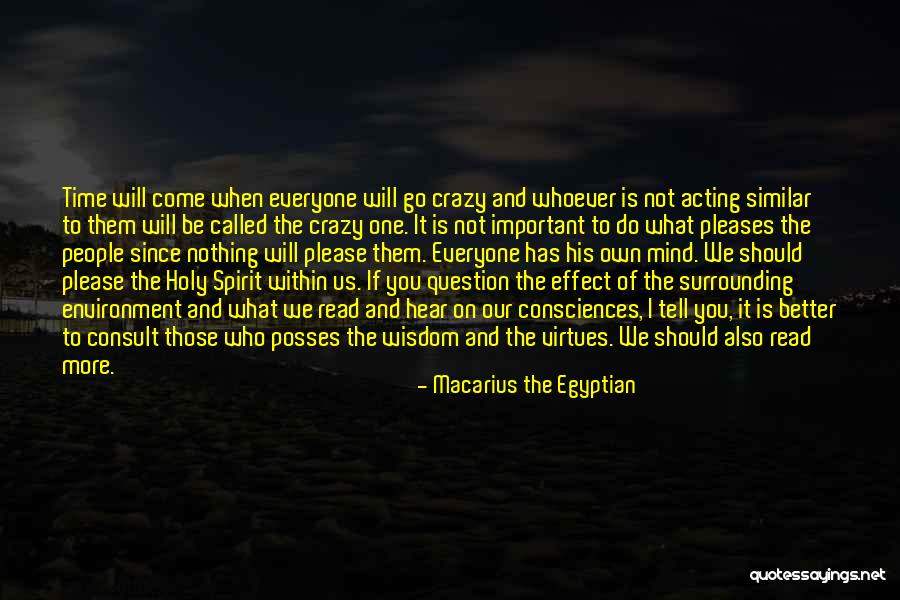 Time will come when everyone will go crazy and whoever is not acting similar to them will be called the crazy one. It is not important to do what pleases the people since nothing will please them. Everyone has his own mind. We should please the Holy Spirit within us. If you question the effect of the surrounding environment and what we read and hear on our consciences, I tell you, it is better to consult those who posses the wisdom and the virtues. We should also read more. — Macarius The Egyptian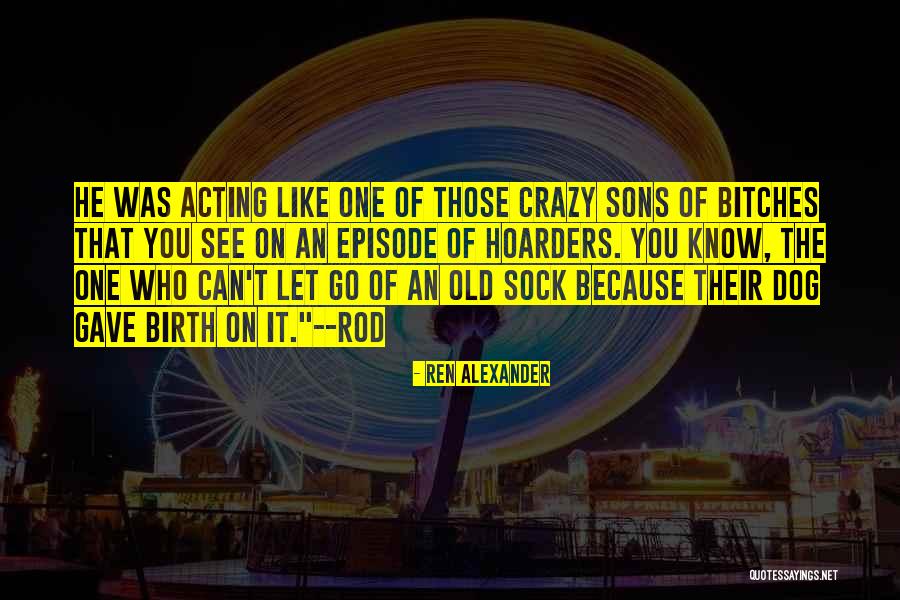 He was acting like one of those crazy sons of bitches that you see on an episode of Hoarders. You know, the one who can't let go of an old sock because their dog gave birth on it."

--Rod — Ren Alexander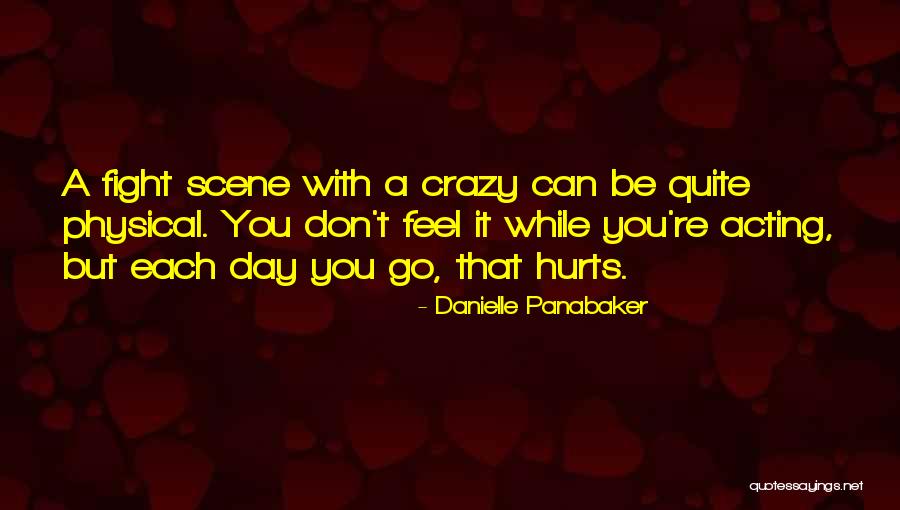 A fight scene with a crazy can be quite physical. You don't feel it while you're acting, but each day you go, that hurts. — Danielle Panabaker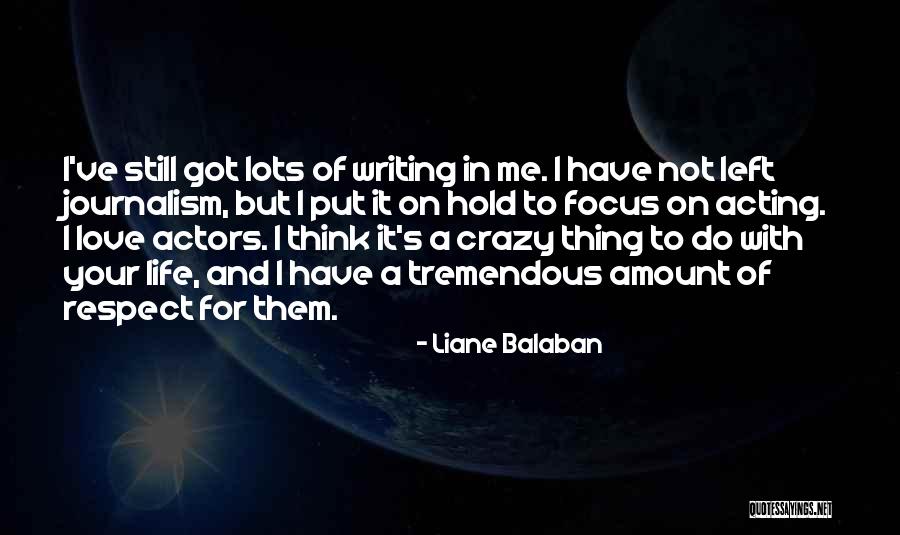 I've still got lots of writing in me. I have not left journalism, but I put it on hold to focus on acting. I love actors. I think it's a crazy thing to do with your life, and I have a tremendous amount of respect for them. — Liane Balaban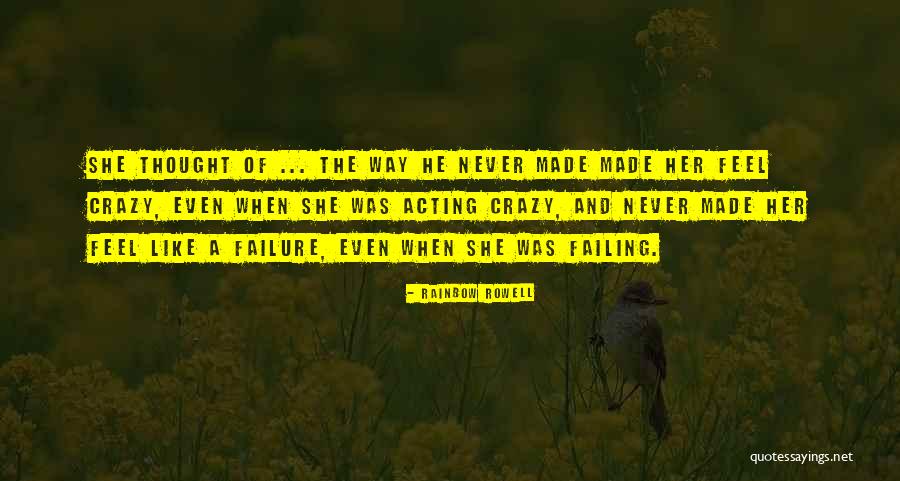 She thought of ... the way he never made made her feel crazy, even when she was acting crazy, and never made her feel like a failure, even when she was failing. — Rainbow Rowell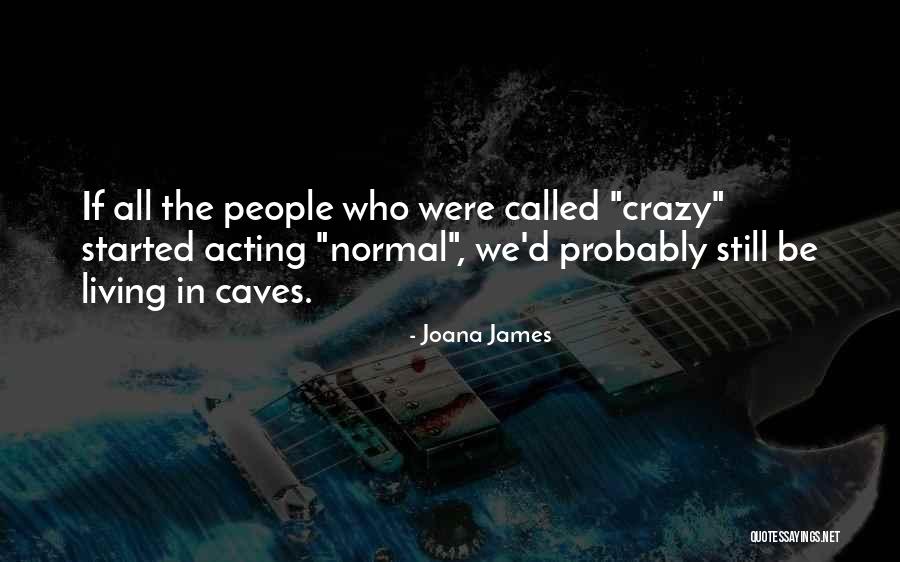 If all the people who were called "crazy" started acting "normal", we'd probably still be living in caves. — Joana James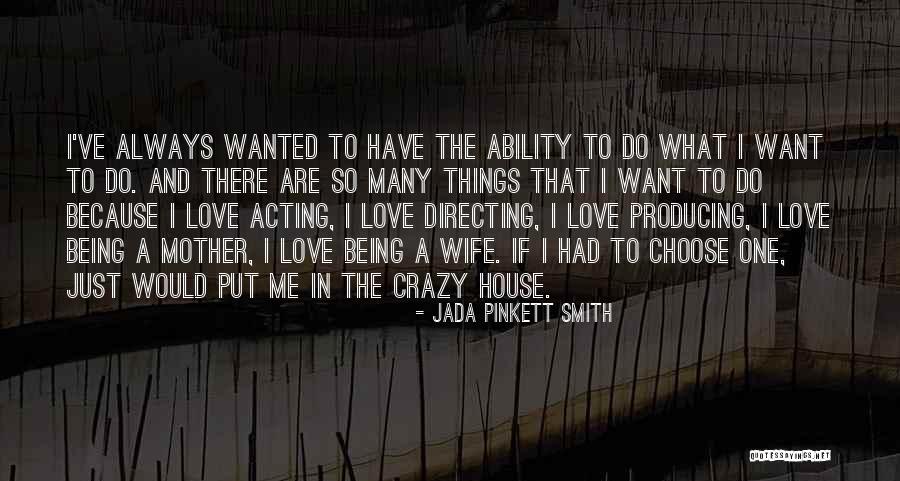 I've always wanted to have the ability to do what I want to do. And there are so many things that I want to do because I love acting, I love directing, I love producing, I love being a mother, I love being a wife. If I had to choose one, just would put me in the crazy house. — Jada Pinkett Smith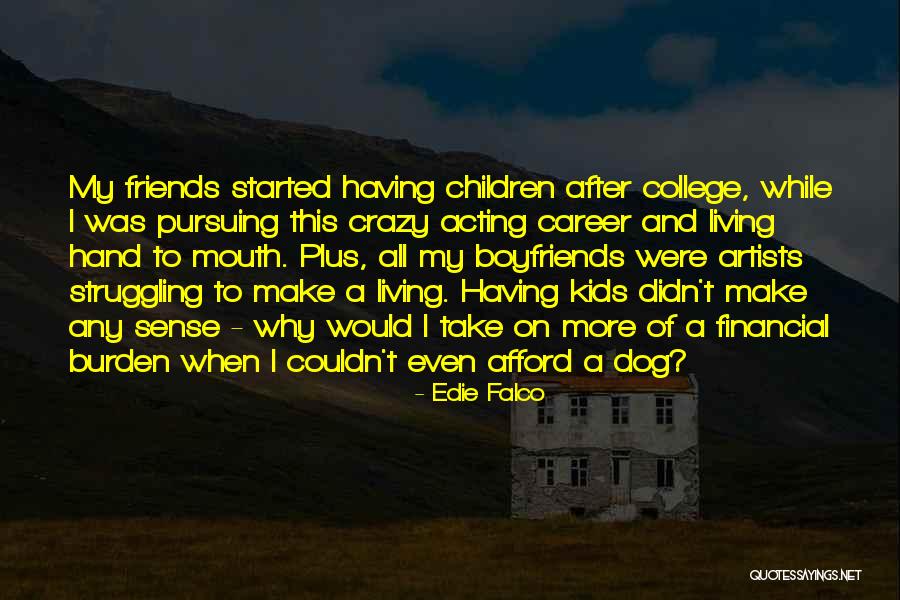 My friends started having children after college, while I was pursuing this crazy acting career and living hand to mouth. Plus, all my boyfriends were artists struggling to make a living. Having kids didn't make any sense - why would I take on more of a financial burden when I couldn't even afford a dog? — Edie Falco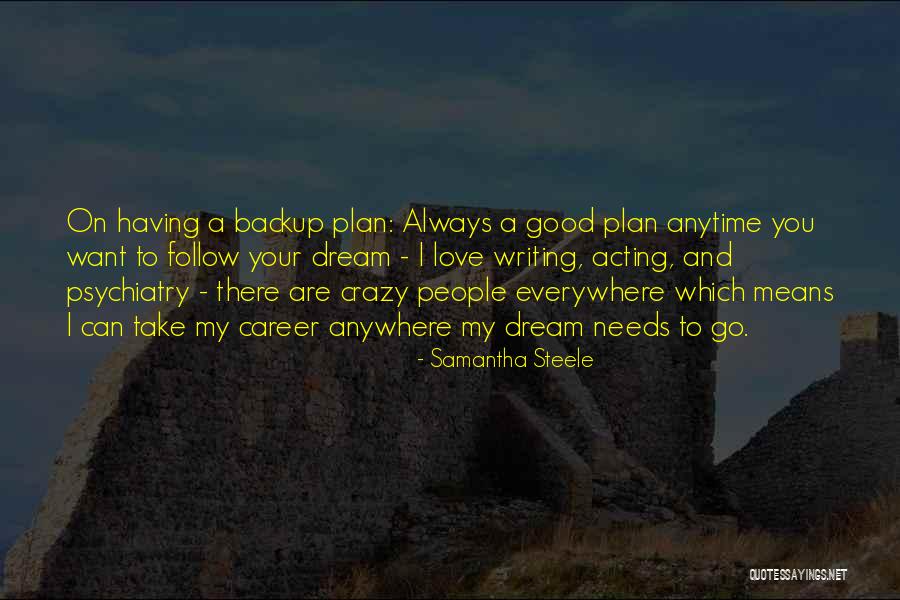 On having a backup plan: Always a good plan anytime you want to follow your dream - I love writing, acting, and psychiatry - there are crazy people everywhere which means I can take my career anywhere my dream needs to go. — Samantha Steele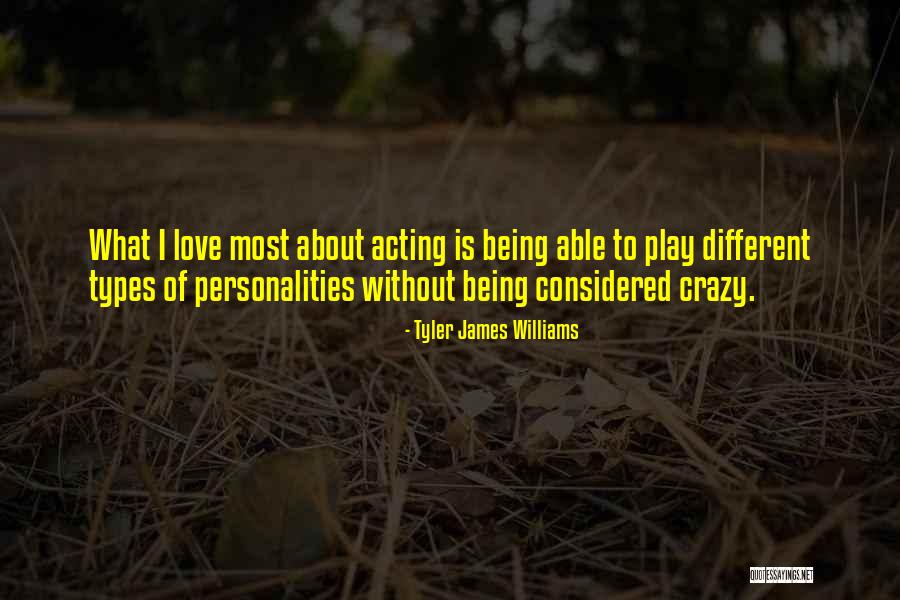 What I love most about acting is being able to play different types of personalities without being considered crazy. — Tyler James Williams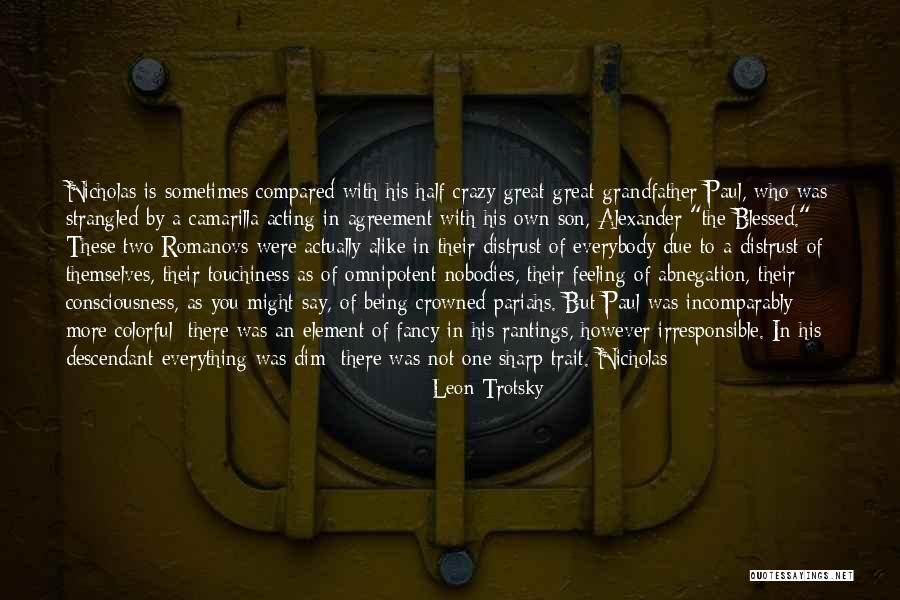 Nicholas is sometimes compared with his half-crazy great-great-grandfather Paul, who was strangled by a camarilla acting in agreement with his own son, Alexander "the Blessed." These two Romanovs were actually alike in their distrust of everybody due to a distrust of themselves, their touchiness as of omnipotent nobodies, their feeling of abnegation, their consciousness, as you might say, of being crowned pariahs. But Paul was incomparably more colorful; there was an element of fancy in his rantings, however irresponsible. In his descendant everything was dim; there was not one sharp trait. Nicholas — Leon Trotsky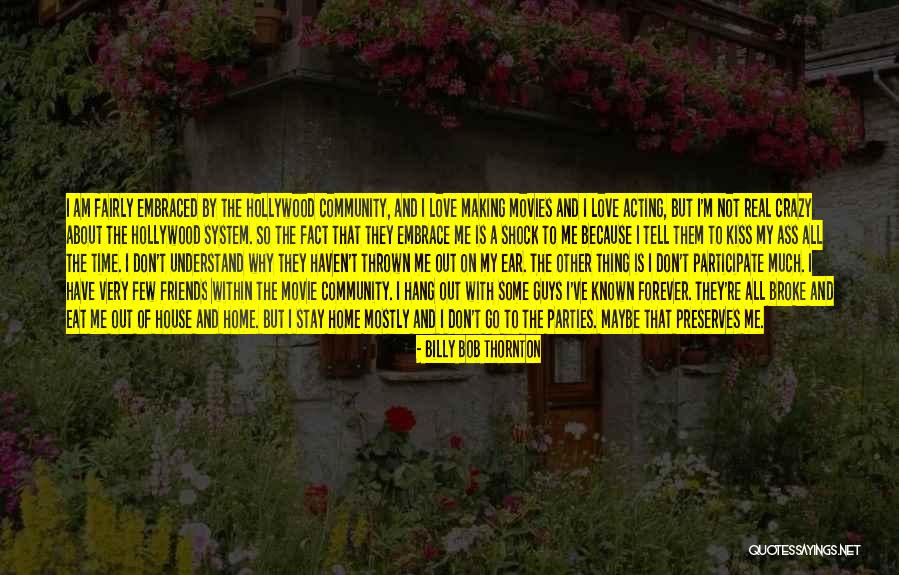 I am fairly embraced by the Hollywood community, and I love making movies and I love acting, but I'm not real crazy about the Hollywood system. So the fact that they embrace me is a shock to me because I tell them to kiss my ass all the time. I don't understand why they haven't thrown me out on my ear. The other thing is I don't participate much. I have very few friends within the movie community. I hang out with some guys I've known forever. They're all broke and eat me out of house and home. But I stay home mostly and I don't go to the parties. Maybe that preserves me. — Billy Bob Thornton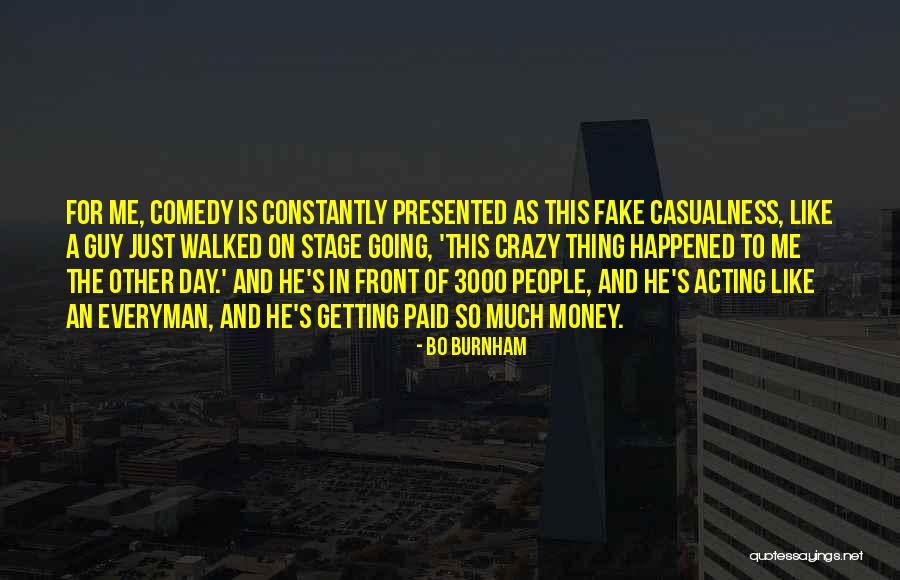 For me, comedy is constantly presented as this fake casualness, like a guy just walked on stage going, 'This crazy thing happened to me the other day.' And he's in front of 3000 people, and he's acting like an everyman, and he's getting paid so much money. — Bo Burnham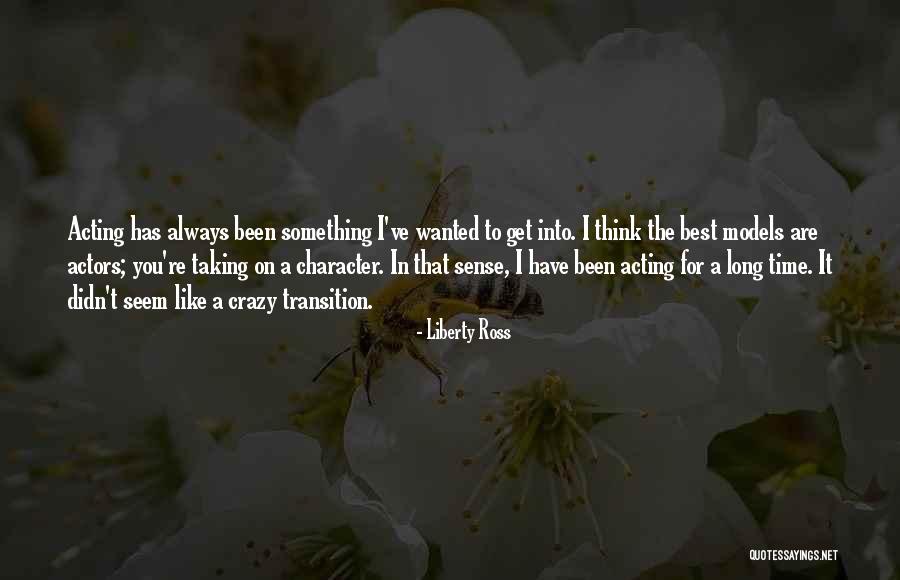 Acting has always been something I've wanted to get into. I think the best models are actors; you're taking on a character. In that sense, I have been acting for a long time. It didn't seem like a crazy transition. — Liberty Ross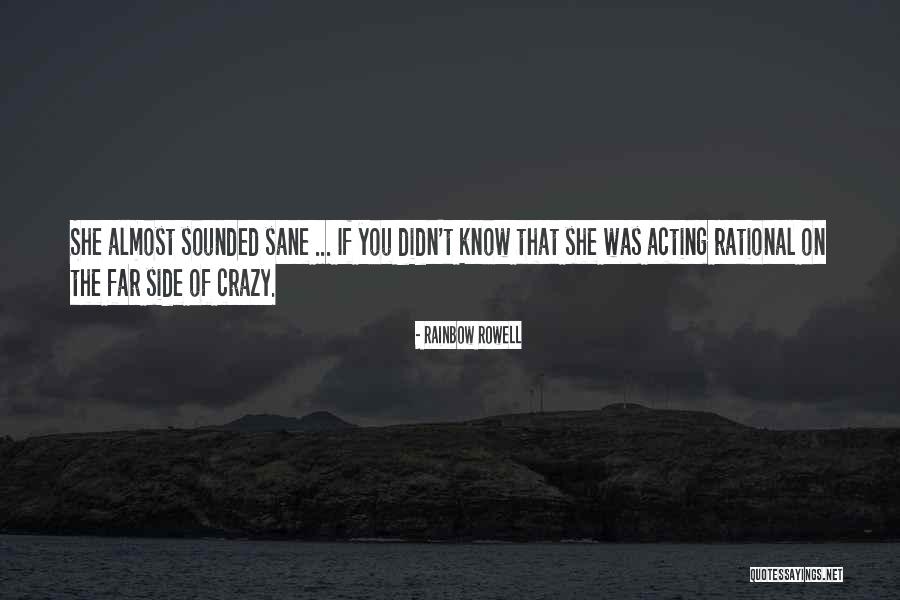 She almost sounded sane ... If you didn't know that she was acting rational on the far side of crazy. — Rainbow Rowell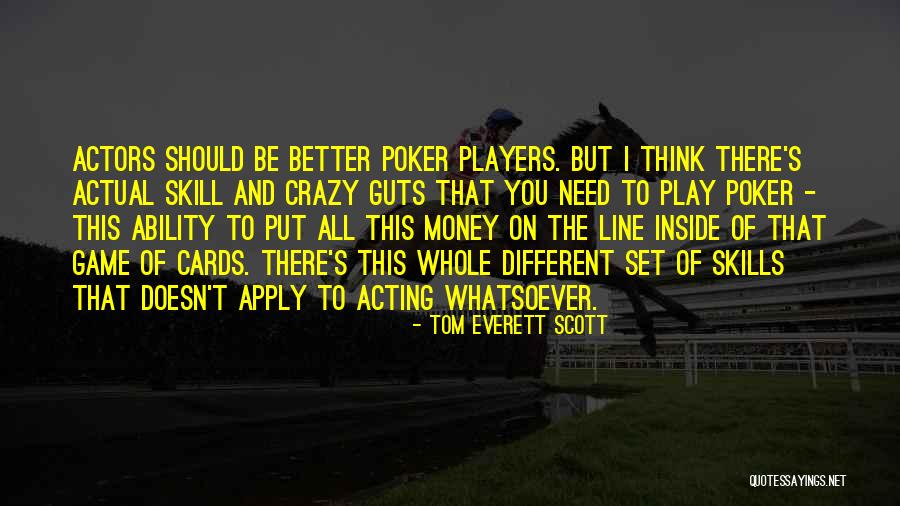 Actors should be better poker players. But I think there's actual skill and crazy guts that you need to play poker - this ability to put all this money on the line inside of that game of cards. There's this whole different set of skills that doesn't apply to acting whatsoever. — Tom Everett Scott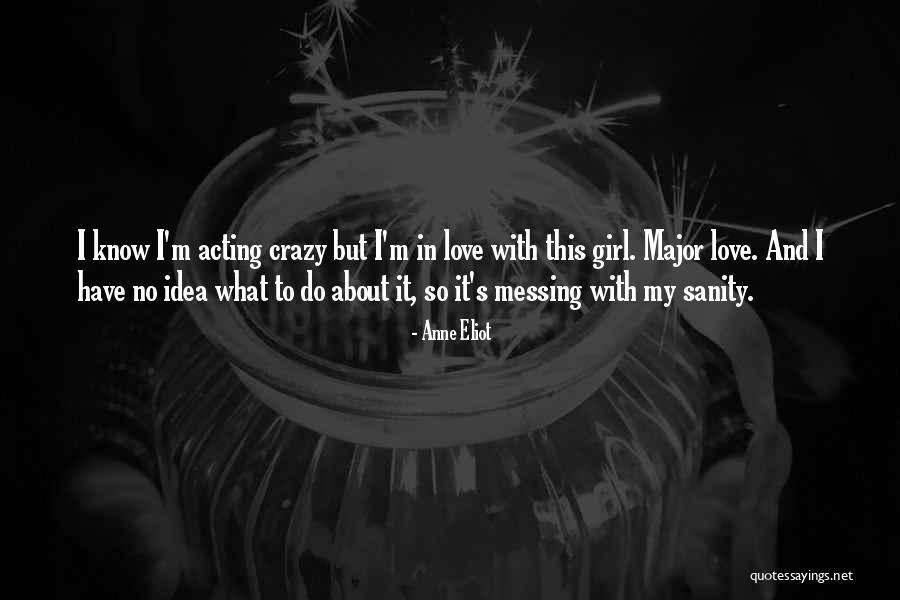 I know I'm acting crazy but I'm in love with this girl. Major love. And I have no idea what to do about it, so it's messing with my sanity. — Anne Eliot