Quotes & Sayings About A Roller Coaster Life
Enjoy reading and share 51 famous quotes about A Roller Coaster Life with everyone.
Top A Roller Coaster Life Quotes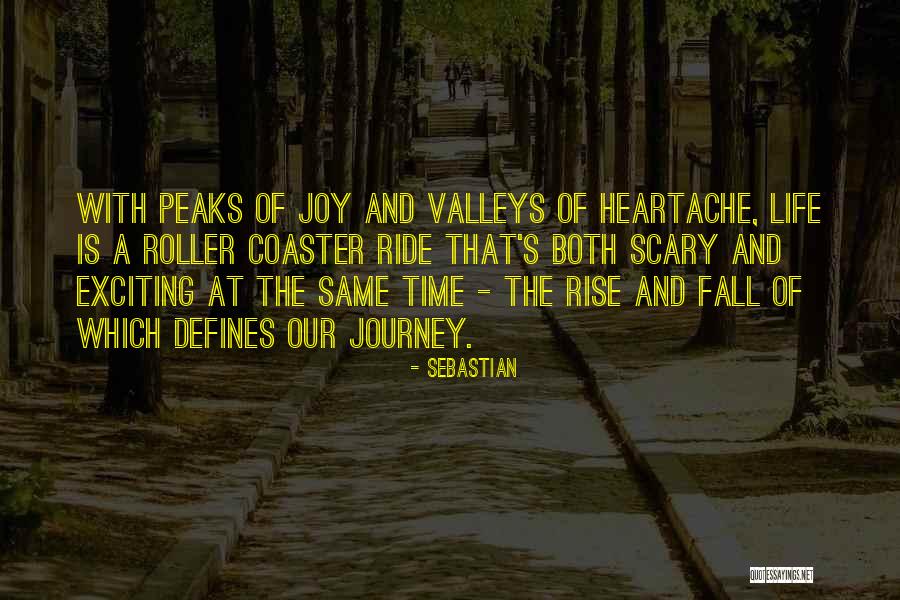 With peaks of joy and valleys of heartache, life is a roller coaster ride that's both scary and exciting at the same time - the rise and fall of which defines our journey. — SebastiAn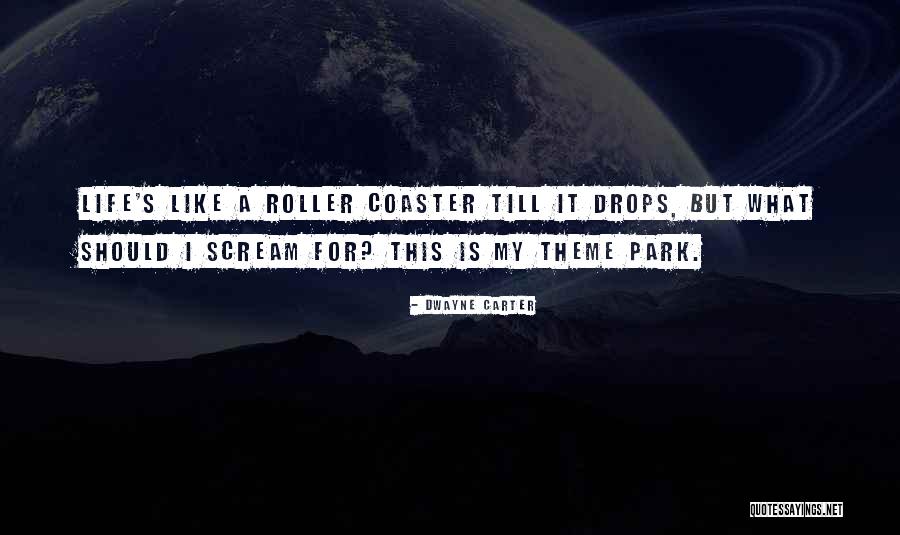 Life's like a roller coaster till it drops, but what should I scream for? This is my theme park. — Dwayne Carter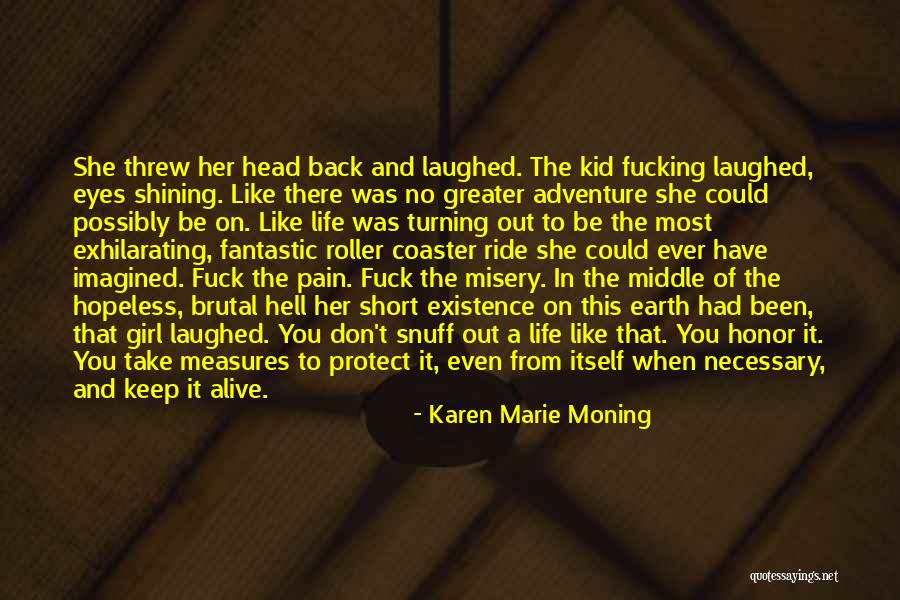 She threw her head back and laughed. The kid fucking laughed, eyes shining. Like there was no greater adventure she could possibly be on. Like life was turning out to be the most exhilarating, fantastic roller coaster ride she could ever have imagined. Fuck the pain. Fuck the misery. In the middle of the hopeless, brutal hell her short existence on this earth had been, that girl laughed. You don't snuff out a life like that. You honor it. You take measures to protect it, even from itself when necessary, and keep it alive. — Karen Marie Moning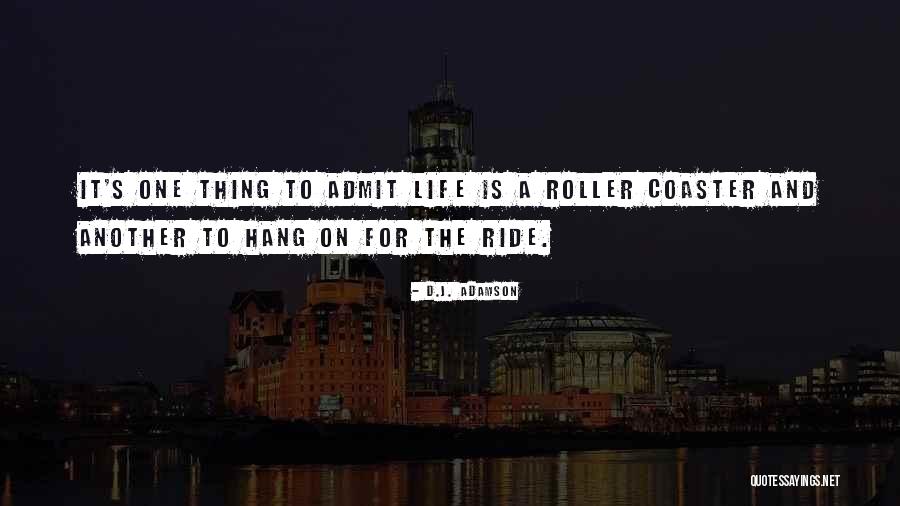 It's one thing to ADMIT life is a roller coaster and another to hang on for the ride. — D.J. Adamson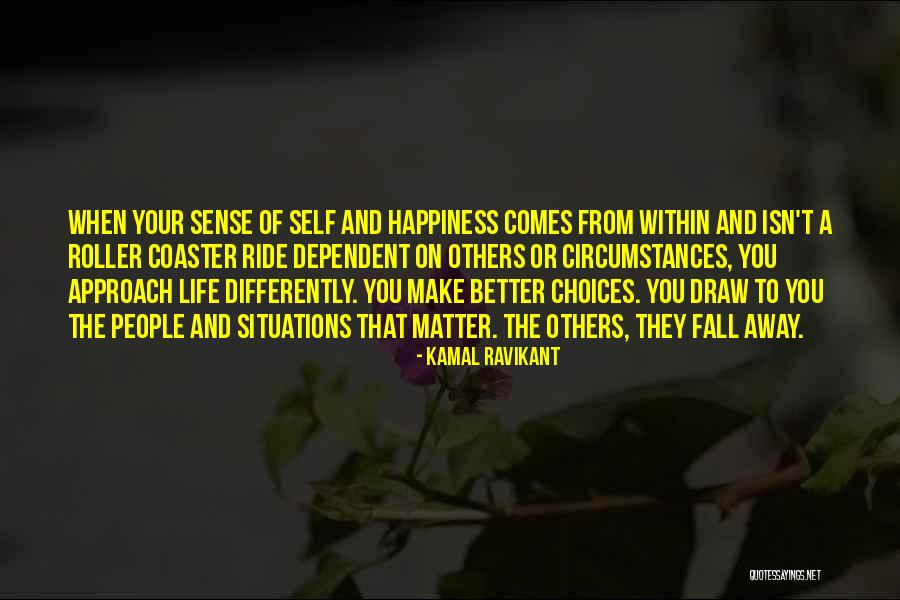 When your sense of self and happiness comes from within and isn't a roller coaster ride dependent on others or circumstances, you approach life differently. You make better choices. You draw to you the people and situations that matter. The others, they fall away. — Kamal Ravikant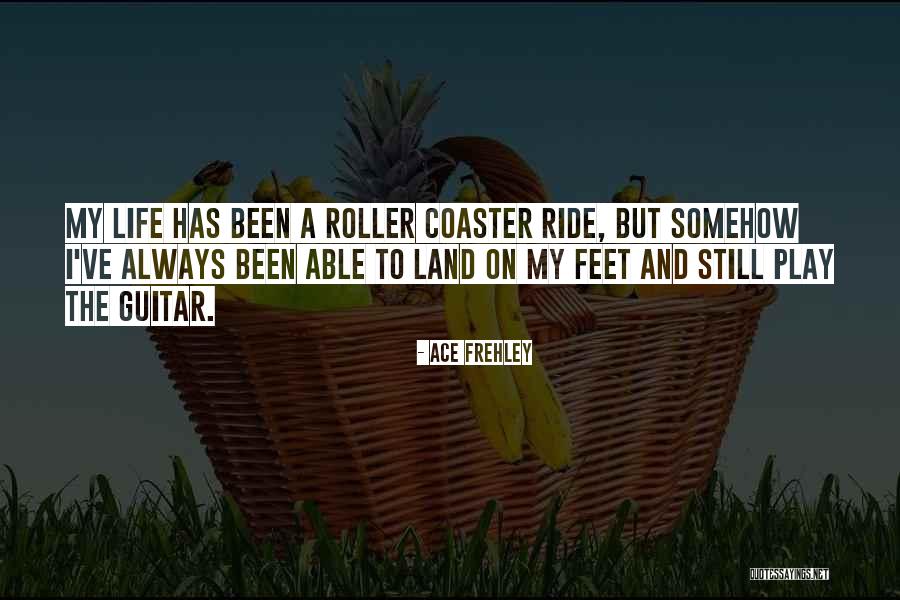 My life has been a roller coaster ride, but somehow I've always been able to land on my feet and still play the guitar. — Ace Frehley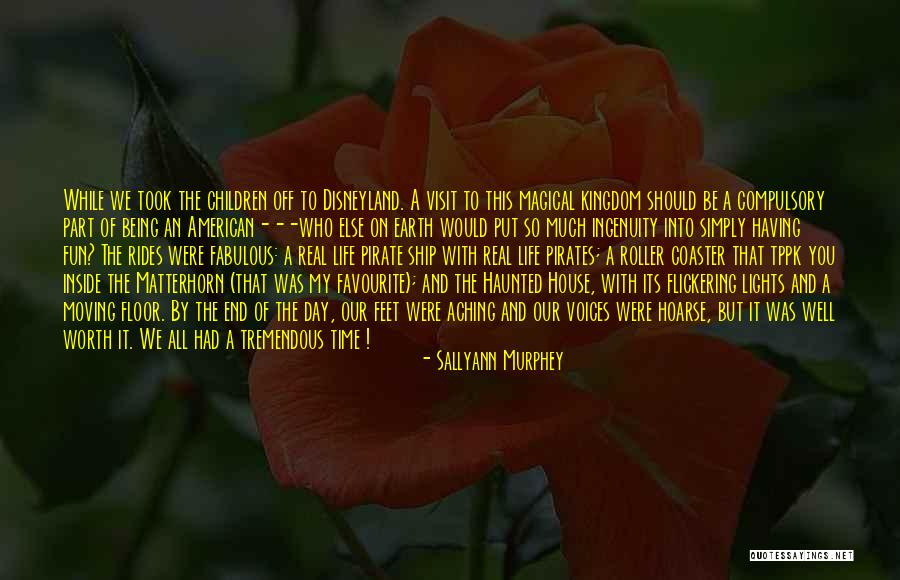 While we took the children off to Disneyland. A visit to this magical kingdom should be a compulsory part of being an American---who else on earth would put so much ingenuity into simply having fun? The rides were fabulous: a real life pirate ship with real life pirates; a roller coaster that tppk you inside the Matterhorn (that was my favourite); and the Haunted House, with its flickering lights and a moving floor. By the end of the day, our feet were aching and our voices were hoarse, but it was well worth it. We all had a tremendous time ! — Sallyann Murphey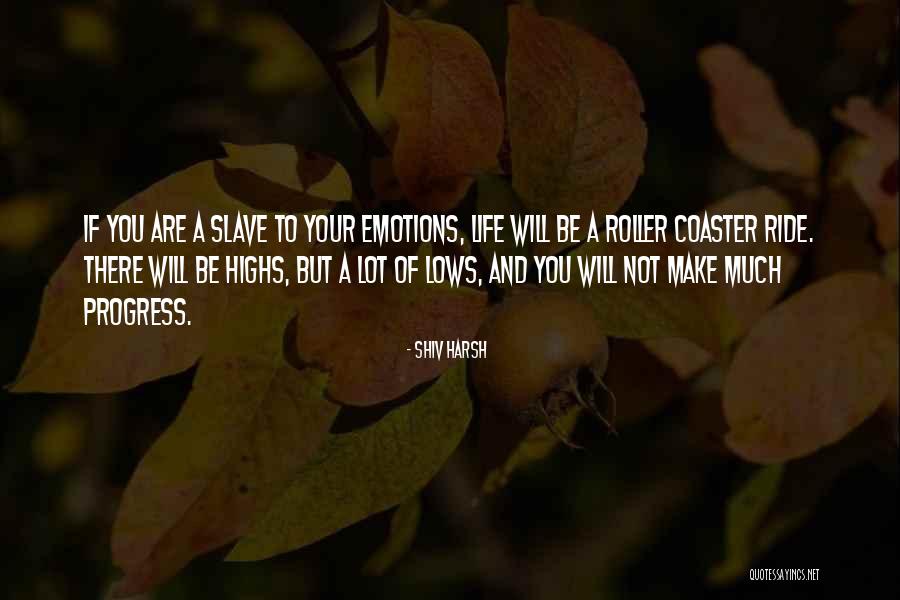 If you are a slave to your emotions, life will be a roller coaster ride. There will be highs, but a lot of lows, and you will not make much progress. — Shiv Harsh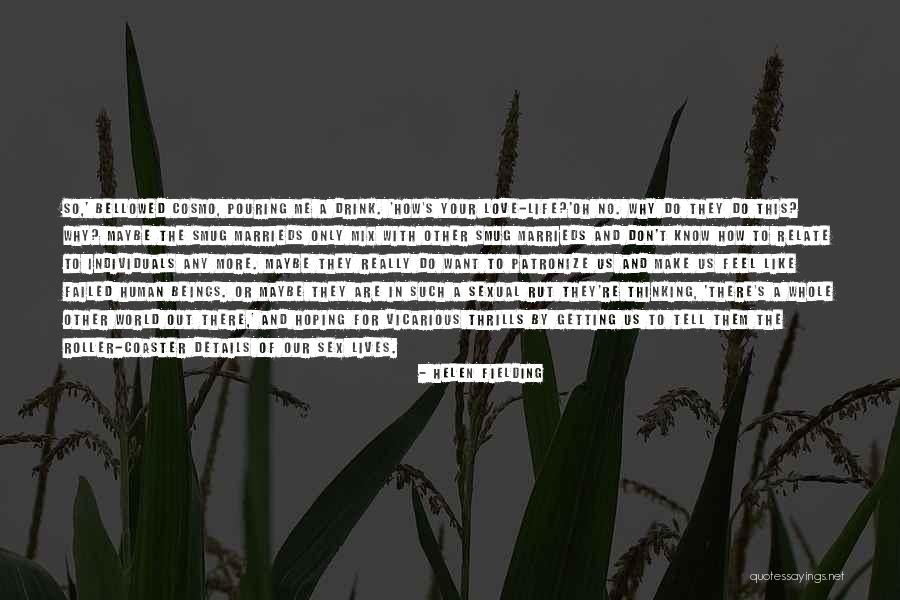 So,' bellowed Cosmo, pouring me a drink. 'How's your love-life?'
Oh no. Why do they do this? Why? Maybe the Smug Marrieds only mix with other Smug Marrieds and don't know how to relate to individuals any more. Maybe they really do want to patronize us and make us feel like failed human beings. Or maybe they are in such a sexual rut they're thinking, 'There's a whole other world out there,' and hoping for vicarious thrills by getting us to tell them the roller-coaster details of our sex lives. — Helen Fielding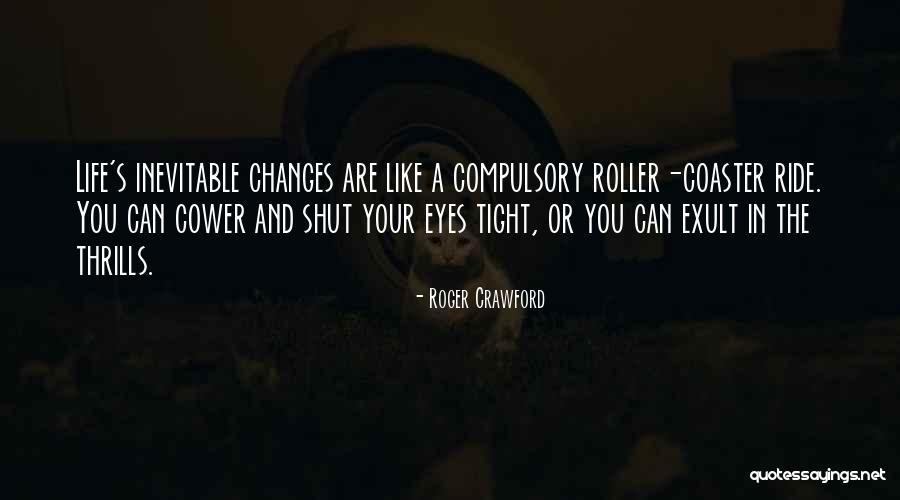 Life's inevitable changes are like a compulsory roller-coaster ride. You can cower and shut your eyes tight, or you can exult in the thrills. — Roger Crawford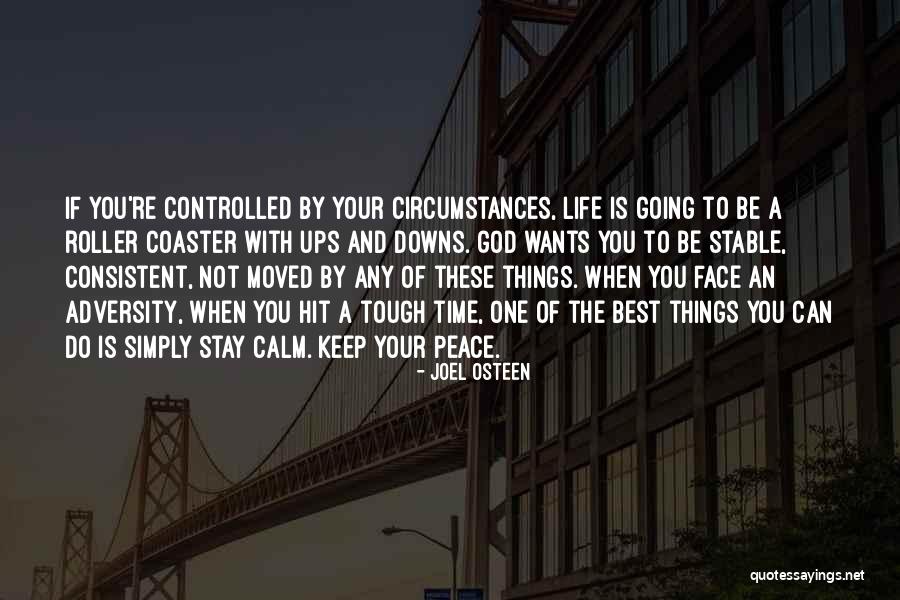 If you're controlled by your circumstances, life is going to be a roller coaster with ups and downs. God wants you to be stable, consistent, not moved by any of these things. When you face an adversity, when you hit a tough time, one of the best things you can do is simply stay calm. Keep your peace. — Joel Osteen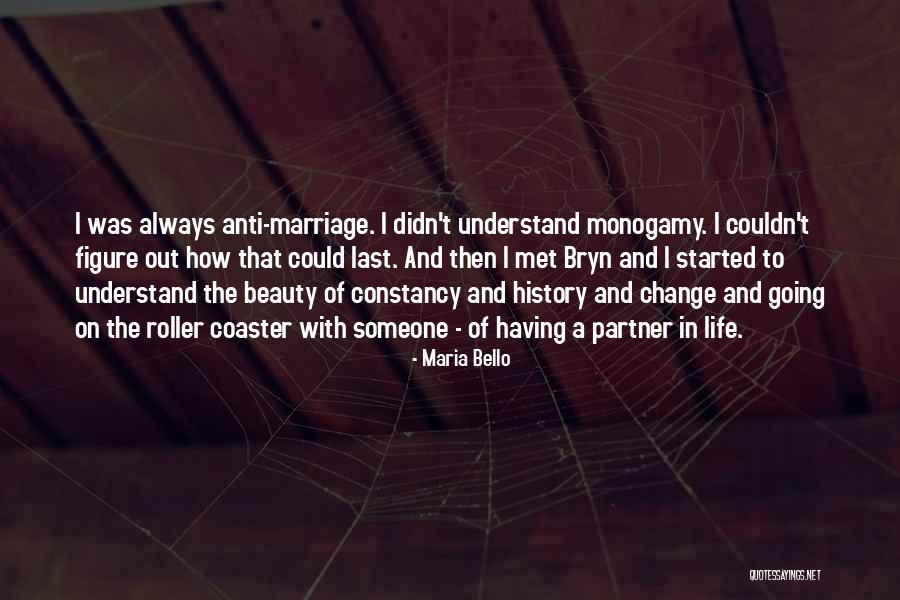 I was always anti-marriage. I didn't understand monogamy. I couldn't figure out how that could last. And then I met Bryn and I started to understand the beauty of constancy and history and change and going on the roller coaster with someone - of having a partner in life. — Maria Bello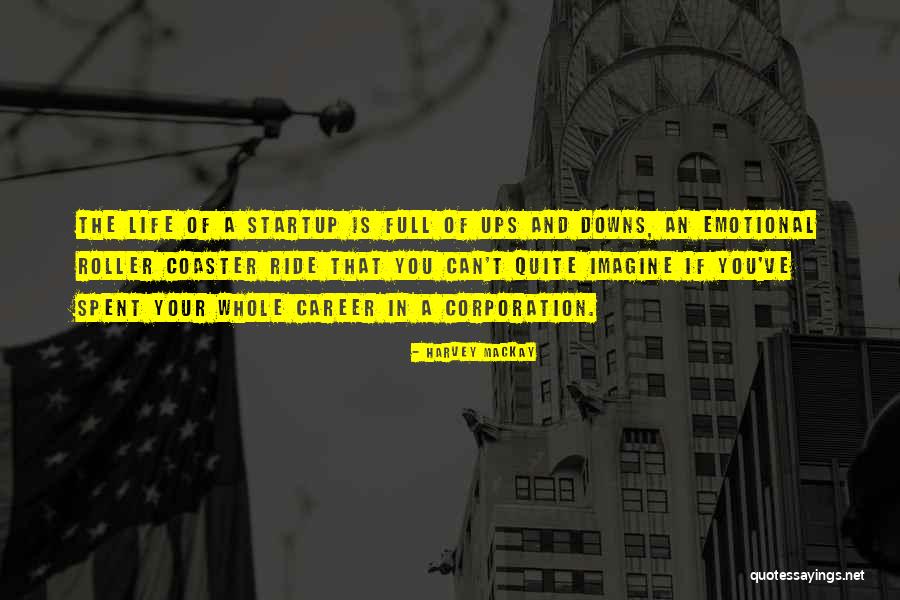 The life of a startup is full of ups and downs, an emotional roller coaster ride that you can't quite imagine if you've spent your whole career in a corporation. — Harvey MacKay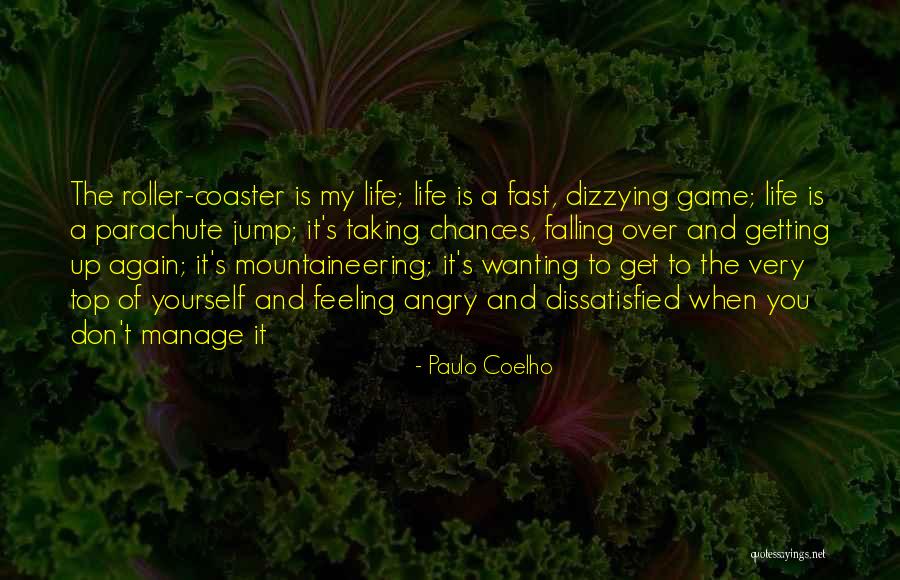 The roller-coaster is my life; life is a fast, dizzying game; life is a parachute jump; it's taking chances, falling over and getting up again; it's mountaineering; it's wanting to get to the very top of yourself and feeling angry and dissatisfied when you don't manage it — Paulo Coelho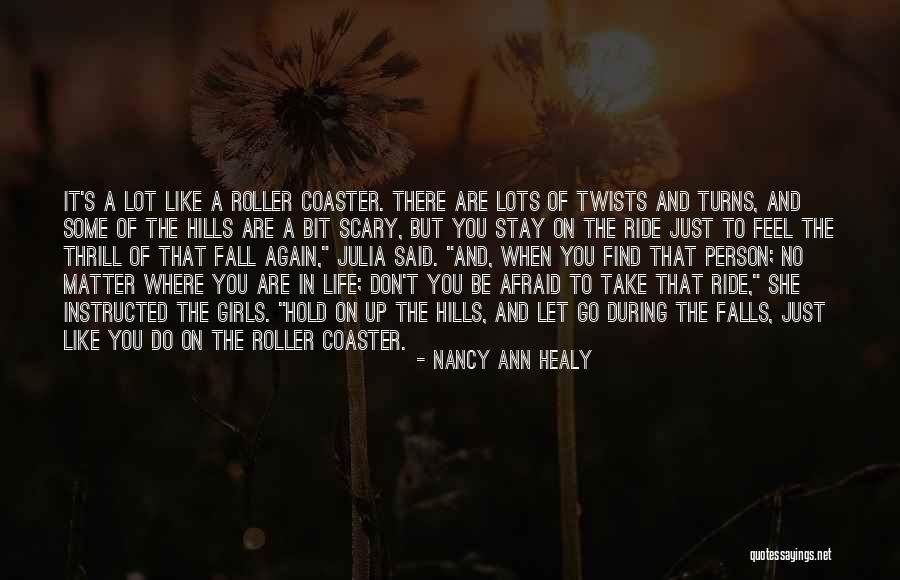 It's a lot like a roller coaster. There are lots of twists and turns, and some of the hills are a bit scary, but you stay on the ride just to feel the thrill of that fall again," Julia said. "And, when you find that person; no matter where you are in life; don't you be afraid to take that ride," she instructed the girls. "Hold on up the hills, and let go during the falls, just like you do on the roller coaster. — Nancy Ann Healy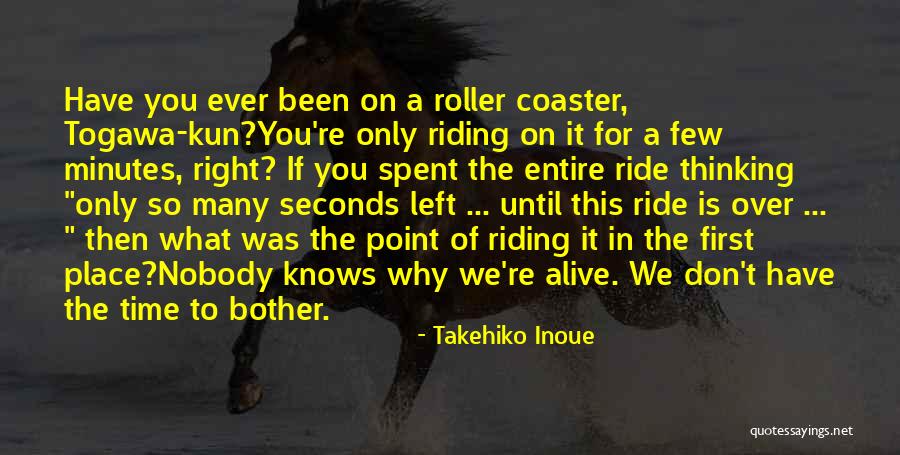 Have you ever been on a roller coaster, Togawa-kun?
You're only riding on it for a few minutes, right? If you spent the entire ride thinking "only so many seconds left ... until this ride is over ... " then what was the point of riding it in the first place?
Nobody knows why we're alive. We don't have the time to bother. — Takehiko Inoue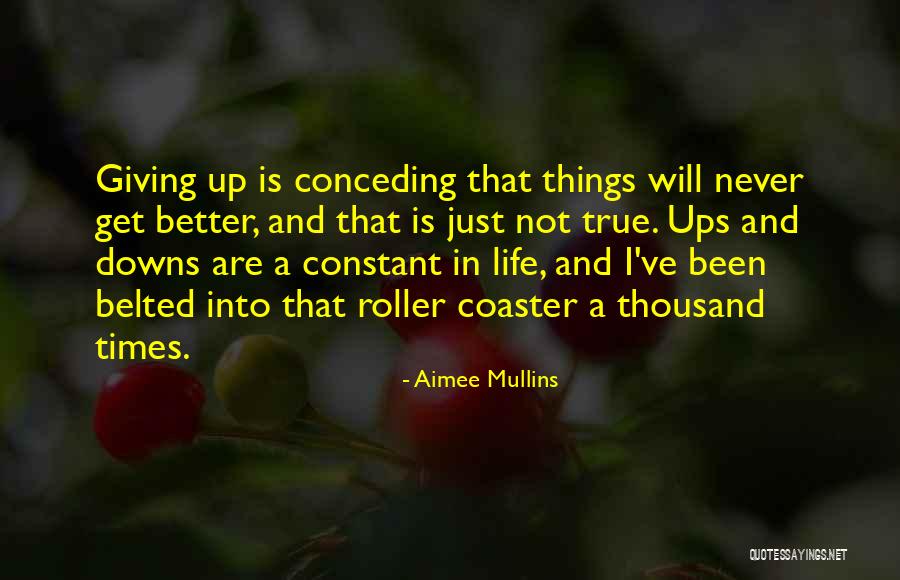 Giving up is conceding that things will never get better, and that is just not true. Ups and downs are a constant in life, and I've been belted into that roller coaster a thousand times. — Aimee Mullins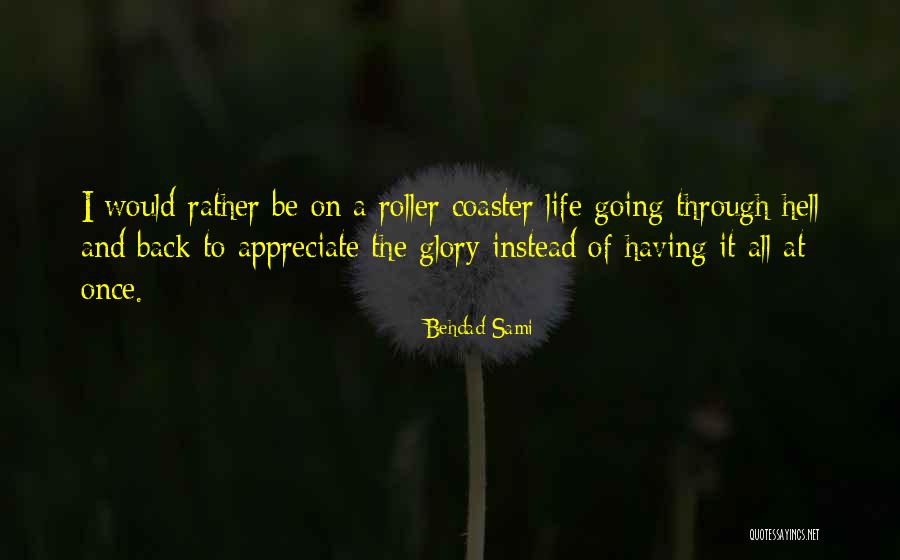 I would rather be on a roller coaster life going through hell and back to appreciate the glory instead of having it all at once. — Behdad Sami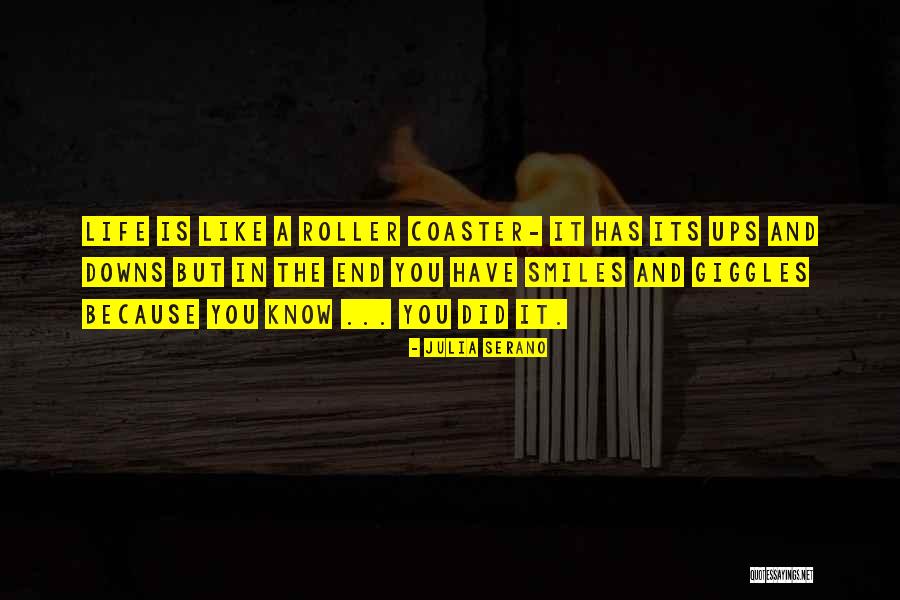 Life is like a roller coaster- it has its ups and downs but in the end you have smiles and giggles because you know ... you did it. — Julia Serano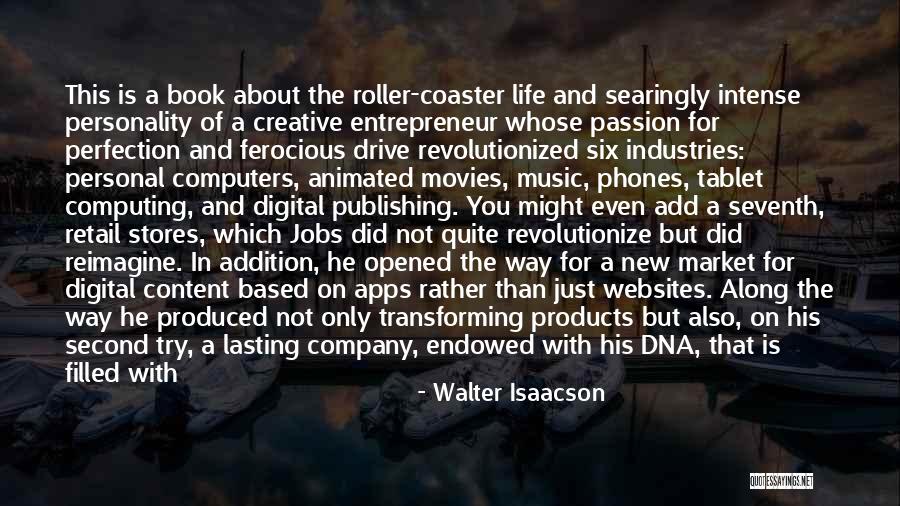 This is a book about the roller-coaster life and searingly intense personality of a creative entrepreneur whose passion for perfection and ferocious drive revolutionized six industries: personal computers, animated movies, music, phones, tablet computing, and digital publishing. You might even add a seventh, retail stores, which Jobs did not quite revolutionize but did reimagine. In addition, he opened the way for a new market for digital content based on apps rather than just websites. Along the way he produced not only transforming products but also, on his second try, a lasting company, endowed with his DNA, that is filled with creative designers and daredevil engineers who could carry forward his vision. In August 2011, right before he stepped down as CEO, the enterprise he started in his parents' garage became the world's most valuable company. — Walter Isaacson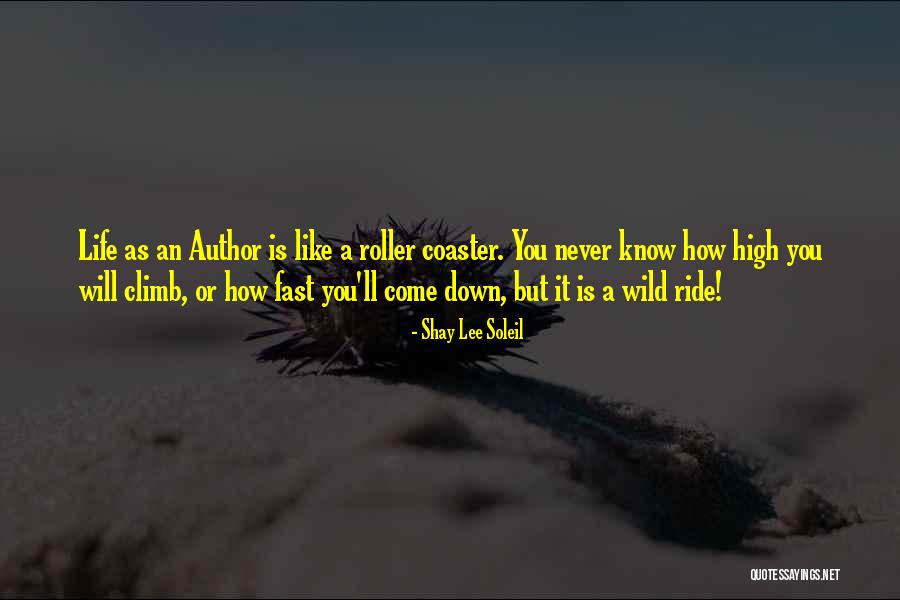 Life as an Author is like a roller coaster. You never know how high you will climb, or how fast you'll come down, but it is a wild ride! — Shay Lee Soleil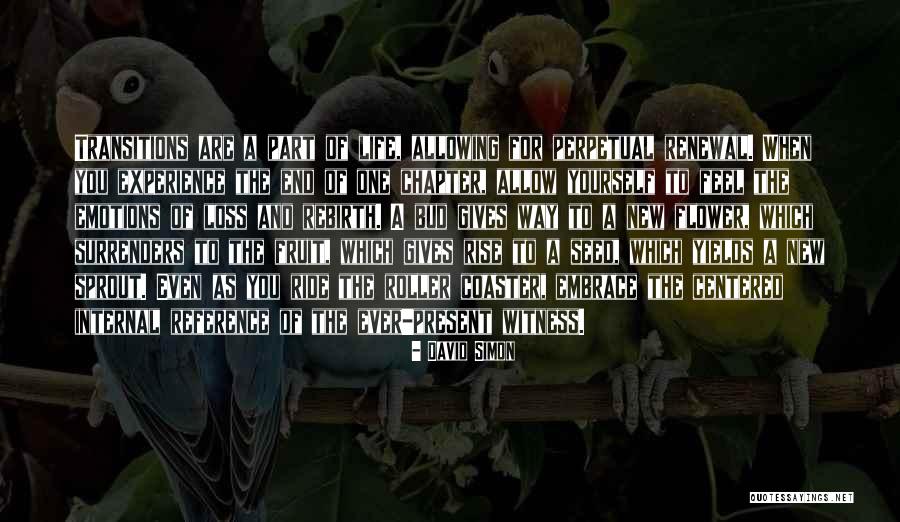 Transitions are a part of life, allowing for perpetual renewal. When you experience the end of one chapter, allow yourself to feel the emotions of loss and rebirth. A bud gives way to a new flower, which surrenders to the fruit, which gives rise to a seed, which yields a new sprout. Even as you ride the roller coaster, embrace the centered internal reference of the ever-present witness. — David Simon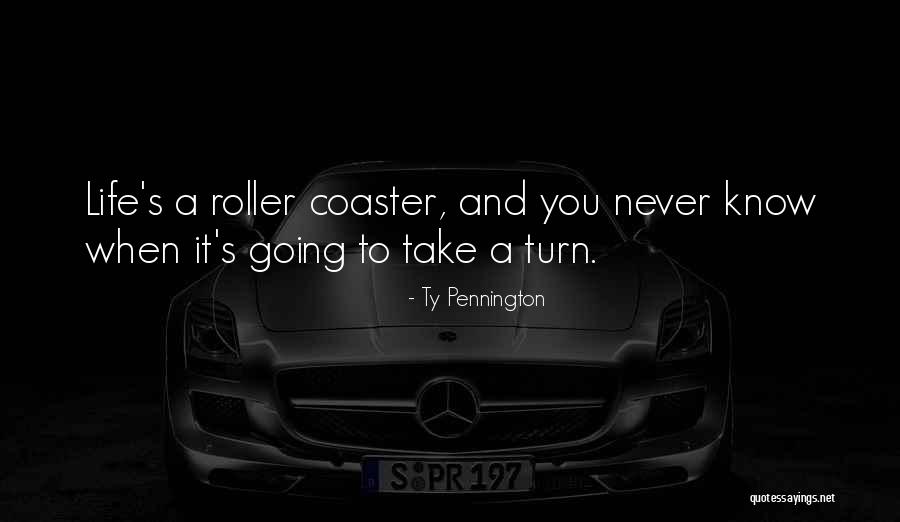 Life's a roller coaster, and you never know when it's going to take a turn. — Ty Pennington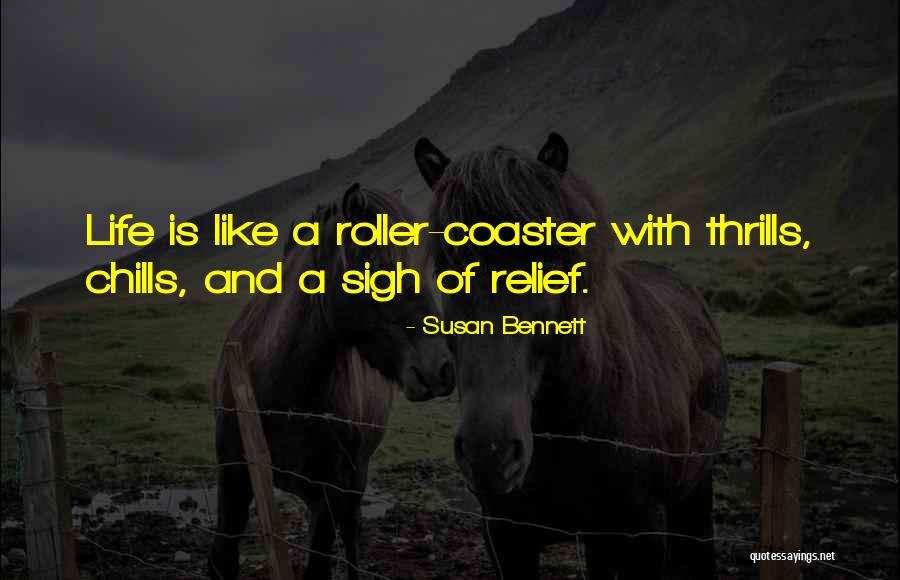 Life is like a roller-coaster with thrills, chills, and a sigh of relief. — Susan Bennett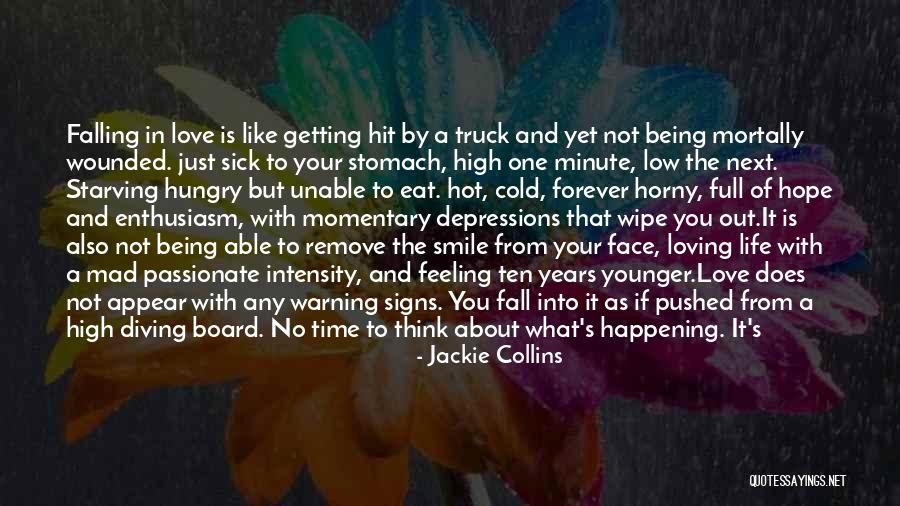 Falling in love is like getting hit by a truck and yet not being mortally wounded. just sick to your stomach, high one minute, low the next. Starving hungry but unable to eat. hot, cold, forever horny, full of hope and enthusiasm, with momentary depressions that wipe you out.
It is also not being able to remove the smile from your face, loving life with a mad passionate intensity, and feeling ten years younger.
Love does not appear with any warning signs. You fall into it as if pushed from a high diving board. No time to think about what's happening. It's inevitable. An event you can't control. A crazy, heart-stopping, roller-coaster ride that just has to take its course. — Jackie Collins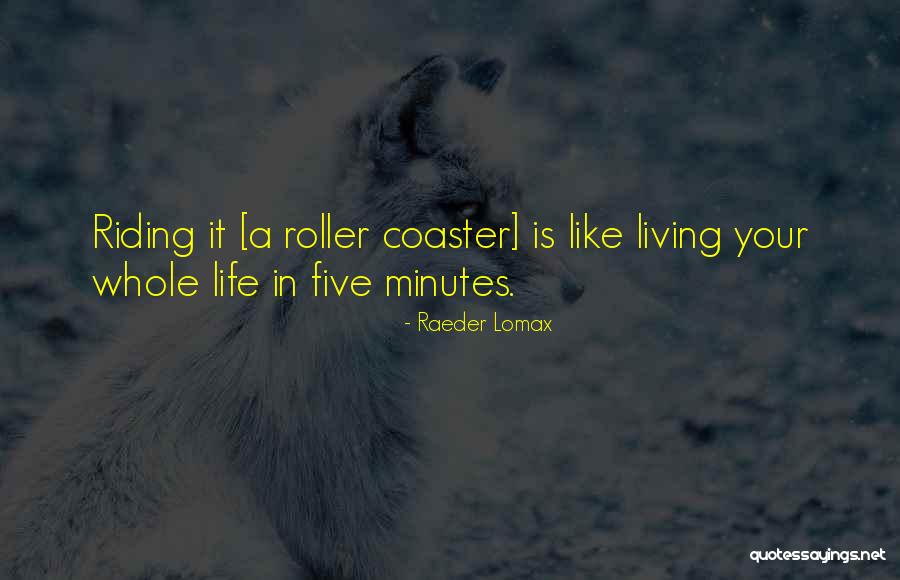 Riding it [a roller coaster] is like living your whole life in five minutes. — Raeder Lomax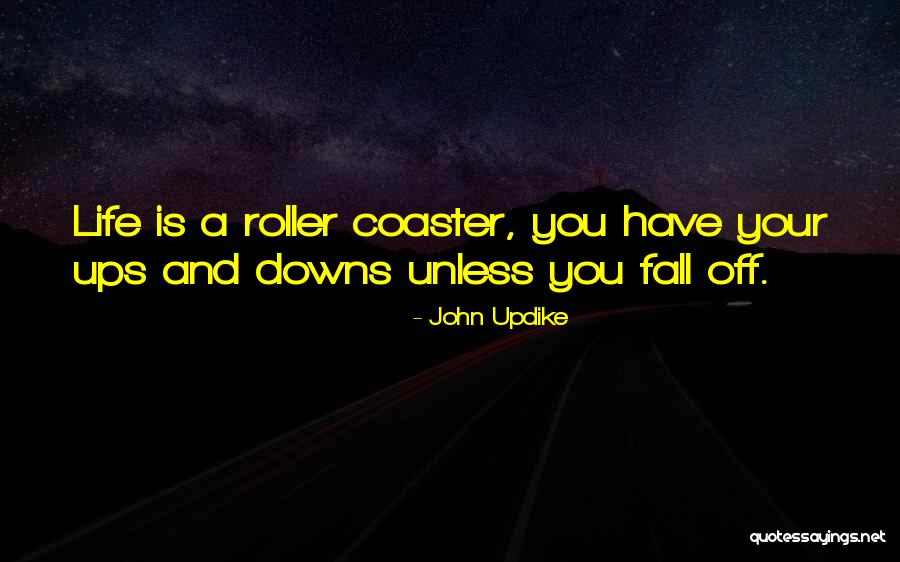 Life is a roller coaster, you have your ups and downs unless you fall off. — John Updike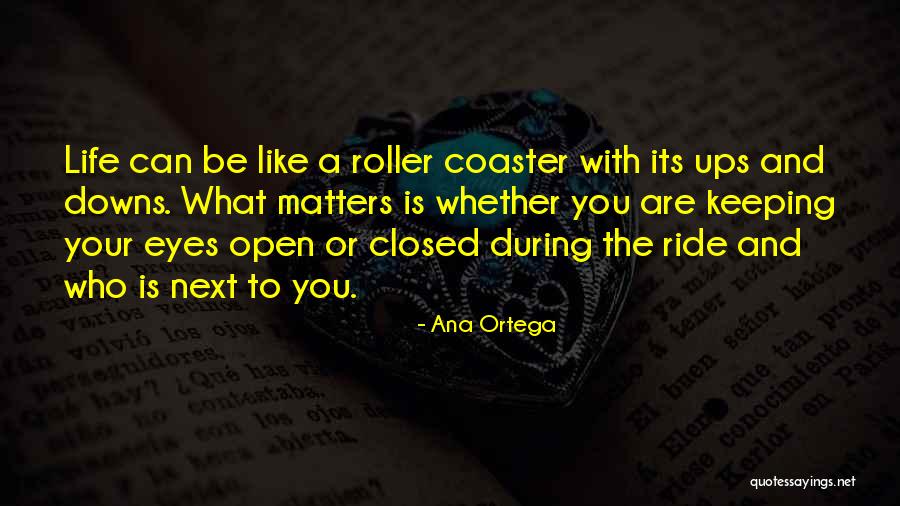 Life can be like a roller coaster with its ups and downs. What matters is whether you are keeping your eyes open or closed during the ride and who is next to you. — Ana Ortega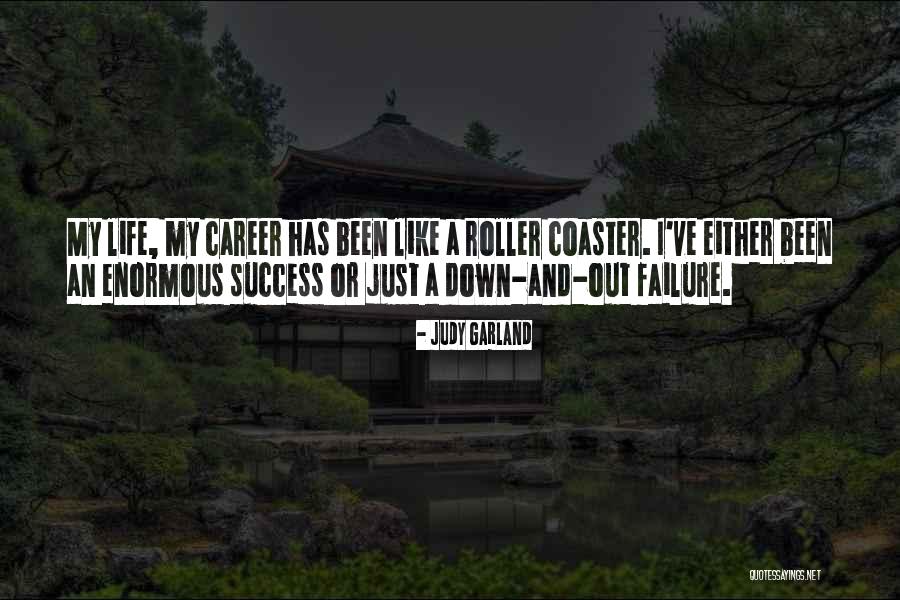 My life, my career has been like a roller coaster. I've either been an enormous success or just a down-and-out failure. — Judy Garland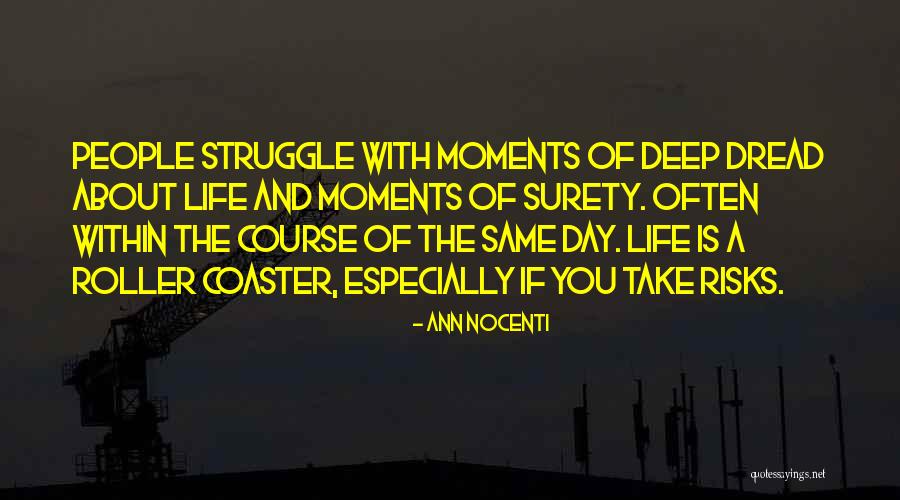 People struggle with moments of deep dread about life and moments of surety. Often within the course of the same day. Life is a roller coaster, especially if you take risks. — Ann Nocenti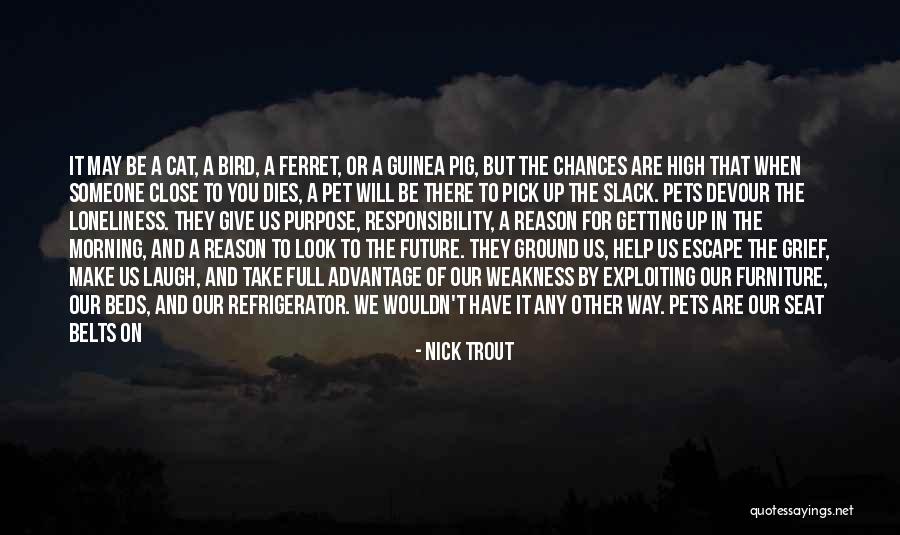 It may be a cat, a bird, a ferret, or a guinea pig, but the chances are high that when someone close to you dies, a pet will be there to pick up the slack. Pets devour the loneliness. They give us purpose, responsibility, a reason for getting up in the morning, and a reason to look to the future. They ground us, help us escape the grief, make us laugh, and take full advantage of our weakness by exploiting our furniture, our beds, and our refrigerator. We wouldn't have it any other way. Pets are our seat belts on the emotional roller coaster of life
they can be trusted, they keep us safe, and they sure do smooth out the ride. — Nick Trout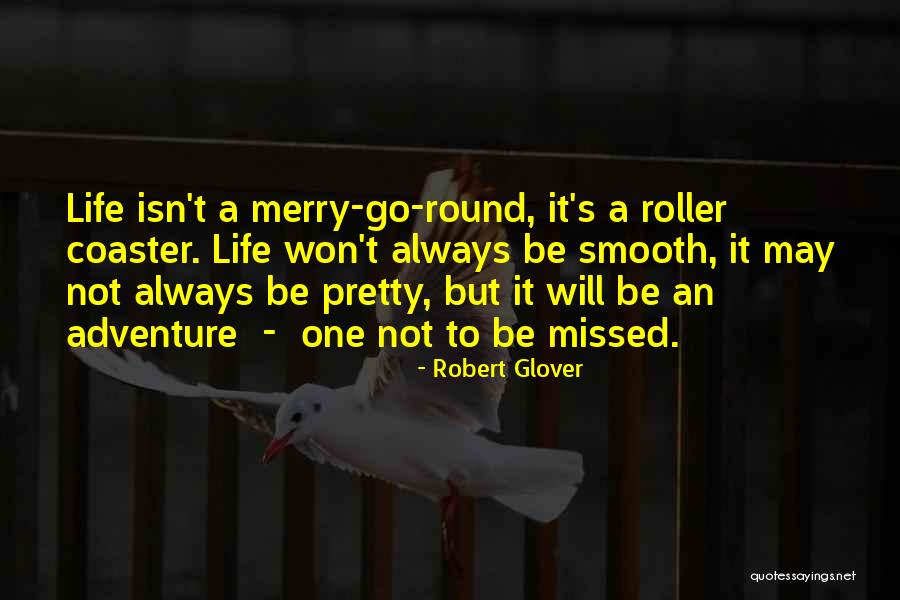 Life isn't a merry-go-round, it's a roller coaster. Life won't always be smooth, it may not always be pretty, but it will be an adventure - one not to be missed. — Robert Glover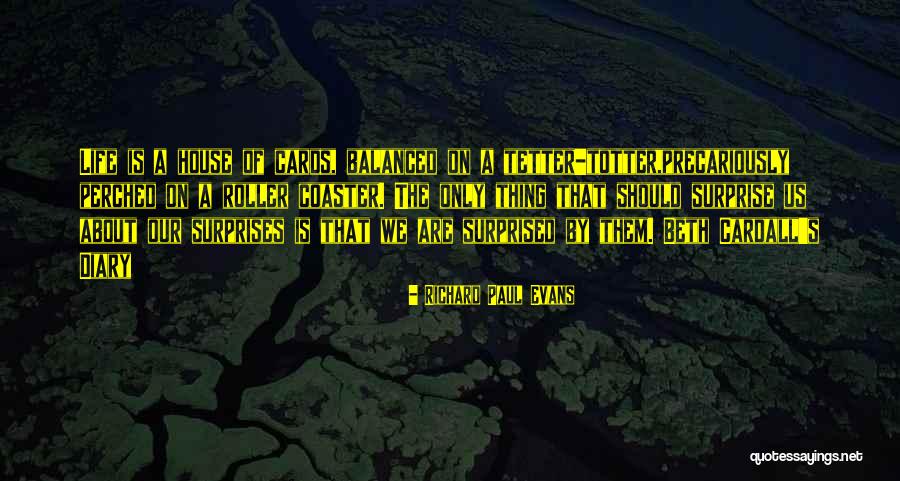 Life is a house of cards, balanced on a tetter-totter,
precariously perched on a roller coaster.
The only thing that should surprise us about our surprises is that we are surprised by them.
Beth Cardall's Diary — Richard Paul Evans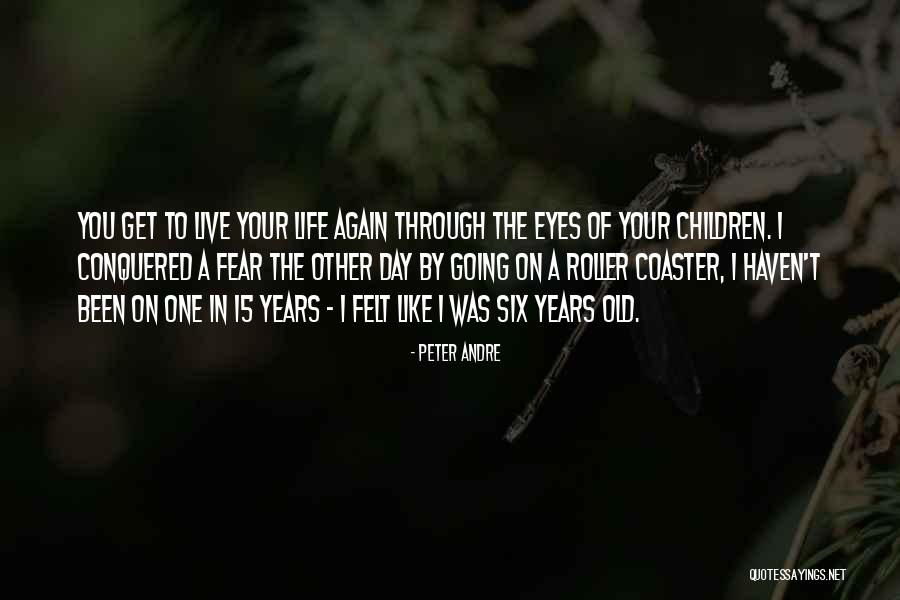 You get to live your life again through the eyes of your children. I conquered a fear the other day by going on a roller coaster, I haven't been on one in 15 years - I felt like I was six years old. — Peter Andre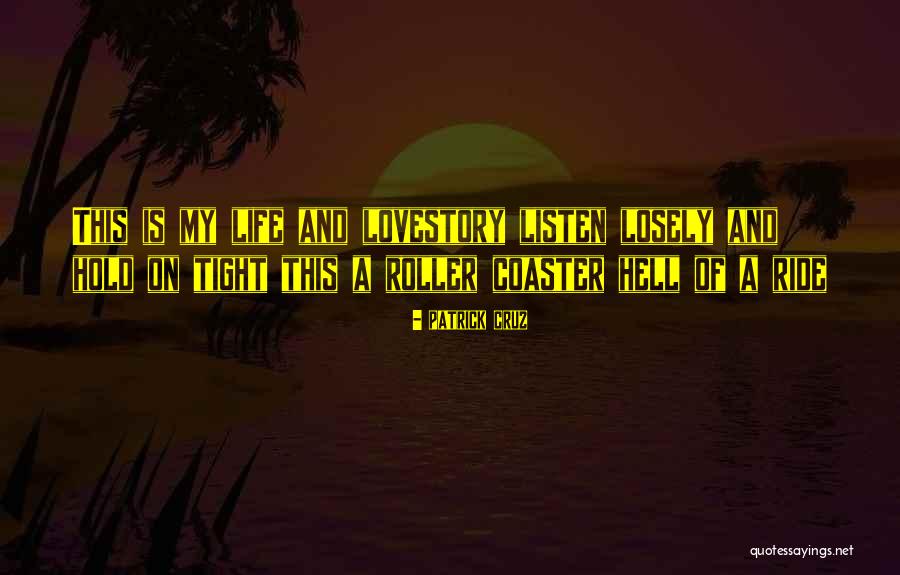 This is my life and lovestory listen losely and hold on tight this a roller coaster hell of a ride — Patrick Cruz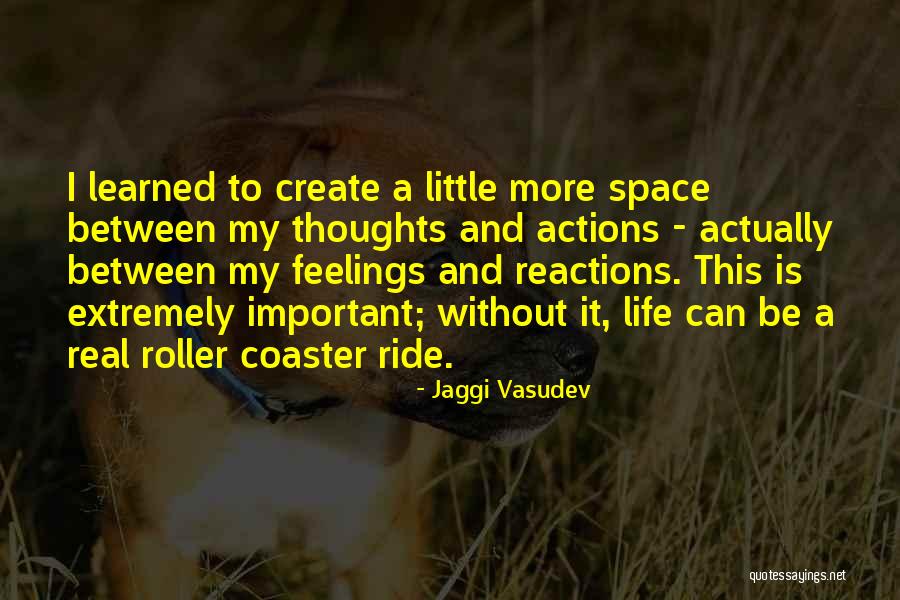 I learned to create a little more space between my thoughts and actions - actually between my feelings and reactions. This is extremely important; without it, life can be a real roller coaster ride. — Jaggi Vasudev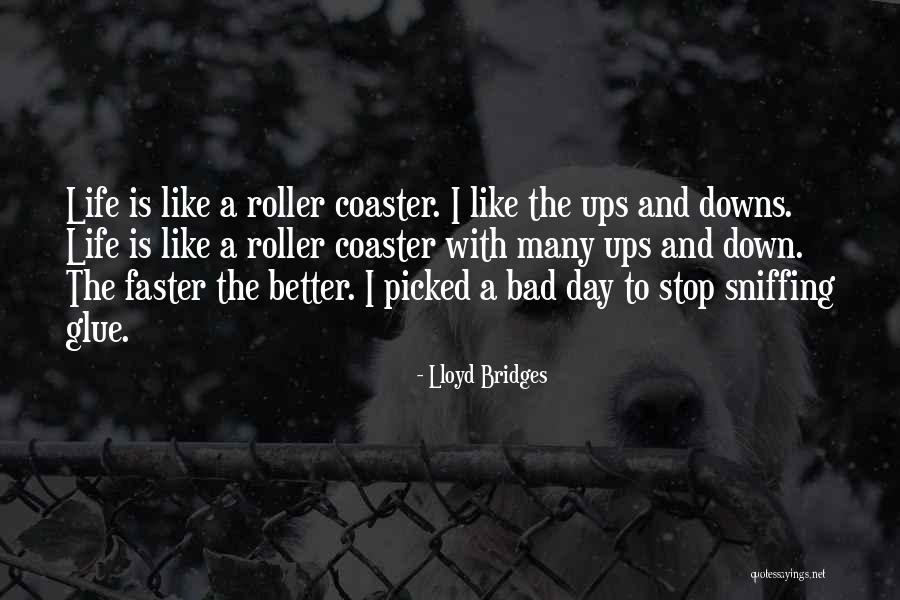 Life is like a roller coaster. I like the ups and downs. Life is like a roller coaster with many ups and down. The faster the better. I picked a bad day to stop sniffing glue. — Lloyd Bridges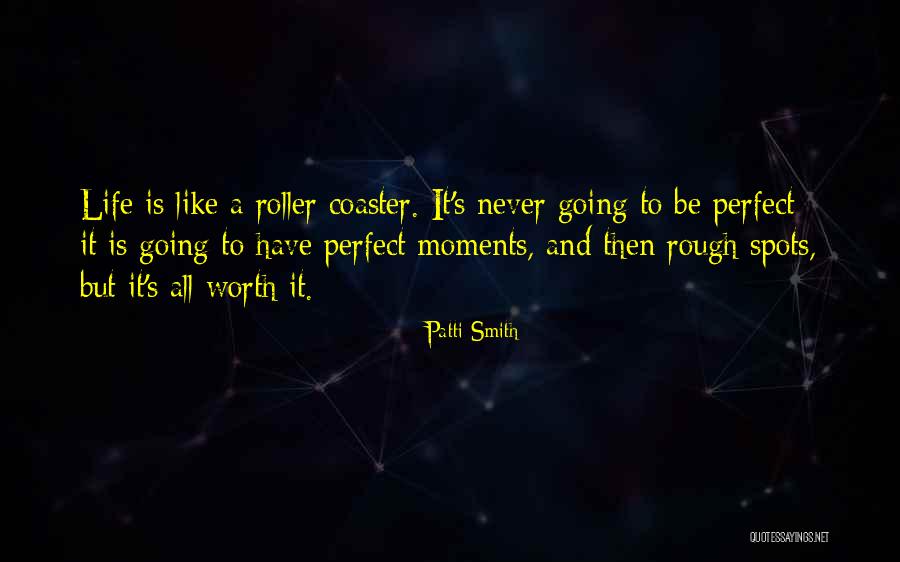 Life is like a roller coaster. It's never going to be perfect - it is going to have perfect moments, and then rough spots, but it's all worth it. — Patti Smith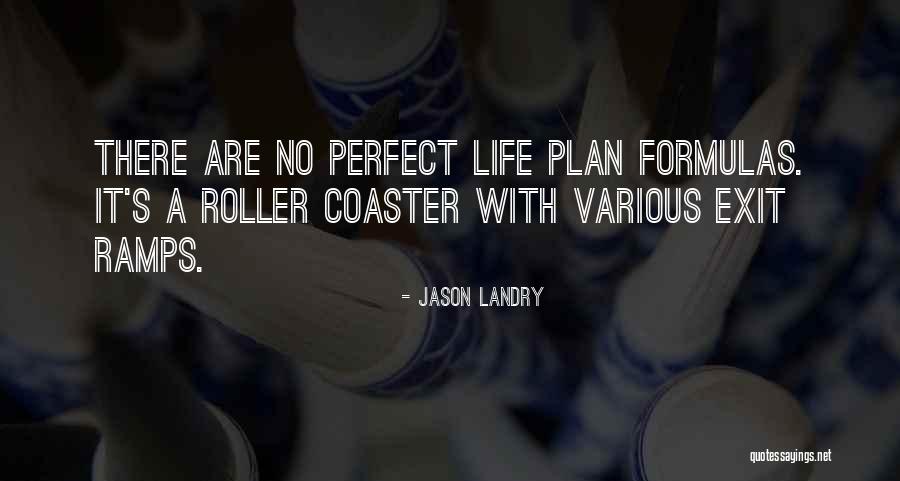 There are no perfect life plan formulas. It's a roller coaster with various exit ramps. — Jason Landry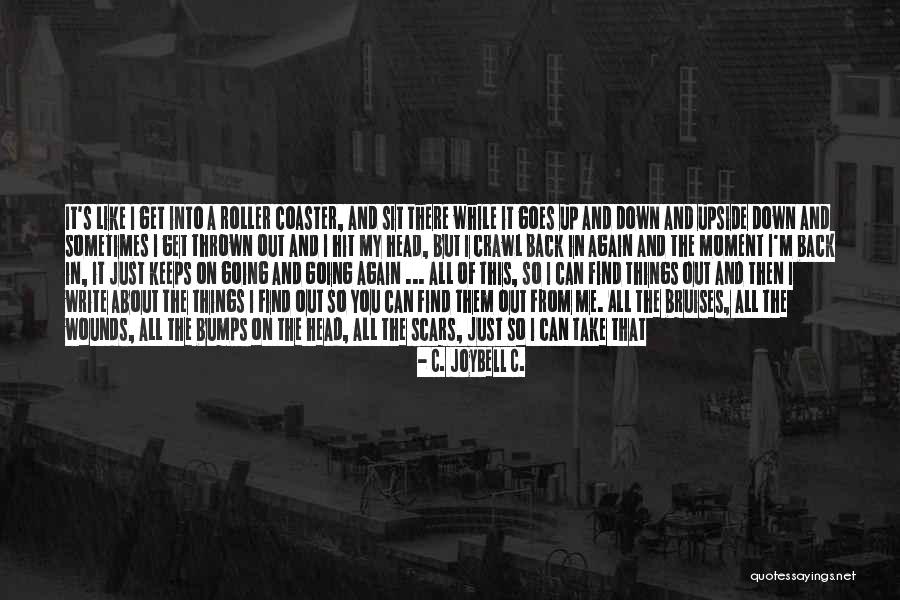 It's like I get into a roller coaster, and sit there while it goes up and down and upside down and sometimes I get thrown out and I hit my head, but I crawl back in again and the moment I'm back in, it just keeps on going and going again ... all of this, so I can find things out and then I write about the things I find out so you can find them out from me. All the bruises, all the wounds, all the bumps on the head, all the scars, just so I can take that and I can write all these things, and sometimes I say "God, I don't want to be in this roller coaster anymore." But when I think about it, if I'm not right here, then where the hell would I be? On the sidewalk? I wasn't born to stand on the sidewalk, I was born to fly around crazy in the sky! — C. JoyBell C.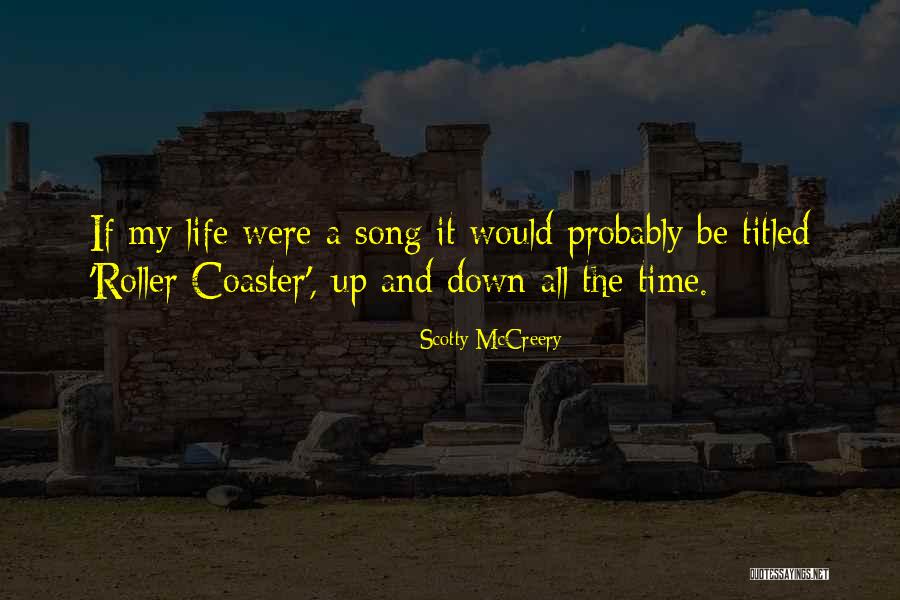 If my life were a song it would probably be titled 'Roller Coaster', up and down all the time. — Scotty McCreery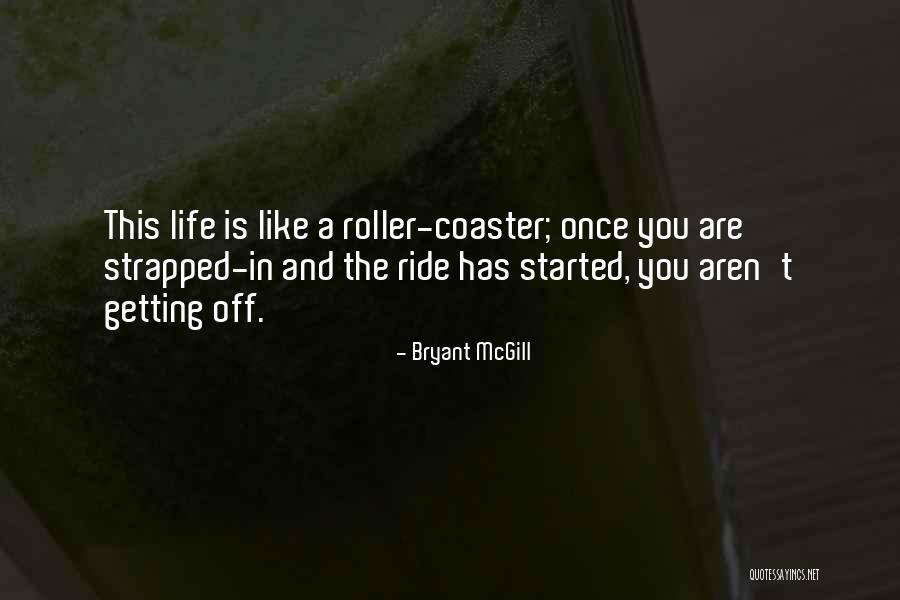 This life is like a roller-coaster; once you are strapped-in and the ride has started, you aren't getting off. — Bryant McGill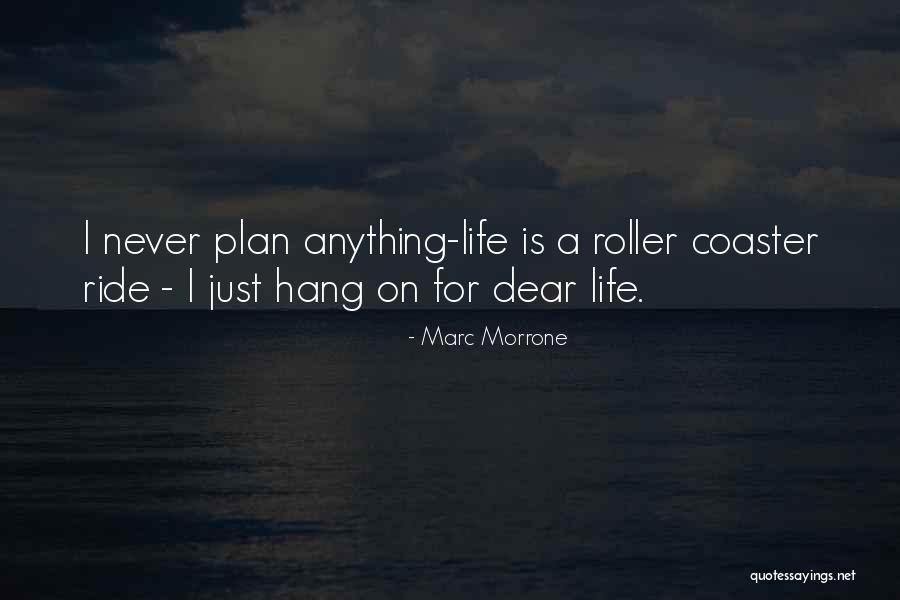 I never plan anything-life is a roller coaster ride - I just hang on for dear life. — Marc Morrone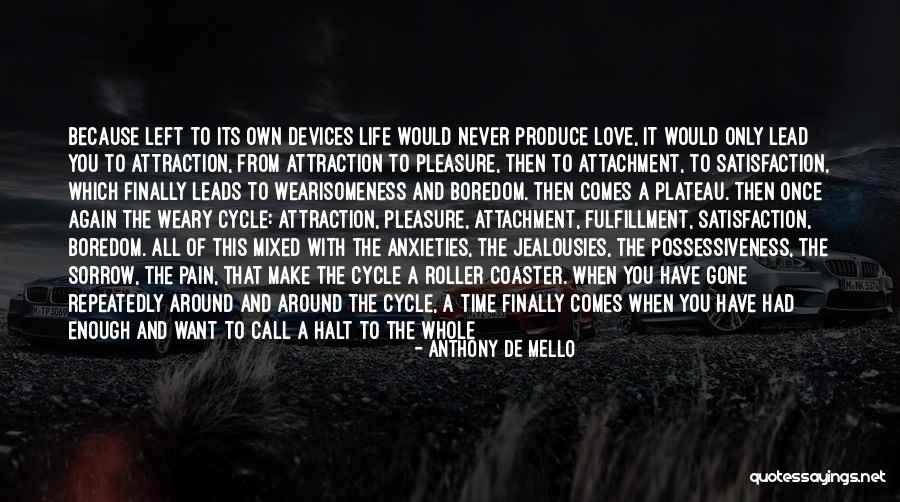 Because left to its own devices life would never produce love, it would only lead you to attraction, from attraction to pleasure, then to attachment, to satisfaction, which finally leads to wearisomeness and boredom. Then comes a plateau. Then once again the weary cycle: attraction, pleasure, attachment, fulfillment, satisfaction, boredom. All of this mixed with the anxieties, the jealousies, the possessiveness, the sorrow, the pain, that make the cycle a roller coaster. When you have gone repeatedly around and around the cycle, a time finally comes when you have had enough and want to call a halt to the whole process. And if you are lucky enough not to run into something or someone else that catches your eye, you will have at least attained a fragile peace. That is the most that life can give you; and you can mistakenly equate this state with freedom and you die without ever having known what it means to be really free and to love. — Anthony De Mello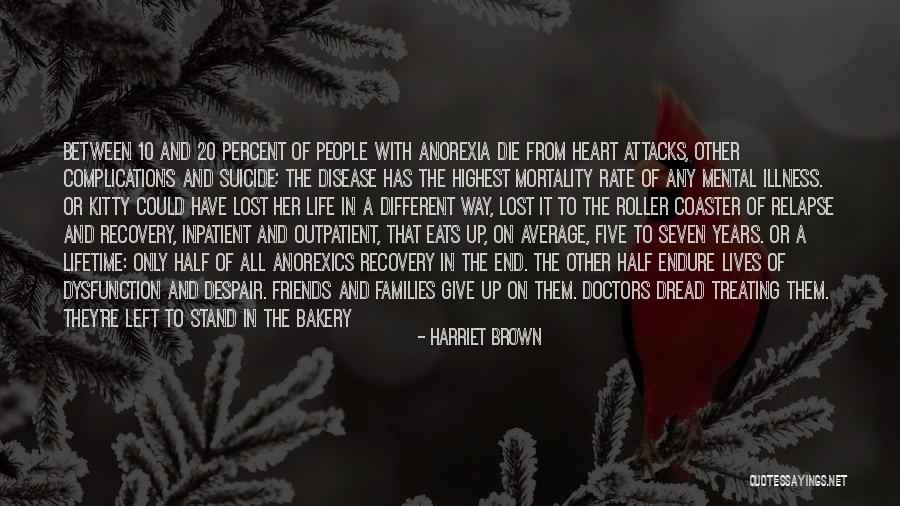 Between 10 and 20 percent of people with anorexia die from heart attacks, other complications and suicide; the disease has the highest mortality rate of any mental illness. Or Kitty could have lost her life in a different way, lost it to the roller coaster of relapse and recovery, inpatient and outpatient, that eats up, on average, five to seven years. Or a lifetime: only half of all anorexics recovery in the end. The other half endure lives of dysfunction and despair. Friends and families give up on them. Doctors dread treating them. They're left to stand in the bakery with the voice ringing in their ears, alone in every way that matters. — Harriet Brown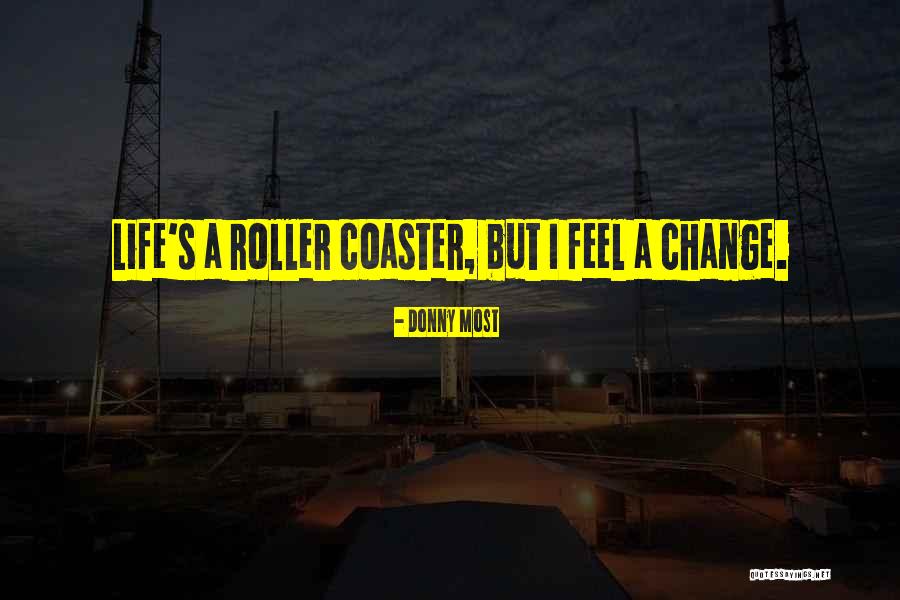 Life's a roller coaster, but I feel a change. — Donny Most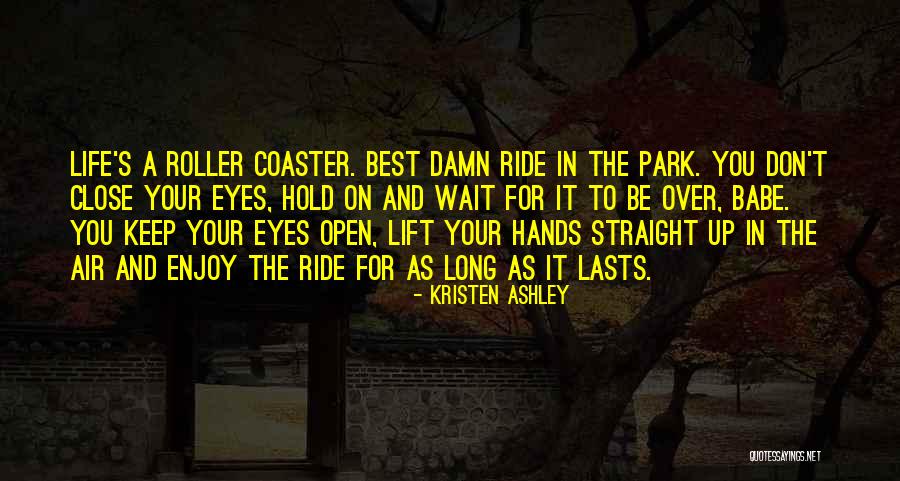 Life's a roller coaster. Best damn ride in the park. You don't close your eyes, hold on and wait for it to be over, babe. You keep your eyes open, lift your hands straight up in the air and enjoy the ride for as long as it lasts. — Kristen Ashley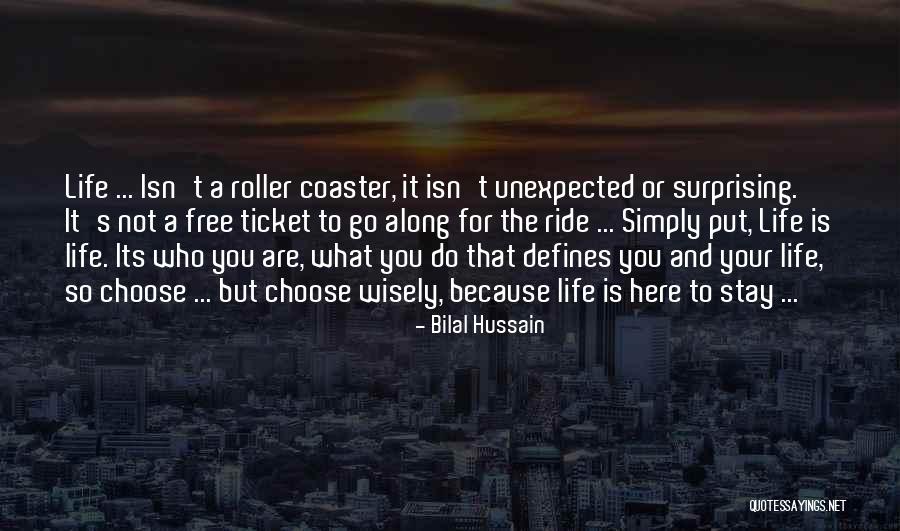 Life ... Isn't a roller coaster, it isn't unexpected or surprising. It's not a free ticket to go along for the ride ... Simply put, Life is life. Its who you are, what you do that defines you and your life, so choose ... but choose wisely, because life is here to stay ... — Bilal Hussain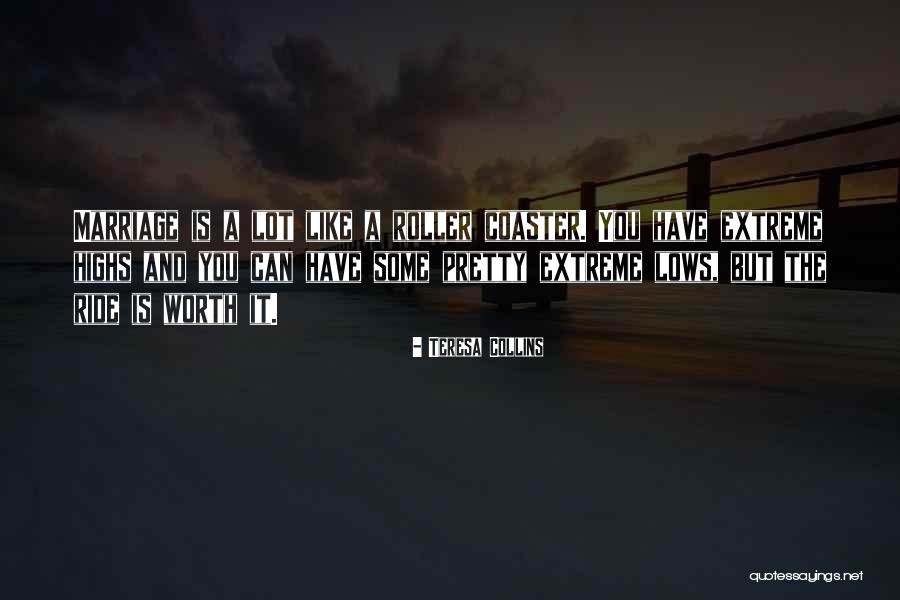 Marriage is a lot like a roller coaster. You have extreme highs and you can have some pretty extreme lows, but the ride is worth it. — Teresa Collins