Quotes & Sayings About A Brother's Love For His Sister
Enjoy reading and share 46 famous quotes about A Brother's Love For His Sister with everyone.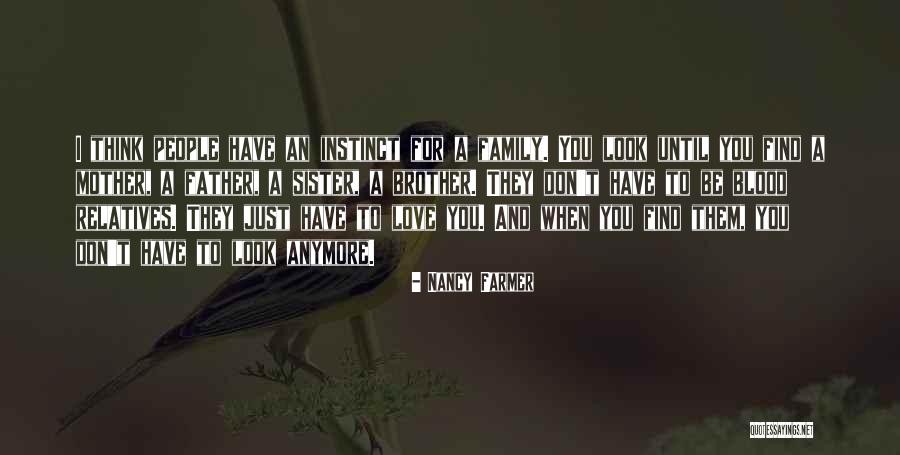 I think people have an instinct for a family. You look until you find a mother, a father, a sister, a brother. They don't have to be blood relatives. They just have to love you. And when you find them, you don't have to look anymore. — Nancy Farmer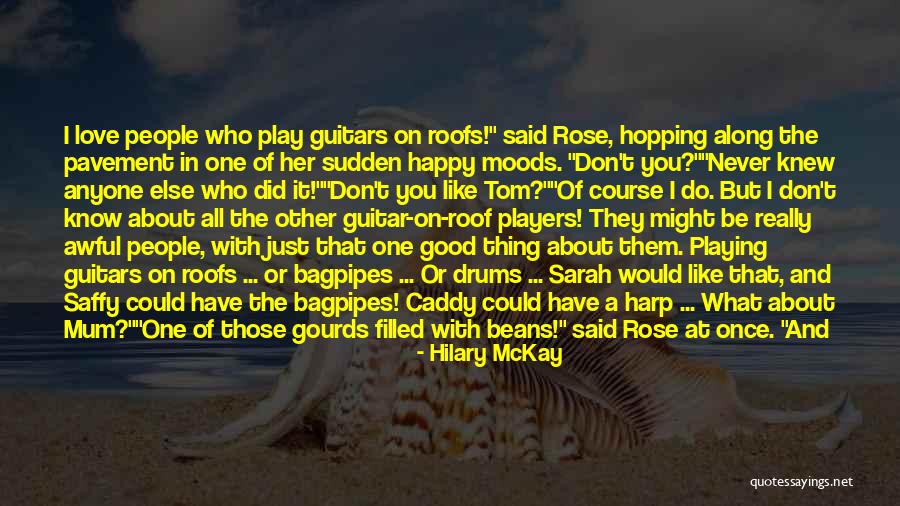 I love people who play guitars on roofs!" said Rose, hopping along the pavement in one of her sudden happy moods. "Don't you?"
"Never knew anyone else who did it!"
"Don't you like Tom?"
"Of course I do. But I don't know about all the other guitar-on-roof players! They might be really awful people, with just that one good thing about them. Playing guitars on roofs ... or bagpipes ... Or drums ... Sarah would like that, and Saffy could have the bagpipes! Caddy could have a harp ... What about Mum?"
"One of those gourds filled with beans!" said Rose at once. "And Daddy could have a grand piano. On a flat roof. With a balcony and pink flowers in pots around the edge! And I'll have a very loud trumpet! What about you?"
"I'll just listen," said Indigo. — Hilary McKay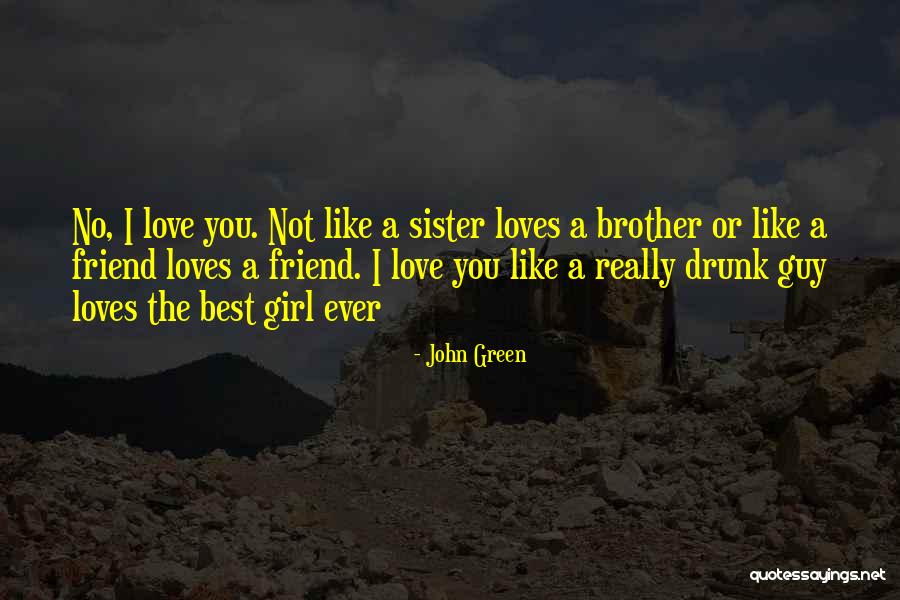 No, I love you. Not like a sister loves a brother or like a friend loves a friend. I love you like a really drunk guy loves the best girl ever — John Green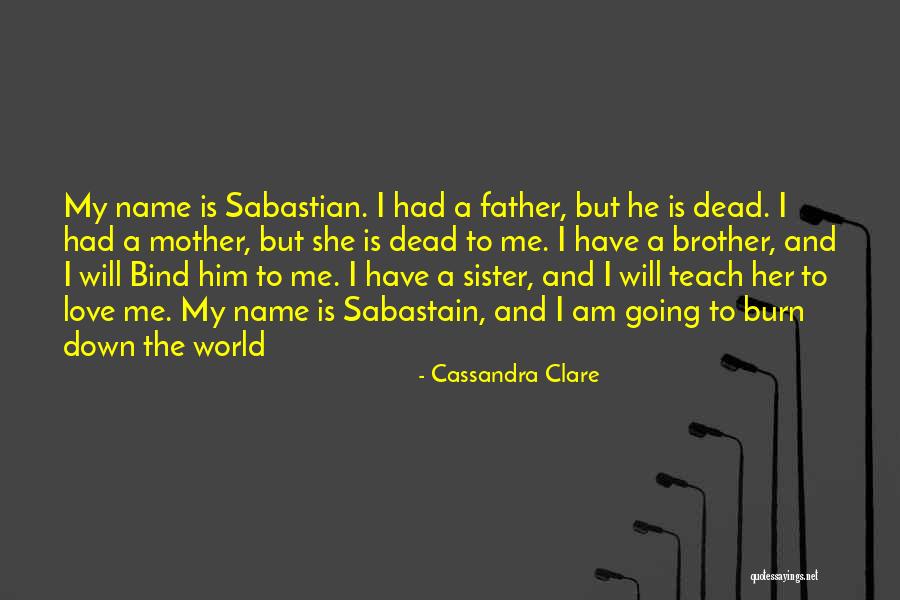 My name is Sabastian. I had a father, but he is dead. I had a mother, but she is dead to me. I have a brother, and I will Bind him to me. I have a sister, and I will teach her to love me. My name is Sabastain, and I am going to burn down the world — Cassandra Clare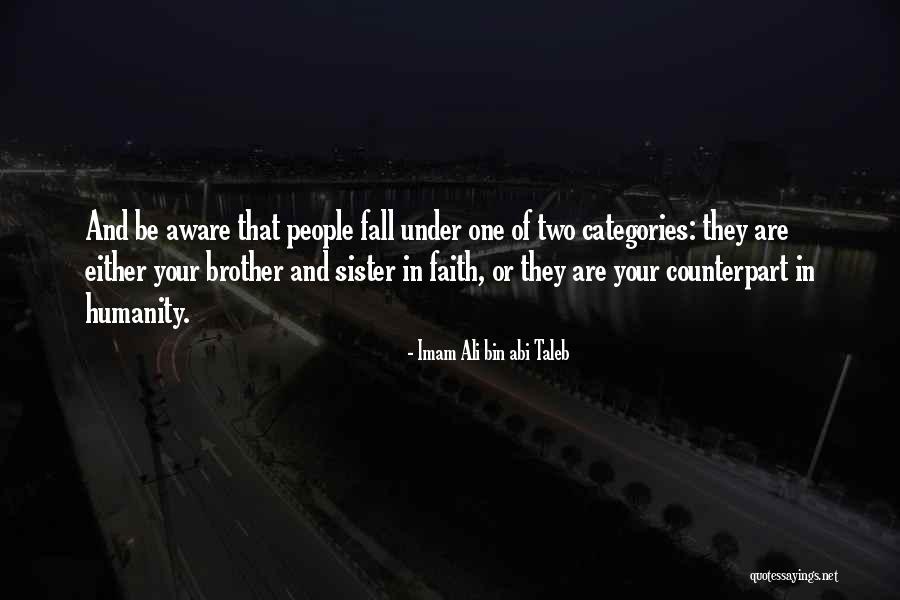 And be aware that people fall under one of two categories: they are either your brother and sister in faith, or they are your counterpart in humanity. — Imam Ali Bin Abi Taleb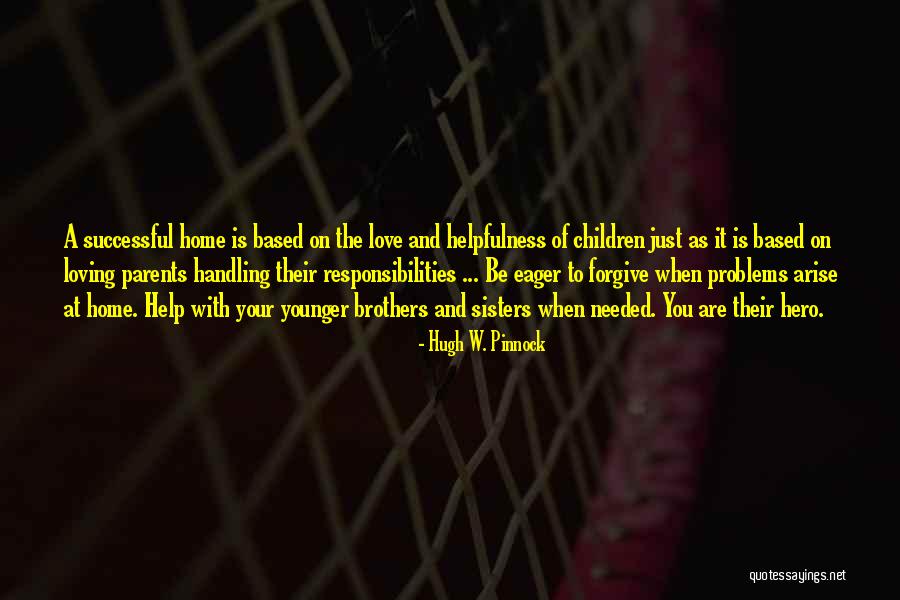 A successful home is based on the love and helpfulness of children just as it is based on loving parents handling their responsibilities ... Be eager to forgive when problems arise at home. Help with your younger brothers and sisters when needed. You are their hero. — Hugh W. Pinnock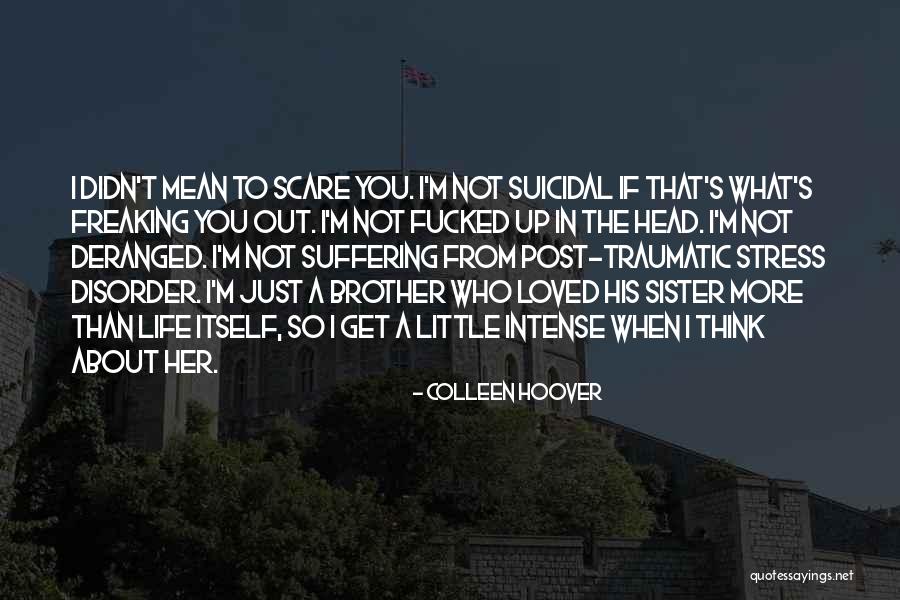 I didn't mean to scare you. I'm not suicidal if that's what's freaking you out. I'm not fucked up in the head. I'm not deranged. I'm not suffering from post-traumatic stress disorder. I'm just a brother who loved his sister more than life itself, so I get a little intense when I think about her. — Colleen Hoover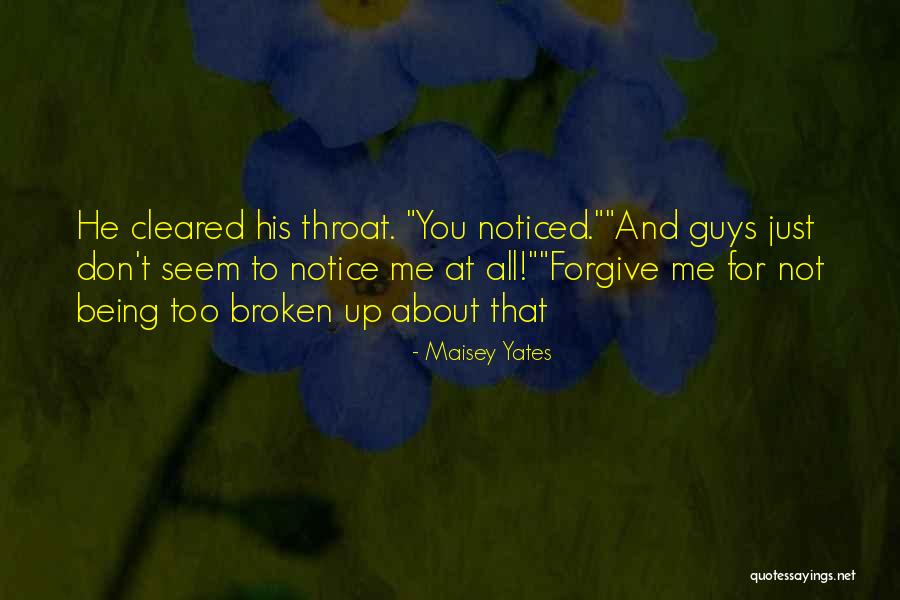 He cleared his throat. "You noticed."
"And guys just don't seem to notice me at all!"
"Forgive me for not being too broken up about that — Maisey Yates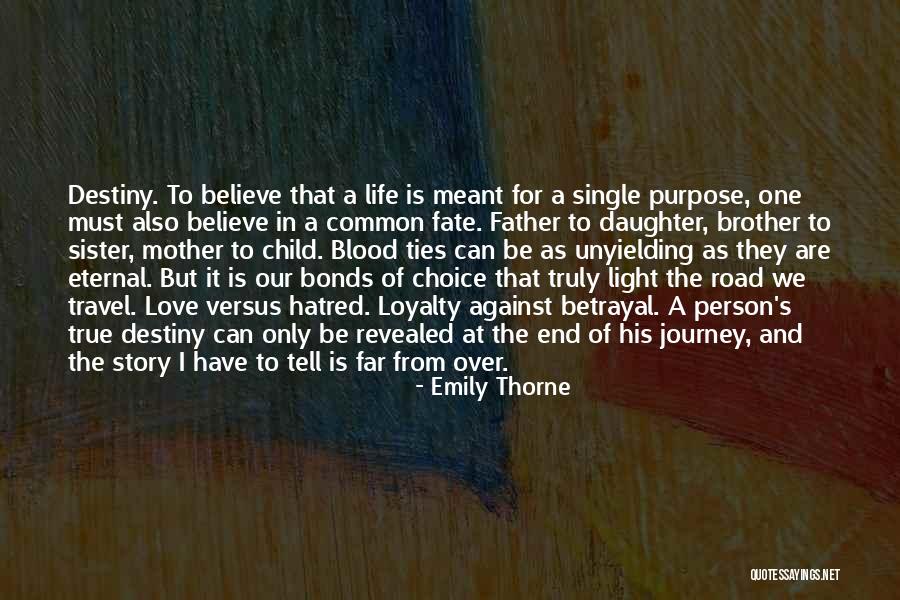 Destiny. To believe that a life is meant for a single purpose, one must also believe in a common fate. Father to daughter, brother to sister, mother to child. Blood ties can be as unyielding as they are eternal. But it is our bonds of choice that truly light the road we travel. Love versus hatred. Loyalty against betrayal. A person's true destiny can only be revealed at the end of his journey, and the story I have to tell is far from over. — Emily Thorne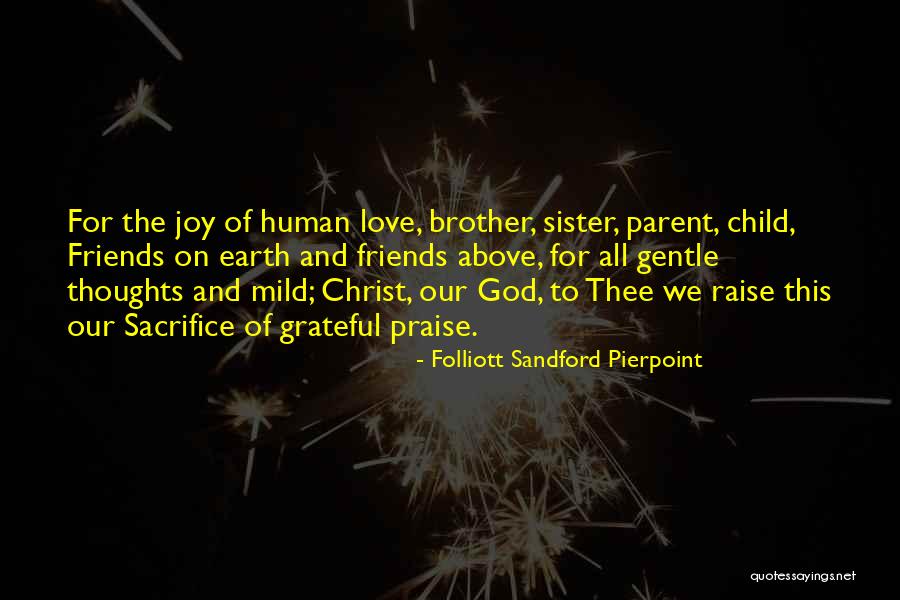 For the joy of human love, brother, sister, parent, child,
Friends on earth and friends above, for all gentle thoughts and mild;
Christ, our God, to Thee we raise this our Sacrifice of grateful praise. — Folliott Sandford Pierpoint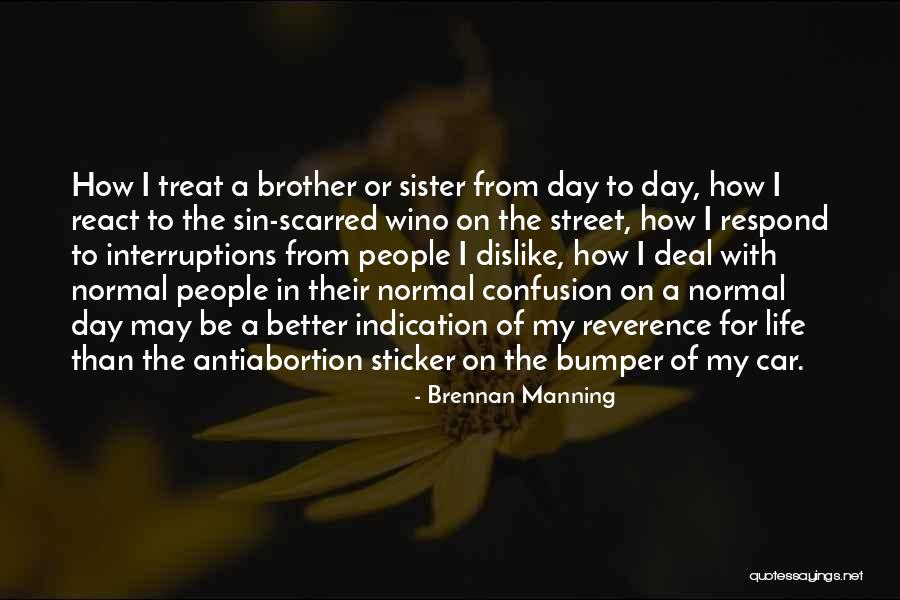 How I treat a brother or sister from day to day, how I react to the sin-scarred wino on the street, how I respond to interruptions from people I dislike, how I deal with normal people in their normal confusion on a normal day may be a better indication of my reverence for life than the antiabortion sticker on the bumper of my car. — Brennan Manning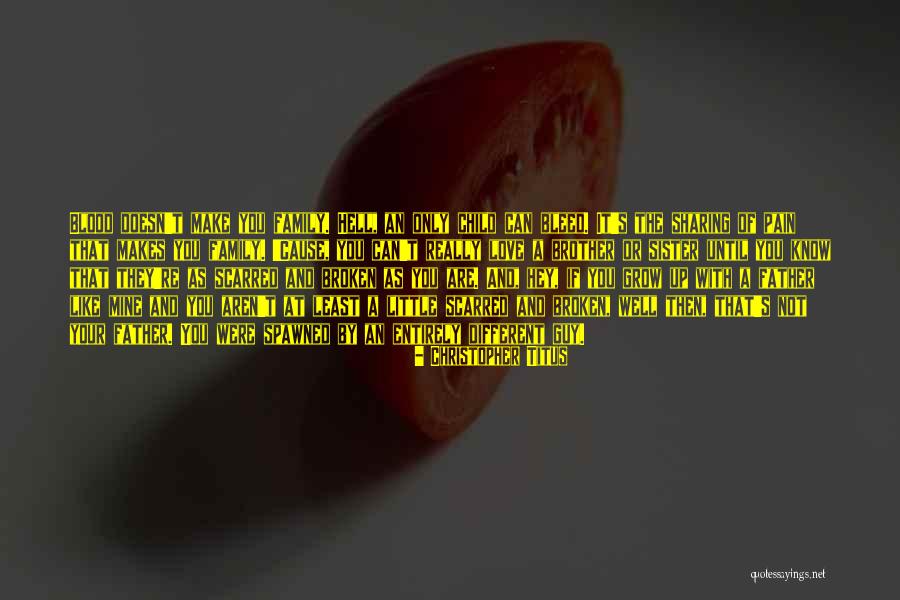 Blood doesn't make you family. Hell, an only child can bleed. It's the sharing of pain that makes you family. 'Cause, you can't really love a brother or sister until you know that they're as scarred and broken as you are. And, hey, if you grow up with a father like mine and you aren't at least a little scarred and broken, well then, that's not your father. You were spawned by an entirely different guy. — Christopher Titus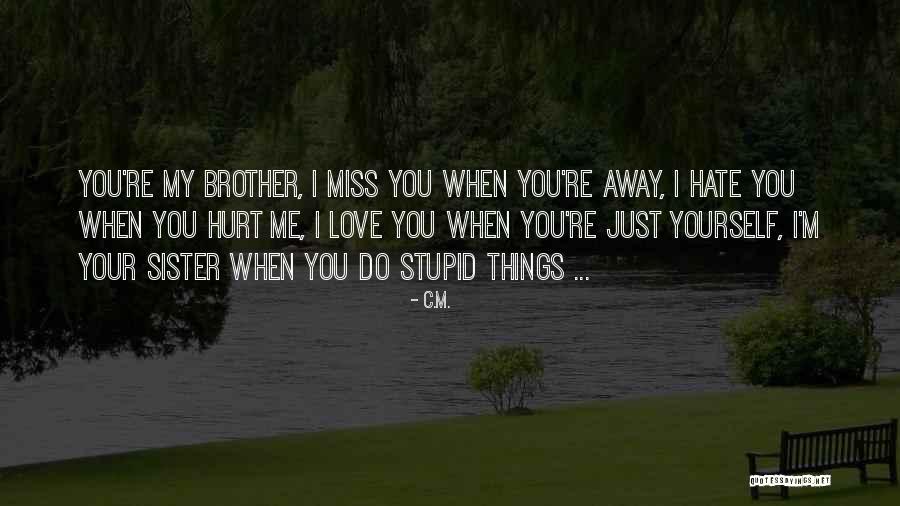 You're my brother, I miss you when you're away, I hate you when you hurt me, I love you when you're just yourself, I'm your sister when you do stupid things ... — C.M.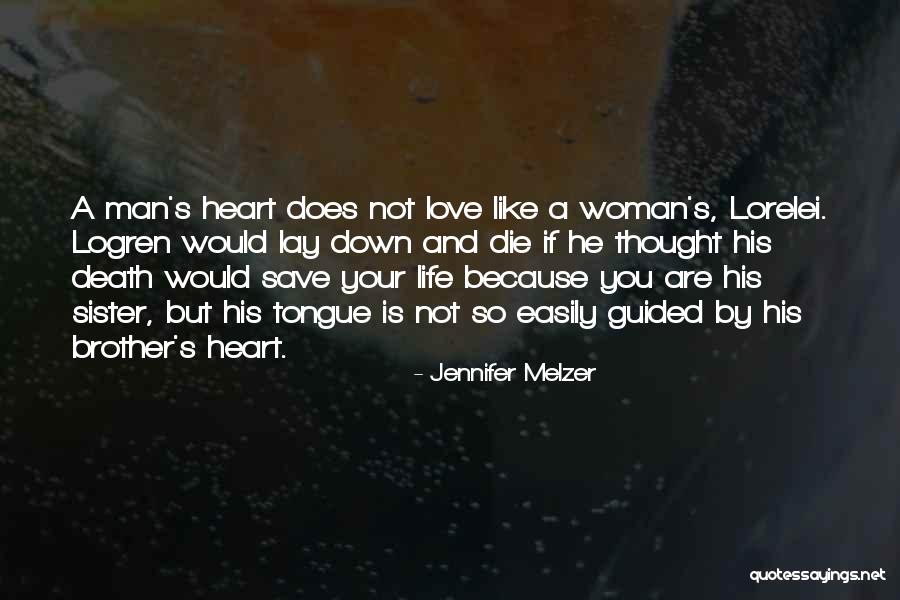 A man's heart does not love like a woman's, Lorelei. Logren would lay down and die if he thought his death would save your life because you are his sister, but his tongue is not so easily guided by his brother's heart. — Jennifer Melzer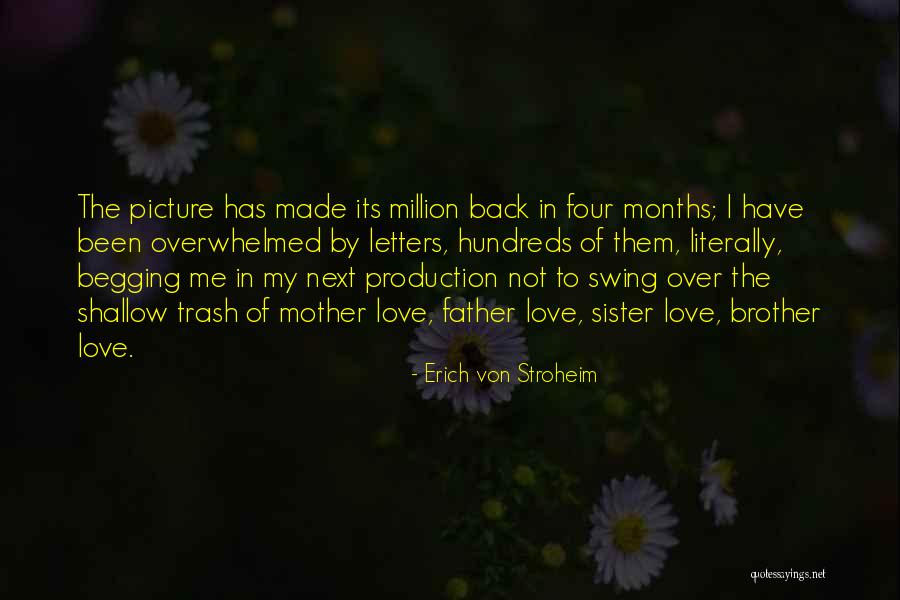 The picture has made its million back in four months; I have been overwhelmed by letters, hundreds of them, literally, begging me in my next production not to swing over the shallow trash of mother love, father love, sister love, brother love. — Erich Von Stroheim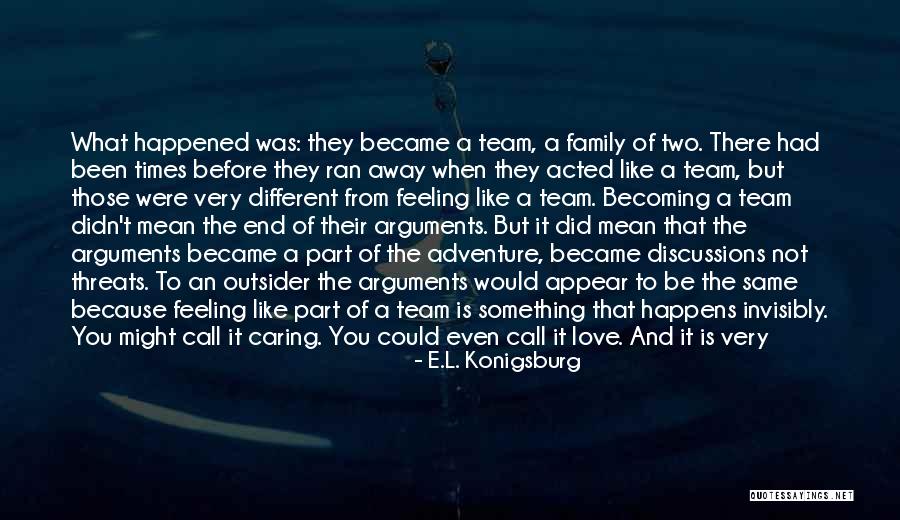 What happened was: they became a team, a family of two. There had been times before they ran away when they acted like a team, but those were very different from feeling like a team. Becoming a team didn't mean the end of their arguments. But it did mean that the arguments became a part of the adventure, became discussions not threats. To an outsider the arguments would appear to be the same because feeling like part of a team is something that happens invisibly. You might call it caring. You could even call it love. And it is very rarely, indeed, that it happens to two people at the same time
especially a brother and a sister who had always spent more time with activities than they had with each other. — E.L. Konigsburg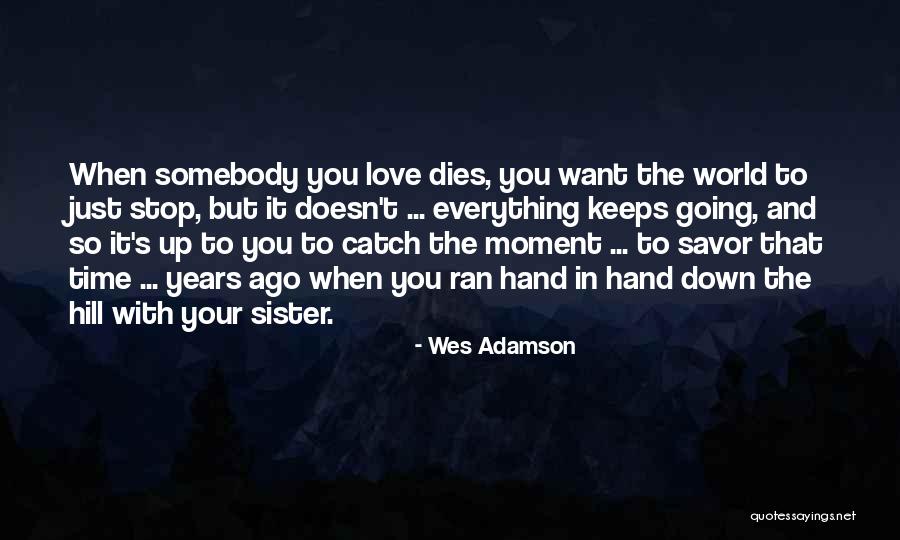 When somebody you love dies, you want the world to just stop, but it doesn't ... everything keeps going, and so it's up to you to catch the moment ... to savor that time ... years ago when you ran hand in hand down the hill with your sister. — Wes Adamson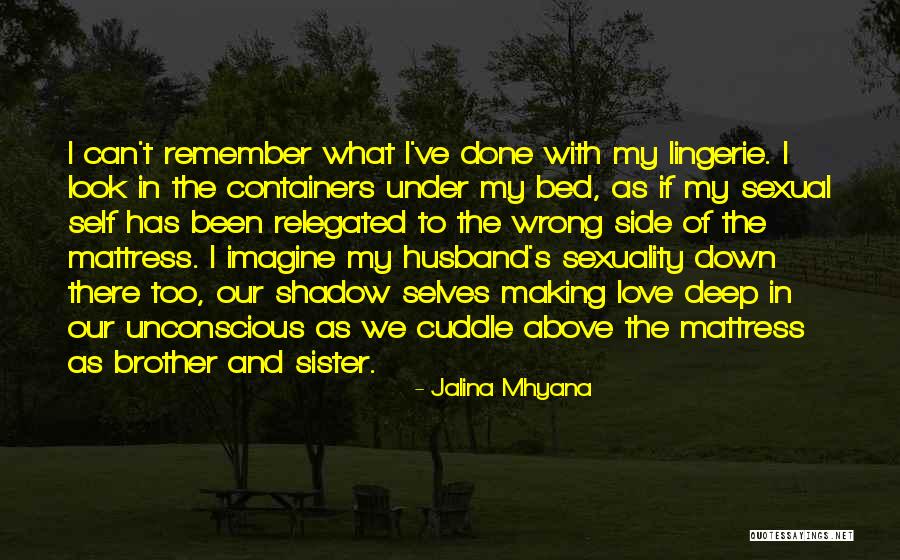 I can't remember what I've done with my lingerie. I look in the containers under my bed, as if my sexual self has been relegated to the wrong side of the mattress. I imagine my husband's sexuality down there too, our shadow selves making love deep in our unconscious as we cuddle above the mattress as brother and sister. — Jalina Mhyana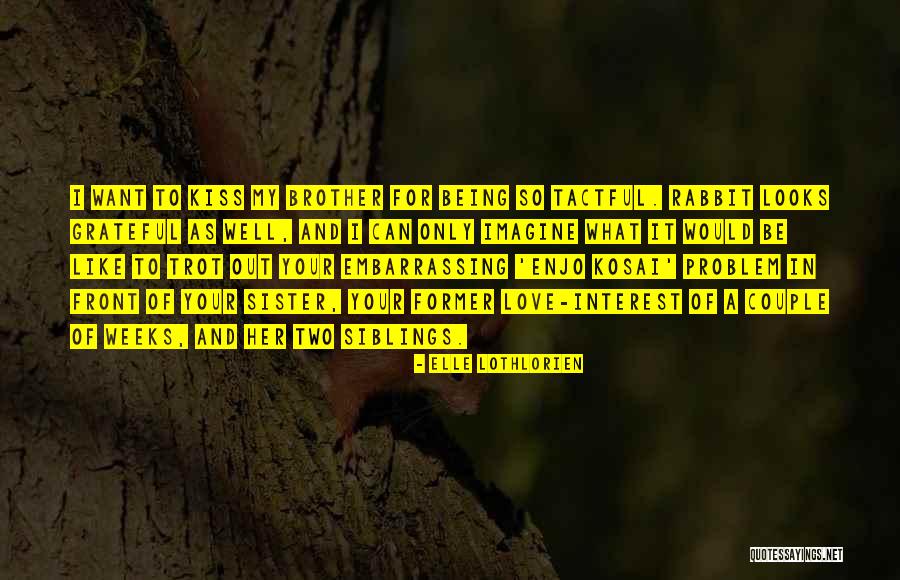 I want to kiss my brother for being so tactful. Rabbit looks grateful as well, and I can only imagine what it would be like to trot out your embarrassing 'enjo kosai' problem in front of your sister, your former love-interest of a couple of weeks, and her two siblings. — Elle Lothlorien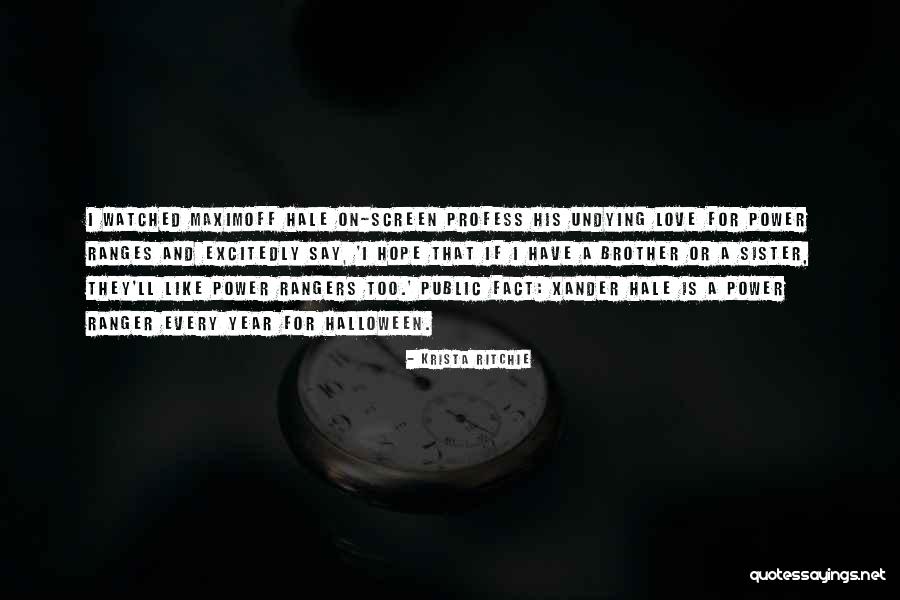 I watched Maximoff Hale on-screen profess his undying love for Power Ranges and excitedly say, 'I hope that if I have a brother or a sister, they'll like Power Rangers too.'

Public Fact: Xander Hale is a Power Ranger every year for Halloween. — Krista Ritchie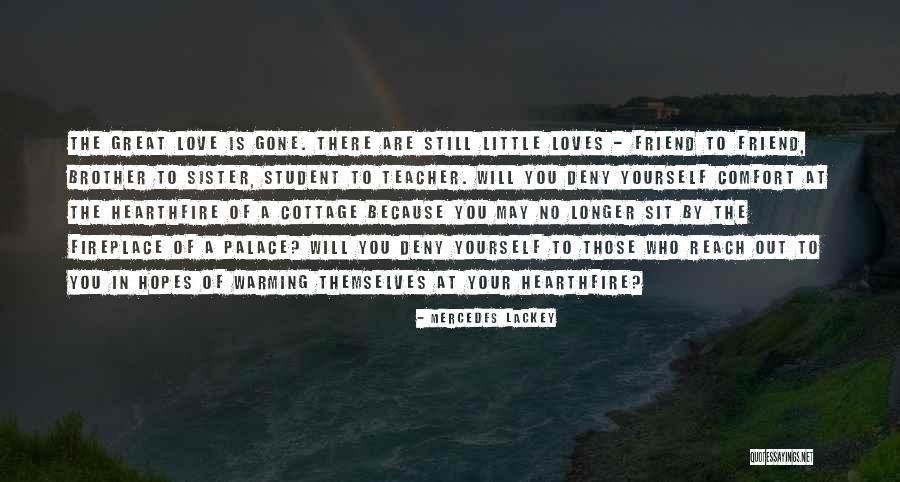 The great love is gone. There are still little loves - friend to friend, brother to sister, student to teacher. Will you deny yourself comfort at the hearthfire of a cottage because you may no longer sit by the fireplace of a palace? Will you deny yourself to those who reach out to you in hopes of warming themselves at your hearthfire? — Mercedes Lackey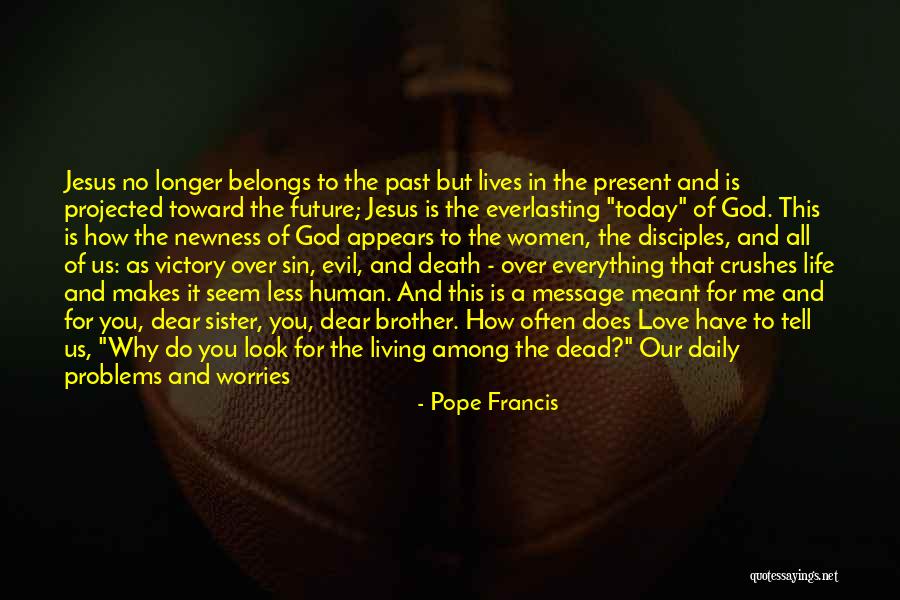 Jesus no longer belongs to the past but lives in the present and is projected toward the future; Jesus is the everlasting "today" of God. This is how the newness of God appears to the women, the disciples, and all of us: as victory over sin, evil, and death - over everything that crushes life and makes it seem less human. And this is a message meant for me and for you, dear sister, you, dear brother. How often does Love have to tell us, "Why do you look for the living among the dead?" Our daily problems and worries can wrap us up in ourselves, in sadness and bitterness...and that is where death is. That is not the place to look for the One who is alive! — Pope Francis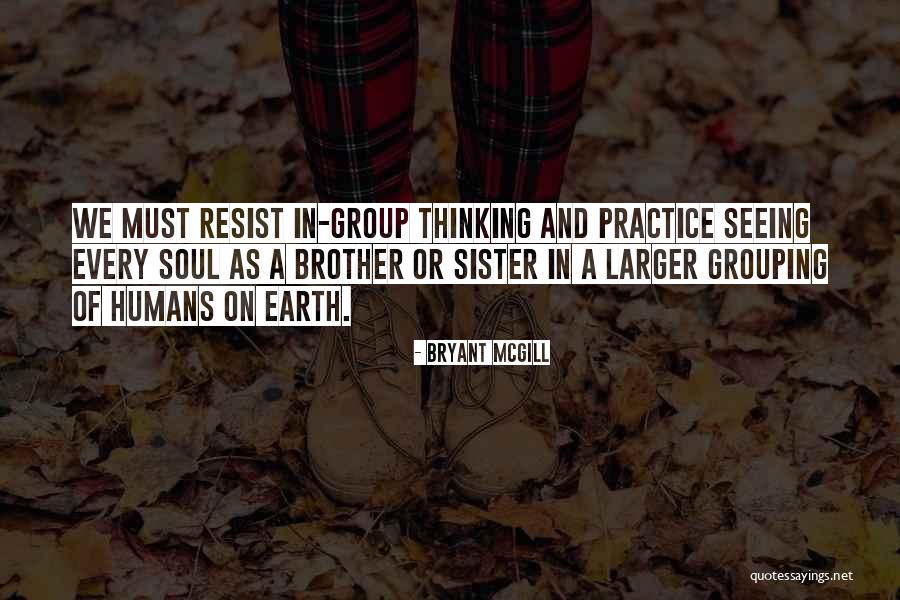 We must resist in-group thinking and practice seeing every soul as a brother or sister in a larger grouping of humans on earth. — Bryant McGill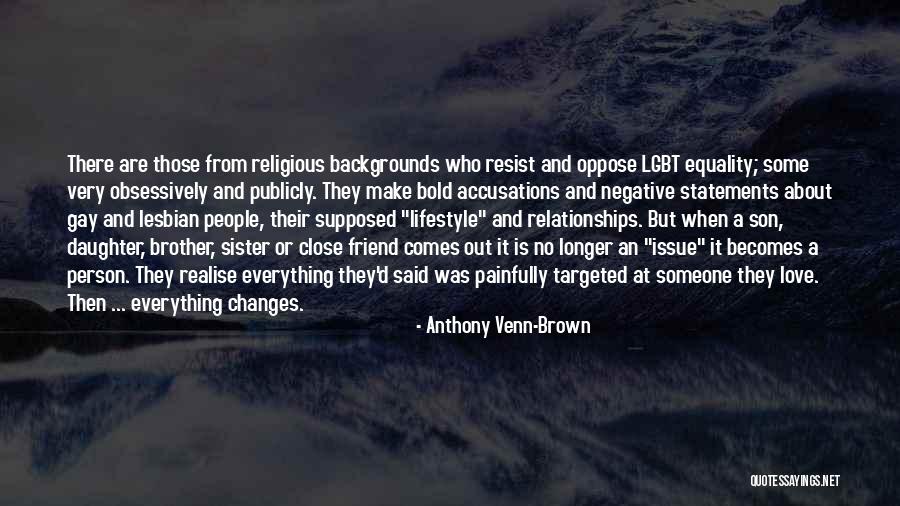 There are those from religious backgrounds who resist and oppose LGBT equality; some very obsessively and publicly. They make bold accusations and negative statements about gay and lesbian people, their supposed "lifestyle" and relationships. But when a son, daughter, brother, sister or close friend comes out it is no longer an "issue" it becomes a person. They realise everything they'd said was painfully targeted at someone they love. Then ... everything changes. — Anthony Venn-Brown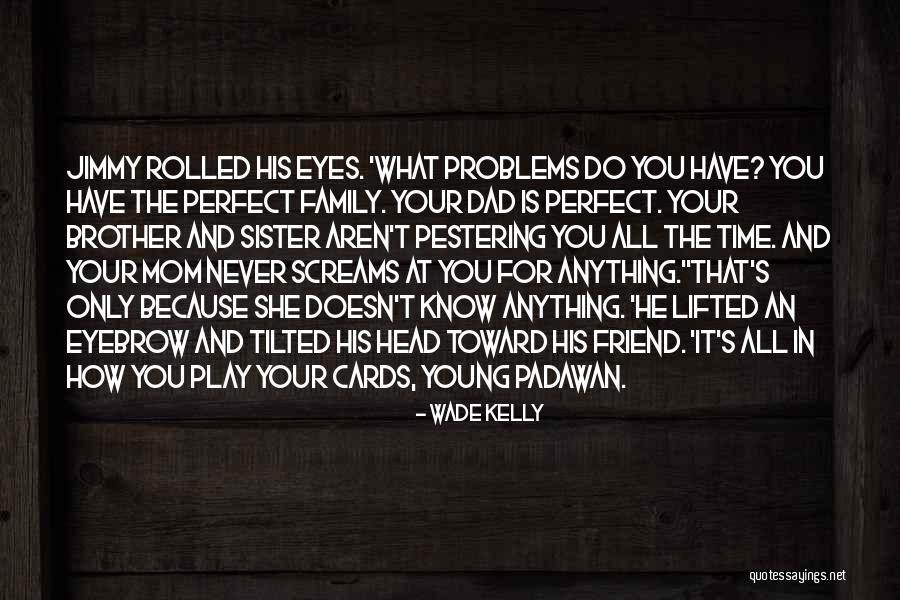 Jimmy rolled his eyes. 'What problems do you have? You have the perfect family. Your dad is perfect. Your brother and sister aren't pestering you all the time. And your mom never screams at you for anything.'
'That's only because she doesn't know anything. 'He lifted an eyebrow and tilted his head toward his friend. 'It's all in how you play your cards, young Padawan. — Wade Kelly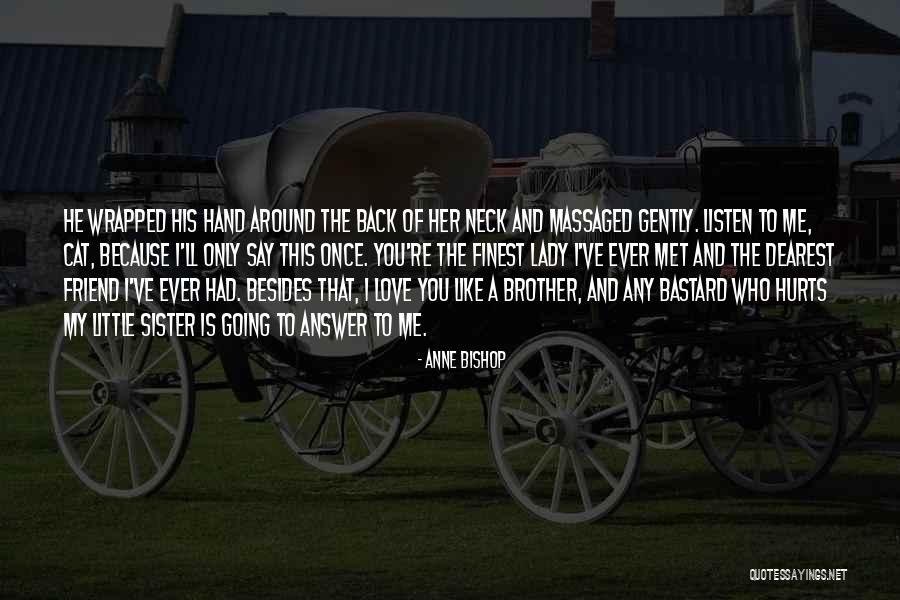 He wrapped his hand around the back of her neck and massaged gently. Listen to me, Cat, because I'll only say this once. You're the finest Lady I've ever met and the dearest friend I've ever had. Besides that, I love you like a brother, and any bastard who hurts my little sister is going to answer to me. — Anne Bishop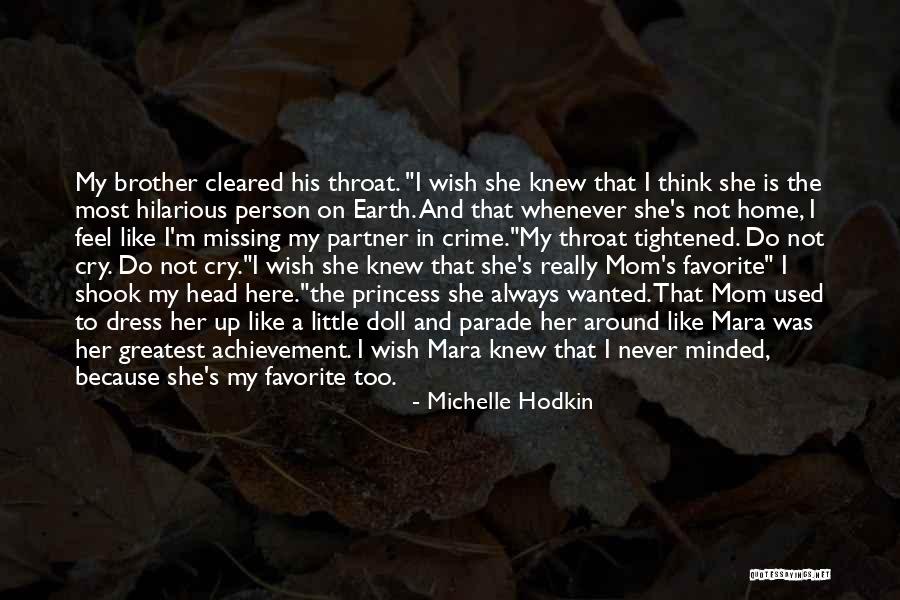 My brother cleared his throat. "I wish she knew that I think she is the most hilarious person on Earth. And that whenever she's not home, I feel like I'm missing my partner in crime."
My throat tightened. Do not cry. Do not cry.
"I wish she knew that she's really Mom's favorite
"
I shook my head here.
"
the princess she always wanted. That Mom used to dress her up like a little doll and parade her around like Mara was her greatest achievement. I wish Mara knew that I never minded, because she's my favorite too. — Michelle Hodkin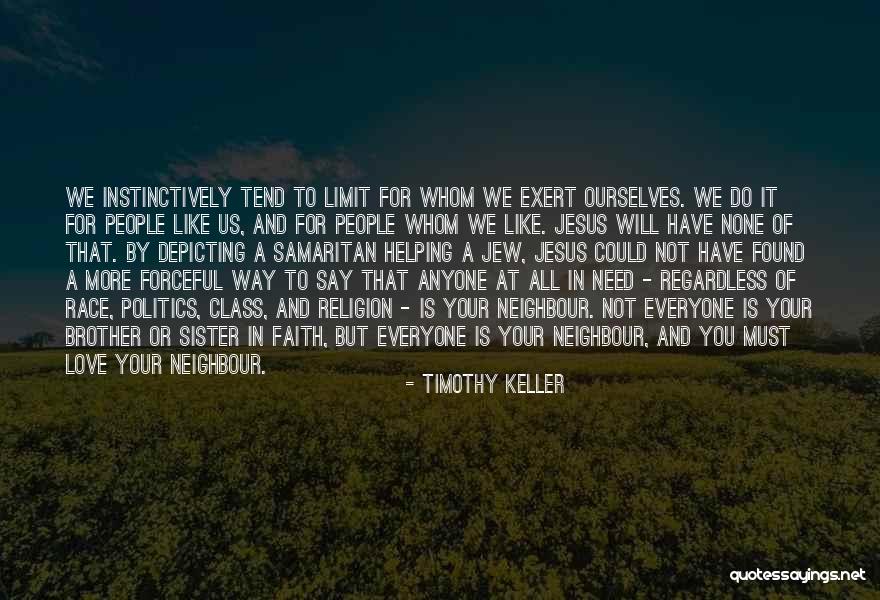 We instinctively tend to limit for whom we exert ourselves. We do it for people like us, and for people whom we like. Jesus will have none of that. By depicting a Samaritan helping a Jew, Jesus could not have found a more forceful way to say that anyone at all in need - regardless of race, politics, class, and religion - is your neighbour. Not everyone is your brother or sister in faith, but everyone is your neighbour, and you must love your neighbour. — Timothy Keller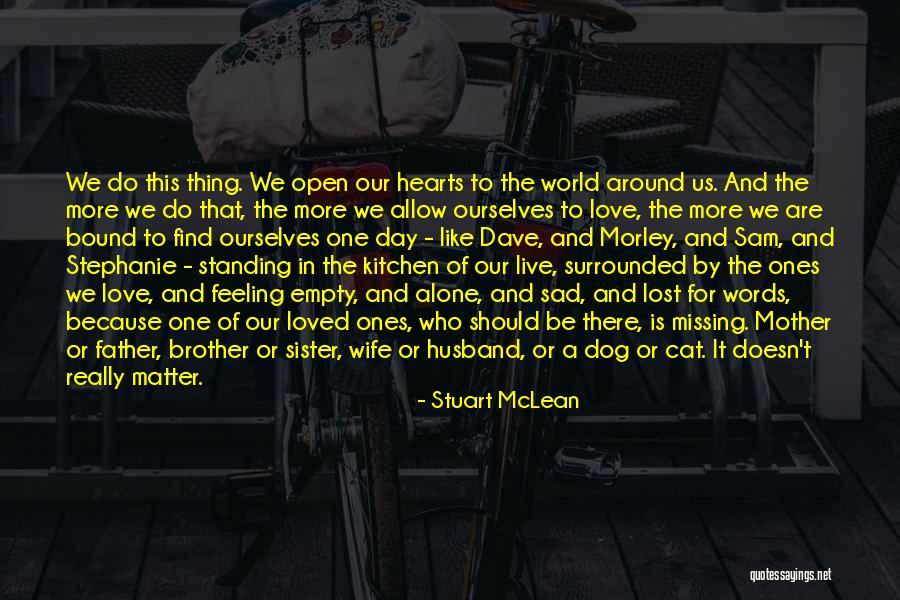 We do this thing. We open our hearts to the world around us. And the more we do that, the more we allow ourselves to love, the more we are bound to find ourselves one day - like Dave, and Morley, and Sam, and Stephanie - standing in the kitchen of our live, surrounded by the ones we love, and feeling empty, and alone, and sad, and lost for words, because one of our loved ones, who should be there, is missing. Mother or father, brother or sister, wife or husband, or a dog or cat. It doesn't really matter. After a while, each death feels like all the deaths, and you stand there like eveyone else has stood there before you, while the big wind of sadness blows around and through you.
"He was a great dog," said Dave.
"Yes," said Morley. "He was a great dog. — Stuart McLean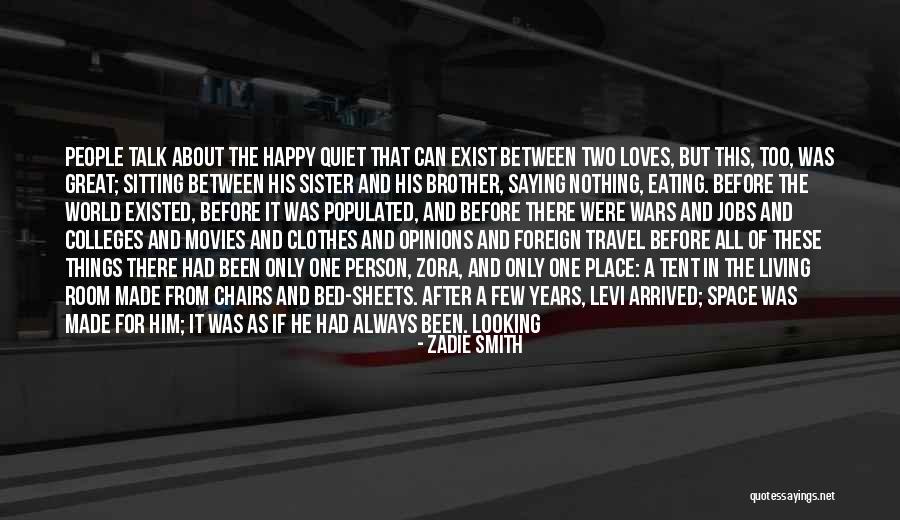 People talk about the happy quiet that can exist between two loves, but this, too, was great; sitting between his sister and his brother, saying nothing, eating. Before the world existed, before it was populated, and before there were wars and jobs and colleges and movies and clothes and opinions and foreign travel
before all of these things there had been only one person, Zora, and only one place: a tent in the living room made from chairs and bed-sheets. After a few years, Levi arrived; space was made for him; it was as if he had always been. Looking at them both now, Jerome found himself in their finger joints and neat conch ears, in their long legs and wild curls. He heard himself in their partial lisps caused by puffy tongues vibrating against slightly noticeable buckteeth. He did not consider if or how or why he loved them. They were just love: they were the first evidence he ever had of love, and they would be the last confirmation of love when everything else fell away. — Zadie Smith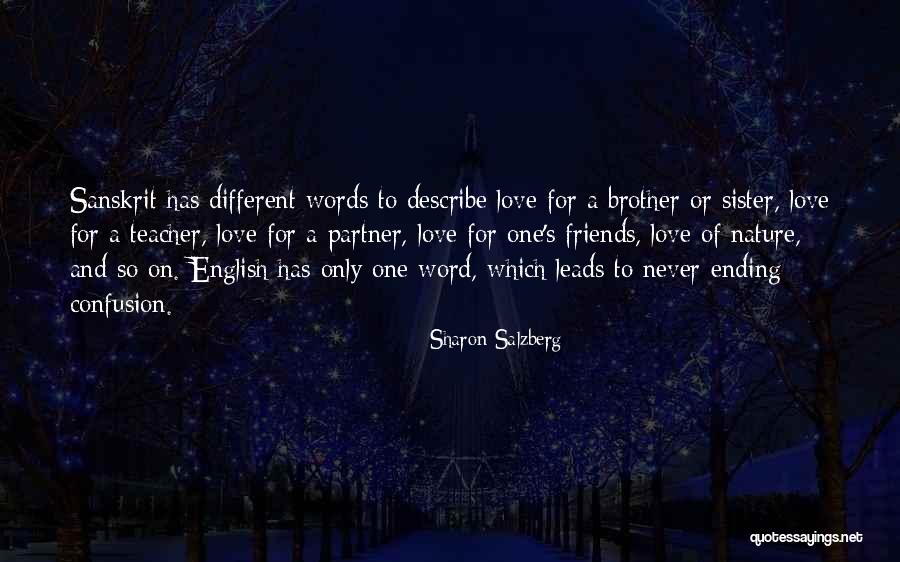 Sanskrit has different words to describe love for a brother or sister, love for a teacher, love for a partner, love for one's friends, love of nature, and so on. English has only one word, which leads to never-ending confusion. — Sharon Salzberg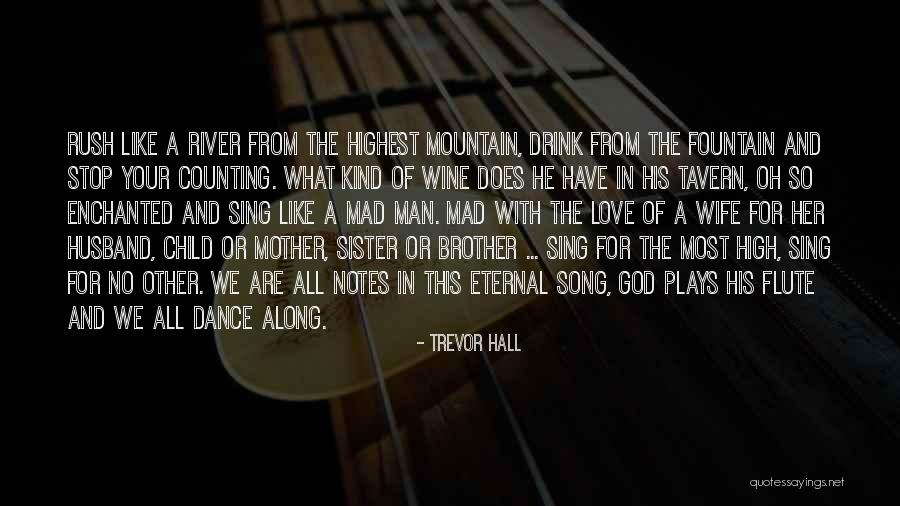 Rush like a river from the highest mountain, drink from the fountain and stop your counting. What kind of wine does he have in his tavern, oh so enchanted and sing like a mad man. Mad with the love of a wife for her husband, child or mother, sister or brother ... sing for the Most High, sing for no other. We are all notes in this eternal song, God plays his flute and we all dance along. — Trevor Hall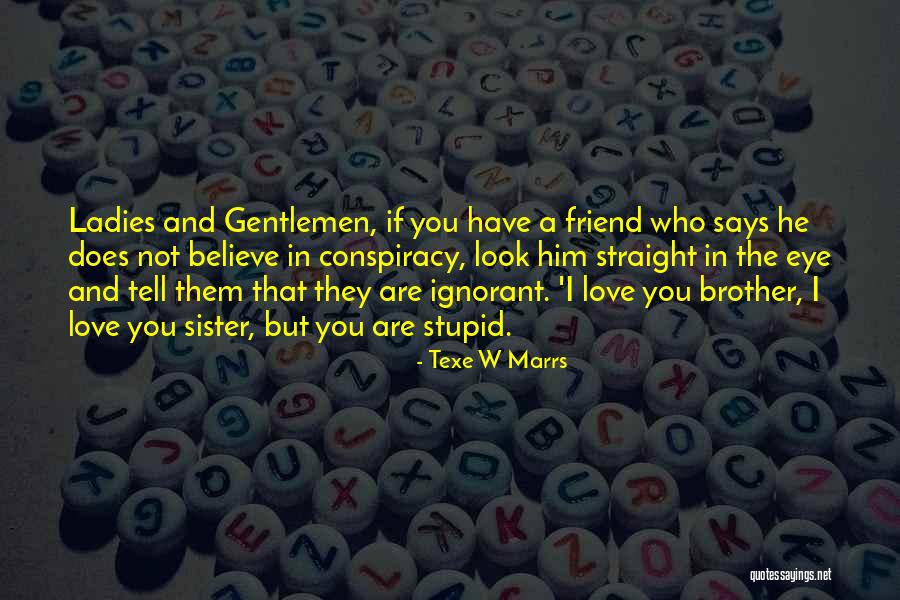 Ladies and Gentlemen, if you have a friend who says he does not believe in conspiracy, look him straight in the eye and tell them that they are ignorant. 'I love you brother, I love you sister, but you are stupid. — Texe W Marrs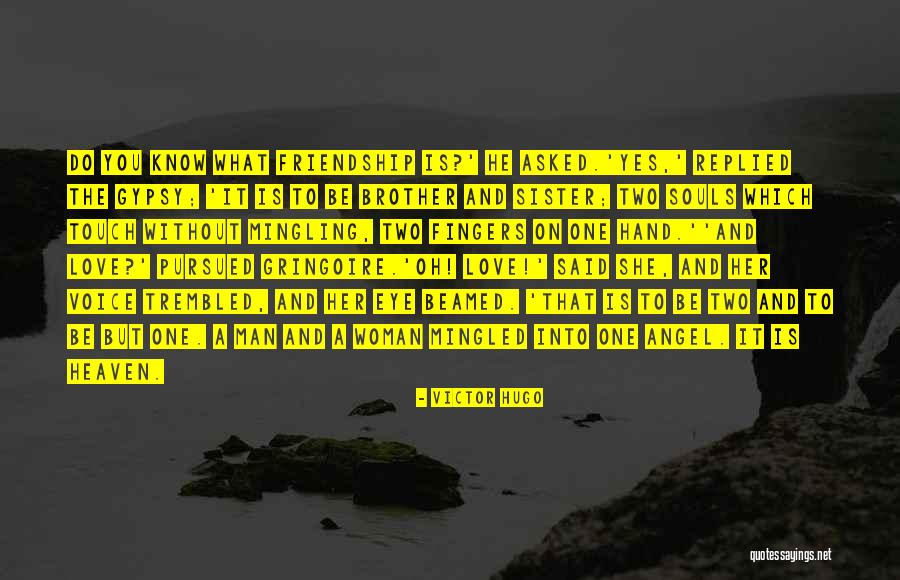 Do you know what friendship is?' he asked.
'Yes,' replied the gypsy; 'it is to be brother and sister; two souls which touch without mingling, two fingers on one hand.'
'And love?' pursued Gringoire.
'Oh! love!' said she, and her voice trembled, and her eye beamed. 'That is to be two and to be but one. A man and a woman mingled into one angel. It is heaven. — Victor Hugo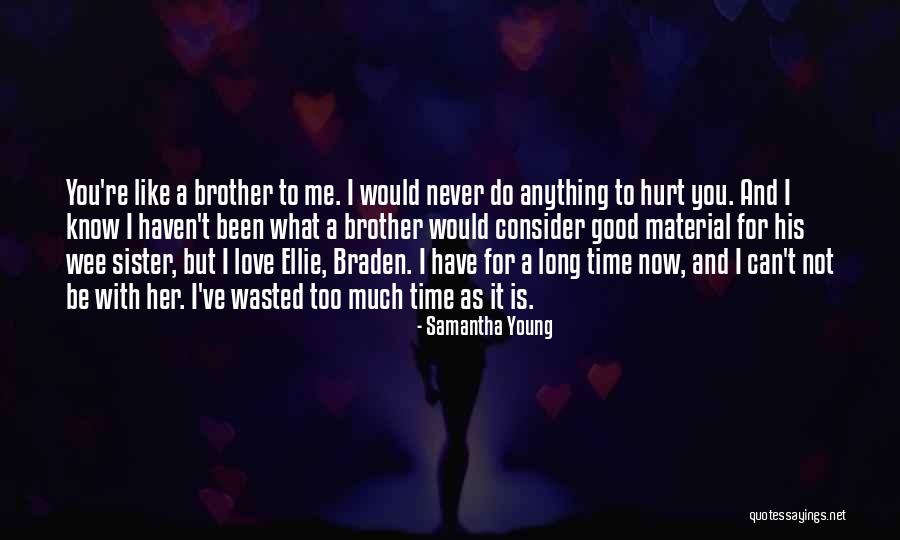 You're like a brother to me. I would never do anything to hurt you. And I know I haven't been what a brother would consider good material for his wee sister, but I love Ellie, Braden. I have for a long time now, and I can't not be with her. I've wasted too much time as it is. — Samantha Young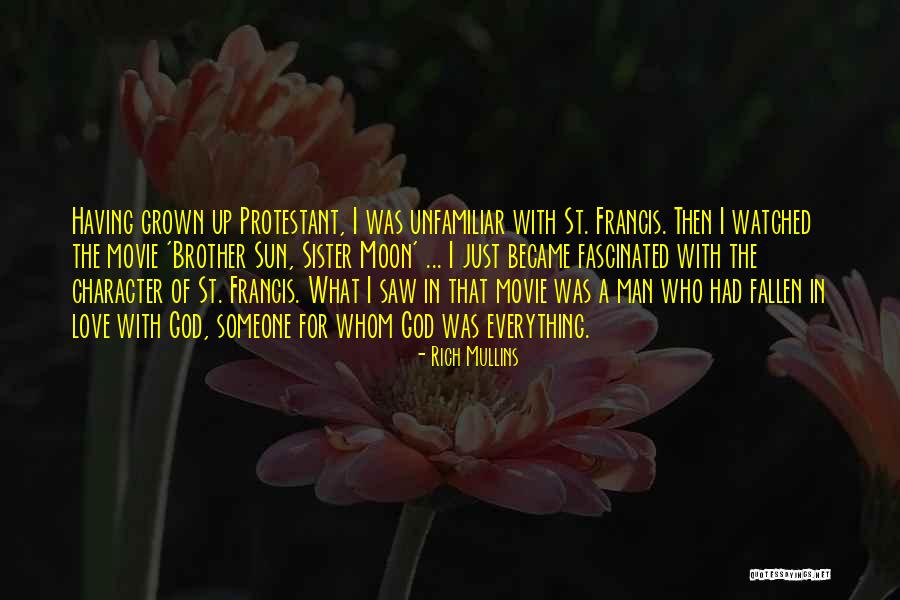 Having grown up Protestant, I was unfamiliar with St. Francis. Then I watched the movie 'Brother Sun, Sister Moon' ... I just became fascinated with the character of St. Francis. What I saw in that movie was a man who had fallen in love with God, someone for whom God was everything. — Rich Mullins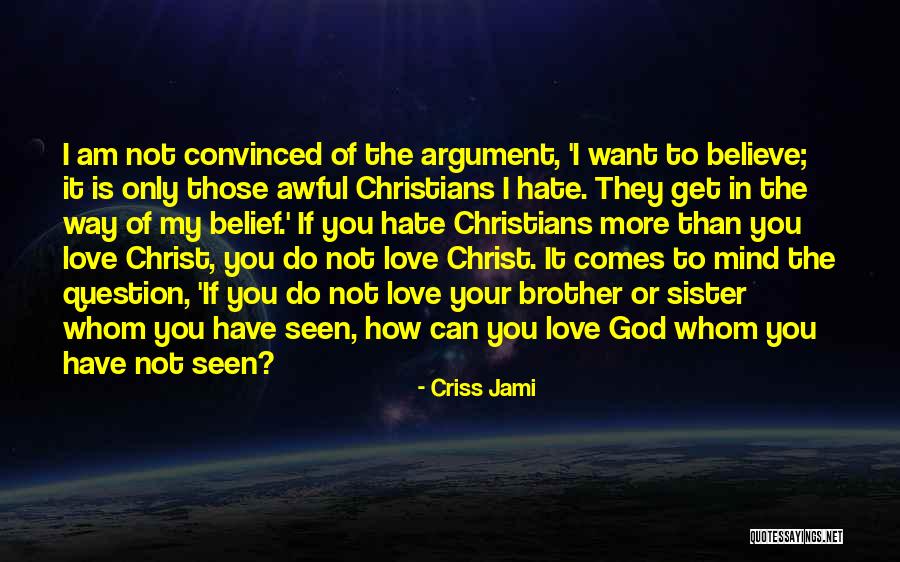 I am not convinced of the argument, 'I want to believe; it is only those awful Christians I hate. They get in the way of my belief.' If you hate Christians more than you love Christ, you do not love Christ. It comes to mind the question, 'If you do not love your brother or sister whom you have seen, how can you love God whom you have not seen? — Criss Jami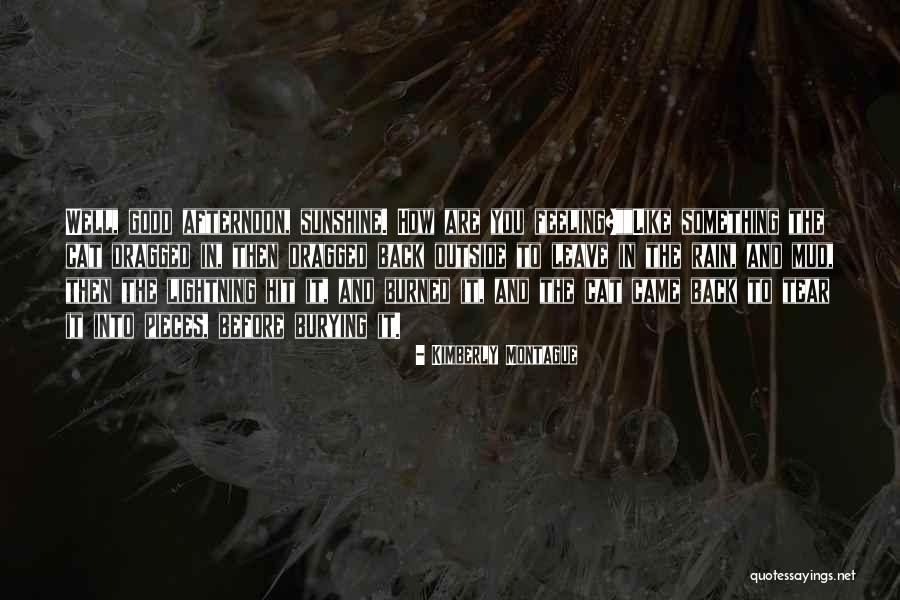 Well, good afternoon, sunshine. How are you feeling?"
"Like something the cat dragged in, then dragged back outside to leave in the rain, and mud, then the lightning hit it, and burned it, and the cat came back to tear it into pieces, before burying it. — Kimberly Montague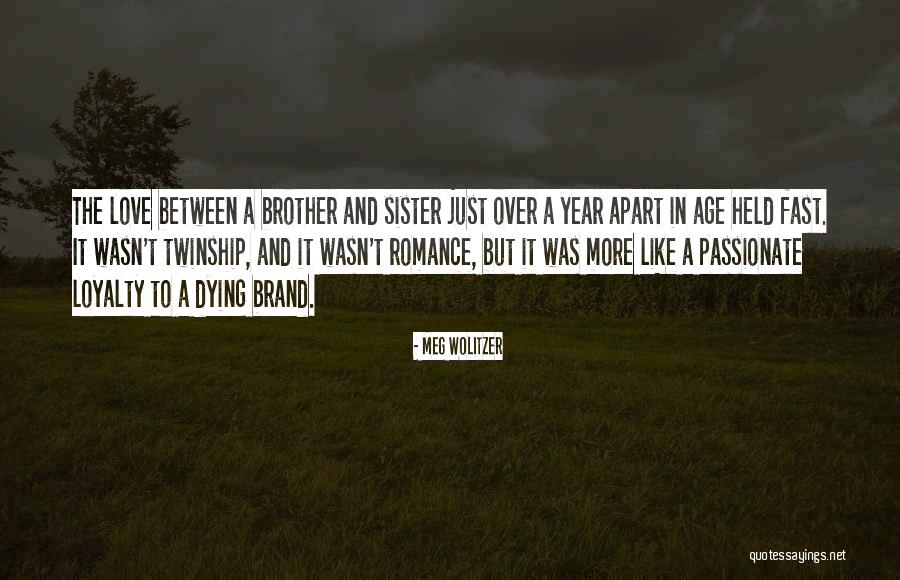 The love between a brother and sister just over a year apart in age held fast. It wasn't twinship, and it wasn't romance, but it was more like a passionate loyalty to a dying brand. — Meg Wolitzer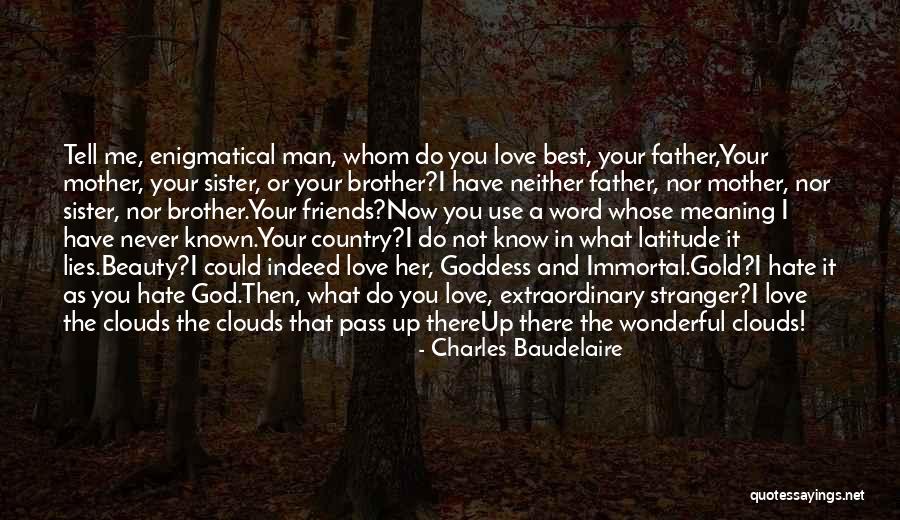 Tell me, enigmatical man, whom do you love best, your father,
Your mother, your sister, or your brother?
I have neither father, nor mother, nor sister, nor brother.
Your friends?
Now you use a word whose meaning I have never known.
Your country?
I do not know in what latitude it lies.
Beauty?
I could indeed love her, Goddess and Immortal.
Gold?
I hate it as you hate God.
Then, what do you love, extraordinary stranger?
I love the clouds the clouds that pass up there
Up there the wonderful clouds! — Charles Baudelaire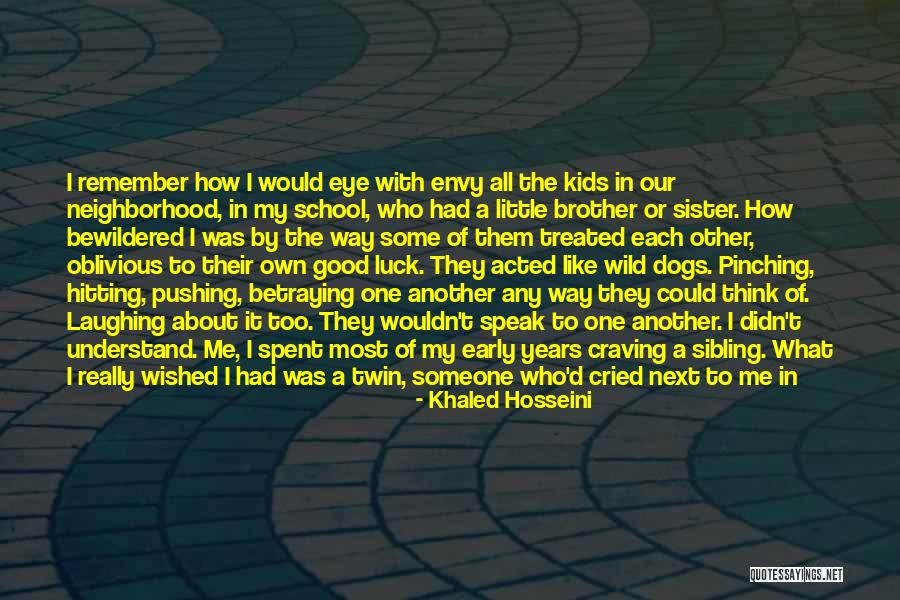 I remember how I would eye with envy all the kids in our neighborhood, in my school, who had a little brother or sister. How bewildered I was by the way some of them treated each other, oblivious to their own good luck. They acted like wild dogs. Pinching, hitting, pushing, betraying one another any way they could think of. Laughing about it too. They wouldn't speak to one another. I didn't understand. Me, I spent most of my early years craving a sibling. What I really wished I had was a twin, someone who'd cried next to me in the crib, slept beside me, fed from Mother's breast with me. Someone to love helplessly and totally, and in whose face I could always find myself. — Khaled Hosseini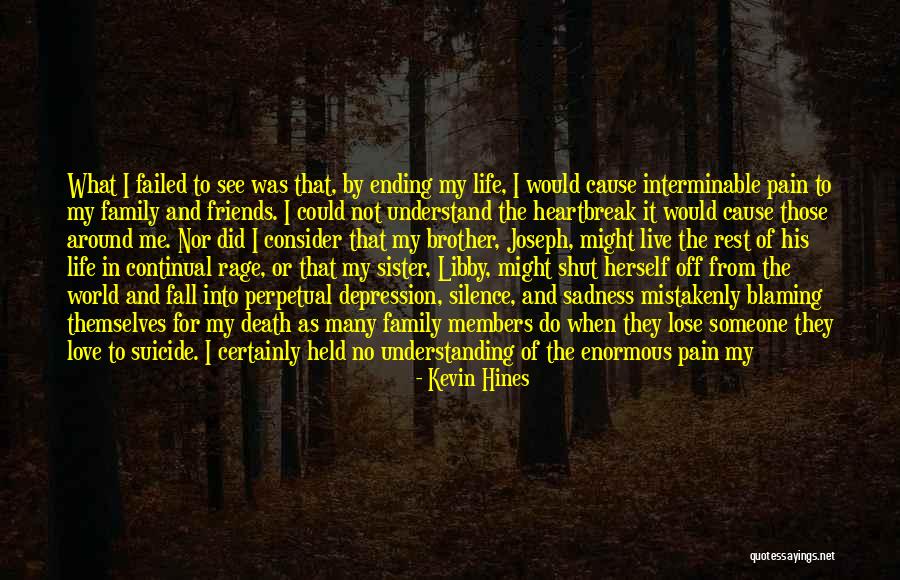 What I failed to see was that, by ending my life, I would cause interminable pain to my family and friends. I could not understand the heartbreak it would cause those around me. Nor did I consider that my brother, Joseph, might live the rest of his life in continual rage, or that my sister, Libby, might shut herself off from the world and fall into perpetual depression, silence, and sadness mistakenly blaming themselves for my death as many family members do when they lose someone they love to suicide. I certainly held no understanding of the enormous pain my mother and father would suffer because they lost their oldest son in such a terrifying and devastating way. They would not have a chance to watch me mature, marry, and perhaps have children. Instead, all of their hopes, aspirations, and dreams for me would be destroyed with my decision to end my life by jumping off the Golden Gate Bridge. — Kevin Hines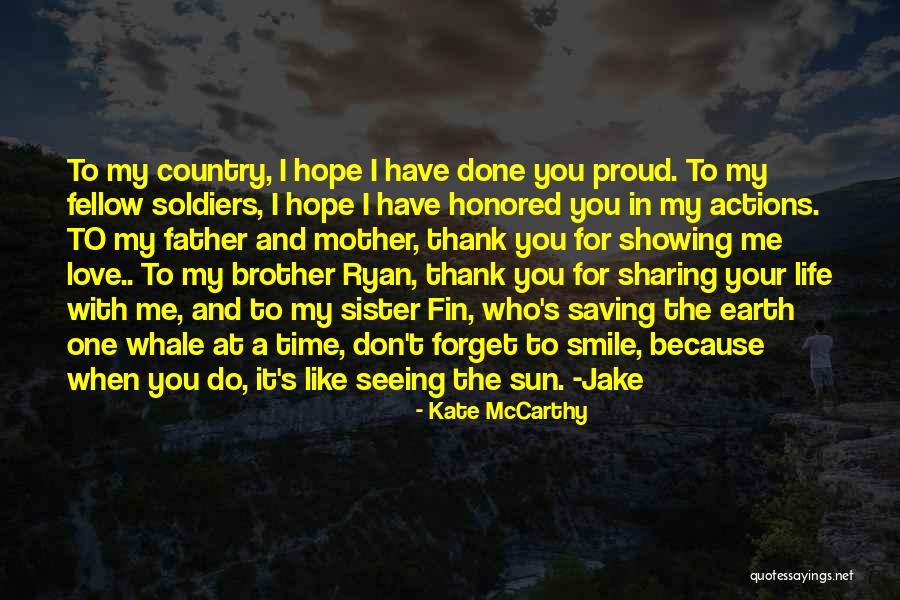 To my country, I hope I have done you proud. To my fellow soldiers, I hope I have honored you in my actions. TO my father and mother, thank you for showing me love.. To my brother Ryan, thank you for sharing your life with me, and to my sister Fin, who's saving the earth one whale at a time, don't forget to smile, because when you do, it's like seeing the sun. -Jake — Kate McCarthy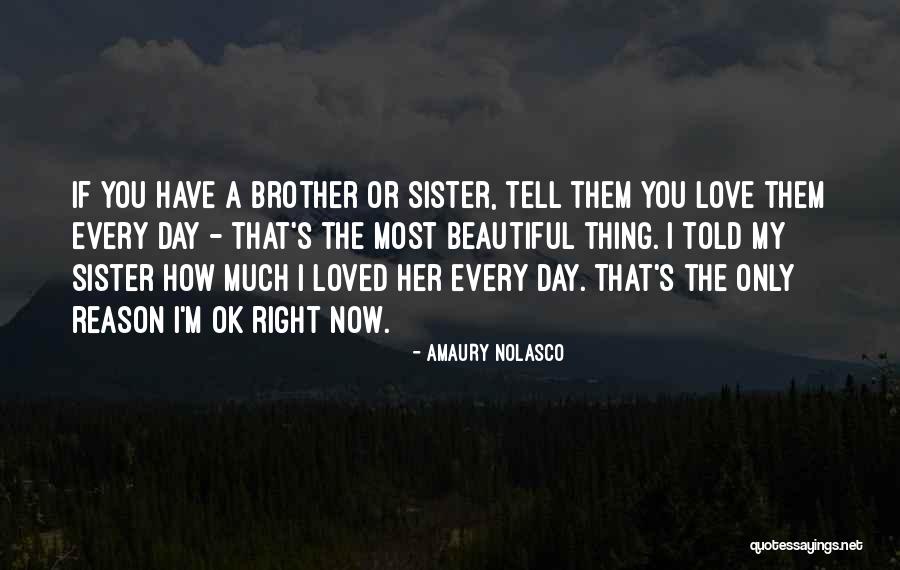 If you have a brother or sister, tell them you love them every day - that's the most beautiful thing. I told my sister how much I loved her every day. That's the only reason I'm OK right now. — Amaury Nolasco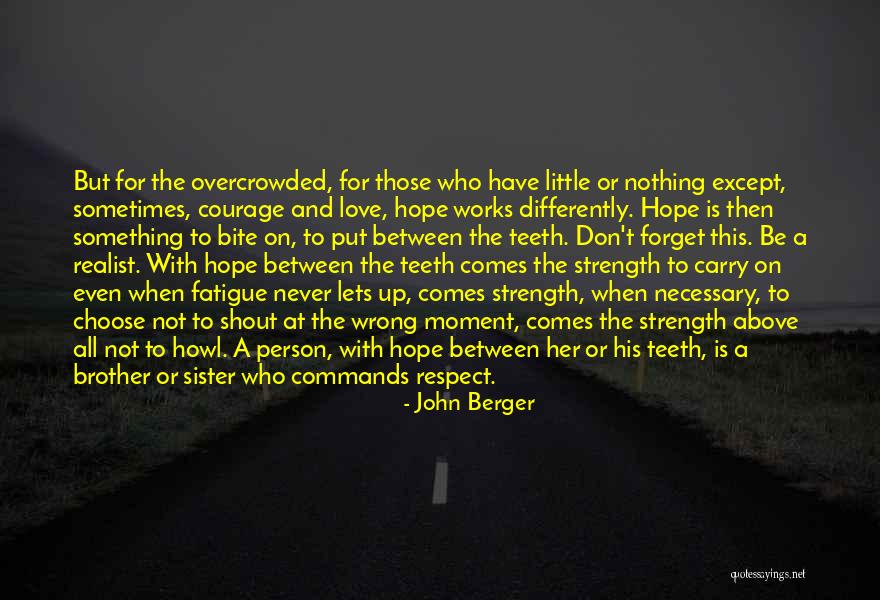 But for the overcrowded, for those who have little or nothing except, sometimes, courage and love, hope works differently. Hope is then something to bite on, to put between the teeth. Don't forget this. Be a realist. With hope between the teeth comes the strength to carry on even when fatigue never lets up, comes strength, when necessary, to choose not to shout at the wrong moment, comes the strength above all not to howl. A person, with hope between her or his teeth, is a brother or sister who commands respect. — John Berger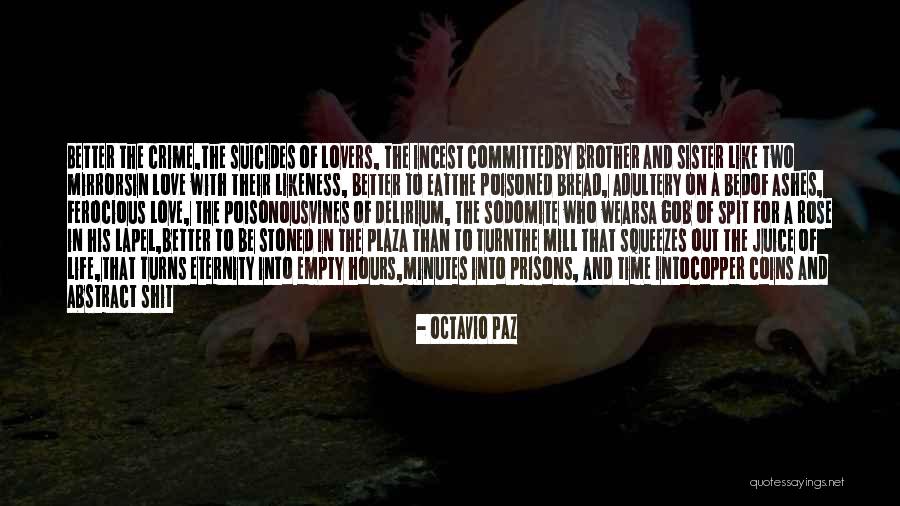 Better the crime,
the suicides of lovers, the incest committed
by brother and sister like two mirrors
in love with their likeness, better to eat
the poisoned bread, adultery on a bed
of ashes, ferocious love, the poisonous
vines of delirium, the sodomite who wears
a gob of spit for a rose in his lapel,
better to be stoned in the plaza than to turn
the mill that squeezes out the juice of life,
that turns eternity into empty hours,
minutes into prisons, and time into
copper coins and abstract shit — Octavio Paz