Quotes & Sayings About 7 Wonders Of The World
Enjoy reading and share 30 famous quotes about 7 Wonders Of The World with everyone.
One day a man sees the sun setting and decides that his fortune is where the sun touches the land. He sets off towards it. He walks and walks and walks, and after a long time he arrives back in the village where he started. He has travelled the globe but when his friends ask him to describe the wonders of the world he is unable to reply, for his eyes have been blinded by the sun. — Danny Scheinmann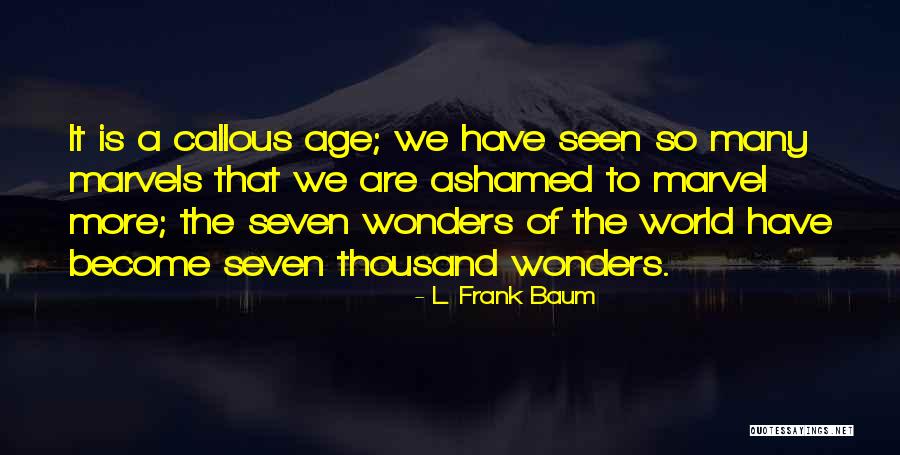 It is a callous age; we have seen so many marvels that we are ashamed to marvel more; the seven wonders of the world have become seven thousand wonders. — L. Frank Baum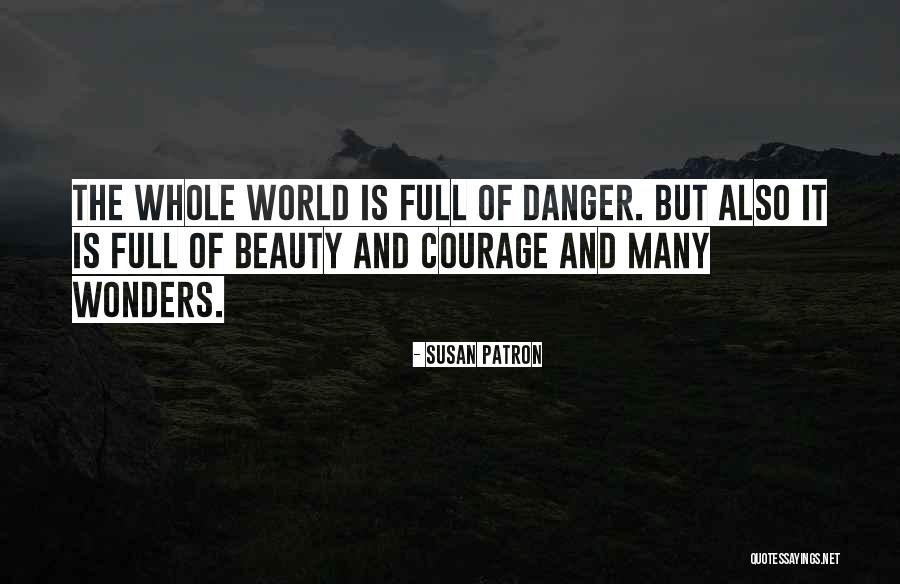 The whole world is full of danger. But also it is full of beauty and courage and many wonders. — Susan Patron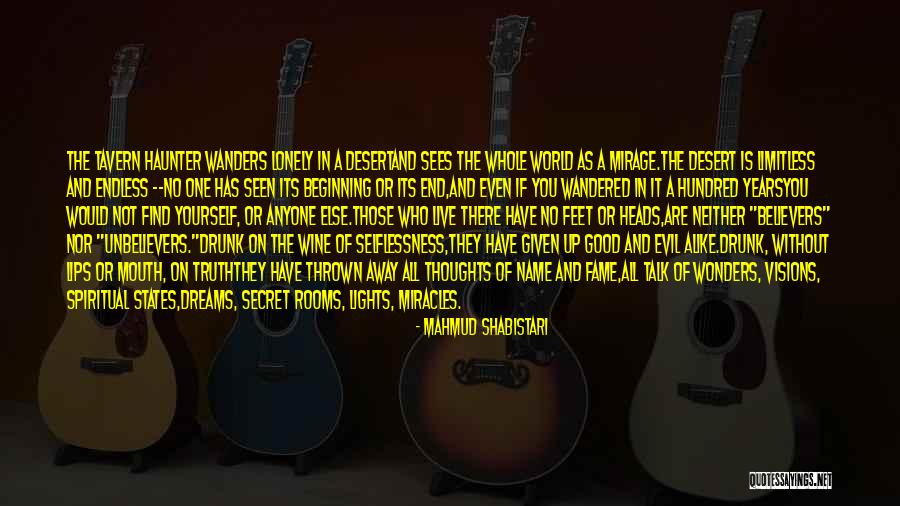 The tavern haunter wanders lonely in a desert
And sees the whole world as a mirage.
The desert is limitless and endless --
No one has seen its beginning or its end,
And even if you wandered in it a hundred years
You would not find yourself, or anyone else.
Those who live there have no feet or heads,
Are neither "believers" nor "unbelievers."
Drunk on the wine of selflessness,
They have given up good and evil alike.
Drunk, without lips or mouth, on Truth
They have thrown away all thoughts of name and fame,
All talk of wonders, visions, spiritual states,
Dreams, secret rooms, lights, miracles. — Mahmud Shabistari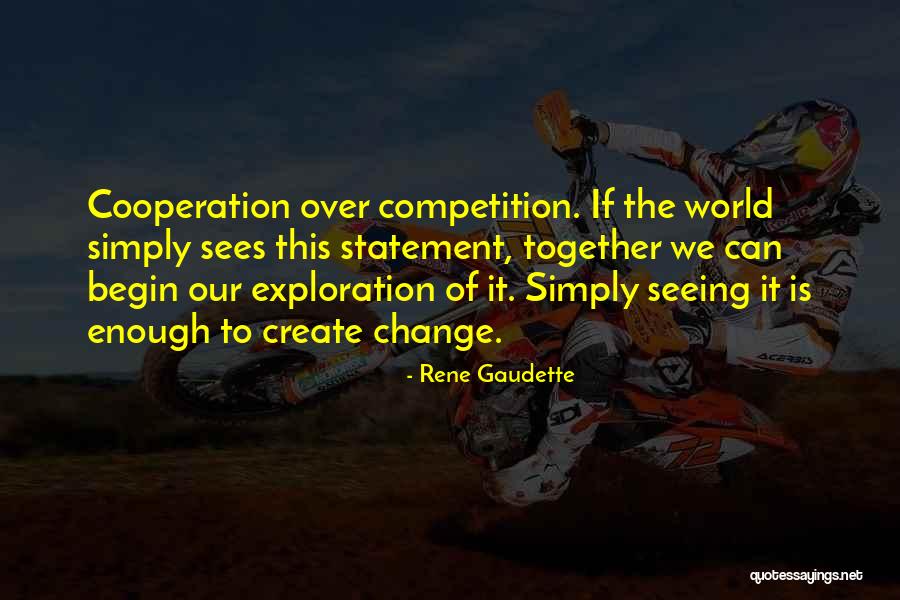 Cooperation over competition. If the world simply sees this statement, together we can begin our exploration of it. Simply seeing it is enough to create change. — Rene Gaudette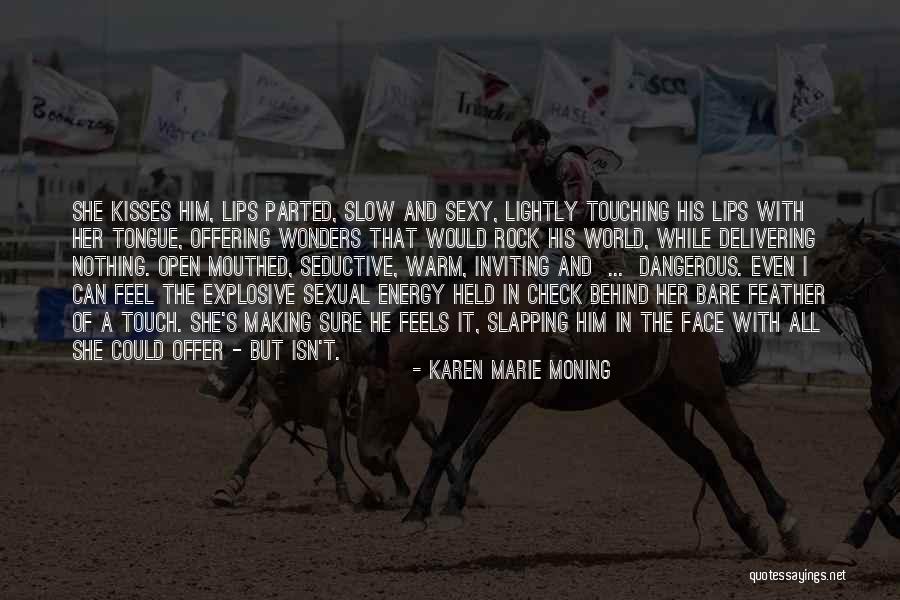 She kisses him, lips parted, slow and sexy, lightly touching his lips with her tongue, offering wonders that would rock his world, while delivering nothing. Open mouthed, seductive, warm, inviting and ... dangerous. Even I can feel the explosive sexual energy held in check behind her bare feather of a touch. She's making sure he feels it, slapping him in the face with all she could offer - but isn't. — Karen Marie Moning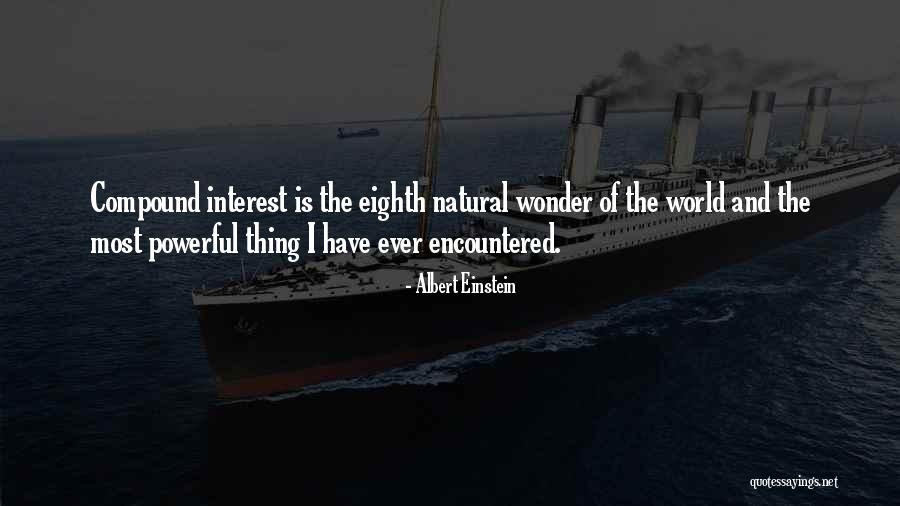 Compound interest is the eighth natural wonder of the world and the most powerful thing I have ever encountered. — Albert Einstein
The late great Horace Lloyd Swithin (1844-1917), British essayist, lecturer, satirist, and social observer, wrote in his autobiographical Appointments, 1890-1901 (1902), When one travels abroad, one doesn't so much discover the hidden Wonders of the World, but the hidden wonders of the individuals with whom one is traveling. They may turn out to afford a stirring view, a rather dull landscape, or a terrain so treacherous one finds it's best to forget the entire affair and return home. — Marisha Pessl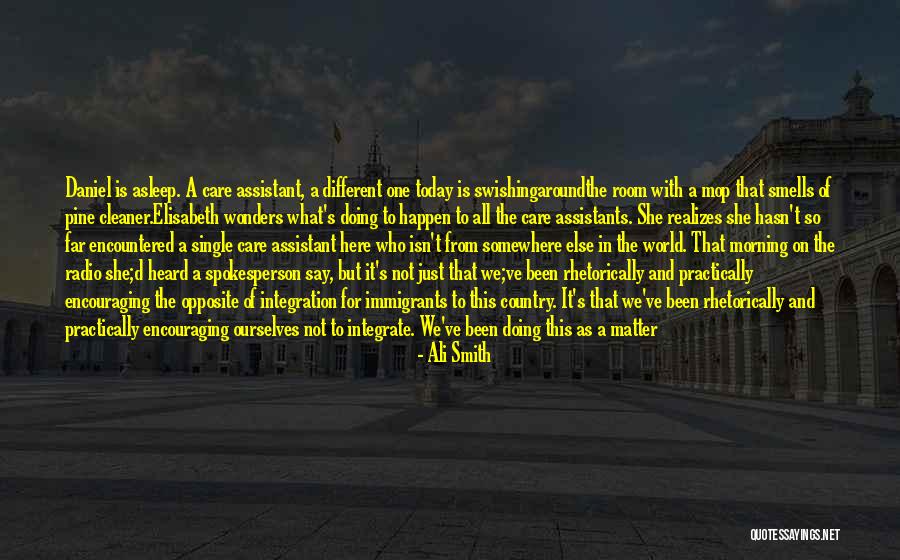 Daniel is asleep. A care assistant, a different one today is swishingaroundthe room with a mop that smells of pine cleaner.

Elisabeth wonders what's doing to happen to all the care assistants. She realizes she hasn't so far encountered a single care assistant here who isn't from somewhere else in the world. That morning on the radio she;d heard a spokesperson say, but it's not just that we;ve been rhetorically and practically encouraging the opposite of integration for immigrants to this country. It's that we've been rhetorically and practically encouraging ourselves not to integrate. We've been doing this as a matter of self-policing since Thatcher taught us to be selfish and not just to think but to believe that there's no such thing as society.

Then the other spokesperson in the dialogue said, well, you would say that. Get over it. Grow up. Your time's over. Democracy. You lost. — Ali Smith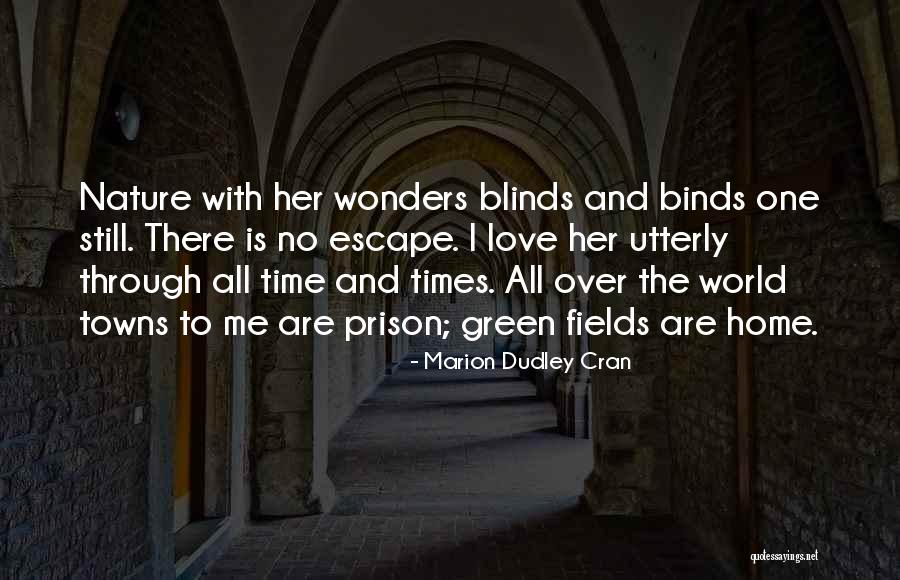 Nature with her wonders blinds and binds one still. There is no escape. I love her utterly through all time and times. All over the world towns to me are prison; green fields are home. — Marion Dudley Cran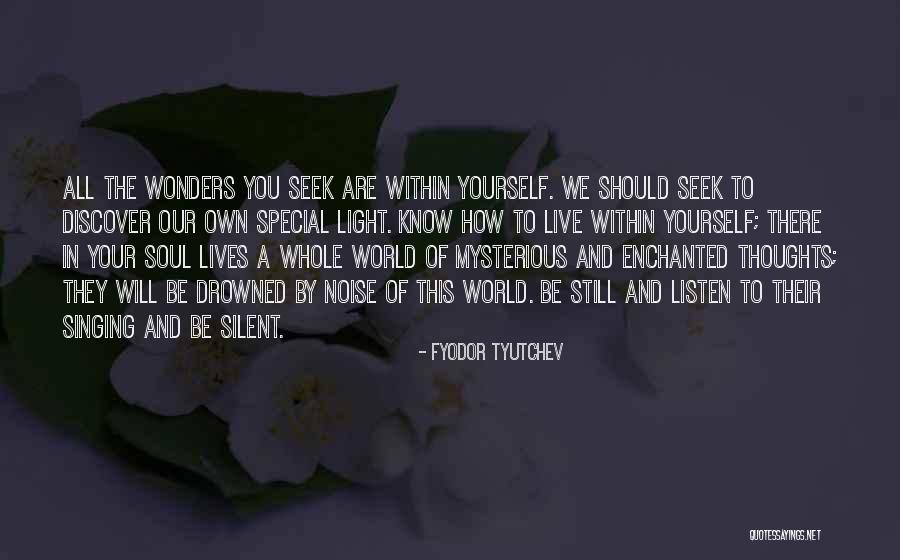 All the wonders you seek are within yourself. We should seek to discover our own special light. Know how to live within yourself; there in your soul lives a whole world of mysterious and enchanted thoughts; they will be drowned by noise of this world. Be still and listen to their singing and be silent. — Fyodor Tyutchev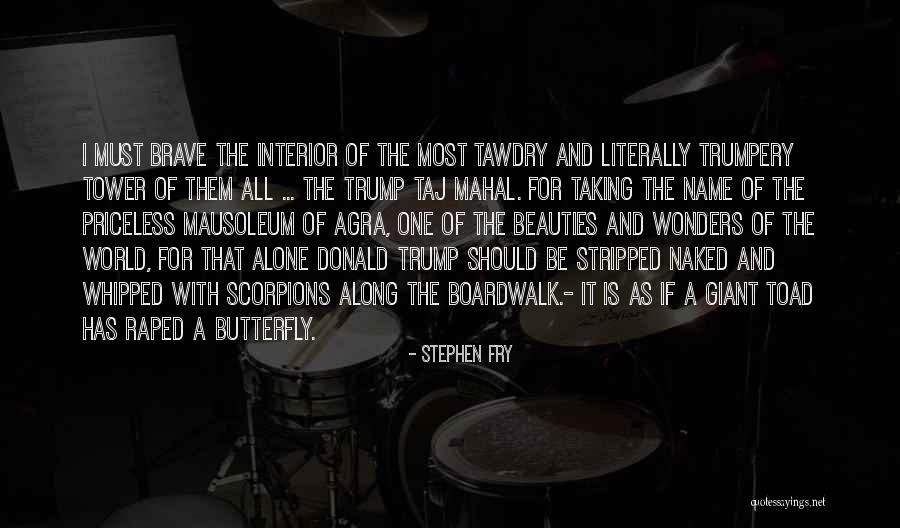 I must brave the interior of the most tawdry and literally trumpery tower of them all ... the Trump Taj Mahal. For taking the name of the priceless mausoleum of Agra, one of the beauties and wonders of the world, for that alone Donald Trump should be stripped naked and whipped with scorpions along the boardwalk.- It is as if a giant toad has raped a butterfly. — Stephen Fry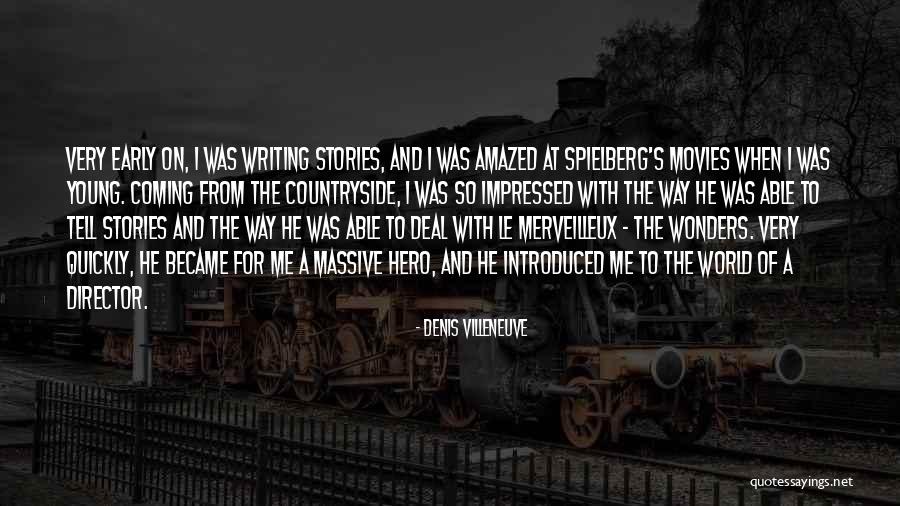 Very early on, I was writing stories, and I was amazed at Spielberg's movies when I was young. Coming from the countryside, I was so impressed with the way he was able to tell stories and the way he was able to deal with le merveilleux - the wonders. Very quickly, he became for me a massive hero, and he introduced me to the world of a director. — Denis Villeneuve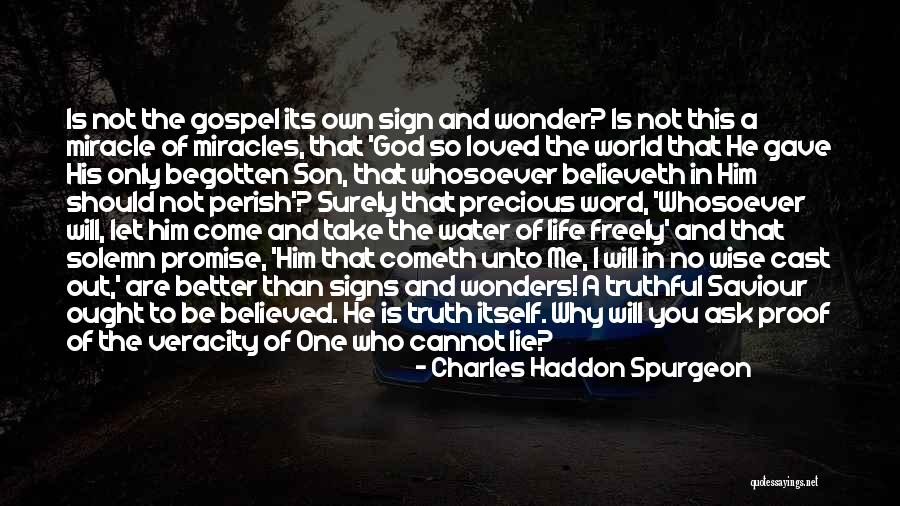 Is not the gospel its own sign and wonder? Is not this a miracle of miracles, that 'God so loved the world that He gave His only begotten Son, that whosoever believeth in Him should not perish'? Surely that precious word, 'Whosoever will, let him come and take the water of life freely' and that solemn promise, 'Him that cometh unto Me, I will in no wise cast out,' are better than signs and wonders! A truthful Saviour ought to be believed. He is truth itself. Why will you ask proof of the veracity of One who cannot lie? — Charles Haddon Spurgeon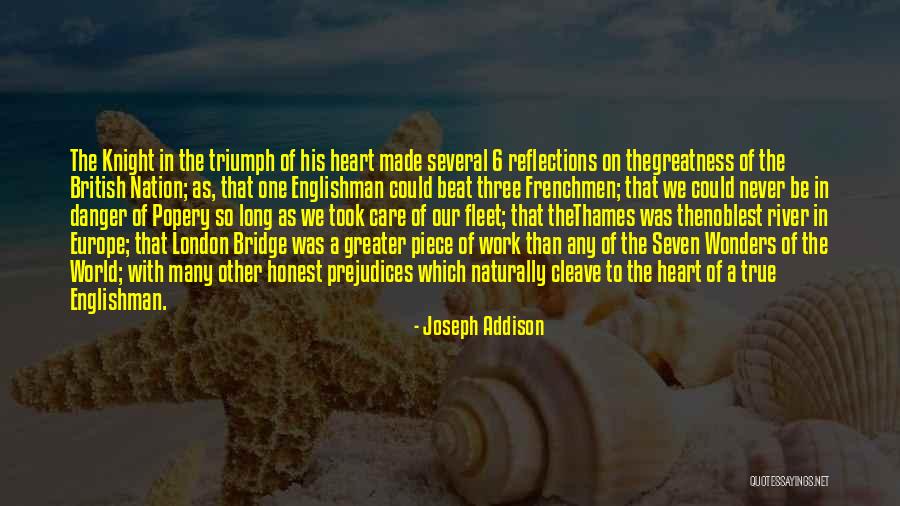 The Knight in the triumph of his heart made several 6 reflections on thegreatness of the British Nation; as, that one Englishman could beat three Frenchmen; that we could never be in danger of Popery so long as we took care of our fleet; that theThames was thenoblest river in Europe; that London Bridge was a greater piece of work than any of the Seven Wonders of the World; with many other honest prejudices which naturally cleave to the heart of a true Englishman. — Joseph Addison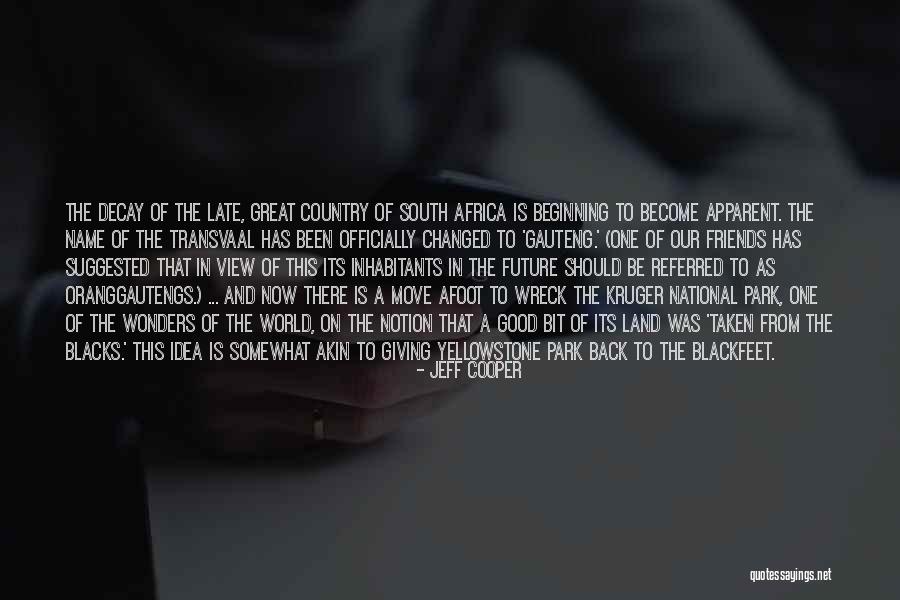 The decay of the late, great country of South Africa is beginning to become apparent. The name of the Transvaal has been officially changed to 'Gauteng.' (One of our friends has suggested that in view of this its inhabitants in the future should be referred to as Oranggautengs.) ... And now there is a move afoot to wreck the Kruger National Park, one of the wonders of the world, on the notion that a good bit of its land was 'taken from the blacks.' This idea is somewhat akin to giving Yellowstone Park back to the Blackfeet. — Jeff Cooper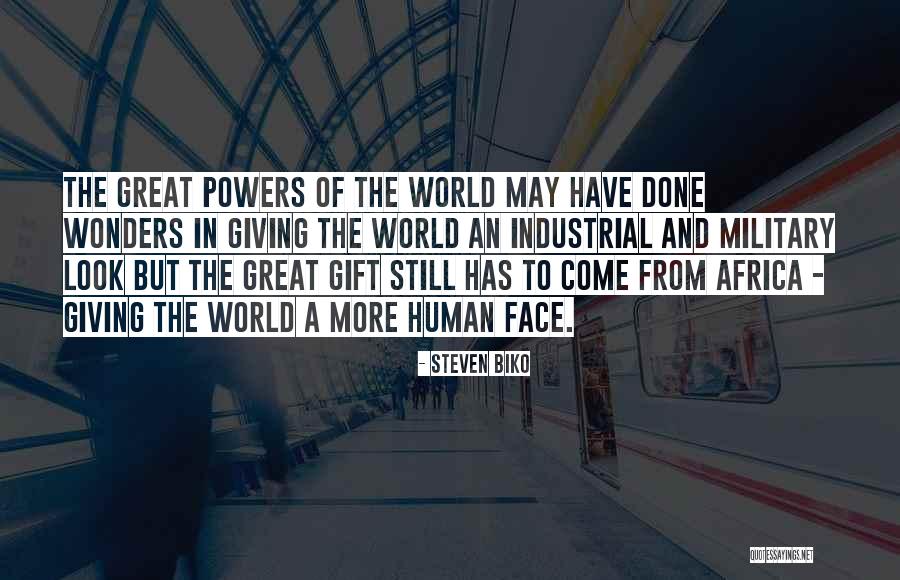 The great powers of the world may have done wonders in giving the world an industrial and military look but the great gift still has to come from Africa - giving the world a more human face. — Steven Biko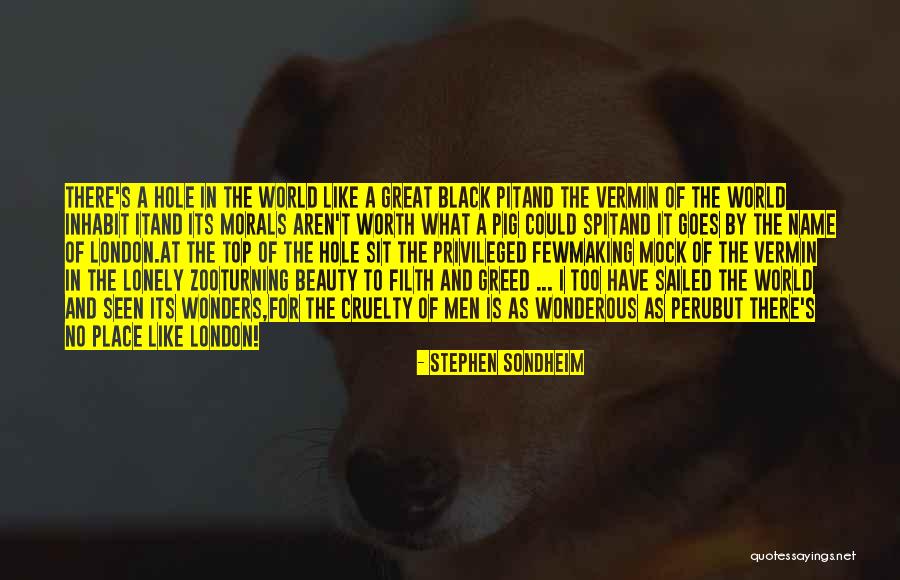 There's a hole in the world like a great black pit
and the vermin of the world inhabit it
and its morals aren't worth what a pig could spit
and it goes by the name of London.
At the top of the hole sit the privileged few
Making mock of the vermin in the lonely zoo
turning beauty to filth and greed ...
I too have sailed the world and seen its wonders,
for the cruelty of men is as wonderous as Peru
but there's no place like London! — Stephen Sondheim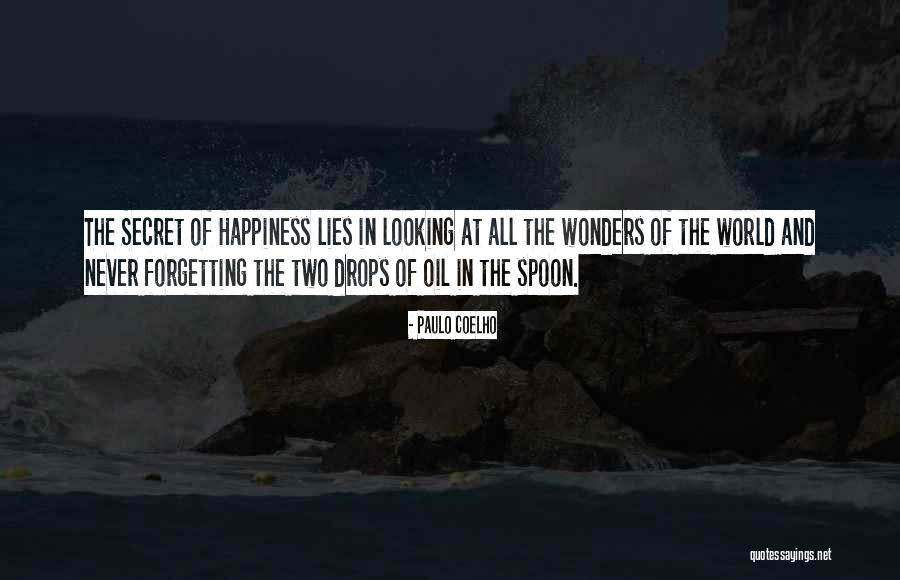 The Secret of Happiness lies in looking at all the wonders of the world and never forgetting the two drops of oil in the spoon. — Paulo Coelho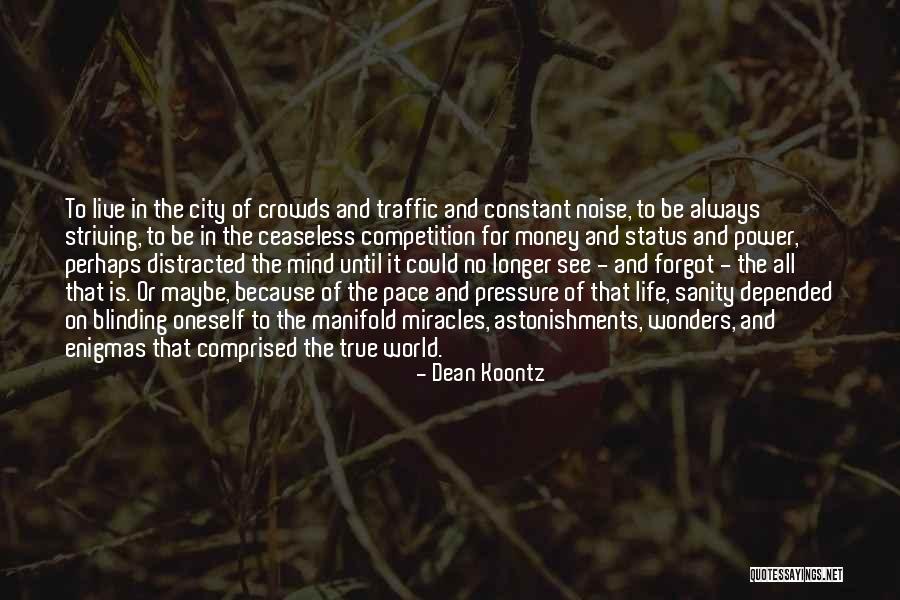 To live in the city of crowds and traffic and constant noise, to be always striving, to be in the ceaseless competition for money and status and power, perhaps distracted the mind until it could no longer see - and forgot - the all that is. Or maybe, because of the pace and pressure of that life, sanity depended on blinding oneself to the manifold miracles, astonishments, wonders, and enigmas that comprised the true world. — Dean Koontz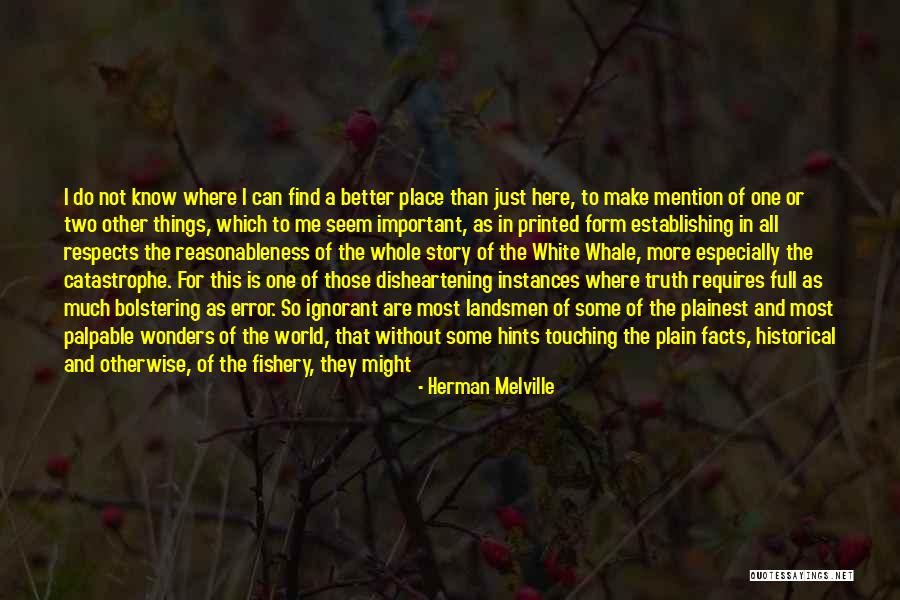 I do not know where I can find a better place than just here, to make mention of one or two other things, which to me seem important, as in printed form establishing in all respects the reasonableness of the whole story of the White Whale, more especially the catastrophe. For this is one of those disheartening instances where truth requires full as much bolstering as error. So ignorant are most landsmen of some of the plainest and most palpable wonders of the world, that without some hints touching the plain facts, historical and otherwise, of the fishery, they might scout at Moby Dick as a monstrous fable, or still worse and more detestable, a hideous and intolerable allegory. — Herman Melville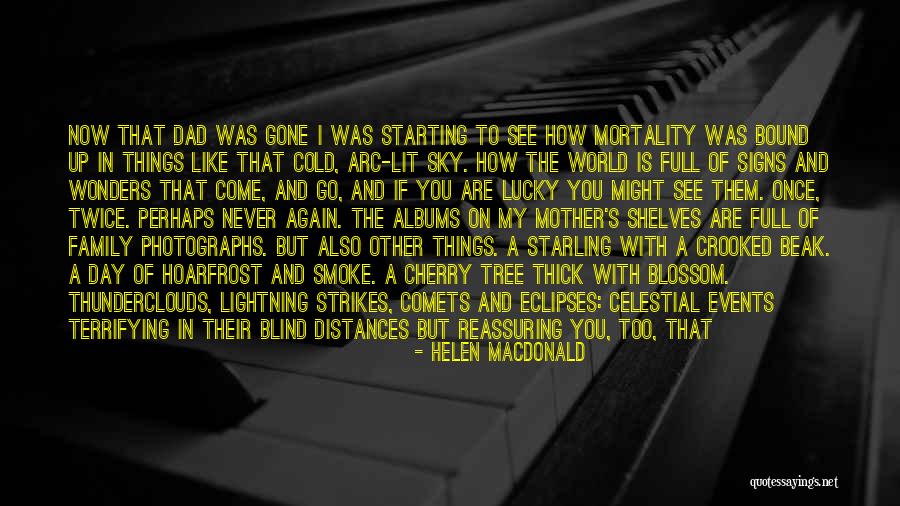 Now that Dad was gone I was starting to see how mortality was bound up in things like that cold, arc-lit sky. How the world is full of signs and wonders that come, and go, and if you are lucky you might see them. Once, twice. Perhaps never again. The albums on my mother's shelves are full of family photographs. But also other things. A starling with a crooked beak. A day of hoarfrost and smoke. A cherry tree thick with blossom. Thunderclouds, lightning strikes, comets and eclipses: celestial events terrifying in their blind distances but reassuring you, too, that the world is for ever, though you are only a blink in its course. — Helen Macdonald
The natural power of breastfeeding is one of the greatest wonders of the world. It is about real love. It is about caring and celebrating the wondrous joy of nurturing a new life. It is about enjoying being a woman. — Anwar Fazal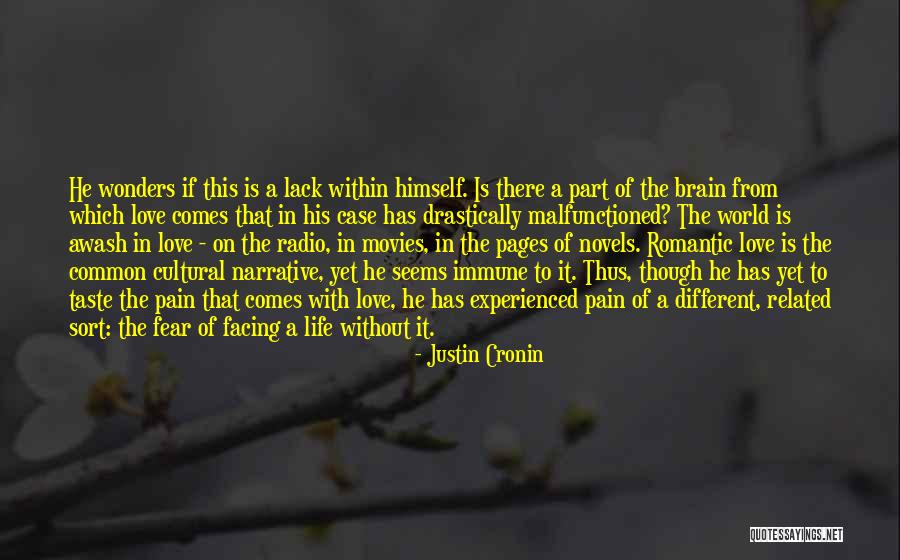 He wonders if this is a lack within himself. Is there a part of the brain from which love comes that in his case has drastically malfunctioned? The world is awash in love - on the radio, in movies, in the pages of novels. Romantic love is the common cultural narrative, yet he seems immune to it. Thus, though he has yet to taste the pain that comes with love, he has experienced pain of a different, related sort: the fear of facing a life without it. — Justin Cronin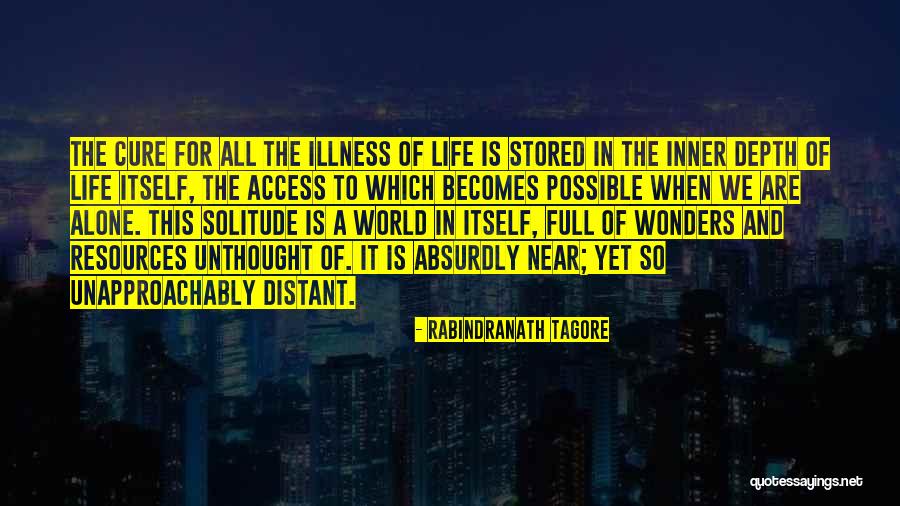 The cure for all the illness of life is stored in the inner depth of life itself, the access to which becomes possible when we are alone. This solitude is a world in itself, full of wonders and resources unthought of. It is absurdly near; yet so unapproachably distant. — Rabindranath Tagore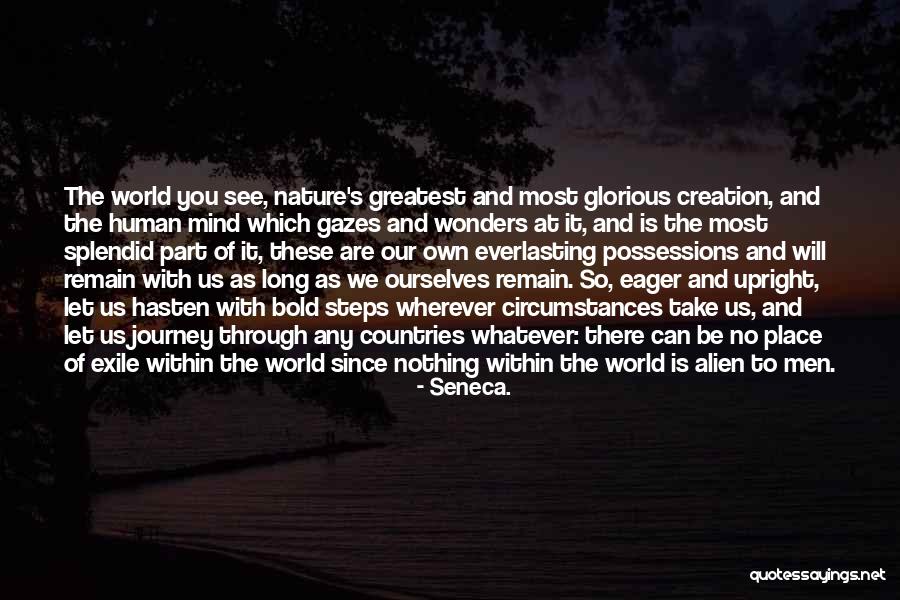 The world you see, nature's greatest and most glorious creation, and the human mind which gazes and wonders at it, and is the most splendid part of it, these are our own everlasting possessions and will remain with us as long as we ourselves remain. So, eager and upright, let us hasten with bold steps wherever circumstances take us, and let us journey through any countries whatever: there can be no place of exile within the world since nothing within the world is alien to men. — Seneca.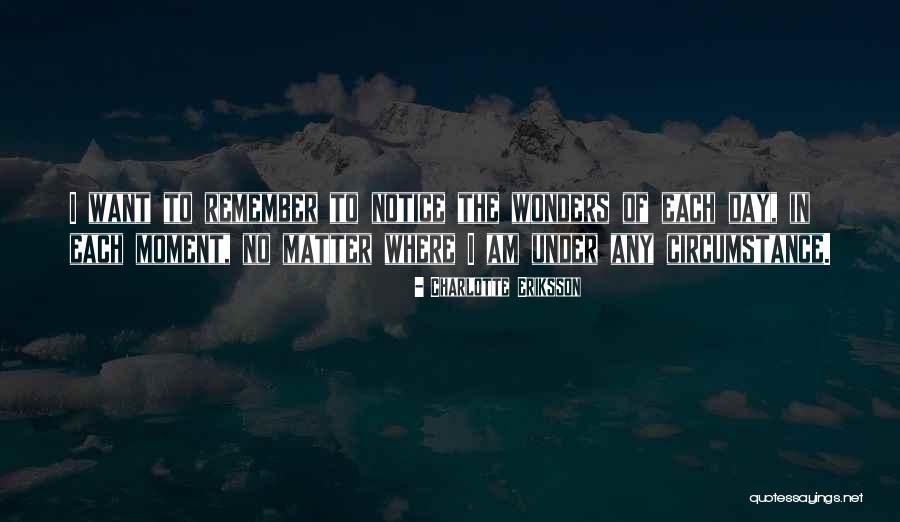 I want to remember to notice the wonders of each day, in each moment, no matter where I am under any circumstance. — Charlotte Eriksson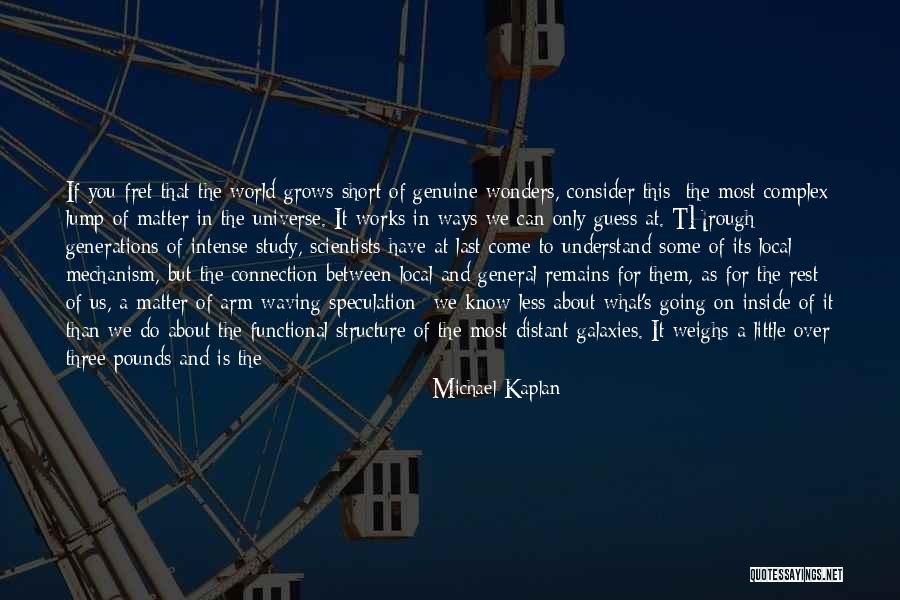 If you fret that the world grows short of genuine wonders, consider this: the most complex lump of matter in the universe. It works in ways we can only guess at. THrough generations of intense study, scientists have at last come to understand some of its local mechanism, but the connection between local and general remains for them, as for the rest of us, a matter of arm-waving speculation--we know less about what's going on inside of it than we do about the functional structure of the most distant galaxies. It weighs a little over three pounds and is the consistency of toothpaste; you're carrying it between your ears. — Michael Kaplan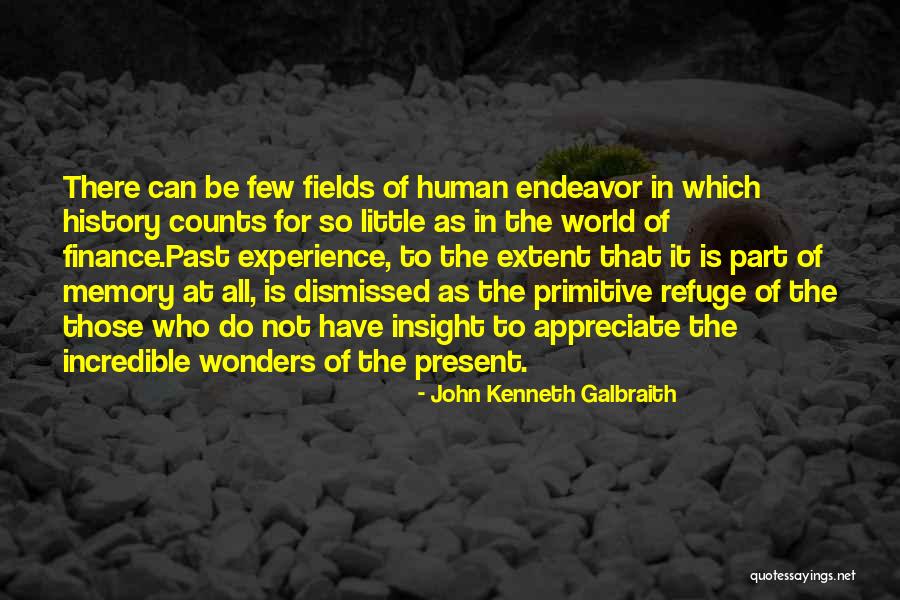 There can be few fields of human endeavor in which history counts for so little as in the world of finance.Past experience, to the extent that it is part of memory at all, is dismissed as the primitive refuge of the those who do not have insight to appreciate the incredible wonders of the present. — John Kenneth Galbraith